If you're looking for the perfect Pueblo Blanco in Andalucia, look no further. The whitewashed hilltop village of Iznajar, Cordoba has it all. Narrow, winding cobblestoned streets lead elegantly through whitewashed houses with impeccable views of Iznajar Lake and the surrounding countryside.
Walk across beautifully decorated squares with colored pots hanging off the white walls filled with colorful flowers cascading down in uneven curtains of green leaves filling your nostrils with the sweetest natural fragrance.
What's more, like all the prettiest white villages in Andalucia a hilltop castle looms above the cave houses of Iznajar creating the picture-perfect destination for a getaway.
In this guide, I'll go through all the best things to do in Iznajar Spain so that you don't miss out on any of the best spots in this amazingly picturesque hilltop village.
Disclosure: This post may contain affiliate links. That means that if you make a purchase through one of those links, I will get a small commission at no extra cost to you.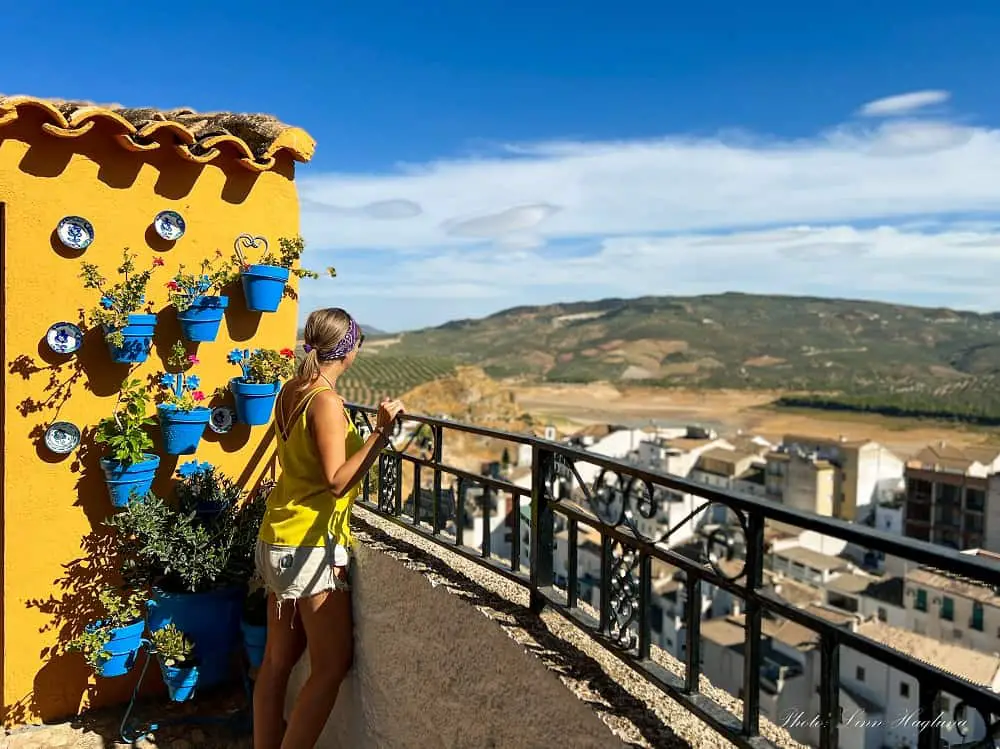 How to get to Iznajar Andalucia
The easiest way to get to Iznajar is by car. There are no direct bus connections from Cordoba or Granada, so it would take a few hours to get there. Thus I recommend getting a rental car for your trip to Iznajar Cordoba.
You can easily park for free on the outskirts of the village, Iznajar itself is small enough to walk all around it in a day. Also, if you want to experience the reservoir and the beach it's crucial with a car.
Driving time from nearby cities and towns:
Cordoba: 1 hour and 15 minutes
Jaen: 1 hour and 30 minutes
Granada: 1 hour
Malaga: 1 hour
Make sure you get a rental car in good time so that you snatch the best deals!
You can check prices here.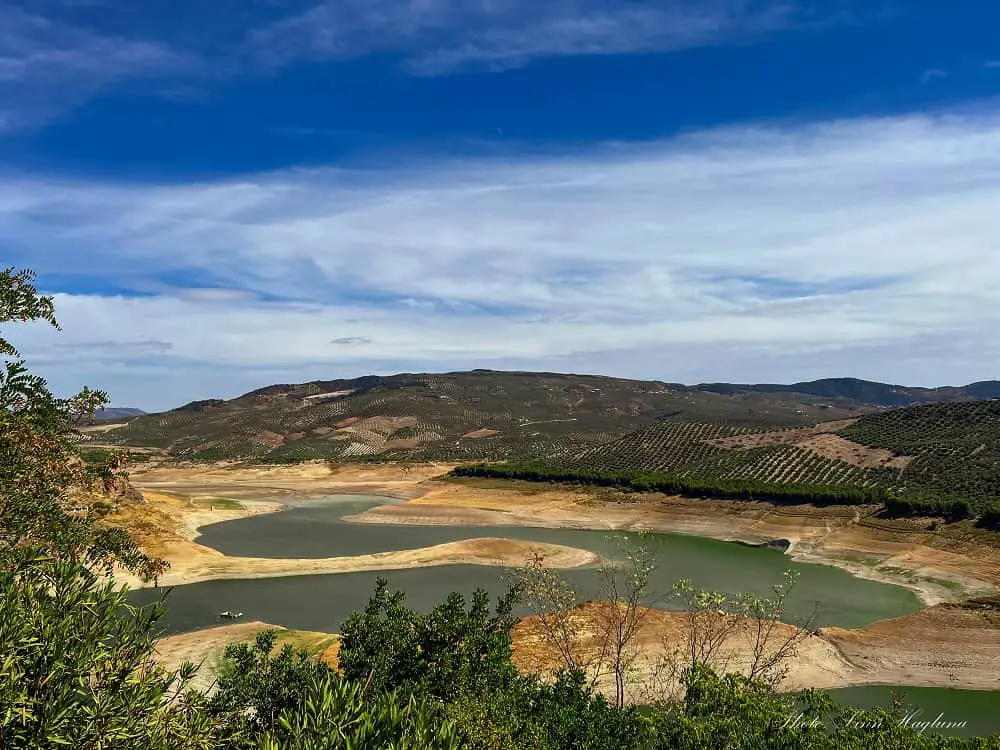 Things to do in Iznajar Cordoba
For being such a tiny village, there is a lot of history to it and there are endless things to do in Iznajar Cordoba that will make you want to stay longer than a day. Get ready for a lovely getaway in the Sierras Subbeticas!
Visit Iznajar Castle
Like any hilltop village, Iznajar boasts a medieval castle full of history echoing its walls. Iznajar Castle was built in the 8th century and has been changing hands so many times, first between the Moors, and eventually the Christians, that it would take a while to retell history.
Visiting Iznajar Castle is a must when exploring this little village. Entrance is only a Euro and you get a free app with an audio guide where you can learn about the castle's history as you walk the medieval walls and enjoy the epic views.
Inside the castle, there are small museums where you can see how people would be dressed, several artifacts, including swords, and a room where prisoners would be held.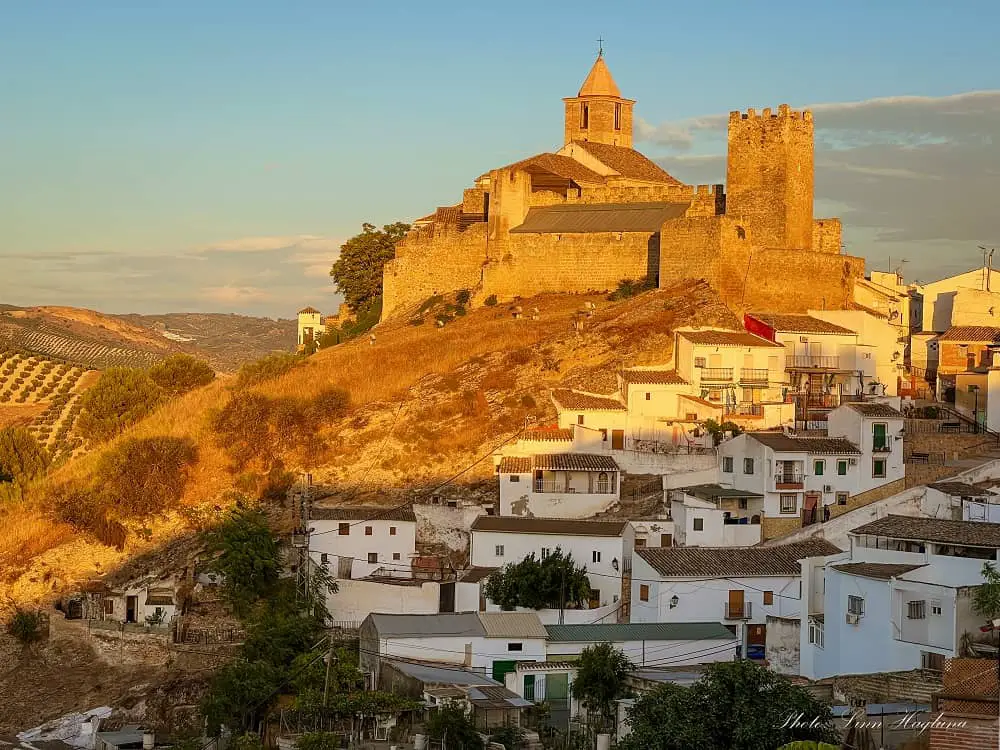 Take pictures in Patio de la Comedia
Patio de la Comedia is the most popular attraction in Iznajar. It used to be a popular marketplace in medieval times. Performances throughout the 16th century gave it today's name translated into "the comedy courtyard."
Today, you can walk around the mesmerizing courtyard and admire the carefully blue-painted pots that hang on the whitewashed walls with delightfully colorful flowers.
The square is dominated by a little fountain with drizzling water giving it a refreshing appearance. You would think this was the work of the municipality, but that's not the case.
We met Juana, a teacher that was about to go off with a pension that lived in the Patio de las Comedias. She explained how she's been working hard for the last 25 years to keep this place looking beautiful.
She has painted the pots herself, and when one breaks she replaces it with a new one. Together with her husband, she makes sure the square looks attractive, water the plants, and plant new ones.
Further, she told us that she had traveled to Chefchauen, the Blue City in Morocco, on several occasions to bring back blue decorations. She claims that she has never been paid a cent for this work which brings loads of tourists to the little hilltop village of Iznajar.
I'm super grateful for her work, because this is one of the most stunning patios I have ever seen, and considering that the patio has won first place in the yearly Balconies and Corners competition in Cordoba, I'm surely not the only one to think so.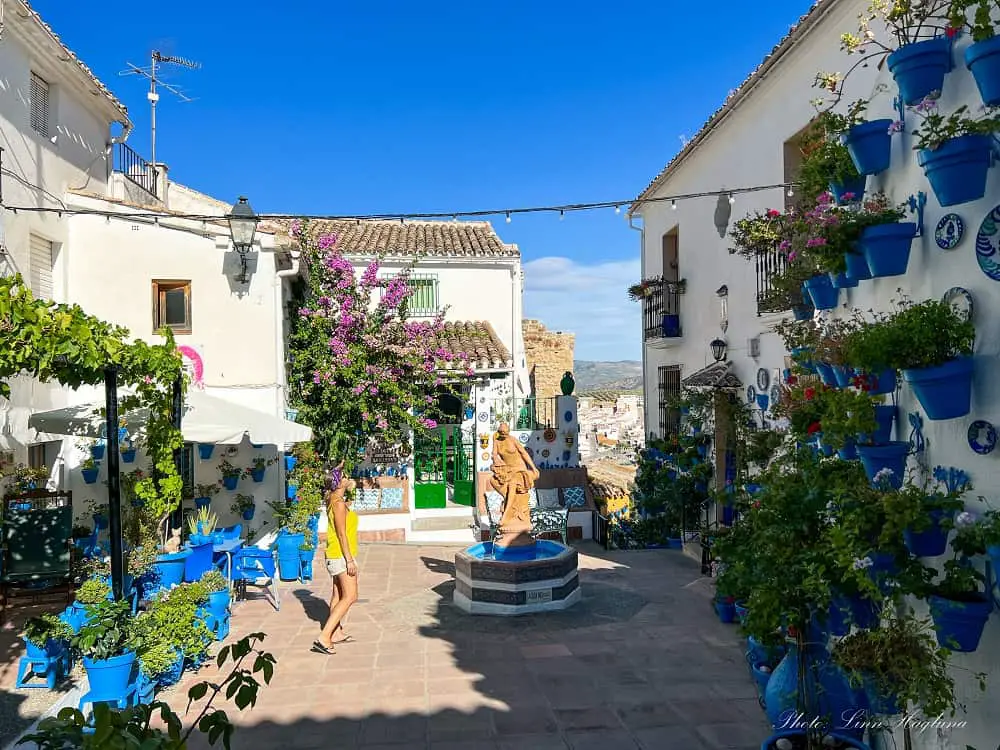 Kiss your significant other at Rincon del Beso
Juana's husband created a cute little corner on Patio de la Comedia which he called Rincon del Beso (The Corner of the Kiss.)
This romantic little spot is perfect for a kiss with a small bench with two pillows perfect for two people and has become a major tourist attraction on the square.
Unfortunately, Ayla still sucks at taking pictures for us, and she doesn't like being mushy on camera, so I had to conform myself to this not-so-romantic moment when she looks away and my hubby is behind the camera.
Still a cute spot.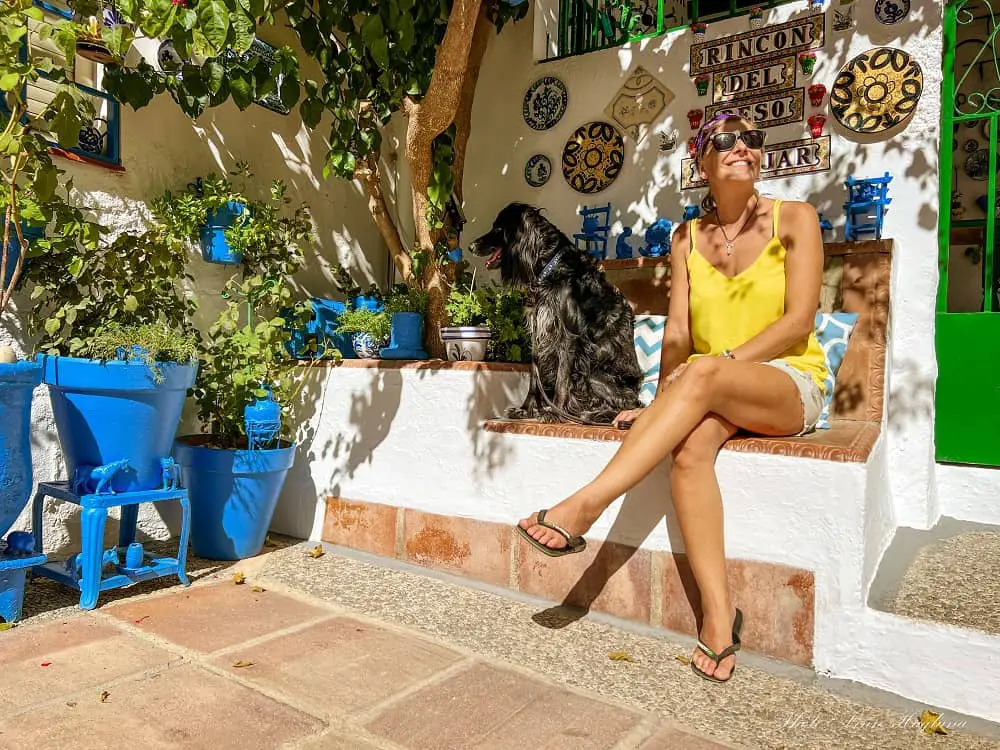 RELATED…
One day in Cordoba itinerary
Torre de San Rafael
Past Patio de la Comedia, down a set of stairs to a little viewpoint, you´ll bump into Torre de San Rafael. The tower is the only tower left of the ones that formed part of the city walls. It's crowned by a statue of Saint Raphael while inside, there's a cave house.
These days, the cave house is used by the Apostles Brotherhood during Holy Week.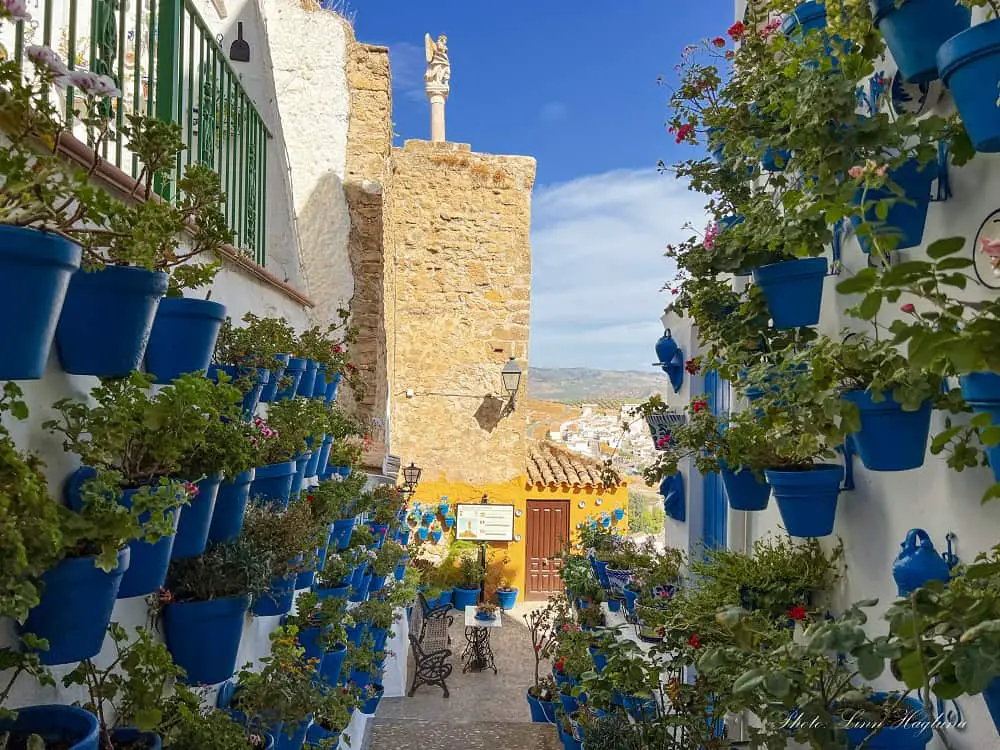 See the views from Plaza Nueva
One of the things to do in Iznajar that you should not miss out on is to see the views from Plaza Nueva. The square is recognized by the star-shaped fountain in the middle.
But it's also got two levels of terraces which makes for exceptional views over rolling hills past the whitewashed houses of the lower part of the village. Plaza Nueva is definitely worth a detour on your way to Patio de la Comedia.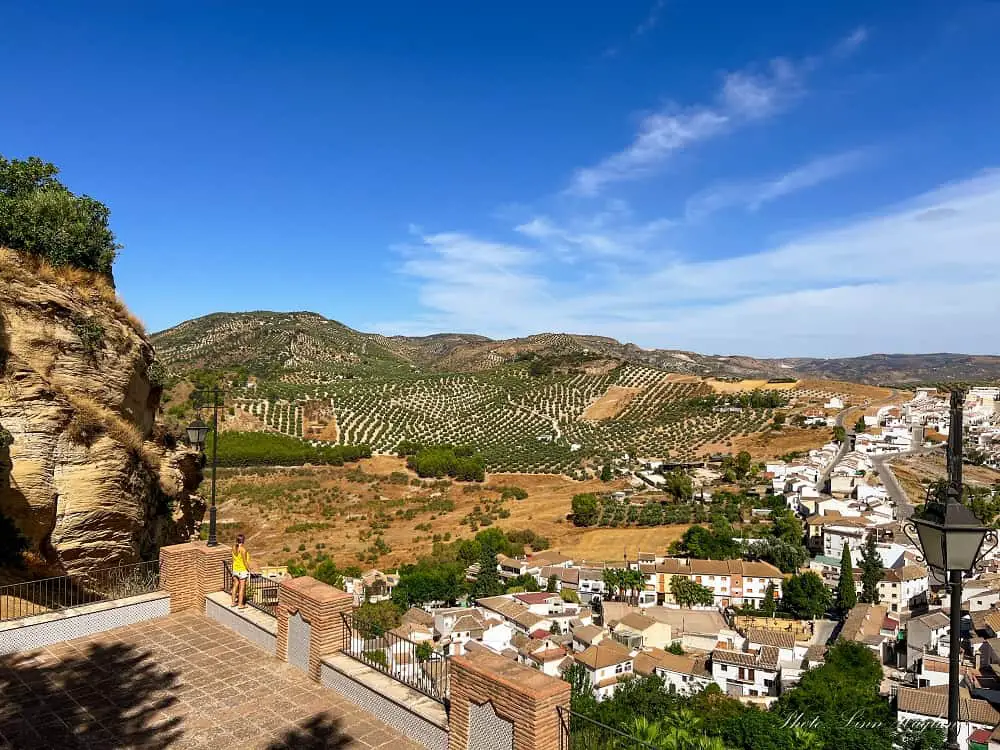 Walk across Iznajar Reservoir
The Iznajar reservoir and dam were built by Franco in the 1960s and turned into the largest artificial lake in Spain. When building it, a large number of locals in Iznajar had to flee their homes, and even today, the houses, streets, and bridges that once were part of Iznajar are found at the bottom of the lake.
The dam is undeniably impressive and walking across it gives a feel of its grandness. However, the best thing about crossing the dam is the impeccable views of Iznajar Lake.
While there are many exceptional viewpoints to see the lake, this might be just one of my favorites.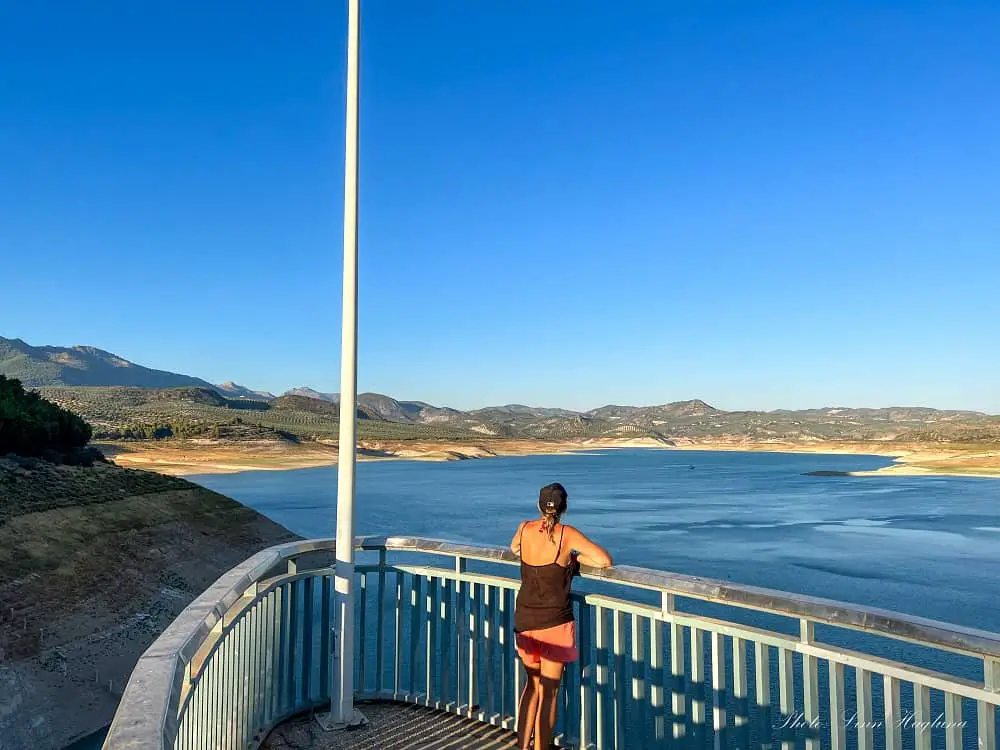 Go for a swim at Valdearenas beach
If you're in Iznajar Andalucia during the warmer months, make sure you hit Lake Iznajar beach. The manmade beach on the lake is a refreshing place to go swimming at sunset after a long day of sightseeing or simply take a lazy day at the beach.
Valdearenas beach, Iznajar, is the only place you can go swimming in the lake as the area is cleaned up. Generally, the lake is dangerous to go swimming in and people have drowned every year for not being careful due to the branches below the water that you can easily get tangled up in.
So stay safe and swim at the beach. There you can rent shade and sunbeds if you like and there is a rental of kayaks and paddleboards to explore the lake from a different perspective.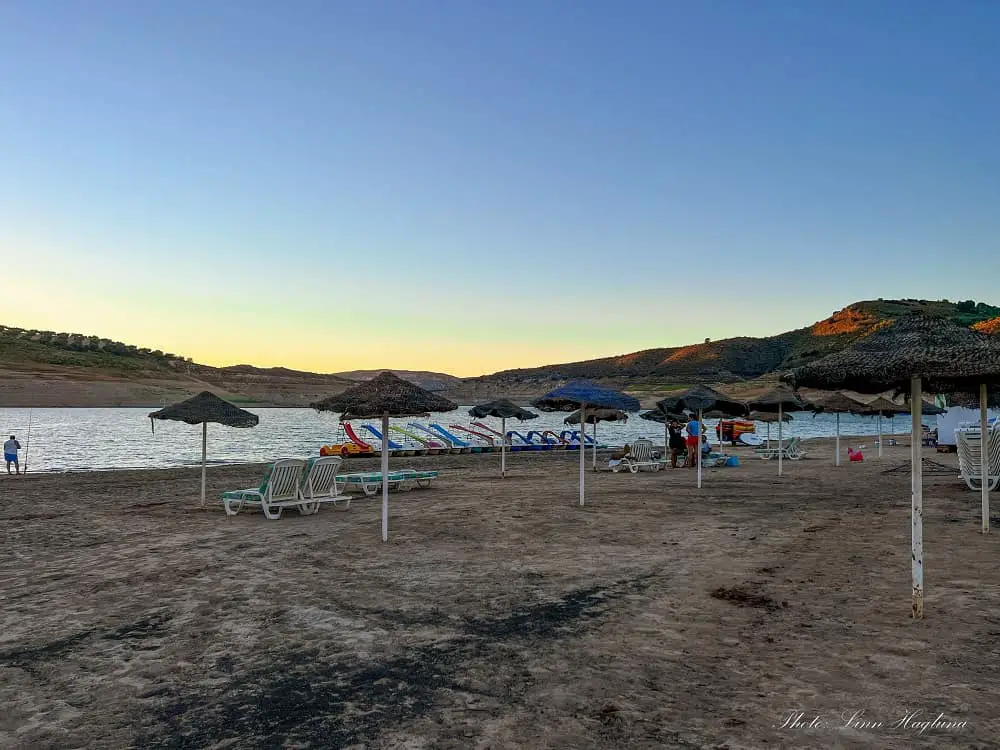 Mirador Tres Cruzes
Mirador Tres Cruzes is not exactly a viewpoint like the name suggests. The three crosses are set in what could have been a viewpoint over the lake a long time ago.
Now, this spot is surrounded by tall pine trees blocking any views. However, it's a nice spot to take in the sweet scent of pine trees and have a snack if you brought one.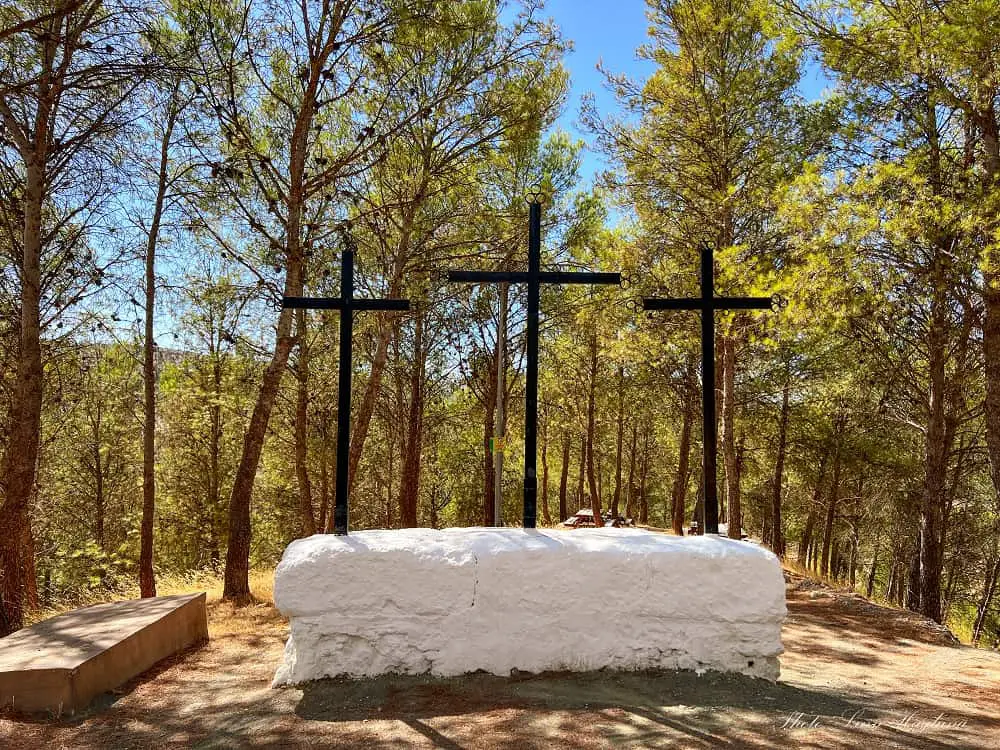 Mirador del Postigo
One of the most epic viewpoints in the lower part of the village is Mirador del Postigo. Next to one of the free parking spaces you find when entering the village and before getting lost in the narrow streets, you can take in these lake views where never-ending green hills cover the panoramic.
There is a big chance you'll bump into it naturally as you enter Iznajar. If not, and you can only make it to one viewpoint during your trip, head to Mirador Cruz de San Pedro.
Other pretty whitewashed villages and towns in Andalucia you might like:

Osuna, Seville
Cazorla, JaenArcos de la Frontera, Cadiz
Mijas Pueblo, Malaga
Visit Plaza de la Torre
The second most beautiful square in Iznajar after Patio de las Comedias is the stunning Plaza de la Torre. Also covered in potplants looked after by the neighbors living on the square, these pots are all dark red contrasting to the bright green plants inside and the whitewashed walls.
There is a drinking fountain on the square where the locals get water for the plants and benches to sit down and take in the beauty around you.
Plaza de la Torre also boasts epic views of the town and the castle.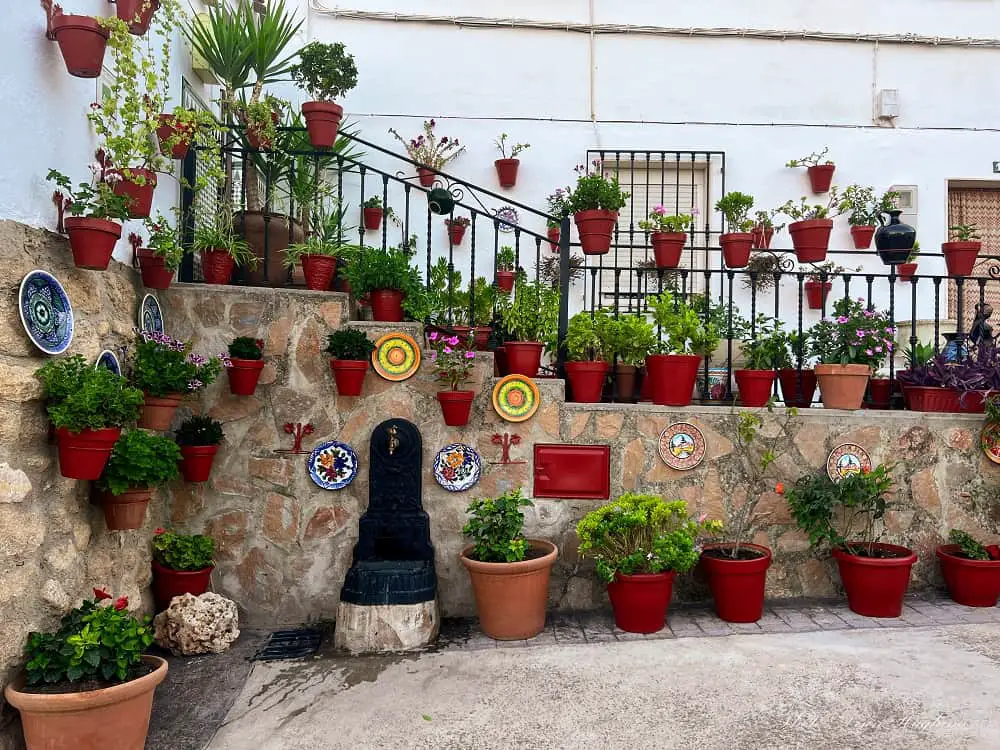 Mirador Cruz de San Pedro
Mirador Cruz de San Pedro is most likely the best viewpoint in Iznajar as you get spectacular lake views. But you also get a captivating view of the white village and cave houses in the shade of Iznajar Castle.
Particularly at sunset, this is a wonderful viewpoint where you can take in a pink and orange lake reflecting the pastel-colored sky.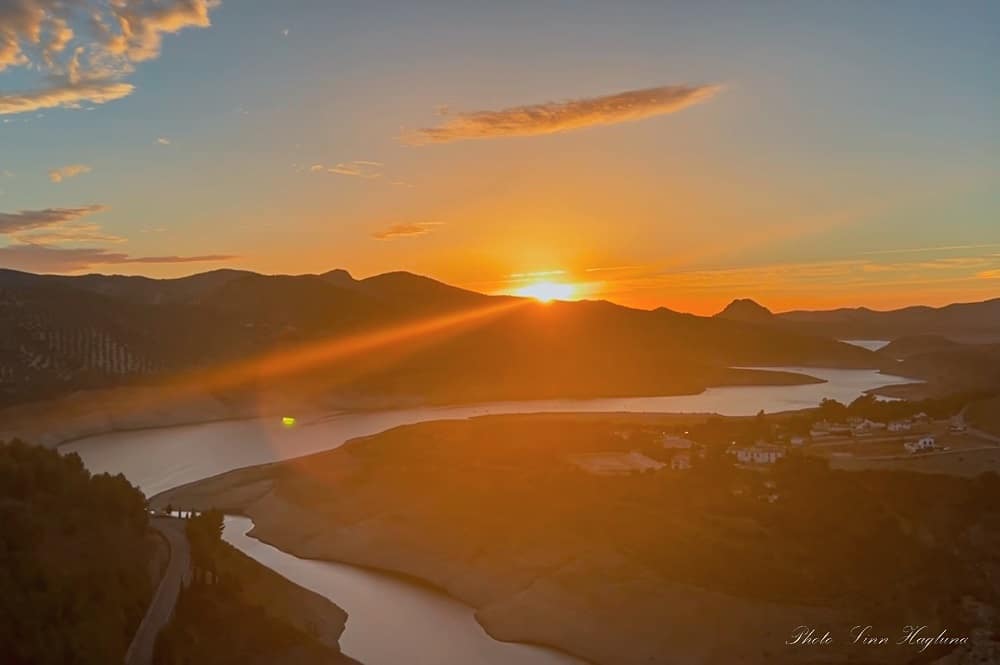 Relax at Plaza Rafael Alberti
Rafael Alberti was a Spanish poet that spent time in Iznajar in 1920. Iznajar inspired him to write the poem La Arboleda Perdida (The Lost Grove) and today, you can read this same open on a mosaic on the square.
The poet inaugurated the square himself in 1989 when he came back to Iznajar for a second visit.
Today, it's one of the most charming squares in the village where you can sit and relax before or after touring the castle, and it even won second place in the Patio de la Subbetica Competition in 2018.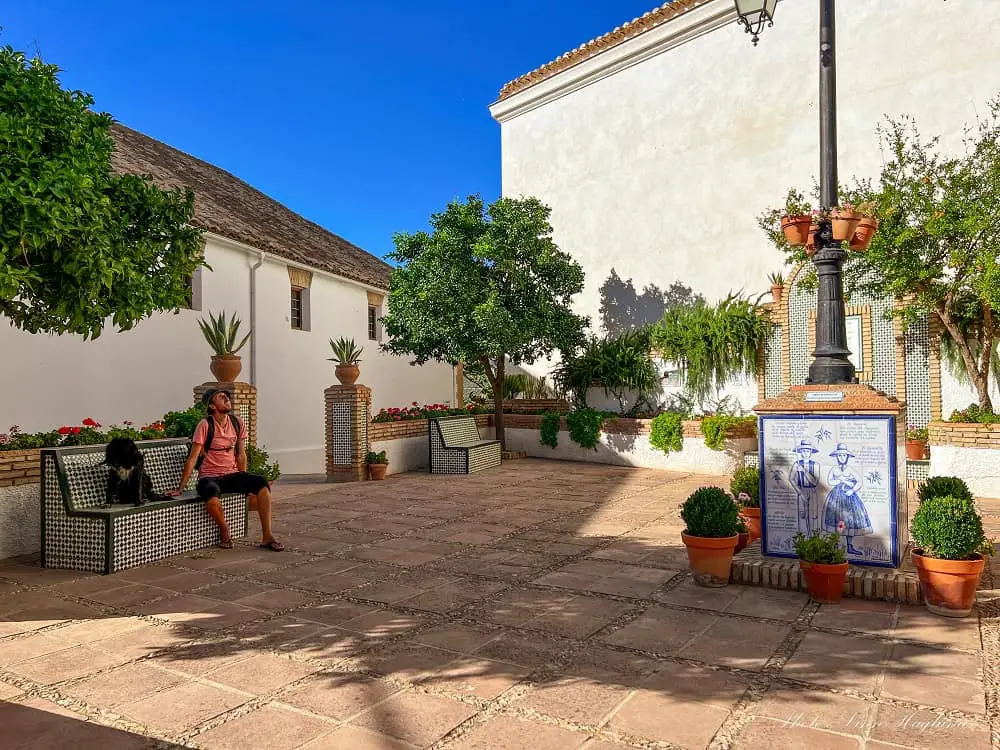 Step inside Parroquia de Santiago Apóstol
Sitting right next to Plaza San Rafael, Parroquia de Santiago Apóstol is the most dominating church in the village. With spectacular views, it is on the way from Patio de las Comedias to Iznajar Castle and impossible to miss.
While it's beautiful to walk around and admire the structure, which was beautifully restored between 2005 and 2008, it's worth stepping inside to have a look if you find it open.
You can see remains of frescoes from the 17th century that were revealed during the restoration next to the altar.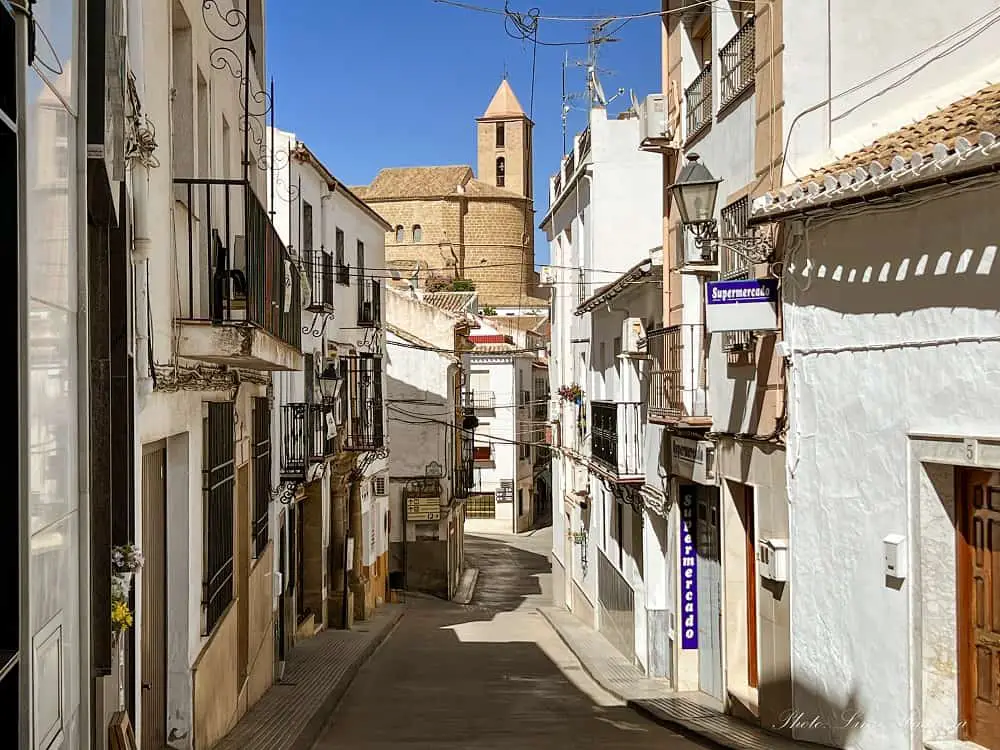 Reflections on things to do in Iznajar Spain
Situated on the border of three provinces, Iznajar is one of the most wonderful day trips from Granada and Malaga. But if you stay in Cordoba, Iznajar is not a spot you want to skip. Make sure you go on a day trip from Cordoba to enjoy its enchanting vibe.
With so many things to do in Iznajar Spain, it's actually worth spending more than just a day in this little traditional Andalusian beauty.
I'm actually surprised this little gem doesn't take more of the attention among the incredible places to visit in Andalucia. Though, it's always better to visit a place without crowds.
No matter what, I'm sure you'll fall in love with Iznajar just as much as I did.
Happy travels!