Cordoba, Spain is one of the most unique destinations in southern Spain and hosts more UNESCO World Heritage Sites than any other city in the world with 4 exquisite sites.
There is so much history and culture to this incredible city that it is still a mystery to me why it doesn't receive just as many visitors as Seville, Granada, and Malaga.
In spring, you can also witness the incredible Patios festival where the locals show off their most stunning patios decorated with colorful pot plants, fountains, and elegant statues. Yet, most travelers only spend one day in Cordoba.
Luckily, you can see the most important sites in Cordoba in a day and I'm here to help you out with your Cordoba itinerary so that you can get the most out of your day trip.
Disclosure: This post may contain affiliate links. That means that if you make a purchase through one of those links, I will get a small commission at no extra cost to you.
READ BEFORE YOU GO:
⭐Best tours in Cordoba
⭐Where to stay in Cordoba
⭐Dreamy patios in Cordoba
⭐Guide to Cordoba Patio Festival
⭐Is it worth going on a Cordoba patio tour?
How to get to Cordoba
Cordoba is easily reached by car, train, and bus. The closest airports are Malaga, Granada, and Seville.
Driving times from the biggest cities nearby are:
Seville – 1.5 hours
Granada – 2 hours
Malaga – 1 hour 45 minutes
Check rental cars and availability here.
Parking: There are multiple parking houses in the city center where you can park for a fee or there are a few free parking areas outside the city center.
The train connection to Cordoba is also excellent with direct trains from Malaga, Granada, and Seville. The train station is a 15-minute walk from the historic center.
Estimated train travel times from these cities are:
Seville (Sevilla Santa Justa) – 45 minutes
Granada – 1 hour 30 minutes
Malaga (Málaga Maria Zambrano) – 1 hour
Taking the bus is just as easy, and might be cheaper, so it is worth checking out the price differences on your travel dates. The bus terminal in Cordoba is also a 15-20-minute walk from the historic center.
Estimated bus travel times from these cities are:
Seville (Sevilla Plaza de Armas) – 45 minutes
Granada (Estacion de Autobuses) – 2 hours 30 minutes
Malaga (Estacion de Autobuses) – 2 hours 15 minutes
Check availability and prices here.
TOP RATED TOURS FOR ONE DAY IN CORDOBA
Best time to visit Cordoba
The best time to visit Cordoba is no doubt during May when the annual patio festival is held. This is when the locals open up their beautiful patios to the public, competing for the prettiest patio in Cordoba.
There are also contests for the best patios in the province which makes it a great time to go on day trips from Cordoba to nearby towns and villages.
The weather is also pleasant from April to May and mid-September to November. The winter in Cordoba can get chilly with temperatures down to 5 degrees Celsius in the daytime crawling down to zero at night. It's definitely not among the warmest places in Andalucia in the winter.
However, on a sunny day, it is pleasant to walk around the city and a great excuse to grab a hot drink in the sun.
The only time of the year I recommend you to not visit Cordoba is in July and August. Together with Seville, Cordoba is the hottest city in Spain and temperatures easily crawl up to 45-50 degrees Celsius. With nowhere to cool down, it is brutal!
To be completely honest, I would rather spend the summer in any of these coastal towns in Andalucia than in Cordoba.
One day in Cordoba itinerary
PRO TIP TO GET THE MOST OUT OF YOUR CORDOBA ITINERARY!

Book a guided tour that includes the Mosque-Cathedral, Alcazar de Los Reyes Cristianos, the Synagogue, and the Jewish Quarter. CHECK AVAILABILITY HERE!
See the Mosque-Catedral
The first thing to do when visiting Cordoba in one day is to enter the unique Mosque-Cathedral. As the name suggests, this is a wondrous fusion of an ancient Moorish mosque and the chapels that were built after the Christian reconquest in the 1200s.
The original mosque dates all the way back to the 700s when Emir Abd-ar-Rahman ruled Cordoba and the city was a leading hub for culture and science.
A wealth of beautifully carved arches is held up by 850 columns and it is incredible to walk between them. There is no wonder such a unique site has found a place on UNESCO's World Heritage list.
It is also well worth climbing the clock tower for sweeping views. Before entering the Mosque-Cathedral, you will be met by one of the most beautiful orange gardens you will ever see.
Patio de Los Naranjos greets you with its elegance and of course its numerous orange trees and is not only one of the prettiest but also one of the oldest gardens in Europe.
I highly recommend getting skip-the-line tickets in advance so that you avoid large queues, especially in the high season. Check the price here.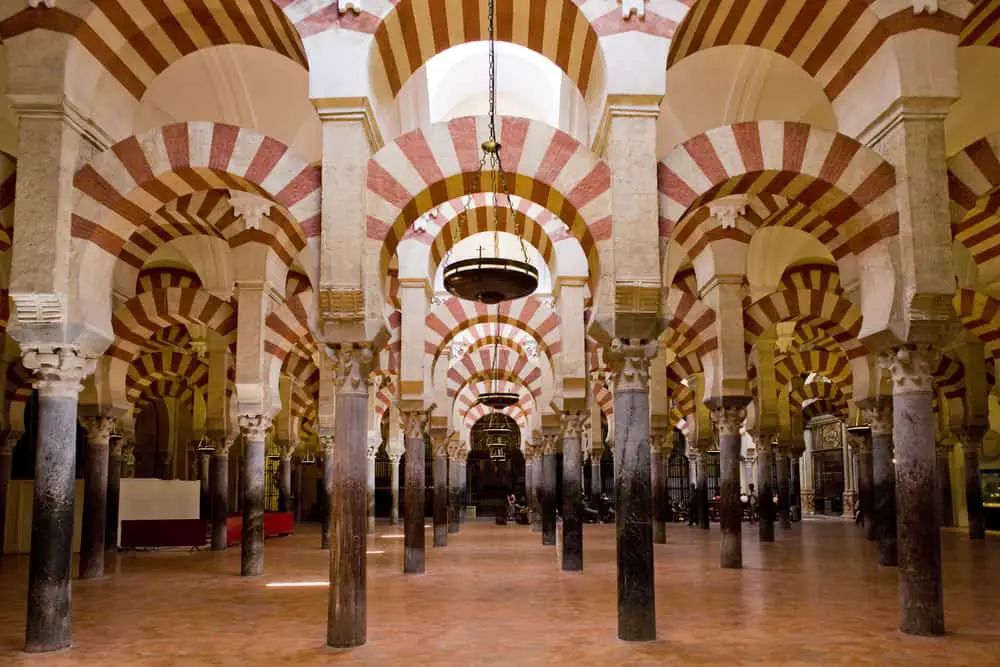 Visit the Alcázar de Los Reyes Cristianos
A short walk from the Mosque-Cathedral, you reach another epic UNESCO site, the Alcazar de Los Reyes Cristianos.
This incredible complex was built by the Moors on Roman remains and later reconstructed by orders of King Alfonso XI of Castile in the 1300s after the reconquest. Besides being a royal residence, it also served as a prison.
The Alcazar de Los Reyes Cristianos is one of the most impressive things to see in Cordoba Spain in one day with perfectly groomed gardens, beautiful fountains, and colorful flowers.
To get the most out of the Alcazar, I recommend taking a guided tour of the complex.
Opening hours 16th of September to the 15th of June:
Tuesday-Saturday: 08:30-20:00
Sunday + Bank Holidays: 08:30-14:30
Mondays Closed

Opening hours 16th of June to 15th of September:
Tuesday-Saturday: 08:30-15:00
Sunday + Bank Holidays: 08:30-14:30
Mondays Closed
Lunch in the old town
The historic center in Cordoba is also a UNESCO World Heritage site and I highly recommend walking around its streets to look for a cute place to have lunch. When you only have one day in Cordoba, it is a great way to catch two things at once.
There are plenty of restaurants and bars with something for everyone. I especially love Restaurante Amaltea and La Bicicleta for their abundant vegetarian and vegan choices.
After lunch, I suggest taking a tour of the patios of Cordoba. But if you prefer doing other things instead, I have added an extra activity at the end, the Casa Andalusí.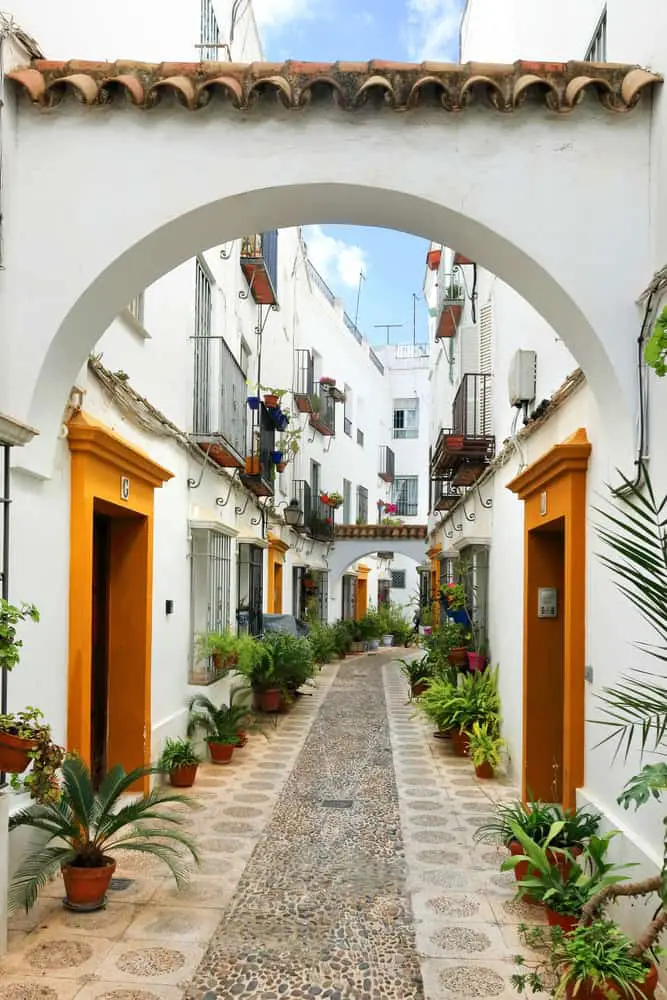 OTHER ONE DAY ITINERARIES IN ANDALUCIA
⭐One day in Seville
⭐One day in Malaga
⭐One day in Granada
⭐One day in Cadiz
⭐One day in Osuna
⭐One day in Ronda
Tour of the patios
I highly recommend taking a tour of the beautiful patios of Cordoba. If you travel in May, you will be able to see a lot more spectacular patios than the rest of the year due to the Patio Festival.
However, some patios are open all year round and a guided tour is the best way to see them when you visit Cordoba in one day. If you opt out of the patio tour, I've added an extra attraction at the end that you might like to do in stead.
Cross the Roman Bridge
Next, head to the iconic Roman Bridge to cross the Guadalquivir River. The bridge was first built by the Romans in the 1st century and later rebuilt by the Moors.
The vibrant atmosphere on the bridge is filled with buskers, locals chattering, and tourists snapping pictures. Game of Thrones fans will also notice that the bridge played the role of the Long Bridge of Volantis.
The bridge offers a lovely view of the Mosque-Cathedral on one side and the Calahorra Tower on the other end, where you will be heading next.
PRETTY TOWNS NEAR CORDOBA
Things to do in Iznajar
Things to do in Rute
Explore the Calahorra Tower
Visiting the Moorish Calahorra Tower is undoubtedly one of the best things to do in Cordoba Spain in one day.
Inside, there is a small museum dedicated to Islamic history and its influence on Cordoba city. There are also some models of the Moorish structures in the city that are incredible to see.
Finally, my favorite is always to climb to the top for the views, and the Calahorra Tower does not disappoint. It's also pretty cool to get a bird's eye perspective on the Roman Bridge.
Opening hours:
November-February: 10:00-18:00
March-May + October: 10:00-19:00
June-September: 10:00-14:00 and 16:30-20:30
Explore the Jewish Quarter
The Jewish Quarter in Cordoba's UNESCO-listed historical center is another neighborhood you should not miss out on when visiting the city for one day. Cordoba does not get much better than this, with narrow streets zig-zagging through whitewashed houses.
Especially beautiful is the Calleja de Las Flores, a narrow street decorated with pot plants on each side. This is one of the most photographed streets in Cordoba, so you can expect there to be a lot of people, but it is worth adding this picturesque street to your Cordoba itinerary 1 day the bell tower from the square at the end of the street.
Enter Cordoba Synagogue
In the Jewish Quarter, you will find one of Spain's best-preserved Synagogues and the only one in Andalucia. After the Jews were expelled from the city in 1942, the temple was used as both a hospital and a school.
It was first in the 19th century that the incredibly beautiful structure was recognized as a national monument.
Among the most interesting features of the Mudejar-style synagogue are the Hebrew inscriptions on the walls. Visiting the synagogue is a must on your Cordoba one day itinerary.
Opening hours 1st of September to 30th of June:
Tuesday-Saturday 09:00-21:00
Sundays + Public Holidays 09:00-15:00
Mondays Closed

Opening hours 1st of July to 31st of August:
Tuesday-Sunday + Public Holidays 09:00-15:00
Mondays Closed
Step back in time in Casa Andalusí
If you opt out of the Patios de Cordoba tour, not far from the synagogue, you find a lovely gem that I recommend checking out!
This museum house is going to take your breath away. It is literally like stepping back in time with the elegance of Moorish and Andalusian styles in the furnished rooms. It was built in the 12th century but was restored and reopened in 1997.
The patios are also stunningly beautiful with arches, flowers, and fountains. You should not miss out on this visit during your day trip to Cordoba.
Opening hours: Monday-Sunday 10:00-19:00
TOP RATED TOURS FOR ONE DAY IN CORDOBA
Reflections on a day trip to Cordoba
There is no doubt you get a lot done in a day in Cordoba even though there are enough interesting things to do in Cordoba for days.
The history and soul of this city capture you from the moment you step foot in it. I can still remember the feeling of walking its cobbled streets and mazing at the orange garden 20 years ago!
Whether you spend 1 day in Cordoba or more, it is a truly spellbinding place and no doubt one of the prettiest and most wondrous cities in southern Spain.
After exploring Cordoba, you might want to check out the amazing day trips from Cordoba that you can do, like Rute, Iznájar, and Priego de Cordoba.
Happy travels!
FAQ – Frequently asked questions for Cordoba in a day
Is Cordoba a walkable city?
Yes, Cordoba is a small and walkable city.
How do you get around Cordoba?
Cordoba is a perfectly walkable city, but there is a great bus network if you need to get to and from the city center easily.
Is Cordoba worth visiting?
Cordoba is one of the most underrated cities in Spain holding 4 UNESCO World Heritage sites, so I highly recommend visiting.
What is Cordoba most known for?
Cordoba is most known for its impressive Mosque-Cathedral.
How many days in Cordoba?
Any Cordoba one day itinerary only covers a fraction of what Cordoba has to offer. There are so many incredible things to see in the city that I recommend at least 3 days.
Is one day in Cordoba enough?
If you really want to explore everything Cordoba has to offer and see all the most important historical sites (which are many) it is just not enough with a day trip. Cordoba has so much more to offer than what you can fit into a day, however, you will include a handful of exceptional attractions in a Cordoba 1 day itinerary.