While it's usually considered a summer destination, you'll be surprised by what Andalucia in winter can offer.
In fact, my favorite time of the year is the winter in Andalucia (well almost!) as there are way fewer tourists around and you can truly explore the tourist sites without the crowds.
But it's also an epic hiking season for all the coastal mountain ranges that get way too hot in the summer months.
Besides, who can resist the festive season in a country like Spain which takes parties so seriously? I know I can't.
There are plenty of things to look forward to during an Andalucia winter holiday and in this post, I'll cover everything you need to know about winter in Southern Spain.
Disclosure: This post may contain affiliate links. That means that if you make a purchase through one of those links, I will get a small commission at no extra cost to you.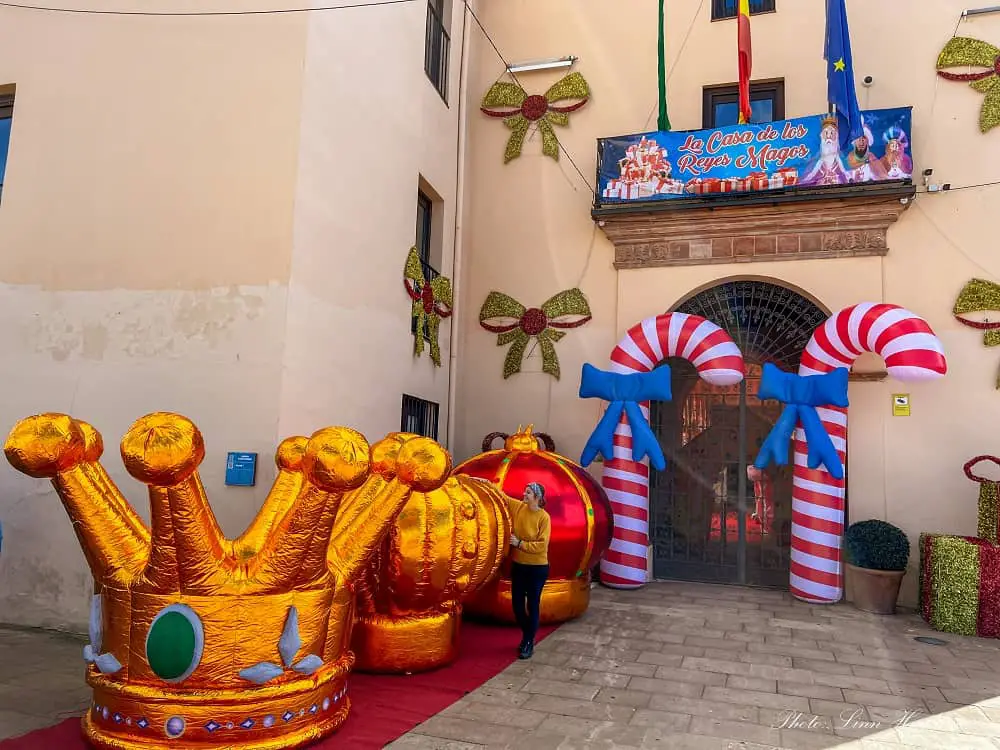 Temperatures and weather in Andalucia in winter
The temperatures and weather throughout Andalucia in winter vary a lot. As mentioned, you can swim at the beach in Malaga in winter while you can go skiing in Sierra Nevada in Granada in winter, only a couple of hours away.
Therefore, I'll list the most important cities here. But you should know that once get up in the mountains, whether it's Sierra Nevada in Granada and Almeria, Sierra Morena in Cordoba and Seville, or mountain villages like Cazorla in Sierra de Cazorla, Segura y Las Villas Natural Park, you can expect snow, icy roads, and ice on the car in the morning with temperatures around zero.
Here are the average winter temperatures in the province capitals throughout Andalucia:
Seville – 18°C/6°C
Cadiz – 17°C/10°C
Huelva – 18°C/7°C
Granada – 13°C/2°C
Jaen – 15°C/4°C
Cordoba – 16°C/3°C
Almeria – 17°C/9°C
Malaga – 18°C/8°C
Note that high humidity, especially on the coast, makes felt temperatures at night a lot lower than actual temperatures.
If you travel to lower altitude destinations, like Cadiz, Seville, or Costa del Sol in winter, make sure you bring an umbrella, as the winter months are most prone to rain.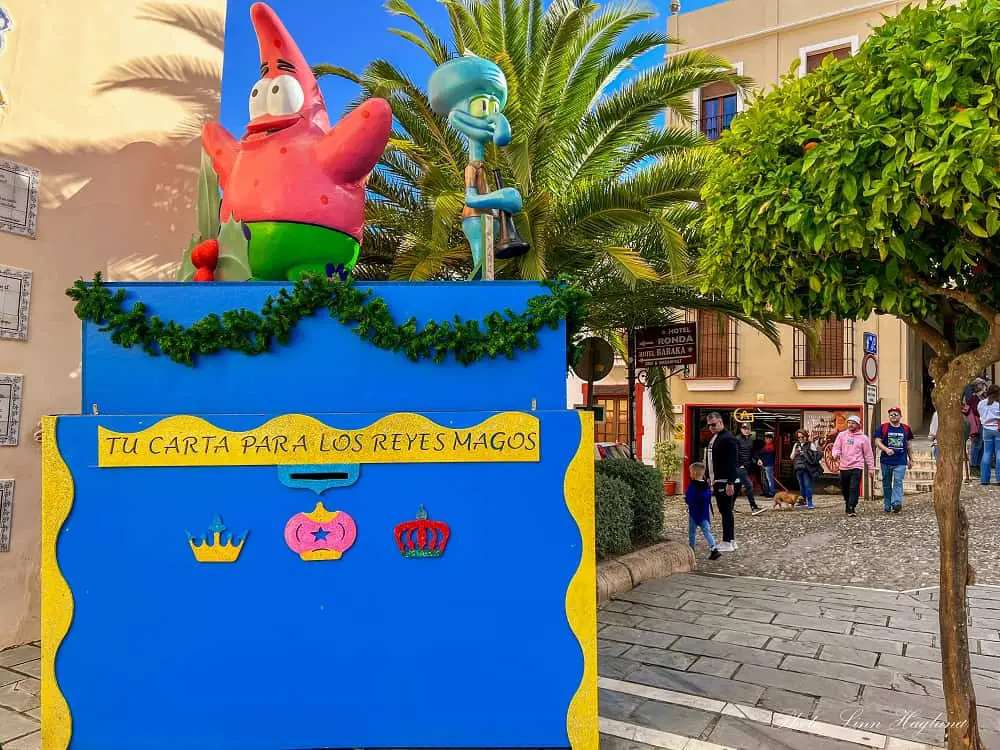 Reasons to visit Andalucia in winter
Fewer tourists
There is no secret that Andalucia is most popular in the summer months. This makes winter a lot slower and it's so lovely to walk around the cities and small towns alike, all draped in twinkling lights and holiday spirit.
If you're like me and like to avoid crowds, winter in Andalucia is an epic opportunity for you to see the big tourist attractions with slightly fewer tourists.
You can go skiing
Andalucia is home to Europe's southernmost ski resort in Sierra Nevada with a long season usually lasting from November to April. There are slopes for beginners and seasoned skiers off the national park's second-highest peak, Veleta (3398 masl.)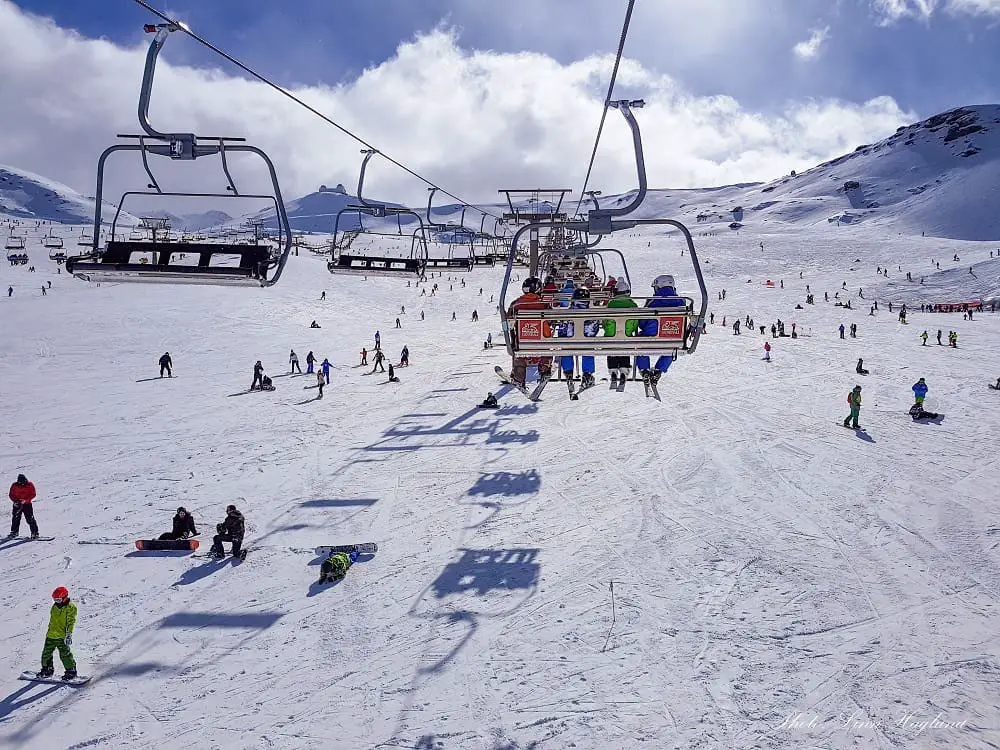 Relax at empty beaches
While some might prefer a snowy winter holiday, others might prefer a sandy one. And a beautiful winter day on Costa del Sol with 20+ degrees Celsius means that you can easily relax on the empty beaches working your tan.
Enjoy hiking the trails
While you can go hiking in Andalucia all year round, there are trails for every season. The coastal mountains are way too hot in summer but in the winter months, it's perfect to climb the peaks overlooking the coast.
Hikes like Pico El Cielo in Nerja and La Concha in Marbella are super popular and offer impeccable views! They might be a little bit technical for beginners, but in that case, I suggest checking out the trails above Estepona and Fuengirola.
Plenty of festivities
The Spaniards are famous for their festivities and winter in Andalucia is a great time to visit for several fiestas. In January, you have the Three King's Parades and February is carnival season in every city and small town.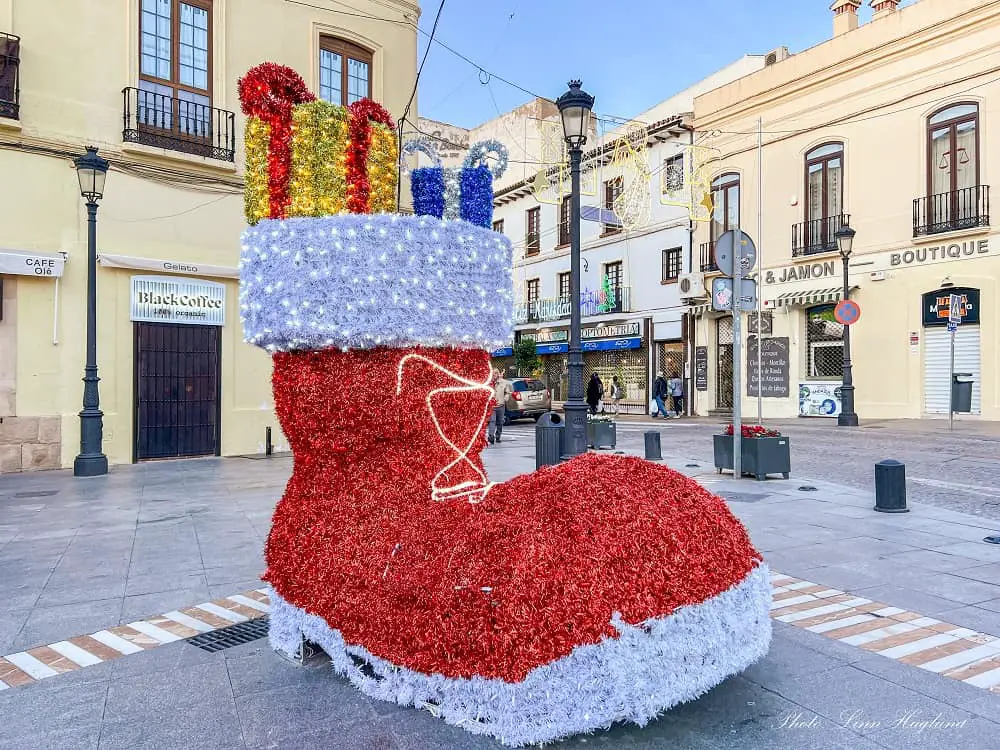 Special events in winter in Andalucia by month
Andalucia in December
Calle Larios light show: Malaga in December sparkles with lights and Calle Larios is the place to be! Every evening leading up to Christmas, the famous shopping street puts on a light show with Christmas music like no other. I love the vibe of locals, expats, and tourists mingling together to sing and dance in the street.
Christmas Markets: December in Andalucia also means that the Christmas Markets are on. The big cities like Malaga, Seville, and Granada will always put on big markets where you can find everything for a nativity scene, Christmas ornaments, toys, and other details. But also the smaller towns will have cute little Christmas Markets worth browsing.
New Year's Eve: Spending New Year's Eve in Andalucia is a unique experience. Make sure you buy 12 grapes for good luck to ring in the new year at one of the main city squares whether it's Malaga, Seville, or Cordoba.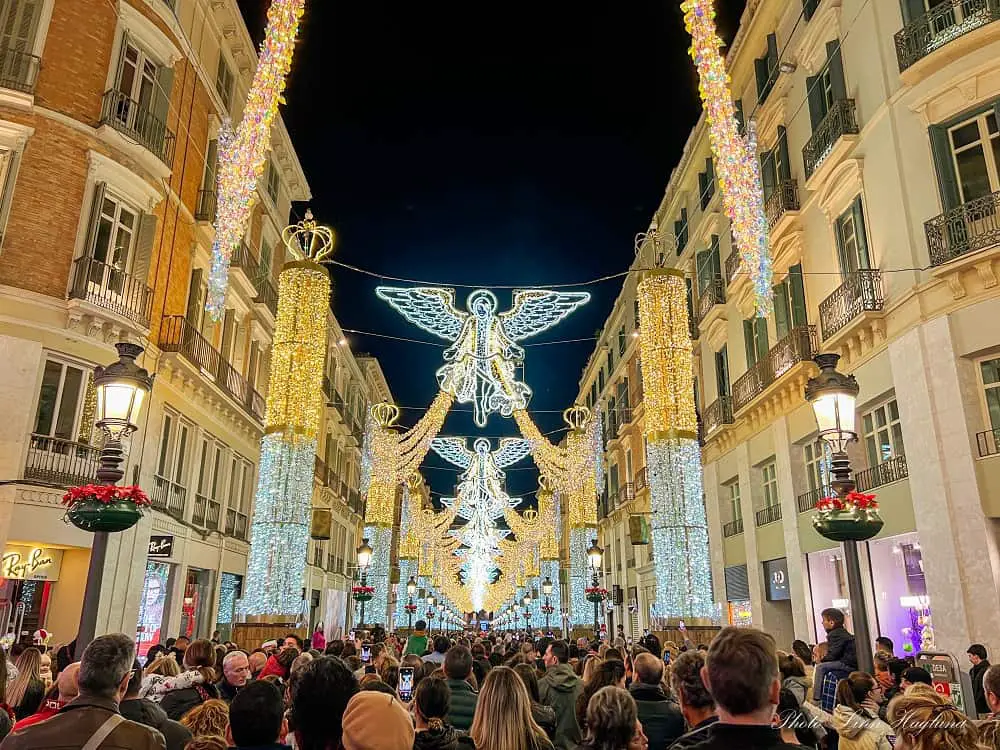 Andalucia in January
Three Kings Day: The 6th of January is the Three King's Day in Spain and in Andalucia, they are serious about their parades rolling through cities and small towns on the evening of the 5th of January and the morning of the 6th. Roll up your arms and get ready to hunt for candy thrown at the spectators from the parades. Music, song, dance, and creative costumes dominate the show!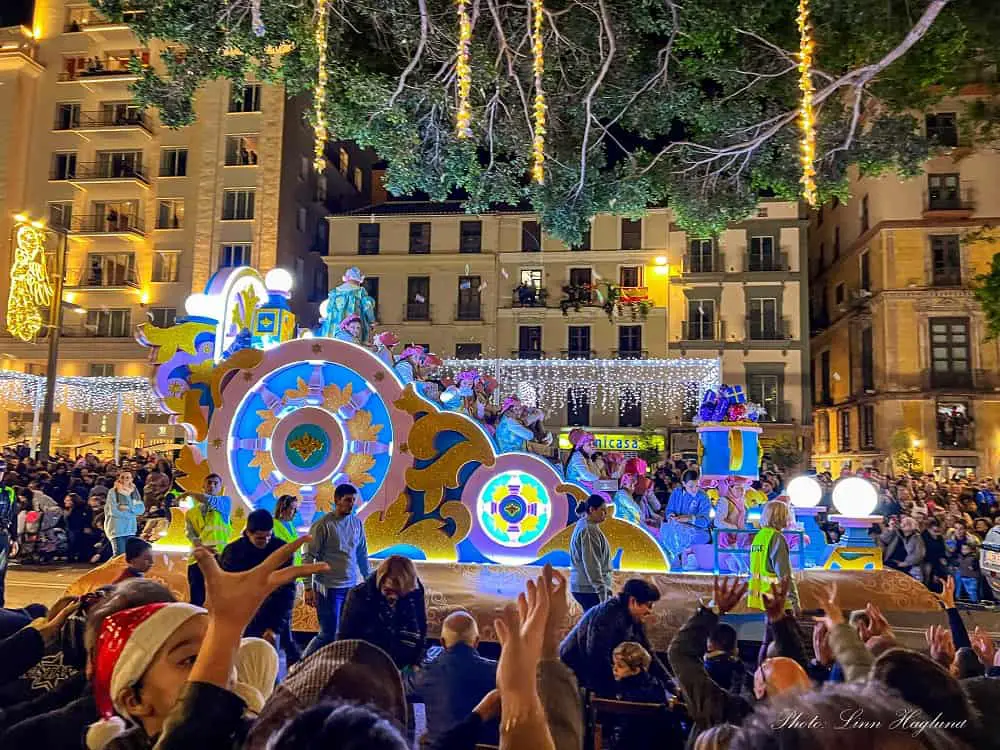 Andalucia in February
Carnival: February is international carnival month, and Andalucia is no different. While every single city and small town will throw a carnival, the most unique is found in Cadiz. In fact, it's the oldest one in Spain and the only one that was ongoing even through Franco's times when all festivities were illegal.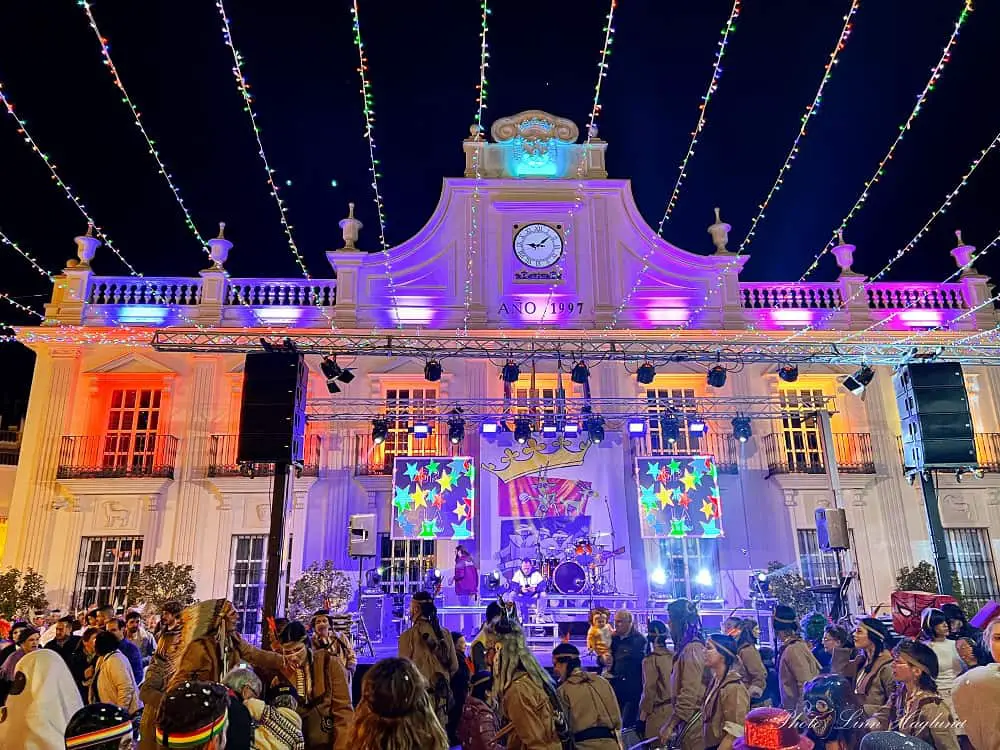 Things to do in Andalucia in winter
Road trip to the Pueblos Blancos
The winter in Andalucia is perfect for going on a road trip to the white villages dotted across the region's countryside, as it's not too hot.
A popular route is the Serrania de Ronda where you can visit the epic town of Ronda and unique villages like the blue Smuf town of Juzcar, Igualeja, and Parauta. Not far from Ronda, you also find Setenil de las Bodegas, a tiny village built inside and under the actual rock.
The towns on Costa del Sol are also popular to visit on a road trip, including the picture-perfect Frigiliana, Torrox, Mijas Pueblo, and Casares.
If you want to take your Andalucia road trip a little more off the beaten path, head to Cordoba, Granada, and Jaen visiting villages and towns like Iznajar, Rute, Priego de Cordoba, the witch village Soportujar, and Ubeda.
There is no end to the wonderful villages you can visit, so no matter where you put your winter road trip, you are guaranteed to have a blast.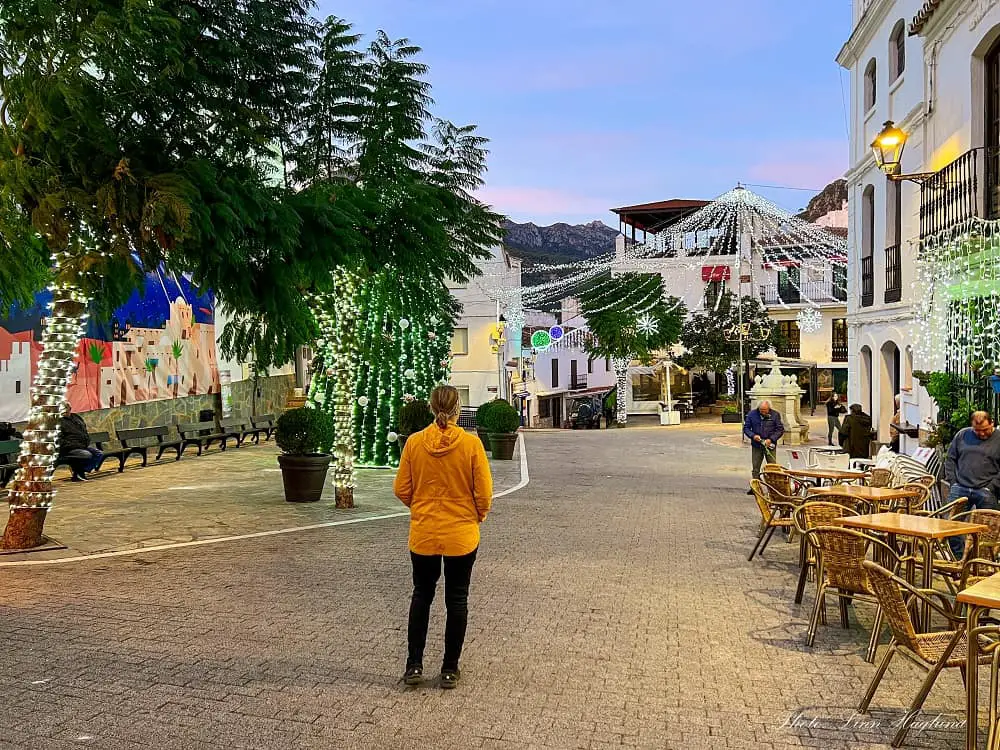 Celebrate Reyes in Malaga
The Three King's celebration is a huge thing all across the country and Malaga is a great place to experience it.
Every year on the evening of January 5 and the morning of January 6, there are large parades in the city. A good place to see it is at the beginning of Calle Larios as it passes Pl. de La Marina. If you visit Malaga in January, this is a must.
Winter holidays in Malaga don't get much better than this with costumes, music, and dance as the colorful floats pass by. Malaga also purchases tons of candy that rains over the spectators as the parade passes.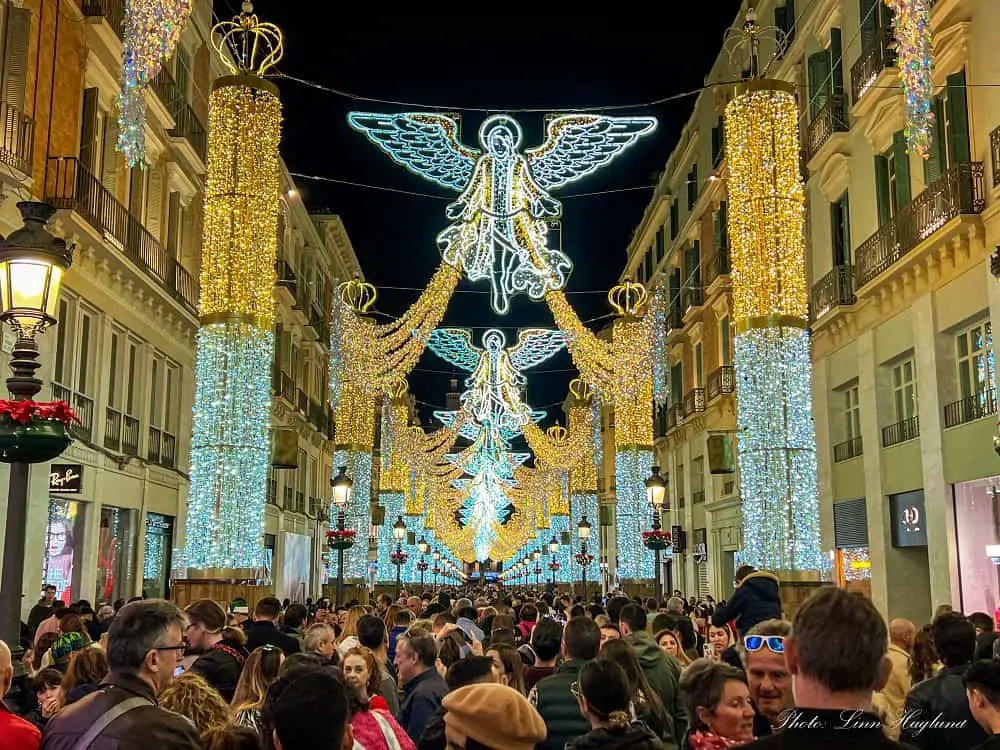 Ice skate in Cadiz
Every winter, Plaza de San Antonio in Cadiz transforms into a winter wonderland with an ice skating rink. Swirl your way through the famous square as you enjoy winter in Cadiz, the region's famous surfing destination.
There aren't many more wintry things to do in Cadiz, so make sure you add this to your itinerary.
Learn how to kite surf in Tarifa
The winter months are generally more windy on Costa de la Luz, making it the perfect time of the year to learn how to kite surf. The action-filled wind sport is one of the most popular things to do in Tarifa, Spain's most southern town.
There are several hostels that offer kite surfing and surfing classes so you can get it all in one place and meet other like-minded travelers.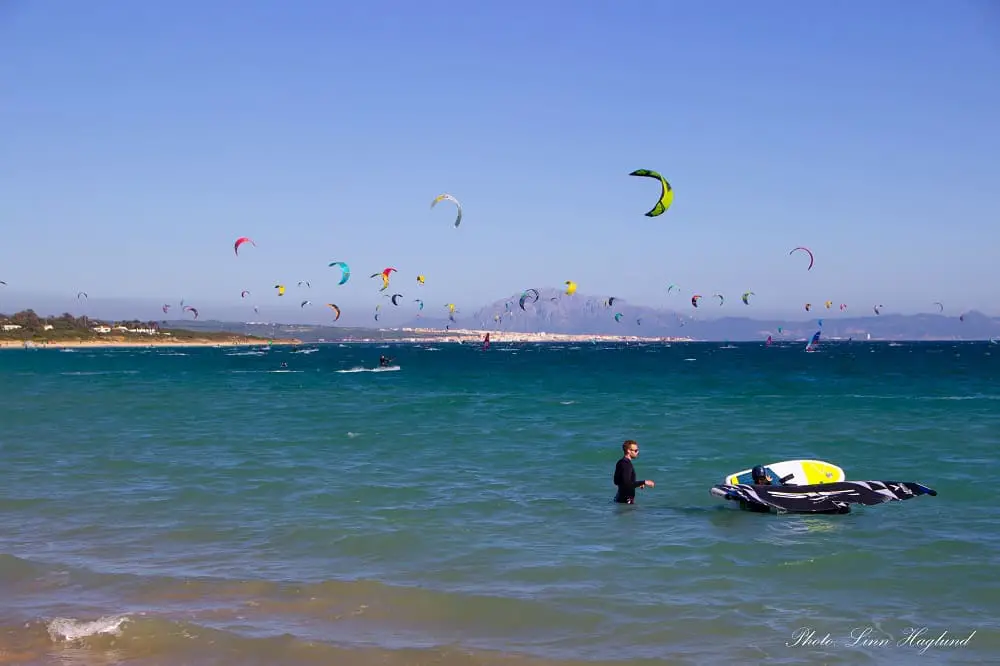 Try Roscon de Reyes
Among the traditional winter treats you can try in Andalucia, don't miss out on Roscon de Reyes. This doughnut-shaped cake is usually filled with cream and covered in candied fruits.
It was originally served on Three Kings Day with a bean inside. The one getting the bean would be crowned king for the day. These days, there is no bean, but instead a plastic figurine of one of the three kings.
You can find Roscon de Reyes in cafes and bars throughout the Christmas season which ends with Three King's Day (Reyes) on the 6th of January.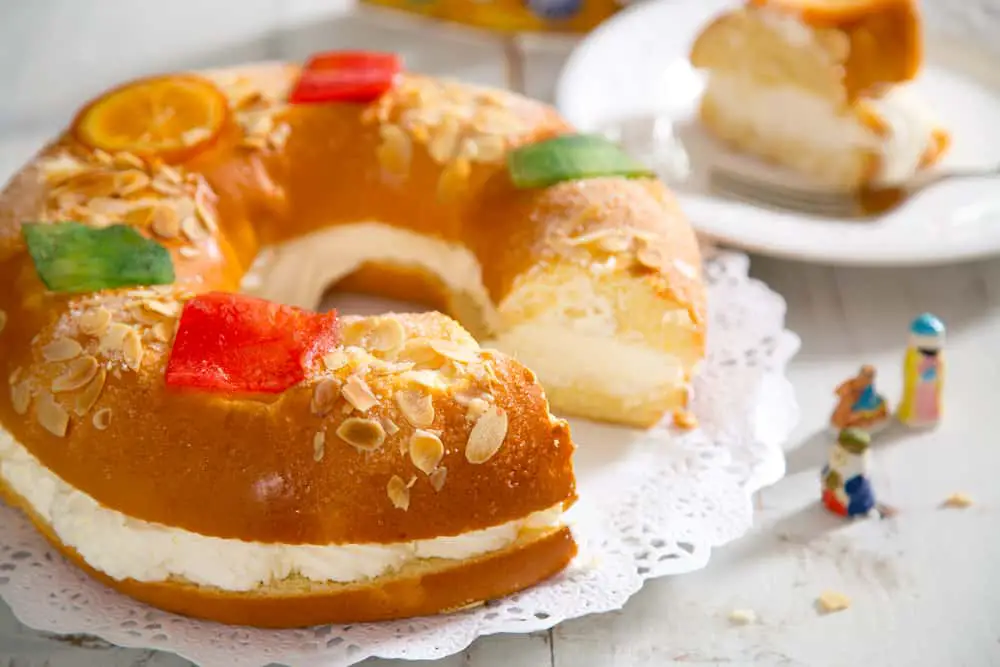 Surf the waves of Cadiz
Besides ice skating, Cadiz might be more popular among surfers, and rightfully so. In fact, the city's surf community has nicknamed the city Cadifornia due to the great surf.
Winter is a great time of the year to ride the waves in Cadiz as the beaches are slightly less crowded and the waves are slightly better.
Go skiing in Sierra Nevada, Granada
From riding the waves in Cadiz to skiing in Sierra Nevada, you are prone to have an epic adventure during winter in Granada. There are plenty of slopes from difficult to easy and instructors are ready to teach you if you're a newbie whether you want to learn how to ski or to snowboard.
Every time I've gone to Sierra Nevada for skiing, we've been a good mix of beginners and seasoned skiers and everyone have always had a blast!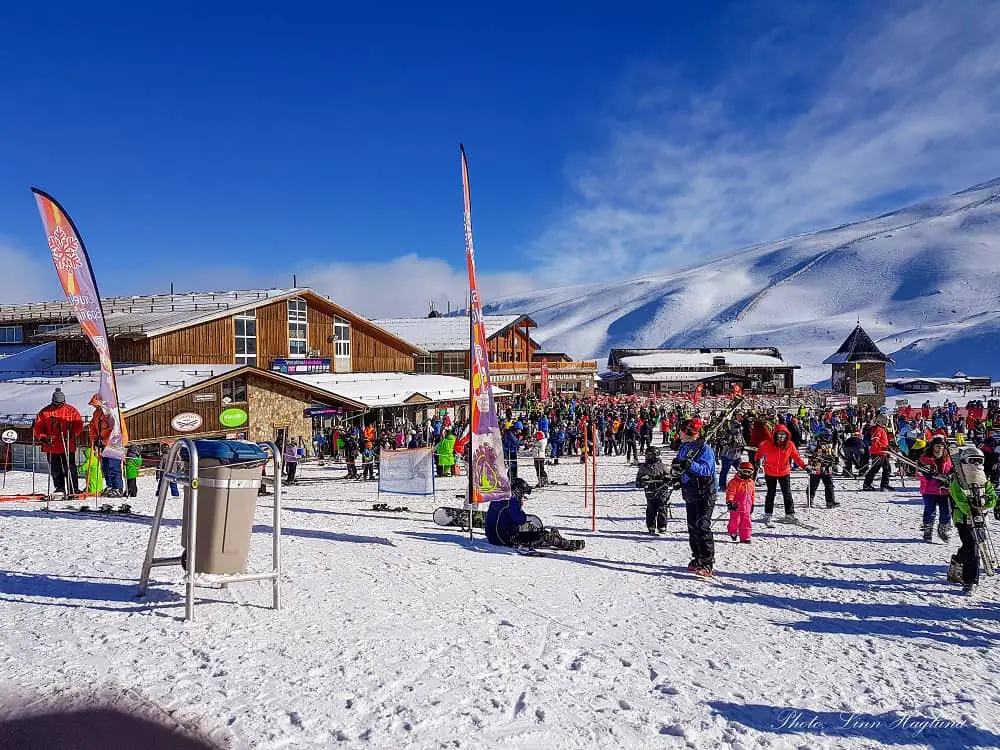 Go cross-country skiing in Sierra Nevada, Almeria
Sierra Nevada is mostly known for its slopes down Veleta Peak in Granada and the Pradollano ski resort. But the mountain range stretches all the way to Almeria province.
There, you can try cross-country skiing, which is a lovely winter activity that most people don't exactly associate with southern Spain winter.
But believe me, it's worth trying and you can rent gear at Puerto de La Ragua above the village of Bayárcal. The slopes are at the foot of Pico El Chullo which is the highest top in Almeria at 2611 masl.
Go hiking in Nerja
Winter in Andalucia is perfect for hiking the coastal mountain ranges and my absolute favorite area is Sierra Tejeda Almijara y Alhama above Nerja.
Hikes like El Cielo offer spectacular views of the coast and if you're up for a tougher challenge, get up early to conquer Navachica. Most trails start by Nerja Caves and if the gate is open, you can drive the first few kilometers to the parking lot.
Hiking in the mountains is by far one of the best things to do in Nerja. It is also a great alternative for being outdoors when it's too cold to go swimming in the crystal clear water in winter in Nerja.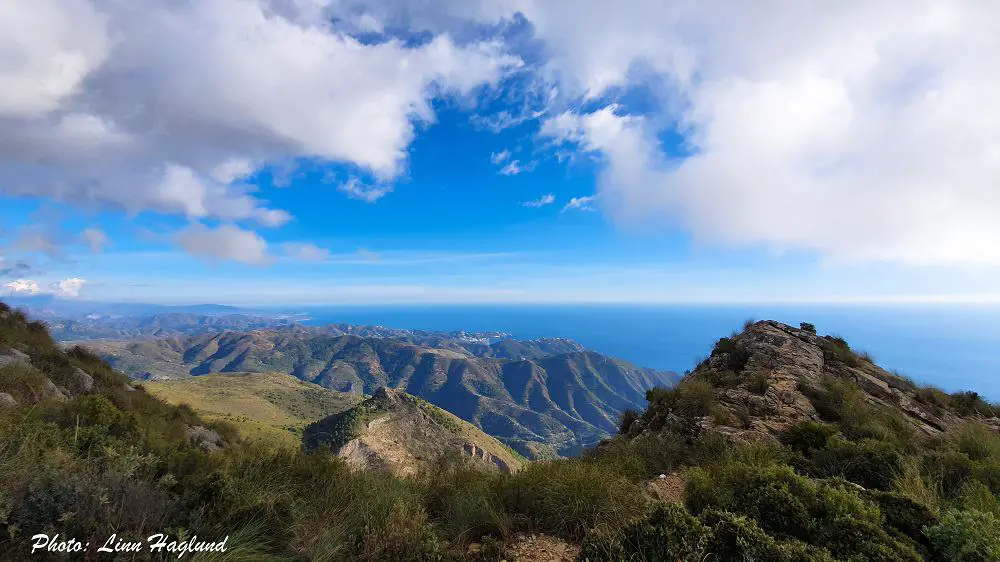 Hike El Caminito del Rey
Caminito del Rey is the most famous hike in Spain after the Camino and the winter months in Andalucia is a great time of the year to do it as you avoid the heat.
Suspended 100 meters high on the cliff wall in the dramatic Gaitanes Gorge, it's not for the faint-hearted. Yet, it's a must-do hike that I recommend anyone to do at least once.
Note that you must book tickets in advance. You can look for a free time slot here.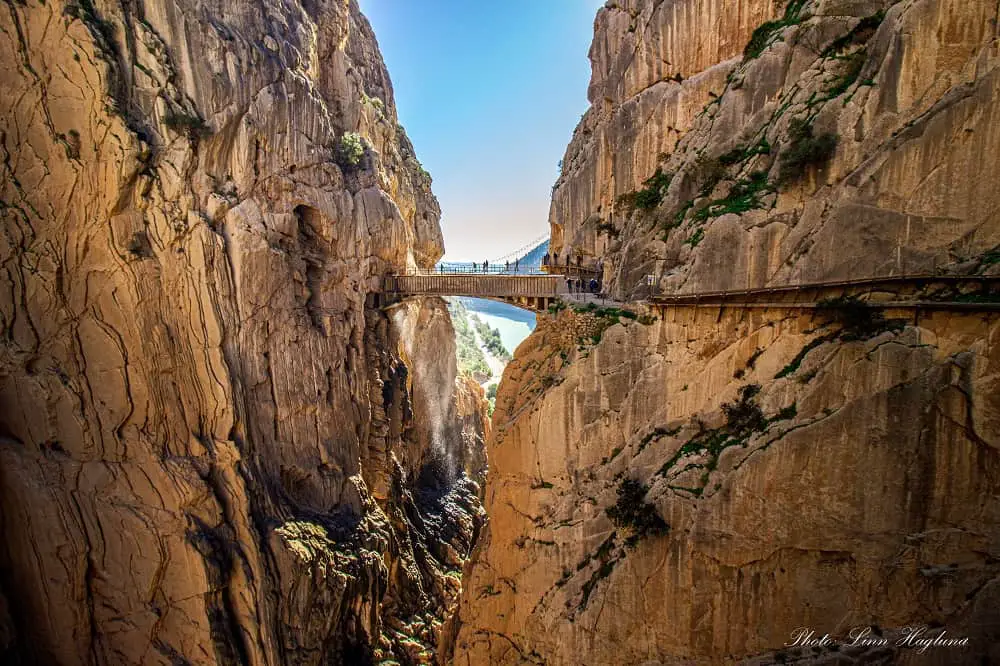 Go sherry tasting in Jerez de la Frontera
Jerez de La Frontera forms Andalucia's Sherry Triangle together with El Puerto de Santa Maria and Sanlúcar de Barrameda.
As you can tell, it is no secret that one of the best things to do in Jerez de La Frontera is going sherry tasting and as an inland city, it gets unbearably hot in the summer, so winter is perfect for this.
Some of Spain's finest sherries come from there and famous names like Tio Pepe, Osborne, and Barbadillo come from there. Book your tour here.
Visit the Mosque-Cathedral in Cordoba
When visiting southern Spain in winter, make sure you make it to Cordoba. This is the perfect time of the year to visit Cordoba as summers are scorching hot.
Winter temperatures, however, promise a comfortable sightseeing temperature and are excellent for exploring the Mosque-Cathedral, the only one of its kind.
I can't count how many times I've been inside this architectural wonder, and I still find myself in awe each time I enter. I recommend booking tickets in advance to Cordoba's Mosque-Cathedral to ensure entrance at a time that suits your Cordoba itinerary.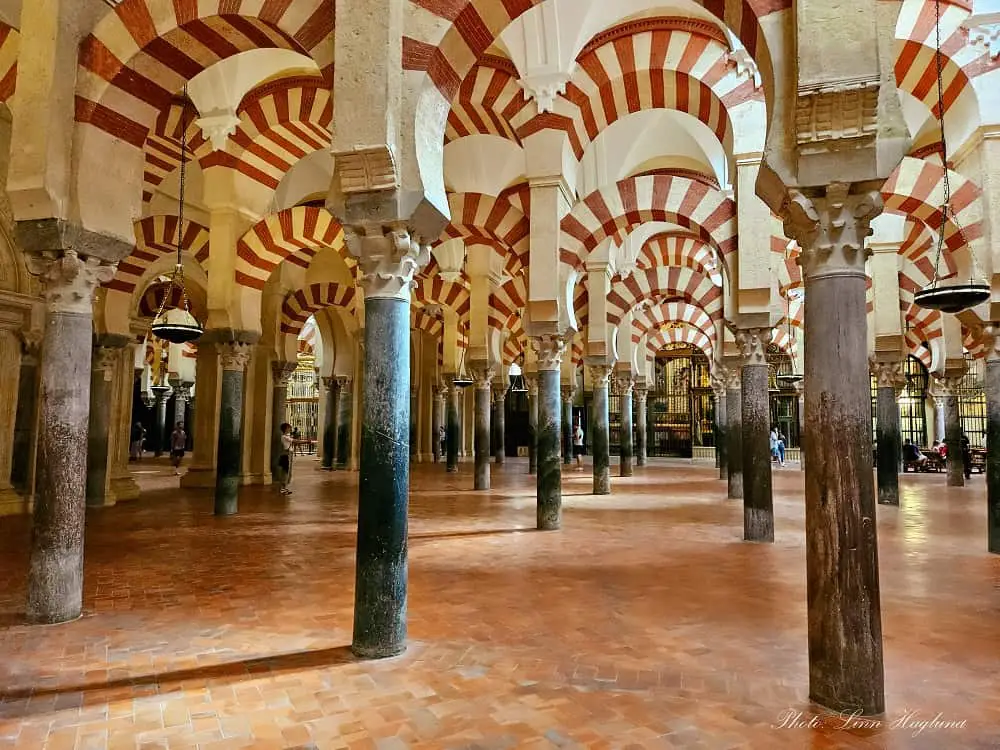 Tour the Alhambra in Granada
The Alhambra in Granada is one of the most important historical sites in Andalucia, if not in Spain as a whole. The cultural melting pot of Andalucia is defined by the walls of the Alhambra with its rich history from different eras of rule.
The complex consists of the palace, alcazar, and gardens and is best toured with a guide. You must book tickets to the Alhambra in advance as they mostly sell out a long time in advance. Find tickets here.
If you're looking for a unique place to stay in Granada, make sure you check in at the Parador de Granada which is set within the Alhambra walls.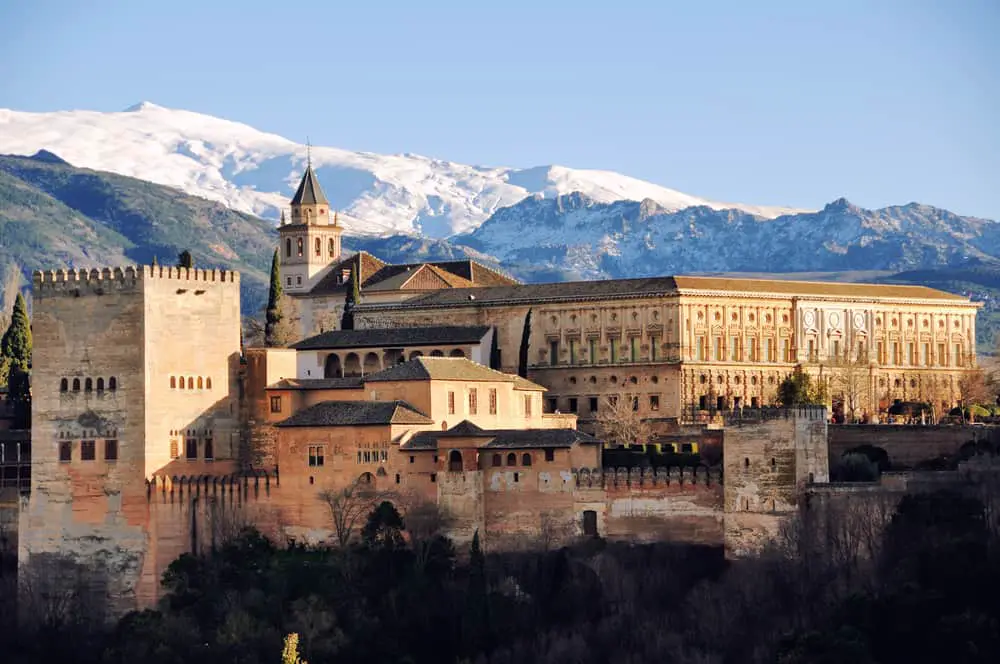 Tour the UNESCO sites in Seville
No visit to Andalucia in the winter is complete without a visit to the region's capital city, Seville. Winter in Seville is lovely with comfortable temperatures in the daytime making it perfect for sightseeing.
So what better time to tour the UNESCO sites of Seville?
Seville Cathedral and the iconic Giralda Tower are impressive sights, just make sure you book Seville Cathedral tickets in advance, especially if you only have one day in Seville as they sell out quickly.
Next, visit the Real Alcazar of Seville, an incredible reminder of Andalucia's Moorish heritage. Just like Seville Cathedral, I recommend getting tickets for the Alcazaba in Seville as early as possible to secure entry on your day of visiting.
There are also joint tickets for both attractions, which you can find here.
Reflections on southern Spain in winter
Summing up Andalucia in winter, you can expect anything from snow in the mountains to sunny beaches depending on where you go.
Andalucia's cities offer a completely different scene than the whitewashed villages of southern Spain, but they all have their charm in the winter.
Andalucia has it all, so all you have to do is decide what kind of winter vacation you want. No matter what you go for, I'm sure you'll have a blast.
Happy travels!