One of the prettiest white villages near Malaga and probably one of the most popular places to visit in Costa del Sol, is elegantly perched on the hillside of Sierra de Mijas overlooking Fuengirola's and Mija's coastline.
While most tourists just go to the village for a few hours to browse the picturesque whitewashed village, walk through the streets and take in the views, there are surprisingly many things to do in Mijas Pueblo Spain if you give yourself the time.
Mijas Pueblo has its own chocolate factory, a flavorful tapas scene, and is the starting point of multiple hiking routes in Sierra de Mijas which protects the coast.
If you consider setting your holidays to Mijas Pueblo you will not be disappointed. This has been my "local pueblo" for many years and I'll share with you all the best things to do in Mijas Pueblo in this post.
Disclosure: This post may contain affiliate links. That means that if you make a purchase through one of those links, I will get a small commission at no extra cost to you.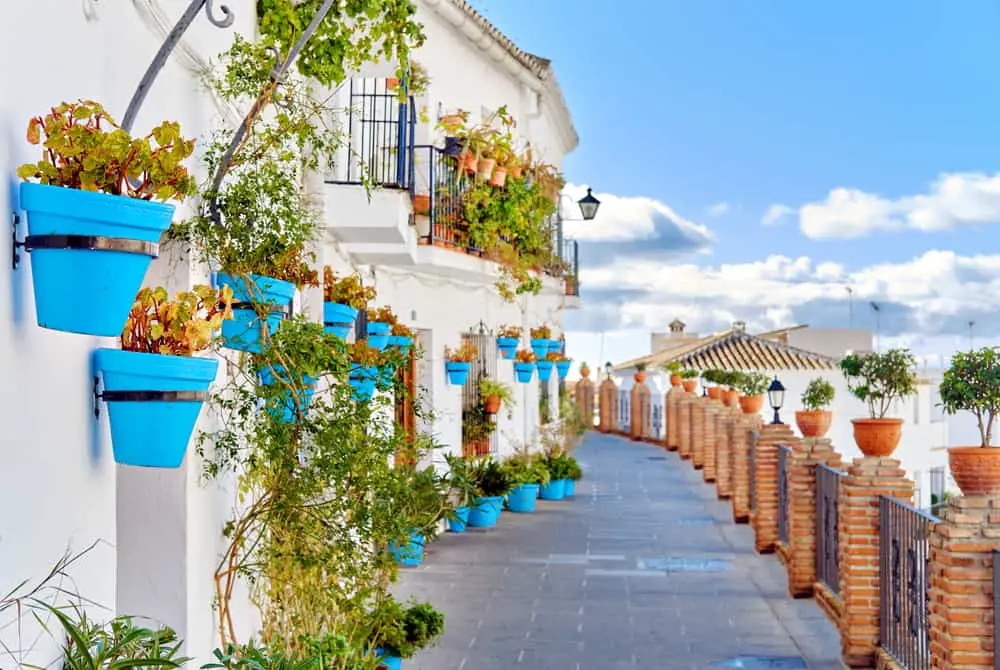 Parking in Mijas Pueblo
Parking in Mijas Pueblo is easy in the parking house which is only one Euro per day. There are several floors and taking the elevator to the top, you exit straight at Plaza Virgen de la Peña.
However, in the high season, you might find it full. For this reason, I recommend going early in the morning if you travel in the summer months when most people flock to Costa del Sol and thus also visit Mijas Pueblo.
You can also find free parking once you reach the BP petrol station before entering the village, you find a few parking spots on the hill beside the roundabout and street parking on the way to the parking house.
It is only a few minutes walk from these spots to Plaza Virgen de la Peña and personally, I mostly leave my car there even though the one-Euro fee is not much for parking a whole day. There is also street parking on the far other end of the village.
READ BEFORE YOU GO: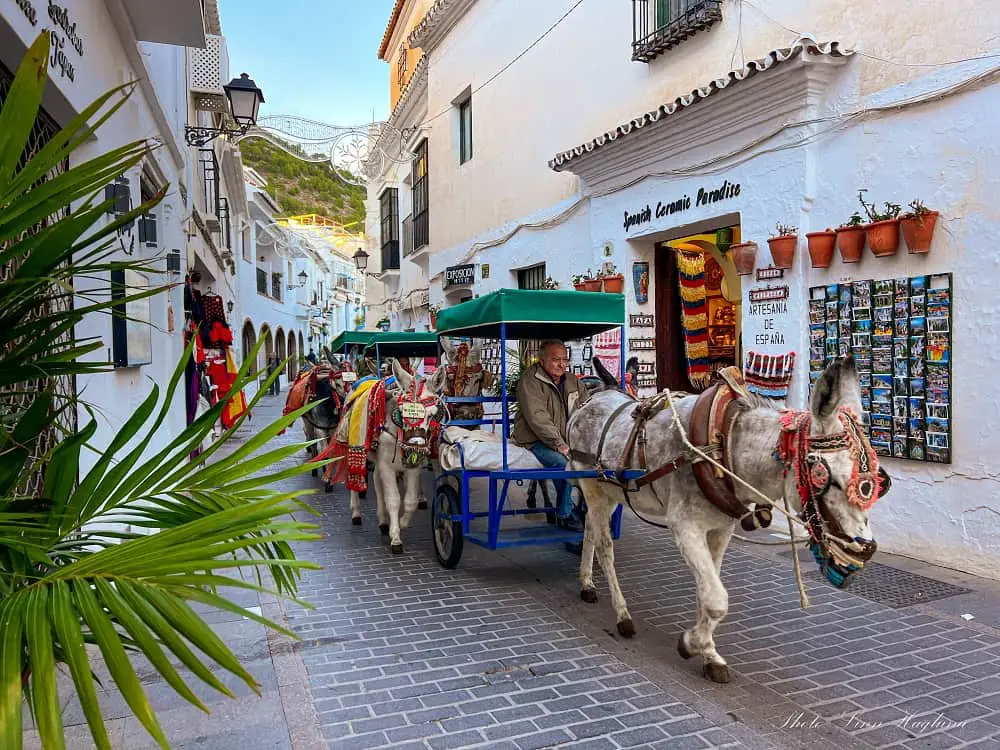 Things to do in Mijas Pueblo
Make your own chocolate at the Chocolate Factory
Any other chocolate lovers out there? In Mijas, you can make your own chocolate at the chocolate factory. I find it hard to think of any better things to do in Mijas Pueblo.
The workshops at Mayan Monkey Chocolate Factory are fun and you can basically create any kinds of chocolate you can imagine with more than 50 ingredients. The chocolate factory is also the only one in Spain which has been recognized by the NGO "Slavefree Chocolate". You can read more about that here.
They can accommodate allergies and dietary restrictions as long as you let them know up-front. Check out their workshops here.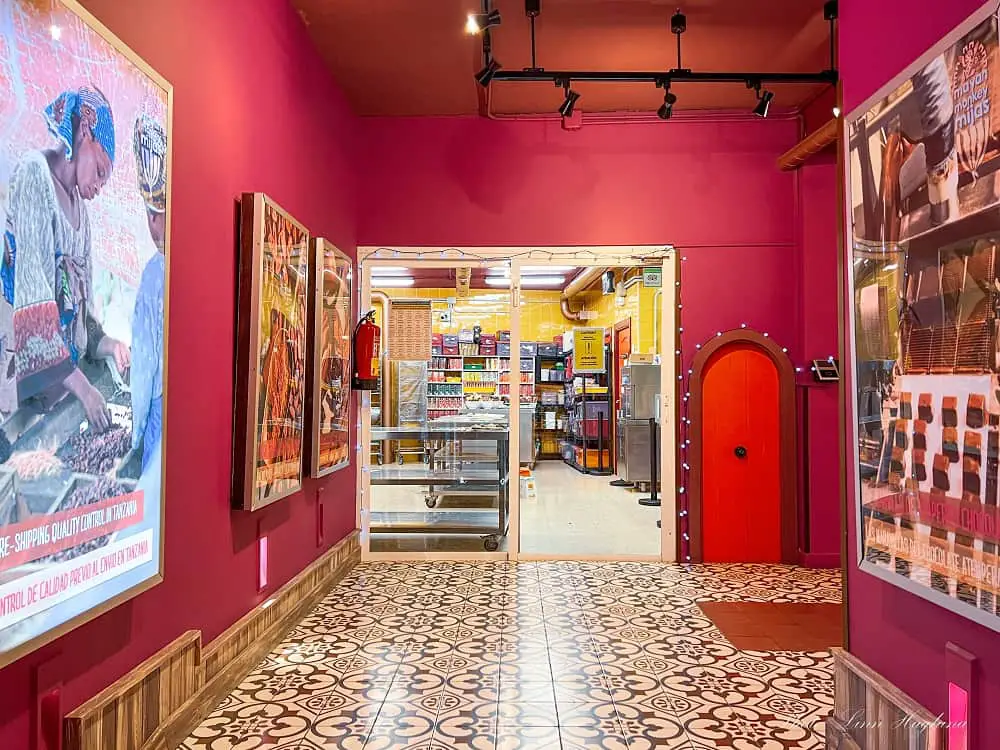 Visit the Chocolate Museum
Even if you opt out of chocolate making, you can visit the Chocolate Museum where you can learn more about the history of chocolate.
Thousands of years of chocolate history, the importance of chocolate for the Mayans and Aztecs, as well as the transportation of cocoa beans to Spain and how it changed the course of the history of chocolate.
There are machines in the museum too that you can see and learn more about how they have been used in chocolate production.
I won't spoil any more here so that you can explore it yourself when you go on holiday to Mijas Pueblo.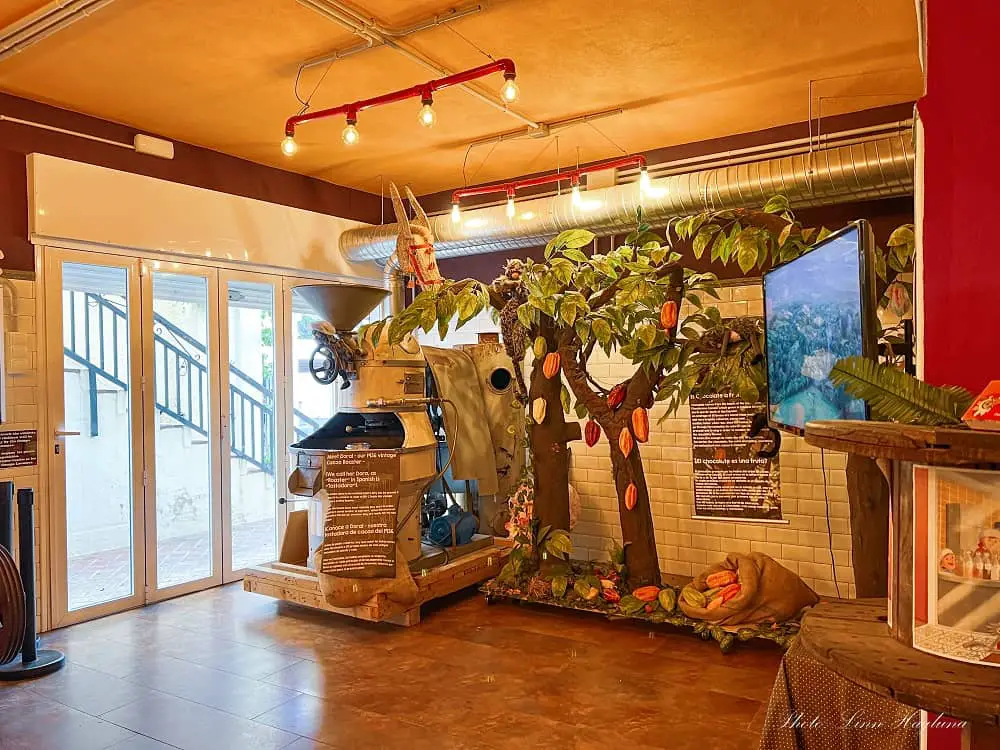 Walk to the Ermita del Calvario
Ermita del Calvario is situated in the forest above the village of Mijas Pueblo Spain and is reached by a short hike of around 15 minutes.
The forest trail is steep and rugged so you must bring good footwear, but you will be rewarded with incredible views of the village with the deep blue sea as a backdrop.
The hermitage is closed to visitors, so you won't be able to enter, but the natural scenery and views from there are so worth it.
If you feel adventurous, there are multiple hiking trails you can set out on from there, but I'll get back to that later.
Enjoy the viewpoints
Among the top things to see in Mijas Pueblo are the views, and there is no shortage of viewpoints. I already mentioned the most epic one from Ermita del Calvario, but before crossing the road to the forest trail, there is another awesome view from Mirador Juan Antonio Gómez Alarcon.
The viewpoint has gotten its name from a local that disappeared in Sierra de Mijas in 2010. He was an expert in both hiking and caving and was reported missing at an age of 32 after he didn't return from a hike. Multiple searches have been done through the years without finding the young man.
Other viewpoints are found by Ermita de la Virgen de la Peña, along the entire Paseo La Muralla, which goes along the cliff wall surrounding the village, and Mirador del Paseo de la Muralla. You can also climb Torre La Muralla for epic views of the village with the mountain as a backdrop.
Finally, you can walk through the alleyway beside the Mayan Monkey Coffee shop on the Plaza de la Constitucion and find a few nice viewpoints of the coastline.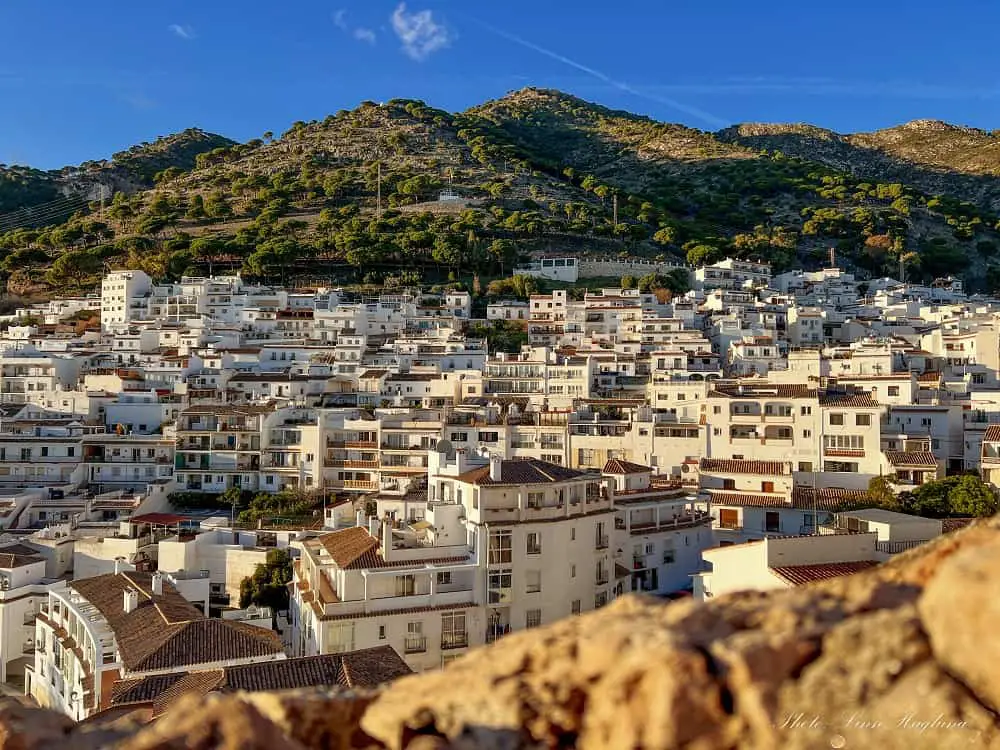 See the Ermita de la Virgen de la Peña
The small shrine Ermita de la Virgen de la Peña was founded by a Carmelite Monk in the 17th century. It sits beautifully on the Mirador del Compás viewpoint overlooking Fuengirola's coastline.
It is named after Mijas Pueblo's patron saint, Virgen de la Peña. On the rock next to it, you find a statue of Jesus overlooking the square.
Even if you find the entrance closed, you can take a peek inside through the door.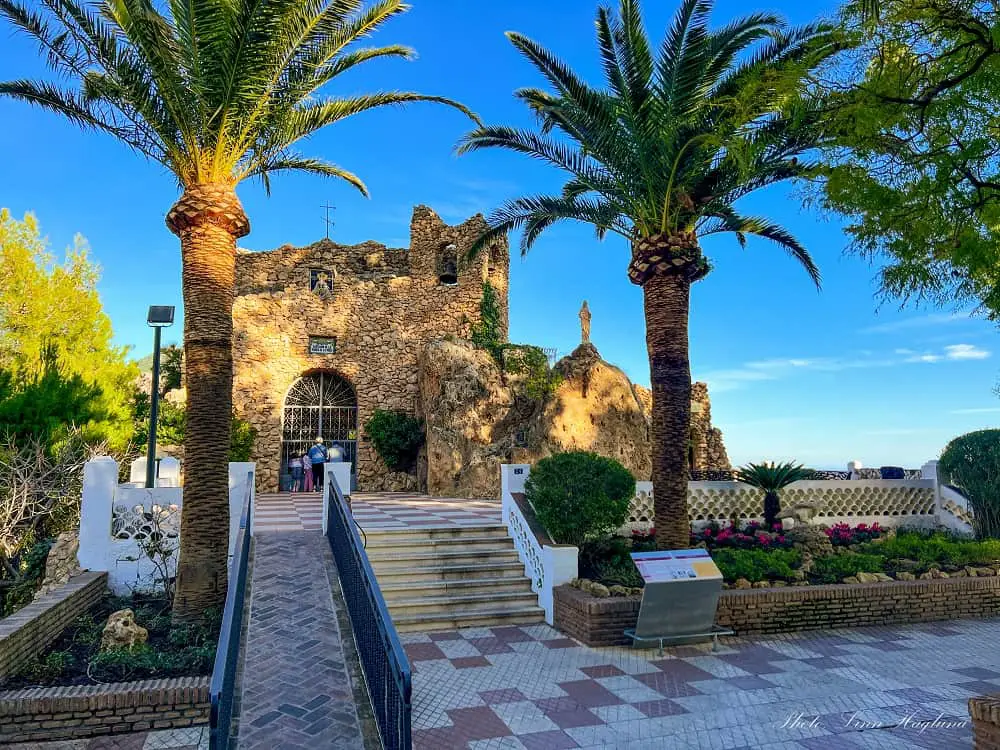 Eat tapas
There are so many great places to eat tapas in Mijas Pueblo. That said, I would stay clear of the viewpoint restaurants. In my experience, they are tourist places with crap quality food because they know people won't come back.
If you look inside the heart of the village, however, you will notice that there are more locals chilling over a couple of beers and tapas, and that's where you want to go too.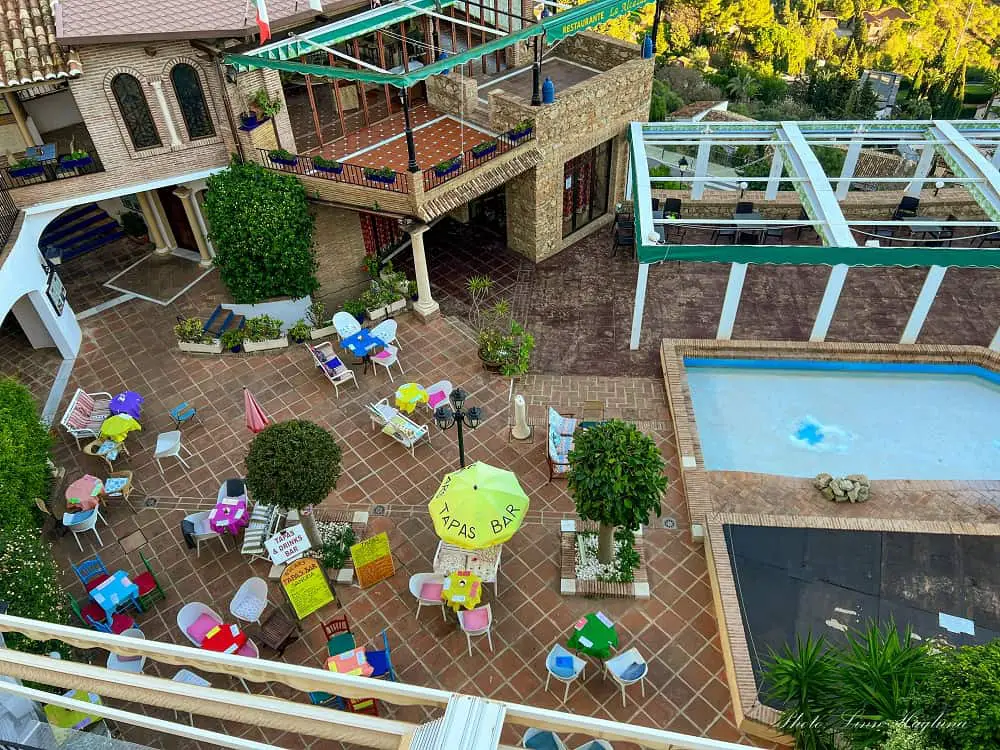 Museo Casa Molino
Right next to the Miniature Museum, you find Cueva del Compás, and there you can see an ancient flour mill. Next to it, there are a couple of pieces of restored machinery and a traditional oven.
You will learn how the old mill worked and was run solely by water pressure and how it was part of the village's traditional life in the past. The museum has used original 200 years old pieces to reconstruct the items you can see today.
The flour mills are free to enter.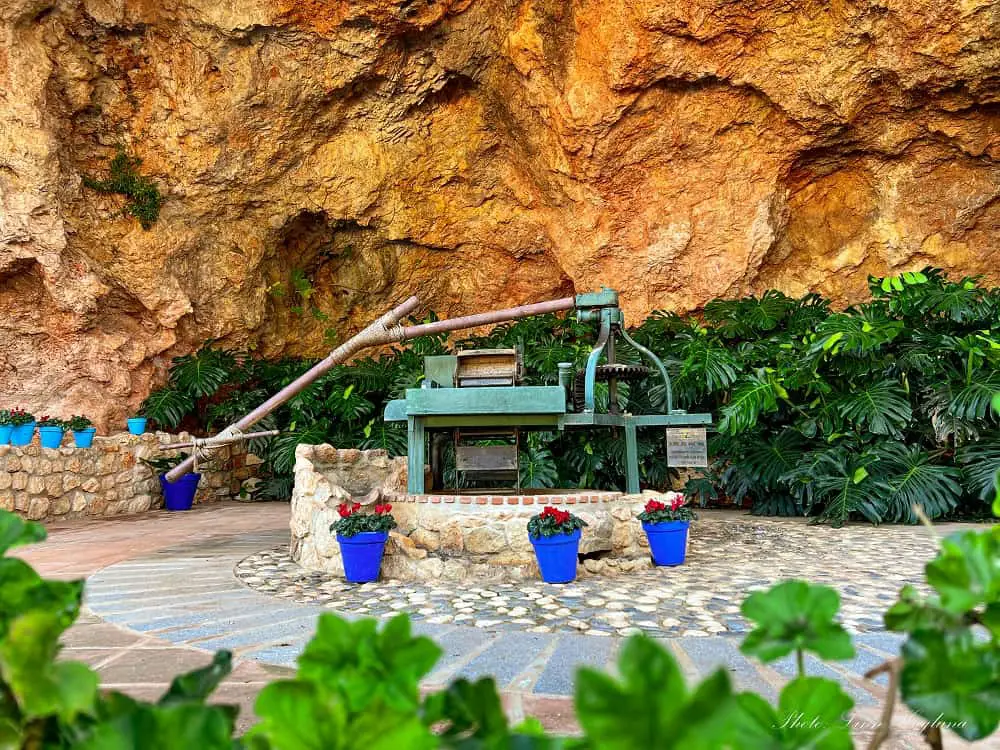 Plaza de la Constitucion
Chances are, your holidays in Mijas Pueblo Malaga will take you to Plaza de la Constitucion. Being a central square surrounded by restaurants and bars, it is a must-visit.
It is a great place to enjoy an ice cream on a hot day or people watch as locals and tourists alike walk past in all directions. From the square, you get to the different viewpoints, to the Torre de la Muralla, and the botanical garden.
The chocolate factory has a café, Mayan Monkey, on the square which is great for hot chocolate on cold winter days.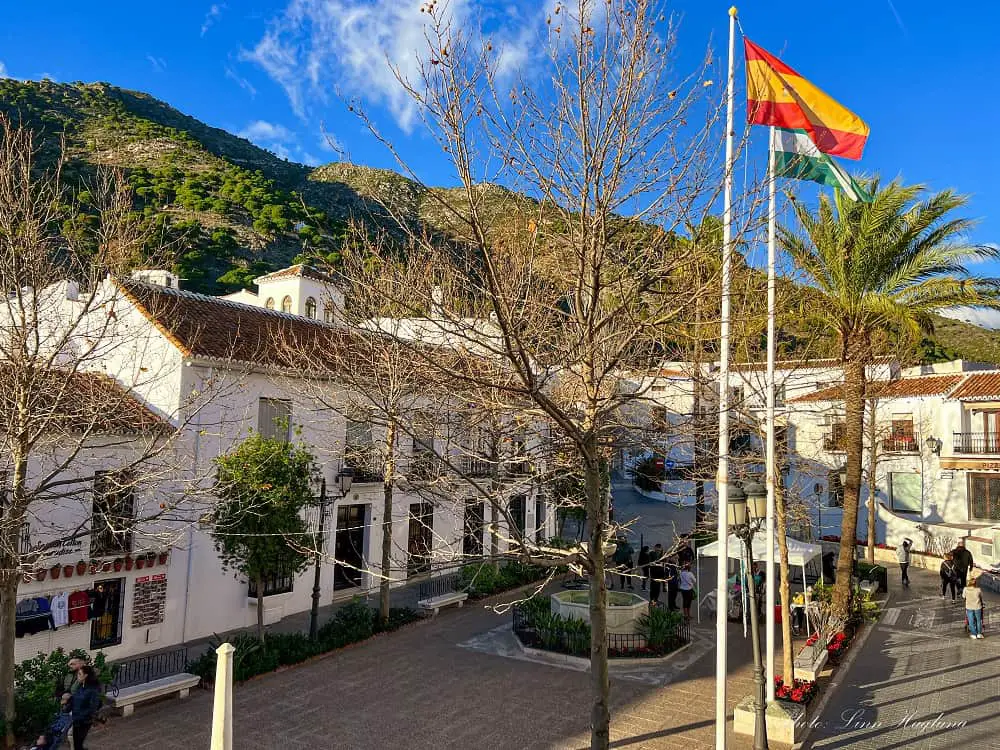 Climb the Torre de la Muralla
When wondering what to do in Mijas Pueblo, you will find a cool little medieval tower tucked away in Parque la Muralla. It is a cute little hideaway that offers sweeping views of Mijas Pueblo and the imposing mountains above.
You will find it right after climbing the hill from Plaza de la Constitución, turning sharp left between trees and bushes. No matter which way you walk around it you will feel like you are walking off the track to actually reach the stairs.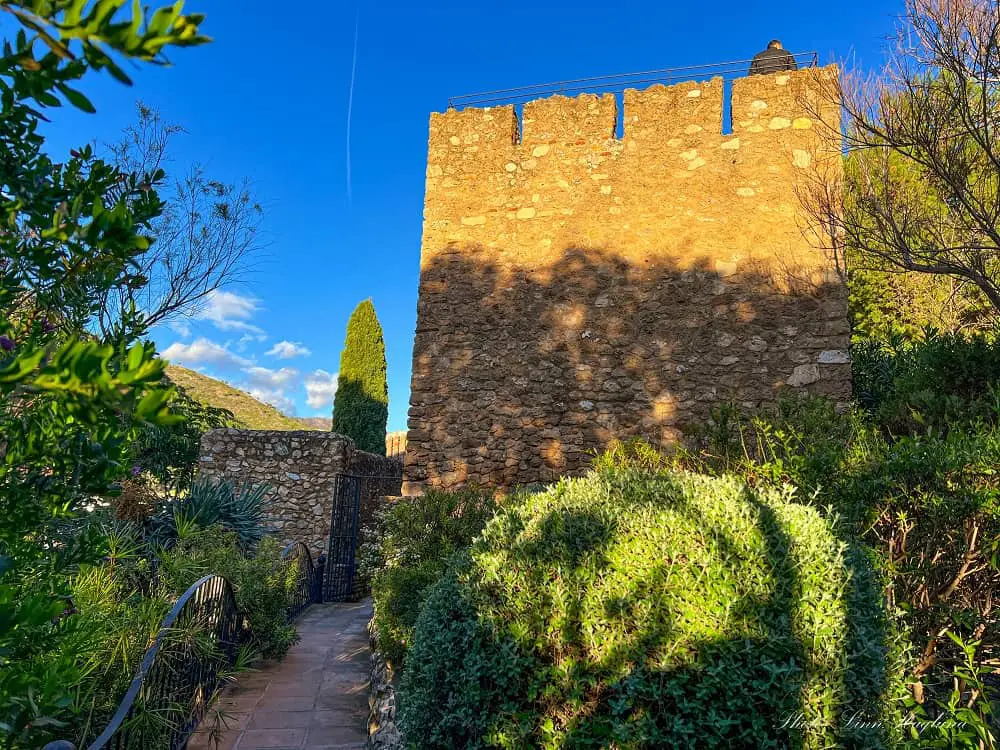 Take in the views from Paseo La Muralla
If you love spending time watching beautiful views during your holidays, Mijas Pueblo will not disappoint! There are so many to choose from, but if you want to catch the sea views, you will love walking along Paseo La Muralla on the outer edge of the village.
All the way from Mirador del Compás and through to the very end of Parque de la Muralla, you will be spoilt for places to sit down and take in the stunning views.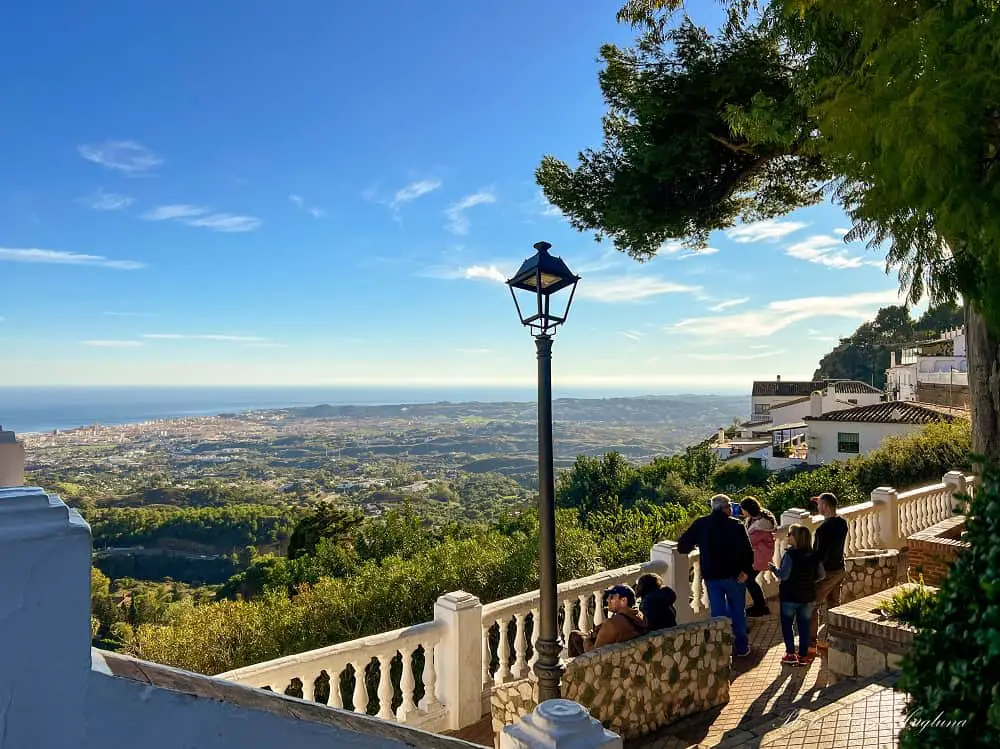 Iglesia Inmaculada Concepción
Situated inside the Parque de la Muralla, you find Iglesia Inmaculada Concepción. It is believed that it was built on the same site as the mosque stood before the reconquest, but there is a lack of physical evidence to confirm it.
The church was finished built in 1631 but has been restored multiple times since. Until the 18th century, it was customary to bury everyone that died in Mijas inside the church.
This custom was banned as the floors in the church became in a bad state after 200 years of burials. After this time, the floor has been replaced various times.
After looting and a fire in 1937, several objects of worship were destroyed including unreplaceable documents about the history of Mijas Pueblo.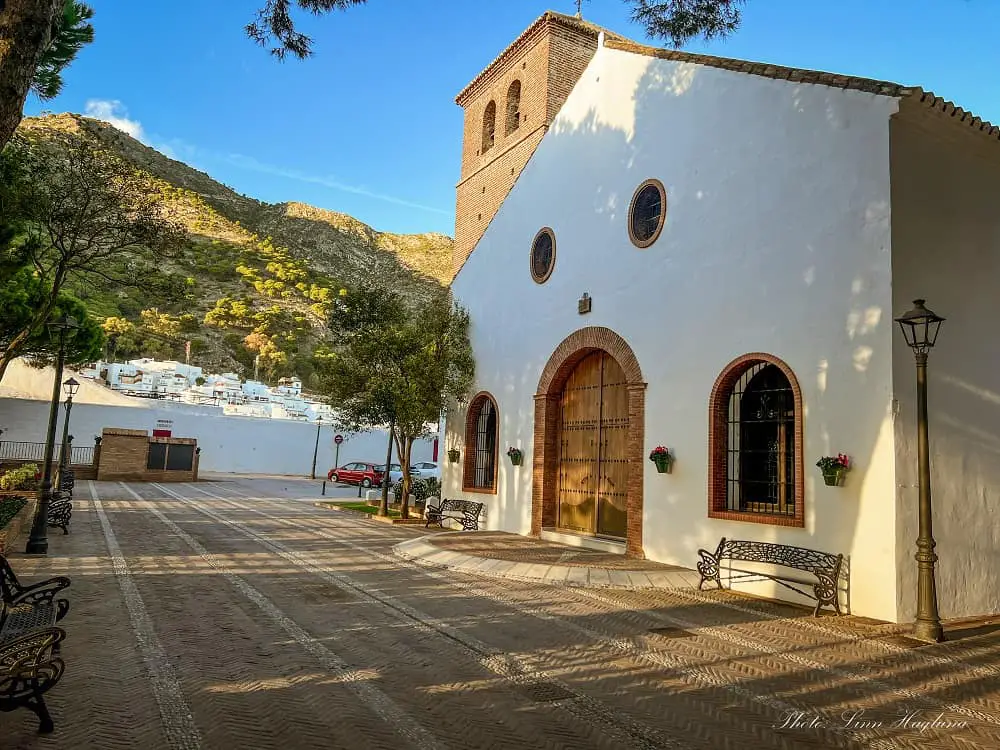 Paseo Reina de Las Dos Lunas
On the Muralla de Mijas (Parque de la Muralla) next to the Torre de la Muralla, you will find one of the hidden things to do in Mijas Pueblo. A cute little walkway that tells a prohibited love story that, as opposed to Romeo and Juliet, actually happened and these people are even documented in the Municipal Archive of Malaga.
It is a story from the 16th century, of a Moorish Queen and a Christian slave who fell madly in love in Fez, Morocco. They escaped across the Strait of Gibraltar and ended up in Mijas Pueblo where the emperor baptized the queen before they got married in Granada.
The queen took the name Doña Juana de Carlos and the couple moved into a residence in Mijas Pueblo and lived happily ever after.
Unfortunately, the tiles that tell the tale along the path are getting in a bad state, so you can't read the whole story, but the author, José Manuel García Marín, wrote about their adventures in his book Reina de Las Dos Lunas (which translated means The Queen of the Two Moons.)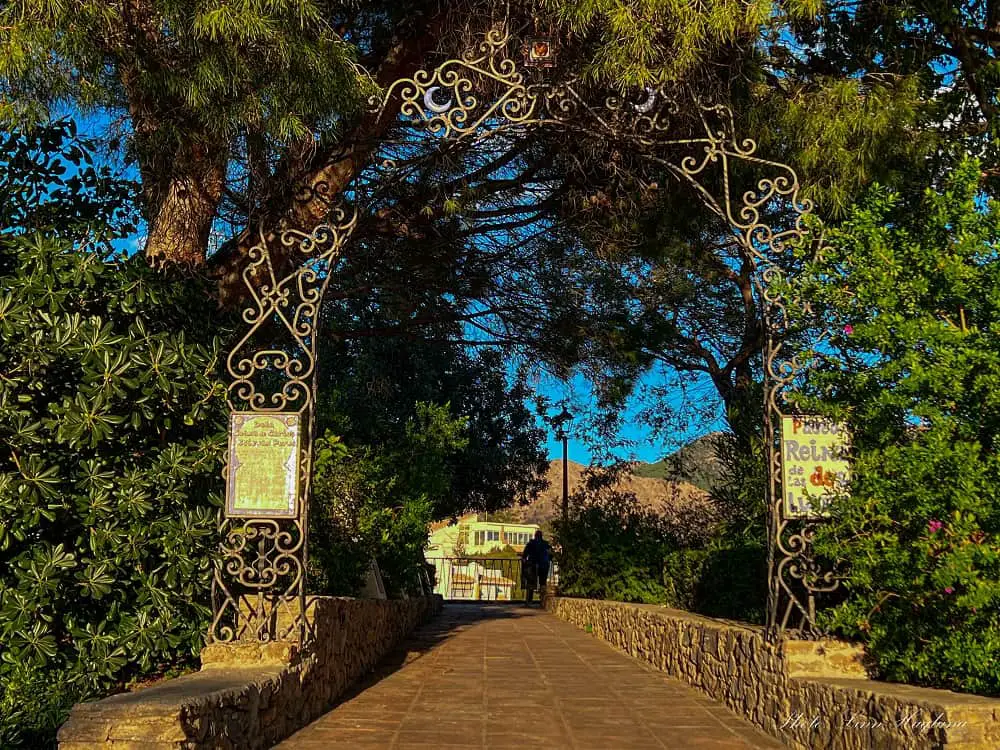 Other white villages in Andalucia
Go shopping
One of the top things to do in Mijas Pueblo is shopping for ceramics. There are so many lovely designs and if you want to bring something unique home from your holidays in Mijas Pueblo, this is a great option.
You will find several small local handicraft shops around. If you are a photography enthusiast, my favorite shop in Mijas Pueblo is called Photo Art and sells incredible photography work from around the world by a local artist.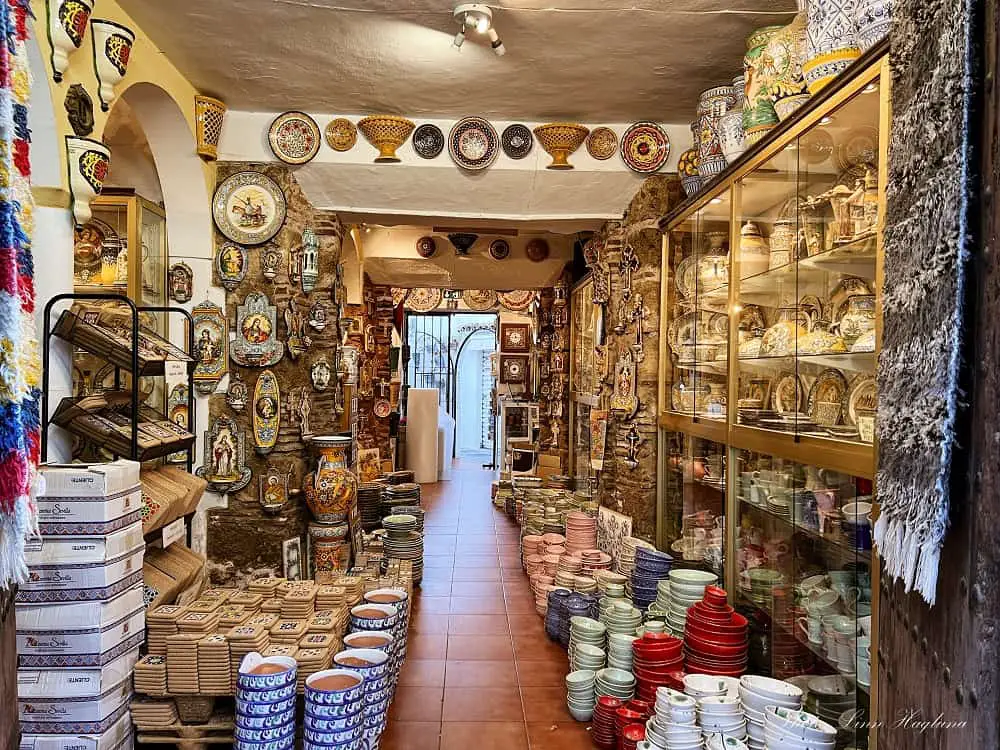 Have a local hot chocolate
Especially in the winter months, having a hot chocolate is a must when visiting the village. Mijas Pueblo has two cafés selling locally made chocolate and they make their hot chocolate from their chocolate bars.
It is absolutely amazing!
You find one of the cafés situated at the chocolate factory itself on Plaza Virgen de la Peña and the other one is situated in the higher part of the village on Plaza de la Constitución.
In the summer months, you might swap out the hot chocolate with a delightful ice cream.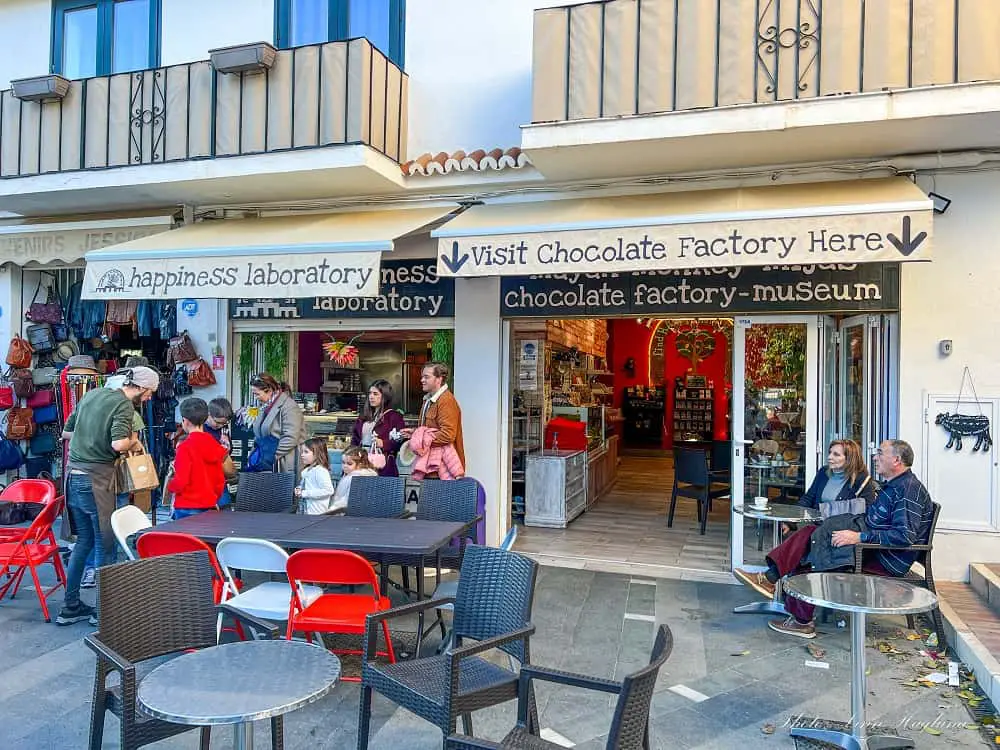 Go hiking in Sierra de Mijas
Sierra de Mijas is such a hiking paradise and outdoor lovers will love the myriad of hiking trails to choose from right from the village with excellent views of Malaga's towns.
From the road above Mijas Pueblo, you find the trailhead for 5 routes from one to 5 hours, the longest being Pico de Mijas. However, if you want to take on a longer route, you can keep walking for days in these incredible mountains.
By far my favorite peaks are Pico Puerto Malaga (halfway to Pico de Mijas, but with better views) and Pico Castillejo which can be reached either by walking from the village or driving a few minutes to the trailhead or even all the way up to the antennas and walk the last 5-10 minutes to the peak from there.
For a short sunset walk, I suggest you take on the white route, which takes you on an hour's circular hike from the hermitage. At sunset, you have a great chance of spotting mountain goats if you manage to spot them before you scare them away.
Sometimes I've seen them very close and by being completely quiet, I've had the privilege of watching them up close for quite a while before they moved on. This is no arguing one of the most magical experiences you can have in Mijas.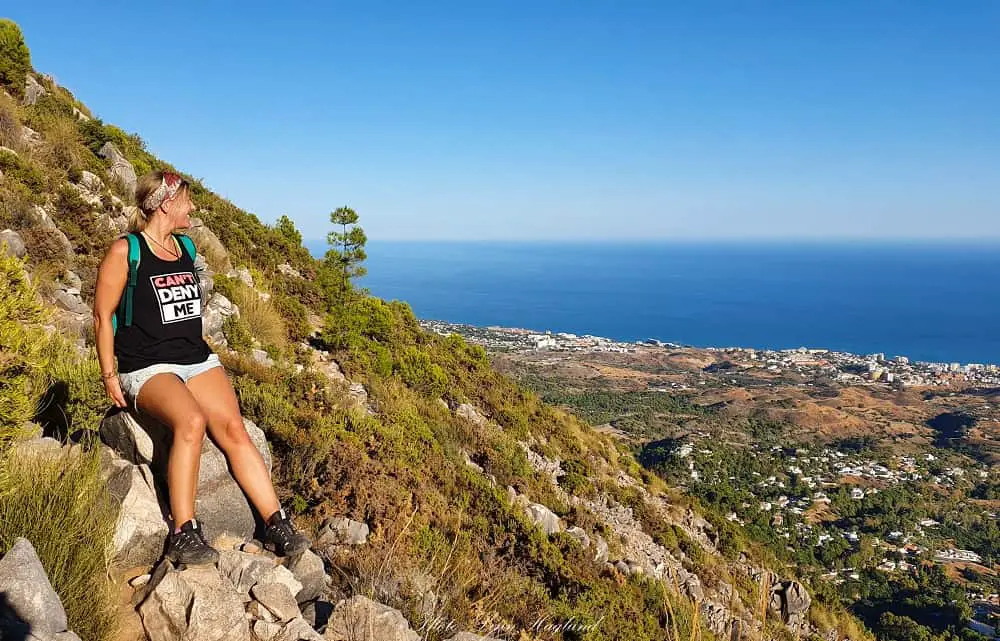 Have a drink at Plaza Virgen de la Peña
Plaza Virgen de la Peña is the largest square in Mijas Pueblo, the one you get to when you exit the parking house. There are a lot of bars and restaurants surrounding the square and it's a perfect spot for a drink either before leaving the village or as you arrive if you're going on a day trip.
The square is lovely for people-watching as it is a natural meeting point in the village where friends, families, and tourists alike hang out.
If you want to enjoy views of the square from above, there is a lovely bar serving tapas halfway up the colorful stairs following the right side of the square from the parking past the chocolate factory. There, you can grab a table on the terrace and enjoy stunning views of the square and the mountains behind it.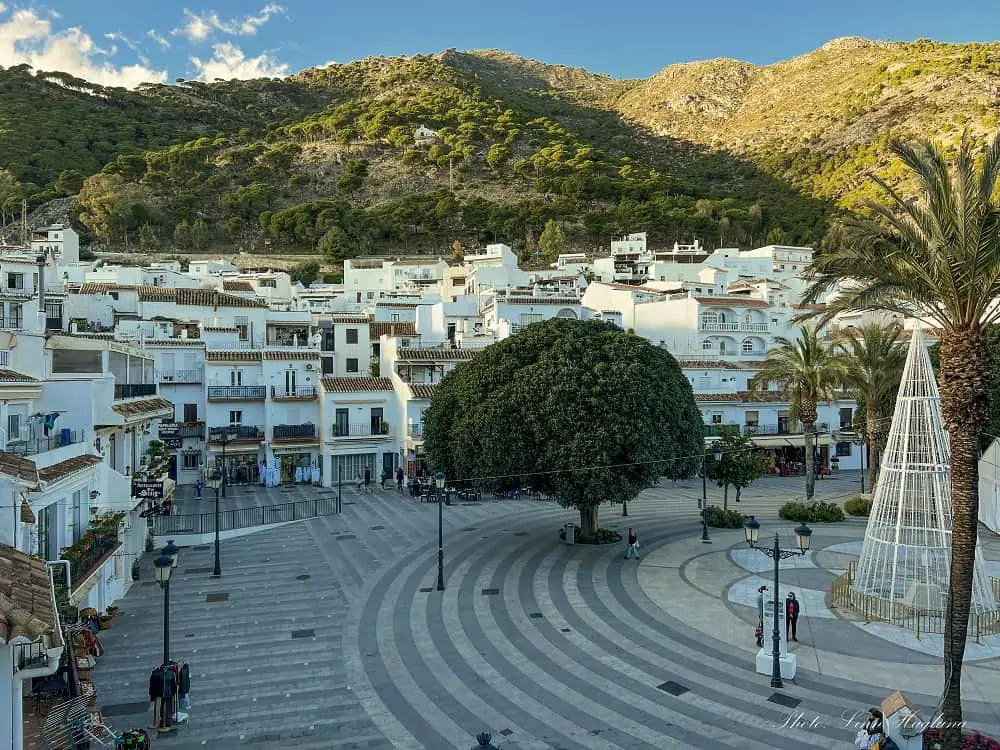 Explore the Miniature Museum
While in Mijas Pueblo, things to do are in abundance, one of the things you should not miss out on is a visit to the Miniature Museum which holds the largest collection in the world of "smallest things" with 360 tiny pieces of art.
Situated near the Mirador del Compás, you find it in a bright yellow wagon. It is small but so fun to walk through, especially if you're obsessed with everything miniature like I am.
Among other things, you will find the "Mijas Donkey" painted on a grain of rice and a toothpick with the World's Seven Wonders painted on it.
Opening hours: 10:00-18:00
Entrance fee adults: 3 Euros
Entrance fee children: 1.50 Euros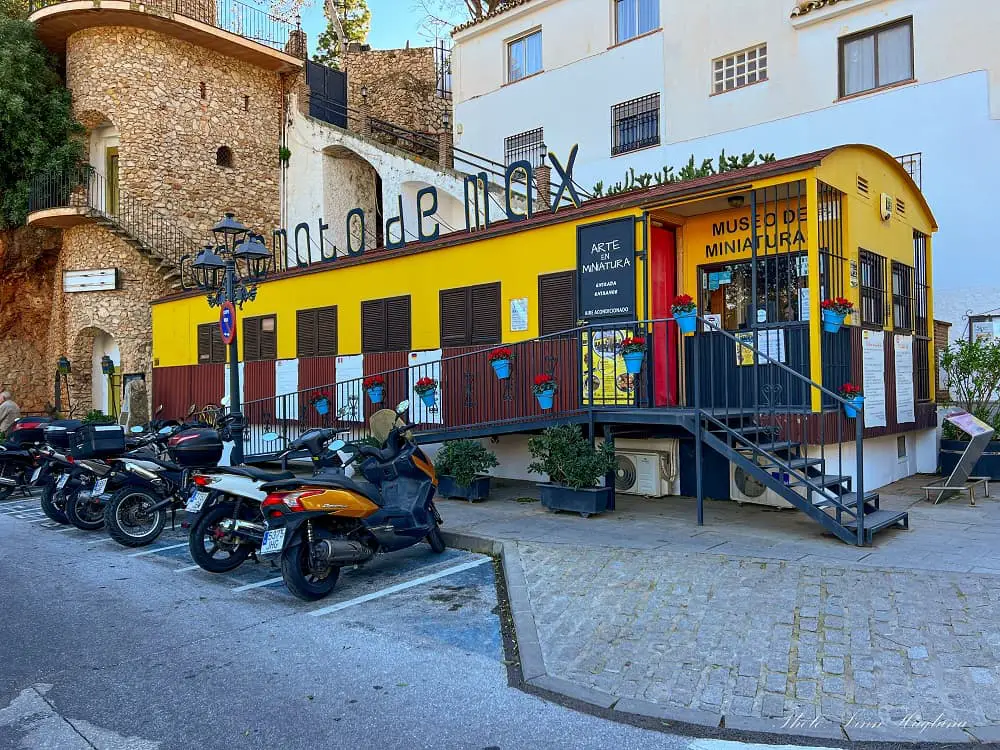 Stroll through the whitewashed streets
Any Mijas Pueblo vacation must include getting lost in the narrow streets weaving their way through whitewashed houses. This is a classical Andalusian white village and is a true delight to see.
While I have listed the best things to see in Mijas Pueblo in this post, there will always be small discoveries that you will find by walking around by yourself that can not be listed in a blog post.
Still today, after living in the area for 9 years now (and I can't even count the times I've been to the village,) walking around the streets is one of the things I enjoy the most.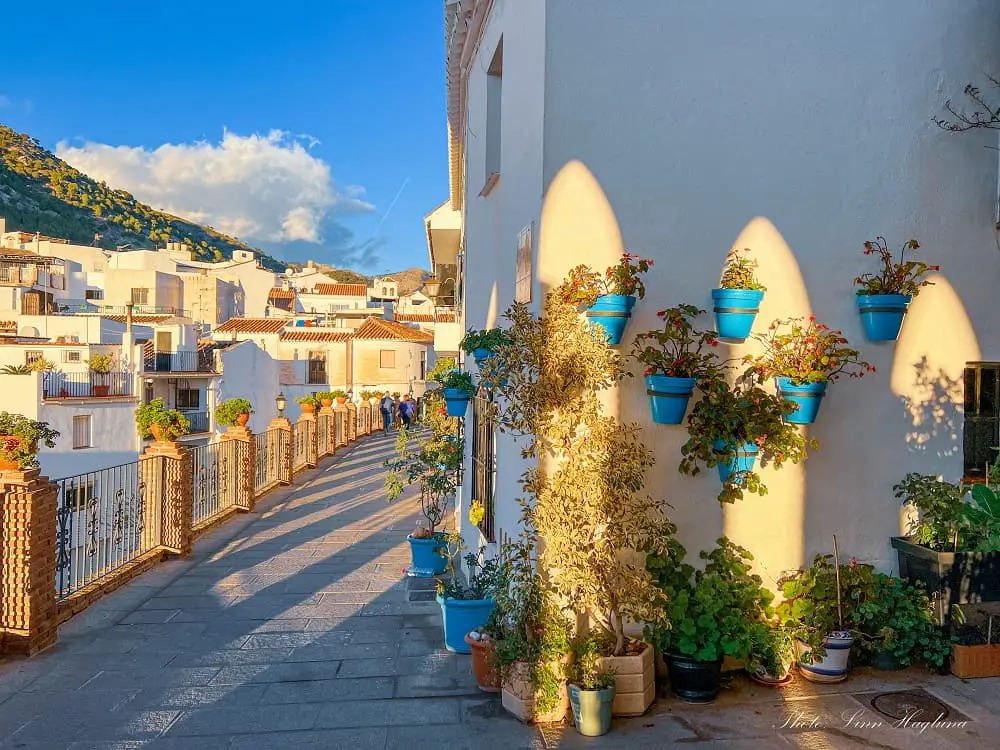 Visit the Casa Museo
This is a wonderful museum to visit during your holidays in Mijas Pueblo to learn more about how people used to live in the village.
Through furniture and artifacts, you get a peek into a traditional Mijas home. You will also learn about the shift in livelihood and the effect on people's lives from being an agricultural village to turning into a tourist village in the 1960s.
In the past, the building where the Casa Museo is situated, on Plaza de la Libertad, used to hose the Town Hall. It is recognizable by the Hercules statues guarding the entrance.
Opening hours:
Monday-Friday 10:00-18:00
Saturday-Sunday + Public Holidays 10:00-14:00 and 15:00-18:00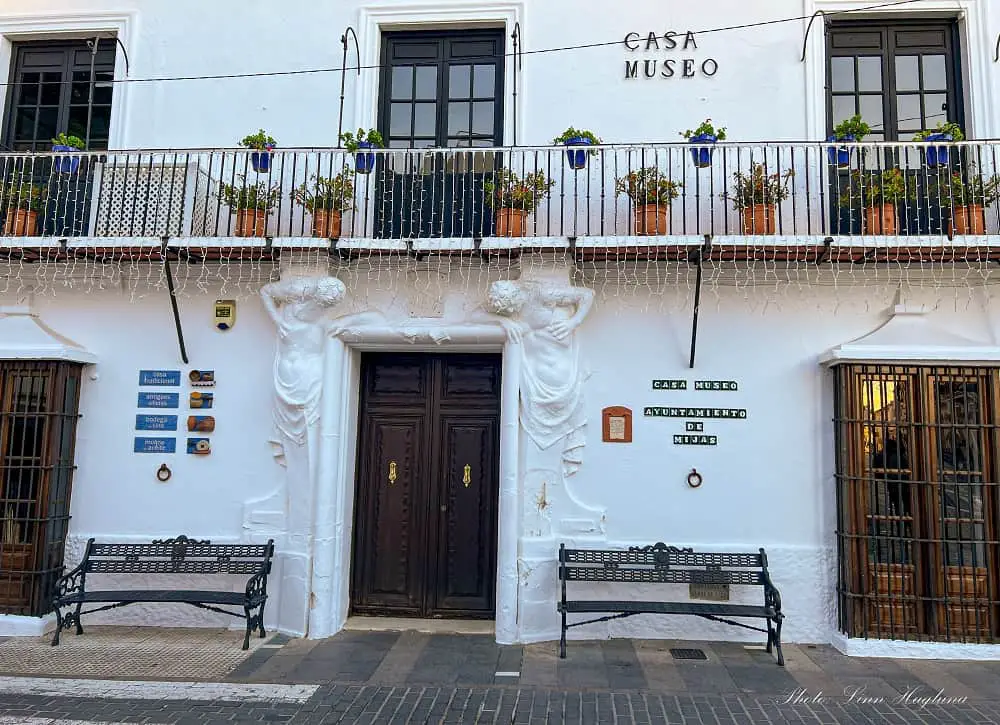 Have a drink at Plaza de la Libertad
This small square, more like a junction is a nice place to have a drink to rest your feet during a long day of walking. You find yourself right outside both Iglesia de San Sebastian and the Casa Museo, so it is a great stop before or after seeing these two attractions.
I love this little corner of Mijas Pueblo and think the streets there are picturesque and a little removed from the popular tourist trail which gives it a nice charm.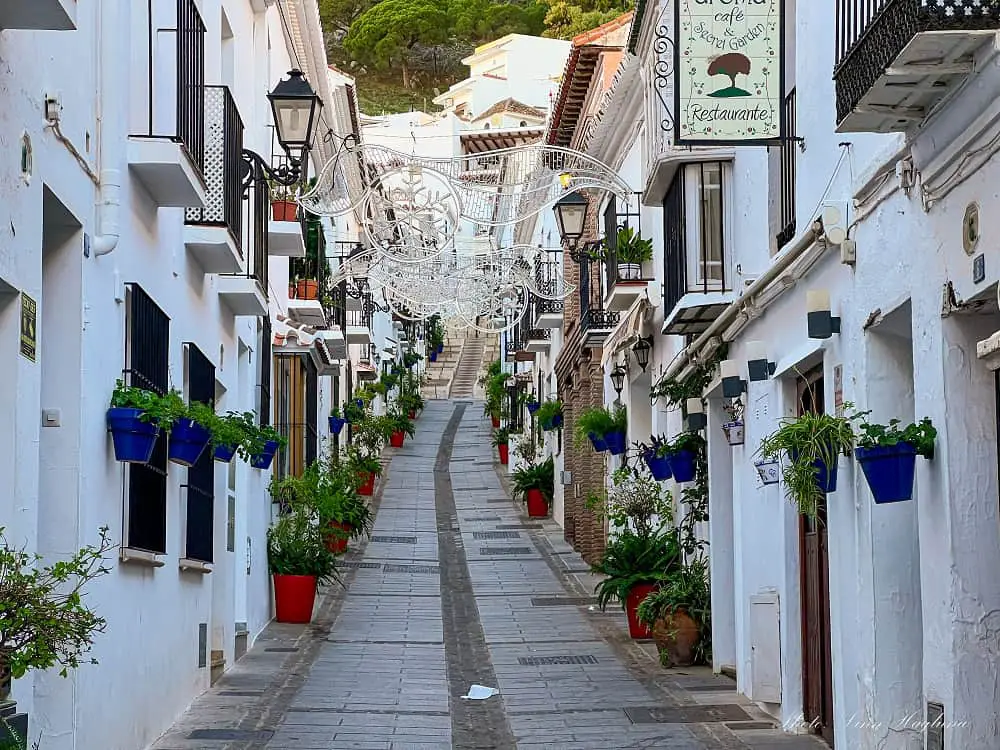 Step inside Iglesia de San Sebastián
Iglesia de San Sebastián is another lovely church in Mijas Pueblo. Also situated on Plaza de la Libertad, it has a modest exterior right on the corner of the square with an elegant clock above the entrance.
Stepping inside this 17th-century church is a serene experience as it seems just as modest on the inside until you get closer to the altarpiece and have a closer look at the simple decorations. I quite like it. Not too opulent and not boring.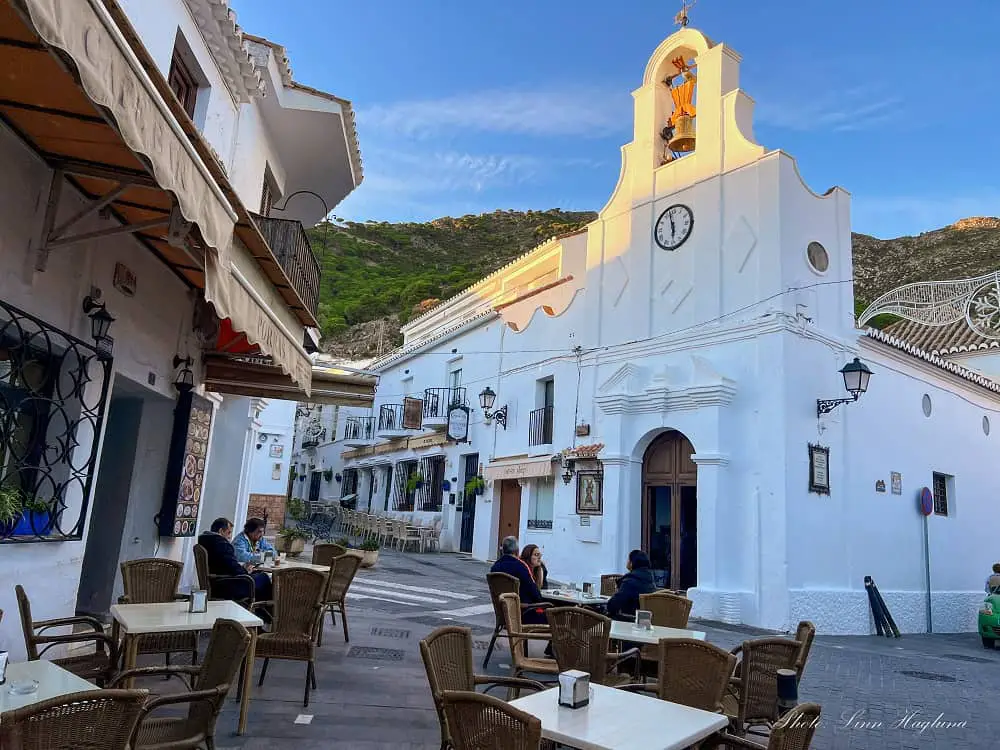 Have fun at a concert at the Auditorium
During the summer months, there are frequent concerts at the Auditorium in Mijas Pueblo. and the best of it all is that they are often free!
In the winter, the town is a little bit more dormant than in the summer when markets, festivals, and live music is near daily happenings in this charming white village.
If you go to Mijas Pueblo in the summer, you are near guaranteed to find some fun happening there. I can't even count how many free concerts I've caught just by being there at the right time.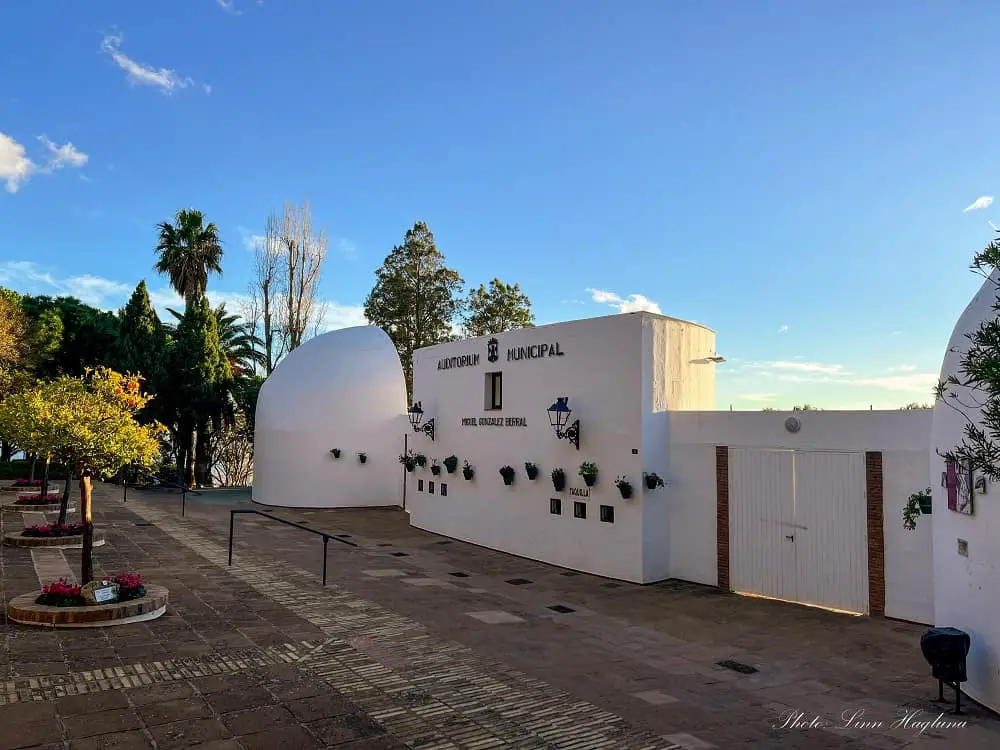 Reflections on holidays to Mijas Pueblo
There are a lot of great things to do in Mijas Pueblo, and I think most tourists miss out on a lot of it by just going up there for a day trip from Fuengirola or even just a few hours day trip from Malaga.
If you consider going to Mijas Pueblo, plan your stay and explore it thoroughly as it is such a lovely little corner of Andalucia. There is a reason why it is rated not only one of the prettiest villages in Costa del Sol but also one of the best villages in Andalucia.
By spending a few days there, you can also take day trips from Mijas Pueblo to nearby places like La Cala de Mijas and Fuengirola, or head to Malaga for a day.
No matter what, I am positive you will fall in love with this whitewashed village.
Happy travels!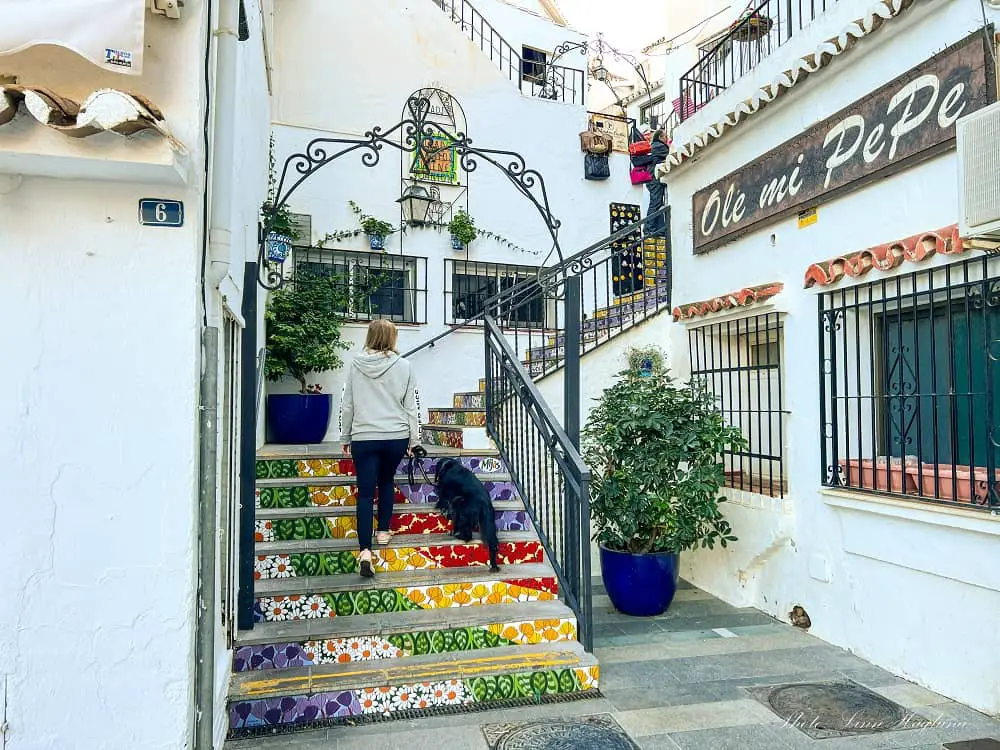 FAQ about Mijas Pueblo
Where is Mijas Pueblo?
Mijas Pueblo is situated right above Fuengirola in Costa del Sol, Spain, and is the gateway to Sierra de Mijas mountain range.
How far is Mijas Pueblo from the beach?
Mijas Pueblo is about 11 kilometers and a 20-minute drive from the nearest beach which is in Fuengirola.
Is Mijas Pueblo worth visiting?
As one of the most beautiful whitewashed villages in Spain, it is well worth visiting Mijas Pueblo.
What is the nearest airport to Mijas Pueblo?
Malaga Airport is the closest airport to Mijas Pueblo at 24 kilometers and a 25-minute drive.