Monsul Beach, Cabo de Gata, Almeria is one of the most picturesque beaches in Spain. Situated in a plain natural park area, it is a semi-remote beach surrounded by sand dunes and volcanic rock formations.
Made famous after local artist David Bisbal filmed scenes for the music video for his biggest hit Ave Maria, Monsul gained popularity. But it has also been filming location for famous movies like Indiana Jones & the Last Crusade.
In my opinion, this is one of the most beautiful beaches in Almeria and a must-visit when visiting Cabo de Gata Natural Park whether it is beach season or not.
It is close enough to one of the best towns in Almeria, San Jose, to get fairly crowded in the high season, though it is far from as crowded as any urban beach.
After spending a large amount of time in the region over the years, Monsul Beach is one of the beaches I return to time after time and I am pretty sure you will be just as mesmerized when you go there.
In this beach guide, I will go through everything you need to know to visit Monsul Beach in Almeria.
Disclosure: This post may contain affiliate links. That means that if you make a purchase through one of those links, I will get a small commission at no extra cost to you.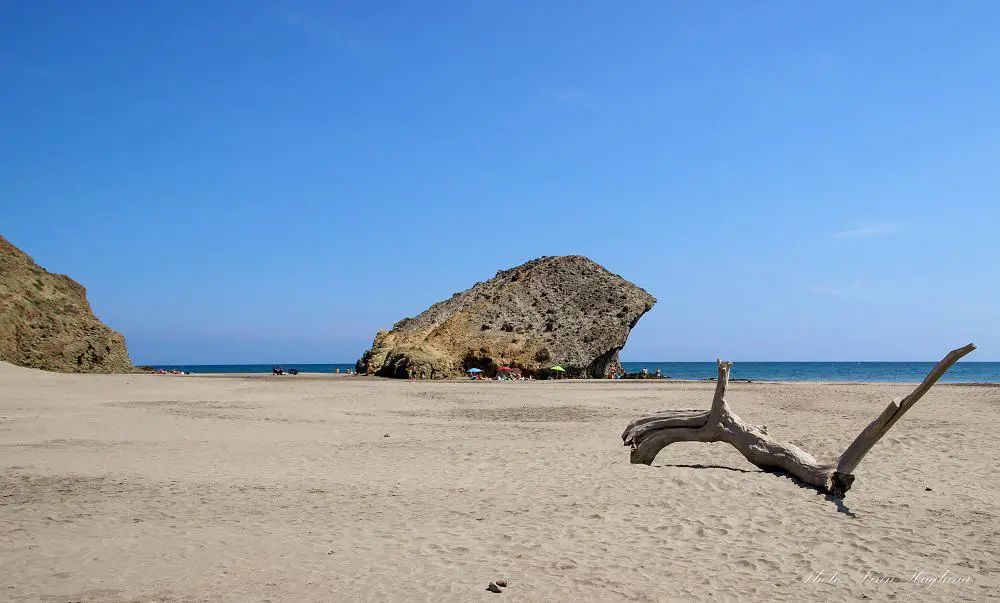 How to get to Monsul Beach
Getting to Monsul Beach from San Jose village is easy in the summer months there is a shuttle bus, but you can easily reach it by car or hiking throughout the year.
I don't recommend hiking in the summer due to the scorching heat, however, the rest of the year you can walk the dirt road in about an hour or along the coast in a couple of hours.
If you choose to hike along the coast, make sure you wear sturdy hiking boots as there are steep ascents and descents on uneven and loose ground.
If you suffer from vertigo, I don't recommend hiking the coast, it can get pretty steep and scary in some sections.
It is a 4-kilometer-long dirt road from the village to the beach passing, Playa de Los Genoveses and Playa Barronal before it reaches Monsul.
Bus
In the summer months, you can take a shuttle bus from san Jose that stops by the beaches of Los Genoveses, Barronal, and Monsul. It continues past Monsul to Media Luna Beach and Cala carbon too.
The ticket price is 2.70 Euros for a round trip or 2 Euros one way and you can buy tickets at the tourism office of San Jose.
You can find updated bus times here.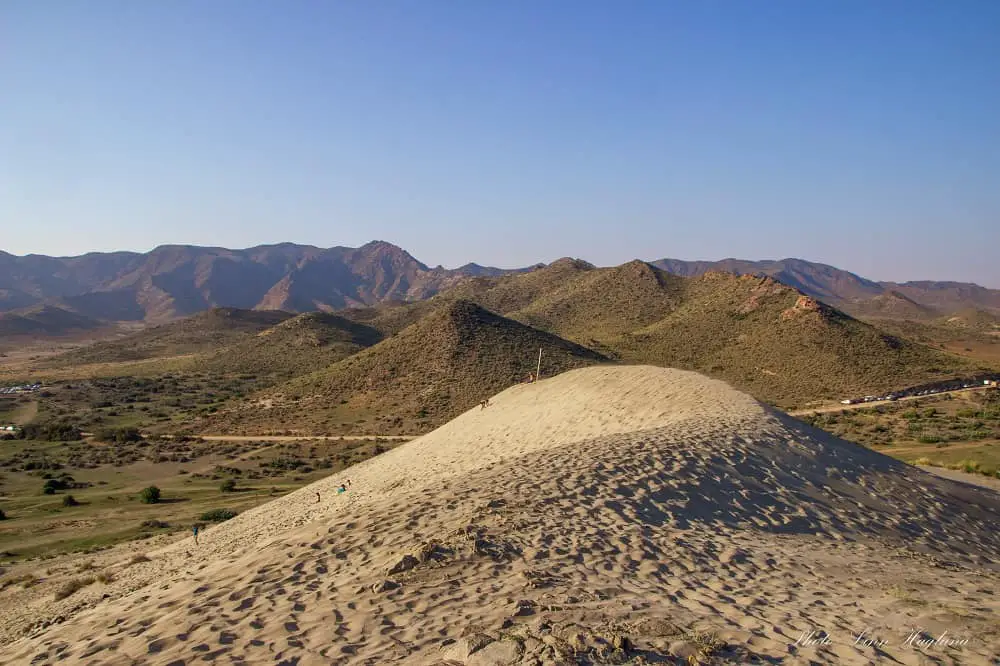 By car
It takes about 15 minutes to drive on the dirt road from San Jose to Monsul Beach. In the summer months from mid-June to the end of August you must pay 5 Euros to enter the dirt road and there is limited access. This means that when the allotted number of cars have entered, they close the road for more cars.
Therefore, you should arrive early in the morning if you plan to drive there in the summer. You also need cash to pay for the entry.
Shortly after you enter the dirt road, you will see a sign to the left pointing to Playa de Los Genoveses, but you are continuing past this exit. About 4 kilometers in, you will see Monsul Beach opening up in front of you and there is a car park where you can leave your car about 200 meters from the beach.
Outside of the summer months, you can drive to the beach for free.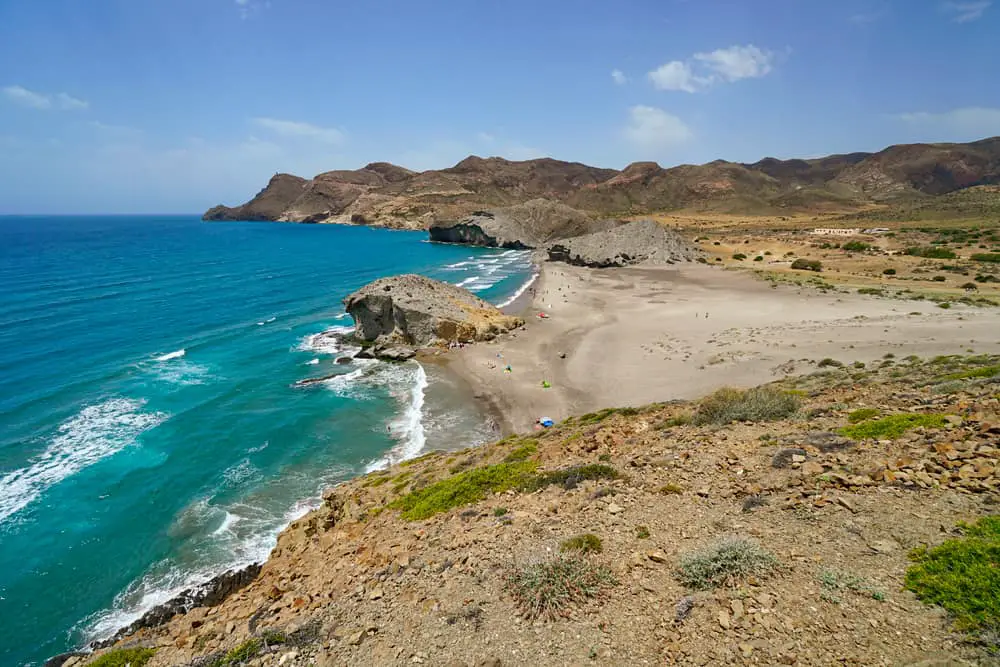 OTHER BEACHES IN CABO DE GATA
Where to stay near Monsul Beach
The best place to stay near Monsul Beach is the village of San Jose. There are multiple hotels and apartment rentals in the village, but here are some of my top recommendations.
4nudos playa – A lovely pet-friendly hotel close to San Jose Beach. They also have apartments with kitchen facilities if you prefer to cook at home. Check availability here.
Hostal del Cabo – Lovely and light hotel, also close to San Jose Beach. Some rooms have a balcony with sea views and you can book family rooms. Check availability here.
Hotel MC San José – A fantastic hotel with an outdoor pool. It is about 10 minutes to walk to the beach, but you have private parking and room service available. The hotel is adapted for disabled guests. Check availability here.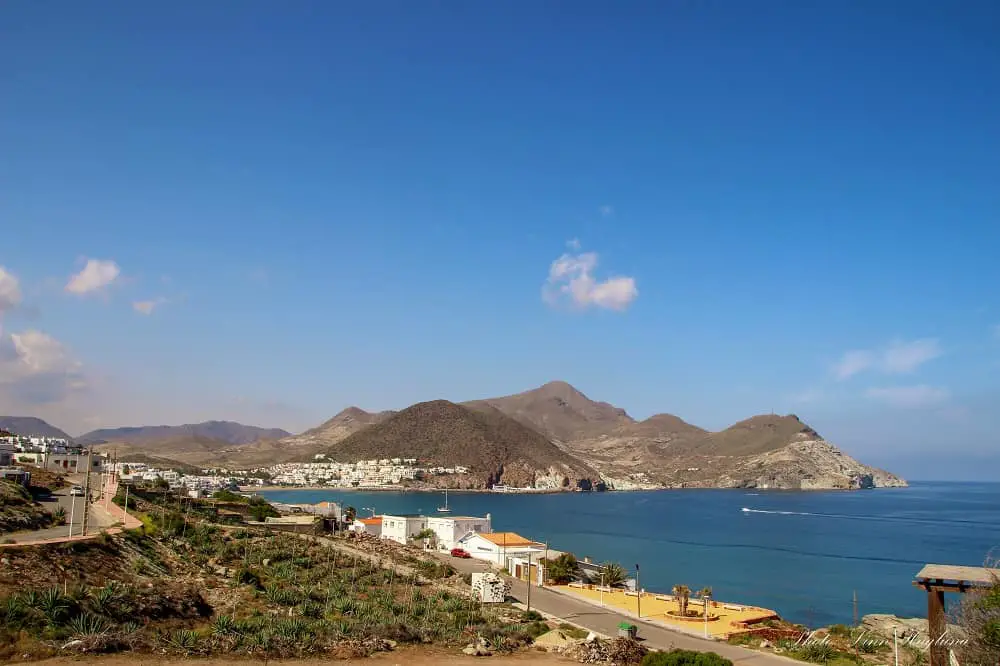 Best time to visit Monsul Beach
Monsul Beach in Cabo de Gata Natural Park can be visited all year round, but if you want to spend a day on the beach and go swimming and snorkeling, the months from June to September/October are the best.
June to August are the busiest months, but due to limited access by car, the beach usually doesn't fill up as much that you don't find space. There is a huge difference between this beach and the beaches in Costa del Sol for instance.
If you are happy with seeing the beach, walking the sand dune, and exploring some of the nearby beaches, then the winter and spring seasons are just as great. However, note that this season also sees more wind which can take the pleasure out of walking the sand dunes.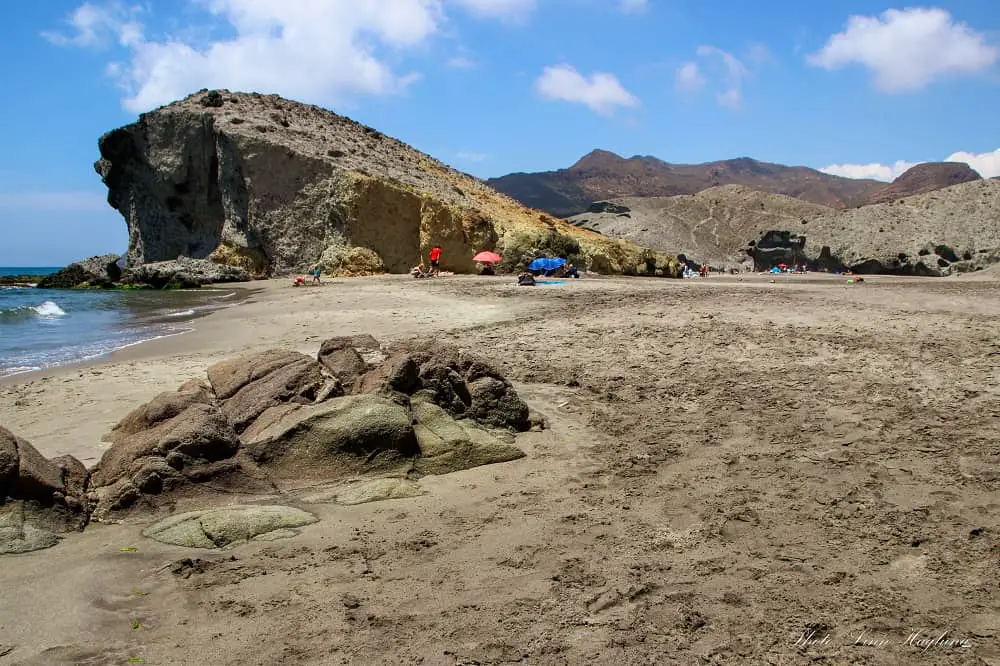 Facilities at Monsul Beach
Monsul Beach is a semi-remote beach, which means that there are no facilities, but you can reach the beach by car or by bus.
There are volcanic rock formations on the sides of the beach and one large one in the middle that provides a little bit of shade, but it shifts throughout the day. However, in my experience, it is hard to get a spot in the shade as it is popular to set camp there, thus first come first served.
Due to the lack of services, make sure you bring the basics for a successful day at the beach:
Towels
Parasol
Cooler with water and drinks
Food
Snacks
Snorkeling gear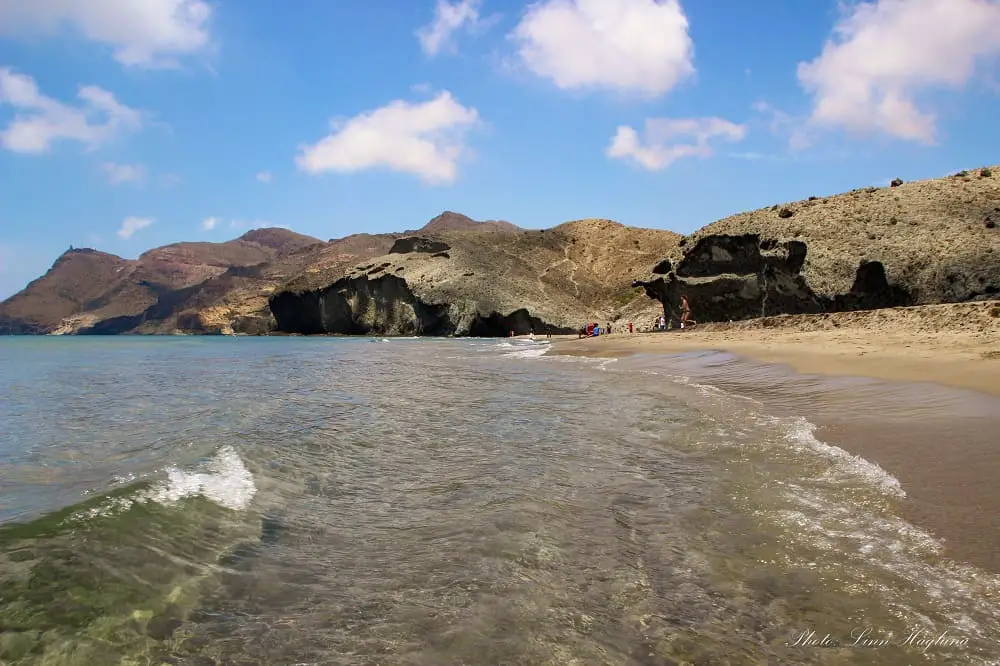 Visiting Monsul Beach
Once you reach Monsul Beach, you must walk across the sand dunes before you reach the beach. It is recognized by a large volcanic rock giving some shade in the middle of the beach.
As mentioned above, there are no facilities on the beach, so you must bring shade and enough water and food for the day. Besides lazying on the beach and swimming in crystal clear water, you can find nice snorkeling around the rock.
If you fancy a little hike, you can walk across the dunes to Barronal beach or you can climb the volcanic rock formations on the side of the beach for beautiful views.
Climbing on top of the sand dune behind the beach is also a must for the views, and the kids will love to slide down the side of the dune. You will easily see why Playa de Monsul is such a loved beach both by locals and tourists.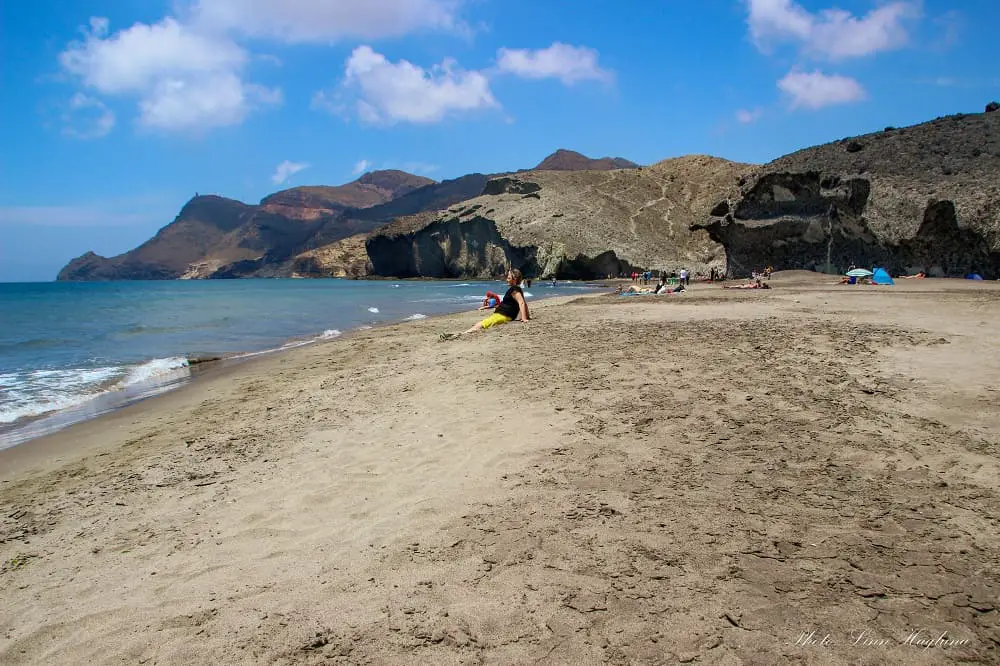 Beaches near Monsul Beach Cabo de Gata
Barronal Beach – Next to Monsul Bech, you find my absolute favorite beach in Cabo de Gata. This is actually a nudist beach, but I have always seen a good mix of people with swimwear and not, just like in any other remote beach in the natural park. The beach is only reached by walking or by boat as it is surrounded by vast sand dunes and rugged volcanic hills, which makes it incredibly picturesque.
Los Genoveses Beach – The first beach you reach on the dirt road leading to Monsul Beach and one of the most popular in the natural park. This is a large and stunning bay with low water, perfect to take your kids. The only thing I don't like is the number of wasps that have hung around on the beach for the last couple of years. It doesn't seem to keep people from going there, but as Ayla (my dog) is terribly scared of them, we must stay in the water the entire time so she doesn't get stung when trying to bite them.
Reflections on Playa de Monsul Spain
Monsul Beach, Cabo de Gata sure is beautiful and it is worth the 5 Euros in summer if you haven't seen the beach before. If you can time your visit to September, you will have free entry and just as beautiful weather. For me, it's the best time to go to the beach in Andalucia as you avoid the crowds.
Heading to the beach in Cabo de Gata is truly one of the best things to do in Almeria so you might want to fit in a few of the beaches in the area. In fact, Cabo de Gata is one of the best areas to go for an Andalucia road trip if you want to explore places outside of the trodden tourist path. While the natural park isn't such a hidden gem of Andalucia as it was just a few years ago
Happy travels!