There are so many charming towns in Almeria, and most of them are completely underrated. Almeria has been a province I've returned to year after year and fallen more and more in love with.
Not only are the Almeria towns relaxing, but the natural beauty of the province is beyond incredible. Whether you head to Almeria's coastal towns in Cabo de Gata Natural Park or take in the views from the hilltop towns, you will be mesmerized by these enchanting destinations.
In this post, I'll go through my absolute favorite towns in Almeria Spain that I think you will love too, so read on to find out more.
Disclosure: This post may contain affiliate links. That means that if you make a purchase through one of those links, I will get a small commission at no extra cost to you.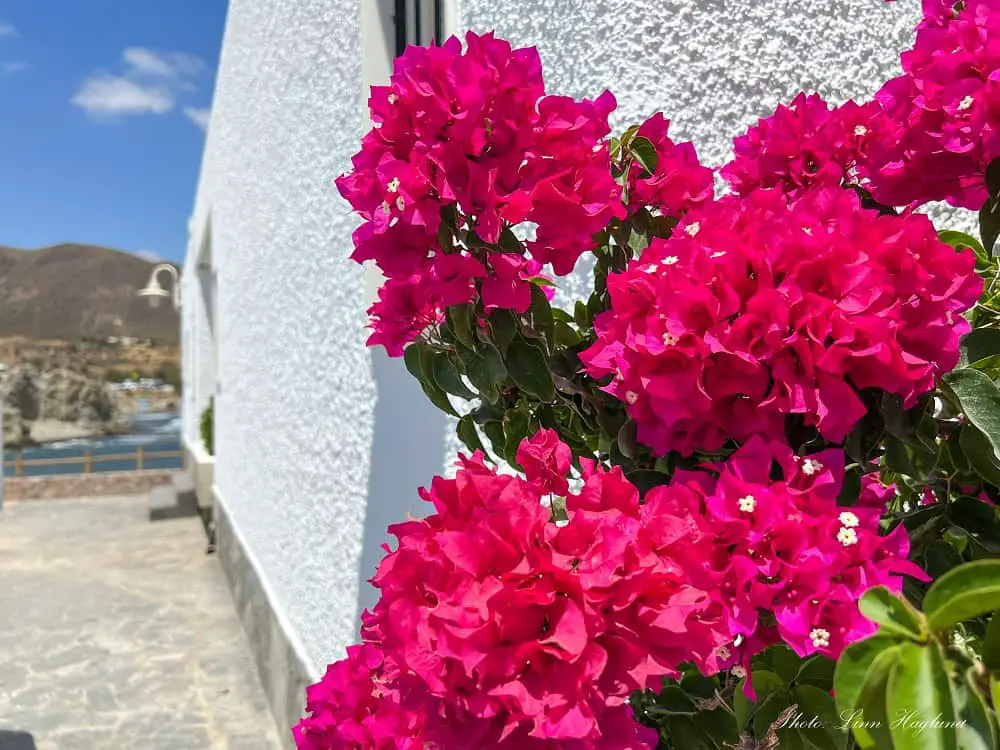 Best towns in Almeria
Roquetas de Mar
Roquetas de Mar is one of the best towns in Almeria. With its local charm and some of the best beaches in Almeria, there are plenty of things to do in Roquetas de Mar.
Castillo de Santa Ana is elegantly located on the coast and you can walk along the promenade beside the castle. The lighthouse is also a great photo motive and there is a small art museum inside.
The town is also jam-packed with restaurants and bars where you can indulge in local dishes and tapas. But not only the foodies will love Roquetas de Mar.
The shopping is pretty great for being such a small town, so spending an afternoon browsing the shops is well worth it.
Where to stay: Playacapricho Hotel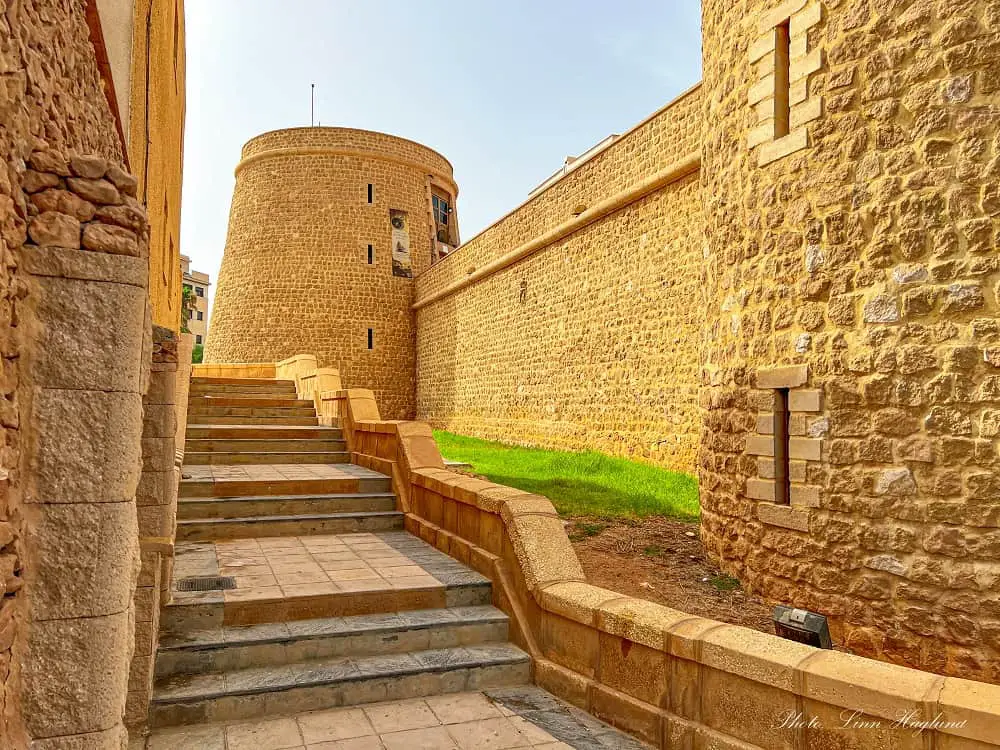 Aguadulce
Aguadulce is located right next to Roquetas de Mar and has a charming marina with a few restaurants overlooking the boats and water sports and boat tours you can take.
This is truly a quaint coastal town in Almeria mainly visited by Spanish tourists. Among the top things to do in Aguadulce is a hike up to the Antenas de Aguadulce where you will be rewarded with sweeping views of Aguadulce and Roquetas de Mar.
Aguadulce is perfect for enjoying the beaches, eating good food, and slowing down. At the same time, the evenings are energetic and the vibe is great! It is also only a 10-minute drive into Almeria city, making an evening out there one of the best things to do in Almeria.
Where to stay: Moon Hotel & SPA
San Jose
San José is by far one of the prettiest towns in Almeria. Located in the heart of the Cabo de Gata Natural coastline, this is a great base for hiking routes and remote beach excursions.
There is a small enchanting marina there and an urban beach. However, right outside the village, you find some of the best beaches in Cabo de Gata.
Both Los Genoveses Beach and Monsul Beach are located near San José making it one of the most popular towns in the natural park.
The town is small, perched between rugged cliffs there are small stalls selling handmade accessories throughout the summer months on the promenade.
Plenty of restaurants and bars create a lively atmosphere and cute little shops and art galleries sell you unique vacation memories.
In my opinion, San Jose is the best place to base yourself when exploring Cabo de Gata Natural Park.
Where to stay: Hotel MC San José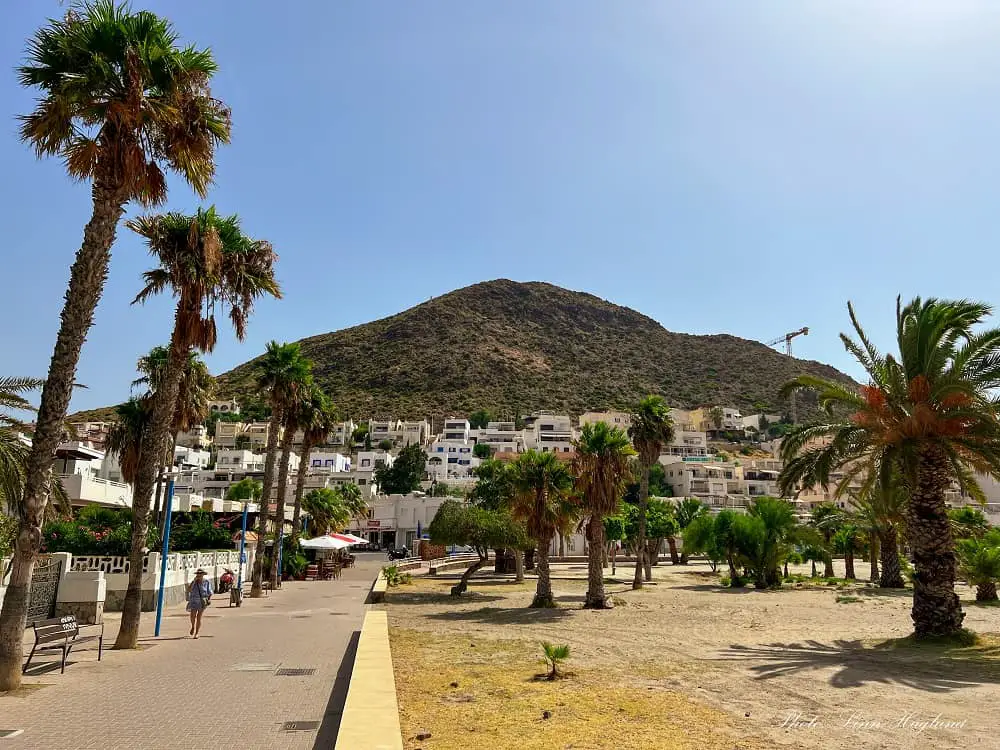 Las Negras
Las Negras is another enchanting town in Almeria's Cabo de Gata Natural Park located near nature trails and dreamy beaches.
The urban beach is not the nicest in the area, as it is rocky and not sandy. However, a short hike away you find Playazo de Rodalquilar Beach on one side and the hippie community of Cala de San Pedro on the other side.
These are both very popular beaches attracting slightly different people. Playazo is a fabulous family beach (without facilities) with a small beach next to it with cliff jumping opportunities and great snorkeling.
There is ample parking space that fills up quickly over the summer.
The latter, on the contrary, can only be reached by hiking or by boat. It attracts a mix of naturists and curious backpackers looking for a unique opportunity to camp on the beach.
I personally love both of them, though I do get that Cala de San Pedro might not be for everyone.
Las Negras town is as enchanting as it gets, small, but with a handful of great bars and restaurants, but it dies completely off-season.
Where to stay: Hotel Spa Calagrande Cabo de Gata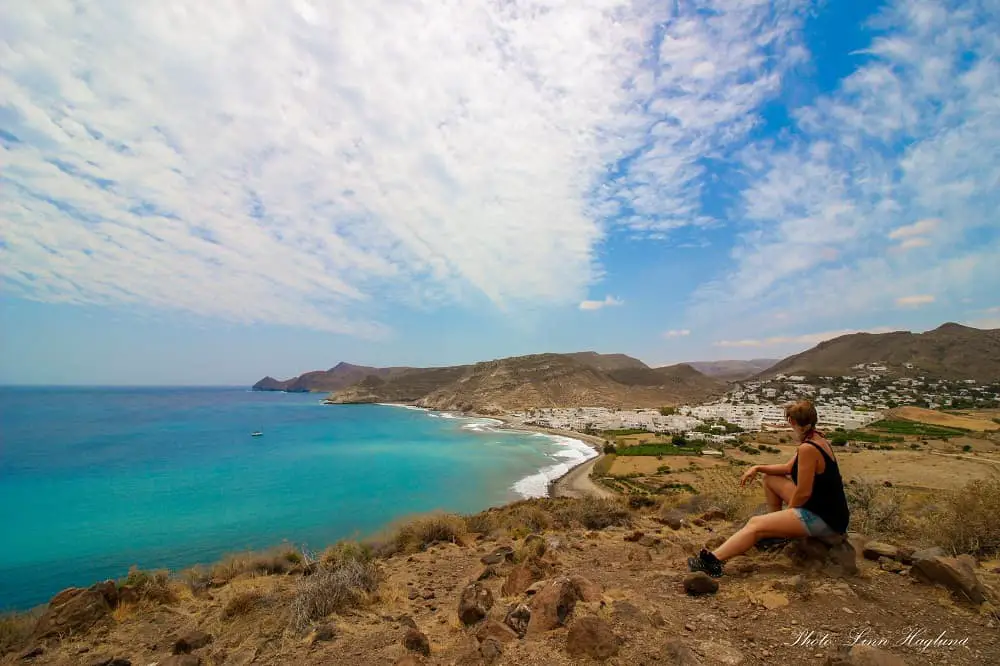 Mojácar
Mojácar is one of the most popular towns near Almeria Spain, attracting loads of international tourism compared to the other places on this list.
Being a bustling whitewashed hilltop village, there are enough things to do in Majácar to keep you busy for a few days, especially if you head to Mojácar's beaches. Beach bars are pumping throughout the evenings and water sports are available during the day.
The hilltop town is every synonym to charming with narrow cobbled streets winding through whitewashed houses decorated with Andalusian pot plants.
Restaurants and rooftop bars are filled up with locals and tourists alike, viewpoints over the Mediterranean offer sweeping sunset views, and small boutique shops welcome you with open arms.
If there is one Almeria town you should not miss out on, it is Mojácar. No wonder it is one of the best day trips from Almeria.
Where to stay: Boutique Hotel El Olivar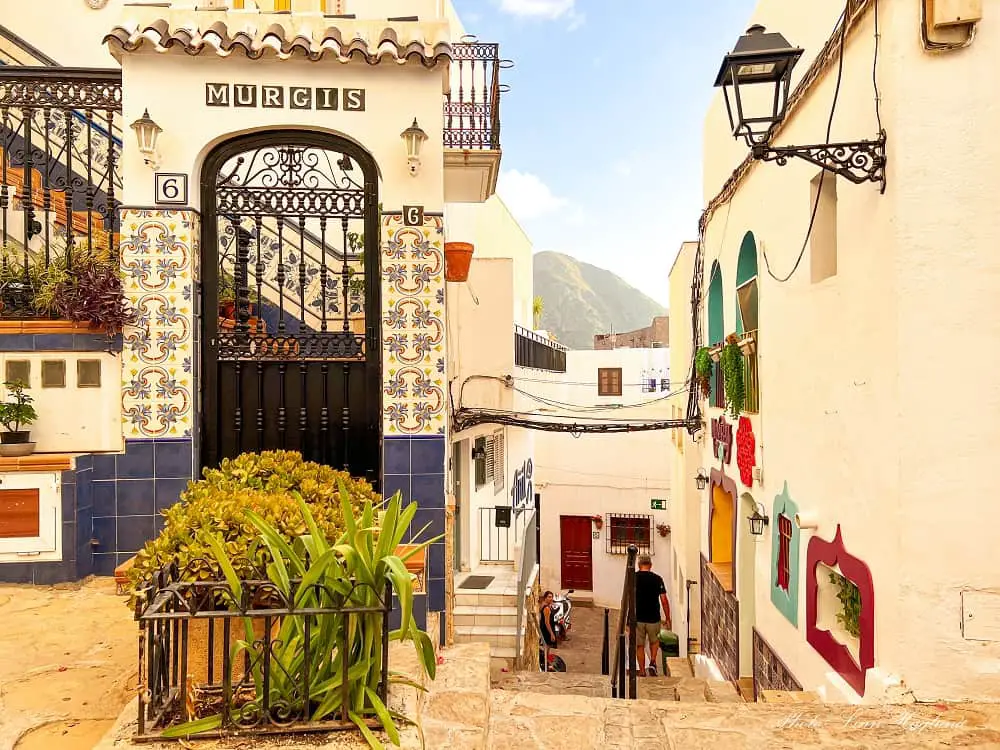 Cabo de Gata
Cabo de Gata town is located only half an hour from Almeria city making it one of the best coastal towns in Almeria. There are plenty of things to do in Cabo de Gata town and its surroundings.
Featuring numerous restaurants and bars, there is a long stretch of beach off the village. But among the main attractions is the Salinas de Cabo de Gata where you can spot flamingos. This is generally a bird watcher's paradise with multiple outposts.
Just a short drive from Cabo de Gata town you also find the striking rock formations and viewpoint of Arrecife de Las Sirenas, where reportedly sailors were lured by sirens on the rocks.
Where to stay: Hotel Blanca Brisa Cabo de Gata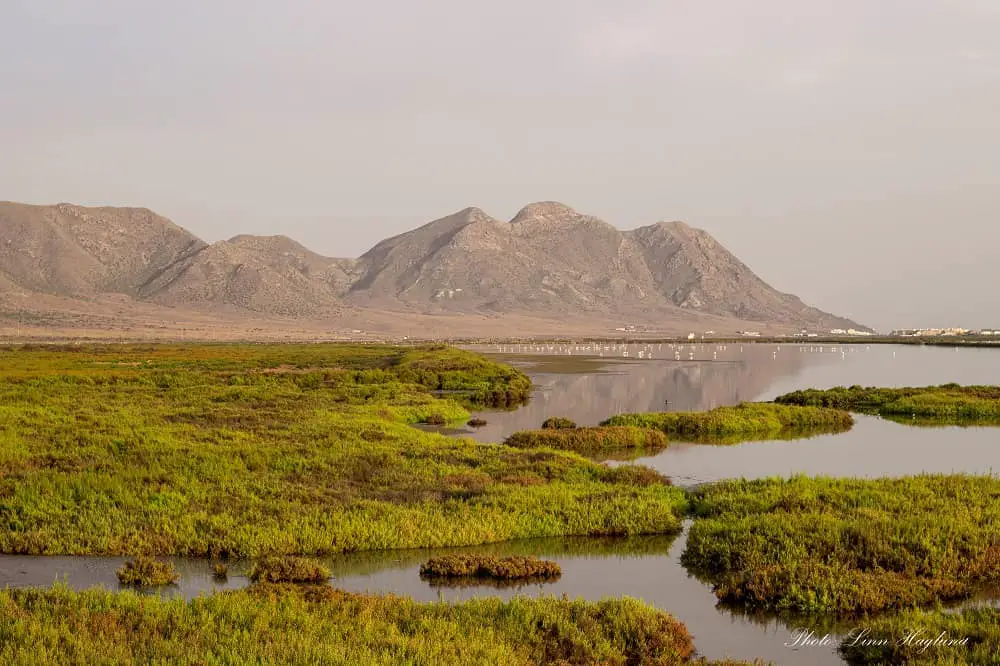 La Isleta del Moro
La Isleta is by far one of the most charming towns near Almeria with its whitewashed houses, pristine beaches, dramatic rock formations, and mesmerizing viewpoints.
Pink Rhododendrons decorate houses and winding roads take you past small restaurants and bars. There is also an old washing place in the village.
It is a lovely little town to go to for lunch, take a little walk (you're best off with good walking shoes!) and swim in the crystal clear water. La Isleta is easily one of the most beautiful white villages in Andalucia.
Where to stay: Botavara La Isleta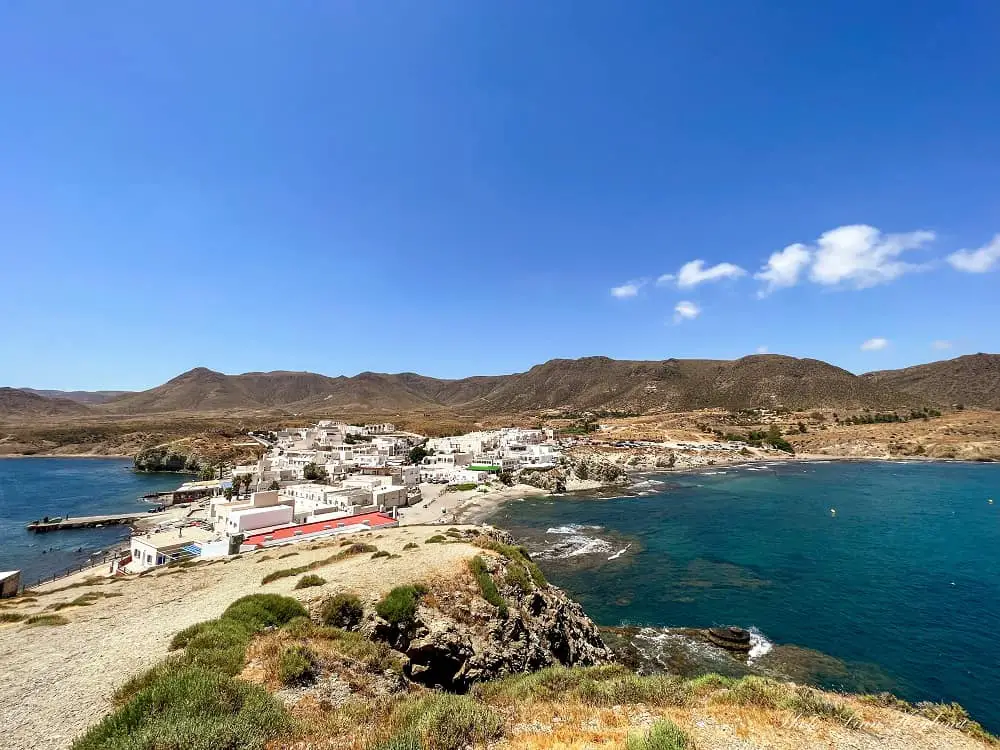 Reflections on Almeria towns
As you can tell there are some pretty incredible Almeria towns to uncover, and most of them are not seeing large numbers of foreign tourists compared to other beach towns in Andalucia.
Almeria is still a lesser-visited province in southern Spain that deserves a lot more attention. That said, international tourism has already grown substantially since I first set foot there, so you will definitely see some foreign tourists even in the most remote towns.
Nonetheless, I hope you found some exciting towns in Almeria to visit for your next vacation. Now, it's time to start planning.
Happy travels!