As one of the most underrated beach destinations in Andalucia, there is a wealth of breathtaking beaches in Almeria for every type of traveler.
While one of my favorite places to escape the August crowds of the rest of the beaches in Andalucia is Cabo de Gata in the Almeria province, there are other great destinations for a beach holiday including Almeria city.
This means that you will not regret setting your vacation to the lesser-frequented Almeria beaches no matter what time of the year you go.
From remote windswept beaches flanked by massive sand dunes to urban beaches lacking nothing when it comes to facilities, including excellent adaption for the disabled, you will find a wide range of beaches to choose from.
Read on to uncover some of the absolute best beaches in Almeria that I have visited multiple times (for a reason!) and sure will go back to time after time.
Disclosure: This post may contain affiliate links. That means that if you make a purchase through one of those links, I will get a small commission at no extra cost to you.
Best beaches in Almeria
Monsul beach
Facilities:
Bus shuttle
Parking (Restricted + 5 Euros in the summer months)
You can take dogs
No list of top beaches in Almeria Spain can go by without mentioning Monsul Beach. Situated in Cabo de Gata Natural Park, it was made famous when local musician David Bisbal filmed the music video of his greatest hit, Ave Maria on the beach.
Since then, it has become one of the most popular beaches Almeria has to count for. And in all honesty, it is also one of the most beautiful.
Recognized by its steep sand dune cascading down on the beach and a large rock dividing the beach in two at the same time as it provides a little bit of shade, this is one of the most picturesque beaches in Cabo de Gata.
You must drive past Los Genoveses Beach on a well-maintained dirt road to get there and in the summer months, you must pay a fee of 5 Euros to drive all the way in. This is because it is a protected area and it is a way to restrict the number of cars driving each day.
There is also a bus service in the summer months that takes you from San Jose to Monsul Beach which costs 2.70 Euros for a round trip. Read more information here.
Read my complete beach guide to Monsul Beach here.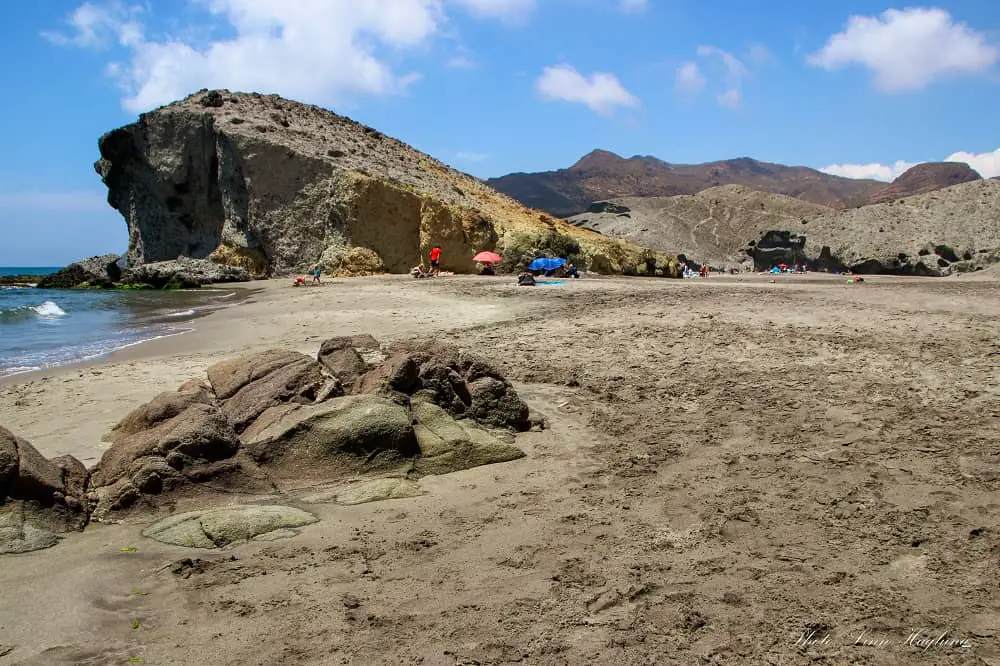 Los Muerto beach
Facilities:
Parking (Restricted + 5 Euros in the summer months)
Hike to the beach
You can take dogs
Another of the most popular Almeria Spain beach is Los Muertos Beach, which has gotten its name (Beach of the dead) due to the steep descent to the beach.
In my opinion, it is not very hard, and I did it in flip-flops without problems, but unless you're used to hiking and running around everywhere in flip-flops, a sturdy pair of hiking shoes or sneakers is probably your safest and most comfortable option.
There is a viewpoint of the beach from the parking lot and it looks like the perfect white-sanded beach from afar. When you reach the beach, you will notice that it's actually made up of large white pebbles, so it's not very comfortable to walk barefoot on.
That said, it is a stunning beach in idyllic surroundings. There are no facilities on the beach so you must carry everything down with you (and back up!) On top of that, the water gets deep straight off the beach, so it is not a great beach for families with small children.
Read my complete beach guide to Los Muertos beach here.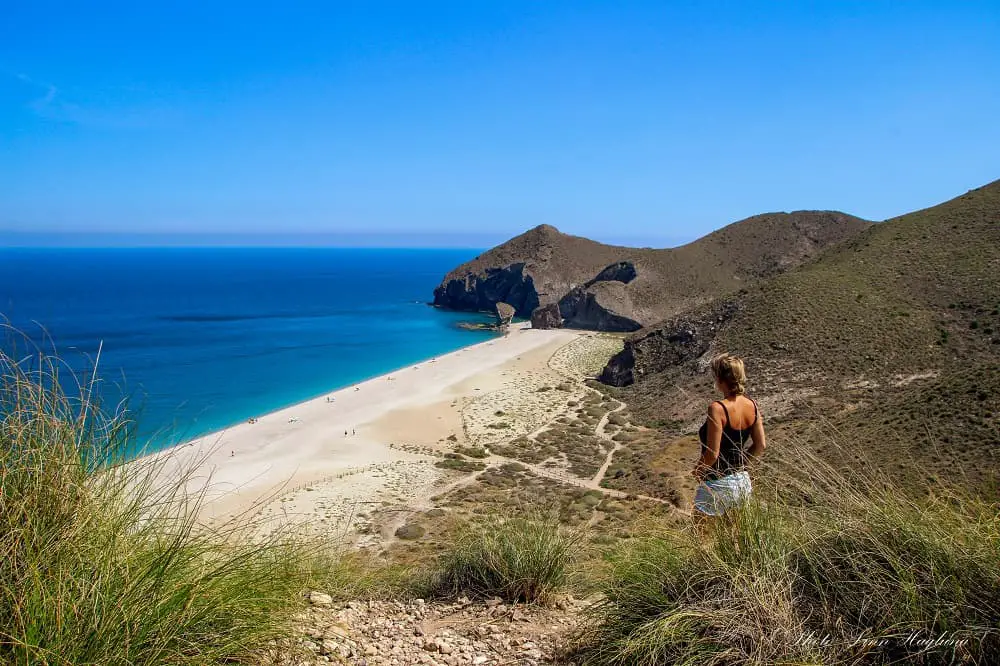 Aguadulce beach
Facilities:
Showers
Toilets
Sunbeds and parasols for rent
Lifeguard in summer
Disabled access
Bars and restaurants
Parking
Dogs not allowed
The urban beach of the coastal town of Aguadulce is one of the best beaches near Almeria. Situated right by the marina, it lacks nothing when it comes to amenities like sunbeds, shade, restaurants, and bars. You can also rent kayaks and paddleboards on the beach.
It is also a great beach to bring kids as there are some playgrounds along the beach. It is also flanked by a lovely promenade where you can go for walks.
One of the best things about Aguadulce Beach is that it has a specific area for people with limited mobility where there are showers with seats, seats in the water, and other helpful things to enjoy a day at the beach.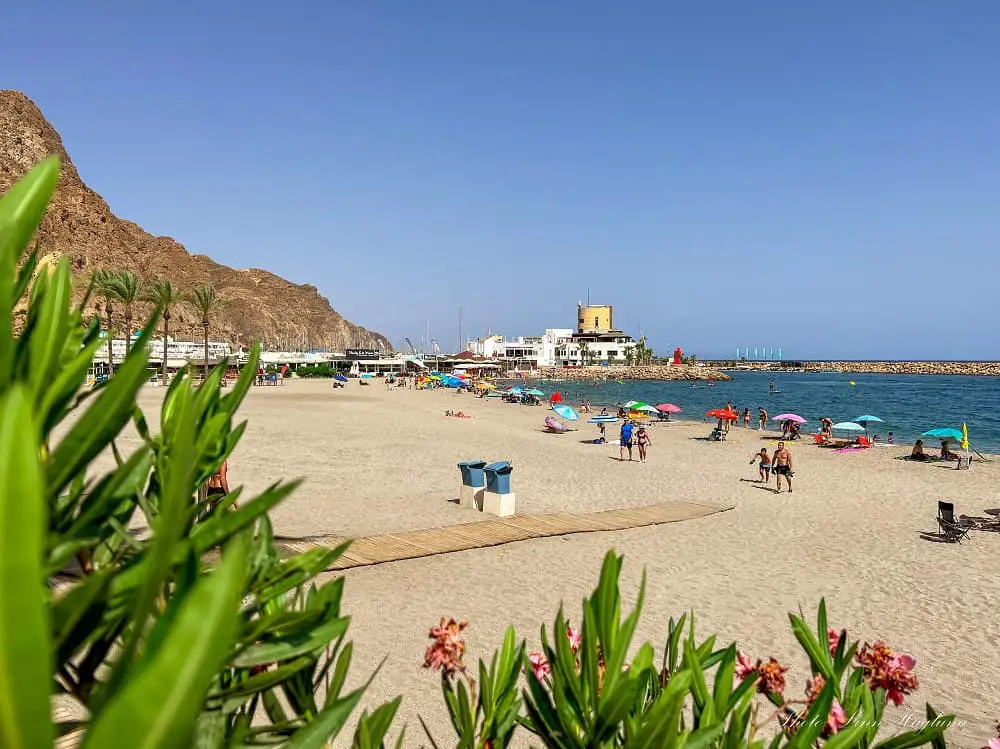 Las Salinas beach, Roquetas de Mar
Facilities:
Showers
Toilets
Lifeguard in the summer
Parking nearby
Wheelchair access
Beach bars
Dogs not allowed
La Salinas Beach in Roquetas de Mar is a great urban beach. Almeria city is only a few minute's drive away and you can easily park by the promenade that flanks the beach.
Stretching 1350 meters along the coast with a 90-meter width, there is plenty of space and in the summer months, you can feel safe with lifeguards overlooking the waterfront.
There are a few beach bars or so-called "Chiringuitos" on the beach, but it is also a short walk to bars and restaurants in Roquetas de Mar.
Lined with palm trees and a backdrop of mountains, it is a truly picturesque beach. Note that it is not allowed to take dogs on this beach.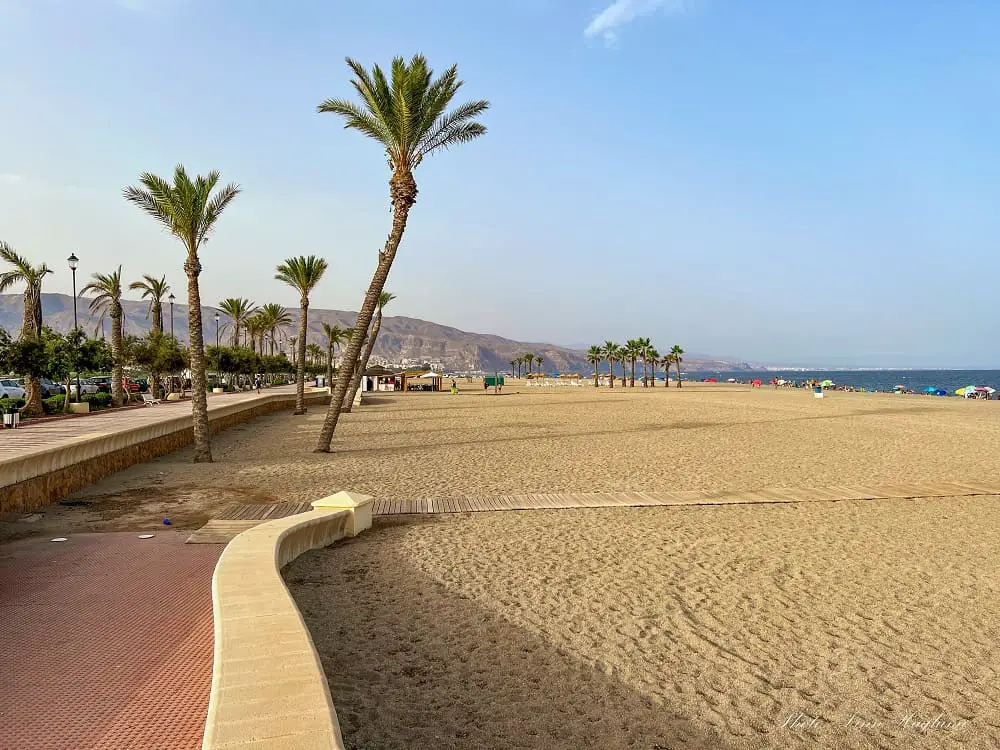 Los Genoveses Beach
Facilities:
Parking (5 Euros in summer)
You can take dogs
Another one of the best beaches Almeria hides away in Cabo de Gata Natural Park is Los Genoveses Beach. This is the first beach you get to on the dirt road from San Jose to Monsul Beach and it covers a large bay.
You can actually walk from San Jose to the beach along a beautiful coastal trail. However, in the summer it is extremely hot to do so, so make sure you bring enough water to drink on the way and while you're on the beach as there are no facilities there.
The picture-perfect beach is about 1 kilometer long and the water is knee-high a long way out, so this is a perfect beach for families with kids to spend the day.
There are no facilities on this beach, so you must bring your own shade, enough water, and food. You can find shade under some trees by the beach in case you don't have a parasol.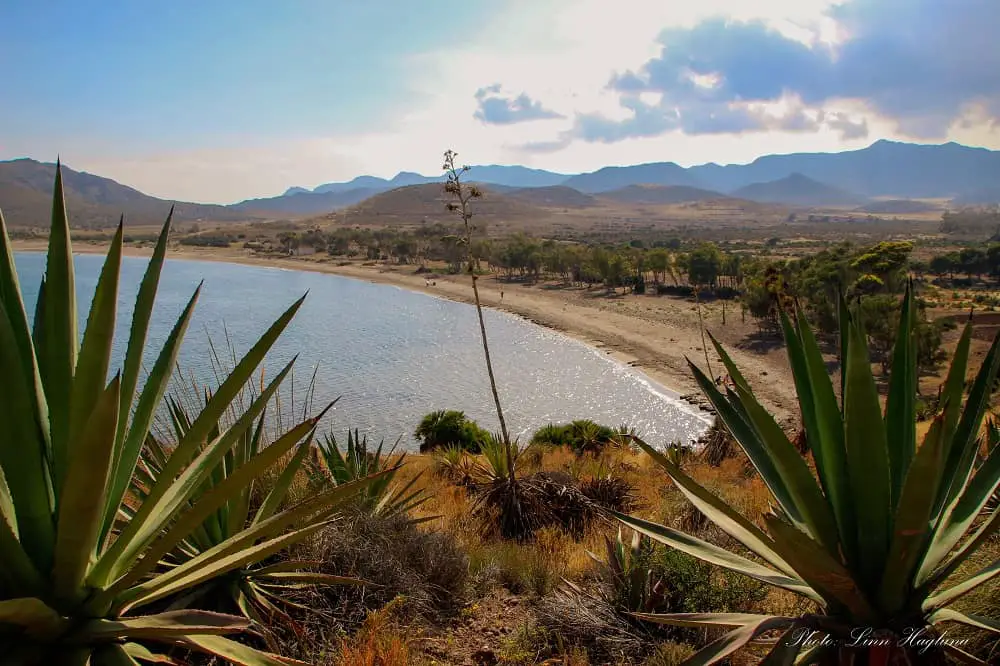 Zapillo beach, Almeria
Facilities:
Parking nearby
Parasol and sunbed rentals
Restaurants and bars
Showers
Lifeguards
Adapted for disabled people
Dogs not allowed
Zapillo Beach is the best Almeria city beach situated right by the Bobar neighborhood. You find everything you need on the beach and it has excellent facilities for anyone with limited mobility. This includes a shower with a chair and chairs in the water, as well as plenty of shade to take wheelchairs.
This is likely the best beach in Almeria for the elderly and disabled that want to enjoy the glittering water on a hot day.
But it is also a great beach for anyone else. You can rent sunbeds and shade on the beach and grab a bite to eat or a cold drink at any of the beach bars and restaurants. Go for a walk on the promenade and explore other things to do in Almeria after a quick swim.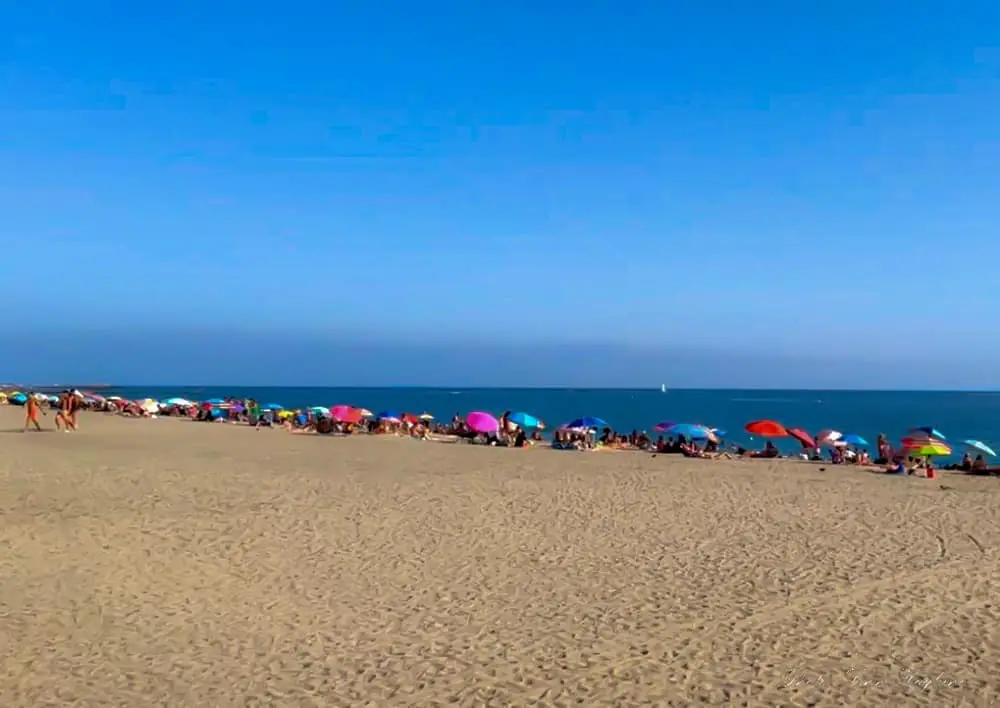 San Jose beach
Facilities:
Showers
Sunbeds and parasols for rent
Bars and restaurants by the beach
Free parking near the beach
Dogs not allowed
Among the best Almeria beaches, you find the urban San Jose Beach. Sitting in the charming bay of San Jose town in Cabo de Gata, you can park for free in the streets behind the beach.
Lined by the town's promenade, there are plenty of restaurants and bars next to the beach where you can grab a bite, a cold drink, or an ice cream.
This is the most convenient beach to go to if you stay in San Jose or visit the village for the day. It is also extremely picturesque with the whitewashed houses cascading down the surrounding hills and by far one of the best towns in Almeria.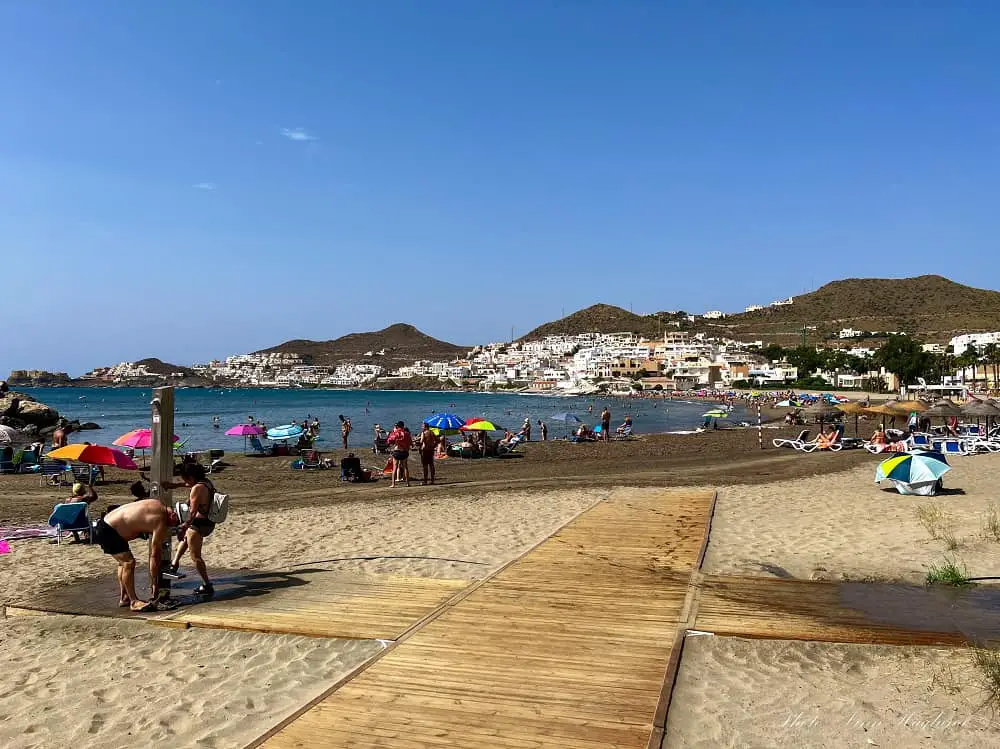 Playazo de Rodalquilar Beach
Facilities:
Parking
You can bring dogs
Playazo de Rodalquilar Beach, also situated within Cabo de Gata Natural Park, is among the beaches Almeria Spain is so famous for. Large and sandy, with rugged cliffs and volcanic rock surrounding it.
Next to the beach, you can admire the castle of San Ramón which sits atop fossil dunes where you can cliff jump into the water. There is also a smaller beach next to the castle which is nice to hang out at to change things up.
There is an ample parking space by the beach, but in the summer months, it fills up quickly. People often have to park along the street, but if you do so, make sure your four wheels are well outside the road, otherwise, the police might fine you or remove the car.
Alternatively, you can hike from Las Negras, which takes around an hour and gets very hot in summer!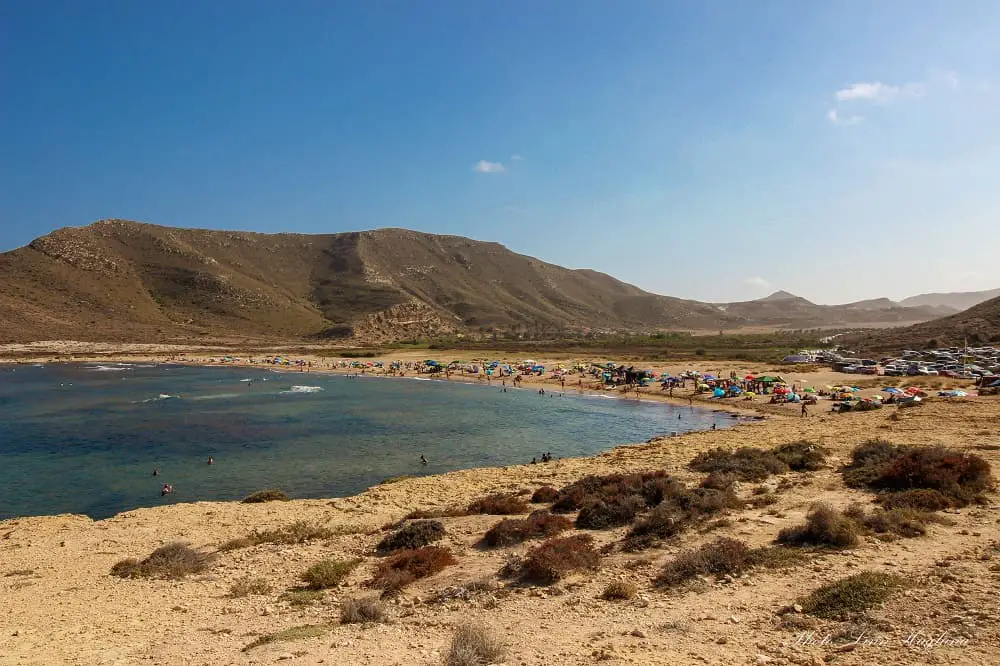 Best nudist beaches in Almeria
If you are looking for nudist beaches in Almeria, Cabo de Gata Natural Park features quite a few remote beaches, and on most beaches (except the urban ones) it's common to see naturists.
However, there are a few naturist beaches in Almeria that are particularly beautiful, though you will find people with and without clothing there too. Here are my favorites.
Barronal beach
Facilities:
Parking 10-15 minutes walk away across sand dunes
You can bring dogs
Barronal beach is one of the most spectacular beaches in Almeria. Nestled between two rocky hilltops, the beach is reached by a 10-15 minute walk across burning sand dunes which makes it less busy than the nearby Monsul beach.
An alternative way to reach it is by hiking from San Jose which will take approximately 2 hours.
This is the main reason why it's become one of my favorite beaches in Almeria. Though it's marked as a nudist beach, there are not only naturists there, so if you choose to cover up your parts, make sure you fully respect those who don't.
This is common sense and a general reminder across Cabo de Gata, as many people choose to leave their swimwear at home on most of the non-urban beaches.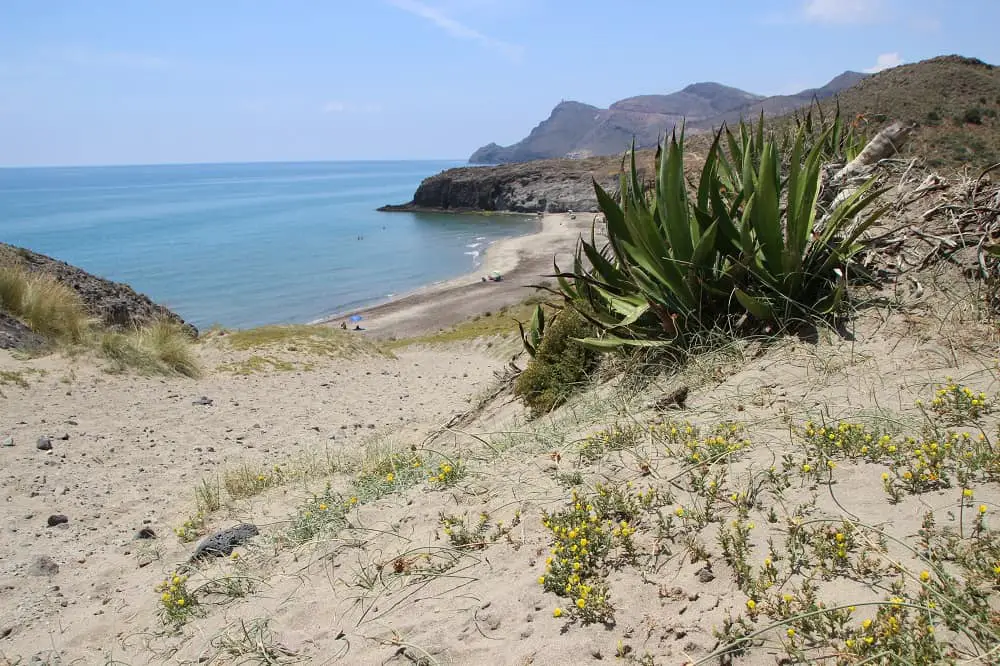 Cala de San Pedro beach
Facilities:
Showers
Drinking water
Toilets
You can bring dogs
While Cala de San Pedro beach used to be a calm, nudist beach in Almeria, the popularity to go beach camping there in the later years has brought more and more tourism to the cove.
People still wear what they want or nothing, especially down the side of the beach there are fewer people loading on and off the beach, so I notice most nudists go there these days.
Nonetheless, Cala de San Pedro is a hippie cove, so if you don't want to see tits and buts, this is not the place for you. Personally, I really love the vibe on the beach, and going for walks inland makes you meet interesting people.
I have read about several people not liking it there, but personally, I find it a great place for meeting unique people and listening to interesting stories. If you are up for something different and have an open mind, this is a great place to go.
The local hippies have made toilets that are marked with flags, they are simple holes in the ground with lids that are fenced in so that you have your privacy. The "shower" is a natural spring, so I suggest you only use natural eco soap and shampoo.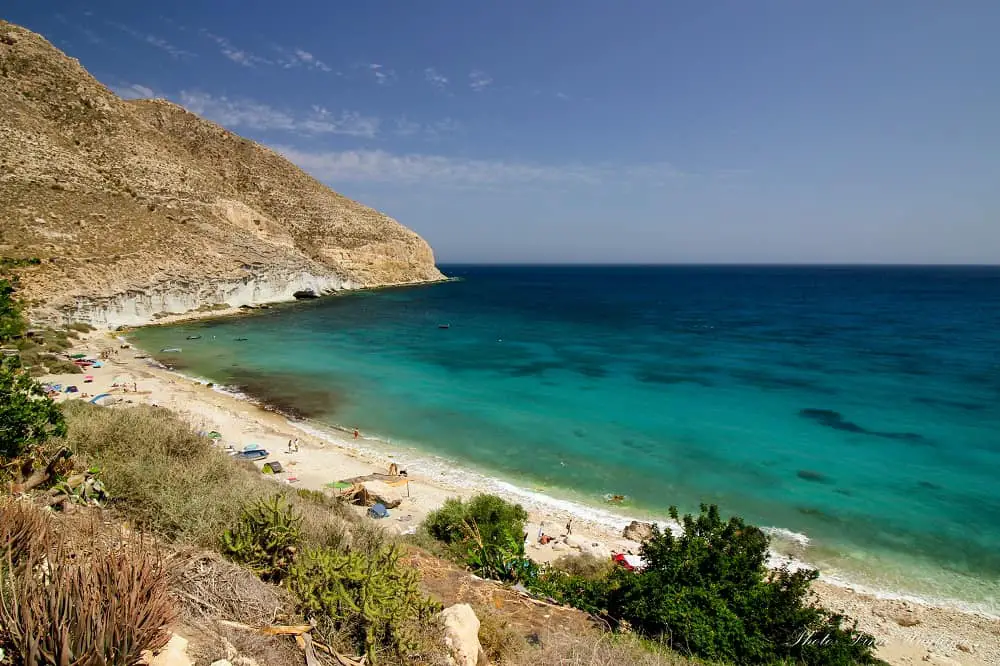 Reflections on the beaches in Almeria
There is such a great range of beaches in Almeria from remote, sand-blown beaches to excellent urban beaches that are well adapted for people with limited mobility that there sure is something for everyone.
That said, your best bet is to travel by car to reach all of these beaches. And of course, the most remote includes a good hike or a boat trip.
Almeria will always be one of the provinces in Andalucia that holds a special place in my heart, especially because it is a great escape in the summer months to avoid the worst crowds and to bring my dog to the beach when it is illegal in the rest of the country.
I hope you enjoy Almeria's beaches just as much as I do. Happy travels!