Cabo de Gata-Níjar is a nature reserve in the province of Almeria in Southern Spain. The reserve is volcanic and hosts the only desert in Spain.
Besides being dry, rocky, and sandy on the inland, the coastline has some incredible volcanic cliffs and stunning virgin beaches. Some of the beaches in Cabo de Gata can only be accessed by boat or hiking, which makes them unique and untouched.
Cabo de Gata beaches are without a doubt some of the best beaches in Andalucia if not the whole country. A big plus is that they are never overcrowded, so you can actually enjoy them at any time of the year!
This rocky area with steep cliffs and hidden beaches is a popular place for filmmakers. Among many, Indiana Jones and James Bond were filmed in the nature reserve.
I have totally fallen in love with this deserted part of Spain and have been back time after time. It's still fairly off the beaten path in Andalucia, which means there is enough space for everyone, no crowds, no stress, and no overtourism in summer. The beaches in Cabo de Gata are perfect for backpackers, hippies, and everything in between.
Disclosure: This post may contain affiliate links. That means that if you make a purchase through one of those links, I will get a small commission at no extra cost to you.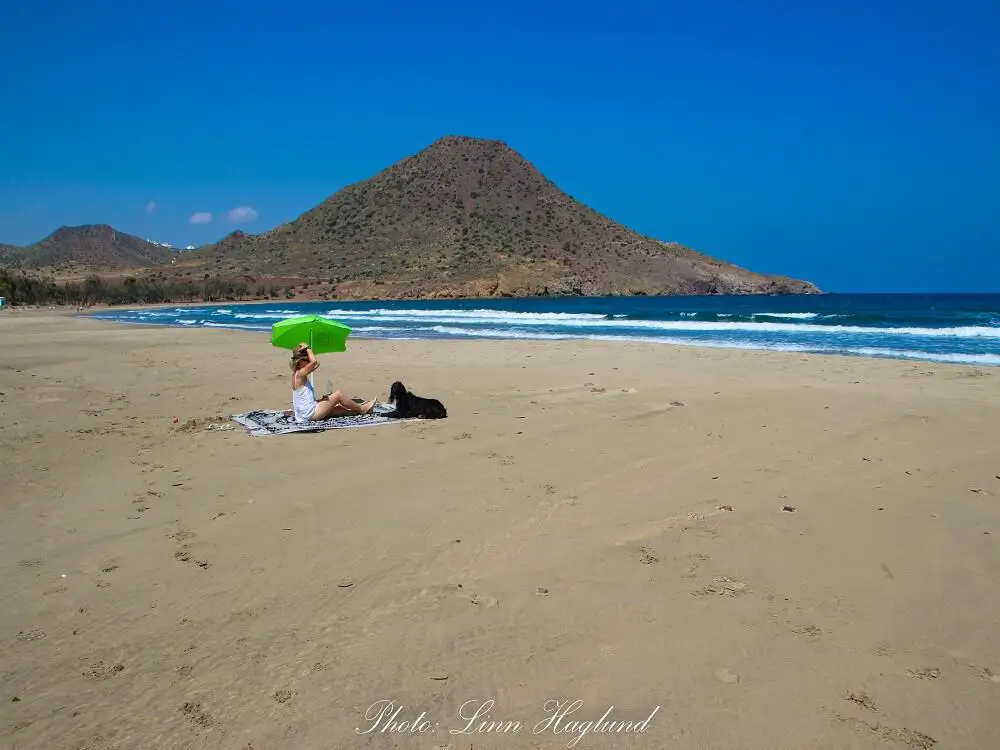 READ: Things to do in Almeria
How to get to Cabo de Gata Natural Park
Cabo de Gata is only half an hour's drive from Almeria where you can find an international airport.
The easiest way to get from the airport to explore the National Park is by renting a car. A car definitely gives you the best opportunities to explore all the best beaches in Cabo de Gata and gives you a lot more freedom.
Otherwise, there are buses from Almeria that take you to the villages of San Jose, Las Negras, and Cabo de Gata. You can also book a taxi, but the prices are stiff.
Check car rental availability and prices here.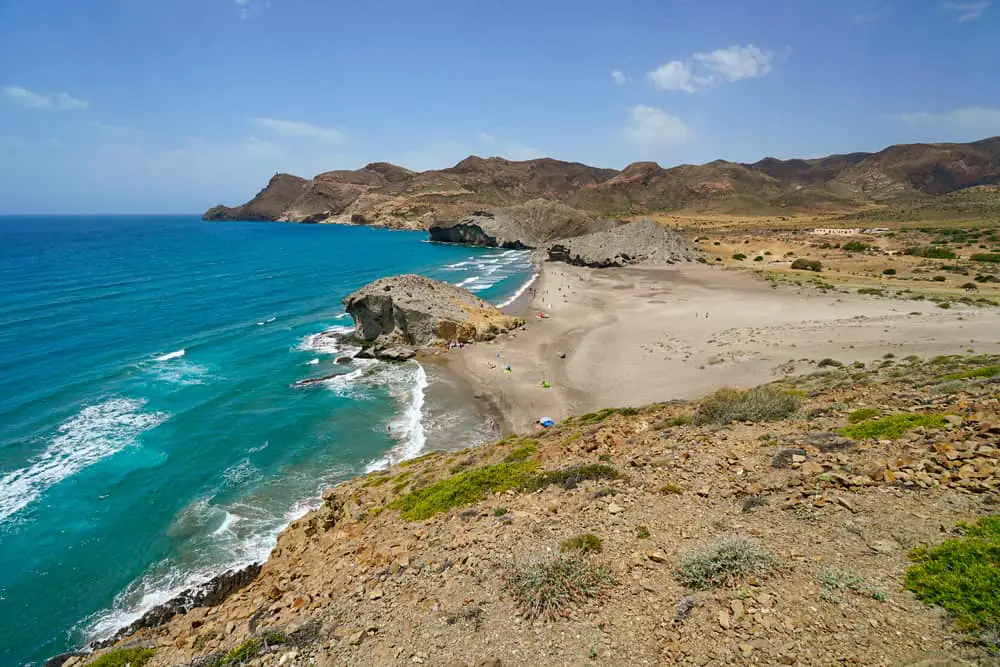 Where to stay in Cabo de Gata Almeria
There are a lot of places to choose from to stay in Cabo de Gata Almeria. To make it easier for you, I have put together some of my favorites, though I stay at the same campground most of the time, I have tried some other places throughout the years. My favorite town in Almeria, however, is San Jose.
Complejo Turístico Los Escullos San Jose
Complejo Turístico Los Escullos San Jose is my favorite campground in Cabo de Gata Natural Park! It is situated just in the middle of everything, but you'll need a car.
Though I always stay in my tent, they have cute little cabins for a reasonable price. They have a nice pool, a bar, and a restaurant as well as a little convenience store where you can buy the essentials.
Hostal Puerto Genovés
This family-run hostel is centrally situated in San Jose and a good place to stay if you don't have a car. You can go hiking from San Jose to some of my favorite beaches in Cabo de Gata!
It is a modest, reasonably priced place with breakfast included. Rooms are air-conditioned, they have free Wi-Fi, and parking is available.
Cortijo La Alberca
Cortijo La Alberca is situated about half an hour by car outside Cabo de Gata Natural Park. But the family-run, super cute Moorish-style country house is really worth it.
You get breakfast and a lovely swimming pool included. And the biggest luxury of all! The floor has solar-powered heating!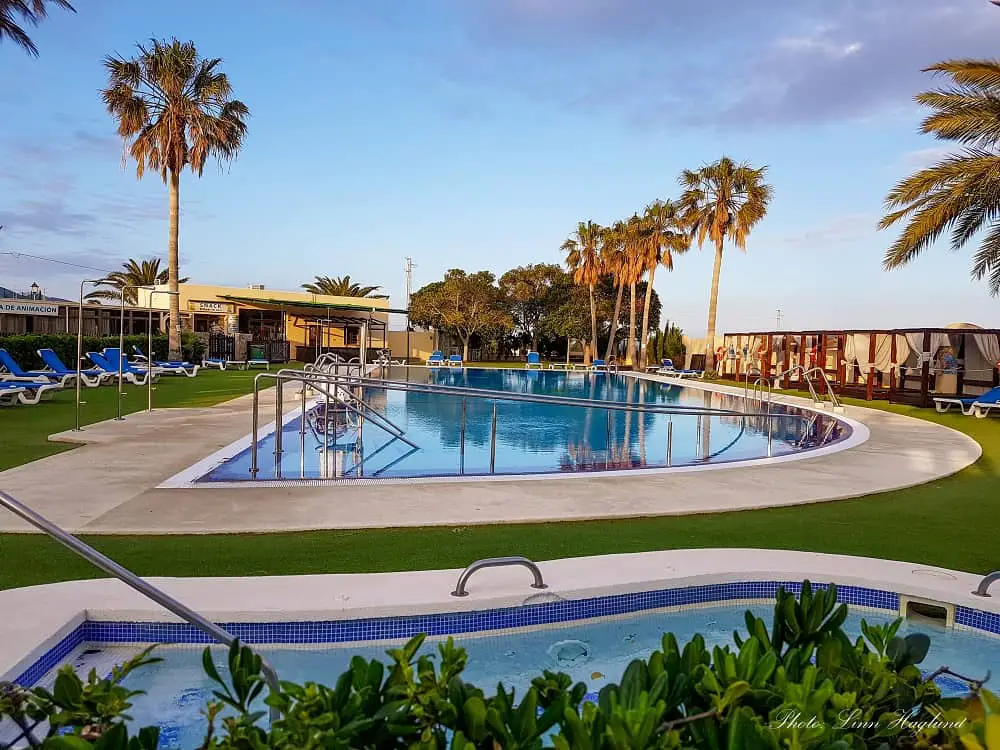 When to go on a Cabo de Gata beach escapade
So, when is the best time to go on a Cabo de Gata beach escapade? I would say spring or autumn without a doubt! From May to mid-June and in September you will have the beaches pretty much to yourself. On a good year, you can even have beach weather until October or mid-November. It's just so so nice!
But even in the high season which is August, the beaches aren't as crowded as in other places in Spain. However, if you choose to travel in August, make sure you book your accommodation early as all of Spain takes its holiday this month.
Most travelers to Cabo de Gata Almeria are Spanish, though you do hear some other languages throughout the summer months – and it has become more and more with the years as rumors reached tourists about Almeria's best beaches.
While the bathing temperature is best from July to September, the spring still gives you warm, pleasant days to bake on the beach. I love going in May as the flowers bloom and it gives beautiful colors when hiking from beach to beach.
If you are not worried about cold water, then even the winter months can be extremely nice. Though I warn you, the water is cold!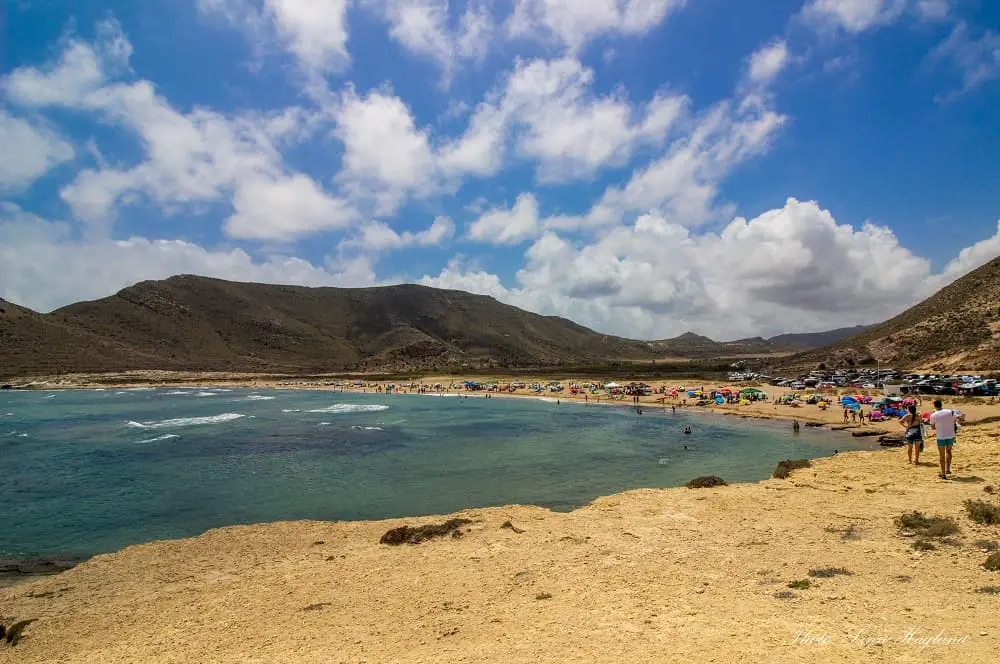 Best beaches in Cabo de Gata
There are countless beaches along the coast in Cabo de Gata, and so many of them will take your breath away. Not all of them are easy to get to, but if you are prepared to go for a hike you won't regret it.
The ones beneath are my absolute favorite beaches in Cabo de Gata after traveling to the nature reserve many times.
Mónsul beach
Mónsul beach is one of the most popular of the best beaches Cabo de Gata has to offer, and not without reason. It is possible to drive all the way down, thus the parking is far enough from the beach.
Separated by sand dunes so you won't notice the cars. In high season, parking fees apply and only a restricted number of vehicles are allowed. Anyhow, there are buses going from San Jose which is one of the most charming Andalusian beach towns and a great place to base yourself.
There is also a beautiful hiking route from the village which passes numerous beaches. It includes some rough climbs, so good footwear is a must. However, the views of the seaside, cliffs, and all the hidden beaches along the way are spectacular.
Mónsul is a broad sand beach divided by a large rock on the waterfront which gives some shade during the day. It is an astounding beach to spend the day on or to pass a couple of hours.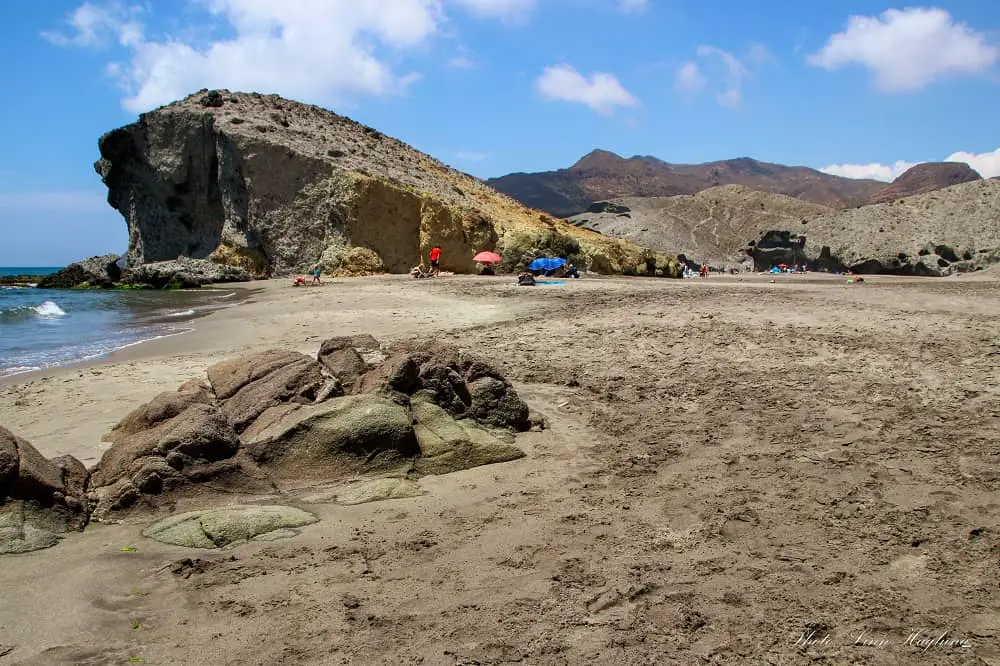 Barronal beach
Barronal beach is the beach before Mónsul, and takes a longer walk from the road. It is possible to park by the road, but only in dedicated parking spots by the track to this beautiful beach.
Be prepared to walk on burning hot desert sand across a long trail before reaching the actual beach. The signs say nude beach, so respect others even though you prefer to wear your swimsuit.
This is probably one of my absolute favorite beaches Cabo de Gata has on the shelf, maybe because it is a bit harder to get to.
The beach is completely isolated, thus you can hike over to the next beach. This requires good footwear, though, as the hillside is steep and the trail is rough. Nevertheless, the views are tremendously rewarding and well worth the climb.
I did try to do it in flip-flops once and it was pretty scary to stand on the top without really knowing how to get back down. So I just slipped straight back down where I came from instead of continuing to the next beach.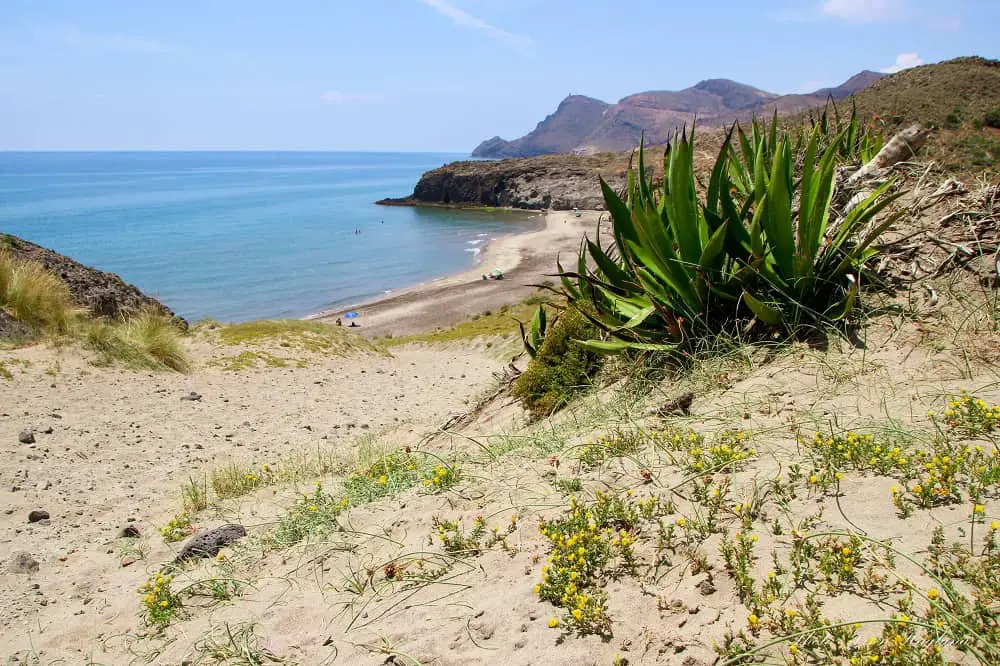 Genoveses beach
Genoveses beach is the first one you come to when hiking south from San Jose. It's a long beach covering a large bay with shallow water, which makes it perfect for kids. The beach is also accessible by car, taking the same route as to Mónsul beach.
Also this beach has restricted parking, but in high season police usually stop you before reaching the dirt road that gets you there. The parking fees in peak season are the same as at Mónsul beach. From the parking lot, there is a boardwalk crossing the sand dunes to the beach.
The beach makes a beautiful day trip with your picnic or as a pass-through and a dip if you are feeling adventurous and want to explore more beaches.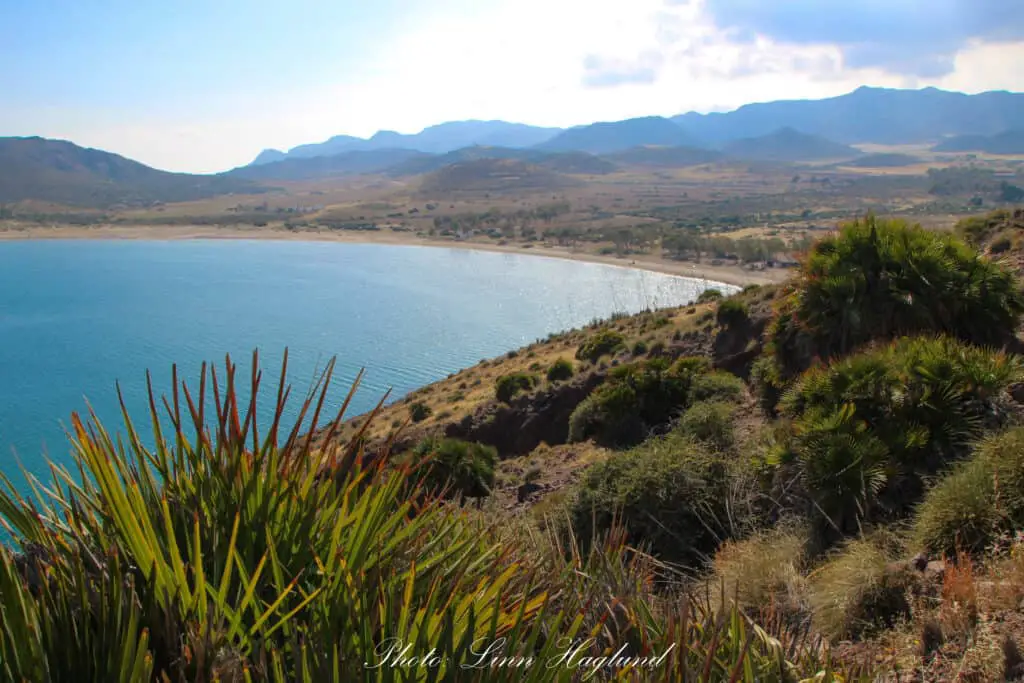 Playazo de Rodalquilar Beach
Playazo de Rodalquilar Beach is a large beach with car access all the way. The wide sandy beach has an eye-catching view of San Ramon´s Castle on one side and mountains on the other side. The castle is from the 1800s and was used to defend the Almeria coastline from the Moors.
On the north side, there is a small bay with another beach, that is more sheltered on windy days. The crystal-clear water is perfect for snorkeling.
Playazo beach is, without a doubt, a good place to enjoy golden sand and clear water. Bring a parasol, though, as there is no shade to find.
There are also great hikes in the area, among them a coastal trail from Las Negras to Playazo de Rodalquilar which is stunning and takes about one hour each way.
Playazo de Rodalquilar is among Cabo de Gata's best beaches for so many reasons and has something for everyone that loves adventure.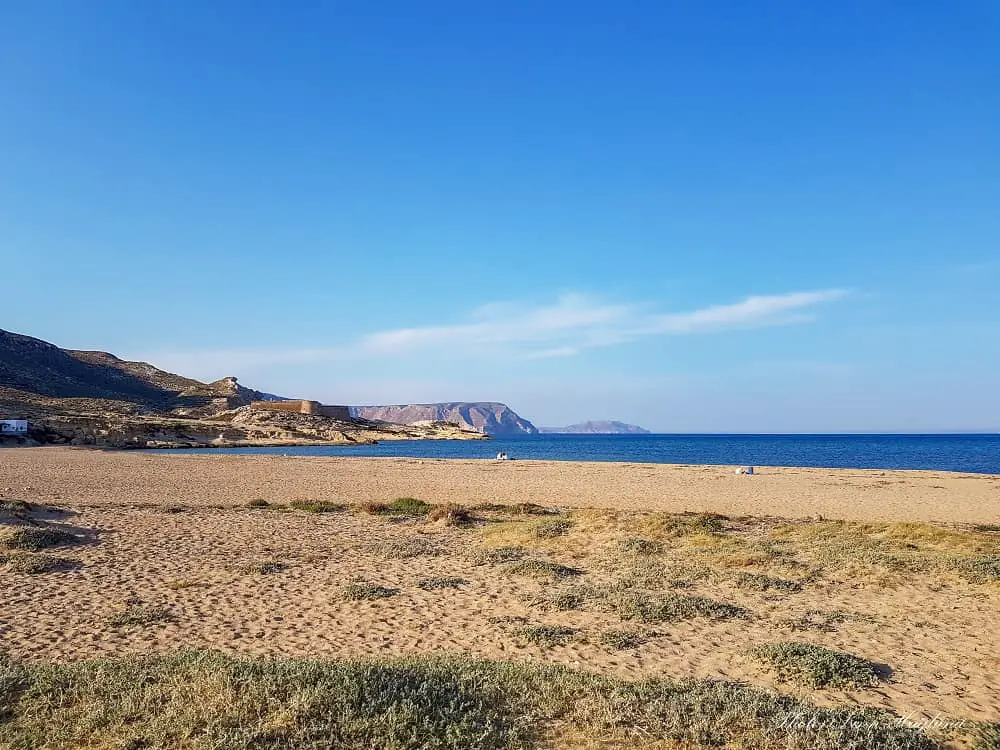 Peñon Blanco beach
Entering the tiny village, La Isleta, you get to the parking lot of Peñon Blanco beach. There are no parking fees even in peak season. The whole beach is protected by the rock side but easily accessible from the car park. There are stairs on both sides and a shower at the bottom of the stairs.
Anyhow, it is great to walk along the beach, and on the north side, there are also some small bays. The rocks make shade whenever the sun is not right above them, but I recommend bringing a parasol as the shade might be occupied by others. Further, climb the cliffs by the beach for epic views. You will soon understand why this is one of the best beaches in Cabo de Gata.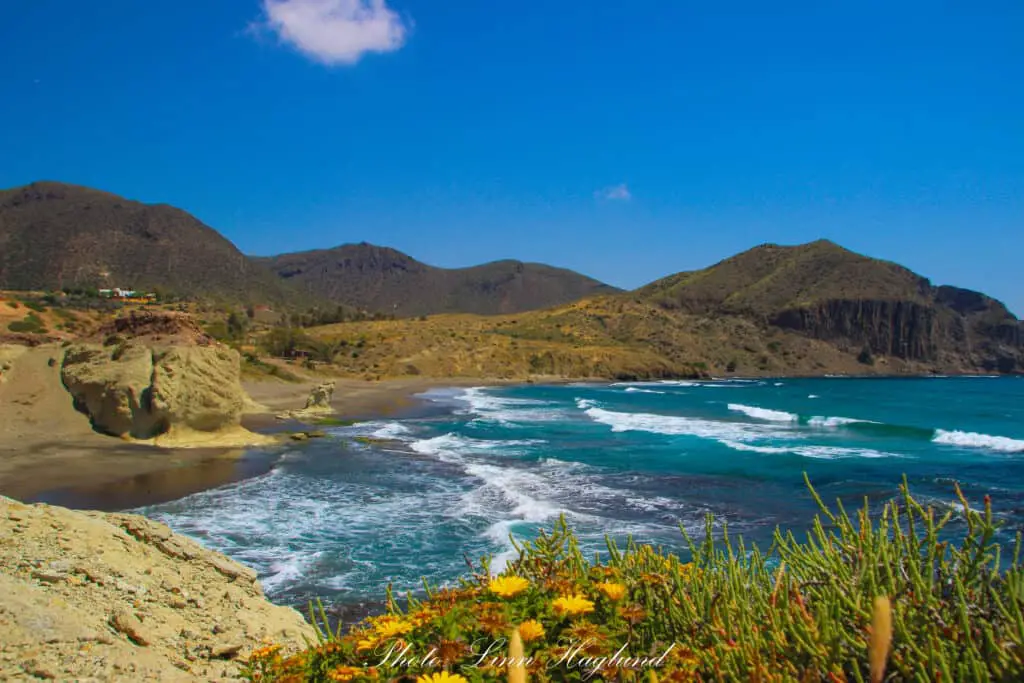 Los Escullos beaches and cliffs
Los Escullos beach is quite long and easy to access from the road with free parking and a popular Cabo de Gata beach. However, the best about Los Escullos are all the cliffs with astounding views and the many hidden beaches and natural pools you will encounter walking along the cliffside.
There is quite a long stretch of cliffs you can walk across. In between them, are some tiny beaches you can only imagine how to get down to. But it is possible. And it is totally worth the climb. Some of the tiny bays are rather hard to see from above which makes them somewhat paradisiacal in their own way.
South of the main beach and crossing the cliffs, there are some beautiful coves and natural pools if you explore the area well. It is not allowed to drive all the way, so you will have to park the car at the end of the road. On a good day, you might be the only one discovering the area and it is well worth it.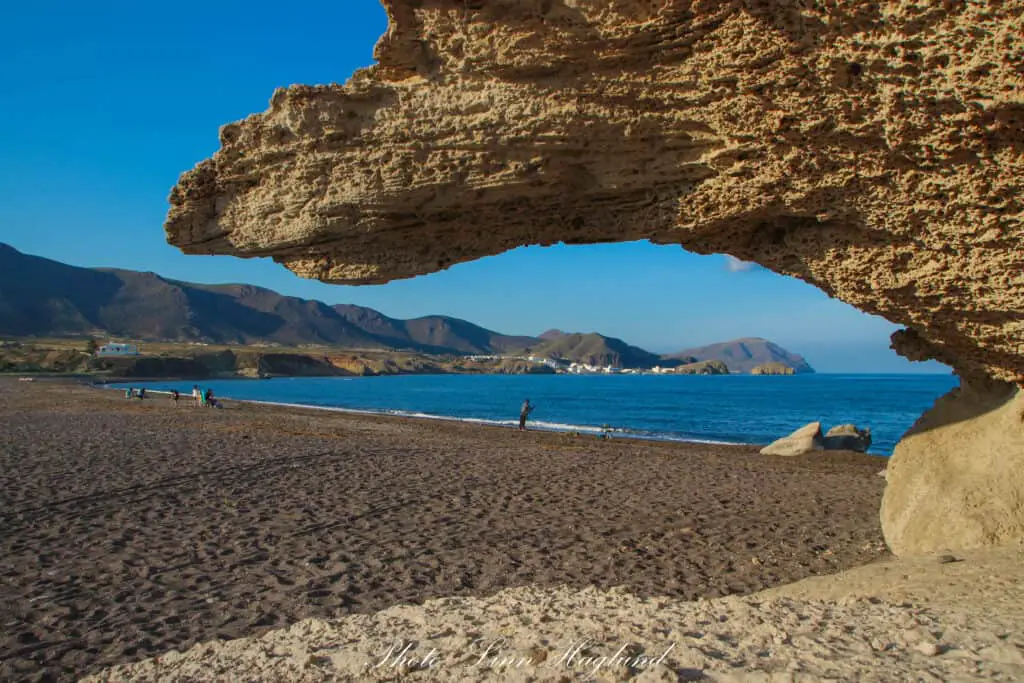 Cala del Plomo beach
Cala del Plomo beach is a long drive on a bumpy dirt road. Nonetheless, you can drive all the way to the beach, and parking is free also in high season.
The beach in itself is not huge. However, the long road that leads to the beach is all deserted. During low tide, you can walk along the cliffs on the north side. You can even enjoy some natural pools on the way if you want to cool down.
Cala del Plomo beach is a great place to be parted from the masses which makes it one of my favorite beaches in Cabo de Gata.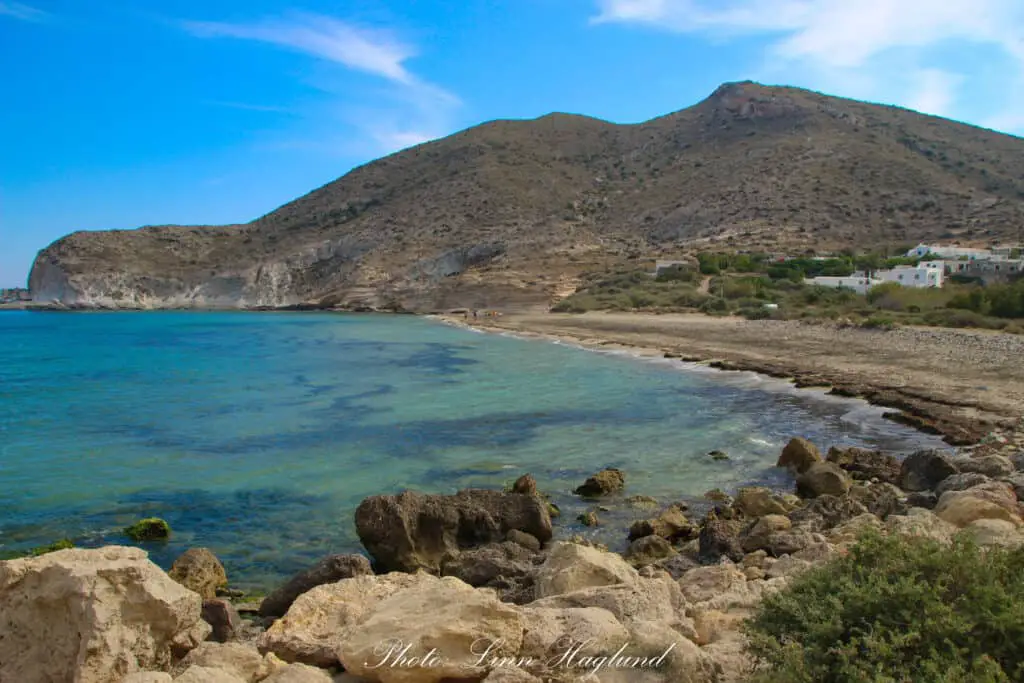 Playa de Los Muertos
Playa de Los Muertos is widely known as one of the best beaches in Cabo de Gata. Translated to English the name of the beach is "The beach of the dead".
According to locals, the beach got its name because it is so dangerous to get there. The hike is steep and long. Most people will recommend you to wear good hiking shoes to go there.
Personally, I do not think it is as steep and dangerous to walk down as I expected. There are two descents, one steep right down to the left from where the hike starts and one straightforward turning to the left a bit later. I have only tried the latter and it is not too steep and it is not dangerously rocky.
However, good footwear will save you the worries, and definitely make the walk easier. However, I have always walked down in my flip-flops and been fine.
You will see the beach from the top of the trail so you will have wonderful views the whole way down.
This beautiful white beach is made of small white rocks getting smaller closer to the waterfront. The water gets deep straight away here, unlike other beaches in Cabo de Gata. So if you travel with kids, take care.
The only downside of Playa de Los Muertos is the view to the left. There is a big port at the end, and the contrast sort of takes away the idyllic feel of the beach. What I always do, though, is to make sure I look the other way, and that I am back in paradise.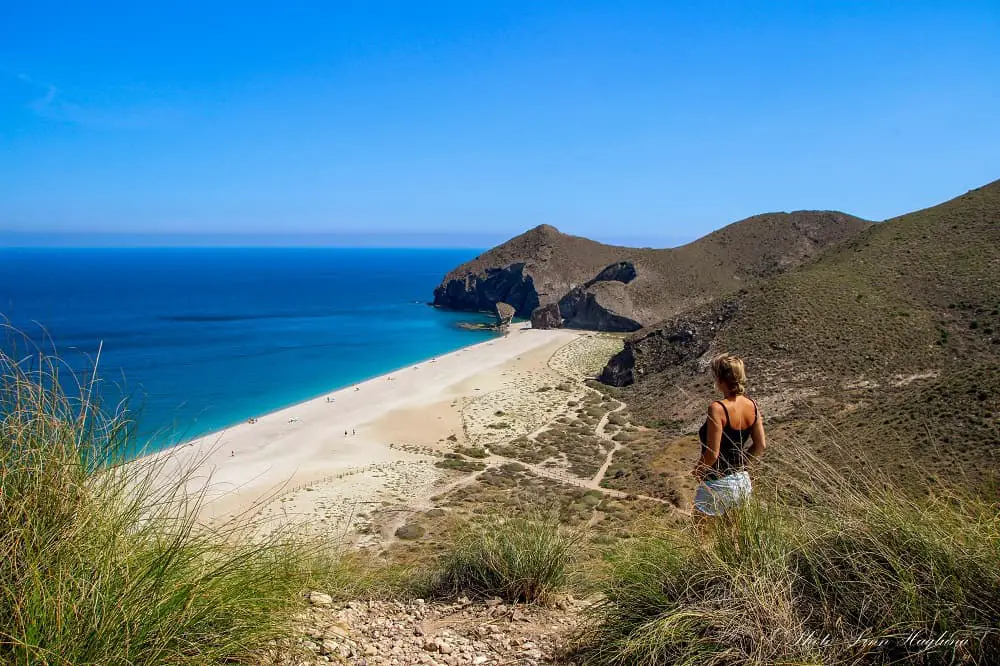 Cala de San Pedro beach
Cala de San Pedro is a bay north of the village of Las Negras. You can get there from Las Negras either by a one-hour hike or by a short boat trip. The bay is inhabited by hippies who have built their houses perfectly blended with nature.
The beach at Cala de San Pedro is probably the only beach in Spain where it is actually "legal" to camp overnight.  Police boats patrol the area for safety but they do not interfere with people on the beach.
According to a local, the police cannot be bothered to get in the way as the popularity of the beach is good for tourism in Las Negras.
For the above reasons this beach attracts backpackers from all around the world, and in peak season you want to come early to secure a good spot to pitch your tent.
The local hippies of Cala de San Pedro have opened a tiny beach shack where you can buy beer and water. Others walk around selling sandwiches in the morning. However, might be a good idea to bring the essentials for your camping trip in case they are sold out.
Further, there is fresh water in a manmade shower/bath where you can have a shower together with everyone else. There are also built "toilets" marked with flags. These are simple holes in the ground with a wooden cover to keep the smell away.
La Cala de San Pedro is the perfect place for anyone that is happy with the simple travel has to offer. This beach is definitely something different.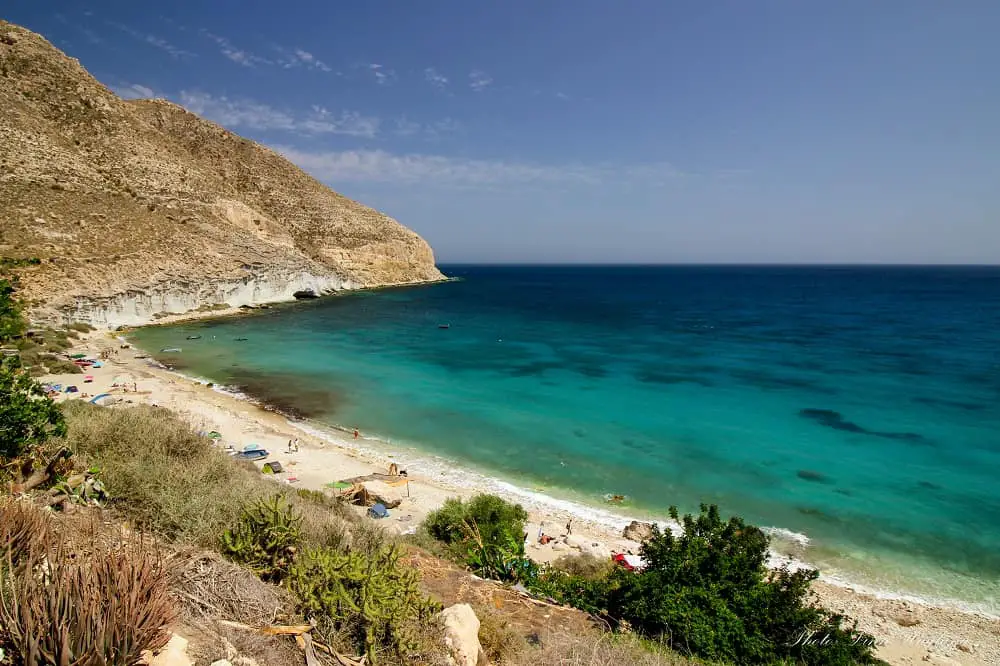 Preserve Cabo de Gata beaches
Being a nature reserve, it is important to respect the norms of not littering and not making fires. The latter is extremely important to respect as temperatures become severely high during the summer season. This makes it a high risk for the fire to spread and become uncontrollable.
There are a lot of breathtaking spots that are hard to get to, so it is important that every traveler contributes to keeping it that way.
In addition to not littering yourself, I would urge you to bring whatever rubbish you find on the road and bring it with you to a bin. Let's be responsible travelers and keep this astounding piece of nature clean. Together we can make a difference!
Bring a reusable water bottle so you don't have to buy plastic bottles which also means less waste to carry.
I also suggest you bring vegan and reef-friendly sunscreen both for yourself and the inhabitants under the sea.
Did you like this? Pin it for later!