We looked confused around us as banging techno music came closer and closer. It didn't fit the surroundings; The otherwise quiet beach of Cala de San Pedro, Cabo de Gata with only a few stoned travelers chilling by their tents, the waves smashing towards the beachfront, and a guy playing chilled tunes on his guitar nearby.
Through the thick bamboo behind us, where a tiny path made its way, an elderly man came walking out as the music became louder. His face was marked with wrinkles showing years of experience. We greeted him as we were curious about his music so he sat down, showed us his new smartphone, and started to tell us his story.
This is Cala de San Pedro. Probably the only beach in Spain where you can camp "legally" and one of my favorite beaches in Cabo de Gata. There are other beaches where you can camp, but police will check by a few times a week and tell people off.
Most of the "hippie" beaches (read: beaches that are hard to get to), at least in Andalusia, they won't give you a fine most of the time as long as you leave when the police tell you to. On all other Spanish beaches, you can expect a fat fine if you get caught camping.
At Cala de San Pedro Cabo de Gata, on the other hand, police boats come by regularly just to make sure everything is going fine.
Cala de San Pedro used to be one of the best-hidden gems in Andalucia, but in recent years, backpackers flock to the beach in the summer months as rumors spread about the beautiful hidden beaches in Almeria.
Disclosure: This post may contain affiliate links. That means that if you make a purchase through one of those links, I will get a small commission at no extra cost to you.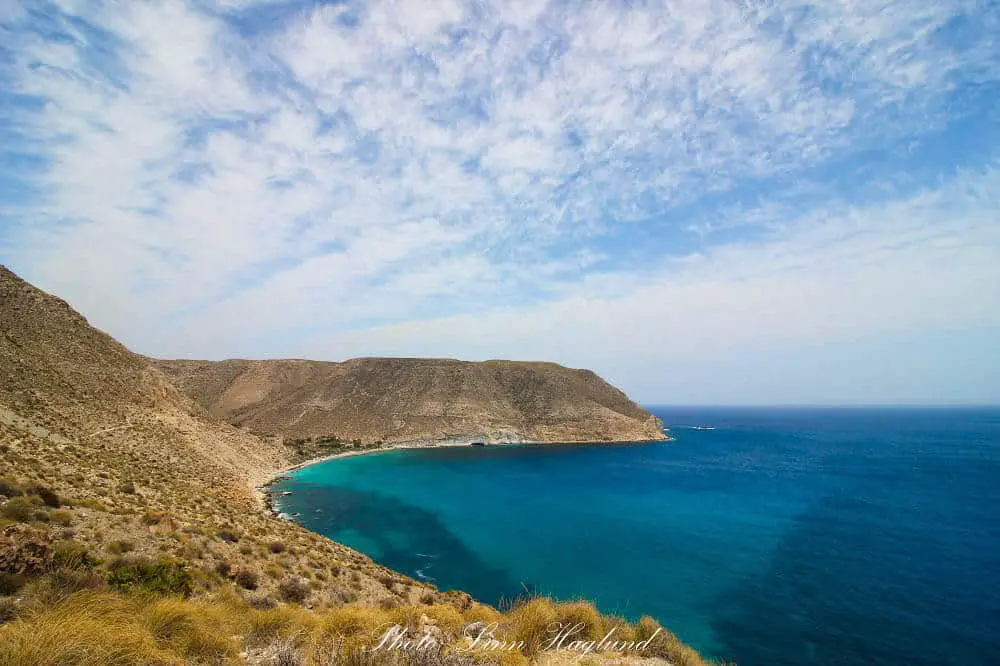 YOU MIGHT ALSO LIKE:
The most pretty villages in Andalucia
The coolest beach towns in Andalucia
How to get to Cala de San Pedro
Cala de San Pedro is in the middle of Cabo de Gata-Níjar National Park in the province of Almería and is definitely a destination off the beaten track in Spain.
The closest airport is Almería, and from the city, there are daily buses to Las Negras which is the closest village to the cove.
If you want more freedom and to explore a larger part of the natural park I recommend that you rent a car at the airport. The drive to Las Negras only takes 40 minutes.
By boat
You can take a boat from Las Negras to Cala de San Pedro. The boat trip only takes 10-15 minutes. This is the recommended way of getting to the cove in the hottest summer months, especially if you plan on camping and bring a lot of weight.
There is a small ticket office at the main beach in Las Negras where you can buy tickets. Boats go frequently at day time in the summer months. It costs 6 Euros each way.
The return ticket needs to be paid in advance with a decided pickup day and time. If the boats can't go on the day of pick up because of weather conditions, you can walk the way back. In this case, you get your 6 Euros in return at the ticket office.
Hiking
The alternative route to Cala de San Pedro is to do the approximately one-hour hike across the hilltops. The hike starts on the left-hand side of Las Negras looking towards the sea. Just ask any of the locals for directions.
Once on the right road, you continue straight ahead until the paved road ends. From there you see a dirt road on your right with a sign saying blind road 3 km. That's where you're heading.
It is possible to drive the first 3 kilometers on a dirt road that is not too badly maintained. Most vehicles that are not lowered sports models will pass fine. If not, the walk will go quite fast.
Unless you stop to take a gazillion photos (like me) you will easily arrive at Cala de San Pedro in an hour.
From the parking lot, the path is well marked and fairly easy to walk. The last part is a bit rockier but not difficult.
The views are absolutely mesmerizing the whole way, though there is no shade until you get to San Pedro itself. The bay is covered in lush green fruit trees as you walk down towards the beach.
Cala de San Pedro is recognized by the ruins of an ancient fortress overlooking the beach. If you look closely, the surroundings are dotted with houses integrated into the natural environment.
There should be around 25-30 of them altogether. These are built by the hippie community that, according to the locals, started inhabiting the cove during the '80s and '90s.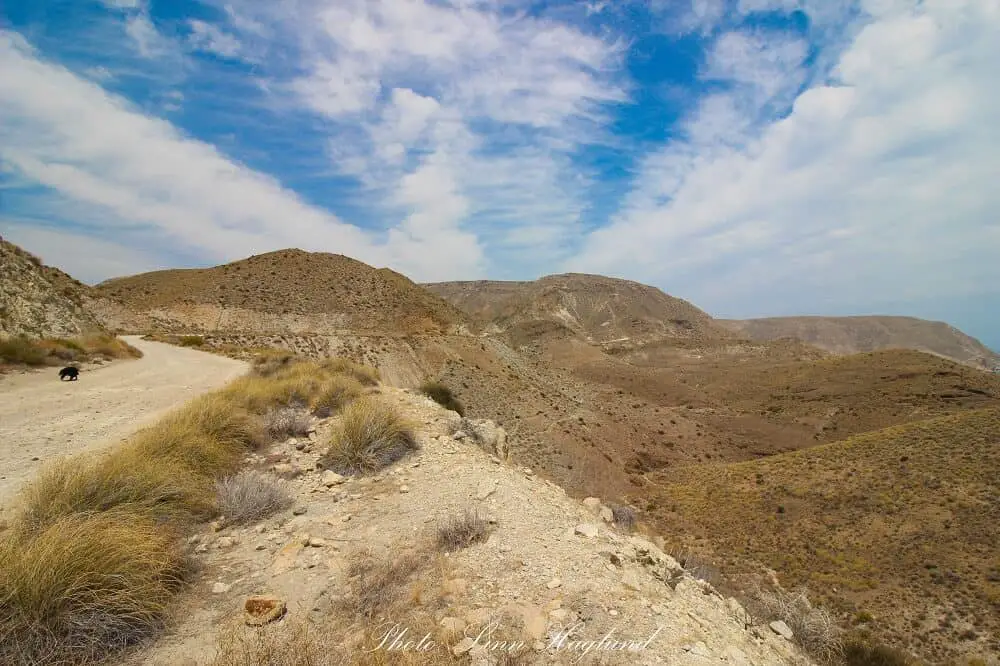 Cala de San Pedro Cabo de Gata
Back at the beach of Cala de San Pedro, we all listened closely to what the elderly man had to say. The music from his phone slowly switched over to something more pleasant.
His Spanish was typical Andalusian and hard to understand without a full focus on his shortened mumbled words.
He told us he was probably the one that had been living at the cove for the longest time. "Most people come and go", he said.
After finding himself homeless 20 years ago, he came to the bay to live. He found minor work here and there, and after carrying material for a house at the entrance of San Pedro, he was given the keys to the property a few years later.
This is the only house in the entire community with glass windows. The man seemed proud to live in such a luxurious home. I had noticed it as I hiked into Cala de San Pedro from Las Negras earlier the same afternoon.
I was curious about the ruins of the fortress towering above the beach. There are danger signs all around the remains of the once majestic structure and you are not allowed to enter.
Of course, I was intrigued to do so. Our elderly friend explained that the bay was frequently visited by pirates back in the 1400-1500s. The fortress was built to protect Cala de San Pedro against the bandits.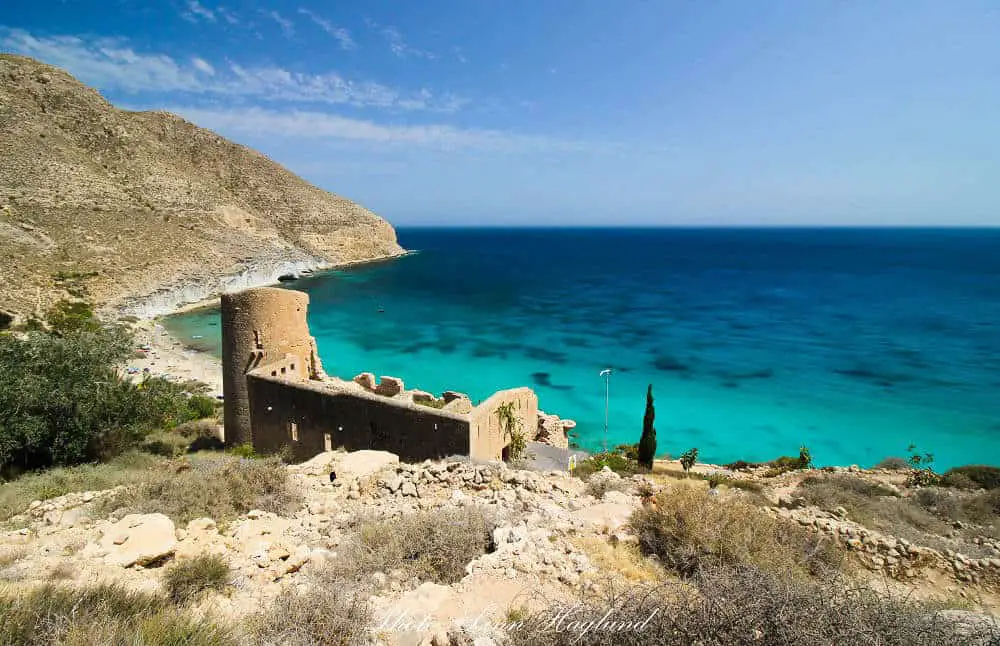 Other beaches in Cabo de Gata Natural Park:
The hippie lifestyle – attractive or not?
On a previous visit to this unique place, I had a conversation with a couple that had come here every year during the last ten years. They had become friends with several locals during their visits and knew a lot about the history of the place.
According to them, Cala de San Pedro is originally privately owned. However, those with the rights to this land never used it. It was first after the hippies built a community here and travelers from all over the world started visiting the bay, that the family wanted to claim their land back.
The police never took them seriously and didn't do anything about the invaders as the tourism money made a positive impact on Las Negras. To this day, police only control the bay by boat to make sure everything is going fine but they don't interfere.
I got this story confirmed by another local of Cabo de Gata during a conversation the other day.
I had got to know this sweet couple the night before when they had taken me for a walk around the countryside and visited a couple of the houses where their hippie friends lived.
One lovely lady that was working in her garden showed me her property. Simple and natural. Seemed like a perfect lifestyle. Or is it?
She put perspective on my idyllic thoughts as she reminded me about the tough, cold winter months. The natural shower, which consists of a natural water fountain where you can pour the cold water over your hair and body suddenly didn't seem so attractive. I need hot water when it is cold. I hate the cold.
"Further, we are less self-sustained with food in the winter months so we need to walk the one-hour trek across the hills to Las Negras to buy food and return the same way with our groceries," she continued. Ok, this lifestyle just became a lot harder now.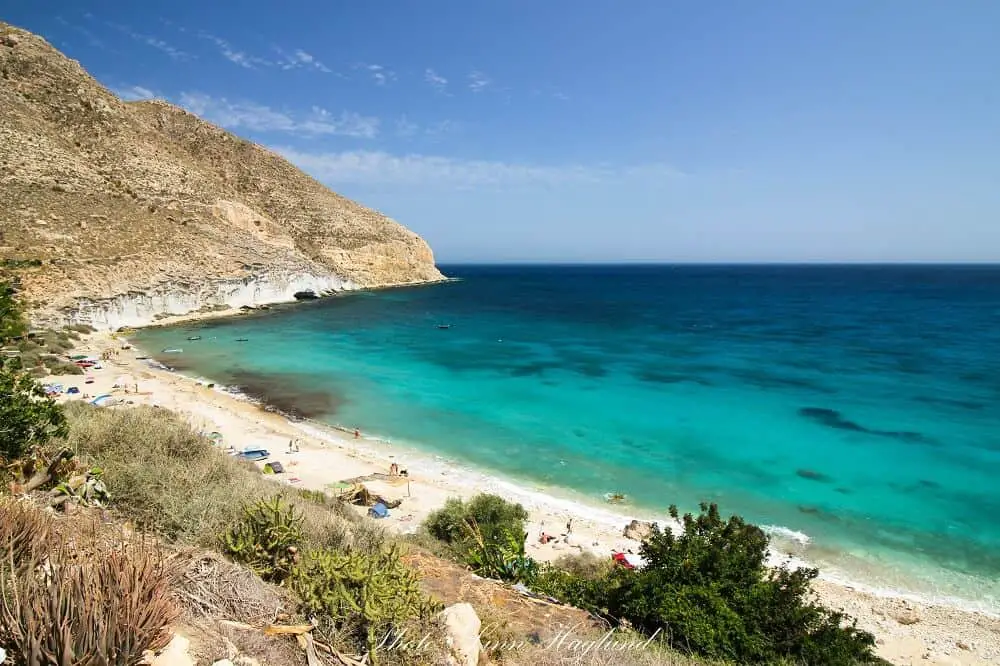 The negative impact of tourism
The phone started playing techno music again as the elderly man explained to us that the worst part about increasing tourism is that a lot of people leave their waste at the beach.
The inhabitants are obliged to pick it up and carry it across the hill to Las Negras. Unless they want to live in an ever-growing pile of garbage, that is.
I recognize this issue from another beach I use to camp on, a beach with no name. Local kids come down to party on the weekends and I can't count the bags of rubbish I have picked up after people and carried the 15 minutes hike back to the closest town.
Another issue they face at Cala de San Pedro is travelers going to the toilet wherever they please leaving their excrements and used toilet paper around.
The community has built several toilet facilities to use which consist of a bamboo fence surrounding a hole in the ground with a bamboo lid to do your necessities. These toilets are all marked with a flag to make them easy to spot.
Nevertheless, visitors to San Pedro seem to find it inconvenient to walk the extra meters to one of these toilets.
I have difficulties believing that these same people would poop in their own garden just because they couldn't be bothered walking inside their house to the toilet.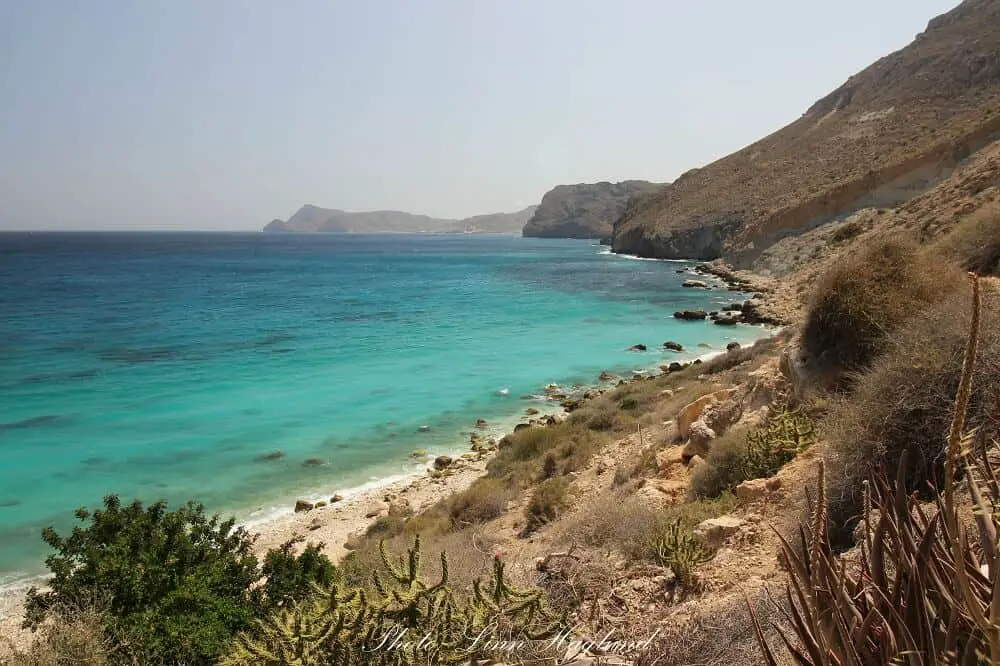 What to bring to Cala de San Pedro
First of all, I want to emphasize the importance of bringing everything you take to Cala de San Pedro with you when you leave.
As mentioned, there is no rubbish service at the cove. There are only the people living there that will have to clean up after you and carry it across the hills to throw it in Las Negras.
Therefore, take responsibility so those people that live there all year round can continue enjoying the beautiful, natural environment they call home.
Another heads up, there are several dogs living at the bay. And they love food. I have witnessed these dogs steal food each time I have been at Cala de San Pedro.
They are even cheeky enough to walk straight into your tent, grab an entire food bag and walk out with it as if it was the most natural thing in the world. So watch your stuff!
Make sure you bring a good pop up tent whether you're camping with dogs or not. They are the best to use at the beach as long as you take the boat. If you hike over, you should look for an easier-to-carry tent.
Whether you take the boat or hike to Cala de San Pedro you need to bring enough water and food. In peak season, there have been locals walking around selling homemade wraps or bread (including vegan options). Anyway, I would not rely on any food sources once at the bay, so bring your vegan camping food along.
In case you are able to buy anything, I recommend bringing cash. There have been a few bars open there over the years. However, for different reasons the ones that were there have closed. New ones might pop up at any time.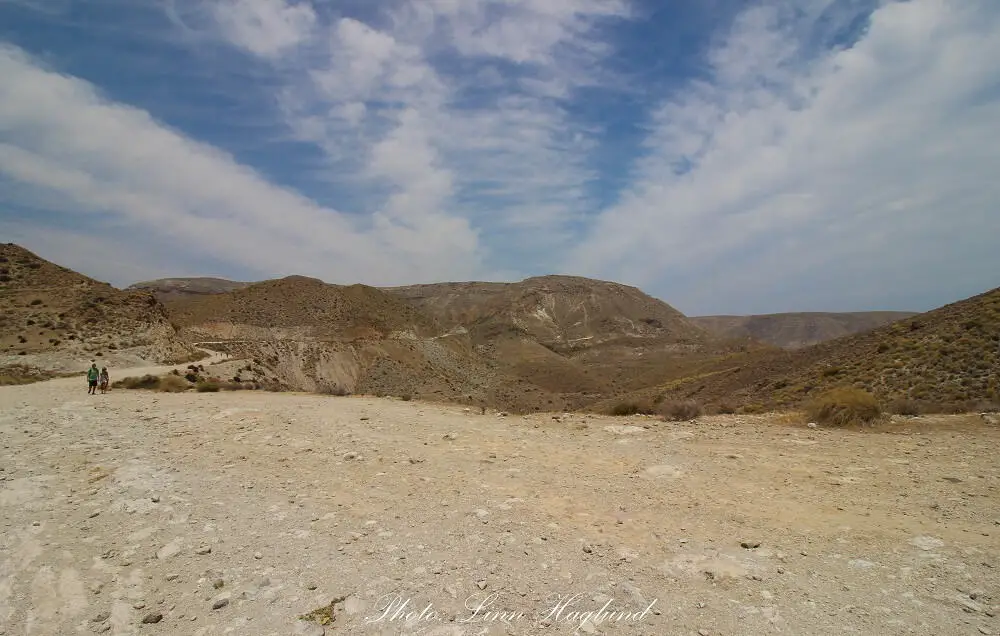 Other items you should bring to Cala de San Pedro
Towel
Parasol (there is no shade at the beach so if you plan on staying there the whole day, I recommend some shade for yourself and your belongings)
Sunscreen
Hat/sunglasses
Swimwear (or not, it is a nude beach after all)
Soap/shampoo if you plan on camping (preferably ecological and non-toxic to the environment as the shower comes straight out from the ground and runs straight into nature)
Tent (if you are camping)
A bag to bring your waste on your return
Finally, make sure to bring a happy face and an open mind. With this, you will, without a doubt, meet some interesting people and learn something new at one of the most unique beaches in Andalusia.
Like this? Pin it for later!