Southern Spain is jam-packed with beautiful beaches, some more popular than others, and some are easier accessible than others. While it's easy to stay local and go to the nearest beach from your hotel, sometimes it's really worth going on a road trip exploring different beaches farther away.
But where to go?
I've lived in Andalucia for about 10 years, and I love exploring the beaches around the coast. You can be sure I've found a few favorites and I'll share the best beaches in Andalucia with you here so that you can spend your time wisely during your vacation.
Disclosure: This post may contain affiliate links. That means that if you make a purchase through one of those links, I will get a small commission at no extra cost to you.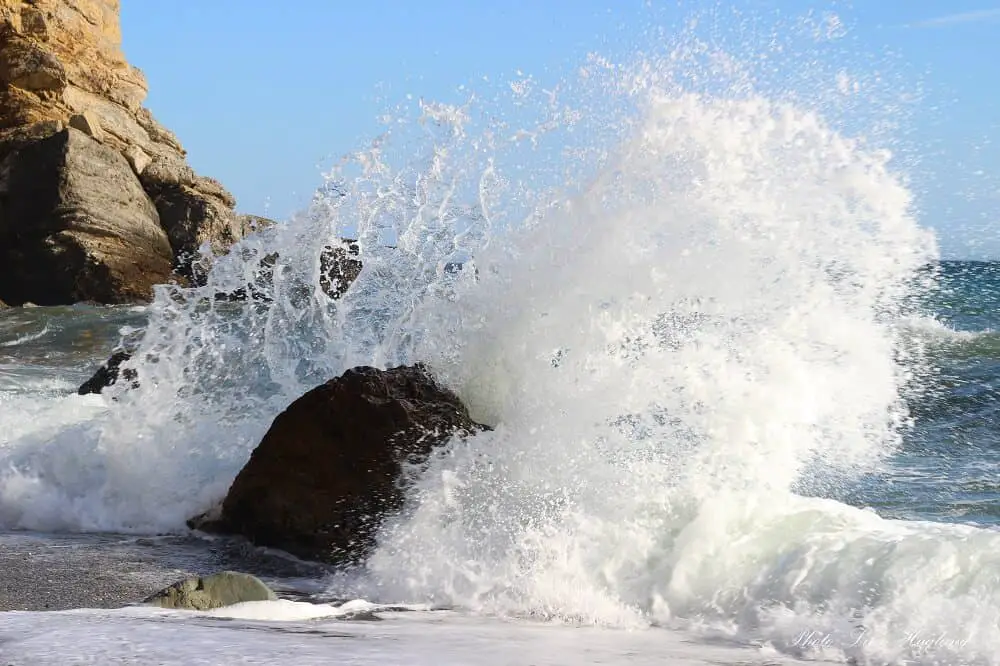 When is the best time to visit the southern Spain beaches?
The best time to go to the beaches in Andalucia might be the summer months from mid-June to mid-September, considering this is when the warmest weather and water are.
However, this is also the time when most people crowd the southern Spain beaches. Especially August is when most Spanish take their vacation – thus head to the beach. So add this to international tourism.
As an expat, I've found that the summer months are exhausting for going to the beach and if you have the opportunity to wait until September and October, it's still hot and the beaches are less crowded.
You'll also find that many beaches with paid parking in summer are free to park in (plus it's easier to find parking spots.)
The winter months are also good for going to the beach, though the water is cold. That said, there are a lot of northern Europeans that go swimming in winter too, as the water probably is the same temperature as their country's summer temperatures.
Nonetheless, Cadiz can be windier in winter, so you might reconsider those beaches unless you get there on a still day.
Best beaches in Andalucia
Here are the most beautiful beaches in Andalucia including how to get there, so that you can enjoy the beautiful southern Spain's coastline too.
Los Caños de Meca, Cadiz
Los Caños de Meca is a local favorite and gets incredibly crowded with people from Seville and Cadiz during the summer months, especially in August and on weekends. However, it's still an offbeat destination for foreign tourists and brings the bohemian and the Spanish beach life together.
Being one of the most beautiful sand-blown beaches in Cadiz, it's set opposite the Faro de Trafalgar beach with the lighthouse in the middle.
The beach is not equipped with either lifeguards or parasols and sunbeds so you'll have to bring your own. However, there are a few beach bars along the road to the beach where you can buy homemade jewelry from local artists too. This street comes to life at night with music, food, and drinks.
How to get there: The easiest way to get to Los Caños de Meca is by car. The GPS will easily take you there. It takes one hour from Cadiz and two hours from Seville. But the bus will easily add an extra 30-45 minutes to the journey.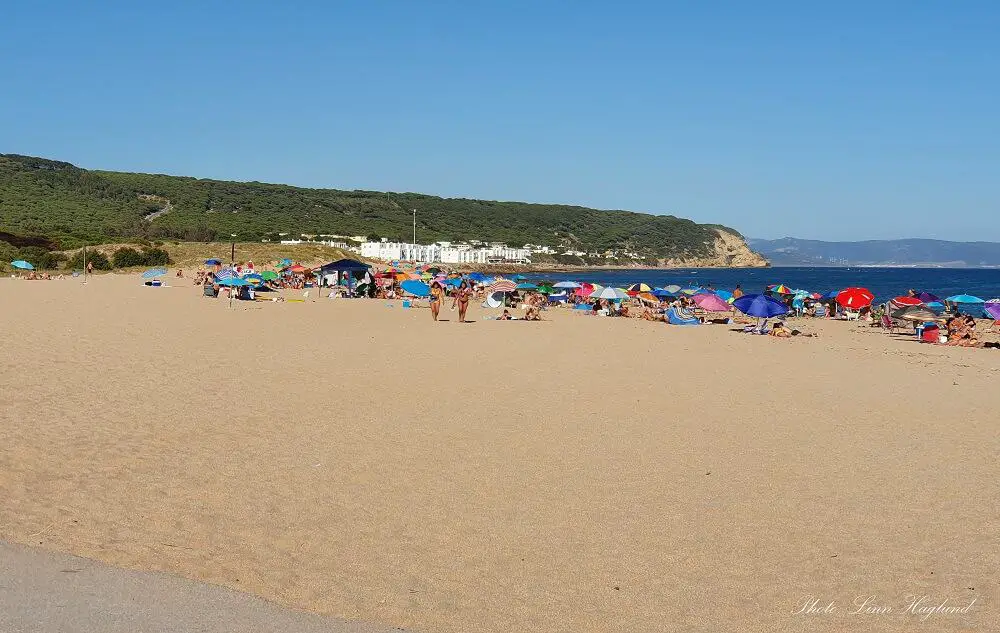 Bolonia beach, Cadiz
One of Spain's most wild and beautiful beaches is Bolonia beach in Cadiz province. Literally, a sand dune meeting the ocean makes this a spectacular sight and one of the most stunning beaches in Tarifa.
Its popularity has grown dramatically in the last few years, but that doesn't mean it isn't worth visiting. If you can avoid the month of August and the weekends over summer, there's a bigger chance of tranquility and it makes the perfect day trip from Cadiz or Malaga.
You can park close to the beach, but it's protected from urban development as the dunes are a protected area. With 4 kilometers in length, the 70 meters wide beach is like nothing else you'll find in Spain and without a doubt, among the most beautiful beaches Andalucia has to offer.
Make sure you walk upon the sand dune, declared a natural monument in 2001. It's more than 30 meters high and spans up to 200 meters wide. It's like a mini desert constantly changing in shape with the wind.
There are no sunbeds or shade on the beach, so you'll need to bring your own. On the east side of the beach (farthest away from the dune,) there are beach bars and water sports activities.
As with all beaches in Cadiz, make sure you check the wind forecast before you go because this area tends to get a lot of it. And you don't want to go on a day where you have sand slapping your face at 100 km an hour filling your mouth and eyes! This might be a reason for it still being a fairly hidden gem in Andalucia.
How to get there: Bolonia Beach is situated about 23 km west of Tarifa and a 25-minute drive. You'll find it with the GPS. From Cadiz, it takes 1 hour and 15 min. There is no public transport taking you there.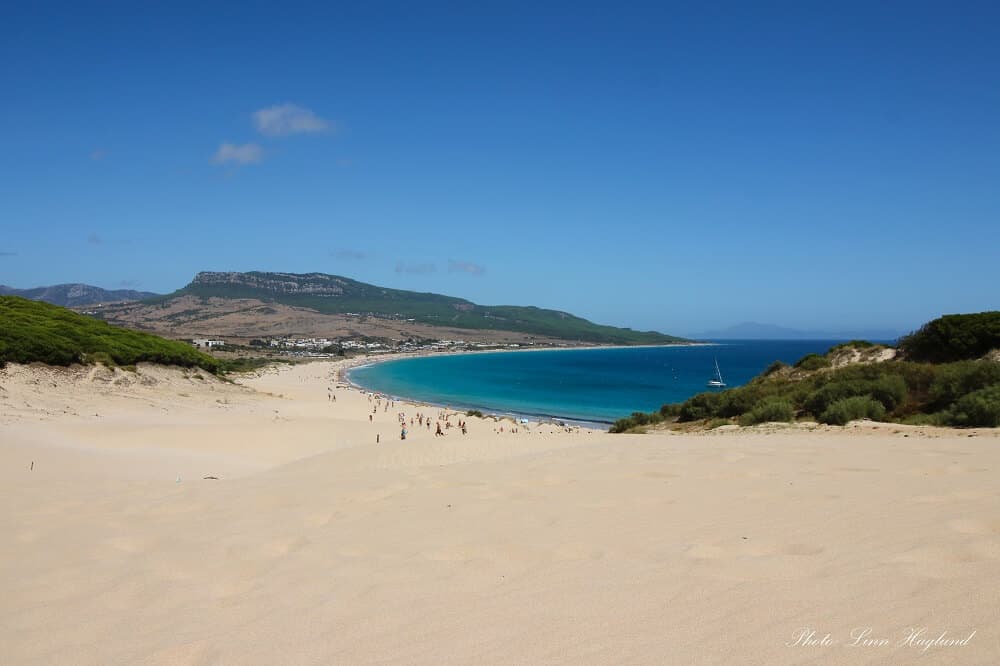 Cala de Roche, Cadiz
Another one of the best beaches in southern Spain is without a doubt Cala de Roche in Conil de la Frontera. This incredible beach is hidden at the bottom of the cliffs and only reached by a short hike from the road.
There is limited parking, as there are only a few pockets on the side of the road, so it's recommendable to get there early if you go in the busy summer months. But if you can make it to Cala de Roche, you're up for an incredible day at the beach!
It's not even just one beach, but several small bays with steep sets of stairs leading down. There are no facilities at these beaches so you'll have to bring your own towel, shade, and enough food and water. Calas de Roche is one of the most beautiful day trips from Cadiz.
How to get there: The only way to get to Cala de Roche is by car. From Conil de la Frontera it takes 15 minutes and from Cadiz, it's 40 minutes.

The GPS will get you there and while you'll notice there are no signs telling you where to enter, you have to park on the allotted parks along the road and find the trail on the seaside of the road that takes you towards the cliffs.

There you'll have to look for stairs to get down to either of the beaches.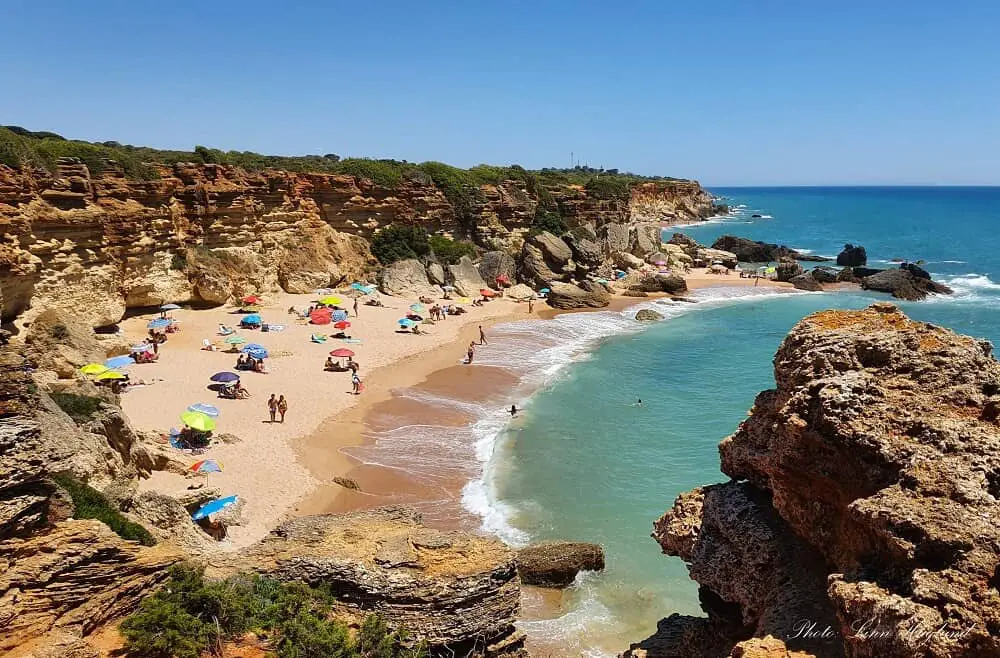 Los Alemanes beach, Cadiz
Los Alemanes is a large beach situated by Zahara de los Atunes. It's easy to access from the road and you'll find parking along the road above the beach. In between the road and the beach, there are luxury villas lined up.
This beach has no facilities, so you need to bring your own shade, food, and drinks. There is a nice walk up to a watchtower on the east side of the beach where you get spectacular views of the beach itself. There is nice snorkeling around the rocks too.
The beach got its name (The Germans) from World War Two when German soldiers used the bay for supply of materials.
How to get there: The best way to reach Los Alemanes beach is by car. It's easy to find by GPS and only a 15-minute drive from Zahara de Los Atunes and 45 minutes from Tarifa.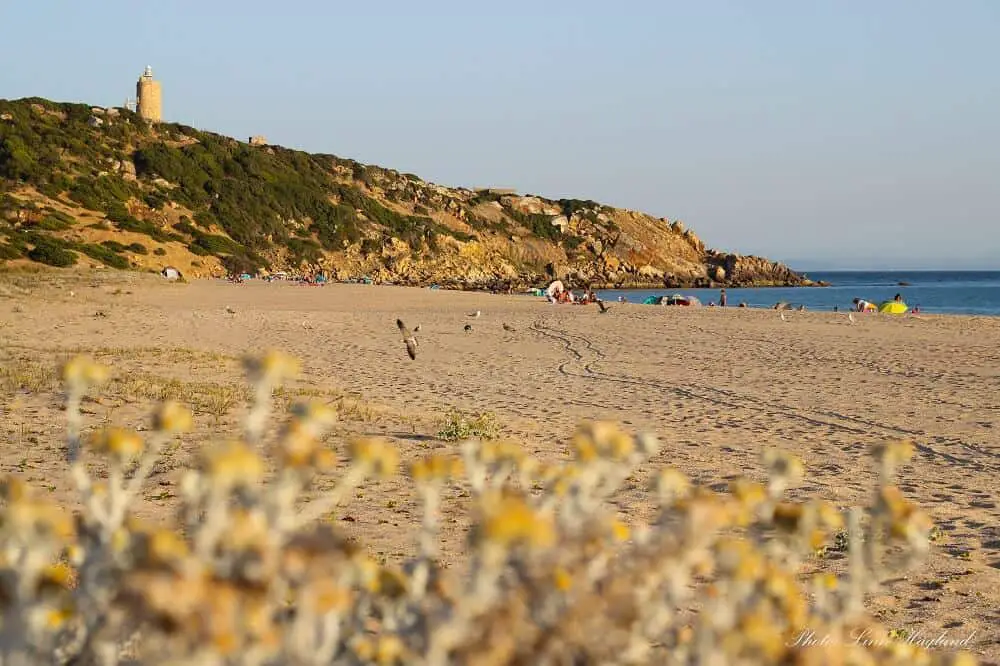 YOU MIGHT ALSO LIKE:
Monsul beach, Almeria
If you're hunting for spectacular beaches in southern Spain, you shouldn't miss out on Monsul beach in Cabo de Gata-Níjar Natural Park. Made famous by Almeria's own David Bisbal in his music video Ave Maria, the beach has gained more popularity, yet it's a must-visit.
There are no facilities at this beach and little shade.
Like most Cabo de Gata beaches, even in August, there's space for everyone. But parking is not free, and police control the entrance for both Monsul Beach, Barronal Beach, and Los Genoveses Beach, which has the same entrance, in the summer months. This means there are limited cars that can enter and there's a fee to enter of 5 Euros.
There is an option to hike there from San Jose, which is also one of the best towns in Almeria, but it takes easily an hour or more. The hike takes you past Los Genoveses Beach, several small beaches, and finally, Barronal Beach before you reach Monsul Beach.
While it's absolutely astounding to walk along the cliffs up and down, from beach to beach, it gets extremely hot in summer and you need proper hiking shoes to do so as the terrain is steep and uneven.
How to get there: It's a 10-minute drive on a dirt road from San Jose village in Cabo de Gata-Níjar Natural Park. There is a small car park by the beach where you can leave the car.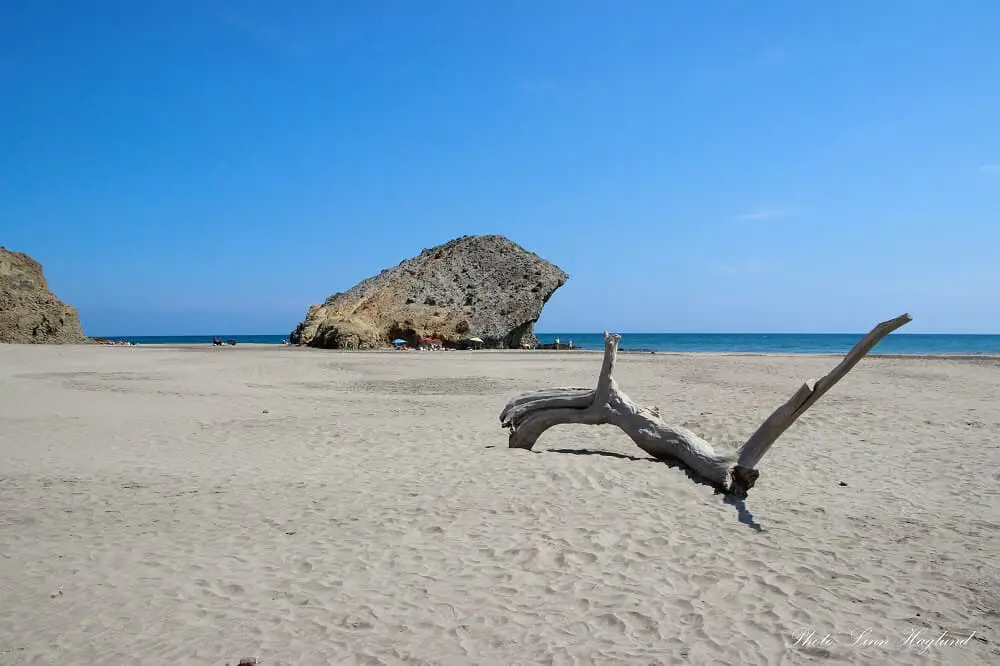 Barronal beach, Almeria
Just before you get to Monsul Beach, there is a trail taking you across the desert toward the left. You'll pass a ruined building and soon see a sign saying nudist beach.
Barronal Beach is one of the best Andalucia beaches but be prepared that clothing is optional, so it isn't for anyone.
If you like to explore the wilder side of the natural park and go to a beach that isn't easily reached (resulting in it being lesser visited,) Barronal beach is the place to be.
Flanked by steep, rocky hills on each side, separating it from the next beaches, it's part of the coastal hiking route between San Jose and Cabo de Gata village. This beach is proof that Cabo de Gata holds some of the most impressive beaches in Almeria.
How to get there: The drive to Barronal Beach is the same as to Monsul Beach, but you stop the car before reaching Monsul. There are a few parking spots along the dirt road next to the abandoned buildings where the trail starts.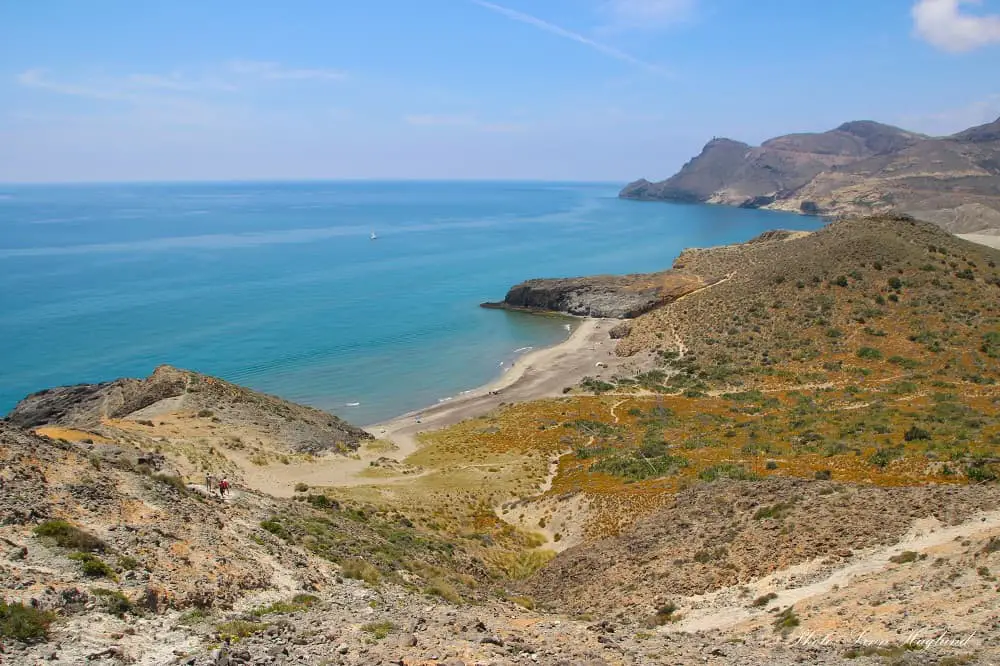 Los Muertos beach, Almeria
Los Muertos Beach is by far one of the best beaches southern Spain has to offer, nominated the most beautiful beach in the country on several occasions. Like so many other beaches in Cabo de Gata Níjar Natural Park, this beach requires a steep hike to reach.
The white pebbled beach meets deep turquoise water that becomes deep pretty quickly, so it's not recommended to leave small children unattended.
In fact, there are better beaches to bring small kids in the natural park, where water levels are low and you can relax a bit more, like Los Genoveses beach. You can read about the best beaches in the natural park here.
There is parking by the road on the top of the trail that costs 5 Euros in the summer months. You'll have to bring everything you need with you as there are no services at the actual beach.
How to get there: Los Muertos Beach is situated right between Agua Amarga and Carboneras. You find it on the GPS. There's a 30-minute drive from Las Negra to Los Muertos beach and from San Jose, it's a 50-minute drive. There's no good public transport.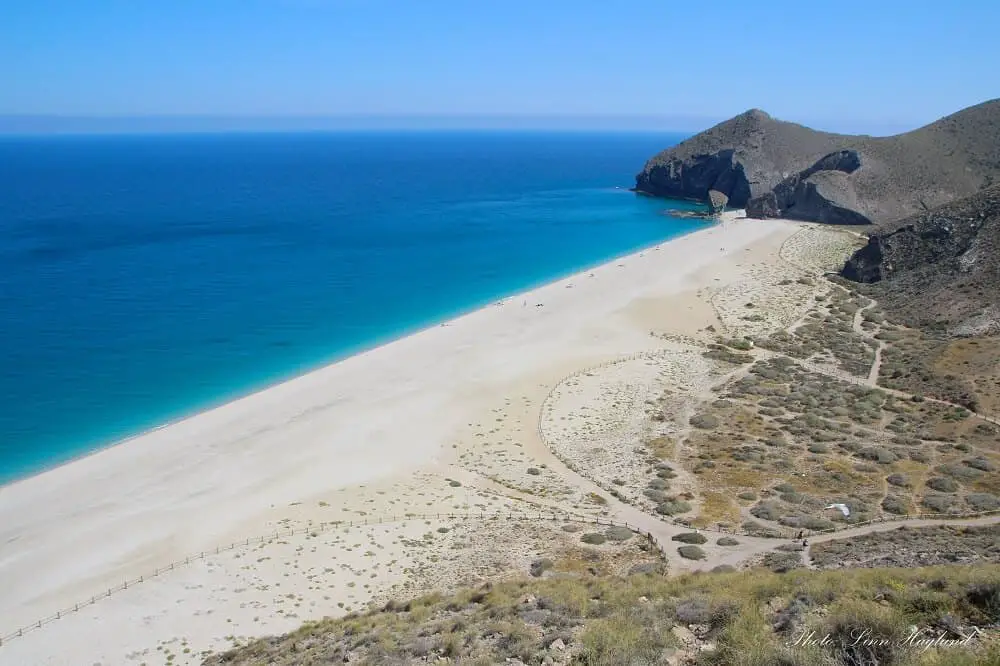 Maro beach, Malaga
One of the most stunning beaches in Andalucia is Maro Beach in Nerja, one of the most popular Andalucia coastal towns. With crystal clear water and wonderful snorkeling straight from the beach, this is a local favorite, and parking gets filled up quickly in the summer months.
The beach has a lifeguard in summer. At this time of year, you can also rent sunbeds if you come early. They aren't that many so your safest bet is to bring your own parasol and towel. There is plenty of space on the beach.
You can also get food and cold drinks in the beach bar as well as use the toilet.
For the adventurers out there, you can rent kayaks and explore the breathtaking Maro coast that stretches all the way to Nerja boasting hidden beaches, astounding cliffs, and waterfalls cascading into the turquoise sea. This is by far among the best adventures to be had in Nerja.
This is without a doubt one of the best beaches in Nerja. Maro is one of the most memorable day trips from Malaga you can take.
How to get there: It's easy to drive to Maro beach, the GPS will take you straight there. It's just passed Nerja arriving from Malaga.

There is a small car park by the beach but the road leading down there has parking spots on one side of the road. Nonetheless, it's recommendable to get there early to avoid a long walk in the heat as they close off the road when parking is full.

There is also parking in Maro, but that can be a good 15-20 minute walk to the beach following the road to the end. You can also reach Maro Beach by bus from both Nerja and Malaga.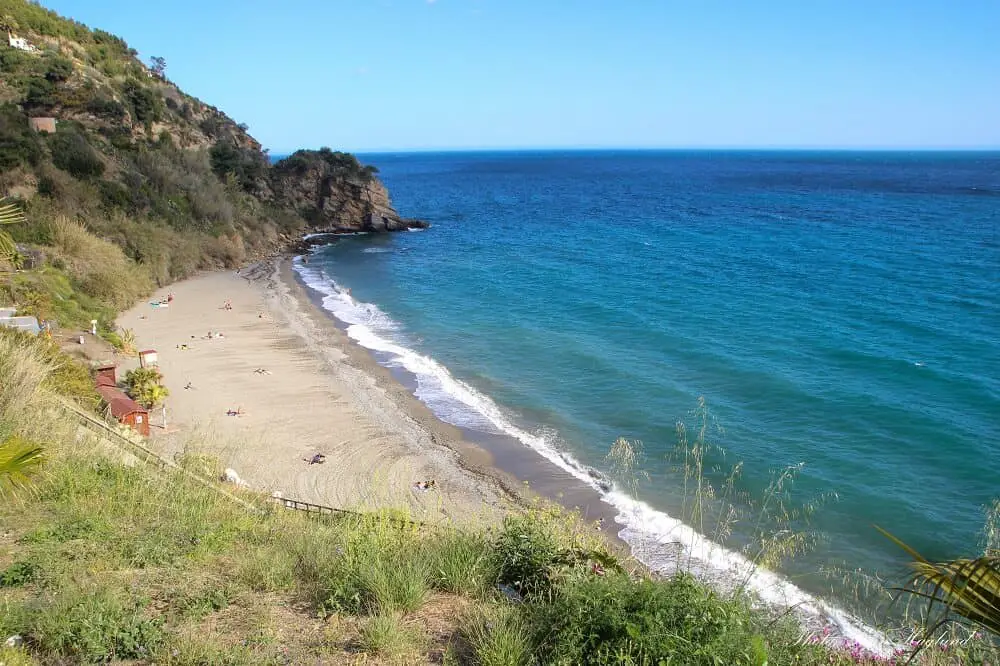 La Caleta de Maro, Malaga
Maro Beach's wild little brother, La Caleta de Maro, is one of my absolute favorite beaches in Malaga. Halfway from Maro to Maro Beach, there's a road to the right taking you through greenhouses.
You need to turn right halfway down.
Usually, there is a hand-drawn sign pointing you through the greenhouses on a dirt road you keep walking on until you get to a small car park, usually filled up by a couple or three camper vans.
From there, you'll walk down a set of stairs until you reach the beach that's wrapped by bamboo and steep rocks. This is a popular beach among hippies, and there are small camp spots on the cliffs as the water covers the beach during high tide so you can't sleep on the beach.
Caleta de Maro doesn't have, as you might guess, any beach bar or umbrellas, and a lifeguard is non-existent. It's also one of the beaches where clothing is optional and dogs run loose.
So if this isn't your jazz, you might enjoy Maro Beach more. But for anyone loving the wild, Caleta de Maro is pure paradise and should be added to your Malaga itinerary!
How to get there: You can drive to Maro and either park there or drive a bit further down towards Maro Beach and park along the road (marked parking spots) close to the first turn to the right where you have to walk to get to the beach.

In summer, you have to get there early to find parking or you can park in the streets on the other side of Maro and walk through the village. You find buses to Maro from Nerja and Malaga and will have to walk from there to the beach.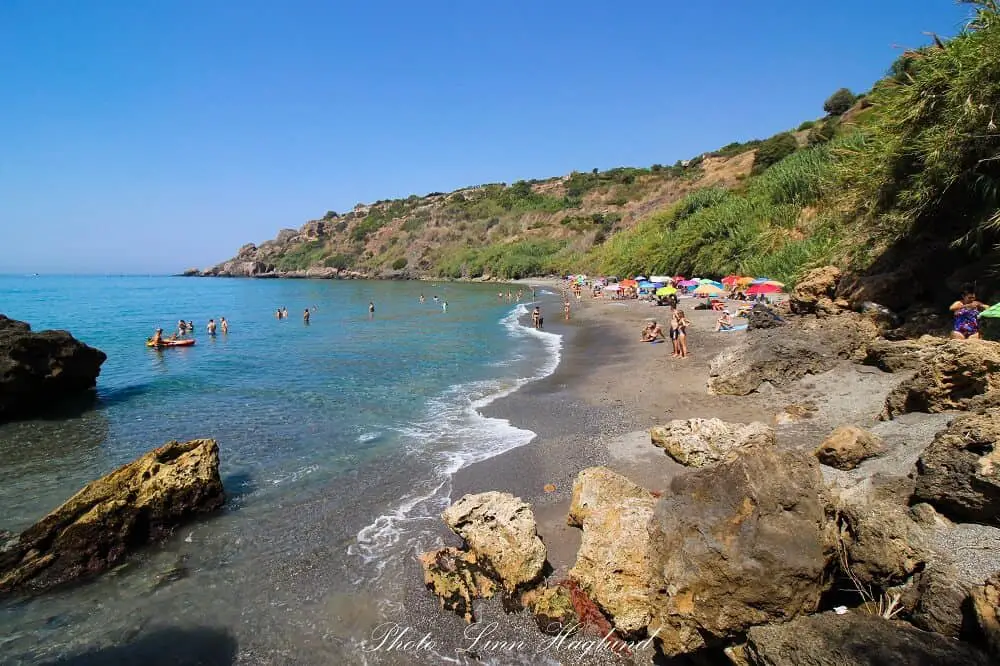 Cabopino beach, Malaga
Cabopino is another underrated beach on Costa del Sol. Clothing is optional, but in the summer months the beach is packed and the nudists usually shy away.
The sand-blown beach belonging to Marbella is beautifully situated at the edge of the Dunas de Artola protected area.
There are several boardwalks crisscrossing the sand dunes where you can get down to the beach. One of the best things about this beach is that it's mostly Spanish heading here, so in contrast to most of Costa del Sol, you feel like you're in Spain and not just any touristy beach town in Europe.
However, the beach is not guarded and there are no sunbeds or parasols, so you'll need to bring your own. Sunsets are especially beautiful here – take a walk on the pier and watch the sun disappear below the horizon with the pastel colors playing with the water.
How to get there: You can drive to Cabopino between Malaga and Marbella, and once you get off the A7 and exit the roundabout on the seaside of the highway, there is a large dirt parking area where you can leave your car.

In the summer, there is usually one or two guards watching the cars, so make sure you have coins for them. The M-220 bus between Fuengirola and Marbella stops at Cabopino Camping.

From there, you need to cross the A7 and follow the above instructions to get to the parking. From there, there are several boardwalks to the beach.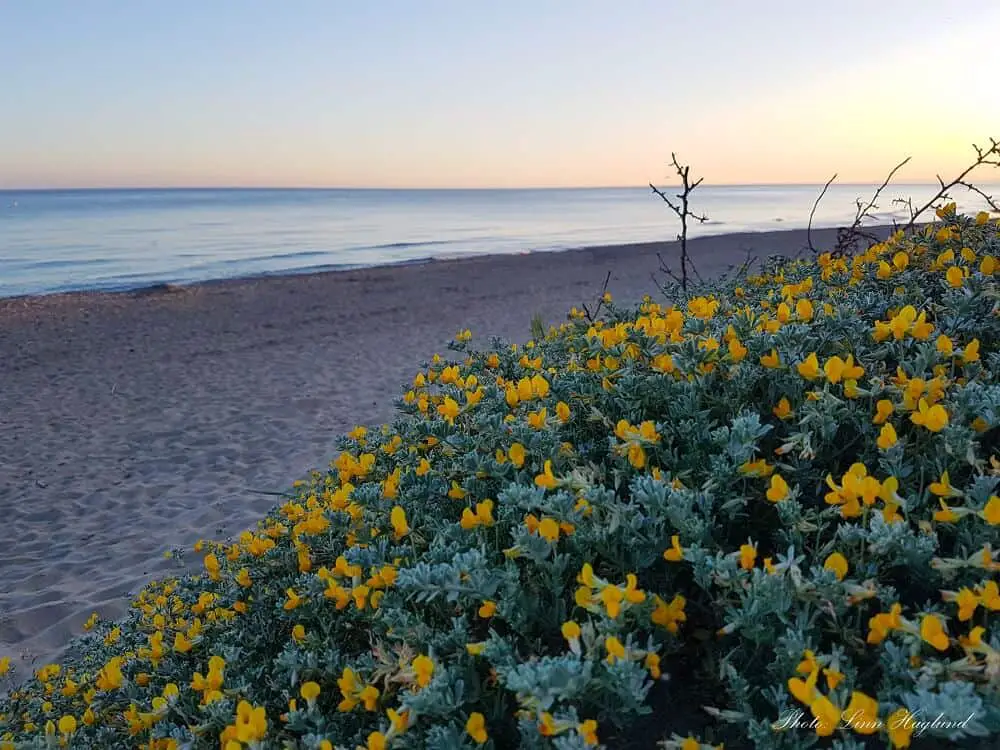 Punta Umbria beach, Huelva
Some of the absolute best beaches in Andalucia is no arguing the beaches in Huelva and Punta Umbria is one of my top choices.
This beach is especially nice because it's got everything you need in terms of beach bars, restaurants, toilets, lifeguards, and parking by the beach. There are also water activities like jet skis and paddleboarding available for active travelers.
You can easily access the beach by walking from Punta Umbria which is one of the most popular beach destinations for the locals in Huelva and Seville.
Punta Umbria is one of the coolest beach towns in Andalucia which in my opinion, deserves a whole lot more international recognition than it gets.
How to get there: Punta Umbria beach is easily reached by walking from all over Punta Umbria. There are also parking spots along the beach and the streets parallel to the beach.

You can also take the bus from Huelva to Punta Umbria which takes half an hour. Buses from Seville all stop in Huelva where you'll have to swap buses.

Especially in the summer months, it can be worth checking out BlaBlaCar to see if you can get a ride directly from Seville to Punta Umbria since it's such a popular spot.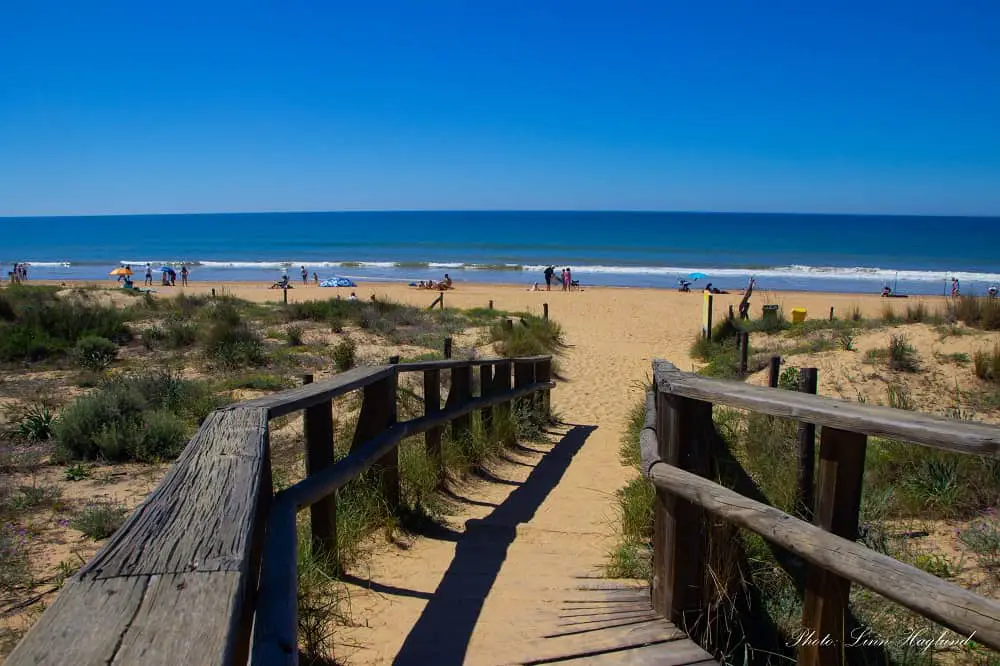 La Bota beach, Huelva
Another one of the most beautiful beaches in Huelva is La Bota Beach. Situated close to Punta Umbria beach, this is one of the wilder beaches in the area and boasts mesmerizing sand dunes.
Going to La Bota Beach is also one of the best things to do in Huelva due to its proximity to the city. It's also close to the only campsite in Punta Umbria, Camping La Bota which makes it popular with campers.
The beach has sunbeds for hire, toilets, showers, and a lifeguard in the summer months. There are also restaurants and bars where you can get a cool drink or a feed.
La Bota beach is also popular among kitesurfers which means it can get considerable currents and waves so stay aware of the flags.
If you're looking for a spectacular spot for sunset over the beach, La Bota Beach won't disappoint you!
How to get there: You can get to La Bota beach by walking for a good hour, but if you have a car that's recommended. There are spots for parking where there's beach access.

It takes about an hour to drive from Seville and 10-15 minutes from Huelva. You can follow the indications for Camping La Bota and when you get close, you'll see signs to the actual beach.

The M-37 bus between Huelva and El Rompido stops at La Bota beach. See updated bus hours here.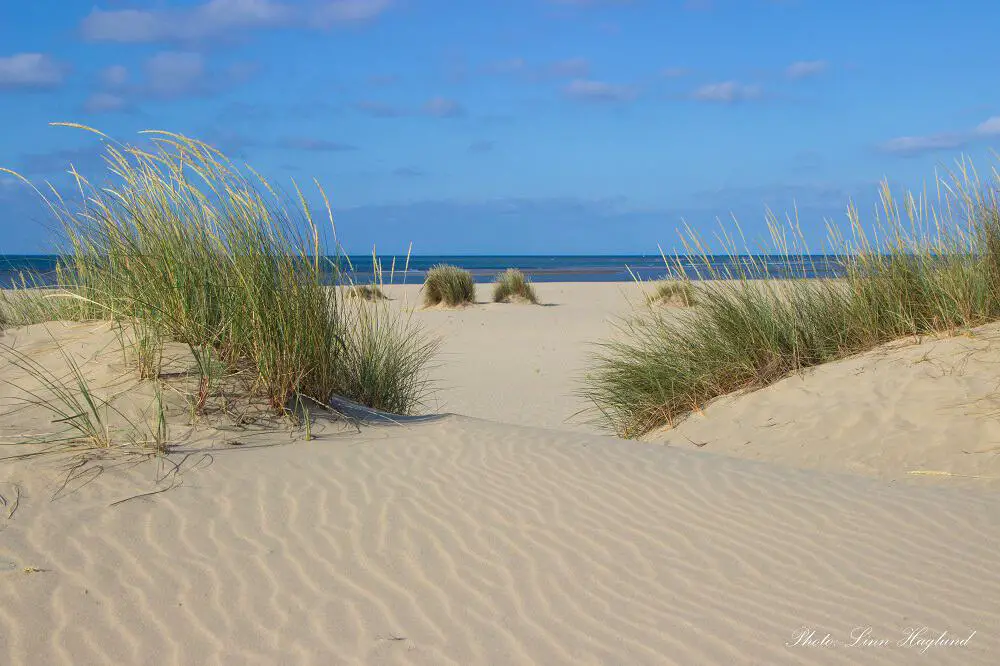 Nuevo Portil beach, Huelva
Another spectacular beach in Andalucia is Nuevo Portil Beach in Huelva. The beach is situated between El Rompido and Punta Umbria.
The beach is approximately 1600 meters long and from Nuevo Portil, you can walk along the boardwalk to get to the more remote parts of the beach. The beach is popular, but compared to other beaches in Andalucia, you'll notice a relaxed atmosphere even in the summer months.
The dunes cascade down from the forested area and create a natural beauty you can only find in Costa de la Luz. Partly wrapped up in Marimas del Río Piedras and Flecha de El Rompido Natural Park and protected by Flecha del Rompido, it gets calm waters.
On the urban side of the beach, you'll find a yacht club, restaurants, and bars. Throughout the beach there are showers.
How to get there: The easiest way to get to Nuevo Portil beach is by car from either Punta Umbria (15 minutes) or El Rompido (10 minutes.) From there, you can walk straight to the beach.

It takes 20 minutes from Huelva and 1 hour and 20 minutes from Seville.

You can alternatively take the M-37 bus that runs between Huelva and El Rompido which also stops in Nuevo Portil See the updated bus table here.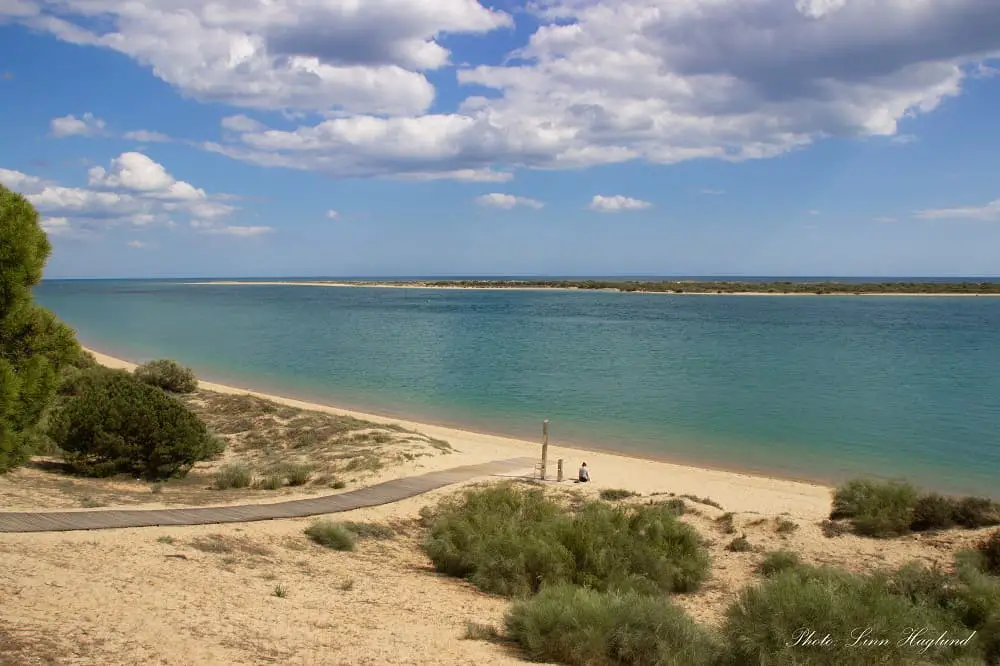 Rijana beach, Granada
One of the best beaches in Andalucia, hidden on the lesser-visited coast of Granada, Costa Tropical. But don't expect it to be empty in summer. This is a huge favorite among the locals and parking spots get quickly filled.
On the N-340 between the coastal villages of Calahonda (of Granada) and Castell de Ferro east of Motril, there is a small parking on the seaside and one on the inner side of the road. When these fill up, you have to find a different beach, there are no other places nearby where you can leave the car. In summer, you should get there before 09:00 to assure a spot.
From the inner parking, there is a walk that takes you down under the road and out to a breathtaking, pebbled beach in a tiny bay surrounded by cliffs. The N-340 passes straight above your head, but it's like it doesn't exist.
The beach has a beach bar and kayak and SUP rentals. You can walk on the cliffs along the left side of the beach for beautiful views and there's great snorkeling there too.
How to get there: The only way to get to Rijana Beach is by car. You can put Playa Rijana in the GPS (just make sure it's situated in the right spot – see above,) and you'll get to the parking areas.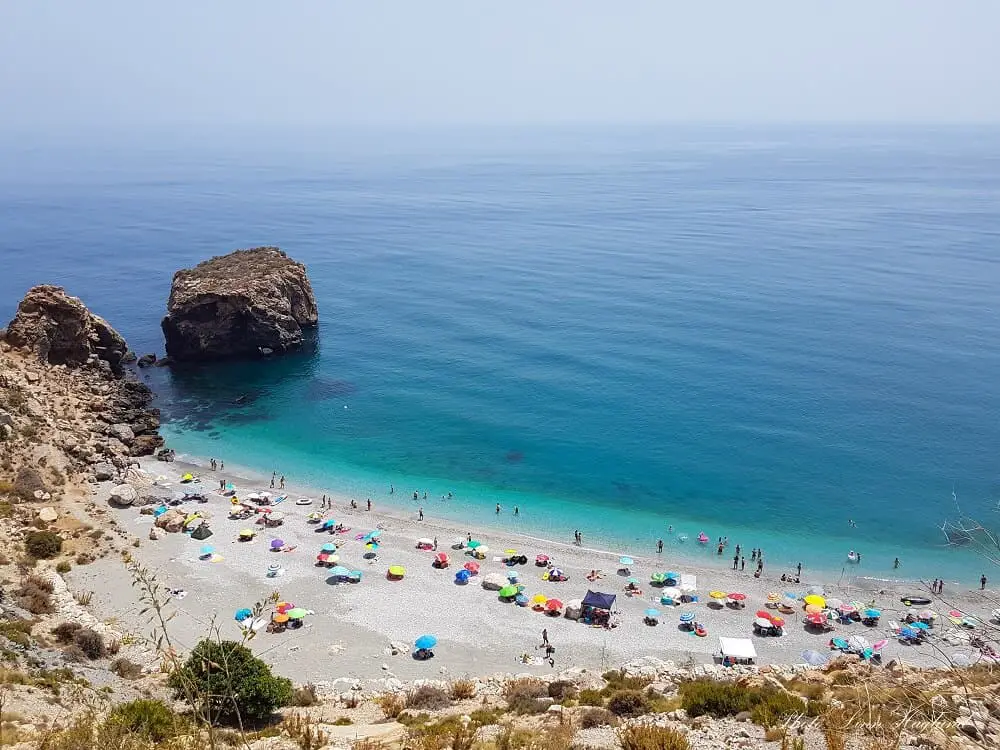 La Charca beach, Granada
Finally, I'll round off with a beautiful beach that's right off Salobreña, one of the most beautiful white villages in Andalucia. This is easily accessed, jam-packed with beach bars buzzing with life. It's right to the left of Peñon de Salobreña, the iconic rock in the sea, that's a popular spot for cliff jumping.
There are a few sunbeds and parasols for rent along the beach, but you can easily bring your own. While this is far from the average beach I've recommended in this post, it's absolutely worth the trip with turquoise water, and the proximity to Salobreña's old town it's astounding.
How to get there: Salobreña is situated next to Almuñecar and you get there easily by car by following the GPS to the beach. There are also buses to Salobreña from Malaga, Almuñecar, and Granada.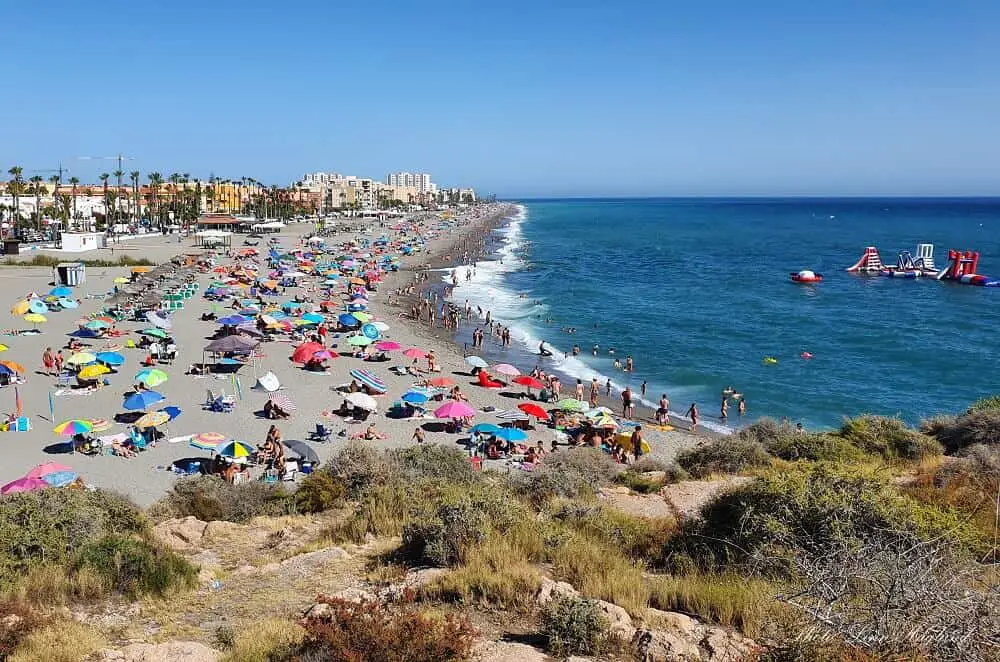 Reflections on the best Southern Spain beaches
There are so many amazing beaches in Andalucia and it's hard to pick a few, but the above beaches are really incredible in their own way and you shouldn't be disappointed!
As you might have noticed, most of these beaches are only reached by car (that's why they're the best!) so make sure you get a rental car before you go. You should also never travel without travel insurance, so if you haven't fixed that yet, make sure you do it right now.
I'll leave you at that, while I keep exploring the southern Spain beaches and might add to this list as I find new gems you just can't miss out on.
Pin it for later!