As one of the oldest continuously inhabited cities in Western Europe, there is so much to do and see in Cadiz. With a long history ruled by the Phoenicians, Romans, and Moors, you can wander in history through a Roman Theater, watchtowers, and castles.
Cadiz was the main port for trade between the Mediterranean and the New World. Today, you can discover the different layers in history and culture that have built up throughout the years in one of the most culture-rich and underrated destinations in Spain.
But the beaches in Cadiz are also stunning. In fact, the province has some of the best beaches in Andalucia for sure.
I put together some of the best things to do in Cadiz Spain so whether you're spending a day or two as part of an Andalucia road trip or several days in Cadiz, you'll have enough to do in this incredible city near Seville.
Disclosure: This post may contain affiliate links. That means that if you make a purchase through one of those links, I will get a small commission at no extra cost to you.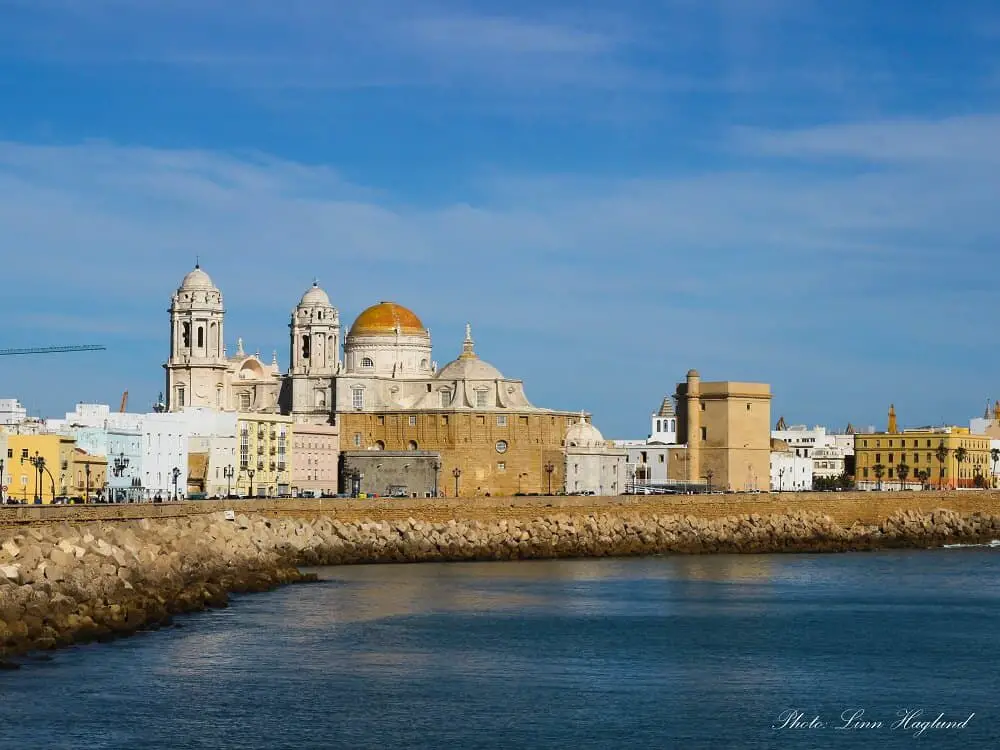 Best things to do in Cadiz Spain
Cadiz is without a doubt one of the most beautiful cities in Spain and one of my favorites. With all the history and charm there is to this ancient city, I've compiled an overview of the best things to do in Cadiz here. If you have enough time, there are also a whole lot of must-do day trips from Cadiz that you should check out.
Cadiz Cathedral
One of the top Cadiz attractions is without a doubt Cadiz Cathedral, and even if you only have one day in Cadiz, this is a must visit. Towering above the city, you can see it from the seaside which might be the most iconic sight of Cadiz.
Cadiz Cathedral took 116 years to build and was finished in 1838 when the sacristy and the towers were added. The most distinctive feature is the golden dome that you can admire from the seaside.
In the cathedral's crypt, both the local composer and pianist Manuel de Falla and the local journalist and poet Jose Maria Pemán are buried.
The cathedral is just as beautiful inside as outside so it's absolutely worth popping inside. Check out opening hours and admission fees on the official web page.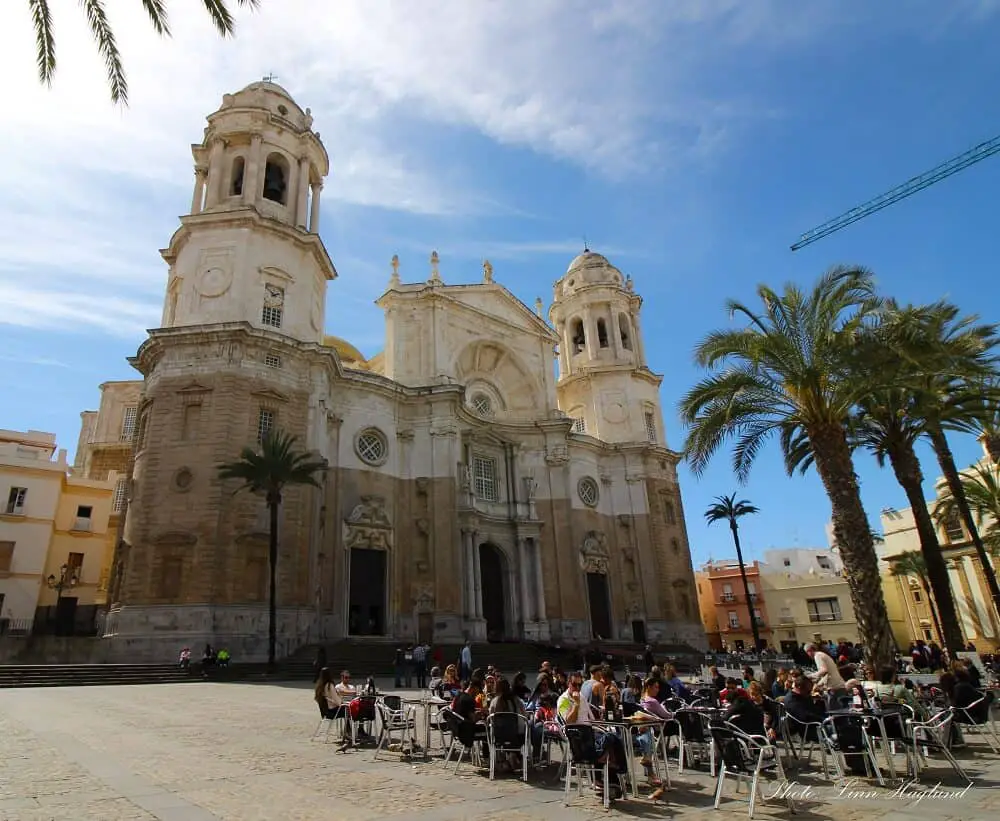 Climb the bell tower
One of the best things to do in Cadiz is to climb the 56-meter-high bell tower of Cadiz Cathedral for the astounding views. You pretty much get the whole waterfront at your feet as well as the beautiful, white city.
Its path up to the top is built exactly the same way as the Giralda in Seville, winding up so that it was possible to reach the top by horse. That said, there are a few steps up the last bit to the bell tower viewpoint.
The climb to the clock tower is included in the general cathedral admission. However, if you reside in Cadiz province you get free entrance to the cathedral, but not to the bell tower, so you must purchase a separate ticket for it.
You can check out ticket prices and updated opening hours directly on the cathedral's web page.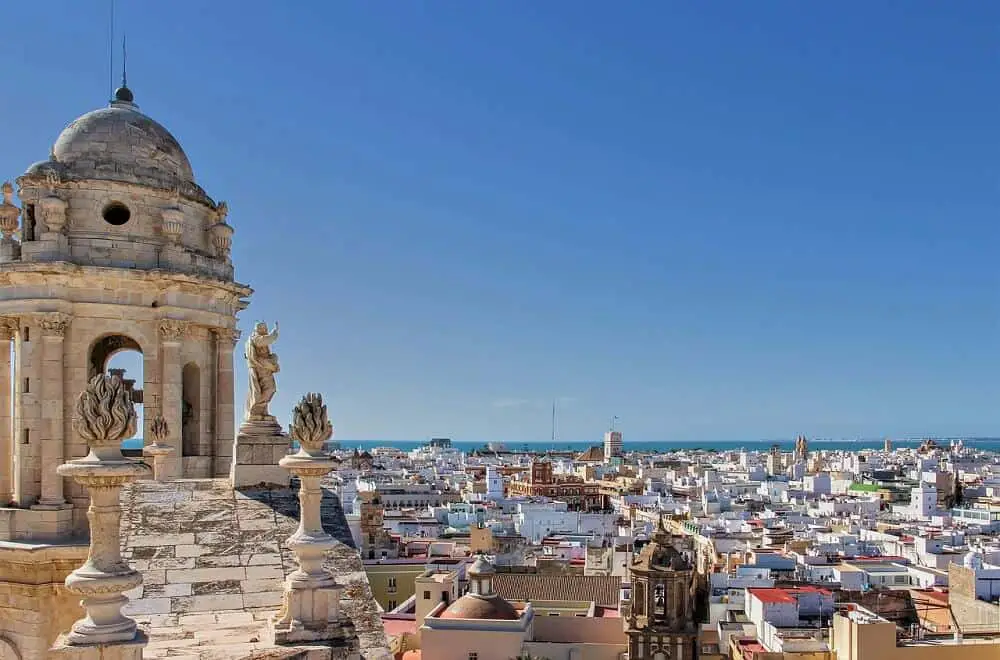 Tavira Tower
Tavira Tower is the highest point in Cadiz's old town at 45 meters and boasts the best views of the city including the magnificent Cadiz Cathedral. Seeing these views might just be one of the absolute best things to do in Cadiz (at least if you're a sucker for views like I am!)
The tower is also the highest of the remaining 126 watchtowers from the 18th Century and the only one that can be visited by the public.
Inside the tower, you can visit the Camera Obscura where you can see a projected live view of the city. This visit takes 15 minutes and you must book a time slot up front. In the high season, I recommend booking as early as possible to assure you get in and can plan your itinerary accordingly.
Read my complete guide to visiting Torre Tavira here.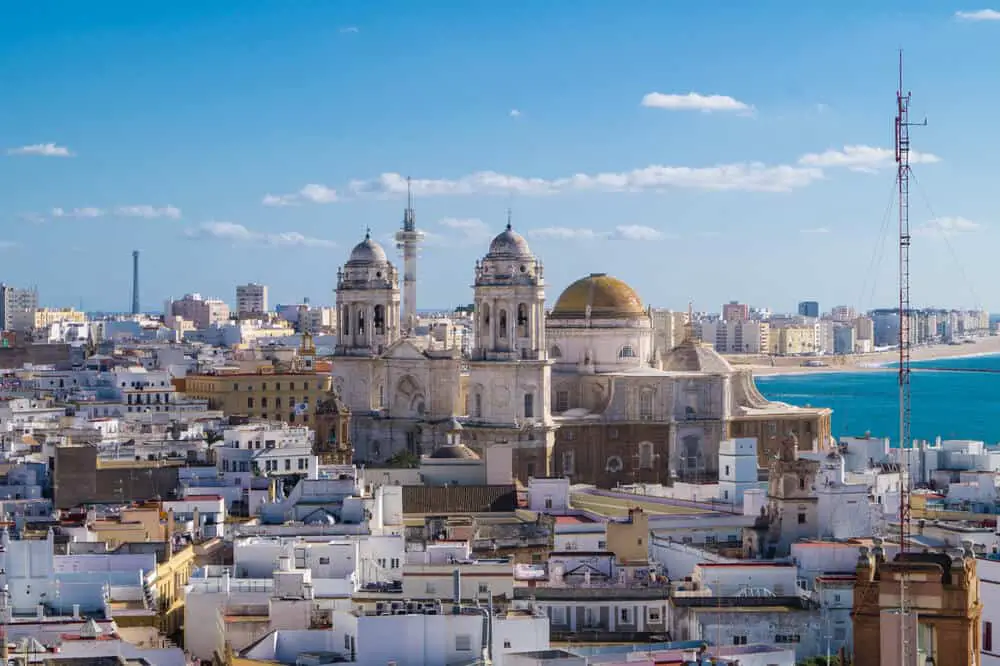 San Sebastian Castle
A leisurely walk through Puerta de la Caleta along the Paseo Fernando Piñones walkway takes you to another of the ancient places to visit in Cadiz. San Sebastian Castle is situated on a tiny peninsula off the coast next to La Caleta beach.
The castle was built to protect the city from enemy attacks. San Sebastian Castle was first built in the 15th century, but what we see today dates back to the 18th and 19th centuries.
In 1985, it was declared Bien de Interés Cultural. It's open for visiting every day between 09:00 and 13:00 and the admission fee is 2 Euros.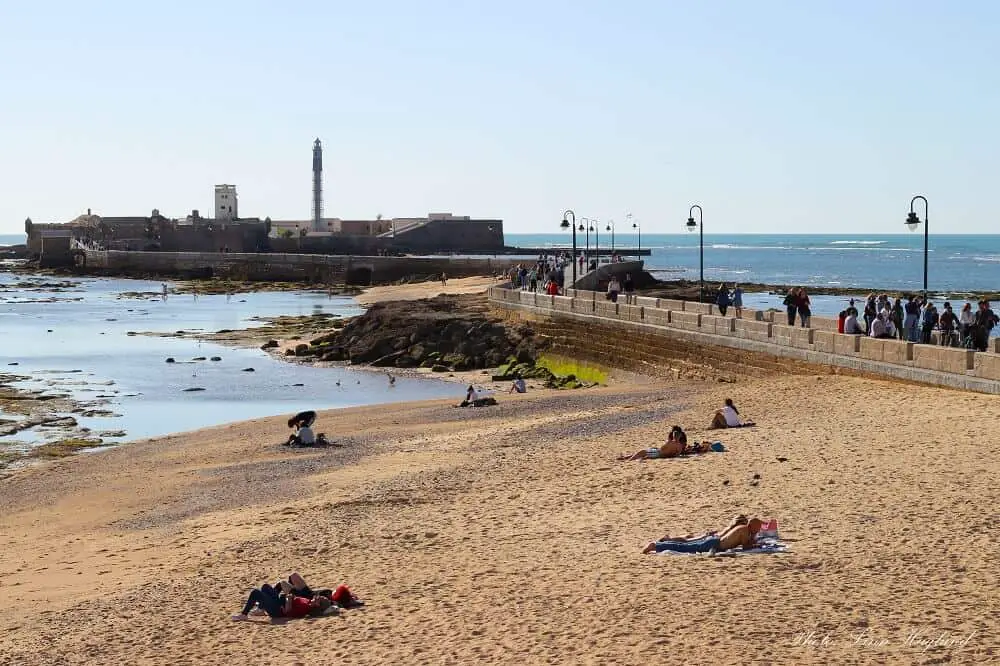 Santa Catalina Fortress
Santa Catalina Fortress is one of the most famous Cadiz attractions and its oldest military structure dates back to the early 1600s. Its unique star shape is widely recognizable.
A visit to the fortress is one of the must things to do in Cadiz. It's strategically placed by La Caleta beach on the opposite side of San Sebastian Castle so you can easily combine it with a dip on a warm day.
In 1985, the fortress was declared Bien de Interés Cultural. Inside the castle, you find a tiny chapel and museums with both temporary exhibitions and a permanent exhibition dedicated to the history of the castle. It's free to visit and open every day from 11:00-19:00.
Roman Theater
The Roman Theater in Cadiz was discovered as late as 1980. It's believed that it was built in the 1st century BC as one of the biggest Roman Theaters that were built in the Roman Empire. It's also the oldest one in Spain.
Nearly 1000 years after it was abandoned in the 4th century, King Alfonso X de Castile ordered it was built a fortress on top of its ruins.
It's a pretty cool tour as you can walk in the corridors under the theater. Only parts of it are excavated as the rest remains under today's city. You can walk below the city to visit the museum.
The Roman Theater is no arguing one of the coolest things to see in Cadiz and completely free to visit.
Opening hours:
Summer/Mon-Sat: 11:00-17:00 and Sun 10:00-14:00
Winter/Mon-Sat: 10:00-16:30 and Sun 10:00-14:00
Closed on the first Monday of the month and on public holidays
Plaza de San Juan de Dios
If you come to Cadiz by car, there's a big chance you'll walk through Plaza de San Juan de Dios walking into Cadiz old town from the port.
The busy square has been a commercial center since the 16th century. Even today, busy a market crowds Plaza de San Juan de Dios on Sundays and over the Christmas holidays. You can find different locally handmade artifacts throughout the different stalls.
The square is also home to the City Hall and the San Juan de Dios Church.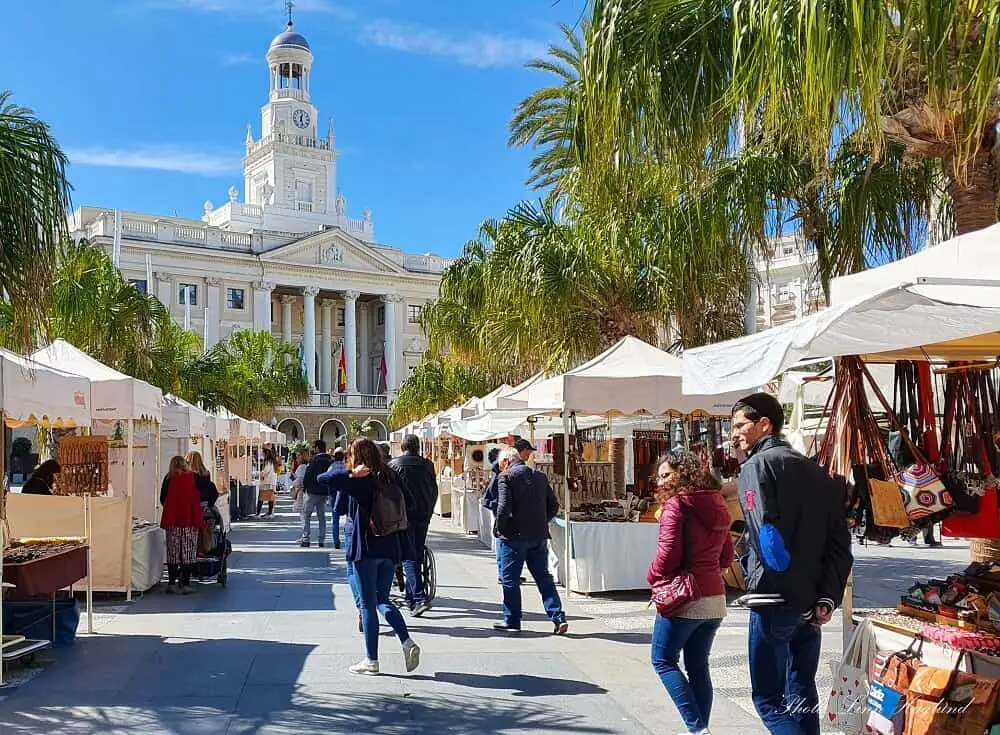 Plaza de San Antonio
Plaza de San Antonio is a historic square in Cadiz, once called Campo de la Jara (field of rockrose.) The San Antonio Hermitage, later turned church, was built on the square thus giving it its current name.
Of particular historic importance, the square was where the Constitution was proclaimed in 1812 and later in 1820, the repression of the liberal movement took place there.
Today, it's a beautiful square for walking around, shopping from street vendors, and visiting the San Antonio church. It's also where the biggest concert scene is set up during the Carnival in Cadiz, a time when the square is jam-packed with people and an amazing vibe!
Cool places near Cadiz
La Caleta Beach
La Caleta Beach is the most central beach in Cadiz lined between San Sebastian Castle and Santa Catalina Fortress. This is surely one of the most popular beaches in Cadiz due to its urban setting.
Its proximity to old town Cadiz also makes it a convenient beach to go to and there are bars and restaurants nearby to have lunch if you decide to spend a whole day.
In the summer months, you can rent paddleboards and kayaks on the beach and discover the coastline.
La Caleta beach has been an important anchor point for boat traffic for centuries and even today, colored wooden fishing boats are dotted around the bay.
Genoves Park
Passing Santa Catalina Fortress, you get to the most famous park in Cadiz. The green space is popular among locals and travelers alike to disconnect.
So, if you wonder what to do in Cadiz once you've seen all the main sites or when you need a rest from sightseeing, this is the place to be.
Charming footpaths winding through trees, flowers, fountains, and a lake with waterfalls cascading into the water, it's the perfect place to bring a good book and sit back on a bench and relax or take the kids to run around and play for a bit.
There is also a café in Genovés Park where you can grab a cold or warm drink depending on your preference.
Take the ferry to El Puerto de Santa Maria
If you have enough time, a boat trip to El Puerto de Santa Maria is one of the coolest things to do. Cadiz and El Puerto de Santa Maria are so close that the ferry only takes about 40 minutes with the ferry. If you're lucky, you might see dolphins along the ride!
Whether you spend a few hours or an entire day in the charming port town, there are plenty of things to do in El Puerto de Santa Maria.
Stroll along the harbor, eat ice cream, visit the fortress and the cathedral, or go sherry tasting. Strolling through the old streets you'll stumble upon old squares with bars to have a refreshing drink and photo opportunities everywhere.
The ferry leaves about every 30 minutes and is less than 2 Euros each way as part of the public transport services. You can check the timetables here.
Mercado Central
Every foodie's dream is to visit the local food market. And even better when it's the oldest covered food market in Spain! Mercado Central in Cadiz dates back to 1838, though it's gotten a facelift since then.
There are around 170 stalls with local produce and you can enjoy tapas and drinks at any of the many bars around the market. It's usually a loud, lively, and busy atmosphere at Mercado Central and a great place to people-watch while you take in the local vibe.
Opening hours: Monday-Saturday 09.00-15:00.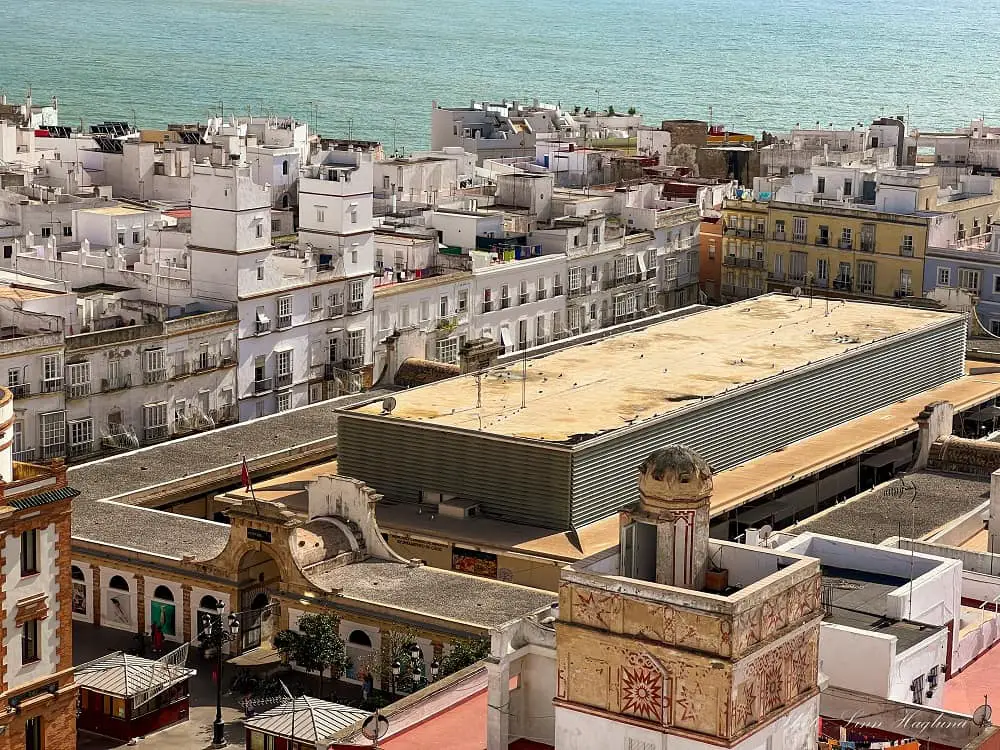 Carnival in Cadiz
The carnival in Cadiz is one of the most famous in Andalucia, it's also the oldest in mainland Spain. It all started in the 16th Century when Cadiz and Venice were doing trade and the people of Cadiz heard about the carnival in Venice. They wanted to make something like that too!
While the carnival in Cadiz isn't as glamorous, it's a full-on street party that goes on for days and days to end. The streets fill up with music and you see happy people dancing and drinking in different costumes. It's truly a once-in-a-lifetime experience and one of my favorite fiestas in Andalucia.
It's usually set to around 2 weeks of celebration before Lent and even when the Franco regime prohibited carnivals, Cadiz kept on living the tradition. However, during the pandemic, there has been a pause like for any other celebrations in Spain.
Typical for the carnival in Cadiz are the groups of musicians and entertainers wandering the streets or taking up a random corner of a random street where you can join the crowds. There are also floats, fireworks, and live concerts.
If you happen to be in Spain during the carnival season, make sure you get a fun costume and hit the streets in Cadiz. You won't regret it!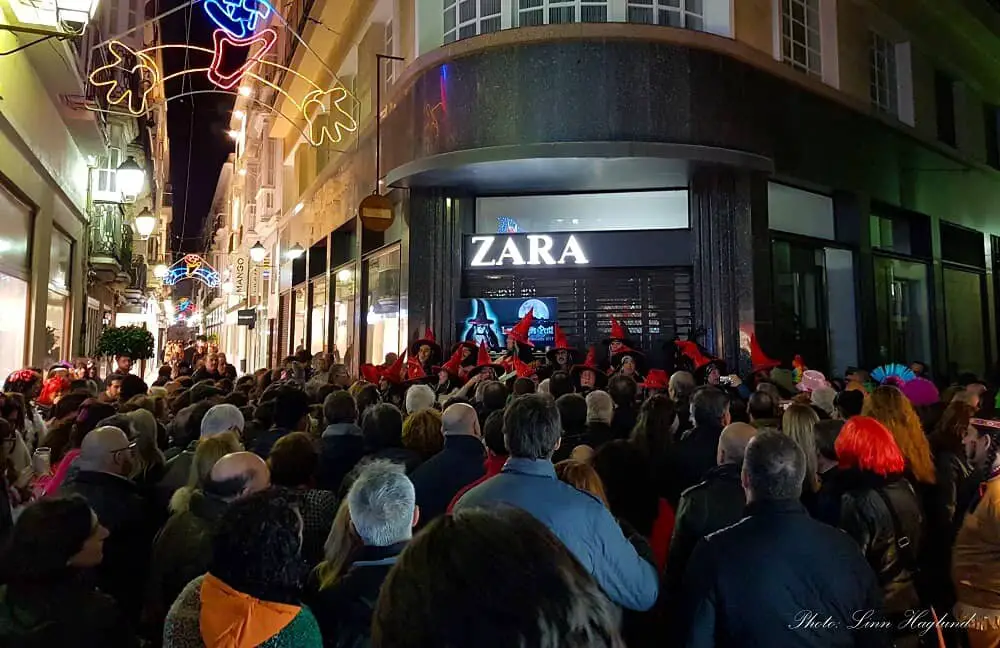 Explore the beaches
Cadiz arguably has some of the most astounding beaches in Spain and you should make time to explore at least a couple of them.
Some of my favorites include Los Caños de Meca, El Palmar, and Bolonia beach and sand dunes, which is one of the top beaches in Tarifa. Also the beaches around Conil de la Frontera are amazing, especially the Calas de Roche beaches that are set in small coves in the cliff.
Due to the strong winds from the Atlantic Ocean, most beaches in this part of the country are wild and sand-blown. This also means you want to go on a day with little wind so that you don't get all that blowing sand in your eyes.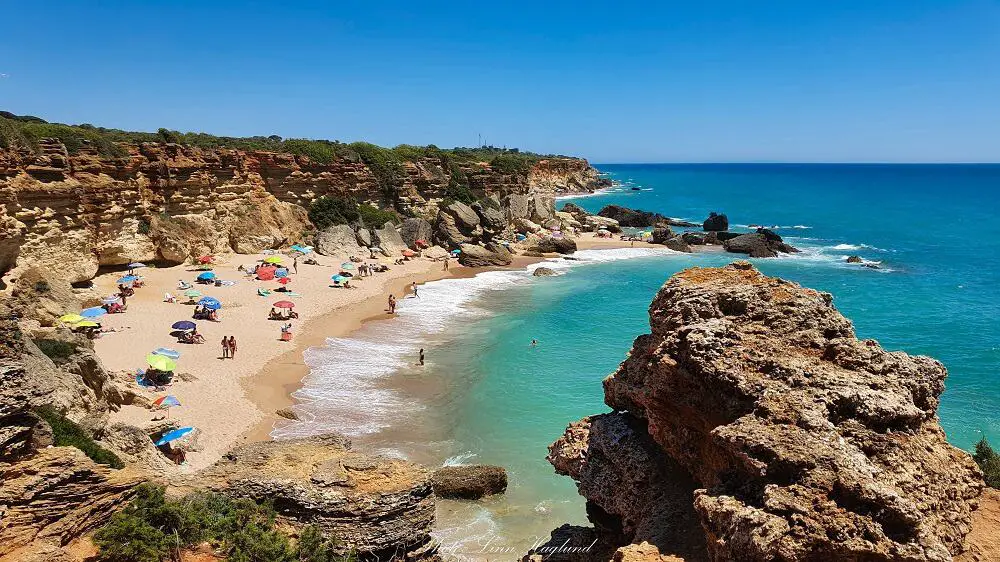 Take surf lessons
When spending time in Cadiz, things to do like kite surfing and surfing are so worth it! The whole coast of Cadiz is renowned for its waves yet much less famous among travelers than the nearby Algarve coast in Portugal.
If you're a seasoned surfer, you'll have a blast but even if you've just been curious to try, Cadiz is a great place to take surf lessons for beginners.
Especially along Playa Santa Maria del Mar and Playa de la Victoria, you'll find numerous surf shops and surf schools where you can book lessons and rent gear.
Surfing is also one of the best things to do in Tarifa if you fancy heading to a smaller surf town.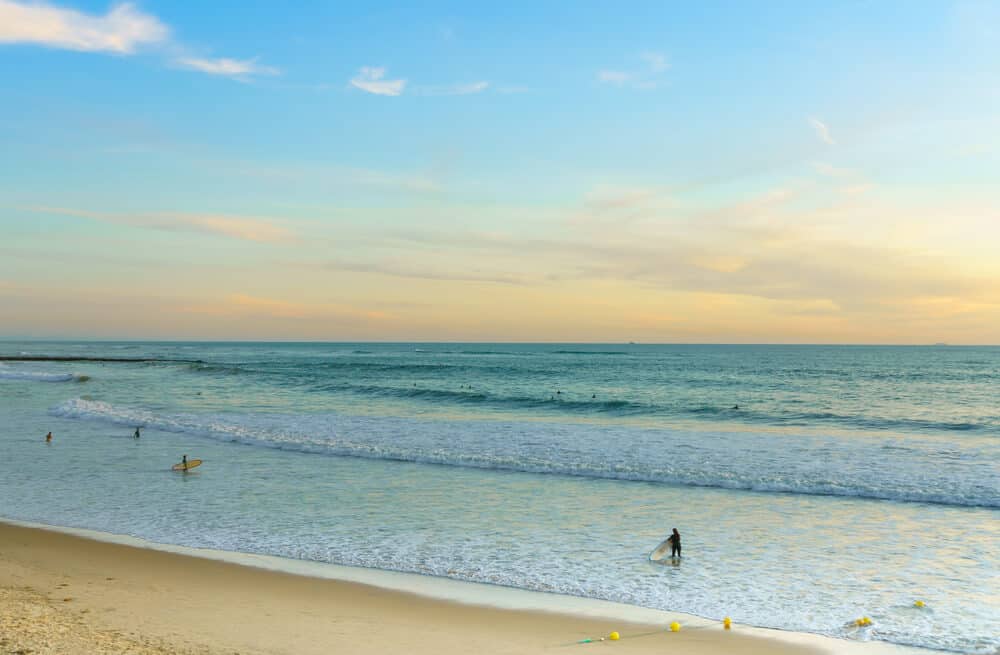 Heading to other cities in Andalucia?
Reflections on what to do in Cadiz
The mix of culture, sea, and adventure activities that Cadiz offers makes this a favorite corner of Spain, still fairly off the radar compared to cities like Seville, Malaga, Barcelona, and Granada.
There's so much to do in Cadiz no matter your interests and there are lots of hidden gems in Cadiz to explore once you've covered the major tourist attractions. Further, prices haven't surged yet and they serve free tapas with the beers.
I'd love to see it stay this way though, so make sure you practice responsible tourism when you go. Especially when it comes to respecting the locals, spending money in small local businesses, looking for places in the backstreets to go for lunch, and using the rubbish bins instead of the street.
As there's increasing cruise tourism to Cadiz, try to be considerate. According to locals I've spoken to, the majority of cruise tourists trample the streets in hordes, rush to the main sights, maybe they buy ONE drink (which equals a Euro or two,) and then litter all over the streets.
Keep this in mind because I'm pretty sure you don't want to leave an impression like that on any local community when you travel.
READ NEXT: Most beautiful white villages in Andalucia