Often being referred to as the "ugliest capital in Andalucia", Huelva has surprisingly cool things to see if you just know where to look.
It wasn't too long ago I actually stepped into the city myself, mostly because the other cities in Andalucia are so incredibly beautiful that they got my attention time after time, and I can say the same about the towns in the Huelva province which mostly are a feast to the eye.
Little did I know that even in Huelva, things to do and see can easily fill up a day or two and I chose to stay longer than anticipated in this underrated city near Seville.
So in this post, I'll summarize all the best things to do in Huelva, Spain, so that you can fall in love with this off the beaten path Andalusian city too.
Disclosure: This post may contain affiliate links. That means that if you make a purchase through one of those links, I will get a small commission at no extra cost to you.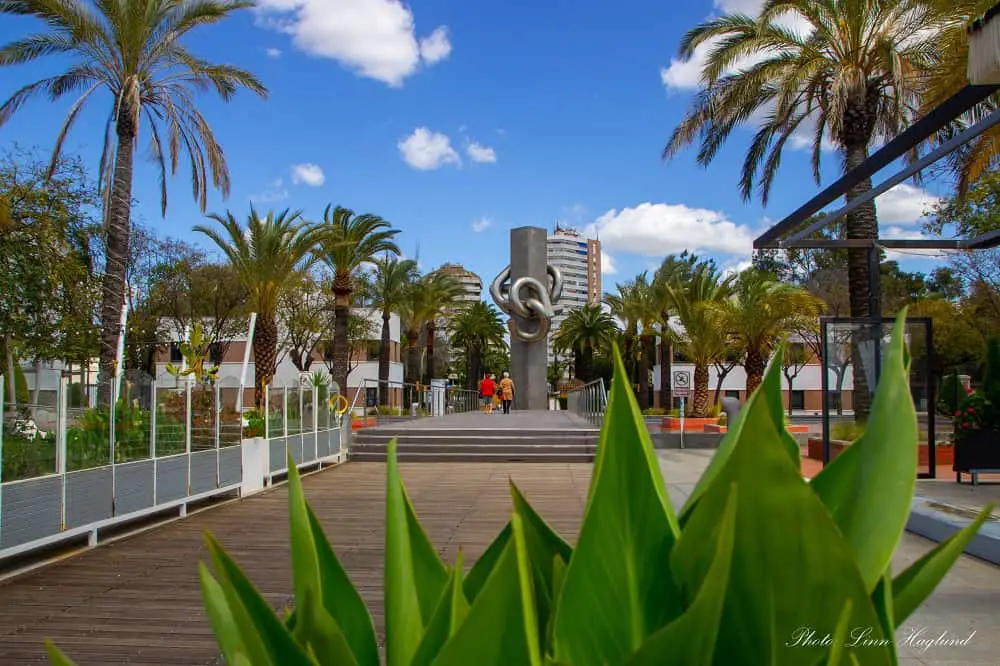 Things to do in Huelva
Get ready to dive into the most fantastic things to do in Huelva. And the best: most likely without a lot of other foreign tourists around!
Explore Muelle del Tinto
One of the coolest things to do in Huelva is without a doubt exploring the Muelle del Tinto. It was once used for the trade of material from Rio Tinto but has turned into the biggest tourist magnet in the city.
The pier has three levels where you can walk. Climb to the top and get mesmerizing views of Huelva city on one side and the marshland of Marismas del Odiel Natural Park on the other.
The pier is a haven for photography lovers with the symmetrical design winding into the Odiel River. If you have a chance to go there for sunset, you're surely up for a treat.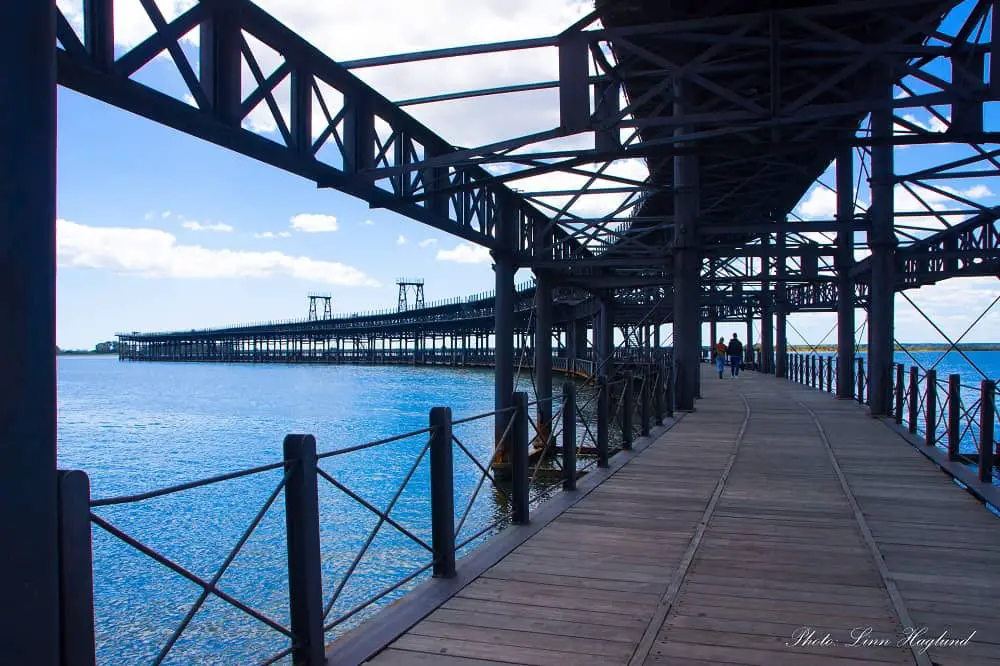 Stroll around Barrio Reina Victoria
Barrio Reina Victoria is an enchanting neighborhood to stroll around through the wooden houses dating back to the early 1900s. The neighborhood was originally built to house British workers for the Rio Tinto Company.
Today, it's situated in the center of Huelva city and declares a Historical Complex. You can admire a delightful fusion of British-style houses and Arab architecture. There's no question – this is one of the best things to see in Huelva.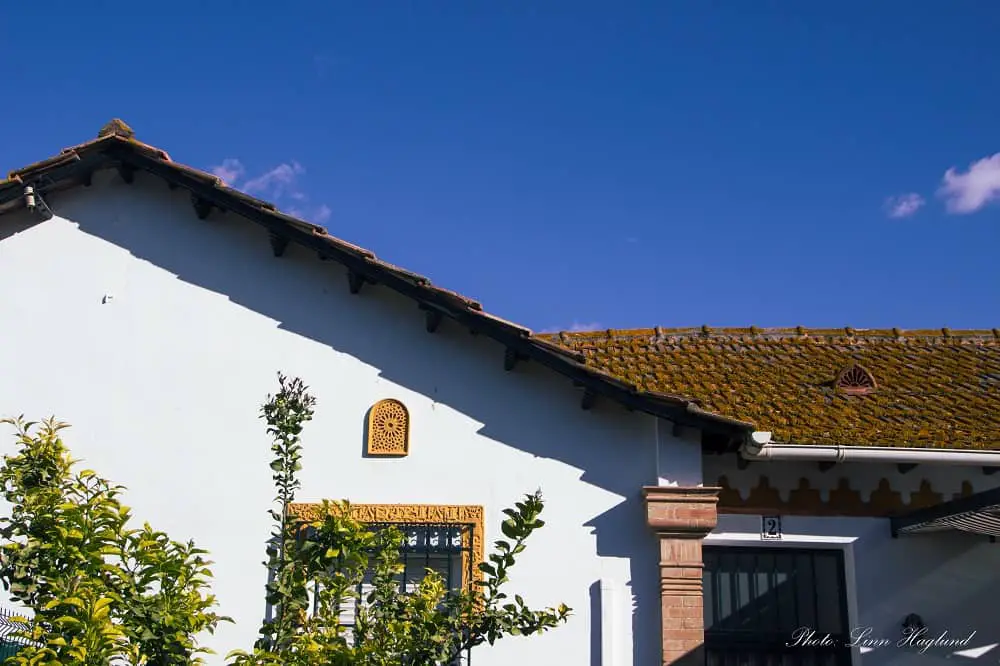 Visit the Church of San Pedro
The Church of San Pedro is the oldest church in Huelva and a true delight. Situated on top of one of Huelva's hills, Cabezo de San Pedro, it dominates the Plaza de San Pedro.
The church was built over the ruins of a Muslim mosque, like so many other churches in Andalucia. Since the building started in the 15th century, it's been changed and altered throughout the years until the 21st century, which makes it a fusion of different building styles.
In 1999, the Church of San Pedro was designated a site of cultural interest as they have found remains of the oldest known settlements in Huelva on the Cabezo de San Pedro Hill.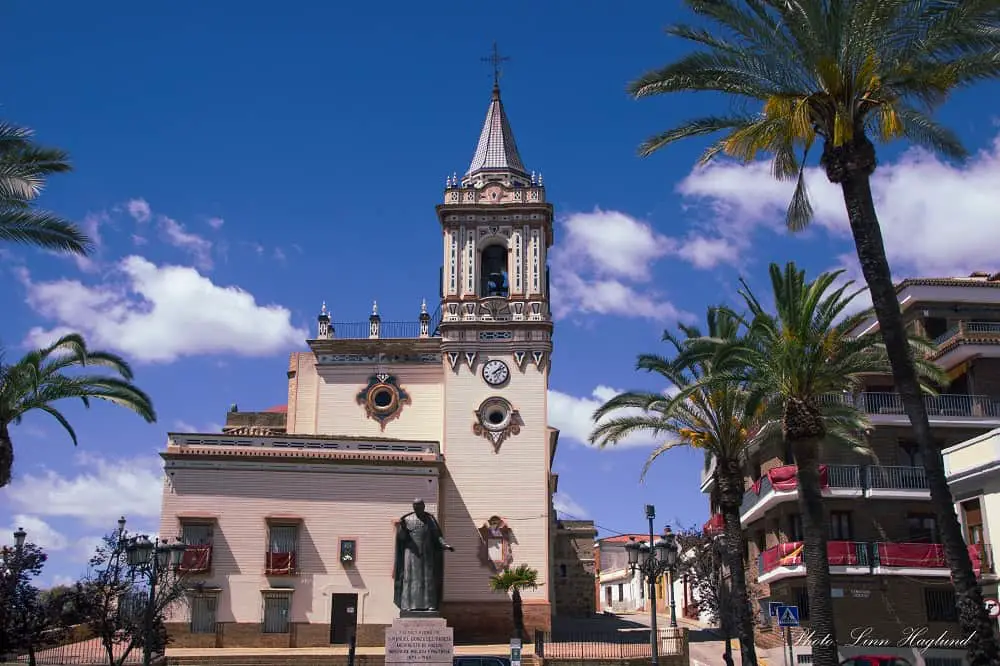 Hang out at Plaza San Pedro
The palm-lined square of San Pedro is a pleasant place to take a break, enjoy the view of the Church of San Pedro, and soak in the sun.
In the middle of the square is a statue of bishop Manuel González Garcia.
Have a coffee at Paseo de Santa Fe
The enchanting Paseo de Santa Fe goes straight down from the Church of San Pedro. Lined with palm trees and street cafes, it's a perfect place to have a coffee break.
Locals gather here to eat and drink, especially at lunchtime, and the spirit is high. Bring a good book, hang out with friends, or sit and people watch, this is a great place for it all.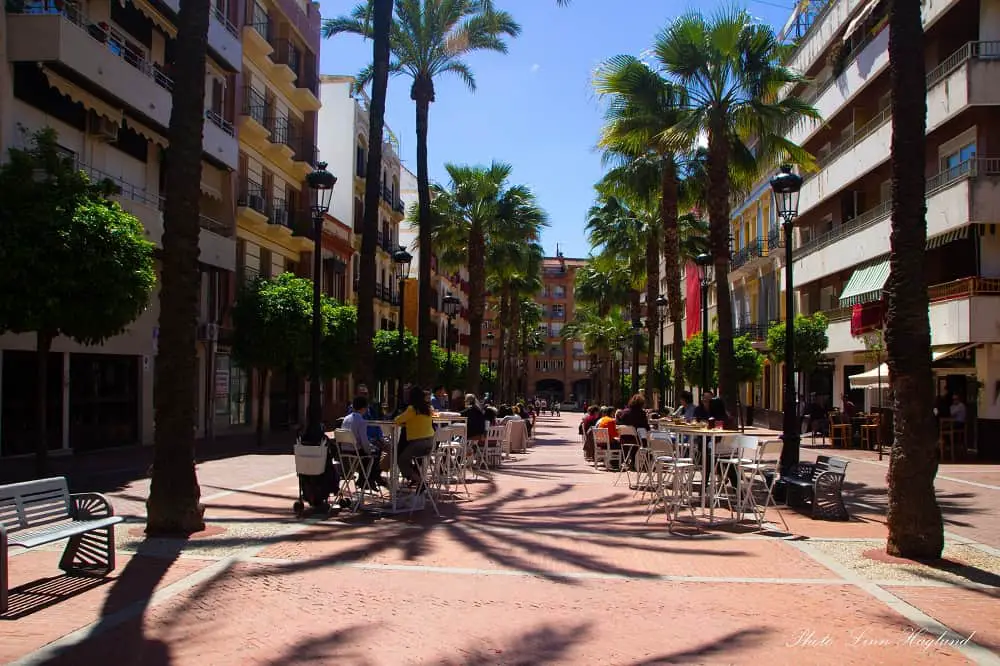 Visit Casa Colon
When it comes to things to do, Huelva has a lot of British heritage and the Casa Colon is a great example showing the late 19th-century British power.
There are four different buildings and the central courtyard boasts a splendid garden with a central fountain.
Originally, it was constructed as a hotel, but since that didn't take off, it became an office and housing building for the Rio Tinto Company.
In 1991, Casa Colon was restored and they added a modern exhibition as well as a conference center. Entry is free and opening hours are Monday to Friday 10:00-14:00 and 17:00-20:00.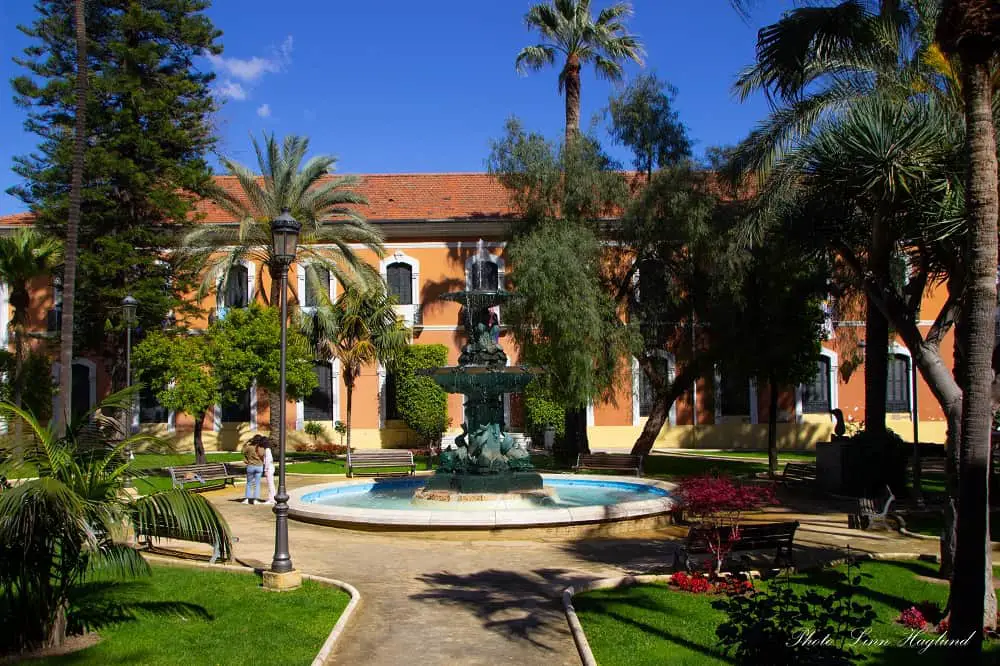 Stroll along Paseo de la Ria
Next to the most prominent of Huelva's tourist attractions, Muelle del Tinto, you can have a lovely stroll along the Paseo de la Ria. Get a nice view of the pier, listen to the sound of the water, or soak in an epic sunset.
The walkway is one of the most underrated things to do in Huelva, but should definitely be added to your bucket list.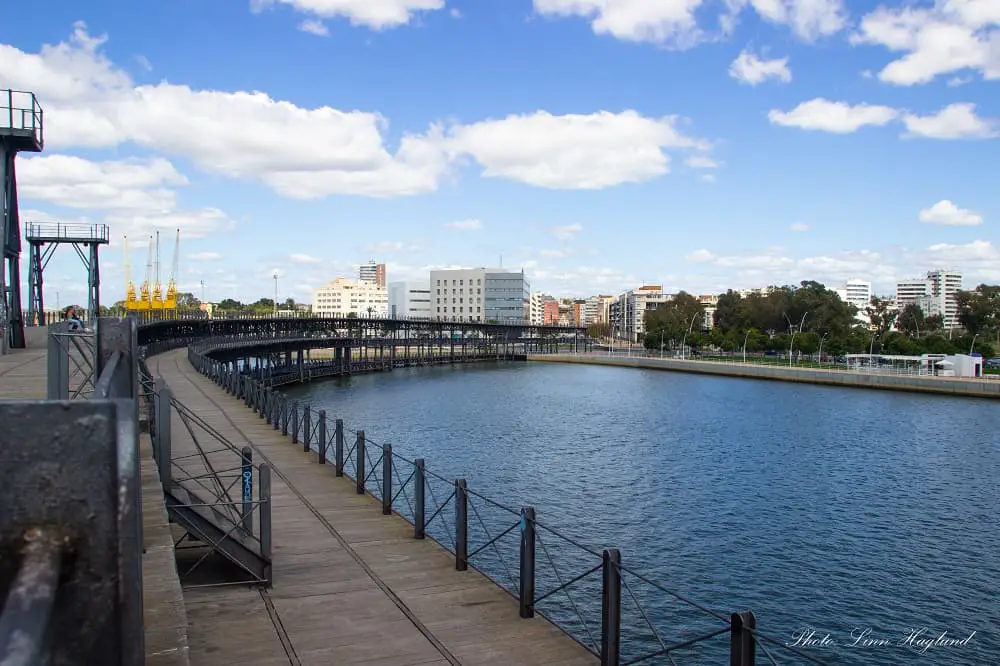 Spend a beach day at Punta Umbría
One of the must-do's on any holidays to Huelva is to head to Punta Umbria to spend a day at the beach. The Huelva coastline is blessed with many of the most stunning beaches in Andalucia, much due to the winds from the Atlantic Ocean.
There are lots of fun things to do in Punta Umbria, but the untamed beaches and wooden walkways make out the best side of Huelva.
Situated between the radiant Atlantic Ocean and the tranquil Huelva natural parks, the quaint fisherman's village offers a local atmosphere perfect for a day trip from the city.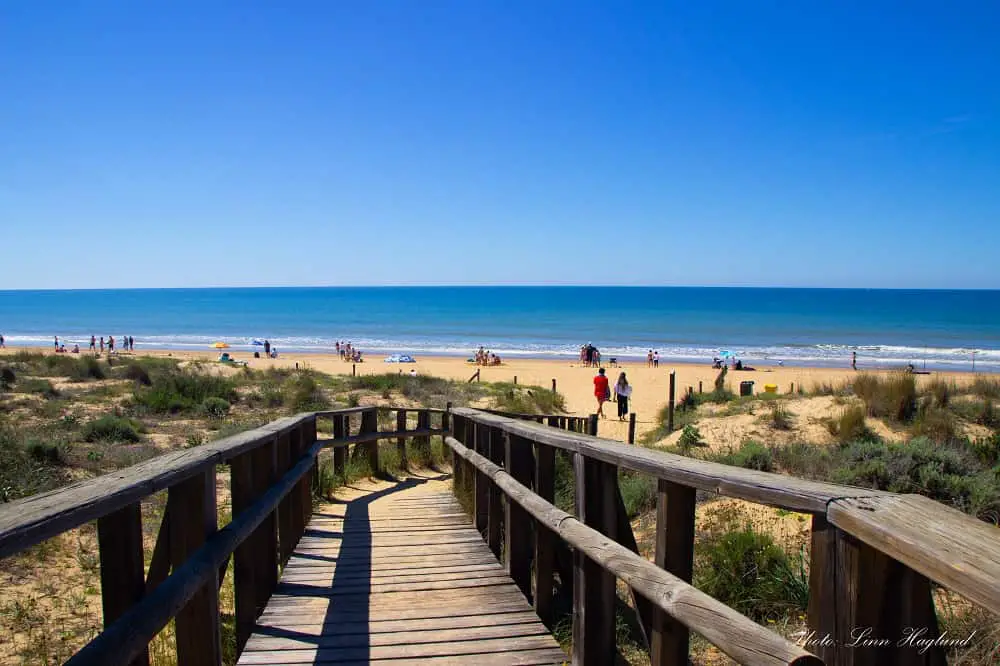 Search for street art
If you're wondering what to do in Huelva as a street art lover, you'll enjoy getting lost in the streets looking for curious artwork.
All around Huelva you can find different street art that colors hidden corners of the city. From quirky paintings to political messages, you'll be amazed by what the city hides.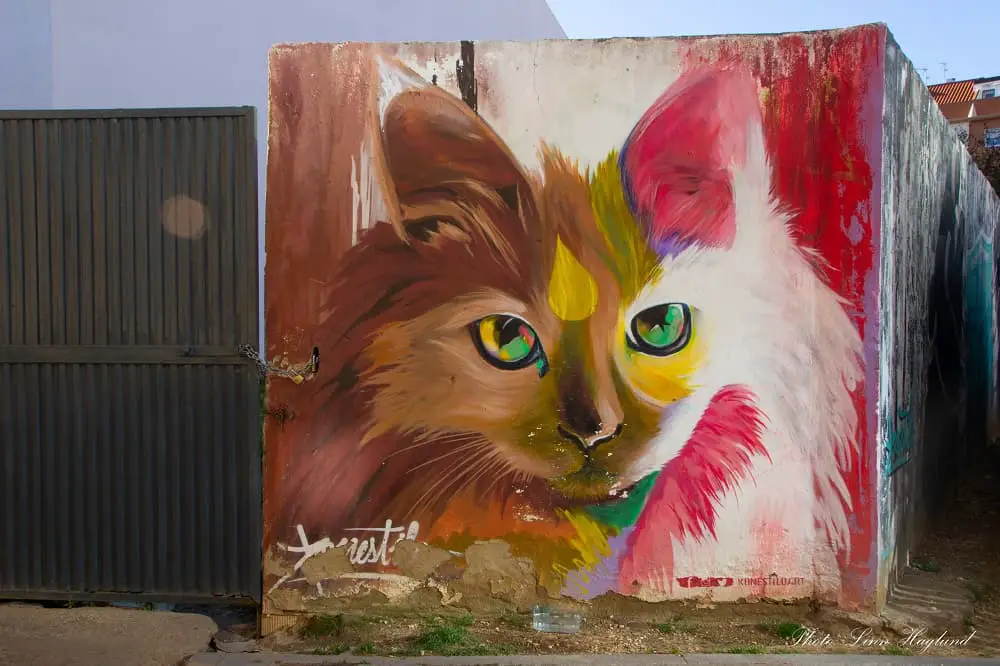 Discover quirky statues in Zafra Park
Zafra Park is one of the biggest green spaces in Huelva, situated by the port. Not only is it great for a relaxing day, reading a book, or taking in the sweet scent of roses from the colorful rose gardens.
The park is dotted with quirky statues all over as if it was an outdoor art gallery. Take your time to look at them from different angles, some of them might surprise you even from underneath.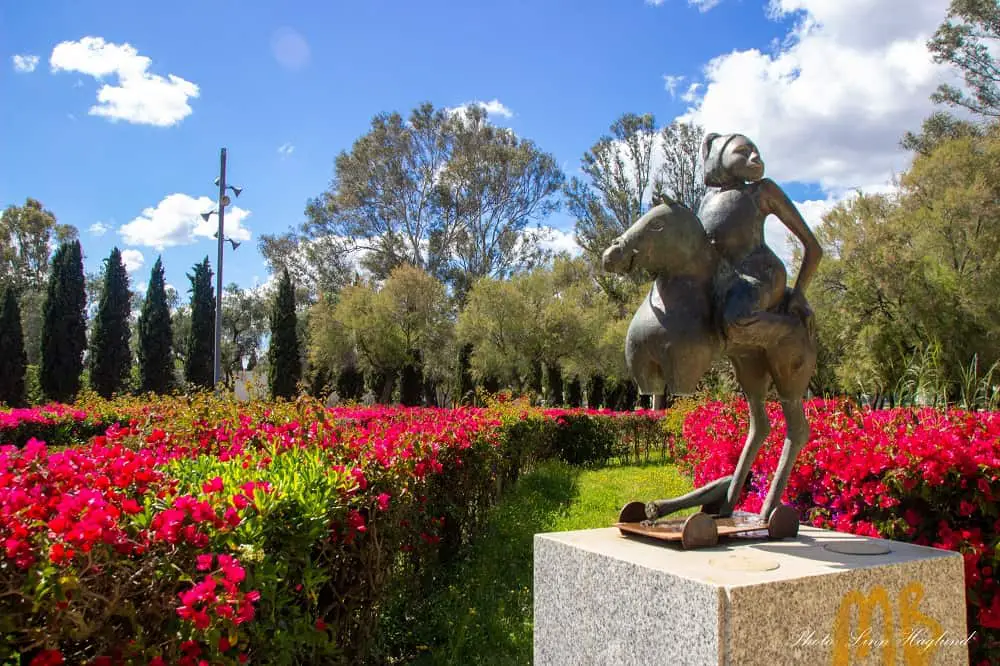 Photograph the old Zafra Railway Station
You should not miss out on the old Zafra Railway Station in Huelva. Things to do like taking pictures of the beautifully tiled building are well worth adding to your Huelva itinerary.
The railway station was functional between 1889 and 1976. The remains that you see today, are not the actual railway station, though, but its office buildings.
Today, the structure belongs to the Junta de Andalucia, remaining one of the most charming buildings in Huelva.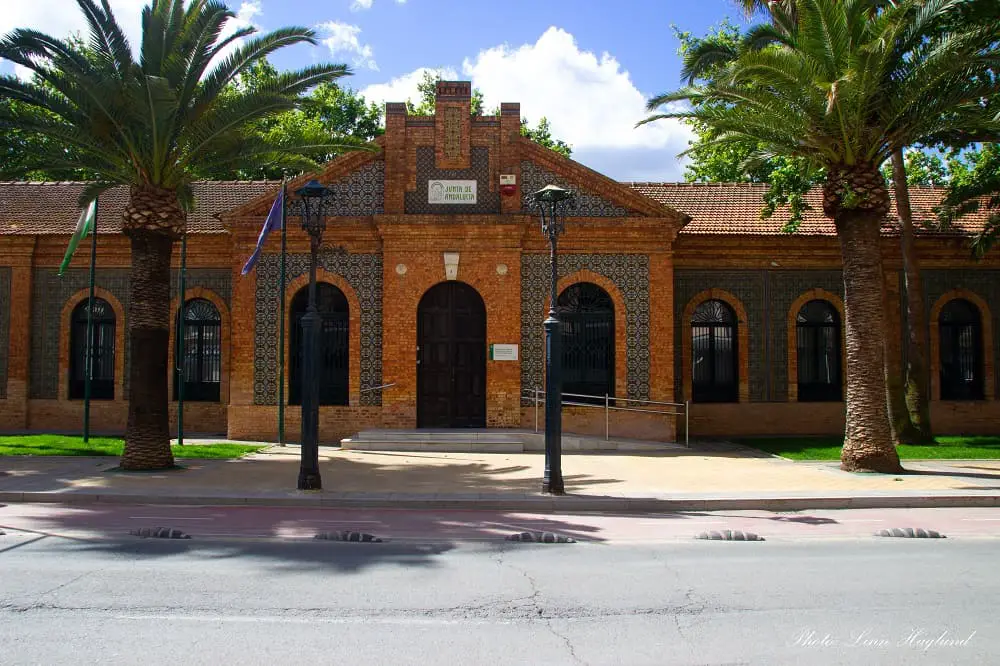 Visit Huelva Museum
If you're wondering what to do in Huelva for history buffs, another great place to visit is the Museo de Huelva.
With a compelling collection of archaeological artifacts from megalithic sites like the La Zarcita, Greek and Phoenician artifacts excavated in Huelva, and Moorish relics, you'll surely enjoy this museum.
You can also see remains from Roman mining, like a large Roman mining wheel that slaves used to pull out water from the mines in Río Tinto.
There are also different temporary exhibitions in the museum that you can enjoy.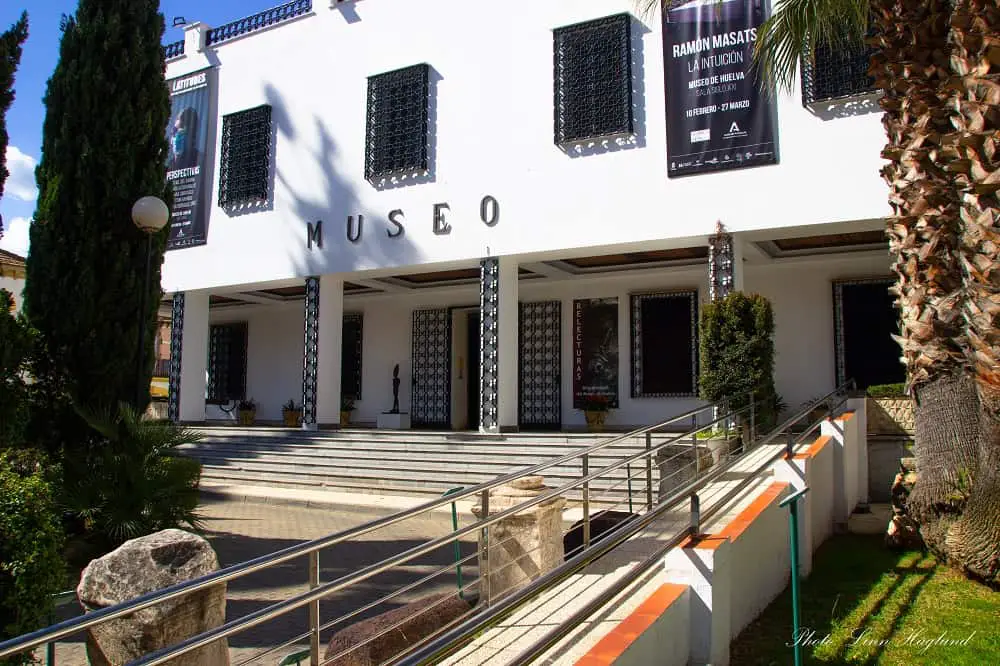 Visit Huelva Cathedral
Catedral de la Merced is situated at the Plaza de la Merced. Quite different from other cathedrals you'll see in Andalucia, the baroque building stands out with its pink-striped facade.
Though it was built in the 17th century, it wasn't before that the former church was designated a cathedral.
The astonishing white marble interior holds a statue of Huelva's patron saint, La Virgen de la Cinta, that was made in the early 17th century by the artist Martínez Montañes.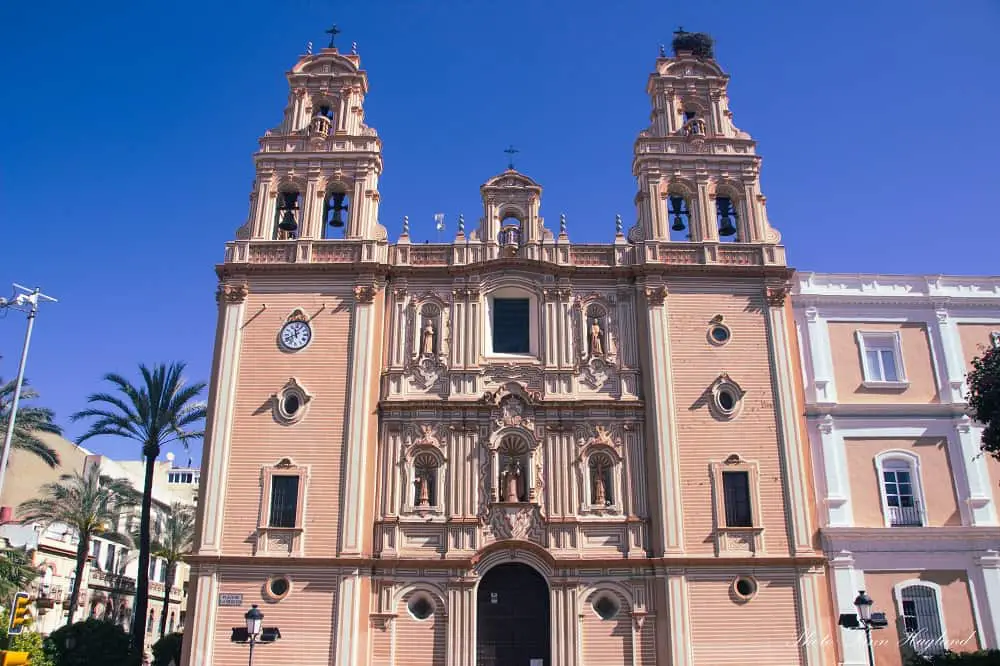 See the Monument of Virgen del Rocio
In front of Casa Colon, you can take in the vivid monument of Virgen del Rocio. Every year, a pilgrimage takes place to the small village of El Rocio where the virgin stands in the Hermitage of El Rocio.
By the end of the pilgrimage, the virgin is taken out for a procession. The bronze figure shows devotees surrounding the holy virgin and is an important religious monument.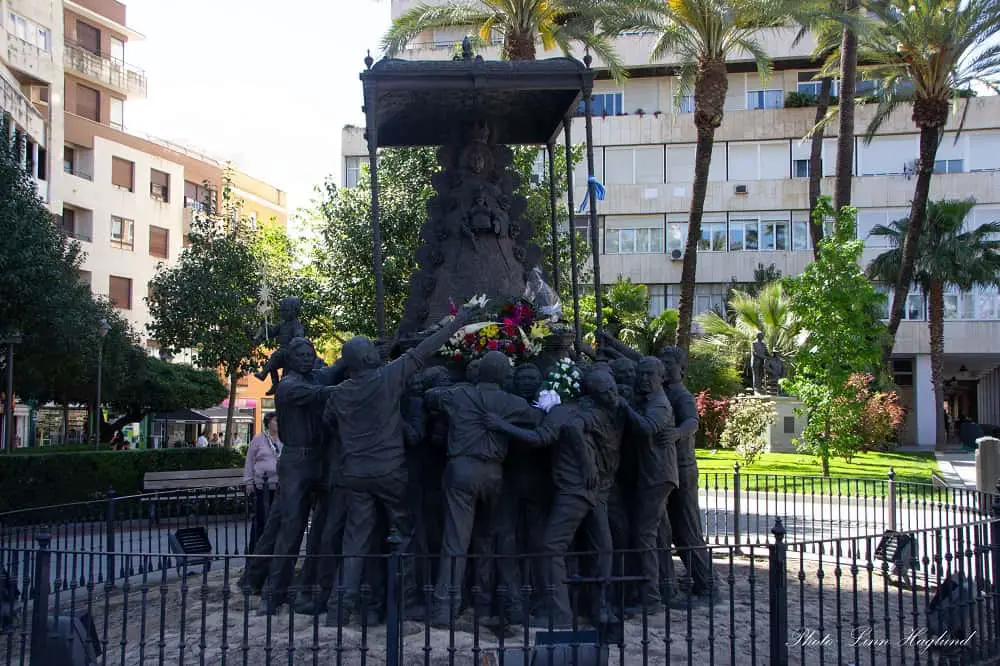 See flamingos in Marismas del Odiel Natural Reserve
Marismas del Odiel Natural Reserve is the second largest wetland reserve in Andalucia after Doñana National Park. It covers 72 square meters of land and is home to a myriad of animal species, particularly birds.
This is also a great place to spot wild flamingos in the season which makes it a haven for wildlife photographers.
The marshland is an important resting place for migratory birds traveling between Africa and Europe which means you can see a number of unique species there.
The La Calatilla Visitors' Centre – Anastasio Senra is open Tuesday-Sunday 10:00-14:00 and 16:00-18:00 from September to June and through July and August, it opens 10:00-14:00 and 18:00-20:00.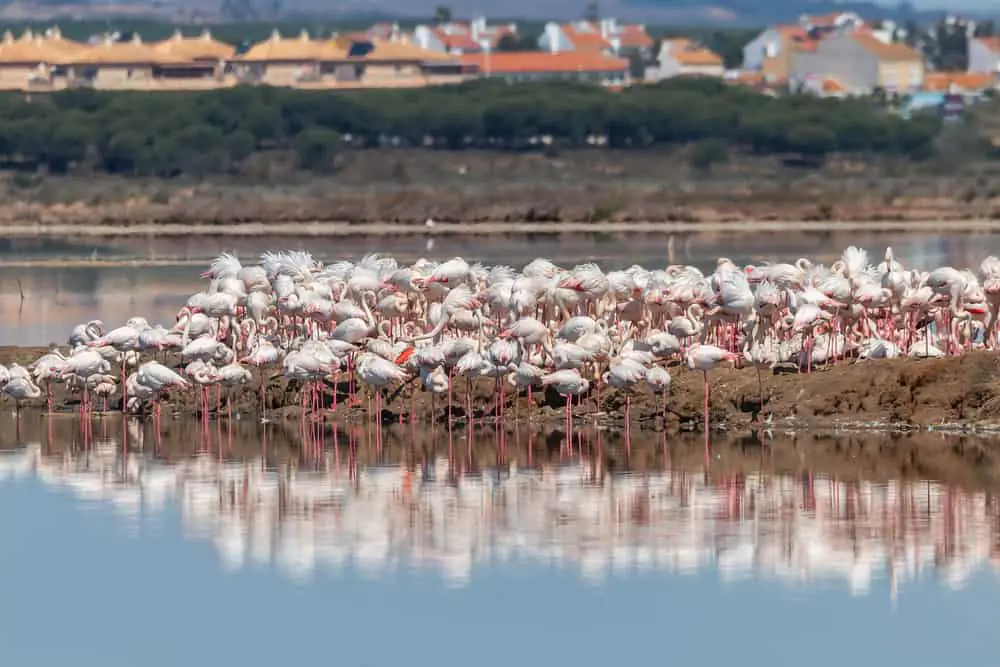 Photograph the Christopher Columbus Monument
Maybe one of the most prominent landmarks in Huelva is the Christopher Columbus Monument. The 37-meter-high statue towers at the Punta del Sebo at the point where the Odiel river and Tinto river meet – right outside the city center.
It was raised in 1929 by the American sculptor Miss Gertrude Vanderbilt Whitney and depicts a sailor looking to the west, where we can imagine Christopher Columbus must have stared.
He's holding a Tau Cross which symbolizes the Franciscan Order which helped Christopher Columbus to convince the Catholic Kings to support him in taking Christianity beyond Europe.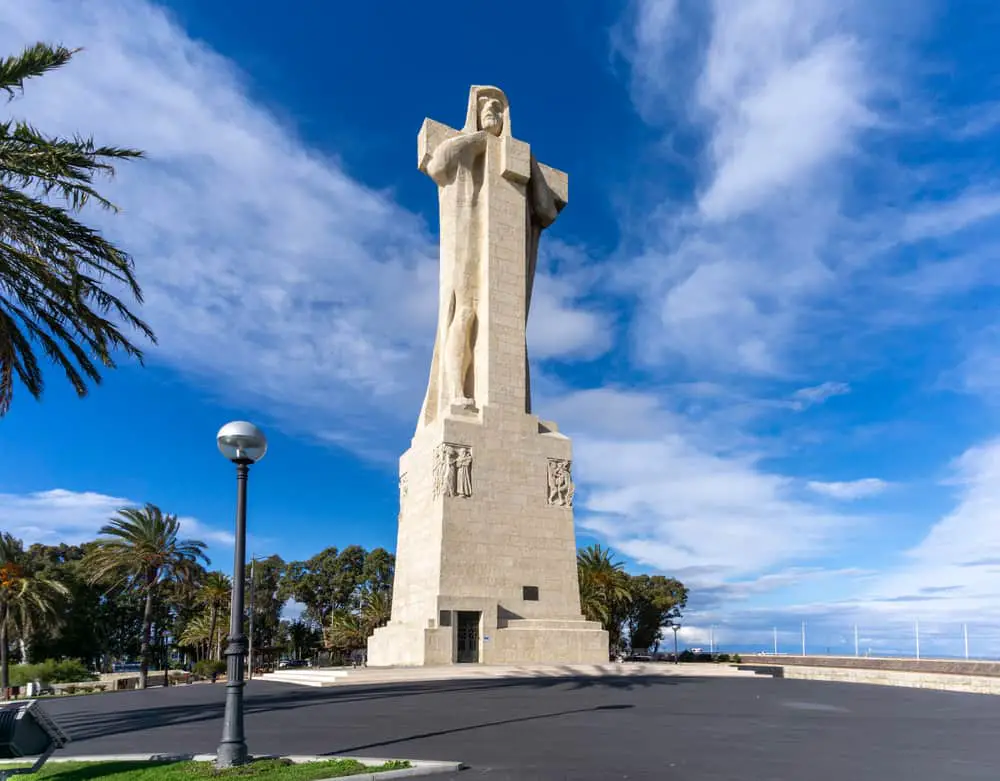 Soak in the sun at Matalascañas
One of the most popular beaches in Huelva is Matalascañas beach. It's the perfect place to spend the day to soak in some vitamin D. There are plenty of beach bars and all the needed facilities to have the perfect beach day.
While there are no direct buses, you can get there by car in only half an hour and you can find trips with BlaBlaCar for only a couple of Euros each way.
Reflections on what to see in Huelva Spain
As you can see, there's a myriad of things to see and do in Huelva Spain. I was surely positively surprised after taking so many years to visit the city, and I'll definitely be back.
Huelva has something no other Andalusian city has and walking the streets gives you a truly local feel to it which is amazing.
There's no doubt you should add Huelva to your Andalucia itinerary whether you're on a road trip or just going on a day trip from Seville. Let the planning begin!