While there are plenty of things to do in Seville you might want to go on a day trip if you choose to stay in the city for a while. There are so many amazing day trips from Seville that you can enjoy both with and without a car.
After living in Seville for nearly 2 years and Andalucia for about 10 years, I've explored the surrounding areas in depth. I've picked out what I think are the best day trips from Seville so you can get the most out of your Andalucia itinerary.
While many travelers see Seville in one day, I recommend that you spend at least 3 days in Seville first. Then, get ready to explore some of the incredible surroundings!
Disclosure: This post may contain affiliate links. That means that if you make a purchase through one of those links, I will get a small commission at no extra cost to you.
Where to stay in Seville
When going on day trips from Seville, you'll still need a hotel in the city. Here are a couple of my suggestions.
Zaida
A stunning Andalusian Neomudejar-style hotel in the heart of the city only a few minutes' walk from La Giralda.
Las Casas De los Mercaderes
A beautiful hotel in a stunning 18th-century building, only a few minutes' walk from the main attractions.
Book your stay at Las Casas de los Mercaderes here
How to get around on day trips from Seville
Seville is well connected by bus and train to most places. However, a few of the smaller villages and less visited places near Seville can be harder to reach on a day trip, as there will be fewer daily departures.
If you want complete freedom, get yourself a rental car, especially when you visit smaller places. There's plenty of free parking in Seville, so you don't have to worry about large parking fees when you use Seville as a base.
If you don't have a rental yet, check prices and availability here now, so you don't miss out on the best deals!
Day trips from Seville
Let's have a look at the best day trips from Seville and how to get there.
Jerez de la Frontera
Jerez de la Frontera, Andalusia's sherry capital, is a wonderful small city only an hour from Seville, often overlooked by foreign travelers. However, it really deserves a visit.
There are so many great things to do in Jerez starting with sherry tasting (surprise, surprise!). The cathedral in Jerez is a masterpiece fusion of Gothic, Neoclassical, and Baroque styles.
Stroll around Alameda Vieja, visit the Moorish Fortress, and get lost in the streets where you'll surely dump into mesmerizing churches and hidden sherry bodegas.
How to get there: It takes just over an hour to drive from Seville to Jerez south towards Cadiz. There are also daily buses and trains from Santa Justa that take you centrally in Jerez.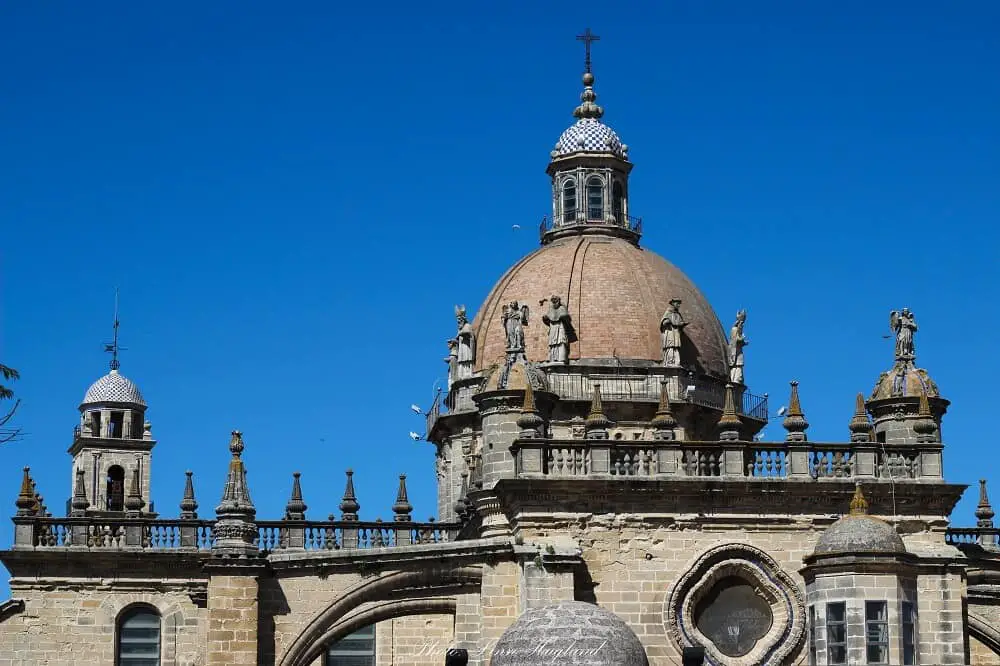 El Puerto de Santa Maria
El Puerto de Santa Maria is one of the best day trips from Seville, especially in the summer months when it turns into a vibrant hub for beach dwellers and partygoers.
There is a lot to do in El Puerto de Santa Maria and in the historical center you can visit one of the best castles in Andalucia, Castillo de San Marcos.
Nearby you also find the animated Plaza de España with the most beautiful church in town, Iglesia Mayor Prioral. But there are also a number of opulent palaces to be explored and sherry lovers will enjoy a tour of the Osborne cellars with tastings. After all, El Puerto is part of the Sherry Triangle together with Jerez de la Frontera and Sanlúcar de Barrameda.
Among the best beaches in El Puerto de Santa Maria, you can enjoy Valdelagrana Beach, La Muralla Beach, or La Puntilla Beach.
How to get there: It takes an hour and 20 minutes to drive from Seville to El Puerto de Santa Maria. There are also daily buses from Plaza de Armas or Estación Prado San Sebastián that take around 1 hour and 45 minutes.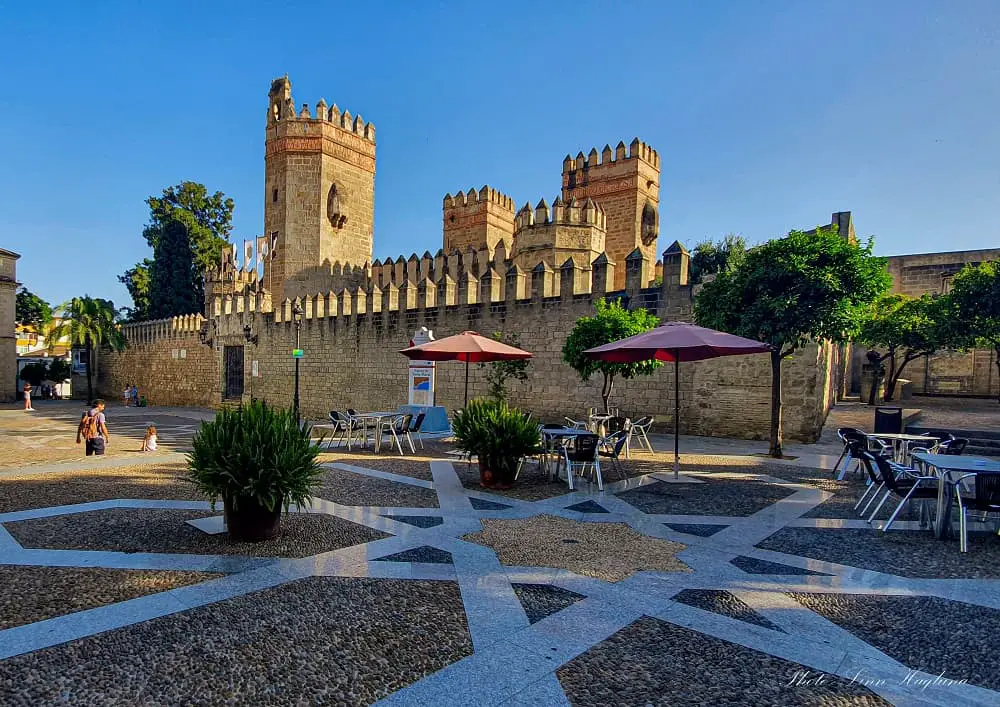 Arcos de La Frontera
Arcos de la Frontera is one of the most astounding, dramatic white villages in Andalusia. There are plenty of things to do, but you should start by walking the historic route and exploring the Minor Basilica of Santa María de la Asunción, the Plaza del Cabildo Viewpoint, and the rest of the attractions on the square.
Continuing on the historical route, you pass the Convent of the Barefoot Mercedarian Order, which is the only convent in the village still used as a monastery.
Abades viewpoint gives astounding views of the lower parts of Arcos de la Frontera and its surroundings as well as San Agustín Church.
How to get there: It's an easy 1 hour and 10 minutes to drive from Seville to Arcos de la Frontera. Parking in the streets before you enter the old town is easy. Getting there by bus takes approximately 2 hours and 30 minutes with bus change in Jerez de la Frontera.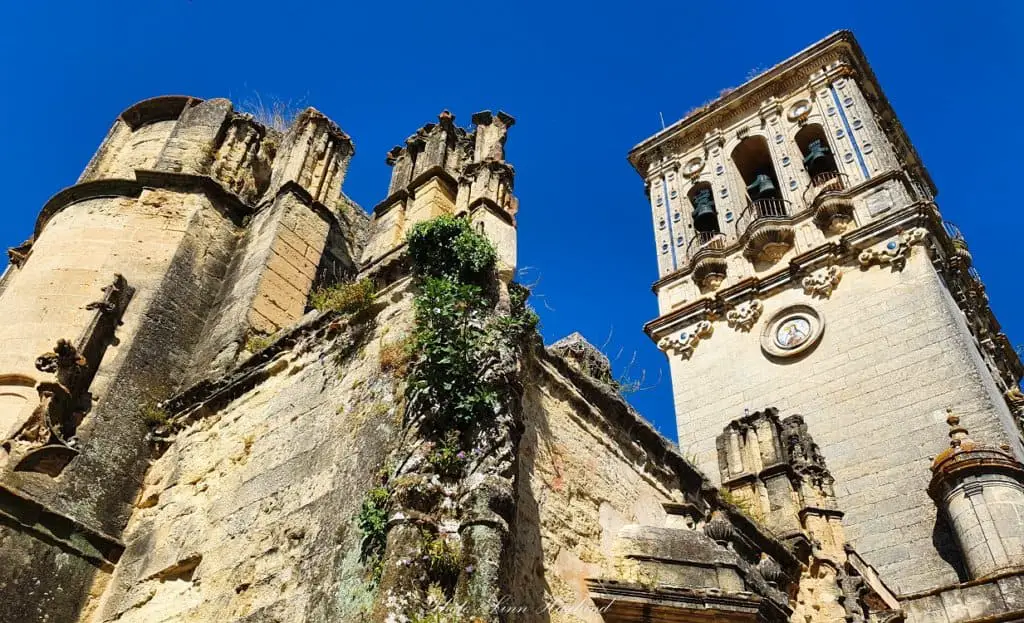 Cadiz
Cadiz is a beautiful coastal city with a lot of history and charm. There are definitely things to do in Cadiz for a weekend or longer, but with only one day in Cadiz, make sure you see the main sites.
Start with Cadiz Cathedral. The beautiful square where it stands is perfect for having a cold drink on a warm day. Make your way to the seaside castles Santa Catalina Castle and San Sebastian Castle. You might even want to go for a dip at La Caleta Beach.
Nearby, you'll find the most beautiful park in the city, Genovés Park. It's well worth a stroll, especially to see the pond with waterfalls and a cave, and the fountain of the Children under the umbrella.
With some extra time on hand, use your time getting lost in the streets of the old town, climb the Tavira Tower, and have lunch at the local market, Mercado Central. Look for some of the hidden gems in Cadiz and visit the Roman theater, which surprisingly is one of the free things to do in Cadiz.
How to get there: Driving from Seville to Cadiz is only an hour and 15 minutes. It's easy to park outside the city center. You can also take the train from Santa Justa which takes you there from about 1 hour and 40 minutes. Direct buses take about the same time.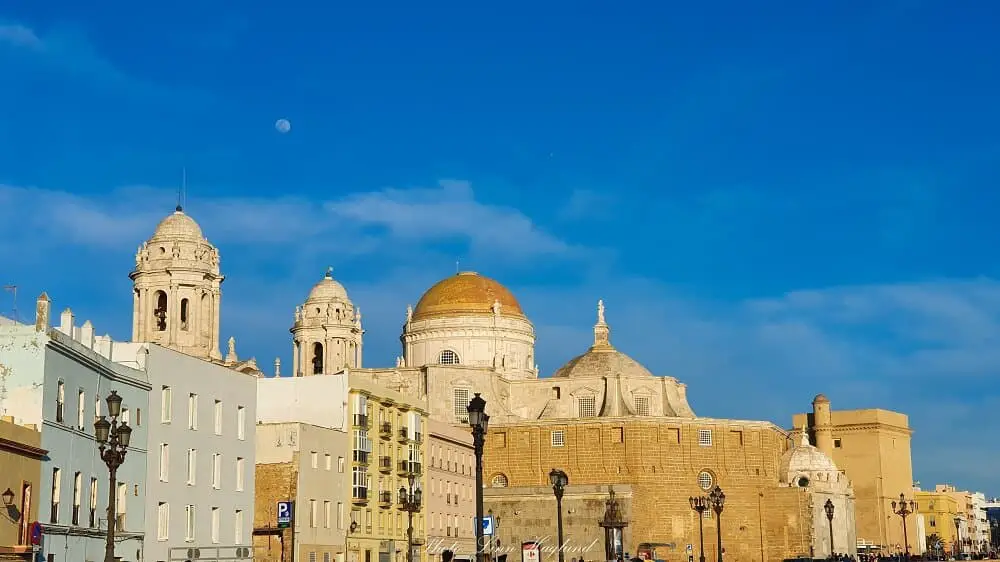 Carmona
The beautiful town of Carmona is without a doubt one of the best day trips from Seville. This is a wonderful walkable town and can pretty much be explored walking between the Gate of Cordoba on one side and the Gate of Seville on the other.
The Fort of Carmona is nicely towering above the Gate of Seville. Make sure you climb up to the top for great city views.
You should enter Parador de Carmona for astounding views of the surrounding countryside, or you can walk around the village and enjoy them from the street below.
Visit Convento de Santa Clara for a great example of 16th-century Moorish architecture and the Museum of Carmona for a bit of history in what I think is one of the most beautiful towns in Seville.
How to get there: Driving from Seville to Carmona is only half an hour. There is a big free parking space outside the Gate of Cordoba. Direct buses can take you there in 40 minutes.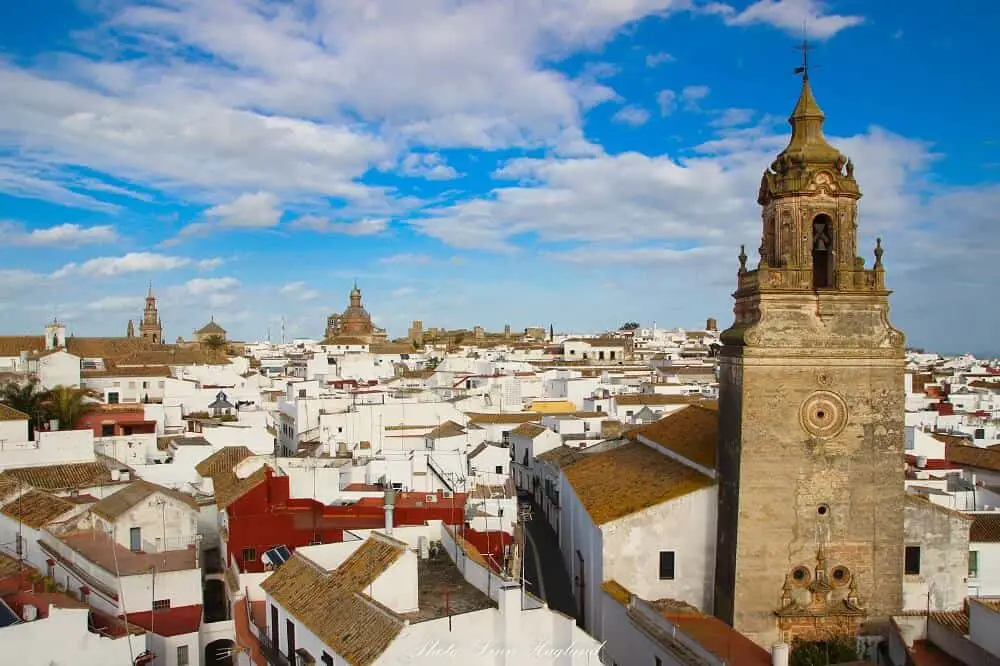 Conil de la Frontera
Get ready for one of the most vibrant coastal towns in Andalucia. Conil de la Frontera is one of the best day trips from Seville if you want stunning beaches and the vibes of a local fishing town with tons of history to it.
There are loads of things to do in Conil de la Frontera. Wander around the streets, explore old churches, check out the oldest structure in the town, Torre de Guzmán, and enjoy all the amazing viewpoints over the wide, golden beaches.
You can go surfing, paddle boarding, or kayaking in Conil de la Frontera too, as it boasts some of the most beautiful beaches in Cadiz.
The most lively time in this little whitewashed coastal town is the summer months, especially August when the whole population in Seville takes a vacation and migrates to the coast.
How to get there: There are a couple of buses a day from Seville to Conil de la Frontera which take 1 hour and 45 minutes. However, the safest bet is to get there by car. The journey takes about 1 hour and 35 minutes. Once in Conil, there are huge outdoor parking areas along the beach.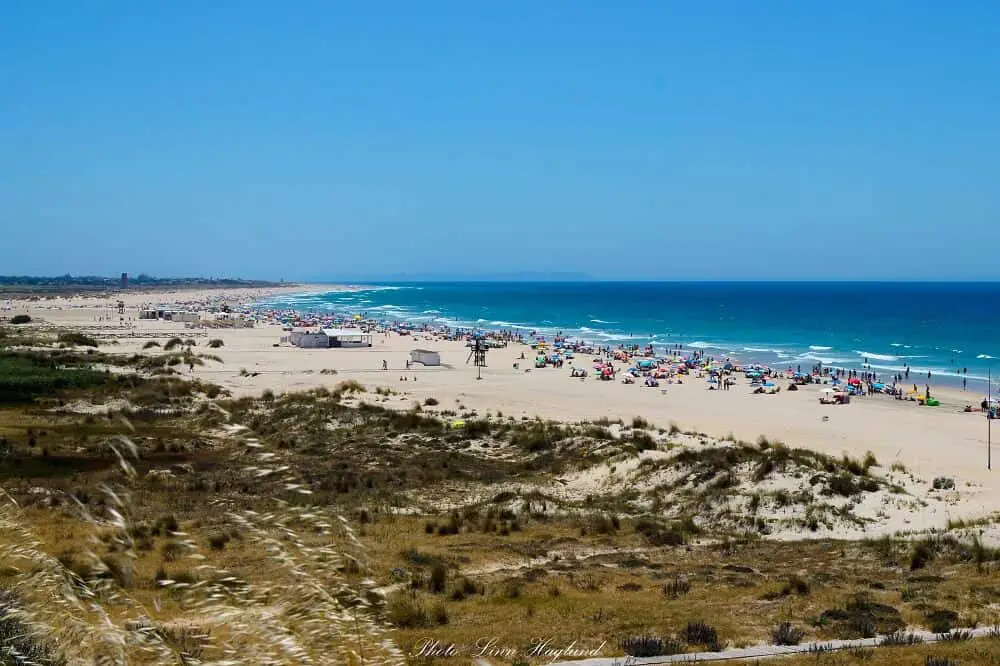 Los Caños de Meca
This little bohemian corner of the Cadiz coast is the perfect hidden gem in Spain. The summer months boast a great atmosphere with a lot of local tourism crowding the small place.
Live music and local artists attract the crowds and create magic. Los Caños de Meca has some of the most beautiful beaches in Cadiz. The windy days make perfect spots for windsurfers and there is no secret about what lays behind the windswept beaches.
Trafalgar Lighthouse overlooks the sea where the famous battle of Trafalgar once took place and has today become an iconic spot for Los Caños de Meca.
How to get there: It is complicated to get to Los Caños de Meca by bus, as you have to first reach Barbate and then take a bus back again to Los Caños de Meca.

There is no doubt it's easier and much faster by car, in only 1 hour and 50 minutes. In Los Caños de Meca, there are paid parking spaces by the beach, though you can find a few free ones if you get there early enough.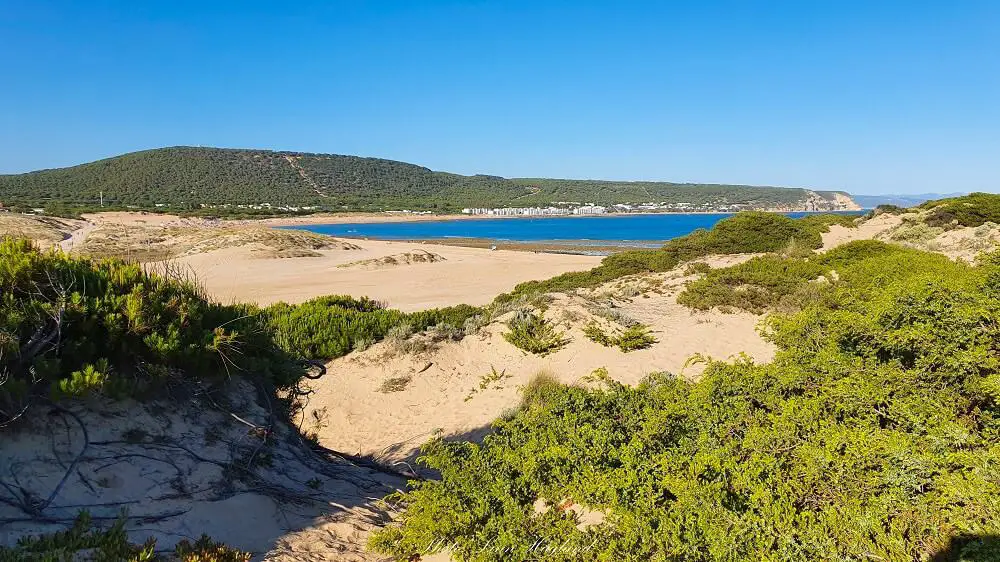 Cordoba
Cordoba is one of the top cities in Andalusia that you have to visit. And lucky for you, it's an easy day trip from Seville. Cordoba is full of history and majestic Moorish architecture. So there is no excuse for not going on a Seville to Cordoba day trip.
The historic center is stunning with the Mosque-Cathedral, the Alcazar, and the old Roman Bridge which you can easily see in one day in Cordoba.
The city is packed with patios covered in colorful flowers and a great place to see some of the most beautiful Cordoba patios is the neighborhood of San Basilio and the Viana Palace where you can explore 12 patios on the property!
If you happen to be there during the two first weeks of May, you can experience Cordoba Patios Festival which is a unique opportunity to see courtyards that are normally closed to the public.
But about 8 kilometers outside the city, you also find the incredible ruins of Medina Azahara, dating back to the mid-900s, when it was the administrative capital during the time the Moors ruled the country.
How to get there: You can easily travel from Seville to Cordoba by bus or train. The bus takes about 2 hours while the fast train only takes 45 minutes. By car, it's about 1 hour and 35 minutes.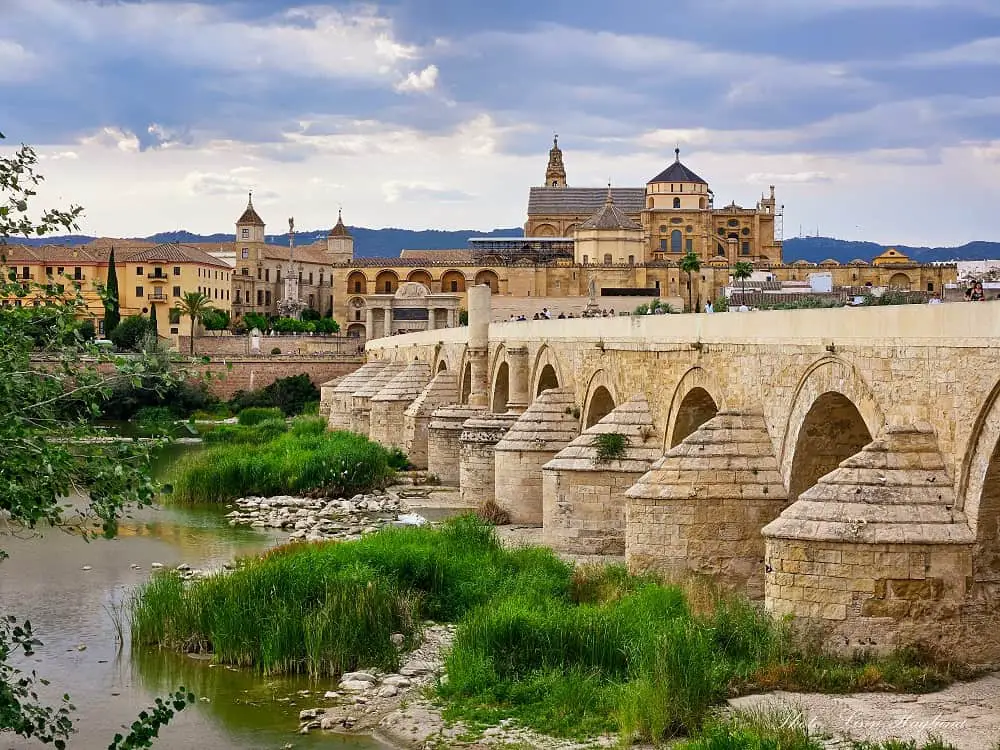 Aracena
Aracena is one of the most underrated Seville day trips. However, there are so many amazing things to do in Aracena. You have the mesmerizing Gruta de las Maravillas, which are totally underrated. The caves are astounding!
You can also visit the 13th-century castle overlooking the city and surrounding countryside.
While the village in itself is charming and cute like so many of the white villages in Andalusia, there is also a great bundle of hiking trails in Sierra de Aracena Natural Park.
How to get there: There is only one bus from Seville to Aracena a day, which takes about 1 hour and 20 minutes. I recommend driving yourself, which takes about the same time, but you have the freedom to go and leave when you like. It is fairly easy to find parking in the streets of Aracena.
Rio Tinto
Have you ever thought about how a river of red wine would look like? In Rio Tinto, you'll find out! This might as well be the most unique day trip from Seville. The beautiful red and orange river is colored by the high amount of iron and heavy metals.
The river goes next to the little mining village, Minas de Ríotinto, where you can ride a charming old steam train and visit the mining museum. But you can also see Europe's largest open-pit mine, the Corte Atalaya. It is 350 meters deep and 1200 meters long. In the middle, a lake has formed.
It's pretty impressive and I'm still surprised that this is still a hidden gem Andalucia hasn't managed to make one of the most popular tourist attractions yet.
How to get there: You can take the bus from Seville to Minas de Riotinto which takes 2 hours. By car, it takes 1 hour and 15 minutes, and parking in the streets is easy to find.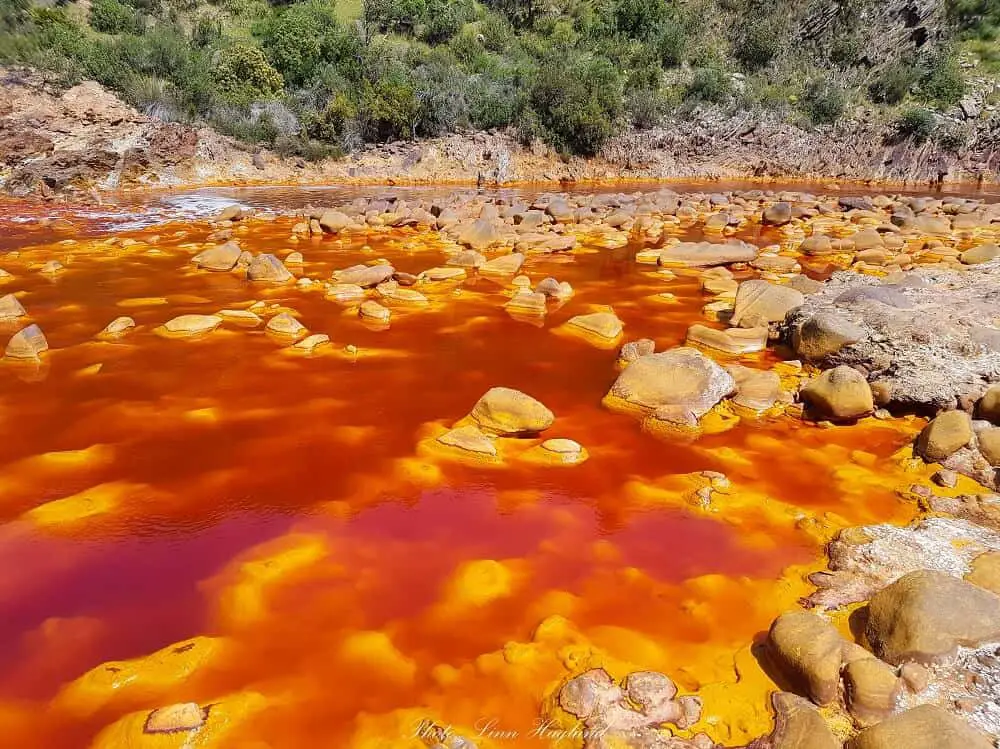 Grazalema
A charming little white village in the middle of Grazalema Natural Park, this is the main hub for hiking enthusiasts in the area. You'll find some of the best hikes in Andalucia in Grazalema and you can easily go on a shorter hiking route for the day.
Some of these trails require a permit (free) and dogs are not allowed. These are El Pinsapar, El Torreon, Garganta Verde, and Llano de Ravel. You can either call or email the visitor center for a permit in advance. You find contact information on Andalusia's official website here.
The rest of the trails are free to hike without a permit and dogs are allowed to join. If you're in for nature after spending a few days in the city, this is your place!
How to get there: The easiest way to get to Grazalema on a day trip from Seville is by car. It takes about 1 hour and 40 minutes. There are free parking areas around the village or street parking.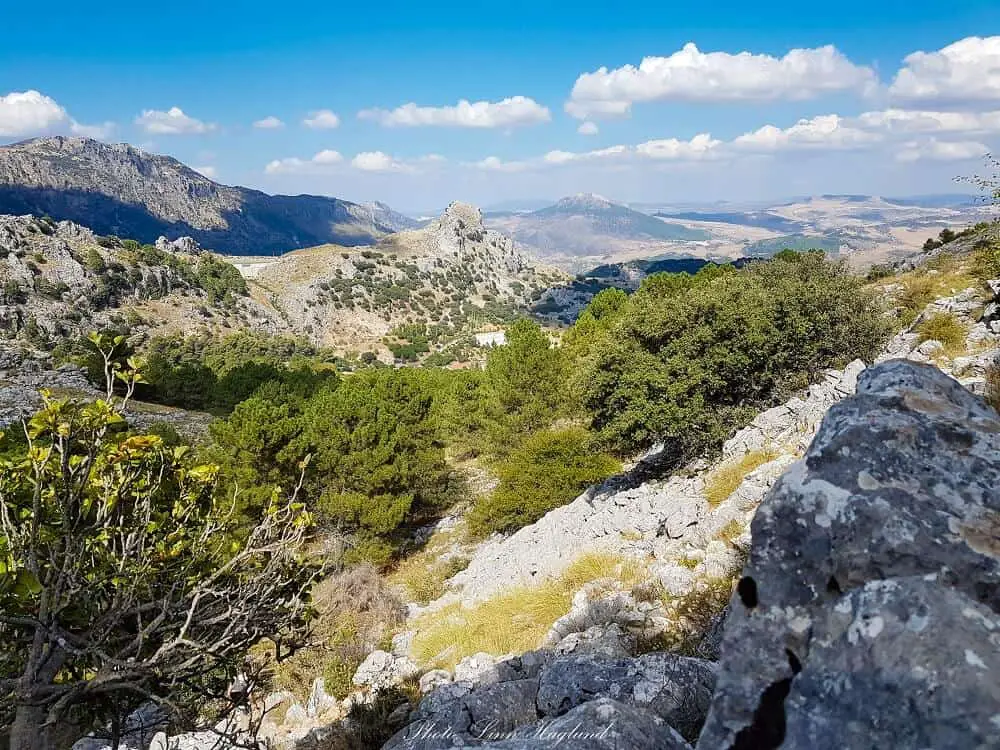 Ronda
The breathtaking town of Ronda sits on the top of a cliff split in two by a steep gorge, connected by the Puente Nuevo which has become the town's most significant landmark.
Lucky for you, it's easy to get from Seville to Ronda on a day trip, and you can get a good feel of the town too.
There is a mesmerizing lookout on the top of the cliffs in Ronda and a beautiful trail leading down to see the Puente Nuevo for that iconic photo.
But there is more to Ronda. Behind Puente Nuevo, you find Puente Viejo, the oldest bridge in Ronda dating back to 1616. This area of Ronda is actually the most charming, with old streets, arches, and ancient Arab baths.
Make sure you don't miss out on a Seville to Ronda day trip. There are also tours you can join if you prefer.
How to get there: The bus from Seville to Ronda takes somewhere between 2 and 3 hours. By car, it is only a 1-hour 40-minute drive. You can park in the parking house before entering the area of pedestrian streets or you can park for free in the streets around the town. Here is a complete parking guide I wrote.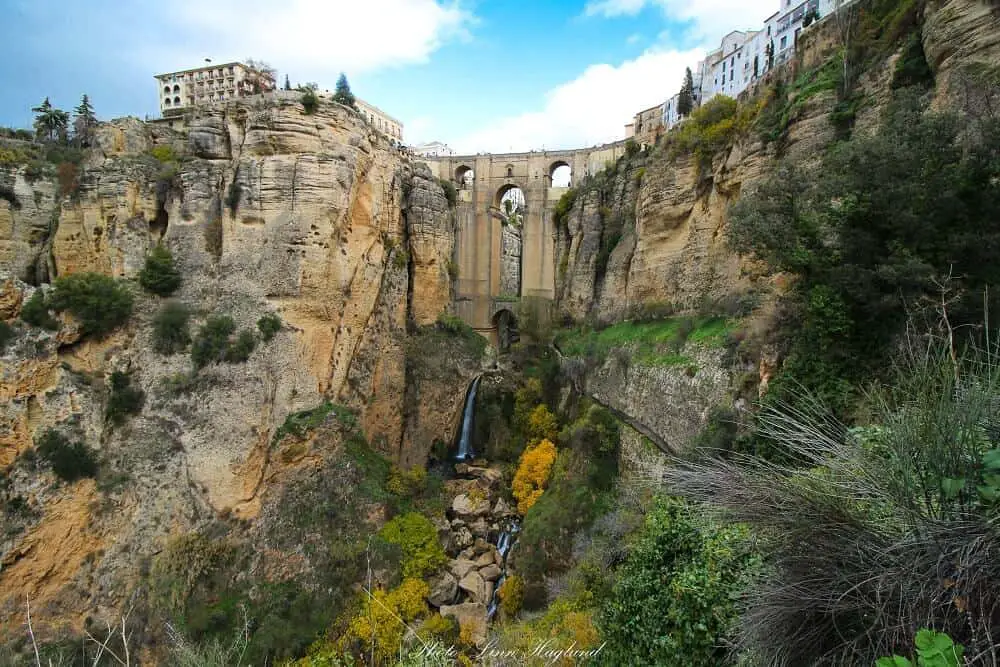 El Torcal de Antequera
El Torcal de Antequera Natural Park hosts what is the most astounding karst landscape in Europe. Situated between Malaga and Seville it is an easy day trip from either city.
Get ready to walk between a landscape that has been formed over millions of years and once was emerged in water. The amazing flat, round rock formations look like they are placed on top of each other while others resemble faces and figures.
Walk off the path and have your lunch on one of the rocks while admiring this stunningly beautiful natural wonder.
There are two paths and they only take one and two hours to walk and are both easy. If you're lucky you might even see mountain goats hanging out by the trail or majestically standing as silhouettes on the rocks.
How to get there: It takes about 2 hours to drive from Seville to El Torcal de Antequera. There are trains to Antequera, but the journey takes 3:30 hours or more one way. Plus a taxi to the actual natural park, so it wouldn't be worth it for a day trip.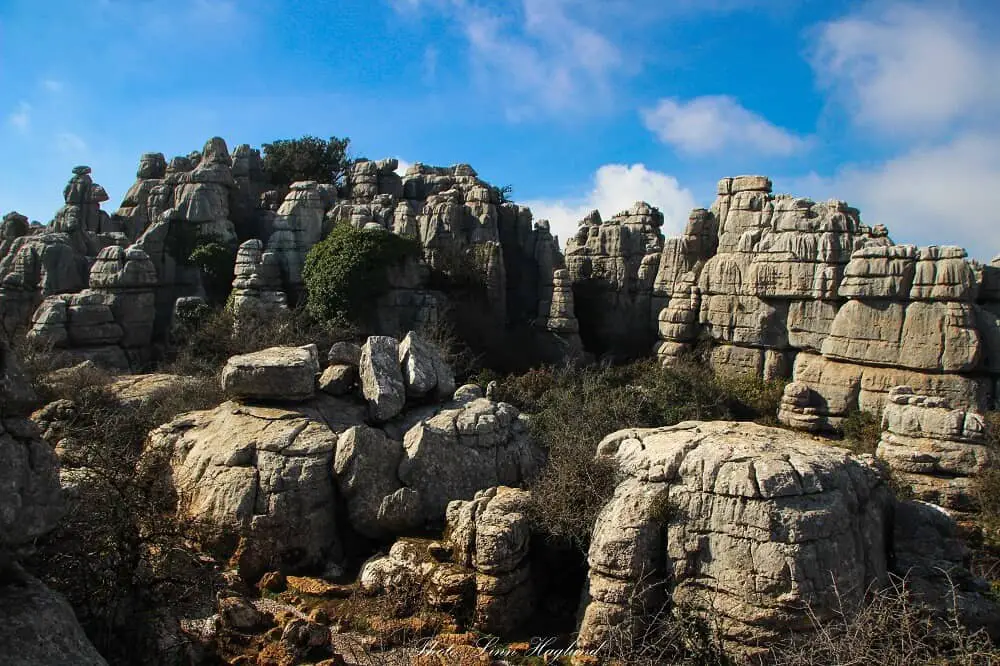 Vejer de La Frontera
This beautiful white village is situated on a hilltop overlooking the mesmerizing Andalusian countryside. You definitely want to walk La Ruta del Amor or The Love Route in English.
Winding through narrow streets between whitewashed houses, this route takes you through all the sights in the village. Unique in the way that the medieval city walls are somewhat blended with whitewashed houses or vice versa. Think houses built into the fortified walls.
Make sure you stop for lunch at Plaza de España, the charming round square with a refreshing fountain in the middle.
How to get there: The bus from Seville to Vejer de la Frontera takes about 2 hours and 15 minutes. I recommend driving as it only takes 1 hour and 40 minutes.

There is plenty of parking at the bottom of the village by the tourist information and there you can ask for a map of the love route too.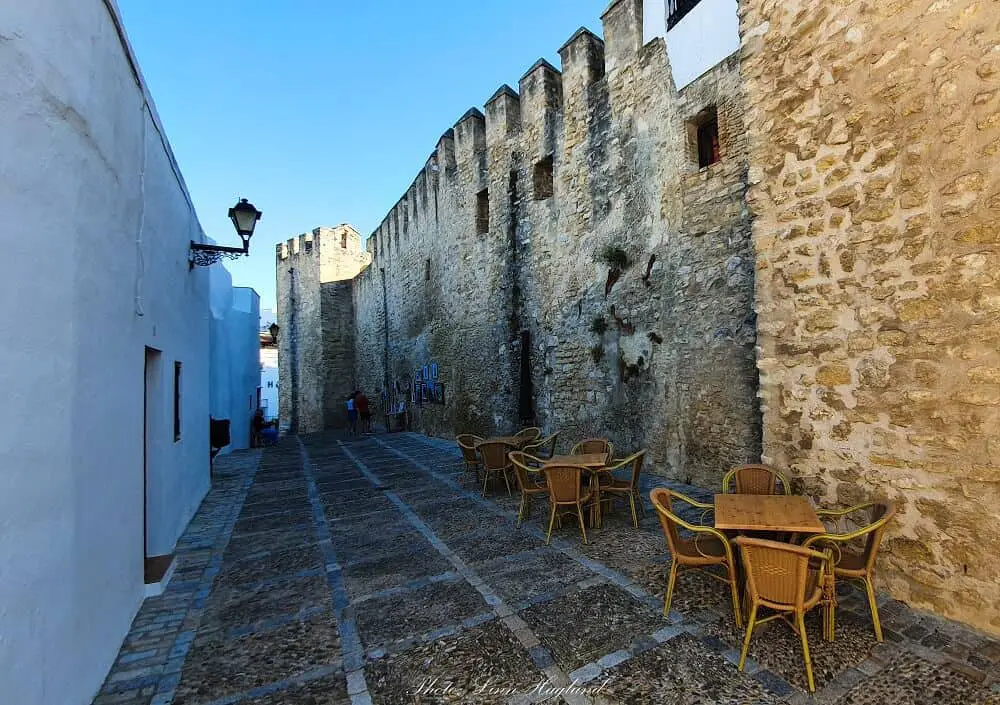 Osuna
Osuna is another great day trip from Seville. The quaint village is easily recognized from the highway by the hilltop church, Colegiata de Santa Maria de la Asuncion. This is where you'll enjoy the best views of the village and the surrounding countryside.
While getting lost in the streets of the white village, make sure you don't miss out on Monasterio de la Encarnación and the Old University on top of the hill.
There are many beautiful buildings and doors nestled in the narrow streets, but one of the best things to see in Osuna historical center is the called de San Pedro street where you'll find several spectacular examples of 16th-18th century baroque palaces.
Beyond the town's attractions, Osuna hides a large area with several Roman and pre-Roman excavations worth checking out, the most noteworthy being the Coto de las Canteras.
A 15-minute walk from Osuna, you find the impressive Coto de las Canteras, an archaeological site of carved rocks.
How to get there: The bus from Santa Justa in Seville to Osuna takes about 1 hour and 30 minutes and there are a few buses running throughout the day. By car, it takes about an hour on the A-92.
Granada
While I highly recommend more time, it is fully possible to explore Granada in one day. Housing one of Spain's most sought-after attractions, the Alhambra, Granada is a must-visit on any Andalucia itinerary.
To get the most out of your day trip, I suggest getting skip-the-line tickets or preferably taking a guided tour of the Alhambra to see the whole complex and learn about its intriguing history. Check availability here.
To save yourself the hassle of getting there, I recommend this full day tour from Seville to the Alhambra.
For the rest of the day, you can wander around the historic neighborhood of Albaicín and the old gypsy neighborhood of Sacramonte renowned for its cave houses which you can learn more about and see first-hand in the Sacramonte Cave Museum.
A day trip from Seville to Granada is an absolute must. Granada is no arguing one of the most beautiful cities in Andalucia!
How to get there: You can easily drive to Granada from Seville. You can park outside the old city walls above Albaicín district and when visiting the Alhambra, there is paid parking outside. By bus and train, you can expect to travel up to 3 hours each way, so I would recommend taking a guided tour from Seville if you don't drive.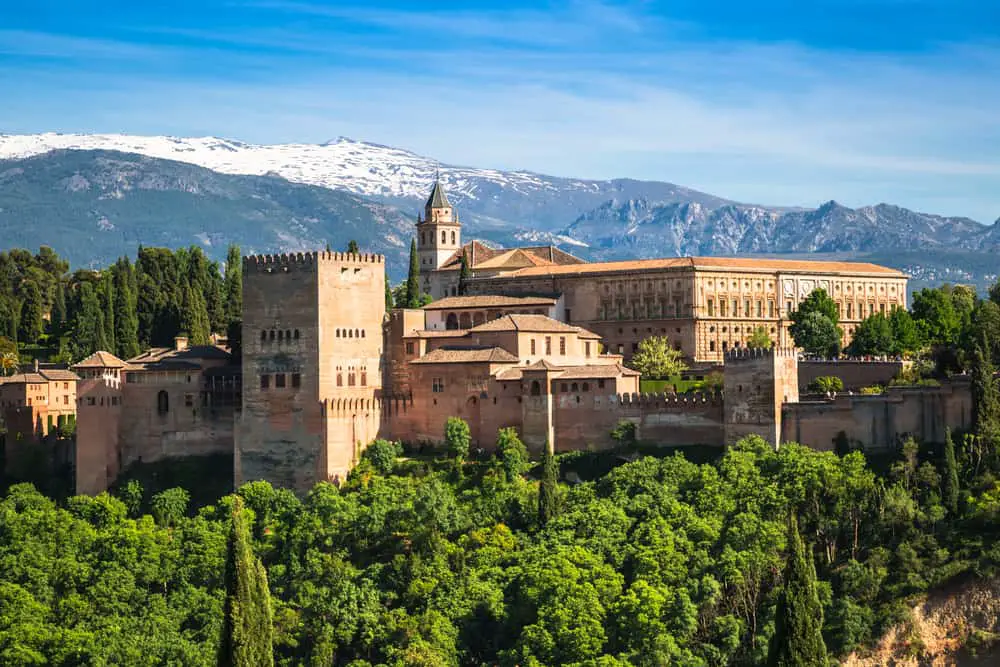 Tavira, Portugal
Less than a 2-hour drive from Seville, you get to one of the most charming towns on the Algarve coast, Tavira. It's the perfect place to get lost in narrow streets closed up by the colorful tiled walls of small fisherman's houses and have ice cream overlooking the river dividing the town.
You can go back in time by exploring the medieval castle in the heart of the old town and Camera Obscura.
Take a boat trip to Tavira Island or simply walk over the bridge to one of the best beaches in the Algarve, Barril Beach, where the little train can take you the rest of the way if you don't feel like walking the last 15 minutes through Ria Formosa Natural Park. Make sure you check out the anchor cemetery when you arrive on your left-hand side.
Santa Luzia is also a charming little fishing village to visit for lunch on the way.
An alternative way of seeing Tavira and Ria Formosa is to go by Tuk-Tuk Tour.
How to get there: You can easily drive to Tavira from Seville. There is free parking by Tavira Bus station next to the river. From there you can easily walk around town to the main sites, and it's only a 10-minute drive to get to the trail to Barril Beach on Tavira Island.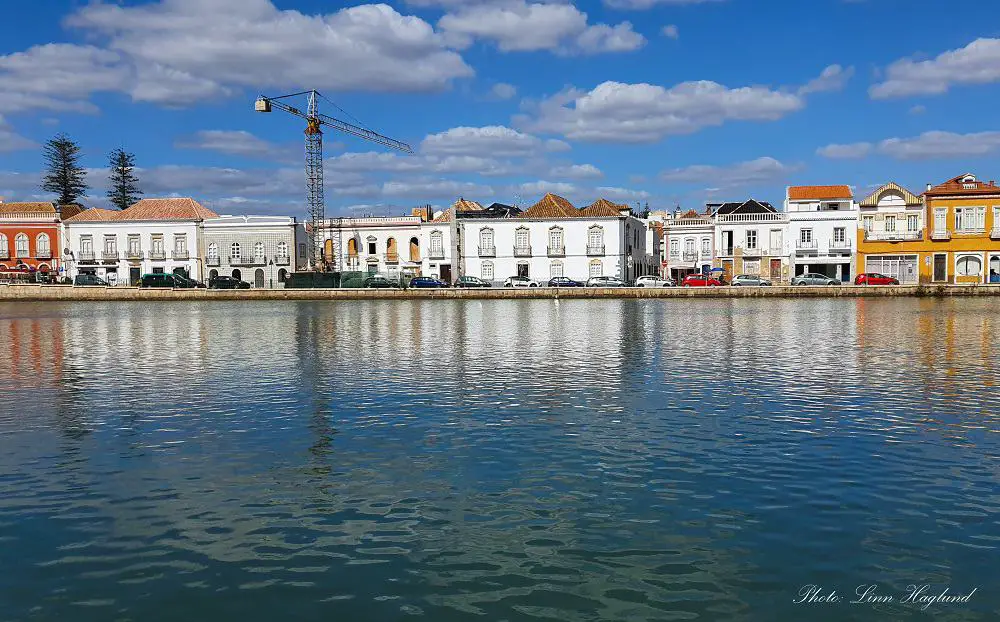 Reflections on Seville day trips
There is no doubt there is a large number of awesome day trips from Seville to explore! I really hope you found something you'd like to venture out on here and that you enjoy your Andalusia vacations.
When going on day trips from Seville, be a responsible traveler, and avoid anything supporting unethical animal tourism, including visiting the bullfighting rings. By buying tickets to these, even when there's no bullfight going on, you still support future bullfights, thus animal cruelty.
Pin it for later!