The first thing you need to know when visiting Ronda by car is where to park. I've traveled to this dramatic bucket-list town multiple times. Most of them by car, which is also why I've figured out the best places for parking in Ronda Spain.
Whether you're on a day trip and just want a convenient parking spot or you plan to stay a few days and prefer free parking in Ronda, there are plenty of options if you only know where to look.
To save you the trouble, I've done the research over several trips, so in this post, I'll give you tips on my favorite spots so you can know where to park in Ronda before you go.
Disclosure: This post may contain affiliate links. That means that if you make a purchase through one of those links, I will get a small commission at no extra cost to you.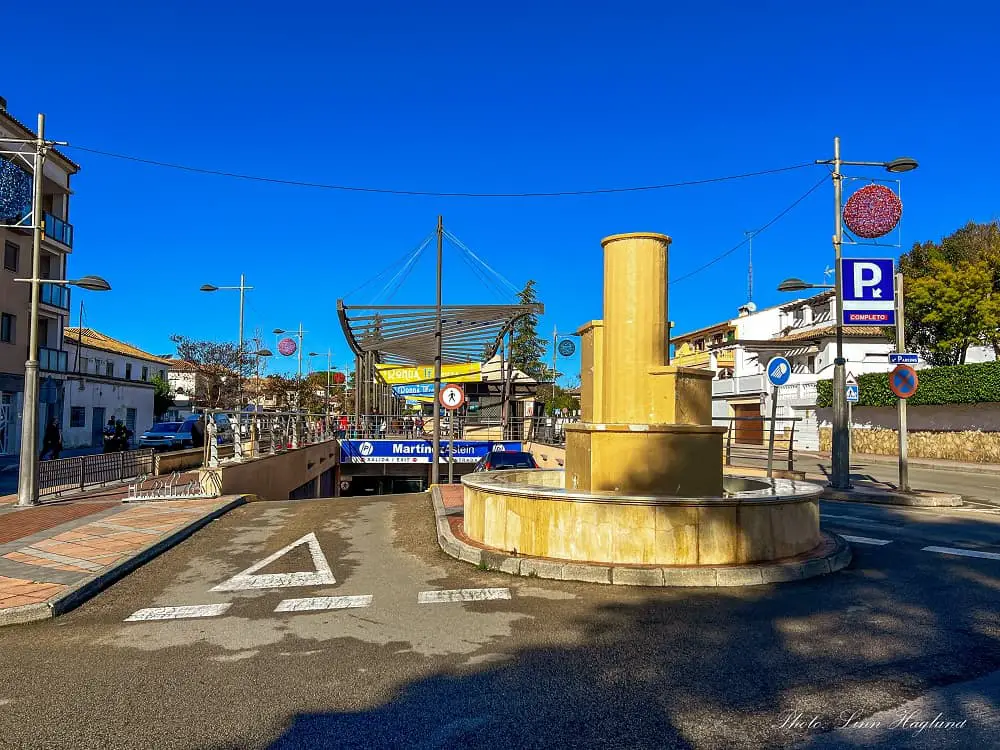 Parking in Ronda Spain
Parking in Ronda Spain can be a little bit complicated as you can't drive into parts of the old town and parking is limited. Thus, the street parking around the old town gets pretty crowded with plenty of residential houses.
In immediate proximity to the old town street parking is mostly paid. They are indicated with blue lines.
Free parking, on the other hand, is marked with white lines. And in some streets, there are no lines and no signs indicating you can't park – then it's also free. You'll usually see other cars parked there.
There's also a well-located parking garage which makes for excellent Ronda Spain parking for day trips, I'll get back to that later.
Finally, you can find hotels with free parking which is ideal if you plan on staying more than one day in Ronda.
Read on to find out where to park in Ronda Spain.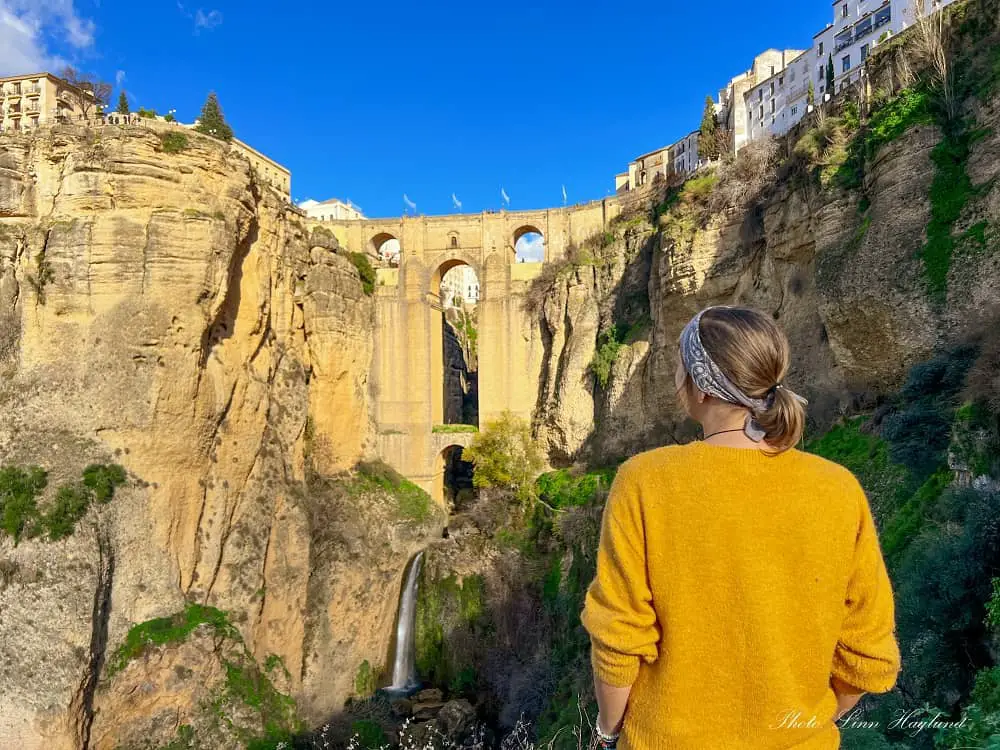 Where to park in Ronda Spain
Parking garage: Parking Martínez Astein
Address: Av. Martínez Astein, s/n, 29400 Ronda, Málaga
Whenever I go to Ronda for a day trip, I opt for the parking garage (open 24 hours) which is located when you enter the town right on top of the main pedestrian street.
Parking in Ronda Spain doesn't get easier than this and for me, it's worth the parking fee as it's easy to get there and you just have to walk straight down the pedestrian street to reach the tourist attractions.
Parking there costs €1.70 per hour, which is not too bad for a few hours of exploring Ronda. But if you plan on staying for more days, you might want a cheaper alternative.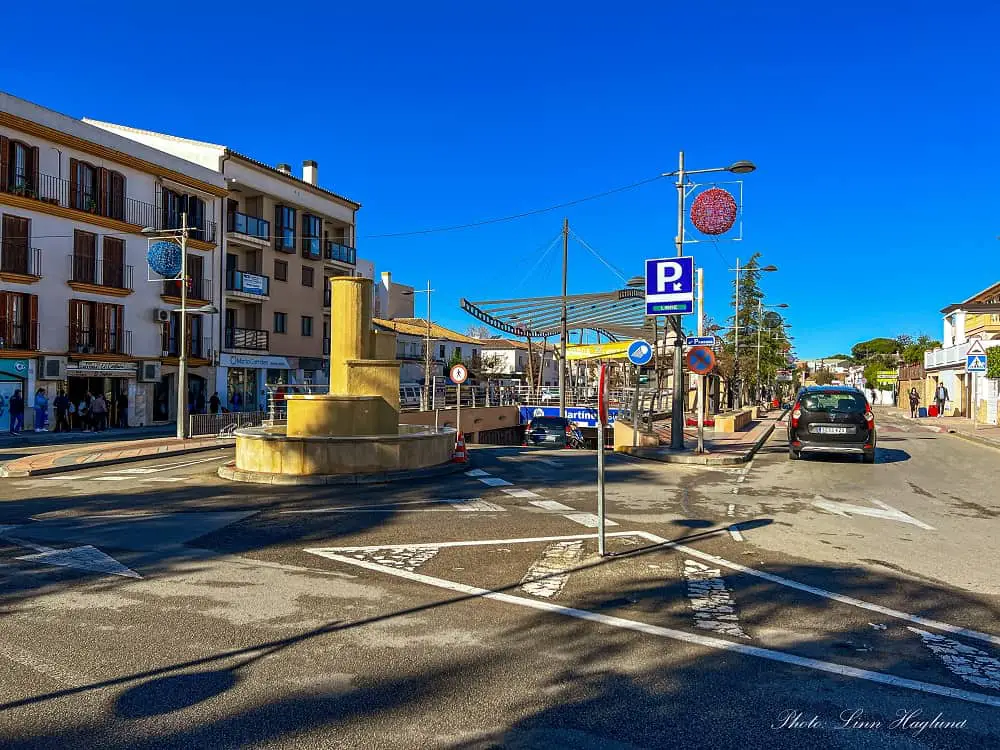 Free street parking
Passing the above-mentioned parking garage, you can follow the road up to the train station where you take a left and continue on that road (you'll be forced right shortly after) there is a small parking area with free parking spots where I sometimes find parking.
This is only a 5-minute walk from the parking garage and the top of the pedestrian street which makes it ideal.
If that is full, I suggest driving to the public swimming pool. There is free parking outside which is usually free.
In case you don't find spots there, try the streets nearby, around the supermarkets, ALDI and Mercadona. This is only a 15-minute walk from the historic center, so it's a good spot.
Personally, I've never had problems finding a parking spot within these areas.
There is also parking in some areas in the old town, like near the Old Bridge, but it's usually filled up by locals living in the area, so I would try to avoid driving in there to leave those spaces for people that live there and avoid unnecessary stress in the narrow streets.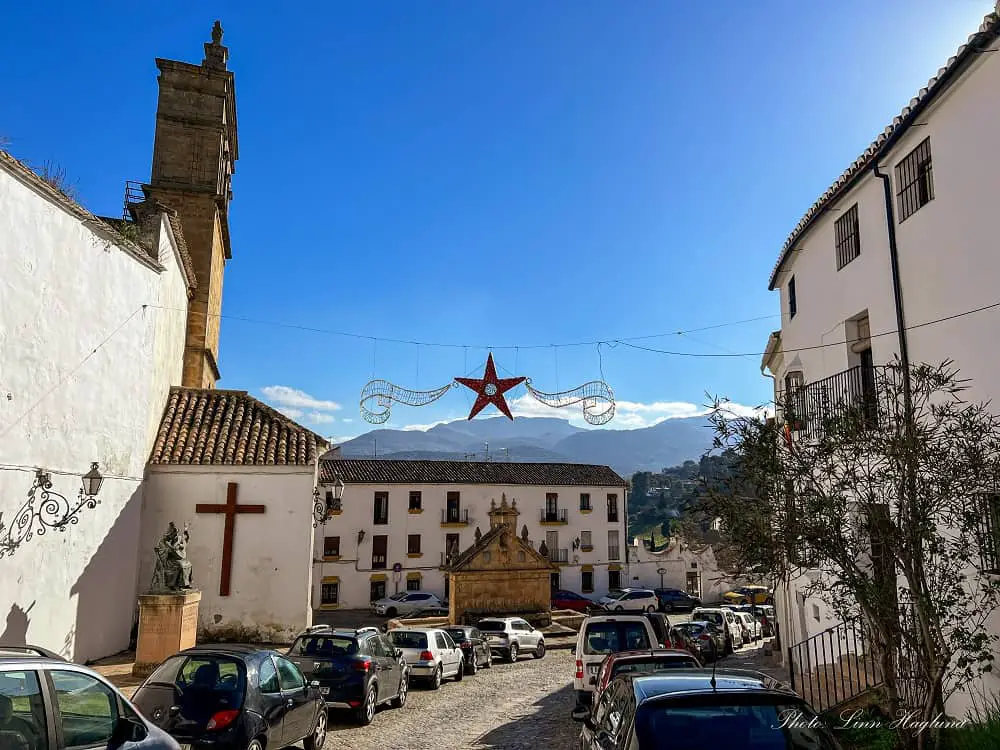 Hotels with parking
Finally, if you find public parking in Ronda Spain complicated, you can opt for hotels with parking when visiting the town.
There are several options, but here are some of the best places to stay in Ronda with parking available either onsite or offsite.
Parador de Ronda is set in a historical building atop the gorge and beside Puente Nuevo. It has a small parking garage for guests under the building.
Catalonia Ronda has splendid views of the bullring from its rooftop infinity pool. Besides, you can indulge in their spa which comes in very handy after long days exploring the town. There is only parking for unloading/loading luggage outside the hotel, but they offer valet parking for an extra cost which is very convenient.
Hotel Montelirio is a lovely boutique hotel located on the edge of the dramatic gorge. They have an outdoor swimming pool and allow pets. There is no parking onsite, but let them know when you book that you come by car and they will organize parking for you offsite.
Hotel Maestranza is a great budget option with a parking garage under the building. It comes at an extra fee and if you're nervous driving in narrow parking garages, the staff will park it for you which makes it super pain-free.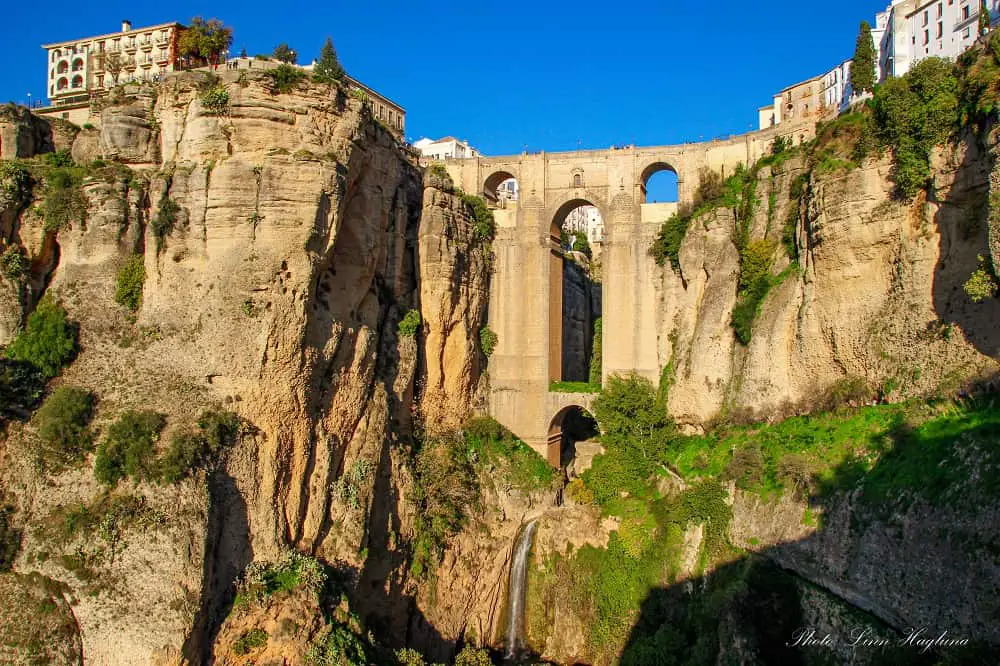 Campervan and RV parking
If you travel by van or campervan, you need to think differently. We have a small van that is lower than 2 meters which makes it fairly easy to mingle with other cars and street parking isn't an issue.
You should under no circumstances try to enter the old town with an RV or longer vehicle in general. My recommendation for free street parking is the area I mentioned above outside the public swimming pool or the Mercadona and ALDI supermarkets.
We parked up there for a few days on our last trip. Note that this is street parking with no facilities, though there are toilets in the supermarkets. However, it's good for a day trip or a night's stay.
If you're looking for comfortable RV parking with facilities, check out Ronda's Caravan area, where you can empty and fill water tanks and use toilets, sinks, and showers. They also have WiFi available.
Conclusion: Ronda Spain parking
Summing up where to park in Ronda Spain, these are the best options I have found after visiting the town over many years of travel.
Because the truth is, car parking in Ronda Spain can be a bi*ch if you don't know where to look for it. And as a final tip, I really don't recommend driving into the old town unless you're heading to a hotel with parking.
Streets are narrow, there are pedestrian streets, and one-way streets making it hard to navigate unless you know where you're heading.