Malaga is a beautiful city located in the Andalusia region of southern Spain. Known for its rich history, vibrant culture, and stunning coastline, it is a popular destination for tourists from all over the world.
Among the top things to do in Malaga, Spain, you can walk back in time to uncover the Roman and Moorish heritage of the city, but there are also a whole lot of interesting museums of different types.
Foodies will enjoy the tapas scene and being a city where locals, expats, and tourists co-live in perfect harmony, there is even a great vegan foodie scene in Malaga!
Malaga's beaches are also a lovely addition, especially in the hot months when you can't go near inland cities like Seville and Cordoba.
There is a wealth of things to do in Malaga, which can make it hard to know where to start. That's why we've put together a list of what to do in Malaga, so you can make the most of your trip.
Disclosure: This post may contain affiliate links. That means that if you make a purchase through one of those links, I will get a small commission at no extra cost to you.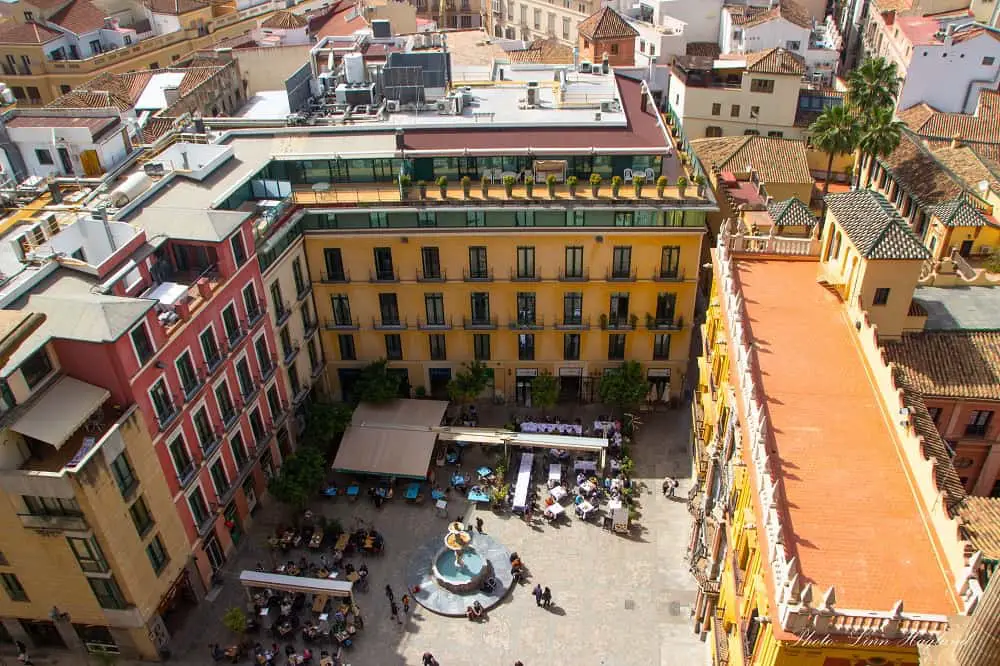 MORE FROM MALAGA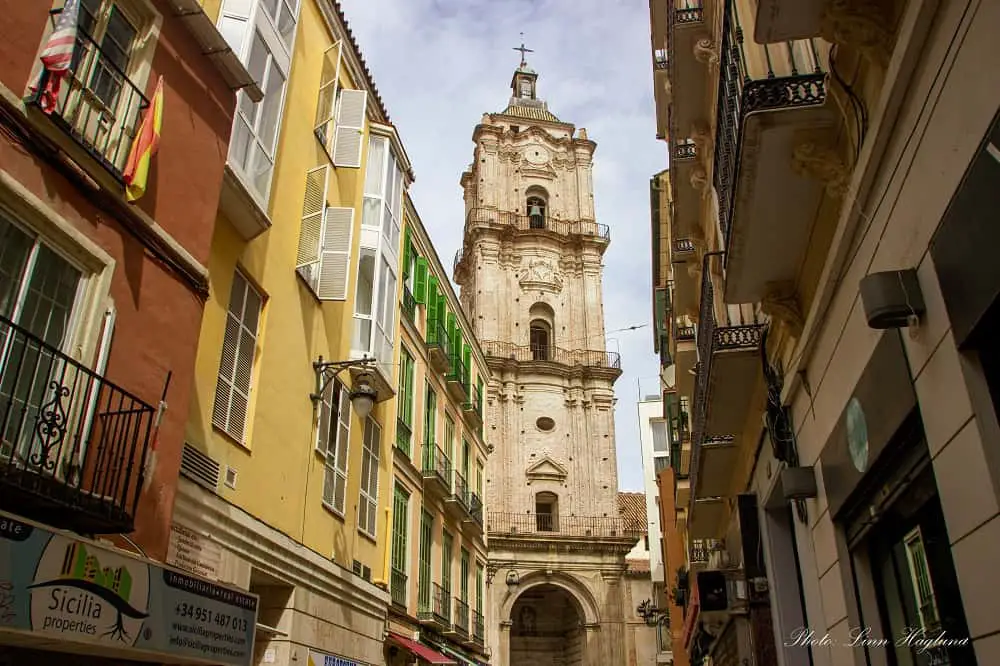 Things to do in Malaga
Enjoy the sweeping views from Gibralfaro
Among the best things to do in Malaga, a visit to the enchanting Gibralfaro cannot be missed. This was actually where I met my fiancée the old-fashioned way and has not so surprisingly turned into my favorite Malaga attraction.
Besides my personal attachment to Gibralfaro, it is one of the best places to visit in Malaga. This historic castle is a true emblem of the city's layered history.
Initially founded by the Phoenicians and later developed by the Moors, it graces a hill offering breathtaking panoramic views of the city.
It's a haven for photography buffs and a top spot to witness the mesmerizing sunset – if not from the castle, make sure you make it down to the viewpoint below.
From there, you can see the pink hue of the sunset on the horizon as the golden light colors the marina and surrounding buildings and green spaces.
Truly, Gibralfaro embodies a blend of natural beauty and historical significance, securing its position in the list of top 10 things to do in Malaga for history buffs and nature enthusiasts alike.
To visit Gibralfaro, you must walk the steep hill, so make sure you have comfortable shoes.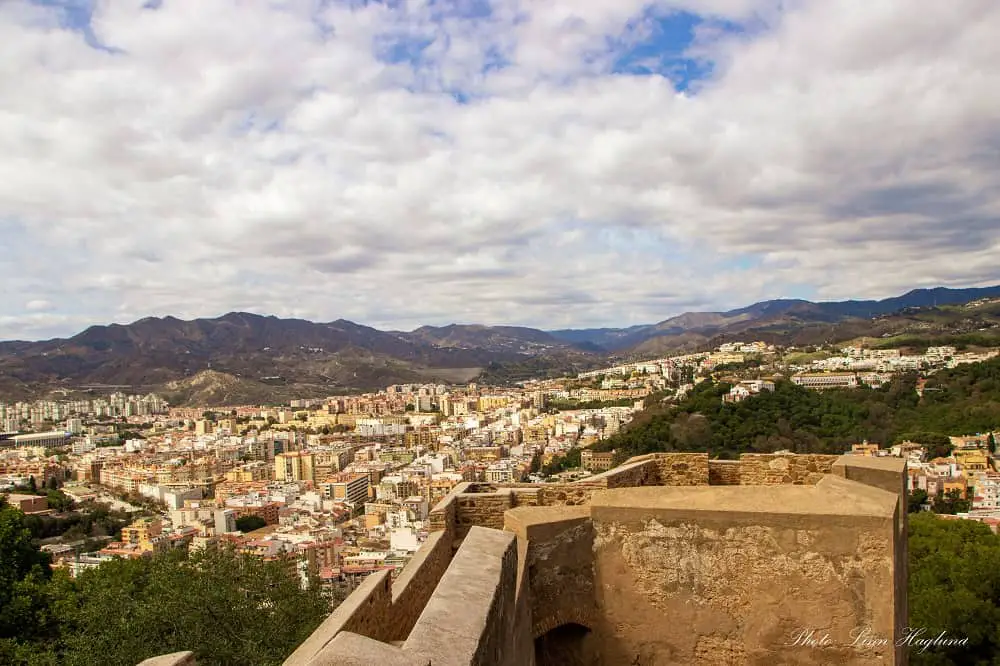 Climb to the top of Malaga Cathedral
Another one of the best things to see in Malaga Spain is the view from Malaga Cathedral.
Ascending to the rooftop of the cathedral should definitely be added to your Malaga itinerary. It is a separate ticket from the Cathedral entrance, but it is so worth it.
The meeting point is in the picturesque orange garden which is also a lovely place to sit down and unwind for a moment before climbing the steep steps to the top of the structure.
Once you reach the top, you're treated to breathtaking views encompassing the vibrant cityscape, a sight that holds a certain allure for locals and tourists alike.
I especially love the views of the Alcazaba and the Gibralfaro castles crowning the hilltop overlooking the marina.
As a Malaga must-see, Malaga Cathedral is a testament to Malaga's rich history, showcasing a harmonious blend of Gothic and Renaissance styles – even though it was never quite finished.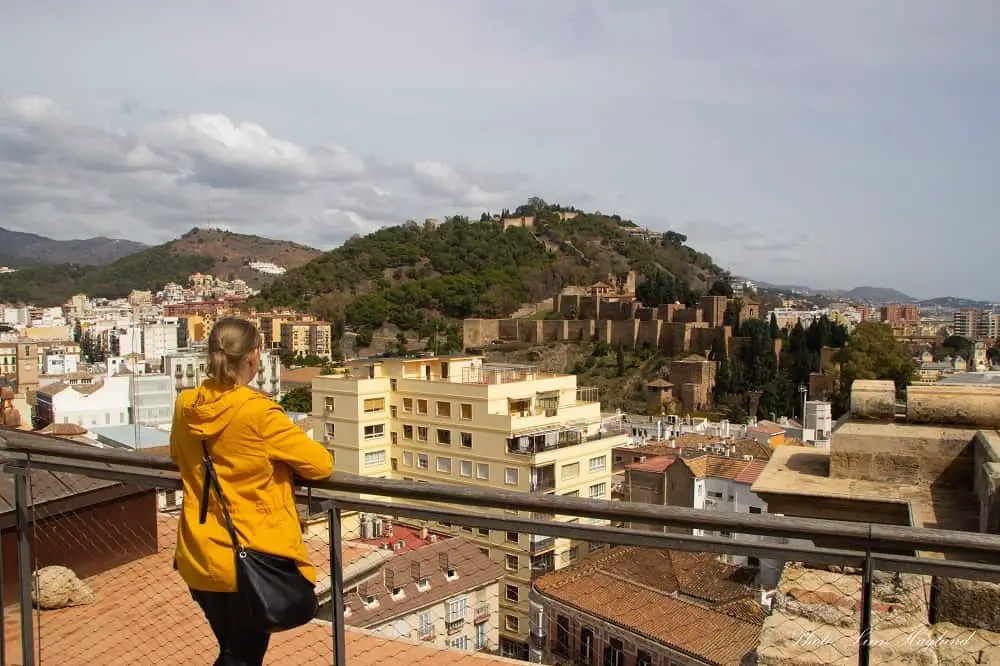 Party hard at Feria de Malaga
Malaga Fair, aka Feria de Malaga, is one of the best fiestas you can experience in the city. In the Old Town you will find the streets full of people drinking Malaga Dulce and dancing as you come across epic live concerts on every square in town.
It's one of my favorite times of the year to visit the city so if you happen to travel to Malaga in August, make sure you go there when the feria is celebrated. It's by far the best time to visit Malaga.
Besides the festivities in the city center, there is also a large fairground and feria area full of "casetas" where you find anything from traditional Sevillanas music and food to hip nightclubs.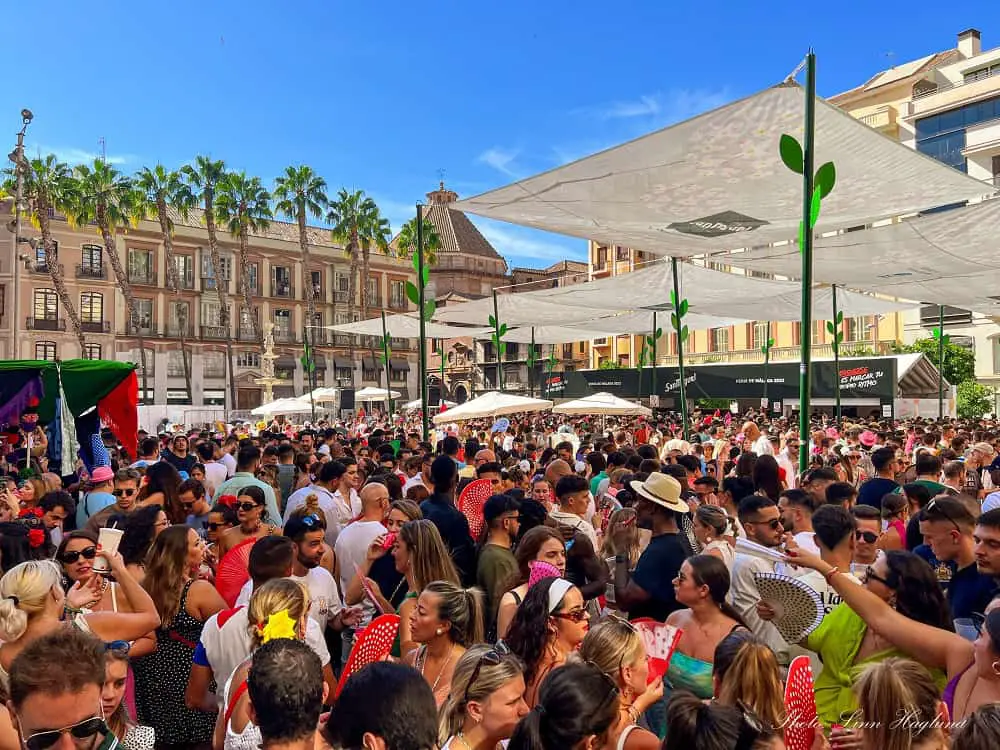 Explore the Moorish palace, Alcazaba
Visiting the Alcazaba is a must-do when exploring Malaga. This impressive Moorish fortress dates back to the 11th century and offers visitors a glimpse into the city's rich history.
The fortress is located atop a hill overlooked by the Gibralfaro fortress and boasts stunning views of the city and the Mediterranean Sea. Visitors can explore the various courtyards, gardens, and fountains that make up the opulent complex.
The Alcazaba also houses a small museum that features artifacts from the fortress and the surrounding area. As you wander through the fortress, you'll feel transported back in time to the height of the Moorish era in Spain.
This is truly one of the most beautiful castles in Malaga and a must on any itinerary. There are guided tours of the Alcazaba if you want to learn more about its history as you wander through the perfectly groomed gardens.
Don't miss out on this historic gem when visiting Malaga. It's basically the most impressive attraction in the city. I also recommend booking Alcazaba Malaga tickets in advance, especially if you want to get a guided tour.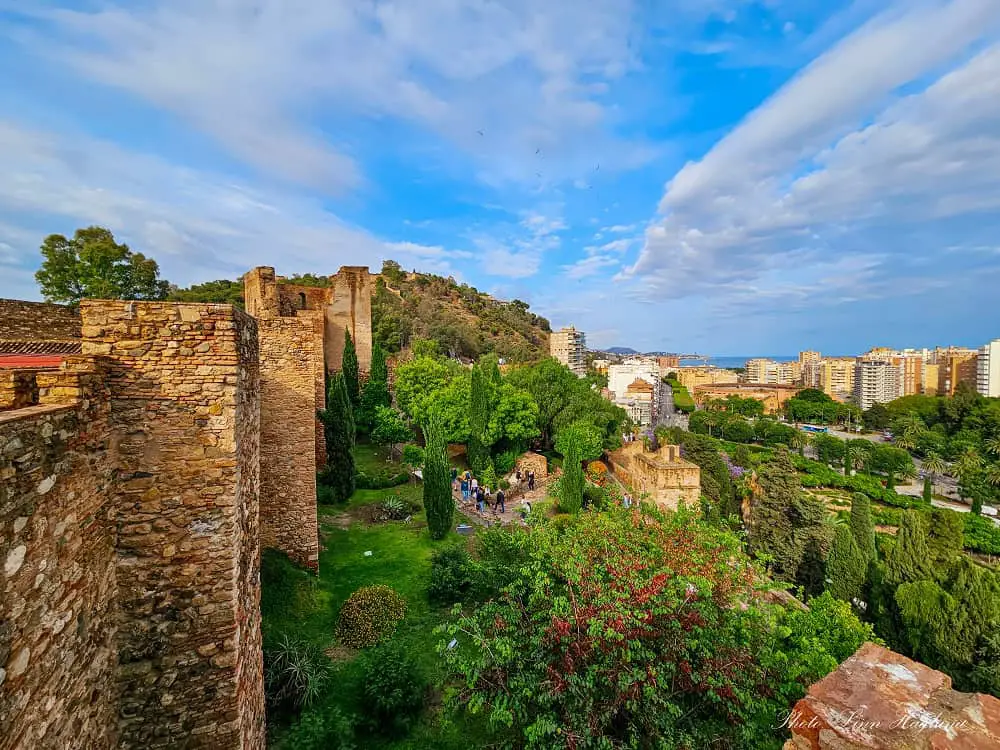 Take a boat trip
For travelers scouting for vibrant water-related activities in Malaga, embarking on a picturesque boat trip is a top contender.
As you set sail, you can witness some of the most beautiful places in Malaga from a fresh, sea-bound perspective.
This venture provides a break from the bustling city life. It offers a unique opportunity for Malaga sightseeing, encompassing views of the sun-kissed coastlines and historic landmarks lining the shore.
Moreover, these boat trips often come equipped with knowledgeable guides who share insightful narratives about the city's maritime history, enhancing your understanding and appreciation of the region.
Therefore, whether you are a history enthusiast seeking to deepen your knowledge or simply enjoying the tranquil sea breezes, a boat trip embodies the quintessential Malaga experience, promising a delightful time amidst the azure waters.
You find anything from romantic sunset cruises to party cruises and thrilling speedboat trips among the Malaga boat tours on offer.
CHECK OUT THE FOLLOWING OPTIONS
Relax at La Malagueta beach
Relaxing at La Malagueta Beach undoubtedly holds a prominent spot in the list of fun things to do in Malaga.
Nestled along the city's eastern coast, this manufactured wonder is a coveted escape where locals and visitors bask in the splendid Mediterranean climate.
One of the prime places in Malaga, the beach invites you with its golden sands and azure waters, offering a blissful respite from the bustling city life.
Aside from soaking up the sun and refreshing water, the area boasts a lively promenade lined with palm trees and chiringuitos (beach bars,) serving food and drinks making it a holistic destination where natural beauty meets culinary delights.
Whether you're planning to indulge in water sports or desire to recline with a good book, La Malagueta Beach epitomizes the quintessential beach experience and remains one of the best places to visit in Malaga for a refreshing day out.
If you visit Malaga in winter, it's still nice to go for a stroll on the beach, and some days it's even pleasant to sunbathe!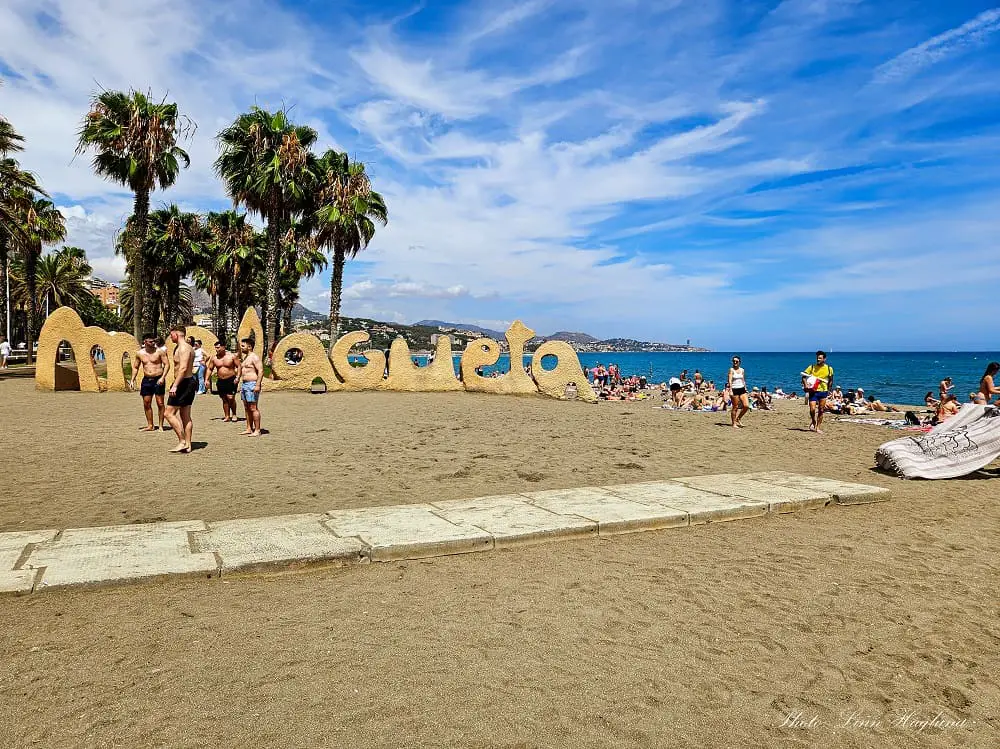 Go on a tapas tour
A visit to this vibrant city would only be complete with indulging in one of the most delightful activities to do in Malaga: a tapas tour.
As a culinary tradition that holds a firm place in the local culture, venturing on a tapas tour is one of the quintessential things to do in Malaga for food enthusiasts.
Embarking on a tapas tour is undeniably a Malaga must-do for every visitor eager to experience the city's culinary diversity.
This delightful journey allows you to indulge in a spectrum of flavors, from timeless Spanish delicacies to modern gastronomic wonders, all amidst the vibrant backdrop of Malaga's lively eateries.
As you drift from one spot to another, you'll unravel the rich culinary traditions that are the essence of the local food culture, promising not only a feast for your taste buds but also a vibrant cultural voyage.
If you're a vegan or vegetarian, I suggest you check out these places to eat vegan in Malaga and while the tapas options are limited, you'll be guaranteed to enjoy some mouthwatering food!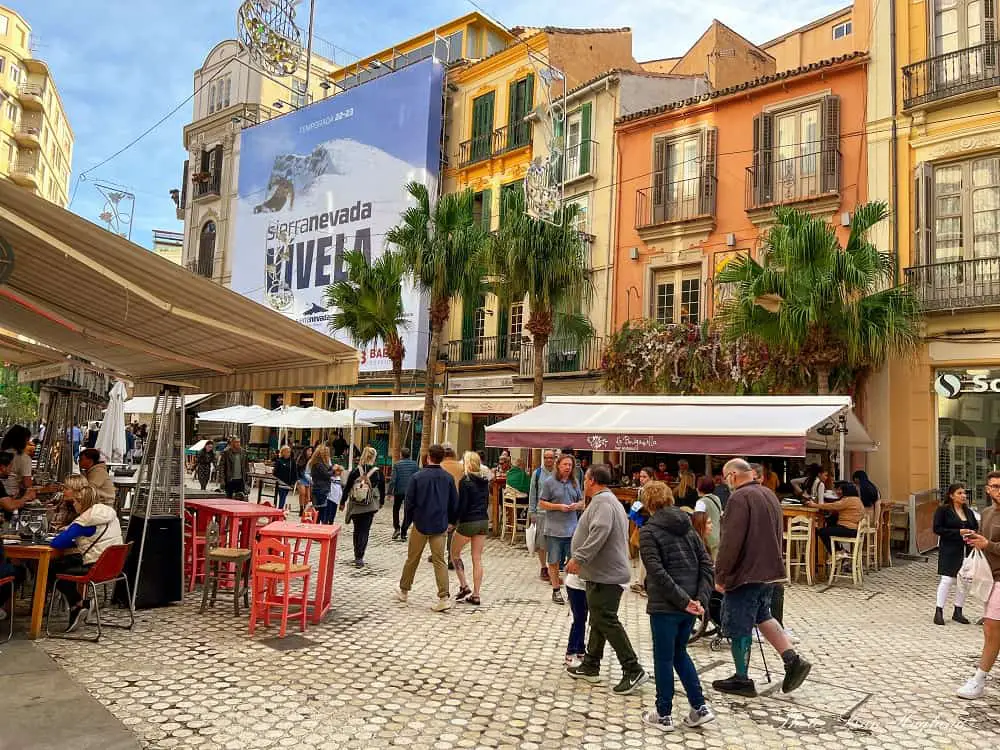 Visit Iglesia de San Juan Bautista
When embarking on a spiritual journey amongst the places to see in Malaga, visiting Iglesia de San Juan Bautista should top your itinerary.
This historic sanctuary, nestled in the city's heart, mirrors Malaga's profound Christian heritage. Upon entering, the Baroque facade immediately captures your attention with its magnificent architecture and detailed interiors, filled with splendid artworks and complex carvings.
This spiritual haven is not only a place of tranquility but also a treat for admirers of art and architecture, firmly establishing it as one of the best things to do in Malaga.
Ensuring a serene and spiritually uplifting experience, a visit here is a tranquil pause amidst the bustling urban sprawl and a nod to the city's storied past.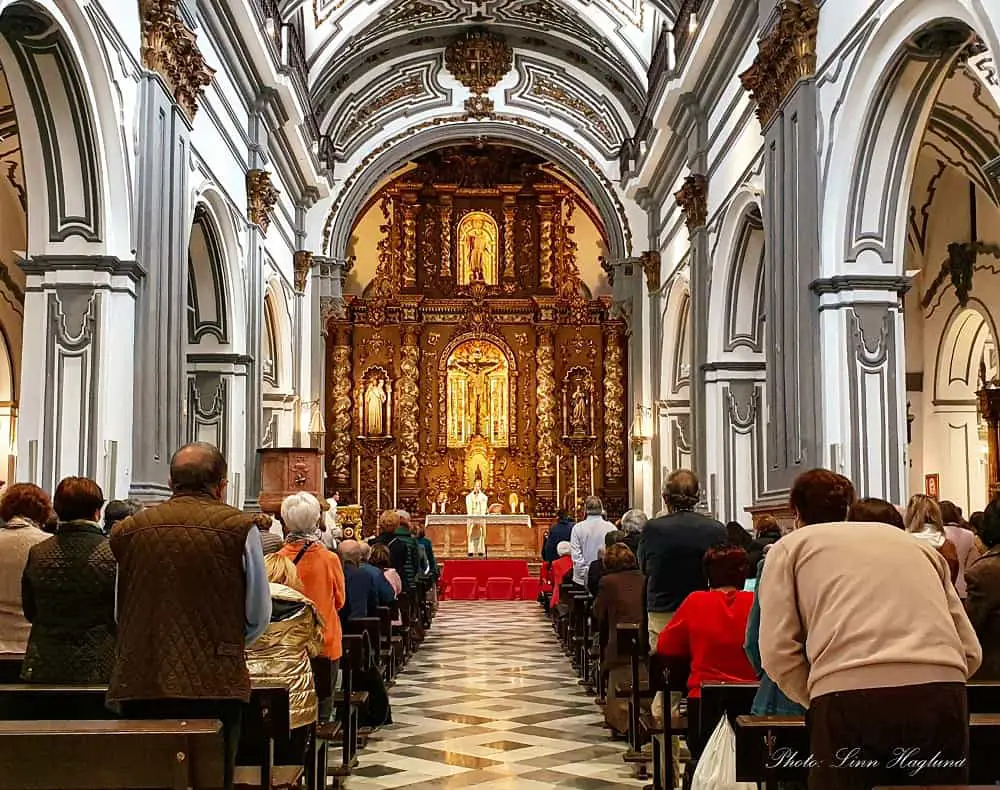 Have dinner at Muelle Uno
For gastronomy lovers pondering the unique places to visit in Malaga, an evening spent dining at Muelle Uno is an absolute delight.
Situated by the vibrant port area, this locale offers an enchanting setting where you can savor various culinary wonders, ranging from traditional Spanish dishes to modern, international flavors.
Not just a dining hotspot, Muelle Uno is also home to a series of chic boutiques and stores, promising a holistic experience of shopping and dining.
Sunset is especially beautiful from Muelle Uno, making it where to go in Malaga for dinner, especially for those eager to indulge in a culinary journey set against a picturesque backdrop.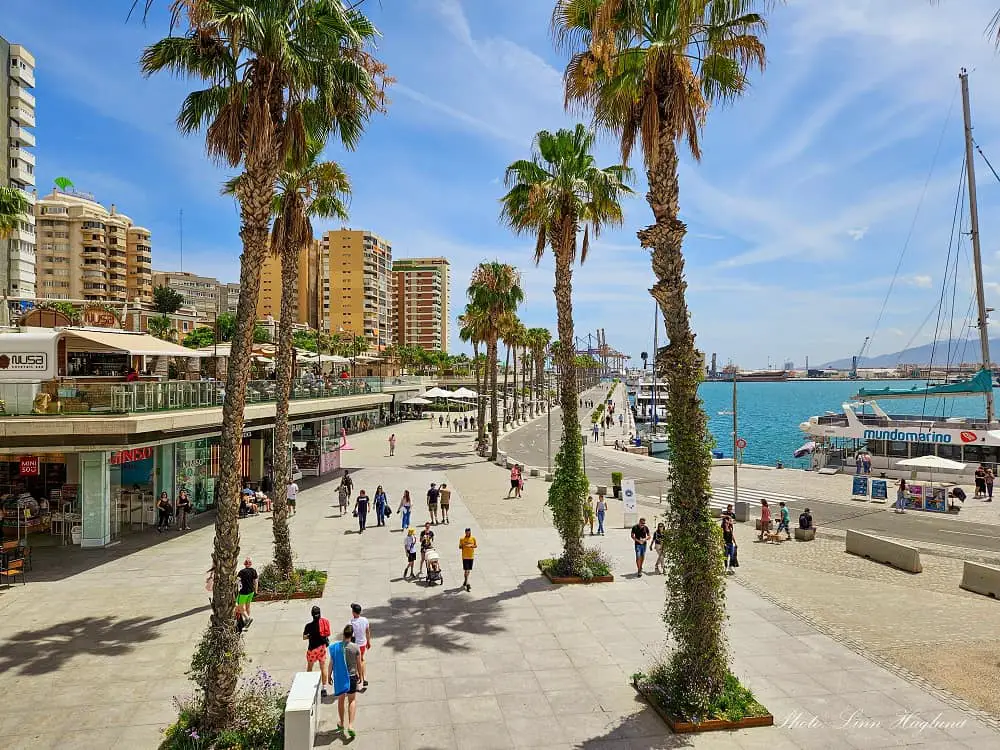 Discover modern art at the Centre Pompidou
Art lovers seeking to immerse themselves in the contemporary art scene will find the Centre Pompidou a treasure trove of modern creativity.
As one of the best places to visit in Malaga, it beckons with its vibrant collection that spans numerous forms and mediums, offering a glimpse into the evolving world of modern art.
Located within the cube-shaped building with its striking multi-colored facade, the museum hosts an impressive array of exhibits, from paintings to installations and sculptures.
Whether you are an art connoisseur or a casual observer, the Centre Pompidou provides a rich and diverse visual journey, making it a pivotal point of interest for those wondering what to see in Malaga.
Take advantage of this bastion of creativity, where art transcends boundaries and ignites a spark of inspiration in every visitor.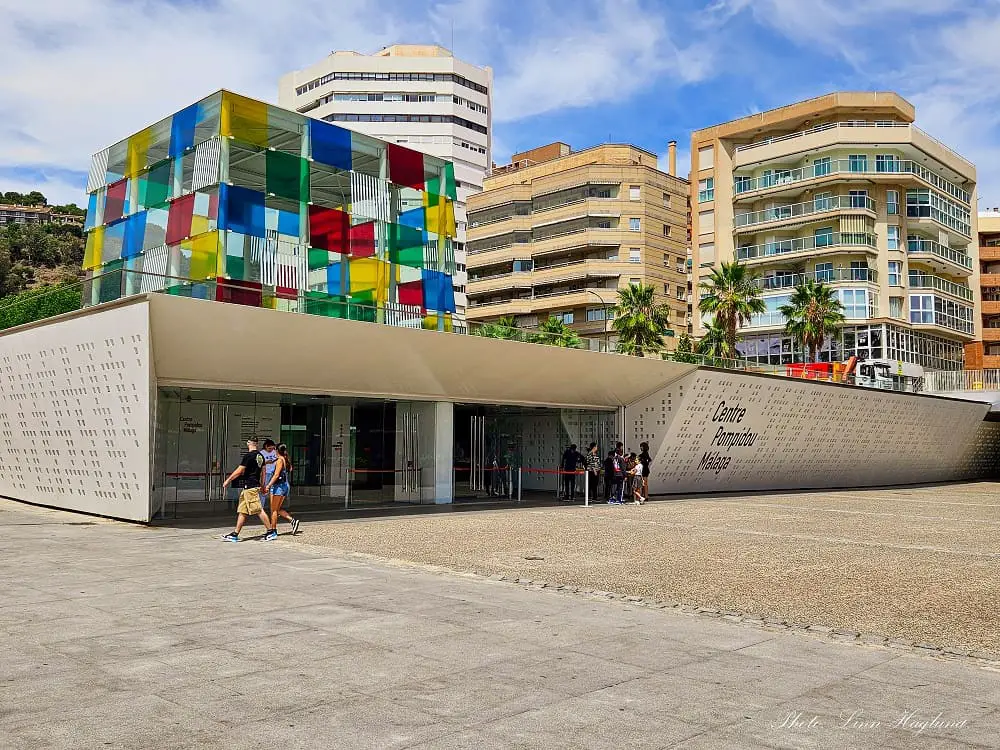 Explore the Roman ruins at the Roman Theater
Whether you're a history buff or not, exploring the Roman Theater is a must as one of the top Malaga attractions situated right below the Alcazaba.
The theater was built in the first century AD during the reign of Emperor Augustus and was used for theatrical performances and gladiatorial contests. It was rediscovered in 1951 and has since been restored to its former glory.
Visitors can walk around the theater for free and see the impressive stage and seating area. I recommend getting some vegan donuts at Bun & Coffee and admiring the ancient ruins.
The theater is located in the heart of the city, making it a convenient stop on your tour of Malaga. Exploring the Roman Theater is a fascinating way to learn about the city's rich past and gain a deeper appreciation for the ancient Roman civilization that once thrived in Spain.
Entrance to the theater is free, but if you want to learn more about the site with a local guide, I suggest you get joint tickets for the Alcazaba and the Roman Theater with a local guide.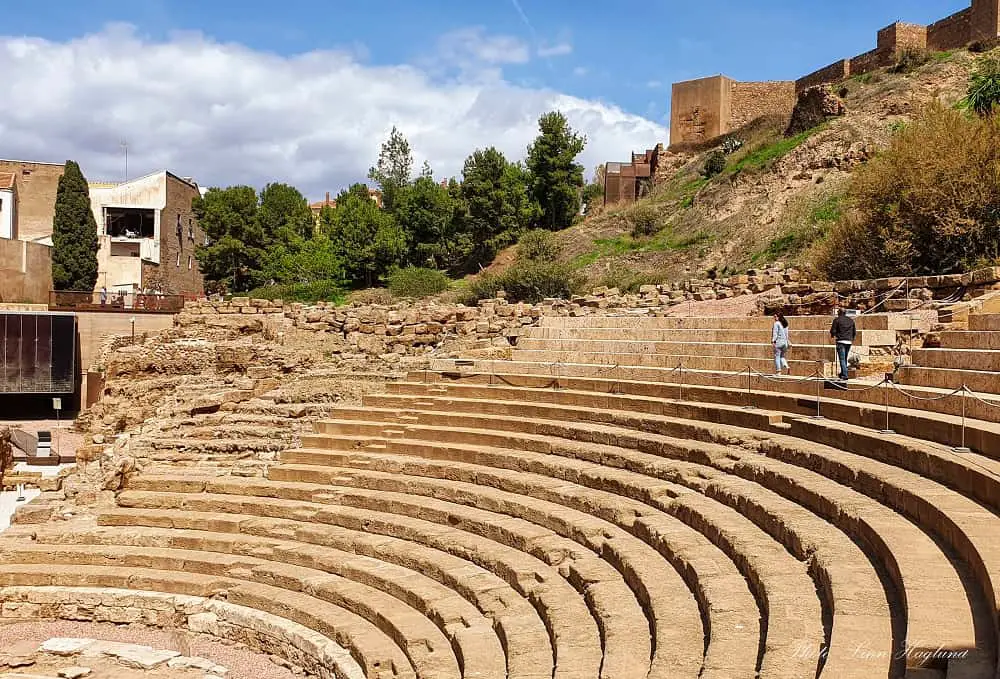 Visit the Picasso Museum
The Picasso Museum is one of the Malaga top attractions for art enthusiasts and tourists alike. Nestled in the Palacio de Buenavista, it serves as a window into the extensive repertoire of Pablo Picasso, the city's most illustrious son.
This museum, boasting over 200 works of the iconic artist, offers an incomparable journey through different stages of Picasso's artistic evolution.
Being one of the must-see places in Malaga to visit, art enthusiasts will immerse themselves in an environment that showcases a blend of his revolutionary art forms, thus offering a deeper understanding and appreciation of his genius.
Experience the parades of Reyes
The 6th of December, Three King's Day or Reyes as they call it in Spain, is the last day of the Christmas season in Spain, and the most celebrated day of the holidays. If you happen to be in Andalucia in winter, this is a truly unique experience!
On the night of the 5th and the morning of the 6th, there are parades in the streets with big floats, costumes, and music. And Malaga fills up with eager spectators.
Tons of candy is distributed to the audience and though it initially was meant for the kids, I haven't seen any adults back off the sweets that are thrown in the air (me included!)
This is by far one of the most unique things to see in Malaga Spain, so if you happen to visit Malaga in January, you're gonna get a real introduction to Spanish Fiestas!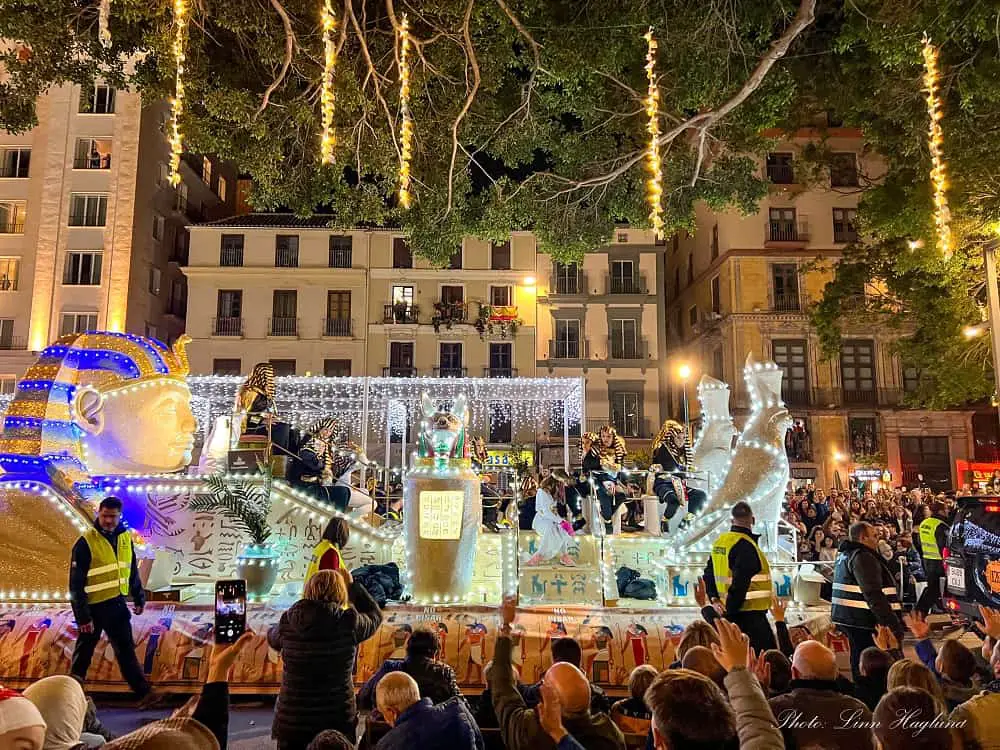 Check out Picasso's home at Museo Casa Natal
The journey through the fascinating world of Picasso continues beyond the museum. Museo Casa Natal, the birthplace of the renowned artist, stands as a tribute to his early life and influences and is one of the most important attractions in Malaga.
Situated in the Plaza de la Merced, one of the lively squares in the city, this locale transports you back to Picasso's formative years through a rich collection of personal belongings and family memorabilia.
For anyone yearning to explore the roots of Picasso's genius, this is undeniably among Malaga's top things to do.
As you wander through the rooms, you get to witness firsthand the surroundings that nurtured the early creativity of this legendary figure, making it a profound experience for art enthusiasts and curious visitors alike.
Explore Malaga's museums
For those keen on delving deep into the pulsating cultural heartbeat of the city, exploring Malaga's museums beyond the above-mentioned is a must.
This activity stands as a cornerstone in the list of Malaga tourist attractions, offering a rich tapestry of historical and artistic narratives waiting to be discovered.
In the heart of the city, the revered Picasso Museum invites visitors to a comprehensive exhibit of the legendary artist's works, marking it as one of the standout places to visit in Malaga.
Not far behind, the Carmen Thyssen Museum proudly showcases the finest of Andalusian art.
The journey doesn't end here; the Contemporary Art Center (CAC) is a modern sanctuary for art enthusiasts, offering a fresh perspective on the art scene.
And the list goes on. (one of the coolest ones I've seen, but not visited yet, is the Videogame Museum, OXO – Museo del Videojuego!)
These hubs of cultural richness not only offer an immersive experience but also an enriching insight into the region's pulsating heritage, securing a spot in the list of must-do activities in Malaga for art admirers.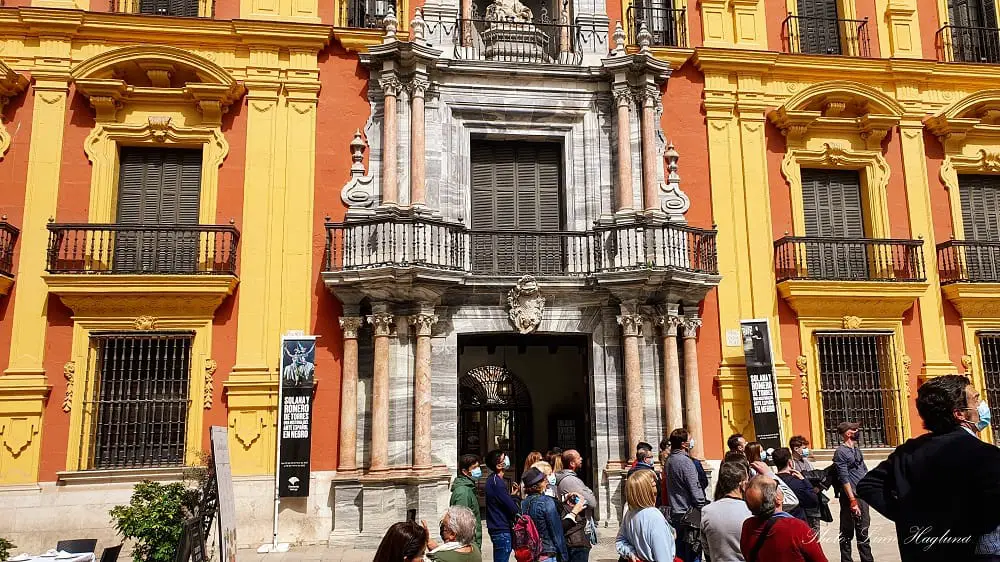 Get lost in the historic center
Venturing into the city's heart and getting lost in the historic center is one of the most enriching things in Malaga, Spain.
Malaga Old Town is a delightful maze of narrow alleys and picturesque squares, that embodies the vibrant blend of history and modernity, portraying the authentic charm of the city.
As you stroll through its labyrinthine streets, you encounter an eclectic mix of architectural styles, from Moorish fortresses to Renaissance palaces, showcasing the most beautiful sights in Malaga.
Moreover, it's a lively hub where contemporary life thrives amidst historic settings, offering bustling markets, quaint cafes, and vibrant art galleries.
This is a place where every turn reveals a new sight, a new sound, and a new aroma, encapsulating the rich and diverse tapestry of Malaga's cultural life.
Strolling through the old town is not only one of the cool things to do in Malaga, but it's also one of the best areas to stay in Malaga, especially if it's your first visit.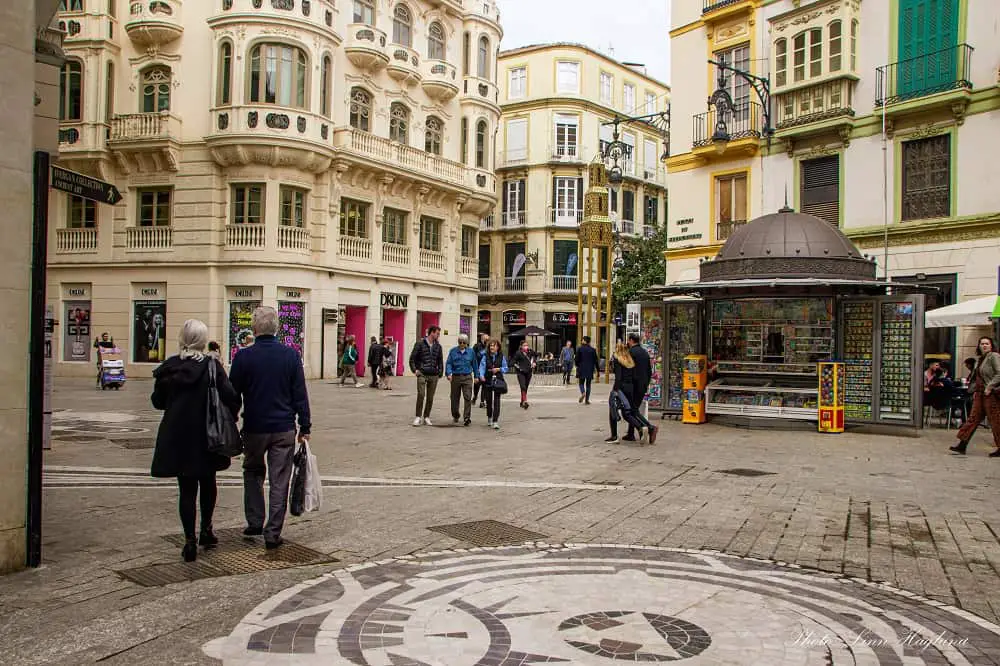 Have lunch at Mercado Atarazanas
Diving into the city's culinary heart, having lunch at Mercado Atarazanas is indisputably one of the most unique places to go in Malaga for food.
In a captivating 19th-century edifice with a distinct Moorish-style entrance, the bustling market welcomes everyone to a gastronomic paradise.
Once inside, you'll be engulfed by a lively vibe where both locals and tourists come together to discover a variety of fresh produce and local treats.
As a staple in Malaga places to visit, it offers a feast for your taste buds and a vivid sensory experience that encapsulates the city's lively spirit.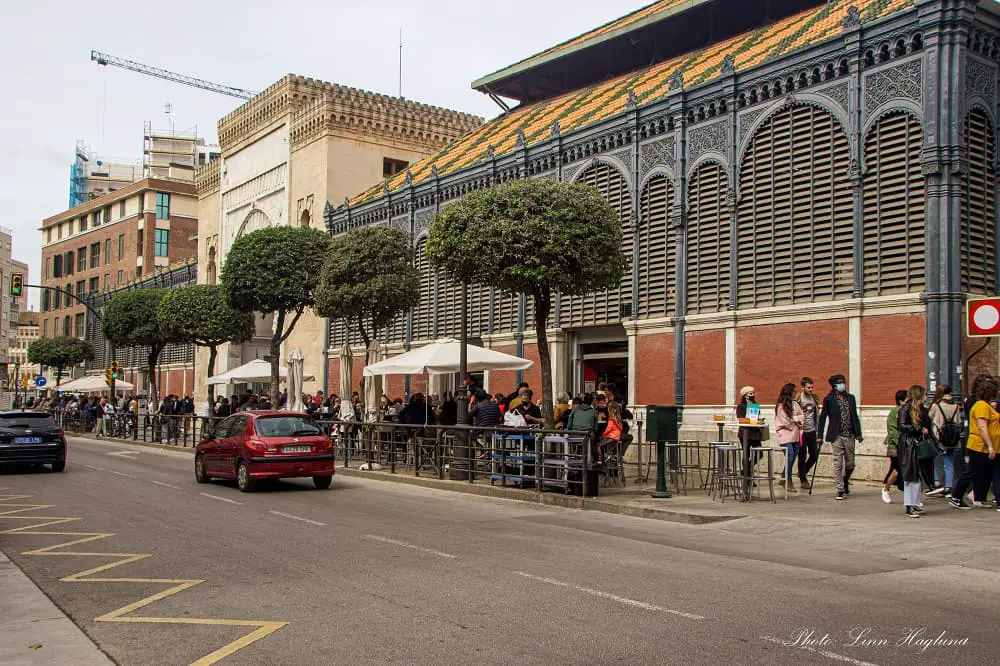 Recharge batteries at the traditional Arab Hammam Al Andalus
After a day filled with exploring the bustling corners, the Arab Hammam Al Andalus stands as a peaceful retreat and one of the best places to visit in Malaga.
Conveniently located near Plaza de la Merced, this spa offers a serene escape in the city's vibrant core.
There, you can indulge in a sequence of thermal baths, transitioning from cold to hot, amidst the calming fragrances of jasmine and lavender.
With a variety of therapeutic massages and treatments available, it's a tranquil spot where you can pause, refresh, and rejuvenate both body and mind.
Undoubtedly, a visit there should be on the top of the list of what to do in Malaga Spain, offering a unique blend of traditional Arab spa culture with modern luxury, promising a truly serene experience.
Stroll down Calle Larios
Looking for where to go in Malaga for an enjoyable day of shopping and relaxation? Don't miss a walk down the vibrant Calle Larios.
This bustling artery, regarded as the commercial heart of the city, hosts a diverse range of shops—from upscale boutiques to quaint local artisan stores, accommodating every taste and budget. The street is by far the best place to go shopping in Malaga.
As you meander along this energetic street, the charming 19th-century buildings that flank the road serve as beautiful reminders of the city's historical allure.
Besides shopping, Calle Larios is a hub for various cultural events and festivities, making it a vibrant spot where the pulse of Malaga truly beats.
Being one of the top attractions in Malaga, it's a perfect place to soak in the lively atmosphere, indulge in some retail therapy, and enjoy a leisurely walk amidst the vibrant urban landscape.
If you visit Malaga in December, you can enjoy the best Christmas light show in the country in Calle Larios. You can read more about Christmas in Malaga in my dedicated post.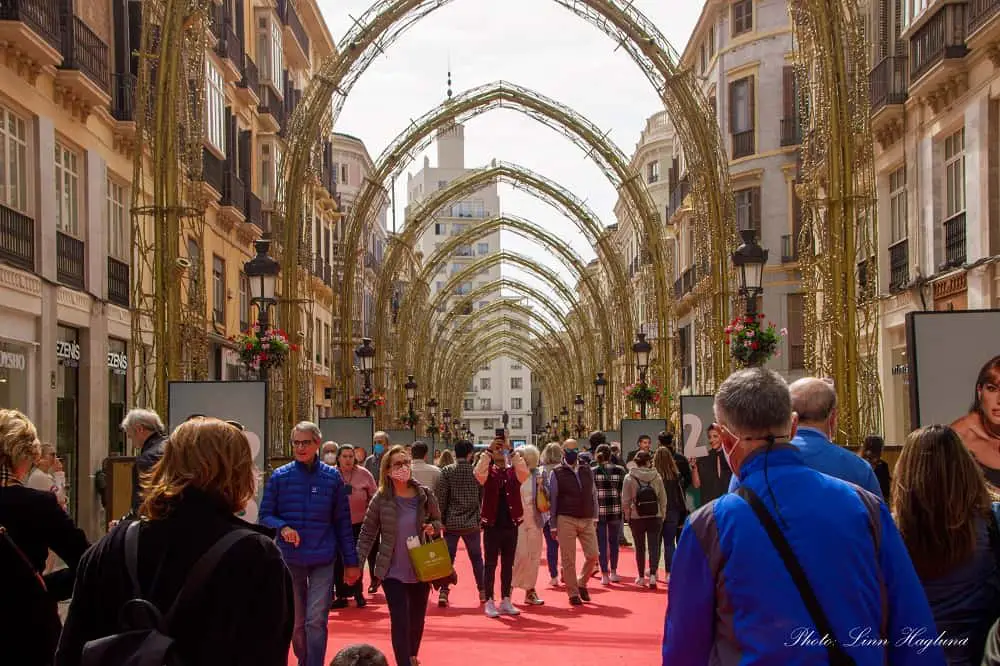 Go on a day tour to Gibraltar
A day tour from Malaga to Gibraltar promises a great change of scenery and is indeed one of the best day trips from Malaga you shouldn't miss.
This British enclave, perched at the southernmost point of the Iberian Peninsula, is a vibrant melting pot of cultures and historical sites.
There's a world to discover here, from the majestic Rock of Gibraltar, where you can encounter the famous Gibraltar monkeys, to the intricate network of pathways within St. Michael's Cave.
Moreover, history buffs will appreciate the Great Siege Tunnels, a testament to the region's strategic significance.
The blend of British and Spanish influences in the area adds a distinct charm to this day tour, making it a vibrant and multifaceted destination deserving its spot among the popular places to visit from Andalucia.
👉BOOK A TOUR TO GIBRALTAR HERE
Hop on the ferry to Morocco for the day
Another epic adventure is to go on a day trip from Malaga to Tangier in Morocco. It's an easy drive to the ferry in either Algeciras or Tarifa and you can join organized day tours from Malaga so you don't have to worry about other than bringing your passport.
This excursion offers the unparalleled opportunity to experience the vibrant blend of African and Mediterranean cultures in just a day.
Once in Morocco, you can wander through the bustling souks, where various spices and crafts are displayed.
The old town is a maze of narrow streets, delightful scents, crowds of people, and unique shops. Remember to savor the rich Moroccan cuisine, a delightful gastronomic experience – and of course, try the Moroccan tea!
My favorite place is Hafa (meaning The Edge), a 100-year-old tea house where you can enjoy the perfect Moroccan tea with sweeping views of Spain on the other side of the deep blue sea.
This day trip promises a change of scenery and a refreshing cultural immersion, where you can genuinely experience two continents in a single day.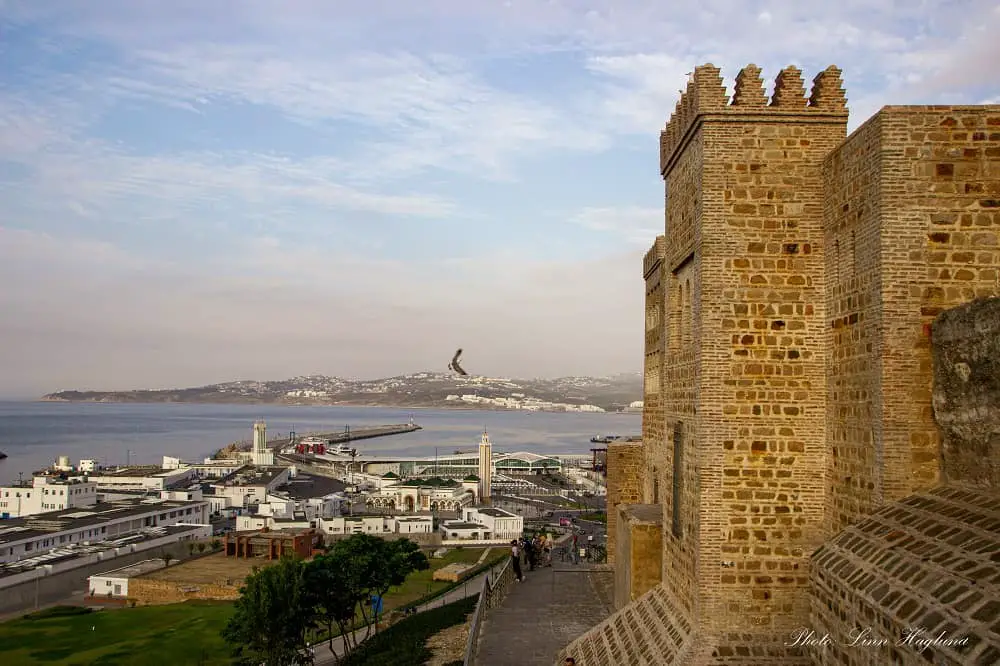 Hike El Caminito del Rey
For those looking to inject some adventure into their itinerary, and wondering what to do, Malaga Spain happens to be home to what was once the most dangerous hike in the world, El Caminito del Rey.
Nestled in a gorge near El Chorro Lakes, this once notorious walkway, now restored, offers breathtaking views of the surrounding landscapes, with deep valleys and turquoise waters below.
The path takes you through steep cliffs and hanging bridges, ensuring an adrenaline rush for thrill-seekers.
This hiking trail, characterized by its stunning natural beauty and challenging paths, undoubtedly ranks among the most famous places in Malaga for outdoor enthusiasts.
Embarking on this hike promises an exciting physical challenge and an unforgettable journey through some of the most captivating scenery in the region.
Note that you must book tickets in advance as they only let you in on the pre-booked time slot. But it is well worth it, being one of the absolute best things to do in Malaga Spain!
👉BOOK A TOUR FROM MALAGA TO CAMINITO DEL REY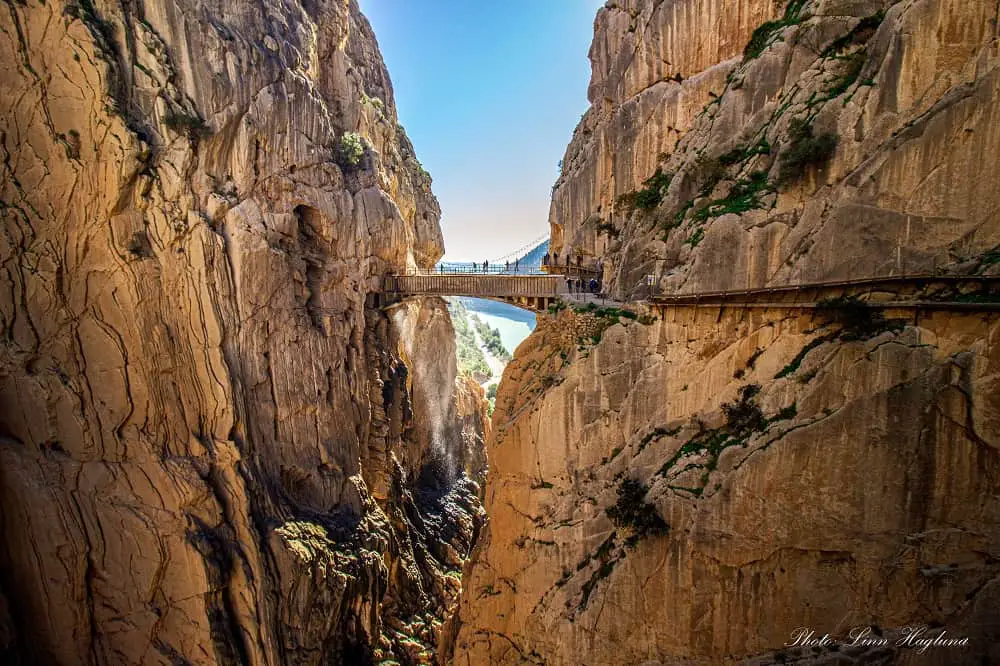 Go on a day trip to Seville
If you have enough days in the city, make sure you take a day trip to Seville from Malaga. Easily accessible by car, bus, and train, Seville is a treasure trove of cultural, historical, and architectural wonders, making it a must-visit spot near Malaga.
Visitors are greeted with the imposing Gothic cathedral, the largest of its kind globally, and the stunning Royal Alcazar, a testament to Mudejar architecture.
Not to be missed is the Metropol Parasol, a modern marvel that offers panoramic views of the city, epitomizing the harmonious blend of old and new that Seville embodies.
Whether strolling through the lush Maria Luisa Park, taking a Seville boat tour through the Guadalquivir River, or witnessing the fiery flamenco dancers in Triana, your day trip will enhance your Malaga sightseeing journey, offering a vivid glimpse into Spain's rich heritage.
While I recommend spending more than one day in Seville, you can still see the main attractions if you plan carefully and book all attractions in advance.
👉BOOK A TOUR FROM MALAGA TO SEVILLE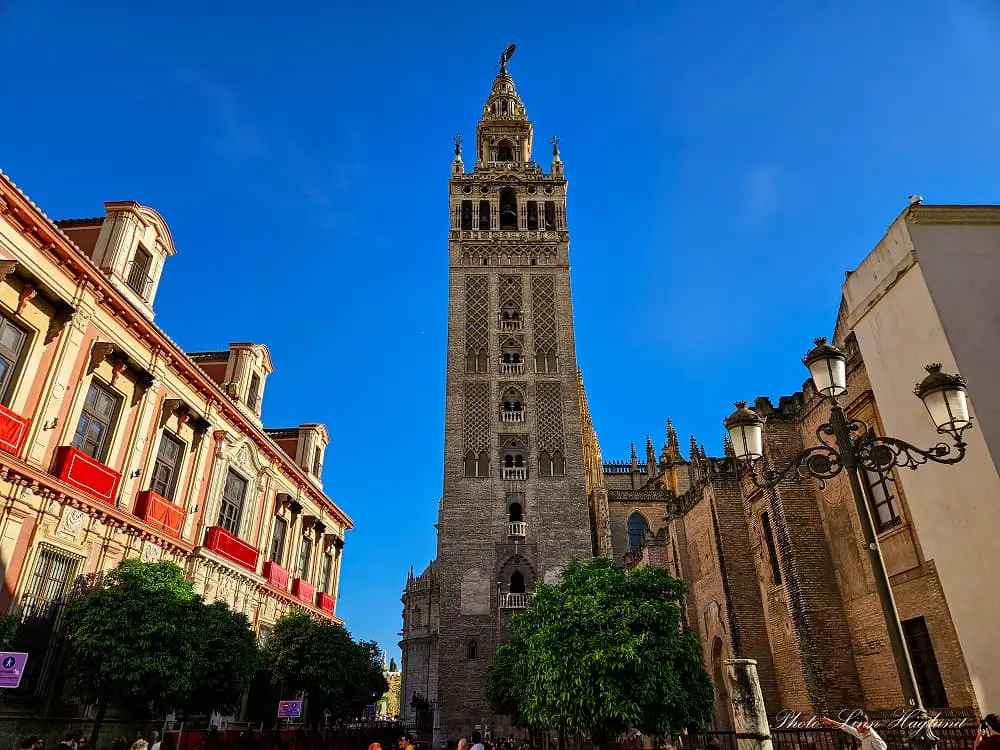 Reflections on what to do in Malaga
Summing up what to see in Malaga it's easy to see that there is no end to what you can fill your vacation with. From culture to food and history in Malaga, things to do are plentiful.
I especially love the international touch Malaga has managed to elegantly integrate into the traditional without stepping over any limits. Keeping its charm while staying up to date with the most important trends attracting people from all over the world.
Happy travels!