If you are wondering whether Malaga or Marbella is the right destination for your next trip, don't worry. I've got you covered.
After spending extensive time in both cities, I can say that they are both epic vacation spots, but they do have their differences. And I am here to help you shed light on those differences so that you can decide whether Marbella or Malaga speaks the most to you.
While Marbella has a reputation of being the place for the rich and famous, does that mean that there is no space for budget travelers? And does it mean that Malaga has no luxury?
Both are incredible coastal cities in Andalucia with pristine beaches, fun activities, and closeness to nature, and I will look at Malaga vs Marbella to help you define the differences.
Disclosure: This post may contain affiliate links. That means that if you make a purchase through one of those links, I will get a small commission at no extra cost to you.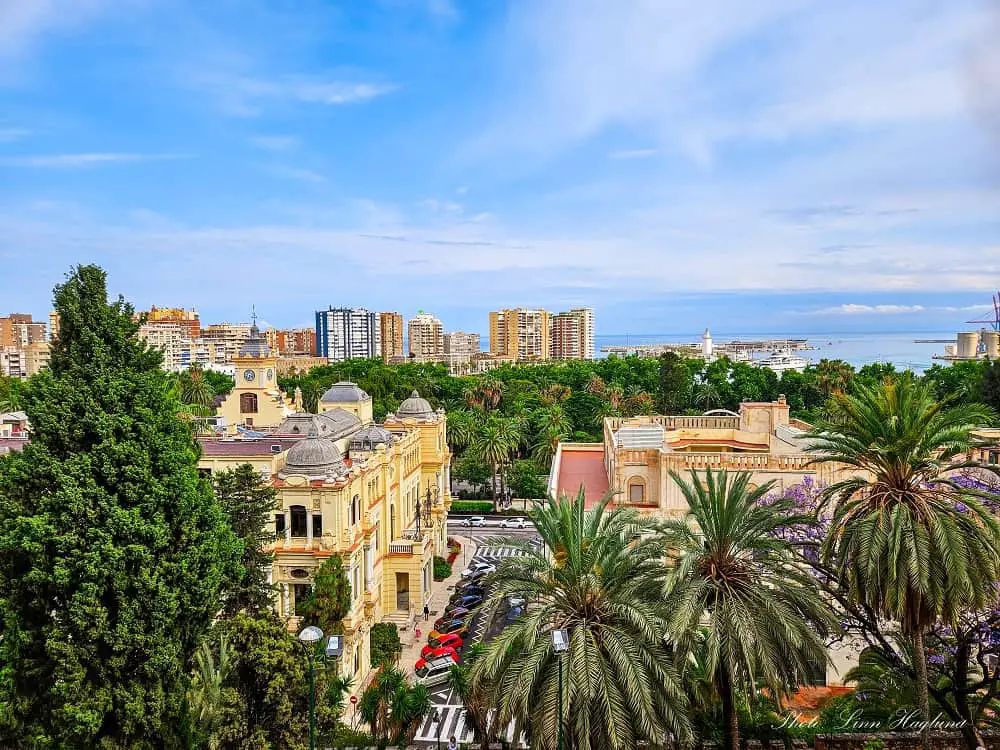 Malaga or Marbella: Which is better
Malaga vs Marbella Beaches
Malaga: 
When one ponders Malaga vs Marbella beaches, Malaga presents itself with a vast coastline that spans diverse beaches.
The most iconic, Malagueta Beach, located just a stone's throw from the city center, is known for its golden sands and calm waters, making it a favorite for families and solo travelers alike.
For those seeking a more local experience, Pedregalejo offers traditional fishing houses turned beachfront restaurants. The ease of access and abundant amenities make Malaga's beaches a true pleasure.
Outside the city, you find several untouched beaches too, like some of the beaches in Nerja on the stretch of Maro and also Torrox Costa has got some cool sandy beaches protected by sand dunes.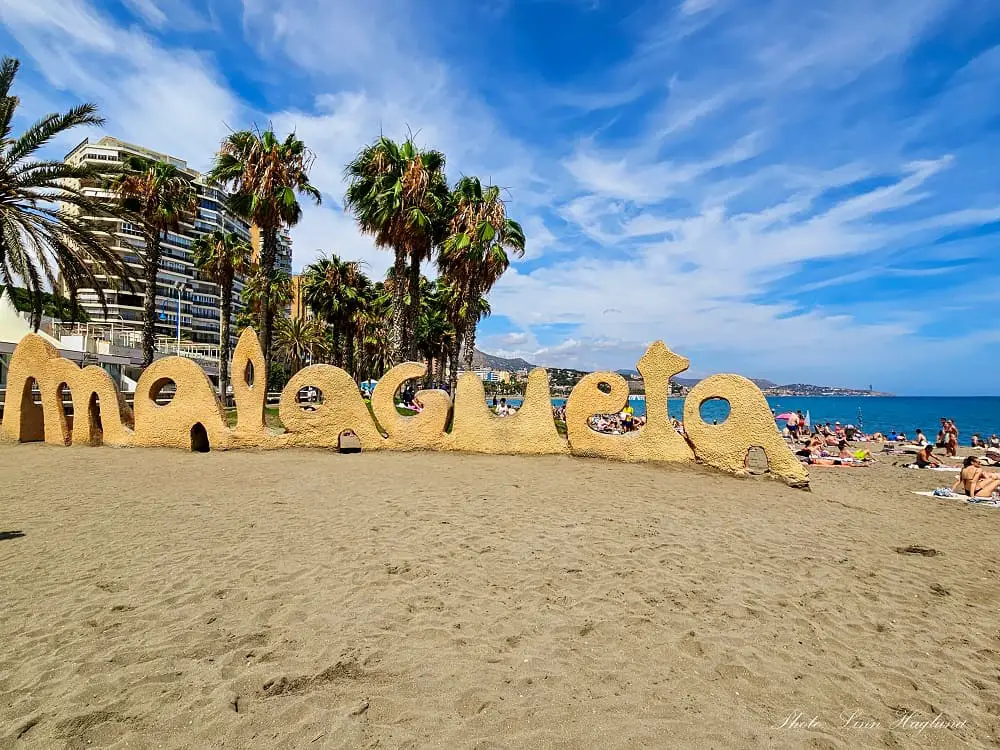 Marbella: 
Marbella's coastline exudes luxury and charm. Playa de Puerto Banus is not just a beach but an experience with upscale beach clubs and views of opulent yachts.
On the other hand, Nikki Beach brings international fame with its signature beach parties and elite crowd. But the beaches in Marbella are not all luxury.
You can find family-friendly beaches at a few minute's walk from Marbella Old Town and outside the city, there are several natural beaches flanked by sand dunes. One of my favorites is the naturist beach of Cabopino.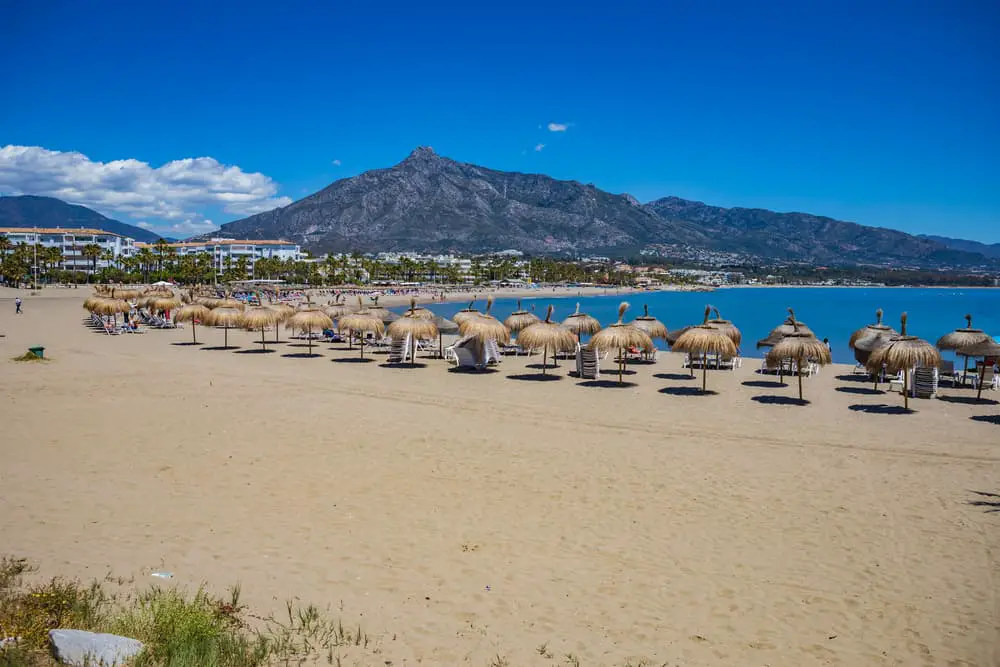 The Verdict: Truth is, looking at Malaga vs. Marbella considering their beaches, there is no better than the other and both offer more natural beaches outside the city. If you're weighing Marbella or Malaga for a beach experience, consider the vibe you're after lively luxe (Marbella) or urban ease (Malaga.)
Attractions – Marbella vs Malaga
Malaga: 
Beyond its sun and sand, Malaga's heart beats with history and culture. The enchanting pedestrian area through the old town takes you to narrow alleys and squares with shops and tapas bars.
The Alcazaba fortress, overlooking the city, narrates tales of Moorish magnificence with its intricate architecture. Below the castle, you also find a Roman Theater in all its glory.
A short hike leads you to Gibralfaro Castle, which overlooks Alcazaba and offers the best panoramic city views. Halfway up, there is a splendid viewpoint of the port area and the bullring (which unfortunately is still in use, thus I don't recommend visiting.)
Art enthusiasts find solace in Malaga's Picasso Museum, showcasing some of the artist's masterpieces, a poignant homage to the city's most famous son. But there are also a wealth of other museums in Malaga like the Carmen Thyssen Museum, Centre Pompidou, and Malaga Museum.
FUN ACTIVITIES IN MALAGA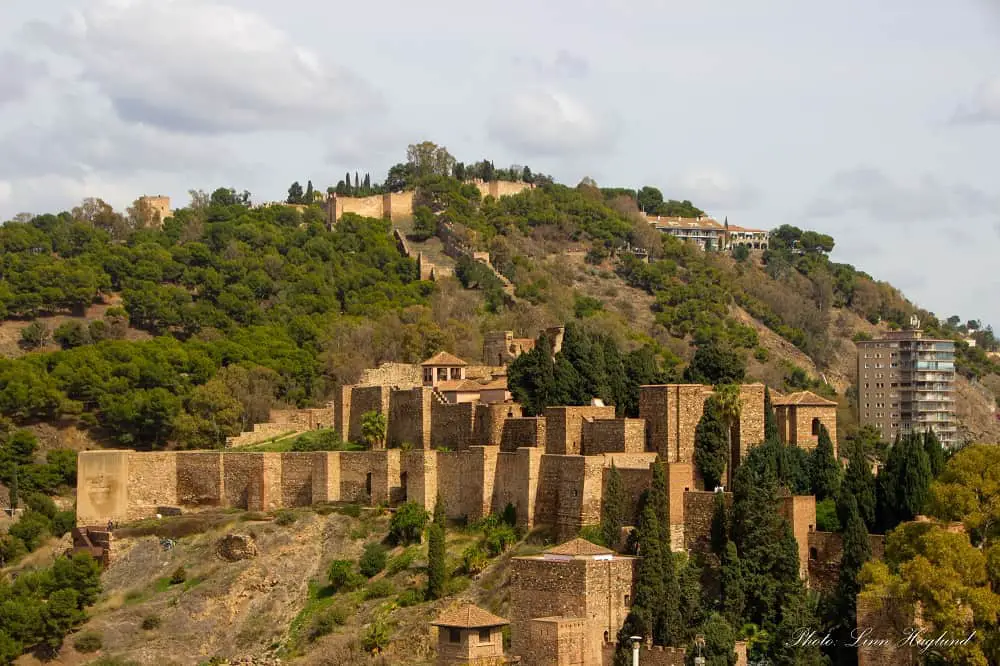 Marbella: 
When deciding which is better, Malaga or Marbella, consider what attractions entice you. Marbella offers a rich tapestry of experiences, especially in its enchanting Old Town.
Cobbled streets, quaint boutiques, and local cafes dot this historic area, with Plaza de los Naranjos at its heart. This square buzzes with life, framed by orange trees and ancient buildings.
Besides the luxurious Puerto Banus port area, there are not really that many attractions beyond the Old Town, however, Marbella hosts a major art culture with a few interesting museums like the Contemporary Engraving Museum and the Municipal Exposition Gallery.
FUN ACTIVITIES IN MARBELLA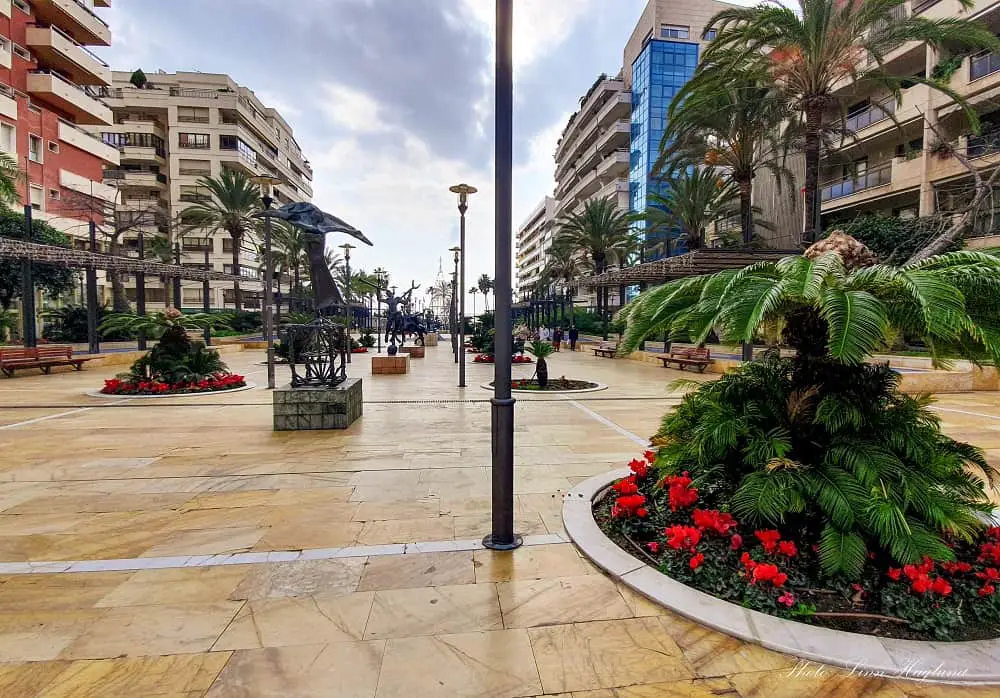 The verdict: Looking at Marbella or Malaga, which is better for attractions, I would say that Malaga is by far the best option. With major tourist attractions like the Alcazaba, Gibralfaro, and the Roman Theater. There are also a lot more interesting museums in Malaga in my opinion.
MORE MALAGA POSTS:
Where to stay in Malaga
How to spend one day in Malaga
Best Malaga boat tours
Castles in Malaga
Malaga winter guide
Malaga in December
Best time to visit Malaga
Accommodation – Malaga vs Marbella
Malaga: 
Malaga's accommodations mirror its diverse populace. For history enthusiasts, boutique hotels nestled in centuries-old buildings offer an immersive experience.
Budget travelers find solace in cozy hostels, while luxury seekers can opt for modern hotels with rooftop pools overlooking the Mediterranean.
Best hotels in Malaga:

LUXURY: Gran Hotel Miramar GL
MID-RANGE: Hotel Palacete de Alamos
BUDGET: Futurotel Malagueta Beach
APART-HOTEL: Coeo Apart-Hotel Fresca
You can also read my complete post about where to stay in Malaga for a complete neighborhood guide.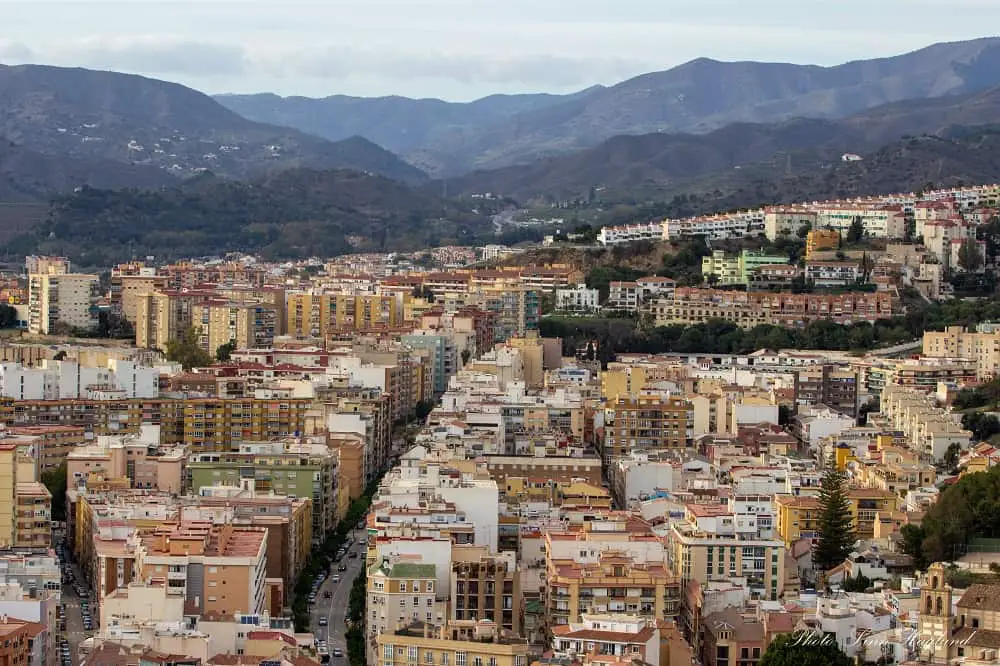 Marbella: 
Marbella is often synonymous with grandeur. Sprawling resorts, lavish villas, and oceanfront suites await those seeking indulgence.
The charm of Marbella's accommodation lies not just in its luxury but in the meticulous Spanish details.
However, the city still offers many charming bed and breakfasts for those traveling on a budget, especially in its Old Town.
Best hotels in Malaga:

LUXURY: Puente Romano Beach Resort
MID-RANGE: Hotel Marbella Fusión
BUDGET: La Morada Mas Hermosa
You can also read my complete neighborhood guide to where to stay in Marbella.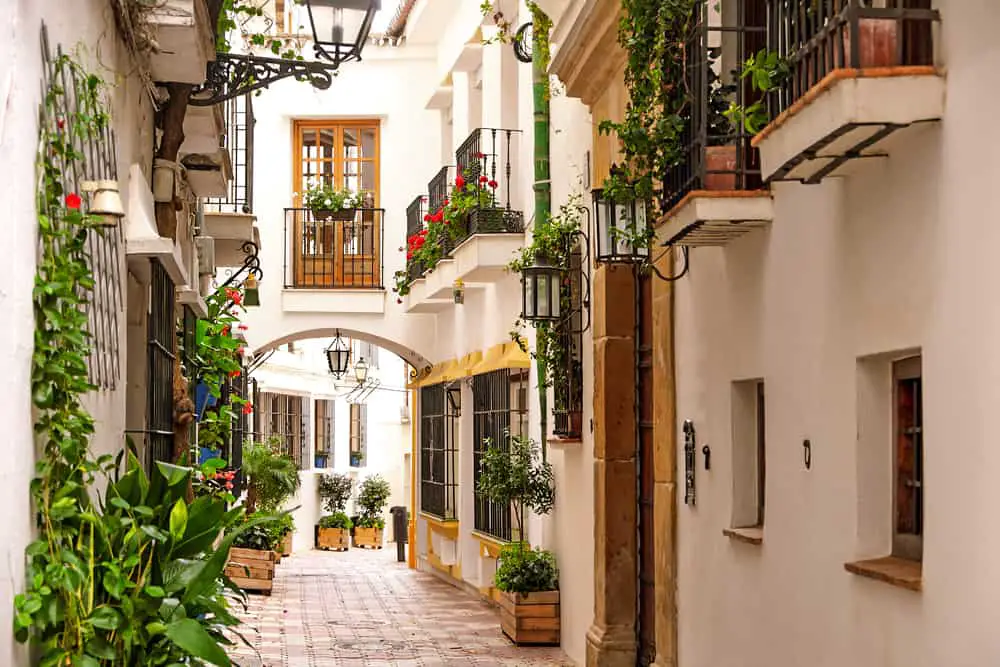 The Verdict: The question, of Malaga or Marbella, which is better for lodging, often hinges on your personal preferences. Both cities have it all, but if you are looking for the absolute opulent experience of bathing in luxury, you should check in at one of Marbella's top-selected hotels with the rich and famous.
Shopping
Malaga: 
A harmonious blend of tradition and modernity, Malaga's shopping scene is vibrant. Larios Street is a testament to this fusion, with high-end brands aligning with local boutiques.
The Atarazanas market offers fresh produce and authentic Andalusian flavors, a must-visit for every food enthusiast.
But there are also a wealth of shopping centers in Malaga where you find everything under the same roof, including several El Corte Ingles where you find upscale clothing brands, accessories, electronics, and home decor.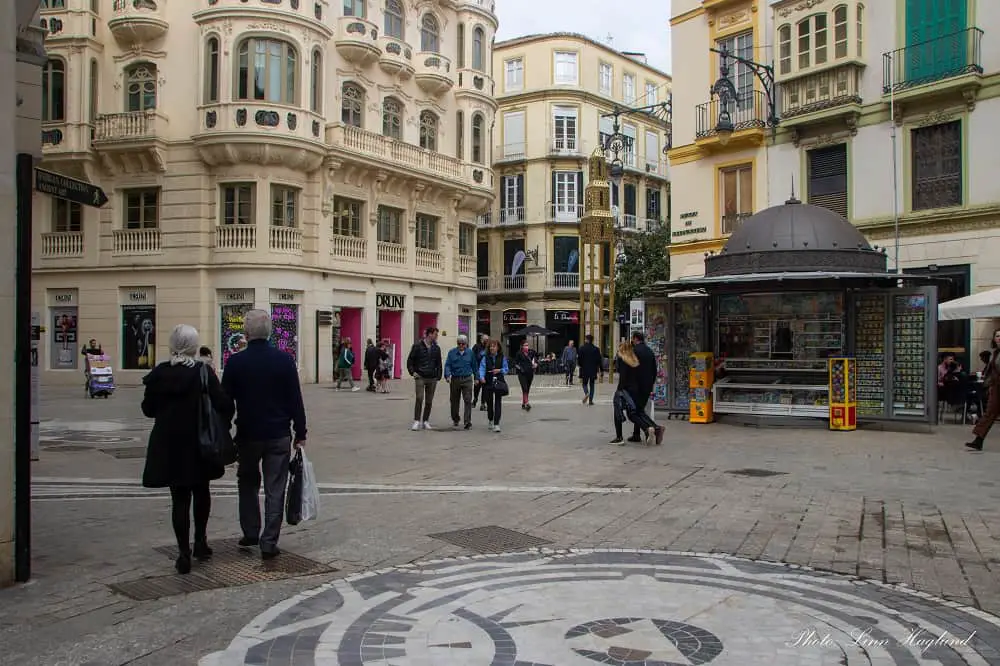 Marbella: 
Puerto Banus is Marbella's shopping crown jewel. A walk down its marina is a window-shopping experience, with brands like Louis Vuitton and Dolce & Gabbana enticing elite shoppers.
The Old Town is home to several boutiques and individual shops selling clothes and handicrafts. But there are also great shopping centers like La Cañada Shopping Mall, Marina Banús Shopping Center, and Centro Plaza Shopping Mall.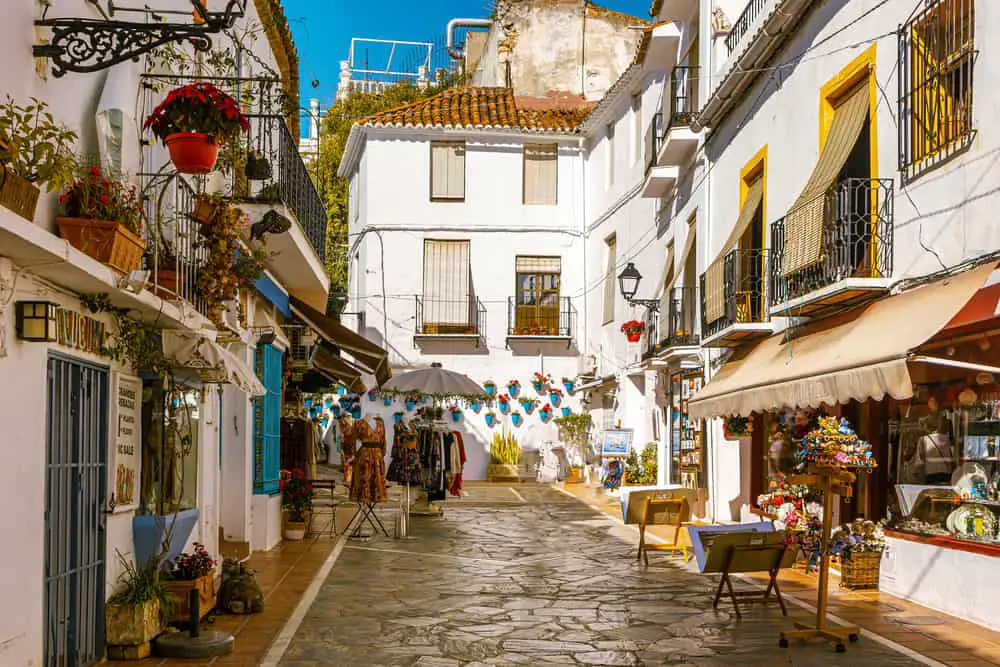 The verdict: Marbella vs Malaga in shopping clearly delineates luxury versus variety. While both cities are great for shopping, Malaga might just have a wider range, while Marbella surely wins the prize for the most luxurious shopping scene.
MORE POSTS FROM MARBELLA:
Weekend in Marbella
Marbella boat trips
Where to stay in Marbella
Marbella in winter
One day in Marbella
Best things to do in Marbella
Prices – Marbella or Malaga
Malaga: 
The larger size of Malaga lends itself to a broader price range. While upscale restaurants offer gourmet experiences, hidden tapas bars in narrow alleys provide mouth-watering dishes without burning a hole in the pocket.
Whether you're a luxury seeker or a budget traveler, Malaga ensures everyone experiences its charm without compromise.
Also when it comes to lodging, shopping, and transport there are a wide variety of options giving you local prices if you look at the right places, while touristy prices are most commonly in the tourist center.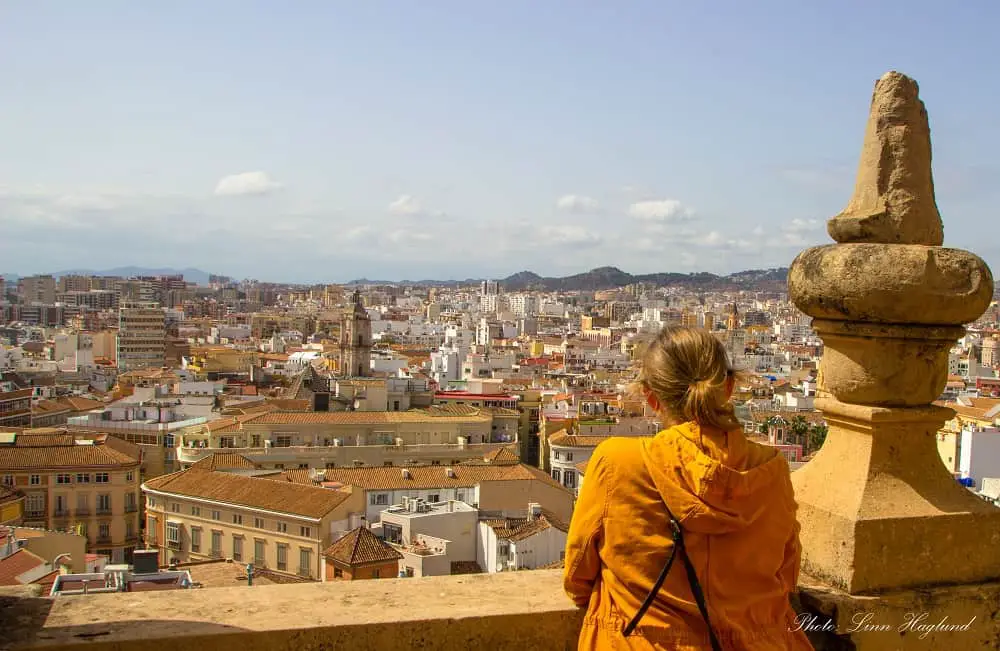 Marbella: 
Given its reputation for luxury, it's unsurprising Marbella leans towards the pricier end. Dining along the beachfront or shopping at designer boutiques comes with a price tag.
Yet, wander into the heart of its Old Town and discover affordable treasures, be it in food or souvenirs. Accommodation too, depends on where you check in what price range you can expect.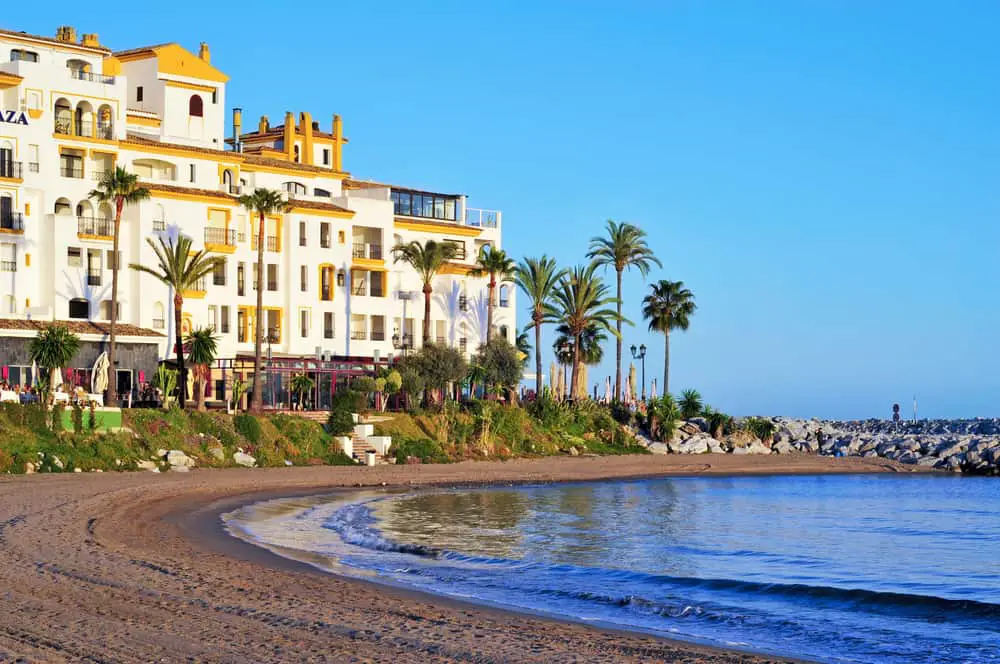 The verdict: Generally when looking at which is better, Marbella or Malaga, it is normal to assume that Marbella is pricier. But the truth is, Marbella has two sides to the story and if you are not a luxury traveler, you can still find it affordable to travel to Marbella. For this exact reason, I find it hard to put either Malaga or Marbella before the other.
Transport – Malaga or Marbella
Malaga: 
Regarding transport and the question of Malaga vs Marbella, which is better, Malaga stands out regarding accessibility and convenience.
Boasting an extensive public transportation network and an international airport, Malaga ensures that tourists and locals can easily navigate the city.
There are plenty of options, from efficient buses that run through the city's main arteries to the trains connecting suburbs and other cities.
Malaga's metro system also provides a quick solution for inner-city travel, making it even more user-friendly, as it recently opened a new line by Calle Larios giving access to the old town.
But what truly sets Malaga apart is its pedestrian-friendly design. Wide pavements, pedestrian zones, and well-maintained pathways encourage visitors to explore the city on foot, absorbing its rich culture at every turn.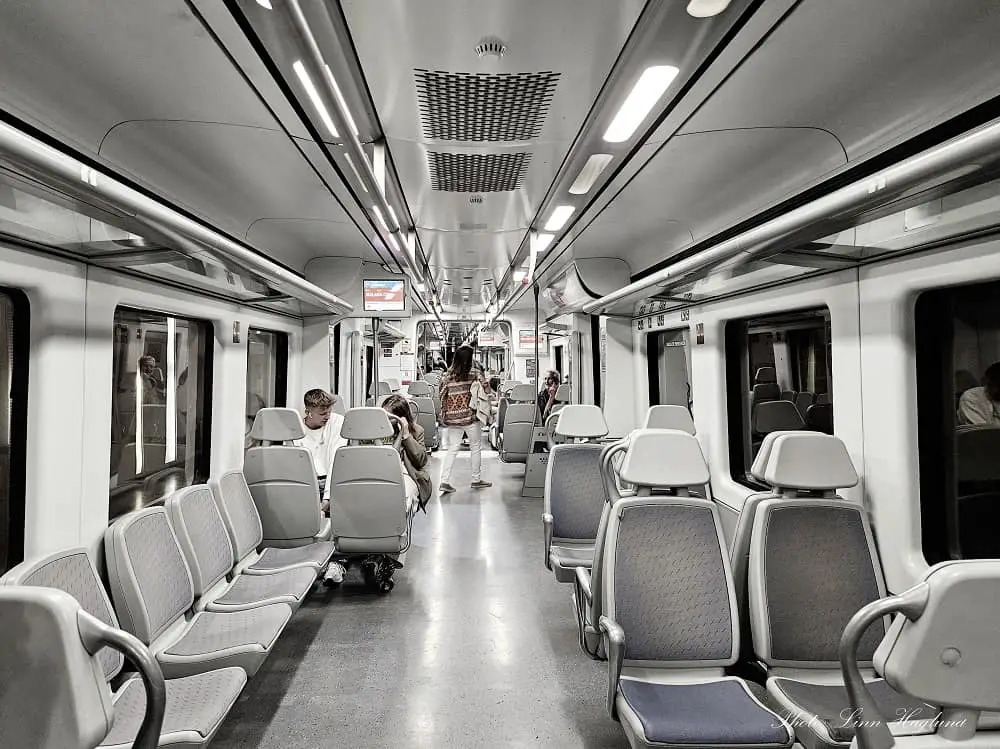 Marbella: 
The charm of Marbella's transport system lies in its simplicity. Given the town's compact nature, most attractions, especially the gems hidden in the Old Town, are easily accessible on foot.
Yet, if you aim to explore a bit further or just want a smoother ride, you'll find taxis at nearly every corner of the city.
These cabs, kept in tip-top shape, guarantee a comfy ride, be it a quick dash to the beach or a longer excursion to the city's edges.
However, if you arrive by air, it means you must get from Malaga airport to Marbella, as Malaga's AGP is the closest airport. But don't fret, it is easy to get there by shuttle or by bus, even though the bus takes longer.
The verdict: Malaga is a clear winner when it comes to best transportation in the battle between Malaga or Marbella, especially considering its international airport.
Malaga vs Marbella nightlife
Malaga: 
When it comes to Malaga vs Marbella nightlife, the vibrancy of Malaga's scene is palpable. The Central and El Soho districts are bustling with energy as the sun sets, transforming into hubs of nocturnal activity.
From traditional tapas bars where one can enjoy live flamenco performances to modern dance clubs pumping out the latest hits, there's something for everyone.
And for those seeking a more relaxed evening? Rooftop bars overlooking the city offer a mix of signature cocktails and breathtaking views, providing a serene escape from the bustling streets below.
Among my favorites, there is also the La Fabrica microbrewery and bar where they usually have live music. And I don't even like craft beer, I'll stick to the Cruzcampo. But the vibe is great!
You can also join pub crawls if you want to get a taste of the best bars in town with a group. This is a great activity for solo travelers.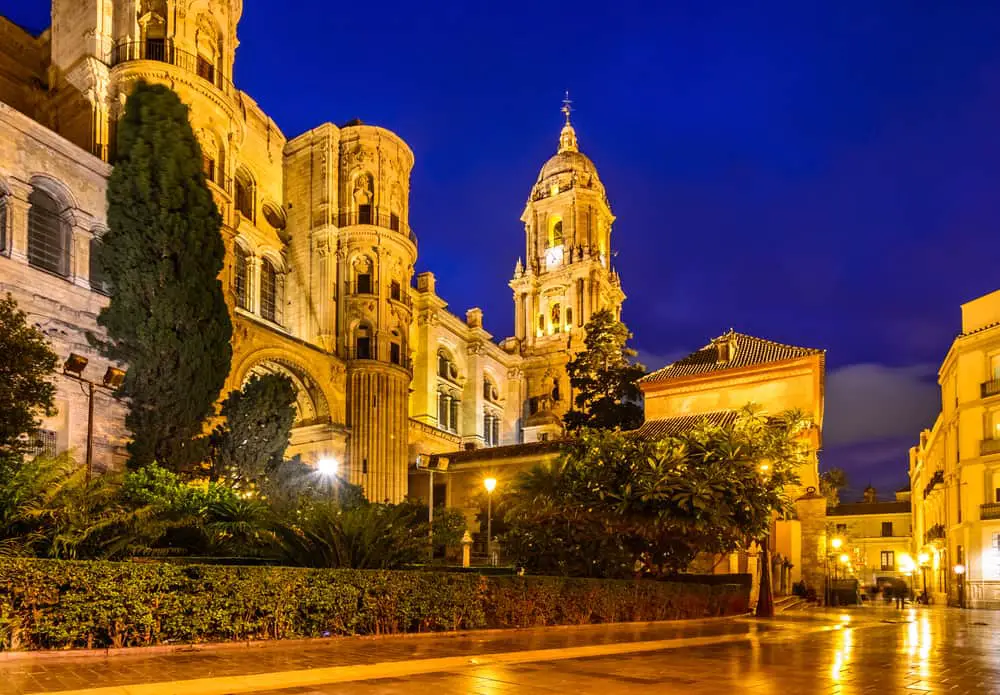 Marbella: 
Nightlife in Marbella is a reflection of its luxury and grandeur. Exclusive clubs like Pangea and Tibu have become synonymous with Marbella's elite, offering a unique mix of music, ambiance, and service.
But Marbella's nightlife isn't just about opulence. For those craving a calmer evening, the town offers many beachfront bars where one can sip on sangrias to the soothing sound of waves.
Jazz enthusiasts can find solace in intimate clubs, where live performances under the starry Spanish sky create an unforgettable experience.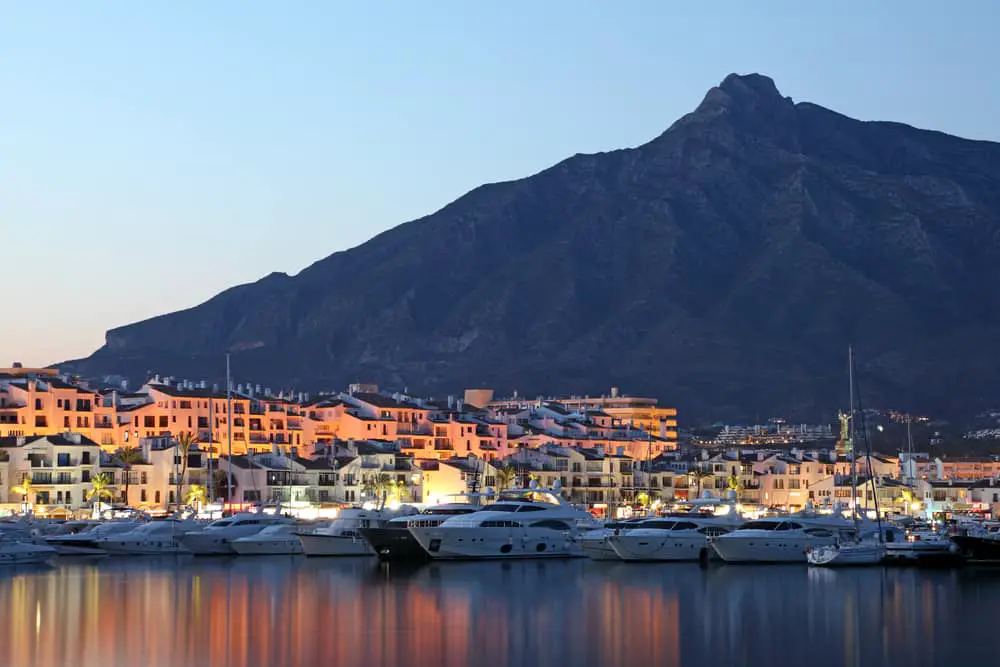 The verdict: Is Marbella better than Malaga when it comes to nightlife as most people think? Personally, I prefer Malaga, but it totally depends on who you ask. Marbella has got a young crowd blended with a sophisticated crowd which speaks to a completely different audience than Malaga.
Day Trips – Marbella vs Malaga
Malaga: 
One of Malaga's most significant advantages is its strategic location, making it a starting point for several enticing day trips. With a vast train network taking you to cities like Seville, Granada, and Cordoba in no time and buses taking you to more rural areas.
A day trip to Ronda is a mere 2-hour drive and is one of the most beautiful towns near Malaga. Famed for its iconic bridge spanning the El Tajo gorge. Another popular day trip is to Nerja, one of the most popular coastal towns near Malaga.
For those seeking more of an adrenaline rush, the Caminito del Rey offers a spectacular walk. This cliffside pathway, suspended over a deep gorge, promises a thrill and unparalleled scenic views.
There are also a lot of beautiful lakes near Malaga like El Chorro Lakes. Also river hikes like Rio Chillar and experiences like canyoning in Rio Verde are close to the city.
You can read my complete post about the best day trips from Malaga for more information.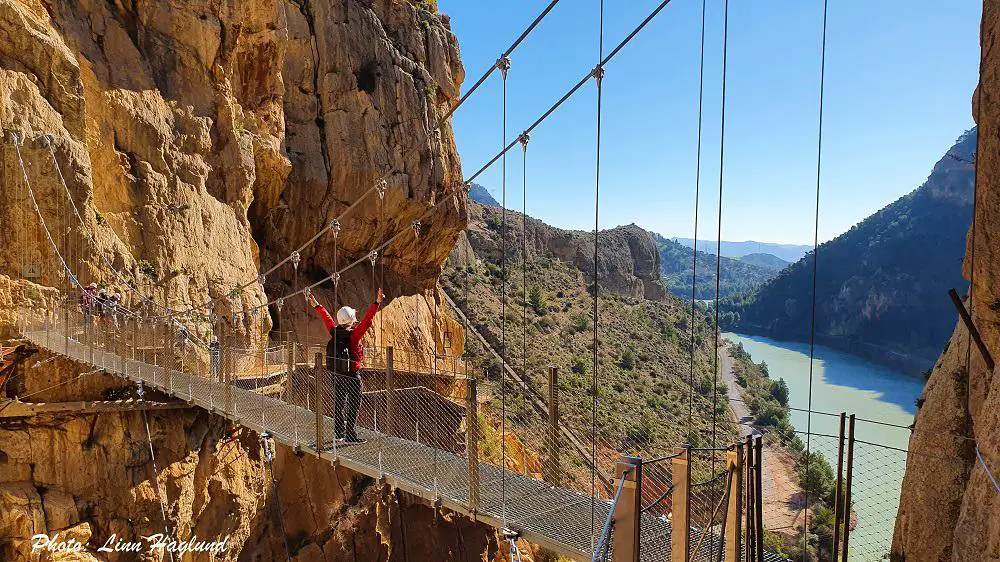 Marbella: 
Questioning Marbella vs Malaga in terms of day trip potentials? Marbella has its own set of treasures. The proximity to southern tip of Spain means a day trip from Marbella to Gibraltar is easily feasible.
Additionally, Marbella serves as a gateway to the picturesque white villages of Andalusia. Ojén, Casares, and even Ronda with their whitewashed buildings and peaceful ambiance, is a perfect example.
A short drive from Marbella, you find a tranquil escape from the city's hustle and bustle in small villages that are completely hidden gems in Andalucia. In fact, some of the most beautiful whitewashed villages in Andalucia are just a stone's throw from Marbella.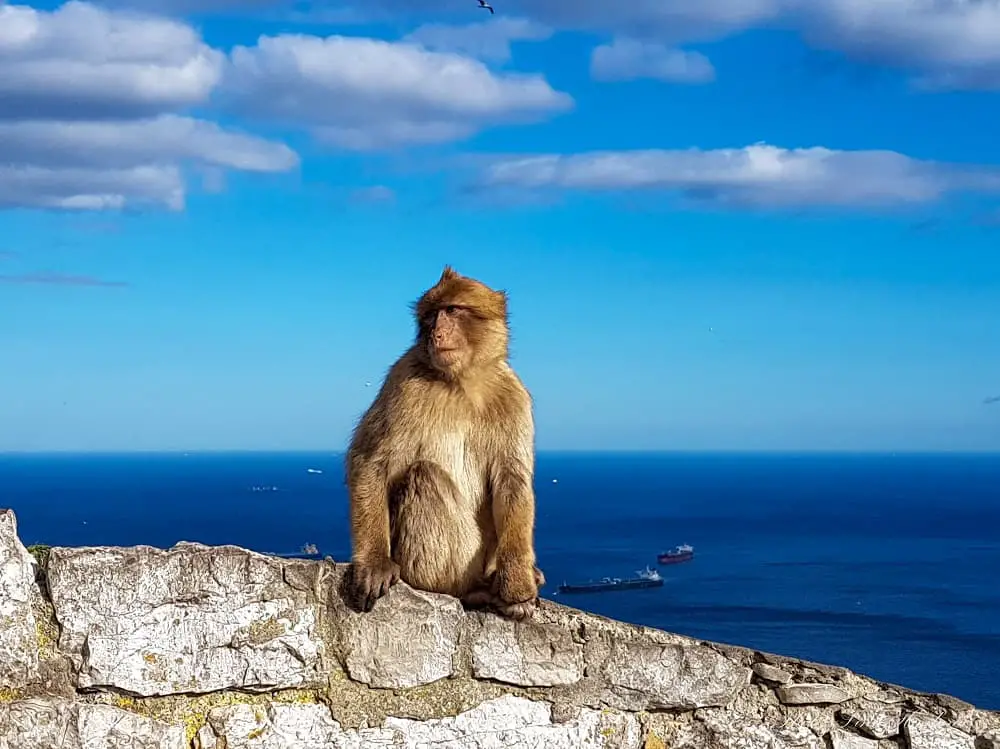 The verdict: Whether Malaga or Marbella is best when it comes to day trip options, is hard to tell. It really depends on what you prefer. Malaga does have more options, yet many of the day trips you can do from either city are between the two, so they are easily reached from both Malaga and Marbella. However, Malaga has a better connection to the rest of Andalucia in general, especially if you want to reach other big cities.
Final thoughts – Which is Better Marbella or Malaga?
Personally, I love both cities, yet Malaga is my favorite. Maybe because I'm not much of a luxury seeker but more of authenticity and culture. I love old archaeological sites and structures, and not so fond of the fancy new.
You do get easier around from Malaga and getting there is a breeze with an airport connected by train to the city center.
Marbella, on the other hand, shows a face of luxury, but there are so many layers to be peeled off this city that it surely deserves your attention.
While you think you know it by what you have heard, it will surprise you with its allure and cultural scene and likely pull you in more for every day you spend there.
No matter your preferences, I hope this post has helped you decide whether you should set your vacation to Malaga or Marbella.
Happy travels!