After living for ten years at Costa del Sol in Malaga, I have covered most of the province and surrounding regions. I have been to most of the beaches and white villages near Malaga and hiked most of the many surrounding peaks.
There are so many things to do around the city, and in this post, I will share with you what I found to be the best day trips from Malaga from popular tourist spots to hidden gems of Andalucia.
Malaga is situated on the far south coast of Spain in the region of Andalusia, only a couple of hours from Morocco. Also, Malaga airport is connected with flights to more than 60 countries!
You can easily explore many Malaga day trips by bus, though some off the beaten track destinations are better explored by car if you go for the day. You might even consider going on a southern Spain road trip, which is perfect if you visit Malaga in the winter.
Disclosure: This post may contain affiliate links. That means that if you make a purchase through one of those links, I will get a small commission at no extra cost to you.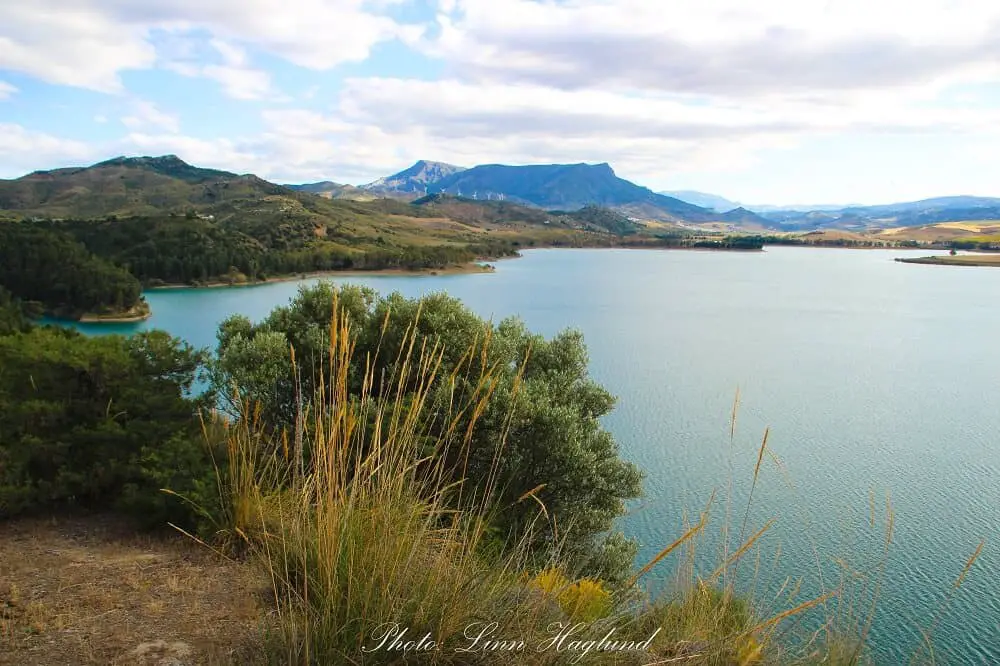 How to get to Malaga
Malaga is easy to get to, with Malaga Airport (AGP) which connects with more than 60 countries and 100 destinations.
The airport is only a 20 minutes drive from Malaga city center. There is also a train connection running every 20 minutes which only takes 12 minutes.
Further, you can take the bus, but that will take about 30 minutes. Otherwise, there are taxis at the airport ready to transport you directly to your hotel.
However, I find private transfers more comfortable and the price is set upfront. I have many friends that have been charged more than they should when traveling by taxi from the airport and some taxi drivers have tried with me too until they understood I'm a local.
Check prices for private transfers here
Best time to travel to Malaga
In the summer months, Malaga has become a true tourist trap, so the best time to go is spring and autumn. I would especially recommend the months of May to mid-June and September as temperatures are pleasant and you can enjoy the beaches without the crowds.
Winter in Malaga, is also very enjoyable. During the winter months, often with temperatures around 20 degrees in the daytime, tourists sunbathe and even go swimming in the Mediterranean Sea. At the same time, it is a good period for hiking and exploring cultural cities and villages around Malaga.
The period between October and April can be prone to heavy rains, so if you choose to travel during this period, I suggest you check the weather forecast before you go.
You can read more about the best time to visit Malaga in this dedicated post I wrote.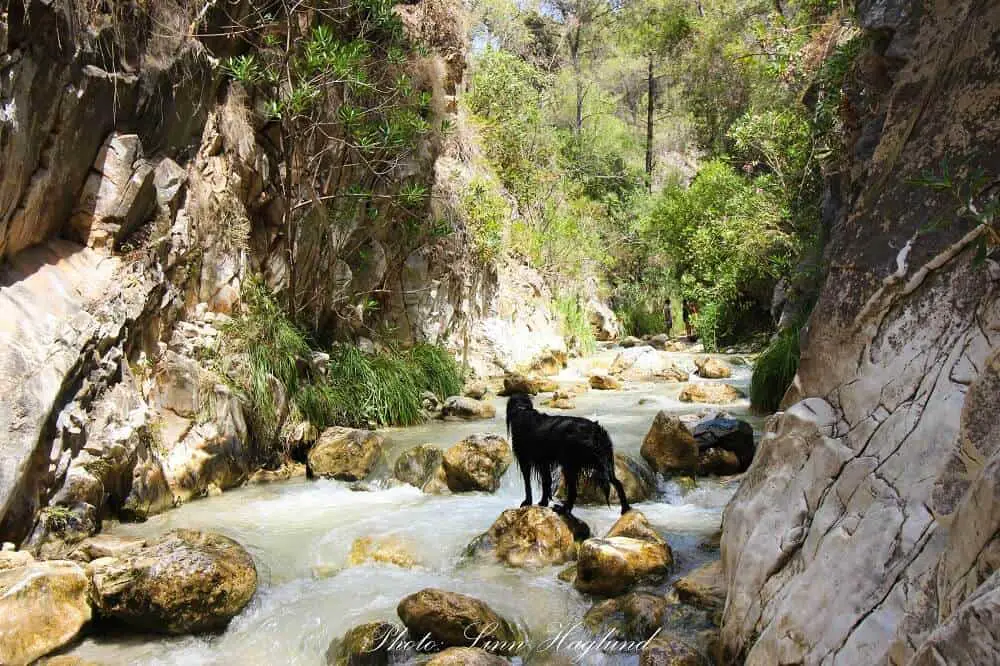 Where to stay
Due to overtourism in Malaga, the last few years have become difficult for the locals to find a place to live. AirBnB has become a negative impact on people living on the coast.
While AirBnB is extremely positive to the local communities in many parts of the world, other places, like Malaga, are suffering from its popularity.
But why is that?
As tourism increases, it is easier to rent out apartments for holiday rentals. Landlords have figured out that they can earn more in 2-3 months by renting out to tourists on AirBnB than they earn in one year of long-term rental. The math is simple.
However, the consequences for the locals are terrible. On one side prices rise and they can't afford to rent (wages definitely don't rise). On the other hand, there are hardly any available apartments for long-term rentals as landlords kick out tenants so that they can rent out to tourists. Both Spanish and foreign tourists.
Therefore, I urge you to only book hotels on your holiday in Malaga so that you don't support the fatal trend that has taken over the rental market the recent years. There are apartment hotels too, so you don't have to worry if you need a big space with a kitchen.
I have written a complete guide to the best areas to stay in Malaga including my top hotel picks in each area.
Check for available hotels here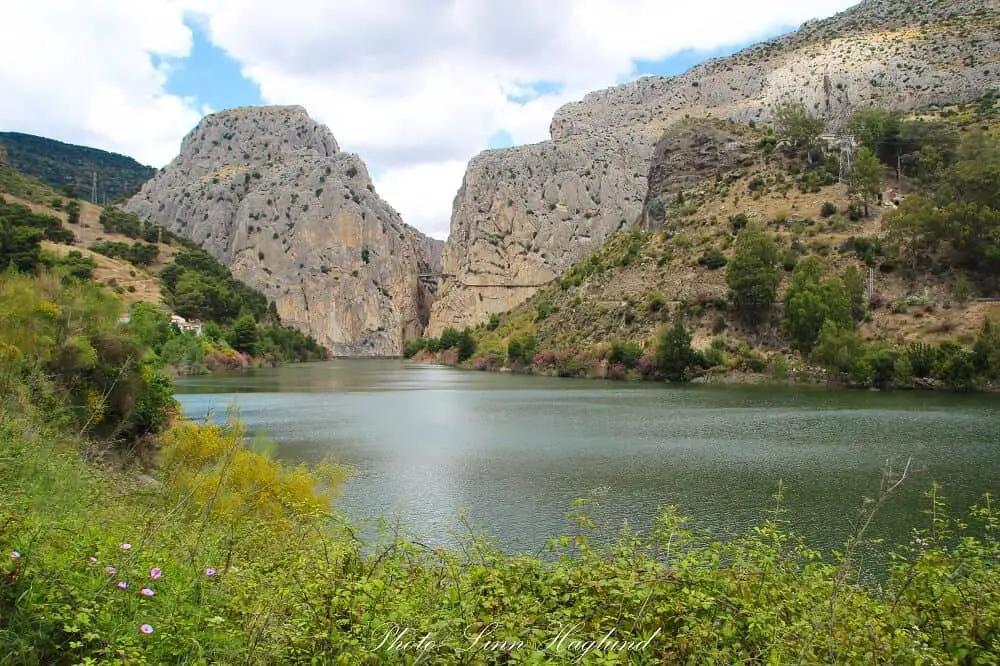 How to get around on day trips from Malaga
There are buses and trains running from Malaga to several cities and villages. From Malaga, there are also several tour operators that offer day trips to some of the most popular destinations. These often include more than one place on a tour and can be of good value.
However, there are many off the beaten track places in the below listed day trips from Malaga which require a car to get to. Also, a few places only have a few buses or trains a day, so traveling by car gives you much more flexibility.
I like to book my rental car with Discover Cars. They have good prices and I have been happy with their service each time I have used them. You can pick up the car straight at the airport.
Check prices and availability here
Best Malaga day trips
If you love beaches, culture, white Spanish villages, or hiking I am sure you will find several day trips from Malaga that resonate with you. Wherever you decide to go, make sure you respect the locals, take with you all trash from nature, and don't interfere with wildlife.
Caminito del Rey
Only a day trip from Malaga, in Desfiladero de Los Gaitanes Nature Park, you can follow the old king's footsteps and hike Caminito del Rey, which means "The trail of the king".
This trail was closed to the public for years as the route hanging along the steep cliffside had partly fallen apart. Thus, several adventure seekers lost their lives in an attempt of doing the trail during this period.
The trail reopened in 2015 after rebuilding the trail above the original. The path is hanging 100 meters from the ground on the vertical cliffside through the 700-meter high Gaitanes Gorge.
Due to security, a helmet is mandatory, and visitors need to book in advance as there are limited entrances per day.
The hike is absolutely astounding, although not for anyone with vertigo. Luckily, parts of the eight-kilometer path are safe on the ground in the forested area. In the end, you will cross the gorge on a hanging bridge and the views of the trail on the cliffside behind you are unreal.
If you don't dispose of a rental car, a guided tour taking you from Malaga and back is the most convenient option. This is also a great way to learn about the history of this world-famous gorge.
Check availability on Caminito del Rey tour including shuttle bus here.
How to get there: To get there you can either drive 45 minutes to Álora or take a train from Malaga to El Chorro and then a shuttle bus from the train station to El Kiosko where the trail starts. As the route is linear it means that you will have to take the shuttle bus back even if you drive. Therefore, make sure you bring coins.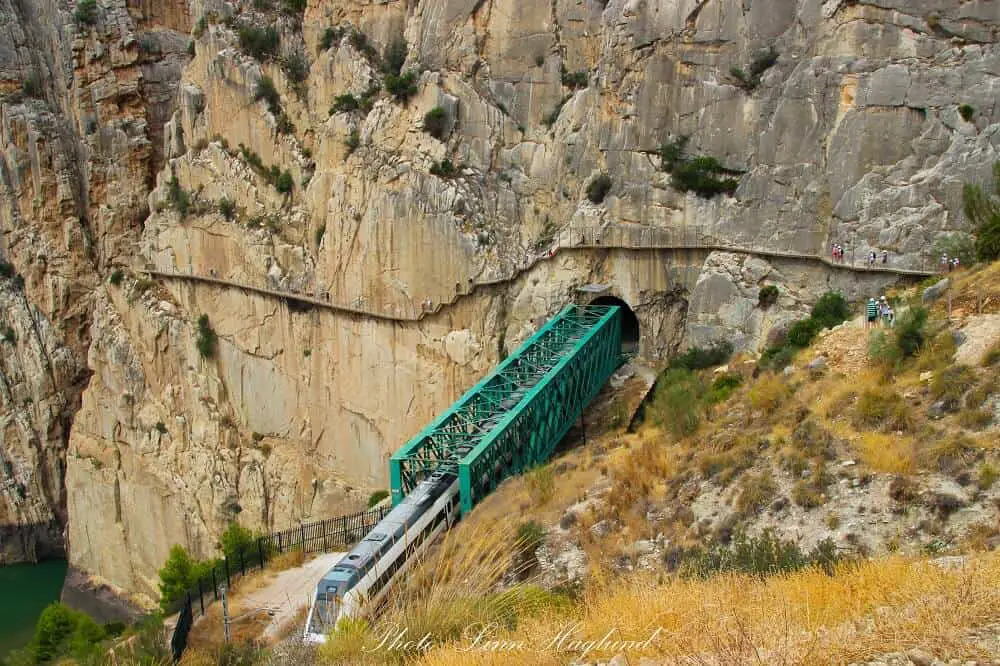 Ronda
A must-visit while in Andalucia, a day trip from Malaga to Ronda will not disappoint. The city is situated on top of a canyon connected with the bridge, Puente Nuevo, which has become the most known landmark in Ronda.
The Moors named the city back in the 8th century, but it was actually Julius Cesar that first declared it a city in Roman times. The original Roman city, Acinipo, lies about 20 kilometers from today's Ronda.
To get the best views of Puente Nuevo, there is a path down to the bottom of the ravine where you can take the classic photo of the bridge between the steep hillsides.
Further, there are plenty of breathtaking views of the surrounding countryside. I would say any time of year is beautiful, but all different depending on which trees are blooming.
Other sited to add to your Ronda itinerary are the Arab Bath, Casa del Rey Moro, and the old city walls. Besides this, there are a lot of things to do in Ronda, but with only a day, you are quite limited, so I suggest you start with these sites.
However, going to Ronda in the middle of summer is only for the bold as temperatures rise way above 40 degrees Celsius and there is nowhere to cool down.
I suggest NOT visiting the famous bullring even as a tourist until they stop performing bullfights in Ronda.
How to get there: To get to Ronda you can get a train or bus if you don't have a car. The drive is 1 hour and 15 minutes. There is one direct train that goes between the cities, this takes 2 hours. The buses usually take 2 hours and 30 minutes.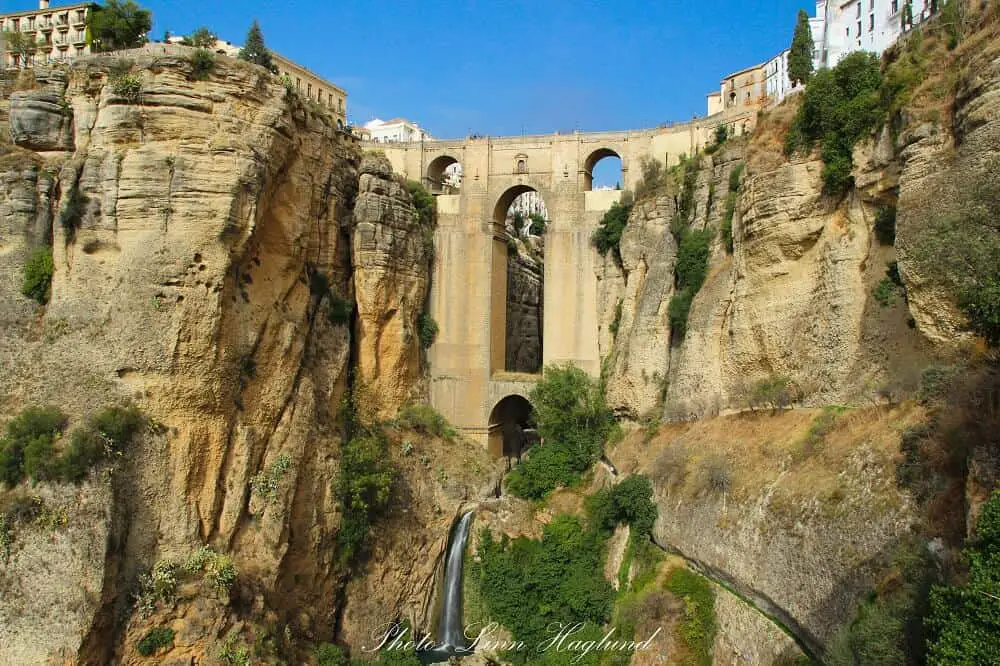 El Chorro lakes
At El Chorro Lakes Malaga, you will find three turquoise lakes surrounded by pine and oak forest. The lakes consist of three artificial lakes built on the Guadalhorce Riverbed and they are not only among the prettiest lakes near Malaga but also some of my favorite lakes in Andalucia.
It makes the perfect day trip from Malaga if you want to go for a picnic with friends or family and go for a swim in freshwater during hot summer days. There are kayaks for rent so you can explore the lakes from the water.
El Chorro is popular in summer, but you are most likely to find a spot by yourself if you walk around a bit. There is plenty of shade from the trees, and the fresh water is a delight to cool down in.
In winter, there are plenty of hikes in the area. Bring your hiking shoes and discover some amazing views over green forests and turquoise lakes. One of the most popular hikes, other than Caminito del Rey, is the Arab Staircase which starts from El Chorro village.
How to get there: It takes around 1 hour to drive to El Chorro from Malaga. The bus takes about 1 hour and 40 minutes.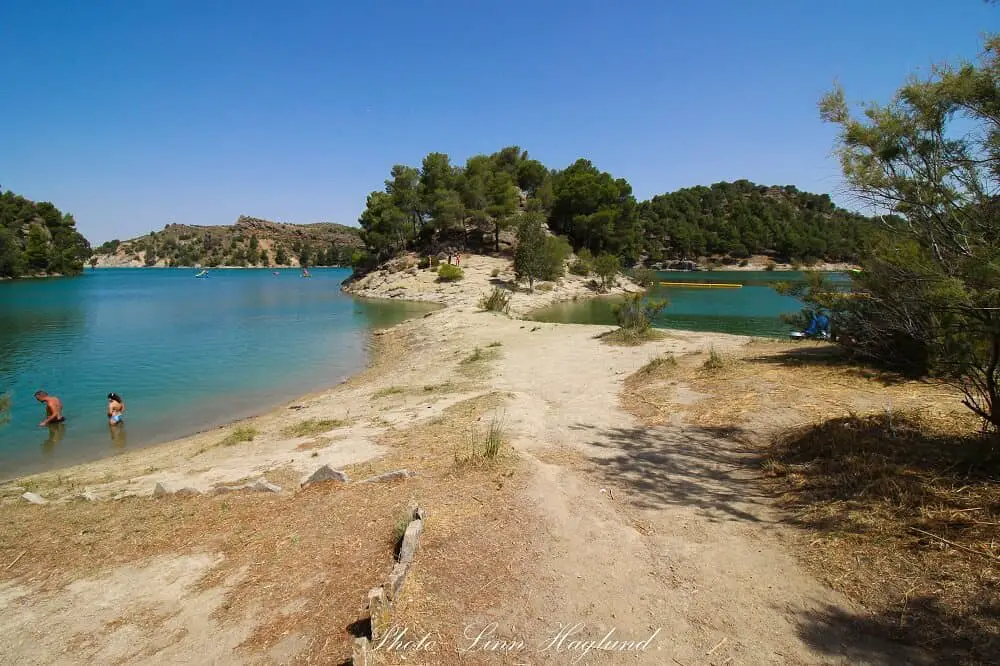 Granada and Alhambra
Granada is another spectacular day trip from Malaga well worth the drive. The city was first settled by native tribes before the Romans and later the Moors ran the city. This was the last Muslim city the Christians took back in 1492. The architecture clearly shows the city's history.
The streets are packed with restaurants and traditional bars filled with students, tourists, and locals alike. There are Flamenco shows in abundance if you want to experience the Spanish culture.
Alhambra is the most famous attraction and can easily be incorporated into a day trip to Granada. The palace is said to be one of the world's greatest Arab masterpieces. The original construction was built back in 889 AD. Later, in the 13th century, the Moorish continued building, and even further construction was made by the Christians when they conquered Granada.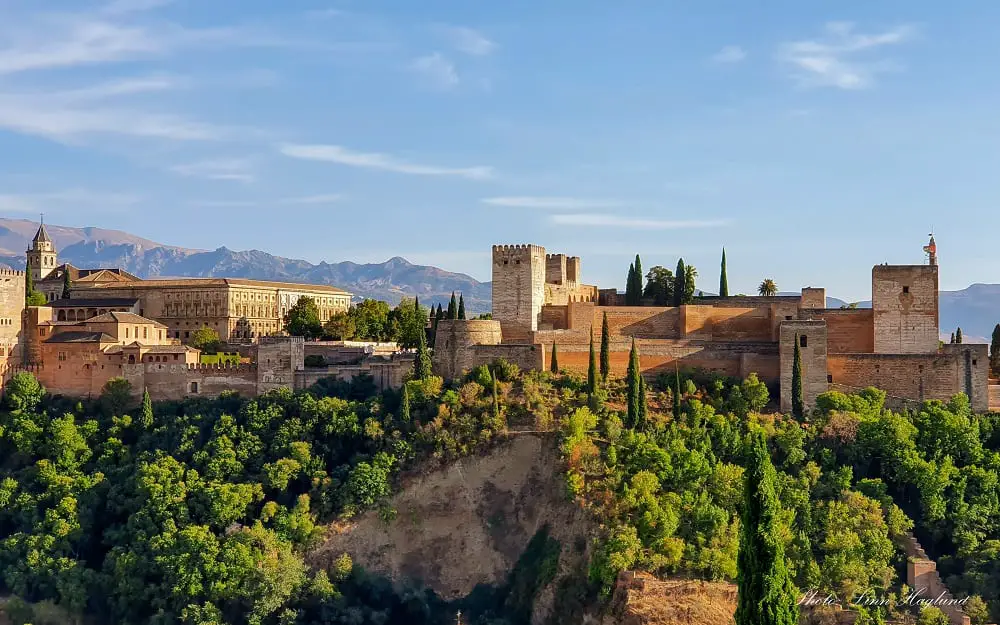 The masterpiece is an enchantment to walk through and the gardens are spectacular. You'll have to book your tickets for the Alhambra in advance, and they tend to get sold out quickly, so I recommend you book them as soon as you plan your trip.
For a full guided tour from Malaga to avoid the headache of traveling to Granada, check availability for this complete guided day tour including entry tickets.
How to get there: To get from Malaga to Granada by car only takes 1 hour and 30 minutes. By bus, it can take up to 2 hours.
POPULAR IN GRANADA
Nerja
One of the best day trips from Malaga is to the quaint beach town, Nerja. There are a lot of fun things to do in Nerja, from hiking Rio Chillar, walking from beach to beach, taking a Nerja boat trip, or going on a kayak tour in Nerja's Maro coast.
There are also spectacular beaches in Nerja for beach dwellers. Calahonda Beach has easy access from town, right next to Balcón de Europa. Playazo Beach is located more remotely and offers a more relaxed atmosphere with more of a local vibe. If you are into water sports, make sure to go to Burriana Beach where it all happens.
Nerja caves are situated inland in the popular beach town and the perfect activity on a rainy winter day. The caves include three galleries, though only one is open to the public.
The public gallery is full of stalactites forming some enormous columns throughout the caves and is absolutely astounding.
A tour around the caves takes about 45 minutes. You receive audio with your ticket so you can learn the history of the different sections as you walk through the gallery.
Nerja is one of the day trips from Malaga that you just can´t miss. A great way to visit Nerja from Malaga is on a day tour of the caves and the enchanting white hillside village of Frigiliana. Check availability here.
TOP-RATED TOURS FROM MALAGA TO NERJA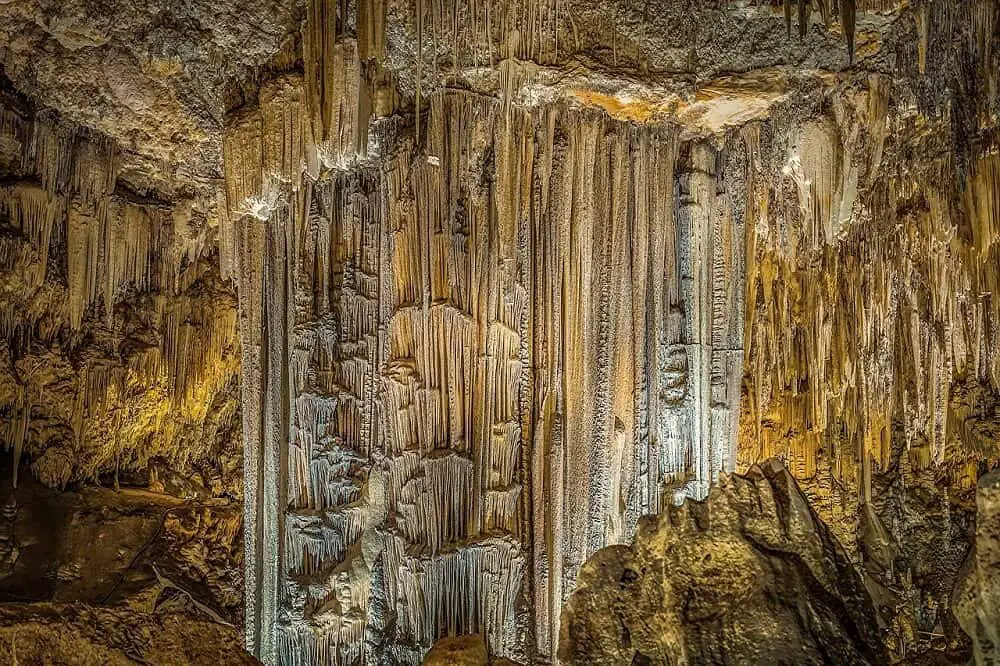 How to get there: The drive from Malaga to Nerja takes nearly an hour. You can also take the bus which takes nearly two hours from Malaga.
Córdoba
Córdoba used to be a significant Roman city and later an Islamic center. It is a beautiful city to walk around simply because of the architecture and a day trip to Cordoba will without a doubt be unforgettable.
According to CNN Travel, Cordoba is the city with the most UNESCO world heritage sites in the world as of 2018. It is home to 4 UNESCO sites.
The city's most known building is the Mosque-Cathedral, a beautiful old mosque built between the 8th and the 10th centuries where the Christians incorporated a cathedral after the reconquest. With its magnificent Spanish Islamic architecture, the landmark is a must-visit.
It is also home to one of the most stunning Cordoba courtyards, but if you want to see the traditional patios full of flowers, head to the San Basilio neighborhood. They are best explored on a guided tour.
If you happen to go on a Malaga day trip during the first two weeks of May, you're in luck! That is when Cordoba Patio Festival takes place and it's a magical experience where they open up patios to the public that are normally closed.
If you plan a day trip from Malaga to Córdoba, the best is to avoid the hot summer months. This is one of the hottest cities in Spain and often hit 45+ degrees Celsius in the period from July to September.
For ease, you can go on a guided full-day tour to Cordoba since it is a lengthy journey. This way you will learn a lot about the city's intriguing history and see the main sites.
TOP-RATED TOURS FROM MALAGA TO CORDOBA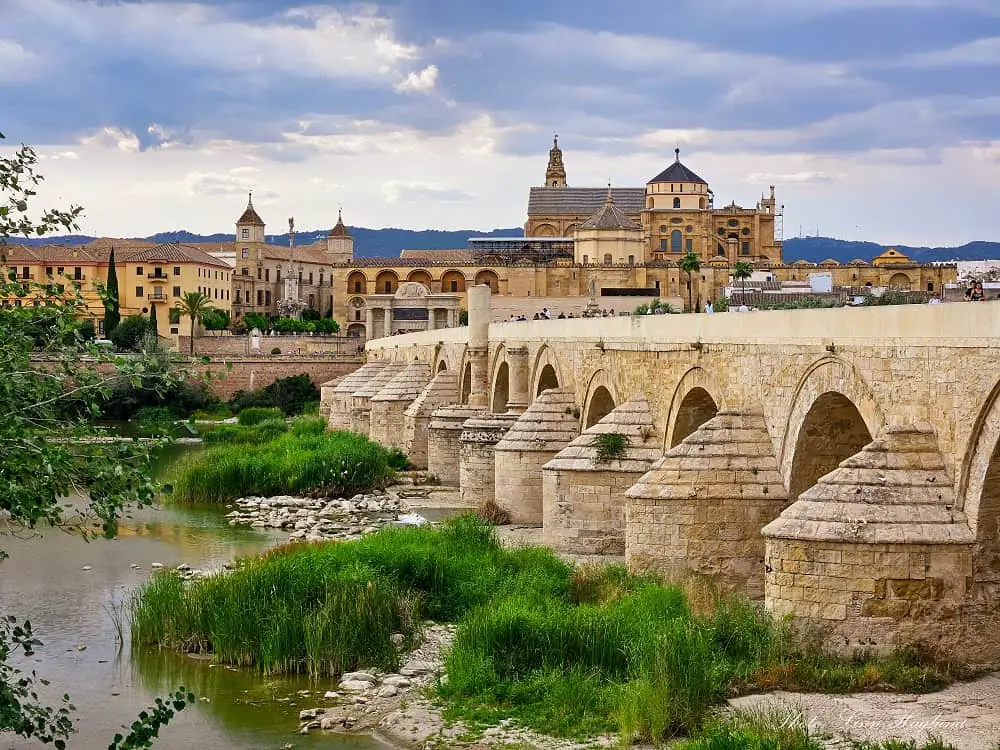 How to get there: The shortest way to get from Malaga to Córdoba is by train. They leave several times a day and only take around 1 hour one way. There are also buses that usually take around 2 hours. Also by car, the trip will take nearly 2 hours.
Seville
Another heat bomb is the Andalusian capital, Seville. Though this city certainly deserves more than a day trip from Malaga, I wouldn't miss it if you don't have the time for more days.
Going on a Malaga to Seville day trip will give you a great introduction to the city.
The city is an architectural wonder with a fusion of buildings from the Roman, Moorish, and Christian times and you can see a fair bit of it with one day in Seville.
There are so many things to do in Seville, but on a day trip, you should visit the cathedral, Giralda, and Alcazar. After lunch, head to Plaza de España to assure you see the top attractions before you leave.
Seville is known as a tapas city, and not without a reason. Where ever you go you will see (and hear) a blend of tourists and loud locals chatting, laughing, eating, and drinking in any of the many street bars.
The heat is mean in the summer months and together with Cordoba, one of the hottest cities in the country. However, Seville in winter, spring, and autumn is a wonderful time to wander the streets.
If you happen to be there two weeks after Easter, the streets are filled with colorful flamenco-dressed ladies and happy party people celebrating one of the absolute biggest fiestas of Andalucia, Feria de Abril.
For ease, you can book a full-day private tour from Malaga to Seville. Check availability here.
YOU MIGHT ALSO LIKE: 3 day Seville itinerary
How to get there: There is a daily train transfer between Malaga and Seville going through Cordoba. The total time is normally around 2 hours, but some take longer, so make sure you check the route before booking the ticket. By car, it takes about 2 hours and 15 minutes via A-92.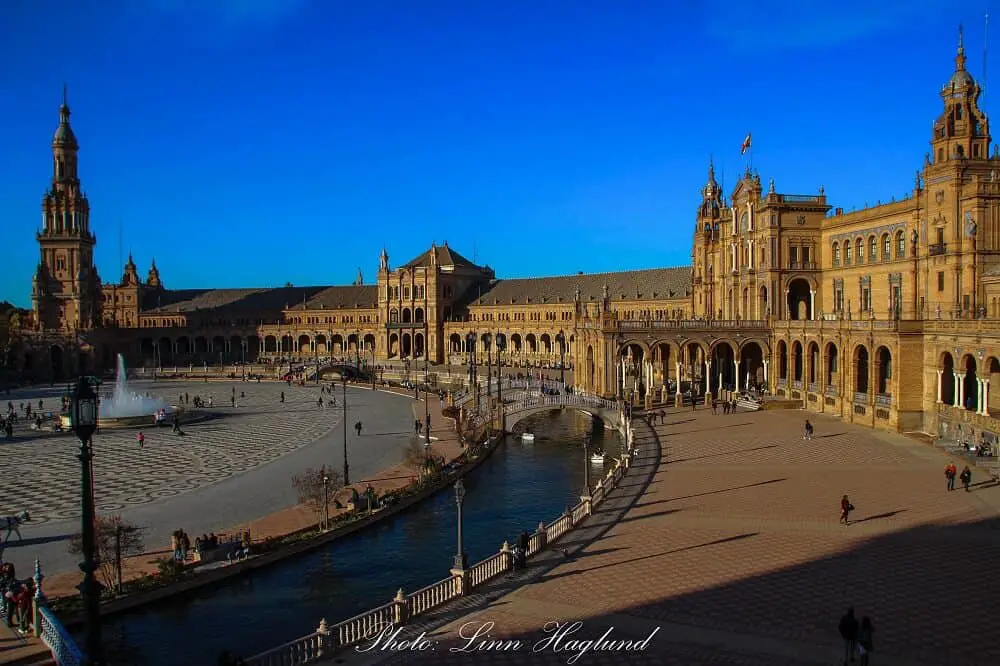 Gibraltar
Note: You need to bring your passport to cross the border to Gibraltar.
Gibraltar is a small British Territory in the stretch between Europe and Africa, and only a day trip from Malaga. The Moors were the first to settle Gibraltar back in Middle Ages before it was ruled by Spain. In 1713 the peninsula was given to the British.
The main attraction of Gibraltar is, without a doubt, the Rock of Gibraltar with its wild monkeys. Every tourist wants a selfie with a monkey, yet the animals can get aggressive and tend to steal. Remember that they are wild animals.
However, there are plenty more things to put on your Gibraltar itinerary. The UNESCO World Heritage site Gorham's Cave Complex shows the history and evolution of humankind. There's evidence all the way back to Neanderthal culture can be discovered in the caves.
You can also explore the rich sea life with dolphins and whales, however, a day trip to Gibraltar from Malaga should minimum include The Rock of Gibraltar, the Cave of St. Michael, and the Moorish Castle.
The easiest way to visit Gibraltar on a day trip is by an organized tour. There are multiple tours from Malaga, but I recommend this one.
TOP-RATED TOURS FROM MALAGA TO GIBRALTAR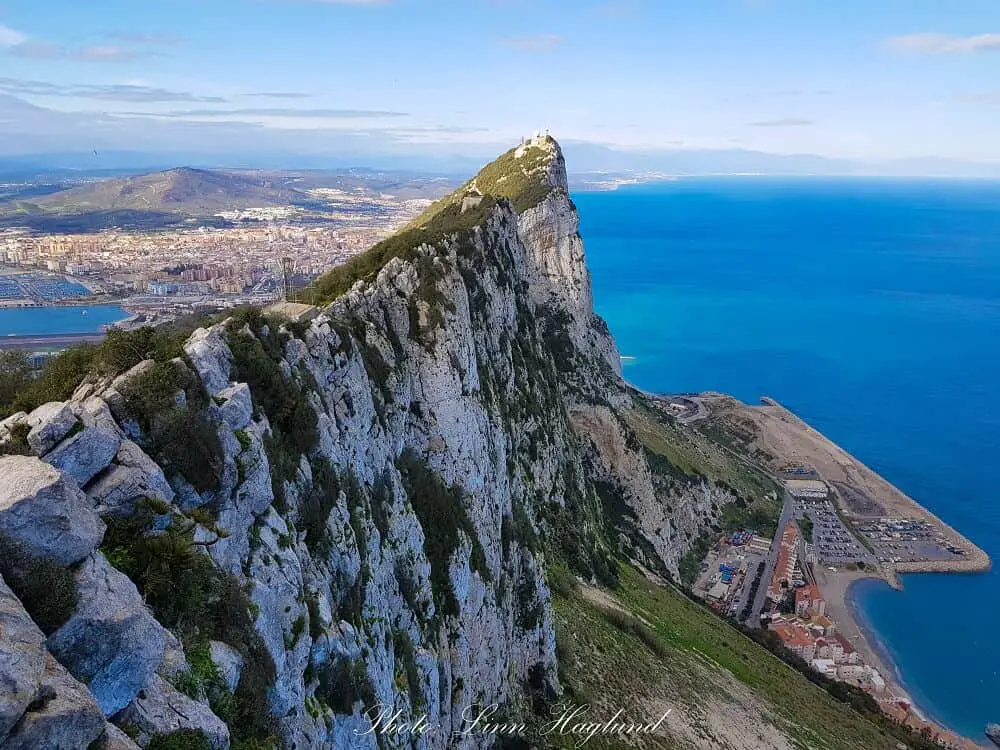 How to get there: There are daily tours going from Malaga to Gibraltar, and the tour bus only takes a couple of hours each way.
If you want to travel on your own, the best option is by car (1 hour and 45 minutes – plus waiting time at the border), as the local bus takes up to 4 hours and 40 minutes one way.
Frigiliana
Close to Nerja Caves, you find one of Costa del Sol's most stunning white villages, Frigiliana. The tiny streets twist their way around the white village houses, decorated with pots with colorful flowers. The hillside is steep and makes spectacular views over Nerja and the coast.
Walking around the village doesn´t necessarily have to make you tired, though. Numerous bars and restaurants are dotted along the way and benches are placed in strategic places.
Further, you probably want to stop by some of the many small souvenir shops. Frigiliana is a typical Spanish white village though well prepared for tourists. Among the things to do in Frigiliana, you can also go hiking in the nearby mountains.
TOP-RATED TOURS FROM MALAGA TO FRIGILIANA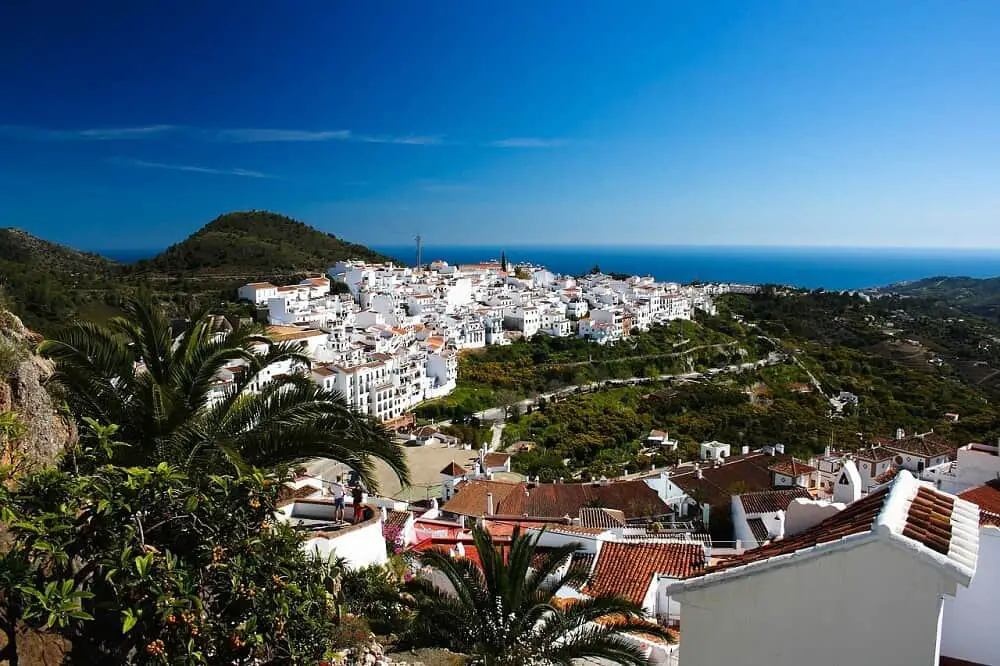 How to get there: The drive from Malaga to Frigiliana takes 50 minutes. You can also take the bus to Nerja which, depending on the bus route, takes 1 hour to 1 hour and 50 minutes. Once in Nerja, you can get the local bus to Frigiliana. This only takes 15 minutes.
Maro Beaches
Maro is a small village close to one of the most popular coastal towns in southern Spain, Nerja. Its coastline is known for its caves, clear water, snorkeling, and some of Andalucia's best beaches.
Maro beach is the most known and most frequented by tourists. It is a short drive from Maro village and makes the perfect day trip from Malaga.
You can take the bus all the way (less than two hours), or drive (around an hour) and park along the road. There are marked parking spots along the road all the way down.
However, the real jewel in Maro is Caleta de Maro beach. The beach has been nominated as one of the best beaches in Spain several times.
This is a smaller beach before you get to Maro beach.
Caleta de Maro beach is a beautiful untouched beach frequented by hippies, in periods, living at the beach. If you look carefully along the hillside you can see small camps where people sleep at night.
Clothing is optional at Caleta de Maro beach, so be respectful even though you prefer to keep your swimwear on. There are no facilities on the beach so if you want to spend the day there, you need to bring some lunch and enough water.
How to get there: There are daily buses that run between Malaga and Maro. They normally take about 1 hour and 45 minutes.
Driving to Maro from Malaga only takes 45 minutes. If you drive, you should park either in the village or on the marked parking spots along the road. Turn first right after the village. You will pass a yoga center and find a handmade sign to turn right not long after. At the end of the road, walk down the stairs to the beach.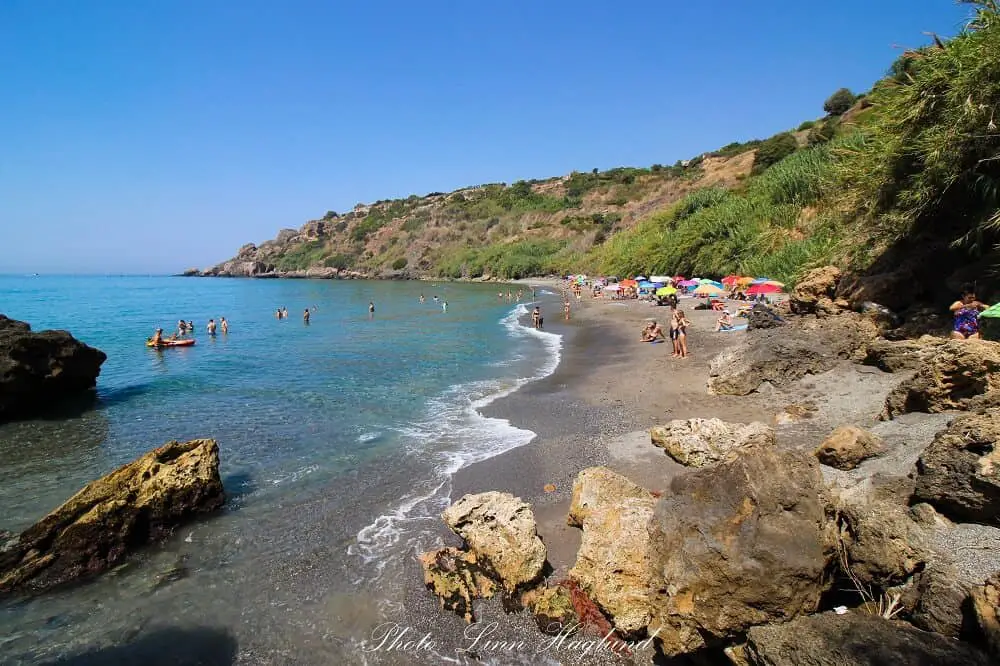 El Torcal de Antequera
El Torcal de Antequera Nature Reserve is a natural wonder consisting of eroded limestone formations. There are a couple of hikes you can do in an hour or two that cover the park.
There are limitless beautiful picnic spots on the flat rocks along the paths. With some luck, the wild mountain goats will get close enough for you to get a good photo. Make sure to not try to touch them or go after them, they are wild animals.
There is also a café that serves drinks and some snacks at the starting point of the trails. Close to it, there are also some mesmerizing views of the surrounding countryside as well as the limestone formations inside the reserve.
Especially if you visit Costa del Sol in winter, a hiking day is perfect.
If you have extra time before returning to Malaga, why not head to Antequera city and visit one of the most stunning castles in Malaga, the Alcazaba of Antequera?
How to get there: You get there easily by car in 1 hour. However, there are also daily trains to Antequera Santa Ana. You can get a taxi from there to el Torcal.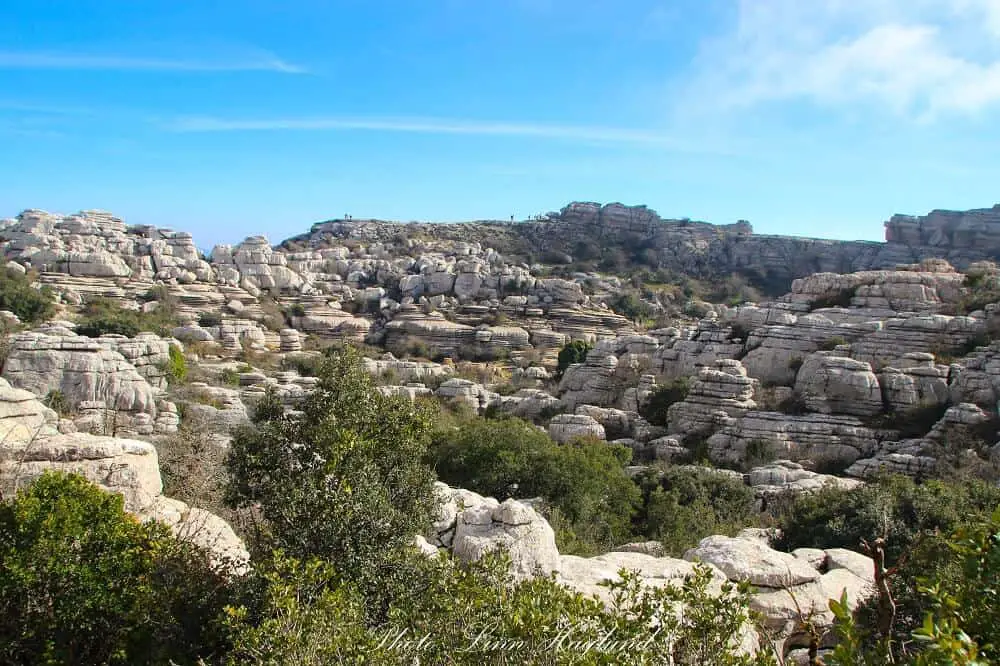 Guadalmina river walk
Guadalmina River is a true paradise in the summer months. Close to Benahavís village, you get to the river where you can explore refreshing water holes and natural slides.
The hike takes about two hours if you take your time. You should only bring your swimwear, shoes, a waterproof sports camera, and a waterproof bag in case you need to bring your car keys or some snack and water for the trip.
The hike includes a long swim through a tight canyon, so prepare to get wet. There is no way you can walk this stretch, but even children do the swim without problems as long as they are used to swimming.
This part of the hike is probably the most beautiful. Every time I go I am enthralled by nature and the fact that this is only a short day trip from the buzzing Malaga city. It could just as well have been Asia.
How to get there: It only takes 1 hour and 10 minutes from Malaga by car. However, public transport is a bit more tricky with a bus to Marbella, then a change of bus to San Pedro de Alcantara from where you will have to take a taxi to the end stop.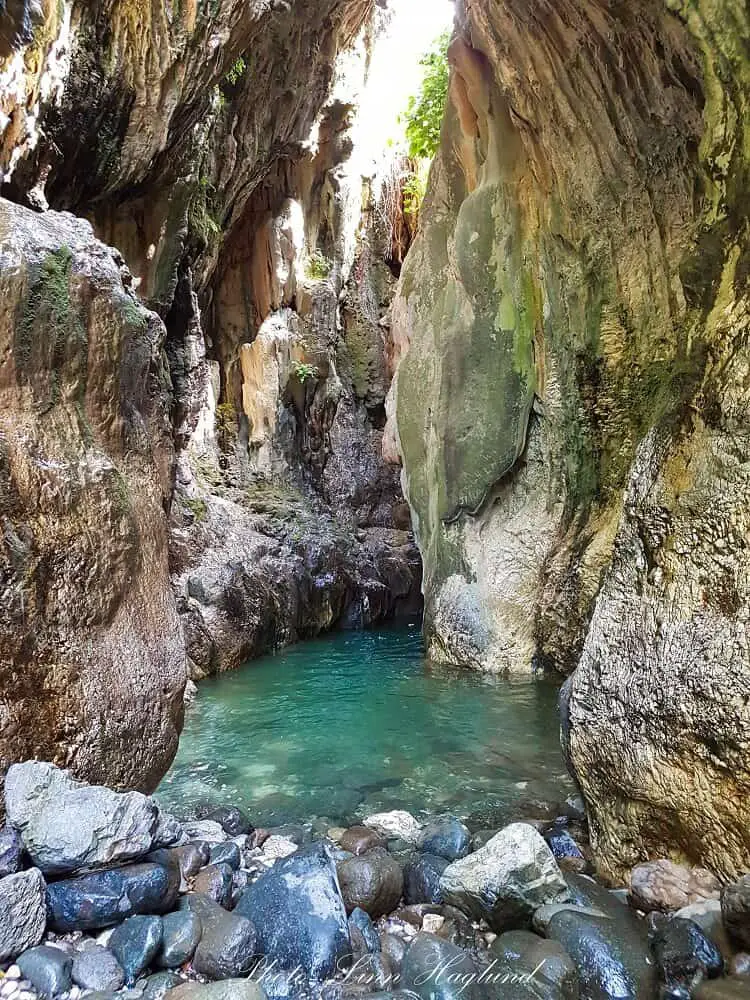 Barranco Blanco river walk
Less than an hour away from Malaga you find the river walk of Barranco Blanco. This is an easier level of walking than Guadalmina Riverwalk and doesn´t require swimming. However, I am sure you want to go for a dip in one of the crystalline water holes. The best thing about Barranco Blanco is that there are few tourists, so most people you will meet are local.
The best time to go is June to September. With peak season in mid-July to August, this is when the water and weather are at its warmest; however, it´s also when most people go there.
How to get there: You will need a car to get to Barranco Blanco as there are no direct bus services from Malaga to my knowledge. What I have looked up takes many hours round trips, and is probably not worth the hassle. By car, it only takes 35 minutes to get there.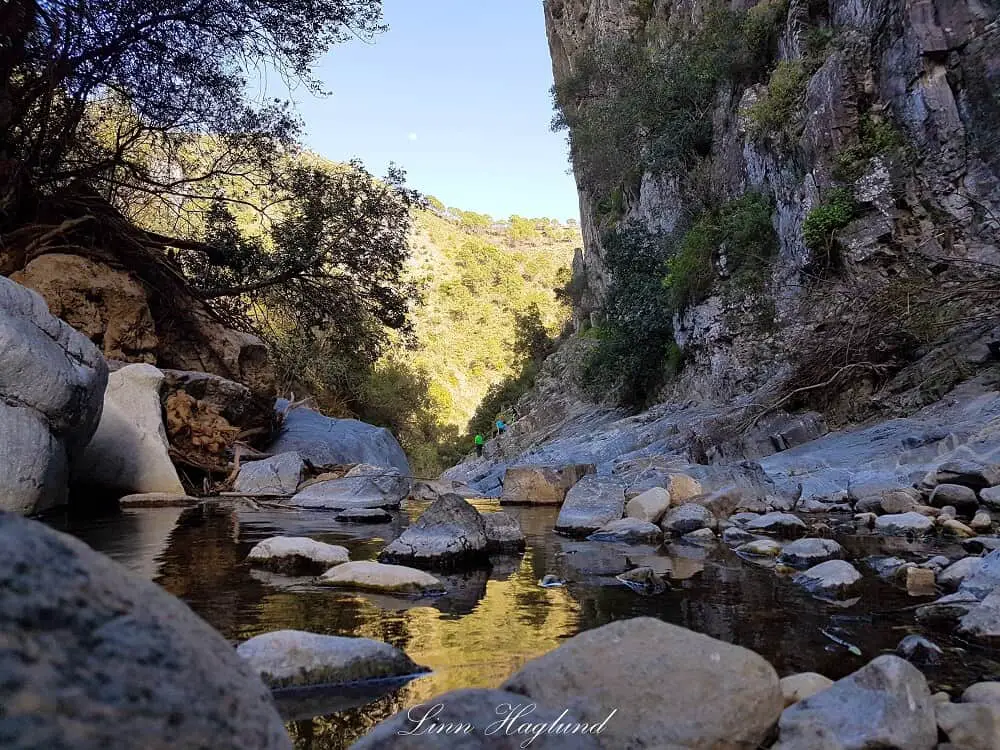 Rio Higueron river walk
Starting from the white village Frigiliana, Rio Higueron is a great river walk to escape the masses. The first part of the hike might be dry; at least it has always been when I have visited during summer. Nonetheless, after walking a few kilometers you will encounter water for sure. And on a hot, sunny day, you will be grateful to walk in the cool water.
Rio Higueron is the perfect day trip from Malaga if you want to escape the masses and enjoy a peaceful day in nature. Most likely you will only meet a few people on this hike, and they are probably also mainly locals. This makes it a major favorite of mine.
It might not be the most spectacular of the river hikes surrounding Malaga, but with no people in the way the reward is immense. It is a good whole-day hike, but you can shorten it by turning around whenever you want. However, the best parts with the most water and falls are towards the end of the trail.
To do the hike you should bring good shoes that can get wet. I tend to wear flip-flops wherever I can, even on river walks. My flip-flop broke last year on this hike and I had to walk barefoot for most of the return. I wouldn´t do that again.
As I mentioned, the beginning of the hike is dry and rocky. In addition to shoes, you should wear a bathing suit and bring a lot of water and food for the day.
How to get there: To get to Rio Higueron trail, you have to park in Frigiliana which is only a 50 minutes drive from Malaga. There are also buses. They take 1-2 hours to Nerja, and then you need to swap buses which is only a 15-minute journey to Frigiliana.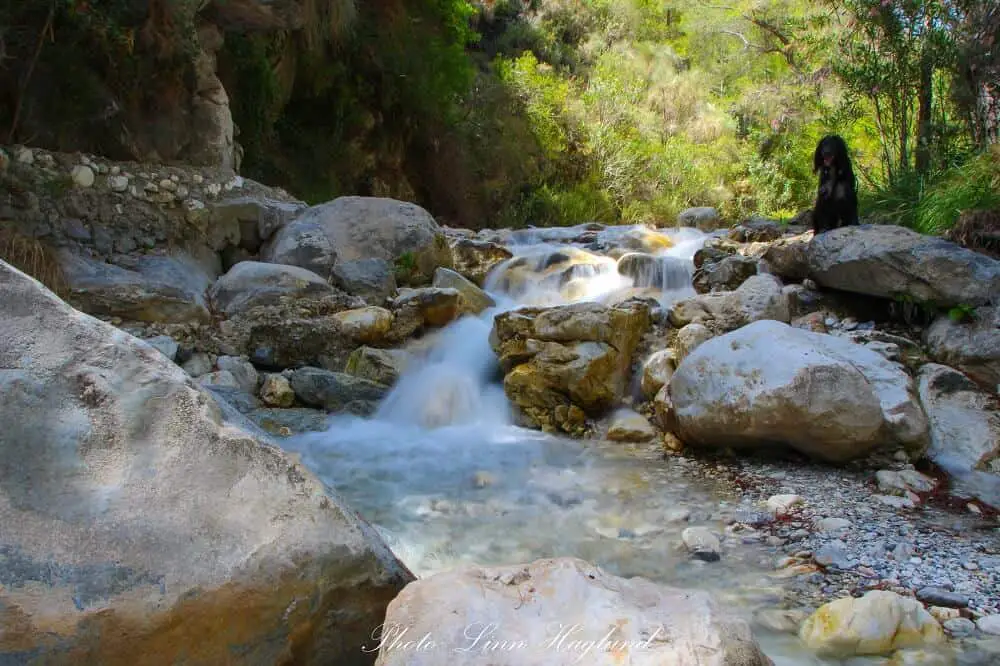 Mijas Pueblo
Mijas Pueblo is one of the most popular white villages around Malaga and one of the top places to see in Mijas. It is situated on the hillside above Fuengirola. Small colorful pot plants decorate the white village houses. The tiny streets are full of tapas bars and restaurants to choose from.
The village is built upon three different plateaus. All with viewpoints looking towards the beautiful coastline of Fuengirola and Mijas Costa. Walking through the village takes a couple of hours if you take your time and enjoy the views.
However, there are plenty of things to do in Mijas Pueblo, so you might want to spend a longer time visiting some of the museums and uncover the hidden corners of the village.
Above the village, there is a starting point to several hiking trails. The path takes you up to a small white church only a few minutes walk from the starting point. This place has a great view of the village with Fuengirola and its beaches in the far end.
The downsides of the village are that they still have bullfights in the village's bullring and they promote village tours on donkeys and horses. Read this post about why you should never ride a donkey in Mijas to learn more about the issue. I urge you to not support any of these activities as they are abusive to the animals involved.
How to get there: To get to Mijas Pueblo you can take the bus or a car. By car, it takes 35 minutes and the bus takes about 1 hour and 30 minutes.
There is also an option of taking the train to Fuengirola and the bus up to the village. This can take closer to 2 hours, depending on the departure time of the connecting bus.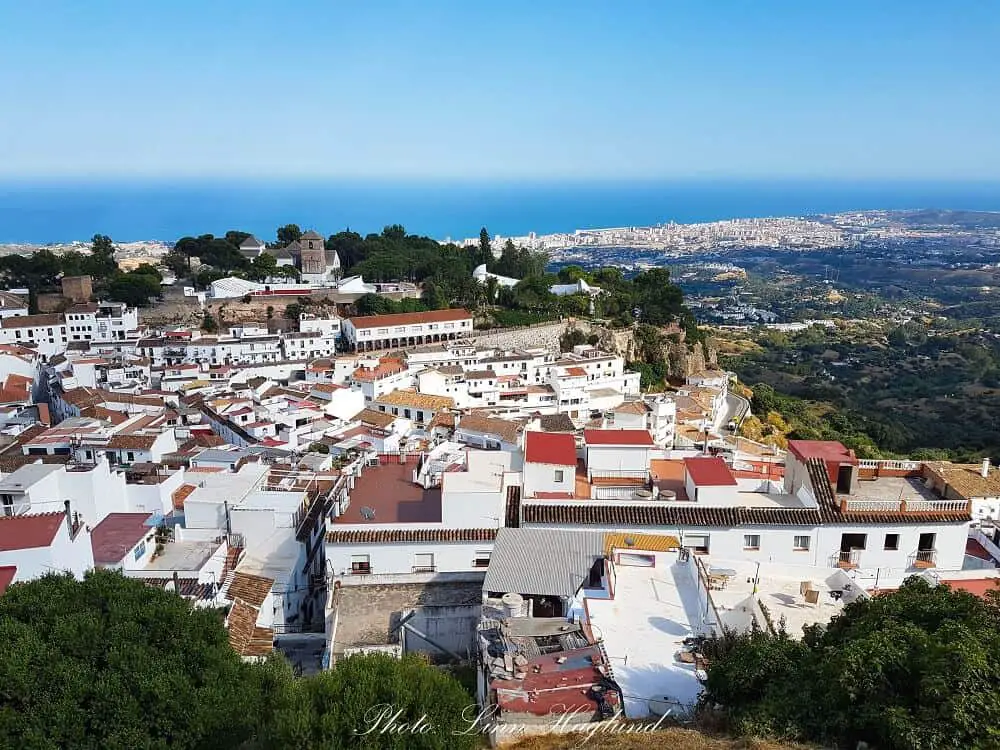 Hike in Sierra de Mijas
Sierra de Mijas is the massive mountain range behind Benalmadena, Fuengirola, and Mijas. The routes are endless and so are the views. Views of the sea, the villages, and the never-ending mountains. This is a hiker's paradise. There are plenty of hikes to choose from, long, short, steep, and flat.
The easiest accessible are the ones going from Mijas Pueblo. You can walk all the way to Benalmadena from here, though this is a good day trip. Unless you want to walk back the same way, you will need transport back to your car (unless you travel from Malaga by train and bus). Pico de Mijas is the highest peak of the Mijas mountain range and requires a whole day to hike.
The starting point of the trails above Mijas Pueblo has a map that shows the main hiking routes and the time you need for the hike. Even though you opt for a shorter hike of an hour or two, make sure to have good shoes and plenty of water.
Even on a winter day, the mountain can get extremely hot if the sun is out, and you don't want to run out of water. I did once, on a hike with a few friends. Luckily, I was not alone, but the four of us had underrated how hot the day would become and were out of water before we even started the descent. Rather painful for both humans and dogs.
I highly advise you not to hike here during the summer months as temperatures get unbearably hot.
How to get there: Once in Mijas Pueblo, walk to the top of the village and the hiking trails start from the road.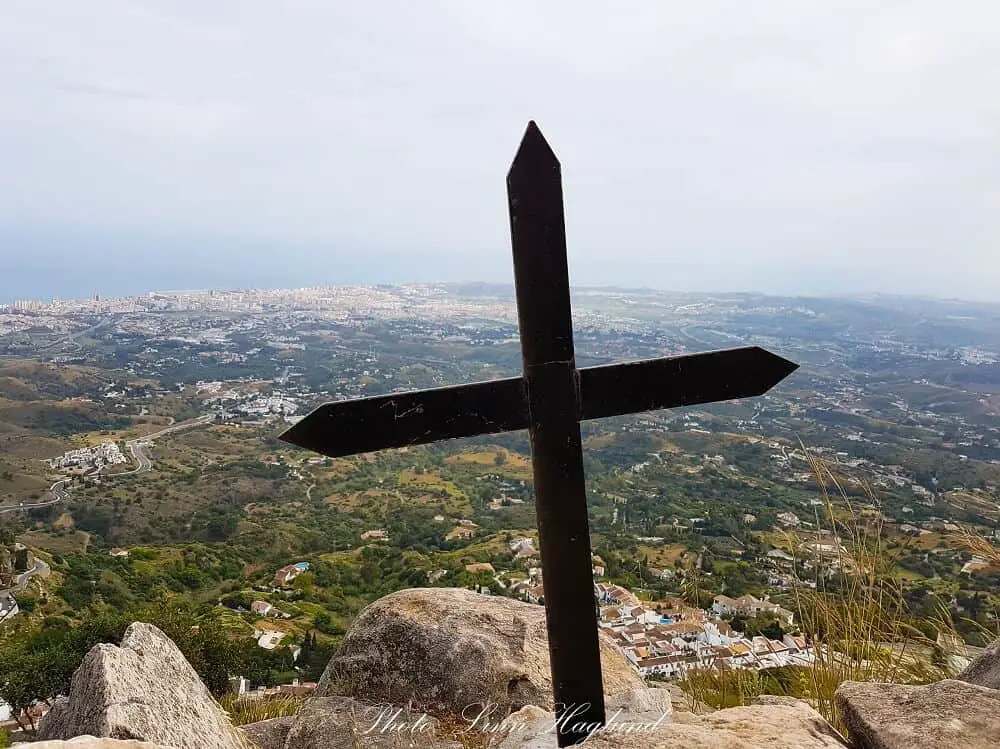 Istan
Istan is a small white village in the mountain range Sierra de las Nieves above Marbella. There are plenty of smaller and larger hikes starting from the village.
If you are only up for a minor nature adventure and a stroll around the village, there is a lovely small walk along the river that only takes about half an hour to complete.
The village is famous for its natural sources of drinking water and locals drive up all the way from Marbella to fill up containers of fresh mountain water from the public ponds around Istan.
For those that want to go for a quick swim and escape the crowds in the middle of summer, you can ask the locals to guide you to the lake of Istan which is a true paradise.
How to get there: It takes about 1 hour and 10 minutes to drive to Istan from Malaga. If you want to get there by bus you will need to first take the bus to Marbella (ca. 1 hour) and then change buses there.
This is a trickier travel method as there are only three buses daily, each way between Marbella and Istan. An option is to take a taxi or an Uber the last bit.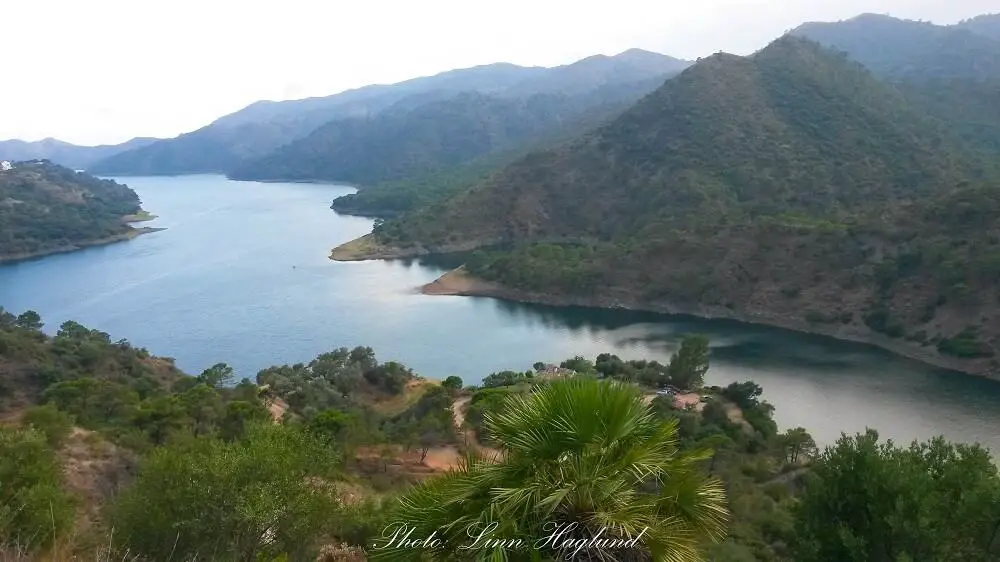 Ojén
Ojén is also known as the lemon village due to the abundance of lemon trees all around the village. The yellow fruits color the streets and along the walls of the church on the main square are some interesting flat lemon trees decorating the walls as if they were vivid paintings. Though they are not paintings, they are alive, and the lemons are real.
Besides local bars and restaurants, the village offers an interesting walk along a cave. Further, at the top of the village, you can climb up a set of stairs to a minor cave with mesmerizing views over the village with its surrounding mountains.
This is truly one of the most wonderful white villages in Andalucia.
How to get there: You can get to Ojén by bus from Malaga to Marbella (ca. 1 hour), and then change buses there. In total, it takes 1 hour and 30 minutes. By car, it only takes about 45 minutes by A-357 and A-355.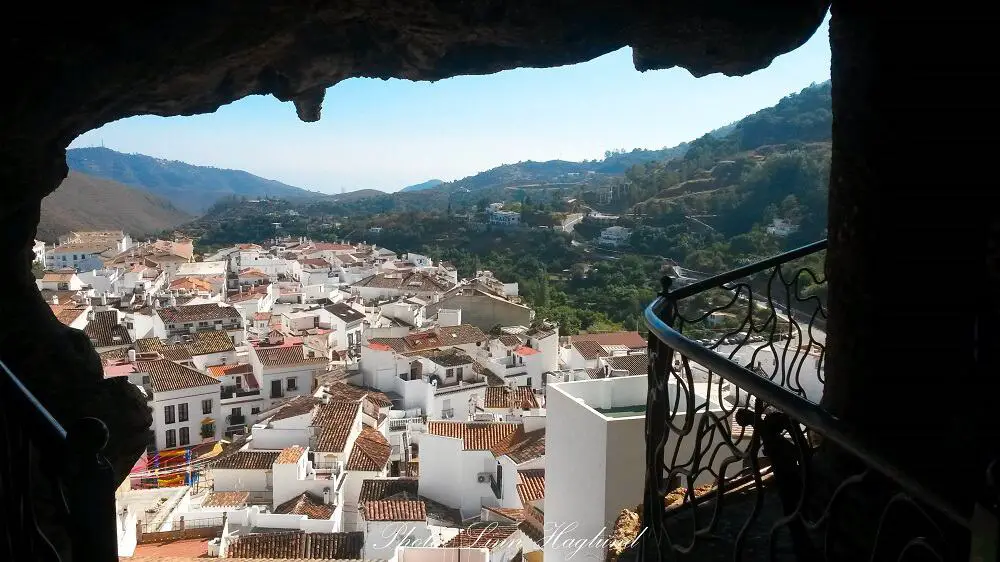 Hike from Refugio de Juanar
Refugio de Juanar is a starting point for numerous hikes, with the most famous being La Concha. This is a whole day hike and requires good hiking gear, plenty of water, and food for the day.
However, there are shorter hikes you can do like Cruz de Juanar. The hike takes a couple of hours to get to the top and the views over Marbella and the deep blue sea are implausible. The hike requires good hiking boots as parts of the trail are steep and rocky.
If you only want views without having to sweat for it, there is also a shorter track to a viewpoint that shouldn't take you more than half an hour to get to. This hike goes mainly along a dirt road in the middle of the olive fields which is the start of the other tracks.
Where the hike to La Concha and Cruz de Juanar turns to the right crossing the olive fields, this continues straightforward. A short walk later, you find the stunning view of Marbella and its surroundings.
I highly advise you NOT to hike here during the summer months as temperatures become unbearably hot.
How to get there: To get to Refugio de Juanar requires a car. The drive takes 45 minutes. An option is to take the bus to Marbella (ca. 1 hour) and then a taxi or Uber up to the mountain.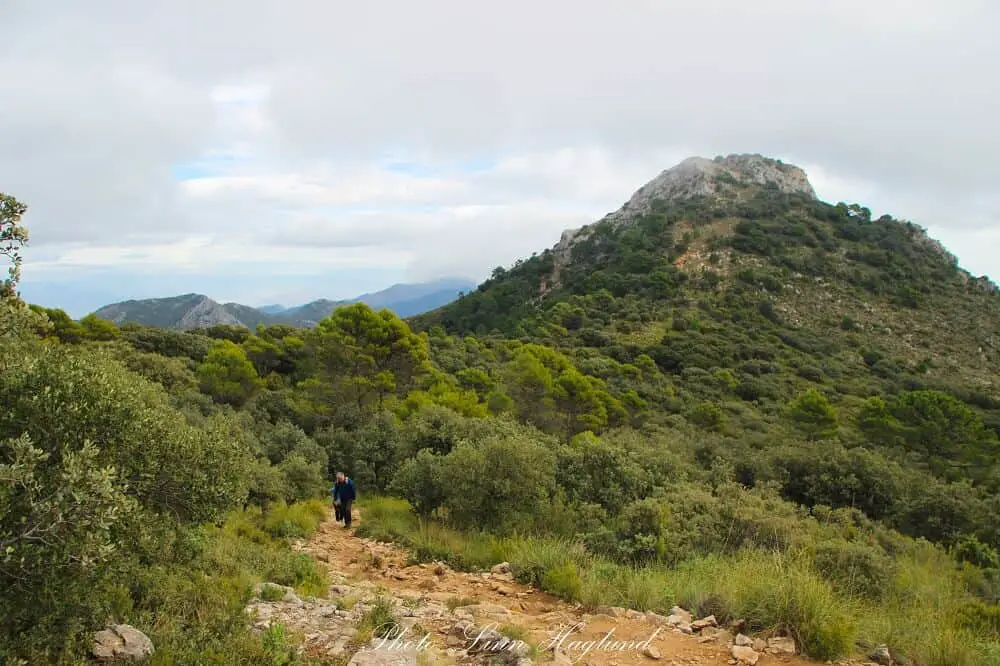 Marbella
Marbella has a reputation for being a tourist trap for people with money. However, it is one of the most beautiful cities in Andalucia, especially the old town, and absolutely worth a visit.
The old town with narrow paved streets meandering around old historic buildings full of art galleries, gift shops, bars, and restaurants is always full of life. Even when visiting Marbella in winter, there is a vibrant ambiance in the old town.
There are fabulous beaches in Marbella. In the city, you have fully equipped urban beaches that you can walk straight down to.
But you can also find some stunning beaches outside the rural areas which are usually necessary to drive to. These are typically beaches you must walk a bit from the parking to get to, nonetheless, the reward is immense.
Besides the beaches, there are plenty of water activities and fun Marbella boat trips to take.
The city also offers a big cultural scene, so there are plenty of things to do in Marbella. Theaters and concerts are frequent in the summer months, which add a great addition to your day trip to Marbella.
How to get there: Traveling between Malaga and Marbella is easy with frequent daily buses that take around 1 hour, the same time you will spend by driving your own car.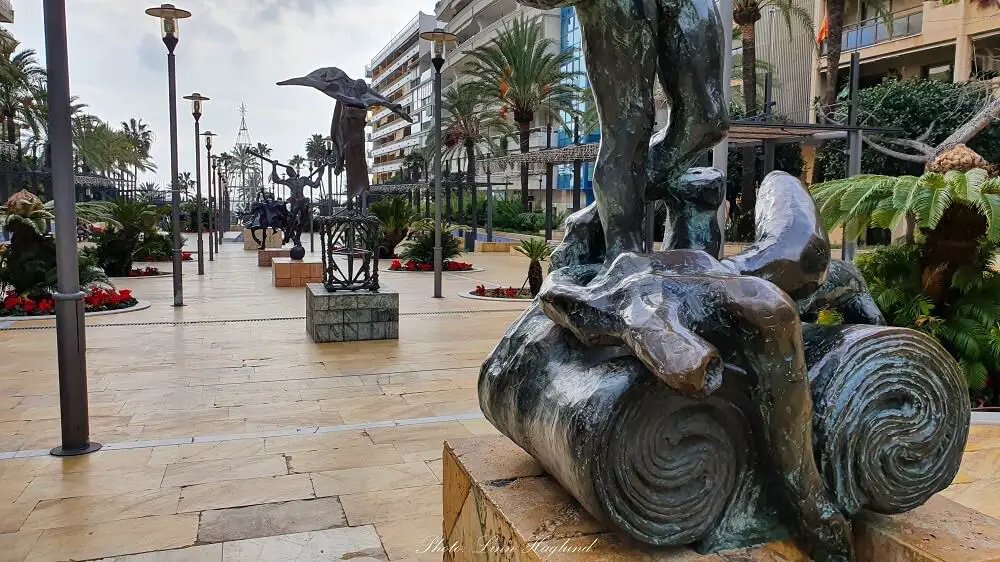 Setenil de las Bodegas
Setenil de las Bodegas is quite different from the rest. The village is built beneath the mountain, and one of the streets is literally a tunnel with houses on the sides and the mountain above. The village is small and you walk around it in ten minutes. You can do the long tour around and above in less than an hour.
There is not much else to the village other than the curious way it is built. However, there are a few restaurants to choose from to have your lunch. It is definitely worth a visit.
How to get there: It takes approximately 1 hour and 15 minutes to drive from Malaga to Setenil de las Bodegas. It is hard to get there by bus, but several tour operators take tourists up there.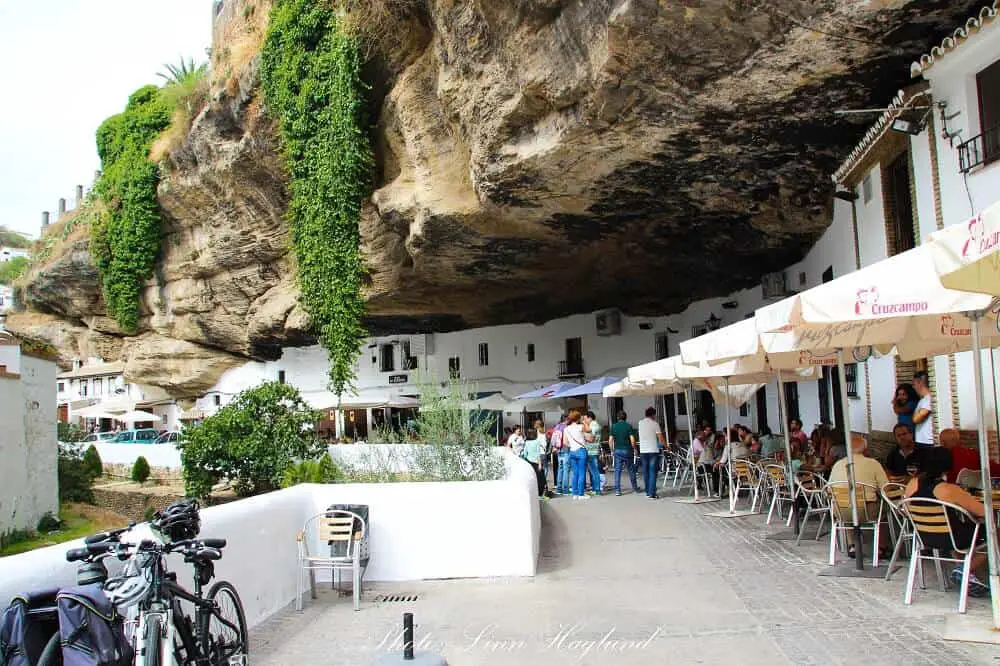 Osuna
Osuna is a historic village halfway between Malaga and Seville. Its landmark is a castle that you can see all the way from the passing main highway. This is actually how I discovered the village. I had driven by so many times seeing that castle that it got me curious, and one day I had the time to stop by I did.
The castle gives great views of Osuna but also the surroundings as it is on the top of a hill above the village. The town is packed with baroque churches and palaces dating all the way back to the 16th to 18th centuries – some of them set on Calle de San Pedro which was declared one of the most beautiful streets in Europe by UNESCO.
It makes it a delight to walk through the streets as you never know what architectural wonder will meet you around the next corner. Also Plaza Mayor is worth a visit with its many unique sites surrounding it.
And if that wasn't enough, above the village, you can witness several Roman and pre-Roman archaeological finds which are beyond impressive, like Coto de las Canteras.
If you want to make sure not to miss any of the most beautiful buildings there is a Tourist Office at Calle Sevilla where you can ask for some tips and a map.
How to get there: Osuna is about 1 hour and 20 minutes drive from Malaga. By bus, it takes around 2 hours and 30 minutes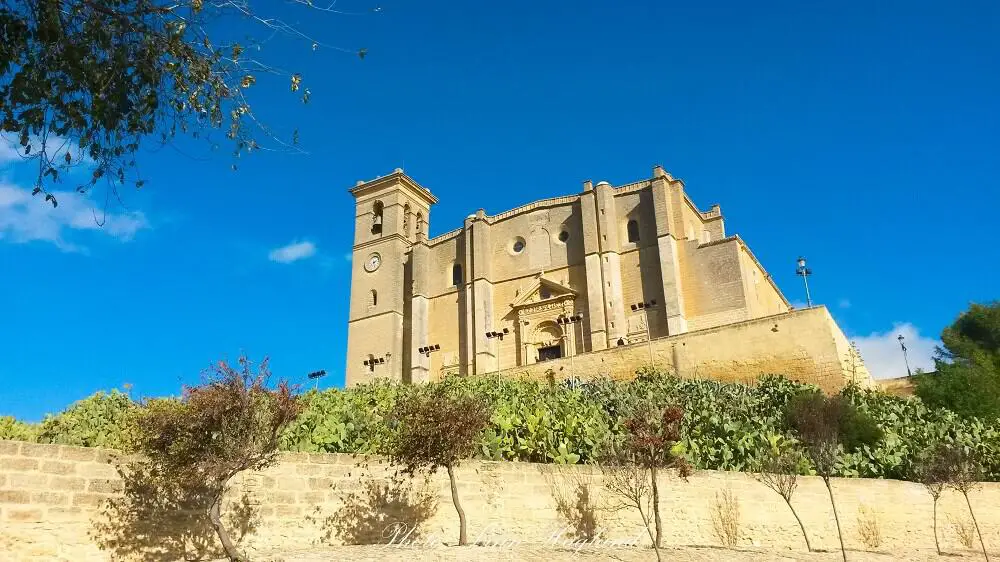 Casares
Casares is considered one of Malaga's most beautiful white villages. Passing large fields and massive windmills, the hillside village shows off with its dramatic positioning on the cliff edge.
It is built around a charming little square. The streets weave around the white typical buildings with open doors into people's living rooms that give a sneak peek of Spanish everyday life.
There are quite a few historical remains in the town with ruins from Roman and Moorish times.
Further, there are a few traditional bars and restaurants to have lunch and dinner. But don't forget eating hours in Spain decide when the kitchen is open.
The surroundings are filled with hiking routes but watch up for wild boars!
How to get there: By car, Casares is around 1 hour and 30 minutes from Malaga, and the best option for a day trip. Taking the bus will add at least 2 more hours of traveling time each way.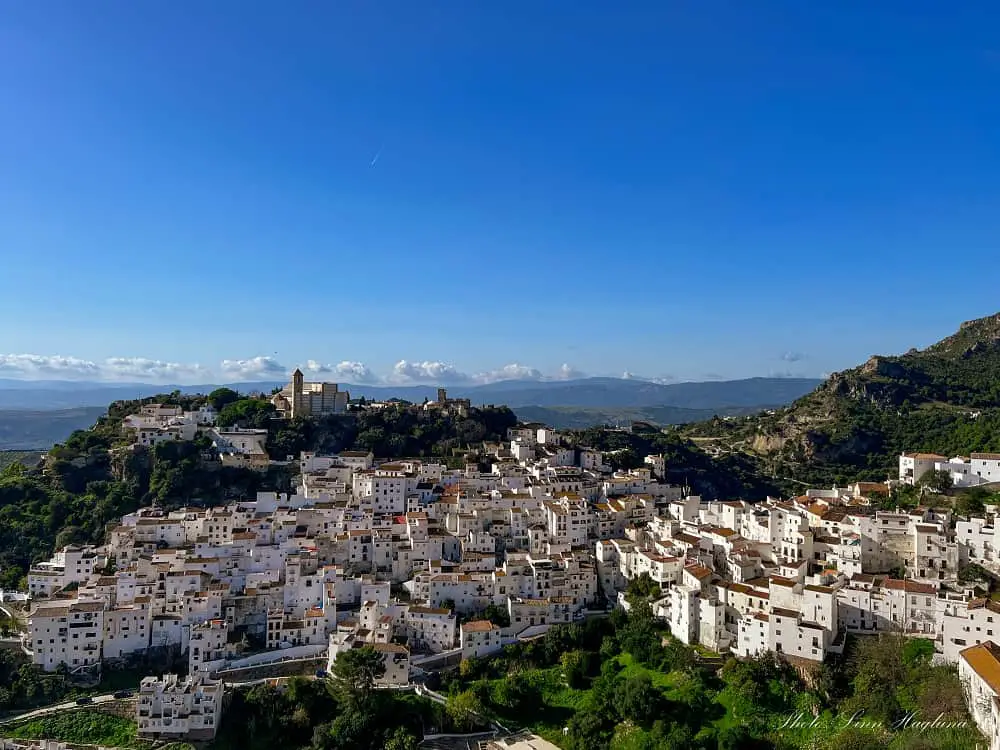 Gaucin
A short getaway from Malaga you will be surprised by the beauty of this village at the beginning of the round trip of Serrania de Ronda.
Gaucin has been popular among artists for decades and the village still offers various art galleries visitors can gaze in during their visit.
Because of the large number of British expats in the village, there is a surprising blend of a traditional Spanish and international feel to the place. It is yet not touristy, though. You bet I was speechless when I found vegan cake in the middle of a small Spanish mountain village!
The views from the village are astounding. But even more so when you walk up to the Moorish castle ruins overlooking the surrounding hills finding their way down to the seaside where you can see Gibraltar and even Morocco on a clear day.
How to get there: The best way to travel to Gaucin is by car and takes 2 hours. If you want to take public transport, there are a few buses through Ronda or you can take the train through Antequera-Santa Ana. Public transport is not very frequent along this stretch. You could also try to book a tour from Malaga.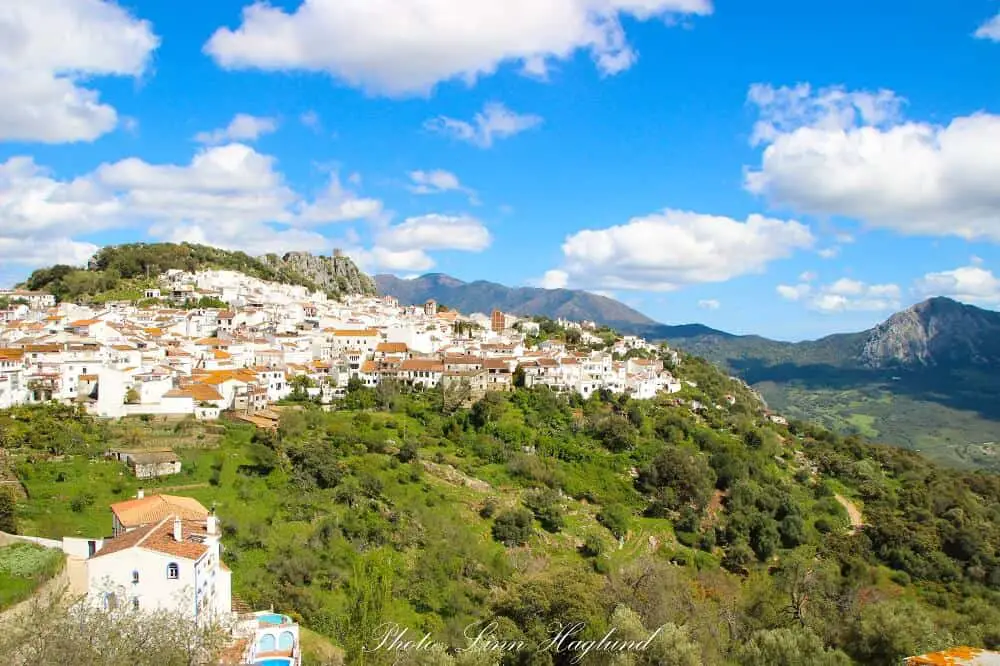 Hike Mulhacen
For the outdoor enthusiast, it is a must to hike the highest mountain in continental Spain (the highest in Spain is Teide in Tenerife at 3718 meters). Mulhacen is part of the Sierra Nevada mountain range, with the highest peak at 3479 meters. There are different starting points and hiking durations to get to the top.
For a day trip from Malaga, the best option is to go to the village Capileira and get the bus to Mirador de Trevelez which is the highest point a vehicle can take you. From there the hike takes five hours. The bus only leaves in the summer months and has to be pre-booked. You can find contact information to book the bus here.
The hike itself is not hard. Nevertheless, the height might make it feel harder than expected. It is important to be prepared with proper hiking shoes and clothes for windy and cold weather. However, it is hard to know if it will get cold with strong wind or extremely hot on a sunny day, so make sure to have space in your backpack to put extra clothes in case you need to take off some layers.
The never-ending views over the surrounding mountains make the peak the perfect picnic spot, though there are many beautiful places to stop on the way. The bus leaves exactly five hours after you get dropped off, though, so make sure to leave enough time for the hike back down.
How to get there: Your only option to hike Mulhacen on a day trip from Malaga is to drive to Capileira. This takes 2 hours. The bus from Malaga takes between 4 and 4 hours and 30 minutes one way, so it wouldn't leave time to do the hike.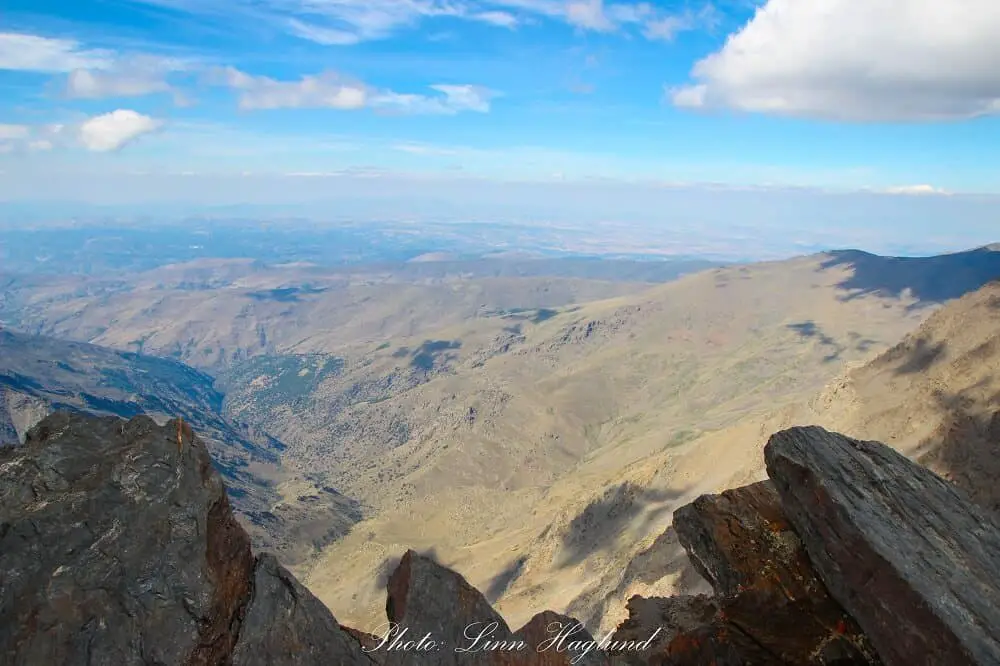 Grazalema
Grazalema is a tiny village in the middle of Grazalema Natural Park in the Grazalema mountain range. The village is a true paradise for nature lovers. There are without a doubt some implausible hikes starting from here.
Though many of the hikes are free of access to the public, there are numerous hikes that are only accessible with a permit and a guide (dogs not allowed). These are without a doubt worth the fee. If you plan on one of the hikes that need permission, you will have to book in advance. You can do that through the official site here.
The village of Grazalema is a typical Spanish white village. Some say that if you have seen one you have seen them all. I am not of the same opinion. They all have their own charm and history.
The main square in Grazalema has a couple of bars where you can eat and drink in front of the old church. The views around the little town are all mountains. A few hiking shops and gift shops are to be found around the narrow streets. There is no doubt it is a hiking center; most visitors wear hiking boots and clothes.
How to get there: If you want to take a day trip to Grazalema you need a car. It takes 1 hour and 50 minutes to drive the scenic route over the mountains.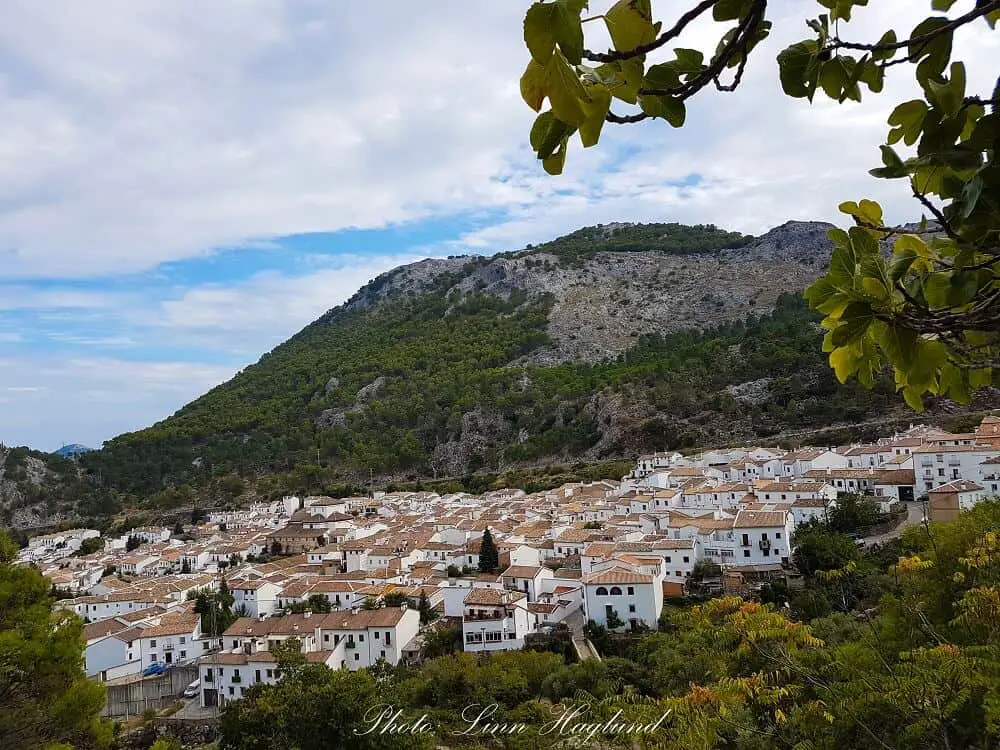 Zahara de la Sierra
Zahara de la Sierra is a village beautifully situated in the Sierra de Grazalema Natural Park, overlooking the turquoise reservoir Zahara-el Gastor and surrounding mountains.
To get the best views you have to make the short walk up to the town's castle, Torre del Homenaje. The remains date back to the 14th century, though it was built on top of a watchtower from the 8th century.
The town itself is a typical small Spanish white village with a few restaurants and bars. There are a few structures worth seeing, though a walk around the village you won't miss them. There is also a museum displaying the history of Zahara de la Sierra.
How to get there: You need a car to get there from Malaga, and it takes 1 hour and 45 minutes to drive. You can also book tours from Malaga that visit this gem.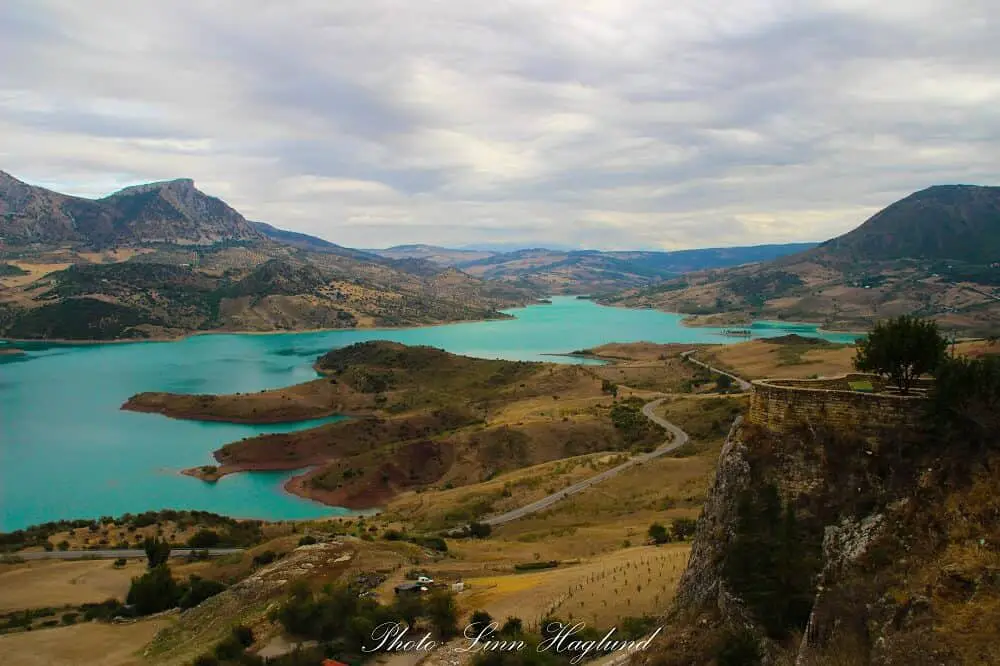 Jimena de la Frontera
Jimena de la Frontera is a small historic village in the province of Cadiz. The narrow, cobbled streets wind their way between the whitewashed buildings.
Old women sit on chairs outside their house people watching as you walk past and old men sit on the outside tables of bars drinking beer. A typical day-to-day sight in Spain.
Jimena de la Frontera has been in the hands of the Iberians, Romans, Moors, and many others as the village was conquered and re-conquered time after time.
The village offers various hiking trails in the surrounding Alcornocales Natural Park.
Overlooking the town is the ruins of the Moorish castle of Jimena de la Frontera dating back to750 AD. The ruins offer a stunning view of the village and the surrounding mountains and fields.
How to get there: By car, it takes less than 2 hours to get there driving along the coast past Marbella. You can take a train too, there are only a few trains a day for this stretch and they do take nearly 4 hours one way.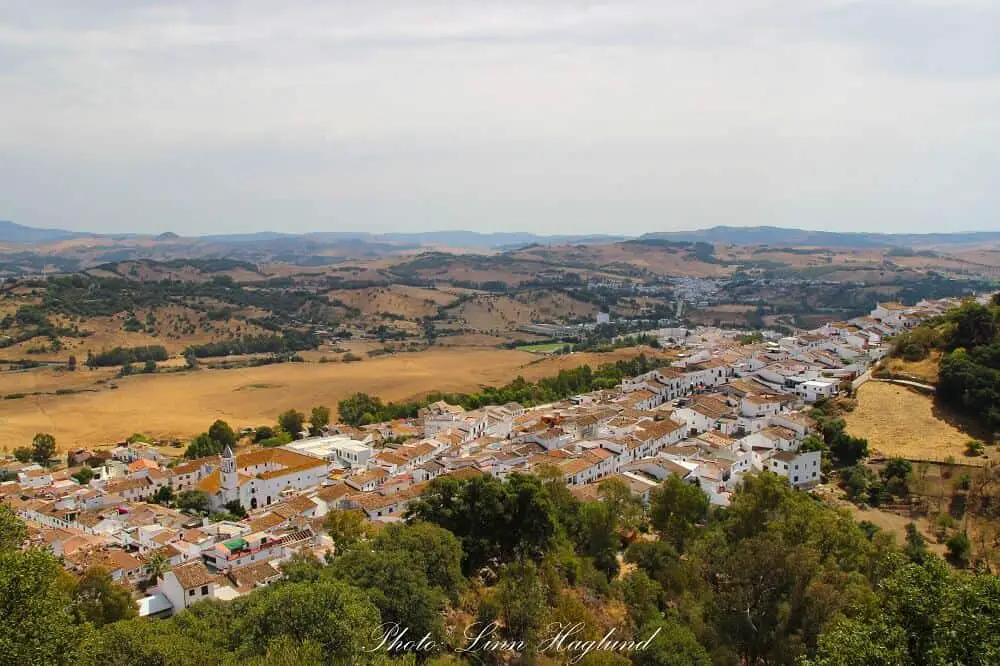 Tarifa beaches
Known for its laidback surf vibe Tarifa's white sand dune beaches are some of the finest beaches in Cadiz, especially worth visiting is Bolonia beach. But even Los Lances Beach, which covers 10 kilometers of coastline from the town, is a great example of the impressive Tarifa beaches.
It is not a secret that the beautiful broad sand dunes are formed over time by all the sand that gets blown across on windy days. For that reason, Tarifa is enormously popular amongst windsurfers and surfers, though the town and its beaches can be enjoyed by anyone.
If watersports are not your thing, on a calm and windless day the beaches are perfect for a day out or you could go whale- or dolphin-watching.
However, in midsummer, it might be hard to find a completely quiet spot as the beaches are tremendously popular. Anyway, Tarifa beaches are a great change to the Malaga beaches with buildings all the way to the beachfront.
How to get there: It takes exactly 2 hours to drive from Malaga to Tarifa, and the easiest way to get there is by car. There are a few buses daily or you could book a tour for the day.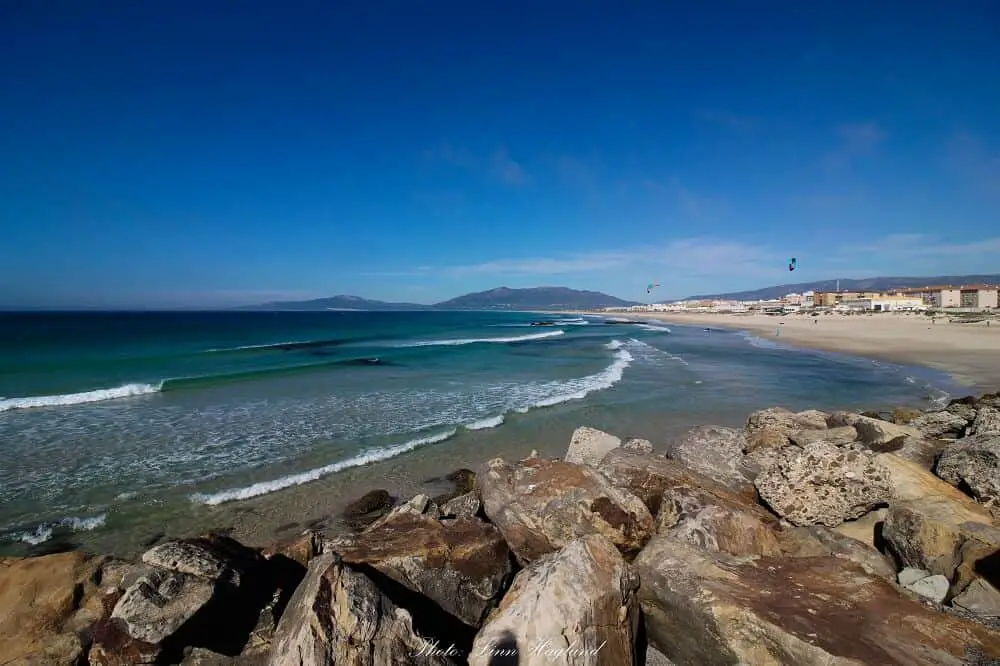 Cabo de Gata Nature Reserve
Cabo de Gata Nature Reserve deserves so much more than a day trip. But if you don't have more time, I wouldn't miss it for a thing. The curious desert landscape meets high cliffs overlooking the ocean and wild virgin beaches.
My vote goes to the beaches in Cabo de Gata being not only the best beaches in Almeria but some of the best in Spain.
Genoveses beach, Monsul beach, and Barronal beach are close enough that you can enjoy them all in a day or you can choose one or two for a longer time. What is better than walking straight off the desert sand, onto the beach, and into pristine water?
The village of San Jose is a great stop for lunch unless you bring a snack to the beach. The village has a relaxed atmosphere with small shops and restaurants.
If you want to venture into a hippie paradise, find your way to the village of Las Negras and either take the boat over or do the one-hour hike to Cala de San Pedro.
Close to Las Negras, you also find Playazo de Rodalquilar which is another stunning beach paradise. Even further up the natural park, you find the epic Los Muertos Beach which is a solid hike to reach.
You might also like my post about the top things to do in Almeria.
How to get there: To explore Cabo de Gata on a day trip from Malaga you have to go by car, both to be able to explore the area and to get there early enough to get something out of the day. The drive takes 2 hours and 40 minutes.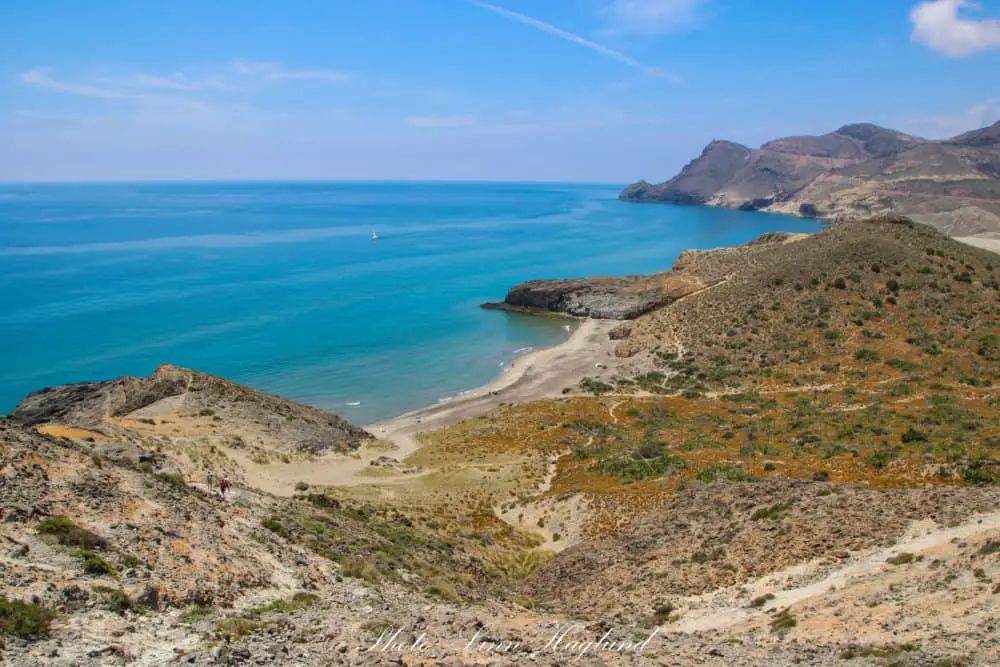 Sierra Nevada
Just a day trip from Malaga and the sunny beaches you can strap on your ski- or snowboard boots and slide down the powdery mountains of Sierra Nevada. This is Europe's most southerly ski resort.
There are courses and slopes for beginners as well as long and challenging slopes for the experiences and more adventurous.
The little village of Sierra Nevada offers a charming mountain feel to it and has restaurants and bars as well as breathtaking views.
They also keep a couple of ski lifts open in the summertime so you can get up to nearly 3000 meters of altitude without any effort. The views are spectacular. In July and August, there are also guided tours to the highest observatory in Europe which is found in Sierra Nevada.
How to get there: There are bus services between Malaga and Sierra Nevada and even a train to Granada where you can change to a bus to Sierra Nevada. However, the absolute easiest way to travel there is by car. It takes about 2 hours and 40 minutes.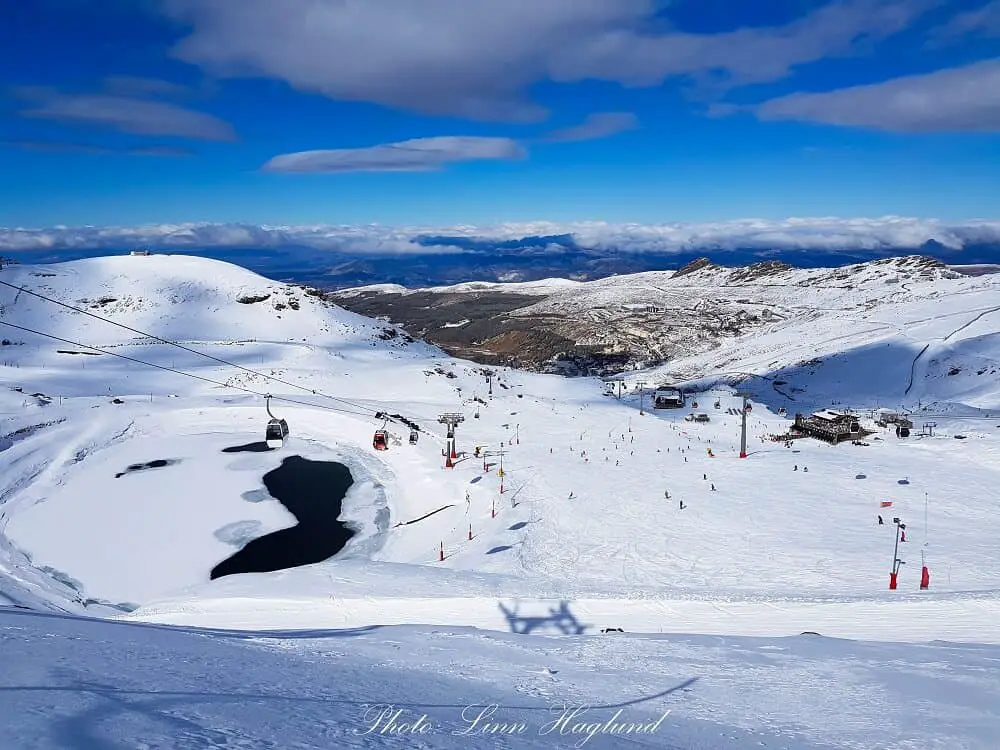 Juzcar
The blue Smurf village Juzcar is situated in the mountains of Ronda. It is just what it sounds like. Painted blue and entertaining kids with Smurf paintings on their walls and Smurf playgrounds and statues.
There are face paint and different Smurf activities for the little ones and families from all over Andalusia come here to enjoy a Smurfy day.
The village doesn't offer much more, but if you want to experience something different and entertain the kids it is definitely worth a small visit.
How to get there: To get to Juzcar from Malaga you need a car. The journey takes 1 hour and 50 minutes over A-357 and A-367.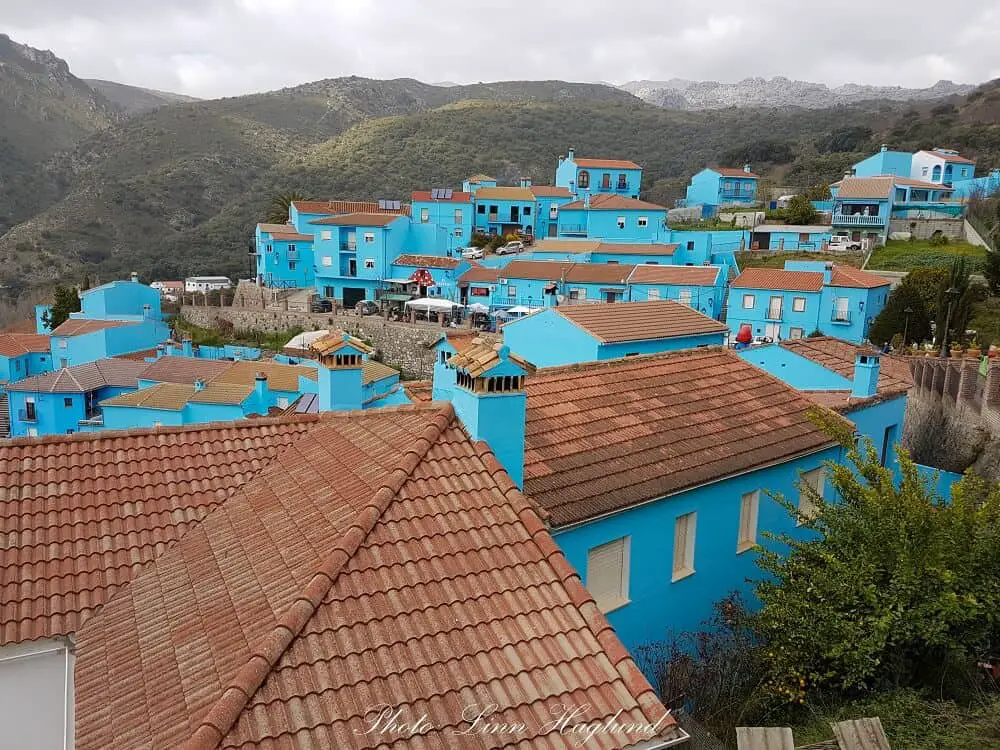 La Herradura
La Herradura is a small coastal village about 60 kilometers east of Malaga. Herradura means horseshoe in Spanish and comes from its bay being shaped like a horseshoe.
There are several bars and restaurants along the beach. Other than enjoying La Herradura Beach and a nice swim, there is an excellent view by an old watchtower at Cerro Gordo you can hike up to.
From there you see the whole bay of La Herradura to one side and the coast towards Nerja on the other side. It is absolutely worth the trip.
On the other side of the bay, you find Punta de la Mona where you can see the watchtower and a small hermitage with spectacular views of the marina on the other side of the cliff.
How to get there: The bus services between Malaga and La Herradura are quite good and take about 1 hour and 30 minutes. By car, it takes less than 1 hour.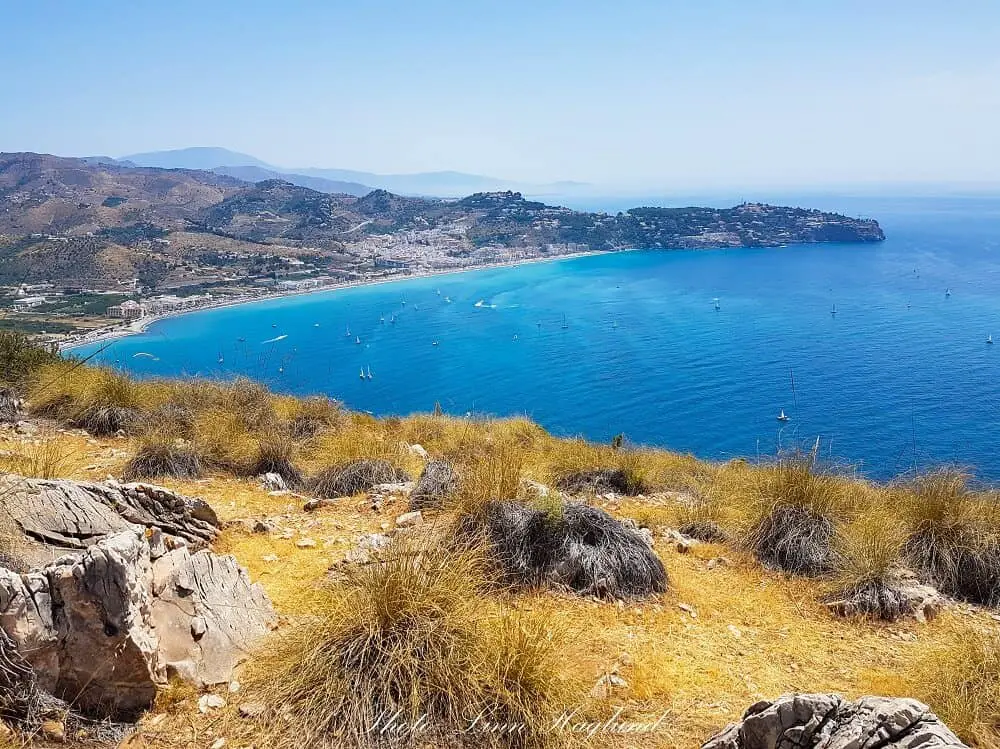 Rio Chillar
Rio Chillar is one of the most popular river treks on Costa del Sol, and not without a reason. The gorge is breathtaking all the way to the end. Walking in the pristine, cooling water surrounded by mesmerizing landscape and pressing through tight canyon walls this trek is worth it no matter how popular.
The hike stretches 8 kilometers each way and takes 6-7 hours. There is no notable elevation, though anyone with knee problems can get it difficult in some parts. There is also a round trip you can do continuing past the last cascades that take you up on top of the canyon on the way back with incredible views.
Rio Chillar is definitely a good day hike in the summer months when it is too hot to hike unless you can cool down in the delicious water. It is important to bring food and enough water for this hike as well as good shoes that can get wet.
How to get there: Rio Chillar starts in Nerja, and several buses a day go from and to Malaga. It takes between 1 hour and 1 hour and 30 minutes one way.
By car, it takes about 50 minutes to Rio Chillar. There are two parking lots. One is down the hill just by the start of the trail and the other one is about 15 minutes to walk from the trail start.
The latter you have to pay for parking, so make sure you bring coins. Otherwise, there is plenty of roadside parking in the streets around.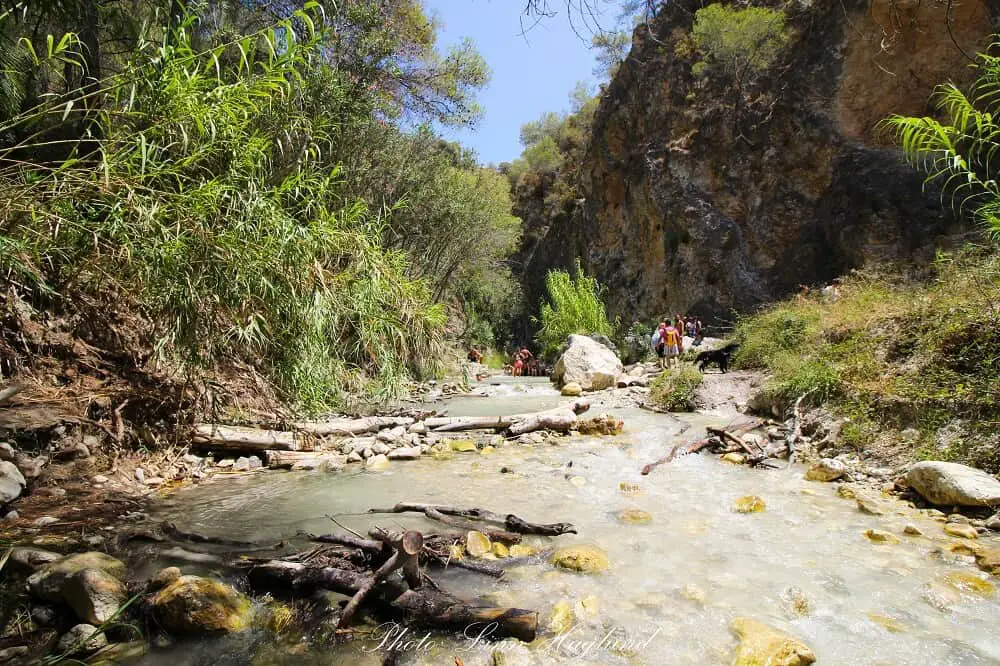 Hike El saltillo trail
El Saltillo trail is a true hidden gem just off the white village Canillas de Aceituno. Also called "the other Caminito del Rey" for its many similarities, only here you go for free, without a helmet and the gorge is smaller.
If you are scared of heights, this might not be your thing, as the narrow path winds its way along steep hills following the water pipes for nearly the whole 8 kilometers.
Passing two suspension bridges hanging off the vertical cliff wall and ending at a small waterfall, this hike is one of the nicest surprises you can get to from Malaga.
This is a nice day hike without much elevation which can be done in around 4 hours return.
How to get there: It only takes an hour by car to get to Canillas de Aceituno from Malaga driving on A-7 passed Vélez-Malaga. You can also get there by bus, though they don't run very frequently and they don't run Sundays and public holidays.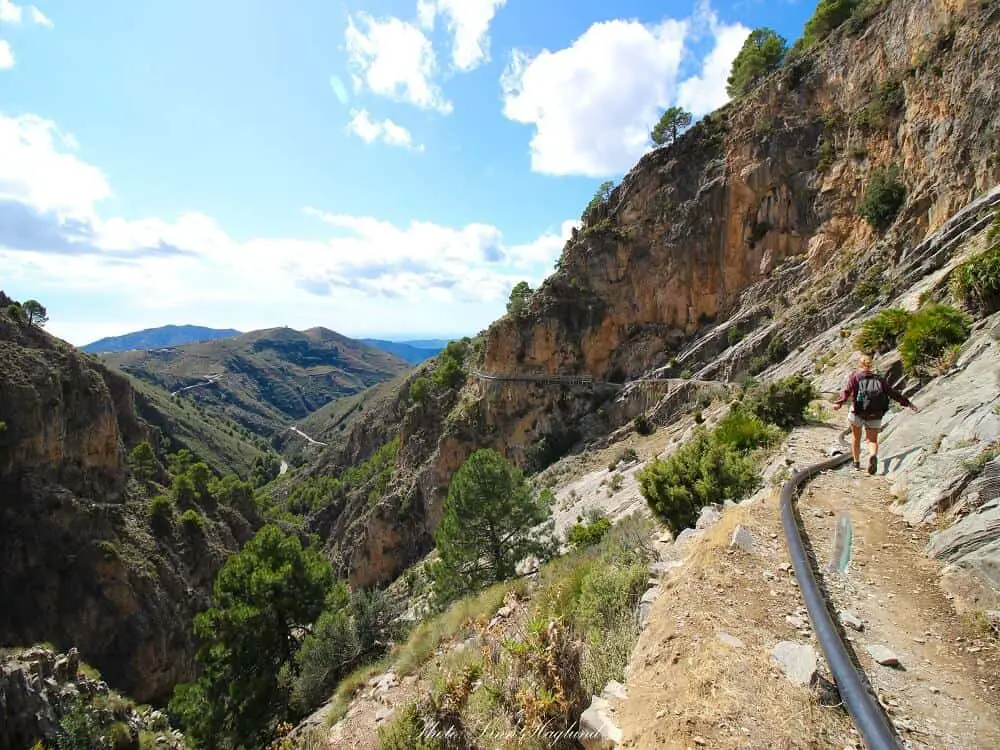 Don't forget to explore Malaga city
As you see, there are endless things to do on your holiday in Malaga besides spending time in the vibrant, historical city which is impressing itself. Make sure you get time to explore the city itself too. I recommend at least one day in Malaga, but if you have the time, book a few nights in this vibrant city.
The medieval Moorish palace, Alcazaba with spectacular sea views, the Gibralfaro fortress, and the cathedral in the middle of the center have to be visited. Malaga is also a wonderful city to wander around, fill up with tapas and Sangria.
There are also nice beaches to chill out at, like the Malagueta beach in the city center.
Happy travels!