The popular Andalusian beach town of Tarifa is well known for its water activities like kitesurfing, windsurfing, surfing, and so much more.
Every year travelers flock to this paradisiacal corner of Andalucia to enjoy the wind in their hair, water activities, the bohemian atmosphere, and quaint old town.
There are so many fun things to do in Tarifa that you'll likely be hooked on the place. Though it's a popular day trip from Cadiz, it's well worth spending a longer time there.
Tarifa has it all, a rich history, the southernmost point of mainland Europe, the meeting point of the Mediterranean and the Atlantic, some of the finest beaches in Cadiz, cute cafes and healthy eats, thrilling activities, and a vibrant nightlife.
If this sounds like you, you're in the right place. I'll dive into the best things to do in Tarifa and the practical information you need about the town.
Disclosure: This post may contain affiliate links. That means that if you make a purchase through one of those links, I will get a small commission at no extra cost to you.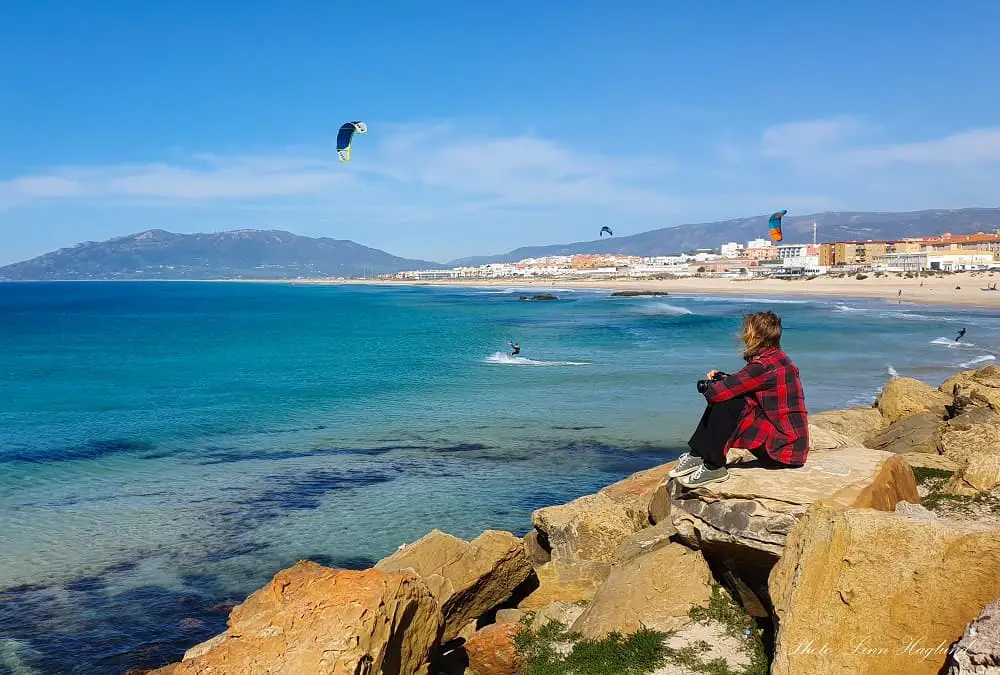 Getting to Tarifa
The easiest way to get to Tarifa and its surroundings is by car. This gives you easy access to some of the most spectacular beaches nearby and to chase the perfect waves if you're a seasoned surfer.
However, getting to Tarifa by bus is easily done from cities like Malaga and Cadiz. Even smaller places like Ronda and Marbella are well connected to Tarifa by bus.
From Cadiz, the journey takes around 1.5 hours, and from Malaga to Tarifa, it can take between 2.5 and 4 hours depending on the bus.
From Ronda, the journey takes around 1.5 hours, and from Marbella, it's 1 hour 45 minutes.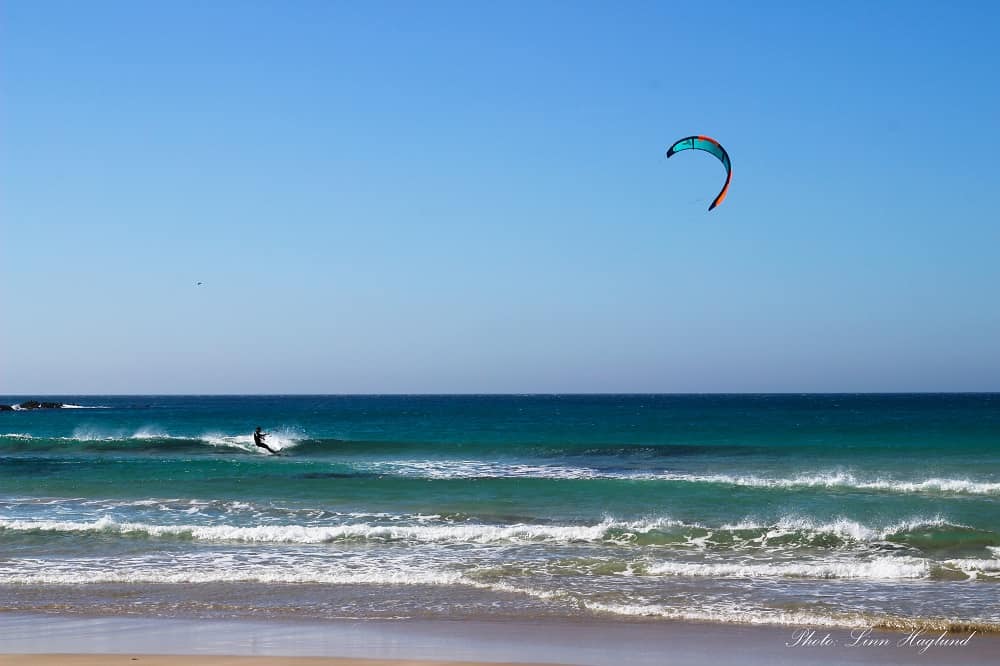 Where to stay in Tarifa
There are many excellent places to stay when you visit Tarifa, from hotels to hostels depending on the kind of traveler you are, if you want privacy and comfort or if you want to get to know other travelers.
Here are some of my top picks on where to stay in Tarifa:
Hotel Boutique Room Tarifa
This cozy boutique hotel in the old town of Tarifa is a great place to stay. It's near the beach and near the port to take the ferry to Tanger. Not only are the facilities beautiful, but the staff will treat you amazing.
Hostal El Levante
If you drive a car, this is an excellent place to stay. They have a nice outdoor space where you can enjoy a slow morning from the terrace and it's easy to get from there to Tarifa town as well as some of the area's most mesmerizing beaches.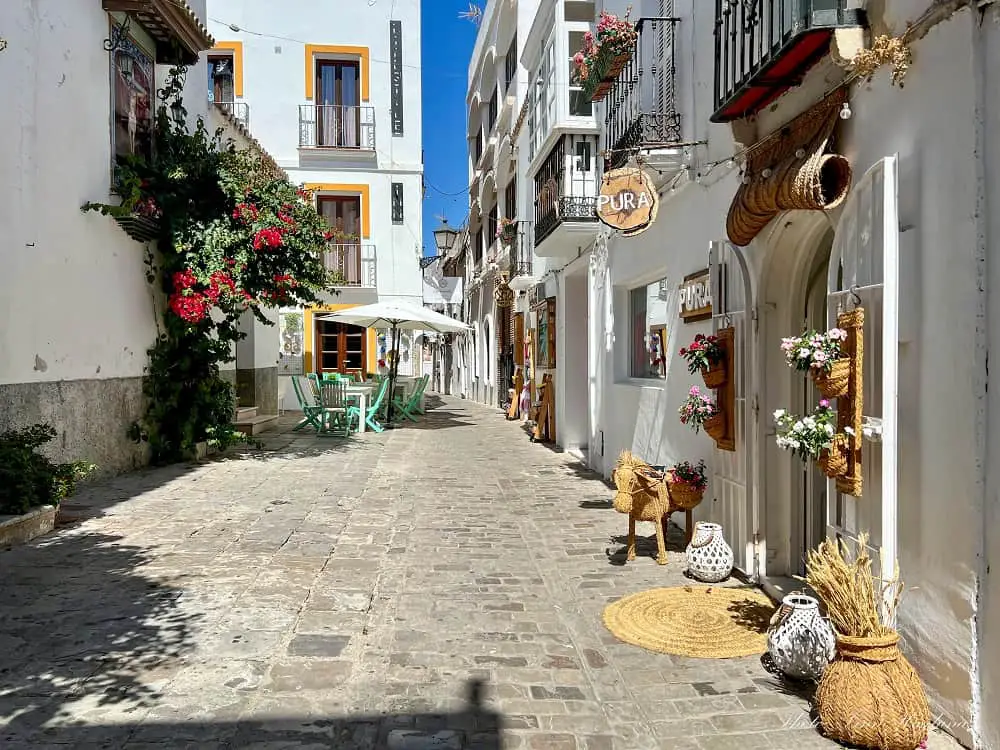 South Hostel Tarifa – Kite Service Center
This is a great hostel for meeting other kite surfers and adventurers. You can take diving and kite lessons there or rent gear if you're already seasoned. The hostel is centrally located yet not in the middle of the center of noise. There's a bar, a big kitchen and a common area with plenty of room to connect with other travelers.
Rebels Tarifa Hostel
This is a nice hostel with light, comfortable rooms making it easily a home away from home. The rooftop terrace offers spectacular views and is great for a drink at sunset. Centrally situated, you can get advice on tours at the tour desk. This is certainly a hostel travelers return to time after time.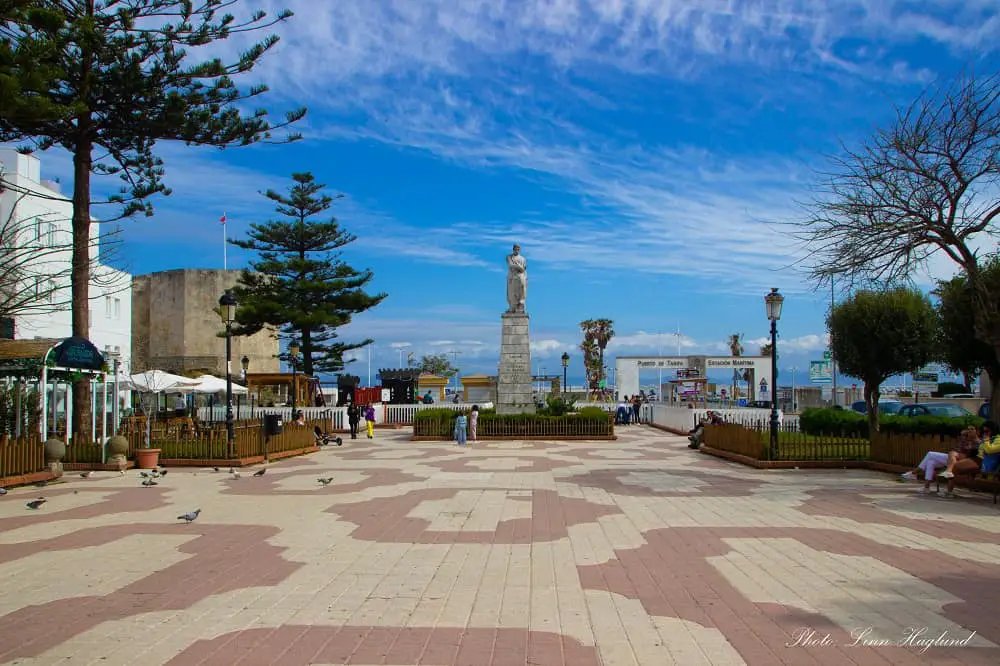 Things to do in Tarifa
Now that we've looked at the practicals around a visit to Tarifa, let's get to the fun stuff. Here are the best things to do in Tarifa, Spain.
Wander the old town
Tarifa's old town is boasting a bohemian vibe with its vibrant, cobbled streets lined with orange trees and health-food cafés. The vegan scene in Tarifa is also pretty good!
There are so many cute corners and cozy squares in Tarifa's old town. Walk along the old fortified walls, take pictures, shop in the surf shops, and grab a fresh fruit juice to go.
Tarifa's old town will make you want to never leave this enchanting corner of the country. Not only is it one of the most charming towns in Andalucia, but it's also got this relaxed atmosphere that sucks you in.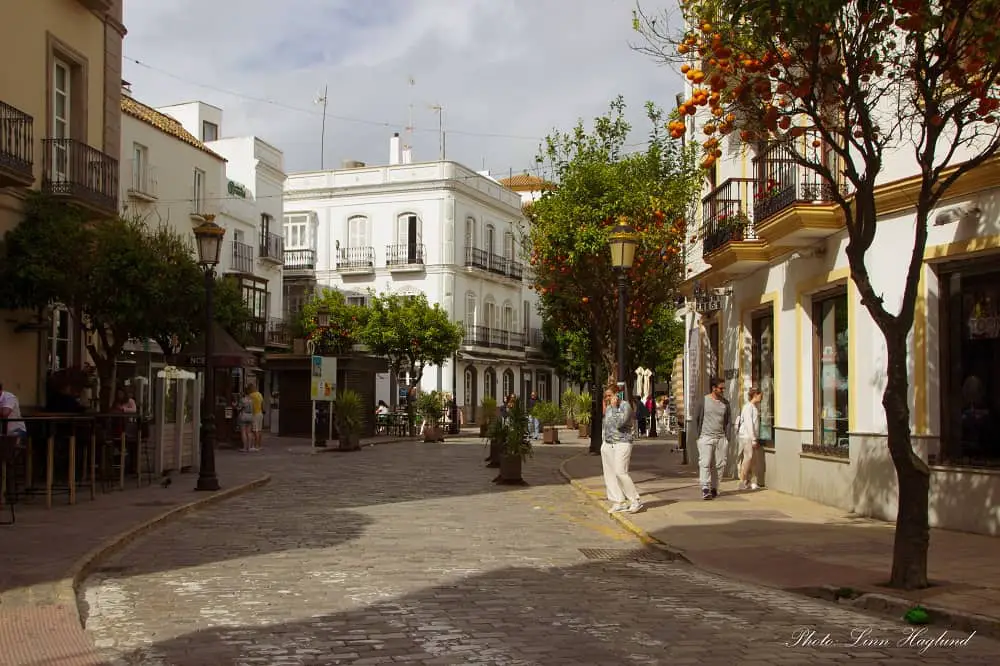 Visit Castle of Guzman el Bueno
In Tarifa, things to do are plentiful, but you should not miss out on the grand castle in town, the Castle of Guzman el Bueno.
Originally, the Moorish fortress was built in 960 AD to protect Tarifa against attacks. Before the castle was conquered by the Christians, it had been under the Almoravids, Umayyad, and Benimerines.
The castle is named after Alonso Perez de Guzman who sacrificed his own son to protect the castle and show loyalty to the king.
Opening hours: Wednesday-Sunday 10:00-16:00 (last entry 15:15.)
Entry fee: 4,00 Euros.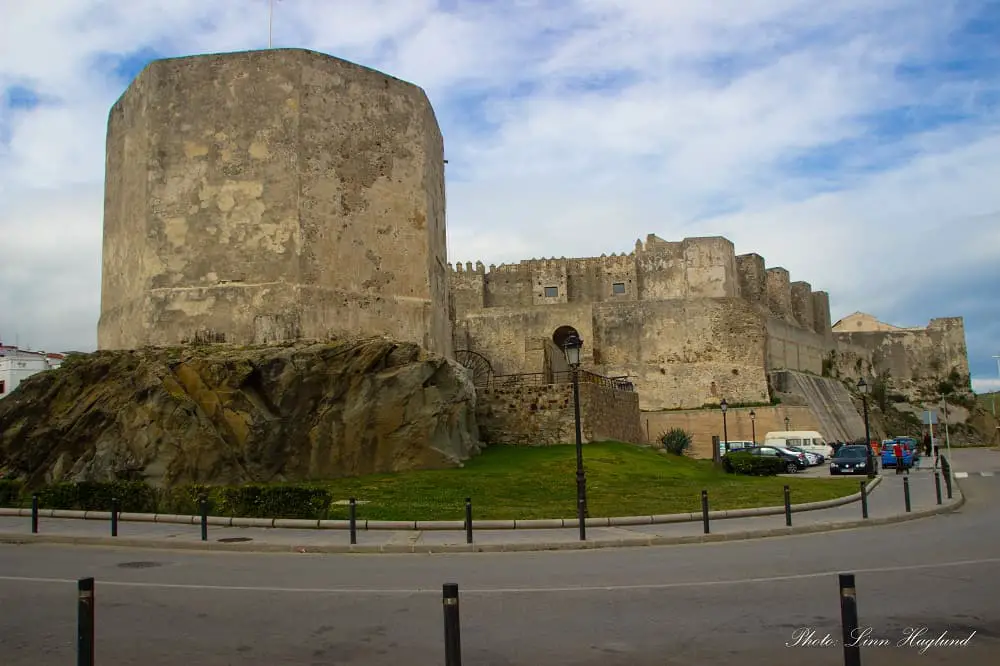 Take surf lessons
Tarifa is the perfect place to take surf lessons in Andalucia with multiple surf schools in town. You might mainly think of kitesurfing when you hear Tarifa, but there are multiple beaches with good surf waves around too, which makes it one of the most popular things to do. Tarifa also has surf retreats for new and seasoned surfers.
If you have a car and already know how to surf, you can take advantage of renting gear if you don't have your own. There are also a ton of cool surf shops where you can shop for new gear if you want!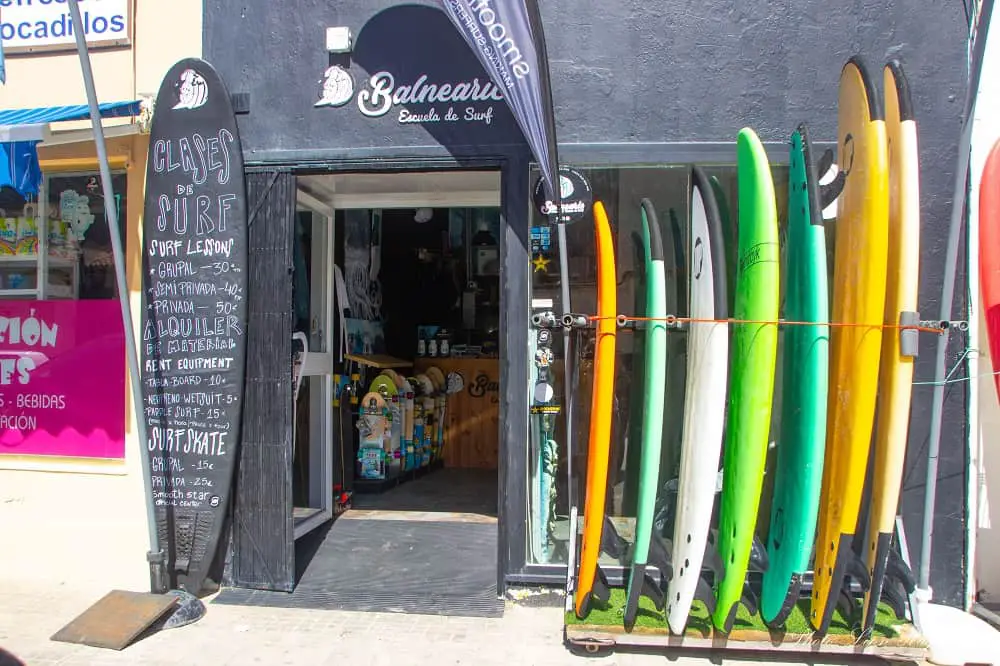 Chill at Plaza de Santa Maria
The enchanting square of Plaza de Santa Maria is also known as Plaza de Las Ranitas (The square of the small frogs) because of the frogs on the tiled fountain in the middle of the square.
It's an enchanting square to hang out in for a break during your sightseeing with colorful orange trees surrounding the square.
In front of the square, you'll see the Municipal Museum which you can only access from the castle.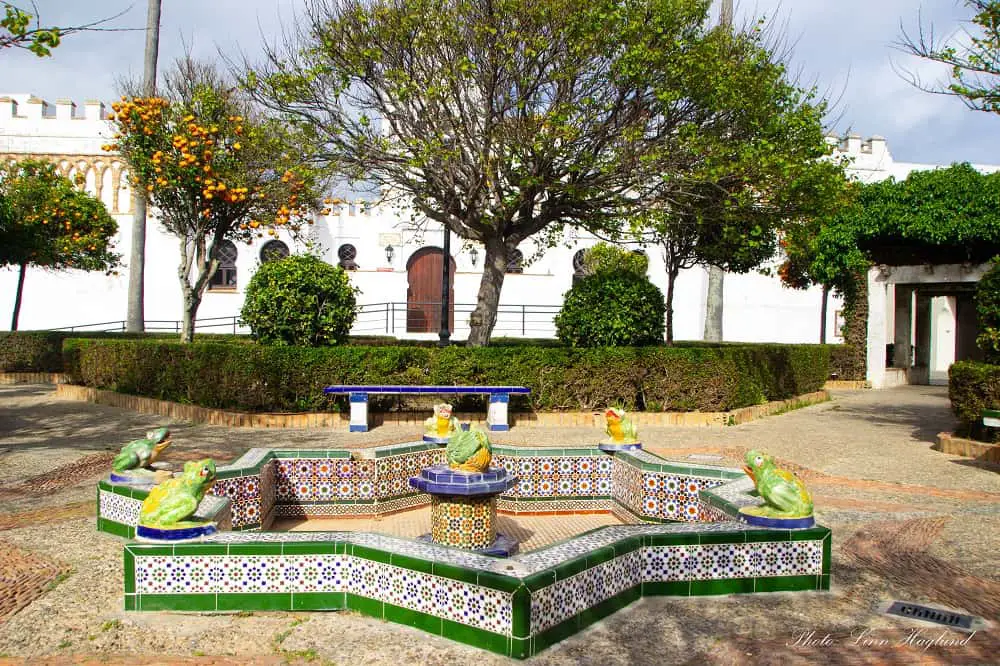 Iglesia de San Mateo Apóstol
The main church in Tarifa, which you'll surely bump into when strolling through the old town, dates back to the beginning of the 1500s.
Its striking neoclassical facade will catch your eye through an alley of orange trees and restaurants.
Like so many other churches and cathedrals in Andalucia, Iglesia de San Mateo Apóstol was built on top of the remains of a mosque.
Inside the church, you'll be met by a Visigothic tombstone and a collection of cedarwood sculptures dating back to the 17th century.
The church is no arguing one of the Tarifa must see attractions.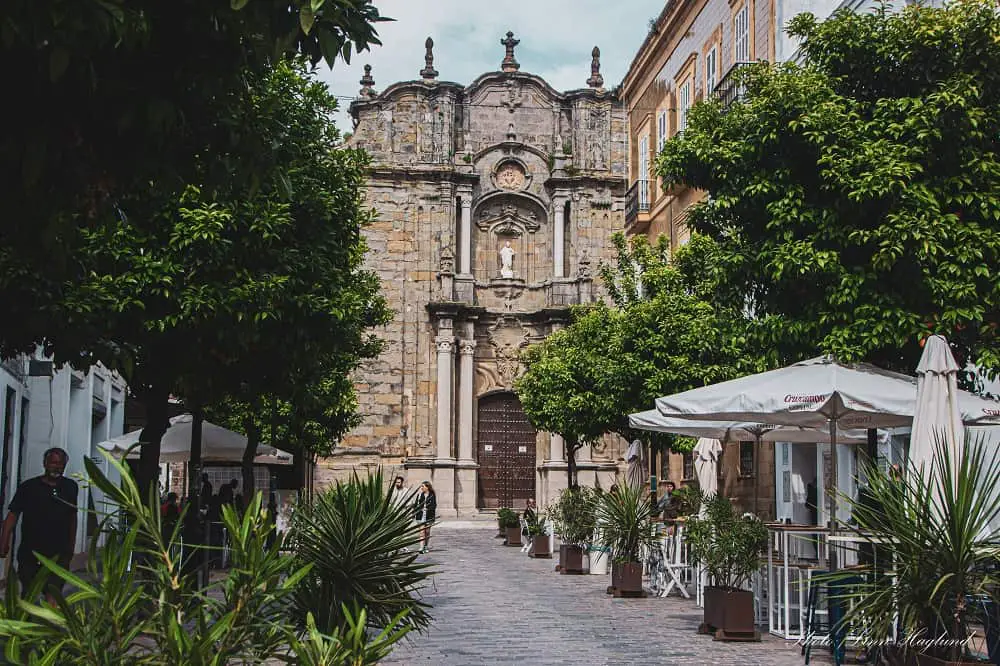 Hang out at the beach
One of the things to do in Tarifa that you should not miss out on is to visit all the spectacular beaches. This part of Andalucia is blessed with some of the most astounding beaches in the country, much due to its intense Levante wind.
This also means you have to pick out the day carefully. If it's a windy day, get active and try one of the many wind sports you can do, but if it's a calm day, it's perfect to get a tan and walk the dunes of the mesmerizing beaches of Tarifa like Valdevaqueros.
While these are some of the best things to do around Tarifa, the beach in Tarifa itself is also stunning.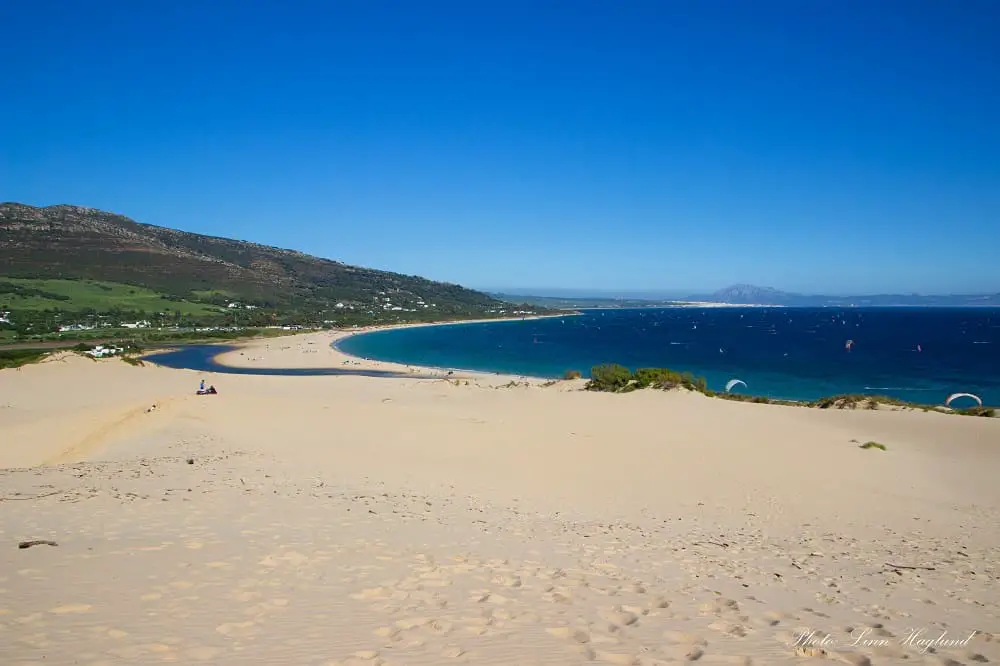 Enjoy the views from Castillo de Santa Catalina
One of the most prominent Tarifa attractions is the Castillo de Santa Catalina which you can see when venturing down to the Isla de las Palomas causeway.
The watchtower was once strategically used to protect Tarifa against pirates and other threats. However, compared to other watchtowers you can see on the southern Andalusian coast, Castillo de Santa Catalina stands out with its design.
It dates back to 1933 and though it's not possible to visit it at the time being, you can enjoy awesome coastal vies from the little hilltop where the watchtower is situated.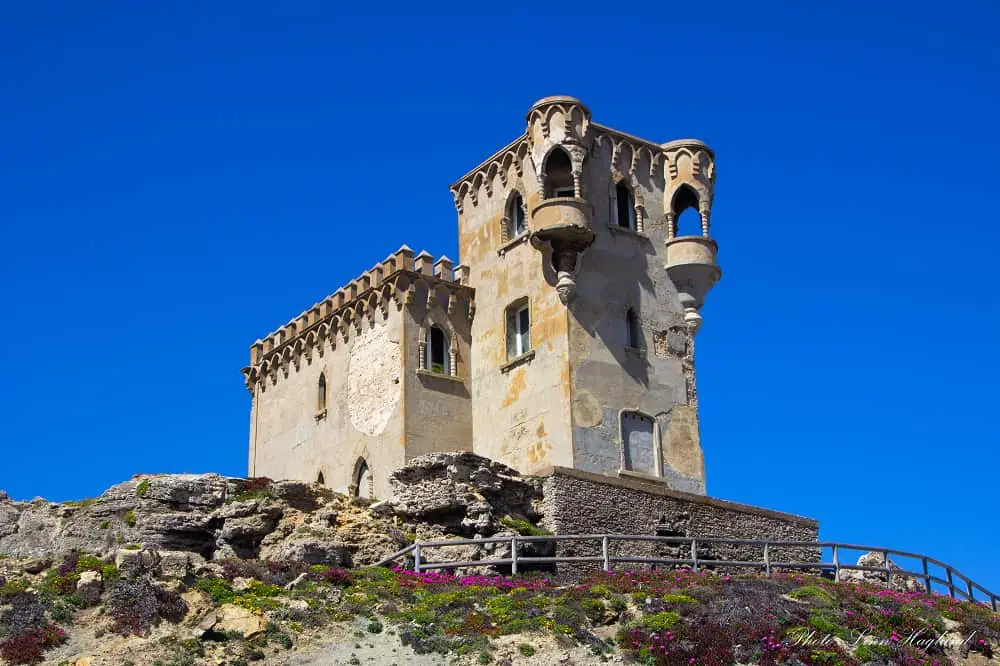 Walk on the causeway to Isla de las Palomas
Isla de las Palomas is the southernmost point in mainland Europe and is connected to the mainland by a causeway. It served as a military base for a long time and later to train recruits. It's locally known as Punta de Tarifa.
In 2001, the island was declared a historic site. Yet, it's not open to the public. The causeway to Isla de la Palomas, however, it's worth the stroll as it's also the point that separates the Mediterranean and the Atlantic.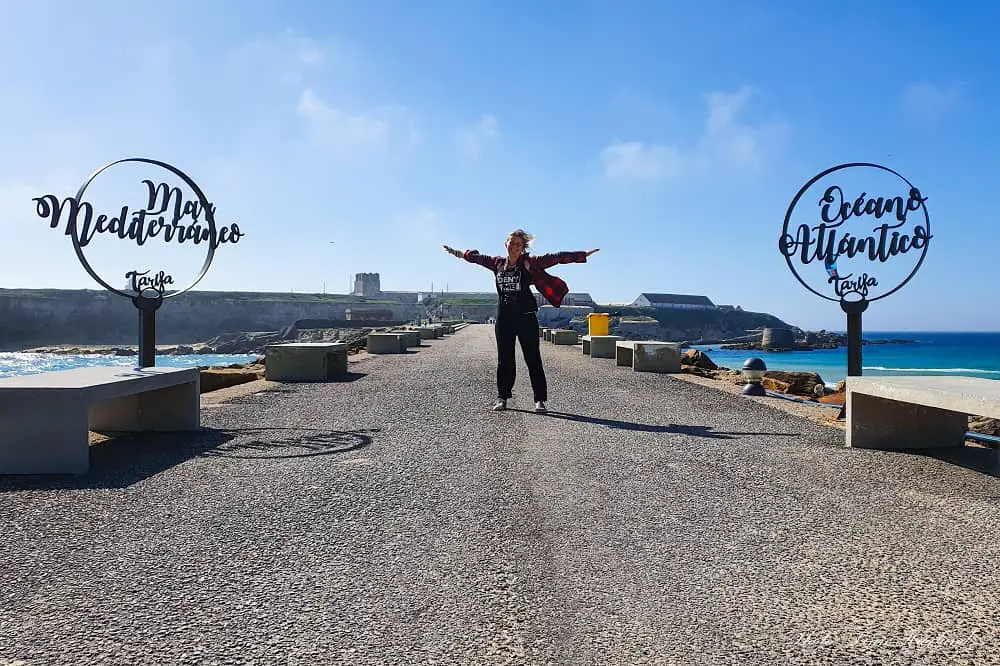 Stroll through Puerta de Jerez
Puerta de Jerez is the only preserved entrance in the fortified walls surrounding the old town of Tarifa. Thus, it has become an important tourist attraction and one of the top things to see in Tarifa.
There are conflicting theories about when the Moors built the gate, some say the 9th century, and others say the 13th century. What's sure, is that the Christians reinforced it in the 14th century.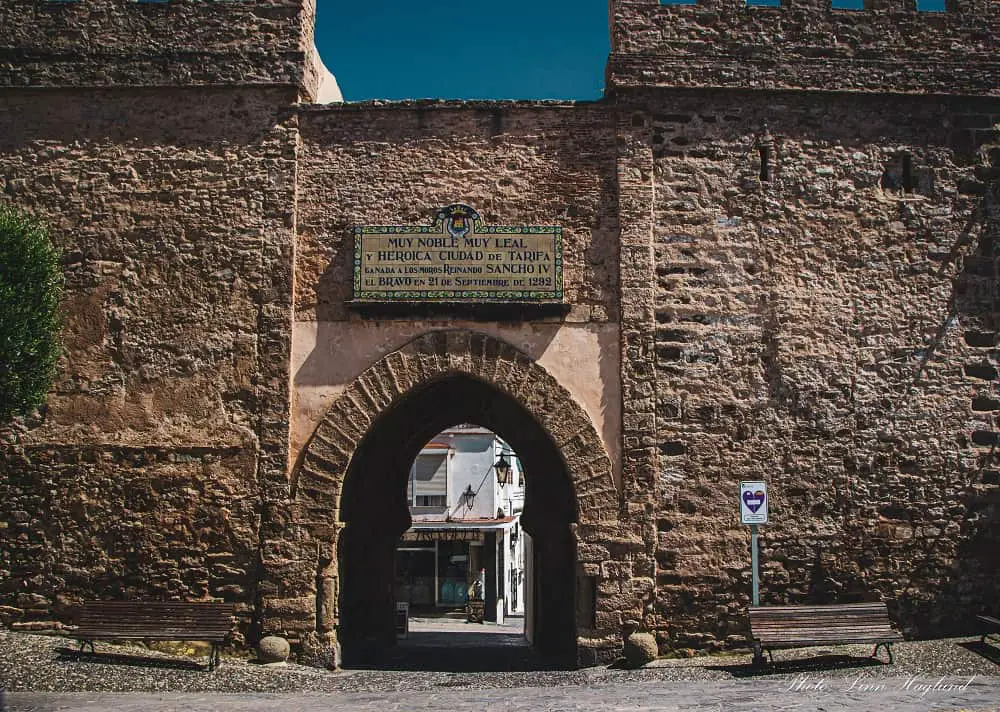 Spend a day at Bolonia beach and sand dunes
Costa de la Luz boasts some of the finest beaches in southern Spain, so it's no surprise that one of the best things to do near Tarifa is to spend a day at Bolonia beach. The sand dune is from another world, declared a natural monument and spanning 200 meters with a height of 30 meters.
The beach is perfect if you want to relax on the beach, go for a walk on the sand dune, take pretty pictures, try windsurfing, or combine beach with the old Roman ruins of Baleo Claudia.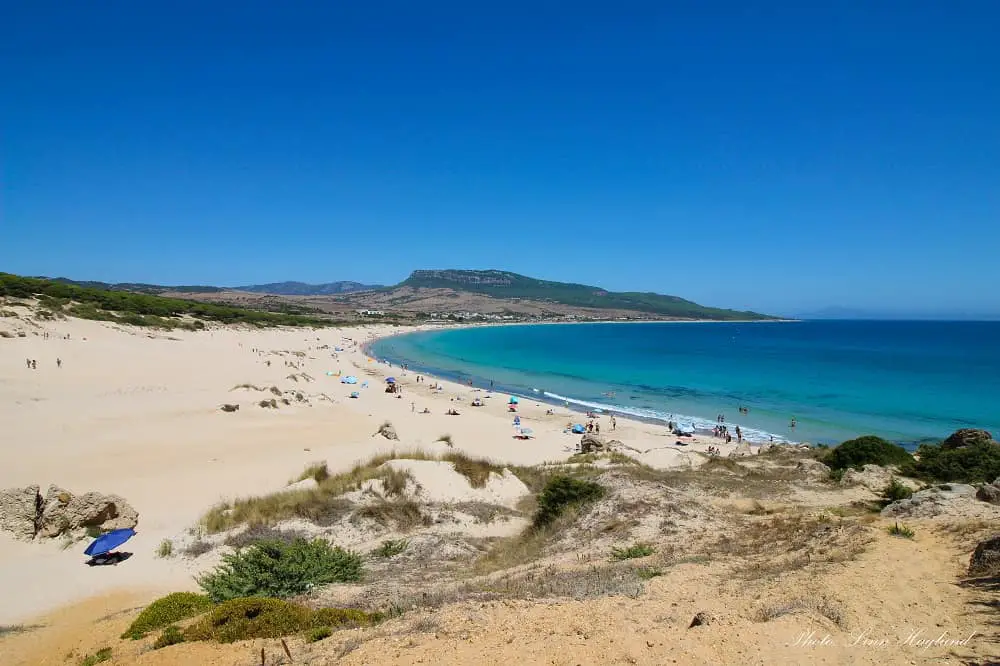 Explore the Roman ruins of Baleo Claudia
Together with Seville's Italica ruins and Ronda's Acipino ruins, the Baleo Claudia ruins in Bolonia are the most important Roman ruins in Andalucia.
The site was founded in the 2nd century BC as a settlement for tuna fishers, but also because of its strategic position close to Africa.
In the Baleo Claudia Museum you can see how life would have been back then.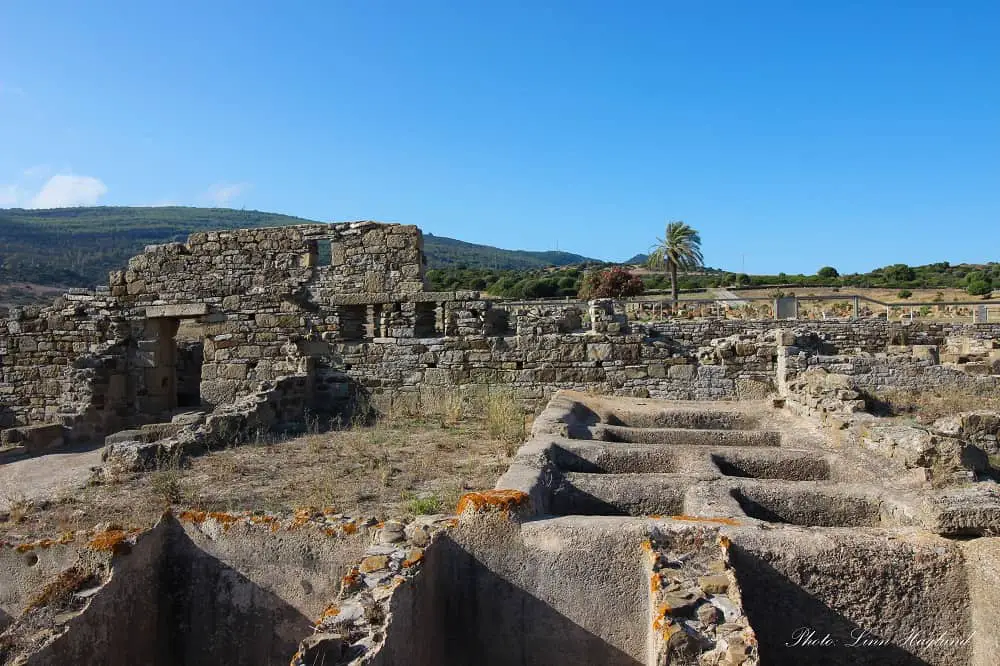 Learn how to kitesurf at Valdevaqueros
Kitesurfing in Tarifa is one of the most popular things to do due to the frequent Levante winds. Among the most popular beaches to kitesurf is Valdevaqueros beach.
There are plenty of kitesurf schools in Tarifa where you can learn this exhilarating activity. You'll start your lessons on the beach, learning how to control the kite before you get in the water.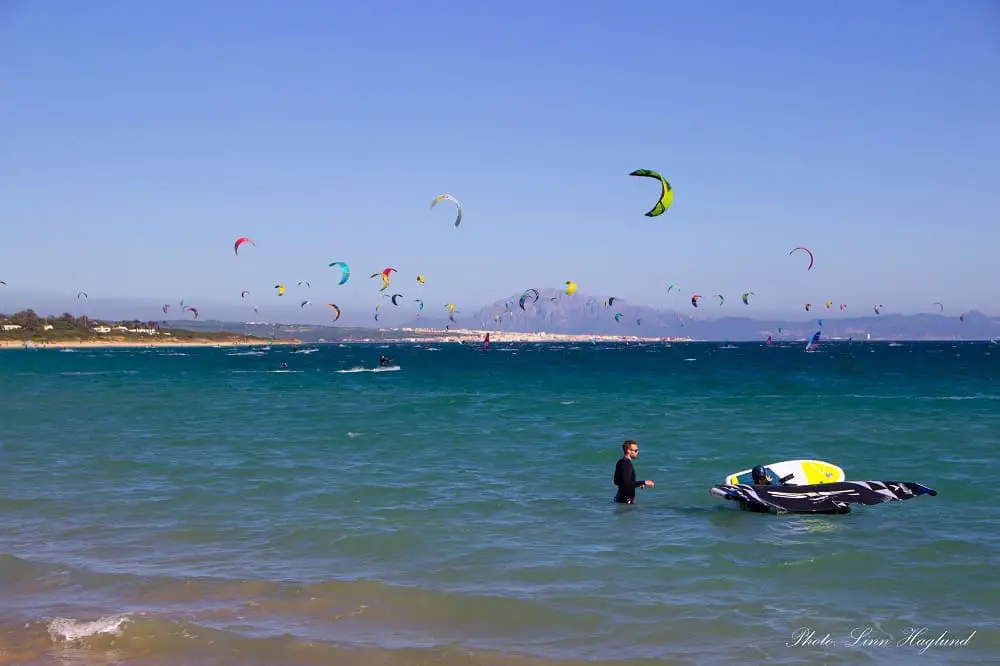 Go whale and dolphin watching
One of the best places to go dolphin watching and whale watching in Spain is the Strait of Gibraltar which makes this one of the coolest things to do in Tarifa.
Whale watching season is typically between April and October, but some whales are seen all year round. If you want to see orca the biggest chance of seeing them is in July and August.
There are multiple operators organizing boat tours for both whale watching and dolphin watching.
Go shopping
Tarifa is jam-packed with small charming local shops with everything from clothes to handmade artifacts. You will typically find sustainable clothes made from eco-friendly materials. Take your time getting lost in the narrow streets to look for hidden treasures.
There are also a whole heap of surf shops if you're looking for new beach apparel like flip flops or bikinis. Or maybe your surfboard needs an upgrade?
Even if you're not up for spending money on new stuff, just going window shopping in Tarifa is a delightful thing to do when you need a break from the beach activities.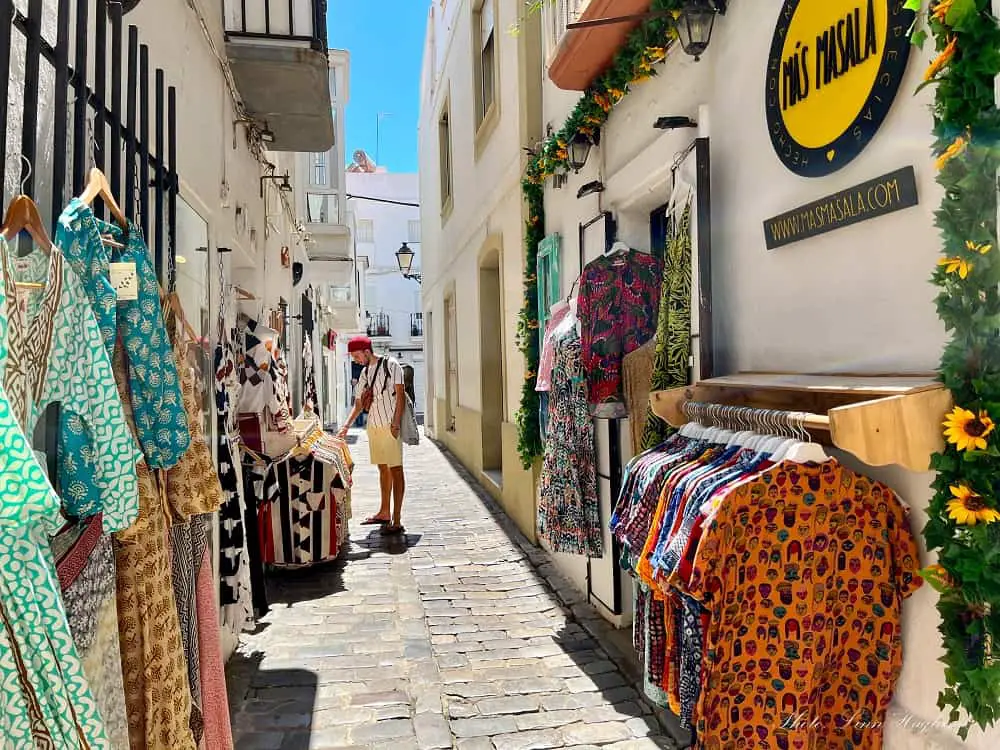 Go hiking in the natural parks
Tarifa is surrounded by natural parks and one of the top things to do in Tarifa, especially in the winter months, is to go hiking.
Explore a varied nature scene of pine trees, cork oak, rivers, and waterfalls. You can also get some amazing views of Africa when hiking up the coastal mountains.
Go on a day tour to Tanger in Morocco
As Europe's southern-most city, there's no surprise one of the top things to do in Tarifa is to go on a day trip to Morocco. The enchanting city of Tanger is situated right in front of Tarifa and the ferries leave from the port several times a day.
Get a taste of northern Moroccan culture by getting lost in the enchanting streets of the medina, trying local food, and drinking delicious mint tea. Tanger is perfect for a day trip, but if you have more time, it's well worth spending more time there.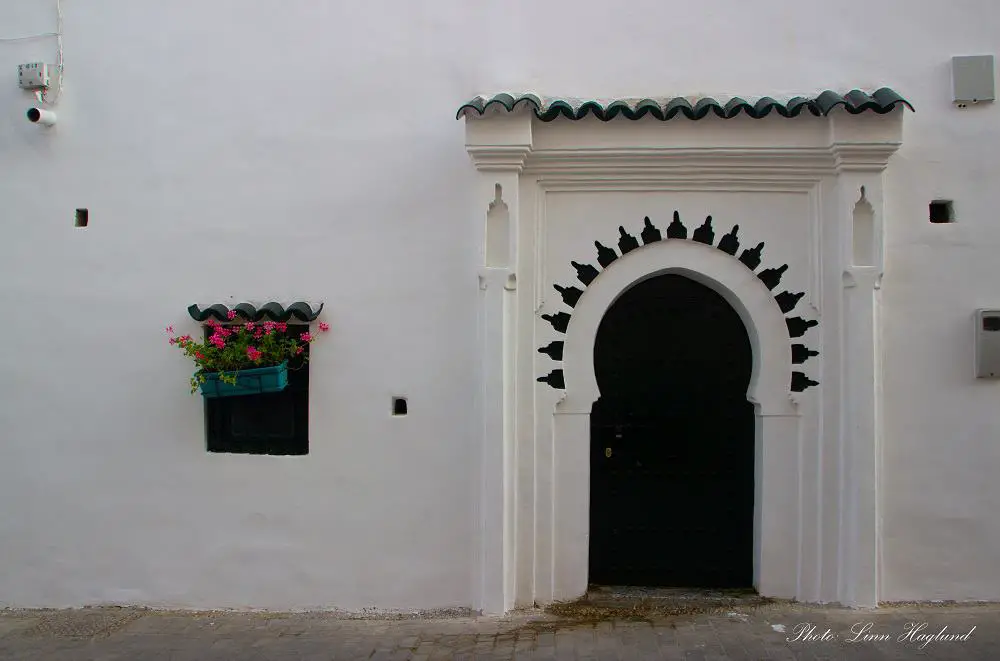 Take a day trip to Gibraltar
A day trip from Tarifa to Gibraltar on British territory is a great way to spend the day. You can either go on an organized tour from Tarifa or drive yourself. There's parking on the Spanish side or you can bring your car over.
There are plenty of things to do in Gibraltar, but make sure you don't miss out on The Rock, Ape's Den, and the Upper Rock Nature Reserve.
While the Gibraltar apes are the biggest tourist attraction on the tiny peninsula, be careful because they are wild animals that unfortunately have learned that they can steal from people.
So don't approach them, let them approach you, and keep all your belongings secured. Also, don't feed the apes.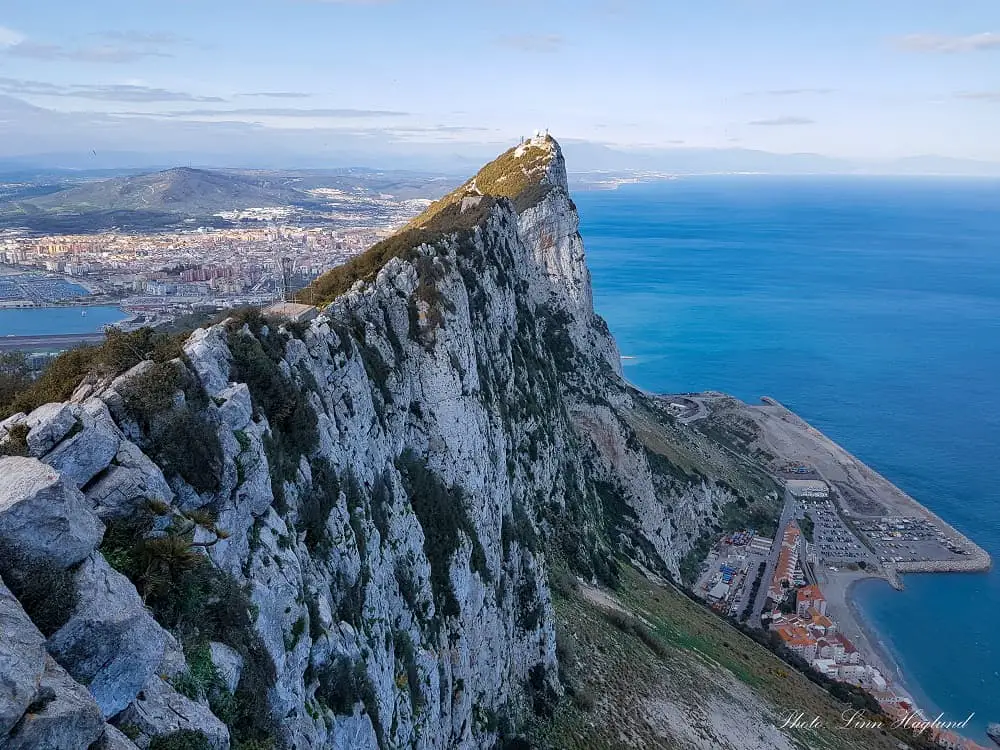 See the best views of Africa at Mirador El Estrecho
Mirador del Estretcho is by far the best place to see Africa. Especially on a clear day, it almost feels like you can swim across to the Moroccan city of Tanger.
You'll also see the Jebel Musa mountain. On days with low clouds, you'll see the peak towering above the clouds.
The viewpoint has plenty of parking and a restaurant and bar where you can enjoy something to eat or drink with a view.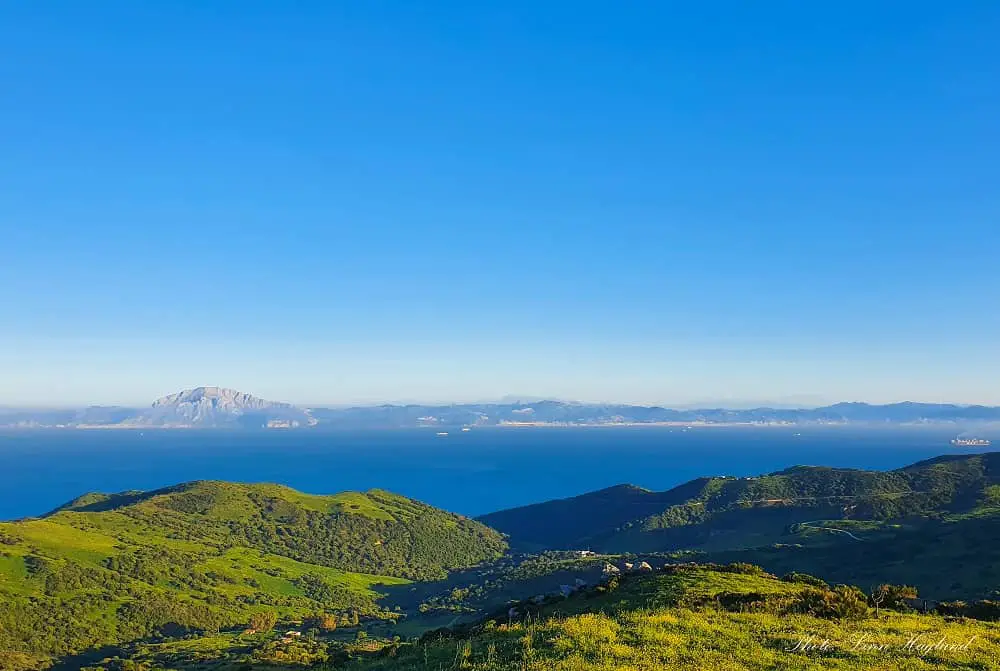 Reflections on what to do in Tarifa
If you were wondering what to do in Tarifa, I hope this post helped you. This is seriously one of my favorite coastal towns in Andalucia and I'm pretty sure you'll fall in love with it too.
It's such a wonderful vibe wandering around its cobbled streets, sipping cold fruit juice, and browsing through the surf shops.
And the beaches in Tarifa are some of the absolute best beaches in Cadiz! There's just no better place in Spain to enjoy activities like kitesurfing, windsurfing, and surfing.
Happy travels!