Tarifa is one of the most vibrant beach towns in Andalucia and home to some of the most epic beaches in Cadiz. Whether you head to Tarifa to play in the waves, take advantage of the wind, or are looking for a calm day to soak in the sun at the beach, there are numerous astounding beaches to choose from.
As one of my favorite towns in Southern Spain, I've spent a fair bit of time there and explored most of the stupifying beaches in Tarifa.
The windswept natural beauty that covers the coastline around this enjoyable town is like no other and Tarifa's beaches will make you fall in love!
If you want to know which ones to hit for your next vacation, read on because I'll be sharing everything you need to know about the best beaches in Tarifa right here in this post.
Disclosure: This post may contain affiliate links. That means that if you make a purchase through one of those links, I will get a small commission at no extra cost to you.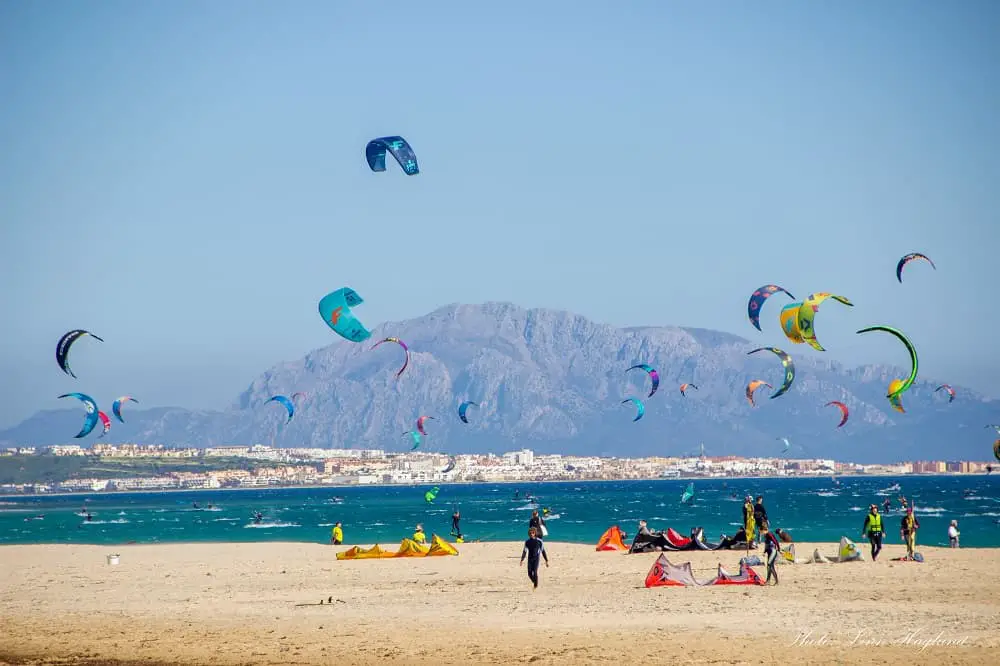 Best beaches in Tarifa
Los Lances beach
Facilities:
showers
bar/restaurant
toilets
lifeguard
flags
first-aid points
multiple parking areas
Los Lances beach stretches over 10 kilometers from the edge of the town, which gives it both an urban beach part and a more secluded part backed by protected pines and dunes.
During the summer months, it is not allowed to practice any water sports like kitesurfing or surfing at the beach to protect swimmers. But the rest of the year, you can see kites dotting the air and boards playing in the waves wherever you look.
It is a great beach to go swimming from June to September when the water is fairly calm.
While the entire beach is called Playa de Los Lances, locals have made separate names for the different areas of the beach to identify where on the beach they are heading.
Thus, you might hear Playa Balneario for the urban part of the beach, Playa de Los Lances Norte for the northern part, and Playa de Los Lances Sur or Playa Rio Jara for the southern part.
With such a long stretch of fine sand, it is no surprise that Los Lances Beach is considered one of the best beaches in Tarifa.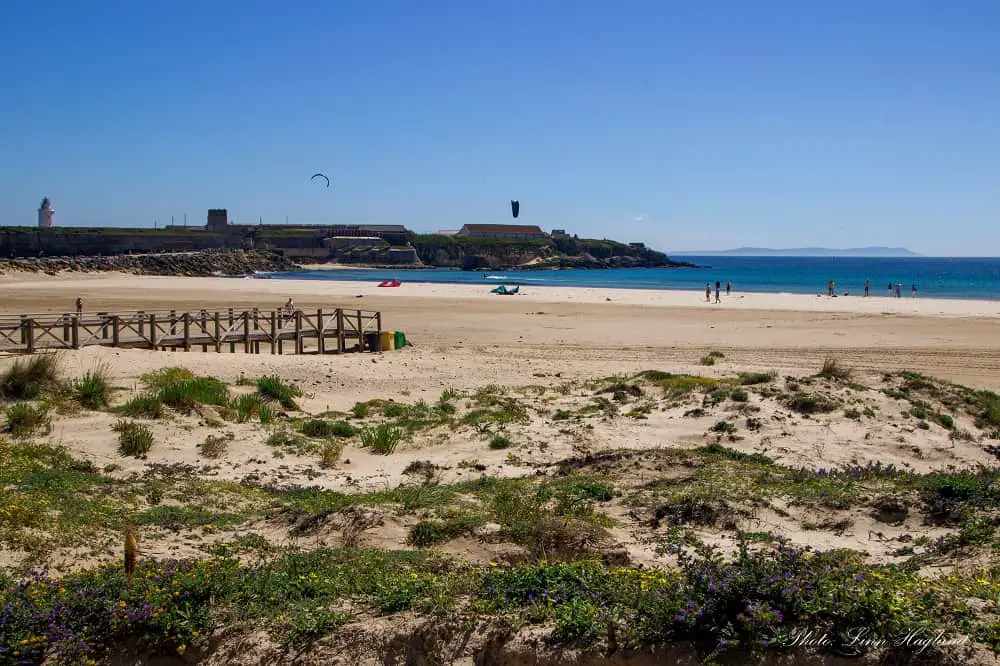 Valdevaqueros beach
Facilities:
Restaurant/Bar
Parking
Toilets
A long-time favorite of mine, Valdevaqueros Beach is one of the Tarifa beaches you should not miss out on. Situated 10 kilometers outside Tarifa town, it stretches 5 kilometers all the way to the sweeping sand dune of Punta Paloma.
Valdevaqueros Beach has areas dedicated to kitesurfing and windsurfing, so on windy days, you might want to move up toward Punta Paloma to get a little shelter from the wind and go swimming.
The windswept beach is breathtaking and very popular among the younger crowds and water sports enthusiasts. It is also where Tarifa's big kite- and windsurf competitions are held.
There are multiple spots for parking along the beach, but as with all the beaches in Tarifa Spain, there is a fee for parking in the summer months.
There are a couple of restaurants and bars on the beach with toilets available. I love the chilled vibe of Tumbao Beach Bar! It is perfect if you want to chill on the grass by the beach sipping cocktails all day. This is also where I tried kite surfing for the first time – the guys are awesome!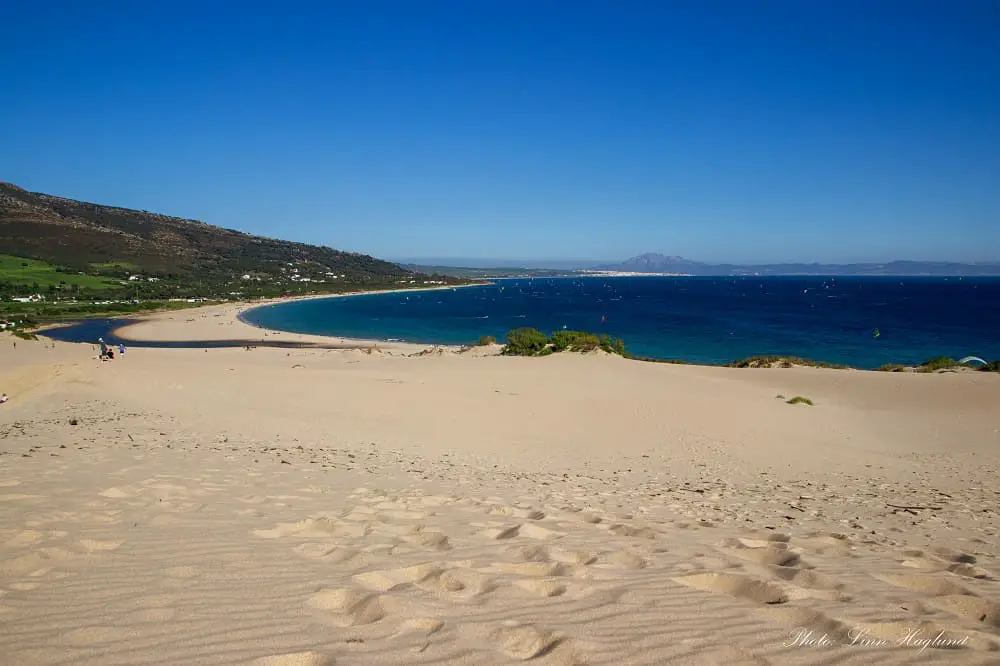 Punta Paloma beach
Facilities:
Another favorite is Punta Paloma Beach. Tarifa is jam-packed with wind-swept beauty, and this beach is a perfect example of it.
Completely unspoiled, Punta Paloma consists of sections of soft, golden sand and others with rough rocky surfaces where it can be harder to get into the water.
Punta Paloma is among the beaches near Tarifa where you will enjoy walking barefoot and have the chance to escape the crowds. Naturists also frequent this beach.
There are also some natural mud baths where you can find mud to cover your skin, after drying it in the sun, you can wash it off by running into the glittering turquoise water.
This beach does not have any facilities, but as it meets Valdevaqueros Beach you can walk to the beach bars. Punta Paloma is the best Tarifa beach for anyone looking for something remote and natural.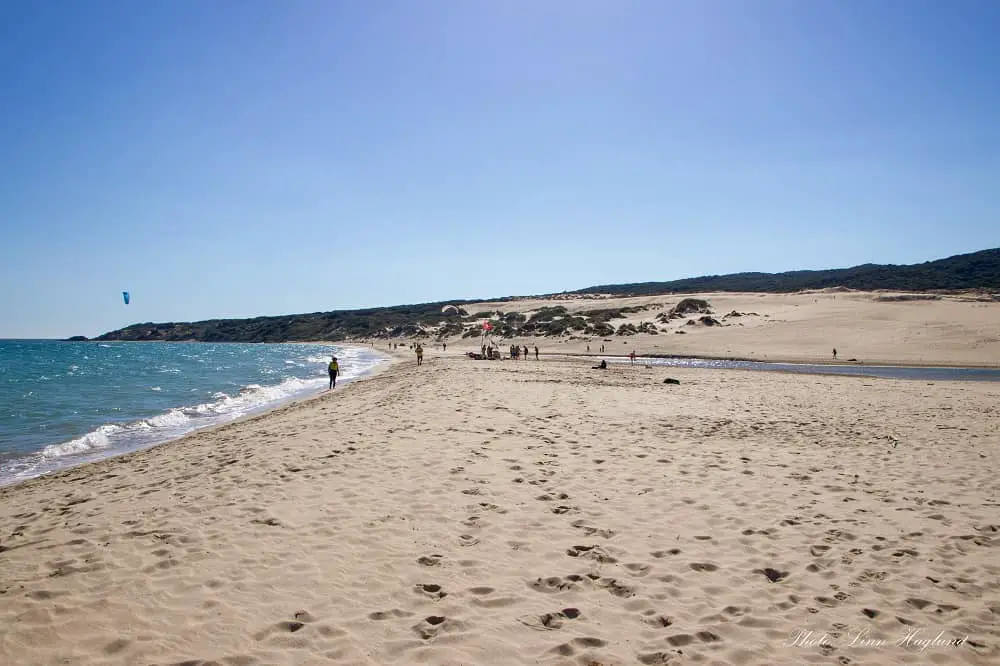 Bolonia beach
Facilities:
Beach restaurants and bars
Toilets
SUP, bodyboard, kite, and windsurf rental
Lifeguards
Showers
Parking
In my opinion, this might just be the best beach in Tarifa with its sweeping sand dune, pretty boardwalk, and the Roman ruins of Baleo Claudia right off the beach.
In fact, I believe a day at Bolonia Beach and dunes is one of the absolute best things to do in Tarifa because it offers so much more than only a day at the beach.
You can rent a paddleboard or learn how to windsurf, walk the sand dune, which is declared a Natural Monument, for sweeping views of the beach and Africa, walk the boardwalk, and visit one of the most important Roman remains in Andalucia.
The beach is 4 kilometers long and up to 70 meters wide and the facilities are all located on the opposite side of the sand dune, while you get more of a virgin beach feel the closer you get to the sand dune.
You can read my complete guide to Bolonia Beach here.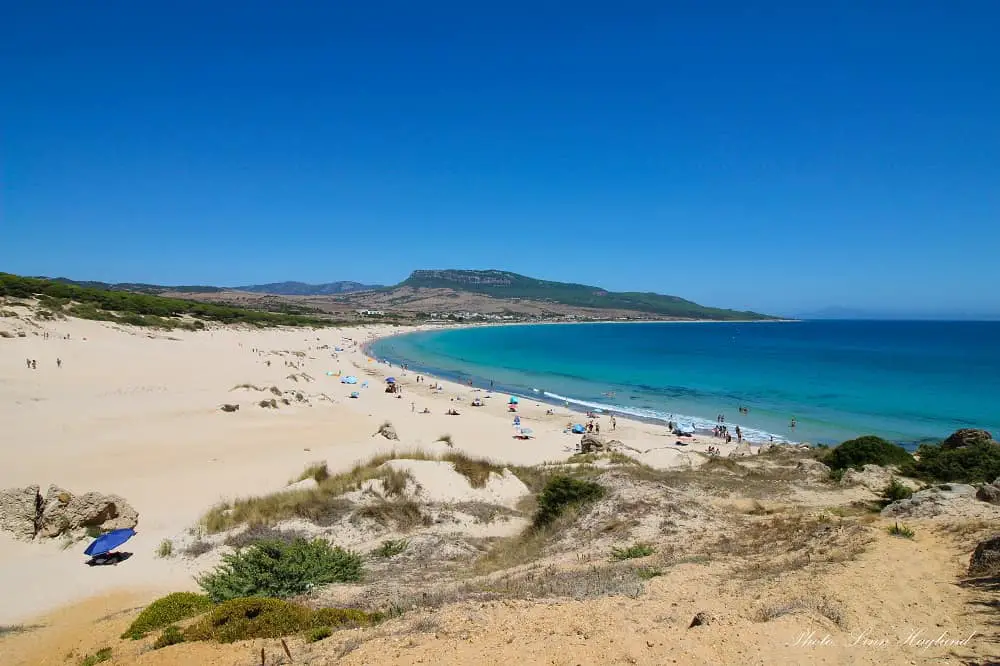 Playa Chica
Facilities:
Toilets
Shower
Lifeguard
Restaurant/Bar
Right by the pier leading out to Las Palomas Island, there is a little sheltered cove, a popular beach for locals and families that are looking for a place with less wind to spend the day.
Playa Chica means Small Beach, so there is no surprise that it's the smallest of the Tarifa Spain beaches on this list. It is also the only Mediterranean beach, being the last one before it meets the Atlantic Ocean.
There is parking on the streets near the beach, but note that it is situated completely central in Tarifa town which makes it hard to find parking in the summer months.
I find this a great Tarifa beach if you're already staying in Tarifa and want a sheltered place to go, this way, you don't need to worry about parking.
Reflections on Tarifa beaches
These incredible beaches should have you covered for your Tarifa Spain beach vacation no matter what type of beaches you prefer.
When it comes to summer, it is hard to find anything more beautiful that the Tarifa beaches. Spain in general has incredible coastlines, yet, it is hard to compete with Tarifa.
Personally, I am a big fan of the natural and windswept beauty you see on the beaches in Tarifa and I don't mind bringing my own parasol to get shade and my own food and drinks.
But if that is not for you, there are luckily options that will cover sunbeds and beach bars. I hope you enjoy Tarifa's best beaches just as much as I do.
Happy travels!