Andalucia is the perfect summer destination and you might struggle to find the perfect southern Spain beach town to spend your holidays. After living in the area for years, I have picked out the coolest beach towns in southern Spain and put them in one post so that you easily can start planning your vacation.
There is a huge variety of Andalucia coastal towns throughout the provinces of Huelva, Cadiz, Malaga, Granada, and Almeria. Some of them offer action-filled water activities like surfing, kitesurfing, and scuba diving, while others simply have access to some of the most mesmerizing beaches in Andalucia.
Some are popular tourist destinations and others will be more frequented by local tourists than international tourists. You also find more secluded towns on this list that might not be on most Andalucia itineraries.
Some of the best towns in Andalucia are on the coast, so get ready to plan your summer holiday in southern Spain with these amazing destinations!
Disclosure: This post may contain affiliate links. That means that if you make a purchase through one of those links, I will get a small commission at no extra cost to you.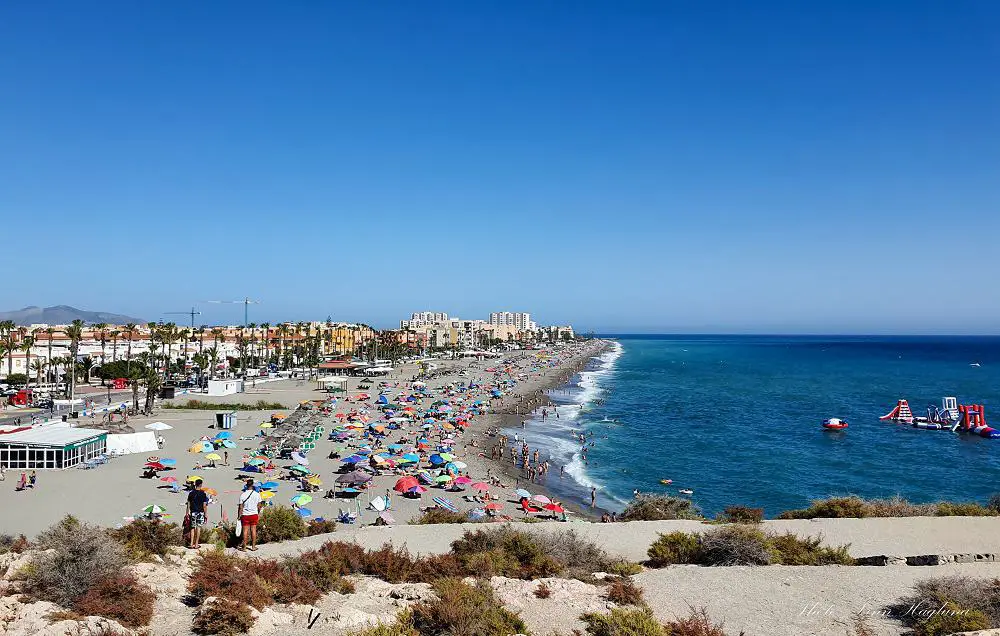 Best southern Spain beach towns
Punta Umbria, Huelva
One of the best southern Spain beach towns is Punta Umbria in the Huelva province. Mainly frequented by local tourists as Huelva is slightly off the usual tourist route, Punta Umbria comes into life in the summer months and is one of the most popular beach towns near Seville.
Home to some of the most staggering beaches in Huelva, the western Andalucia beach town is jam-packed with bars and restaurants. The inner side of the town borders an arm of the Odiel River giving calm waters.
Stroll along the riverside and look at the traditional fishing boats, stuff your face with tapas, and drink cold beers like a local! Punta Umbria does not have a typical historic center like many other southern Spain beach towns. Yet there are a few attractions to check out, like the English House Museum, the Town Hall, and the Almenara Tower.
On the outskirts of the town, there is a huge natural space where you can walk through paths covered in shade from dense pine trees.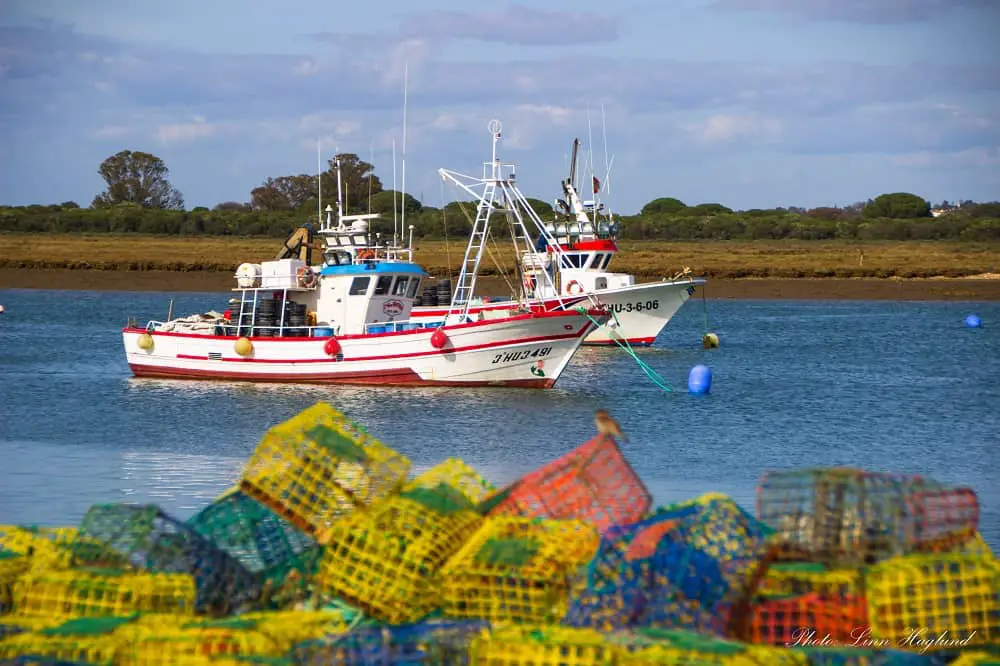 El Palmar, Cadiz
Hardly a town, the strip of houses of El Palmar is one of the most popular beach destinations among Andalusian holidaymakers. There are plenty of houses and apartments to stay in and the many bars come to life as soon as the sun goes down and everyone returns from the beach.
El Palmar is mainly known for its beach, being one of the most beautiful beaches in Cadiz. There is not much else to do in the town. So if you're looking for a place to chill on the beach, eat local food, dance all night long, and not much more, this is the place to be!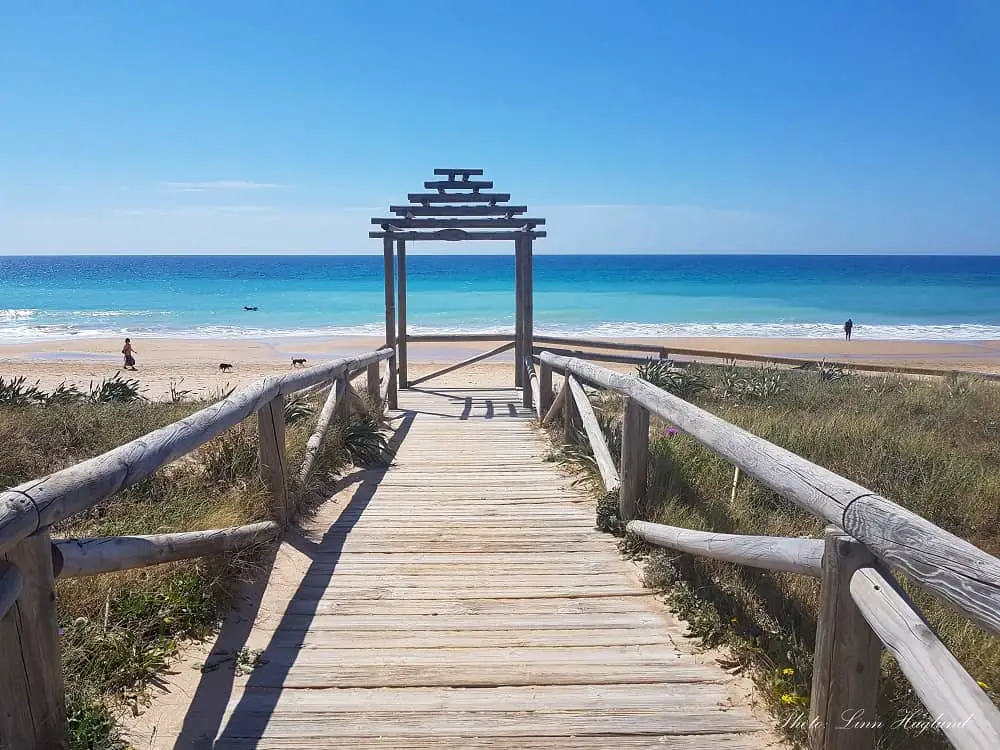 Roquetas de Mar, Almeria
The lesser touristy province of Almeria also boasts a couple of the best beach towns in Andalucia. Roquetas de Mar has a surprisingly vibrant summer vibe and a nice coast with some of the best beaches in Almeria.
This is the perfect place to spend your vacation eating tapas accompanied by a cold beer after a long day at Serena Beach.
Among other things to do in Roquetas de Mar, walk on the tranquil promenade, and pay a visit to Santa Ana Castle where you can take in the sweeping views from its medieval towers.
If you travel with children, you might want to spend a day in the water park where you can keep cool rushing down water slides and dipping in the pools.
Roquetas de Mar is a short distance from the spectacular Punta Entinas Sabinar Natural Park where you can see flamingos and relax on the empty beaches. In fact, this is one of the most unique things to do in Almeria.
It isn't hard to guess Roquetas de Mar is one of the Almeria coastal towns that get popular in summer.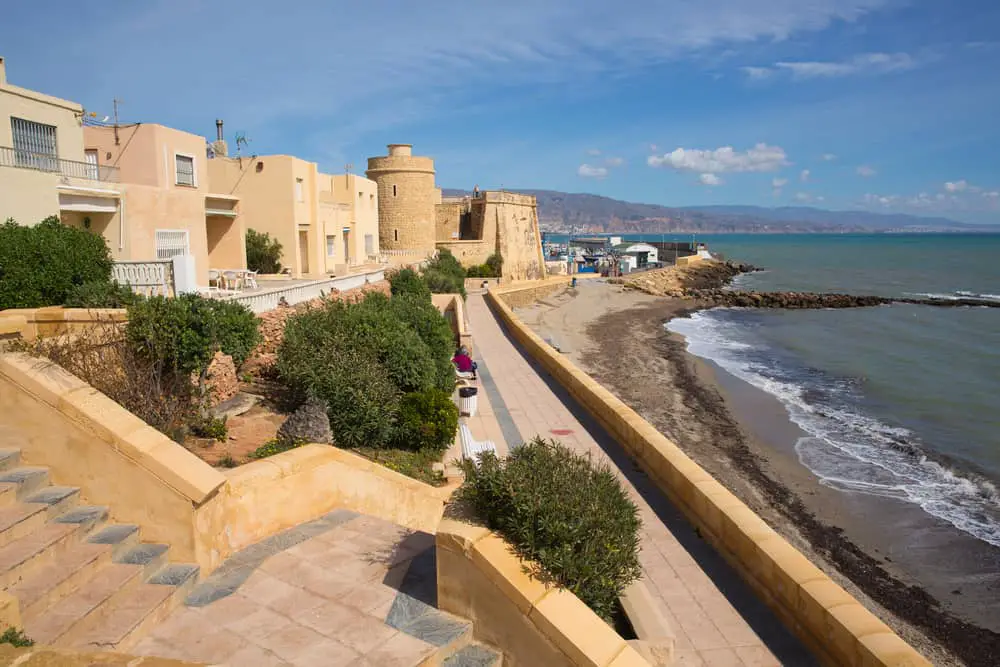 Conil de la Frontera, Cadiz
With its animated summer vibe and a multitude of things to do, Conil de la Frontera scores high on the list of the best beach towns in southern Spain.
Being one of the best day trips from Cadiz, Conil's beaches fill up quickly on the weekends and during the month of August. Luckily, there is plenty of space on the beach for everyone.
The town itself hosts a series of historical attractions as a former tuna fishing village, like Torre de Guzmán and the artifacts found in Raice Conileñas Museum.
Conil also sits next to coastal trails where you can walk all the way to Barbate or just enjoy the panoramic beach views.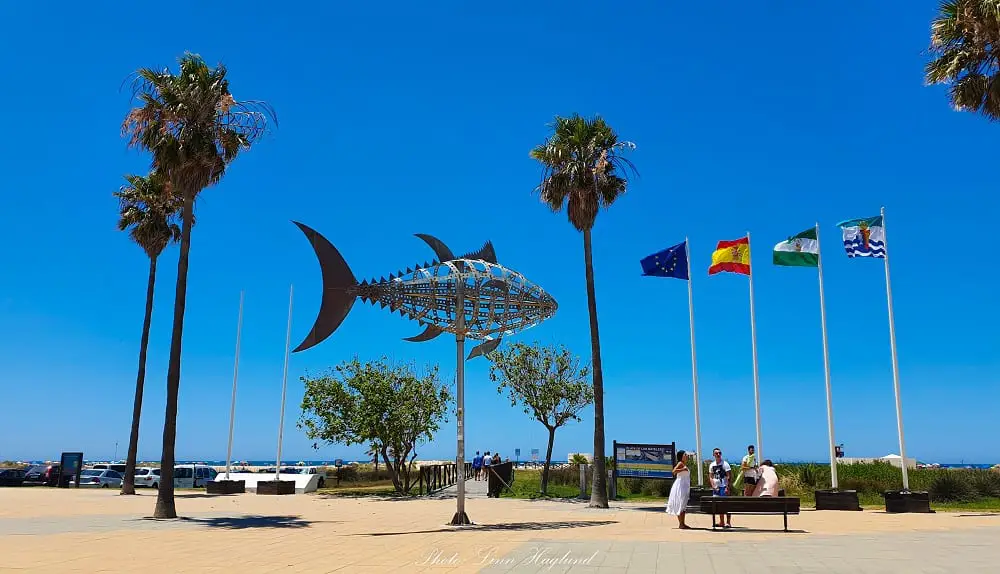 Salobreña, Granada
One of my absolute favorite Andalucia beach towns is Granada's energetic Salobreña. Sitting on a hilltop together with the medieval castle, the white houses spill elegantly down the hill towards the beach.
The upper part of the town possesses the perfect Andalusian white village vibe with colorful flowers cascading from potplants decorating the narrow alleyways, cute bars and restaurants with tables spread out on the cobblestones squares, and spectacular coastal views.
The beach is jam-packed with beach bars and restaurants, loud youth cliff jumping from the iconic rock, and families snorkeling and building sand castles.
If you're looking for the best southern Spain coastal towns that have it all, Salobreña is likely on top of the list. This is also one of the best day trips from Granada at the same time as it's easily one of the most picturesque villages near Malaga with only an hour's drive.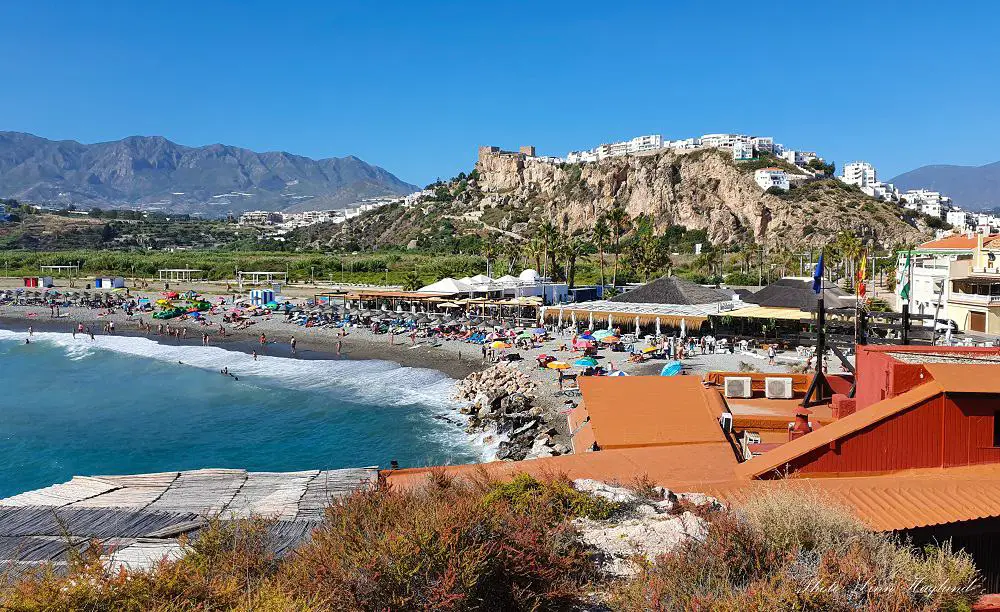 Nerja, Malaga
No list of best beach towns in Andalucia, Spain is complete without a mention of Malaga's pearl Nerja. Situated close to the Granada coast it boasts the clearest waters in Malaga province and is a mecca for scuba divers. There are plenty of things to do in Nerja.
Nerja is among the most visited towns in costa del Sol also the perfect place to rent a paddleboard or go on a kayak tour from Nerja to explore the crystal clear water along the rugged Maro coast where you'll witness secluded beaches and even a waterfall cascading straight into the sea.
There are also some magnificent boat trips in Nerja that take you snorkeling and exploring the beautiful coast.
Among the best beaches in Nerja, you find Burriana Beach, where you have all the necessary amenities and closeness to Maro's cliffs, Calahonda Beach, which has direct access from Balcón de Europa, and Torrecilla Beach, which also has all the necessary facilities.
Make sure you take a day trip to Nerja Caves and the enchanting white village of Frigiliana that overlooks the coast.
The town itself blusters with life throughout the summer with a wide range of national and international tourists.
Whitewashed houses, cobblestoned streets, and high-quality restaurants from all over the globe make this one of my favorite beach towns to hang out in the evenings.
If you are looking for where to stay, make sure you read my complete neighborhood guide.
Here are some of my favorite tours from Nerja including a canyoning tour to one of the coolest rivers I know and to the world-famous Caminito del Rey: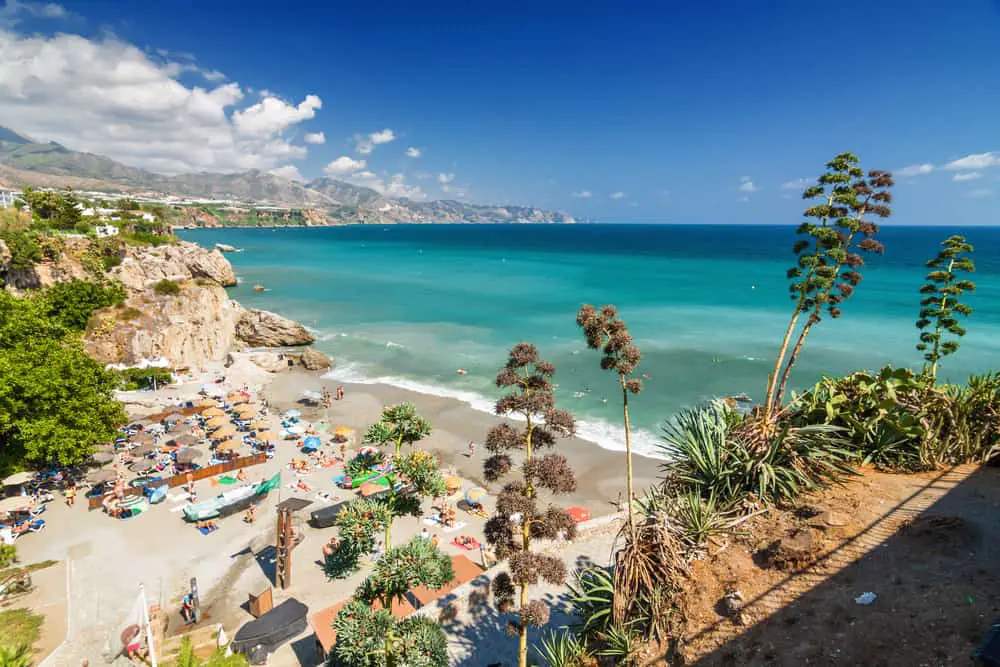 Tarifa, Cadiz
One of the most quaint beach towns in southern Spain is the surf capital of Andalucia, Tarifa. Windsurfers, kite surfers, and wave surfers all flock to this little town and often stay for a longer period of time.
With a chill vibe and a beguiling old town full of bars and restaurants – including a wide variety of healthy and vegan food – the town attracts more than only those seeking thrilling water activities.
From Tarifa, you can also easily go on whale-watching and dolphin-watching excursions or head on a day trip to Gibraltar or Tangier in Morocco. (Check the below recommended excursions!)
The beautiful beaches in Tarifa are also worth exploring whether you decide to try kite surfing or not. To mention a couple, you might want to take a stroll on Bolonia Beach and grab a drink at Valdevaqueros Beach.
Being the point where the Atlantic Ocean meets the Mediterranean and historically being a major defensive strategy place for pirates from Africa, there are a lot of things to do in Tarifa for every type of traveler.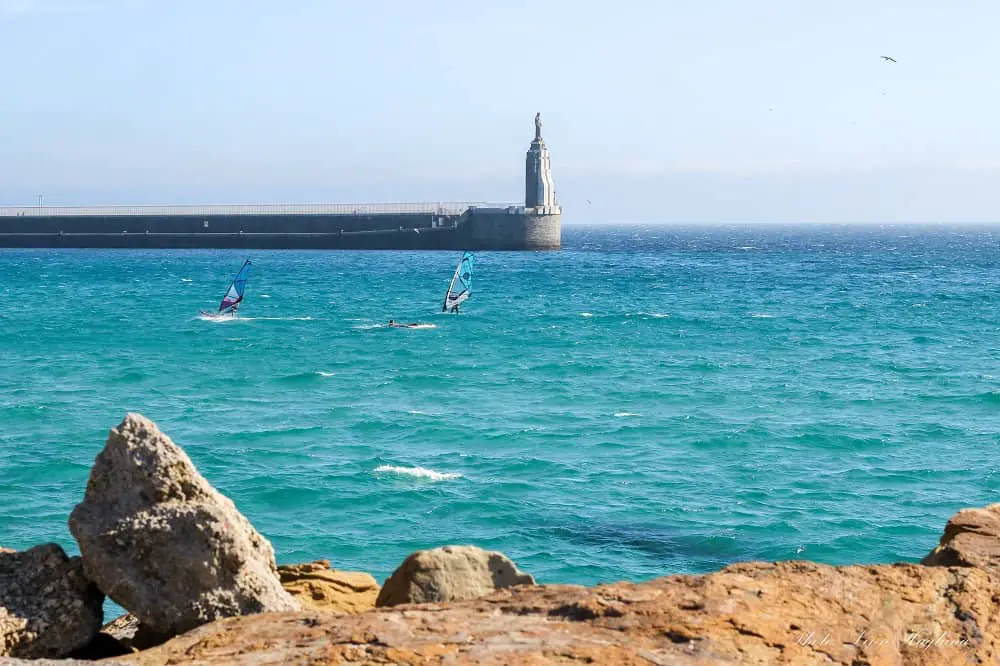 Matalascañas, Huelva
Matalascañas, on the coast of Huelva, is one of the youngest coastal towns only starting to be inhabited in the 1970s, yet it's one of the best beach towns Andalucia has to showcase.
With spectacular beaches and a vibrant summer vibe, this is a popular destination for national tourists, especially Seville and Huelva due to its proximity.
The town is brimming with bars and restaurants while the promenade makes for an idyllic evening walk. While in Matalascañas, don't miss out on the opportunity to visit Doñana National Park (one of the only two national parks in Andalucia) and the Parque Dunar de Matalascañas.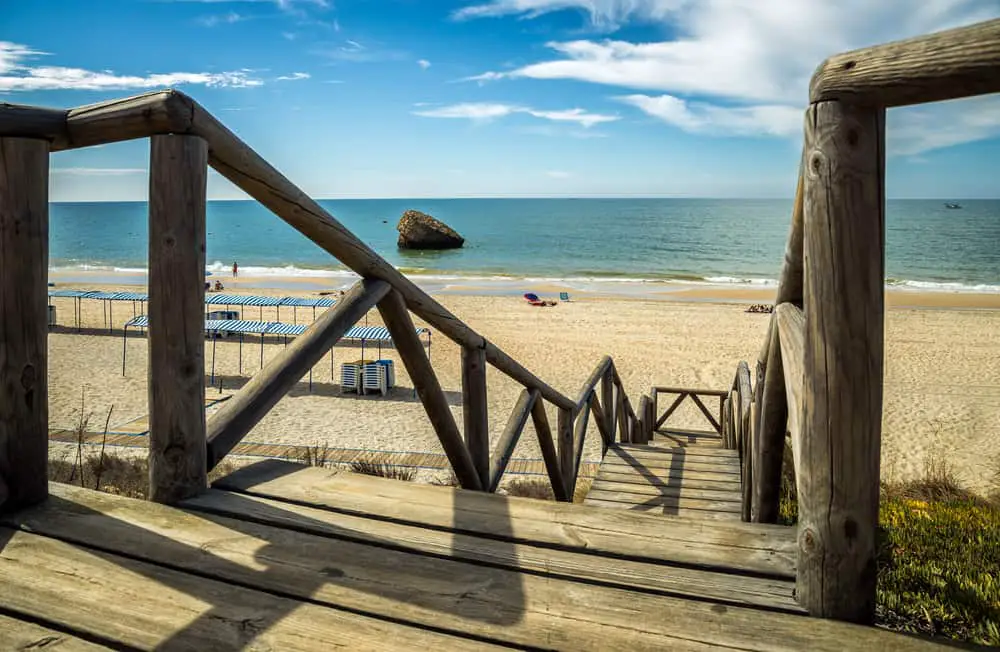 Benalmadena, Malaga
Benalmadena makes out one of the best day trips from Malaga and remains one of my favorite towns on the outskirts of the city.
Boasting vibrant nightlife, an enchanting town center, and accessible urban beaches, Benalmadena gets seriously crowded in the summer months.
Not only has Benalmadena got a small quaint cluster of shops and bars through narrow walking streets, but Benalmadena Pueblo on top of the hill is super charming with a bird's eye view over the coastline.
Make sure you don't miss out on Colomares Castle and the cable car to the top of Mount Calamorro that towers behind the coast making Benalmadena a great vacation town in Malaga Province.
Benalmadena has it all and it's easily accessible by public transport from Malaga airport which might make it more attractive than other beach towns in southern Spain.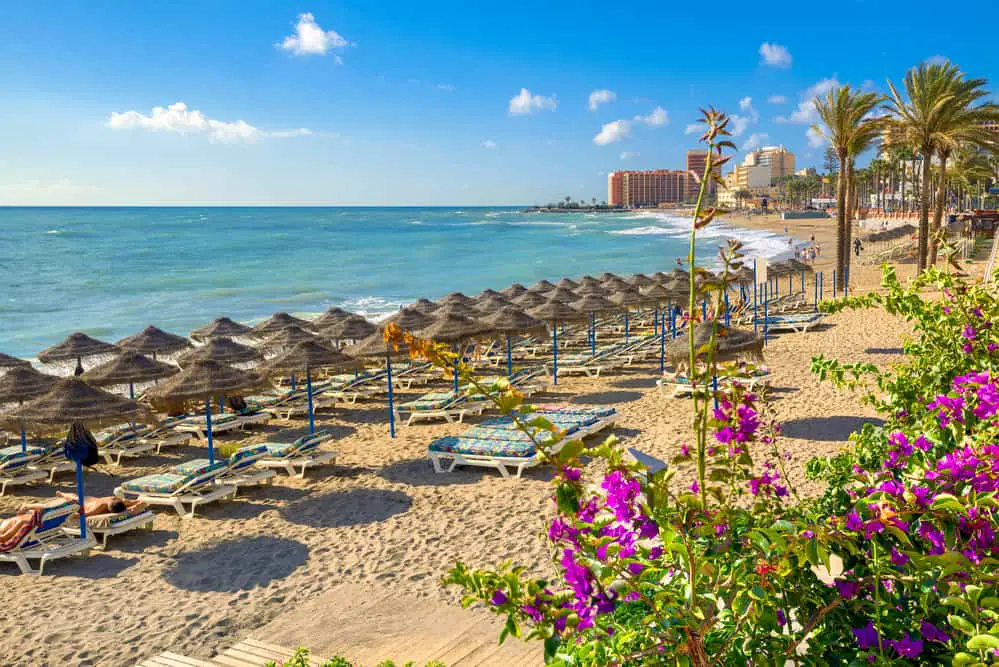 El Puerto de Santa Maria, Cadiz
One of the coolest coastal towns in Andalucia is El Puerto de Santa Maria. Situated right next to Cadiz city, taking the ferry to El Puerto is one of the best things to do in Cadiz.
The beaches in El Puerto de Santa Maria are spectacular, with Valdelagrana Beach being the most popular fine-sanded urban beach. But there are a whole lot more things to do in El Puerto de Santa Maria, Cadiz.
There is a multitude of opulent palaces to visit, Castillo de San Marcos is full of history, and the Iglesia Mayor Prioral on Plaza de España is a must-visit. You also find yourself in the Andalusian Sherry Triangle which means sherry tasting and a tour of the Osborne wine cellars is a must.
The nightlife is epic and if you fancy a local vibe beach town in southern Spain, you can't go wrong with El Puerto.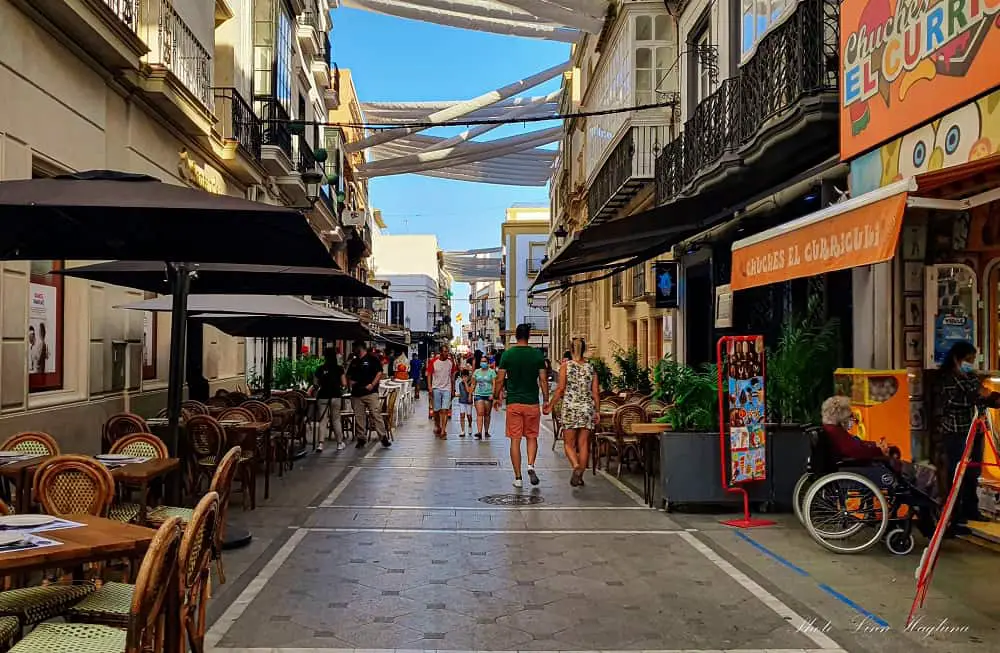 San José, Almeria
No arguing one of the best southern Spain beach towns is the tiny town of San José in Almeria's Cabo de Gata Natural Park. With easy access to many of the best Cabo de Gata beaches, San Jose is an aspiring summer destination that slowly is gaining more international recognition.
Hike along the coast to the popular Playa de Los Genoveses for a day at the beach or continue across to secluded beaches before ending up at the famous Monsul beach.
If you want to explore other epic beaches like Los Muertos Beach and Playazo de Rodalquilar Beach, make sure you rent a car so you can get around. There is so much to explore in the natural park.
San Jose boasts a multitude of cozy restaurants and bars while small shops sell handmade artwork of different types. This is the perfect Andalucia coastal town for those looking for an authentic, slower, and nature-filled experience than most places offer.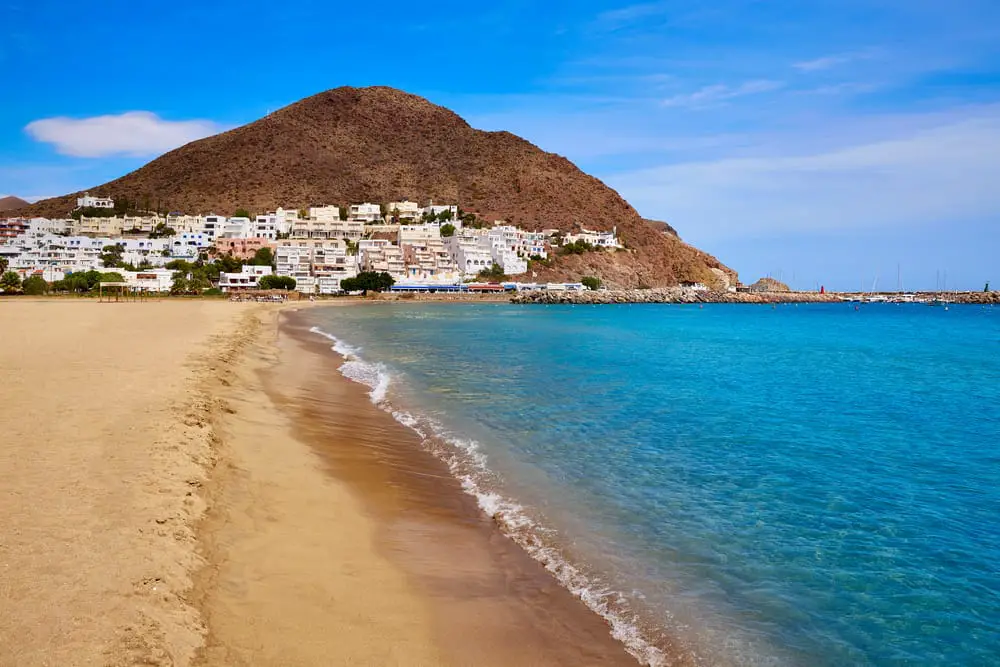 Reflections on the beach towns in southern Spain
Listing up the best coastal towns Andalucia has to offer, there is no doubt why southern Spain is popular in summer. On top of a number of spectacular cities in Andalucia, there is a lot to do on the coast for beach dwellers.
Having lived in the region for 10 years, I still return to all of these Andalucia coastal towns over and over again so I'm positive you'll love them too.
Happy travels!