You just realized there's a fairytale castle on Costa del Sol and want to check it out? I don't blame you! When I first found out about the impressive Colomares Castle, Spain hides in the hills overlooking Benalmadena's coast, I directly added it to my bucket list!
There is no doubt, that visiting Colomares Castle is one of the absolute best things to do in Benalmadena, one of the most quaint tows on Costa del Sol, and it makes for the perfect photo location.
Unique in its kind, it's actually a monument dedicated to Christopher Columbus and the discovery of the New World, and not a castle that has ever been in use.
Yet, the unique sand castle look-alike is one of the must-visit castles in Andalucia.
The monument features all three ships that Christopher Columbus took on his first discovery journey, El Niño, La Pinta, and Santa Maria.
In this post, I'll go through everything you need to know to visit Colomares Castle (Castillo de Colomares).
Disclosure: This post may contain affiliate links. That means that if you make a purchase through one of those links, I will get a small commission at no extra cost to you.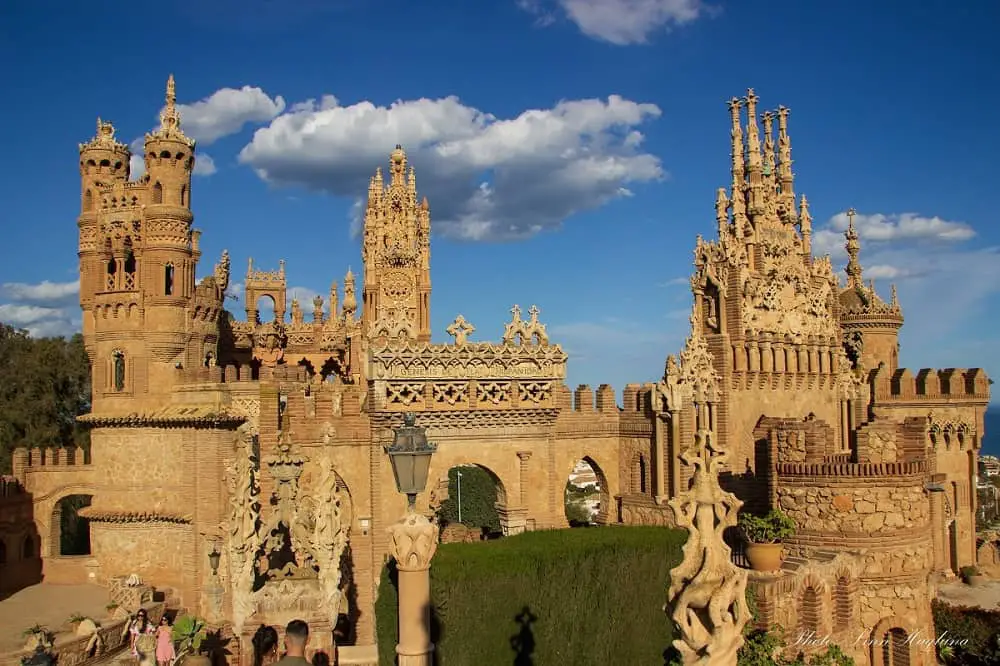 How to get to Castillo de Colomares
You might wonder how to get to Castillo de Colomares, the short answer is that it's easiest to get there by car if you come from anywhere but Benalmadena. Even though it is one of the most popular places close to Malaga, the monument is situated far from any train station or bus terminal in Benalmadena.
From Benalmadena, you can take bus 103 from the bus stop Los Maites and get off at Las Mimosas. The journey takes about 30 minutes.
If you come from Malaga, you can take bus number 110 to Benalmadena (getting off at Los Maites) and change to bus 103. The journey can take around 1 hour 30 minutes or more, depending on how long you have to wait for the change of buses.
Driving to Castillo de Colomares only takes 15 minutes from the center of Benalmadena and 30 minutes from Malaga.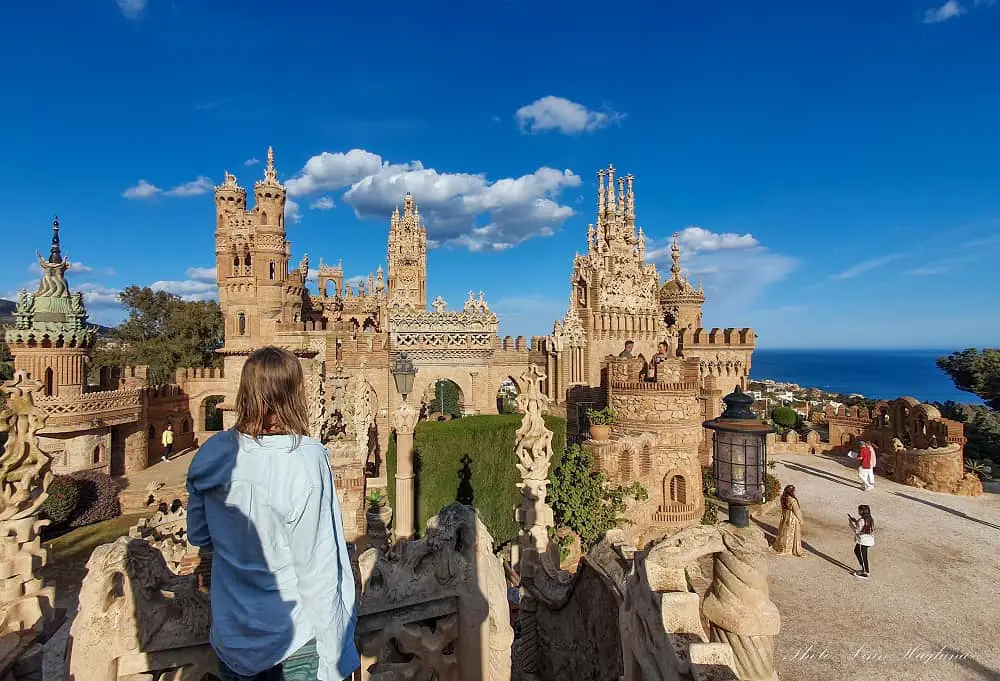 Colomares Castle tickets
Colomares Castle tickets can be purchased directly at the entrance and are only 3 Euros for adults and 2 Euros for children and pensioners.
When you enter, you'll get a paper with information about the castle's history and building that you can read during your visit.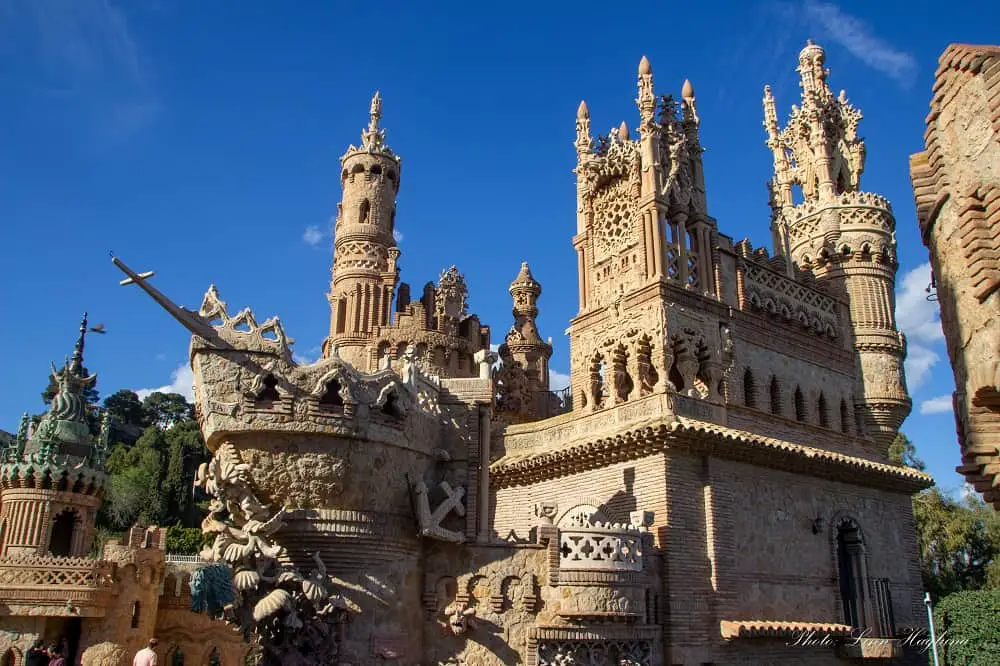 When is the best time to go to Colomares Castle Spain
Colomares Castle Benalmadena can be visited all year round, except Mondays when it's closed. However, the temperatures are much more comfortable for a castle visit between October and May than during the summer months when it can get unbearing hot.
The opening hours vary depending on what time of the year you visit, but at the time being they look like this:
Spring: 10:00-20:00
Autumn and Winter: 10:00-18:00
Summer: 10:00-14:00 and 17:00-21:00
To assure updated opening hours you can also check out the Castillo de Colomares official site here.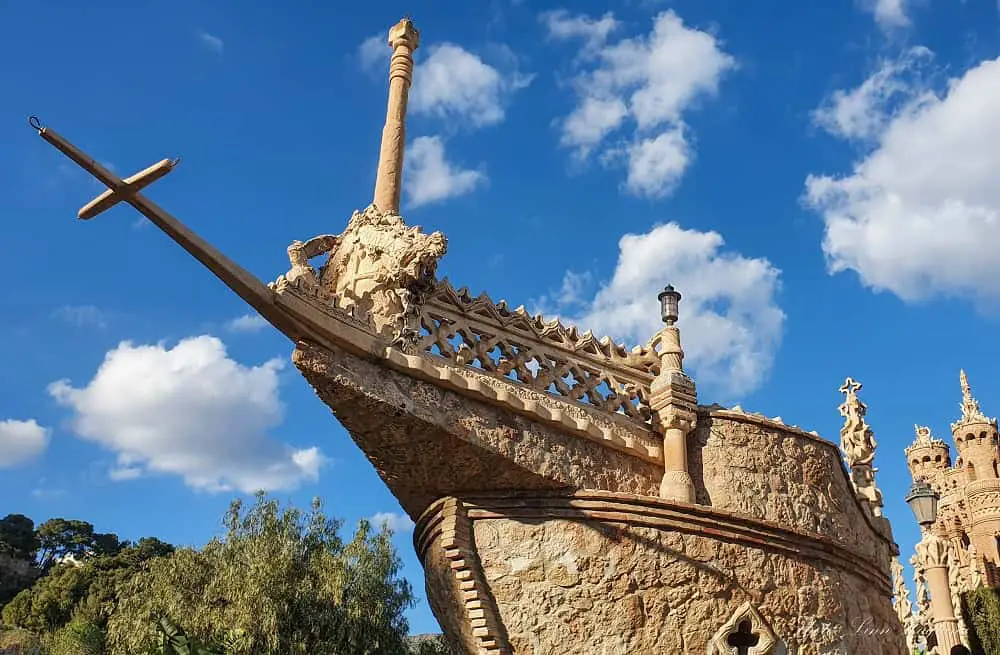 OTHER COOL THINGS TO DO IN BENALMADENA:
Visiting Colomares Castle Benalmadena
Colomares Monument was begun built by Dr. D. Esteban Martín Martín in 1987 and has become one of the most unique tourist attractions in Benalmadena. Colomares Castle can only be visited from the outside, so you can't enter any halls inside it.
Yet, there is a lot to see. Walk around the castle gardens and enjoy the mesmerizing coastal views, walk through archways and have a peek at the impressive details throughout the monument.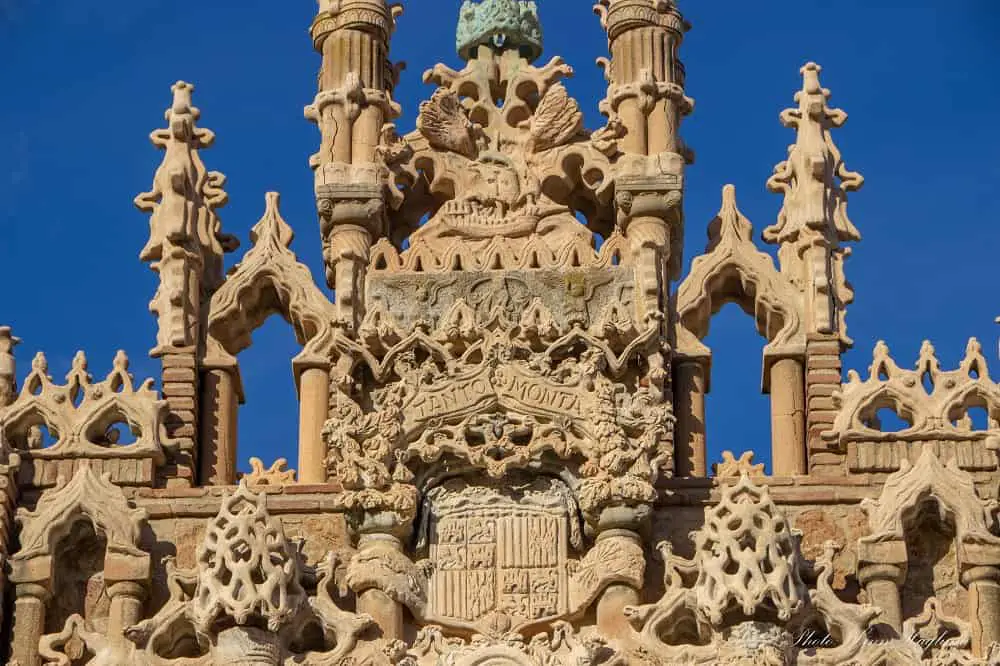 Climb the narrow stairs to the top of the watch tower to see the gardens from above and snap a couple of pictures.
Throughout the complex, you will see the three ships, El Niño, La Pinta, and Santa Maria built in the castle. The Santa Maria is sitting separately from the rest of the castle where you'll get a good look at the rest of Colomares Castle and a perfect photo opportunity!
The visit itself can easily be done in 15 minutes, so don't expect it to be huge. Yet, I find it's a beautiful place to wander around and especially take in all the details, so you can easily spend an hour or more walking around, particularly if you do a few photo shoots there. The Colomares castle might just be the most photogenic spot in Malaga.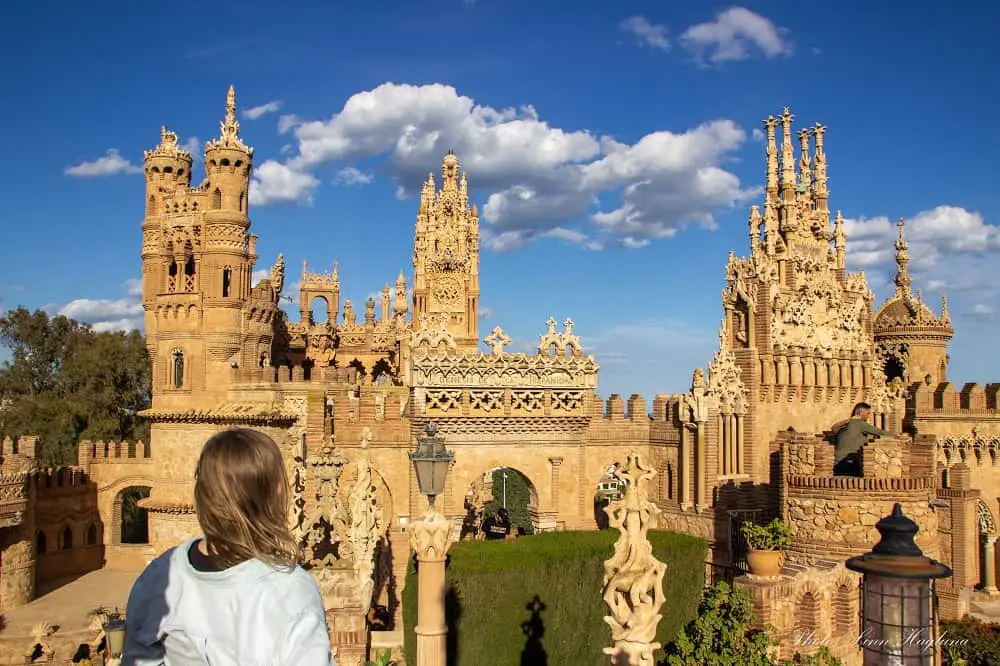 Reflections on Colomares Monument
After visiting Colomares Castle in Spain, I was mesmerized, though I kind of expected it to be bigger. Yet, it was such a cool structure, resembling a sand castle with so much detail that walking around was a dream.
Especially the views of the glittering blue sea, the sound of trickling water from the fountains in the courtyards, and the narrow stairs taking you up to different levels and fairytale balconies.
Colomares Castle is no doubt one of the coolest things to see in Andalucia for the whole family and can easily be done as a day trip from Malaga. Especially when you consider this as a monument and not a castle, it becomes a pretty awesome place to visit.
Read about more epic castles near Malaga here.