You're considering a trip to Seville in winter, but not quite sure if it's a good time to go. There are a million things to consider before you find the right winter destination.
If you like a city break without snow, enjoying a cold beer in the sun, exploring bewildering historical attractions, gazing at awe-inspiring architecture, stuffing your face with tapas, and watching invigorating flamenco shows, then you should keep reading.
After living in Seville, winter is my favorite season together with spring (mainly due to the fiestas taking place.) During this time of the year, you get warm days and cold nights, yet not as pleasant as winter in Malaga.
So you can decide if winter in Seville is right for you, I've put together this guide so that you can know exactly what to expect from Seville in the winter and what fiestas are up. Get ready to explore one of the most breathtaking cities in Andalucia!
Disclosure: This post may contain affiliate links. That means that if you make a purchase through one of those links, I will get a small commission at no extra cost to you.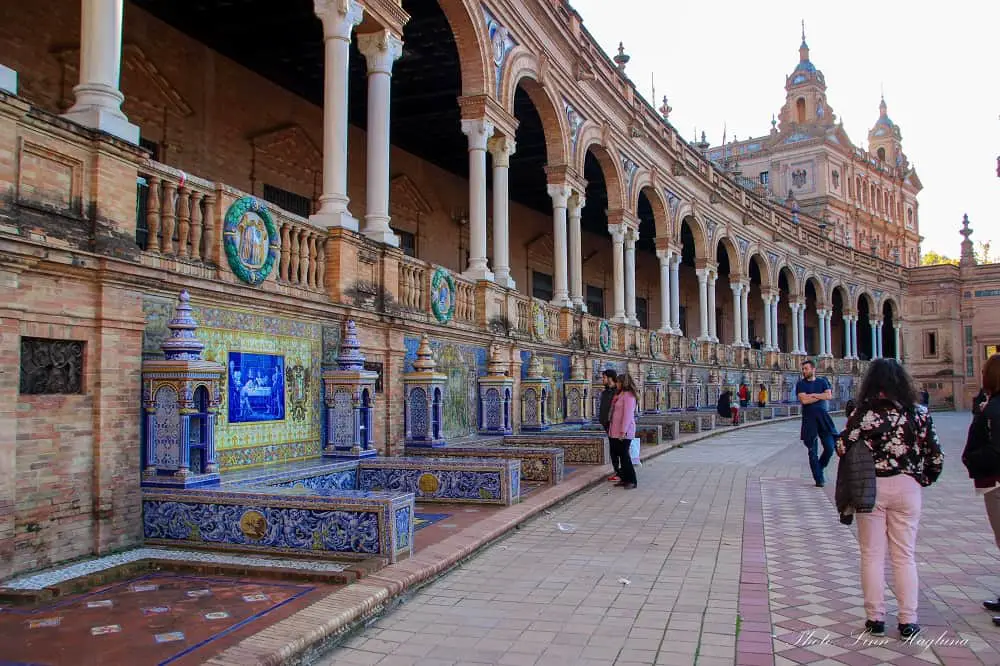 Seville winter weather
Winters in Seville are mild with mostly sunny days, but you can also get heavy rain in periods, so if you're only heading to Seville for a day or two as part of a longer Andalucia itinerary, I do recommend checking the weather forecast. There are many other beautiful cities near Seville you can visit too, so planning around the weather forecast can be an advantage.
However, according to Climates to Travel the winter months average 6 days of rain per month. Of experience, Seville winter weather can give a lot more some years and a lot less other years.
Generally, between December and February, Seville winter temperatures range from 15-19 degrees celsius in the daytime and can go down to 5-7 degrees at night.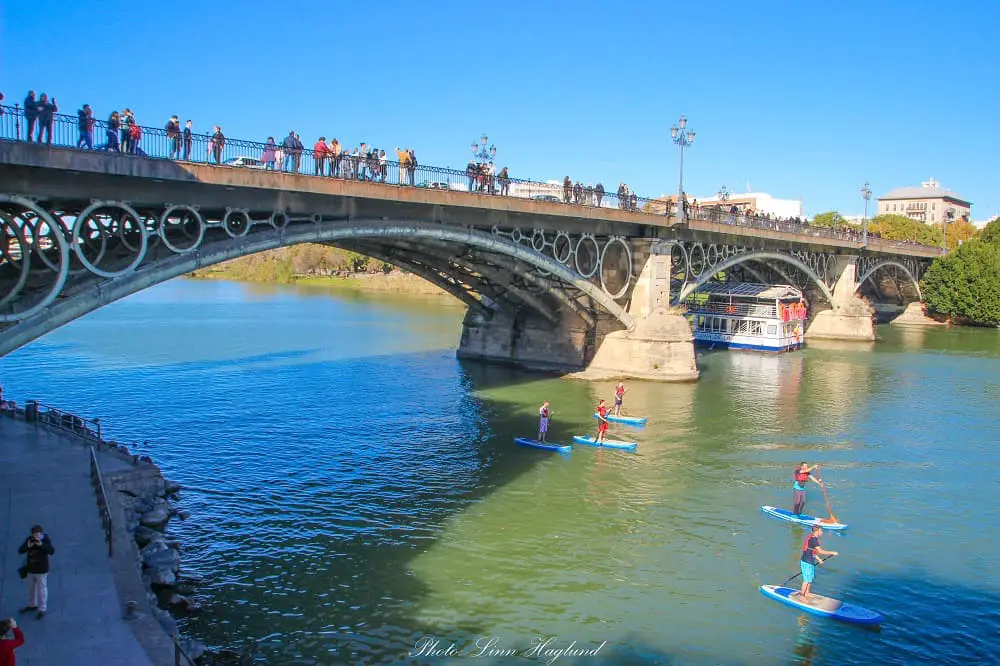 What to pack for a Seville winter break
When you pack for a winter break to Andalucia's striking capital city, keep in mind Seville's weather in winter which will go up a lot in the daytime and down a lot at night. You can easily look at a temperature difference of 15 degrees from day to night and with the winter sun, it often feels even warmer at day.
For this reason, I highly recommend dressing in layers so that you can take off and on clothes easily. Especially if you move between the sun and the shade you'll feel the difference.
I often get questions about if you need to bring a winter coat to Seville in winter and the answer is yes. Maybe not a huge down coat like the one you'd wear in northern Europe (though the locals will!), but you definitely want to wear a warm jacket, scarf, and gloves for the cold days and for exploring Seville at night.
Other items I recommend bringing when visiting Seville in winter:
Water bottle
Comfortable walking shoes
Camera
Pants
Sweaters
T-shirts
Umbrella
Sunglasses
Scarf
Gloves
A cute beanie
Portable power bank to charge your phone (if you use it for pictures and videos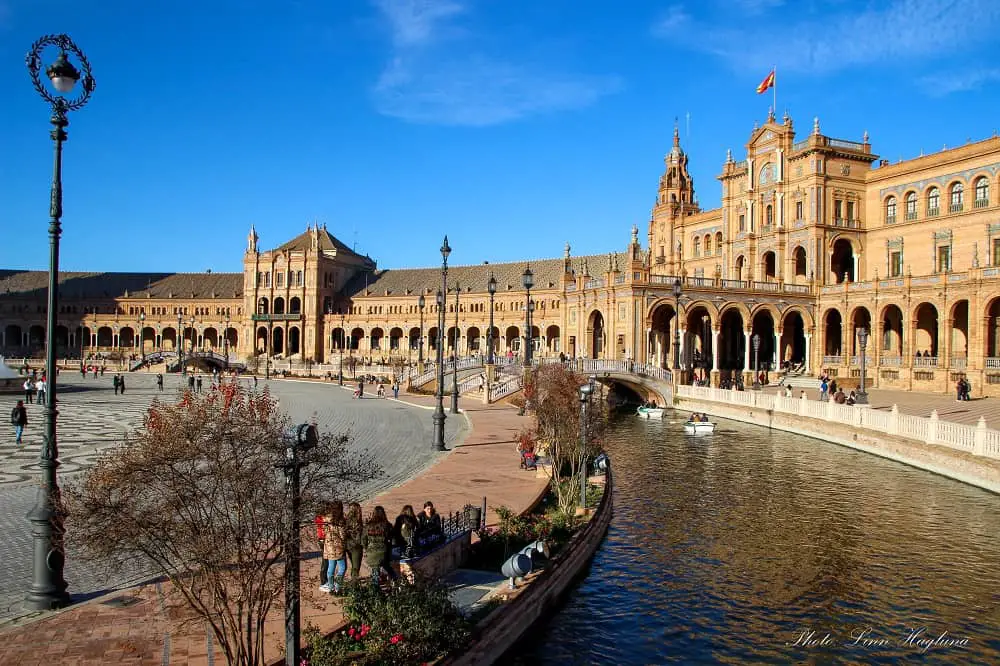 Where to stay during winter in Seville
There are a whole lot of great places to stay in Seville, but my recommendation is to stay centrally if you go for the first time. Here are some of my top picks.
MY TOP CHOICES FOR EVERY BUDGET:

LUXURY: Hotel Alfonso XIII – likely the most luxurious hotel in Seville with a pool and charming Andalusian courtyard.

MID-RANGE: Hotel Amadeus Sevilla – Centrally located in the old town close to top attractions with a pool.

BUDGET: Un Patio al Sur – A lovely hotel in a quiet street in the historic center with a charming rooftop terrace.

HOSTEL: New Samay Hostel – A welcoming hostel with nice common areas and a rooftop with city views.
You can also read my guide to the best neighborhoods to stay in Seville.
Things to do in Seville in winter
Try grilled chestnuts
One of my favorite things about Seville in winter is to munch on warm, grilled chestnuts. Especially on a cold day, it's perfect to warm your hands by clutching onto a hot chestnut while you chew on another.
There are usually plenty of chestnut stalls around the city, especially around the main attractions like the cathedral and Plaza de España, thus you won't have to search for long before you find them.
Be aware that you can only pay by cash, so make sure you always carry some coins with you.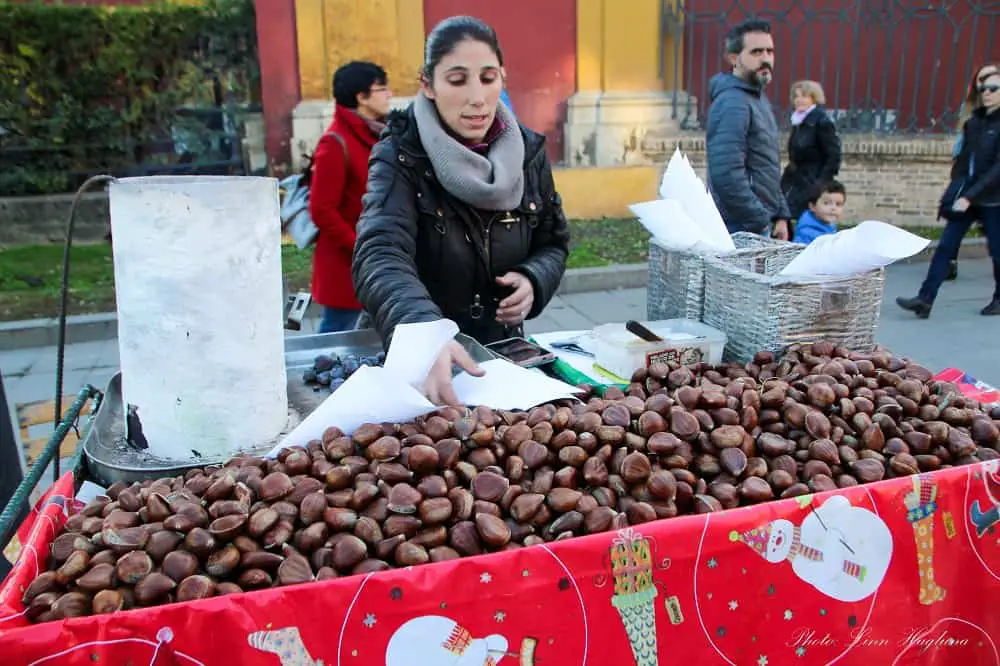 Check out the Christmas markets
In December and the beginning of January Plaza Nueva and Avenida de la Constitución fills up with Christmas stalls selling anything from homemade Christmas ornaments to nativity scenes. The latter is very popular in Seville so you can find a large variety of items.
Browsing through the hundreds of stalls you're guaranteed to find something you like if you're into Christmassy stuff. The Christmas markets are surely one of the best Seville winter attractions you shouldn't miss out on if you're there at the right time.
Stroll through the Maria Louisa Park
During winter, Seville is perfect for sightseeing and strolling in the parks as the temperatures aren't too hot. Take advantage of it and head to the biggest and most astounding park in the city, the Maria Louisa park.
Situated next to one of the most impressive Seville attractions, Plaza de España, you'll have a wonderful stroll through old fountains, Roman statues, and Moorish remains.
Take a break at a bench to people-watch (maybe with a handful of grilled chestnuts?) before discovering the hidden corners this green oasis hides.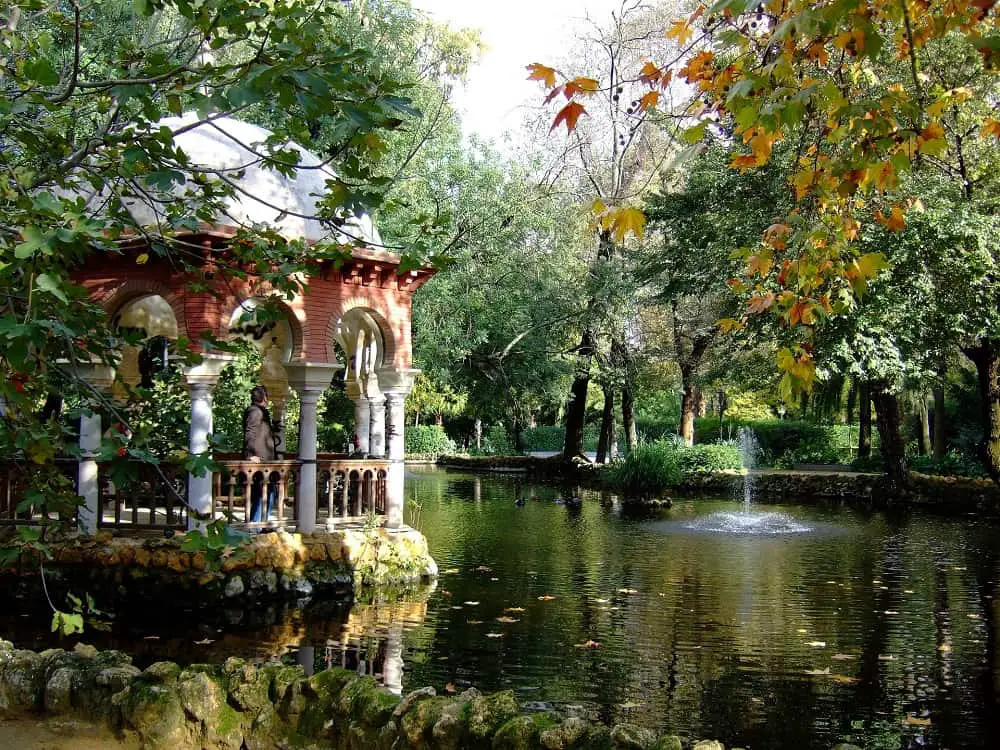 Soak in the winter sun at Plaza de España
Plaza de España is one of my favorite places in Seville and it makes for the perfect spot to soak in that winter sun. The large square features an idyllic half-circle canal crossed by cute Andalusian-tiled bridges and lined with 52 tiled benches. Each of them with the name of one of the 52 provinces in Spain.
Find your favorite province and sit down with a good book or just watch life go by while the sun warms your face. There are usually stalls selling warm, grilled chestnuts near the plaza too if you want a snack.
Originally, Plaza de España was built for the Ibero-American Exposition in 1029, but now it houses a number of government buildings. Besides that, it has turned into one of the city's main attractions, yet it is one of the top FREE things to do in Seville.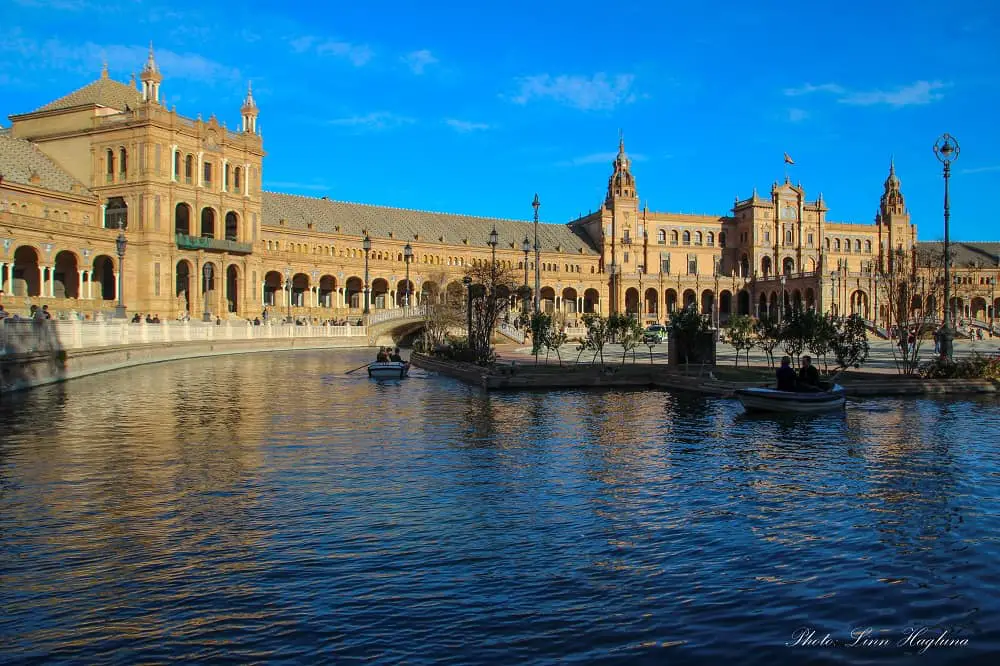 See the floats of Reyes
The Spanish celebrate Christmas on the 6th of January, which is when the three kings brought presents to the baby Jesus. From the evening of the 5th of January and throughout the day of the 6th, you can experience large processions of floats crossing the different neighborhoods of Seville
The floats are especially popular among the kids. Apart from the three kings, you can expect to see princesses and other characters throwing candy at the crowds of small hands stretching in the air.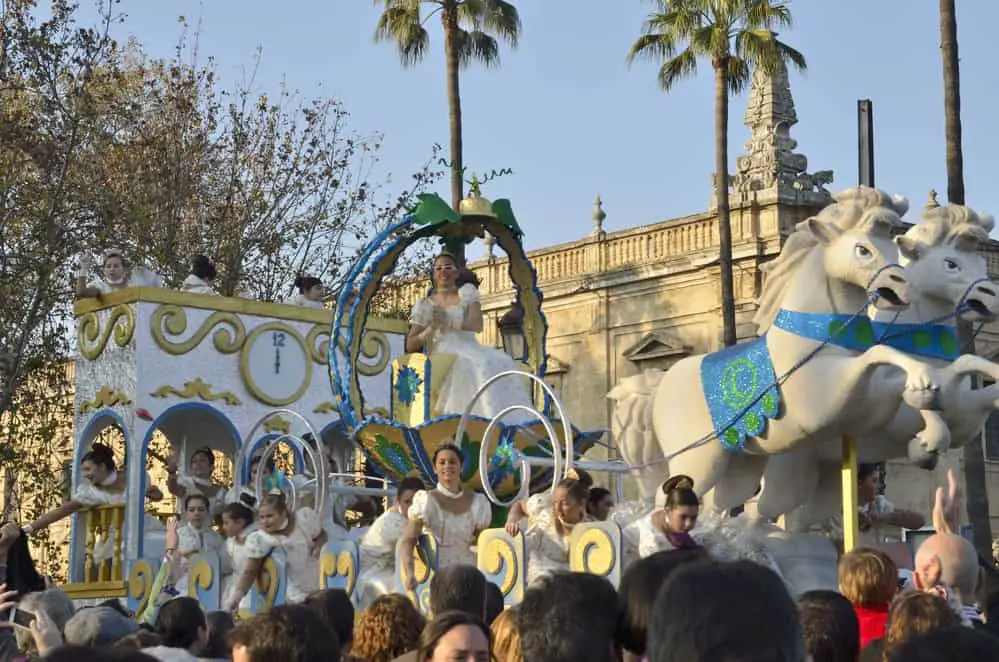 Have 12 grapes on New Years' Eve
New Year's Eve in Seville is an epic experience. Cram up with thousands of citizens at one of the big squares, like Plaza Nueva for the countdown to midnight.
Make sure you buy grapes because if you want to bring good luck into the new year, Spanish tradition says you should eat one grape each second for the last 12 seconds to midnight.
Unless you get them bought ready, I recommend peeling them and removing the seeds (or buy seedless grapes.) This way, you can swallow them quickly before chuffing in the next one, because believe me when I say one second per grape is not a lot of time to chew and swallow.
Take a day tour to Italica
The best time of the year to visit the impressive Roman city remains of Italica just 7 kilometers outside Seville is in winter. Founded in 206 BC, Italica was one of the oldest Roman settlements in Spain and one of the best-preserved remains in Andalucia together with Baleo Claudia in Bolonia and the Acipino ruins in Ronda.
Italica is a delightful break from visiting the city and can easily be done on guided tours for those who don't have a car. This tour is highly recommended and includes skip-the-line tickets and transport from Seville and back.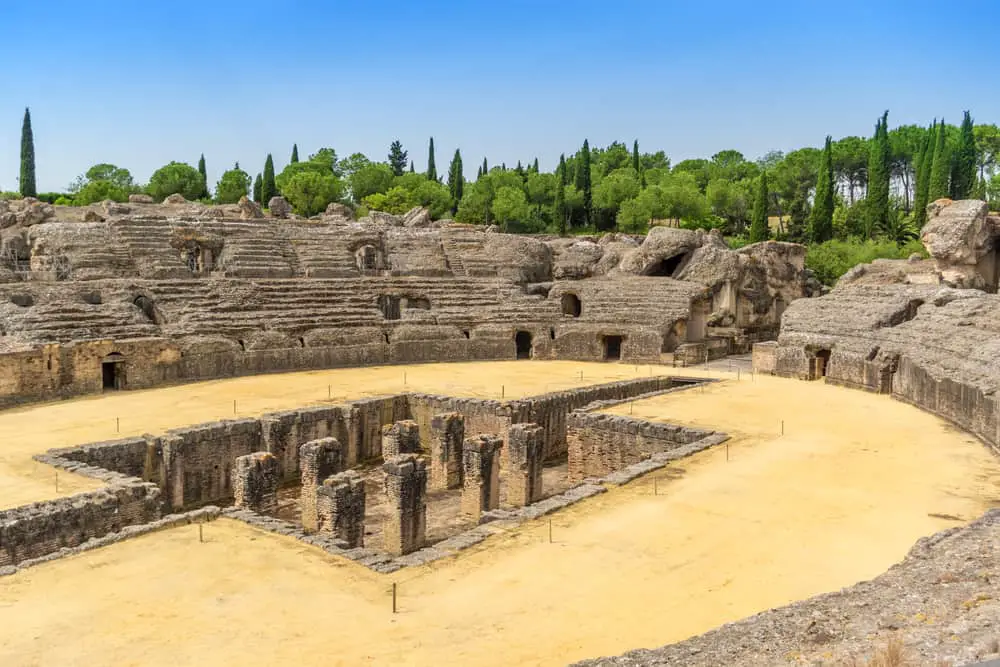 Visit the pueblos blancos
Going on a day trip exploring the enchanting white villages in Andalucia is a great way to break off the city vibes for a day or two and a must on any Andalucia itinerary. In my opinion, the best time of the year to do so is in the winter months when you can enjoy the mountain villages without dying of heat.
Some of my favorites day trips from Seville include Arcos de la Frontera, Niebla, Aracena, and Carmona. You can also head to the unique Riotinto where the red river, Rio Tinto, flows from the old mines.
There are organized tours for those that don't want to take a southern Spain road trip covering the villages.
Here are some of my top picks: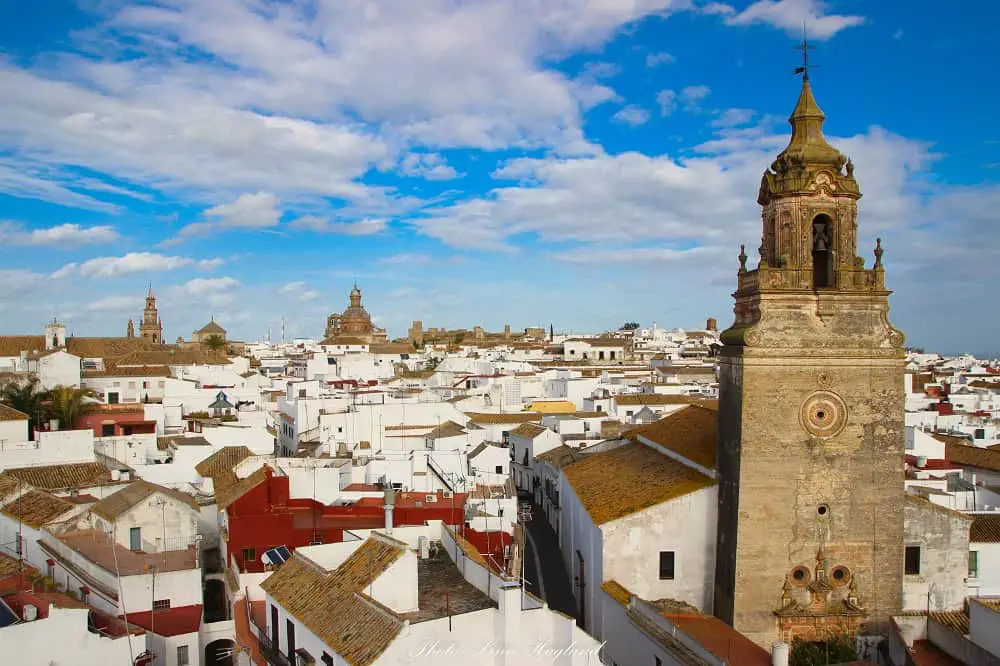 See the sunset from Setas de Sevilla
One of the best things to do in Seville Spain in winter is to put on your coat and head to the Setas de Sevilla for sunset. The top of the site offers spectacular panoramic views of the city's skyline. Combined with a colorful winter sunset, it's hard to beat.
The Setas de Sevilla is one of the newest and most modern attractions in Seville, built on top of archaeological finds that you can see in the museum at the bottom of the mushroom-formed structure.
Pre-book skip-the-line-tickets here.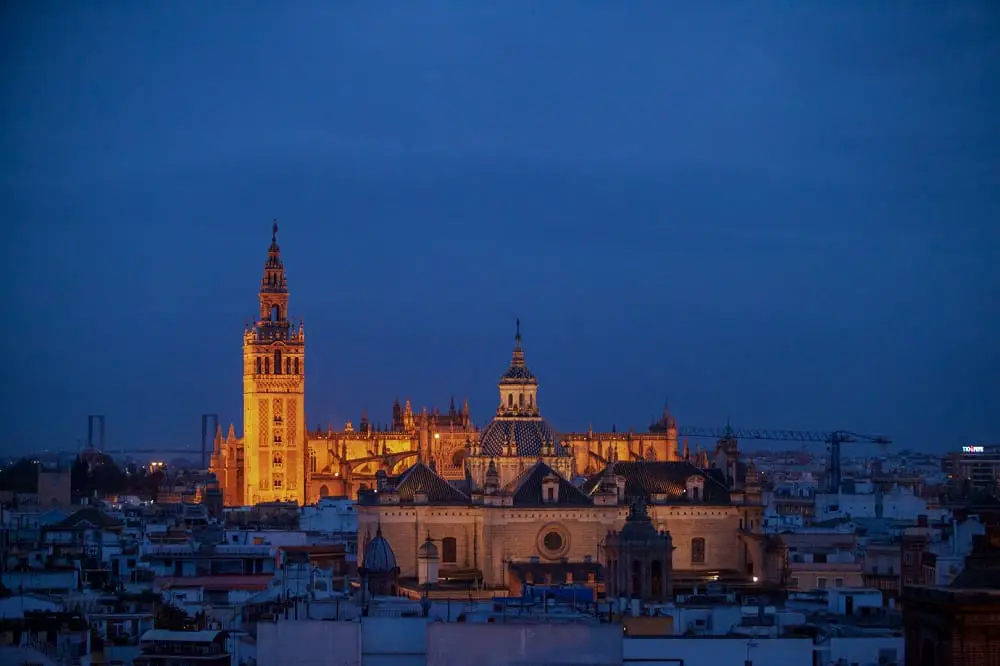 See a Flamenco show
No Seville winter break is complete without experiencing a Flamenco show. There are plenty of spectacular Flamenco bars in the city like Casa de la Memoria and El Palacio Andaluz.
However, if you are looking for free things to do in Seville, you might be lucky to see amazing street performers. You can often see free Flamenco shows at Plaza de España in the mornings too.
Another cool thing to do in winter in Seville is to take Flamenco dance lessons to learn how to dance yourself. Especially if you're a group of friends this is really fun!
Check availability for 1-hour Flamenco lessons here.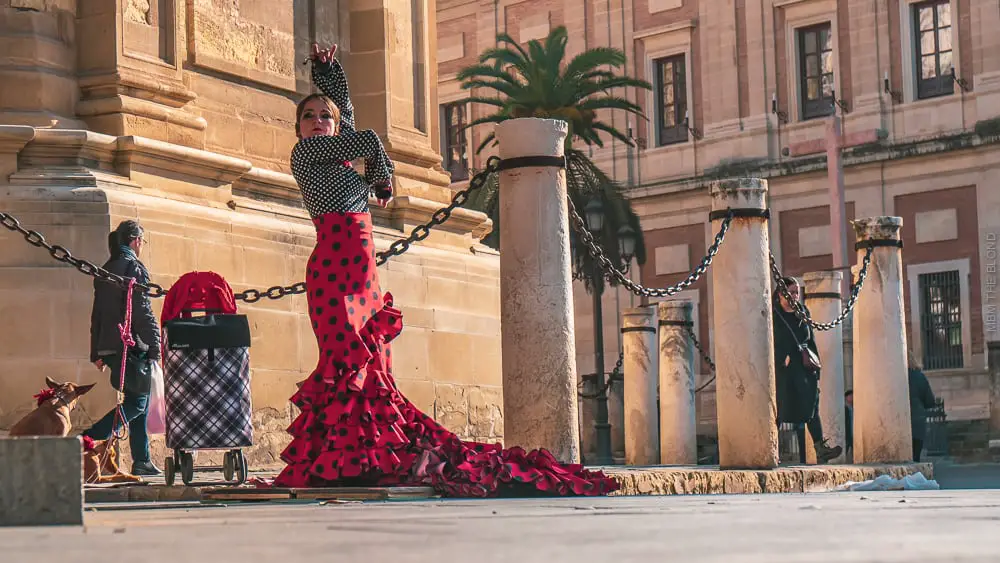 Visit the Real Alcazar and the Giralda
No Seville itinerary is complete without a visit to the Real Alcazar and the Giralda. And winter is no worst time than any other. The ancient royal palace fascinates millions of travelers throughout the year.
Refurbished by Castilian Christians, the original Moorish Alcazar dates back to the 700s and has kept its Arabic features. Still today, it's one of the most outstanding Mudejar examples in Andalucia.
The Giralda was originally the minaret of the mosque but has since the Catholic Conquest been changed to call people to mass.
The best way to visit these sights is with a joint skip-the-line ticket (including the cathedral) and guided tour to learn more about its rich history.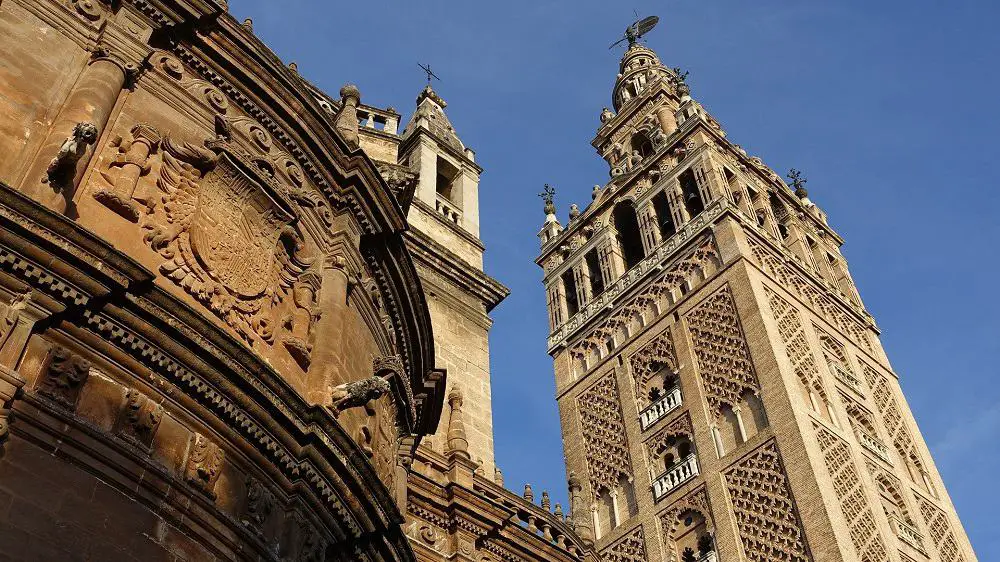 Try Roscón de Reyes
One of the best things about Seville in winter is the Roscón de Reyes which is the typical "Christmas Cake" they serve for the Three King's Day on the 5th and the 6th of January.
It's a round loaf with dried fruit and nuts filled with cream (and did I mention it tastes delicious?!) Back in the day, they used to hide a dry bean inside, and the one that found the bean would be crowned "the King of the day".
These days, you'll find a plastic figure resembling the baby Jesus.
Most cafés serve Roscón de Reyes throughout the Holidays from Christmas to Reyes, so you'll find it easily and can enjoy it with a cup of hot chocolate or a coffee.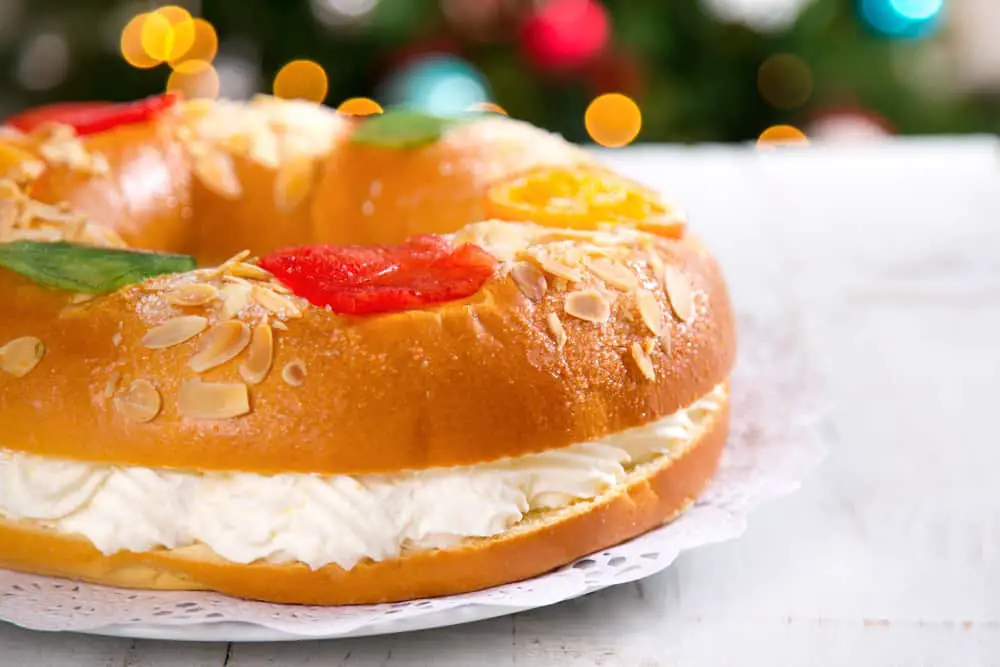 Shop 'til you drop at the Rebajas after Reyes
The fiestas haven't stopped with Reyes. After the Holidays it's time for sales and the bargains you can find are insane! Head to Calle Tetuán where you find a whole heap of shops like Bershka, Pull & Bear, Massimo Dutti, Pandora, and so on.
If you're looking for more expensive brands, take the trip to one of Seville's El Corte Ingles malls where you have a wealth of choices.
If you're looking for unique things to buy from Seville, head to the streets behind Calle Tetuán where you'll find small local shops selling all different stuff from religious artifacts to watches.
Have Churros and chocolate
One of the best things to have in Seville in winter (or any time of the year, but winter is somewhat perfect for some greasy, chocolaty snack) is Churros with Chocolate.
Most cafés in the historic center will serve churros. Barrio de Santa Cruz is a great place to walk around looking for churros while you enjoy the narrow streets in this enchanting neighborhood right behind the cathedral.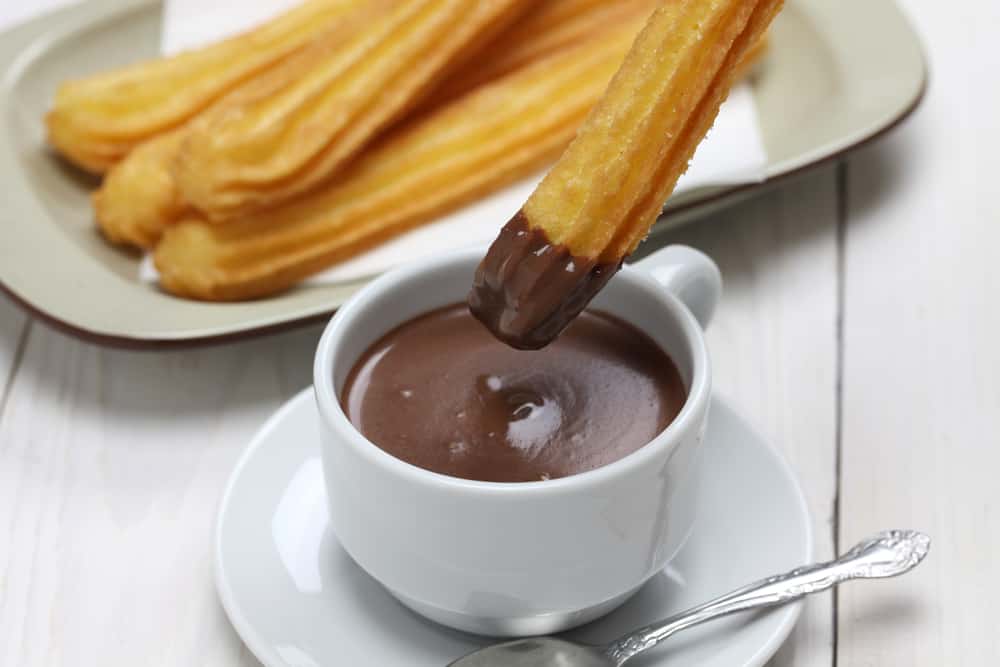 Enjoy a cold beer in the sun
When you have a sunny day in Seville during the winter, it's hard to argue that a cold beer on any terrace isn't a good idea!
The whole city is jam-packed with places to enjoy a beer in the sun, so just go ahead and pick one. If you want my personal preferences, Calle Betis along the river on the Triana side is nice, or walk across the Puente de Triana and find a place straight across there.
You'll find fewer tourists and more locals there, even though more and more tourists are venturing over to the Triana neighborhood, especially after the food market opened.
Take a day tour to Doñana National Park
One of the best day tours from Seville is to one of Andalucia's two national parks, Doñana. The park can only be visited by an organized tour as there are numerous threatened species including the spectacular lynx.
For a 4WD tour across mesmerizing sand dunes spotting wildlife, check availability on this tour.
If you have more time at hand and want to immerse into the park getting the most out of it, check out this 2-day tour which includes accommodation and two meals.
Reflections on a Seville winter break
I hope this post helped you decide if Seville in winter is for you or not. There is definitely a lot of cool stuff to experience that you won't find at other times of the year.
Especially the Christmas/Reyes celebration and New Year's Eve, but also delicious snacks that you only find in the winter like grilled chestnuts and Roscón de Reyes.
Besides that, it's the perfect temperature for sightseeing, as it's not too hot like in the summer. And not to mention, the orange trees that line the cobbled streets of the city give a warm, orange and green color that lightens up even a rainy day.
In my opinion, Seville in the winter is amazing! I hope you" enjoy it too.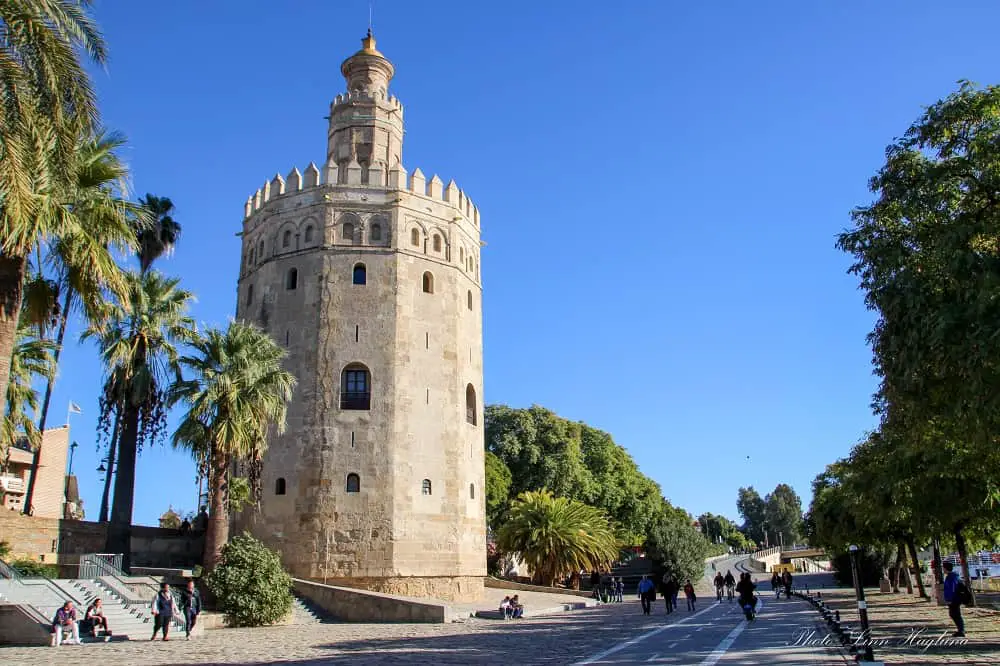 FAQ
Is Seville nice in winter?
Winter in Seville Spain is lovely with mild days, usually sunny, which makes for the perfect weather for sightseeing and tapas crawls.
Does it snow in Seville Spain?
The short answer is no, it doesn't snow in Seville. That said, the city saw a little snowfall in 2010, which didn't stay when hitting the ground. The last time Seville saw enough snow to cover the city in a white blanket was in 1954.
What is Seville like in the winter?
Seville is generally mild and sunny in winter with cool nights. The city sees some days of rainfall throughout the winter months.
Is Seville worth visiting in December?
The weather in Seville in December is nice with warm, sunny days, and colorful oranges dotted in green trees lining the streets that are adorned with colorful Christmas lights. The temperatures range between 7 degrees celsius at night and 18 degrees celsius in the daytime. December is a wonderful time to visit Seville.
How cold does Seville get in winter?
Daytime temperatures in winter in Seville range between 15 and 20 degrees while the nights get cool at 6-8 degrees.