When planning out your Seville itinerary, you also need to sort out tickets to the top attractions so that you don't miss out on anything. You'll need tickets for Seville Cathedral too and it can be overwhelming to figure out how and what type of tickets you should get.
I've lived in Seville and even after that, it's been like a second home to me, so I would typically take all my visitors from abroad to visit the tourist attractions. Thus getting tickets to Seville Cathedral is something I've done a few times throughout the years.
In this post, I'll go through everything you need to know to book tickets to Seville Cathedral & the Giralda, the iconic clock tower. Besides, I'll cover what types of tickets there are so that you can find out the best option for you.
Disclosure: This post may contain affiliate links. That means that if you make a purchase through one of those links, I will get a small commission at no extra cost to you.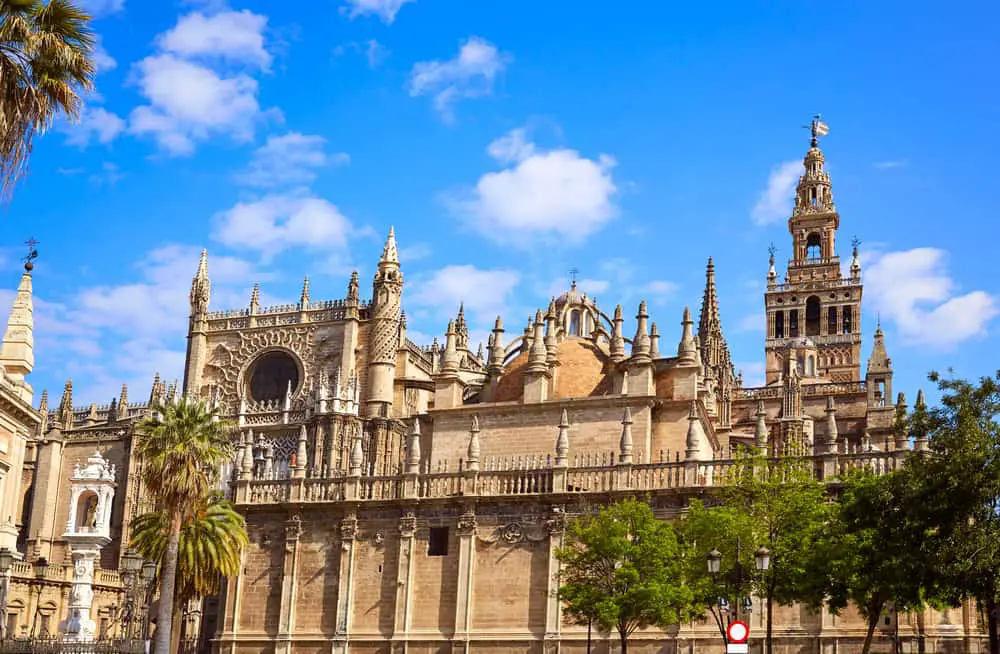 IN A RUSH? HERE ARE THE BEST SEVILLE CATHEDRAL TICKET OPTIONS:
Why you should book tickets to Seville Cathedral
Seville Cathedral is one of the most fascinating churches in Spain with a very special history. It is also the third largest church in the world, making it one of the major hotspots in all of Spain.
The cathedral is also home to numerous attractions like the Tomb of Columbus, the main altarpiece, the royal chapel, the Court of Oranges, and the iconic Giralda Tower, the biggest pride of every "Sevillano".
And you know what this means; There are tons of people trooping in and out of this building every single day. 
As a result, there are really long queues, but the good news is you can skip these really long queues if you book your Seville Cathedral tickets in advance.
If you go to the Cathedral without booking tickets online there is no guarantee that you will get inside straight away.
Entrances are timed, so if there are not free entries for the next time slots you can risk having to wait for a long time or maybe not even get in the same day.
By booking your Seville cathedral tickets online, you avoid the queues (as entry is through a different entrance than where you book tickets) and you can easily plan your day without wasting time.
The best time slots to book are very early in the morning from 9:45 or late afternoon closer to 17:00. These time slots are the best to beat the rush and avoid school groups during the week. 
Altogether, purchasing a Seville Cathedral online ticket saves you a lot of trouble and ensures that you actually get to visit. Especially if you only have one day in Seville, you must plan ahead to be able to see it all.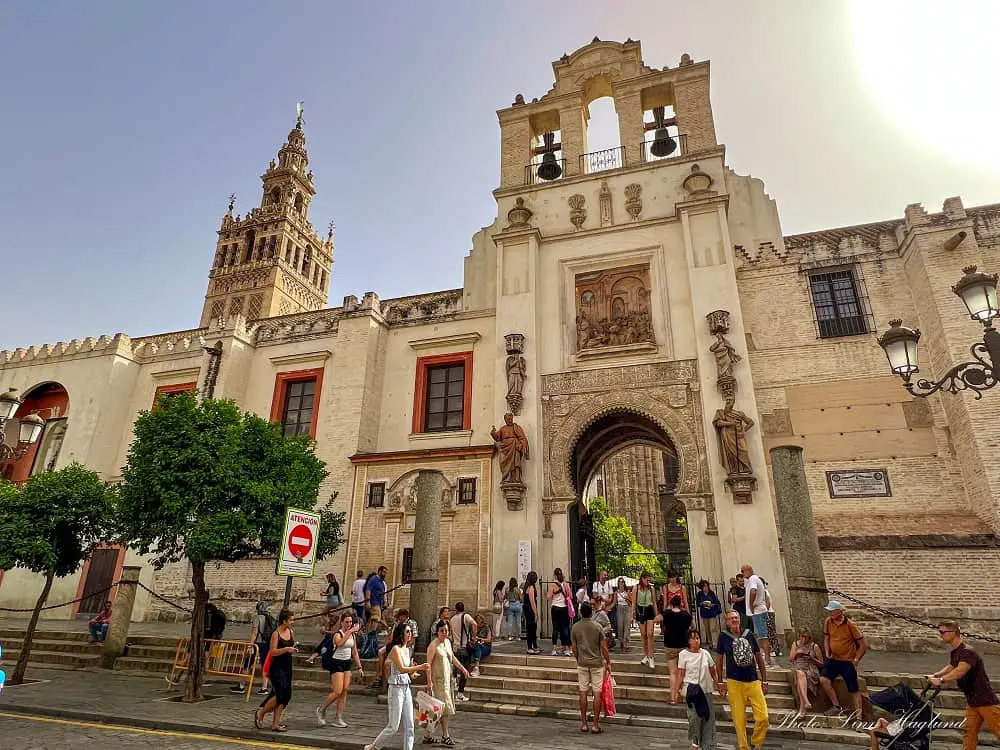 Seville Cathedral ticket price 
The price for tickets varies, depending on the type of ticket and who is using the ticket. Here are the regular prices to buy tickets for Seville Cathedral in the ticket office or on the official website.
Regular tickets
A general entrance ticket with no guide costs 9 €. This gives access to both the cathedral complex and the Giralda Tower.
Reduced tickets
Some people are eligible for reduced ticket prices. It is important to bring a valid ID card and documentation supporting your eligibility for the booked reduced ticket. The price for reduced tickets is €4.
The following are eligible for reduced ticket prices:
Students
Children between 16 to 25 (children under 16 years must have adult supervision
Retirees
Free entrance
The Seville Cathedral ticket can also be free. The following are eligible for free Cathedral of Seville tickets:
Children under 8 years
Pensioners
Unemployed
Disabled people
Those living in Seville
Anyone who falls under these categories must present evidence and a valid ID card (EU ID Card or passport) at the ticket office.
Beyond this, the Seville Cathedral has 100 reserved free tickets each week. But you can only book these tickets between 10:45-18:00 from Monday to Saturday and 02:30-19:00 on Sundays.
You must book these free tickets in advance on the Seville Cathedral's main website.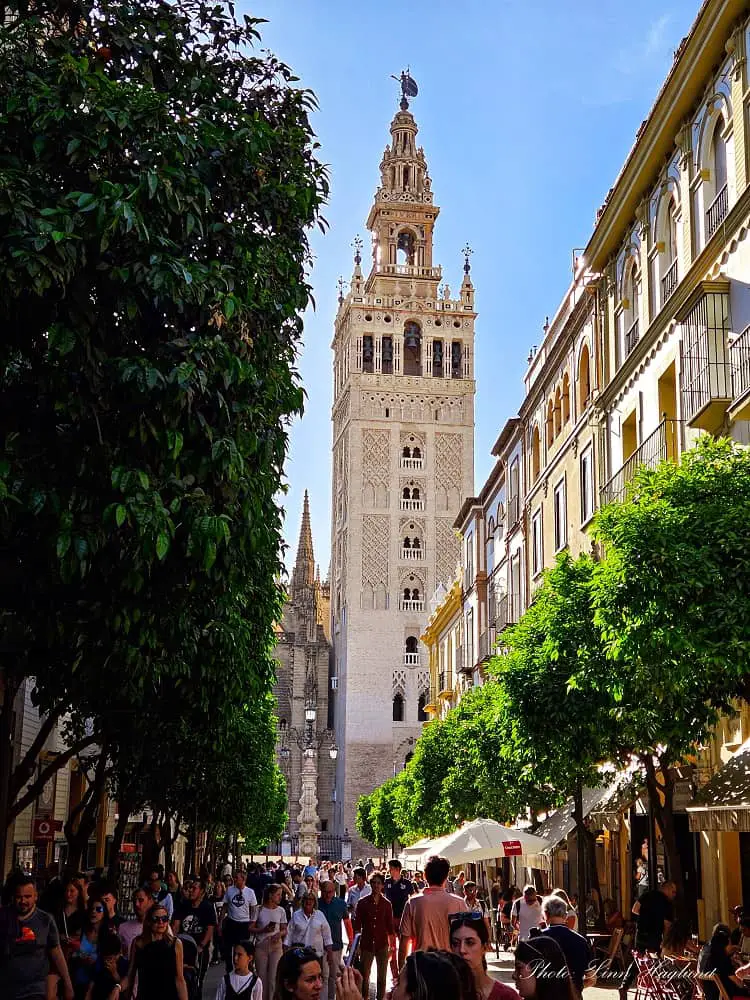 How to get tickets for Seville Cathedral 
You can get tickets for Seville Cathedral from two places – the Cathedral ticket office or book it online. 
Cathedral ticket office
You can buy your tickets at the cathedral ticket office which is located at the door of the Cathedral. This is an easy way to purchase Seville Cathedral tickets if you're already in Seville and want to book it the same day.
That said, there are often long queues and you might not get a timeslot for entry straight away, which means you'll be wasting a lot of precious time that you could have spent on other things. With bad luck, there are no free timeslots left on the same day.
If you are in Seville for a weekend or less, I recommend booking in advance so that you can spend your time seeing Seville instead of spending it waiting around.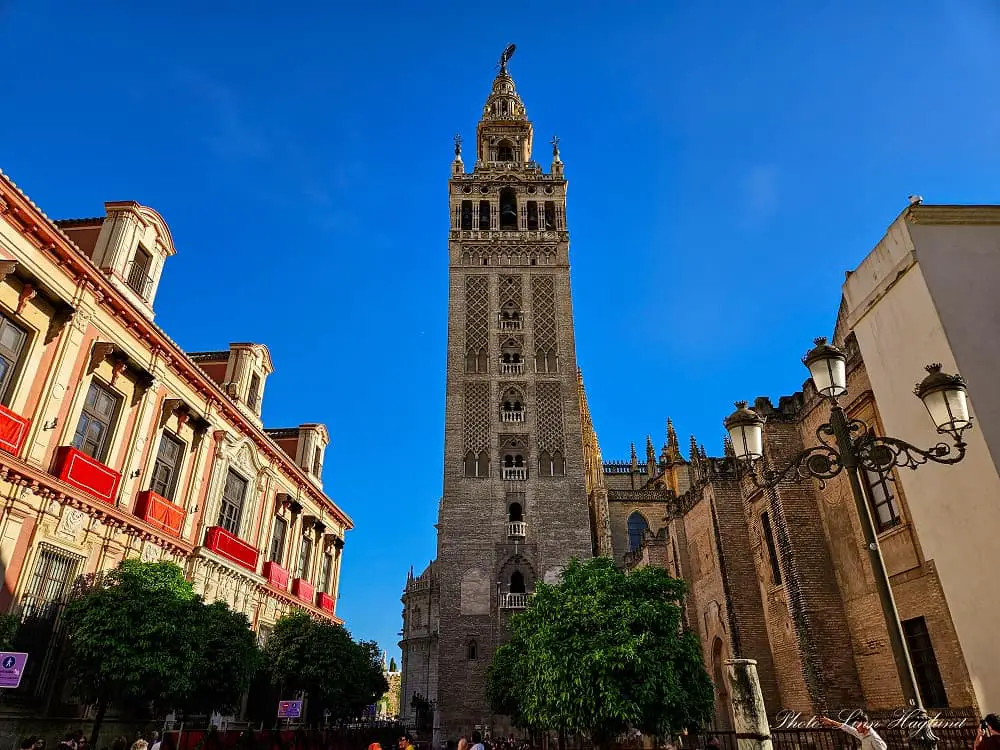 Online 
To ensure entrance that suits your tight itinerary, the best option for you is to book tickets online.
You can either book from the Seville Cathedral's official website or from different third-party sites. I will break down the differences for you here.
Seville Cathedral Official site
Booking from the Cathedral's official site ensures the best prices including reduced and free entry. On the downside, you cannot cancel your tickets and dates might be sold out.
When booking, you first choose an available date, and then you will be given available time slots. It will show how many tickets are available for each time so that you can choose one that has available the number of tickets you need.
Next, you must add how many of each ticket type (regular adult, child, reduced, etc.)
Finally, you will get to the payment and you will receive confirmation and tickets via email that you must provide at the entrance together with your ID.
Note that there's a €1 online booking fee on bookings through the official site.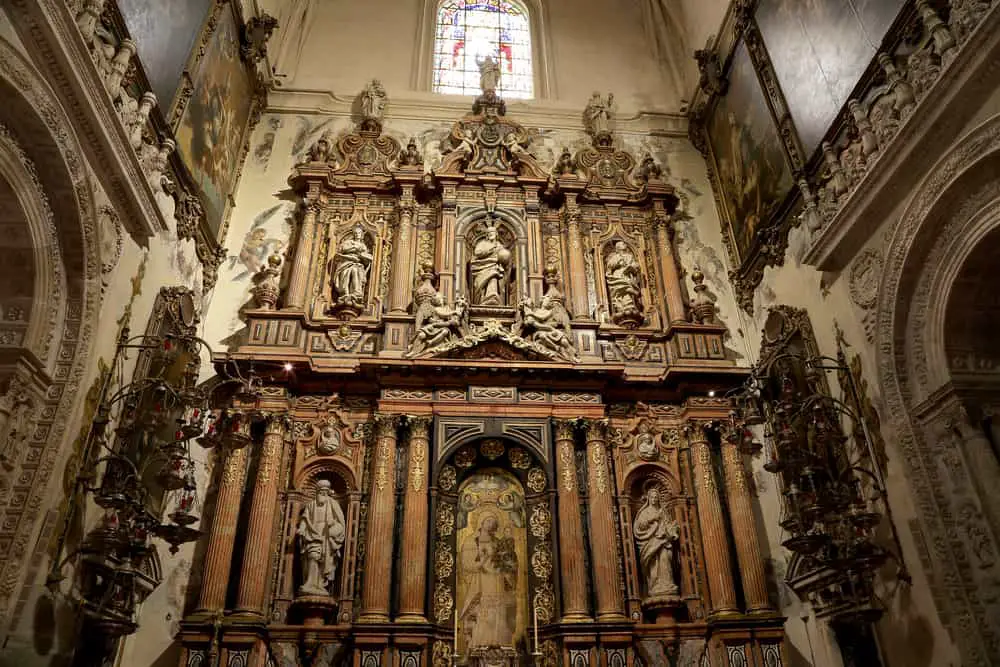 Third-party sites
You can also book tickets for Seville Cathedral online through third-party sites. These sites will usually charge a few extra Euros.
However, you get free cancellation up to 24 hours before booked entry and they often come with an app where you can have all your tickets and tours in one place. I love this, as it helps me stay organized when I'm on a tight schedule.
The apps also send out a push message on your phone the day before to remind you of the activities you have booked.
I usually use one of the following third-party sites, as I find them reliable with good apps.
Sites like Viator, Get Your Guide, and Tiqets also offer a variety of ticket options. You can buy general tickets, combined tickets, or guided tour tickets.
When you book Seville Cathedral tickets from either of these sites, you also get additional advantages like skip-the-line tickets.
If you book Seville Cathedral tickets, skip-the-line is included whether you purchase a guided tour or not. I also like that you can read reviews on the sites before booking, so you know what to expect.
When booking, you have to select your date and the number of travelers, and then check ticket availability.
Once you choose your time slot and complete payment, you will receive emails with confirmation and the tickets.
The ticket can then be found or imported in the app which you can use offline when arriving at the cathedral entrance.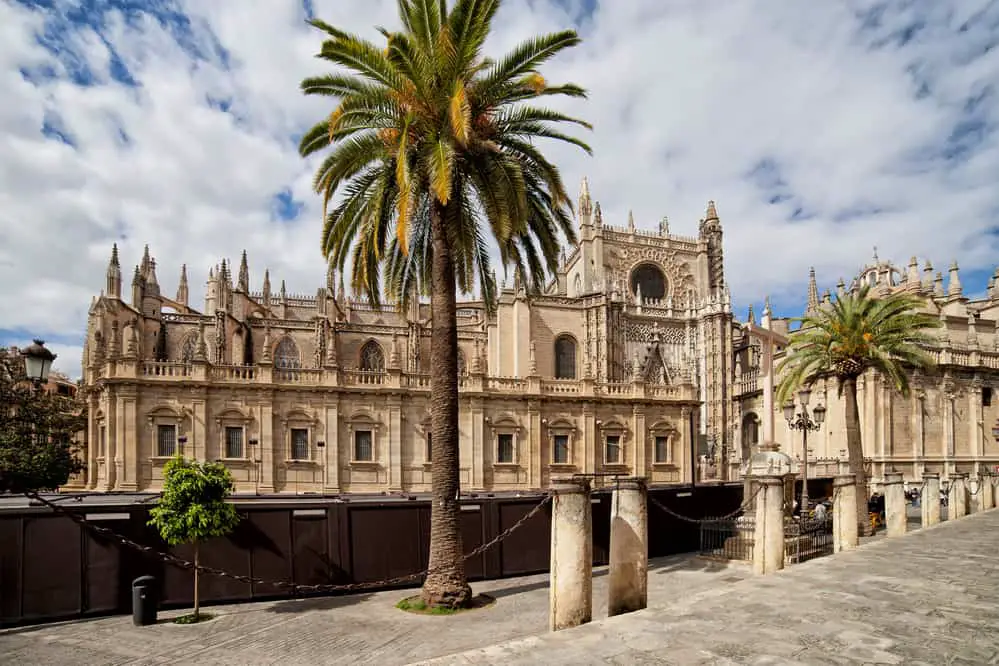 H2 Types of Seville Cathedral tickets
General ticket of Seville Cathedral + La Giralda
The general ticket comes with a visit to the Cathedral of Santa María de la Sede, a tour of the tomb of the man who discovered America, and a climb to the top of the Giralda Tower.
With the general ticket, you get to skip the line to all the locations you will be touring. But unlike other tickets, the general ticket does not come with a tour guide.
In the cathedral, you will see the main altar which showcases the life of Jesus Christ in little sculptures embedded with gold. Words are incapable of describing how beautiful the main altar is.
You'll also come across the Tomb of Christopher Columbus and the Patio de los Naranjos, the cathedral's picturesque orange garden. 
And to round everything up, when you get to the top, you will be blessed with the most magnificent sight of Seville.
To get to the top you will have to climb ramps that were used to replace the stairs so that the horses could get up there in the middle ages. 
La Giralda hosts just as much history as the Seville Cathedral, it's a beautiful fusion of ancient Muslim and Christian architecture. I dare say, that La Giralda is the monument of biggest pride among the locals in Seville.
👉BOOK SEVILLE CATHEDRAL TICKETS HERE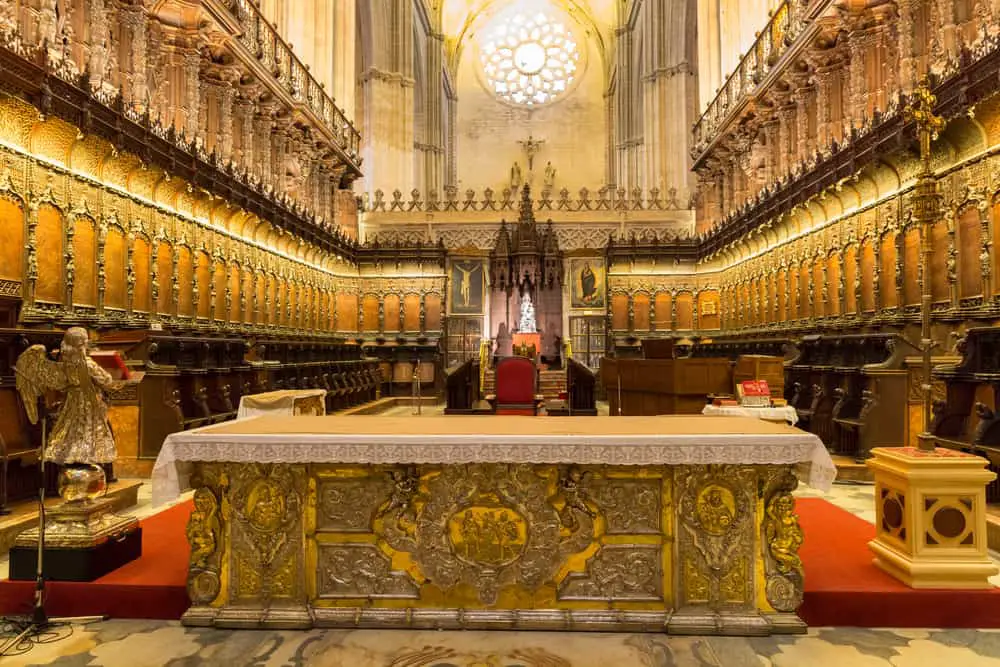 Guided tours
If you prefer a Seville Cathedral guided tour, you'll not only skip the line, but the guide will provide you with a wealth of interesting facts about the cathedral and its history.
They will also show you all the important parts of this architectural masterpiece.
If it's your first time visiting the Cathedral in Seville, tickets with a guide are my best recommendation. The complex is big and there's so much to see and take in, so it really adds value to the tour, learning about all the tidbits.
👉BOOK SEVILLE CATHEDRAL TICKETS HERE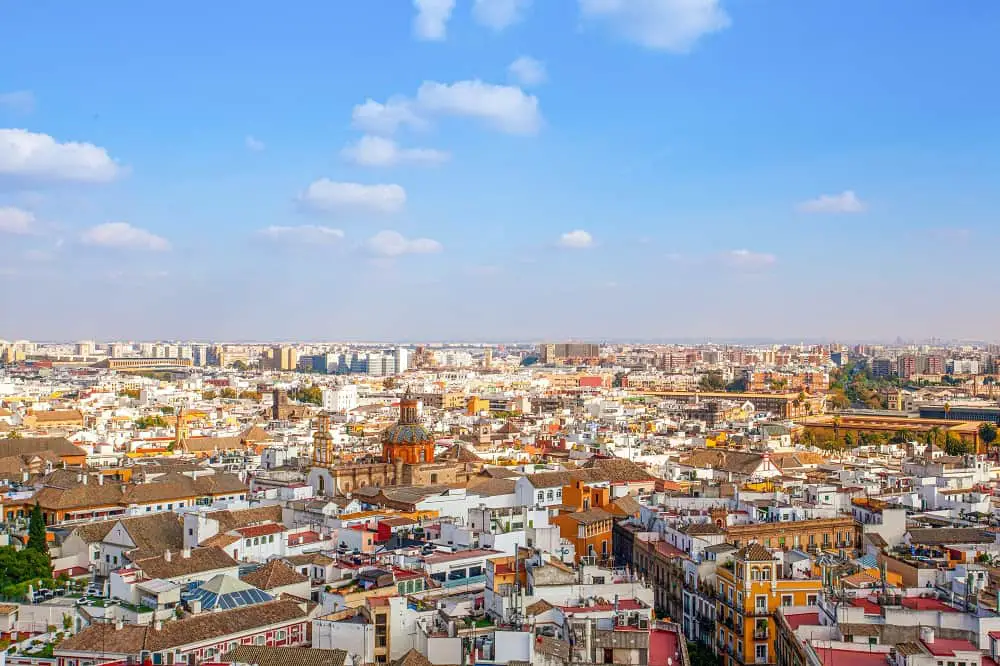 Combined ticket
There are also a whole lot of different combined ticket options including the cathedral. Seville tickets for multiple attractions are great if you plan on visiting more places in a day.
The most popular are tickets for Seville Cathedral and Alcazar, but there are plenty of other combined tickets too, including private tours.
Here are my top picks when it comes to combined tickets and tours:
Get the Seville Pass
The Seville Pass includes skip-the-line entry to Seville Cathedral and the Alcázar of Seville, the Baroque Church of El Salvador, 48 hours of access to the city's hop-on-hop-off sightseeing bus, and a city Audio Guide for your smartphone. 
You can use the Seville Pass on your phone or tablet. All you have to do is open the email that contains the pass. And show it at the entrance of all your tour locations. But if that might pose a challenge to you, you can also print it out. 
To book the Seville Pass, click the link below, pick your dates and time of visit, and number of tickets, make the payment, and receive your Seville Pass by email.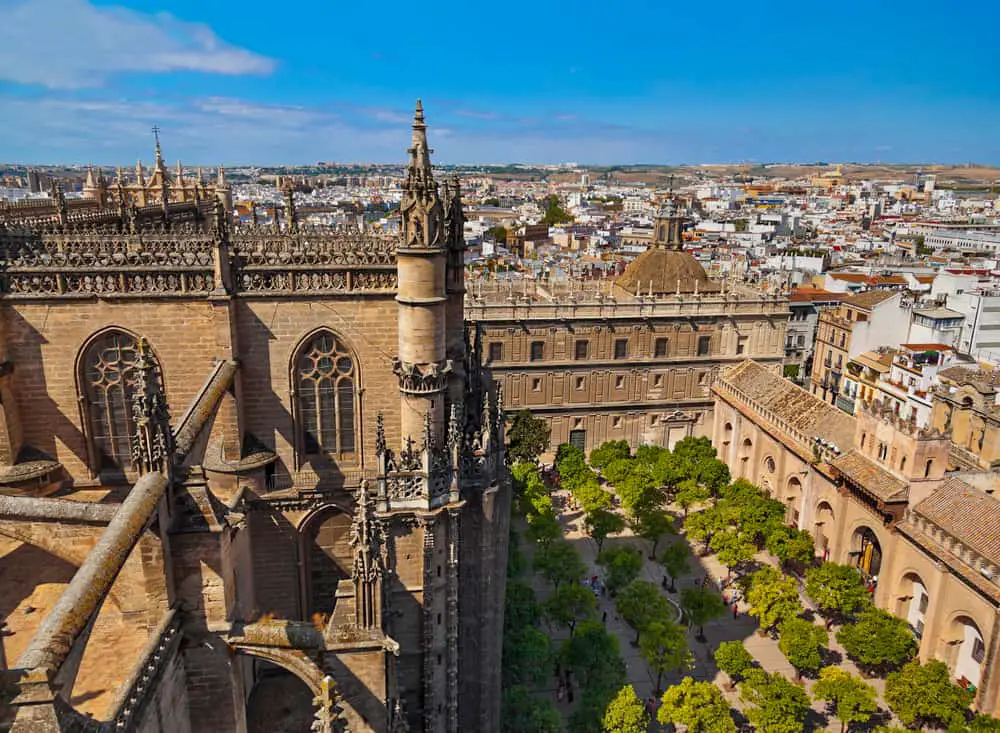 How to buy tickets to Seville Cathedral if they are sold out?
If the official site is sold out of tickets, you can try third-party sites. They purchase tickets in bulk which means that they often have tickets available for the next day, whether it's entrance tickets, guided tours, or joint tickets.
I have bought tours and tickets through both Viator and Get Your Guide the night before I was going and got my ticket in my app straight away.
Conclusion: Tickets Seville Cathedral
Summing up, there are multiple ways to book tickets. Seville Cathedral alone or combined with other attractions. If you're planning a tight itinerary, make sure you book tickets early, I do recommend getting them from a third-party site so that you can get a refund if plans change.
Whether you're looking for only cathedral tickets, Seville Cathedral and Alcazar tickets, or want to add in more attractions, it's usually handy to have them all in one place.
Happy travels!