The Andalusian region in southern Spain boasts two unique and captivating destinations that should be on every traveler's bucket list: Seville and Malaga.
Seville, the region's capital, is famous for its breathtaking architecture, rich history, and vibrant flamenco scene. On the other hand, Malaga is a charming coastal city that offers delicious tapas, stunning beaches, and remarkable museums. 
There are several options if you want to know how to get from Seville and Malaga. To help you plan your trip, we have compiled a comprehensive guide covering the best modes of transport and routes available to get you to your destination.
Disclosure: This post may contain affiliate links. That means that if you make a purchase through one of those links, I will get a small commission at no extra cost to you.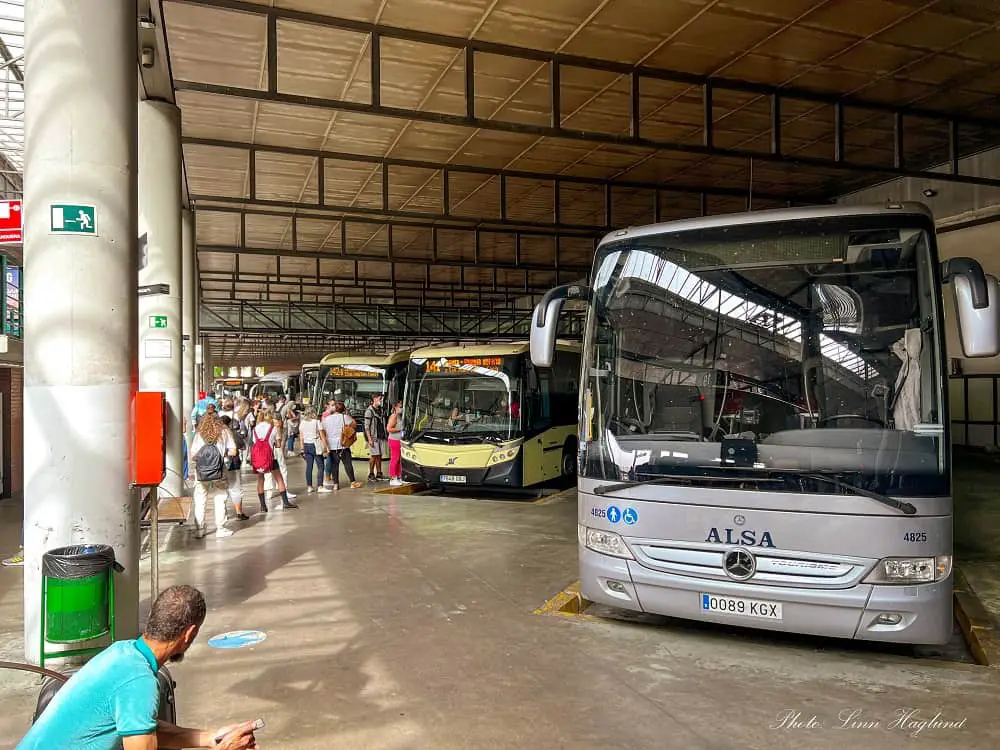 Distance Between Seville And Malaga
The distance between Seville and Malaga is approximately 200 kilometers. The driving distance from Seville to Malaga varies slightly depending on your chosen route but generally takes between 2 hours 15 minutes and 2 hours 45 minutes.
YOU MIGHT ALSO LIKE: Best time to visit Malaga
How To Get From Seville To Malaga
Let's explore how to travel from Seville to Malaga using different modes of transport.
Seville To Malaga By Car
Traveling from Seville to Malaga by car is a great option, as it will give you flexibility and allow you to stop and see more places along the way.
One thing worth noting is that getting around Seville and Malaga by car can be quite a hassle, as you might face traffic and parking issues.
It's best to park your car outside the city center and hop onto public transport or walk instead. This way, you can explore both cities conveniently without any stress or trouble.
If you pick up your rental car before leaving Seville, you might find this article useful where I have shared the best free parking spots in Seville.
Let's look at the drive from Seville to Malaga.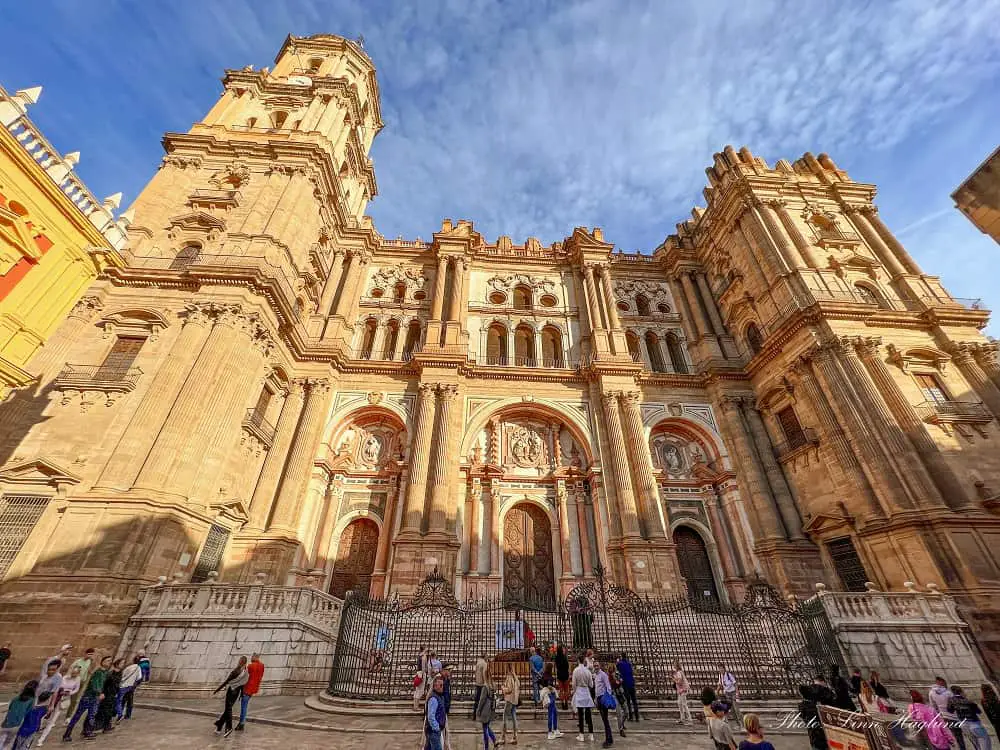 Drive from Seville To Malaga
The fastest Seville to Malaga drive is via the A-92 and A-45 highways, which take you through the heart of Andalusia's scenic countryside. The entire drive is well-marked.
The journey starts in Seville and heads eastward through Osuna, known for its historical monuments, picturesque streets, and delicious tapas. If you want to stop along the way, I highly recommend it, it's about one hour in on your journey.
From Osuna, continue along the A-92 towards Antequera, take exit 152 following signs for A-45/Casabermeja/Málaga, and merge onto A-45.
Antequera is one of the prettiest cities in Andalucia, famous for its impressive Moorish fortress and striking limestone rock formations. If you have time, it's worth visiting the nearby El Torcal de Antequera Natural Park, where you can see some of Europe's most unique and fascinating karst landscape.
Continuing on the A-45, you'll pass through the rolling hills and olive groves as far as the eye can see, cross the mountains, and eventually reach the outskirts of Malaga.
From there, it's just a short drive to the city center, where you can explore the historic old town, visit the Picasso Museum, or relax on one of the city's beautiful beaches.
If you haven't booked a rental car yet, I highly recommend doing it as early as possible, especially in the high season as prices rise quickly as the most affordable cars usually get taken first.
Check rental car availability and prices here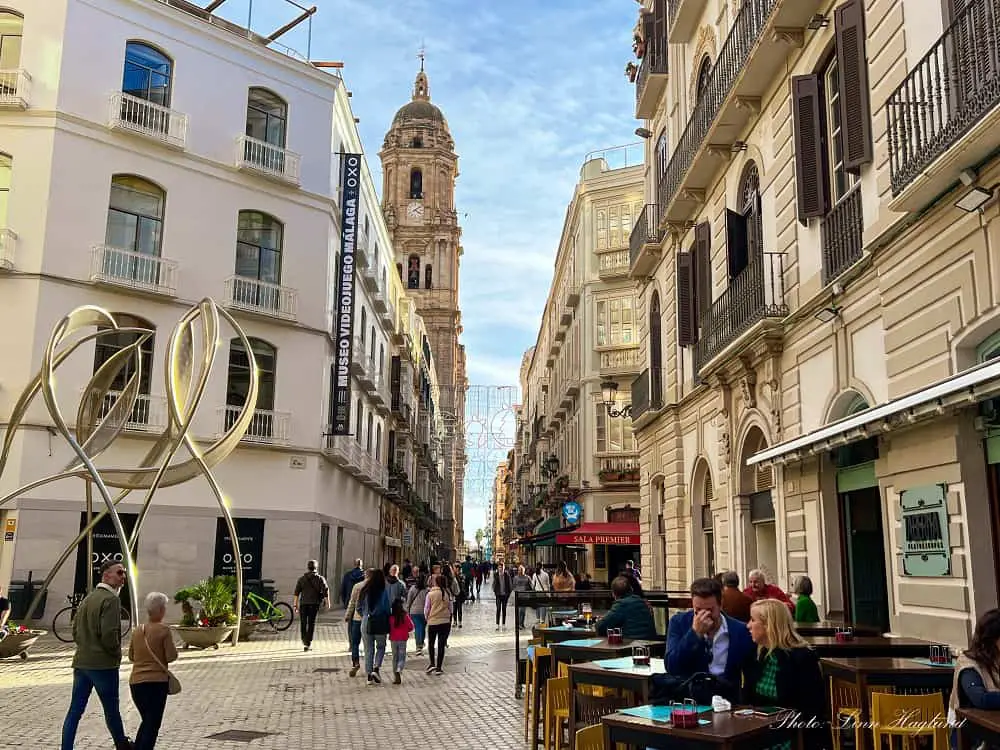 Seville To Malaga By Taxi
If you don't want to drive or take public transport, you can take a taxi from Seville to Malaga. According to online quotes, the cost ranges between 280 and 330 euros, depending on your starting and ending points.
Similarly to driving a car, the journey, traffic permitting, will take anywhere around 2 hours and 15 minutes.
To get the best prices, ask for a quote online beforehand. However, it might be more cost-effective to rent a car for the day or even a few days instead, meaning you can then take your time admiring the views stopping along the way.
Seville To Malaga By BlaBlaCar
A much cheaper alternative is to travel with the BlaBlaCar app, which is basically like carpooling where you can find people driving from one city to another and get a lift for a price set by the driver.
I have experience both driving and being a passenger through the app and have only had great experiences meeting amazing people.
Seville To Malaga By Bus
Seville to Malaga bus journey takes approximately 2 to 3 hours, depending on the route and traffic. Buses frequently depart from Seville's main bus station, Plaza de Armas, and arrive at Malaga's central bus station, Estación de Autobuses.
One of the main advantages of traveling by bus from Seville to Malaga is the affordability. Bus tickets are generally cheaper than other forms of transport, and you can save even more money by booking in advance or taking advantage of special deals.
Another advantage of taking the bus is the convenience of the central bus stations in both cities, making it easy to connect with other transportation options to reach your destination.
Although most buses are modern, with air conditioning and free Wi-Fi, traveling by bus may be less comfortable than other modes of transport. Buses can get crowded, and there may not be a lot of legroom or space to store your luggage.
The price for a one-way ticket is around 20 euros per person, but if you book in advance, you can get tickets for as little as 5 euros, so it's worth planning ahead.
You can buy bus tickets online or at the bus station.
Taking the bus from Seville to Malaga is a great option for budget-conscious travelers who don't mind sacrificing a bit of comfort for convenience and affordability.
If you decide to take the bus, it's probably a good idea to pack some snacks and a good book or take advantage of the free Wi-Fi to help pass the time.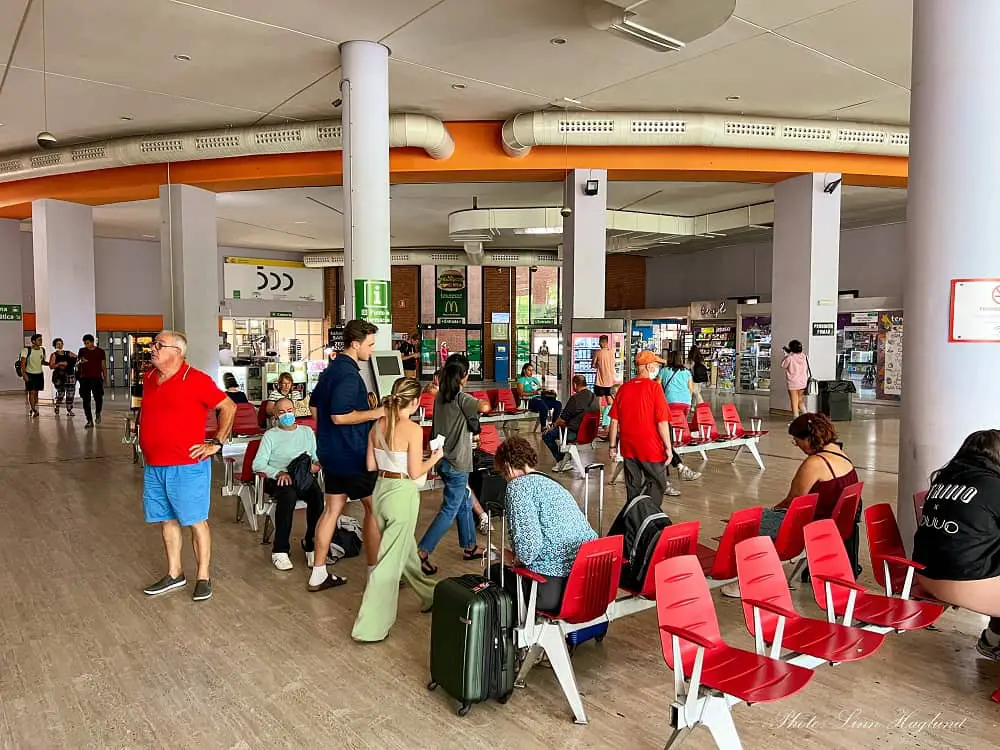 Seville To Malaga By Train
The Renfe train network makes the Seville to Malaga train journey easy and hassle-free. Trains depart from Seville's Santa Justa station and arrive at Malaga's Maria Zambrano station.
You can reach your destination in 2-3 hours with regular and high-speed train options. There are 8-10 connections daily, with the earliest train leaving before 7 am and the latest one departing around 8 pm.
One of the main advantages of traveling by train from Seville to Malaga is the speed and comfort. Trains are generally faster than buses and provide a more comfortable ride.
The trains are modern, with spacious seating and plenty of legroom. They offer a range of facilities such as food service, a restaurant coach, toilets, luggage storage, Wi-Fi, and electric sockets to charge your devices.
One of the key advantages of traveling by train is the chance to soak in the stunning vistas of the Spanish countryside without the hassle of driving or enduring the discomfort of a bus ride.
The train journey allows you to sit back, relax, and enjoy the journey while taking in the breathtaking landscapes that pass you by. The train journey passes through rolling hills, picturesque villages, and olive groves, providing a delightful and memorable experience.
However, train tickets are more expensive than bus tickets, and availability may be limited during peak travel times.
Also, note that some trains have a stopover in Cordoba, so make sure you look for a direct train ticket unless you want to take advantage of the stopover and spend a day in Cordoba before continuing to Malaga.
The prices for one-way tickets start at around 47 euros per person, but they may vary depending on the season, departure date, and train time. You can buy your train tickets in advance to get the best deals.
If you have spare time in Malaga, the train station offers plenty of things to do. You can explore the shops, restaurants, cafes, and even a big supermarket.
Check availability and prices here
SPENDING TIME IN MALAGA? HERE ARE SOME POSTS YOU MIGHT LIKE..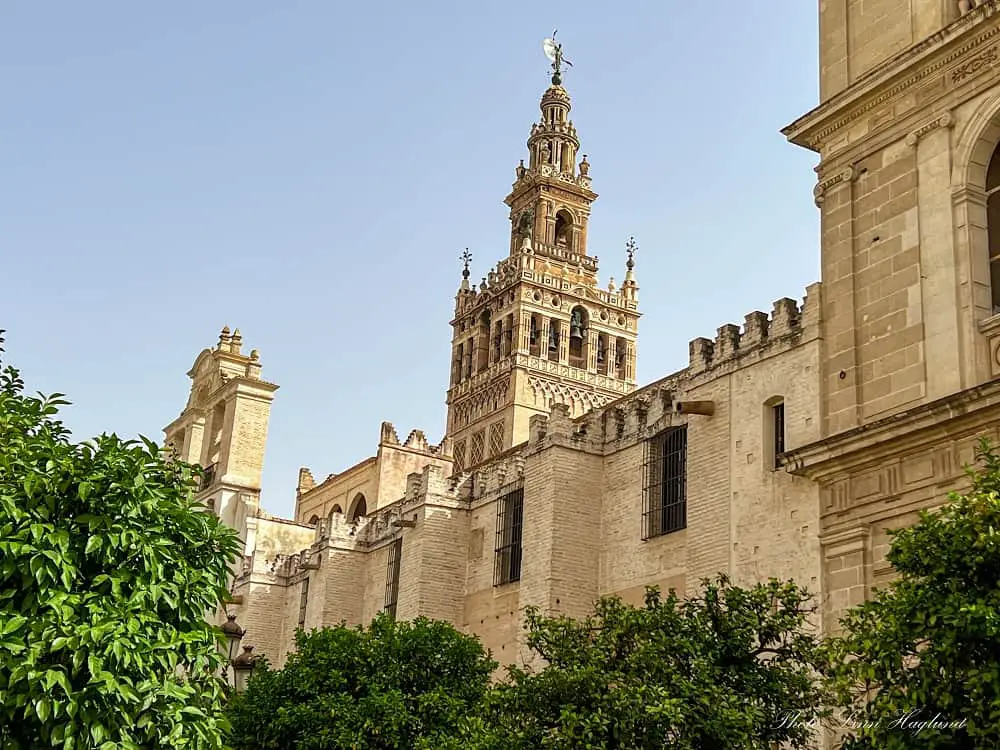 Seville To Malaga Airport
Several options are available when traveling from Seville to Malaga Airport, including taking a bus, train, or driving.
One of the most convenient options is to take a direct bus from Seville to Malaga Airport. The journey takes approximately 2.5 hours, and buses depart from Seville's main bus station, Plaza de Armas. This option is ideal for those who want a hassle-free and affordable way to get to the airport.
Another option is to take the 2-hour train journey from Seville's Santa Justa station to Malaga's Maria Zambrano station, where you can then get a direct train to the airport.
With trains to the airport running every 20 minutes from the city center, you can easily plan your journey to ensure you get to the airport in plenty of time to catch your flight.
Check availability and prices here
Alternatively, plenty of local buses are available, or you could take a taxi to the airport – though waiting for the next train is likely faster due to traffic.
If you prefer to rent a car, you can drive from Seville to Malaga Airport in approximately 2 hours and 15 minutes, depending on traffic conditions.
With the airport only 8 kilometers outside the city center, you can follow the routes described earlier in the 'Seville to Malaga By Car' section to get you into the city center and then follow signs to the airport.
Check availability and prices for rental cars here
Another option is to get a private transfer from Seville to Malaga Airport. This is the most comfortable and stress-free way to travel without any hassle of picking up rental cars or stressing with buses and trains.
Check availability and prices for private transfers here
Whether you take a bus, train, or drive, plan ahead and allow yourself plenty of time to get to the airport, especially during peak travel times. The airport is big with plenty of cafés, restaurants, and shops to spend your time while you wait for your flight.
Reflections on traveling from Seville to Malaga
There are many ways to travel from Seville to Malaga, each with advantages. Driving may be a perfect choice for those who enjoy a leisurely pace and the freedom to make stops along the way.
The train provides a convenient option if you're looking for a comfortable and scenic journey with minimal hassle. Taking the bus is affordable and practical if you're on a budget. 
We hope this post has provided useful insights into choosing the best way to travel from Seville to Malaga that aligns with your unique preferences. Whatever option you choose, get ready for an unforgettable adventure through Andalucia.
Happy travels!