You might think that Spain's Costa del Sol is only a summer destination, but you'd be wrong. The beautiful city of Malaga is a great place to visit in winter. Temperatures in Malaga in the winter are mild, with an average of 17 degrees Celsius in December and January, it's far from as cold as winter in Seville or Granada.
As the city tends to be less crowded in the winter, Malaga is perfect to visit at this time. You can still enjoy the city's beaches, and there are plenty of activities to keep you busy as well, from exploring the city's rich history to enjoying the local cuisine.
This guide is designed to help you make the most of Malaga in winter. We'll start with a look at what to pack, before moving on to where to stay and where to go.
By the end, you'll have everything you need to plan the perfect Malaga winter getaway whether you plan to stay for a week, a weekend, or only spend one day in Malaga before moving on to the next destination on your Andalucia itinerary.
Disclosure: This post may contain affiliate links. That means that if you make a purchase through one of those links, I will get a small commission at no extra cost to you.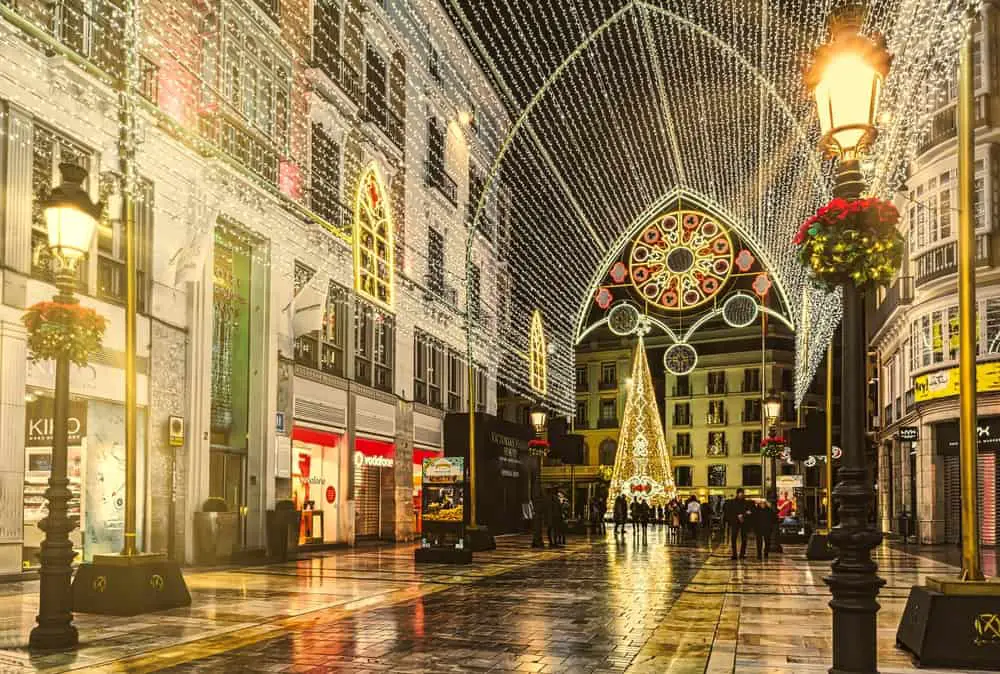 Malaga winter weather
Malaga winter weather is a lot milder than in other places in Andalucia in winter. Protected by the coastal mountain ranges, it suffers from a lot less wind than the rest of the Andalusian coast too which makes it the perfect place for a winter vacation soaking up sunny days.
Temperatures usually range between 20 degrees celsius in the daytime (on a sunny day) and 8 degrees in the nighttime, though it can creep lower sometimes, so better be prepared with a beanie and scarf.
What you need to know about Malaga in winter which no one tells you, is that due to the high humidity, the temperatures often feel colder than the thermometer says.
When it's not sunny or when you venture into the shade, you'll feel a huge difference thus I always recommend being prepared and dressing in layers.
Relevant: Winter in Costa del sol
What to pack for a Malaga winter break
So, what should you pack for the winter in Malaga? 
First and foremost, you'll need to pack some warm clothes, remember layers, always dress in layers. The average temperature may be 17 degrees Celsius, but it can feel colder in the evenings and I wouldn't go without a beanie, scarf, and gloves. A light sweater or jacket should be enough to keep you comfortable.
You'll also want to pack some comfortable shoes. The city is home to a number of hilltop neighborhoods with cobblestone streets. While they're great for exploring, they're not so great for your feet. Comfortable shoes will help you enjoy your time in the city.
Don't forget to pack your swimsuit! The weather may be cooler in the winter, but the water is still warm enough that I every year see tourists enjoy the city's beaches (for me, it's too cold, but I've probably been here for too long!)
You might also want to pack sunscreen for your beach visit. The city is located on the southern coast of Spain, which means it gets a lot of sun.
The sun can be strong, even during winter in Malaga, which might be why you easily can spot the tourists from the locals.
You will find the locals wearing thick down jackets and scarves while the tourists from colder countries walk lightly around in their shorts and t-shirts licking eagerly on an ice cream.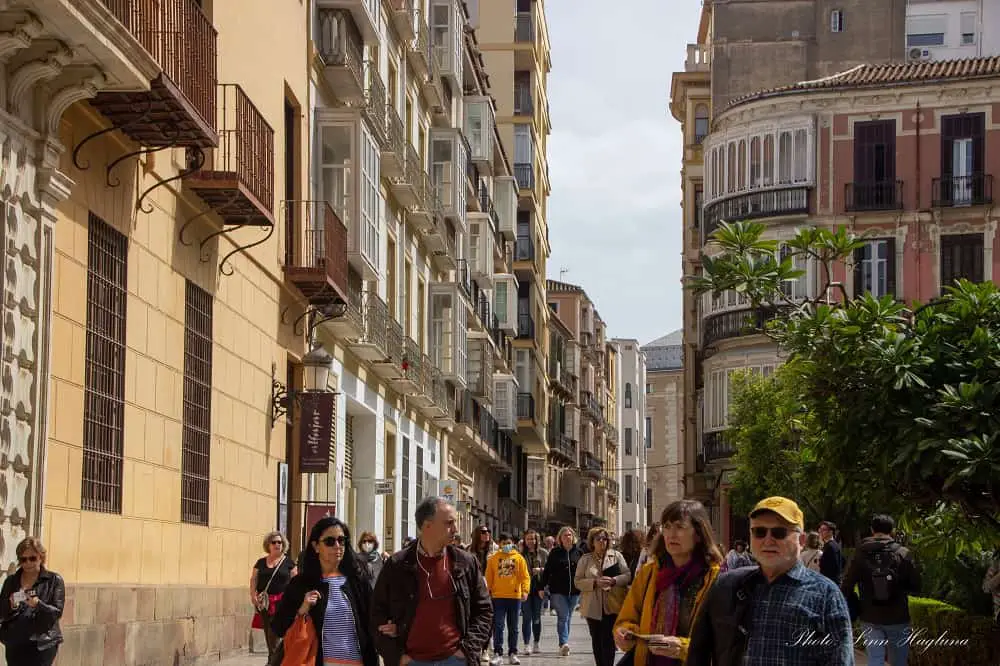 Here's a simplified packing list of the essentials you need for your Malaga winter vacation:
Jacket
Scarf
Beanie
Walking shoes
Sunscreen
Swimsuit (whether it is to sunbathe or actually swim)
Hiking gear (if you love the outdoors as much as I do!)
T-shirt
Shorts
Long pants
Sweater
Camera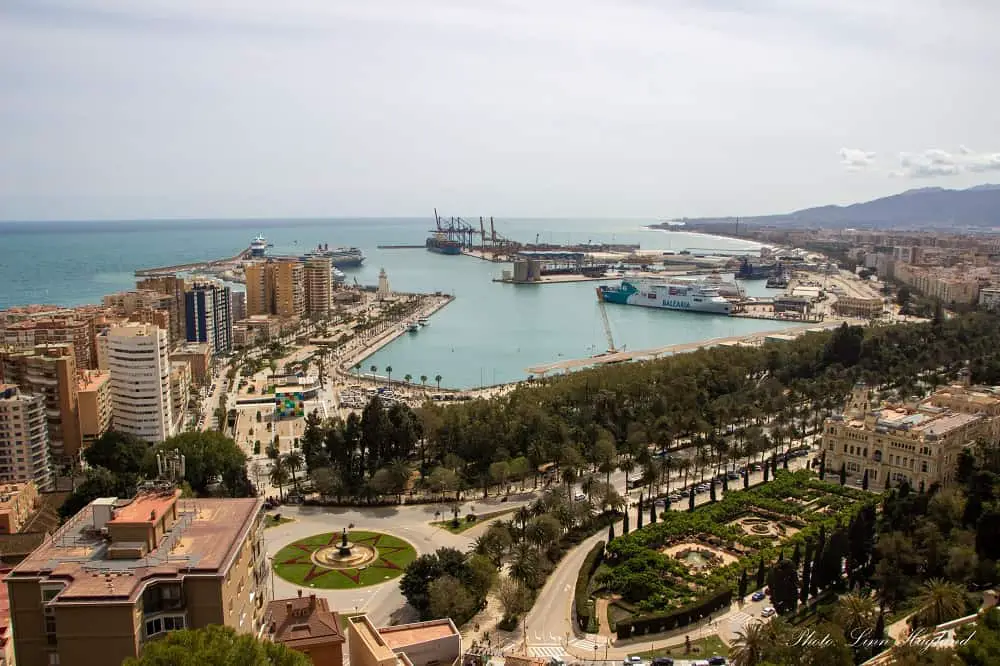 Where to stay during winter in Malaga
If you're looking for a place to stay during your visit to Malaga in the winter, there are a few things you should keep in mind. First, the city is divided into two main areas: the old town and the new town.
The old town is the best place to stay if you want to be close to the city's historical attractions. It's also the most popular area for visitors, so you'll have plenty of options when it comes to hotels and restaurants. 
Keep in mind that the old town can be quite crowded during the day and can get a bit noisy at night. If you're looking for a more authentic experience exploring the city's best restaurants and bars, the old town is the place for you.
If you're looking for a more luxurious experience, the new town is your go-to. There are a number of large, international chain hotels in the new town to choose from, as well as a number of nearby beaches. The new town also homes a number of shopping centers, parks, and even a casino.
The only caveat is that the new town is located further from the city's historical attractions. If you're looking for a more modern and more relaxed experience, the new town is the way to go. I also wrote a complete neighborhood guide to the best areas to stay in Malaga that you might want to read.
Here are some of my top hotel picks:
Room Mate Valeria – This high-end hotel is centrally situated only 200 meters from Calle Larios which means you're in the middle of all the top attractions in Malaga. With colorful and modern rooms, the hotel also has a rooftop terrace with epic city views where you can enjoy a drink in the evening.
Vincci Larios Diez – Another high-end hotel in the heart of Malaga with light modern rooms that make you feel at home. If you drive, this is an excellent choice as they have parking.
California – This mid-range hotel is at a great location only 150 meters from Malaga's most popular urban beach, La Malagueta. This means there is a short walk into the old town and the Alcazaba and Gibralfaro. Note that only some rates have breakfast included, but personally, I'd rather head out to Malaga's bars and have a proper Spanish breakfast at the fraction of the price.
Rafaela Guest House – Great budget accommodation about a kilometer from the city center. Note that this is an adults-only hotel so if you travel with your kids and are looking for budget accommodation, read on for the next suggestion.
Pension Yna Holiday – A good budget pension about a kilometer from the city center with private rooms and shared bathrooms. There's a nice outside area with tables and chairs where you can enjoy a drink in the evenings.
Feel Hostels City Center – This hostel is great for solo travelers that want to stay centrally and still have the opportunity to meet other travelers. The hostel has a bar and you can expect noise from the streets outside at night – but if nightlife is what you're looking for, you're probably not in at that time anyway.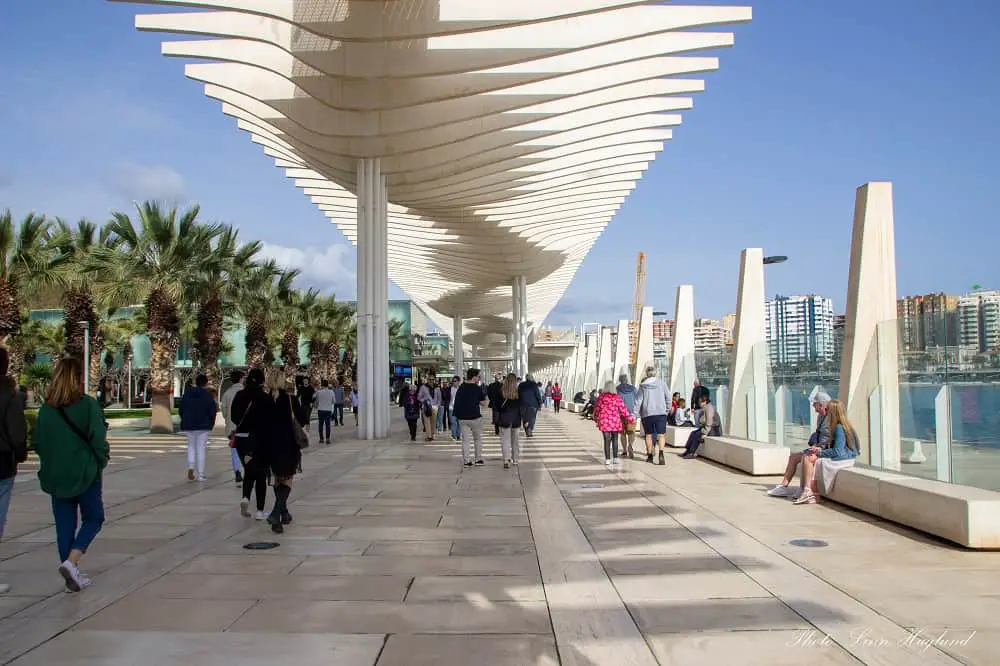 Things to do in Malaga in winter
There's no shortage of things to do in Malaga in winter. The city is home to a number of historical attractions, as well as multiple beaches. You can also enjoy the local cuisine, go shopping, or even visit a casino. Here are some of the best things to do in Malaga in winter.
Light show in Calle Larios
The light show in Calle Larios is one of the best things to see in Malaga winter. The show is a musical light display that happens every evening and the main shopping street fills up with locals and tourists alike to see one of the most famous light shows in Spain.
It's a great way to experience the city's Christmas lights, which have become the biggest attraction in Malaga in December.
The light show is free to watch and is a great activity for the whole family. It's truly a great way to see the city in a different light (figuratively).
Usually, you can witness the Christmas light show throughout the month of December to Reyes (6th of January,) when the Spanish Christmas celebrations are over.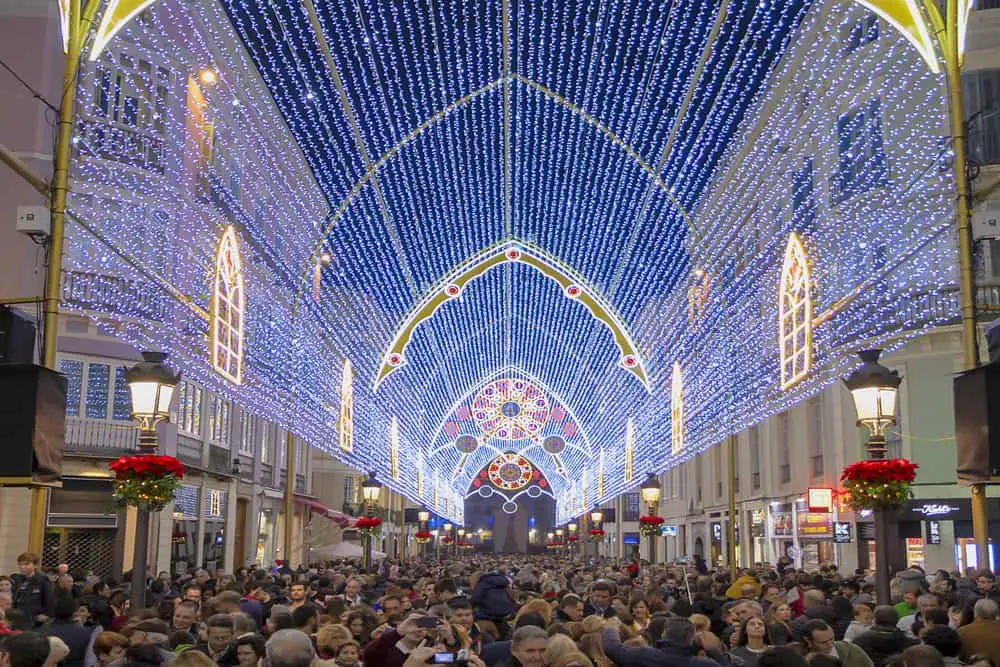 New Years Eve
New Year's Eve is a big deal in Malaga. In January 1st's anticipation, the city comes alive with parties and events to ring in the New Year.
If you're looking for something to do, you won't have any trouble finding it. You can go to one of the city's many nightclubs or attend one of the many events happening throughout the night as there are a number of open theaters and cinemas.
If you're looking for a more traditional New Year's Eve experience, you can head to the Plaza de la Constitución. The square is filled with restaurants and bars, and the area is decorated with colorful lights and balloons.
This is the perfect place to ring in the new year with family and friends. You can even watch the fireworks display from the top of the monument. The sound of the explosions will carry throughout the city and will be sure to get you into the New Year spirit.
Remember to buy yourself 12 grapes to celebrate the Spanish way. Every second the last 12 seconds to midnight, the Spanish will eat one grape. This is said to bring good luck into the new year, so why not?
There's really no wrong way to celebrate New Year's Eve in Malaga.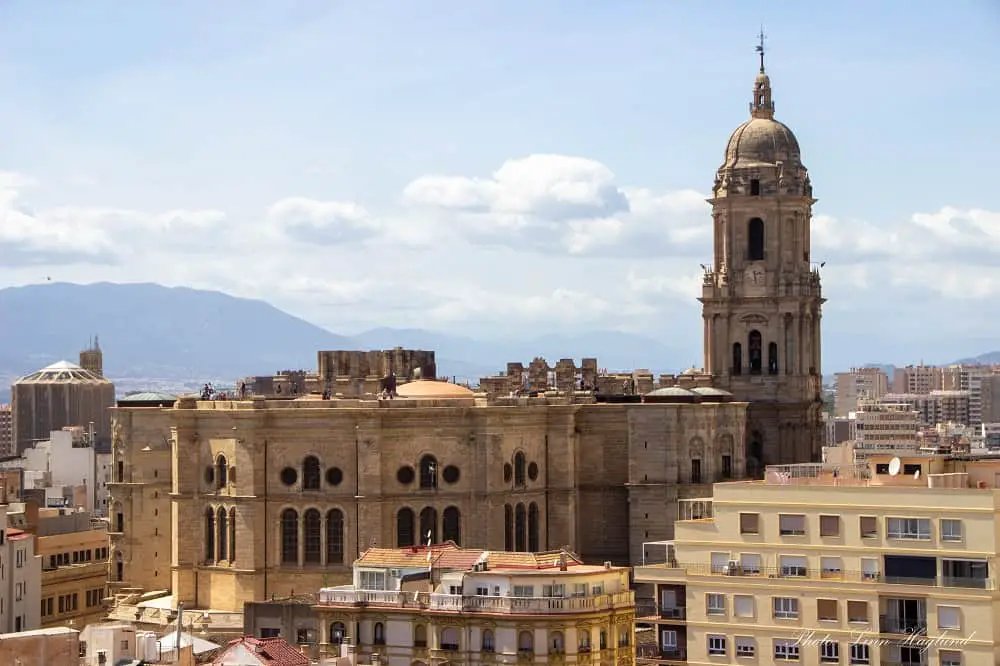 Carnival in Malaga
Carnival in Malaga's pleasant winter weather is one of the best things to experience in Andalucia, though quite different from the carnival in Cadiz.
The Carnival is a time when the whole city comes alive with music, dancing, and costumes. The festival takes place in February and is a great way to experience the city's culture and traditions. 
There are a number of parade floats that make their way through the streets, as well as a great number of street parties. It's a great time to experience the city's culture and to see the locals in their element.  If you're looking for a truly unique experience, Carnival is a must-do.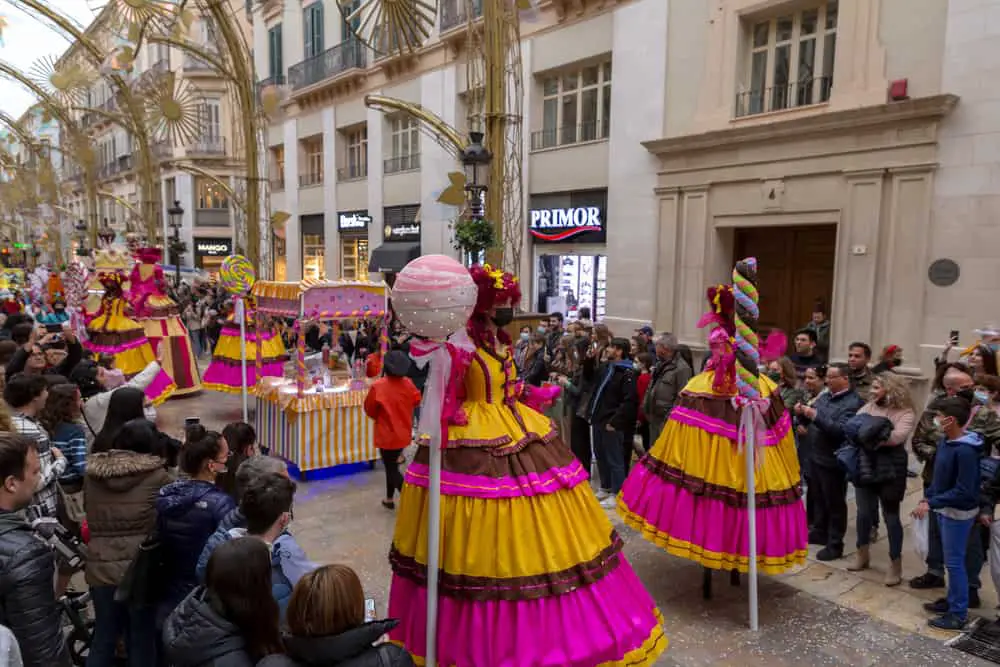 Walk El Caminito del Rey
One of the best things to do during Malaga winter is to walk El Caminito del Rey. The path is a UNESCO World Heritage Site and is one of the most scenic walks in Spain.
The path winds its way through the deep gorge of Los Gaitanes and is flanked by beautiful green forests. Pinned 100 meters above the gorge floor, this used to be the most dangerous hike in the world before it was fixed up and reopened to the public in 2015.
It's a relatively short walk, spanning just under 8 kilometers, it's a flat walk that takes about 2 hours to complete one way. The opposite way, you have to take the shuttle bus that costs 1.55 Euros that you have to pay cash to the driver.
Most people take the train from Malaga to El Chorro, jump on the shuttle bus to the beginning of the trail by El Kiosko, and walk back to El Chorro train station.
It's only possible to go to El Caminito del Rey with pre-booked tickets at a certain time slot and I recommend doing that as early as possible as it sells out quickly.
You can book tickets here or book a full-day tour including bus from Malaga to save the hassle of traveling individually here.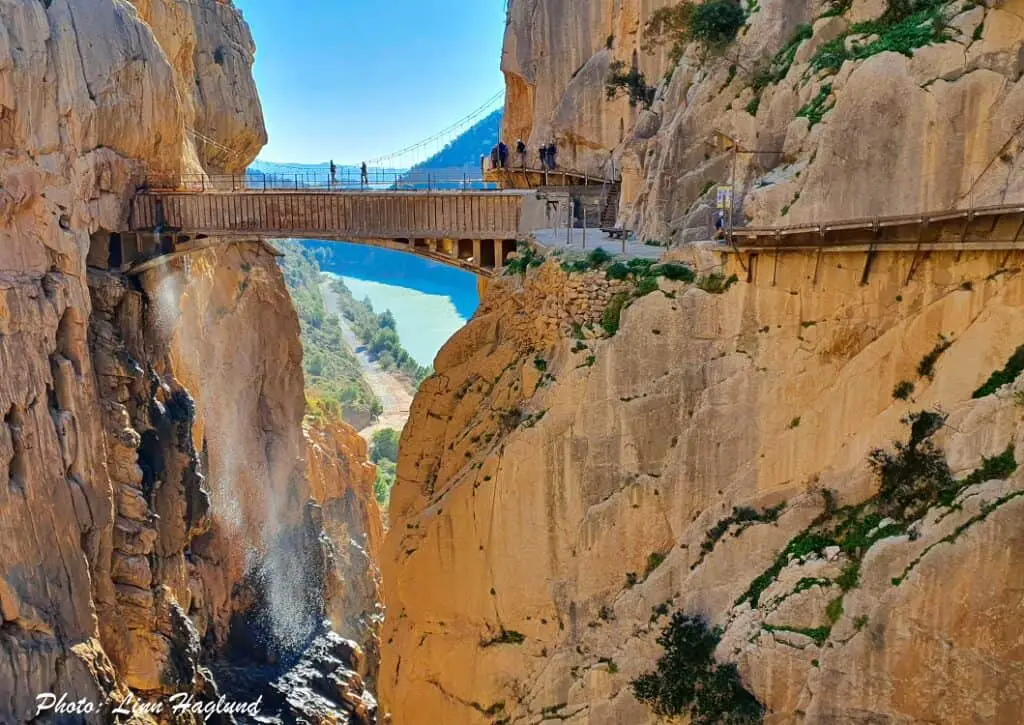 CHECK AVAILABILITY FOR CAMINITO DEL REY BEFORE IT'S TOO LATE
Shop Christmas presents
Malaga in December is a great time to find unique gifts for your loved ones. The city is home to a number of boutique shops that sell items that you won't find anywhere else.
You can also find great deals on Christmas gifts at the city's markets. If you're looking for something truly special, you can head to one of the city's museums or art galleries to find a unique gift for the art lover in your life.
That said, you will also find all the hip shops like Ale Hop, Zara, and Pull&Bear in Malaga's famous shopping street, Calle Larios and its side streets.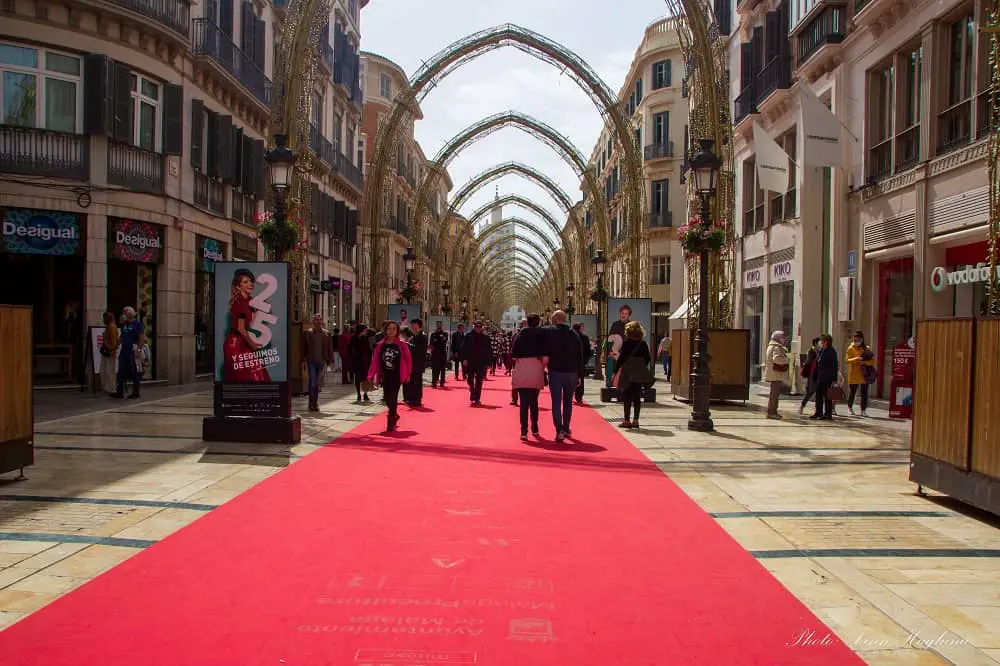 Go on a day trip to Gibraltar
One of the best things you can do in winter is to go on a day trip from Malaga to Gibraltar, but don't forget your passport as you're crossing country borders to British territory.
Gibraltar is the only place on mainland Europe where you can see wild monkeys which is quite unique, but don't be fooled – they are savage animals and might try to steal the snack you packed in your backpack, so make sure you watch your stuff when heading up to the Upper Rock.
There are plenty of epic things to do in Gibraltar that you can fit into a day trip. Other than exploring the Rock with the iconic view over the Rock and mainland Spain, make sure you visit St. Michael's Cave and the Moorish Castle.
If you don't have a car, you can easily book a day tour from Malaga to Gibraltar. I can warmly recommend this tour which includes a local guide.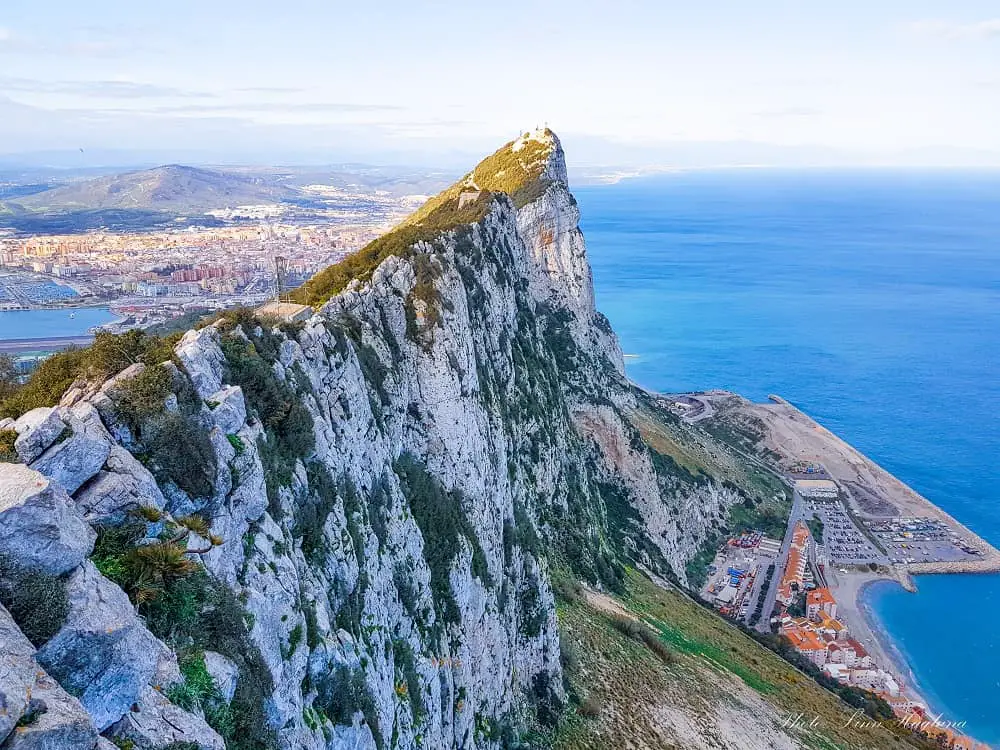 EPIC MALAGA WINTER ACTIVITIES
Soak in vitamin D at the beach
Malaga's beaches are some of the best in Spain, and winter is a great time to enjoy them as you avoid the swarming crowds of summer. The weather is still warm enough to sunbathe on a sunny day, but if the water is warm enough for you to dip your toes is up to you to decide.
As mentioned before, I see people swim in Malaga in winter every year, including many of my friends, but for me, it's too cold.
Malaga is blessed with its own urban beach, La Malagueta beach, which is perfect for a stroll any day. For this reason only, you can tell why Malaga is one of the most popular day trips from Granada.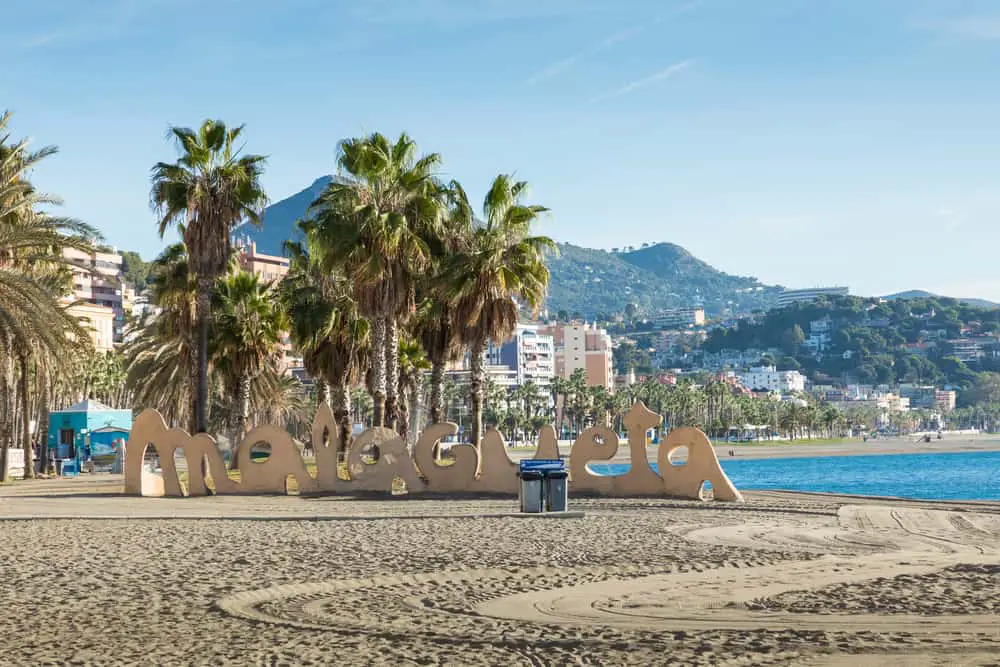 Go hiking
Hiking in Malaga in winter is a great way to get a workout and see the city from a different perspective. It's also the best time of the year to explore all the coastal mountain ranges as the summer months are way too hot for that.
The trails in Montes de Malaga range in difficulty and are perfect for hikers of all levels of experience. You can find trails that take you through the hills and into the valleys, and you can even find trails that lead you to viewpoints that offer stunning views of the city.
However, there are endless hiking opportunities outside Malaga too, head to Sierra de Mijas above Mijas Pueblo and you will find a myriad of hiking trails including La Bola and Pico Malaga.
On the other side of the city, the mountains above Nerja are epic and if you would like to explore the highest mountain in Malaga, take the challenge and climb La Maroma.
Whether you're looking for a short walk or a longer hike, there is a trail perfect for you.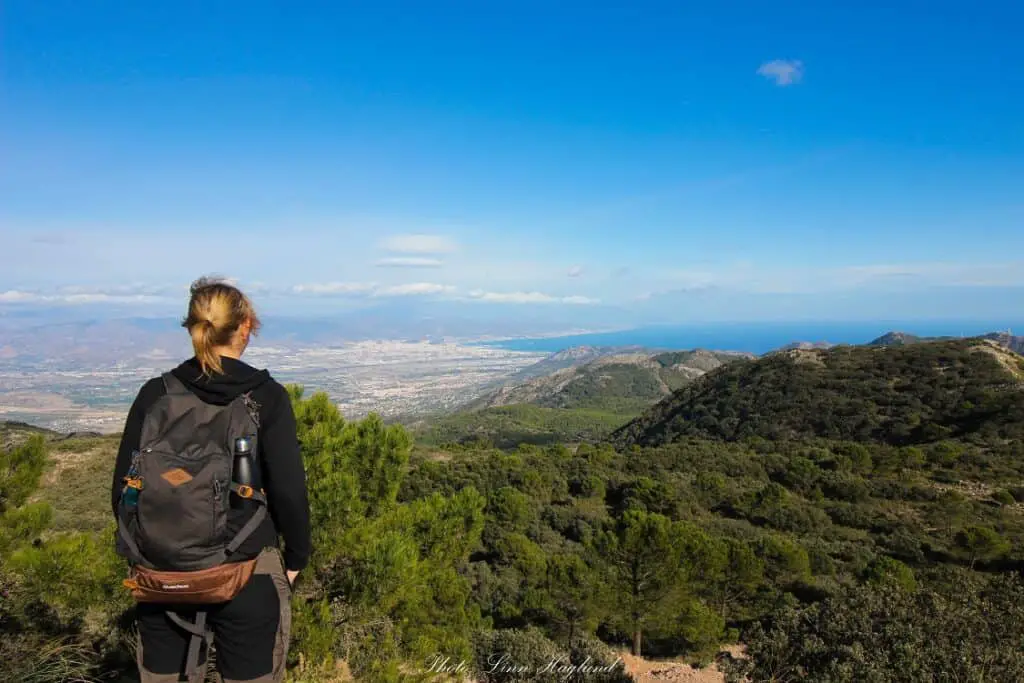 Eat grilled chestnuts
Try the delicious local snack of grilled chestnuts when visiting Malaga in winter. This is one of my favorite parts about winter in Andalucia as you can literally find chestnut stands on every street corner.
The delicious chestnuts are roasted over a wood fire and served hot, so make sure to stop by a vendor while you're in the city. Truly the perfect heartwarming snack in the winter and perfect to warm cold hands when the evening sets in.
TOP MALAGA TOURS FOR FOODIES
Visit the white pueblos
To truly get away from the hustle and bustle of the city, take a day trip to one of the epic pueblos blancos in Andalucia. Malaga is home to a number of white pueblos, or villages, that are worth visiting.
These small villages are scattered throughout the countryside and offer a glimpse into the traditional way of life. Among the most popular white villages near Malaga are Frigiliana, overlooking Nerja and the glittering Mediterranean below, and Mijas Pueblo, overlooking Mijas, Fuengirola, and the beaches below.
More quirky villages worth your attention are Setenil de las Bodegas, which is literally built in and under the rock wall, Soportujar in the Alpujarras of Granada which has a spooky witch theme throughout the village, and the blue village of Juzcar, aka the Smurf village, fully dedicated to the little blue cartoon characters.
Other favorite towns in Malaga are Ronda, Gaucin, Ojén, Istán, and Tolox, though the list by far doesn't end there, they are among the most charming Costa del Sol villages. If you are up for a larger town to visit, head to Ronda which is one of the most epic day trips from Malaga.
The winter months are perfect for taking a road trip in Andalucia to see the villages since it's not too hot and you won't be thinking about the beach constantly.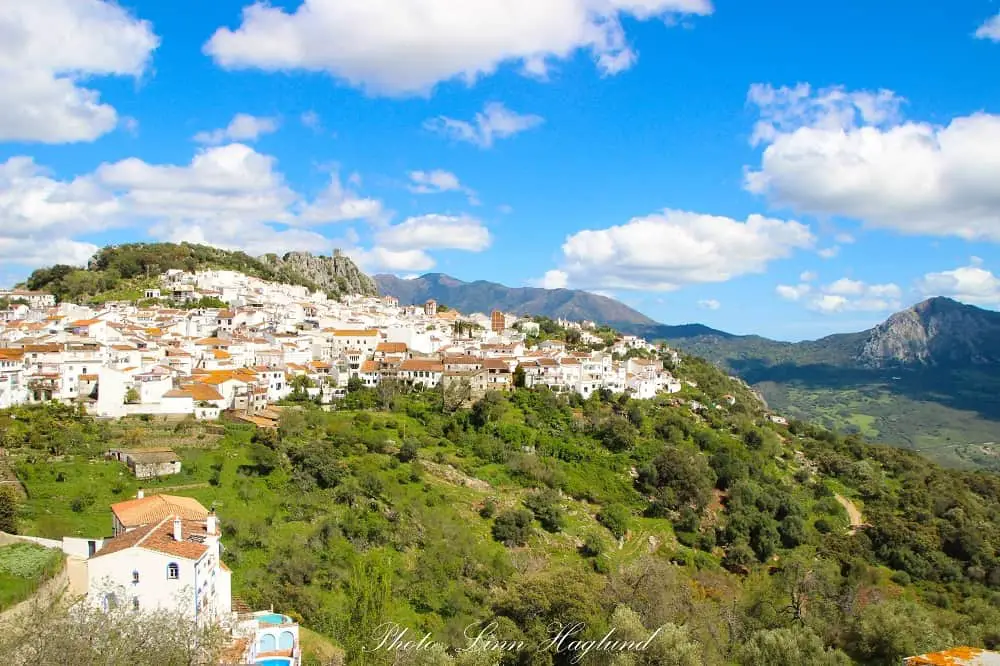 POPULAR DAY TOURS TO DO FROM MALAGA IN WINTER
Celebrate Reyes
Reyes, or the Three Kings, is a Spanish holiday that takes place on January 6th. The holiday celebrates the arrival of the three wise men in Bethlehem to visit baby Jesus and is treated as the Spanish Christmas.
In fact, the Spanish didn't traditionally celebrate the 24th or the 25th with presents as they do in other places in Europe until recent years.
In Malaga, like other Andalusian cities, the holiday is celebrated with parades that feature creative floats, music, and dance. The main parade starts at the Puerta del Mar and makes its way through the city center.
It is particularly fun for the kids as the characters of the parades throw candy at the crowds.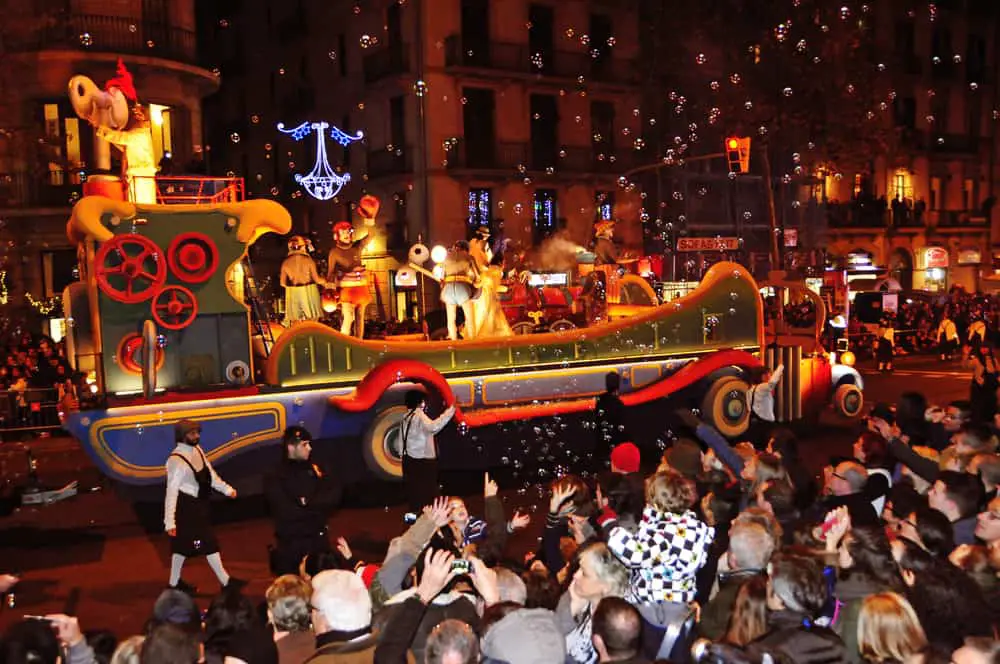 Take a day trip to El Torcal de Antequera
El Torcal de Antequera is a UNESCO World Heritage Site and one of the most beautiful and unique sites in the Malaga province. Situated only a 45-minute drive from Malaga city, you'll be rewarded by one of the most unique karst landscapes in Europe and a Megalyptic site that dates back 5000 years.
The caves serve as a refuge for the animals that live in the mountain range, and the rock formations are a testament to the geologic history of the area.
There are three hikes can take, one from the bottom of the parking (which is an option to the shuttle bus if the parking at the top is full) and both a 45-minute hike and a 2-hour hike at the top.
The two latter are on flat ground, though there are rocks and uneven ground which makes it a fun challenge for the kids, though if you have bad knees or hips, you might want to stick to the viewpoint at the top.
El Torcal de Antequera is also one of the best places in Andalucia to spot wild mountain goats up close. The animals are used to people but don't be fooled. They are wild and should not be chased or fed. Also, make sure you are quiet to not scare them away if you spot them.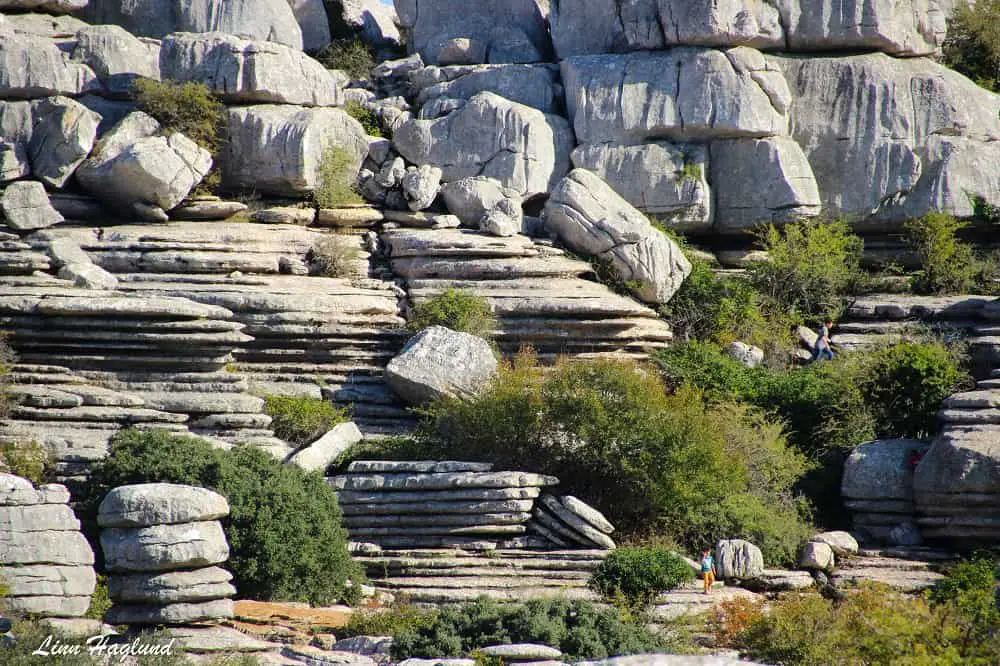 Have tapas and a beer in the sun
Tapas are a must when in Spain, and Malaga is no exception. This small plate dish originated in the Andalusian region of southern Spain and has since become popular all over the country. There are endless tapas bars in the old town to choose from, so you're sure to find something to your liking. 
If you're looking for a light snack, try the Ensalada Malagueña, which is a salad made with fresh tomatoes, peppers, onions, and olives.
Make sure to try the patatas bravas as well, which are fried potato wedges covered in a spicy tomato sauce. And of course, no meal is complete without a cold beer.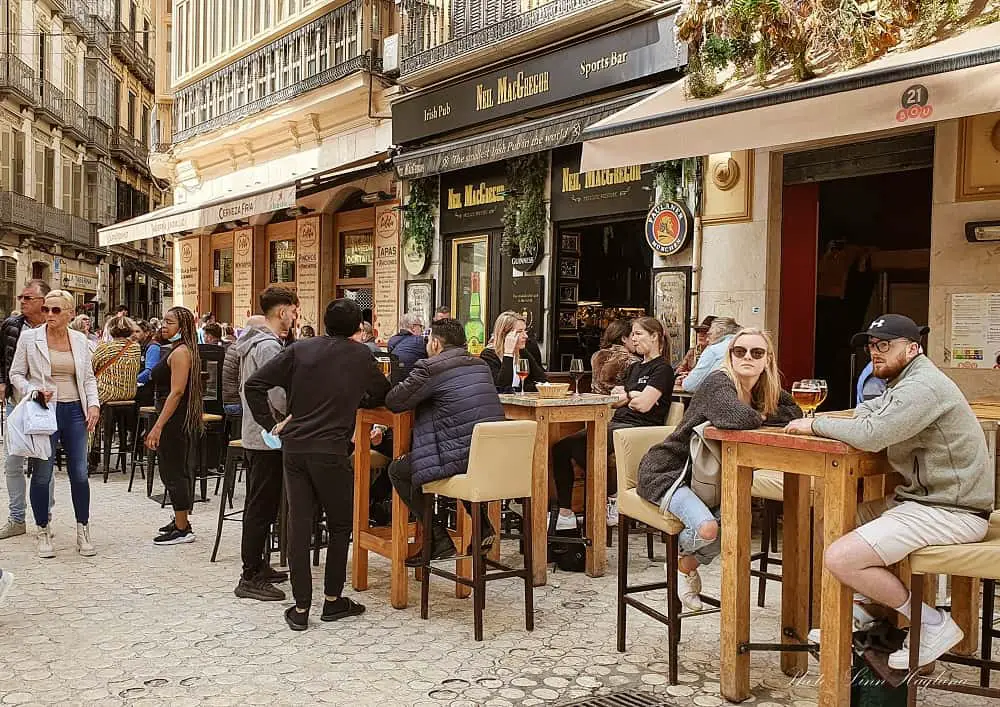 Reflections on a Malaga winter break
Planning on going? Just keep this in mind: responsible travel should always be your number one priority. Be respectful of the places you visit, and be sure to leave them as you found them.
Take only pictures, and leave only footprints. Be aware of your surroundings, be respectful of the culture and customs, and be a responsible traveler. With that in mind, you're sure to have a wonderful time whether you explore the castles in Malaga, road trip around the white villages, or stuff your face with tapas from morning to night.
We all need a break sometimes, and what better way to take one than by spending it in the beautiful city of Malaga? Malaga is a city that lends itself to relaxation and escape.
Whether you're looking to take in the captivating views or enjoy some delicious local cuisine, there's something for everyone in Malaga.
I hope you found this guide to Malaga in winter useful and that you enjoy your stay in this vibrant coastal city!