Mijas has been my home for the last 8 years. It is one of the biggest municipalities in the Malaga Province in Southern Spain, yet most people associate it with the picturesque white mountain village of Mijas Pueblo. However, there is so much more to Mijas, even though it's one of Andalusia's most beautiful villages.
There are actually three main parts of Mijas, the two others being Las Lagunas and one of Andalucia's cutest coastal towns, La Cala de Mijas. Stretching from the astounding mountain chain, Sierra de Mijas and down to a 12-kilometer long coastline, there are plenty of things to do in Mijas Spain.
From hiking to going to the beach, and visiting cute villages, Mijas makes a great stop on a road trip through southern Spain or as a day trip from Fuengirola. I will take you through the best things to do in Mijas so that you can get the most out of your Mijas holidays.
Disclosure: This post may contain affiliate links. That means that if you make a purchase through one of those links, I will get a small commission at no extra cost to you.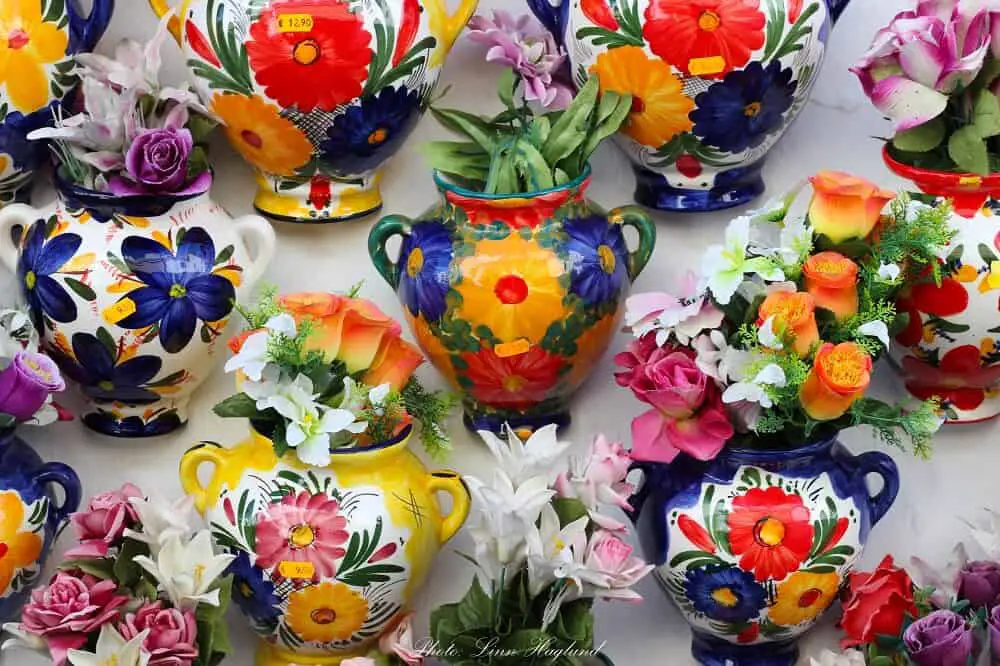 How to get to Mijas
The closest airport is Malaga airport and commutes with most European cities so it's easy to reach from across the world.
Mijas Pueblo, Sierra de Mijas, and Mijas Costa (the coastal part of Mijas) are easily reached by bus from other villages and towns in Costa del Sol like Fuengirola and Marbella. From Malaga, you can take the train to Fuengirola and then continue by bus from Fuengirola.
However, to get the most out of your holiday in Mijas, I recommend you get a rental car so you have the freedom to move around easier. Also, not all the places I suggest in this post are possible to reach by public transport.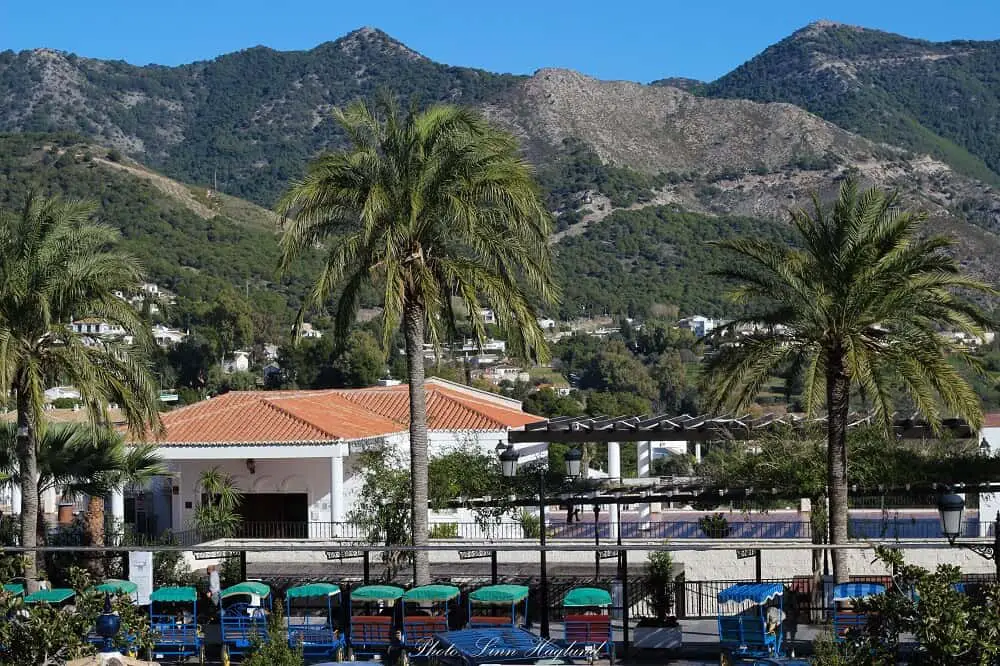 Where to stay in Mijas
There are plenty of places to stay in Mijas, but hotels are mainly clustered in La Cala de Mijas or in Mijas Pueblo. A lot of travelers choose to stay in Fuengirola, though I don't like the town very much to be completely honest.
Here are a few suggestions for where you can stay in Mijas.
Places to stay in La Cala de Mijas
There are a lot of holiday apartments for rent in La Cala de Mijas and not so many hotels. Have a look here if you want to look at apartments.
Hotel Carmen
Perfectly located just walking distance from restaurants and bars and the beach, this is a great choice. It also has a bar that serves breakfast and has super friendly staff.
Book your stay at Hotel Carmen here
Places to stay in Mijas Pueblo
La Posada de Mijas
This cozy family-run establishment offers studios and apartments for a reasonable price. Centrally in Mijas Pueblo, it offers sea- and mountain views. Privately owned, so you'll support a local by staying here.
Book your stay at La Posada de Mijas here
La Casa de la Iglesia
La Casa de la Iglesia is another charming hotel centrally located in Mijas Pueblo. A great option to support a family-run hotel.
Book your stay at La Casa de la Iglesia here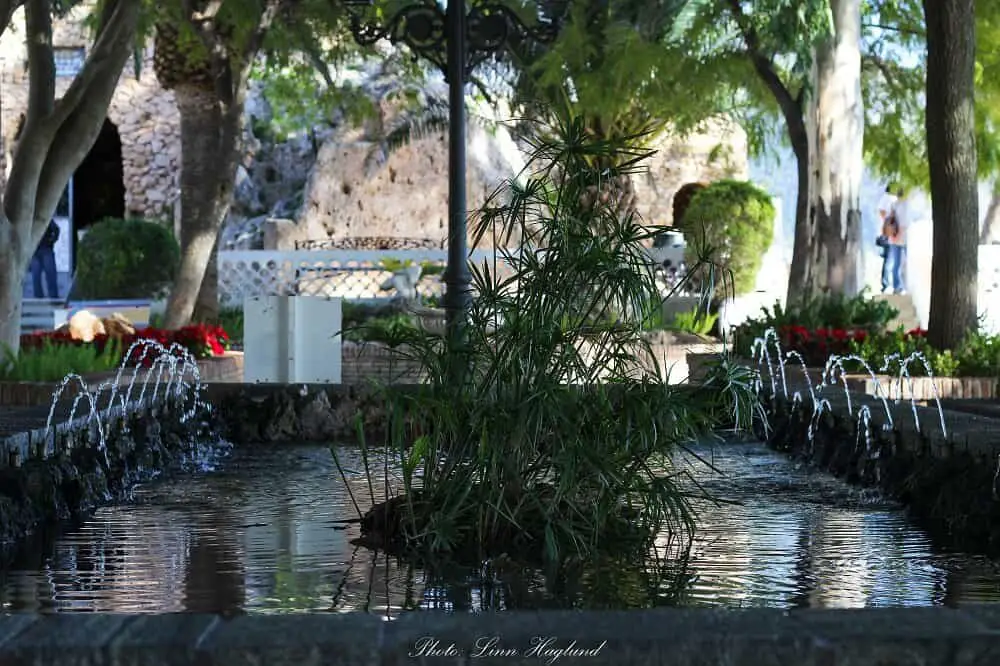 The best time for Mijas holidays
What to do in Mijas depends a lot on the time of year you go. In the summer months between June and August, when the weather is as hottest, Mijas is usually overcrowded by tourists and it's not a pleasant time to spend your holidays in Mijas.
It's also too hot to go hiking so if you like the outdoors, I suggest you choose a different time for your trip.
To get the most out of both beach, river, and hiking, I recommend September. It's my absolute favorite month as it's still hot in the water and it's just possible to start hiking (sometimes), but you'll need to bring a lot of water.
In general, the shoulder season, May to mid-June, and September to October are great because you get great temperatures and not many tourists.
If you are mainly after hiking and visiting villages, then the whole winter season in Andalucia is great. It gets chilly in the evening and early morning but daytime temperatures can easily be around 20 degrees Celsius and on a sunny day it feels like much more.
Throughout the years, I have observed that the end of November and the beginning of December tend to bring the heaviest rain, so I would avoid this time of year, as everything gets flooded and you can't go out of the hotel.
Things to do in Mijas Spain
There are plenty of things to do in Mijas and you can even book adventure activity tours. Here are some of my top picks.
Hike in Sierra de Mijas
Hiking in Sierra de Mijas is one of my favorite things to do in Mijas and can easily be one of the best day trips from Malaga. The mountain range stretches behind Costa del Sol with its highest peak being Pico de Mijas (1150 meters).
There are numerous trails starting behind Mijas Pueblo, which are easily accessed by bus from Fuengirola. There are trails at all different levels and distances.
Starting with one-hour loops and ending with the Pico de Mijas trail being the hardest, a 5-6 hours trek depending on how many breaks you take to soak in the mesmerizing coastal views.
You can also walk all the way to Benalmádena from here, though this is a good day's hike and you should expect it to take between 6 and 8 hours one way.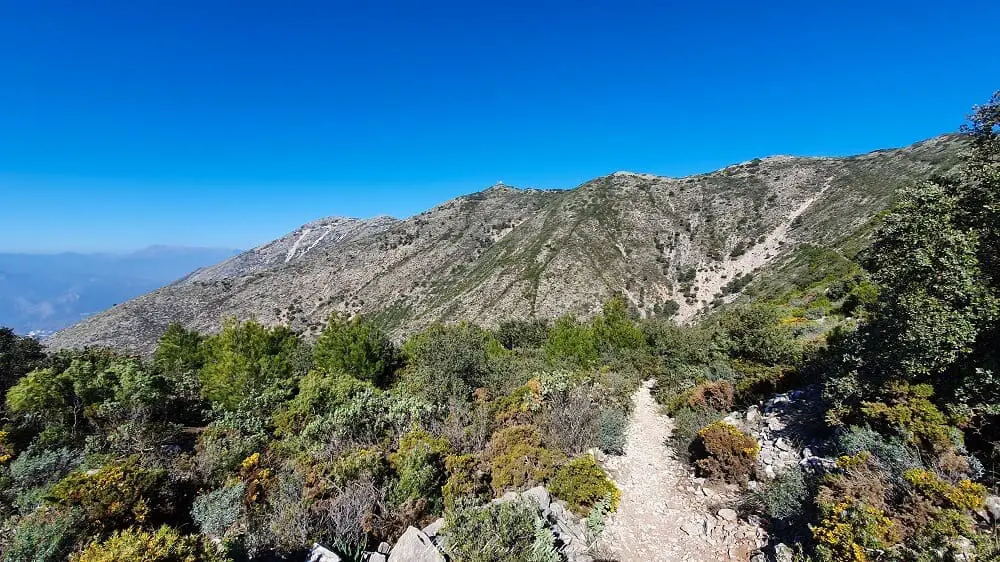 Mijas Pueblo
Mijas Pueblo is one of the most popular white villages in Malaga and with good reason. The picturesque village sits midways up the Mijas mountains which blesses it with astounding views of the countryside leading down to the beaches of Fuengirola and Mijas Costa.
You can walk up to a small church above the village, just a few minute's walk up from where the hiking trails start. Here you get an amazing view of the white village from above. It's among the best things to do, Mijas mountain views are astounding all year round!
Mijas Pueblo is always full of life and live concerts and busy market stalls are frequent. Make sure you visit the Chocolate Factory and learn how to make traditional Mijas chocolate.
Walk along the viewpoint of the village through the park and turn back through narrow streets nestled between whitewashed houses decorated with colorful pot plants.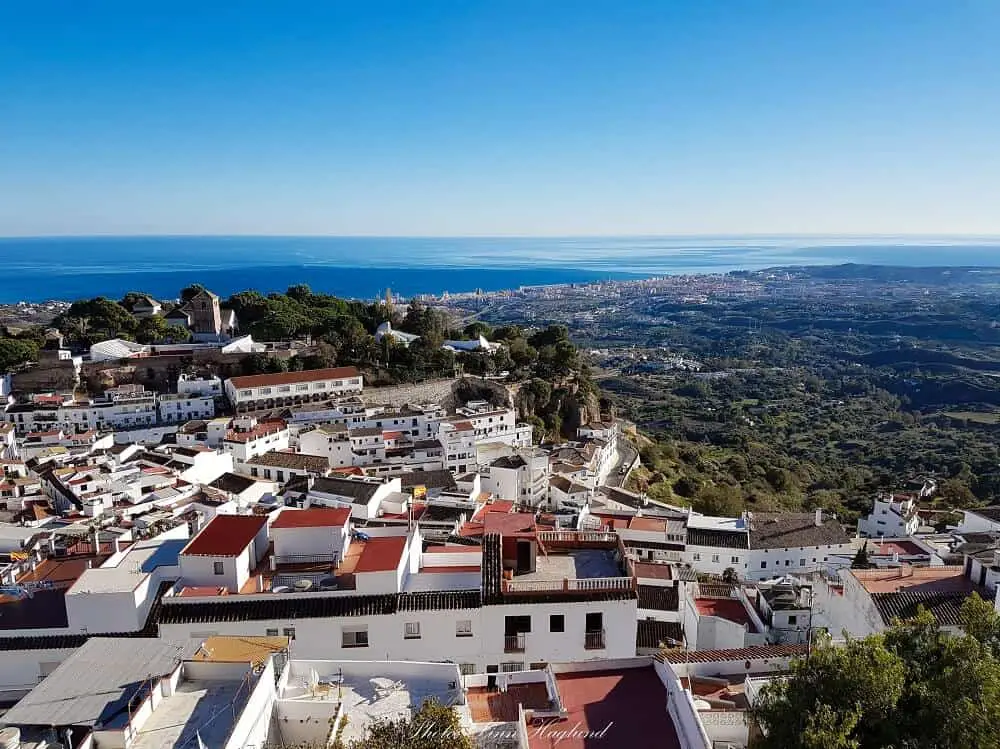 What NOT to do in Mijas Pueblo
There are two activities I urge you to avoid while in Mijas Pueblo, one being the Bullring and anything that supports it.
If you tour the bullring when there isn't a bullfight, the ticket money still goes to maintaining the place and organize more bullfights. This means you're supporting the torture of these animals no matter what you do by leaving your money there.
And the other thing to avoid is the donkey rides. The animals are not receiving the treatment they should. Animals are kept in a standing position all day and night with no possibility to lay down, rest, or move freely. They are also carrying way too much weight for a donkey.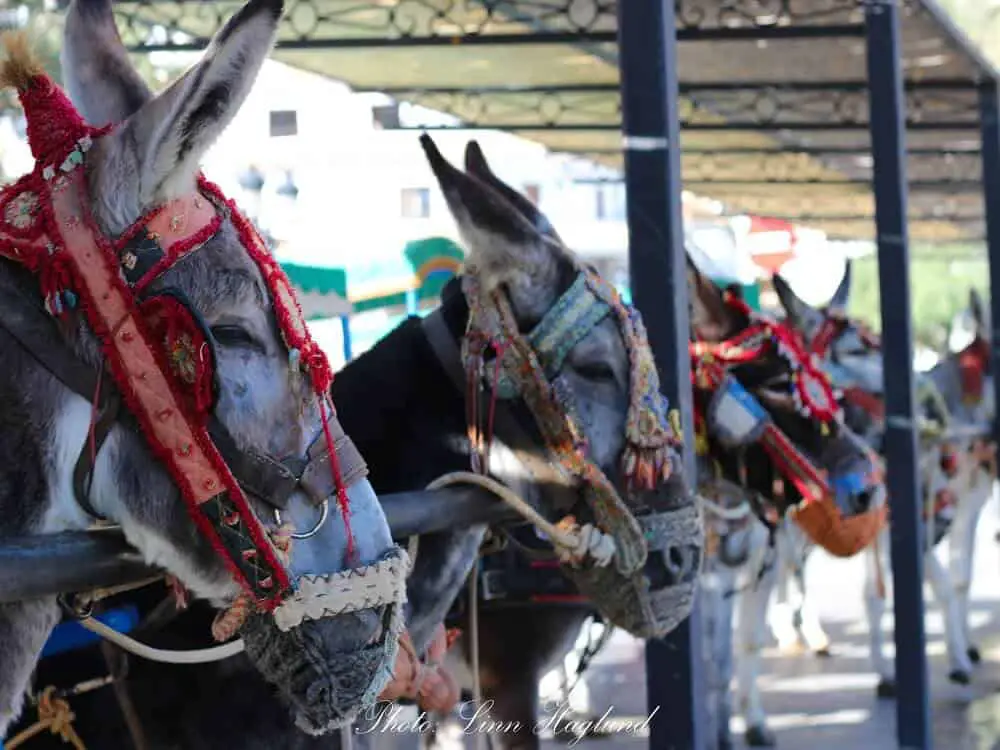 La Cala de Mijas
La Cala de Mijas is a cute little coastal town close to Malaga in the middle of the Mijas coastline. There are plenty of cafes and bars to have tapas and drinks. The beach is also spotted with beach bars if you spend the day at the beach and want something quick.
Among the top things to see in Mijas, is a visit to the watchtower on the main square. You can enter for only a Euro and go up to the top for the views.
During the summer months, there is a small market along the pedestrian street leading to the main square where you find restaurants and cafes charging a large amount of money for very little. If you want to save a few Euros, walk up the back streets or go join the locals at the Hogar del Jubilado.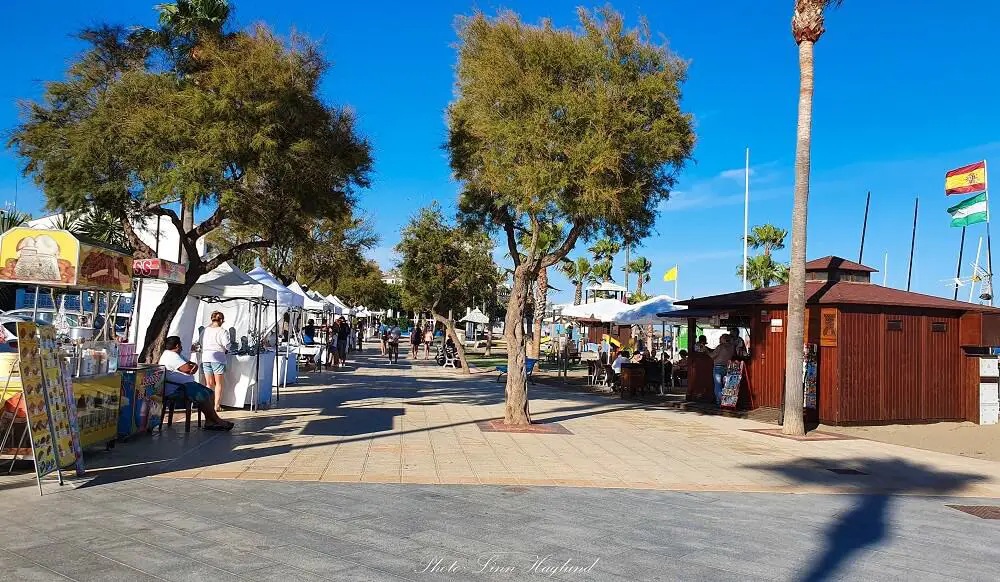 Walk La Cala de Mijas Coastal Walk
La Cala de Mijas Coastal Walk stretches 6 kilometers along the coast all the way to Cabopino. It is easily accessible for everyone without any elevation and is without a doubt among the best things to do in Mijas Costa.
In the summer months, it is a great walk to do in the evening when temperatures cool down a bit. There are plenty of stops you can do along the way to go for a swim or have a drink at one of the beach bars. The boardwalk is also spotted with information posters about flora and fauna.
I love this walk for sunset when the light turns golden before it paints the horizon in pink and orange colors.
Walking to Cabopino and back can take 3-4 hours unless you take long breaks.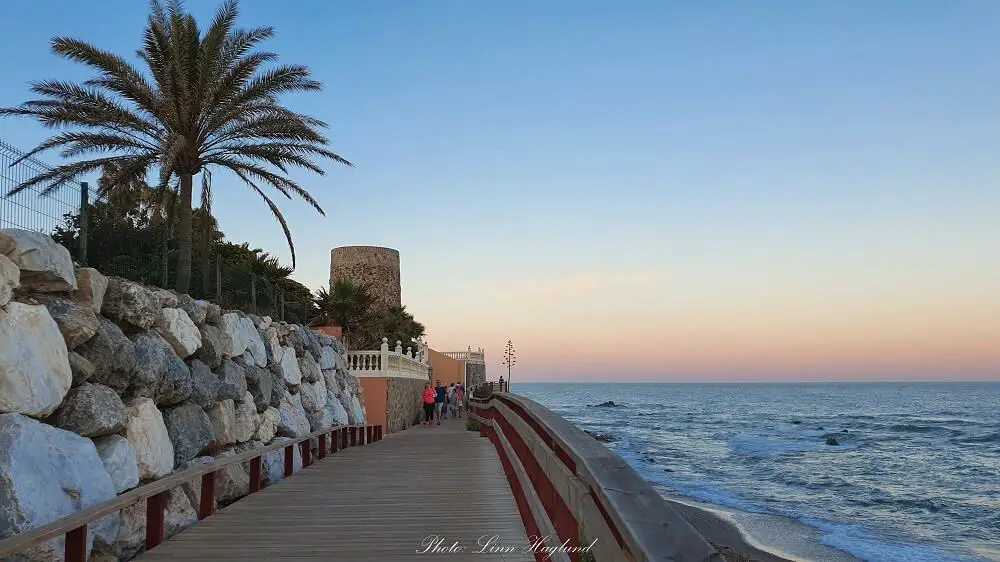 Go to the beach in Cabopino
This tiny port village is nothing but cute. I don't even know if it is big enough to be called a village. To be honest, Cabopino doesn't really belong to Mijas as it's just across the border to Marbella, but as the boardwalk ends where Cabopino starts it deserves to be listed among the best things to do in Mijas.
With a large protected area of sand dunes crisscrossed with boardwalks, the mesmerizing beach takes a little effort to get to, there are no bars on the beach, but the reward is amazing. You're about to witness one of the most beautiful beaches in Andalusia.
The only thing to know is that this is a nudist beach (like all the best virgin beaches in Spain). In the summer months, though, the nudists escape as the beach is packed with Spanish tourists.
Anyhow, if you go in the shoulder seasons, the beach is nearly empty and as long as you pay respect to people, it doesn't matter if you keep your swimwear on or not.
There is also a watchtower in Cabopino at the beginning of the boardwalk, Torre Ladrones. It makes a great photo object and on windy days colorful kite surfers will liven up the photo in the background.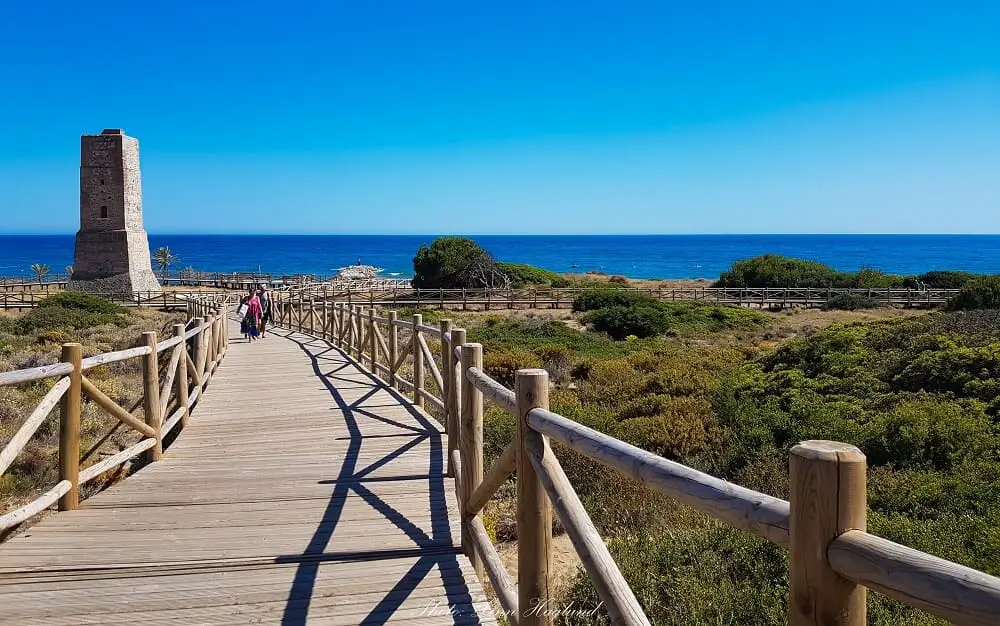 Hike Barranco Blanco
Escape the urban areas in Mijas and explore Barranco Blanco river walk, a true hidden gem Andalucia hides behind the busy Costa del Sol. The 4-kilometer hike takes you along the river, through mesmerizing swimming holes and past vivid waterfalls.
You need to wear good shoes that can get wet as you'll most likely walk in the river big parts of the hike, while in other parts you'll need to climb on steep rocky parts.
Bring a waterproof bag for your belongings too. When the water levels are high, a lot of people choose to swim across the first pool to continue the trail as the rock side is steep and uneven.
You need a car to get to Barranco Blanco, just put it into your GPS and you will be guided to the right place.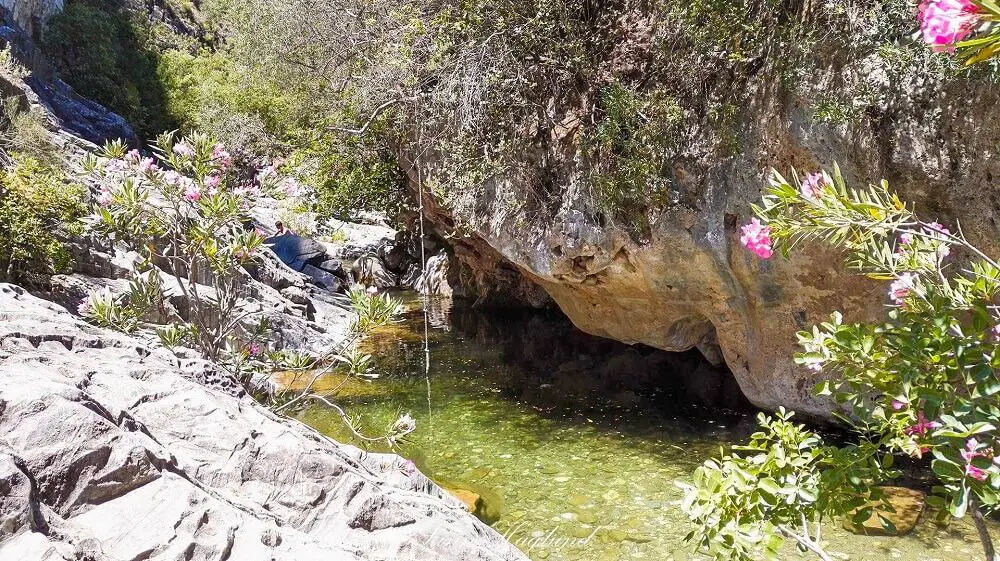 What to do in Mijas as a responsible traveler
With the high numbers of tourists that normally see Mijas, there are a few simple guidelines to responsible tourism you can follow to make the locals' lives a lot more pleasant.
The following are things I have seen a lot of while living here, so don't get offended if you don't recognize the scenario, that's just really good news! Here's what to do in Mijas as a responsible traveler.
Get dressed when you leave the beach
There are so many tourists wandering the streets in their bikinis in Mijas Costa that it can be quite unpleasant for the locals walking their dogs or driving back from work.
Bikinis belong on the beach or at the pool and when you walk to and from those places, you can cover with a light summer dress or whatever clothes you have brought with you.
I'm sure you wouldn't walk around your home city in a bikini.
Respect the language barriers
There is no reason to expect people in Spain to speak English. In southern Spain, there is one language, which is Spanish. And there is a pretty bad level of English teaching at school.
I know a lot of locals would appreciate being approached with humility too if they can communicate in a different language than their own. Yet a lot of tourists seem to forget that they aren't at home and become rude if English isn't responded to as they expect.
Use a smile and an "excuse me" and most Spanish will be more than happy to help you.
On the other hand, those who do speak a reasonably good level of English are usually eager to practice.
Mind your alcohol intake
Unfortunately, booze is pretty cheap in Spain compared to other European countries and even the US. This results in a lot of tourists drinking much more than they can take.
Measurements (free pouring) and alcohol levels in drinks are usually also higher than in a lot of other countries with stricter rules which means you can get drunk drinking a lot less than at home.
In turn, locals have to deal with disgustingly wasted tourists that often start fights in the streets. It is not very pleasant to go out for a chat with friends at a bar while drunk tourists are fighting deliberately next to your table and you're wondering if it will be stopped before it turns fatal.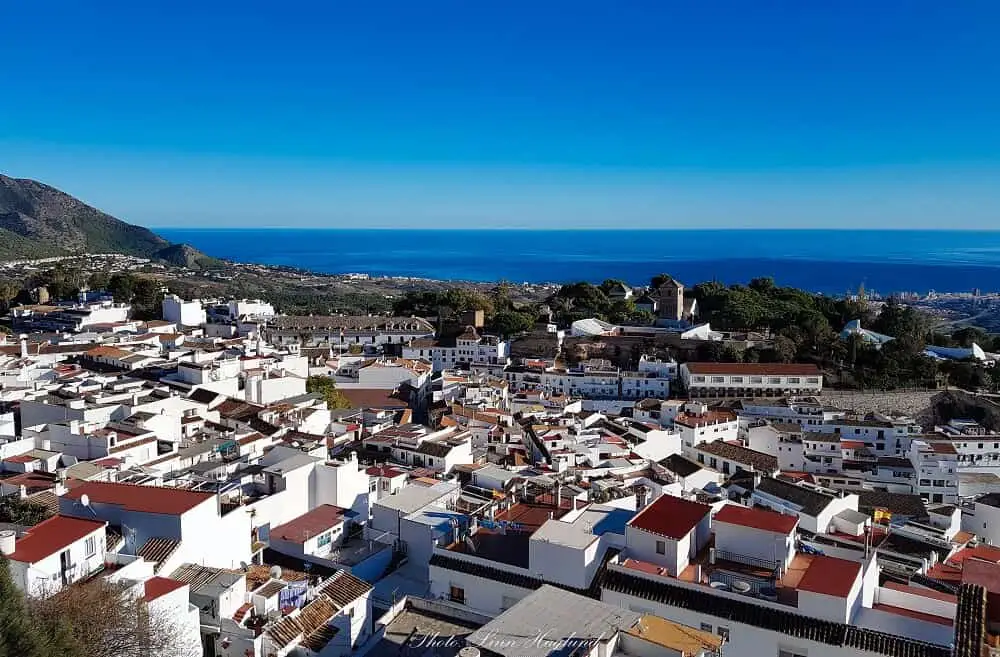 Avoid animal tourism
In Mijas Pueblo, there are still Donkey Taxis taking tourists around the village. This is among the most unethical things to do in Mijas.
The donkeys are far from treated as they should. They are forced to stand all day and night and don't get to rest properly.
A large, healthy donkey should not carry more than about 50 kilos. The natural behavior of donkeys is to lay down to relax and run around and play a lot.
They also partner up two or three who they become life partners with and they do everything together until they die.
All of these things are being violated and I urge you to not support the donkey taxis in Mijas.
Further, I mentioned the bullring in Mijas Pueblo. It is still used for bullfights and until they stop the activity, every cent you leave at the premises, be it buying a souvenir or an entrance for a tour of the bullring while there's no fight, goes to this cruel activity.
So please avoid this place. It's not culture. It's torturing and killing living beings for fun.
Don't feed wildlife
If you go hiking in Barranco Blanco or Sierra de Mijas, there are big chances of seeing mountain goats and other wildlife. Please don't try to disturb their natural behavior or feed them.
It is important that you bring all the waste with you back from the hike and not even fruit rests should be left in nature as this can disturb the natural diet of animals and bugs.
It can also lead to the growth of trees and bushes that are not endemic to the habitat, which in turn can interrupt the natural environment.
Mind your plastic waste
To avoid unnecessary plastic waste, a good idea is to bring your own reusable water bottle and avoid takeaway.
Bring your own bamboo straws if you like to sip your drink from a straw. A few places have started using eco friendly straw alternatives, but not many.
In Mijas, you can sort plastic from other waste, but I'm not sure if they actually recycle it at the end. I do my part anyway.
Where are you headed next?