After you've experienced all the fun things to do in Fuengirola or you're staying long-term there, you might be ready to explore some of the many epic day trips from Fuengirola.
After living in the area for more than 10 years, I've explored the surroundings in-depth and I'll tell you, there are some pretty darn cool places around this popular Costa del sol town.
Fuengirola is within a day trip's distance from some of the most beautiful cities in Andalucia, some of the absolute most charming whitewashed villages near Malaga, and unique geological and historical sites.
I've hand-picked some of my absolute favorites here. Some are easily reached by public transport, others you can experience by a guided tour, and some are only possible to visit by driving your own car (and it is worth it!)
Read on to explore Fuengirola day trips that will create memories of a lifetime!
Disclosure: This post may contain affiliate links. That means that if you make a purchase through one of those links, I will get a small commission at no extra cost to you.
Day trips from Fuengirola
Mijas Pueblo
One of the most popular day trips from Fuengirola is to the whitewashed village of Mijas Pueblo which looms above Fuengirola's coastline.
Sitting halfway up Sierra de Mijas, it has amazing views over the coast and it's an easy bus ride from the bus terminal.
Among the things to do in Mijas, is to go hiking in the mountains, so if you're craving nature, you can take a long hike or just a 1-2 hour loop straight from the village.
But there are also many things to do in Mijas Pueblo other than searching for the most stupifying viewpoints. Take a chocolate-making course at the Chocolate Factory or uncover the town's museums.
Mijas Pueblo is also a lovely place just to stroll around the streets, eat loads of tapas, and try hot chocolate made with the local Mijas Chocolate from the Chocolate Factory. More often than not, you'll find that there's a market or a themed village fair worth checking out.
HOW TO GET TO MIJAS PUEBLO:
Drive: 15 minutes, free parking on the streets, or 1 Euro in the parking house.
Bus: 25 minutes, leaves from Fuengirola bus terminal, €1.60.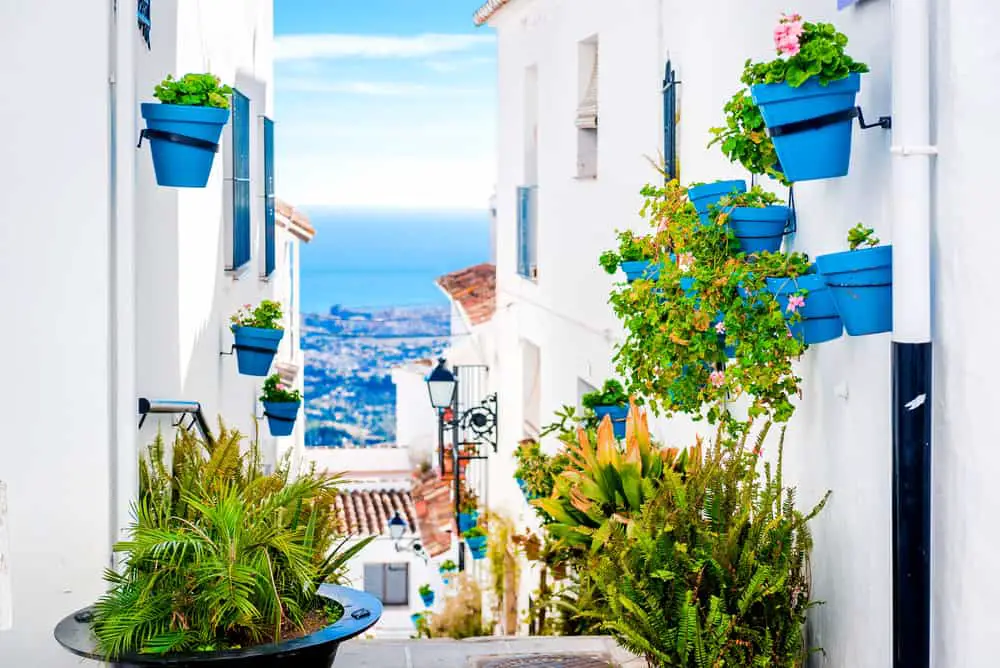 Malaga
Another must-do day trip from Fuengirola is of course to Malaga. There is a lot to do in the city, but you will actually manage to see the most important attractions even with one day in Malaga.
Start with Malaga Cathedral, an astounding landmark in the heart of Malaga. I suggest you book tickets to visit the rooftop too for splendid views of the city.
Malaga is also the birthplace of Picasso and you can visit both the Picasso Museum and the house he grew up in in the heart of Malaga Old Town.
But likely among the most impressive things to do in Malaga is to pay a visit to its ancient Moorish castle ruins. The Alcazaba is one of the most stunning castles in Malaga and a must-visit on a day trip. The palace boasts incredible gardens, well-preserved remains, and castle walls, as well as sweeping views of the city.
Next on the list of unmissable attractions is the Gibralfaro castle which looms above the Alcazaba, once built to protect it.
For lunch and dinner, look for a nice place in the old town or head to Muelle Uno, the modern port area of Malaga. There you can also get on a Malaga boat sunset cruise.
HOW TO GET TO MALAGA:
Drive: 30 minutes, paid parking on the streets around the historic center and parking houses.
Bus: 30-45 minutes, leaves from Fuengirola bus terminal, €4-5.
Train: 45 minutes, leaves from Fuengirola train station and Los Boliches train station, €2.70.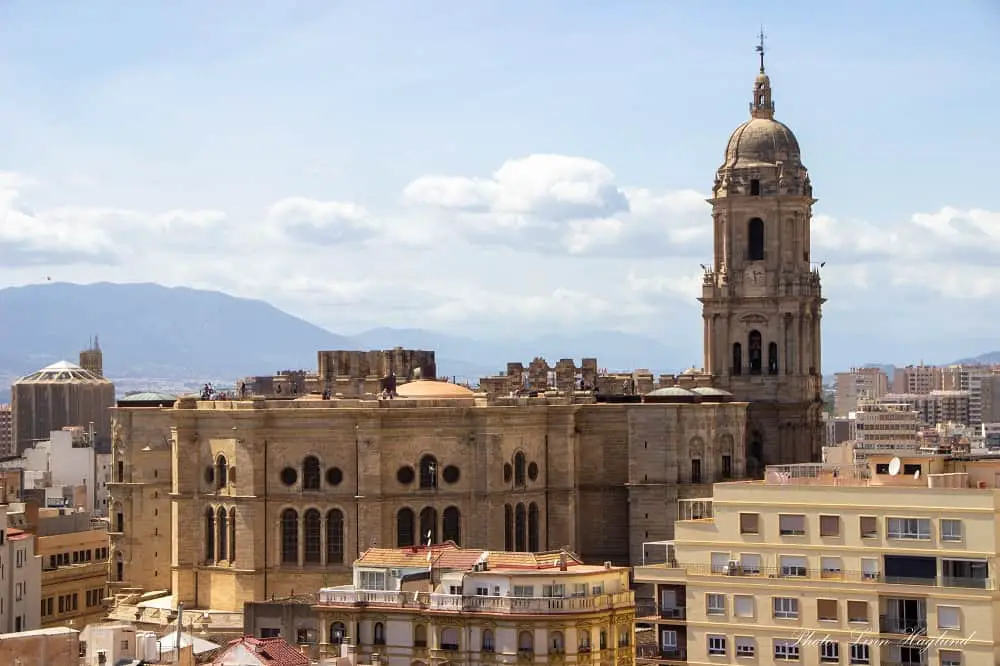 Marbella
Marbella is one of the absolute best day trips from Fuengirola. Whether you want to party at the beach clubs, laze at the beach, or walk the old town of Marbella in winter, there is something to do for everyone.
Among the best things to do in Marbella is to stroll around the cobblestoned streets of the old town, have a coffee at Plaza de Los Naranjos, and see the remains of the castle walls.
Head to Alameda Park and walk down Avenida del Mar to the promenade to breathe in the sea breeze. If you're up for an expensive drink, check out the famous Puerto Banús area.
This will fill up your day in Marbella. However, if you would like, there are also a whole lot of fun boat trips to take in Marbella, from sunset cruises to dolphin watching.
HOW TO GET TO MARBELLA:
Drive: 30 minutes, paid parking on the streets or in the parking houses. By parking outside the center, you might snatch a free street park.
Bus: 30-45 minutes, leaves from Fuengirola bus terminal, €1.54.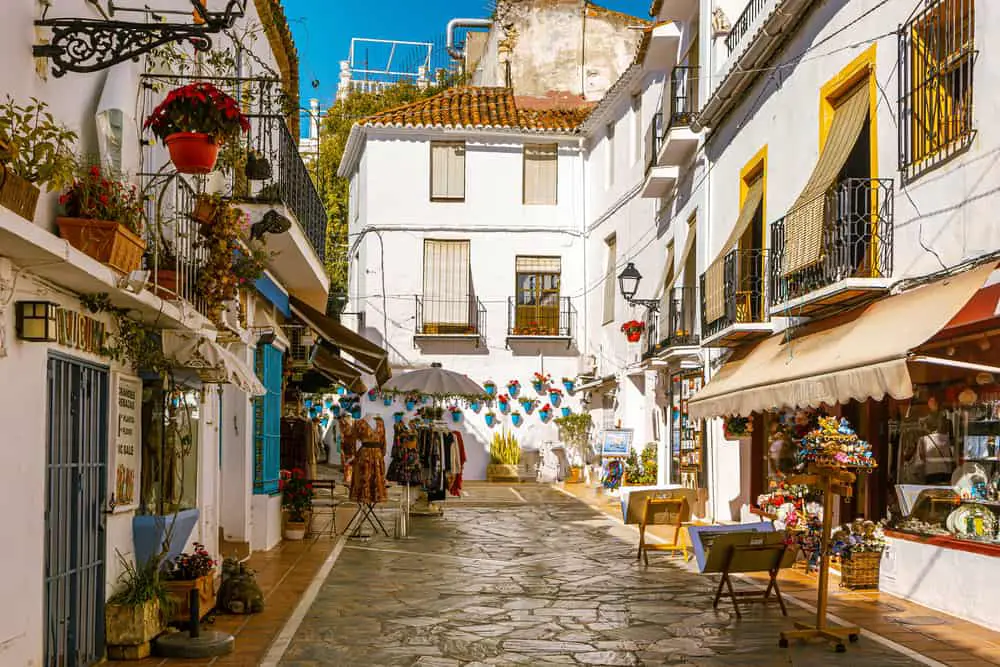 El Caminito del Rey
El Caminito del Rey is surely the most thrilling day trip from Fuengirola and not for the faint-hearted! The spectacular walk takes you on a path pinned to the rock wall up to 100 meters above the gorge floor of Gaitanes Gorge.
The trail takes 2 hours to complete and can easily be combined with a visit to El Chorro Lakes (if you're driving.)
The hike starts at El Kiosko restaurant and from there, it takes between 20 and 50 minutes to reach the checkpoint where you'll show your ticket, get a security brief, and a mandatory helmet.
A bus service takes you between El Chorro where the trail ends and El Kiosko where the trail starts. If you come by train, you'll take the bus to the trailhead. If you drive, you can park on either side and choose if you want to take the bus to the trailhead or back to the car after the hike.
This is one of the most beautiful hikes in Andalucia and a must-visit if you can handle the heights. However, tickets get sold out quickly, so you should book a good time in advance.
Book your tickets and pick-up in Fuengirola to assure your time slot here.
HOW TO GET TO EL CAMINITO DEL REY:
Drive: 1 hour, free parking along the street by El Kiosko or a parking lot in El Chorro.
Train: 45 minutes from Fuengirola to Malaga €2.70, 1 hour and 10 minutes from Málaga-María Zambrano train station to El Chorro, € 6.25
Bus between El Chorro and El Kiosko: Leaves every 30 minutes, €2.50.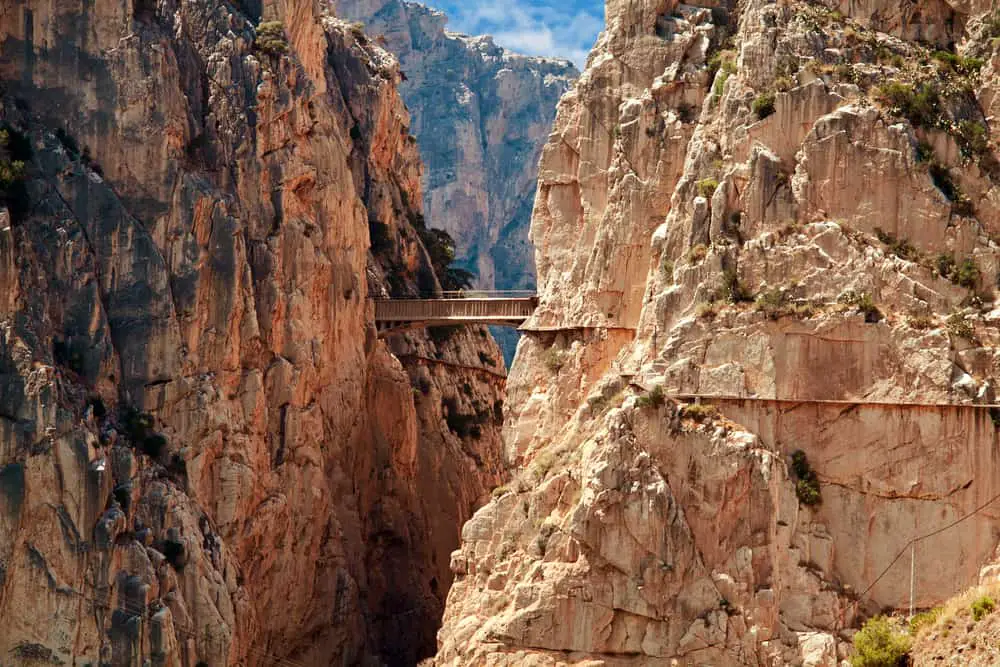 El Torcal de Antequera
One of the most unique day trips from Fuengirola is to one of the most impressive karst landscapes in Europe. Only about an hour inland, in the direction of Seville, you reach this paradise carved through millions of years from it was pushed up from the bottom of the sea.
There are 3 different trails you can walk through the limestone towers and plateaus. One from the bottom car park and the shorter one from the Visitor Center which takes 45 minutes and 2 hours.
This area is frequented by wild mountain goats, so keep your camera out and make sure you don't disturb them, feed them, or make loud noises when they're around. Especially if you travel with children, make sure you talk to them about the Leave No Trace Principles.
You can also look for fossils in the limestone rocks, there are plenty, you just gotta keep your eyes open!
HOW TO GET TO EL TORCAL DE ANTEQUERA:
Drive: 1 hour and 10 minutes, free parking at the Visitor Center, on weekends it fills up quickly and you might have to park at the bottom of the hill. From there, there's a shuttle bus to the top (€2.00 return)
Train: 45 minutes from Fuengirola to Malaga €2.70, then 30 minutes from Málaga-María Zambrano train station to Santa Ana (Antequera) train station, €5-10, then you need to take a taxi for 40 minutes.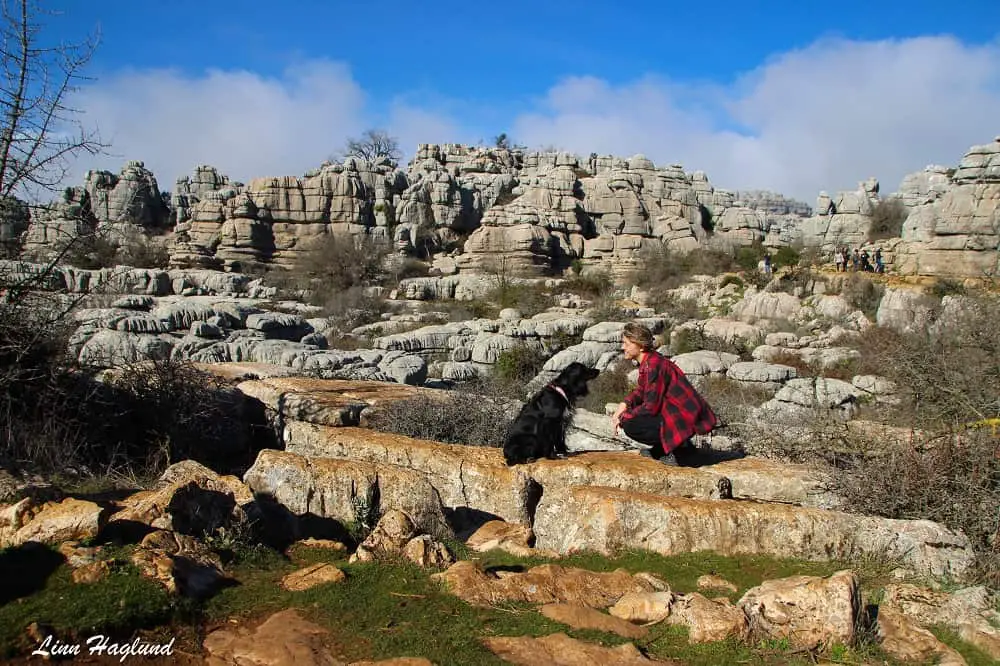 Benalmadena
Benalmadena is one of the most popular coastal towns in Malaga and it makes for a wonderful day trip from Fuengirola. You can enjoy the lower parts of Benalmadena by walking the promenade, going shopping, or drinking coffee at any of the cafes.
Get to the higher areas of Benalmadena and you can explore the fairytale Colomares Castle, walk through Benalmadena Pueblo, or take the cable car up to the top of the mountain overlooking the coast.
There are enough things to keep you busy for a day if you don't prefer to relax on the beach for the day, then Benalmadena's beaches are stunning with plenty of beach bars and restaurants for a cooling drink and a feed.
HOW TO GET TO BENALMADENA:
Drive: 20 minutes on the A7 or the coastal road. Parking in Benalmadena is easier the further away from the beach you go.
Train: 16 minutes from Fuengirola to Benalmádena €1.70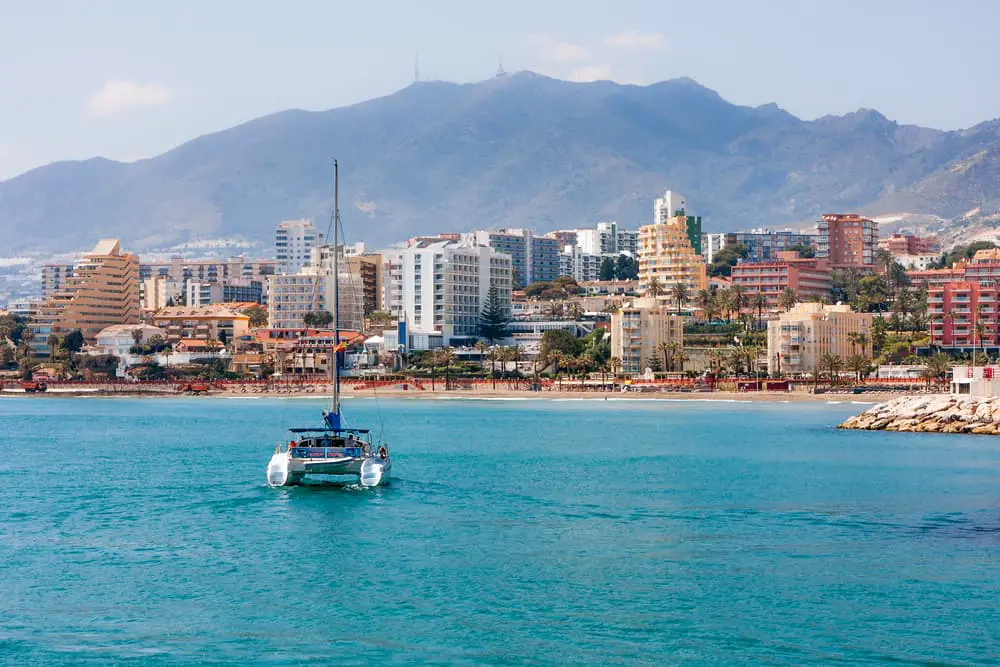 Gibraltar
A day trip from Fuengirola to Gibraltar is a great way to escape into British territory for a day. There are incredible things to do in Gibraltar and on a day trip you can see the most important attractions.
Head to the Rock of Gibraltar and experience the only wild monkeys on European territory, visit the impressive St. Michael's Cave, and the Moorish castle.
If you prefer to join a guided tour of Gibraltar, you can get a pick-up in Fuengirola and a guide through the attractions in Gibraltar. Check availability here.
Don't forget your passport and visa if required!
HOW TO GET TO LA LINEA:
Drive: 1 hour and 10 minutes. Drive across the border and park in Gibraltar or park up at La Linea and walk across the border.
Bus: around 2 hours from Fuengirola to La Linea. From €10 and up.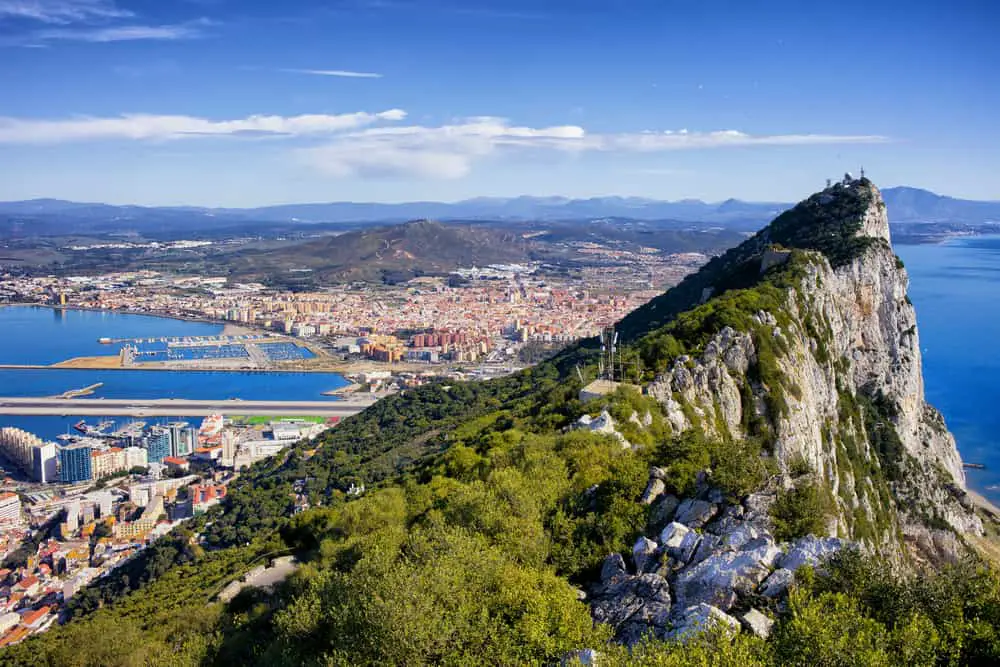 Morocco
An even more exciting day trip from Fuengirola is across the "pond" to Africa. Morocco is only an hour's ferry ride from either Algeciras or Tarifa. Ferries go directly to Tangier, a lovely coastal city with a characteristic old town.
Spending a day walking the narrow streets weaving their way through traditional bakeries, leather shops, spice shops, and anonymous doors leading up to hidden tea houses boasting exquisite rooftops is such a contrast to Fuengirola's international vibe.
If you find it troublesome to travel there by yourself, there are plenty of organized tour options taking you directly from Fuengirola to Tangier, Tetouan, or the quaint little fishing village of Asilah.
Check tours and availability here.
HOW TO GET TO ALGECIRAS FERRY:
Drive: 1 hour and 15 minutes.
Bus: 2 hours and 5 minutes from Fuengirola to Algeciras ferry terminal. From €12 to € 20.

HOW TO GET TO TARIFA FERRY:
Drive: 1 hour and 35 minutes. There is paid parking at the ferry terminal.
Bus: 3 hours and 20 minutes from Fuengirola to Tarifa. From €15 and up.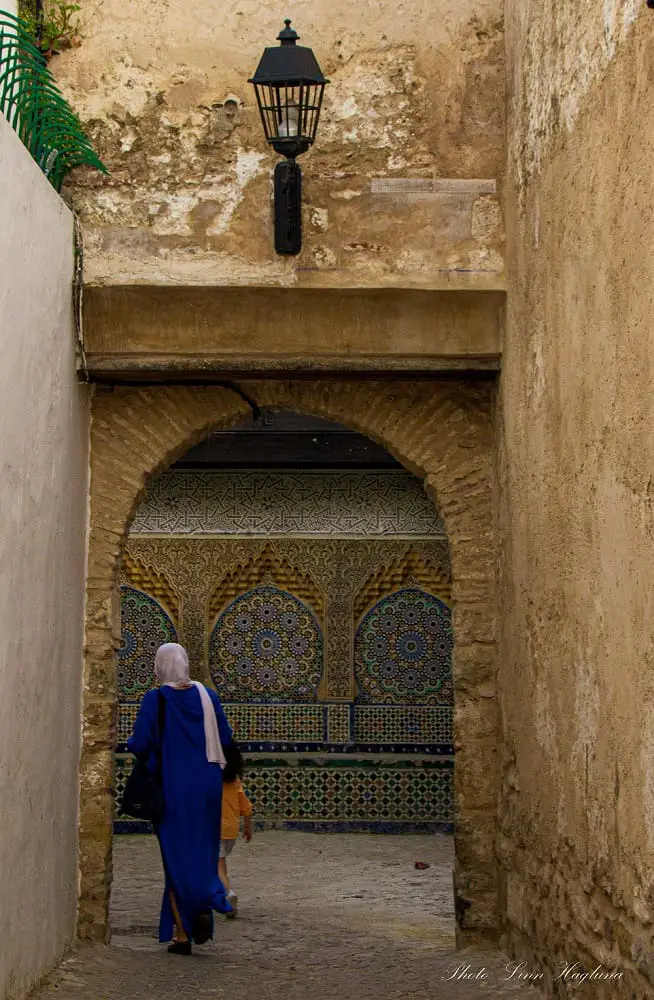 Gaucín
One of the top day trips from Fuengirola is to one of the most beautiful white villages in Andalucia, Gaucín. Situated elegantly on the hillside overlooking the Strait of Gibraltar with views stretching to Africa on clear days, it's not surprising that artists from all over the world have found inspiration in this hideaway.
Among the most important things to do in Gaucín, is visit the Castillo del Aguila castle looming over the village. The remains offer impressive views of the coast and surrounding mountains.
The village itself is super cute with cobbled streets, small bakeries, and art galleries. Hikers will also be inspired by the surrounding natural beauty. You can easily take a short hike before returning from your Fuengirola day trip.
HOW TO GET TO GAUCÍN:
Drive: 1 hour and 15 minutes.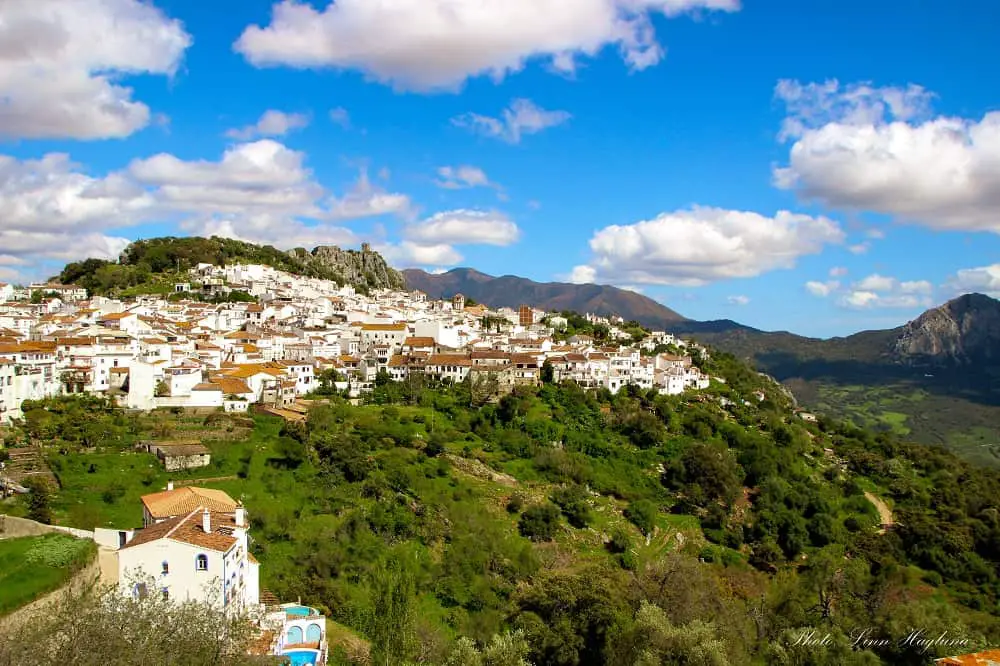 Parauta
Parauta is surely one of the best-hidden gems in Andalucia that you should consider visiting on a day trip from Fuengirola. The whitewashed village is nestled between the treetops of the Genal Valley and hides a lovely surprise, especially for the kids (or big kids like me!)
From the village, you can walk the Bosque Encantado, a trail of a couple of kilometers where you'll encounter different fairytale figures and cute, colorful wooden doors and windows in the trees.
There is a picnic area by a wooden house where you can walk inside about halfway. While you'll love the Bosque Encantado, you're likely to fall in love with the charming village too.
Cute alleyways with sweet little details on the walls, and refreshing pot plants make every corner photogenic.
HOW TO GET TO PARAUTA:
Drive: 1 hour and 15 minutes.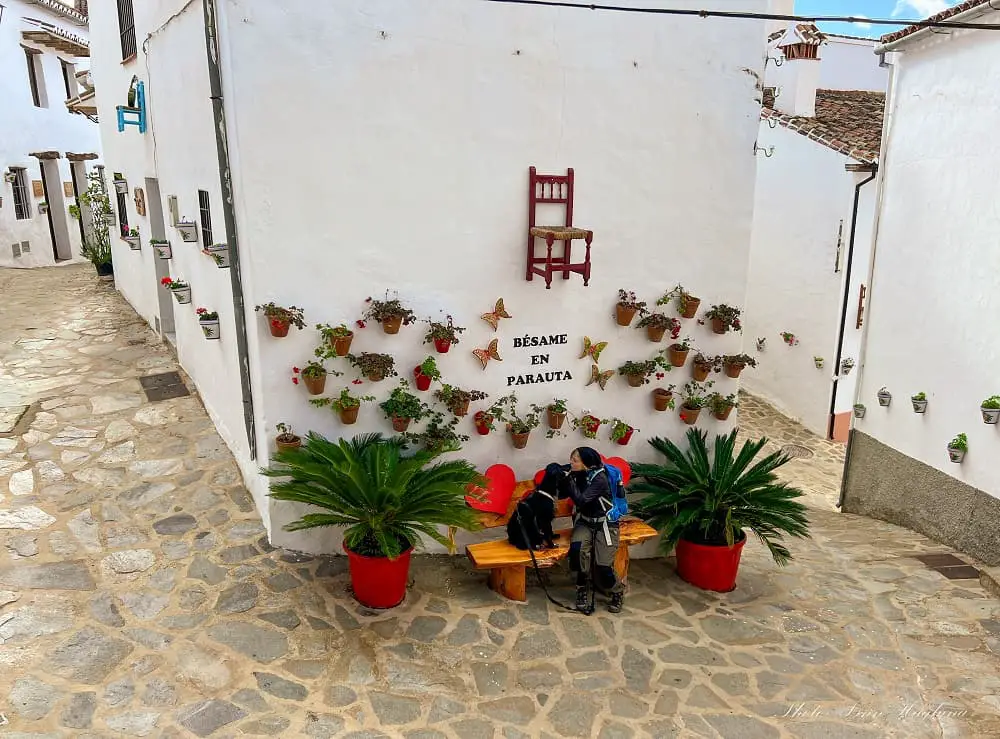 Setenil de Las Bodegas
One of the most unique places in Andalucia is only an hour and a half from Fuengirola. Setenil de Las Bodegas is a small village built into the rock wall. Restaurants and bars are inside the rock with natural ceilings above their outside tables.
There is not much to do in Setenil, but it is a really cool place to visit. Take a walk around the village – which is basically one road on each side of the river, and walk through a tunnel where you can take a look into some local shops, and you're done.
To prolong the tour, walk around and on top of the village where you get views from above, but to be honest, the best views are from under the rock itself.
HOW TO GET TO SETENIL DE LAS BODEGAS:
Drive: 1 hour and 25 minutes.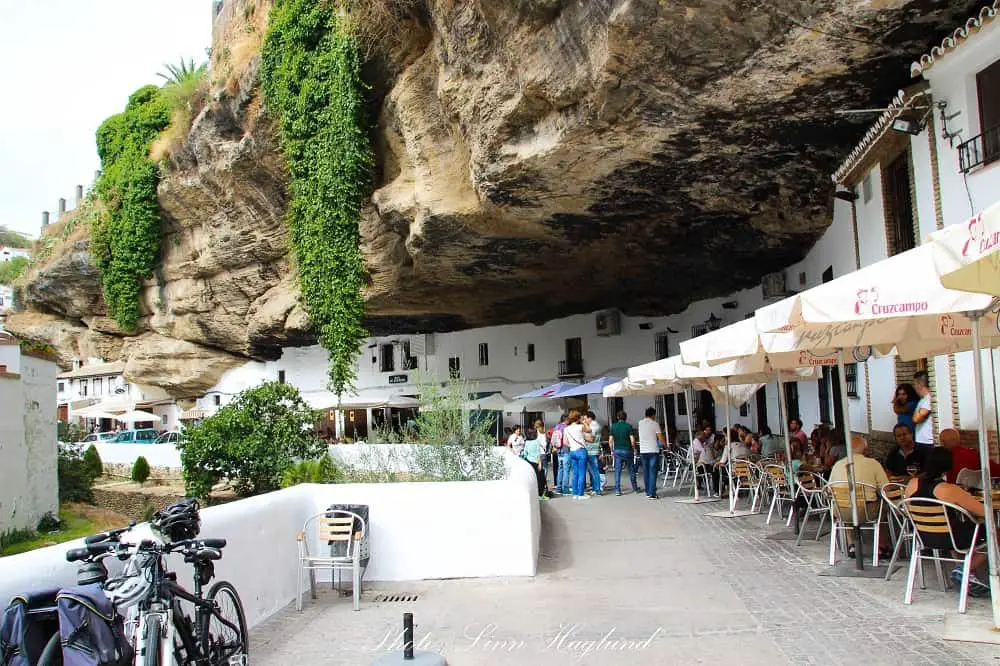 Granada and Alhambra
There is no arguing, a day trip to Granada and Alhambra is a must. There are many amazing things to do in Granada, but with a day, make sure you visit the Alhambra fortress, palace, and gardens.
The UNESCO World Heritage Site is a historic fusion of exquisite remains from the Moorish and Christian times and you should schedule at least a couple of hours for the entire complex.
You need to book tickets in advance as they sell out quickly, so make sure you plan your day trip from Fuengirola carefully.
A day in Granada also gives you time to see the Cave Museum in Sacramonte and walk around the old Albaicin neighborhood where you get the best views of the Alhambra with Sierra Nevada as a backdrop.
There are also nice places where you can see flamenco and have a glass of Sangria before returning to Fuengirola.
HOW TO GET TO GRANADA:
Drive: 1 hour and 45 minutes. You can park outside the Alhambra for a fee but must move the car when you visit Granada. There is paid parking in the city or free parking outside the center (have a look above Albaicín)
Bus: 2 hours and 25 from Fuengirola to Granada. From €10 and up.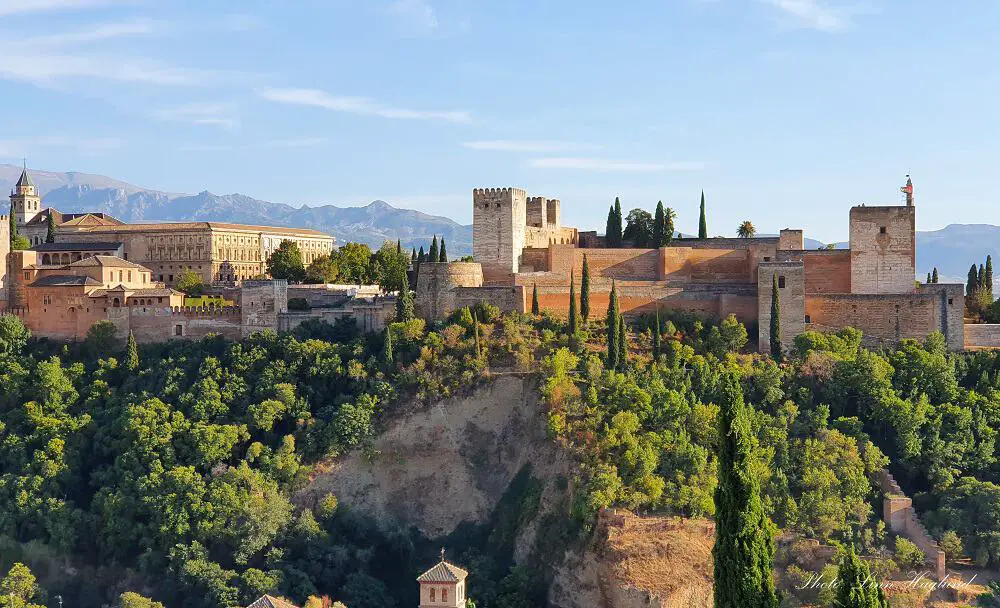 Ronda
One of the most impressive day trips from Fuengirola is to the mountain town of Ronda. As one of the oldest towns in Andalucia, there is a lot of history and sites dating back to the Moors and the Romans, but even pre-historic remains are found outside Ronda.
But what Ronda is most famous for is without a doubt the New Bridge. The impressive bridge that connects the new and the old part of Ronda on each side of the ravine it sits on was finished in 1793.
Yet, there are two more bridges connecting the ravine further down in Ronda. The Old Bridge, which is a Roman bridge about 200 years older than the New Bridge, and the Arab Bridge which is the smallest, situated farther down the gorge.
With one day in Ronda, you can visit the impressive Arab Baths and the Casa del Rey Moro where you can climb 100 meters down to the bottom of the gorge.
There are many things to do in Ronda, yet it is small enough to visit the main sites in a day if you plan carefully.
HOW TO GET TO RONDA:
Drive: 1 hour and 25 minutes.
Bus: 1 hour and 45 minutes from Fuengirola to Ronda. From €11 and up.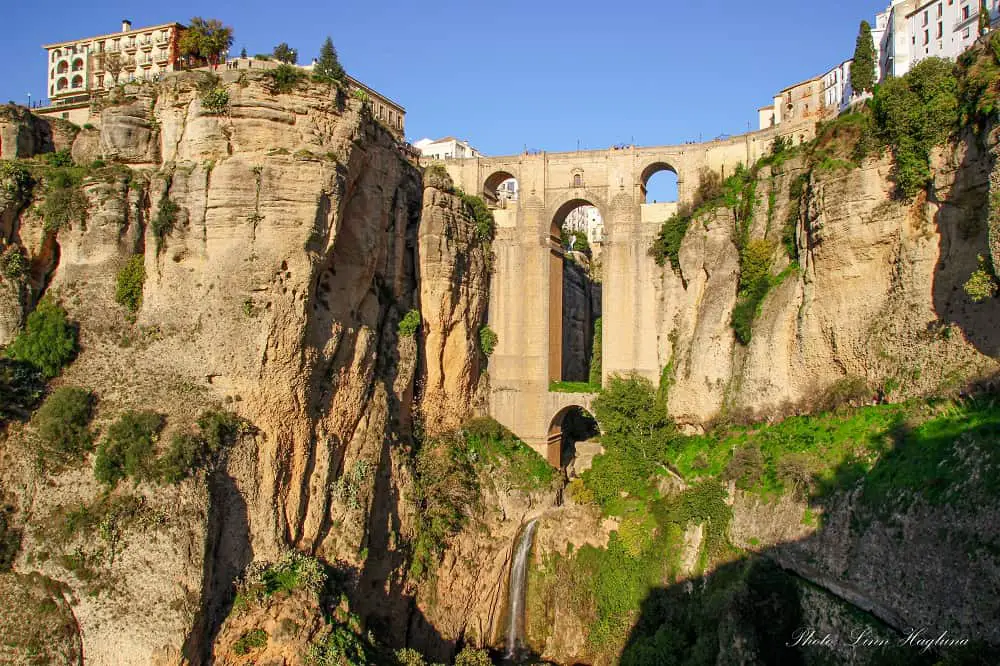 Ojén
A personal favorite is the whitewashed village of Ojén in the Sierra Blanca above Marbella. The village sits on the hillside and you can expect steep streets, a wealth of lemon trees, and charming small squares. In fact, the village is referred to as the village of lemons.
The most unique feature you will see in Ojén is the flat-trimmed lemon trees that decorate the main church making it look like a live painting.
but if you let yourself get lost in the streets, you will discover caves and impressive viewpoints. Considering its proximity to the coast and being one of the best day trips from Marbella, it is surprisingly Andalusian there – without the touristy fluff that some of the other more popular whitewashed villages on Costa del Sol boast.
HOW TO GET TO OJÉN:
Drive: 35 minutes. There is free parking at the bottom of the village.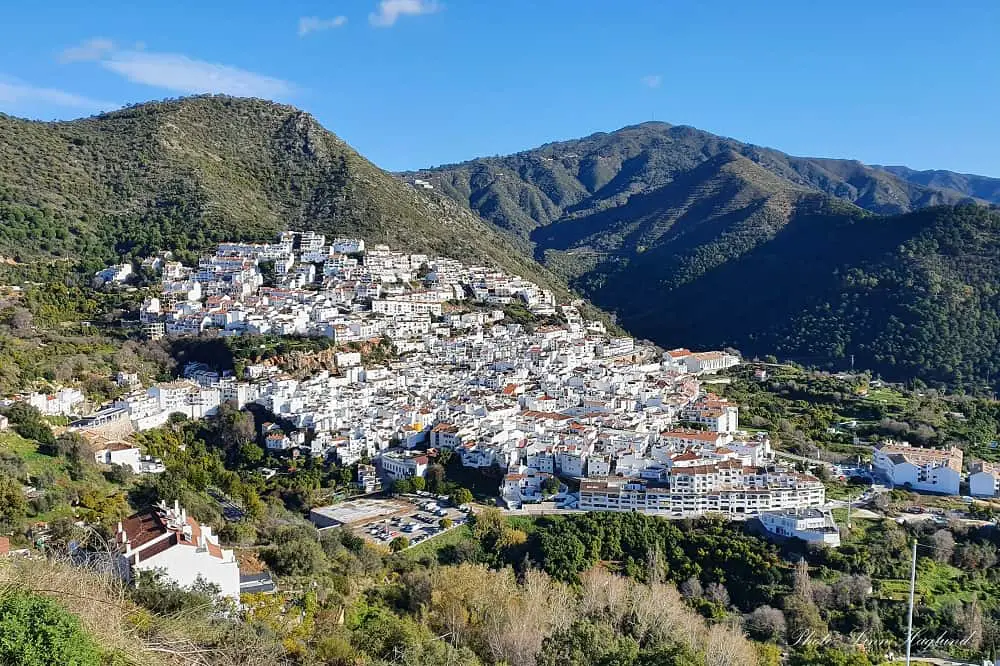 Nerja Caves
One of the most impressive landmarks in Spain is the Nerja Caves. Home to the world's largest stalagmite at 32 meters high and 13 by 7 meters wide on the bottom, it is an impressive site.
The cave systems are 5.2 kilometers long, though only a part of it is open to the public. There is a concert hall in the cave with an incredible acoustic too.
Surely one of the best day trips from Fuengirola. If you don't dispose of a car, I suggest that you book a private tour of Nerja Caves, Nerja, and the charming whitewashed village of Frigiliana. It will save you a whole lot of traveling time and you get to see more places in a day – note that this tour leaves from Malaga. Check availability here.
HOW TO GET TO NERJA CAVES:
Drive: 1 hour. There is parking right outside the cave.
Train/bus: 45 minutes by train from Fuengirola to Malaga. Then, 1 hour and 10 minutes bus ride from Malaga to Nerja from €6. And the bus from Nerja to Nerja Cave takes about 10 minutes and costs €1.16.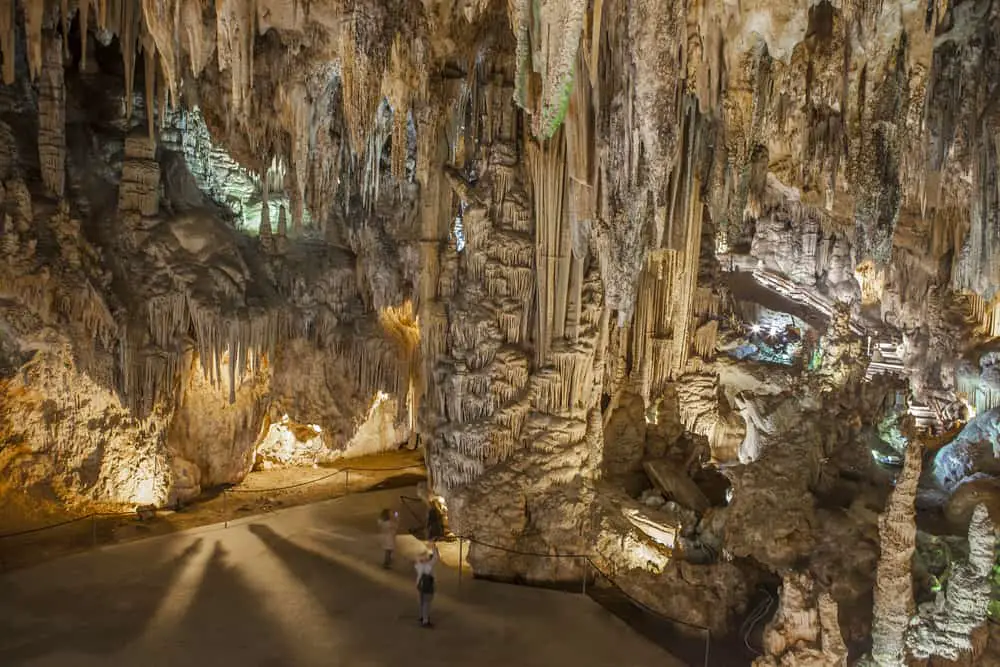 Casares
One of the most beautiful whitewashed villages you can imagine perched on a hillside above Costa del Sol is Casares. It is an easy day trip from Fuengirola by car.
There are a lot of things to do in Casares and you will not get bored. From beautiful viewpoints wherever you go to visiting the castle ruins overlooking the town and the Church of the Incarnation. The site is also popular for bird watchers as there are many big birds like eagles cruising above your head.
Visit Blas Infante's birthplace and sit down for a cold drink at Plaza de España. If you travel with your significant other, find your way to the "Besame en Casares" corner (Kiss me in Casares) to take a selfie. They even rigged up a selfie stand to make it easy for you.
HOW TO GET TO NERJA CAVES:
Drive: 1 hour. There is free parking outside the village as well as a paid parking house inside the village.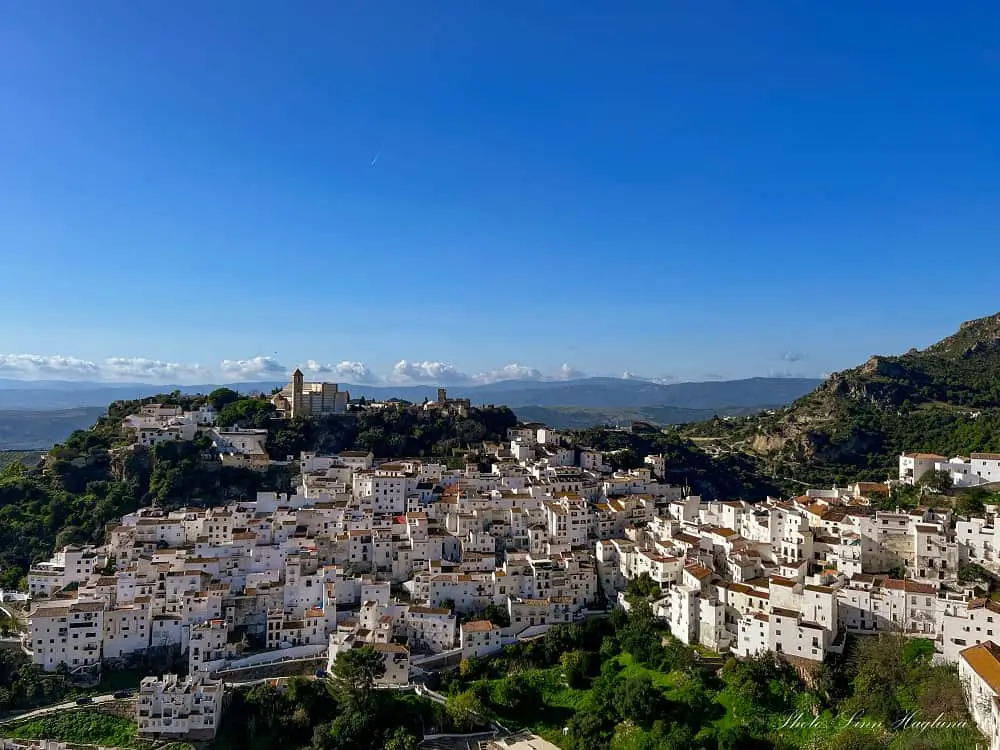 Cordoba
Among the best day trips from Fuengirola is the UNESCO city of Cordoba. Spending one day in Cordoba gives you the opportunity to uncover some of the top attractions like the impressive Mosque-Cathedral and the Alcazar.
The Roman Bridge and the Torre de Calahorra are right behind the Mosque-Cathedral.
If you get the time, I highly recommend taking a tour of the patios that Cordoba is so famous for. If you love the traditional colorful pot plants on whitewashed walls and trickling fountains, Cordoba has taken it to another level.
However, there are a lot of incredible things to do in Cordoba and you won't get the time to cover it all during a day trip.
HOW TO GET TO CORDOBA:
Drive: 2 hours. There are parking houses near the historical center.
Bus: 3 hours and 30 minutes by bus from Fuengirola to Cordoba. From €15 and up.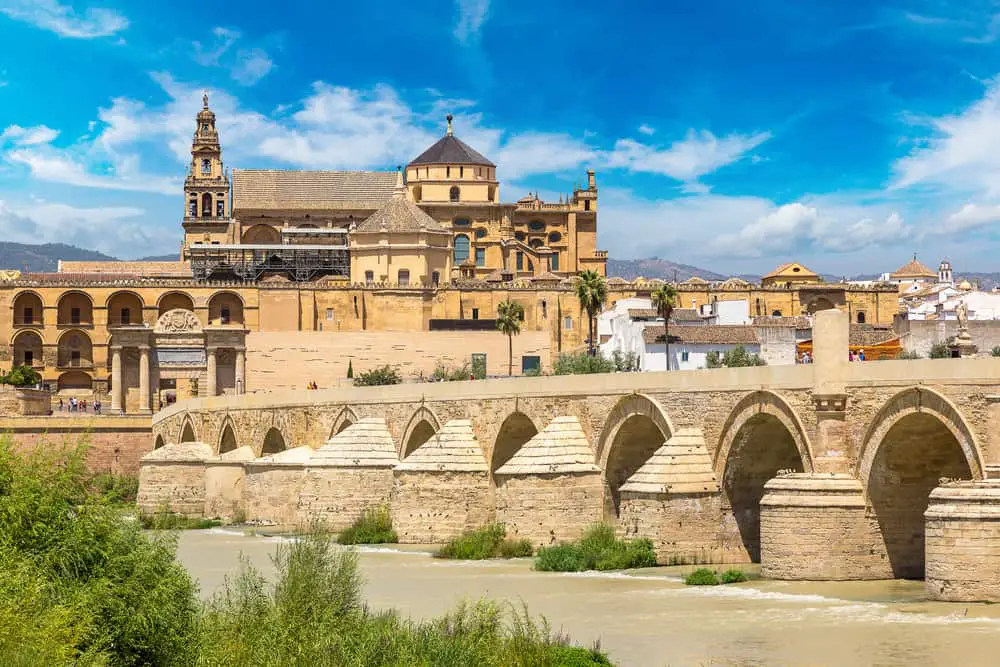 Estepona
One of the best places to visit in Andalucia is Estepona. The charming coastal town is full of things to do with stunning beaches and a charming old town.
Estepona also hides away a whole of 70 murals throughout the town covering buildings and making neighborhoods interesting.
Visit the Orchidarium to witness Europe's largest orchid collection of 1300 species and a total of 5000 plant species in a tropical environment created under three glass domes.
The most beautiful square in the old town in Plaza de Las Flores dominated by a fountain in the middle and surrounded by colorful orange trees.
HOW TO GET TO ESTEPONA:
Drive: 45 minutes. There is paid parking in the center or you can park outside the town center for free. Near Mercadona and Lidl you find free parking.
Train: 1 hour by bus from Fuengirola to Estepona. From €2.99.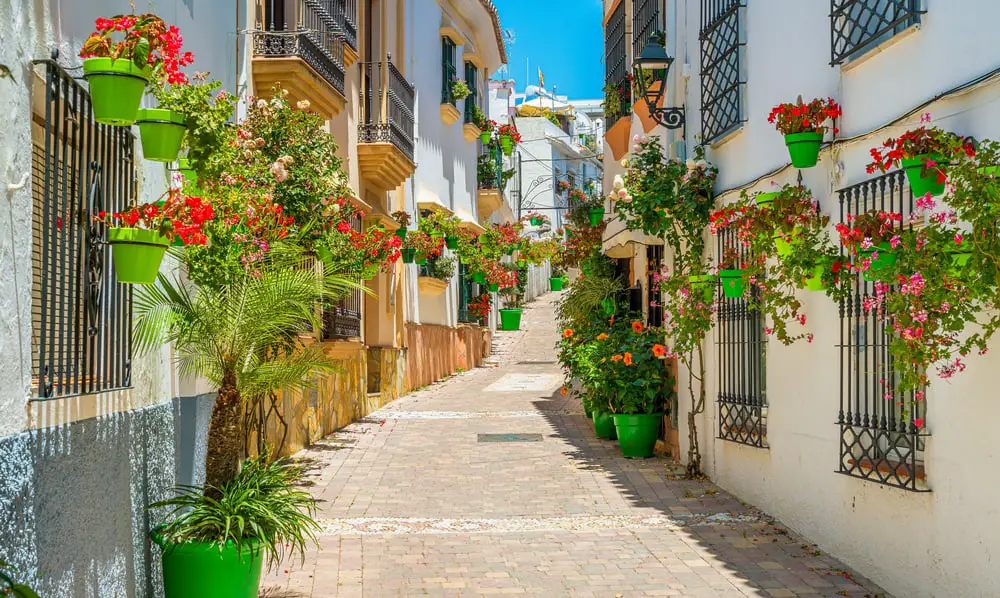 Torremolinos
A short day trips from Fuengirola, Torremolinos is situated right before you reach Malaga. It is a lot bigger than Fuengirola with a cute town center, a myriad of shops, bars, and restaurants, and an impressive beach line with palm trees.
There are a lot of lovely beach bars along the beach, you can rent sunbeds and shade if you want to laze on the beach.
Torremolinos also has the largest LGBTQ community on Costa del Sol with a whole lot of festivals and fun happenings all year round.
Among the attractions you can visit in Torremolinos are the Casa de Los Navajas and the enchanting Parque de la Batería.
HOW TO GET TO TORREMOLINOS:
Drive: 17 minutes. There is street parking around the town center, but it fills up quickly. Try to park by the Crocodile Park, near the Town Hall, it is only 15-20 minutes to walk into the center.
Train: 22 minutes by train from Fuengirola to Torremolinos. €2.05.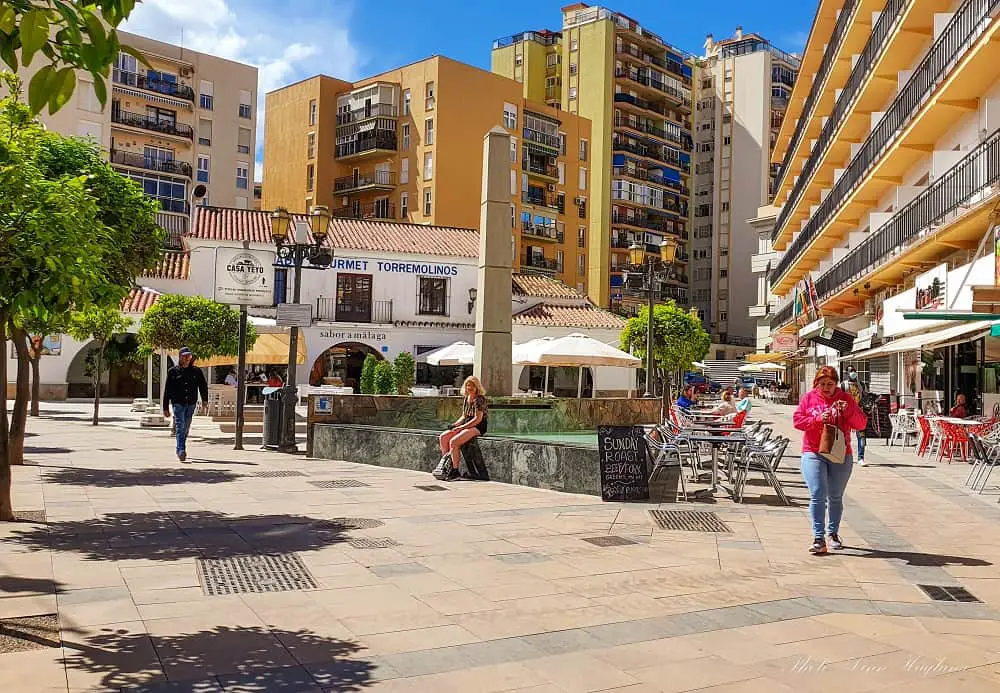 The Smurf Village
A truly unique day trip from Fuengirola is to the little blue village nestled up in the Valle del Genal. It has a complete Smurf theme and is super popular among the kids.
Not only do they have Smurf statues where you can take pictures and a Smurf playground where the kids can play. There are Smurf things for sale in the shops and the kids can get Smurf hats with their names on them.
There are also workshops, face painting, and Smurf activities for the kids on the weekends. You might think it is a little commercialized, and maybe it is. But it is still a local favorite among families and big kids like myself. The village is small, but in my opinion, worth the trip.
HOW TO GET TO JÚZCAR:
Drive: 1 hour and 25 minutes.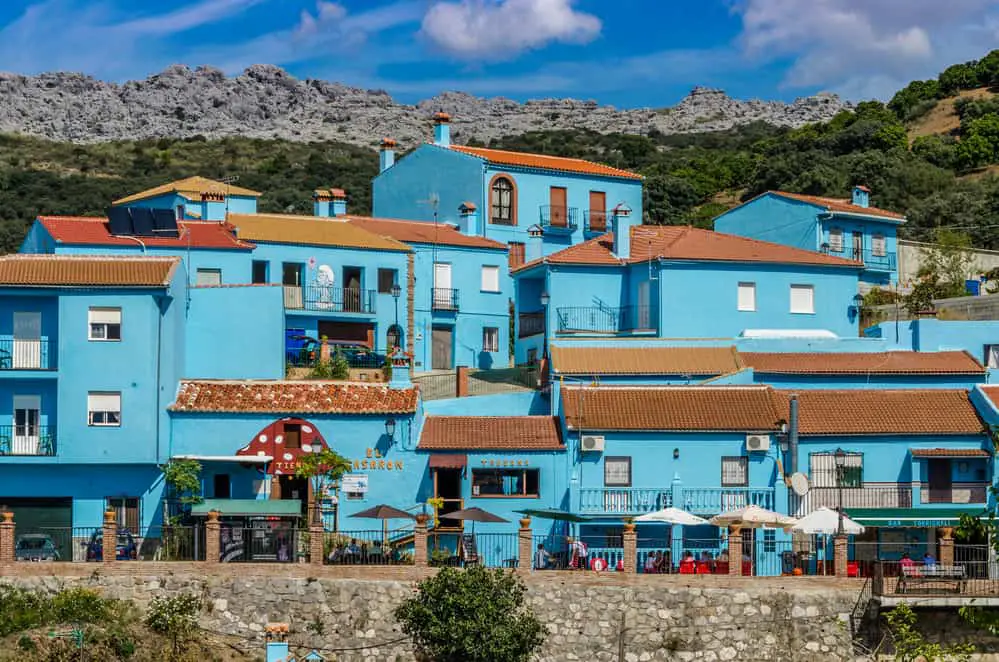 Seville
Even though there are so many amazing things to do in Seville, that a day is far from enough, it is better to go on a day trip than not go at all. You can see the top attractions with a day in Seville, and possibly start planning your trip back there on your way back to Fuengirola.
I suggest starting the day with the cathedral, climbing La Giralda, and then visiting the Real Alcazar, an incredible example of Moorish architecture.
It's important that you book tickets in advance to avoid disappointment as they sell out and sometimes you must wait for a free time slot. See how to book Seville Cathedral tickets here.
After lunch, head to Plaza de España before strolling through the Maria Luisa Park towards the Guadalquivir where you can see Torre del Oro and cross the Triana Bridge.
End your Fuengirola to Seville day trip with dinner in Triana and if you have time, a Flamenco show.
If you have more time, read my 3 days in Seville itinerary. You might also want to check out the top free things to do in Seville.
HOW TO GET TO SEVILLE:
Drive: 2 hours and 30 minutes. See this article to find free parking.
Reflections of Fuengirola day trips
There is a wealth of epic day trips from Fuengirola, but with this selection, I'm sure you'll find something that will intrigue you.
I could probably go on forever suggesting awesome places to visit, but I'm confident that these places are among the best.
Note that some of these day trips require a car and some of them are recommended to do by car either due to travel time by public transport or due to many bus/train changes.
If you have more time, I would highly recommend taking a 2-day trip to places like Seville, Cordoba, and Granada to get the most out of the cities.
Happy travels!