Located in the South of the Spanish city of La Línea, Gibraltar is commonly recognized as the "The Rock". The tiny peninsula has been the epitome of British naval prowess since the 18th century. 
After experiencing all the fun Fuengirola has to offer and you decide you want a taste of British life, going on a Fuengirola to Gibraltar day trip makes for an epic adventure.
Traveling from Fuengirola to Gibraltar and trying to enjoy all that the town has to offer in a day may feel overwhelming with how to get there and not to mention border control to consider. But not to worry, in this article, I will give you all the information you need so that you can enjoy a pain-free day trip.
From how to get there to how to best spend your day trip from Fuengirola to Gibraltar, I will cover it all here.
The British Territory may be a small town but there's a large array of things to do in Gibraltar. While you won't fit in all of it in one day, you will certainly see some of the best. With no further ado, let's get this trip started.
Disclosure: This post may contain affiliate links. That means that if you make a purchase through one of those links, I will get a small commission at no extra cost to you.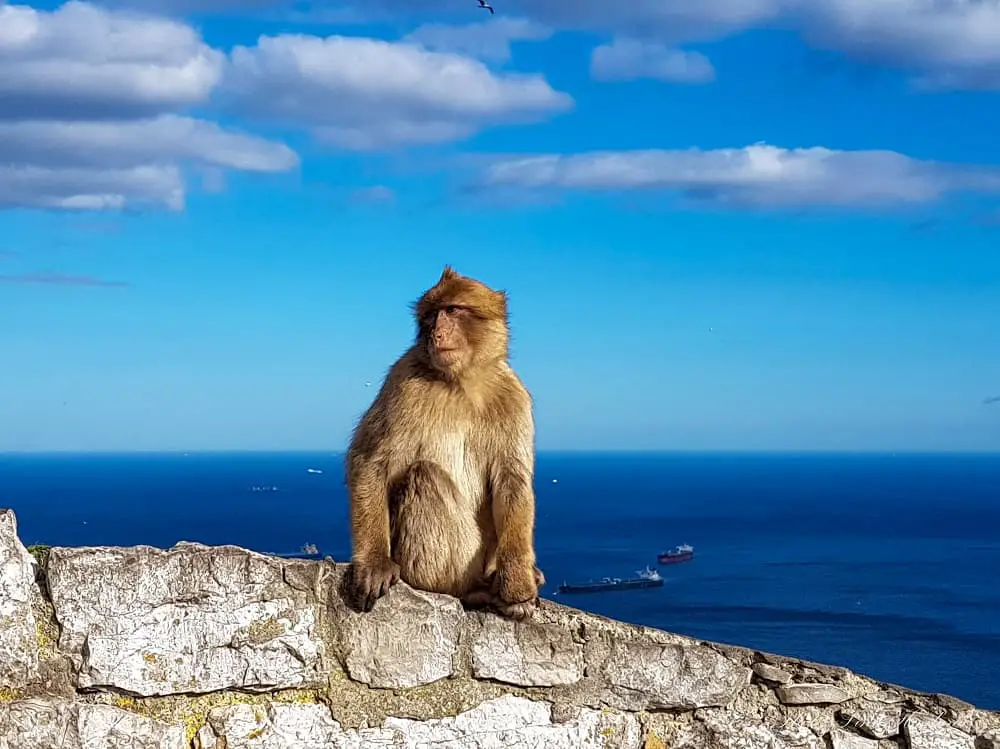 Best time to go on a day trip to Gibraltar from Fuengirola
Any time of the year is great for a day trip to Gibraltar from Fuengirola. However, some times are better than others. If you can avoid the summer months, you get a lot more comfortable temperatures.
Temperatures in Gibraltar easily reach 40 degrees Celsius in the summer, and especially August is super busy when all the Spaniards take their summer vacation.
Generally, you also get a lot more out of your trip by going mid-week and outside Spanish bank holidays, because it's always better to escape the crowds, right?
That said, I have experienced a heavy tourist load in Gibraltar at very different times of the year, so this is surely a destination that never sleeps. Yet, fall, winter, and spring offer comfortable temperatures for sightseeing.
Top tip! Get the Gibraltar Card for carefree travel!
If you plan on walking across the border, I highly recommend the Gibraltar card which includes the bus to the city center, the cable car up to The Rock, and the Skywalk plus an entrance to all of Gibraltar's main attractions.
Travel carefree and get your Gibraltar Card now. (You can cancel free of charge for up to 24 hours in case your travel plans change!)
How to go on a day trip from Fuengirola to Gibraltar 
You can go from Fuengirola to Gibraltar via bus, car, taxi, or day tour. Unfortunately, there's no train from Fuengirola to Gibraltar. The trains from Fuengirola only go in the opposite direction towards Malaga.
I'll go through each mode of transportation here so that you can find out what is most convenient for you.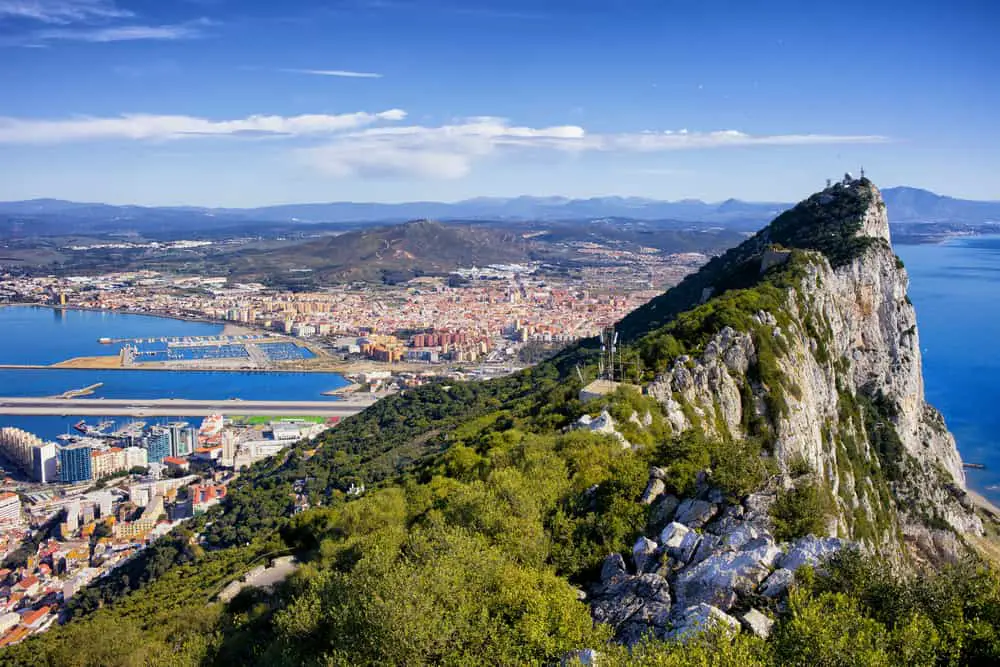 Fuengirola to Gibraltar by car 
Traveling from Fuengirola to Gibraltar by car is one of the best ways to really enjoy the 110km journey, make stops along the way, and not stress with fixed transportation times.  
The journey from Fuengirola to Gibraltar by car normally takes an hour and 20 or 30 minutes to get to the border crossing.
Note that driving on the AP-7 is a little bit faster, but you can avoid the toll roads by staying on A7. The toll roads vary in price throughout the year and in the summer months, they turn up the prices considerably.
Further, you need to decide whether you walk across the border or drive.
The lines at the border crossing for cars can be pretty long sometimes and it can take a long time to cross the border. Sometimes I have waited for 2 hours, and other times it has only taken 20 minutes.
Once you cross the border control, you must cross the airport runway. It is clearly indicated with red and green lights whether you can drive or not, so don't worry!
If you choose to walk across the border, you can park at the La Línea de la Conception parking lot that's behind the Macdonald's restaurant close to the border. Then you cross the border on foot. The pedestrian line, although long, is so much easier to manage, all you have to do is have your passport handy and maybe some snacks to keep you busy as you wait. 
When you finally cross the border, you can take a local taxi into Gibraltar and start exploring or you can take the bus. No. 10 takes you to the cable car and no. 5 takes you to the city center.
Check availability for rental cars here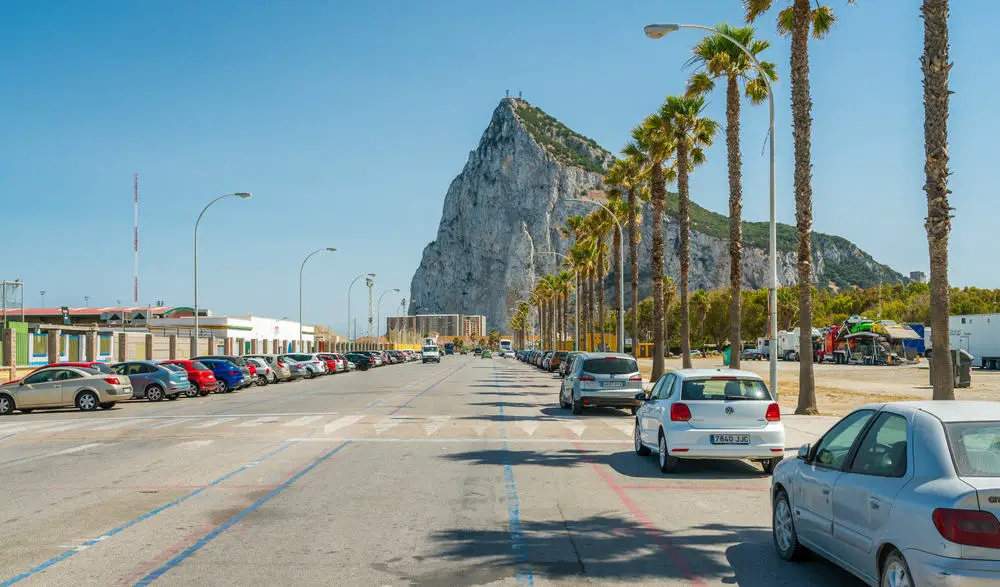 Fuengirola to Gibraltar by bus 
Sadly, you can't get a bus that'll take you directly into Gibraltar. So you'll have to take a bus that'll stop you at La Linea de la Conception. 
You can get a Fuengirola to Gibraltar bus at Fuengirola bus station. The journey usually lasts for 1 hour and 50 minutes, so to get the most out of your Fuengirola to Gibraltar day trip you should get on the earliest bus at 7:00 AM.
Once you get off the bus at La Linea, you must walk to the border, which would take you 10 minutes.
But if you're not a fan of walking you can take a taxi that'll stop you at the border. No taxi crosses the border so you'll have to get another once you cross the border or take the bus onwards.
Check bus prices and availability here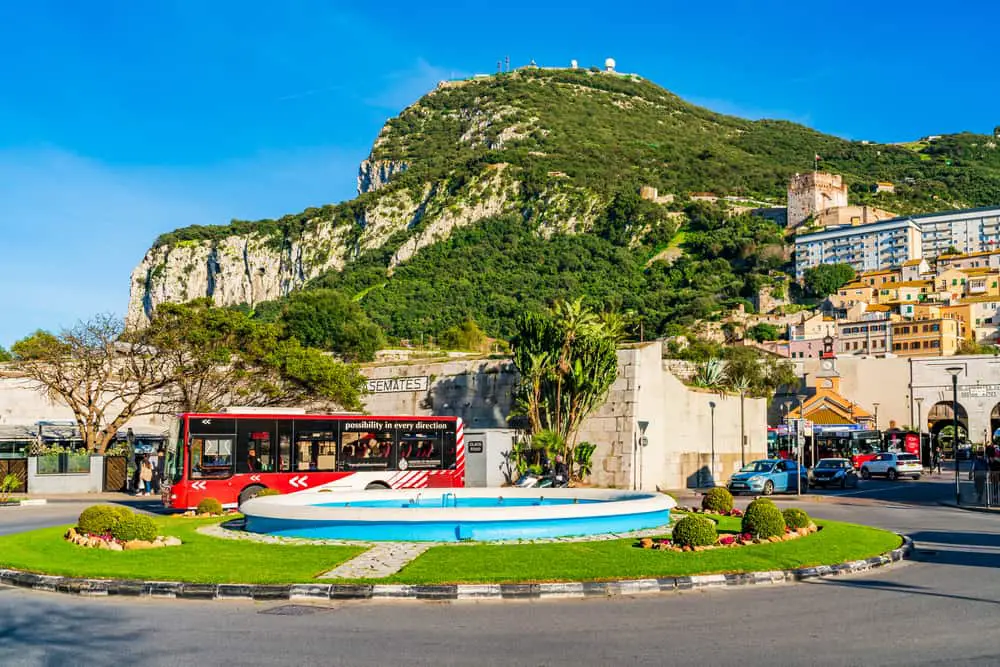 Fuengirola to Gibraltar by organized tour
If you don't drive or want to go through the hassle of taking the bus, the best option is a day tour from Fuengirola to Gibraltar.
This is not only the most comfortable way to go but you will also be accompanied by a local guide so you will get a lot more insight into Gibraltar's history and sights than if you travel independently.
Some of these day tours usually entail activities like; a visit to the Rock, the Cave of San Miguel, and the opportunity to see close the famous Gibraltar monkeys. Then a couple of hours of free time to shop and visit the city on your own. 
Note that tours typically include transport to the border, then you must walk across the border control. Once in Gibraltar, you typically take the local bus or walk.
These are great tour options whether you prefer a private tour or a group tour. Note that a group tour will generally take more time to pick up and drop off other travelers, so make sure you bring snacks!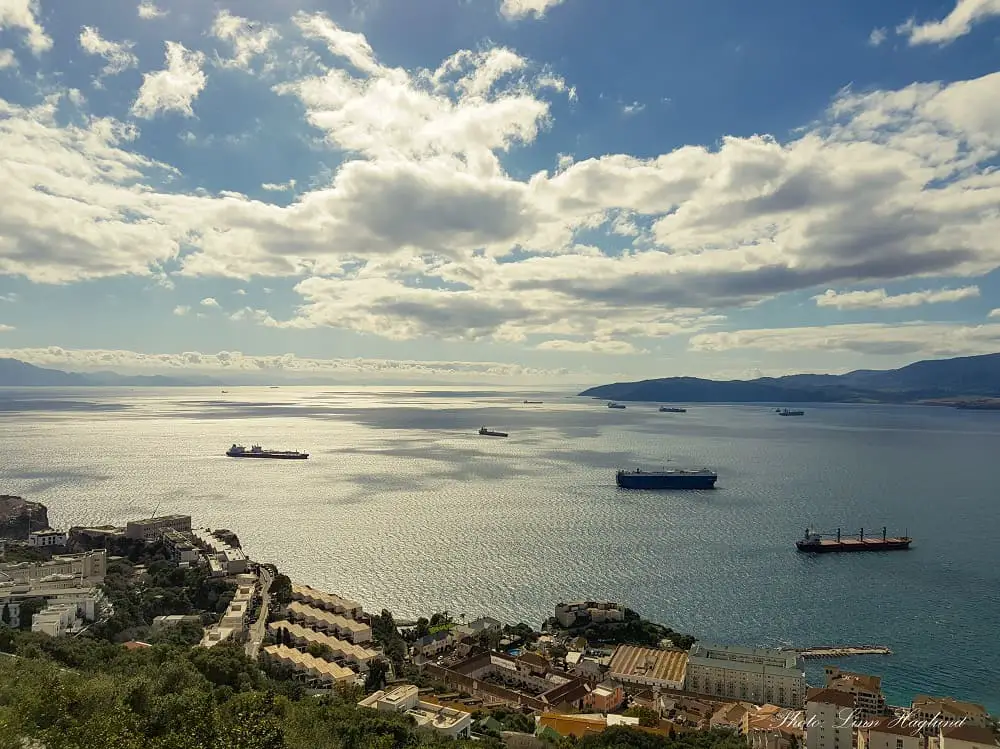 Gibraltar Private Tour from Malaga and Surrounding Areas
The comfort of this private tour gives you the opportunity to take photo stops along the way and to be more flexible in general.
The tour includes stops at the Apes Den on the Rock of Gibraltar where you will get great views, The Pillars of Hercules, St. Michael's Cave, The Great Siege Tunnels, and free time to go shopping and explore the town of Gibraltar.
You will mostly be accompanied by a local guide which will add great value to your Fuengirola to Gibraltar day trip as you will learn a whole lot about the territory's history and legends.
From Costa del Sol: Gibraltar Sightseeing Day Tour
This group tour will take you to the Rock of Gibraltar where you will experience the Gibraltar Monkeys. It also includes entrance to St. Michael Caves and free time in the town center where you can have lunch and go shopping.
The guide will accompany you most of the time and share valuable information about Gibraltar's history.
Note that this is a group tour that picks up people from all across Costa del Sol, and many travelers have reacted to the long time it takes for pickups and dropoffs.
Nevertheless, it is the most economical way to go on an organized tour from Fuengirola to Gibraltar, so if you choose this tour, bring some extra snacks for the bus ride.
Book with Get Your Guide | Book with Viator
Gibraltar Shopping Guided Tour from Costa del Sol
If you want to go on a day trip to Gibraltar from Fuengirola only for duty-free shopping, this is the tour for you. Picking you up at the meeting point in Fuengirola, the guide will give you all the inside tips about where and what to shop in Gibraltar.
Once you reach Gibraltar, you can enjoy 4-5 hours of free time to go shopping on Main Street where you find all kinds of high-end and famous British shops.
There are also cute cafés and restaurants for lunch whenever you need a break.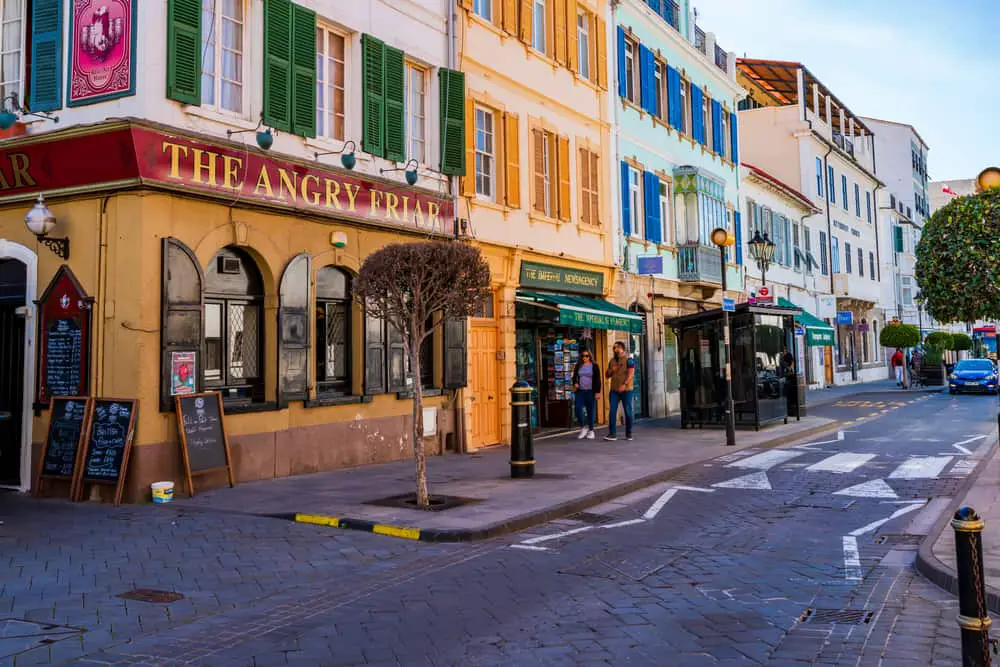 Gibraltar border control
Crossing the border to Gibraltar has brought up a lot of insecurity among travelers, especially after Brexit. There are negotiations to include Gibraltar in Schengen, but they have still not been settled.
This means that you can not enter Gibraltar with a Schengen Visa, but you need a UK Visa. Luckily, many nationalities, including EU/Schengen and US nationals do not need a visa to enter Gibraltar.
That said, there are long queues at the border than it used to be as controls are more severe than before Brexit.
At the border, you need to show a EU ID Card or a valid passport, and if required, a visa.
As mentioned above, there are often large queues at the border, especially when entering by car. But this also differs and I have experienced anything from 20 minutes to 2 hours.
You can watch the live stream of the border here or keep updated on Twitter (@gibraltarborder) where they post pictures regularly.
What to do on a Fuengirola to Gibraltar day trip 
This small but mighty little peninsula has a wide array of terrific things you can do and you certainly can't do them all in one day. So we will show you some of the best attractions and activities to do and you decide which would make your bucket list.
If you prefer to take a guided day tour of Gibraltar once you arrive, it is a great way to see the little peninsula with a knowledgeable local guide (but this tour does not include transport to Gibraltar, if you need that, check out the tours mentioned above.)
This tour includes a private tour of Gibraltar visiting The Rock of Gibraltar, the Pillars of Hercules, St. Michael's Cave, Skywalk, seeing the Gibraltar Monkeys, walking across the Windsor Suspension Bridge, the Great Siege Tunnels, and the Moorish Castle.
This is a great option if you drive to La Linea and walk across the border or leave your car in Gibraltar.
Take the Cable Car to the top of the Rock of Gibraltar
The best way to start your day trip to Gibraltar from Fuengirola is by getting on the cable car to the top of The Rock of Gibraltar.
The rustic wagons date back to 1966 and make a tourist attraction by themselves besides the epic views that meet you on the way to the top.
It is a short 6-minute journey that will save you the sweat of walking the steep hill. It also saves you from monkey attacks on the narrow steps (hold on to your belongings if you walk!)
The cable car runs every 10-15 minutes from 9:30 in the morning.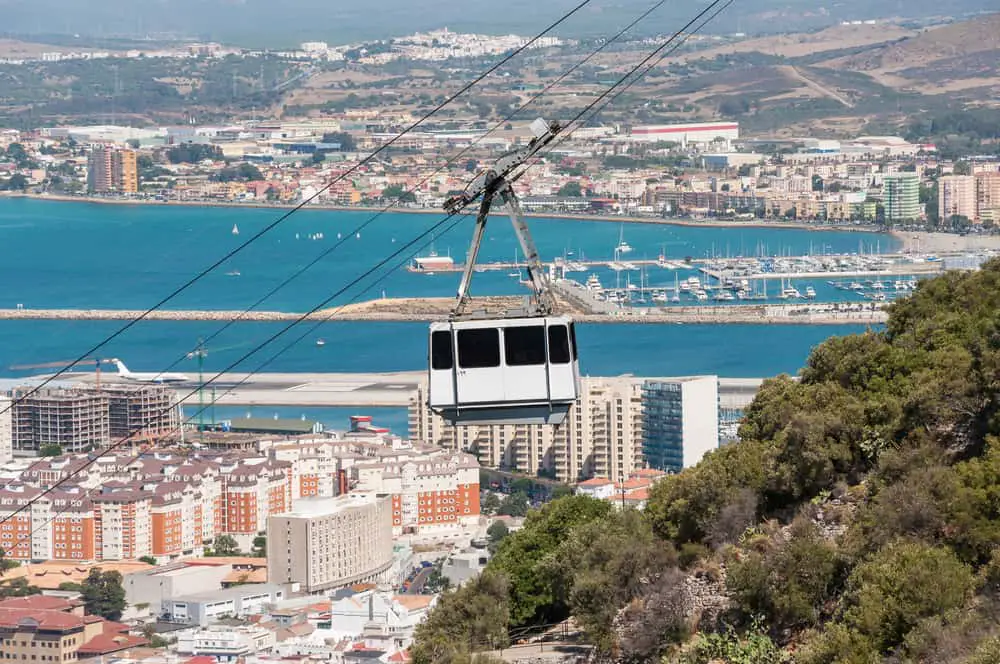 The Rock of Gibraltar 
There's certainly no better way to explore Gibraltar than by visiting the place that gave it its nickname. 
Reaching the magnificent Rock of Gibraltar will give you an exhilarating view of the airport, San Roque, La Línea, the Strait of Gibraltar, and the port. At the top of the rock, you'll see the first buildings built by the British military and Apes Den.
When taking a picture of the monkeys, be careful. They are wild animals and can easily get cheeky, as monkeys do. Watch your belongings and hold onto them, I've often seen monkeys run off with tourists' bags and search them for snacks.
Make sure you keep a distance unless the monkeys come near you (they are used to humans so there is a big chance they will) and keep a close eye on kids so they stay within a safe distance too.
There's a café there where you can buy some snacks or have a drink before you continue on your itinerary.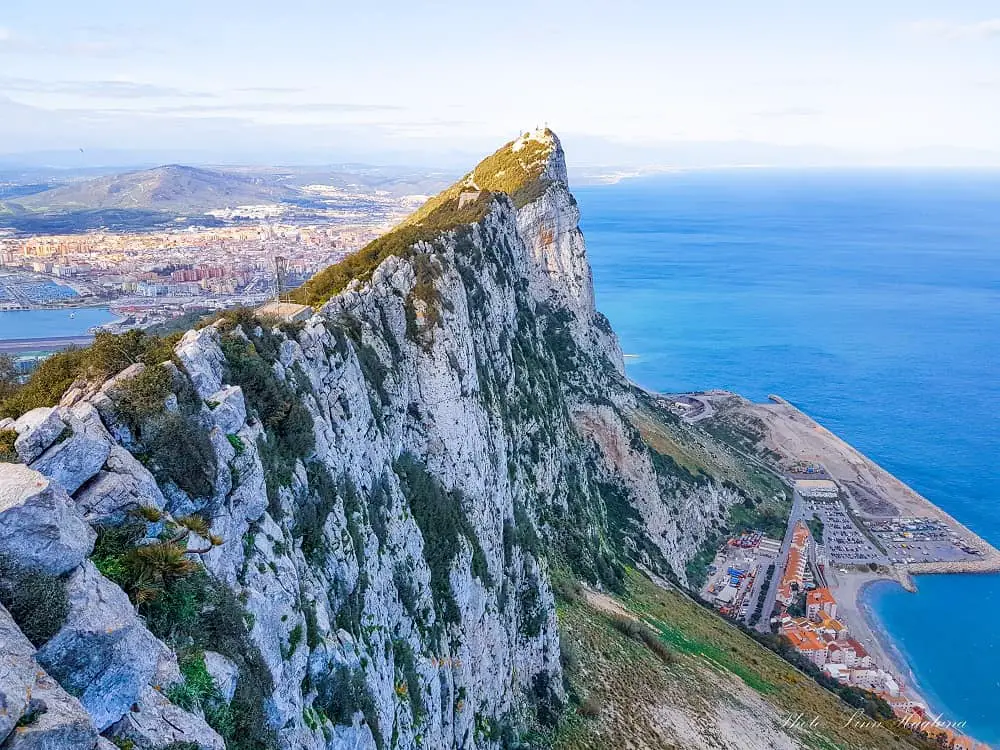 Lunch at Mons Calpe Suite
Stop for lunch at Mons Calpe Suite on the top of the Rock of Gibraltar before you continue your itinerary. It is the only eatery on the rock, so it might be a bit of a tourist trap, but in return, you get exquisite views.
If you haven't brought food, this is the only place you can eat before reaching the old town, so I suggest that you at least top up your bellies before you continue.
Explore St. Michael's Cave
The mesmerizing St. Michael's Cave is one of the top attractions and a must on a day trip to Gibraltar from Fuengirola. With millions of years old rock formations, large stalagmites and stalactites, and legends connected to its existence, it is a visit to remember.
Some say it has no end and others say that the cave is the mouth of an underwater tunnel to Africa. Whether any of this is true, you'll probably not find out on your visit, but you are guaranteed to be left in awe by its beauty.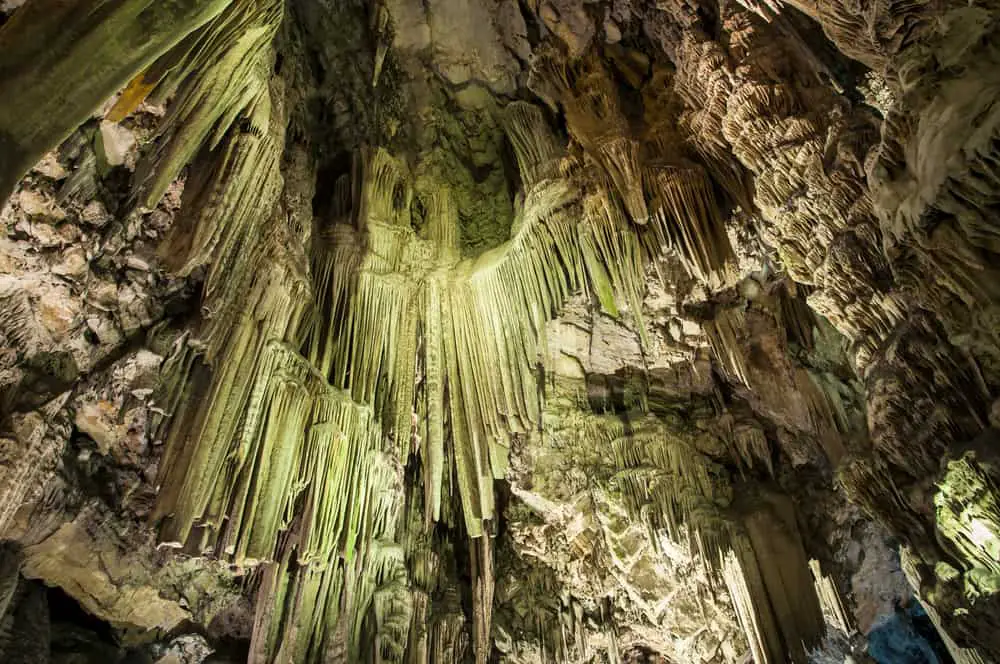 A Trip Through The Great Siege Tunnels 
A trip through these impressive tunnels dating back to the 1700s should definitely be on your itinerary in a day trip from Fuengirola to Gibraltar. Since we're still on the topic of history, the tunnels are bound to take you back in time to war-besieged years. 
During the trip to the tunnels, your tour guide will give you all the information you need. There are also charts and dummies to help you better enjoy the trip. If it rains, water might seep through the tunnels a little bit it all adds to the atmosphere. 
Visit The Gibraltar National Museum 
Getting to know the history of Gibraltar in the company of ancient Moorish structures is certainly a great way to spend some part of your day. When you arrive, you can watch the 15-minute film that showcases "The Rock's" history over the decade along with its citizens. 
The museum may be small but the exhibits, and all it offers make it a fun experience. And it only costs £2.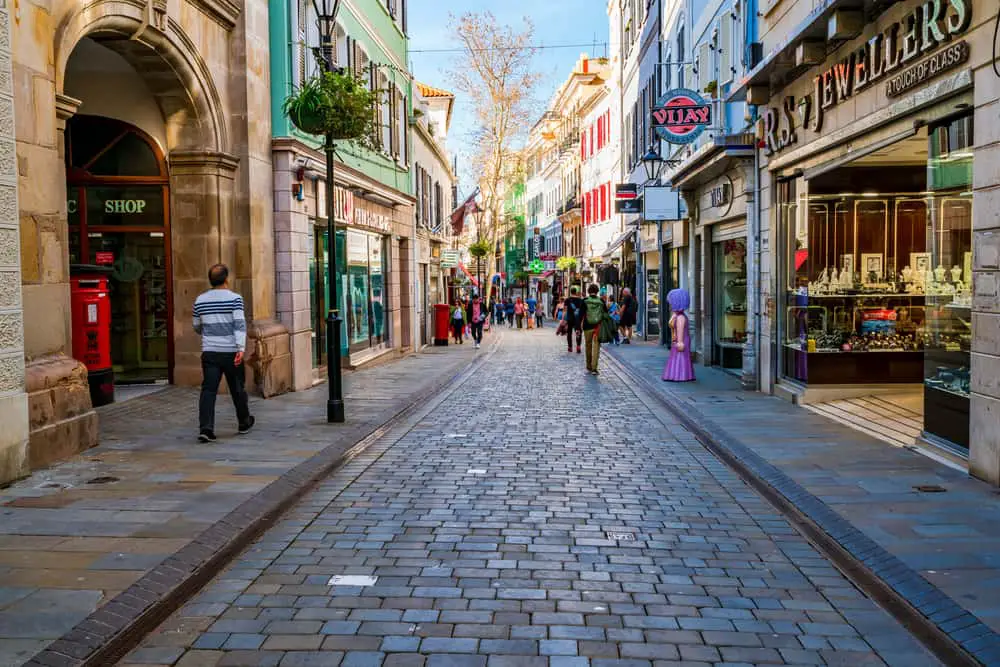 Spend time in the town center
Before leaving Gibraltar, spend some time strolling around the streets, grab a bite to eat at one of the restaurants or cafés, and take pictures with the traditional British red phone booths.
You can also take a tour of the town with a guide which will give you a deeper insight into the history and sites you pass.
Before you return to Fuengirola, make sure you stock up on some British snacks for the return journey.
Reflections on a Fuengirola to Gibraltar day trip
You are bound to have an exquisite time on a day trip from Fuengirola to Gibraltar. Hopefully, this article helps you plan your trip to Gibraltar and have the best time ever. 
There are loads of exhilarating activities you can partake in. So don't hold back and don't forget to take a ton of pictures. 
Happy travels!