Perched on a steep hillside the whitewashed town of Casares charms visitors with its steep, winding streets, local bars and restaurants, and epic lookouts.
Looming above the village, there is a church and the ruins of an old fortress. Circling above, you can spot an ocean of birds of prey. It is said that the town was ordered by Julius Cesar himself after he got cured in the nearby Hedionda Thermal Baths.
There are a whole lot of fun things to do in Casares, Malaga, and its surroundings. It makes for one of the best day trips from Malaga or as a stopover on a road trip in Andalucia.
I will sum up the best things to do in Casares in this guide so that you can visit one of the most picturesque towns on Costa del Sol.
Disclosure: This post may contain affiliate links. That means that if you make a purchase through one of those links, I will get a small commission at no extra cost to you.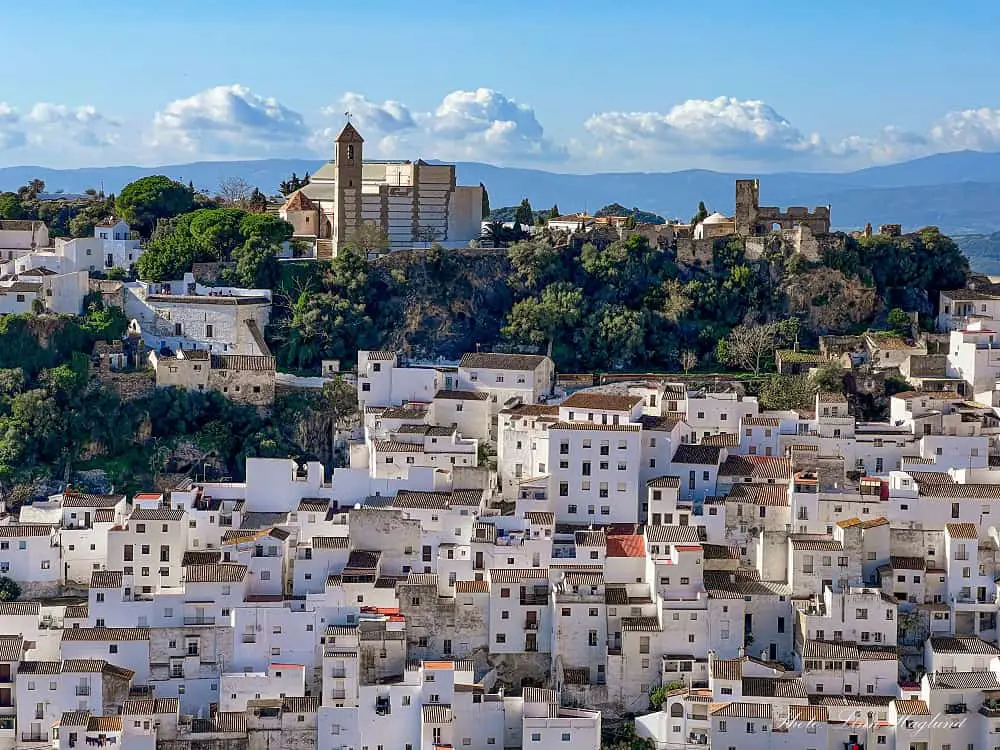 Things to do in Casares
Kiss your loved one at the Kissing corner
One of the big trends in the whitewashed villages in Andalucia are the cute kissing corners for selfies. Casares is no exception.
The "Besame en Casares" kissing corner is taken to a whole new level with a setup for your phone to use the self-timer.
If you travel with your partner, this is probably one of the best things to do in Casares – a little bit clishé but a cure travel memory.
Visit the birthplace of Blas Infante
Casa Natal de Blas Infante is the house where the Andalusian political leader was born. It now houses a little museum where you can learn more about his life, his importance for Andalucia, and his other occupancies.
Blas Infante has been one of the most important persons in Andalusian history also as an artist. But most importantly, he is known as the Father of Andalusian Nationalism.
You will notice his name mentioned all across Andalucia, such as street names, company names, and institutions.
Have lunch at Plaza de España
There are a couple of restaurants situated on the town's main square, Plaza de España. It is a quaint little square in the heart of Casares and one you will cross at least once during your visit.
You can expect traditional Andalusian food as you are in a traditional village. If you don't feel hungry, it is still a nice place to sit down for a drink in the sun.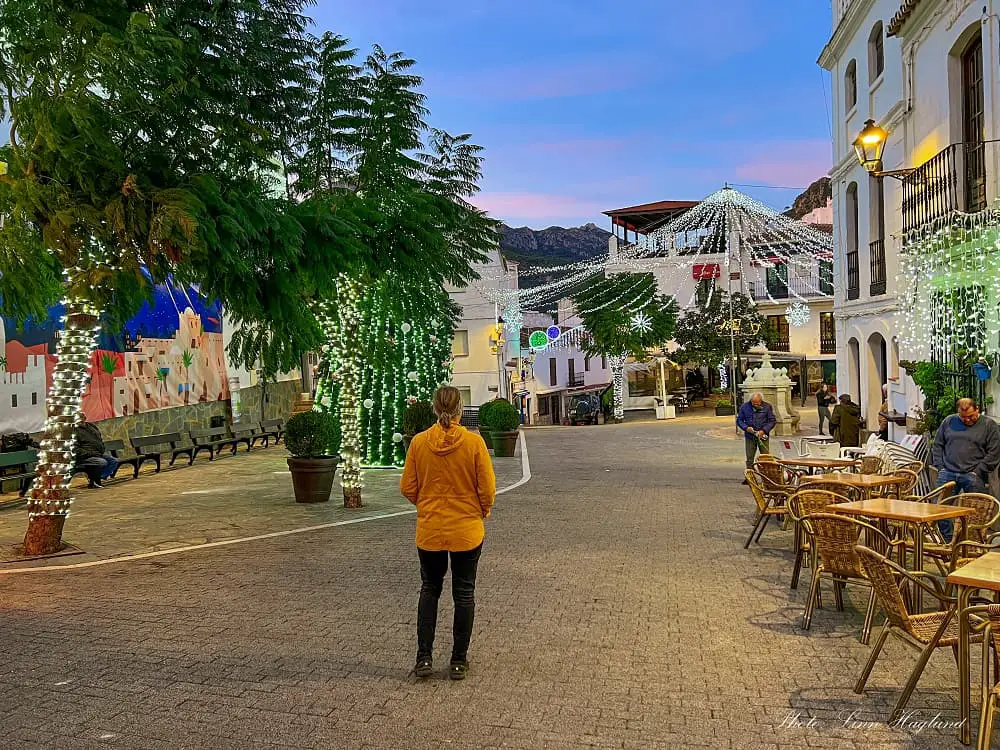 Get lost in the narrow streets
The narrow streets in Casares wind up and down the steep hill the town sits on. Hiding charming alleyways with colorful pot plants where you find cute cats posing for your next Instagram photo, Casares is a delight to walk around.
But it gets steep, so make sure you bring enough to drink on your venturing as it is limited with places to buy drinks throughout.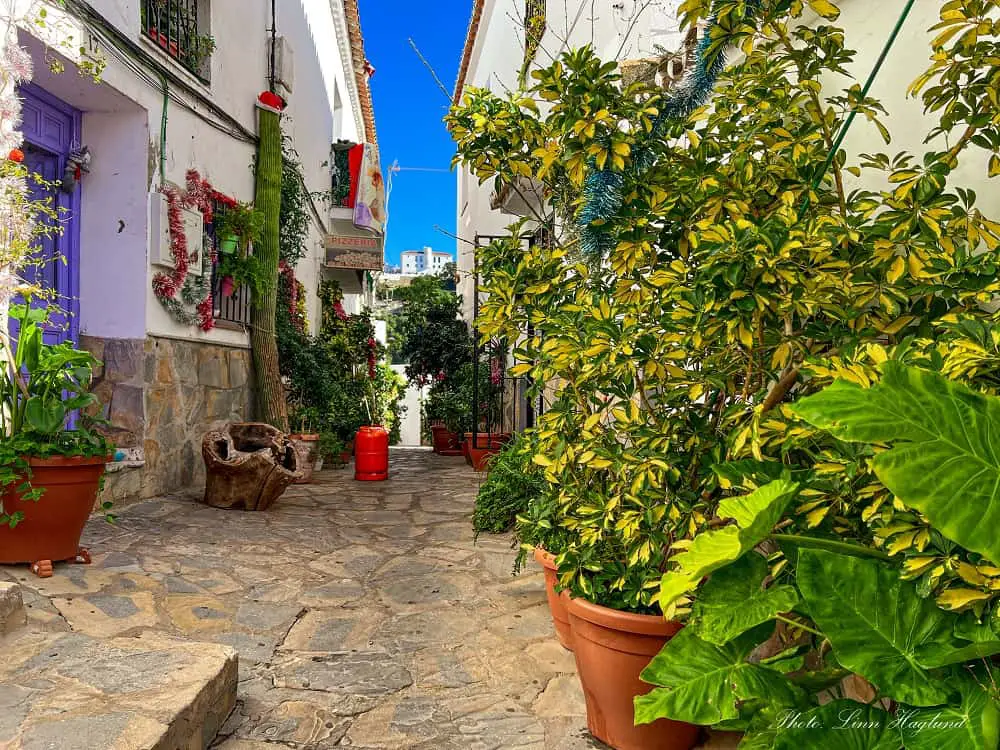 Walk through Arco del Arrabal
On the walk up to the castle ruins, you are likely walking past Arco del Arrabal. The old stone arch makes for pretty pictures and is a nice part of the town.
Look out for eagles and other birds of prey
There is a large lookout deck behind the Church of La Encarnación where you can spot eagles and other birds of prey in large numbers.
Even without binoculars, they fly low enough to get a glimpse of their focused eyes as they float in circles above your head.
This is one of my favorite activities in Casares. Malaga's mountains are famous for places where you can see birds of prey close up and this is one of the best places you don't have to hike to.
Church of La Encarnación
The church that looms over the whitewashed town is a must-visit attraction in Casares. It was built in the same place where there used to be a mosque back in the early 16th century.
The church was damaged during the Civil War and now it houses a small museum dedicated to Blas Infante.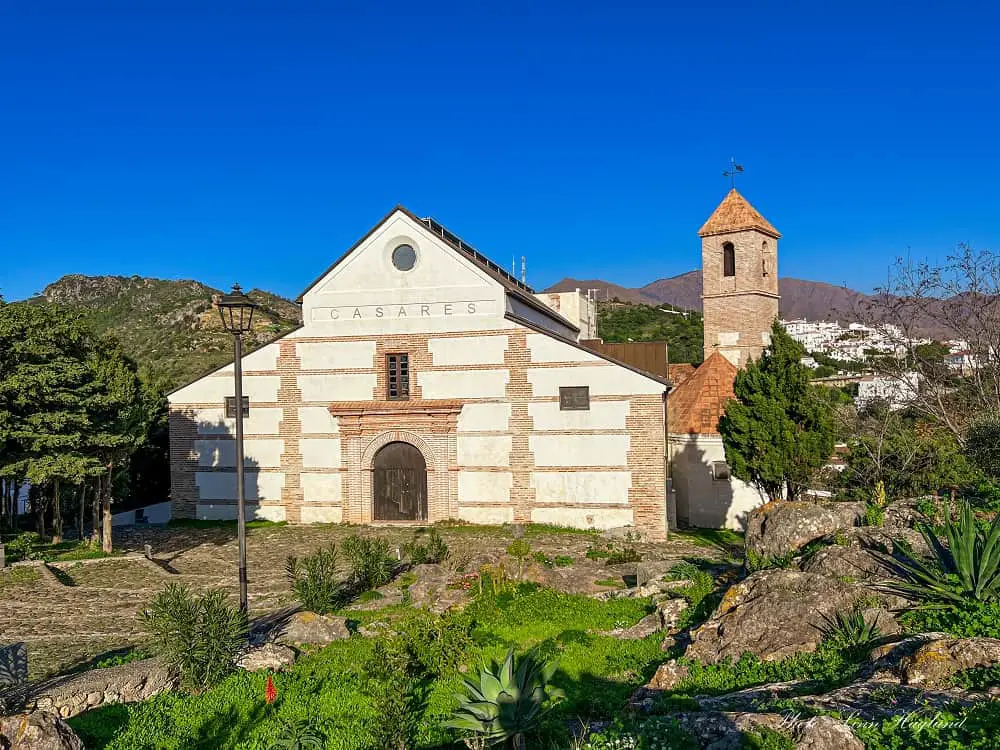 Explore the old Castle ruins
Casares Castle was once one of the mightiest castles in Malaga. It is believed that the castle was built during the Arabic Nasrid Kingdom and was used as a defense fortress.
Now, it is in ruins, but you can still get a feeling of its power when you see the sweeping views from the hill where it is situated.
If you grab something freshly baked from the bakery near Plaza de España and a cold drink, this is the perfect place to sit down and take a break from walking the steep hills of Casares. Things to do in this town are not far from each other, but the steep streets might make it feel so.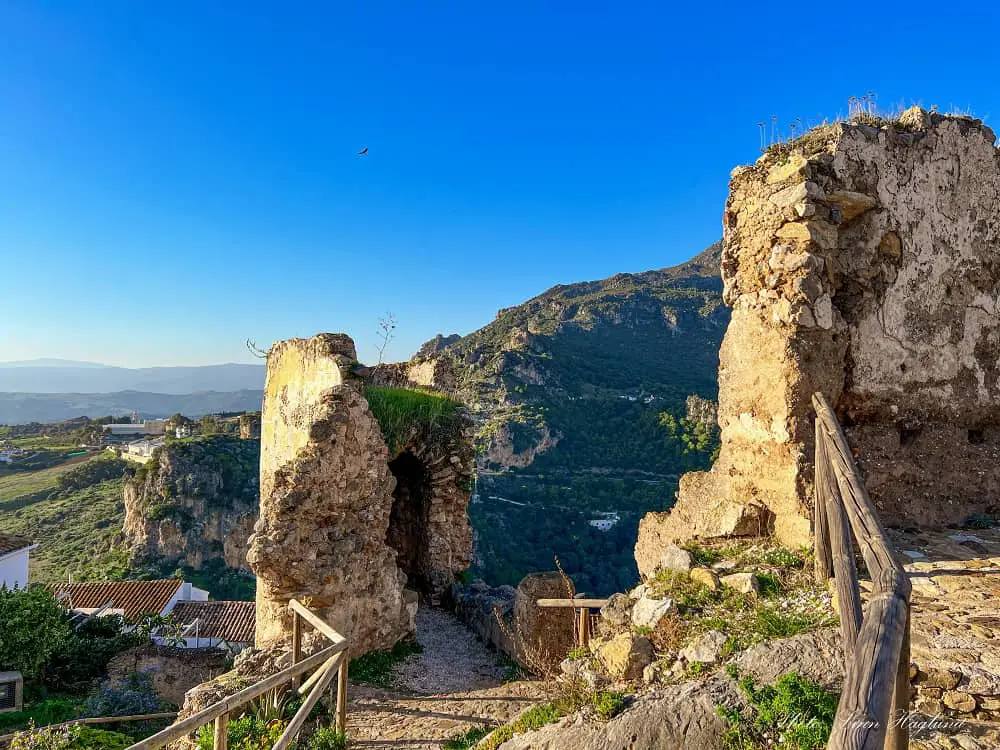 Take a picture at Casares Viewpoint
One of the best places to see in Casares, Malaga, is the iconic viewpoint where you see the church and castle ruins looming above the white blocks that make up the town's houses.
You get to it when driving into the village from the bottom. If you take into the town by the caravan park, you will have to drive through the village, to the bottom, and up the road on the other side.
Note that driving through the village can be challenging if you are not used to driving through narrow streets. That said, the last time I visited, I drove the van and we could just fit through the narrowest streets without flipping in the side mirrors.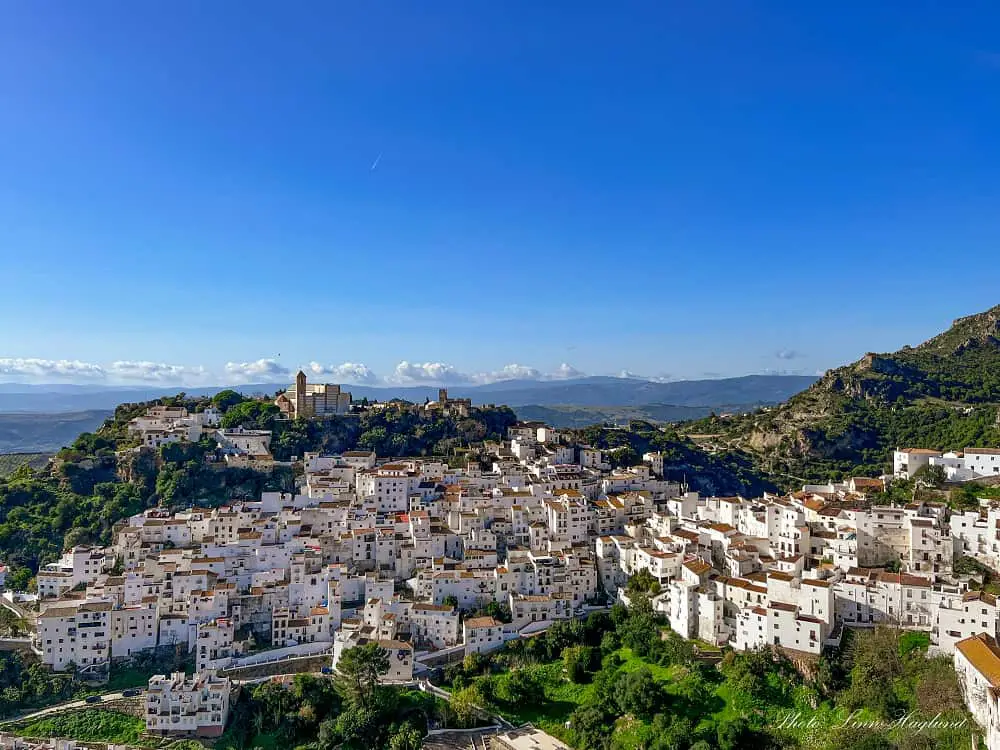 Soak up in Baños de Hedionda
Baños de Hedionda is situated near Manilva about half an hour's drive from Casares. It is a natural thermal bath that has been used all the way back to Roman times.
According to legend, Julius Cesar cured a skin disease after bathing in the sulfur waters.
It is a lovely, lesser-visited place situated by a river where you can have a picnic in the shade of the trees after soaking up in the small bath.
I have only visited in the off-season (December-February) and though it is nice to swim in the water, the temperature is something around body temperature making it possible to swim there even if you're on an Andalucia winter vacation.
I did enjoy it on hot days, but would not go in on a cold day. In the summer, however, it might fill up with locals and expats even though there are not many tourists that make it there.
Note that you must park the car about a 10-15 minute walk from the baths, so bring a bag with towels and change.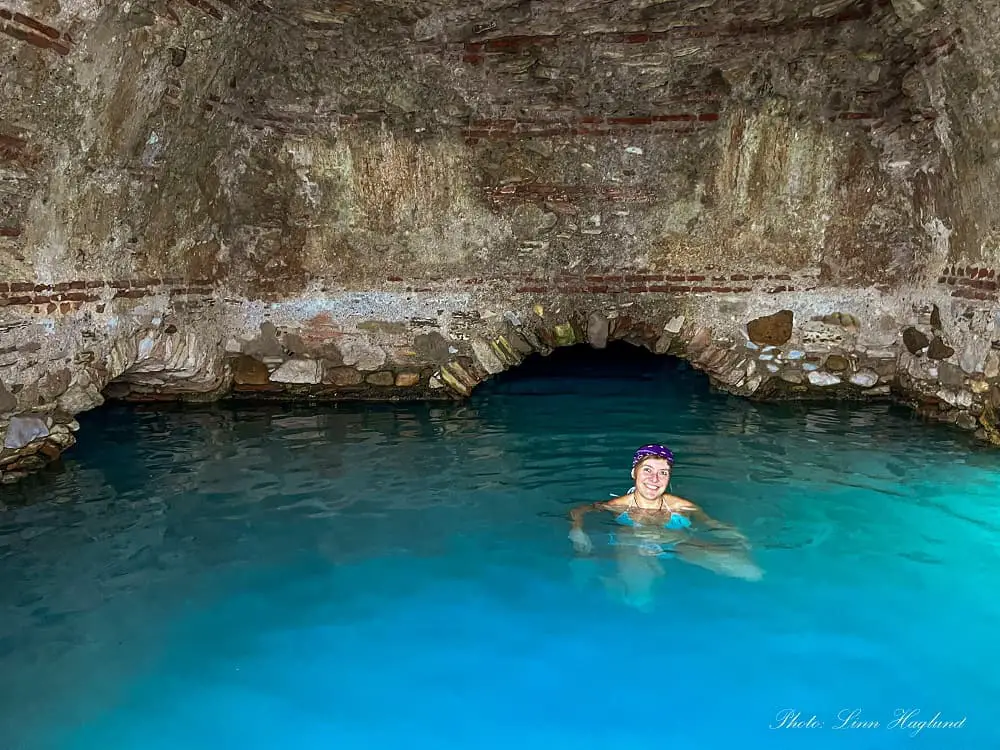 Reflections on Casares, Malaga
There is no doubt, Casares, Malaga is one of the most picturesque places in Andalucia and one of the must-visit towns near Malaga.
There are enough things to do in Casares to spend a couple of days, but if you enjoy hiking, there are a lot of incredible opportunities nearby, especially Canuto de La Utrera.
Happy travels!