Shopping in Fuengirola is pretty good both in the old town and going to the big shopping malls. You find both big brands and unique boutique shops and handmade goods.
Besides Fuengirola's shops and malls, there is a huge market on the fairground twice a week where you can find unique and quirky items as well as great bargains.
There is no secret, shopping is one of the best things to do in Fuengirola and there is no need to go to Malaga or Marbella for shopping to find what you need. That said, if you want to go on a day trip from Fuengirola, there is great shopping there too.
Read on to explore the best Fuengirola shopping places so you can get out and look for some cool new stash.
Disclosure: This post may contain affiliate links. That means that if you make a purchase through one of those links, I will get a small commission at no extra cost to you.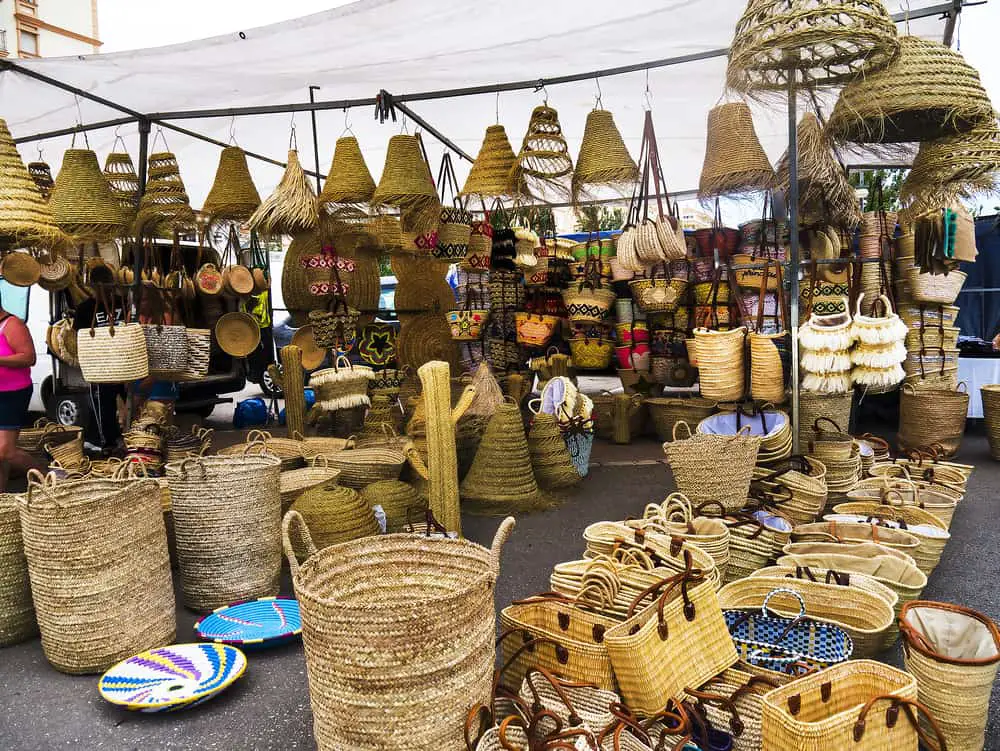 Where to go shopping in Fuengirola
Old Town
One of the best areas to go shopping in Fuengirola Spain is in the old town around Plaza de La Constitución. There you will find exclusive boutique shops, high-end clothes, and famous brands like Zara and Pull & Bear.
This is also an area with a lot of jewelry shops, shoe shops, and Chinese shops (they typically sell budget clothing, bags, and accessories.)
The main street passing the square has a range of shops, but you should also venture into the small streets down from the square where you will find some jewels.
This is definitely a great area to go shopping in Fuengirola, Costa del Sol. If you travel there by car, there is an underground parking area below Plaza de La Constitución where you can park easily.
Street parking in the area is usually depending on luck, and in the summer near impossible, so I would just save the hassle and level it there.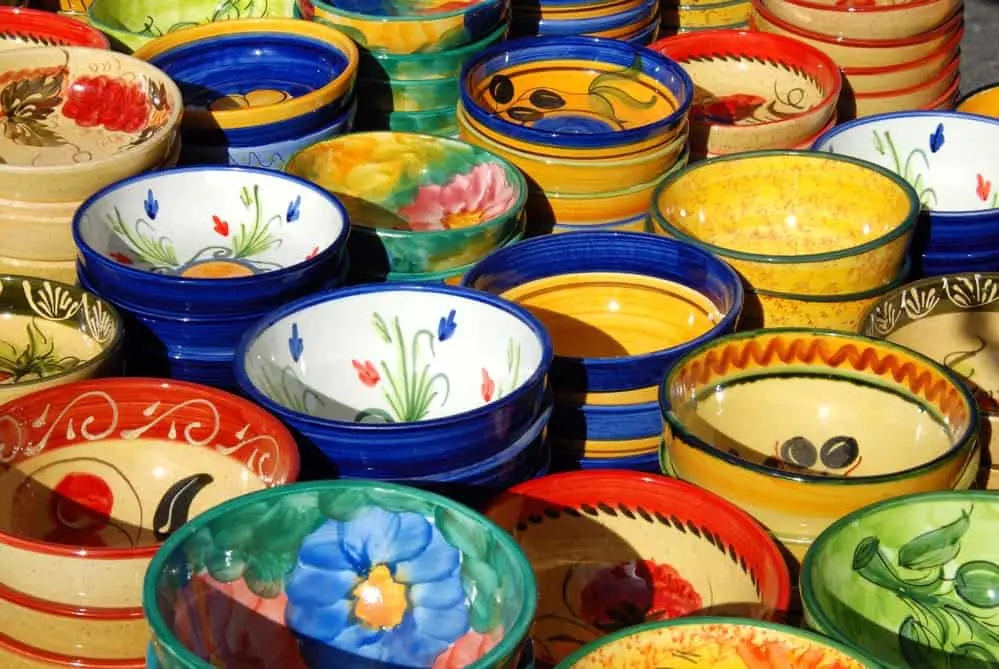 Promenade
Also along the promenade, you find a lot of the best shops in Fuengirola Spain. You typically find beachwear, surf shops, and clothes shops. Fuengirola doesn't lack Chinese shops either, which you will basically find anywhere, the promenade being no exception.
This is a lovely place to go shopping when you need a break from soaking in the sun at the beaches in Fuengirola or want to walk off the lunch at one of the restaurants along the promenade.
FUN ACTIVITIES IN FUENGIROLA
Miramar shopping mall
If you're looking for a shopping center, Fuengirola has a couple of great ones, Miramar being the top choice and visited by people across Andalucia.
It is said to be the biggest shopping mall on Costa del Sol, I'm not quite sure, but they do have a whole lot of awesome shops. You can browse well-known brands like H&M, Pull & Bear, Zara, and Primark which is one of the best places for budget-conscious shoppers.
Besides, they have jewelry stores, Natura, cool accessory stores like Tiger, and phones and accessories in one of the phone shops.
When you need a break, there is an abundance of cafés and restaurants in the shopping mall. Fuengirola's cinema is also on the second floor and on the rooftop, you can take a break with an exhilarating round of GoKart.
Outside, there are always taxis waiting to take you and your shopping bags back to the hotel.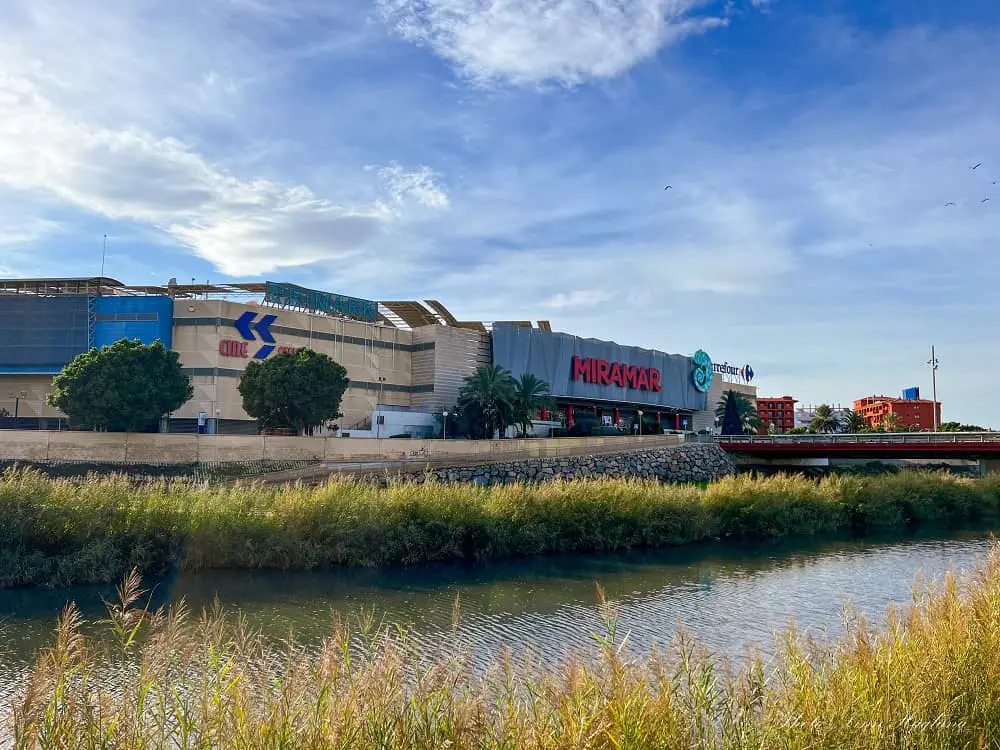 El Corte Ingles
If shopping at Miramar Fuengirola wasn't enough, it is not too far from El Corte Ingles. The famous mall is found all across the country and boasts high-end clothing brands, accessories, home decor, perfumes, and electronics.
There are several floors filled with excitement for the shopping enthusiast and if you are looking for a fancy dress or a new camera, this is a great place to go shopping in Fuengirola.
Flea Markets
If you prefer to browse the local flea markets for quirky bargains, make sure you head to the fairground where the Feria de Fuengirola is held on Tuesday and Saturday mornings.
There, you will find anything from second-hand clothes to antiques. There is a big chance you will find something you haven't seen anywhere else.
On Sundays, there is a market near the Piramides Hotel (in the direction of the castle not too far from the mosque.) There, you will typically find handbags, clothes, and pottery.
Make sure you watch your belongings when visiting the flea markets as they are not only a favorite among shoppers but also for pickpockets.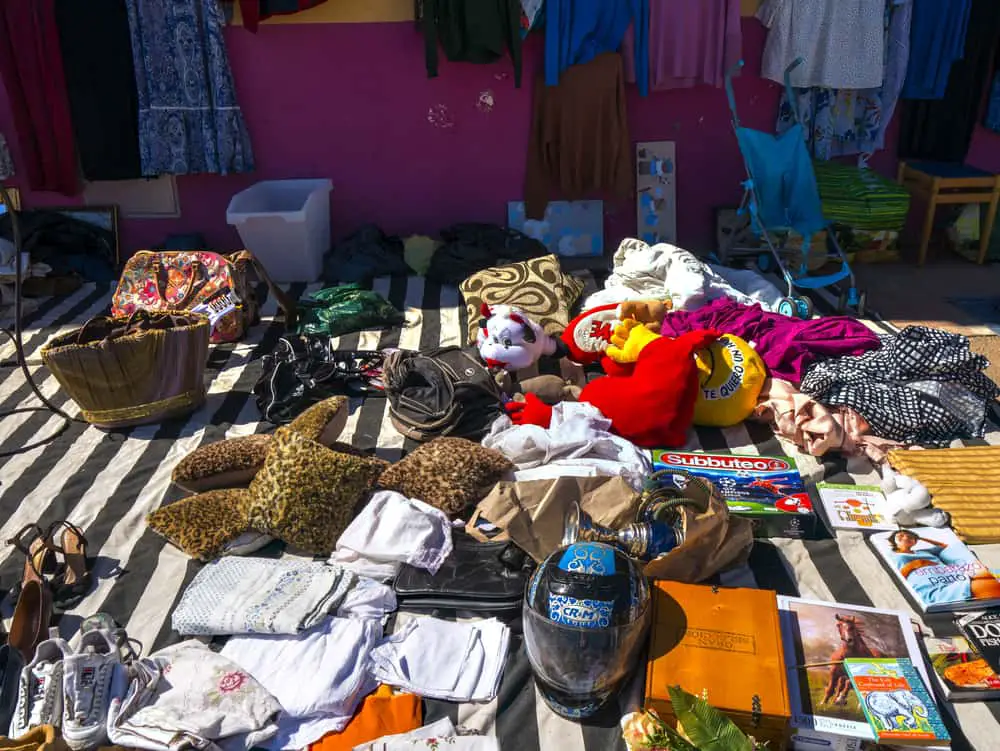 Decathlon
If you're looking for affordable sports attire, tents, bikes, clothes, etc. Decathlon is a great place to go shopping. You find anything you need for running, trail running, hiking, biking, swimming, paddel, football, basketball, you name it.
We use it a lot for getting camping gear, like gas for the gas cooker, camping chairs, tables, headlamps for our hiking adventures, and day packs.
Reflections on Fuengirola shopping
As you can tell, there is a lot of great shopping in Fuengirola and I'm sure you will have a great time browsing all the Fuengirola clothes shops, accessory shops, malls, and markets.
For being such a small place, Fuengirola shopping is pretty darn awesome, so I'm sure you'll have a fun time walking around.