Situated in the middle of Costa del Sol, Fuengirola is one of the most popular tourist and ex-pat towns in Malaga. Boasting a long line of beaches and a backdrop of mountains, it's not hard to understand why.
If you're headed there, you're probably wondering what to do in Fuengirola on your holiday to start planning your trip. Lucky for you, I've been based in this part of Costa del Sol for years which is why I've put together this list of fun things to do in Fuengirola so that you can get started with your planning!
No matter your interests or favorite things to do, Fuengirola will have something for you with vibrant nightlife, buzzing beaches, spectacular hiking routes, and thrilling water sports. On top of that, Malaga is only a 45-minute train ride away! Before you go, make sure you read my guide to one day in Malaga too.
There are also a whole lot of exciting day trips from Fuengirola that you can do when you have explored the town and its surroundings.
Read on to learn more about the best sites and activities in Fuengirola, as I'll touch on a large variety of fun stuff to do in one of the most visited towns in Costa del Sol.
Disclosure: This post may contain affiliate links. That means that if you make a purchase through one of those links, I will get a small commission at no extra cost to you.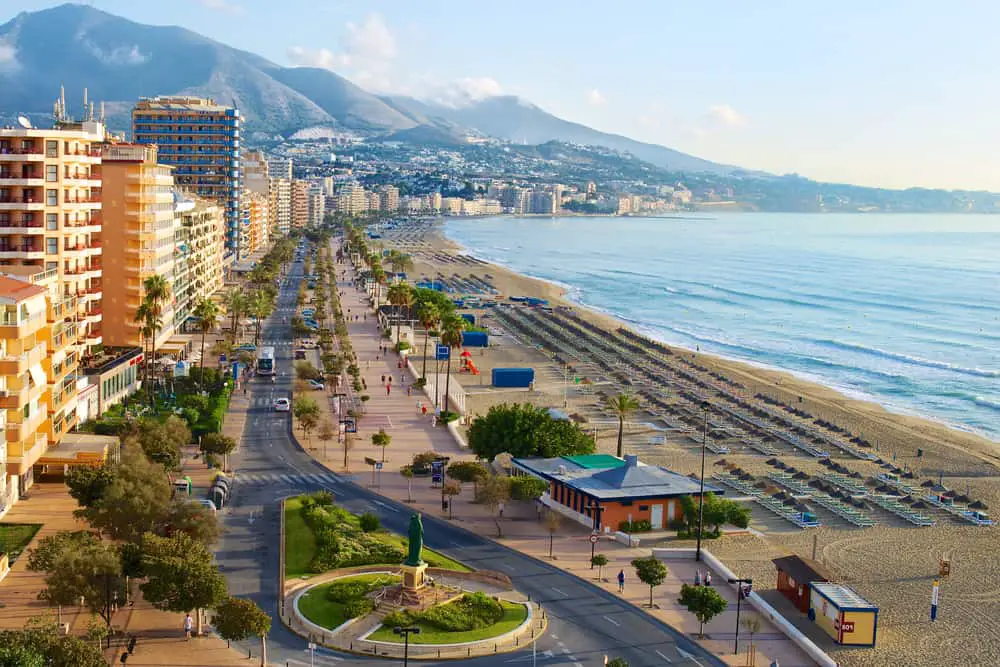 Things to do in Fuengirola
Visit Castillo Sohail
One of the best things to do in Fuengirola is to visit Castillo Soheil at the edge of town. Sitting on a tiny hill overlooking the beach, the remains of the Moorish castle are some of the best castles in Malaga province.
In the year 956, the construction of a citadel started on the site, and later in the 12th century, the structure was reinforced with walls and towers when an Alcazaba was built.
During the reconquest in 1485, the Alcazaba was destroyed and a castle was built in its place. While the Christians weren't the last conquerors of the defensive structure, the reconstruction of the castle you see today is quite similar to the one built back then.
On the slope around the castle, green grass and benches make it a popular park among the locals to walk the dog or go for a picnic. In the summer months, there are also major concerts and music festivals below the castle with a large stage set up.
The site is also the setting for a yearly Medieval Market held every August and other casual markets.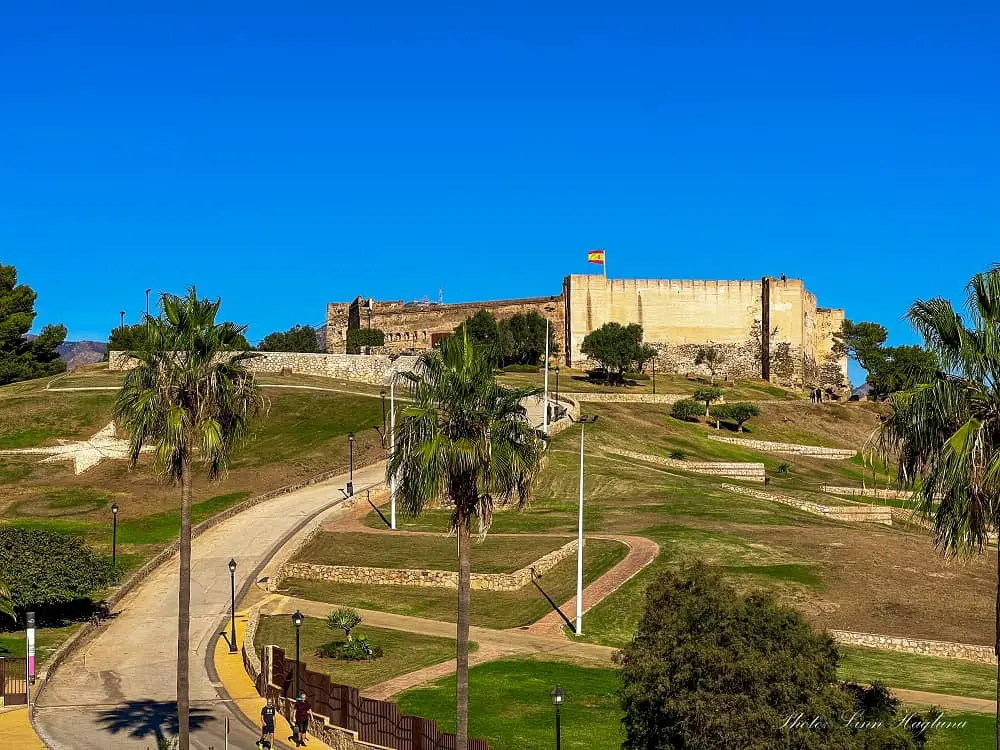 Go on a dolphin safari
In Fuengirola, things to do include an array of water activities. One of the most exciting activities in Fuengirola is going on a dolphin safari.
The most commonly spotted dolphin species on Costa del Sol are the Common Dolphin, the Striped Dolphin, and the Bottle-nosed Dolphin.
I highly recommend a tour on a yacht where you can enjoy snacks and drinks, sunbathe, and snorkel off the boat. Since dolphin sightings are never guaranteed, they are wild animals, after all, it's good to have other exciting activities to do onboard.
CHECK AVAILABILITY FOR YOUR DATES
Have a coffee at Plaza de la Constitucion
One of the most beautiful squares in Fuengirola is Plaza de la Constitucion. Lined with trees and benches it has a cute church on one side and a few restaurants and cafés on the other side.
This is a wonderful place to enjoy a coffee or grab a quick bite to eat when you need a break from exploring all the Fuengirola tourist attractions.
The square is also sitting next to the shopping street where you'll find clothing stores like Zara and Mango lined up.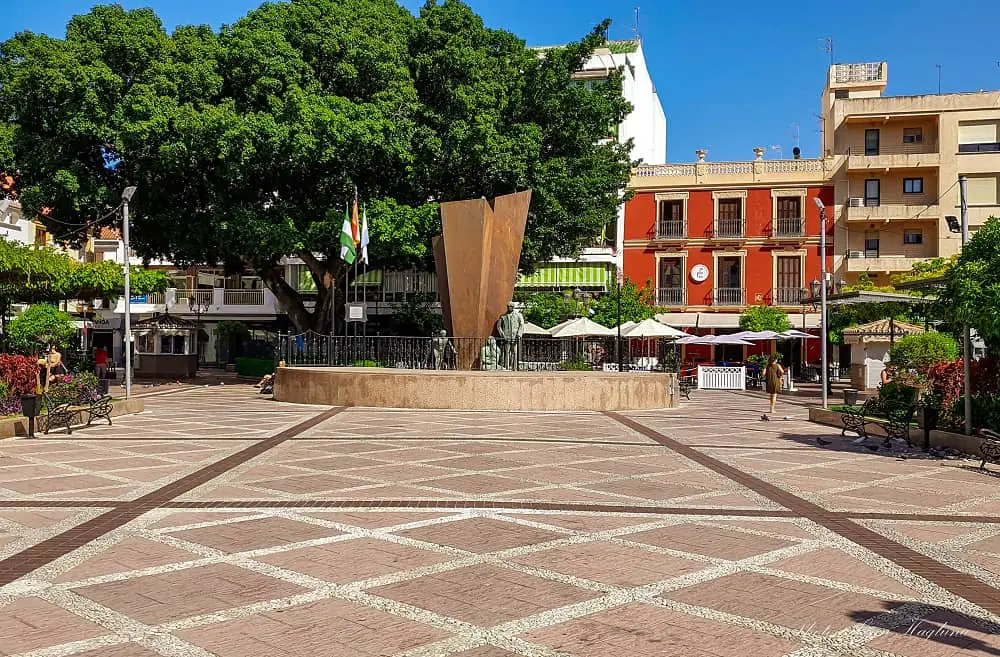 Stroll along the promenade
A stroll along the promenade is one of the top things to do in Fuengirola all year round. In the summer months, the early mornings and the evenings from sunset and onwards are the best times due to the heat. However, expect it to be crowded as one of the most popular tourist destinations in Andalucia.
Throughout the winter months, on the other hand, it's a lot more peaceful and it's a wonderful way to soak in that winter sun and fresh sea breeze while being in activity.
There are plenty of bars and restaurants along the promenade if you want to take a break to refuel. Or you can go shopping in any of the small shops.
The promenade stretches for 8 kilometers from Castillo Sohail and all the way to Carvajal, so you can see a whole lot of coastline if you're up for it.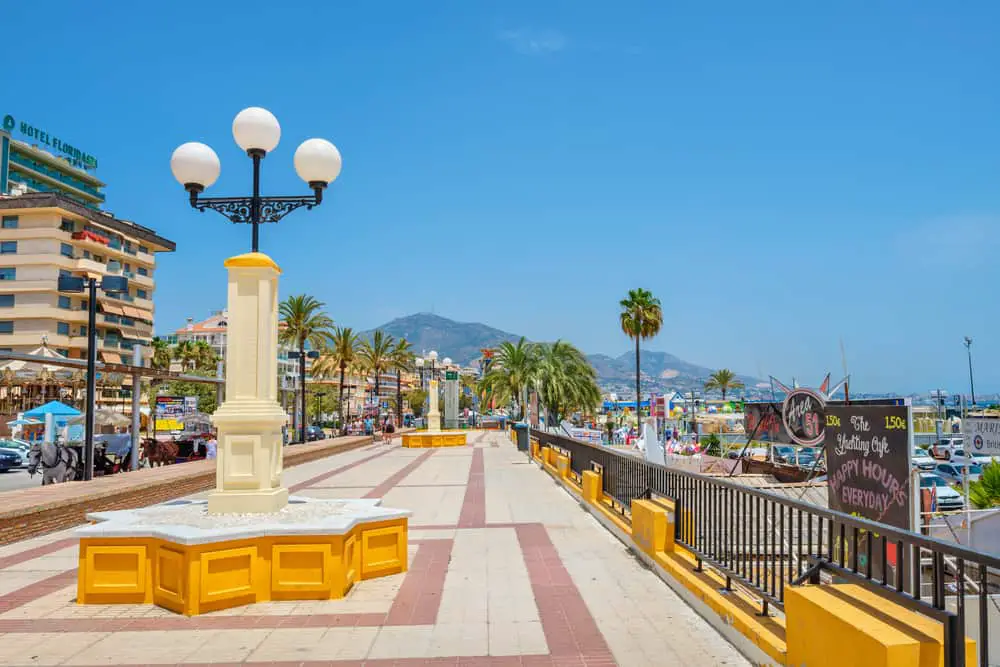 Have a drink at a chiringuito at sunset
Fuengirola Beach at sunset is truly magical and in my opinion, the best time for a drink in any of the chiringuitos (beach bars) is exactly at sunset.
There is something serene about this time of the day when the beach slowly empties except for a few locals playing beach volleyball into the late hours and a couple of groups of friends going for an evening bath after ending the work day.
As the horizon changes color from blue to yellow, orange, and pink there's this small break in a busy summer day before the craziness of Fuengirola's nightlife sets in.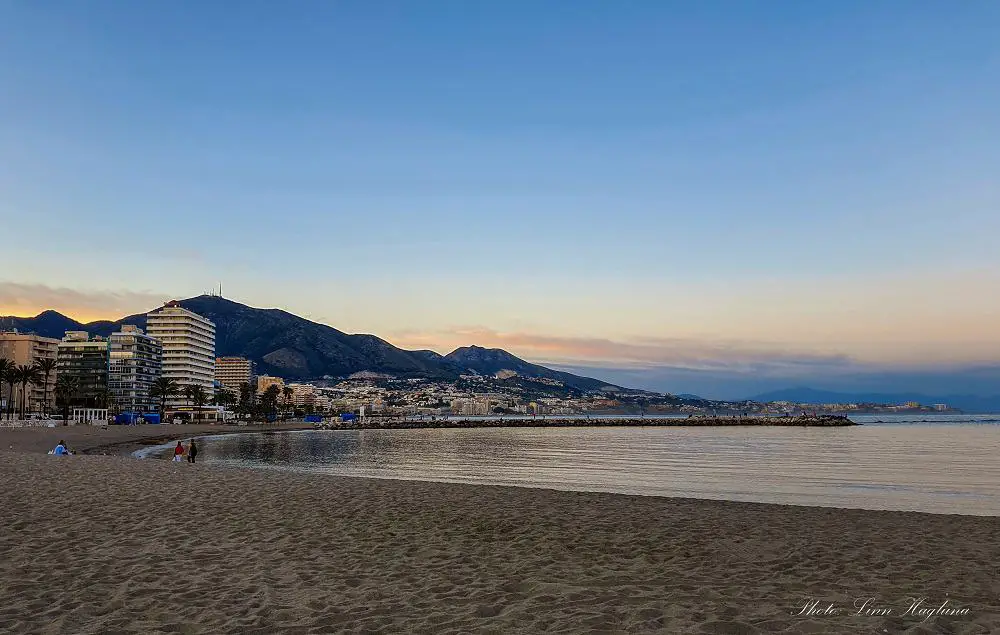 Finca del Secretario
You might not expect that among what to see in Fuengirola there are ancient Roman ruins dating back to between the 1st and the 4th century AD.
Among the remains, you find an ancient Roman salting factory, Roman baths, and a Roman villa.
Finca del Secretario wasn't discovered until 1987, but now you can visit the archaeological remains for free. The site is open every day between 10:00-22:00 in winter and 10:00-24:00 in the summer.
The interpretation center has shorter opening hours, but you can read information signs by the different remains.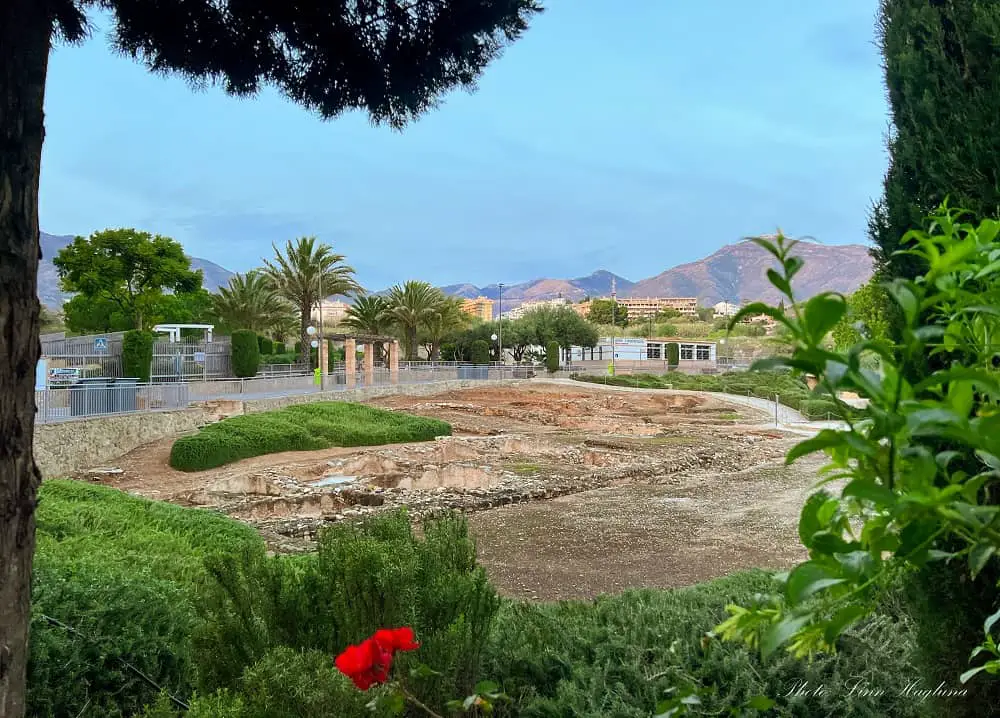 Take the Hop on Hop off train
An efficient way to see the top attractions in Fuengirola, especially if you travel with kids, is to get on the hop-on hop-off train that departs from Plaza Teresa Zabell near the marina.
The main stops are the Roman ruins, the Feria ground, Bioparc, and the Miramar shopping mall close to Sohail Castle and you can hop on and off as many times as you want. Included in the tour is an audio guide that is offered in 7 different languages.
The trains run from 10:30 in the morning and the frequency depends on the season, so it will run often in the summer and less in the winter.
Get your tickets in advance here.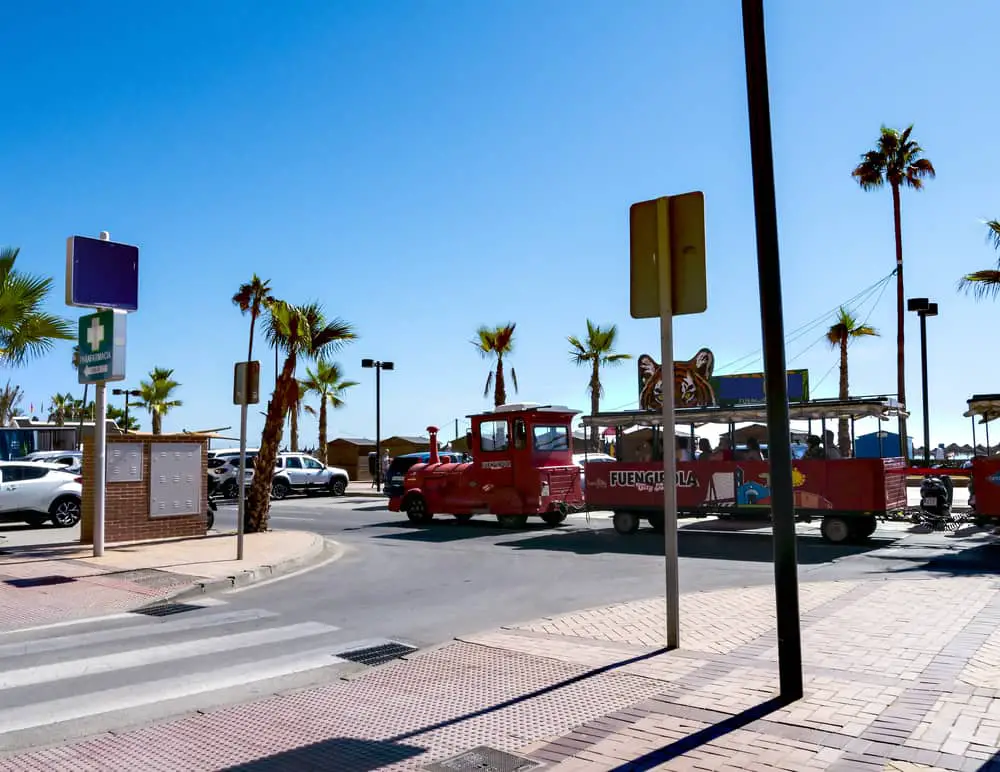 Shop til you drop at Miramar shopping mall
If you're looking for excellent shopping, Miramar Shopping Mall is the place to be. You basically find some of the best shopping in Fuengirola in one place. People from all over Andalucia head to Fuengirola just to go shopping there.
Even travelers from Morocco across the pond travel to Miramar just for the shopping. You find all the most popular clothing stores like Zara, Pull & Bear, H&M, Bershka, and Primark in one place. On top of that, you find jewelry and electronics, and multiple sports stores.
Especially if you travel in winter in Costa del Sol and you catch a day of rain, it's perfect to wander inside the mall.
The mall has plenty of cafés and restaurants to fuel you up when you need a break and you can always round off the day with a movie at the cinema on the top floor.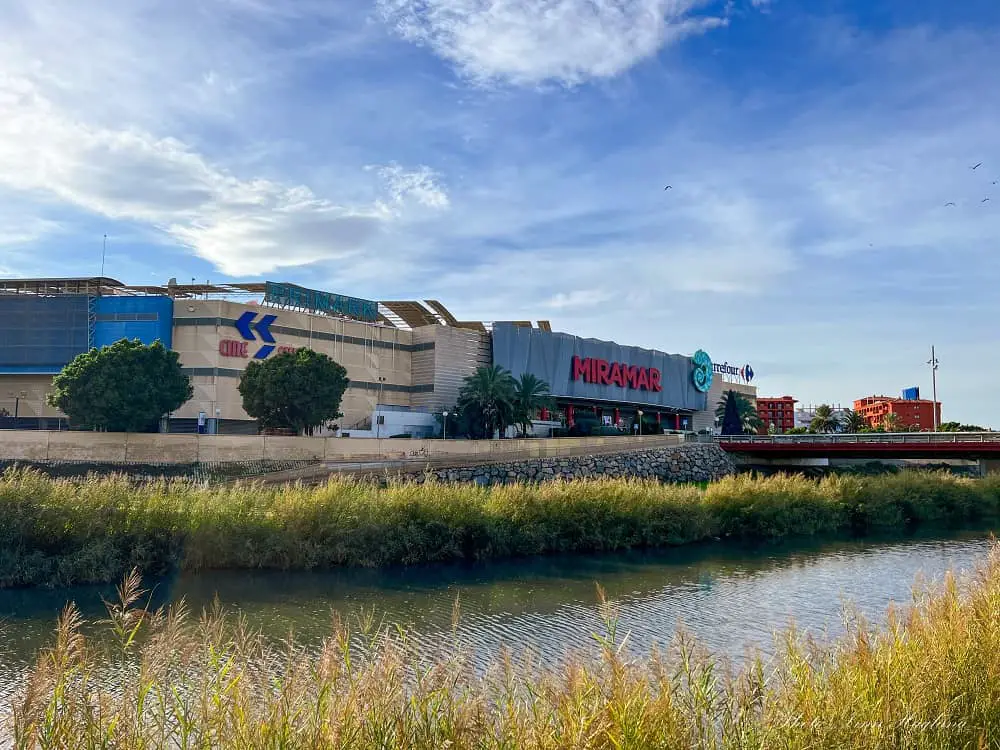 Take in vitamin D at the beach
One of the best things to do in Fuengirola is surely to relax at the beach and even in the winter months, a sunny day without any wind invites for a lovely beach day where you can work on your tan line.
There are several beaches to choose from. You can hang out at the dog beach past the castle with your pooch or find a spot along the 7 kilometers of sandy beaches that all belong to Fuengirola. The more central, the more you find restaurants and bars.
That said, all of Fuengirola's beaches, apart from the dog beach, are safe bathing beaches with lifeguards, showers, and toilets in the summer.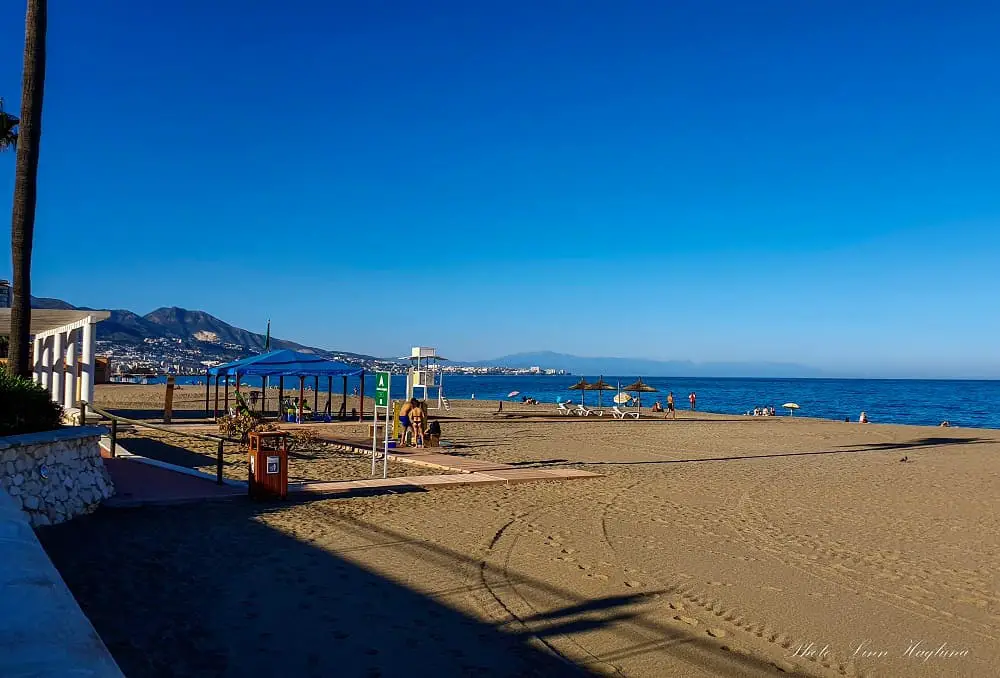 Enjoy the views from Espigon Pier
Past the marina, you can enjoy a walk on the Espigon Pier where the locals try their luck in catching a fish for dinner. It's a nice way to see the coast from the water end without getting on a boat or venturing out on a paddleboard.
It's particularly beautiful at sunset when the sky turns pink on the horizon and behind the attractive Sierra de Mijas mountain range behind the town.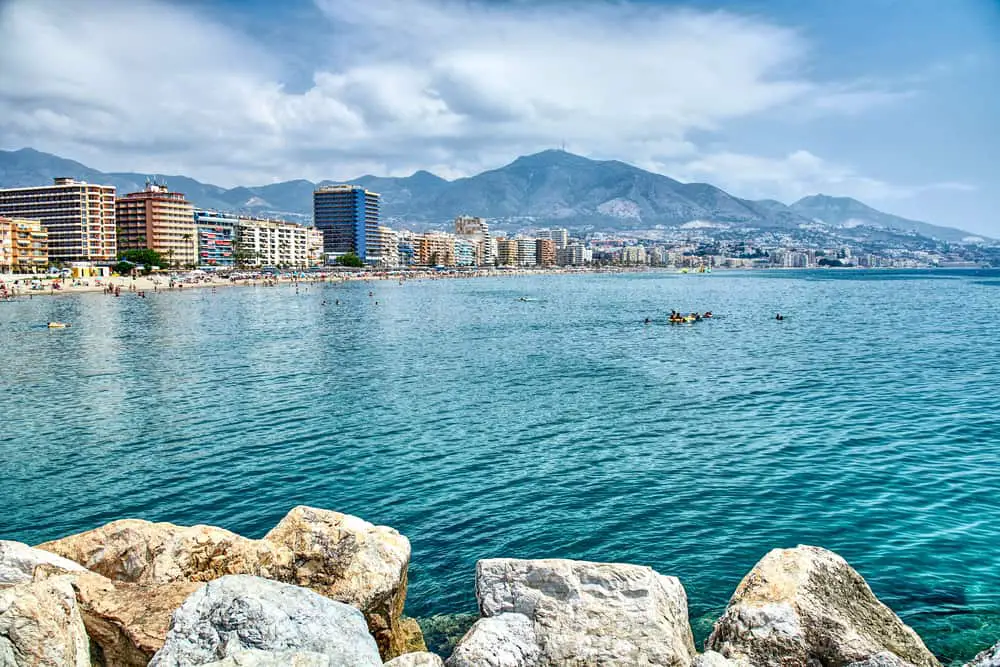 Cross the Puente de la Armada
Walking the esplanade towards the castle you will eventually come across the Puente de la Armada. The modern, white pedestrian bridge crosses the Fuengirola River in picturesque surroundings.
Across the river you see Sohail Castle looming on the hilltop above the coast and the golden beaches on the coastline are elegantly divided by the river flowing out into the sea.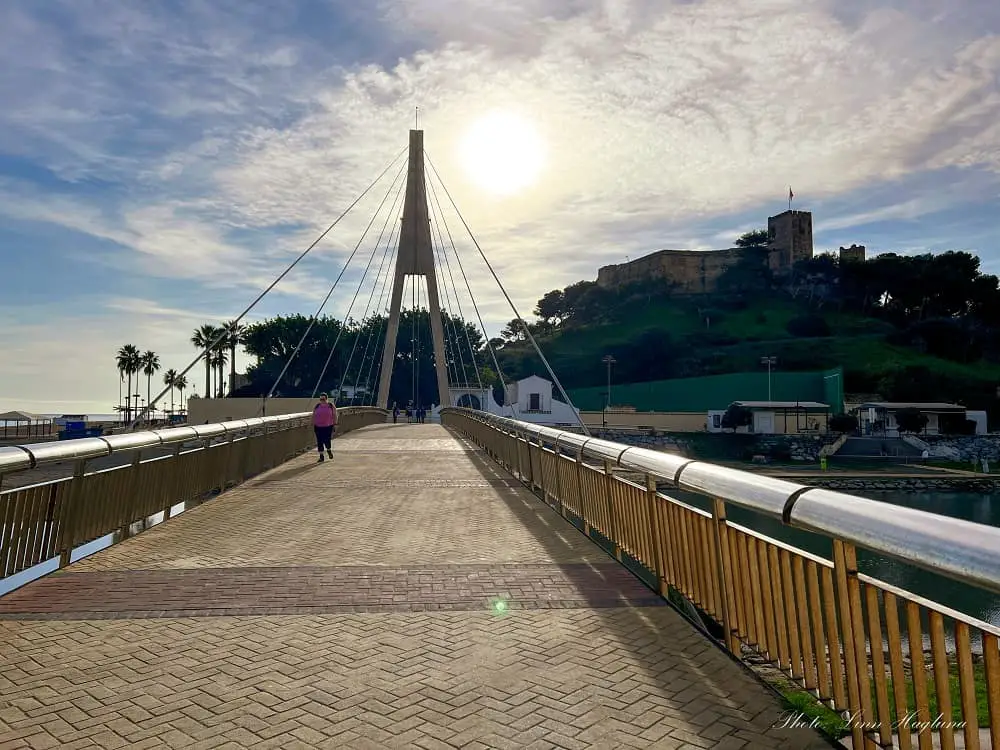 Have tapas at Plaza Chinorros
One of Fuengirola's most quaint squares is Plaza Chinorros. Right behind the post office and close to Plaza de la Constitución, you reach this vibrant corner full of lovely restaurants and bars.
If you are looking for tapas and wine, this is the place to be and it makes for the perfect spot to warm up with some food and light drinks before a night out as it is within walking distance to the most popular bars and nightclubs in town.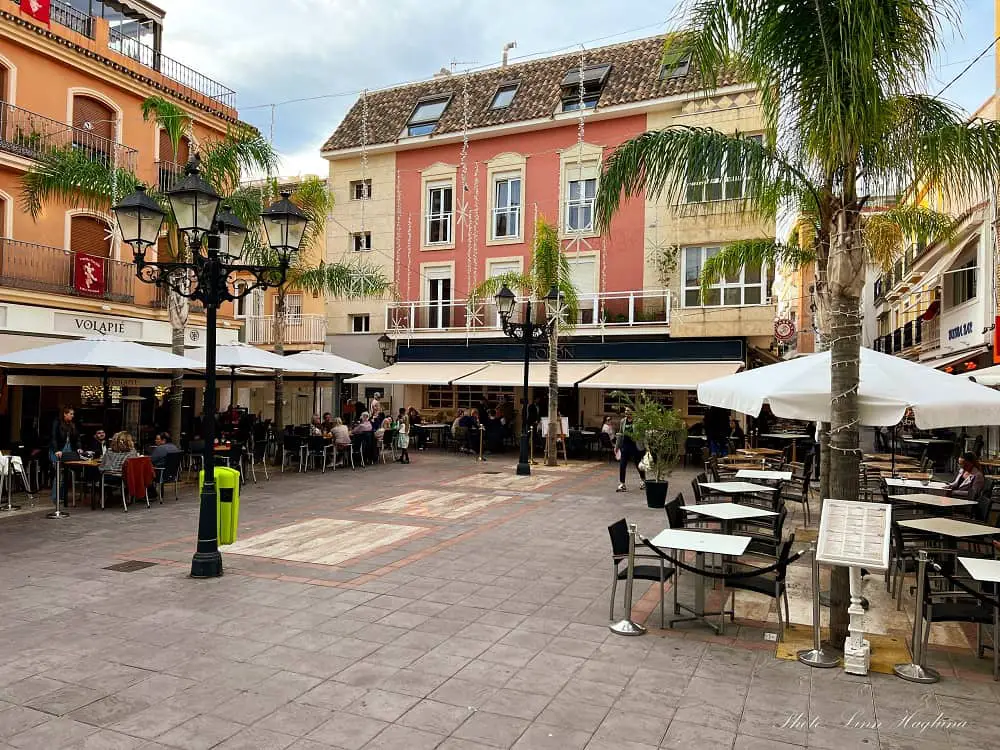 Play mini golf
If you're still wondering what to do in Fuengirola Spain, head to the minigolf near Miramar in Mijas. There you can have fun for a few rounds with family or friends.
They have a cute little bar where you can enjoy a round of drinks before or after your game.
Playing mini golf is one of the best things to do in Fuengirola with kids for sure and a great way to stay active while bonding and having a good laugh.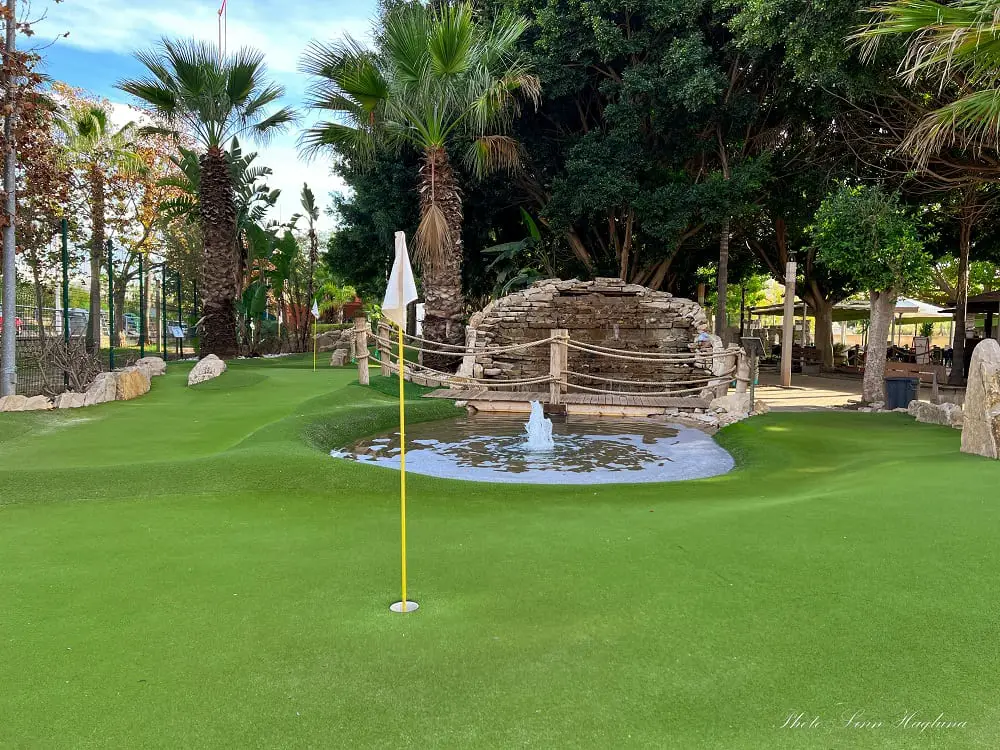 Go for a thrilling round of Go kart
One of the most surprising things to do in Fuengirola is to head up to the roof of the Miramar shopping center. Among other things, you'll find a go-kart track where you can enjoy a few rounds of reckless driving.
This is a fun activity for the whole family and a nice break from shopping, sightseeing, and the beach which are the main activities people think of when they go to Fuengirola.
There is also a café and children's rides for the youngest on the roof.
Stroll around the neighborhood of Los Boliches
Los Boliches is without a doubt my favorite neighborhood in Fuengirola. Its traditionally tiled houses, narrow streets, and cute squares make it unique compared to the rest of Fuengirola.
Besides, Los Boliches is jam-packed with lovely restaurants and tapas bars so the foodies will have a wonderful time discovering local and international cuisine in this area of town.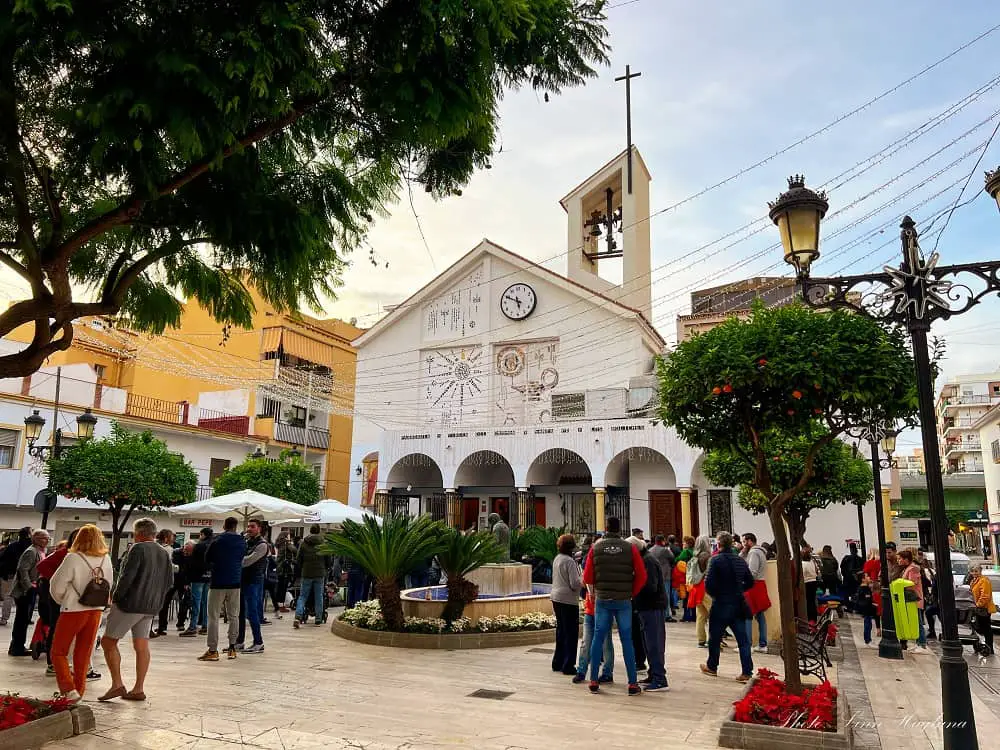 Take the kids to Sould Park
By the port, you find a great little park with rides for children of different ages. If you travel with kids, this is among the best things to do Fuengirola has to offer.
For only a few Euros, you can get tickets for your kids to take different rides and play fun games that will keep them busy and burn some energy so that you can enjoy a relaxing evening later on.
There is also a café where you can sit and relax while the older children enjoy the park.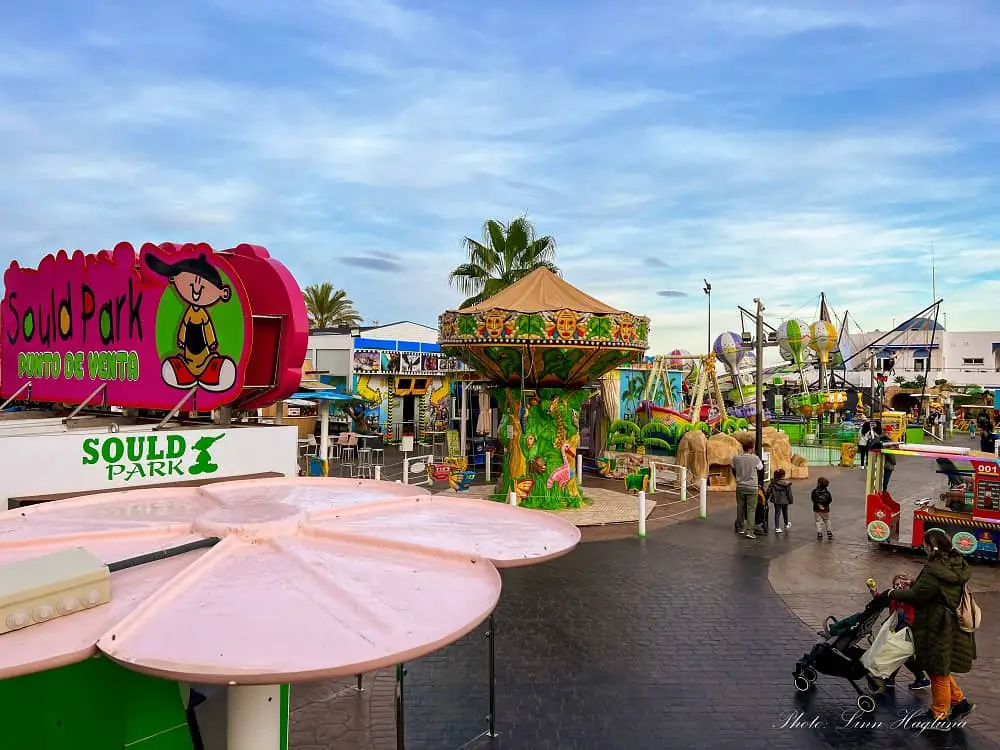 Have lunch in the La Galería
For a lovely lunch spot centrally in Fuengirola, head to La Galería, an epic food market near Plaza de la Constitución. There are multiple food choices from different restaurants in Fuengirola.
Order from your favorite and sit together and eat at one table. Perfect for traveling with friends or family when you all want different food.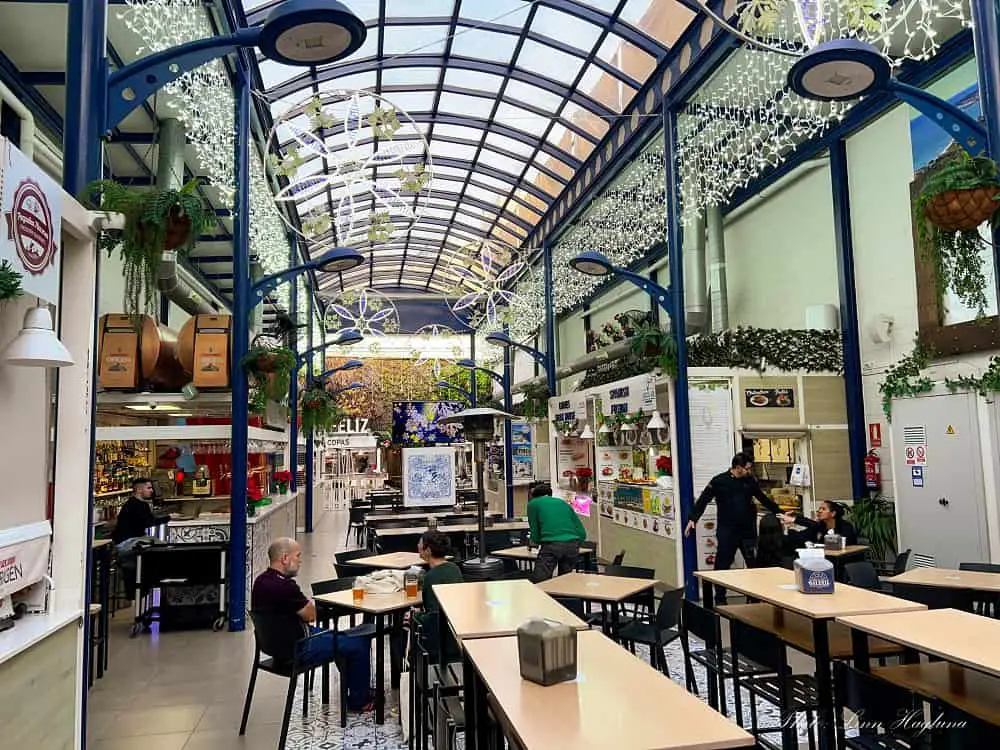 Explore the coast by paddleboard
In Fuengirola, activities in the water like paddleboarding are popular and you can rent in several places along the coast. Fuengirola usually sees calm waters and is safe even for beginners.
This is a great family activity in Fuengirola and a great way to soak in the sun for anyone who gets restless laying on the beach (I can't be the only one?)
On the port, you can even book tours with an instructor if you feel safer while you get used to the board.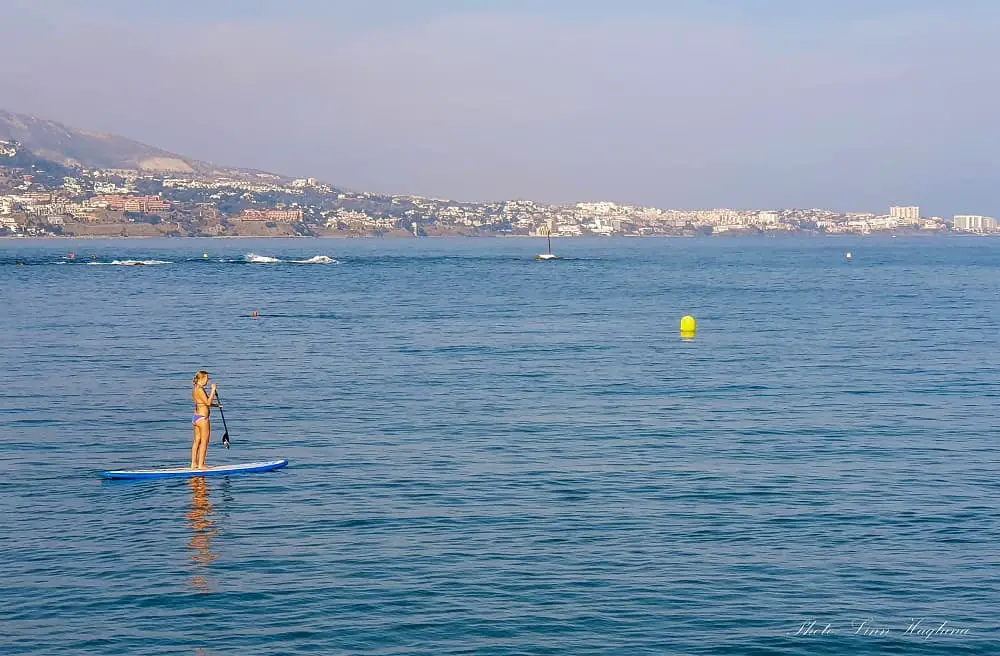 Party your heart out at Feria de Los Pueblos
One of the absolute most fun ferias in Spain is Feria de Los Pueblos in Fuengirola. Every May, the Feria Ground turns into an international party.
Different countries take up the different Feria houses which means you can travel the world in a night by experiencing traditional music, dance, clothes, food, and drinks from all the different countries represented.
There are usually some awesome concerts in some of the casetas too that I would gladly have paid to see, but at the Feria, you get it all for free! Except for the food and drinks, of course.
If yo manage to time your visit to Fuengirola with Feria de Los Pueblos, I highly recommend it. This party is like no other in Spain (and I've been to quite a bit of them!)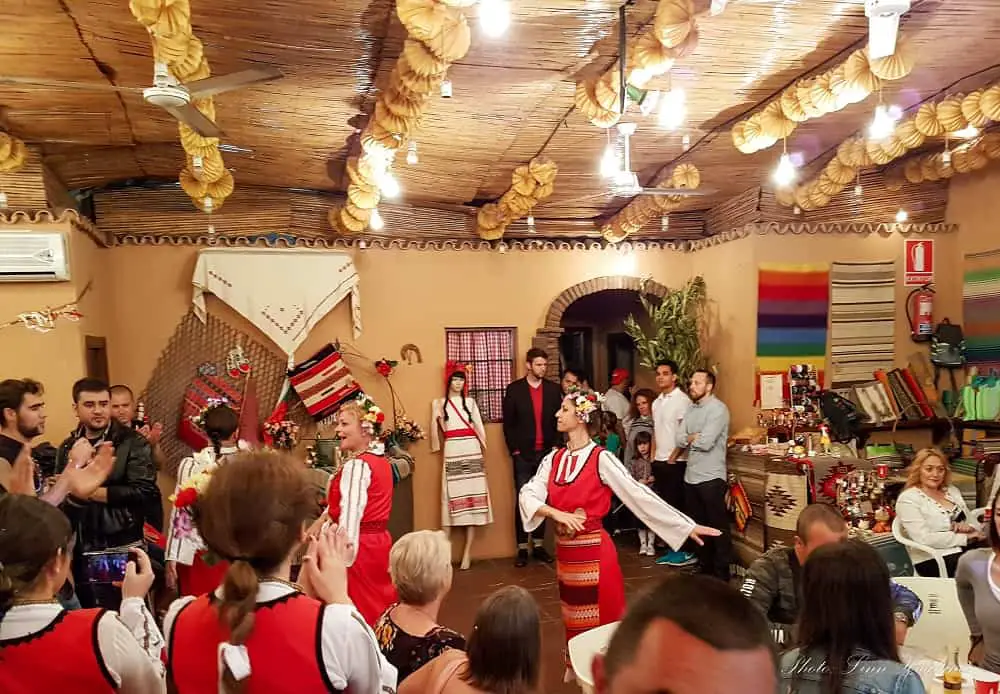 Go hiking in the Sierra
Fuengirola is only a short distance from endless hiking routes in Sierra de Mijas and Benalmádena as well as Sierra Blanca above Marbella.
You find all difficulty levels, but be aware that the mountains are steep so you will be well off with a basic fitness level to enjoy it.
What I love about the hiking routes behind Fuengirola are the coastal views on one side and the endless, rolling mountains on the other side.
Among my favorite mountain tops are Pico Castillejo, Pico Puerto Malaga, and Pico de Mijas in Sierra de Mijas. You can easily reach these trails by taking the bus to Mijas Pueblo.
In Sierra Blanca, it's La Concha and Cruz de Juanar that offer the best views, but to get there, you'll need a car and drive to Refugio de Juanar.
Note that the hikes in the coastal mountains are for the Andalucia winter season only. In the summer it's too hot, so I rather recommend getting a rental car and explore refreshing river hikes like Rio Verde in Istán or Otívar, and epic gorge river hikes like Rio Chillar and Rio Higueron in Nerja.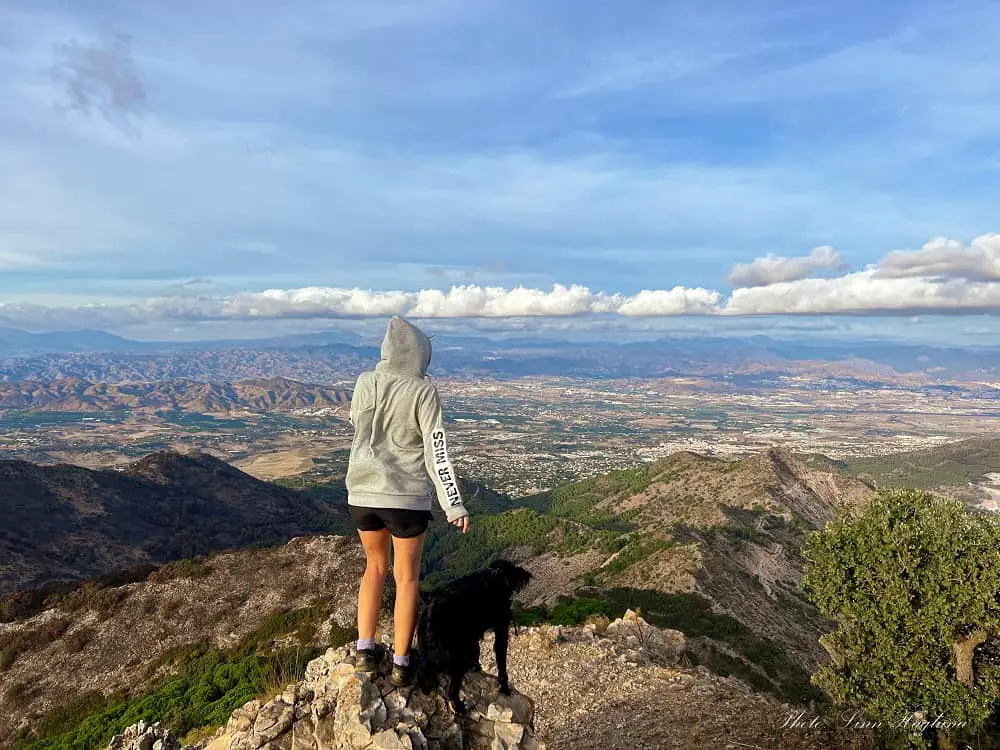 Have vegan doughnuts at Vegabonty
If you're up for a vegan sweet fix, there is no better place than the vegan bakery, Vegabonty! With so many choices in makes, cookies, and doughnuts, you might just purchase half the bakery.
I know I always come out with more than double of what I had first planned every time I step foot in there.
Among my favorites are the Lotus doughnuts and the cinnamon buns, but I usually come out with one or two pieces of cake too and they never disappoint.
Note that they are closed on Monday and Tuesday, but you can keep updated on their Facebook page.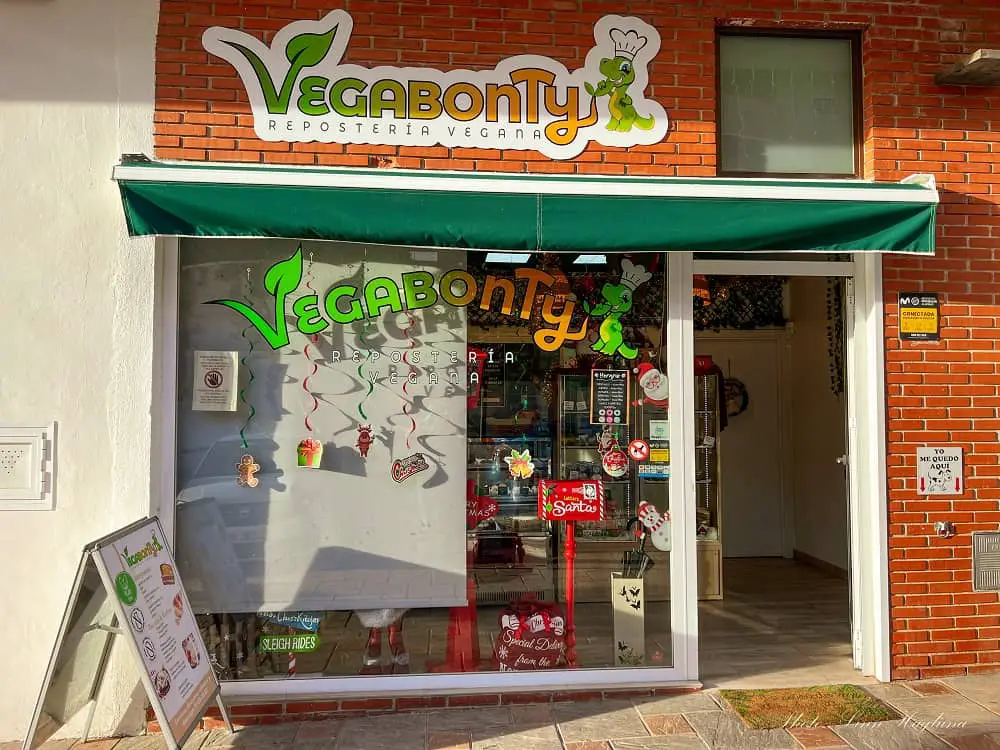 See the views from Mijas Pueblo
Mijas Pueblo is one of the best places to visit near Fuengirola, especially for the views. The quaint hillside village is one of the most stunning villages in Costa del Sol and there are surprisingly many things to do in Mijas Pueblo.
Epic viewpoints line the whitewashed village and narrow cobblestoned streets connect enchanting squares as they weave through white houses decorated in colorful pot plants.
While many restaurants are set with epic views, these are not always the best if you're looking for good food. Personally, I find most of them to be horrific tourist traps that I would never return to. However, there are a lot of amazing places to eat without a view.
Spending the evening in Mijas Pueblo can often surprise you with a random village fair or market, especially in the summer months and around Christmas.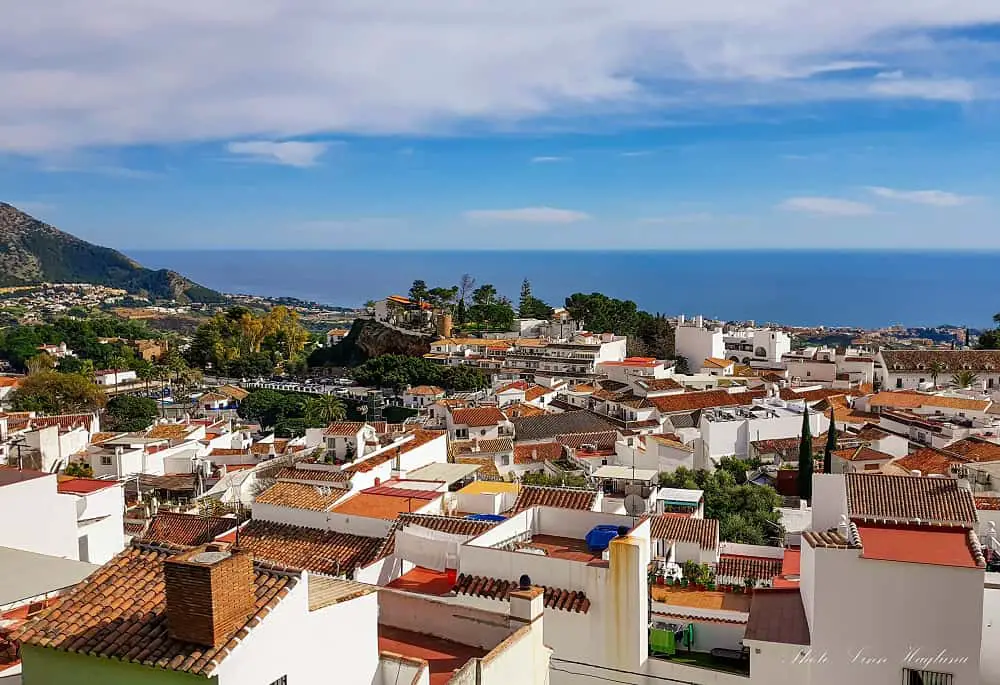 Party at Feria de Fuengirola
If you happen to be in Fuengirola in October, you might be lucky and catch the Feria de Fuengirola which is the yearly fair of Fuengirola town.
Music and drinks accompanied by locals dressed up in Flamenco dresses and tourists dancing their hearts out is an experience of a lifetime.
It is set at the Feria ground where there is also a fairground where the children will have a lot of fun.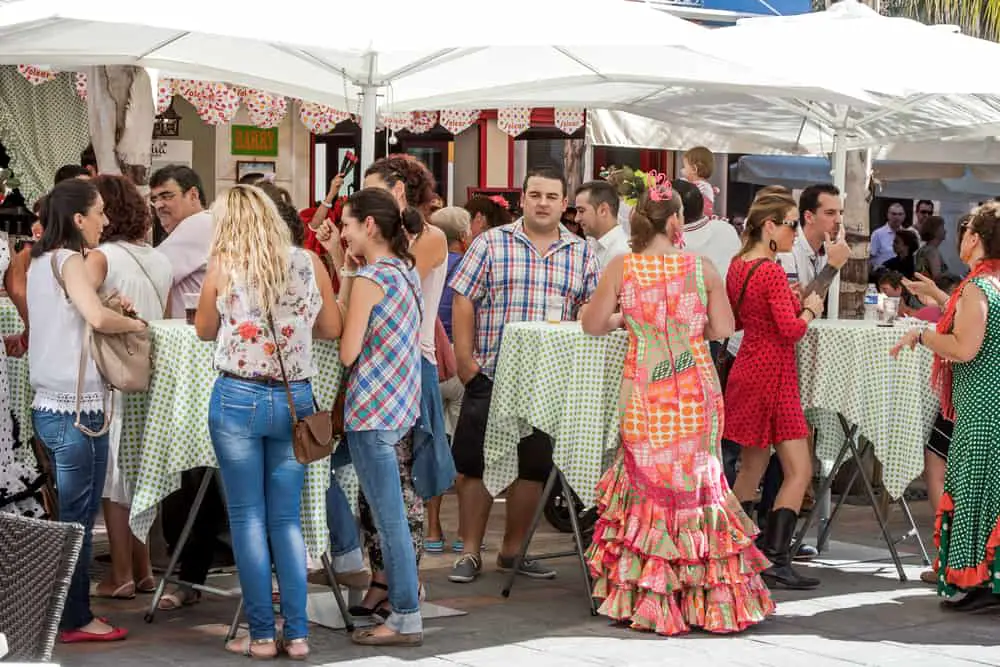 Walk El Caminito del Rey
One of the fun things to do in Fuengirola is to head to El Chorro and hike El Caminito del Rey. But this is not for the faint-hearted. The path is pinned on the mountain wall with up to 100 meters straight down to the canyon floor. I can easily say that this is among the best day trips from Fuengirola!
The walk is only a couple of hours one way and you must take a shuttle bus the other way around. Coming from fuengirola, I suggest taking a tour if you don't have a car.
This tour is excellent with pick up in Fuengirola and a guide included.
If you drive, yourself, you must purchase tickets in advance and I recommend parking by El Kiosko where the hike starts and take the bus back.
The walk to the checkpoint takes between 20 and 50 minutes depending on the trail you pick. There you will get a helmet and a security brief, even if you choose not to book a guide. You can book your ticket here.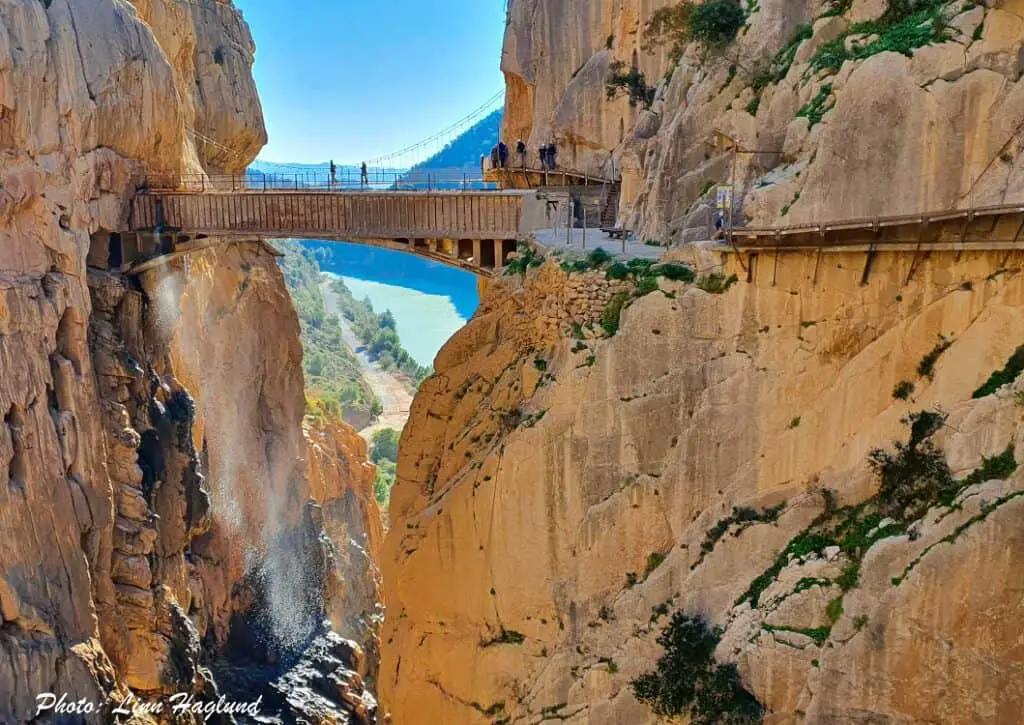 Visit the fairytale Colomares Castle
One of the most impressive places to visit near Fuengirola is the monument of Colomares Castle. Being one of the most beautiful castles in Malaga, it's situated on the hillside of Benalmadena only a few minutes drive from Fuengirola.
With its fairytale features, Colomares Castle was built to commemorate Christopher Columbus and the discovery of the "New World".
You can walk around the gardens and climb the balconies of this incredibly detailed castle. It also features the three ships that Christopher Columbus used in his sailings.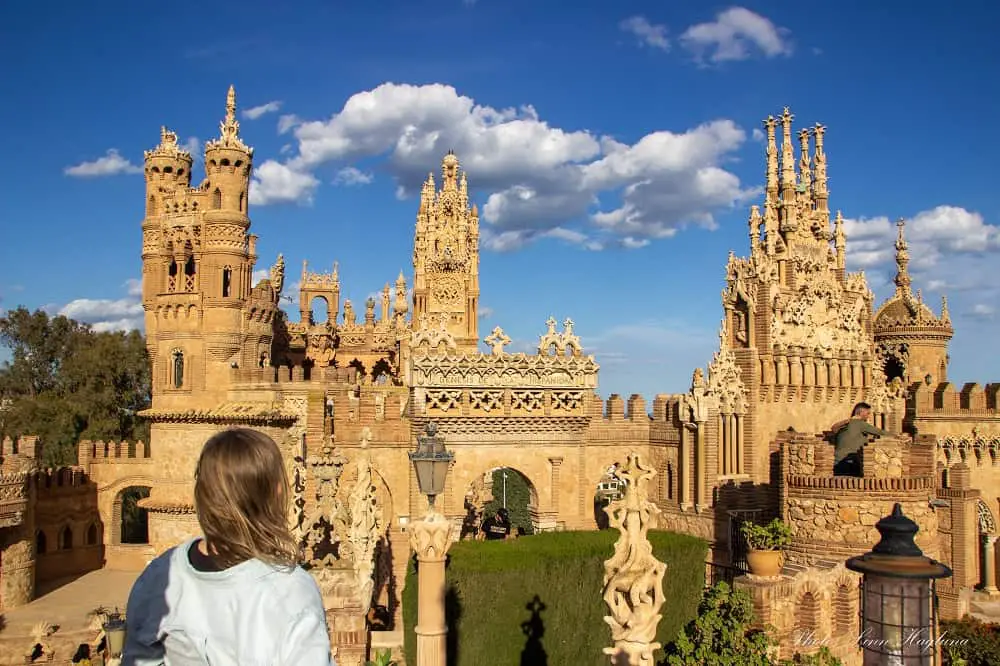 Have lunch at La Libelula
If you wonder where to have lunch, head to one of the absolute best vegan restaurants in Fuengirola, loved by the locals, no matter if they are meat eaters, vegetarians, or vegans.
This homely restaurant offers homemade eco food, supporting local farmers and businesses. Every month, they offer a "tapa del dia" (tapas of the day) that you must pay cash (2 Euros) and 100% of the money go to a charity for animal welfare which they change each month.
I have been a regular at La Libelula for years and love their spirit and the way they constantly work on making a better impact on the environment, the animals, and the local businesses.
My favorites: The seitan kebab and the Banoffee Pie for dessert! (plus I always order the "tapa del dia" to support the chosen animal charity.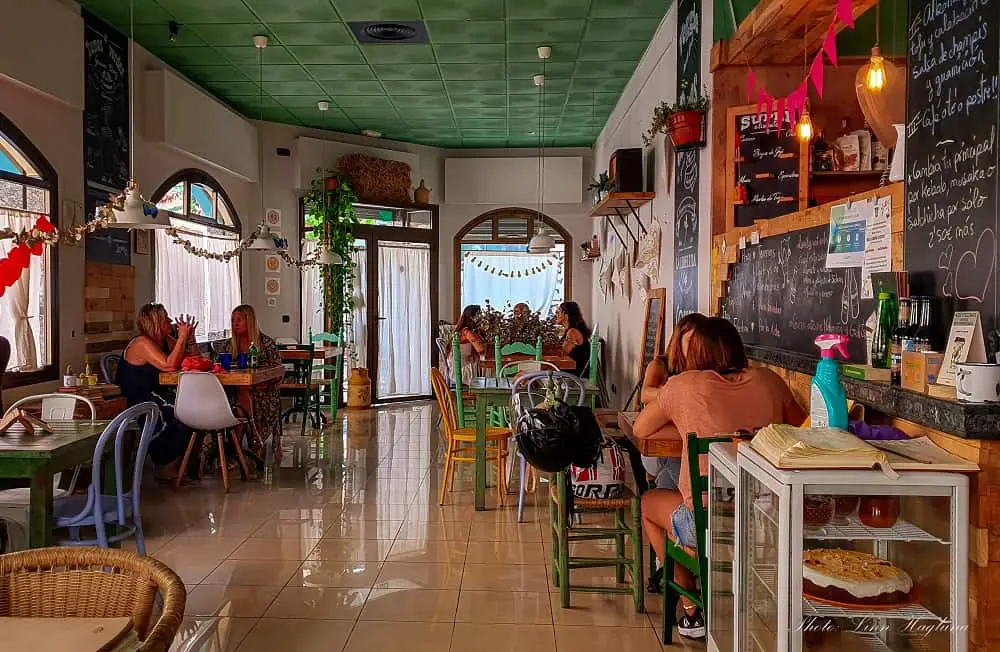 Get wet at AquaMijas
Especially if you travel with kids, AquaMijas is a must visit and one of the most thrilling activities in Fuengirola. With multiple water slides, pools, wave pools, and jacuzzis for all ages, you will not get bored.
A favorite among the young ones is Lizard Island which is filled with fun and water games.
This is a great break from the beach and they have several food stalls with different kinds of food and snack so you won't go hungry!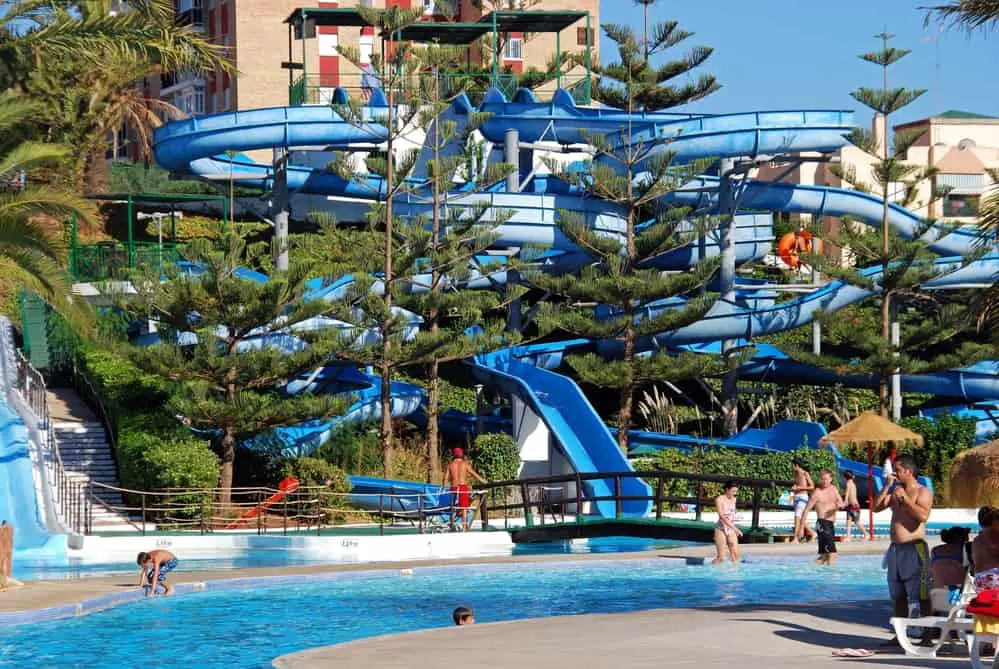 Go on a boat trip
So, it's a hot summer day in Fuengirola. What to do other than chilling on the beach, you might think? One of my favorite things to do in Fuengirola in the summer is to take a boat trip.
You can either go dolphin watching, or go on a sunset cruise. Most boat tours going from Fuengirola include drinks or you can bring your own drinks.
This is a wonderful way to explore the water, and get some fresh air to cool down on a hot day. But don't forget sunscreen! Even in the winter months, the sun is fierce, especially if you haven't had much sun on your skin for a while.
Go scuba diving
Not all Fuengirola attractions are above water. Why not go scuba diving to explore the underwater world? There are diving centers at the marina and most dives will take place in Nerja.
The area around Nerja and Maro is protected marine reserve where you can explore underwater caves and tunnels as well as unique species that aren't found other places in the Mediterranean.
If you want to test out diving for the first time, you can take a baptism dive off the beach in Fuengirola. You can also take diving courses there.
Take a day tour to Morocco
One of the most unforgettable things to do in Fuengirola Spain, is a day tour to Morocco. Being only about an hour from the ferry terminal in algeciras and one and a half hour's drive from Tarifa ferry terminal, it is an easy day trip to a complete different culture.
There are multiple tours taking you from Fuengirola to the ancient medina of Tanger or the quaint fishing village of Asilah.
Sipping Moroccan mint tea on a roof top overlooking Africa and seeing Spain across the Strait of Gibraltar sounds like a dream, but if you're in Fuengirola, that dream can easily become reality.
Check this tour from Fuengirola.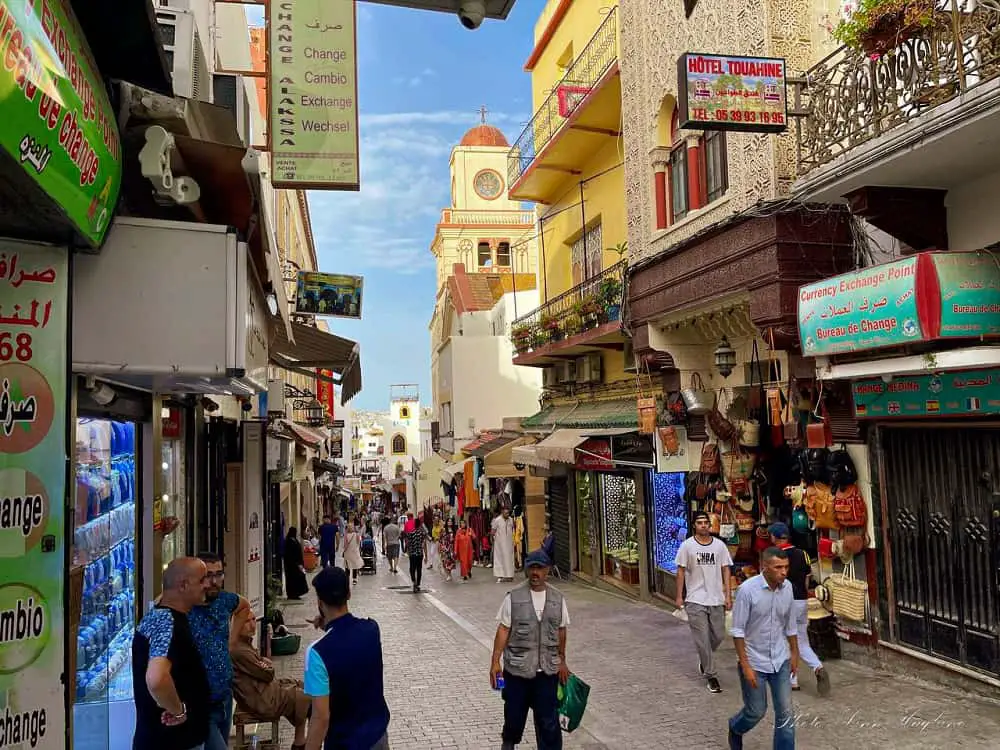 Check out Fuengirola Market
The market is one of the many things to see in Fuengirola. It finds place on the Feria ground on Tuesdays and Saturdays, and on Sundays it's set up by the mosque.
You can find anything from clothes, handicrafts, antiques, and plants. It's a great way to soak up some local life while browsing the different stalls.
The market is a place to find unique items and support the local economy.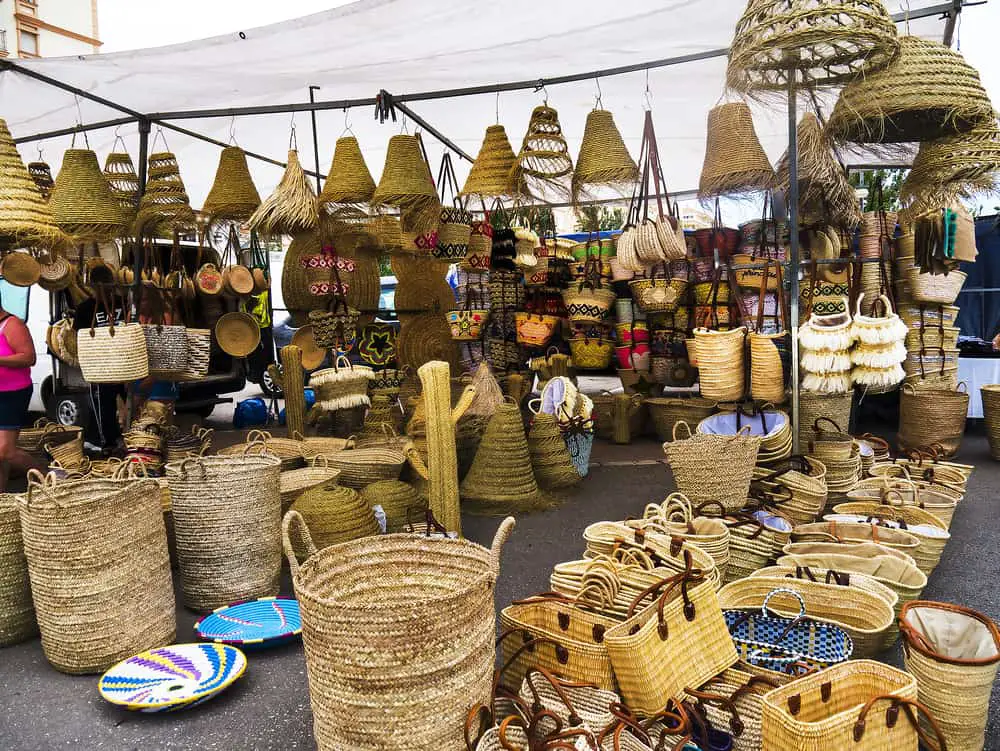 Walk around Pueblo Lopez
One of the most picturesque neighborhoods in Fuengirola is Pueblo Lopez. Situated right above the end train station, it consists of whitewashed houses and pretty squares.
If you have extra time on your itinerary, I highly recommend taking a stroll through this traditional and non-touristy district.
You can also sit down for a coffee or a beer at a bar before continuing your journey through Fuengirola's attractions.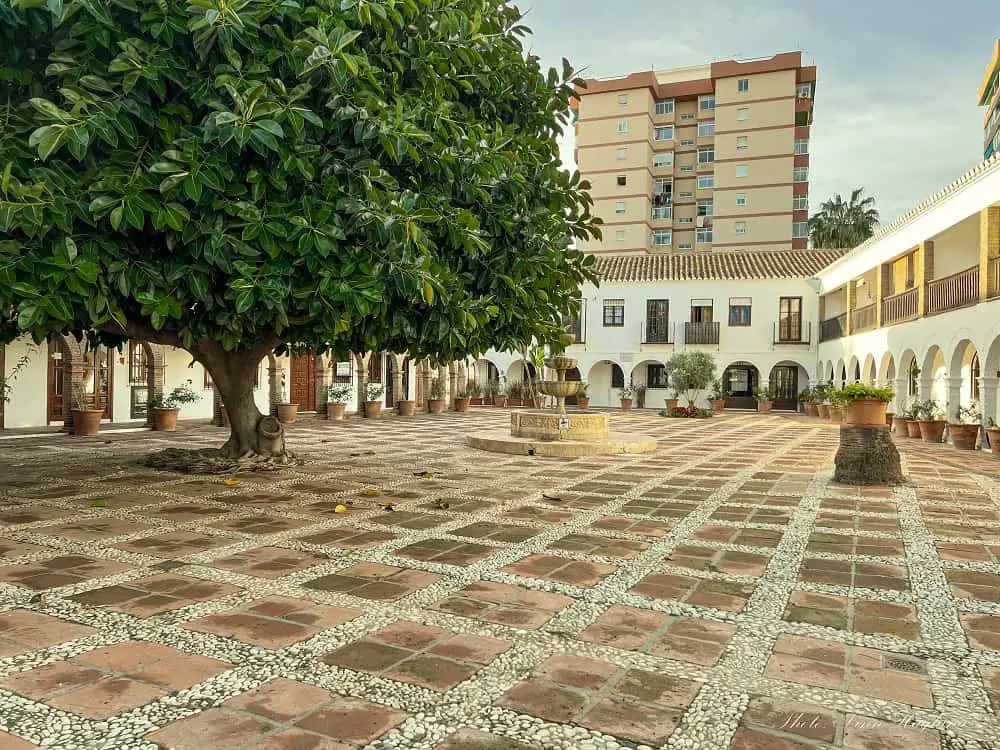 Go for a round of padel
While you're in Fuengirola, why not go for a round of padel? It's said to be the national sport of Spain and you can find padel courts anywhere in town.
I suggest going either to Elola or Miramar, but there are many other places you can rent equipment and play a round of this fun and fast-paced sport.
If yo are new to it, why not book classes to learn all the tricks before doing it on your own? I assure you, once you've tried it, you'll be hooked.
Party all night
Nightlife in Fuengirola Malaga caters to everyone. From local Spanish bars to traditional Irish pubs you can combine food and drinks until nightfall.
For the late hours, there is a large range of nightclubs where you can dance until the early morning hours. There are taxis situated outside the main nightclub areas and I recommend you take one home instead of walking even though it's not too far to your hotel.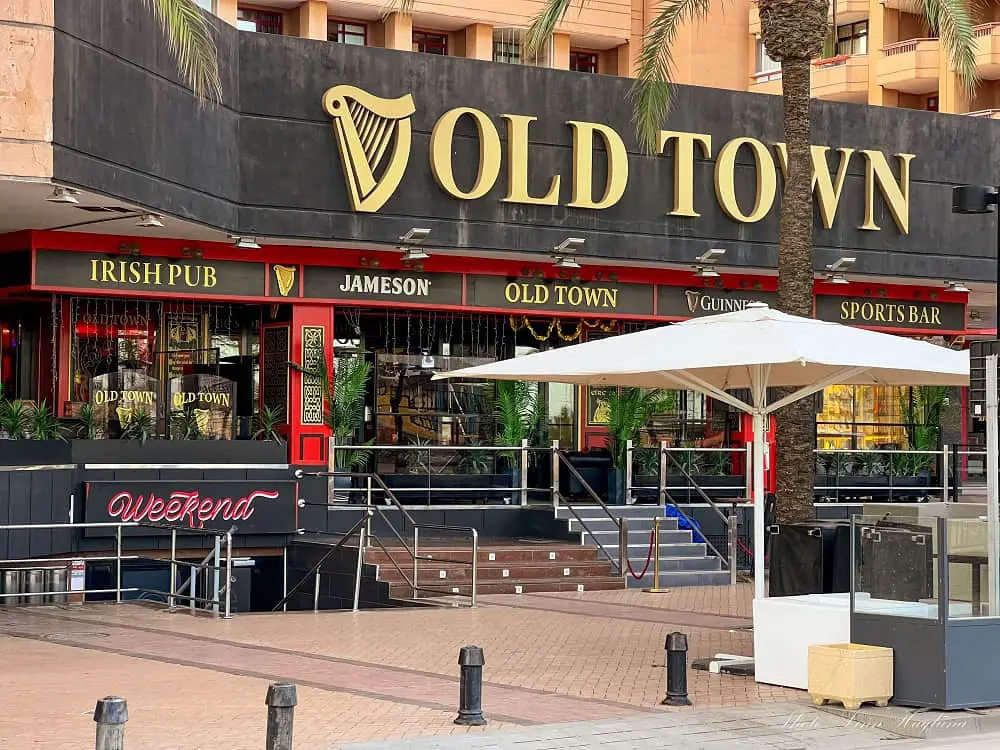 Zipline across Fuengirola river
In the summer months, you can go ziplining across the Fuengirola River that runs past Miramar and Sohail Castle into the sea.
It's a short but sweet zip line that is fun to take the older kids on. Cross the Puente de la Armada to find it right below the castle.
Take a day tour to Gibraltar
Finally, no trip to Fuengirola is complete without a day trip into the British territory of Gibraltar. Uncover underground cave systems, see the views from the Rock of Gibraltar, and take a selfie with the Gibraltar monkeys.
This is the only place in Europe where you'll find wild monkeys so make sure you respect that they're wildlife. Do not feed the monkeys and watch your belongings, because they can be cheeky!
Any Fuengirola to Gibraltar day trip will be fun, even though there are plenty of things to do in Gibraltar and you won't get time to do it all. The little British peninsula also has great tax-free shopping!
You can drive there yourself, but if you only have a day, I suggest going on a guided tour so that you get the most out of your day without the stress of parking etc.
You can park on the Spanish side of the border and walk over or you can drive across. But no matter how you travel, make sure you bring your passport for border control. If you need a visa to enter the UK, you most likely need one for Gibraltar (with few exceptions.) You can check if you need a UK visa here.
If you prefer to go on a guided tour, you can check out prices and availability here.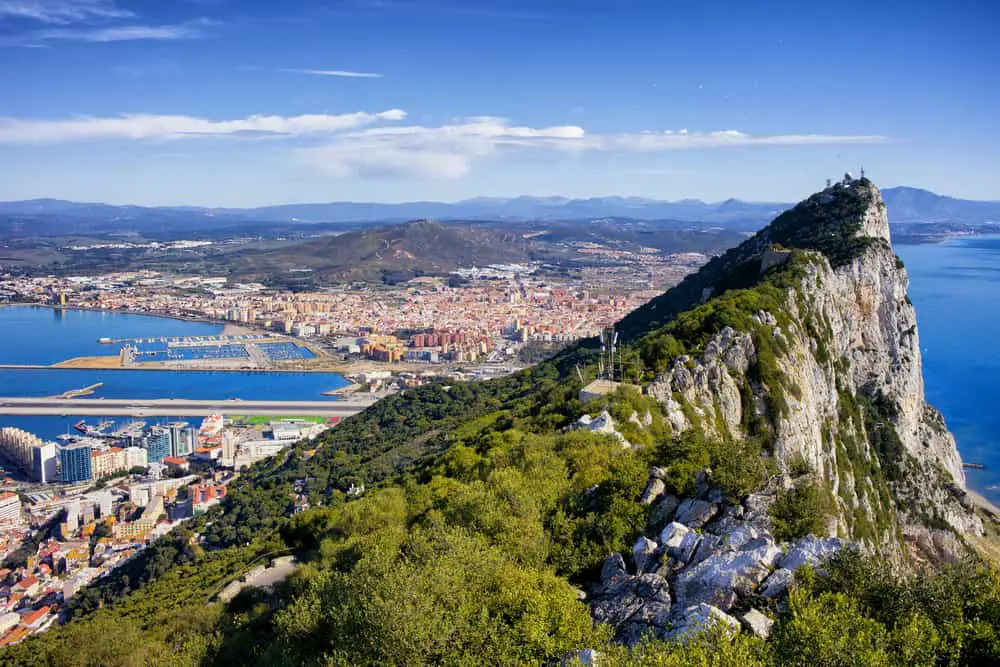 Reflections on what to do in Fuengirola
After living in Fuengirola's surroundings for many years – Fuengirola being the main hub for meeting friends and going out, it was fun putting together this list of what to do in Fuengirola. It is surprisingly many fun things to do in the town and its surroundings that I haven't thought about because it was part of my everyday life.
When you live in a place, you don't walk around the streets with a tourist's eyes. You take things for granted and look at them as normal things to do. Just like you would do in your own hometown.
After putting this together, I'm sure you'll find enough exciting things to do in Fuengirola to enjoy your vacation no matter how long you plan to stay and what type of traveler you are.
Besides, there are some epic day trips to be explored with so many spectacular places and things to do near Fuengirola like whitewashed villages, mountains, and easy access to Morocco and Gibraltar.
Happy travels!