You're heading on a day trip to Malaga and not sure what to see and do. There are so many amazing things to do in the city that I can totally understand it's hard to figure out what to prioritize with only one day in Malaga.
In this Malaga itinerary, I've made sure to add in all the best things to do in a day so that you can have the trip of a lifetime seeing the best this enchanting coastal city has to offer.
Get ready to explore Malaga's castles, old Moorish and Roman remains, enjoy sweeping views, eat mouthwatering food, and get lost in the historical center.
Disclosure: This post may contain affiliate links. That means that if you make a purchase through one of those links, I will get a small commission at no extra cost to you.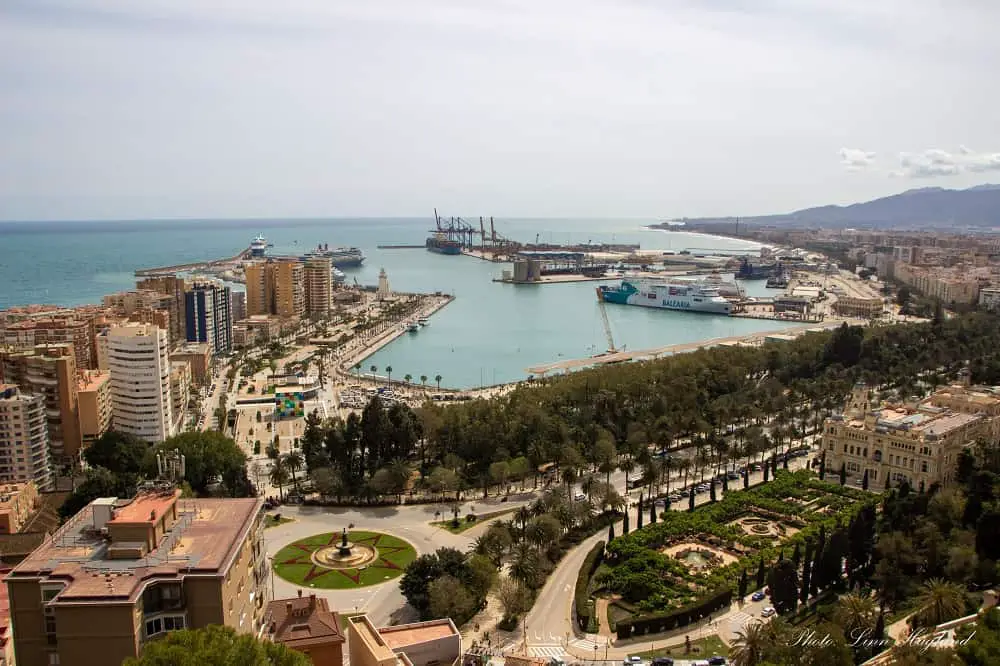 If you are still wondering whether Malaga or Marbella is the right destination for you, make sure you read this post first.
When is the best time to visit Malaga
Malaga is wonderful to visit all year round, however, there might be times of the year you'll prefer going compared to others depending on weather and tourism.
Malaga is generally protected from the hottest weather in the summer months and the coldest temperatures in the winter months seeing an average daytime temperature of 17 degrees in the winter months and 30 degrees in the summer months.
Even in winter, Malaga can get warm enough for a day at the beach, though the water is too chilly for me, there are always people swimming. In December, Malaga lights up with Christmas lights, light shows, and festive Christmas markets.
That said, the summer months are usually much more costly when it comes to accommodation and if you don't book in advance, you can find most hotels being fully booked.
Especially in August when the Spanish take their vacation. If you want hot weather but fewer tourists, go to Malaga in September or even October.
Normally, the end of November and throughout December is very wet with torrential rains so if there's one time of the year I'd recommend avoiding, it's this.
However, every year is different, and some years it can be stunning weather at that time and the rainy season starts before or later.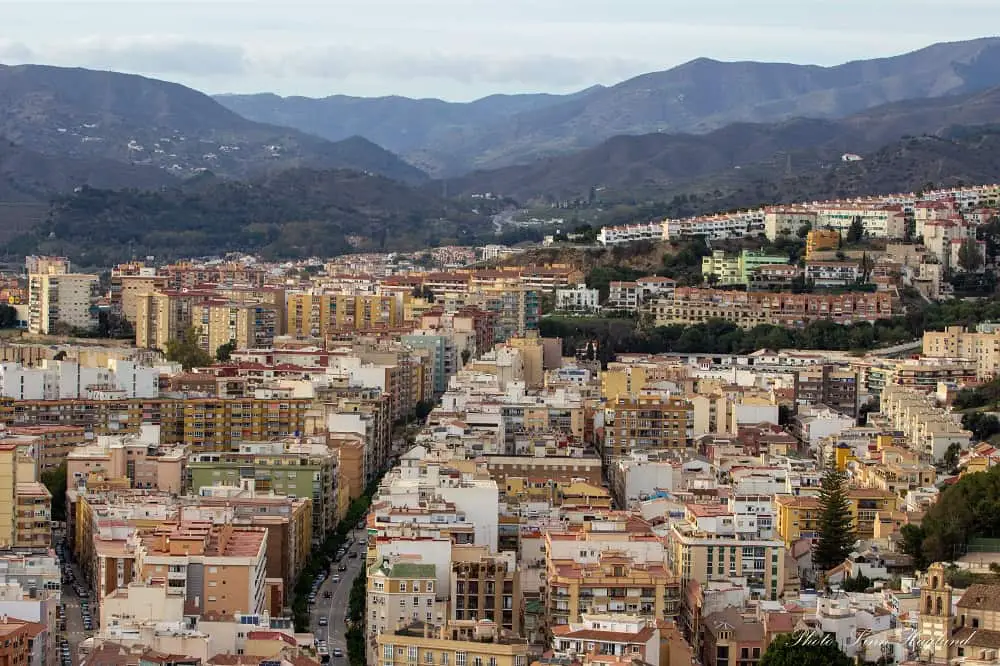 How to get to Malaga
Malaga is well connected to the rest of Europe with one of the busiest airports in Spain. From the airport, there are frequent trains into the city center. There are two train stations in Malaga city, Málaga María-Zambrano and Málaga Center-Alameda.
Malaga is also easily reached by train or bus from other cities in Andalucia and other parts of Spain. It takes approximately 2 hours from Seville and 1.5 hours from Granada.
Driving, it's also easy to get to Malaga, but it can be a pain to park in the city as with any other city. If you're spending a day in Malaga and plan to stay the night or use it as a base for day trips from Malaga, looking for a hotel with parking is good advice.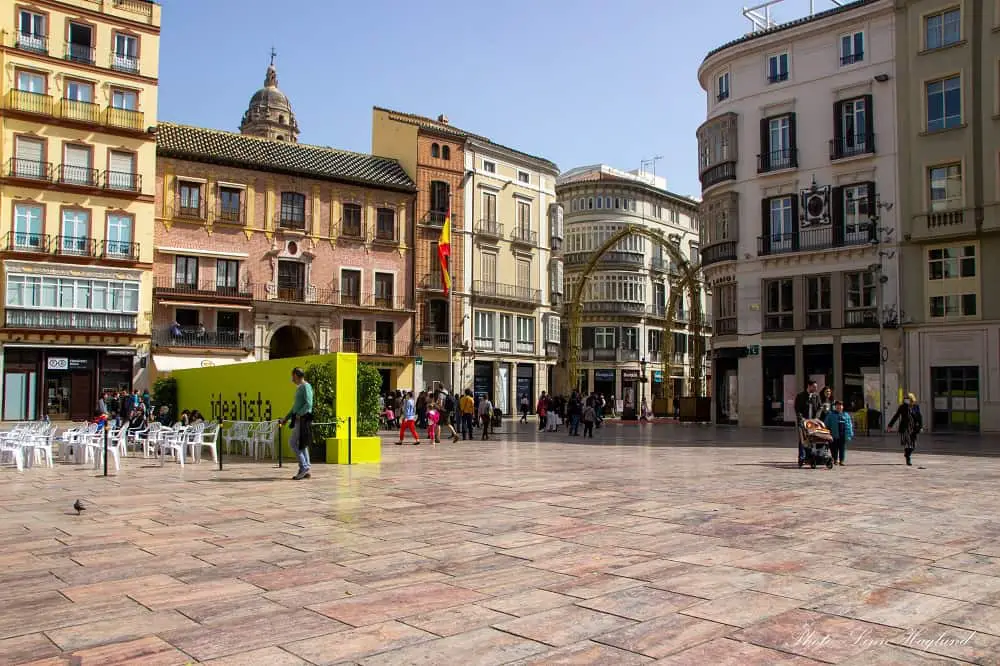 Where to stay in Malaga
There are a lot of amazing places to stay in Malaga for your vacation. Here are some of my top recommendations for one day in Malaga.
Soho Boutique Equitativa is a wonderful hotel in the heart of Malaga with an outdoor swimming pool and bar, perfect for those hot summer nights. This hotel is perfect if you're looking for high comfort within walking distance of all the top attractions.
Hotel Palacete de Alamos is another spectacular hotel close to all the top attractions in town. It's highly recommendable for its comfort and if you drive, there is public parking nearby, but no free parking at the premises.
Rafaela Guest House is a good budget option with parking. You can use the common room and kitchen which saves you from eating out. The guest house is situated a little further from the main attractions than the above options, but it's still easy walking distance.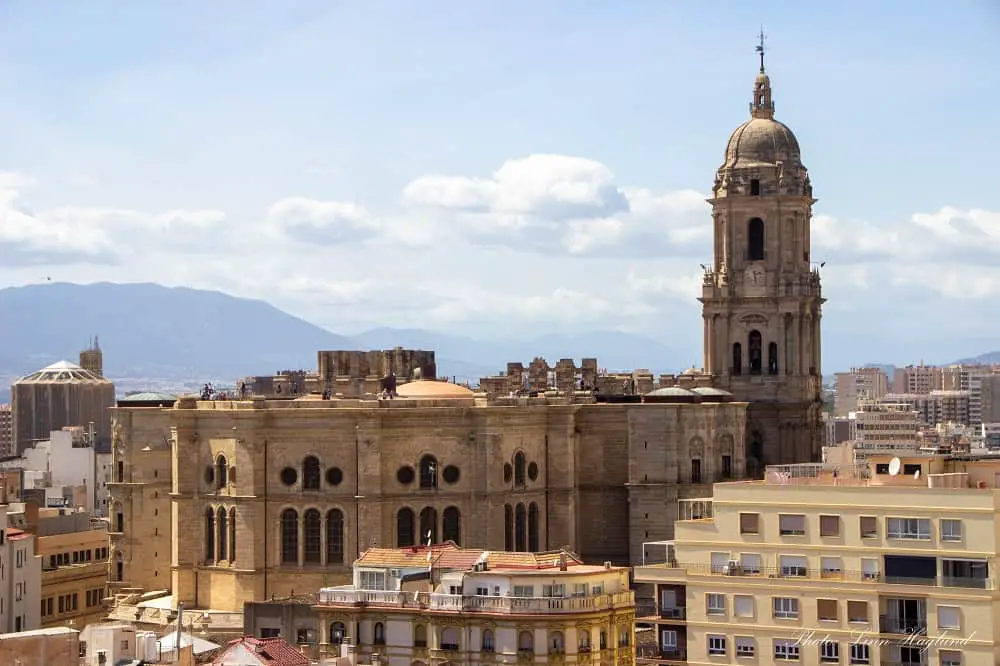 How to spend one day in Malaga
Now that you have all the practical information about your Malaga one day trip, let's have a look at what to do and see.
Visit Malaga Cathedral
When considering what to see in Malaga in one day, the majestic cathedral can not be left out. I recommend you start your day with a visit to the cathedral and make sure you get tickets to climb the 200 steps to the top of the cathedral too. The panoramic views are well worth the effort!
There are fixed times you can climb to the top, so you can alternatively book your entry and visit the Picasso Museum before you climb the cathedral if it fits the hours better. You can check the opening hours and entry price here.
Malaga Cathedral was built in the years 1528 to 1782 and is still not finished. Like so many other cathedrals in the country, it was built where there used to be a mosque.
As you can imagine, it's a blend of architectural styles considering the many years it was under construction. The interior is mainly influenced by Baroque and Renaissance styles and absolutely breathtaking.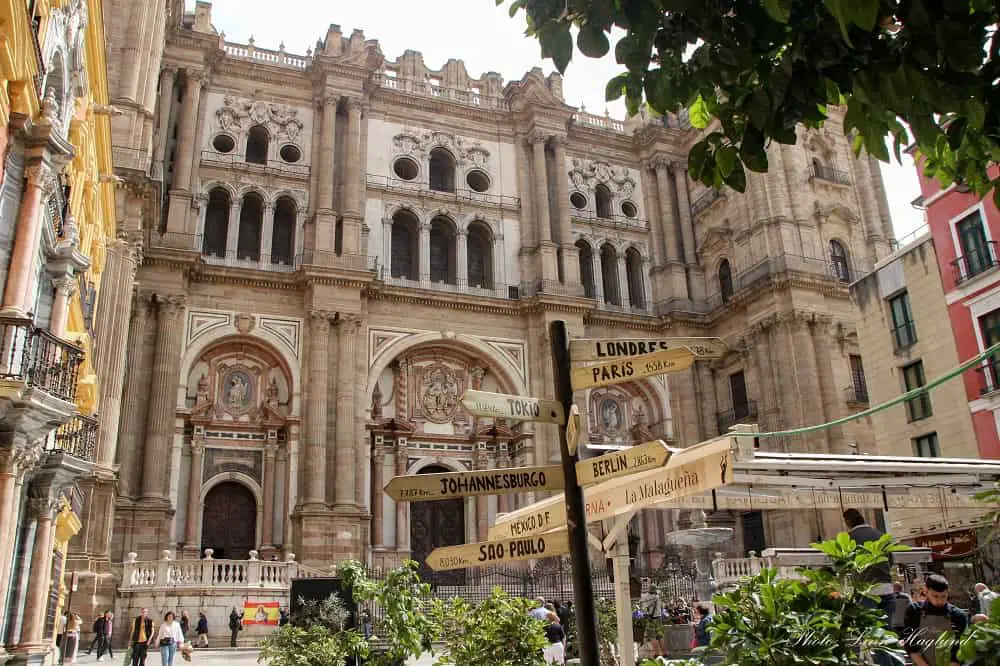 Picasso Museum
After the cathedral, head to the Picasso Museum. This is no doubt one of the top Malaga highlights in one day. After all, Malaga was Picasso's birth city.
The Picasso Museum displays a selection of more than 200 pieces showcasing the artist's different artistic styles. There are also contemporary exhibitions.
You can find more information about the Picasso Museum on its official website.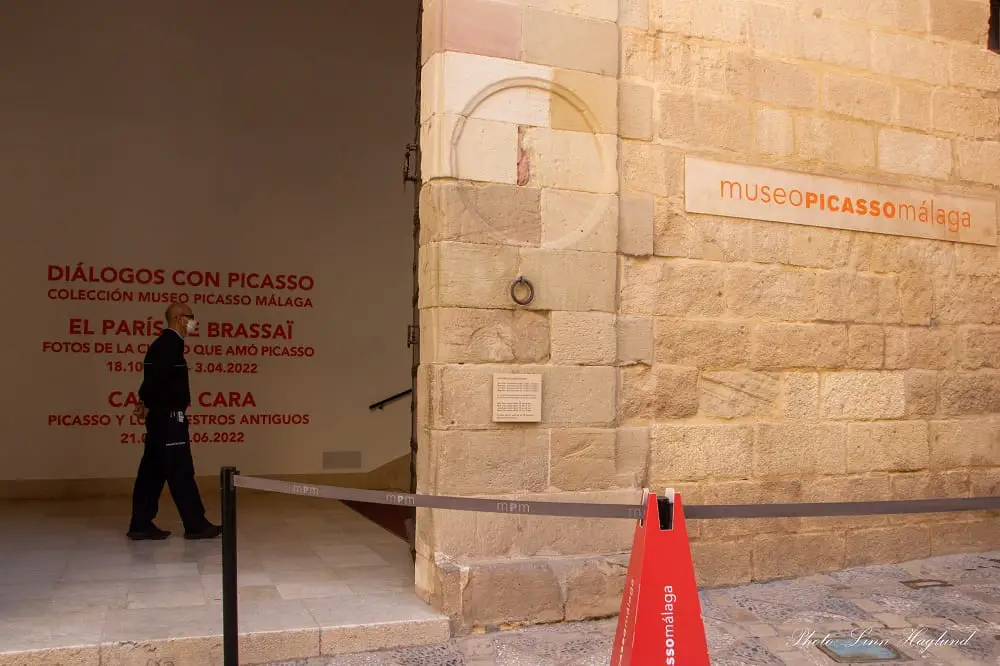 More one-day itineraries in Andalucia
Lunch by the Roman Theater
There is a multitude of places to have lunch near the Roman Theater which is the next stop on your Malaga itinerary. There are a couple of restaurants with outside tables and a view of the Roman remains, but if you walk up the street, there are a lot of other options too.
See the Roman Theater
In the heart of Malaga, you can see the ancient Roman Theater, right at the foot of the walls of the Alcazaba. The theater was built already in Augustus' times and kept in use until the 3rd century.
Later, in the 5th and 6th centuries, it was used as a cemetery, and eventually, stones from the theater were used to reconstruct the Alcazaba. For years, it was hidden and it wasn't until 1951 that the Roman Theater was rediscovered.
Even so, the theater is very well preserved and you can enter for free sit on the ancient stones, and take in the grandeur of this place.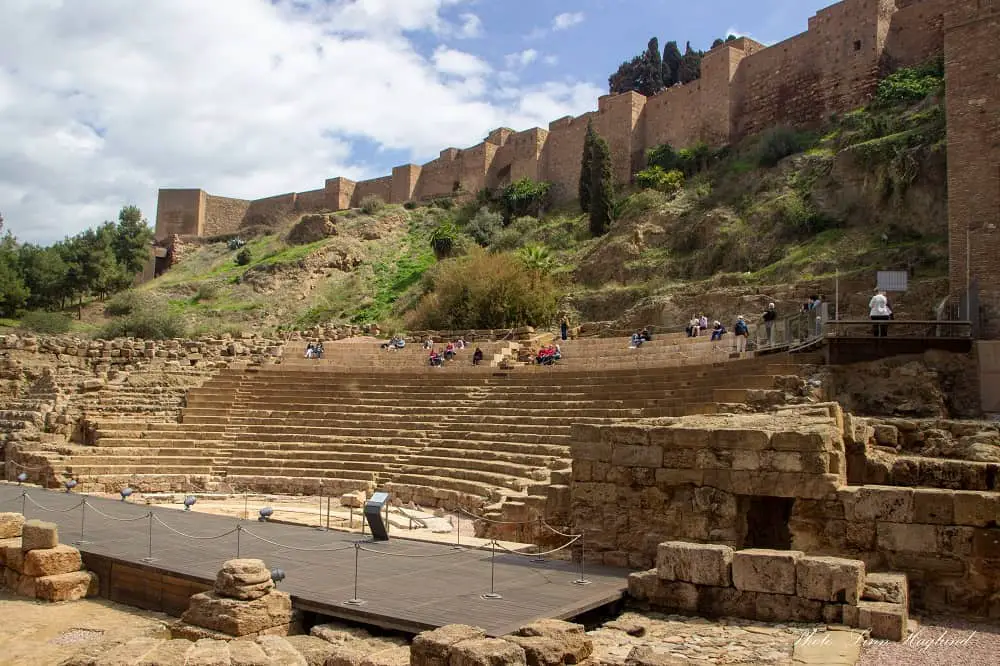 Visit the Alcazaba
When exploring Malaga in one day, you must visit the Moorish palace of the Alcazaba. The entrance is at the same spot as the Roman Theater.
The astounding structure was built in the early 11th century by the Hammudid dynasty and has withstood the test of time by defending Malaga from invaders time after time through different rules.
Today, it's one of the best kept Alcazabas in Spain and it's an incredible experience to wander between its old walls, through glimmering gardens and sweeping city views.
Visiting the Alcazaba should be on any Malaga itinerary no matter how many days you have to spare.
Top tip! Get tickets for both the Alcazaba and Gibralfaro straight away to save time.
If you want to get the most out of your visit to the Alcazaba, I recommend you book a guided tour.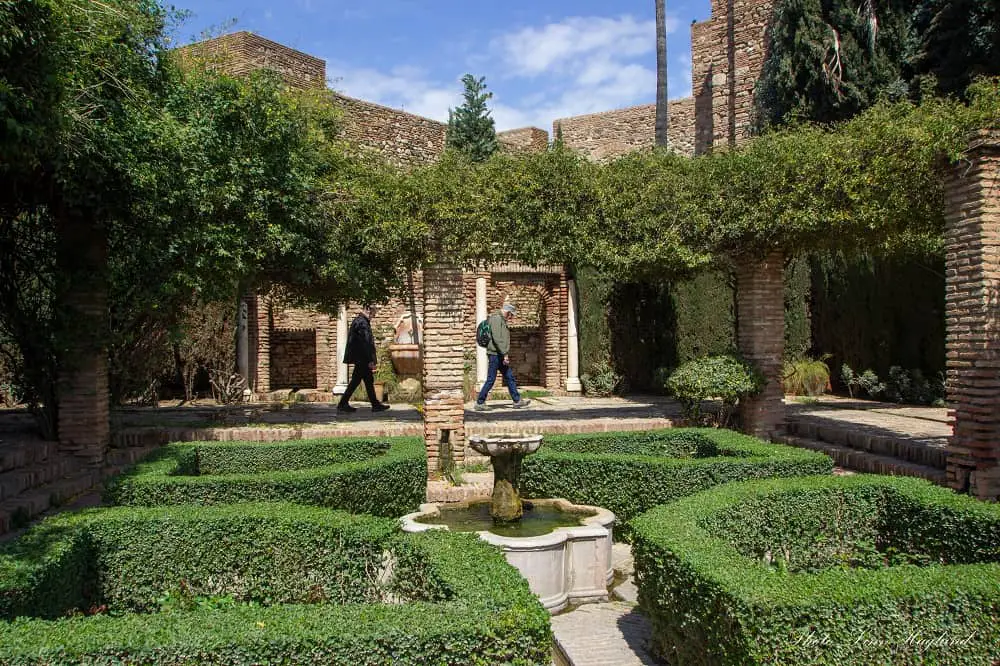 Walk up for spectacular views from Gibralfaro
The only logical place to head after the Alcazaba is to the Gibralfaro castle towering above the palace, once built to protect it on top of one of Malaga's hilltops. Walk the steep pathway for spectacular views of the Muelle Uno marina to reach the entrance.
The castle walls offer some of the best views of Malaga and make Gibralfaro one of the top places to see in Malaga in a day. The Gibralfaro was built in the 14th century, but there's evidence of earlier protective structures all the way back to the Phoenician era in 2500 BC.
If you want to catch the sunset before dinner, I recommend timing your visit so that you get to the viewpoint below the castle when the sun goes down and you're guaranteed a magnificent view!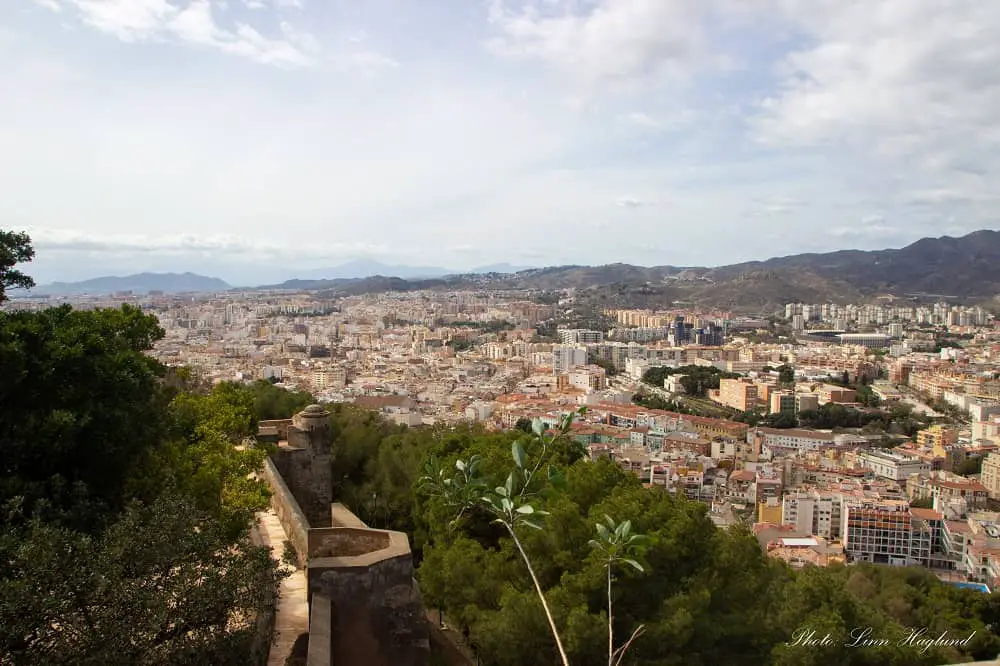 Dinner at Muelle Uno
Muelle Uno is Malaga's port area and a few years back, it was renovated to what you see today. You'll find a multitude of restaurants serving local and international food.
Since it was built in 2011, the Muelle Uno has become one of the most popular spots for drinks and dinner in Malaga and you'll encounter busy bars and restaurants from lunchtime and until late night hours.
If you're looking for a nice place to have dinner at sunset, I highly recommend going there as you'll get the city's skyline colored in pastel colors.
If you prefer going out on sea for sunset, there are plenty of Malaga boat tours you can choose from, among them, romantic sunset cruises.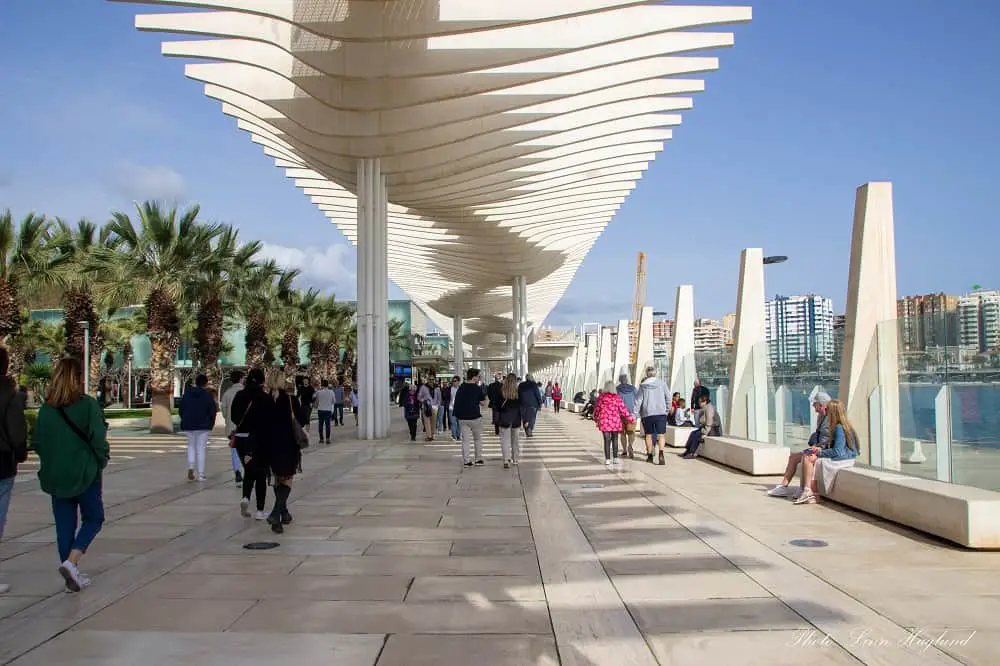 Where are you heading next?
Reflections on this Malaga itinerary
One day in Malaga gives you enough time to see the most important attractions, but if you want to explore the city more in-depth, you should spend a few days more.
You can truly get a good grasp of the city on a Malaga one day itinerary and I hope you enjoy your visit to what I consider one of the most beautiful cities in Andalucia.
Make sure you leave no trace, shop locally, and show respect to the locals on your trip. If you plan to use Malaga as a base for day trips, check out my top day trip recommendations here.
READ NEXT: The coolest beach towns in Andalucia