If you're wondering where to eat vegan in Malaga, you're in the right place. As a lifelong vegetarian and vegan for more years than I remember, I have explored quite a few places in Malaga.
Vegan food isn't as normal in Spain as it is in other places in Europe, but in the last 10 years, I've seen a positive shift in Andalucia, especially in Malaga.
while there are limited fully vegan restaurants in Malaga, there are more and more eateries that add vegan food to the menu. And I'm not speaking of accidentally vegan food like Garbanzos con Espinacas, Patatas Bravas, or Verduras a la Plancha.
Vegan burgers, vegan tapas, vegan ice cream, and vegan doughnuts are all available in Malaga and I'm here to help you find out where to get it.
Because I've tried a lot of bad vegan food too, so here, I'll share the places that I love the most.
Disclosure: This post may contain affiliate links. That means that if you make a purchase through one of those links, I will get a small commission at no extra cost to you.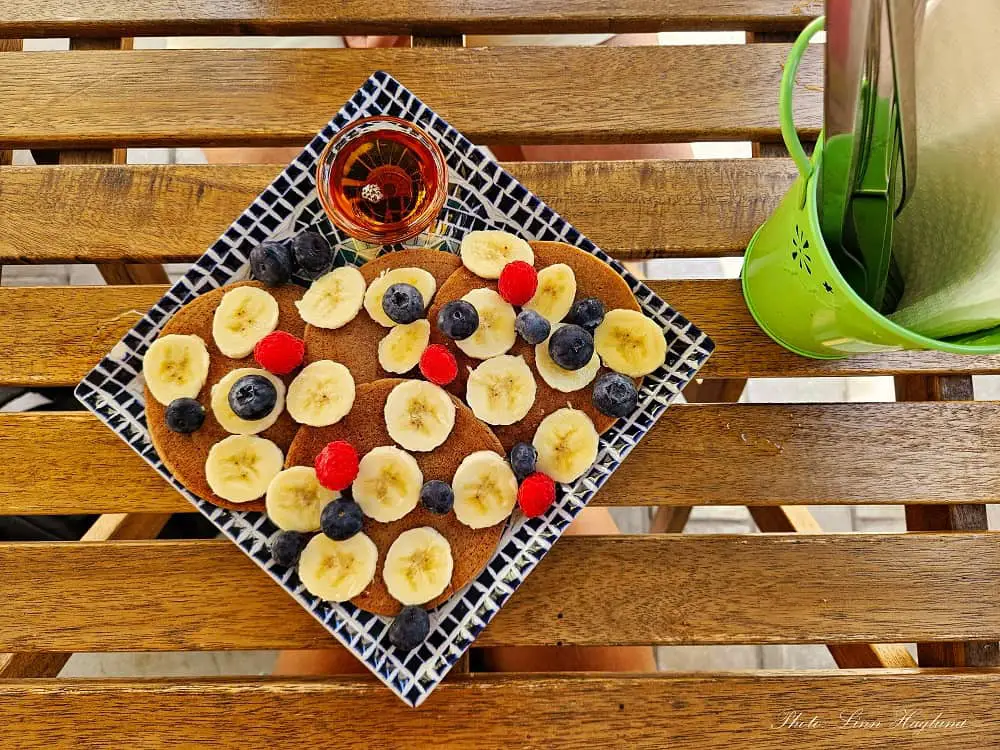 MORE FROM MALAGA
Best places to eat vegan in Malaga
El Vegetariano de la Alcazaba
Address: Calle Pozo del Rey, 5
One of my favorite places for vegan food in Malaga is El Vegetariano de la Alcazaba. Located in a back street close to the Roman Theater, it's a true gem.
They have outdoor tables, but the interior is just as cozy with bright colors making it a happy place to eat.
They are a strictly vegetarian restaurant with a few vegan things on the menu. Personally, I've been there a few times with Mohammed and we always share a mixed vegan tapas platter with around 5-6 different tapas and have never been disappointed!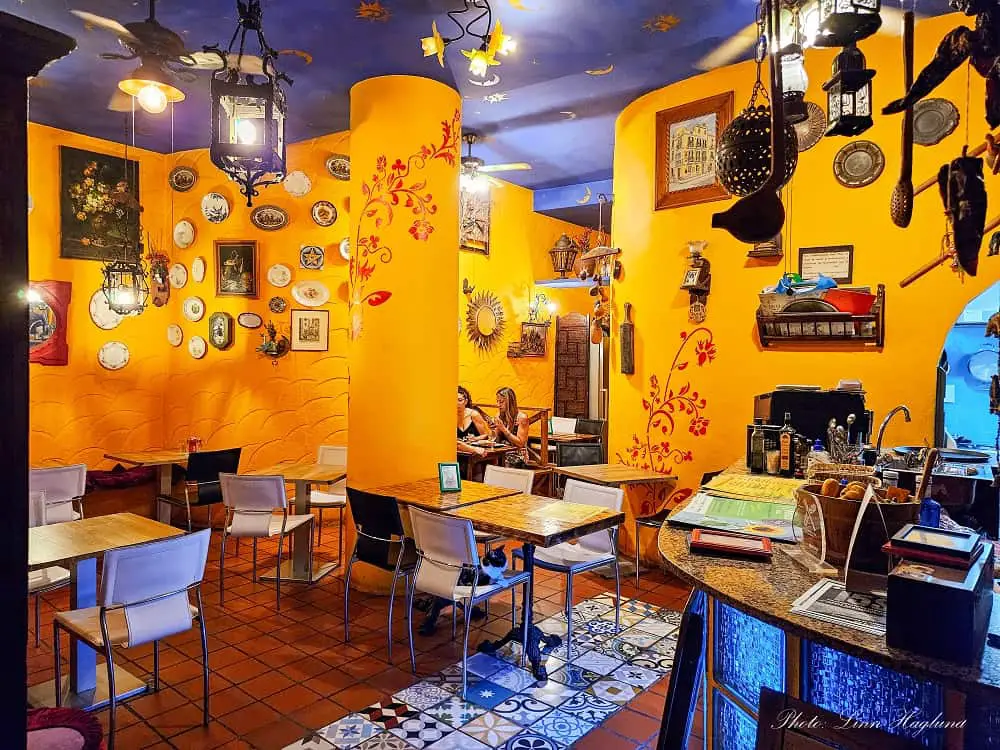 Reviv Café
Address: Calle Fajardo, 4
By far one of the best places to eat vegan! Malaga's hidden gem that serves 100% vegan food. They have a wide variety of healthy foods from breakfast bowls to burgers and sandwiches.
If you're craving pancakes (which is how I found this place in the first place) there is no better place. Their pancakes are not only super healthy, they are so tasty with heaps of berries on top.
They also have different fresh juices and smoothies and I still haven't come across one that I didn't like. Beyond food, they also serve a selection of vegan cakes and desserts that look delicious.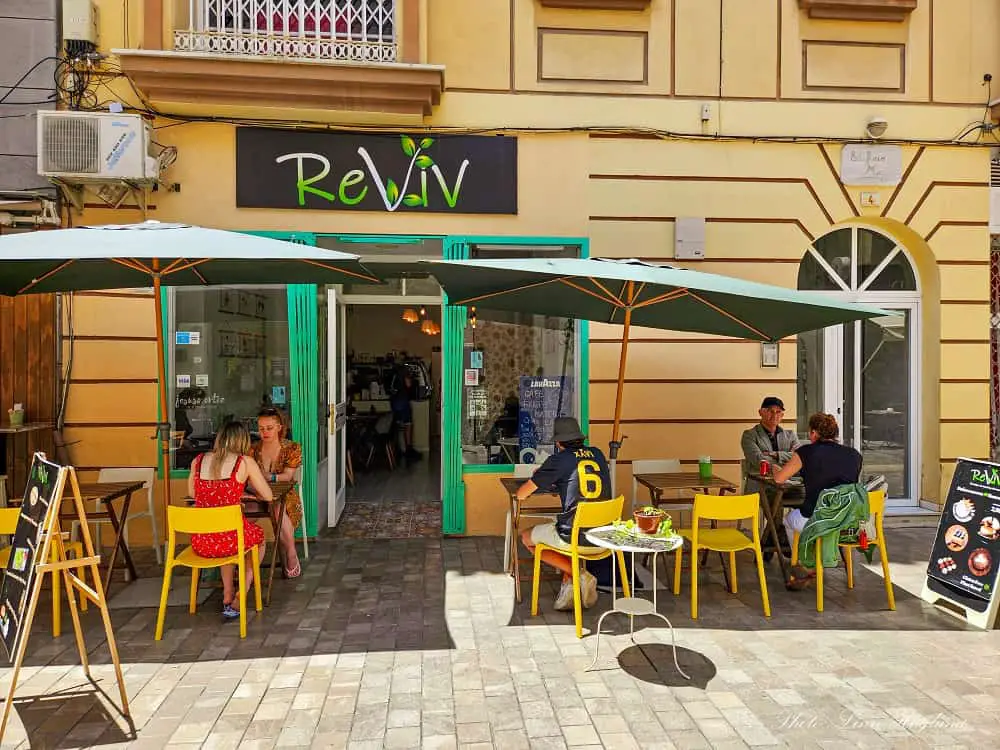 Meet Vegano
Address: Calle Marín García, 6
Meet Vegano is a fairly new vegan restaurant Malaga is delighted to have. In fact, it has become so popular in a short time (it opened in 2022) that you might consider booking a table in advance if you don't want to wait for a table.
With creative dishes from around the world, they serve 100% plant-based mouthwatering food. Their desserts are also ace. I was told to try the Biscoff Cheese Cake and it definitely didn't disappoint!
This might just be one of the best vegan restaurants Malaga has seen in a while.
Astrid
Address: Calle Calderón de la Barca, 6
Another great restaurant that serves vegan food is Astrid. They serve meat, vegetarian, and vegan dishes and I have been there several times over the years with my omni friends.
Except for one vegan burger that was somewhat tasteless on my last visit (the rest of the food we ordered was awesome!), they have always served good tasty food.
I can highly recommend them as a place to go if your party isn't fully vegan and want to eat different foods.
Their vegan menu isn't huge, but there are a handful of dishes to choose from and it's a nice, busy place with good service.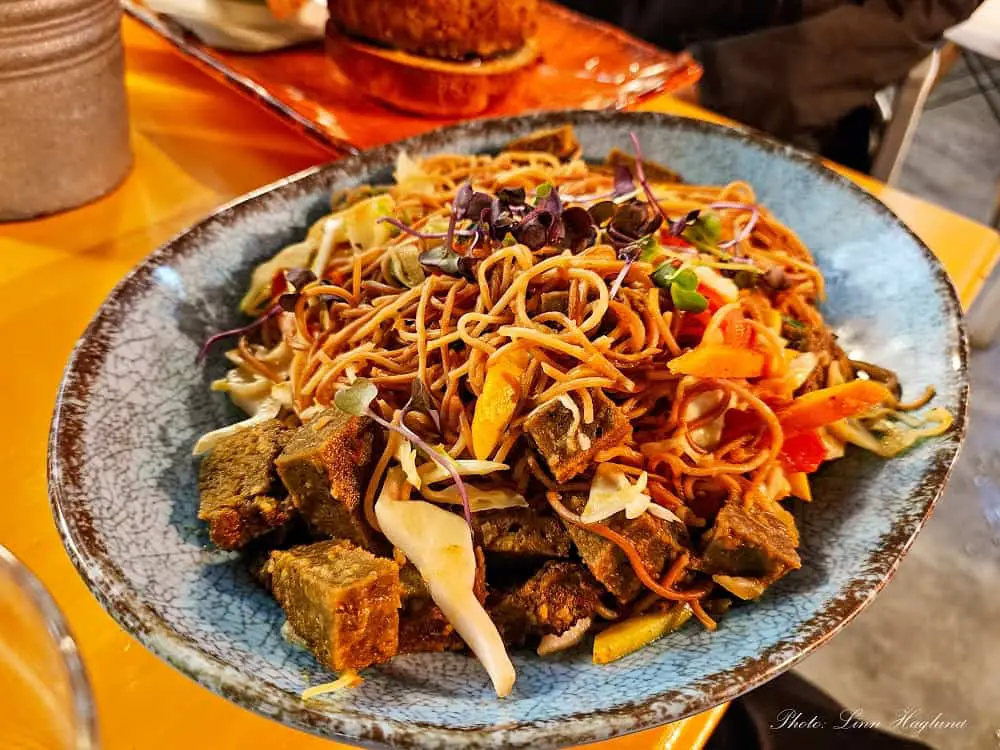 Recyclo Bike – Café & Shop
Address: Plaza Enrique García-Herrera 16
This is one of the most quirky cafés serving vegan food Malaga can stand for. I love this place. Mainly because it's actually a bike repair shop that also has a café.
There are old bikes hanging from the ceiling making it a fun place to visit and they are friendly to digital nomads wanting to work from there too (though be respectful and order something regularly while you sit there.)
They even have some vegan desserts options like cake and cookies to go with the coffee.
La Plaza
Address: Calle Alcazabilla, 7
La Plaza is a touristy restaurant with views of the Roman Theater, but they do have a separate vegan menu which is quite rare in similar venues in Malaga.
I've only been once and tried a few dishes to share and must say the only thing I probably wouldn't recommend is the pizza. My favorite was the vegan "meatballs" in tomato sauce, a traditional Spanish tapa made vegan.
Service was friendly and the location is great. The interior is stunning with a large painting on the wall and even the toilets are pretty.
This would probably not be my first choice on this list of where to eat vegan in Malaga, but if you want to enjoy the views of the city's Roman and Moorish remains, you can't find a better place.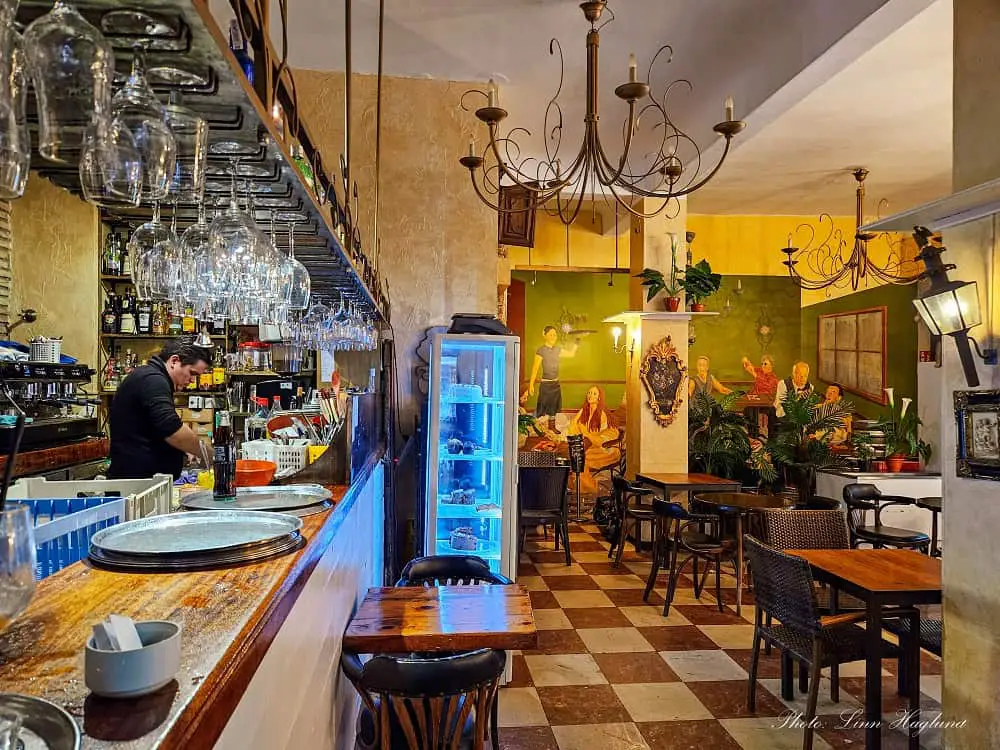 Teteria Palacio Nazari
Address: Calle San Agustín, 7
A lovely Moroccan restaurant serving some vegetarian dishes that can be made vegan. The last time I went, we had falafel, and mentioning no yogurt dressing, he immediately asked if we were vegan.
Service is great, the Moroccan Tea is awesome (even loved by my Moroccan fiancée,) and the indoor seating is super cozy. They also have a few outdoor tables which are great when it's nice temperatures outside.
I've been there a handful of times throughout the years and always loved the food.
Yummy – Best vegan ice cream Malaga
Address: Calle Molina Lario 6
Finding vegan ice cream isn't always easy, but this ice cream shop is just around the corner from Malaga Cathedral and easy to find.
They have a separate side for vegan and non-vegan ice creams so just ask which ones you can choose between.
On a hot day in Malaga there is no better option than grabbing an ice cream from Yummy Ice Cream Shop.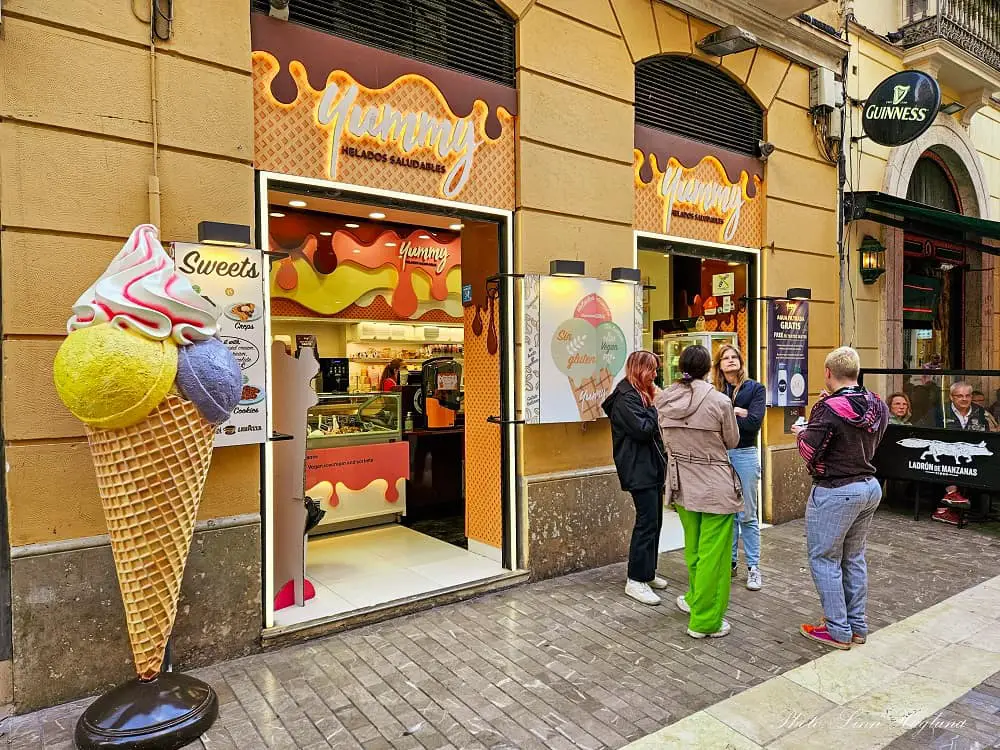 Bun and Coffee – Best vegan bakery Malaga
Address: Calle Duque de la Victoria 11
After having lunch at a vegan restaurant, Malaga is also home to some of the best vegan doughnuts I've ever had, so grab your dessert at Bun and Coffee!
And they specialize in exactly this – vegan doughnuts and coffee. Note that they have both normal milk and plant-based milk for the coffee, so make sure you specify which one you want before ordering.
But all the doughnuts are 100% plant-based and so incredibly delightful!
Note that this is a hole in the wall you easily can walk past if you don't look for it, but it's extremely popular and once they sell out their doughnuts for the day, they don't make new ones so I recommend getting there as early as possible for the best selection.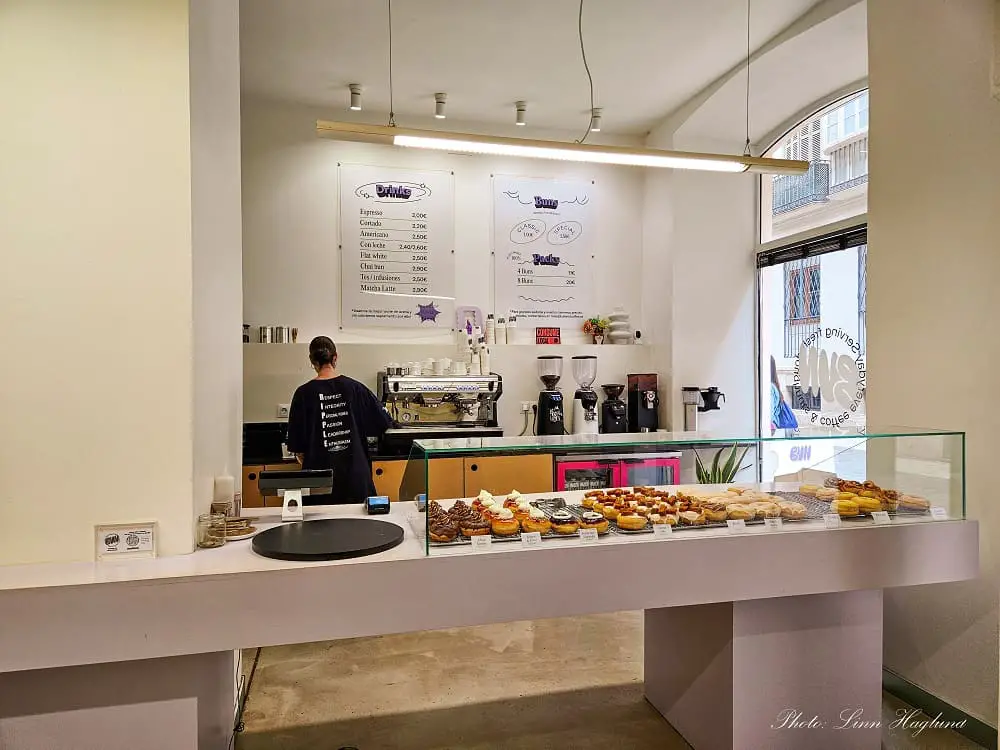 Reflections on vegan Malaga
As you can tell, vegan Malaga is not as dull as you would think considering how hard it can be to find varied vegan food in Andalucia as a whole.
Eating vegan in Malaga is getting easier every year and with these epic additions to the restaurants and cafés enhancing their menus with vegan food. Malaga is a very international city and it is clear that restaurant owners have realized that they must cater to a wider group of people.
You can even find some traditional meat tapas made into vegan tapas. Malaga is without a doubt leading in the vegan food scene compared to other Andalusian cities, yet far behind Madrid.
Happy travels!