You've spent a few days in Malaga, Spain and now you want to explore the surrounding area. How cool wouldn't it be to cross a country border and explore the tiny peninsula of Gibraltar on UK territory?
To do this, there are a few things you need to know and it might feel overwhelming. But don't worry, I've done day trips from Malaga to Gibraltar multiple times and will share everything you need to know here.
In this guide, I'll go through how to get there by car, public transport, or organized tour, border control, and what to do and see on a day trip to Gibraltar from Malaga to make the most out of your trip.
Get ready for impeccable views, wild monkeys (hold on to your valuables!), and Moorish remains. For being such a tiny territory (of only 4 square kilometers!) there are surprisingly many cool things to do in Gibraltar.
With only one day in Gibraltar, you won't manage to squeeze in everything, but you're guaranteed an unforgettable adventure from start to end. So get ready to plan an epic Gibraltar itinerary.
Disclosure: This post may contain affiliate links. That means that if you make a purchase through one of those links, I will get a small commission at no extra cost to you.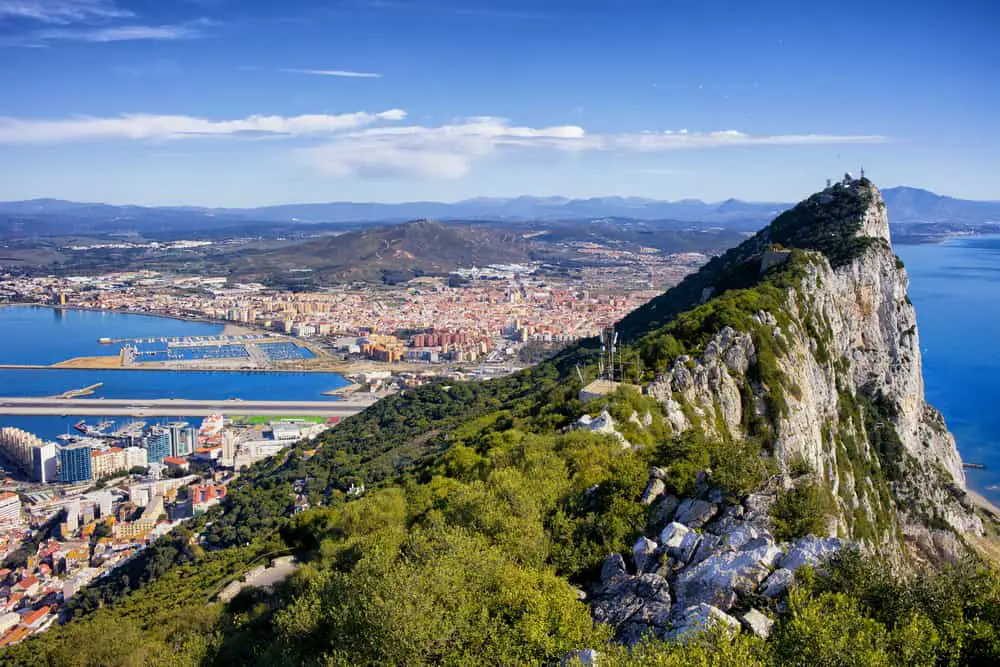 Best time to go on a day trip to Gibraltar from Malaga
It's perfectly possible to go on a day trip to Gibraltar from Malaga at any time of the year, but if you can choose the time of the year (and the weekday,) here are my recommendations.
Summer in southern Europe can get extremely hot, and Gibraltar and the Iberian Peninsula are no exceptions. If you can plan your trip from Malaga to Gibraltar outside the summer months, you'll have a more pleasant experience than in the heat of the summer, which can reach 40 degrees celsius.
Especially the month of August is often sticky hot and with most of the Spanish taking their summer vacation, you're guaranteed a large number of people will go for a day trip to Gibraltar during this month.
Besides the summer, weekends are usually busier than weekdays as Spaniards take advantage of their days off and you can meet a large number of people taking a Gibraltar day trip from Seville, Malaga, or Cadiz.
By the same token, it can be a good idea to keep track of the Spanish bank holidays (and remember that they move them to a Monday if they fall on the weekend.)
My favorite time of the year to visit Gibraltar is the winter and spring. That said, the autumn is just as good, I just usually find myself hiking at this time of the year.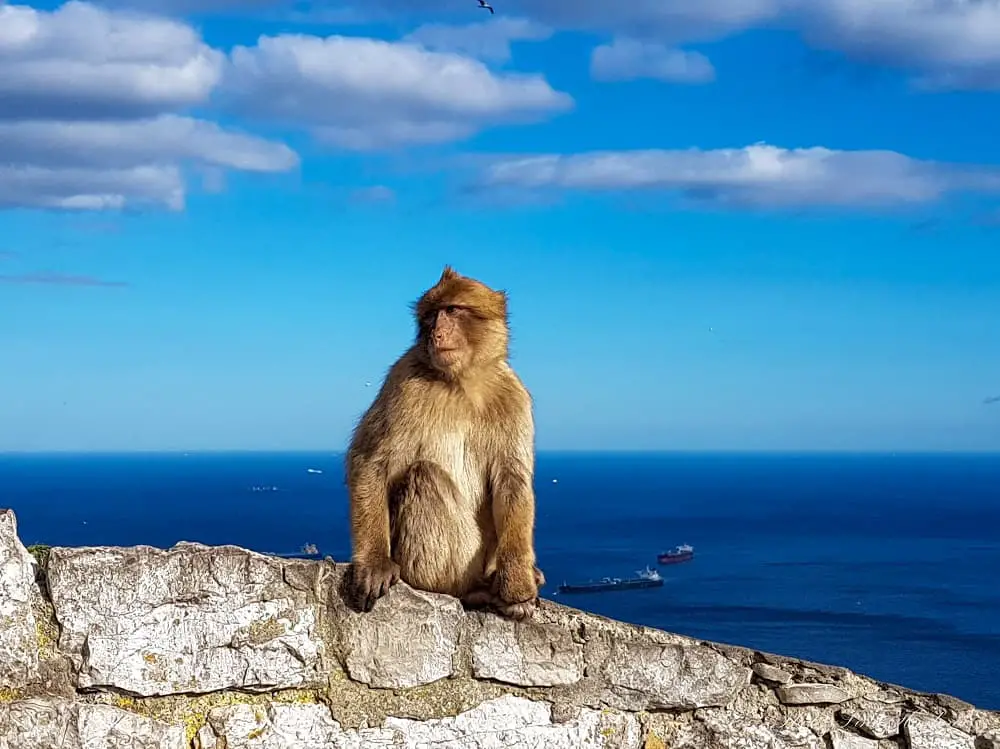 How to go on a day trip from Malaga to Gibraltar
There are no trains from Malaga to Gibraltar, so you will have to use the bus or your own car unless you choose to go on an organized tour. Note that there are no parking options for motorhomes in Gibraltar.
I'll go through the options here so that you can decide what works best for you.
Top tip! Get the Gibraltar Card for carefree travel!
If you plan on walking across the border, I highly recommend the Gibraltar Card which includes the bus to the city center, the cable car up to The Rock, and the Skywalk plus an entrance to all of Gibraltar's main attractions.
Travel carefree and get your Gibraltar Card now. (You can cancel free of charge for up to 24 hours in case your travel plans change!)
Malaga to Gibraltar by car
Going on a Malaga to Gibraltar day trip by car is easy as you can travel in your own time and do stops along the way. Driving from Malaga takes between 1 hour and 40 minutes and 2 hours depending on the traffic conditions and the route you choose.
Taking the AP-7 toll road saves you a little bit of time, but will cost you. So if you're on a budget, drive the A-7 instead, and save yourself the Euros. Note that the toll road will be considerably more expensive in the summer months than the rest of the year.
When you travel from Malaga to Gibraltar by car, you have two options. Either park at La Linea and walk across the border or drive across the border and park in Gibraltar.
I've always been warned against driving across the border because it is hard to find parking in Gibraltar. However, my personal experience after driving across the border various times is that I've always found free parking within a reasonable walking distance from attractions like The Rock.
Note that, as opposed to the UK, Gibraltar has right-hand driving, so you don't have to worry about that.
If you choose to park in La Linea, there are large paid parking lots right on the Spanish side of the border that you can find here.
👉Secure the best deal for a rental car here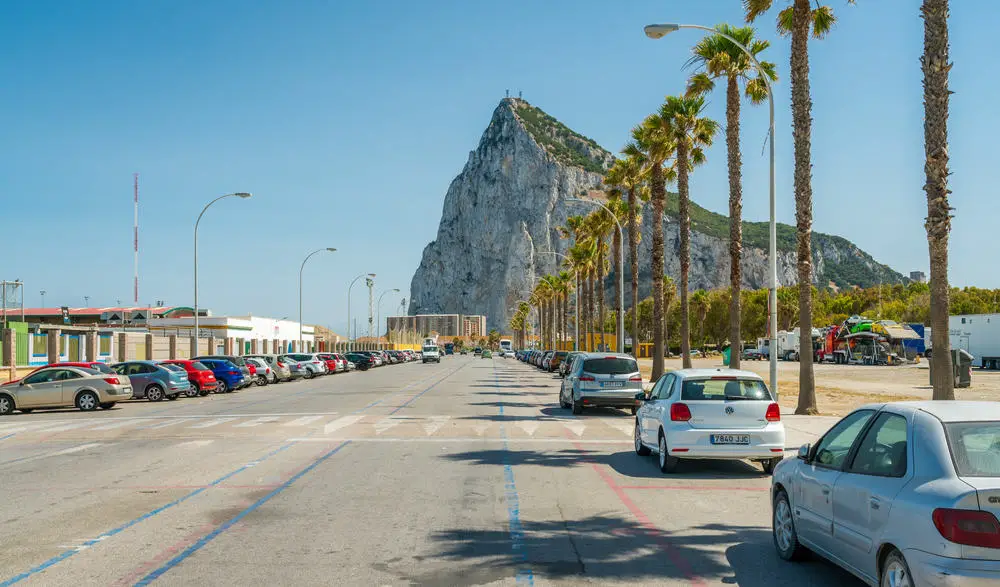 Crossing the border by car or walking
Crossing the border with your car means you get in the queue and show your passport at the control boots. This is easy and carefree, though you might have to stand in a queue for a while so make sure you bring your favorite playlist to listen to while you wait or bring some cool games for the kids to stay occupied.
Walking across the border usually means a shorter waiting time to show your documents. Once you cross the border, you have to cross the Gibraltar Airport runway. There will be a red light if a plane is taking off or landing and a green light if you're free to go.
The city bus no. 5 takes you to the city center or you can take the bus no. 10 straight to the cable car.
Bus from Malaga to Gibraltar
Taking the direct bus from Malaga to Gibraltar usually takes 2 hours 15 minutes to 2 hours 45 minutes. Avanza buses run several times a day and the earliest departure from Malaga is at 6:45 in the morning and the latest return leaves Gibraltar at 18:30.
👉Check bus prices and timetables here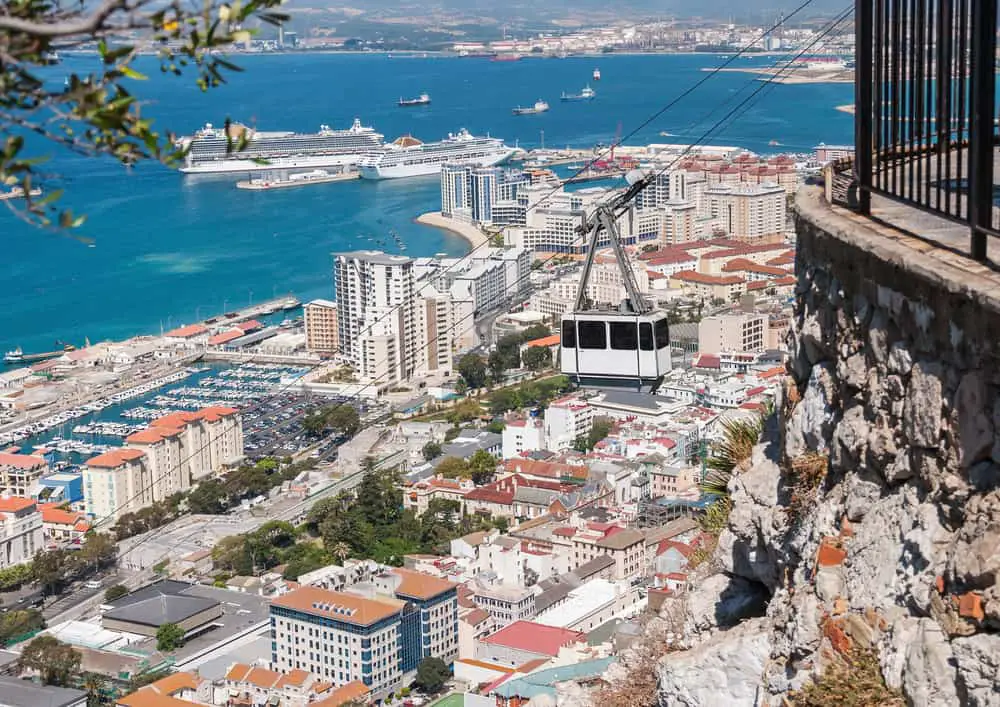 Day tours from Malaga to Gibraltar
The easiest and most carefree way to go is by joining a full-day Gibraltar tour from Malaga with pick-up and drop-off at your hotel. There are several options including a local guide to show you around which will give you a better insight into Gibraltar and its history.
Here are a couple of my recommendations for top-rated day tours from Malaga to Gibraltar.
Note that private shuttles drop you off at the border and pick you up on the way back. Entering Gibraltar you will take a local bus and walk. Also, most tours don't include tickets to the cable car etc.
This tour is perfect for you who want to travel from Malaga to Gibraltar completely carefree. You will be picked up in a private car at your hotel, driven from Malaga to Gibraltar, and have your own private local guide for the day taking you around all the top attractions in Gibraltar.
You will walk around the charming town center (don't forget to take a selfie with an iconic British red phone boot!), explore The Rock and see the Gibraltar monkeys, ride the cable car, see the Moorish Fortress, and discover the imposing St. Michael's Cave.
If you want to explore Marbella and the exclusive Puerto Banus on the way to Gibraltar but don't have a car, this is a great Gibraltar tour from Malaga option for you. The private car will pick you up and drop you off directly at your hotel in Malaga.
Once in Gibraltar, your private guide will talk you through the peninsula's top attractions like The Rock, where you can take selfies with the wild monkeys (but be careful not to touch them or feed them and watch your stuff! They are wild animals and renowned for stealing,) the St. Michael's Cave, and the Moorish Castle.
Gibraltar border control
Gibraltar border control is one thing that I always get a lot of questions about, especially after Brexit. The good news is that according to Skift, Gibraltar is negotiating to enter Schengen so that passport holders from these countries don't have to show their passport or ID card to enter Gibraltar.
However, until negotiations are settled, you can expect long queues to enter and exit Gibraltar from La Linea. Sometimes I've experienced 2 hours in queue with car and others, it has only taken about 20 minutes.
There are about 1600 Spanish workers crossing the border daily to Gibraltar, so it's recommended to go after the morning rush hours to avoid waiting with them (and making the queue longer for those who have to go to work.)
The Gibraltar border has a live stream of the border queues you can watch here. On top of that, they post pictures of the border queue on Twitter (@gibraltarborder) several times an hour.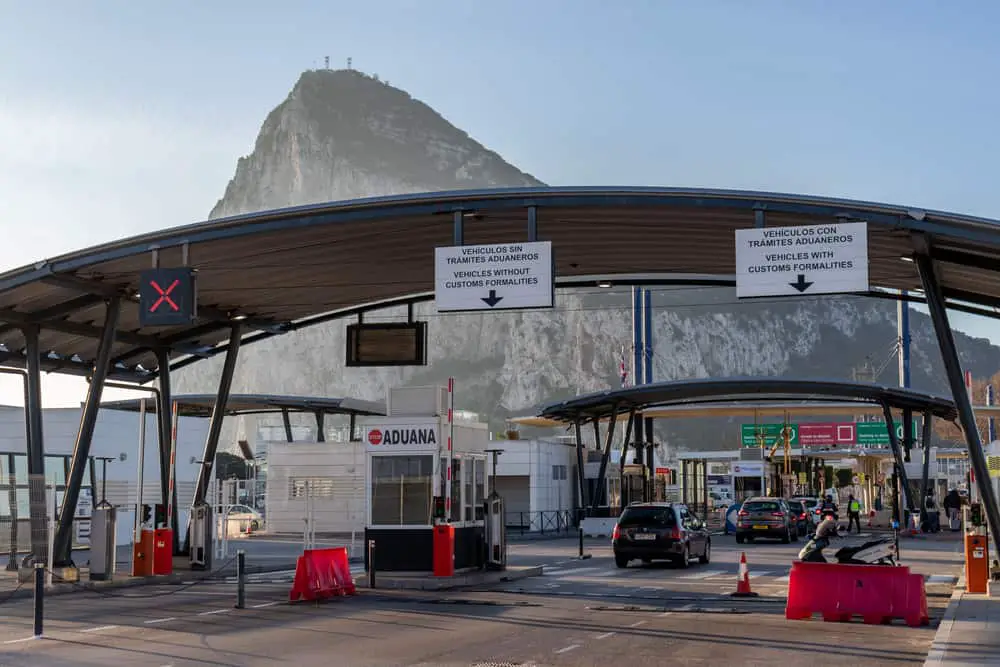 Needed documents for crossing the land border between Spain and Gibraltar
If you're an EU, Schengen, or UK resident, you need to show your EU ID card or passport to cross the border between La Linea and Gibraltar.
Some nationalities need a visa to enter Gibraltar, though if you have a Schengen visa, you might use that. You can easily check if you need a visa or not and the required entry rules for you by entering your passport nationality HERE.
Remember to assure that you have a multiple entry visa so that you can get back to Spain again after your day trip to Gibraltar from Malaga.
OTHER COOL DAY TRIPS FROM MALAGA
What to do on a Malaga to Gibraltar day trip
As already mentioned, there's no way you'll manage to fit in everything there is to do with only one day in Gibraltar. Thus, I'll list what I think are the most important attractions to visit on a day trip to maximize your Gibraltar one day itinerary.
Take the Cable Car to the top of The Rock
The cable car that goes to the top of The Rock is the perfect way to travel to the top when on a day trip from Malaga to Gibraltar as it saves you time compared to walking the steps (where, in my experience, you might be attacked by apes and have nowhere to escape.)
The cable car runs every day from 09:30 in the morning every 10-15 minutes. While the ride is only 6 minutes, you're guaranteed spectacular views from the charming cable car wagons dating back to 1966.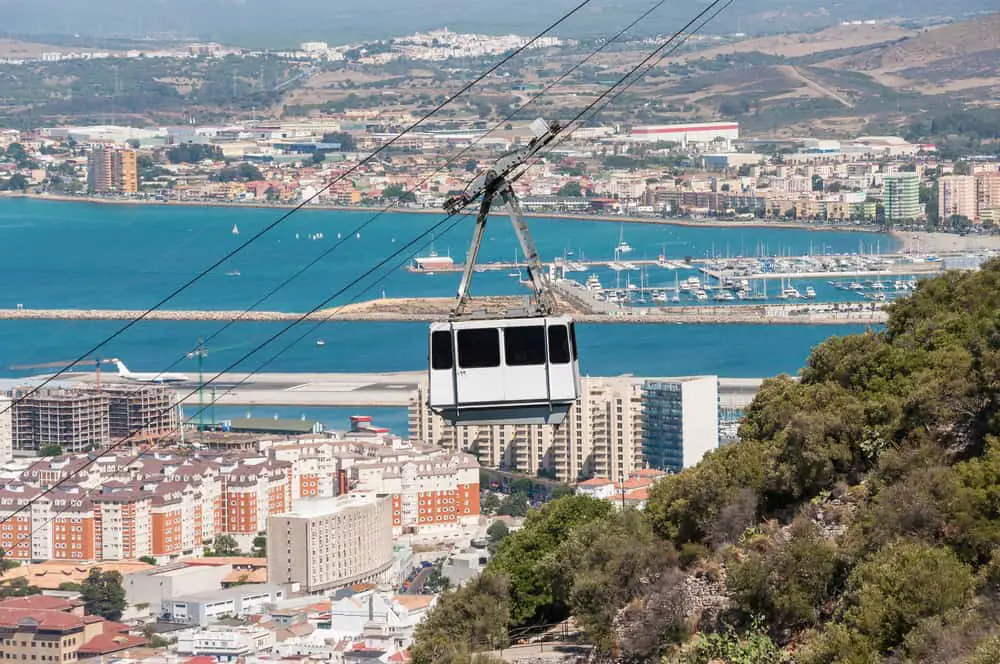 See the views from The Rock of Gibraltar
The top of 426 meters high The Rock of Gibraltar offers breathtaking views of the port, the tiny peninsula, and the Spanish mainland. But if you turn around, you'll also see Morocco on the African mainland across the Strait of Gibraltar.
On a sunny day, you'll get a postcard-perfect image of the entire Spanish coastline behind the iconic rock. Make sure you take a picture to memorize this view for the rest of your life.
I love how Gibraltar is so small that from the top, it looks like you can hold it all in the palm of your hand. Yet there's so much to this rocky peninsula.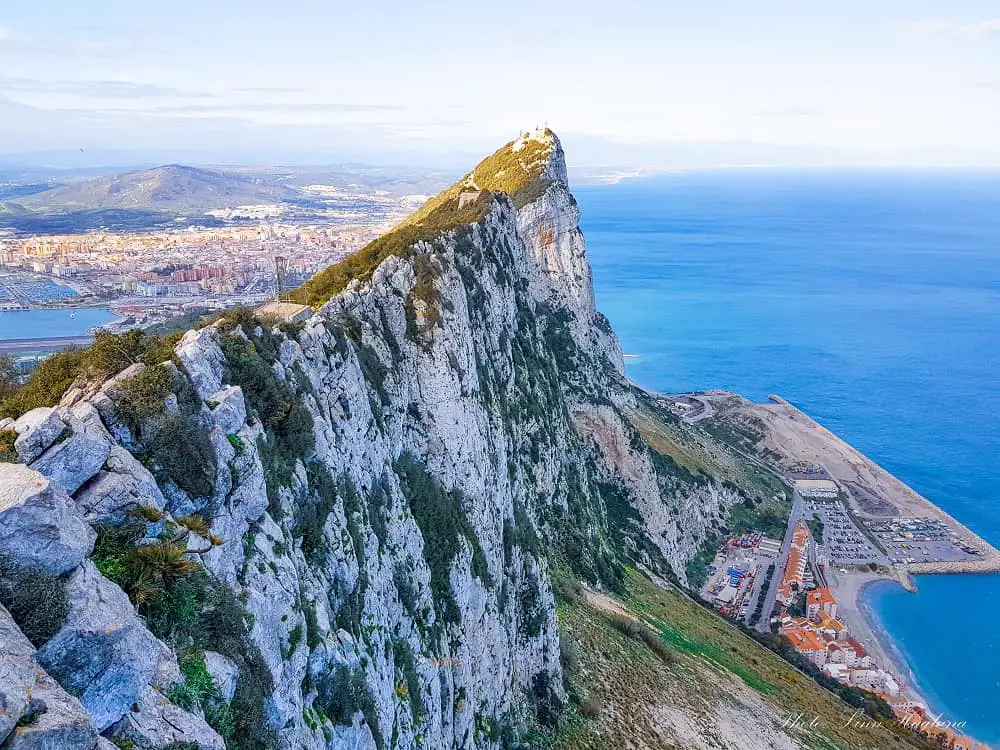 Take a picture of the monkeys of Gibraltar
Gibraltar is the only place on the European continent where you'll see wild monkeys. Originating from Morocco, these imposing animals have become iconic to Gibraltar and one of the main tourist draws.
Malaga day trips to Gibraltar are often mainly planned because travelers want to see the monkeys, and rightly so. But keep in mind that these are wild animals, and I'll say it again:
Don't feed the monkeys (actually keep all food or snacks inside a locked bag)
Avoid touching the monkeys
Watch your belongings
Don't chase the monkeys
If the monkeys approach you, stay calm and avoid confrontation – they can bite!
Yes, I have seen monkeys steal tourists' bags, ripping them apart, and grabbing snacks from inside them. Yes, I have seen monkeys attack tourists. And yes, I've seen tourists trying to feed them to get them to come close to get a selfie with them before happenings like that.
Sometimes the monkeys might jump on your shoulder because they feel like it, so don't freak out, but keep the above in mind so you get a positive experience. Because though they're cheeky creatures, they're totally adorable!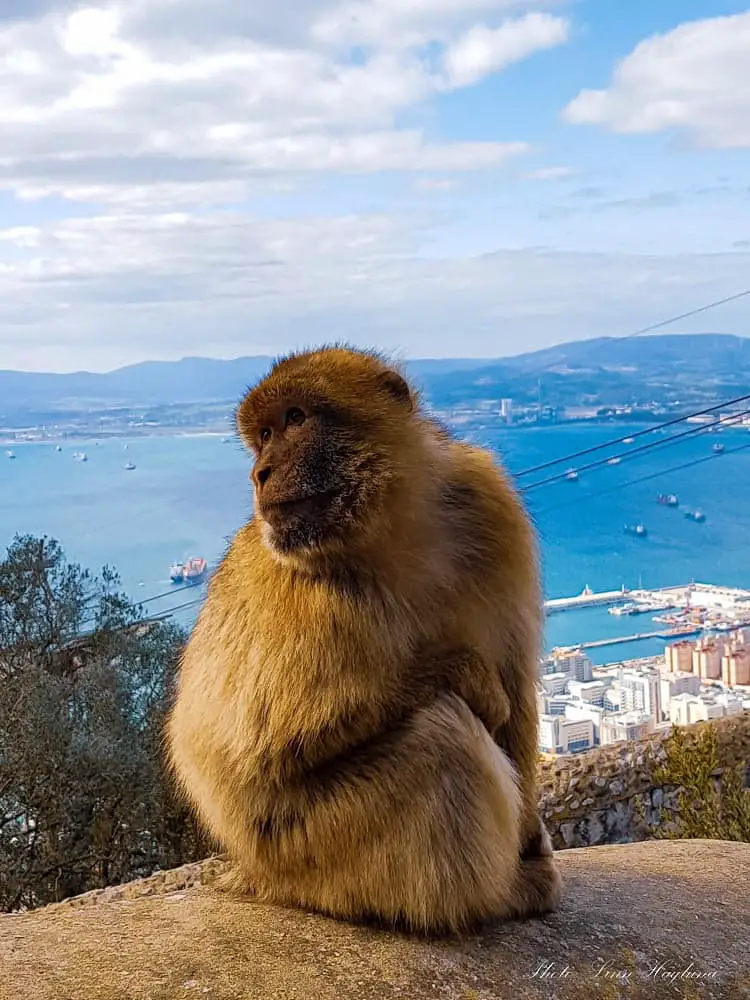 Have lunch at Mons Calpe Suite
On top of the Cable Car stop, there is a perfect restaurant for lunch with views of the Rock and the Spanish coastline. When visiting Gibraltar in one day, this is the best option to not waste time going into the town center looking for a place to eat.
They serve a decent variety of food, snacks, and drinks. If you're not driving, you will be pleased with their bar! Check out their website for more information here.
Visit St. Michael's Cave
After lunch, head to the spectacular St. Michael's Cave where you'll immerse yourself in the stalagmites and stalactites that have been built over millions of years inside the cave.
Legend says that the cave has no bottom and priorly it was believed that the cave was the mouth of an underwater tunnel across the Strait of Gibraltar reaching Morocco on the other side.
Inside the main chamber of the cave, you'll find a massive stalagmite that has fallen off the cave ceiling, probably thousands of years ago shaking the entire Rock of Gibraltar.
Colorful lights are used to light up the inside of the caves giving it a light show spectacle.
The St. Michael's Cave is open every day from 09:00 to 19:15, though last entry is 30 minutes before closing time.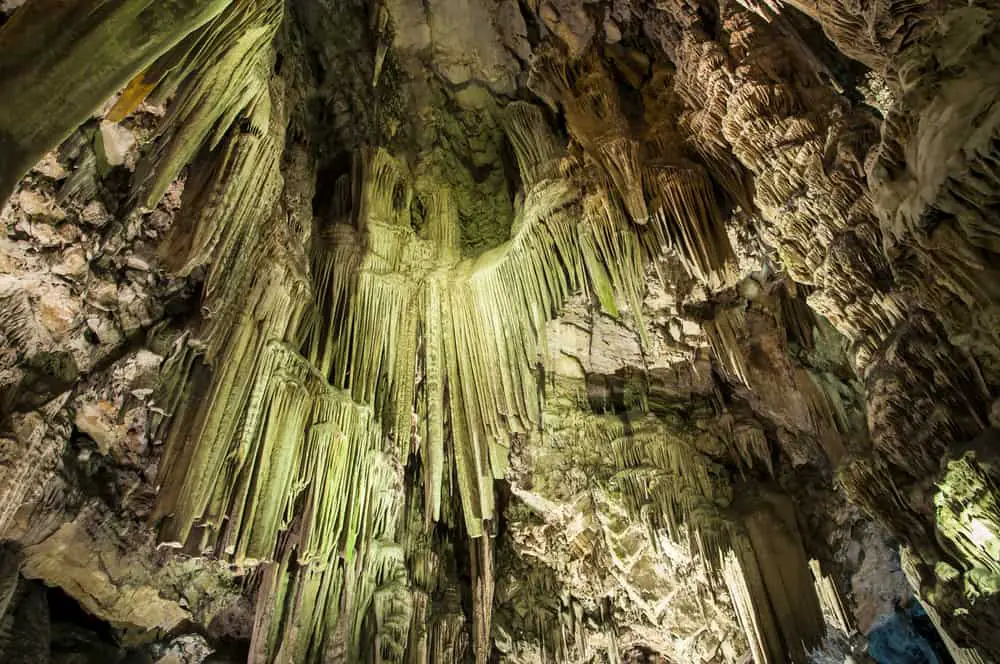 Visit the Moorish Castle
Gibraltar's Moorish Castle was originally built in the 1100s but was later destroyed during the Spanish re-conquest 200 years later. The tower, known as the Tower of Homage, was later rebuilt and together with the remains of the fortified walls, it towers above Gibraltar's epic sea views.
Throughout the years, the castle has housed Dukes, protected the population against pirates, and served as a prison. today, it's one of the most interesting historical sites in Gibraltar.
Opening hours are Monday to Friday: 09:00-19:15. The last admission is 30 minutes before closing time.
Stroll around the town center
If you have the time, round off the day with a stroll around the town center, walk down Main Street where you find several high-end British shops, and take a selfie in one of the red, British phone boots. Take a peek into old book stores, and have a coffee or a beer at any or the bars.
I highly recommend taking a guided tour with a local guide to see the main spots. A guide will also provide you with all the interesting history of Gibraltar's old town.
Want to keep your vacation memories for generations to come?
Book a local photographer to take a photo shoot and get professional photos to remember your day trip to Gibraltar forever. Check prices and availability here.
Reflections on a day trip to Gibraltar
There's no doubt, that traveling from Malaga to Gibraltar as a day trip is well worth it! I hope this guide gave you a clear idea of how the best way for you is to go on a day trip to Gibraltar from Malaga.
There are so many cool things to see and do on the tiny British territory that you should have a fabulous trip and take with you a whole heap of unforgettable memories.
There's a reason I've gone on multiple day trips to Gibraltar and often take family and friends when they visit me from abroad.
If you're looking for more day trips from Malaga, check out my top picks here.