When going to the beach, Huelva might not be the first place you think of in Andalucia, still being quite off the beaten path in southern Spain.
Being the undoubtedly most underrated beach destination in the region, Huelva boasts a coastline of pristine beaches extending from the more famous Cadiz beaches on the wind-swept Atlantic coast.
When I lived in Seville, these were some of the beaches I spent the most time at due to their proximity – some of them are even easily reached by bus.
If you are wondering where to head to the beach in Huelva, make sure you read on, because, in this post, I'll show you my absolute favorite beaches in Huelva that I'm sure you'll love.
Disclosure: This post may contain affiliate links. That means that if you make a purchase through one of those links, I will get a small commission at no extra cost to you.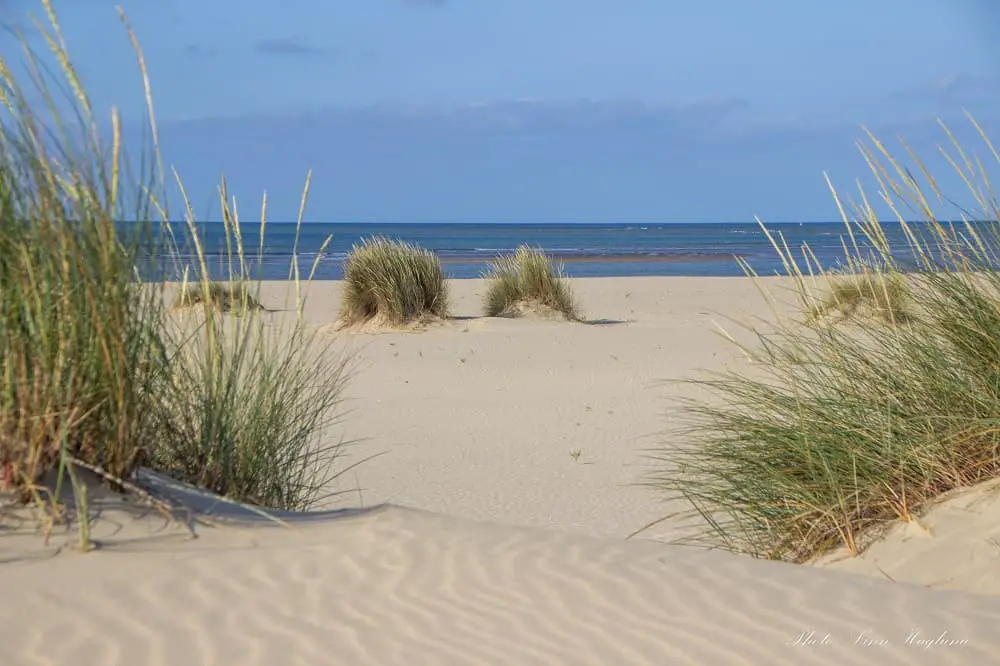 Beaches in Huelva
Matalascañas beach
Facilities:
Parasols
Sunbeds
Lifeguards in summer
Toilets
Showers
Restaurants
Bars
Parking
One of the Huelva beaches I've spent the most time on is probably Matalascañas beach. It's the best commuted of the beaches near Seville, and the closest to reach by bus with only an hour and a half travel time.
The 5-kilometer long beach has an urban part by the town, with all facilities available, and wheelchair access. On the far ends, on the other hand, you can enjoy untamed stretches of sand cascading down from savage dunes. There, you will not find beach bars or toilets, but tranquility and peace.
As you can see, no matter what kind of beaches you prefer, Matalascañas delivers. There is no wonder why it's one of the best beaches in Huelva.
How to get there: Buses run daily from Seville to Matalascañas. From Seville, get the bus from Plaza de Armas, the journey takes between 1.5 and 2 hours. From Huelva, there are no good bus connections, so you should go by car or BlaBlaCar. It takes 45 minutes to drive from Huelva to Matalascañas and about 1 hour from Seville.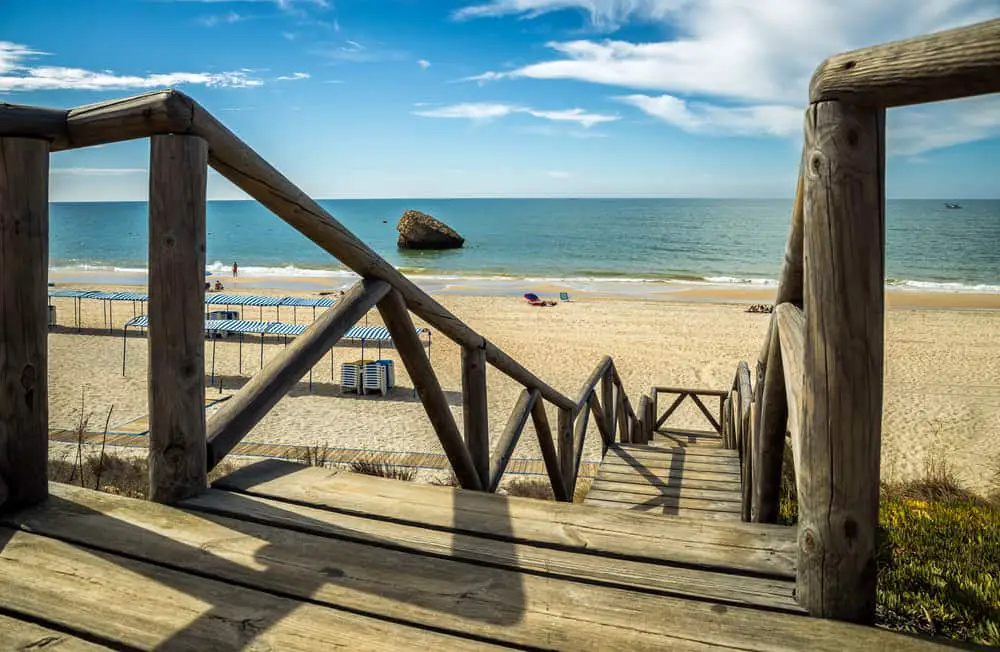 Punta Umbria beach
Facilities:
Parasols
Sunbeds
Lifeguards in summer
showers
Toilets
Bar
Restaurant
Parking
Punta Umbria beach is surely one of the best beaches Huelva has to offer. The urban beach is a popular destination for beach dwellers from Seville and Huelva, but more and more foreign tourists make it there.
This is one of my favorite places to hang out in summer with one of the most vibrant Andalusian beach towns offering an animated vibe.
The beach is big enough for everyone even in the high season with its 3.8 kilometers in length and 50 meters in width. Take your own parasol and walk a little further down the beach to get more privacy, or hang out in front of the beach bars to get proper beach vibes accompanied by great music.
The beach is in walking distance from Punta Umbria town, but if you come by car, there is plenty of parking along the beach, though you should come early in the summer months as it fills up quickly.
How to get there: There are frequent daily buses from Huelva to Punta Umbria and the journey takes between 30 and 40 minutes. From the bus station in Punta Umbria, there is about a 10-15 minute walk.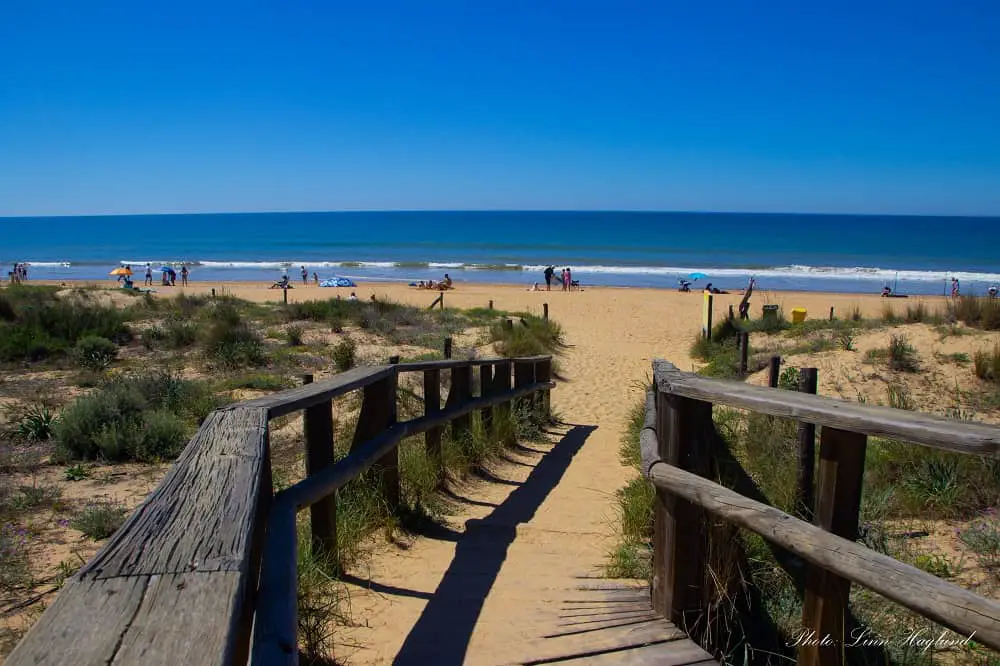 La Bota beach
Facilities:
sunbeds
parasols
lifeguards in summer
beach bar
parking
A few kilometers west of Punta Umbria beach, you find a 3800-meter-long stretch of much wilder beach, though also here there are areas with parasol and sunbed rental and lifeguards in summer.
You can still go to the more untamed parts of the beach and you'll find yourself immersed in nature and forget that there are other people on this planet.
There is plenty of parking space along the beach, with a short walk across the dunes to reach the actual beach and to take a dip in the glittering Atlantic Ocean.
How to get there: La Bota beach is a short 10-minute drive from Punta Umbria and just over 1 hour to walk. There are daily buses from Punta Umbria bus station.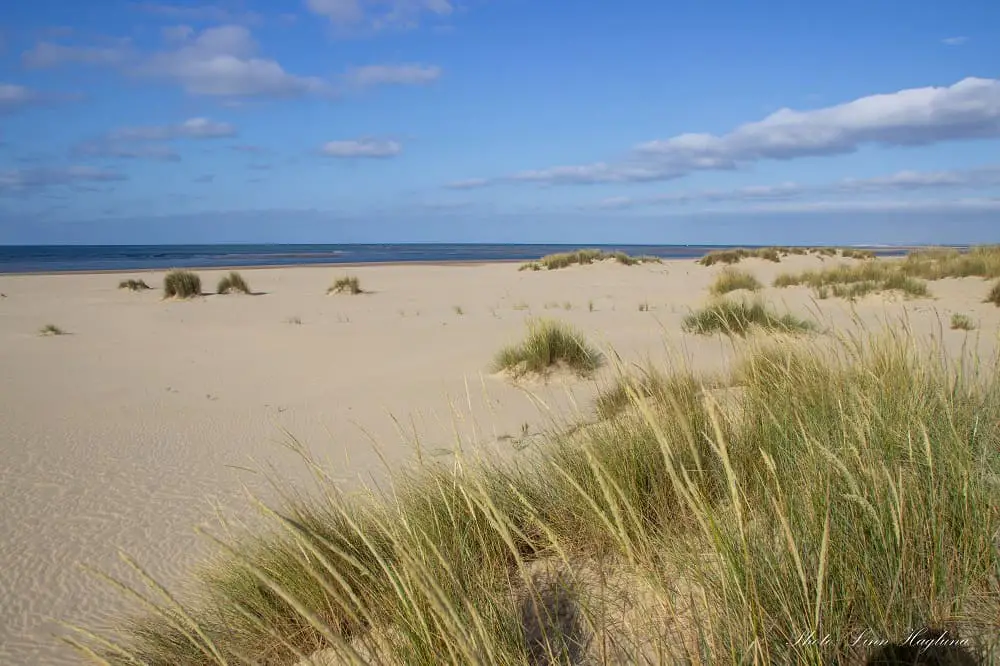 El Rompido beach
Facilities:
Restaurants
Bars
Parking nearby
El Rompido beach is one of the beaches in Huelva Spain that's affected by the tides. situated in the enchanting fishing town of El Rompido, you have everything you need by the beach.
There are no sunbeds or shade for rent so you'll have to bring your own and no other amenities on the actual beach. However, the village is super small and on top of the restaurants and bars on the beach front, there are many more places to eat, drink, and use the toilet throughout the village.
El Rompido is a cute beach overlooking the colorful fishing boats and perfect for anyone based in the village of El Rompido.
How to get there: From Punta Umbria it takes 20 minutes to drive the coast road to El Rompido. There, you can park in a big parking space above the village or find space in the small streets in the village. From the parking and down to the beach, it's only a few minutes walk. There are also buses from Punta Umbria bus station.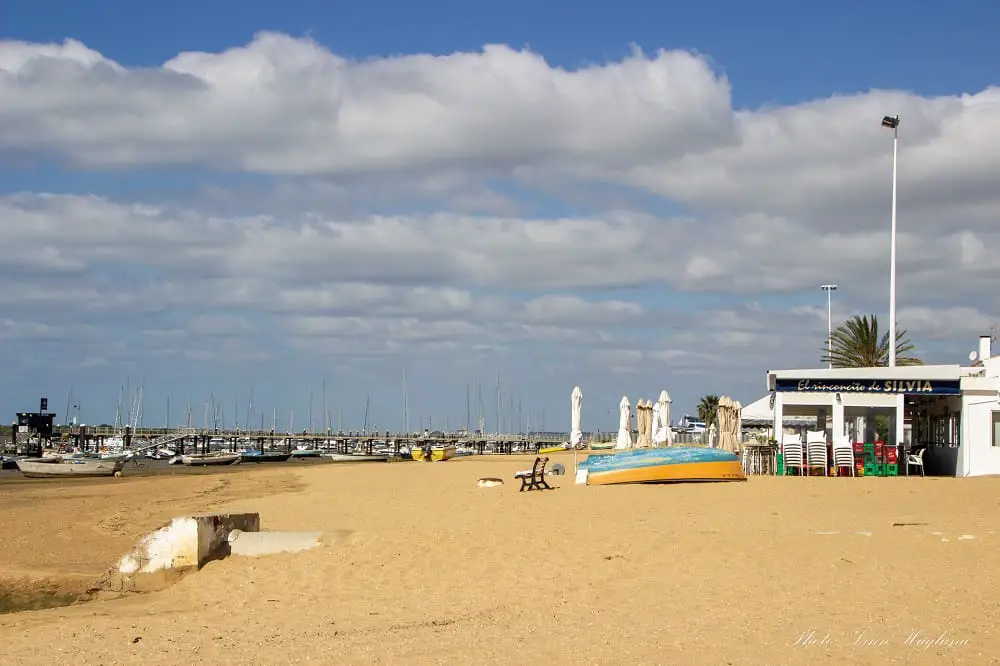 San Miguel beach
Facilities:
Showers
Bar
Restaurant
Toilets
Playground
Parking nearby
Nestled between El Rompido and Nuevo Portil you find the stunning San Miguel beach.Yet again a beach where you can find the amenities you need. Yet, if you want to get away from it all and bring your own food and drinks, you have the opportunity to walk a stretch on the beach.
This variety attracts a lot of different beachgoers and for that reason, it's one of the Huelva best beaches you'll find along the Flecha del Rompido.
Personally, I love the beaches in Huelva for exactly what San Miguel Beach has. A vast natural area connecting the beach to the nearest roads which makes you feel more remote.
How to get there: San Miguel beach is reached by car and bus. You can take the M-307 bus from Huelva which takes about 30 minutes or drive in about 20 minutes. In the latter case, you can park at the marina and walk to the beach.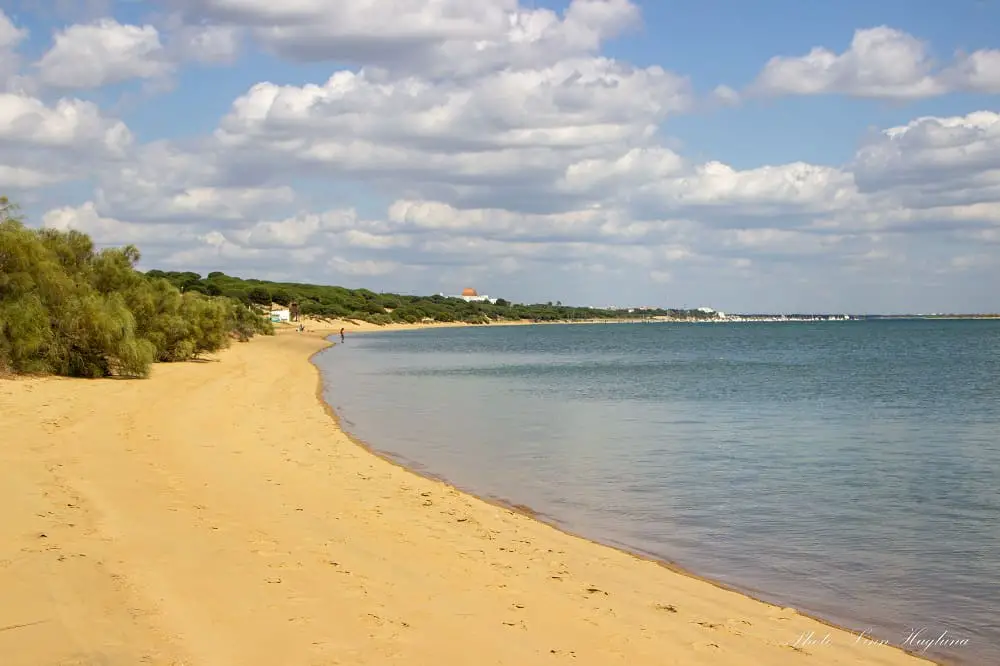 Nuevo Portil beach
Facilities:
Nuevo Portil Beach stretches from Portil Beach to the lagoon of Flecha del Rompido. While not as urban and equipped as its sister beach, Portil Beach, you can expect a pristine stretch of beach protected by a lush natural park of sweet-scented pine trees.
However, once you're closer to Nuevo Portil, there are more people and there's easier access to the beach, especially if you come by car and need parking.
Due to the savage part of this beach, it has become one of my favorite beaches near Huelva.
How to get there: The easiest way to reach Nuevo Portil beach is by car. There are parking spots along the road, but once you reach the part of the beach that goes into the lagoon, you can't park. So I recommend leaving the car as far up Nuevo Portil as possible and walking as far as you want to go. That said, Nuevo Portil Beach meets Portil Beach which is a lot more urban with all the needed facilities. The closer the town, the easier it is to park, but the fewer virgin beaches you'll encounter. Driving from Huelva takes approximately 20 minutes.
There are also buses you can take, the M-307 takes about 30 minutes from Huelva to Nuevo Portil.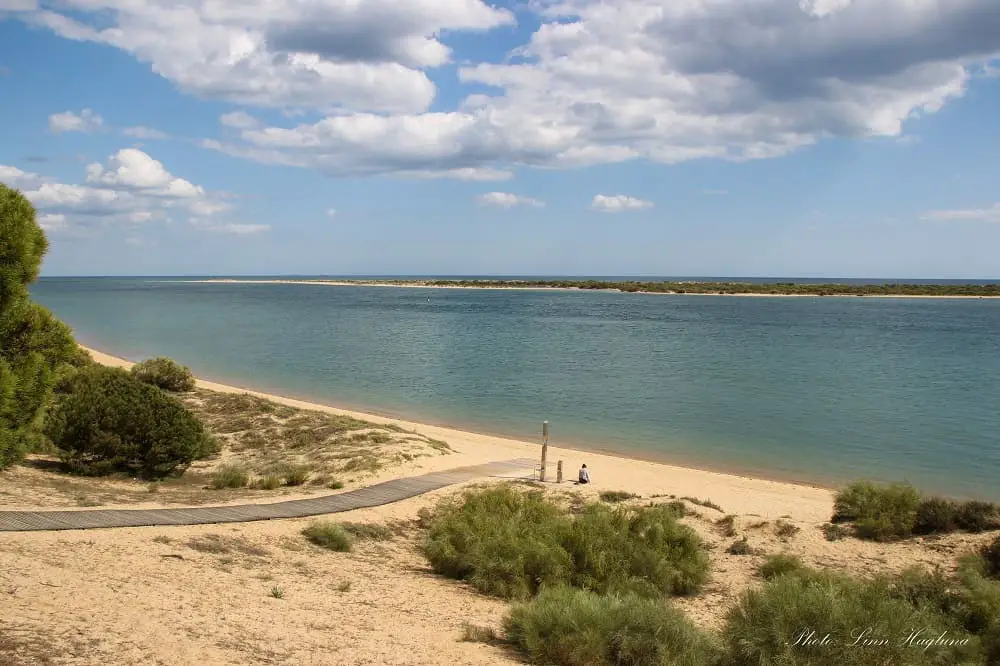 Reflections on the Huelva beaches
If you like to get off the most trodden tourist route and explore sand blown, virgin beaches, or even get away from the beach bars, then I'm sure you found some cool Huelva beach options for your next vacation here.
These Huelva beaches are also great for mingling with a more Spanish crowd, even though the summers fill up with foreign tourists, it's nothing compared to the beaches in Malaga.
If you're looking for more things to do in Huelva, read my city guide here.