When it comes to hidden gems, Andalucia has quite a few of them as most travelers head to the same destinations exploring popular Andalusian cities like Seville and Malaga or heading to coastal towns like Nerja and Fuengirola on Costa del Sol.
Nonetheless, even the lesser popular destinations like Cazorla, Cadiz, and Aracena are starting to get a name for themselves which means that we have to dig deeper to find real hidden gems in Andalucia that you actually might not have heard of before.
I have traveled extensively through Andalucia throughout the years and I have discovered quite a few jewels out there, some of which have turned into popular tourist hubs since I first set foot there, like El Chorro lakes, Bolonia beach, and Punta Umbria.
So if you're up for some real hidden gems in southern Spain, read on, as I have some really cool spots for you to discover!
Disclosure: This post may contain affiliate links. That means that if you make a purchase through one of those links, I will get a small commission at no extra cost to you.
Hidden gems Andalucia
Rio Tinto, Huelva
Rio Tinto in Huelva is a true hidden gem in Andalucia and a seriously interesting place in Spain. The red river is one of the most underrated day trips from Seville, only an hour's drive away.
The high amount of metals and low oxygen in the water creates the orangy-red color and even Nasa has shown interest in the Rio Tinto for its similarity to Mars. There are bacteria living in the hostile river that they believe might live on Mars too.
The unique river can be seen as part of a tour with the old mining train from the village of Minas de Riotinto or by driving yourself. Nearby, you can also see mining pits and learn about the mining industry in Riotinto.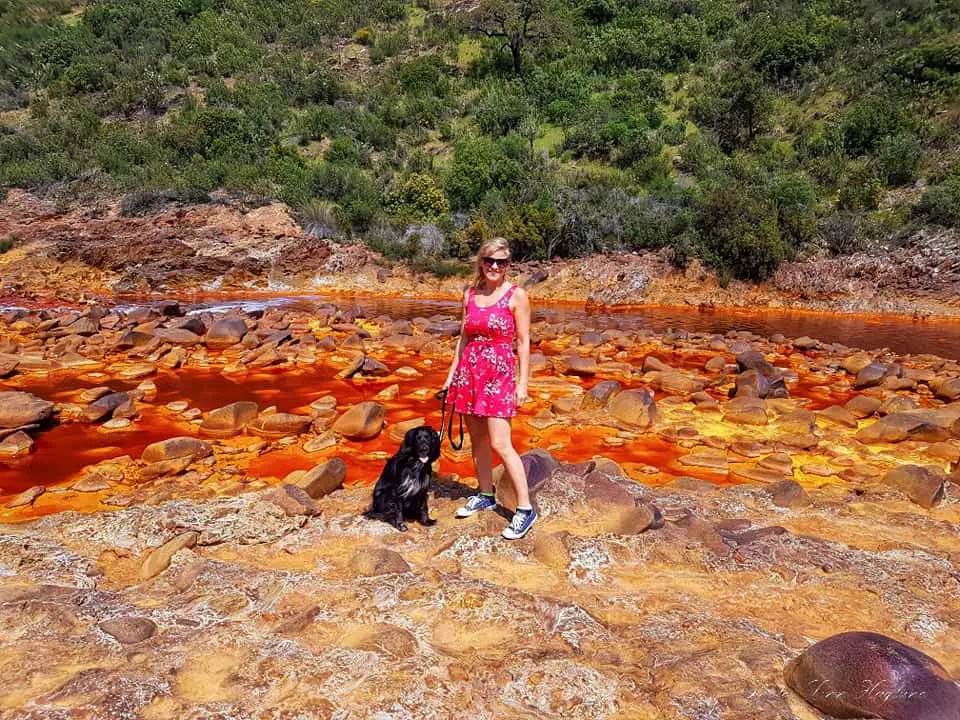 Baños de la Encina, Jaen
One of the off the beaten track Andalucia destinations worth visiting is the tiny village of Baños de la Encina north of Jaen.
The main attraction is the medieval castle crowning the village, a majestic structure from the outside and the inside. But it is not only one of the most impressive castles in Andalucia, but it is also the oldest castle in Spain and among the oldest in Europe, dating back to 968 AD.
But there are many more things to do in Baños de la Encina. Walk through the enchanting streets, watch the impressive views of the surrounding countryside, discover the quaint squares and churches, and witness the ancient windmill.
We completely fell in love with this little hidden gem in Andalucia which I am completely sure is hidden in the shadows of Ubeda and Baeza which are the main places the few tourists that make it to Jaen actually visit.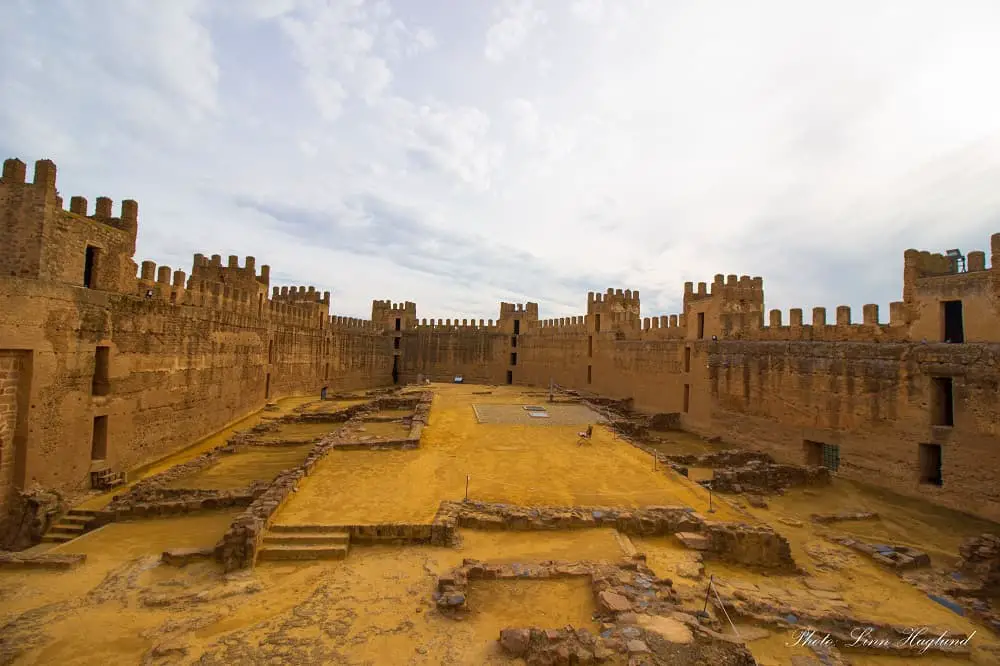 Soportujar, Granada
One of the Andalucia hidden gems that you should not miss out on is the Witch Village, Soportujar. Perched in the Alpujarras in Granada's Sierra Nevada, this is a lovely distraction from the other picture-perfect villages nearby.
The village has an obscure witch theme throughout with a trail where you find statues of anything from dragons, witches, spiders, and the Hans and Gretel house.
Your best bet to get there is to drive, as it's situated deep in the Alpujarras. By car, you can do it as a day trip from Granada with just over an hour's drive.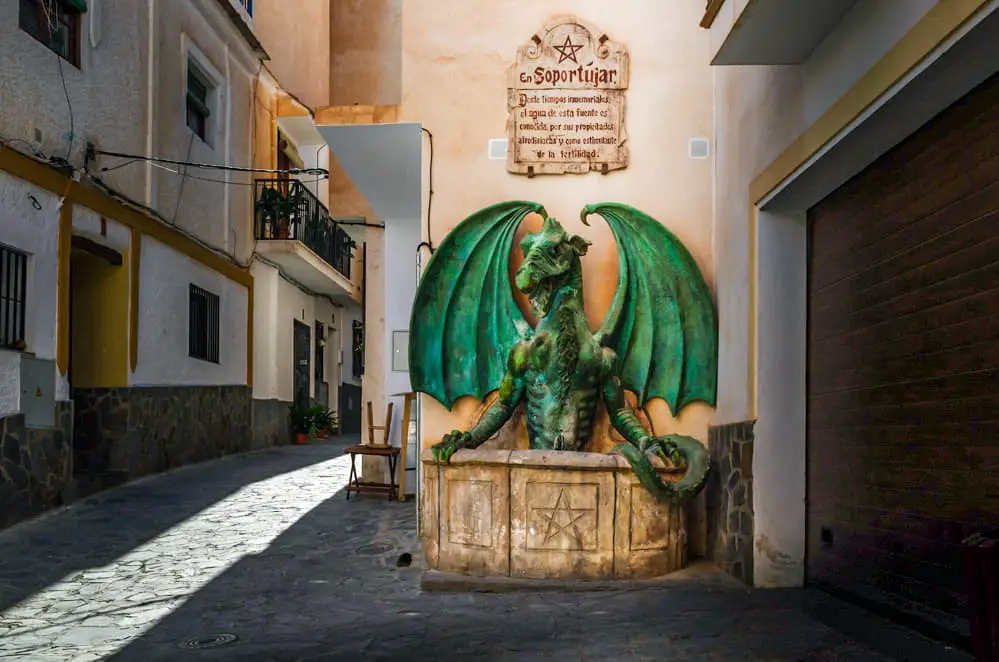 Cerro del Hierro, Seville
The province of Seville is generally in the shade of the majestic Andalusian capital city's glam. But there are many amazing places to visit, including well hidden gems. Andalucia has a long mining history and one of the most unique mining sites is Cerro del Hierro in Sierra Norte de Sevilla.
Only an hour north of Seville, you can explore this impressive natural place with tunnels and manmade caves. It is situated at the end of Via Verde and has been used for mining since before Roman times until the 20th century.
Important landmarks in Seville, like Puente de Triana, was made with iron from Cerro del Hierro.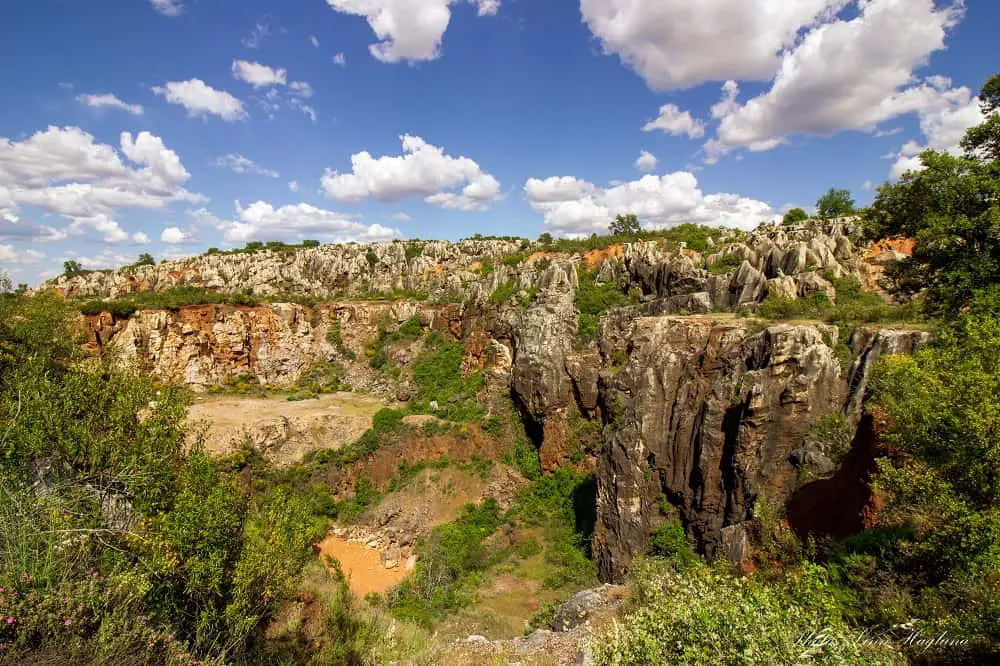 San Nicolas del Puerto, Seville
If you are looking for the secret Andalucia, look no further than San Nicolas del Puerto, which is one of the most underrated towns near Seville. Situated in the Sierra Norte de Sevilla, it's a short distance from Cerro del Hierro.
The most unique about this little village is that it holds Spain's only artificial beach on the river. In the heart of the village. the last time I was there was during the pandemic and the beach was closed, but it should be up and running again now.
Among the best things to do in San Nicolas del Puerto is a walk to the picturesque Huéscar Waterfalls cascading into waterholes and the river that runs through the lush green forest.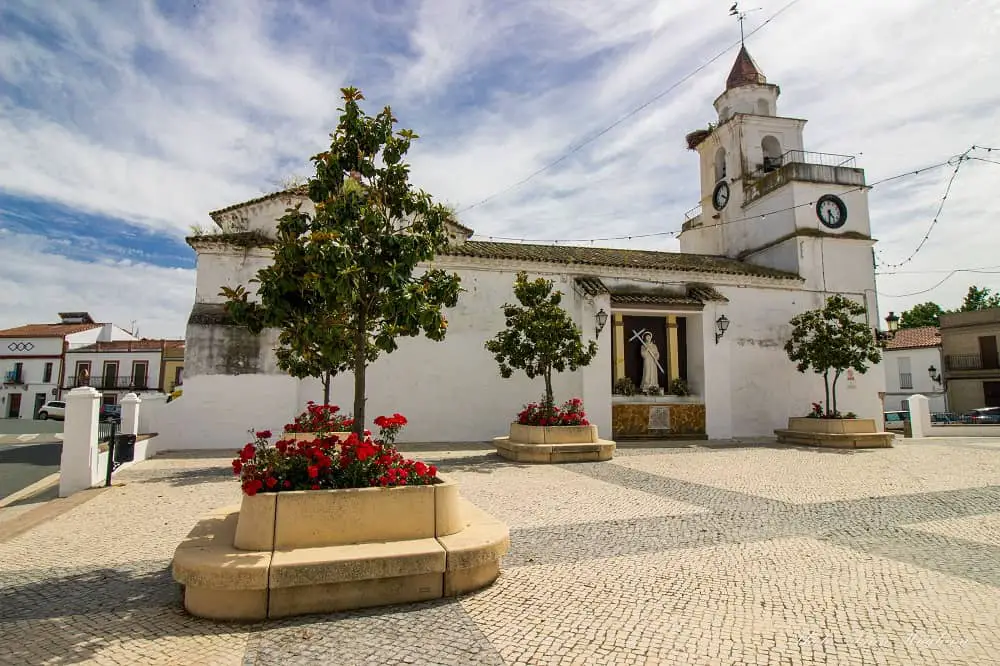 Bosque Encantado, Malaga
When it comes to hidden gems southern Spain has one that is super popular among the locals, but I never see tourists around. Parauta is a tiny white village near Malaga in the midst of the Genal Valley.
The village itself is super charming, but the fairytale trail, Bosque Encantado, is absolutely amazing and a great place to take your kids.
Walking straight from the village, you will pass fairytale figures, statues, and little wooden houses in the trees. There is also a colorful wooden house you can walk inside.
Truly one of the most amazing hidden gems in Andalucia!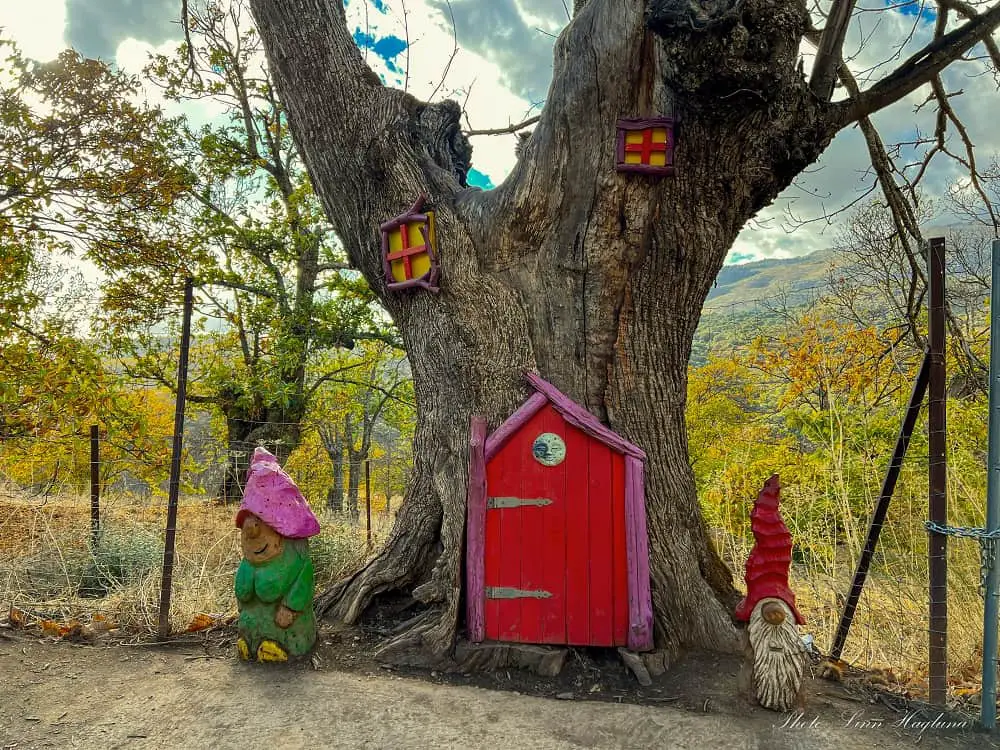 Castril, Granada
One of the most surprising little villages I found while searching for the hidden Andalucia is Castril in the Granada province. The whitewashed village clings to the bottom of a narrow rock known as Peña de Castril overlooking the impressive Sierra de Castril Natural Park which is crowned by a statue of Christ.
Among the best things to do in Castril is to walk the picturesque Cerrada del Rio Castril boardwalk. Following the river, the path is mostly pinned to the side of the ravine while you'll cross a hanging bridge and venture through a tunnel on the way to a cozy restaurant where you can have a feed or enjoy a cold drink in the sun.
Other attractions in the village, besides hiking, are the 16th-century Virgen de Los Ángeles Church, El Cantón square, and the many remains of Moorish towers and walls throughout the 2000-year-old village. Without a doubt worthy a mention on an Andalucia off the beaten path list.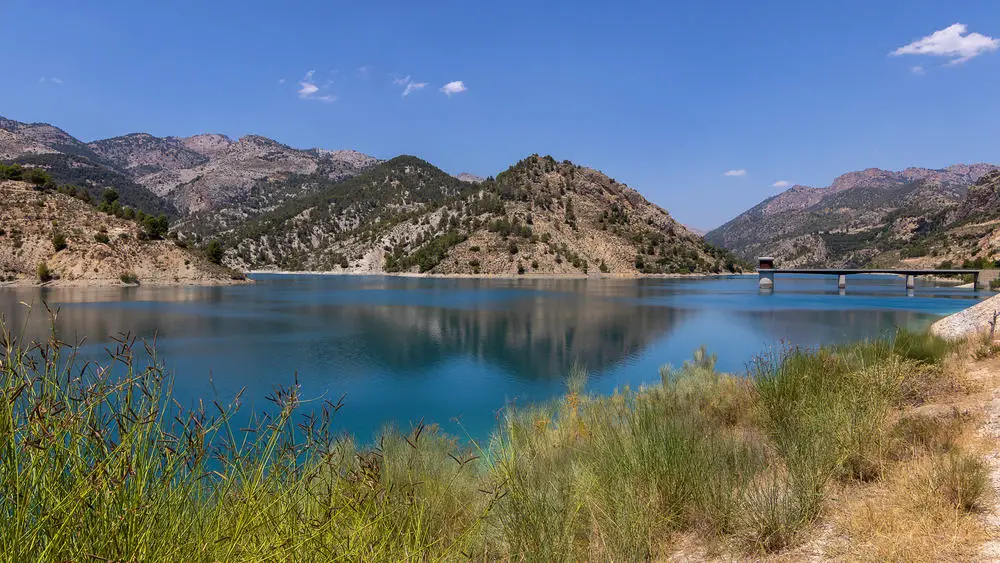 Linares de la Sierra, Huelva
Situated close to Aracena in Huelva's spectacular Sierra de Aracena Natural Park, the little whitewashed village is a pleasant surprise. While Aracena in itself can be considered Andalucia off the beaten track, Linares de la Sierra is a true hidden gem.
Andalucia's mountains are such wonderful places to find little places like this and I accidentally came over it while I was hiking from Aracena.
The village gives you the feeling of stepping back in time. Green grass sticking up through the uneven cobbled streets and different rock "drawings" in front of each door give a whole lot of character.
The church and its little garden are spectacular with epic mountain views, and the old washing place is worth seeing too. Not surprisingly, the little village dates all the way back to the Moorish era, and the cars parked up in the alleys kind of look misplaced. I'd rather expect horse carriages in a place like Linares de la Sierra.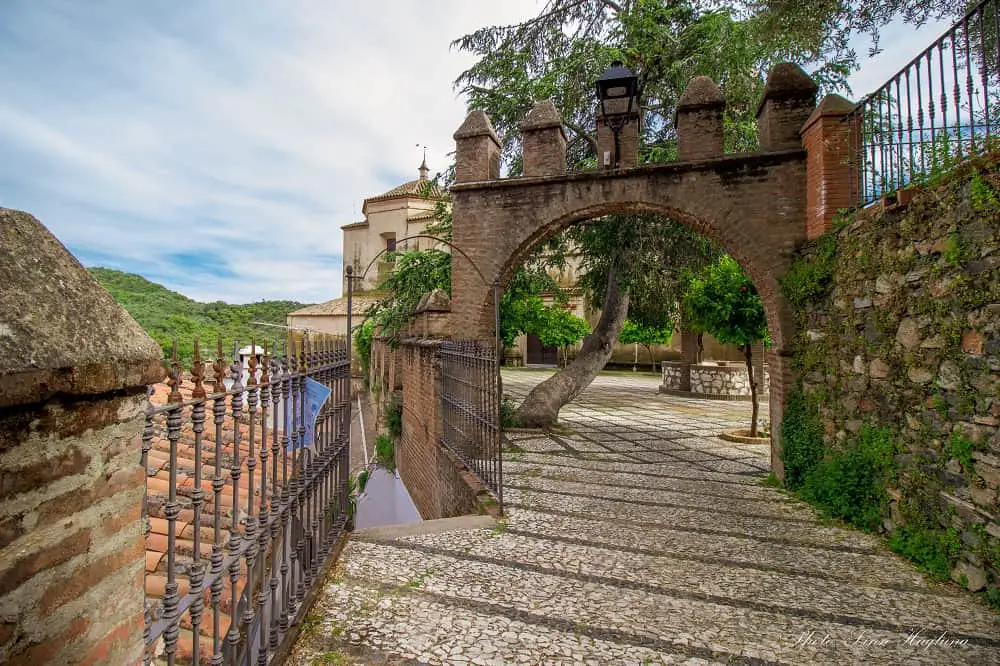 Tabernas desert, Almeria
A great example of the secret Andalucia is the Tabernas desert in Almeria. It's a mecca for hikers with vast, dry landscapes, and nothing like the stereotypical Andalucia – Flamenco, beaches, and cheap cocktails.
Nature lovers will enjoy this dispersed piece of Andalucia. I particularly love the formations of the unrefined landscape which looks so hostile and picturesque at once.
But there are more things to do in this area than hiking, making it one of the best things to do in Almeria. A mini Hollywood is set up for visitors – after all, several old Western movies were filmed there.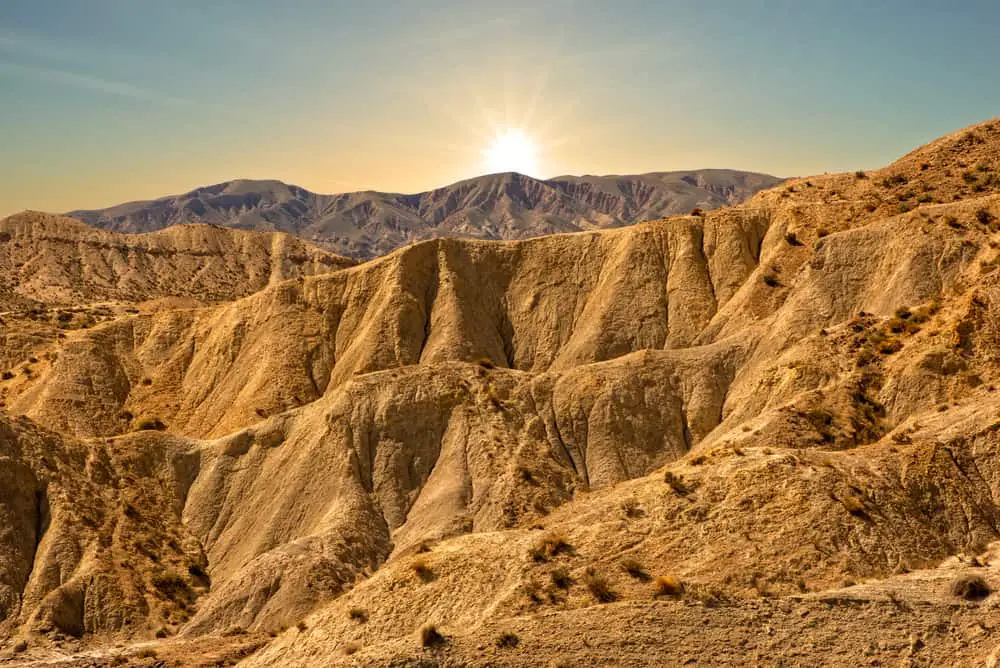 Genalguacil Museum Village, Malaga
One of the best hidden gems in Andalucia is the museum village of Genalguacil, also known as Pueblo Museo (Museum Village.) Featuring more than 200 pieces of art throughout the village, this is truly one of the most unique places to visit in Andalucia.
Situated in the heart of the spectacular Genal Valley in Serrania de Ronda, Genalguacil is surrounded by natural beauty. After traveling an hour from the popular Malaga town, Ronda, on narrow hairpin roads through forests, past tiny villages, and with breathtaking views, Genalguacil looks like a pretty normal white village when arriving.
But once you park up the car and walk through the narrow, cobblestoned streets, you'll come across quirky statues, wall paintings, colorful pot plants, bright lemon trees, and unique artwork.
You might think it's enough with an hour in the village, but once you get deeper into those streets, you'll most likely look for more art and picturesque corners which makes time fly. Make sure you reach Plaza de la Constitución for sweeping views of the tree crowns below!
Like other white villages in the area, like Parauta and Igualeja, it's a mecca for hikers. With access to an array of hiking routes especially beautiful in autumn when the fall colors cover the valley, it's a lovely attribution to the list of Andalucia's hidden treasures.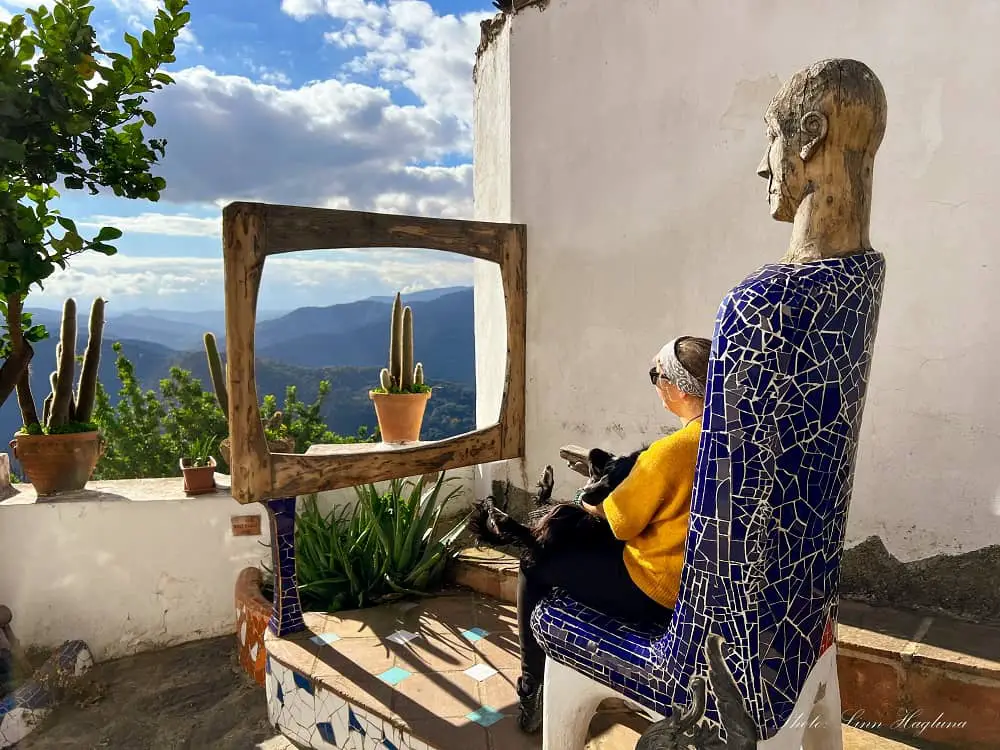 Reflections on Andalucia off the beaten path
There's no arguing, the hidden gems Andalucia holds are absolutely amazing! Traveling by van has given me the opportunity to spend a whole lot of time uncovering places I never heard of.
The beauty of slow travel is that you spend more time talking to people which ultimately can lead you to places that you would never dream of.
If you have a car, some extra time on hand after visiting all the most famous places in Andalucia, and a sense of adventure, I'm sure you found some new off the beaten path locations in Andalucia to add to your bucket list.
Happy travels!