Most people are unaware that Granada has a coastline, but there is a short and splendid coast belonging to the province – Costa Tropical. In fact, the beaches in Granada, Spain are amazing.
Most of the Granada beaches are far from the fine sand you might be used to on the beaches in Cadiz. Yet, they are beautiful with crystal clear water and rocks jutting out into the sea.
Not surprisingly, this makes for a picturesque scenery that you typically will not find on Costa del Sol, unless you head to the beaches in Nerja, which are the closest to Costa Tropical and also the best beaches near Granada.
What I love about Costa Tropical is that it is a lot more relaxing than Costa del Sol, especially the beaches near Malaga, yet you find splendid beaches with all the necessary amenities.
There are also more Spanish tourists in these destinations making it more of a local experience. I absolutely love Costa Tropical and I'm excited to show you the best beaches in Granada so that you can start planning your beach getaway.
You might also like my post about the best beach towns in Andalucia where you find great places to stay. I will also list some epic beaches near Granada, Spain that are easily reached since Costa Tropical only spans 19 kilometers.
Disclosure: This post may contain affiliate links. That means that if you make a purchase through one of those links, I will get a small commission at no extra cost to you.
Beaches in Granada
Playa de la Charca/Salomar
Facilities:
Lifeguard in summer
Showers
Toilets
Sunbeds and parasols for rent
Beachbars and restaurants
Parking by the beach
One of my absolute favorite beaches in Granada is Playa de la Charca/Salomar in Salobreña, one of the most enchanting coastal towns in Andalucia.
With the picturesque Peñon rock jutting out in the crystal clear water, it is also a great beach to go snorkeling and cliff jumping.
The beach has all the necessary amenities and lifeguards patrol the beach in the summer. There are plenty of beach bars and restaurants on and along the beach as well as toilets and showers.
The sand is dark/gravel and perfect to play ball both on the shore and on the beach. Usually, the water is calm, so this is also a fabulous place to pull out your paddleboard.
I tried to rent one last time I was there, but couldn't find any place near the peñon. I was told there is a place on the east side of the beach and in the town, but I can't confirm as I haven't been there.
Being the best urban beach in Salobreña, it gets very crowded in the summer and on weekends, but in the shoulder seasons, you can enjoy a less crowded beach.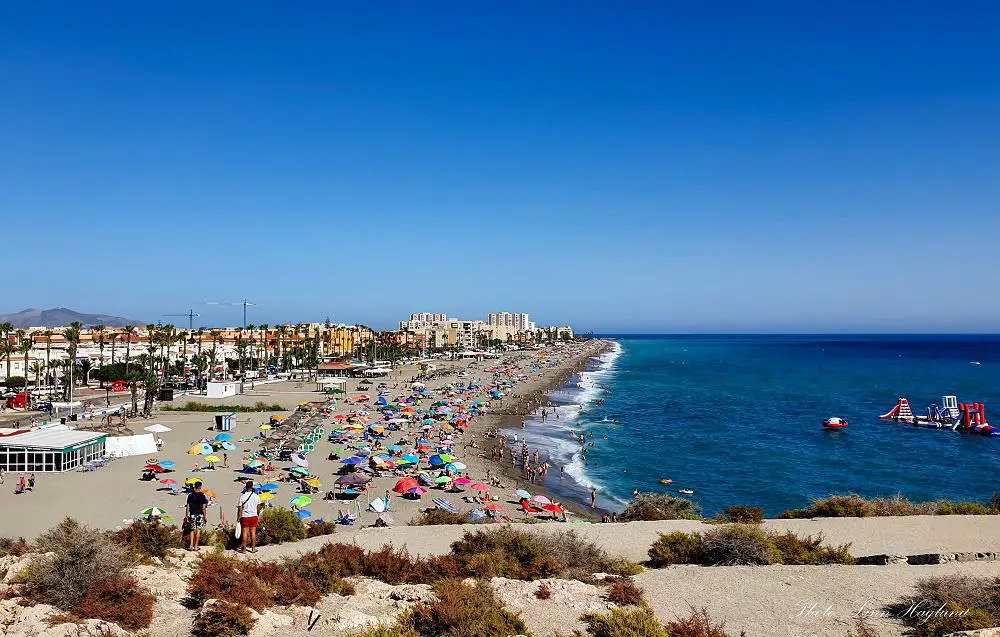 Playa La Herradura
Facilities:
Lifeguards in summer
Showers
Sun loungers and parasols for rent
Beach bars and restaurants
Kayaks and paddleboards for rent
Playgrounds
Parking along the beach
Another lovely urban beach in Granada worth visiting is La Herradura Beach. Stretching 2 kilometers along the coastal town of La Herradura, it is the first urban beach you get to passing Costa del Sol.
This is the perfect beach for foodies as the beach is basically lined with restaurants along the entire road that follows the beach.
In picturesque settings, the gravel beach is located in a bay featuring the Cerro Gordo watch tower with nature walks on one side and the lighthouse on the other side. Both of where you can get splendid coastal views.
The beach itself is usually more laid back than other urban beaches Granada province has to show for and is perfect for those who like to combine beach life with nature walks.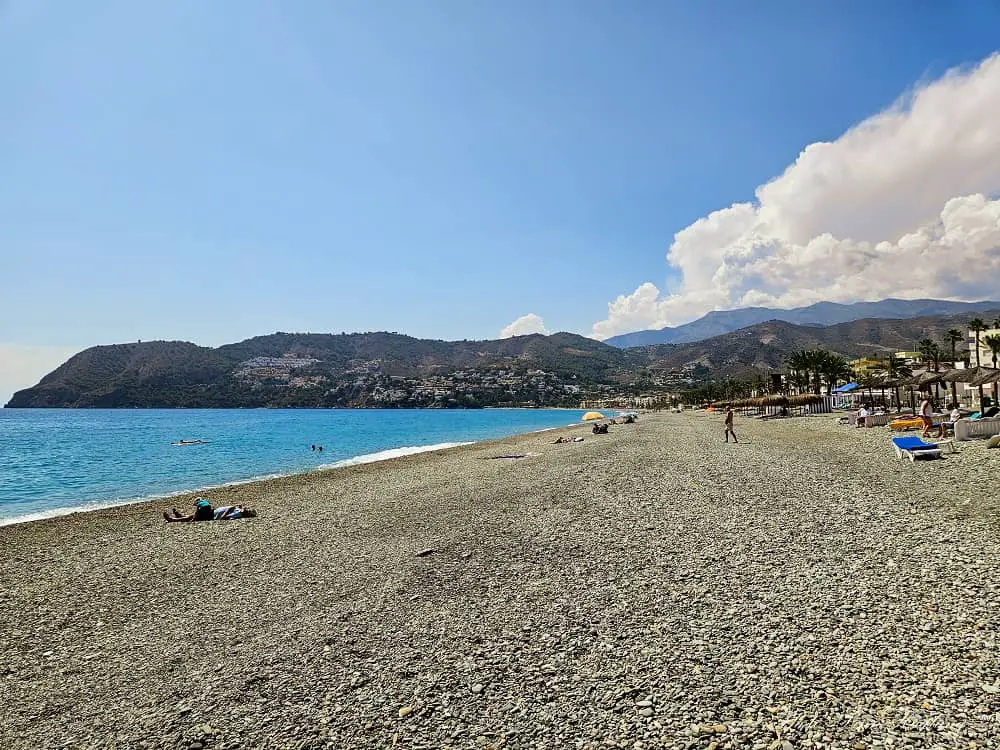 Playa de San Cristobal
Facilities:
Lifeguards in summer
Showers
Sunbeds and parasols for rent
Restaurants and bars
Street parking near the beach
Almuñecar, one of the most charming cities in Andalucia is located on Costa Tropical and is blessed with long beaches and glittering water.
When looking for a Granada Spain beach that has it all, yet isn't located in the city center, Playa de San Cristobal is a lovely place to go.
It stretches for one kilometer and has all the facilities you need including beach bars and restaurants along the beach. Yet, it is situated outside of the hustle and bustle of the center.
I really like this beach, it is long and wide so there is plenty of space, and the view of the Peñon de San Cristobal is stunning.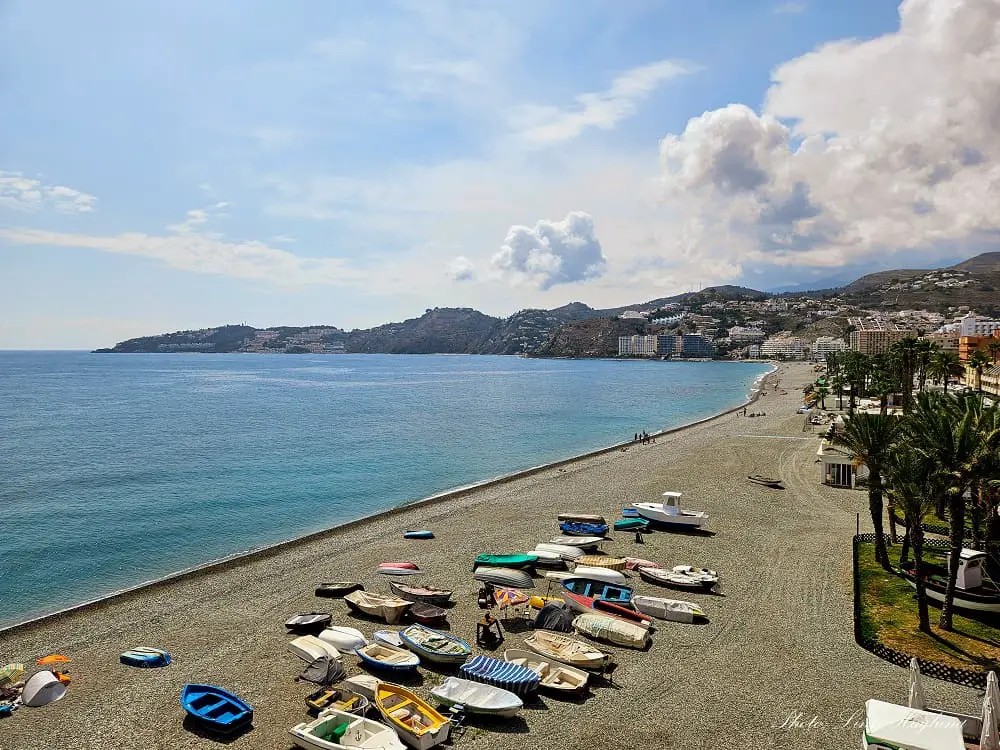 Playa de La Rijana
Facilities:
Toilets in the summer
Snack bar in the summer
Kayak rental in the summer
Parking
Rijana Beach is a wonderful gem located along the N-340 between Calahonda and Castel de Ferro. There is limited parking along the road and you must cross the road by foot to follow a path going beneath it to reach the beach.
Being so close to the road, it feels surprisingly remote with dramatic and rocky, terrain surrounding the sandy beach. There are generally no facilities on the beach, but in the summer months, there is a little snack bar, toilets, and kayak rental available.
While dogs are not allowed on the beach in the summer, I have taken Ayla a few times as it is pretty remote and there are usually a few other dogs around. But by doing so, you are responsible if there should be police control down there.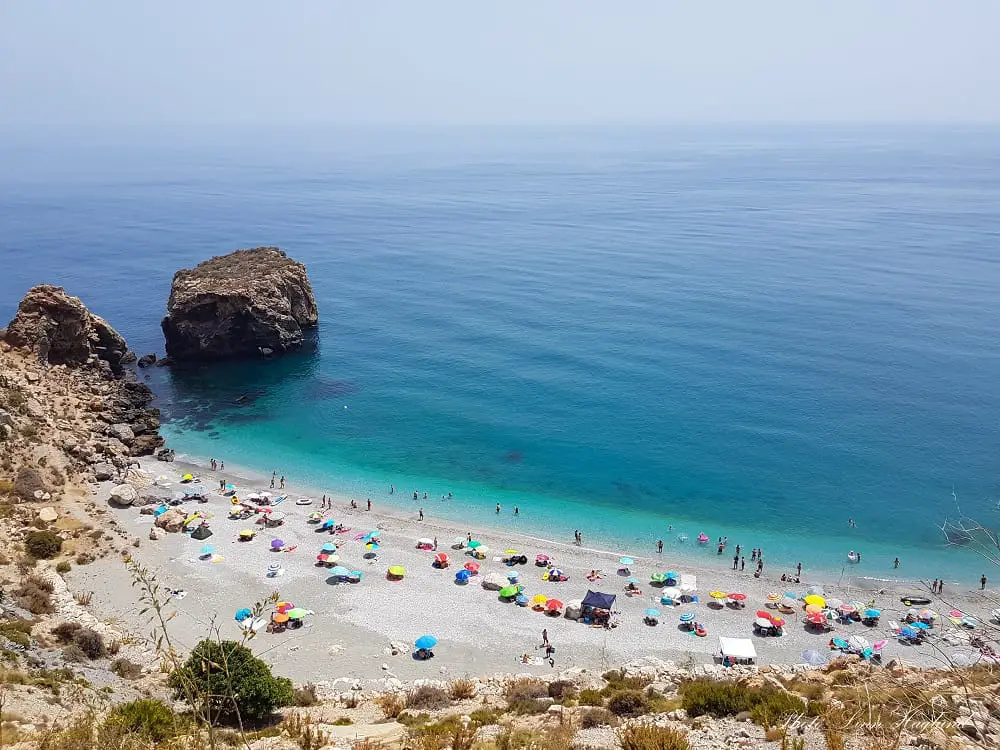 Playa de Cerillos
Facilities:
Playa de Cerillos is located at Punta Entinas-Sabinar, a protected natural area where you can frequently spot flocks of flamingos.
This is a completely deserted beach with no facilities reached by a long dirt road in a questionable state. I have been there a few times and love the remoteness of this space, but I also fill the car with bags of rubbish each time I return from there.
Unfortunately, the flat land is a victim of waste flying from the sea and likely from people leaving rubbish on the beach. If you like natural beaches, remote destinations, and incredible natural scenery, this is the place.
If you do, I assume you also want to prevent nature from becoming more of a trash bin than it already is, so I suggest you take a few large bin bags and spend an hour of your day collecting trash and taking it with you back to dispose of it properly.
Both mother nature and I would be ever grateful. Thank you for caring!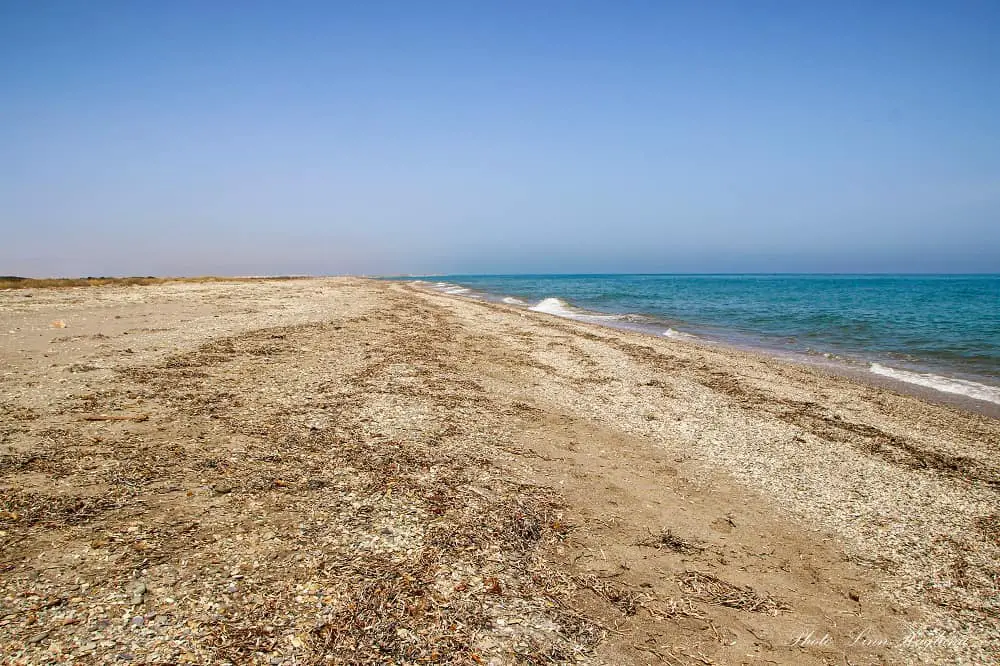 Playa de la Caletilla
Facilities:
Showers
Beach bar/restaurant
Playa de La Caletilla is one of the most charming beaches in Almuñecar, located to the east of Peñon de San Cristobal. It is only 280 meters long flanking the rocks on one side and Puerta del Mar Beach on the other side.
There are not many amenities on the beach, but a quaint beach bar serves food and drinks in the high season. If you want more choices, it is a short walk to a magnitude of bars and restaurants at Puerta del Mar Beach.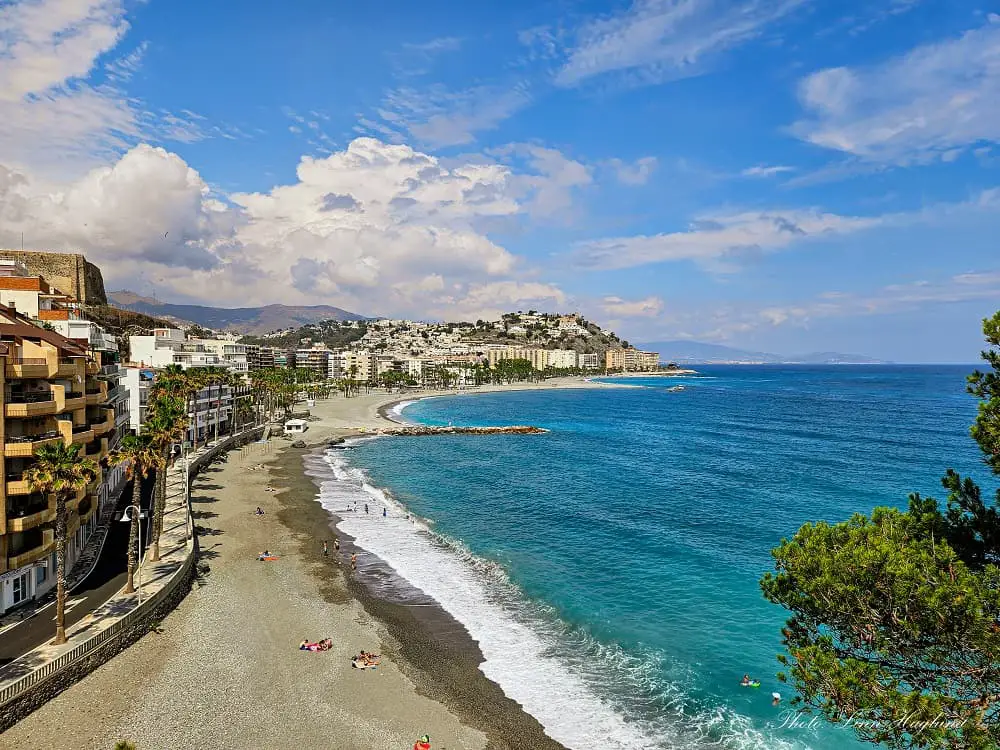 Playa de la Guardia
Facilities:
Lifeguards in summer
Showers
Toilets
Restaurants
On the west side of the Peñon in Salobreña, you find this dark-sanded beach with all necessary amenities like sunbeds, parasols, and restaurants available.
Around the Peñon, it is nice to go snorkeling, or you can join the local kids and cliff jump into the turquoise water. I find this beach a tad quieter than Playa de la Charca/Salomar on the other side of the Peñon, yet it does fill up in the summer months, especially during August and on weekends.
It is a little bit further to go to the bars and restaurants and beach stores in town, and the further away from the Peñon you go, the more relaxing it is.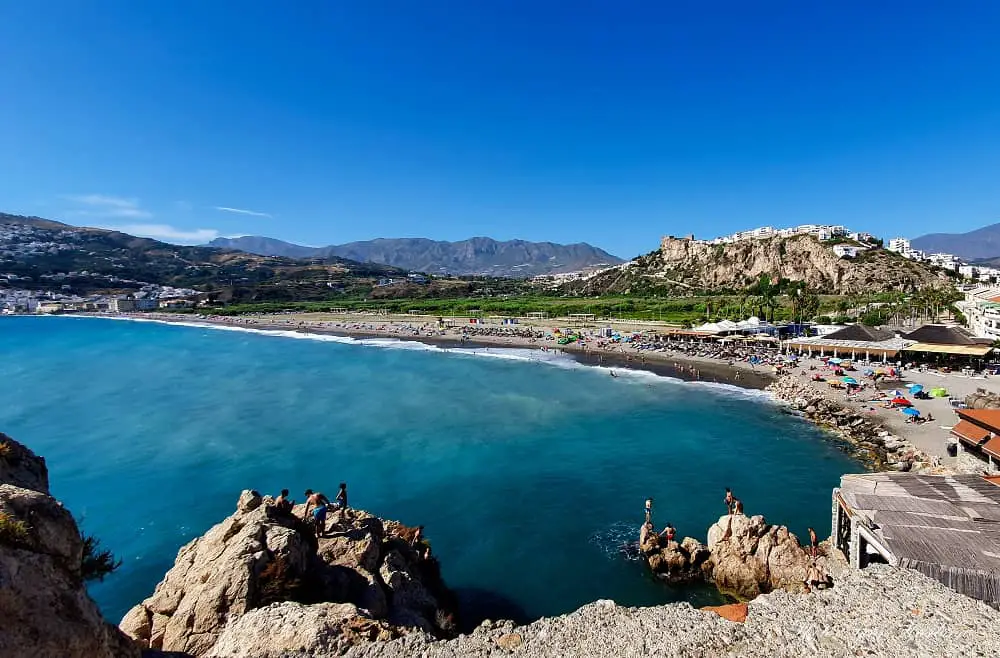 Beaches near Granada Spain
Maro Beach
Facilities:
Lifeguard
Sunbeds and umbrellas for rent
Toilets
Kiosk
Restaurant and bar
Parking
Maro Beach is one of the best beaches near Granada Spain. Though it is on Costa del Sol, it has the typical clear waters or Costa Tropical and the natural beauty around the beach is breathtaking.
Once a hidden gem in Andalucia, the beach has gained extreme popularity being nominated one of the prettiest beaches in Spain over and over again, together with Caleta de Maro (mentioned below.)
You find the necessary facilities like showers, toilets, and a kiosk on the beach as well as sun loungers and parasols for rent. Though, there aren't many there and you should get there pretty early to grab one.
To get to Maro Beach, it is crucial to get there early, not only to get a sunbed but also to get parking. There is parking along the street all the way down to the beach (almost from Maro village) but once it is full, the police block the road.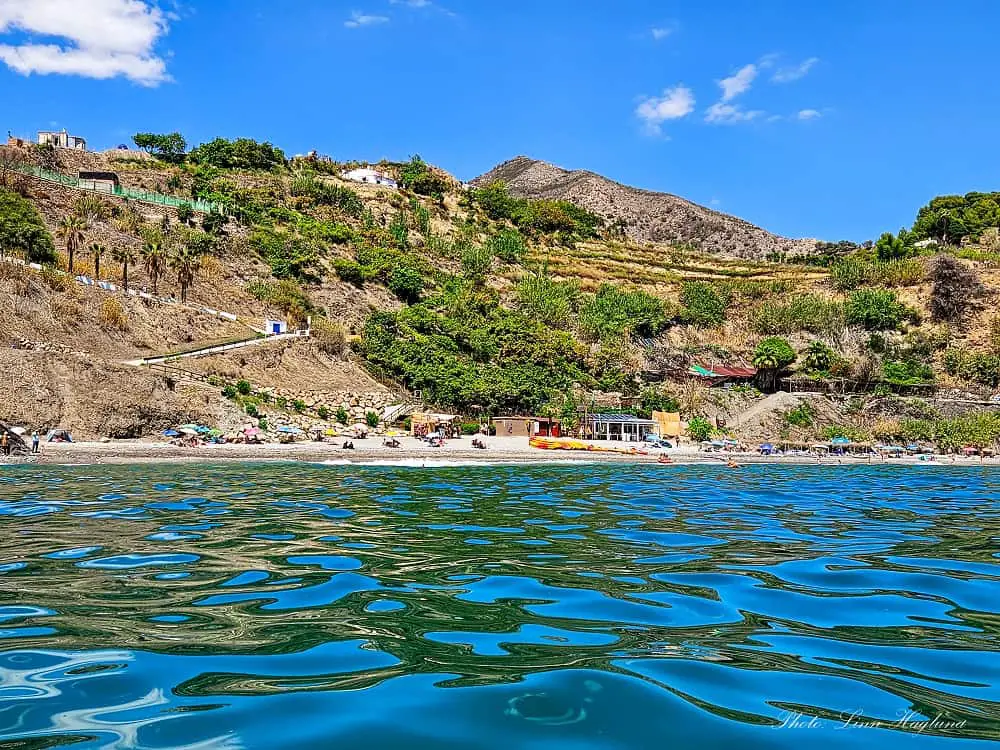 Caleta de Maro
Facilities:
Maro Beach's little sister is a lot wilder and requires a steep walk down a set of stairs after walking for about 15 minutes through greenhouses and farmland from the main street.
Just like Maro Beach, parking fills up quickly along the beach, but since the path to the beach is about halfway down the road to Maro Beach, I have often parked around Maro Village and walked the rest.
The beach is remote and wild bamboo and thick vegetation cascade onto the beach that nearly or entirely disappears at high tide (overnight.)
If you are looking for a comfortable beach with all possible amenities, a cold beer, and toilets nearby, this is not the beach for you.
But if you enjoy remote and natural beaches where clothing is optional, and you truly can immerse yourself in nature, then this is definitely for you!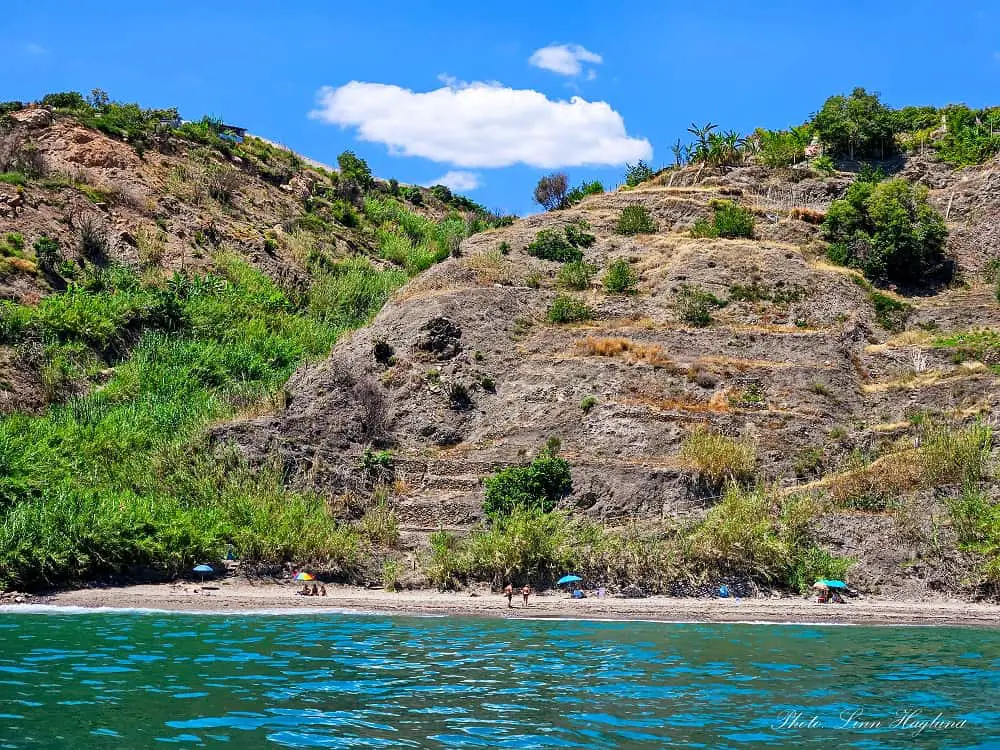 Burriana Beach
Facilities:
Lifeguard
Sunbeds and umbrellas for rent
Showers
Toilets
Beach bars and restaurants
Kayak and paddleboard rental
Playground
Parking
Wheelchair access
Not only possibly the best beach near Granada with all the necessary facilities, but also one of the most popular beaches in Nerja.
Burriana Beach is jam-packed with great beach bars and restaurants, beach stores selling snorkeling gear, buckets, beach games, towels, and swimwear.
The beach is wheelchair accessible with assisted bathing during the hours when the lifeguards are on duty. And if you want to get active, go on a Nerja kayak tour or rent a paddleboard to explore the mesmerizing Maro coast. Believe me, this is one of the best things to do in Nerja!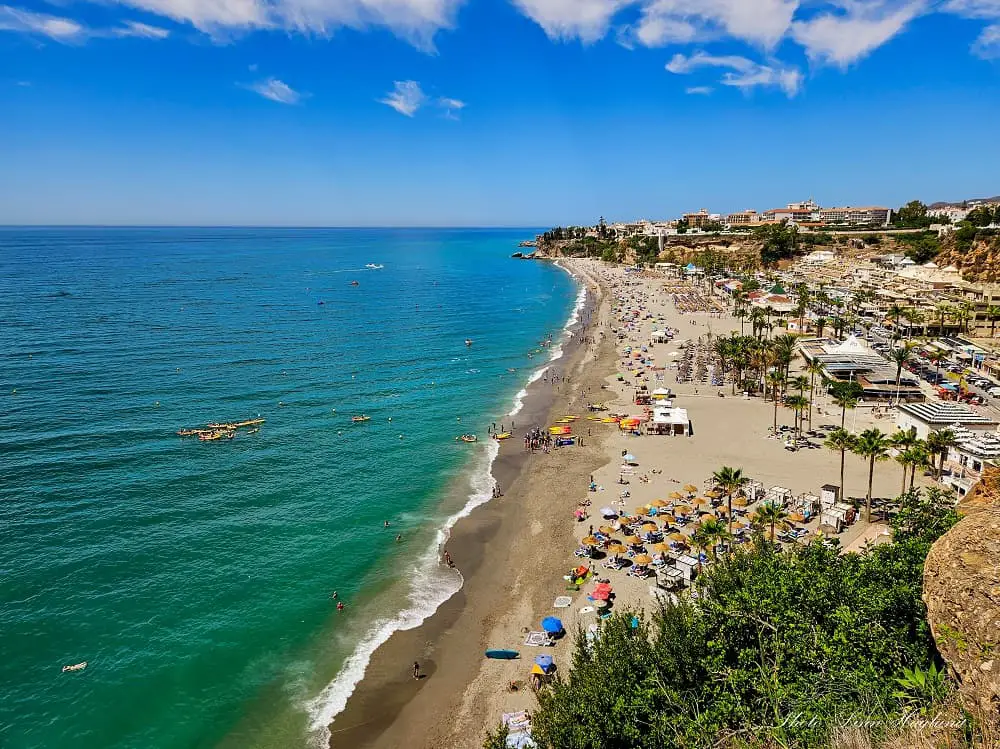 Reflections on Granada's beaches
There is no doubt that the Granada Spain beaches are with visiting. I love the fact that they are more relaxed somehow than Costa del Sol and the water is among the clearest in Andalucia.
If you are looking for turquoise water in Andalucia, Granada's Costa Tropical will not disappoint. I am sure that if you go on a Granada beach holiday, you will not regret it.
Happy travels!