One of the best activities to do in Andalucia is to go kayaking in Nerja. This is truly the most pristine coast on the entire Costa del Sol and going on a Nerja kayak tour will enhance your vacation by ten times (or more!)
Crystal-clear water, secluded beaches, rock formations in the water, and waterfalls cascading straight into the sea are just some of what you can expect when kayaking Nerja.
I have gone kayaking and paddleboarding there multiple times, both on guided tours and individually, and never get sick of the scenery. Quite the opposite, it just makes me want more.
In this post, I will go through everything you need to know about kayaking in Nerja and help you decide whether to rent one and explore the coast individually, or go on an organized kayak tour.
Nerja's idyllic scenery will blow you away no matter what you choose. Yet, personal preferences are always different from person to person.
Now, let's dive into how to go kayaking in Nerja, Spain so that you can have the experience of a lifetime.
Disclosure: This post may contain affiliate links. That means that if you make a purchase through one of those links, I will get a small commission at no extra cost to you.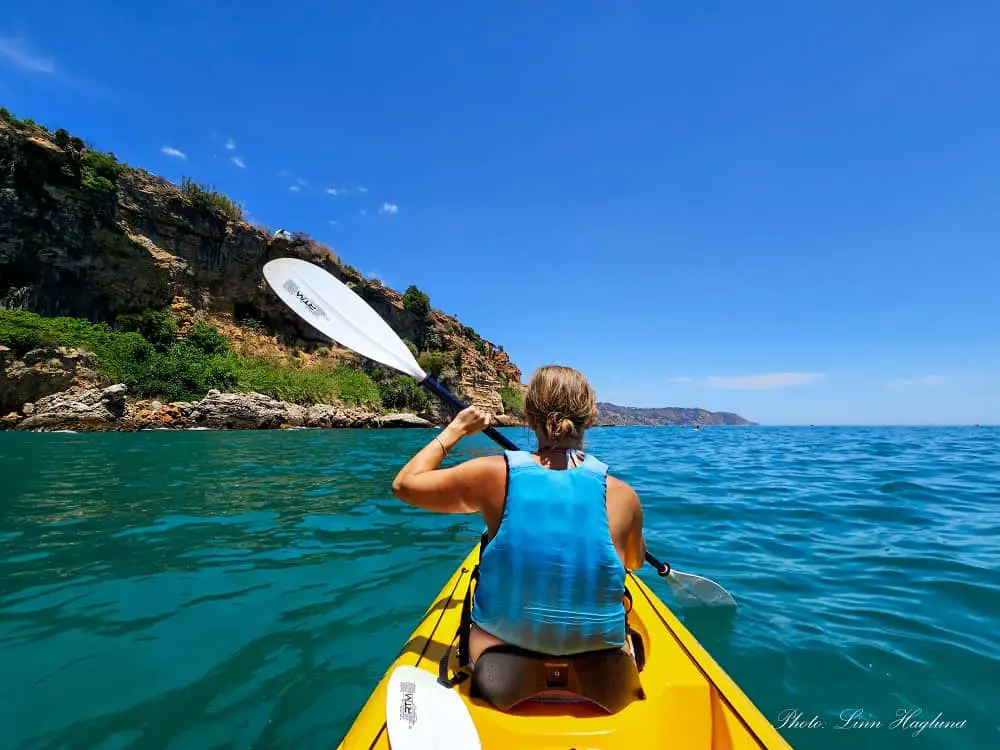 Where to go kayaking in Nerja Spain
The center of water sports and the place to go kayaking in Nerja is Burriana Beach. No matter if you choose to go on a tour or rent a kayak, Nerja's starting point will be there.
The kayak exit point is at the far east end of the beach and from there, you will kayak east along the dramatic cliffs of Maro.
This coastline is untouched with secluded beaches that are hard to reach, sea caves, and two waterfalls cascading into the sea.
Unfortunately, due to drought, the biggest waterfall has been dry the last couple of times I went (latest June 2023.) This is the waterfall you might have seen on Instagram that you can kayak under. Crossing my fingers that we will receive more rain in the coming years so that it comes back again!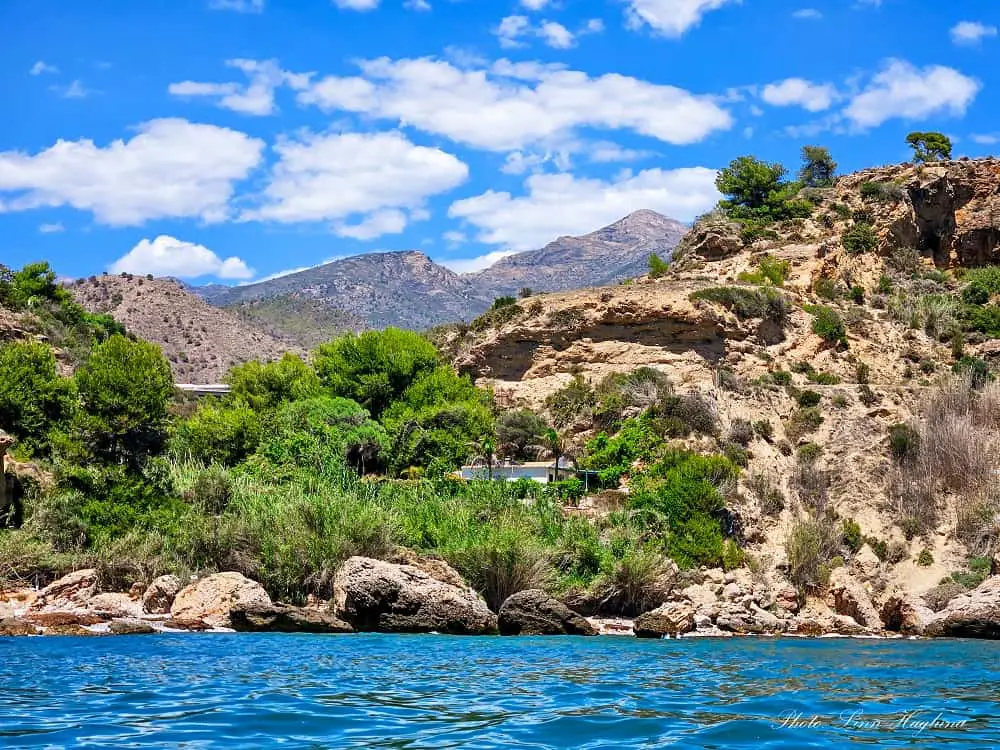 Best time to go kayaking in Nerja
You can easily kayak Nerja's coast all year round as long as the sea is calm. During the winter season, the sea is usually more rough than at other times of the year.
However, Nerja's kayak rentals and organized kayak tours in Nerja are mainly available in the summer months. This is also when the sea is at its most beautiful and the shores are being cleaned.
Talking about clean water, you should try to go as early as possible. The early mornings right after sunrise are spectacular and the water is usually calm, clean, and crystal clear giving you visibility to the bottom around the beaches. There is no doubt that this is one of the best things to do in Nerja.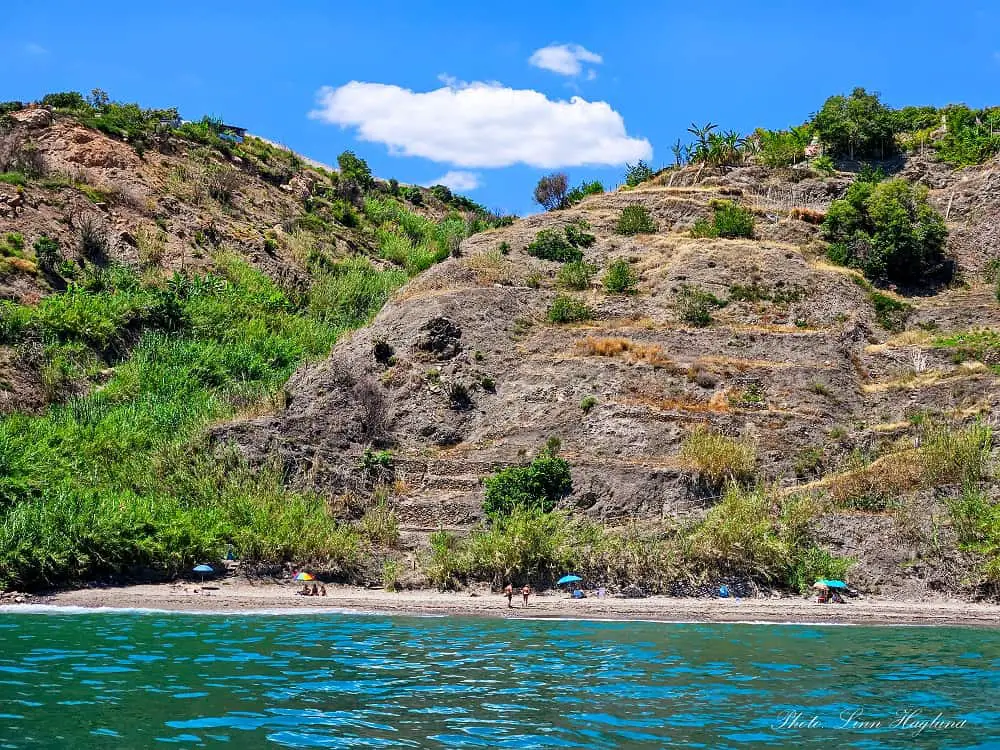 OTHER FUN ACTIVITIES IN NERJA
Highlights on a Nerja kayak adventure
There are a few highlights to take note of along the coast on your Nerja kayak adventure. I'll list them here starting with the first points of interest to the last before turning around:
Cala del Barranco de Burriana Beach
Piedra de Tarzan (next to the beach there is a flat cliff perfect for cliff jumping)
Sea Cave, Cueva del Lobo Marino
Small waterfall
Cala Barranco de Maro
Cascada de Maro – big waterfall (currently without water)
Caleta Beach
Maro Beach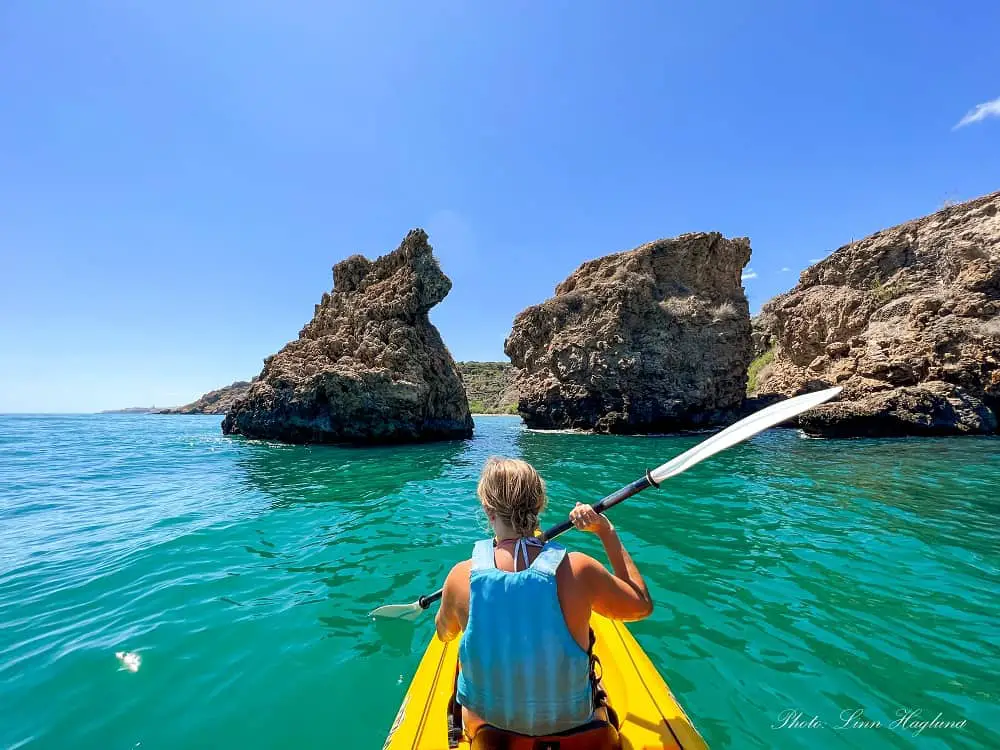 Nerja kayak tour
Going on a Nerja sea kayak tour is a brilliant way to explore the coast in a safe environment. If you are new to kayaking and want the security of a guide, you are traveling solo and want to meet other people, or you are taking your kids, this is the best choice for you.
You will get a security brief and basic information on how to use the kayak and the guide will stay close if you feel insecure. All participants must wear life jackets and be good swimmers.
Personally, I have never fallen out of the kayak in Nerja, but I recently saw a couple tip over trying to approach a beach (see picture below,) so it does happen.
What I enjoy the most about going on a Nerja kayak tour is that the guide will point out all the best spots along the coast to assure that you don't miss out on anything. You will also have the privilege of the guide taking photos for you along the kayaking route.
If this sounds like you, I highly recommend this tour. It lasts 2-2.5 hours and includes free pictures and a video of your experience, but tours get quickly booked out in the high season, so make sure you book early.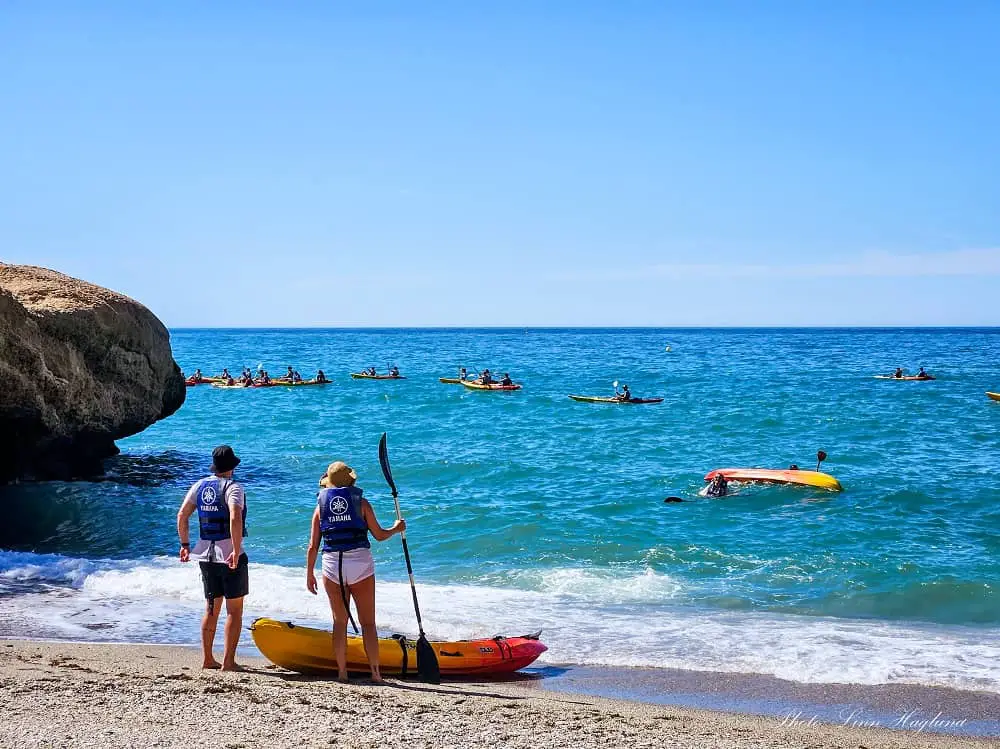 Nerja kayak rental
Renting a kayak in Nerja gives you the flexibility to go at your own pace and stop at the different beaches along the coast. I really enjoy it, but that might be because I have done the guided Nerka kayak tour multiple times so I know the coast pretty well by now.
Kayaking into the beaches and taking your time is wonderful, but note that time flies on the water and you might not reach the big waterfall (whenever it is back in business) and Maro Beach if you spend too much time along the way.
When it comes to kayak rental, Nerja has different options, but the easiest is to head to the east end of the beach. There are at least two rental places on the road lining the beach too.
We rented directly on the beach for 15 Euros per person for 2 hours. 1 hour was 10 Euros. To get the most out of your Nerja kayak adventure, I recommend going for a minimum of 2 hours.
This way, you will reach Maro Beach, passing both waterfalls and a breathtaking stretch of coast with secluded beaches, including Caleta de Maro.
If you are looking for a longer kayak adventure, you can continue up the coast past the spectacular Cerro Gordo to La Herradura before returning.
Whenever you want to rent a kayak, Burriana, Nerja is the main place to go. However, there is a kayak rental on Maro Beach too, if you decide to stay on a more remote beach location.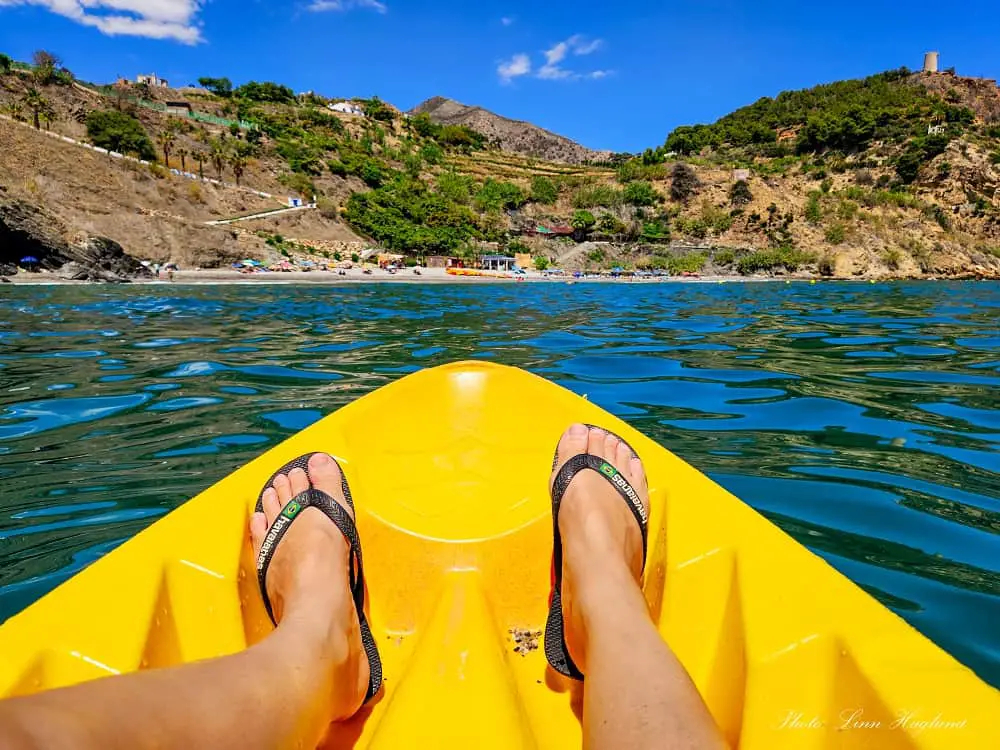 MORE FROM NERJA
Final thoughts on kayaking Nerja
There is no doubt kayaking Nerja, Spain is one of the absolute best things to do on Costa del Sol and there are no reasons to leave it out of your Andalucia itinerary.
As you can tell, there are pros and cons to either going on a Nerja kayak tour or going individually through kayak hire. Nerja has such an idyllic coastline up towards Maro that no matter what you choose, I am sure you will have a dream experience.
Happy travels!