You are heading to Nerja and wondering what to do. Then you are in luck. There are so many amazing things to do in Nerja, Spain, I am here to help you.
Always bustling with life, Nerja is known for being a foodie destination and home to many restaurants and bars, but it is also a mecca for adventurous souls.
From pristine beaches to a prehistoric cave, and epic hiking routes for summer and winter, there are enough things to do in Nerja to fill a week or two of adventure.
Located right next to the mesmerizing Maro-Cerro Gordo Cliffs Nature Reserve, you can enjoy kayaking, paddle boarding, snorkeling, and even scuba diving in pristine surroundings.
This is one of my favorite beach towns near Malaga and you will soon understand why as I uncover the best things to do in Nerja, Spain.
Disclosure: This post may contain affiliate links. That means that if you make a purchase through one of those links, I will get a small commission at no extra cost to you.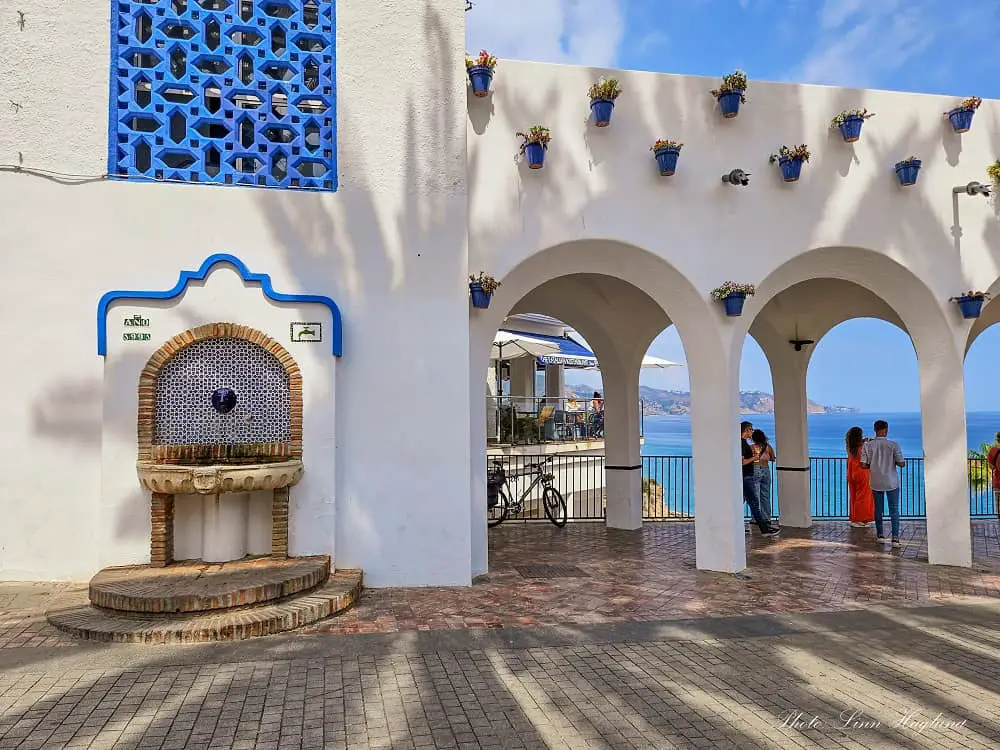 Best time to go to Nerja
Nerja is a wonderful destination all year round but especially comes to life in the summer months. If you fancy going on a Nerka kayak tour or snorkeling excursion, your best bet is to go during the summer months. This is also the best time to go to the beach, though early and late summer are less crowded.
However, if you want to go hiking in the mountains and visit the caves, you can go at any time between mid-September and May. From late September and throughout March, there are bigger chances of rain.
There are also summer hikes like Rio Chillar and Rio Higueron that are best to do in hot weather as the water gets cold in winter.
Temperatures in the summer are normally around 28 degrees Celsius in the daytime and in winter it might go down to 15. At nighttime, you can usually expect a temperature drop of around 10 degrees. Yet, there can be 20-degree days in winter and 30+-degree days in summer.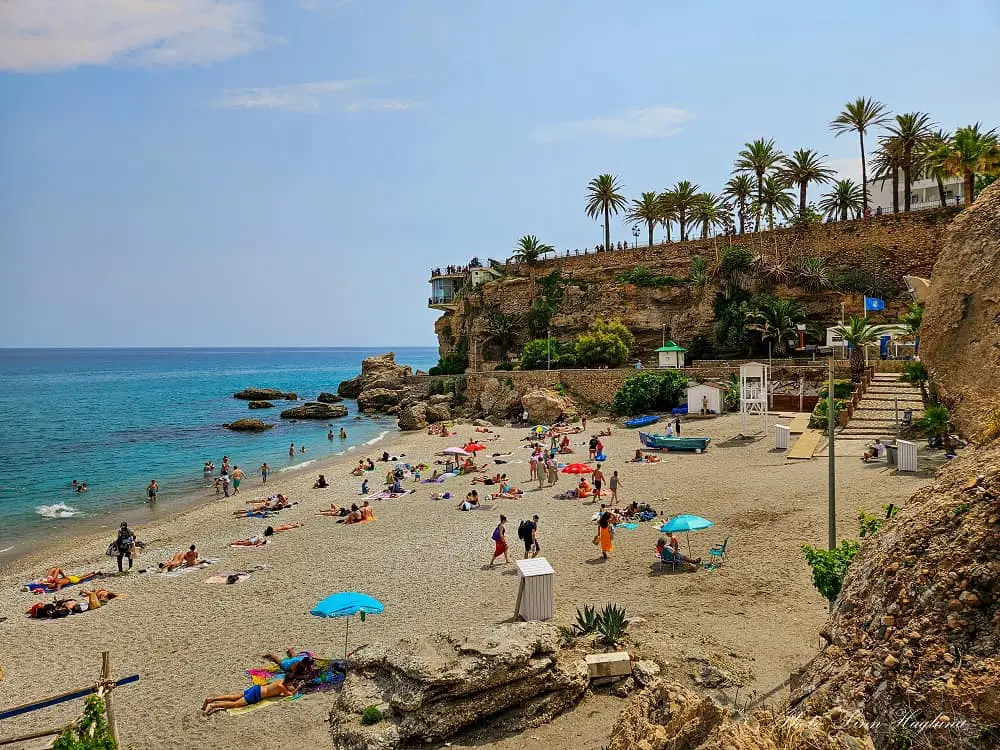 Where to stay in Nerja
When looking for a place to stay in Nerja, there are different neighborhoods to choose from, but basically, they are all within walking distance from each other.
I suggest staying around the Old Town or Burriana to be close to where things happen. Here are some of my top picks for every budget.
If you want more information about the different neighborhoods, read my complete guide to where to stay in Nerja.
LUXURY: Parador de Nerja – located on the cliff right above Burriana Beach, it boasts exquisite views, an outdoor pool, on-site parking, and a high-end restaurant and bar.

MID-RANGE: Hotel Paraíso Del Mar – located near Burriana Beach, this is a lovely adults-only hotel with a pool with a view, hot tubs, and a sauna.

BUDGET: Hostal Sol y Mar – basic accommodation in the Old Town with a rooftop terrace with views.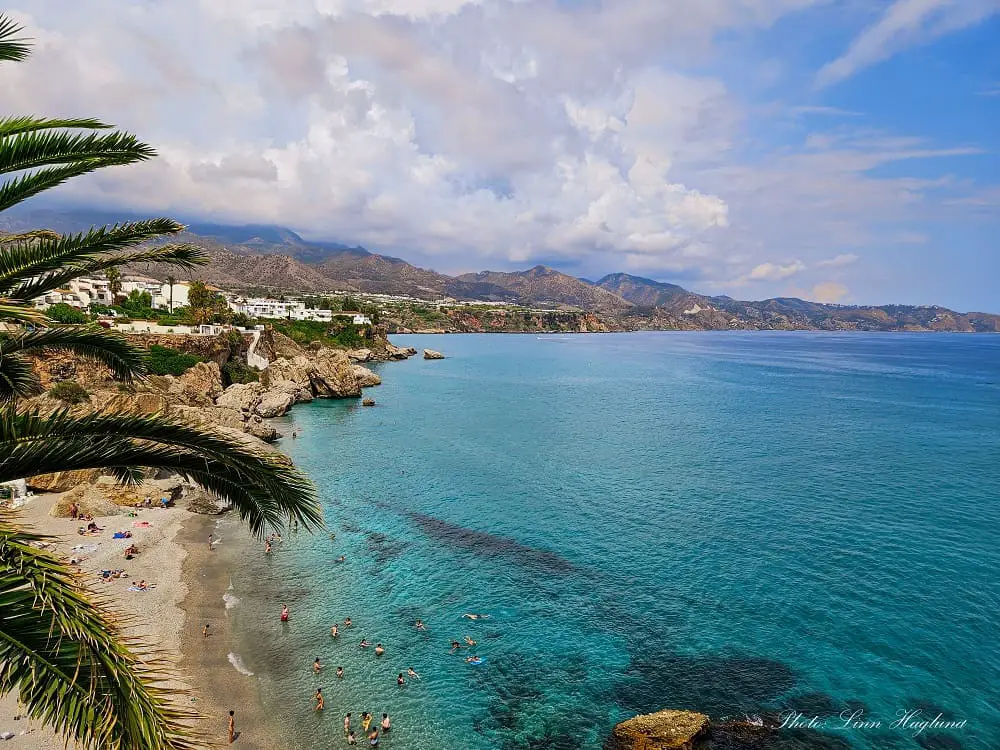 Best things to do in Nerja Spain
Kayaking and paddleboarding
One of the best things to do in Nerja, is to go paddleboarding or kayaking along the mesmerizing cliffs of Maro. Going paddleboarding and kayaking in Nerja is one of my absolute favorite activities in Nerja during the summer months.
Paddling in the crystal-clear water, going for dips in little coves, exploring secluded beaches, and witnessing freshwater waterfalls cascading directly into the turquoise sea is such an incredible experience that never grows old.
You can rent kayaks on Burriana Beach or book a guided kayak tour in advance if you prefer going with a group and the safety of a guide.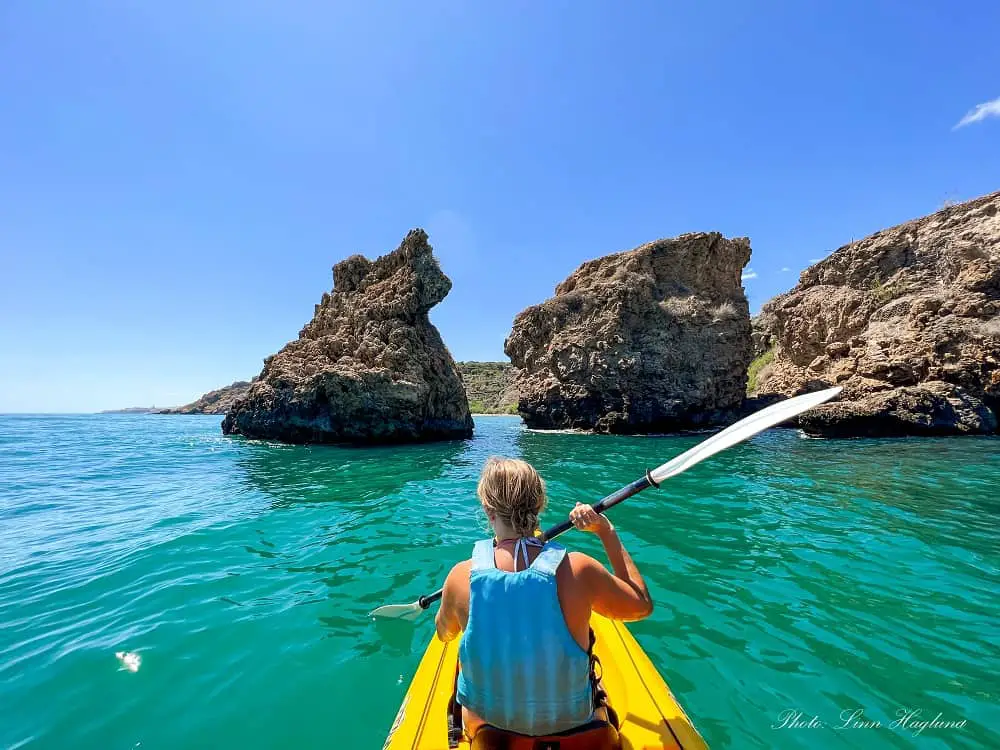 Nerja Caves
Among the top Nerja attractions, you find Nerja Caves. The pre-historic cave system covers 3 galleries and is home to around 600 rock paintings. However, only one gallery is open to the public and can be visited on a 45-minute long self-guided tour.
Nerja Caves are home to the largest stalactite in the world stretching 32 meters high and with a base diameter of 13×7 meters. It is one of the most impressive caves in Caves in Andalucia and should not be missed on a trip to Nerja.
Make sure you book your tickets in advance so that you avoid long waiting times or even worst, that all entries are sold out. There is a nice restaurant and bar in front of the entrance with great sea views where you can enjoy a drink before or after the tour.
Opening hours in summer: 09:30 – 18:00
Opening times in winter: 09:30 – 15:30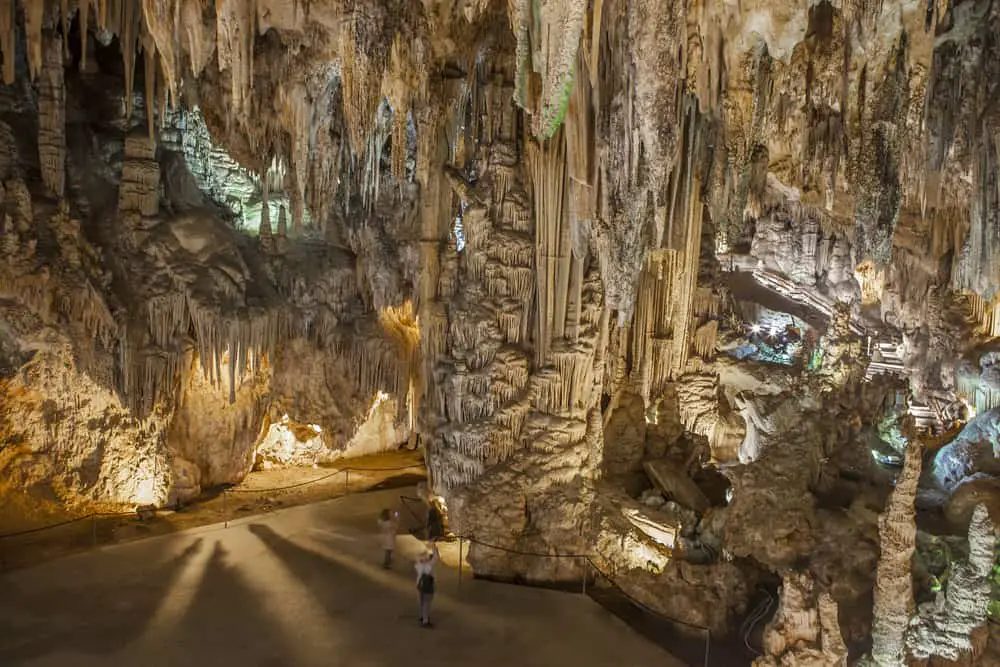 Enjoy the views from Balcón de Europa
Balcón de Europa is a large viewpoint set on an outcrop on the cliffs of the old town and one of the most popular attractions in Nerja. What to see from the big outlook will blow you away. The entire coast stretches along the deep blue and turquoise sea below the majestic peaks of the Axarqía mountains.
You also get a good peek at the below beaches. At the viewpoint, there are some old canons giving away that it was once a Moorish fortification there protecting the town from pirates coming from the sea. The location is perfect as it is basically jutting out into the sea with sweeping 180 degree-views.
If you want to enjoy the views for a while, make sure you grab an ice cream at one of the ice cream shops nearby.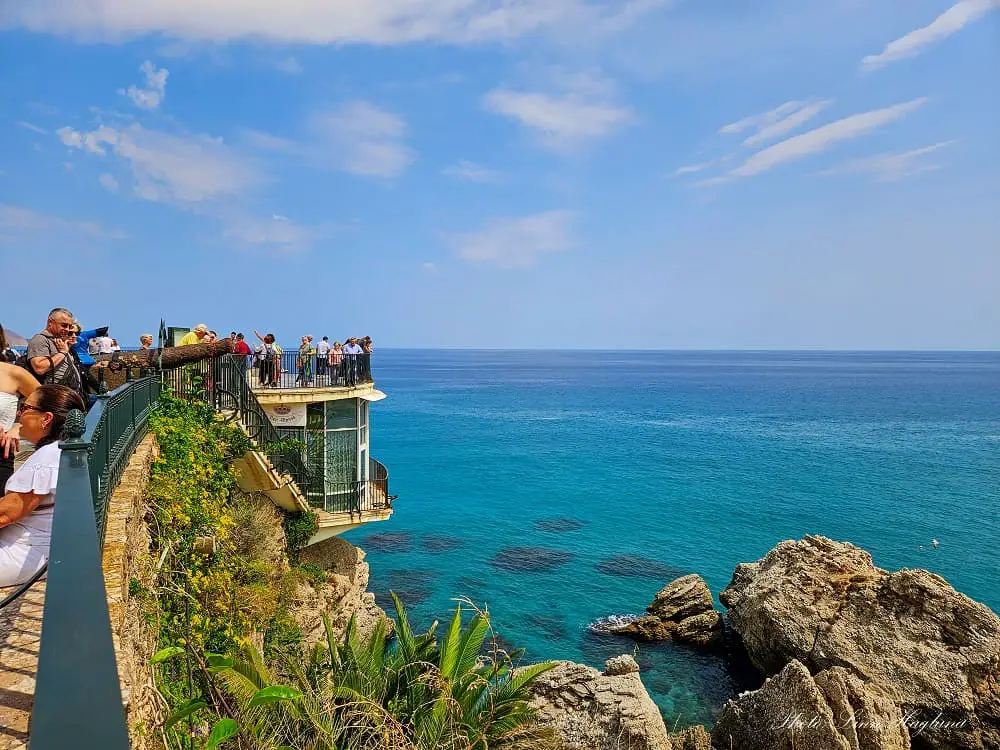 Stroll around Nerja Old Town
Nerja Old Town is super charming with narrow streets, potplants, shops, and restaurants. You will also find pretty viewpoints hidden in narrow alleys.
There are plenty of places to stop for ice cream or a coffee and people watch. Nerja Old Town is full of life all year round which is one of the reasons I love it so much. Other beach towns in Andalucia, like La Herradura and Las Negras, nearly turn into ghost towns in the winter.
However, Nerja's heart is always pumping with locals, expats, and tourists alike.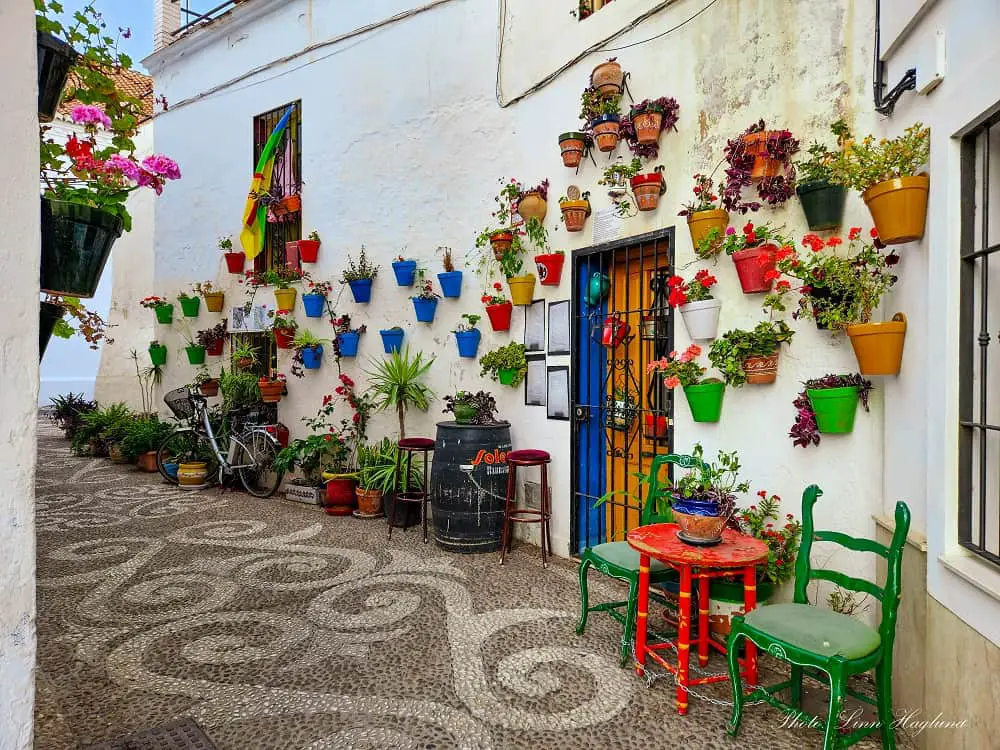 Hike Rio Chillar
If you wonder what to do in Nerja on a hot day, head to Rio Chillar. This is a lovely summer hike where you will be walking in the river most of the time, so make sure you wear good river hiking shoes.
The river talked you through narrow ravines, along waterfalls, and waterholes, so make sure you wear your swimwear. This is a hike to get wet on and is fun for the whole family.
While the entire hike is a 16-kilometer hike there and back with some light rock scrambling at the end, you can turn around whenever you want, so even younger children will enjoy this.
That said, I do recommend walking at least through the first ravine, as it is the most picturesque part of the trail.
Go on a boat trip
There are plenty of fun boat trips in Nerja taking you along the splendid cliffs of Maro, uncovering secluded beaches and coves, dolphin watching, or snorkeling.
This is without a doubt one of the top things to do in Nerja, Malaga on a sunny day. I can't think of a better way to spend any Nerja holidays than on the sea.
I highly recommend this boat tour as it includes swimming and snorkeling stops. Besides, Nerja and Maro is the place in Andalucia where I have seen the most dolphins even from the beach, so there are chances to see these beautiful creatures too if you look out for them.
Relax at the beaches
Nerja is spoiled with beaches and you can easily go to a new beach every day during your vacation. From secluded beaches with no facilities like La Caleta de Maro to busy beaches with water sports, lifeguards, and full accessibility like Burriana Beach.
From the old town, you can walk directly onto some of the prettiest beaches in Nerja like Calahonda Beach and El Salón Beach which have sunbeds for rent and lifeguards on duty in the high season.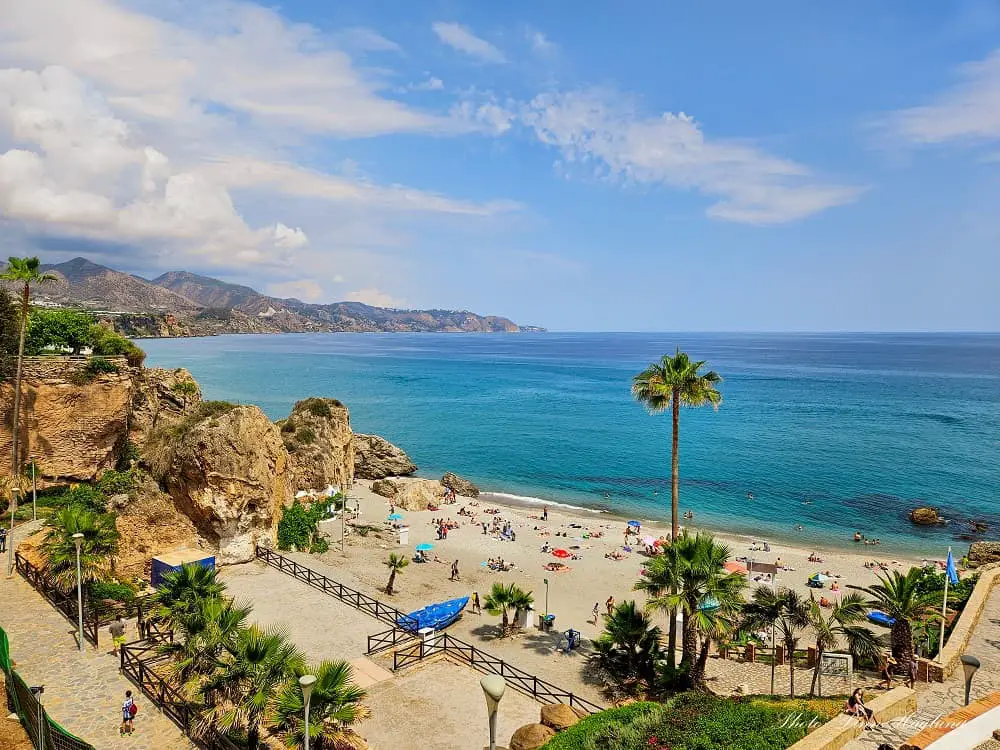 Snorkeling
Nerja is a wonderful destination to go snorkeling. In fact, some of the most beautiful things to see in Nerja are underwater.
One of the best places to go snorkeling in Nerja is from Burriana Beach towards Maro. You can buy your own snorkeling gear at one of the beach shops by the beach or go on a snorkeling trip by boat (which I highly recommend doing!)
On a snorkeling tour, you get the thrill of the boat ride as well as a guide that can show you the best spots and take pictures of you underwater for unforgettable memories.
Go Canyoning in Rio Verde
Canyoning in Rio Verde (Otívar) is an amazing experience and among the most adventurous things to do. Nerja is only an hour away from one of the most impressive rivers in the region making this one of the best day trips from Nerja.
With ravines, waterfalls, and refreshing water holes, you will hike up the river and adventure down by rappelling down waterfalls and jumping from cliffs.
I can't think of anything more fun than that. And I'll say it again, Rio Verde in Otívar is one of the prettiest places I've been in Andalucia.
There are tours directly from Nerja taking you there and back with licensed instructors and all safety gear. Best of all, they will take pictures of you on your adventure! But make sure to book in advance as these tours are very popular.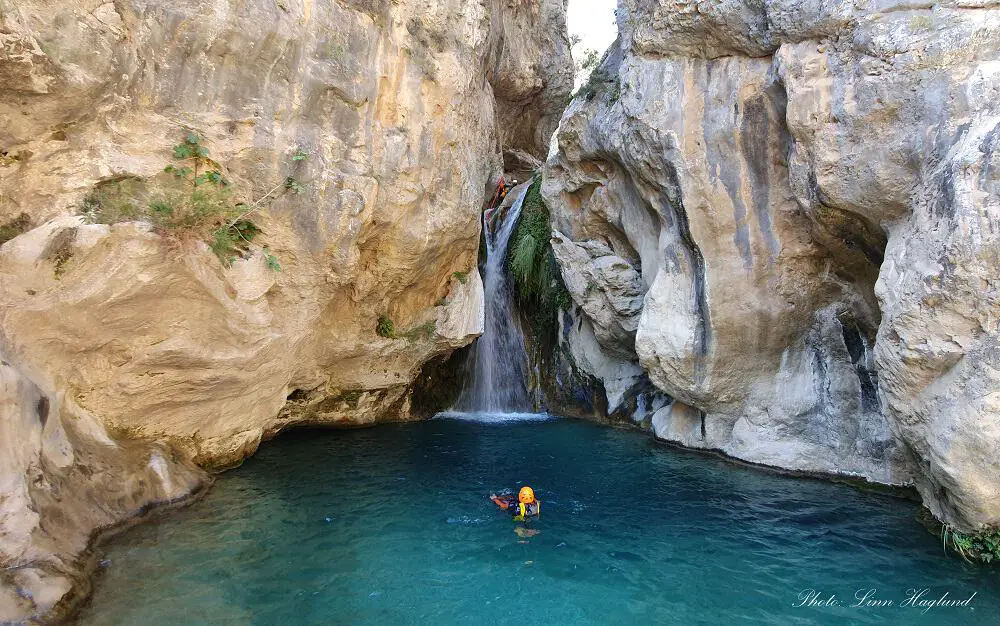 Go shopping
There is plenty of shopping opportunities in Nerja. Particularly Nerja Old Town is jam-packed with unique boutique stores and different niche shops selling clothes, ceramics, and handicrafts.
There is also a street market on Tuesdays and Sundays at Urbanización Flamingo where you can find bargains on items like clothes and antiques.
If you prefer shopping malls, there are non in Nerja, so you would have to go to Torre del Mar for El Ingenio Shopping Center.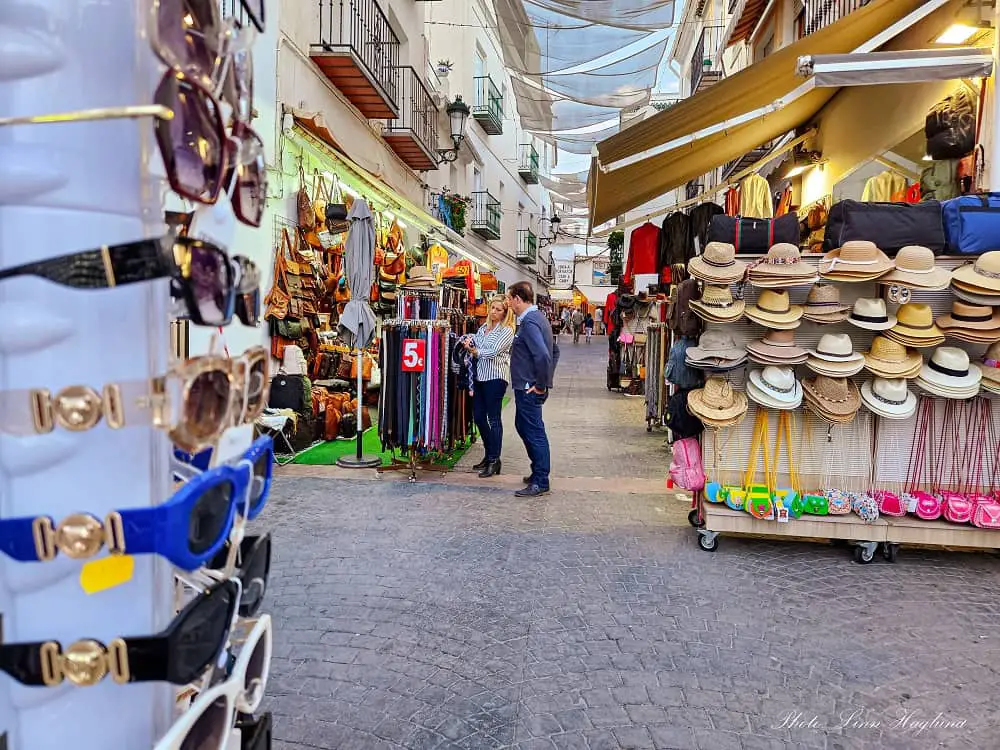 Step inside El Salvador Church
Right by Balcón de Europa, you find the imposing 17th-century El Salvador Church. It was built on the site of a church from the early 1500s and is said to be the only church that represents all three archangels.
However, San Miguel is the most prominent as Nerja's patron saint. The whitewashed church is located on the square so that you are likely to pass it several times during your Nerja visit.
A visit to El Salvador Church is without a doubt one of Nerja's things to do that you cannot miss.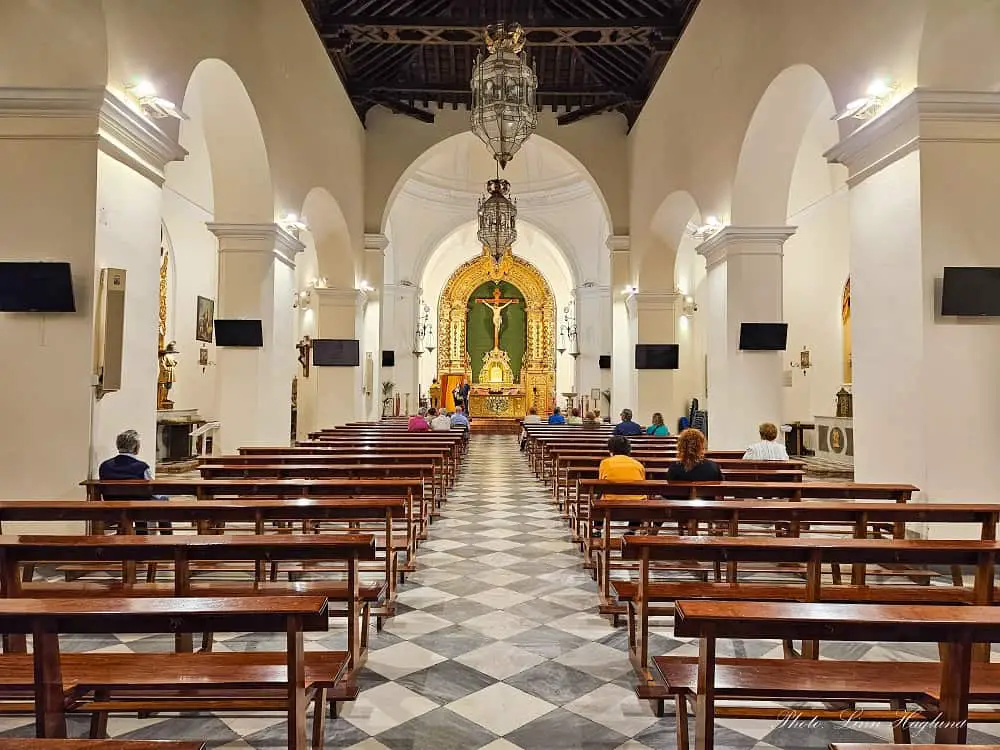 Hike Pico del Cielo
One of the best hikes from Nerja is to Pico del Cielo overlooking the splendid coast of Nerja. It starts right behind Nerja Caves and takes you through trees and open landscapes with sweeping views the whole way.
It is a medium-difficulty hike until you reach the last couple of kilometers. There, I would say it is very difficult and many hikers stop by the viewpoint below the peak.
But if you are brave enough to climb up the steep hill of sliding gravel, you are up for some of the most impressive 360 views on Costa del Sol.
The hike takes about 6-7 hours and covers about 20 kilometers there and back. Note that this is a winter activity, do not try to take on this hike in the summer, it is way too hot, and no natural water sources.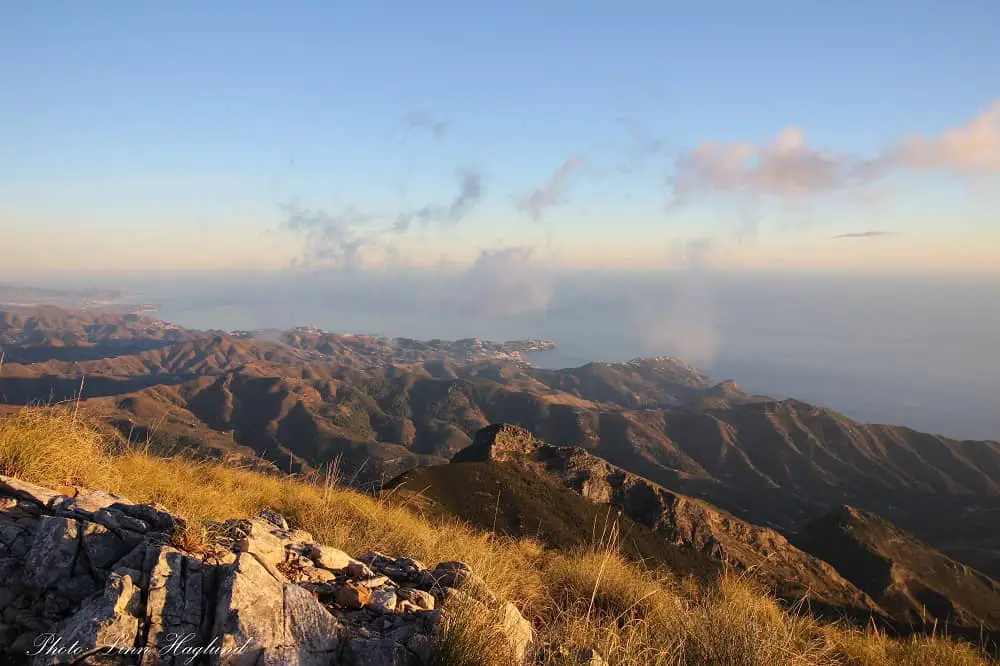 Visit Frigiliana village
Frigiliana is one of the most charming white villages in Andalucia, overlooking the coast from its steep streets and viewpoints.
Among the best things to do in Frigiliana, is to walk the narrow, cobbled streets between whitewashed houses, colorful potplants, and vibrant cafés and boutique stores.
It is a classic Andalusian white village and one of the prettiest white villages near Malaga, so it is truly worth the visit. There are also a few lovely hiking routes to take from the village. If that sounds tempting, make sure to bring your hiking shoes.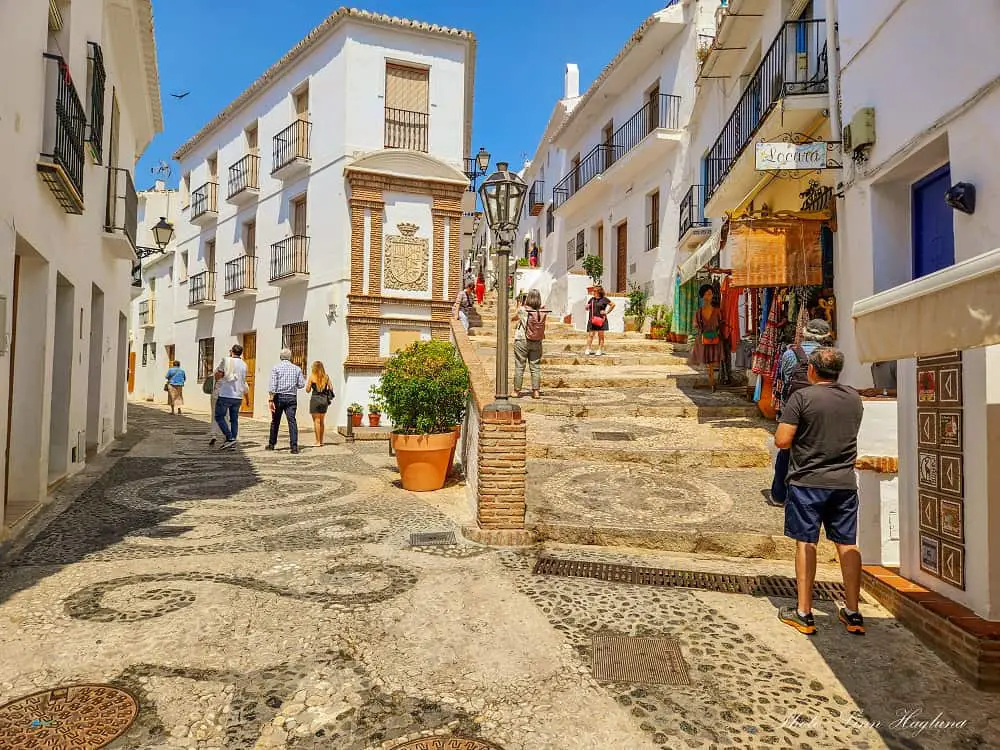 Hike Rio Higueron
Rio Higueron river walk starts in Frigiliana village and takes you 13 kilometers through the river, along water holes, and waterfalls, and back.
It is a wonderful hike in the summer to cool down, but it can be done all year round as you don't have to walk inside the water as you do in Rio Chillar. This is also a lesser popular route which means it is not as crowded.
My favorite part of this hike is towards the end where you climb the rocks to some waterfalls. Get ready for a fantastic day in nature!
Head to Mirador de La Torrecilla
Mirador de La Torrecilla is located between Torrecilla Beach and El Chucho Beach. It is a lovely walk there either from Balcón de Europa or from Playazo Beach.
The viewpoint that juts out in the sea offers tranquility and splendid coastal views in both directions.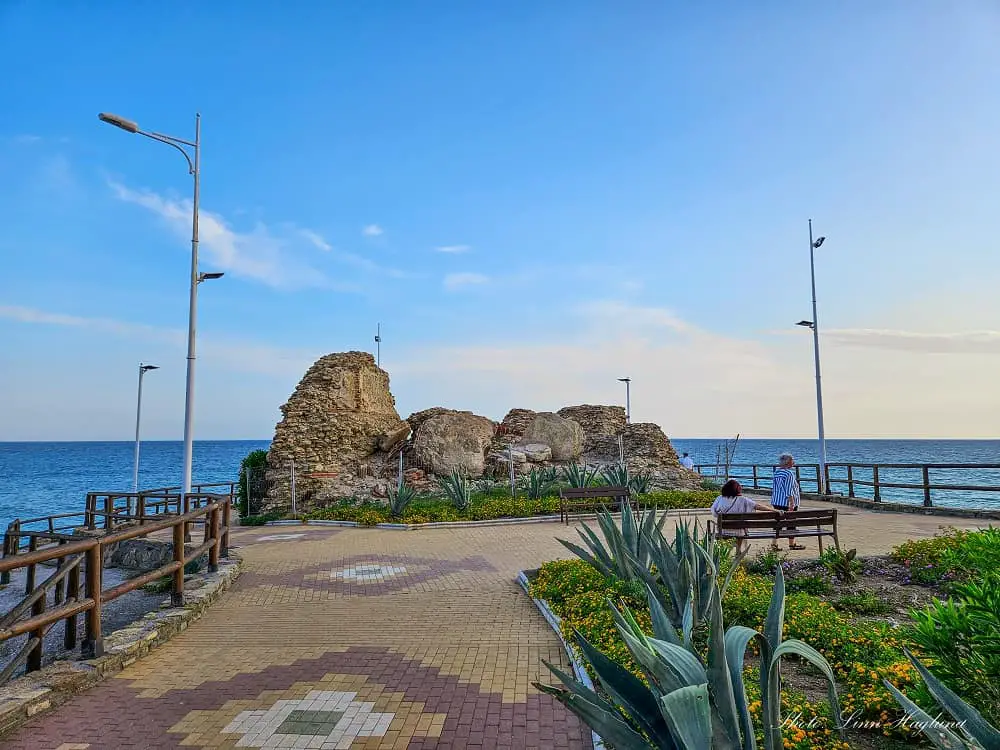 Take a picture of Aqueduct of El Águila
On the road between Nerja and Maro, in the direction of Nerja Caves, you will pass the majestic late 19th-century Aqueduct of El Águila. There is a small pocket where you can stop the car to take a picture.
It is referred to as a "historic jewel of Spanish architecture" and was originally built to transport water from Nerja to the sugar refinery in Maro. While the factory is no longer in business, the aqueduct is still in use.
It was damaged during the civil war, but restored in 2011 and is now declared a Site of Special Cultural Interest in Andalucia.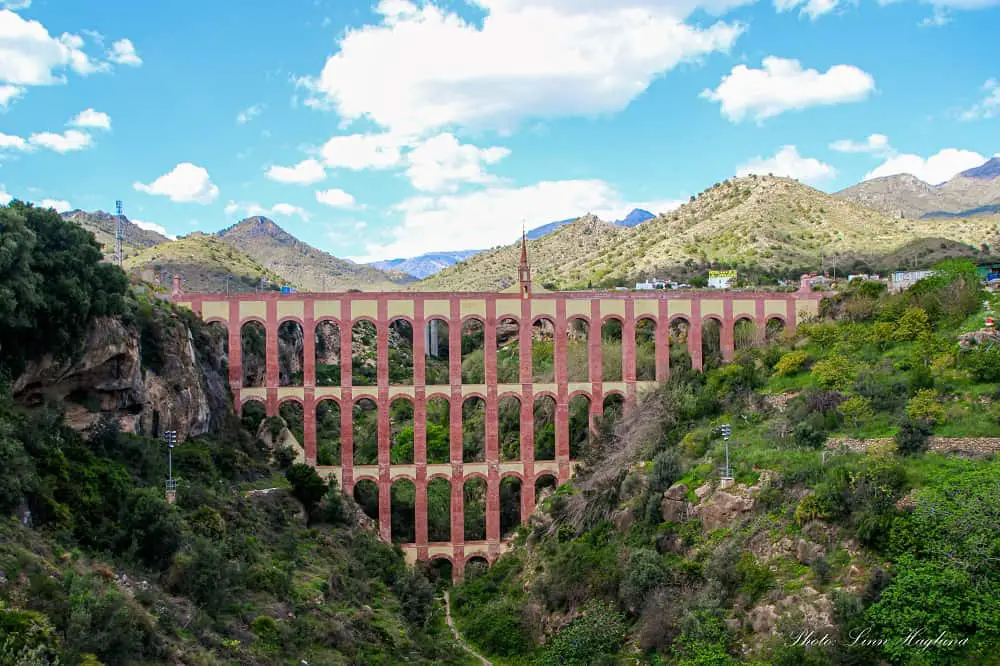 Visit Nerja Museum
Visiting Nerja Museum is one of the most interesting things to do in Nerja. There, you will learn more about the history and culture of Nerja and the Axarquía region from prehistoric times until today, and most importantly the discovery of Nerja Caves.
I especially enjoy the archaeological section (yes, I wanted to be an archaeologist when I was a kid!) where you can see old artifacts found in the caves including the skeleton of a cavewoman.
Enjoy the views from Mirador Balcón de Carabeo
Taking in the views from Mirador Balcón de Carabeo is among the best things to do during your Nerja sightseeing. The viewpoint is located west of the large public parking and adorned with palm trees and colorful Rhododendron and dotted with benches, it is a relaxing place to stop for a bit before continuing your exploration of the town.
You get the best views of Carabeo Beach and if you are lucky, you might even spot dolphins playing in the waters.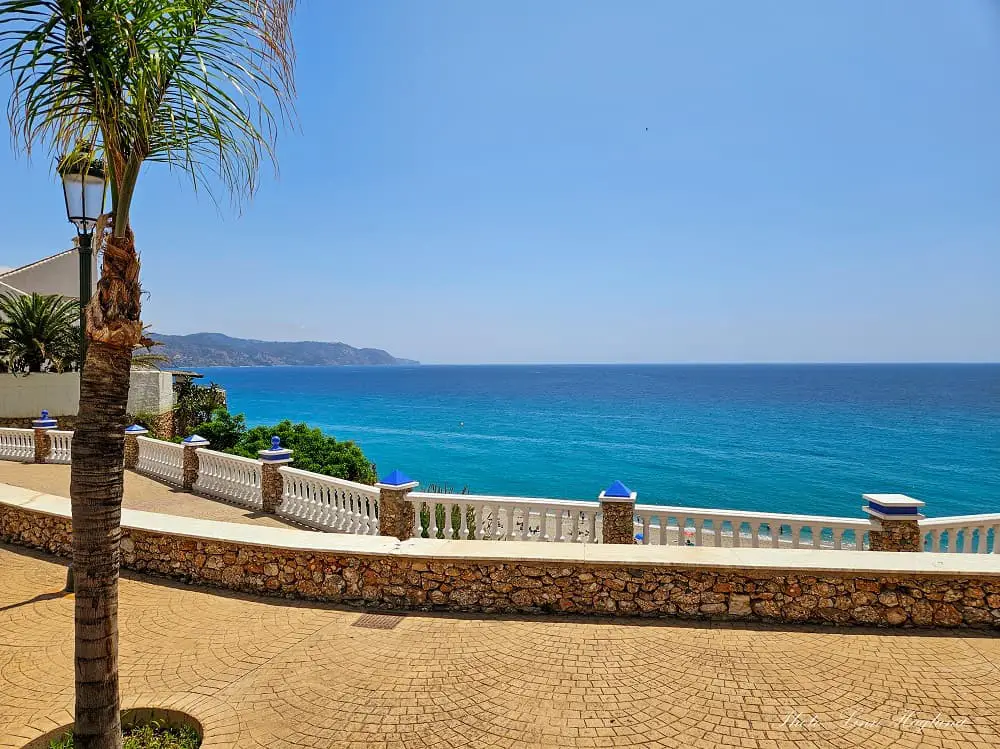 Walk El Caminito del Rey
You have seen everything in Nerja, what to do next? Take a day trip to walk the spectacular Caminito del Rey hike by El Chorro Lakes.
The thrilling walking path is pinned 100 meters high on the vertical canyon wall in breathtaking surroundings. It is a one-way hike with a shuttle bus taking you the opposite way.
You can drive there yourself, park at El Kiosko restaurant and walk to the ticket boot (you must purchase tickets in advance!) at your allocated entry time, or go on a guided tour from Nerja, which is the most convenient way to get there without a car.
I recommend booking your tickets as soon as possible as they sell out quickly. You can get entry tickets here or book a guided tour here.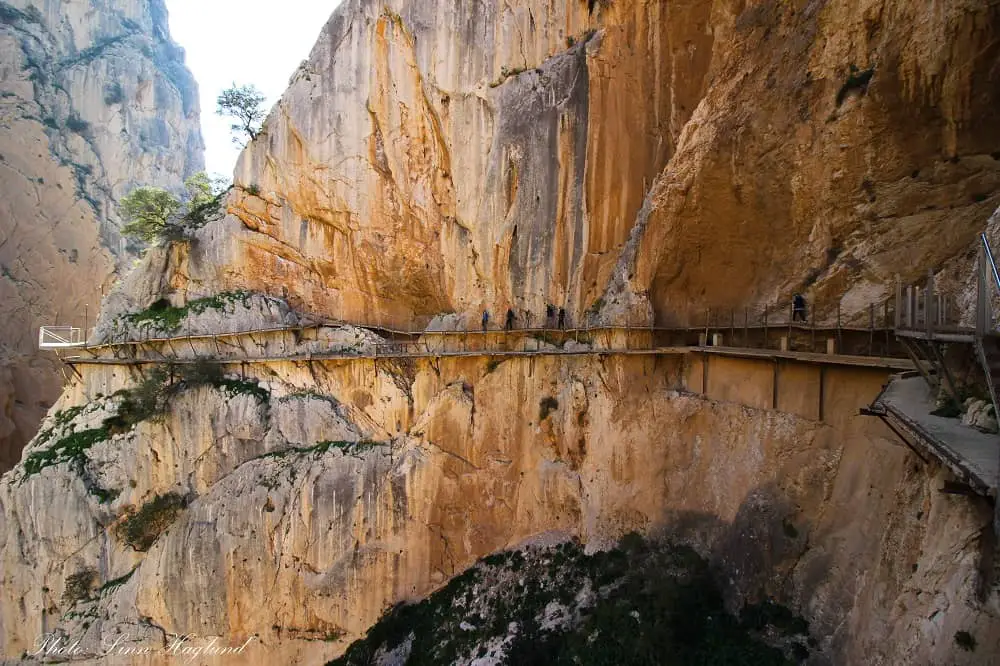 Head to Mirador de Chanquete
Another viewpoint that is nice to visit is the Mirador de Chanquete, right between El Salón Beach and La Caletilla Beach.
Besides the views that are breathtaking, I love the statue of a fisherman standing proudly overlooking the sea. You can get straight onto it from Nerja Old Town or you can reach it by walking the coastal walk from Balcón de Europa.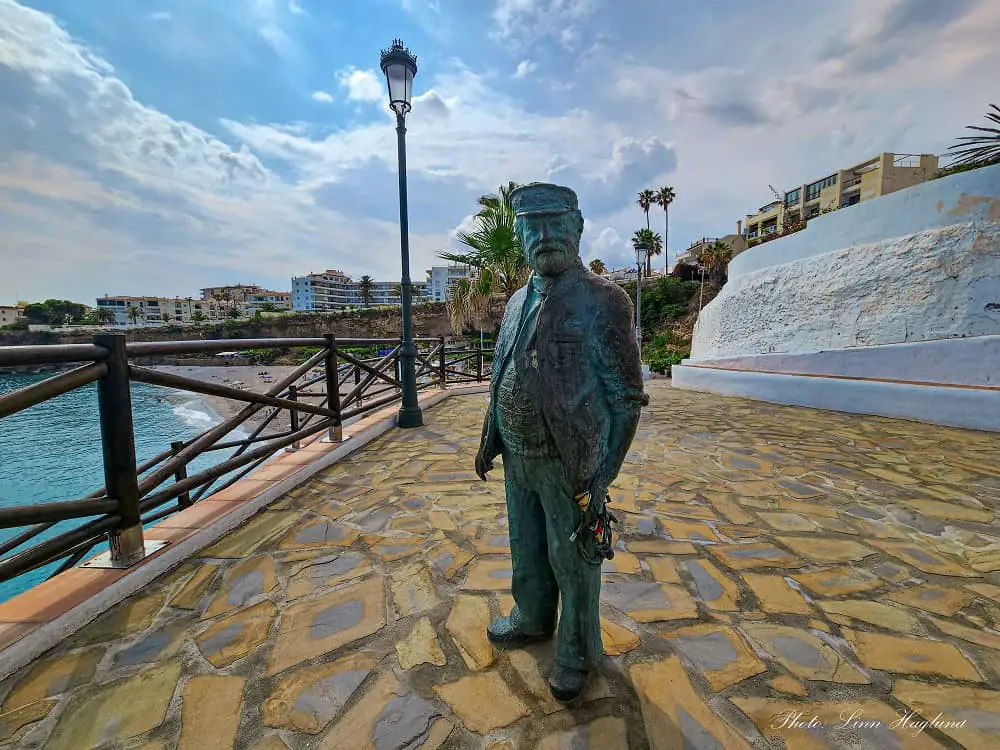 Go for a stroll in Maro
Maro is one of the most charming little villages right next to Nerja. Things to do aren't exactly many – besides the beaches! But it is a lovely little place to walk around.
There are a few restaurants and bars where you can grab lunch or a drink before heading back to Nerja. If you want to see the beaches, you can walk down to both Caleta de Maro and Maro Beach.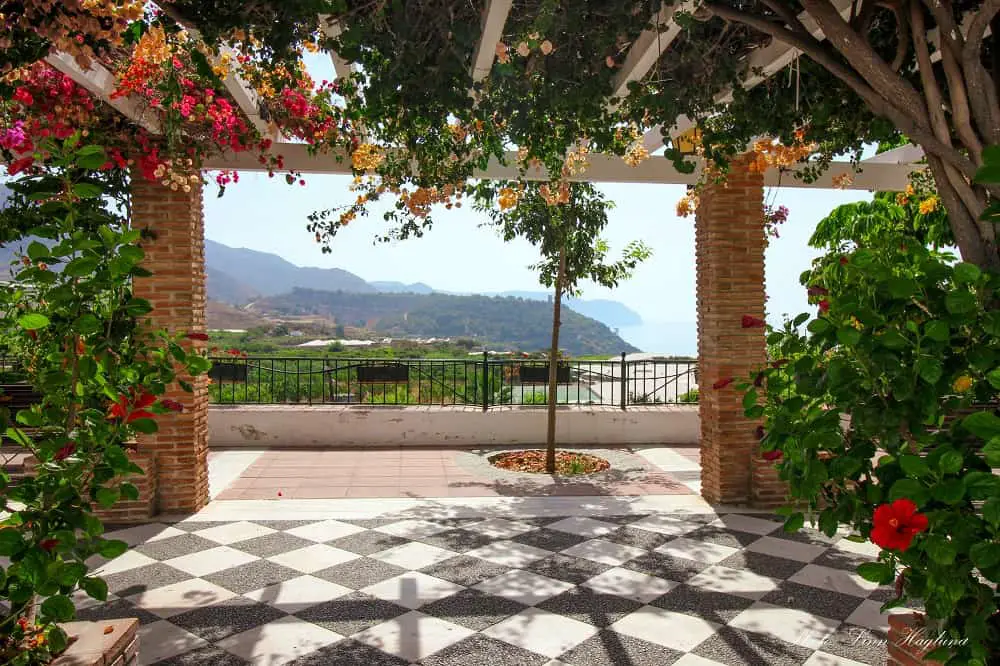 Reflections on what to do in Nerja
There is no doubt, when it comes to things to do, Nerja Spain has a lot of variety to offer! Setting your holidays to Nerja will not leave you bored, no matter what your interests.
Personally, I have had a love affair with Nerja since I first went there in 2013 for my friend's wedding and I have been back regularly since. Just in the last month, I've been there three times over a few days each.
I am sure you will enjoy your Nerja holidays too. Happy travels!
FAQ on things to do in Nerja
Where is Nerja Spain?
Nerja Spain is located on the east part of Malaga's Costa del Sol in Andalucia, southern Spain. It borders to Granada's Costa Tropical.
Is Nerja worth visiting?
Nerja is a fantastic beach town with a vibrant old town and plenty of activities to do from kayaking, snorkeling, visiting Nerja Caves, hiking, and exploring the charming hillside village of Frigiliana.
What are things to do in Nerja for families?
Nerja is jam-packed with things to do for families, like kayaking, going to the beach, hiking, visiting Nerja Caves, and strolling around Frigiliana. There are also plenty of small playgrounds dotted along Burriana Beach.
What to do on a rainy day in Nerja?
Rainy days in Nerja are perfect for visiting Nerja Caves, sit inside the many tapas bars to eat and drink, or going to a Flamenco show.