If you are looking for the best beach towns near Malaga, you are in the right place. The beautiful coastal city is located on Costa del Sol less than an hour from Granada's Costa Tropical giving you a great selection of prime destinations to choose from.
Whether you are looking for quiet beach towns near Malaga or you prefer a busy town with plenty to do, there are plenty of places to choose from.
Having spent years exploring the coastal towns near Malaga, I have found my favorites that I return to time after time, and in this post, I'll share the best ones with you so that you can start planning the perfect trip.
Read on to start exploring the wondrous coastline around Malaga with these epic seaside towns.
Disclosure: This post may contain affiliate links. That means that if you make a purchase through one of those links, I will get a small commission at no extra cost to you.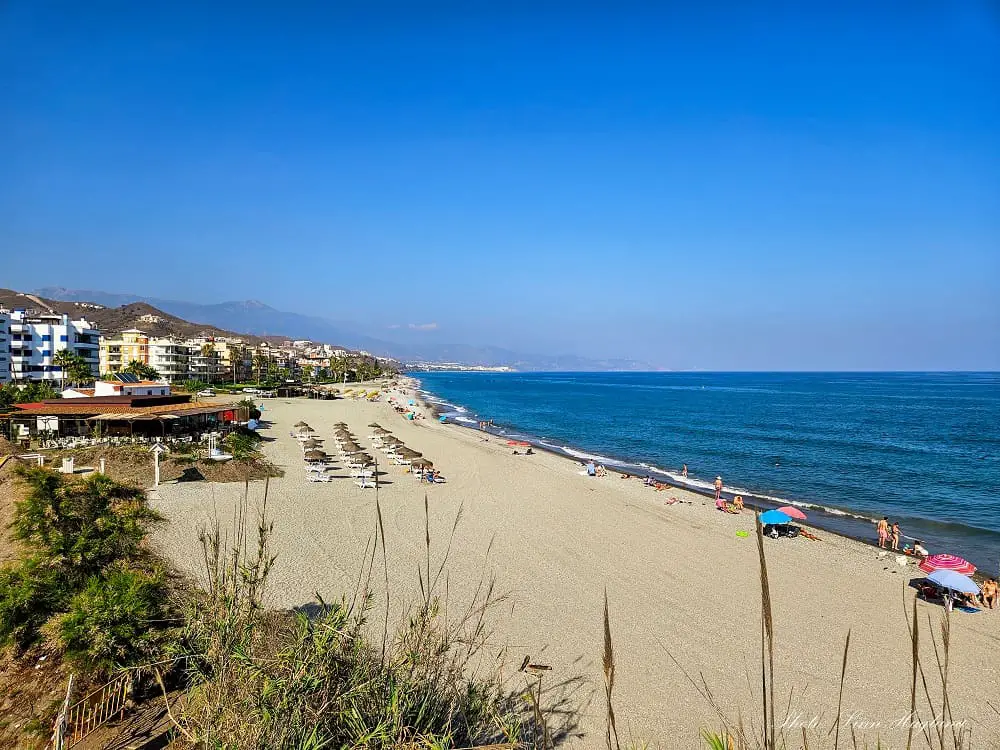 Best beach towns near Malaga
Nerja
Nerja is by far one of the most popular beach towns near Malaga. There is an array of things to do in Nerja for every type of traveler.
The famous Nerja Caves are located on the way to Maro and give you the opportunity to explore the largest stalagmite in the world and wander around the majestic prehistoric caves.
The Old Town is one of the best places to stay in Nerja as you have all the shops and restaurants at your doorstep including the popular viewpoint, Balcon de Europa.
From there, you can walk straight onto some of the prettiest beaches in Nerja, like Calahonda Beach and Playa La Caletilla. Further east, you will find the Blue Flag beach, Burriana Beach with all the necessary facilities.
This is also the best place to go on a Nerja kayak tour along the mesmerizing cliffs of Maro, or if you prefer going on a boat trip in Nerja, there are a few options that include snorkeling and paddleboarding.
If you fancy going on a day trip from Nerja, Frigiliana village is elegantly overlooking the coastline above Nerja. There are some nice things to do in Frigiliana, like walking the narrow cobbled streets and going hiking in the mountains.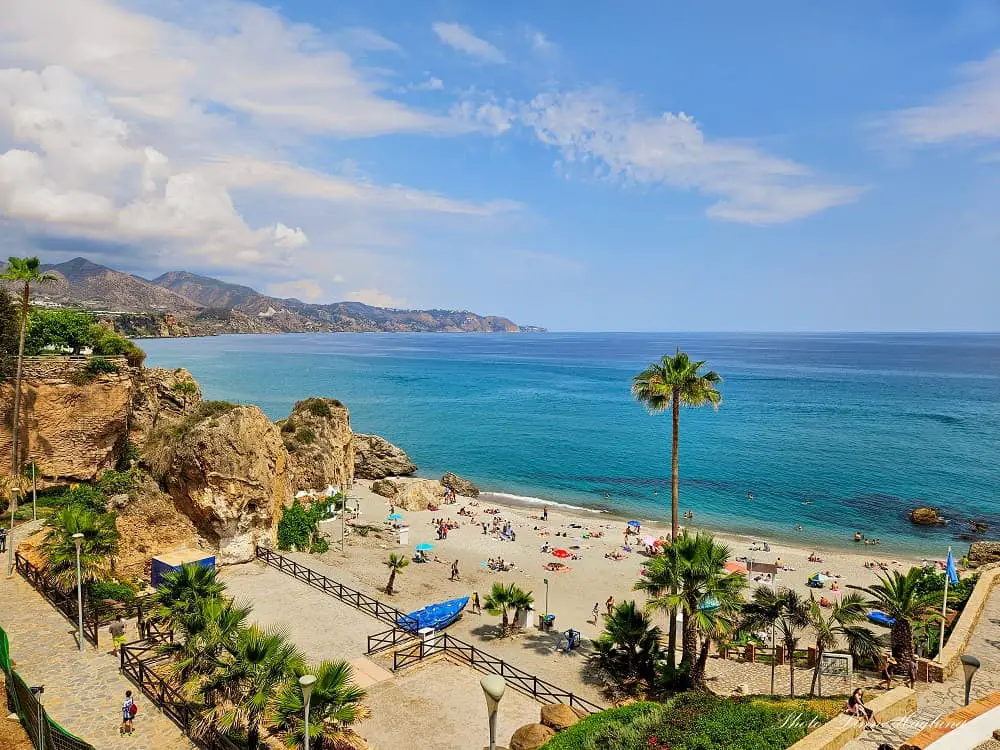 Benalmadena
Among the best seaside towns near Malaga, you find the vibrant Benalmadena. Located on the coast, it has its charming old town on the hill overlooking the sea.
There are plenty of things to do in Benalmadena like exploring Colomares Castle, wandering around Parque de Paloma, and chilling at the magnificent beaches in Benalmadena.
There are also a whole lot of restaurants and bars, as well as boutique shops to look for unique holiday gifts. If you fancy getting out on the water, there is also a wealth of fun Benalmadena boat trips to take from relaxing sunset cruises to party boat trips.
The town is only half an hour's train ride from Malaga, so it is super easy to reach and there are also many lovely places to stay in Benalmadena both on the beachfront and in Benalmadena Pueblo.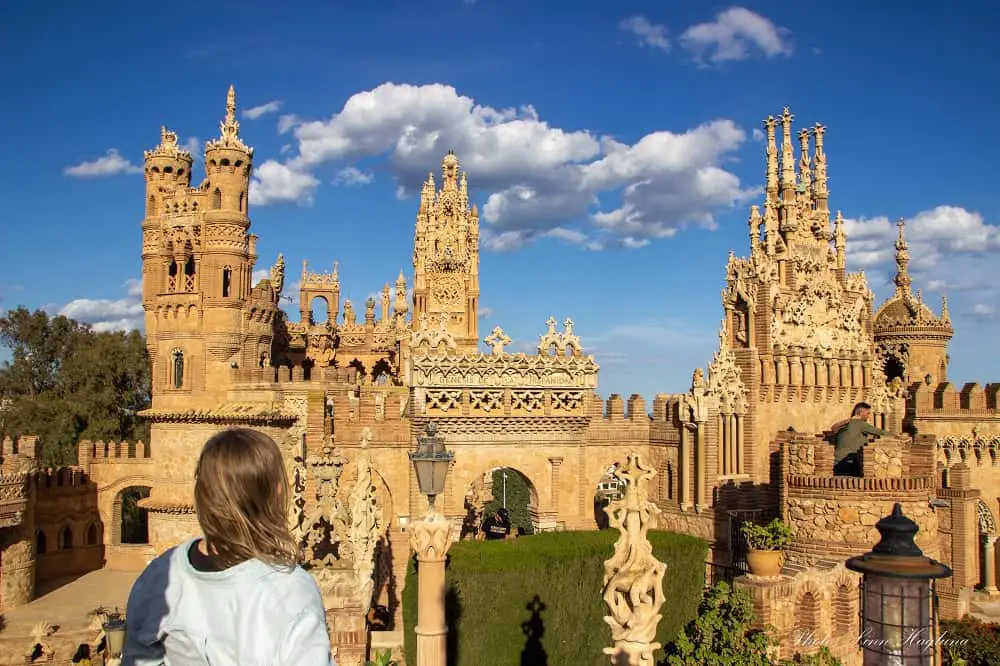 Fuengirola
As one of the most popular expat coastal towns near Malaga, Fuengirola boasts a vibrant nightlife, plenty of restaurants and bars, and a pristine coastline.
There are plenty of things to do in Fuengirola, like visiting the Sohail Castle, going go-karting, exploring Roman ruins, and enjoying the fabulous shopping in Fuengirola.
If you want to go on a Fuengirola boat trip exploring the coast, you are up for a treat. There are plenty of options, from lounging on a private luxury yacht to going dolphin watching.
Besides, there are plenty of fun day trips from Fuengirola you can take, like hiking El Caminito del Rey, visiting Granada and the Alhambra, taking a Fuengirola to Seville day trip, or experiencing the only wild monkeys in western Europe on a day trip from Fuengirola to Gibraltar.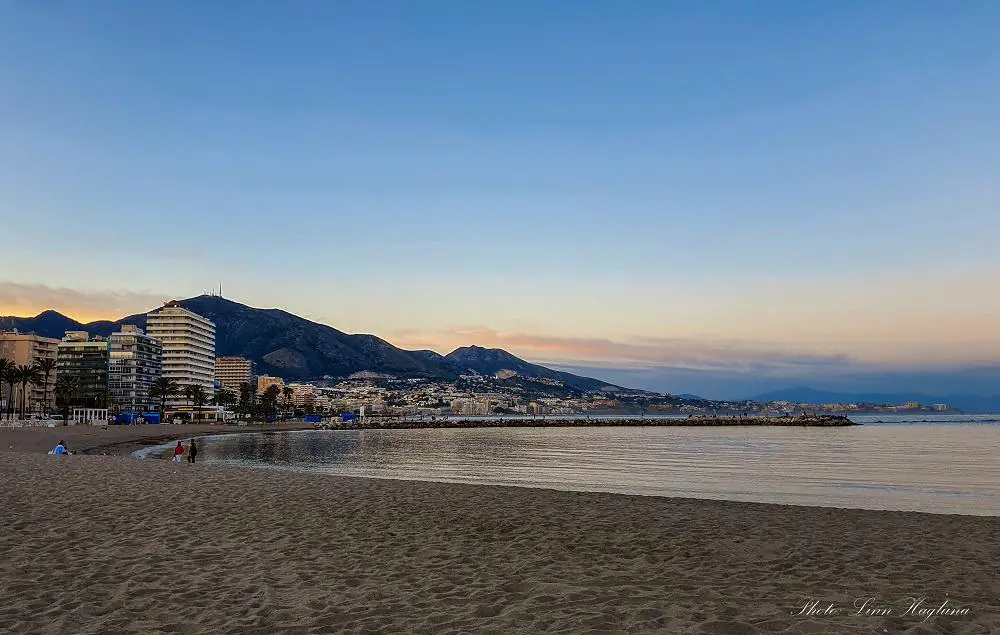 Torrox Costa
Torrox Costa is one of the nice beach towns near Malaga that you will fall in love with. There, you will find some of the best beaches near Malaga flanked by sand dunes. Others are fully equipped and accessible.
Among the best things to do in Torrox Costa, you also find Roman ruins and a lighthouse. It is a vibrant coastal town away from the hustle and bustle of the city.
Finally, a stroll through Torrox Pueblo is a wonderful way to spend the afternoon. Located a bit up the hill from Torrox Costa, you will be treated to beautiful coastal views. There are also several restaurants and bars to enjoy a meal and some drinks.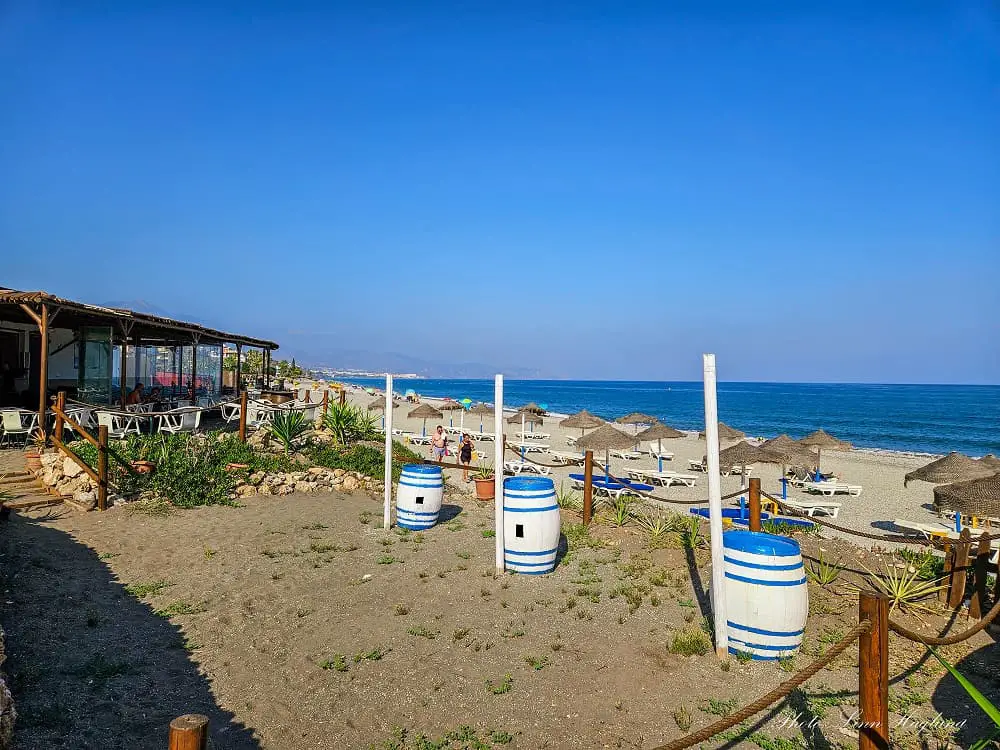 La Cala de Mijas
La Cala de Mijas is among the quiet beach towns near Malaga. It has the enchanting vibe of a small town, yet it is frequented by a large amount of long-time visitors, especially from the UK.
Having lived there for 7 years, I have a special love for the place nonetheless. The beach is wide with beach bars and restaurants, volleyball nets, and sunbeds for rent.
The little village in Mijas, is such a delightful whitewashed seaside town with colorful pot plants lining narrow streets of whitewashed houses.
You find an array of restaurants serving anything from local to international cuisine for every palate. My favorite is Bombay to Goa.
There are plenty of things to do in La Cala de Mijas, from climbing the watch tower to walking the Senda Litoral boardwalk to Cabopino.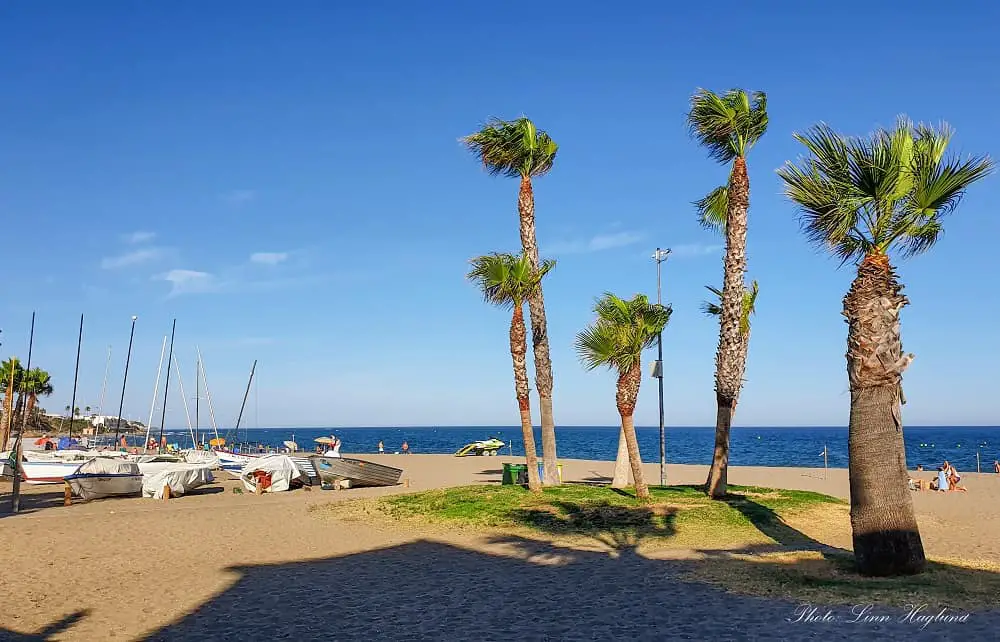 Torremolinos
Being one of the absolute best coastal towns near Malaga, especially for the LGTBQ community, Torremolinos boasts of life all year round.
There are often festivals and open-air concerts during the summer months and plenty of bars and restaurants. This is one of the larger towns in Malaga and the closest one to the city.
Besides eating, there are plenty of things to do in Torremolinos, including a water park and pumping beach nightclubs in Los Alamos.
You can also expect epic shopping in Torremolinos from jewelry to affordable clothes. Small boutique shops with upscale clothing and unique items are dotted everywhere so you are guaranteed to bring home some unique souvenirs from Spain.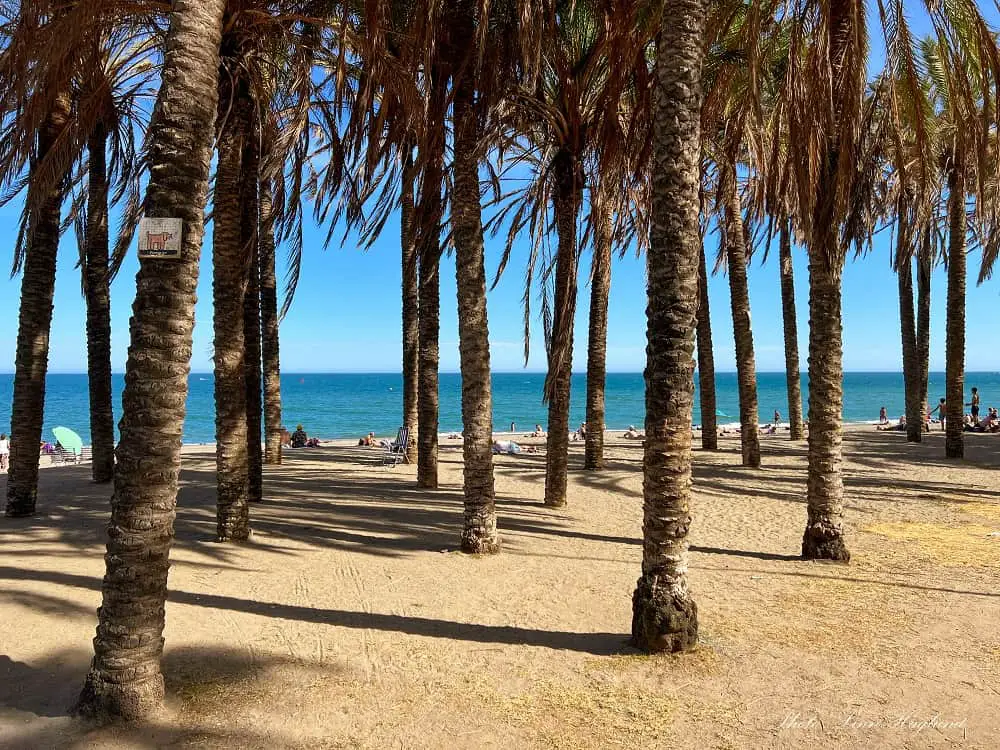 La Herradura
As one of the most charming quiet beach towns near Malaga, La Herradura is the first settlement on Granada's Costa Tropical.
While everywhere is busy in August, La Herradura still maintains the relaxing Spanish fishing village feel to it in the summer. On the contrary, it turns into a near-abandoned town in the winter with not much happening.
Nonetheless, there is plenty to do in this charming bay, from kayaking to hiking to either the lighthouse on one side or the Cerro Gordo tower on the other side for spectacular views.
La Herradura also boasts an 18th-century castle in good shape that is worth visiting.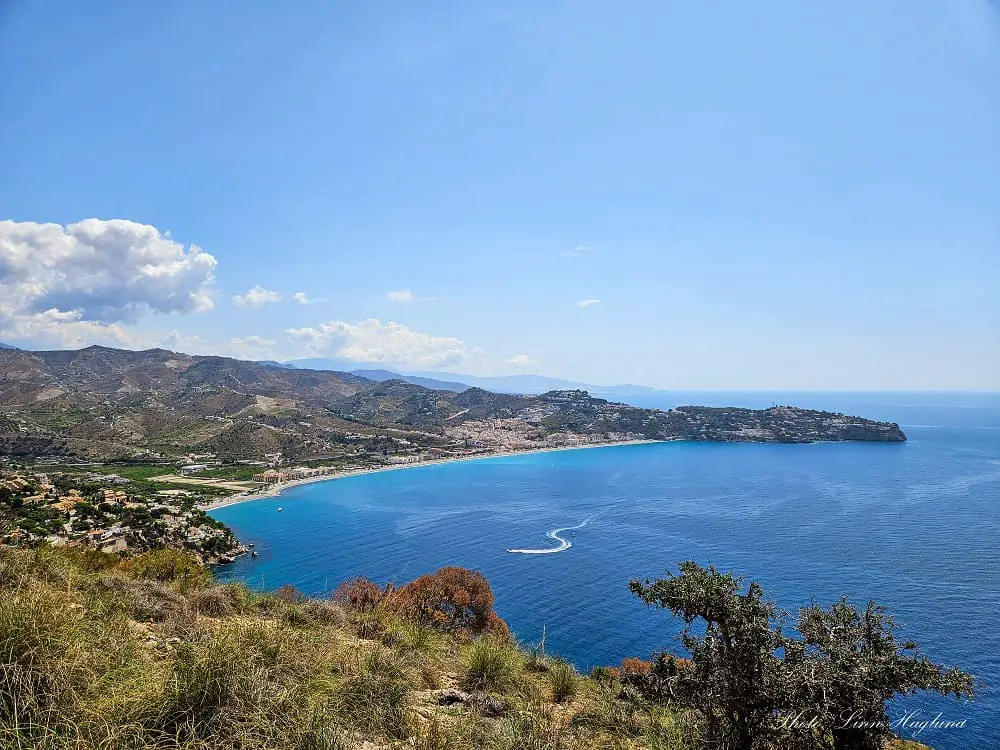 Salobreña
Salobreña is without a doubt one of the best beach towns near Malaga. Also on Granada's Costa Tropical, it is only an hour's drive from the city.
With a picturesque medieval castle overlooking the hilltop town of whitewashed houses cascading down to the beach, it is one of my absolute favorite coastal towns in Andalucia.
Salobreña boasts some of the best beaches in Granada with beach bars and restaurants, as well as snorkeling and cliff-jumping opportunities.
The historical center is absolutely mesmerizing with colorful pot plants decorating the whitewashed walls. The cobblestoned streets weave their way up the steep hills to splendid sea views from the castle grounds.
This is by far one of the best coastal towns near Malaga not to miss.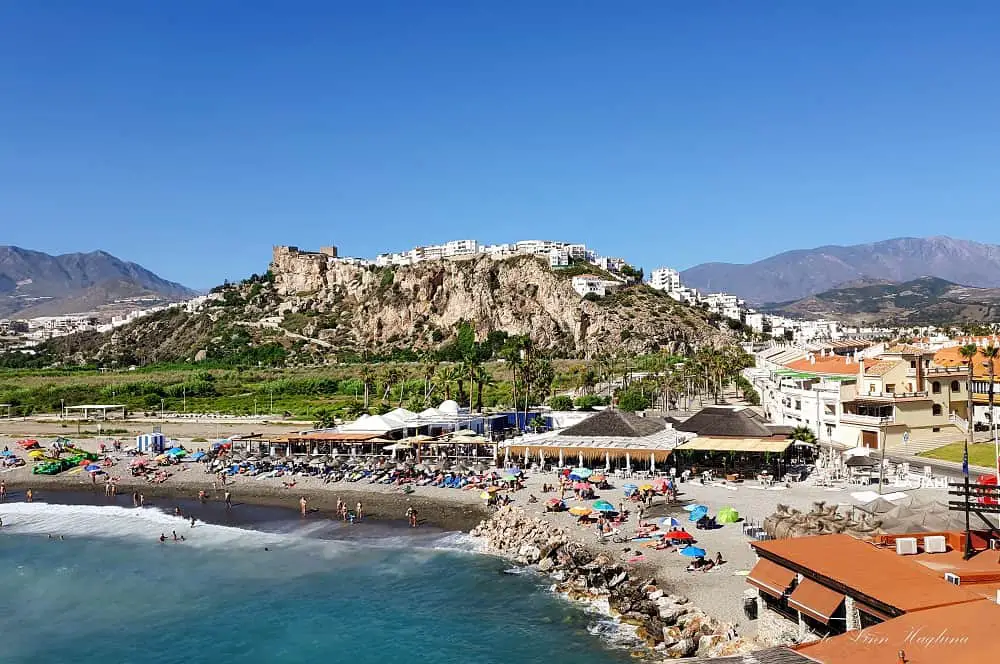 Marbella
Officially one of Andalucia's cities, Marbella is one of the best places to visit on Costa del Sol, thus I could not leave it out of this list of Malaga coastal towns to visit.
There is an array of fun things to do in Marbella from strolling around the enchanting Marbella Old Town to kayaking along the coast.
If you are looking for Marbella boat tours, you are in luck. Whether you want to go on a private luxury yacht or you want to enjoy a romantic sunset cruise, there are plenty of options.
Head to the luxurious Puerto Banus for some window shopping or to gaze at the luxury yachts docked up at the marina before you leave whether you spend a weekend in Marbella or you go on a day trip to Marbella.
If you are looking for where to stay in Marbella for the ultimate luxury, make sure you check out Puente Romano Beach Resort on the Golden Mile where the rich and famous hang out.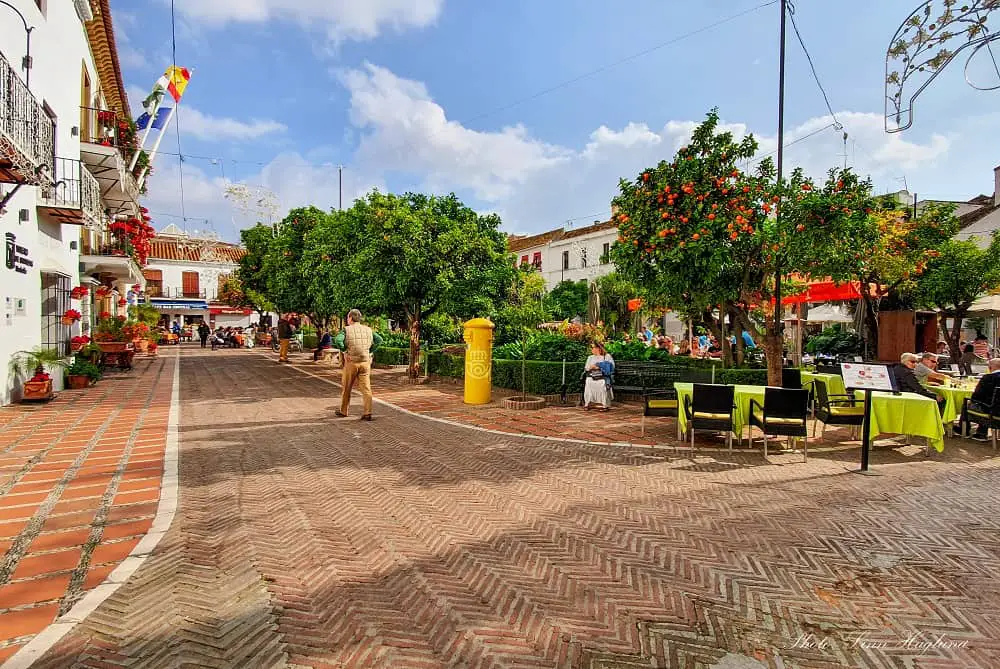 Estepona
Estepona is one of the most charming Malaga beach towns, an hour west of the city. It is renowned for its enchanting old town with whitewashed houses decorated with lush plants cascading from colorful pots.
But there are plenty of other things to do in Estepona but walking the old town. Most famously, the Orchid House deserves a visit as you can witness over a thousand species of orchids in one place.
One of my favorite things to see are the 70 murals decorating buildings around the city making out the Ruta de Los Murales. You can also explore the Dolmenes de Coromínas archaeological site and the archaeological Museum to learn more about the area's ancient history.
But Estepona also has an array of beach activities. The boat trips in Estepona range from dolphin watching to sunset cruises.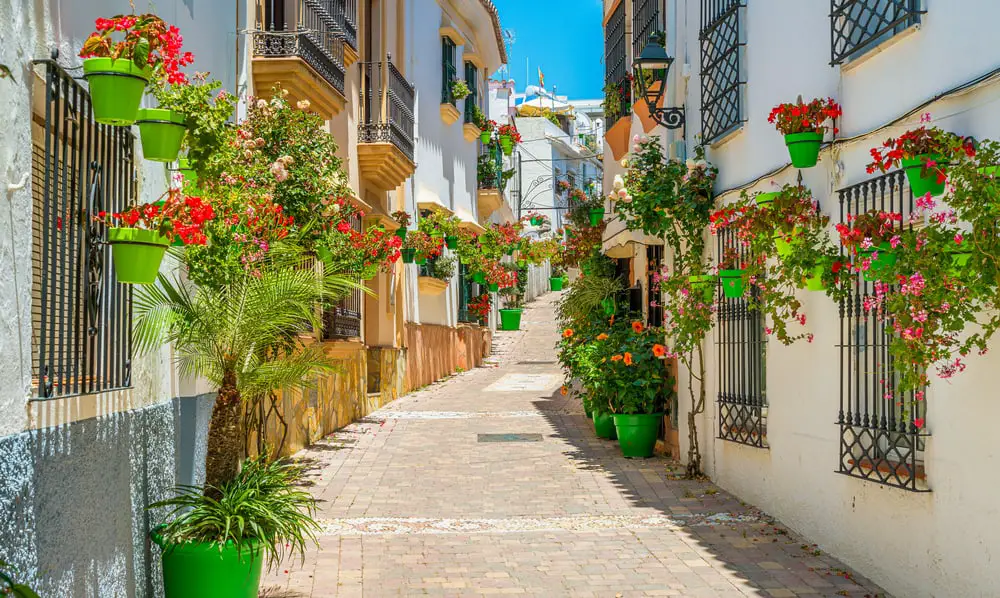 Reflections on coastal towns near Malaga
With this, I'll sum up the best beach towns near Malaga. As you can tell, there are plenty of amazing places to visit no matter if you like it upscale, casual, quiet, or full of life.
While I have picked up my favorite destinations here, there are of course heaps of other coastal towns near Malaga to be discovered. However, I am confident you will enjoy the ones listed here.
Happy travels!