Marbella is one of the most popular coastal cities in Andalucia, and not without a reason. Boasting luxury and history, fashion and nature, you will not get bored.
Defining the best things to do in Marbella, Spain can vary a lot from person to person, I know. That's why I've listed up what to do in Marbella for every type of traveler.
Whether you like to window shop for luxury items, or you prefer swiping your card to actually wear them daily or you like to sip drinks on a luxury yacht over getting hands-on paddling yourself on a kayak, Marbella has what you're looking for.
Spectacular beaches are flanked by majestic mountains offering the active ones a wealth of hiking trails leading to sweeping views of the coastline.
There is nothing not to like, no matter if you travel to Marbella in winter or you prefer the hustle and bustle of August in Marbella.
Now, let's get into what to do in Marbella, Spain.
Disclosure: This post may contain affiliate links. That means that if you make a purchase through one of those links, I will get a small commission at no extra cost to you.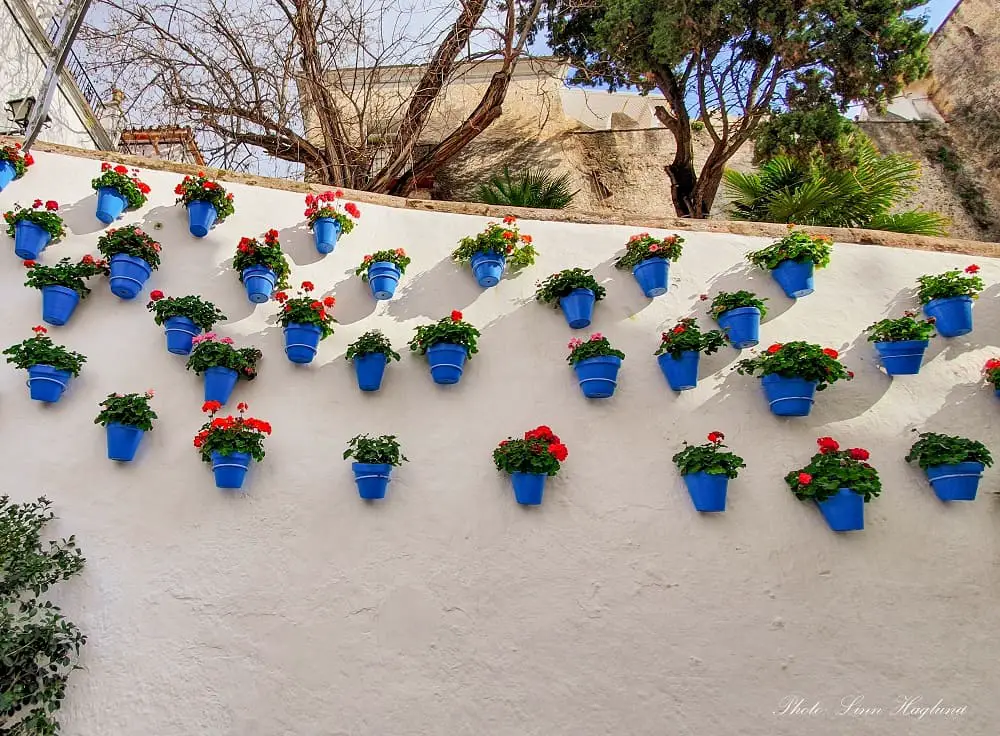 Best things to do in Marbella
Stroll through Marbella Old Town
Among the best things to do in Marbella is stroll through its historic Old Town. Its winding, narrow streets are lined with beautiful whitewashed houses adorned with vibrant flowers.
The architectural charm and calm ambiance will transport you back to simpler times as you stroll around. Artisanal shops, quaint cafes, and art galleries add to the allure of this destination.
Take advantage of this serene Marbella must-visit experience, as it provides a unique insight into the city's cultural heart and a stark contrast to the modern vibrance of the newer areas.
Whether you visit Marbella on a day trip or you stay for longer, a stroll through the vibrant old town is a must. This is also one of the best areas to stay in Marbella, especially if it is your first visit.
You can take a guided walking tour of the old town, which I highly recommend for anyone interested in learning more about its history. But it is also a great activity for solo travelers looking to meet other travelers.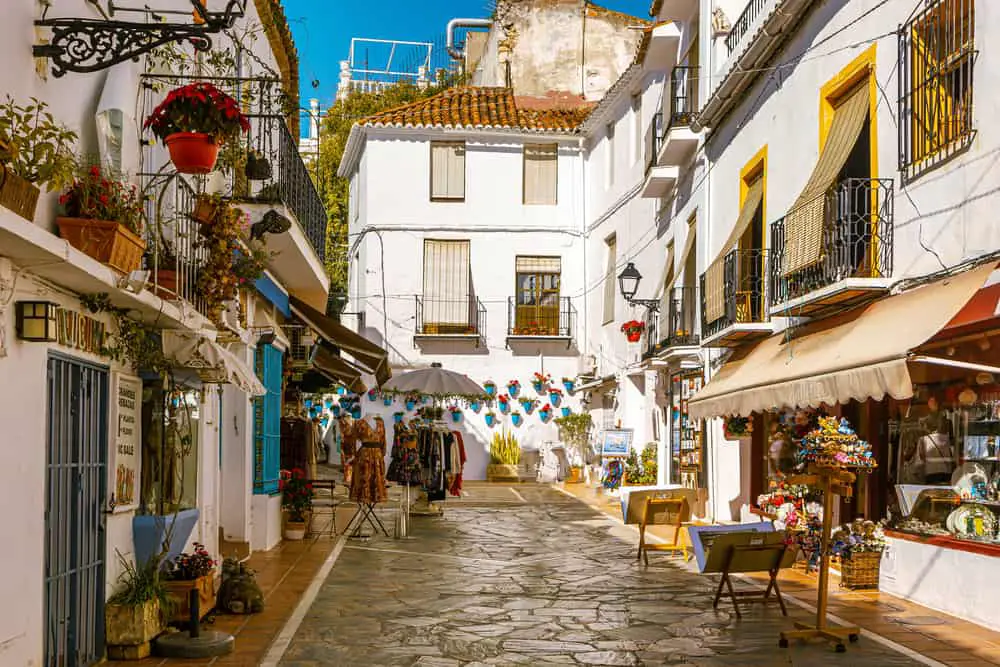 Sip drinks on a yacht
Imagine finding yourself reclining leisurely on the polished teak deck of an opulent yacht, the gentle caress of the Mediterranean breeze grazing your skin as you indulge in a flute of crisp, ice-cold champagne.
This enchanting vision isn't merely a fanciful daydream but rather a standout experience to be had in the radiant coastal town of Marbella.
If you ever wondered if Malaga or Marbella was the best destination for you and a luxury yacht cruise sounds like the perfect way to spend the day, you have your answer.
This exceptional experience offers a breathtaking panorama of the coastal landscape, enriching your vacation with a touch of Marbella's quintessential luxury.
As the day turns into evening, you can witness a stunning sunset, a radiant spectacle as the sky gets dappled with an artist's palette of pink and orange hues.
It's a Marbella must-do for anyone looking to experience the city's lavish lifestyle. It's a perfect setting to create unforgettable memories, reflecting the lavish lifestyle often associated with this Marbella must-see destination.
There are plenty of Marbella boat trips to choose from, depending on if you want to go on a private sailing trip or prefer a small group tour to meet other travelers.
Go dolphin watching
When it comes to epic Marbella activities, dolphin watching stands high on the list. Embark on a boat tour of the Costa del Sol coast and witness the magnificence of dolphins in their natural habitat.
These intelligent creatures, playful and graceful, are a sight to behold. The thrill of watching them leap over the azure waves is unparalleled, making this a Marbella must-see for any nature enthusiast.
I recommend going on a small group tour to get the most out of potential dolphin sightings so you don't risk getting crowded up and pushed back in the boat without the opportunity to see them properly or take pictures.
👉BOOK A DOLPHIN WATCHING TOUR HERE
Get wet in Guadalmina River
Guadalmina River offers one of my favorite river hikes on the coast with deep water holes, cliff jumping, natural water slides, and narrow ravines to swim through.
You must be a strong swimmer to get through it, but I can guarantee one of the best experiences. Among the best activities to do in Marbella, why not go on a canyoning tour of the river?
This is action-filled and fun with the safety of a local guide to one of the most bewildering natural places to go in Marbella.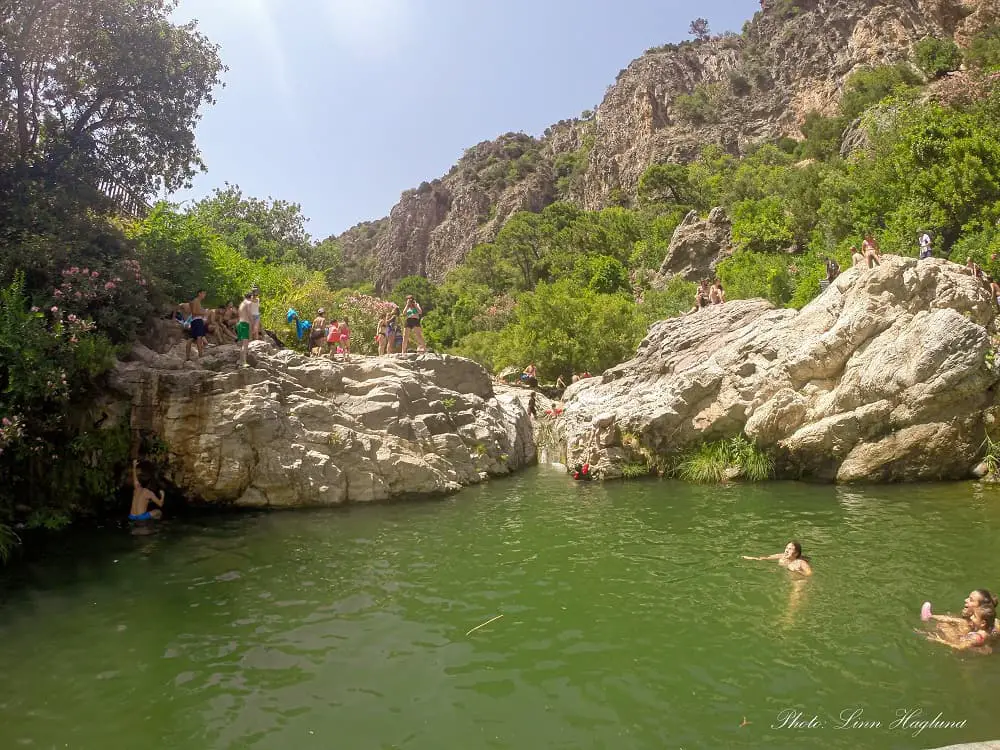 Have an ice cream in Alameda Park
For a delightful respite in Marbella, head to the charming Alameda Park and treat yourself to a scoop of Spain's velvety ice cream.
With its rich variety of exotic plants and captivating fountains, this park presents a refreshing retreat from the bustling city vibes.
Find a comfy spot under the park's lush canopy of trees, and as you savor your creamy dessert, take a moment to appreciate the leisurely pace of life around you.
This simple pleasure is indeed one of the top fun Marbella things to do, allowing you to immerse in the city's everyday rhythms while enjoying a sweet treat.
Alameda Park, with its calming ambiance, serves as a pleasant refuge and qualifies as one of the best Marbella places to visit.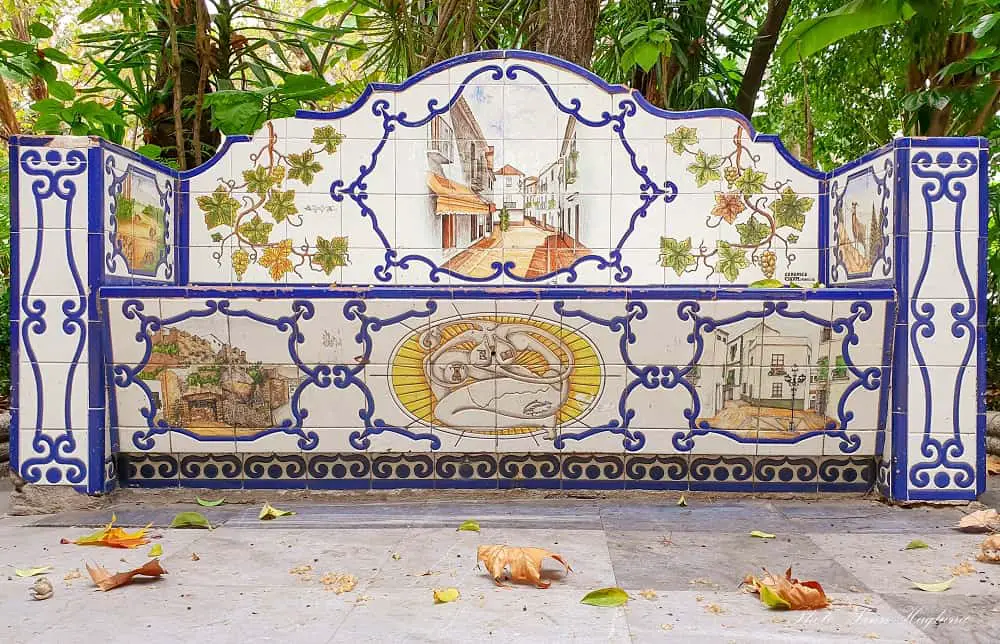 Walk along the promenade
Embrace the magnetic charm of Marbella by taking a leisurely stroll along the Paseo Maritimo, commonly known as the Marbella Promenade.
With its location tracing the city's beautiful coastline, this bustling promenade stands as one of the most frequented Marbella attractions.
As you meander down the bustling promenade, you'll be treated to an eclectic array of eateries, vibrant watering holes, and quaint boutique shops that add an extra sprinkle of charm to the locale.
Leisurely strolling here, coupled with the breathtaking vistas of the endless sea and the vivacious buzz of the surroundings, constitutes one of the top things to see in Marbella.
As dusk falls and the sun sets below the horizon, the promenade comes alive with enchanting lights, weaving an atmosphere of magic that beautifully mirrors the captivating spirit of this coastal city.
Hike to La Concha
When seeking Marbella things to do that involve a bit of adventure, consider a walk up the iconic La Concha mountain.
As the highest peak in Marbella, it offers panoramic views of the city, Gibraltar, and on a clear day, the Moroccan coastline.
The challenging yet rewarding hike is a treat for nature lovers and offers fantastic photo opportunities. It's a Marbella must-do for anyone seeking a blend of nature and adventure.
It is a good one-day hike that migth just challenge your vertigo a couple of places, so if you get easily dizzy, I would reconsider it. A good alternative hike is the shorter Cruz de Juanar with just as pretty views.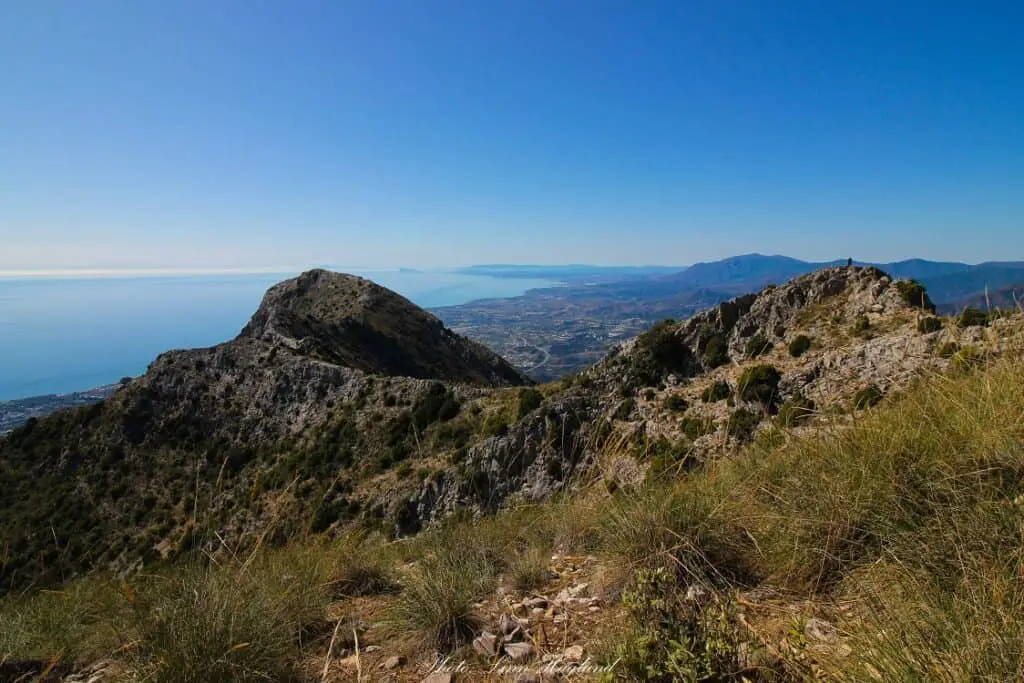 Have a coffee at Plaza de Los Naranjos
Plaza de Los Naranjos, located in the heart of Marbella's Old Town, is a perfect spot for coffee enthusiasts. Historical buildings surround the plaza, including the Town Hall and the Chapel of Santiago.
The square, bathed in the sweet aroma of blossoming orange trees, is a must-see in Marbella for anyone yearning for a taste of authentic local culture.
Take a seat at one of the many alfresco cafes lining the area and indulge in traditional Spanish coffee. As you savor the robust flavors, soak in the lively ambiance and enjoy a moment of people-watching.
This quintessentially Marbella experience offers a delightful glimpse into the city's everyday life and rhythm.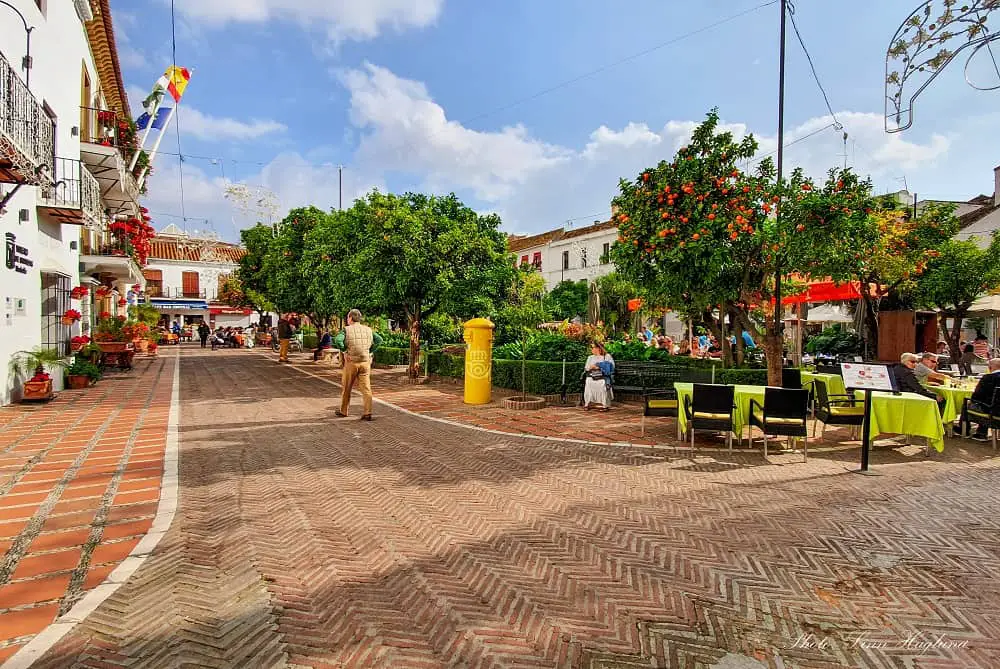 Step inside Iglesia de La Encarnacion
Among the Marbella attractions, the Church of the Incarnation, or Iglesia de La Encarnacion, stands out.
This magnificent 17th-century church in the Old Town is a testament to Marbella's rich historical and religious heritage.
Its grand facade gives way to an intricately designed interior with a great altar and a mesmerizingly ornate organ.
This Marbella must-visit is a splendid architectural marvel that impresses with its Baroque and Rococo design elements.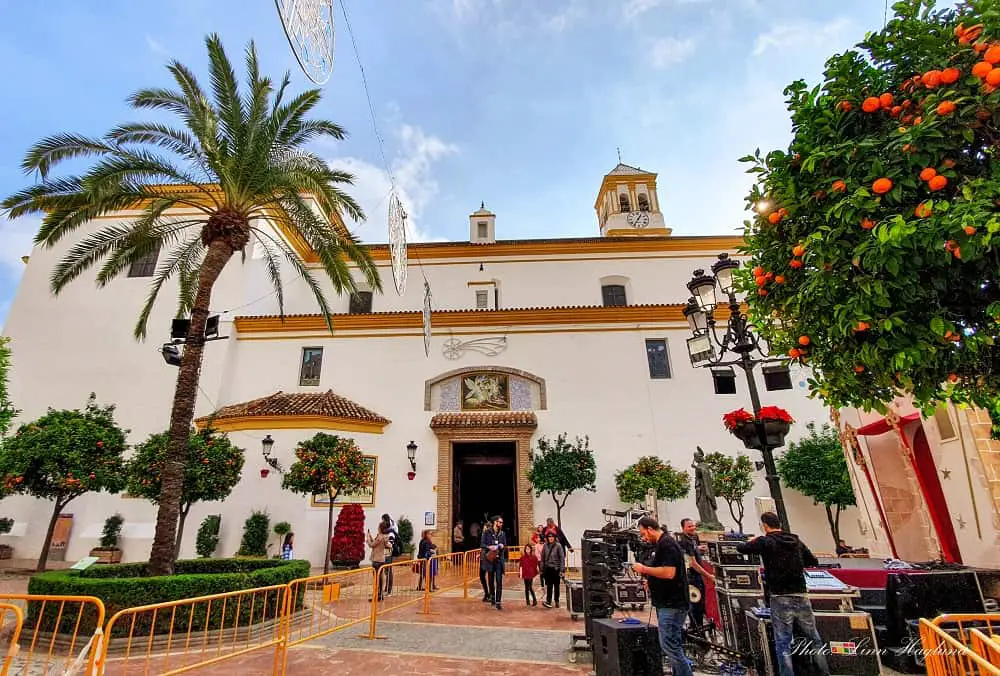 Window shop in Puerto Banus
One of the top things to do in Marbella is to window-shop in the posh Puerto Banus area. This luxurious Marina is not just about impressive yachts and glamorous nightlife; it's also home to some of the world's most prestigious fashion houses.
As you amble along the glamorous Marina, pause to marvel at the array of opulent yachts berthed in the docks, and surrender yourself to a spot of wishful browsing in the elite boutiques that grace the pavements.
This spot truly earns its stripes as a Marbella must-see, especially for those with a taste for life's more refined pleasures.
Party at Nikki Beach
Nikki Beach is a synonym for extravagant beach parties and is undoubtedly among the fun things to do in Marbella.
This famed beach club is renowned for its lively parties, top-notch DJs, and beachfront setting, attracting a cosmopolitan crowd.
Dance to the tunes of international music while enjoying exotic cocktails and gourmet cuisine. Nikki Beach is a Marbella must-do for party lovers, encapsulating the city's vibrant nightlife.
Admire the art in Avenida del Mar
Avenida del Mar is more than just a walkway – it's a Marbella must-visit for art enthusiasts. This open-air gallery features ten sculptures by the famous surrealist artist Salvador Dali.
Each sculpture, a testament to Dali's artistic genius, is worth observing closely for its intricate details.
Avenida del Mar, located between Marbella's Old Town and the sea, offers a unique blend of art, culture, and Marbella sightseeing.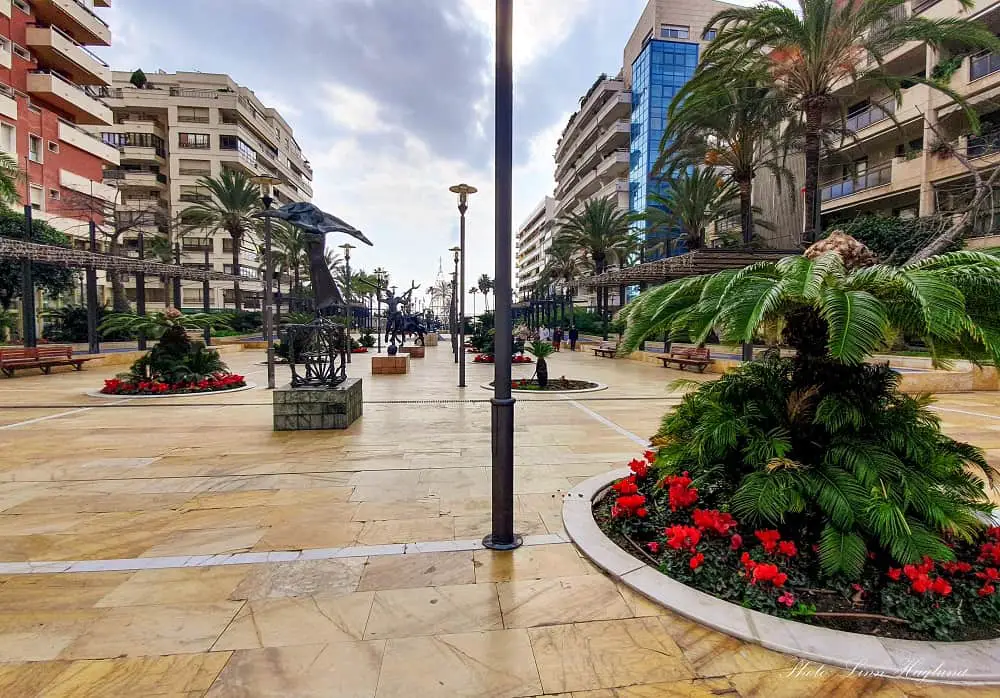 Do a sunrise hike to Cruz de Juanar
For an unusual activity in Marbella, consider a sunrise hike to Cruz de Juanar. This is by far one of my favorite sunrise hikes in Andalucia and is well worth the strenuous climb.
Start your journey before dawn and make your way up as the first light of day illuminates the surroundings.
Witness how the rising sun gradually bathes Marbella and the vast expanse of the Mediterranean Sea in golden hues. The impressive 360 views will mesmerize you as blue and grey layers of mountains contrast with the pink sky.
This tranquil and visually striking experience is undoubtedly one of Marbella's best things to do.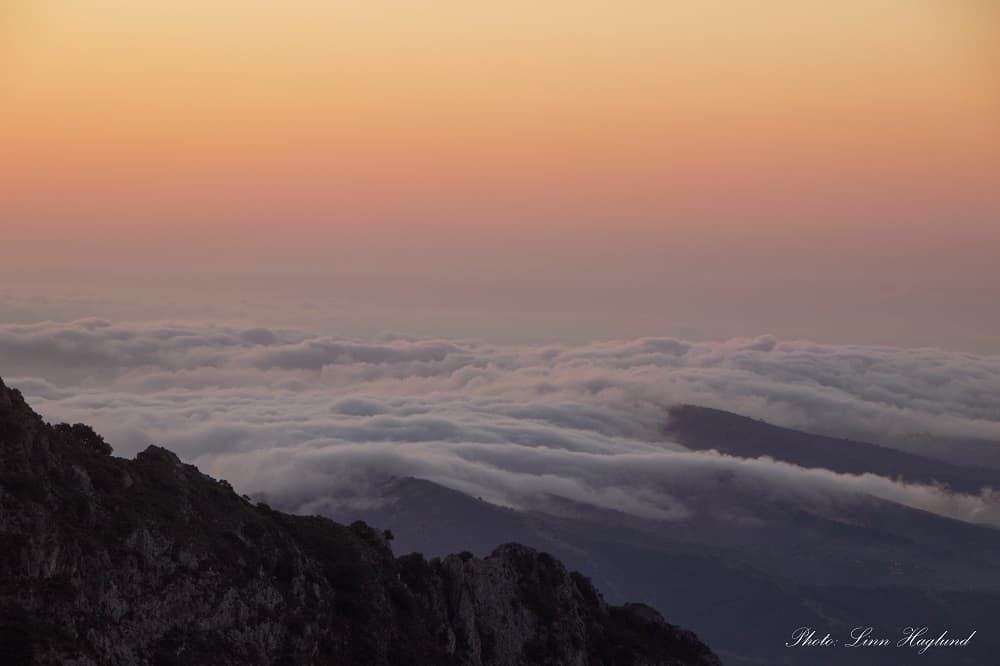 Have dinner at the Marina
The Marina holds its place as one of the best places in Marbella for a culinary adventure. Delight in an open-air dining experience at one of the numerous high-end restaurants present here, each serving a cornucopia of world flavors.
Whether traditional Spanish tapas or fresh food, there's something to tantalize every taste bud. The picturesque view of the harbor and the lively ambiance add to the allure of dining at the Marina.
This is genuinely a Marbella must-do for food enthusiasts.
Relax on the beaches
Marbella is famed for its beautiful beaches, and taking time to unwind on these sandy stretches is among the best things to do in Marbella.
Soak up the sun in popular spots like Playa de la Venus or Playa de la Fontanilla, which are among the best beaches in Marbella, or seek more secluded spots for a quieter retreat.
The golden sand, clear blue waters, and the sound of waves create a perfect setting for relaxation. Whether you sunbathe, read a book, or watch the world go by, enjoying the beaches is a Marbella must-see experience.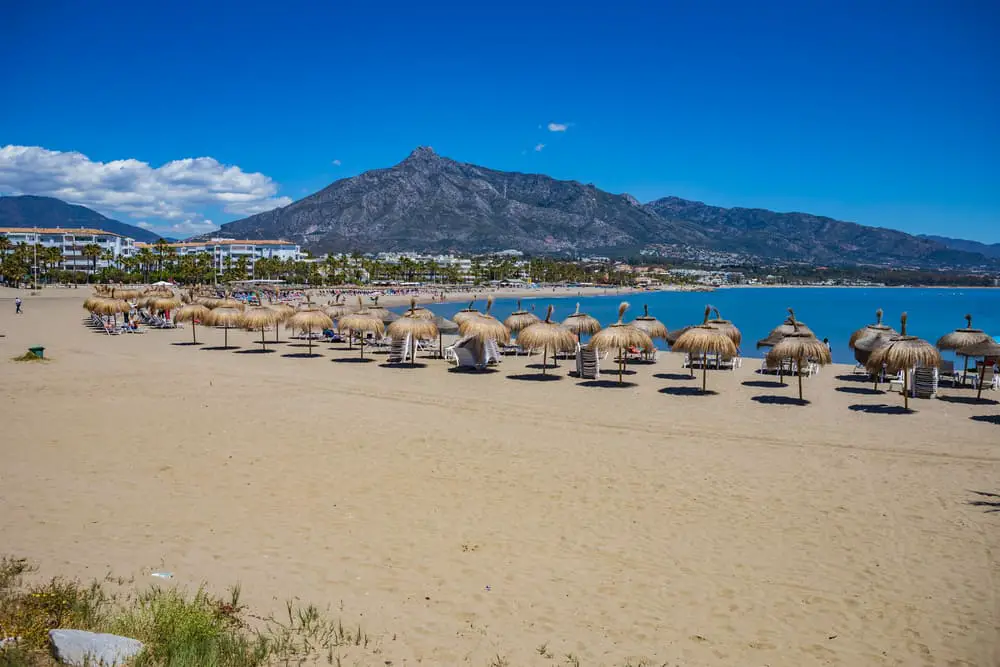 Go shopping
Retail therapy is one of the Marbella activities that should be noticed. Head to La Cañada shopping center, a retail heaven boasting high-street fashion brands, designer boutiques, and homeware stores.
For a more local shopping experience, explore the boutique shops in the city center and Old Town, offering everything from handmade crafts to traditional Spanish products.
Shopping is undoubtedly one of the top things to do in Marbella for fashion lovers.
Stroll around Represa Park
A serene place to visit in Marbella is Represa Park. Renowned for its abundant greenery, peaceful lakes, and meticulously curated gardens, this locale provides an ideal respite from the relentless urban bustle.
Enjoy the thrill of spotting local bird species, take pleasure in a leisurely picnic, or meander through the various pathways, basking in the sheer beauty of nature's spectacle.
With its calming ambiance, this park is an excellent spot for those looking for relaxing activities in Marbella.
Play a round of golf
One of the popular activities in Marbella is golfing. Affectionately referred to as the 'Costa del Golf', Marbella proudly parades an impressive number of top-tier golf courses, each presenting its own unique tests and stunning vistas.
Whether you swing clubs like a seasoned pro or an enthusiastic novice, teeing off on one of these remarkable greens is an experience that certainly stands out in Marbella.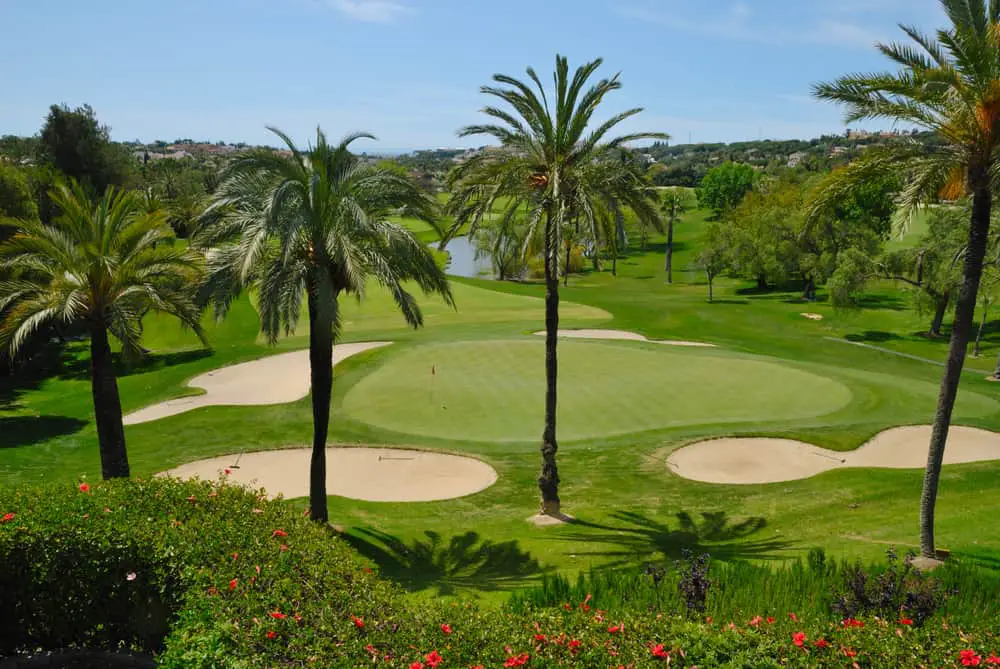 Hike El Caminito del Rey
If you're an adrenaline junkie, going on a day trip to hike El Caminito del Rey is one of the must-do things in Marbella.
This narrow path, suspended high above the breathtaking Gaitanes Gorge, offers stunning views and an adrenaline-pumping experience.
Navigate the walkway, and absorb the majestic views of the surrounding landscape, the narrow gorge, and the birds diving into the deepness of the ravine.
This was once considered the most dangerous hike in the world, but after rebuilding it in 2015, it is safe to hike, making this a Marbella must-do.
I highly recommend going on a guided tour from Marbella unless you drive. Then you can book tickets here. Note that you must book tickets in advance and attend at the allocated time slot, otherwise, you will not be able to walk El Caminito del Rey.
👉BOOK YOUR CAMINITO DEL REY TOUR FROM MARBELLA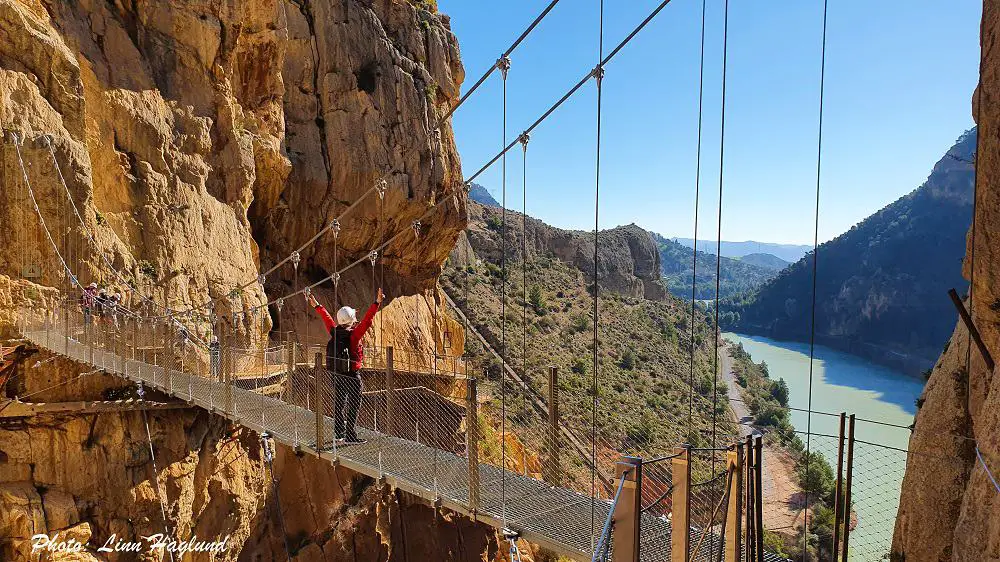 Go back in time at the Roman Villa
Among the historical places to see in Marbella is the Roman Villa. This captivating archaeological site echoes the area's ancient Roman past.
Stepping into the Villa is like traveling back in time as you walk among the ruins, study the intricate mosaic floors and soak up the rich history that permeates the site.
You can almost hear the whispers of the past telling tales of life in Roman times. A visit to the Roman Villa allows you to delve into an exciting dimension of Marbella's past, and for history enthusiasts, this is a Marbella must-see.
Take advantage of the opportunity to add a historical layer to your Marbella sightseeing itinerary with this fascinating immersion into ancient times.
Kayak along the coast
As a city by the sea, Marbella offers plenty of fun-filled aquatic adventures, and kayaking is one of them. For water sports enthusiasts and those looking for activities in Marbella that combine experience with natural beauty, paddling a kayak along the beautiful Marbella coastline is hard to beat.
Admire the picturesque views of sun-soaked beaches, luxury villas peering from the lush coastal greenery, and the azure Mediterranean waters.
This isn't just a relaxing way to explore the coastline, but it also serves as a splendid physical activity that is fun for the entire family.
Embarking on a voyage into Marbella's sparkling waters ranks among the fun things to do in Marbella, enabling you to relish nature's splendor while injecting a dose of adventure into your day.
You can either rent a kayak directly on the beach or opt for the safety of a kayak tour with a professional guide.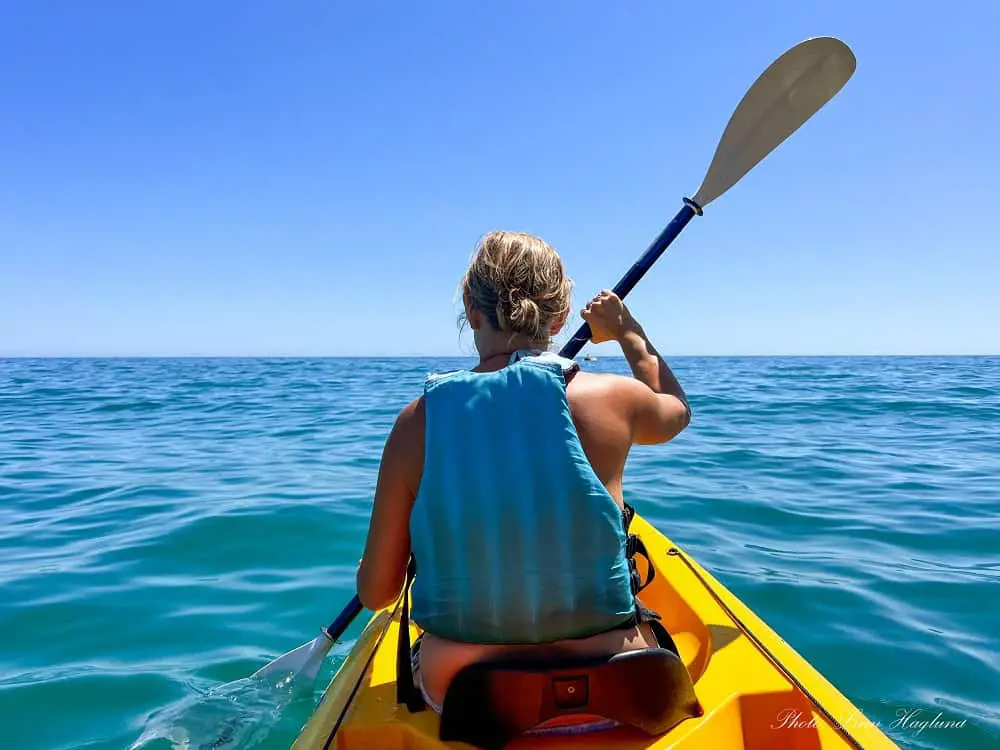 Take a day trip to Gibraltar
If your Marbella itinerary has room for a day trip, make it to Gibraltar. This British territory, just a short drive from Marbella, is an intriguing blend of British and Spanish cultures set against the backdrop of the iconic Rock of Gibraltar.
Climb the Rock for panoramic views, meet the famous Barbary apes, stroll through the quaint town, and discover the fascinating history woven into the fabric of this unique place.
A day trip to Gibraltar from Marbella adds an international flavor to your vacation and promises an enriching cultural experience.
Going to Gibraltar, you are about to embark on one of the most epic day trips from Marbella!
If you prefer the commodity of an organized adventure, there are both private tours to Gibraltar perfect for families or groups of friends traveling together, and budget-friendly group tours which are great for solo travelers that you can take.
Either way, don't forget your passport!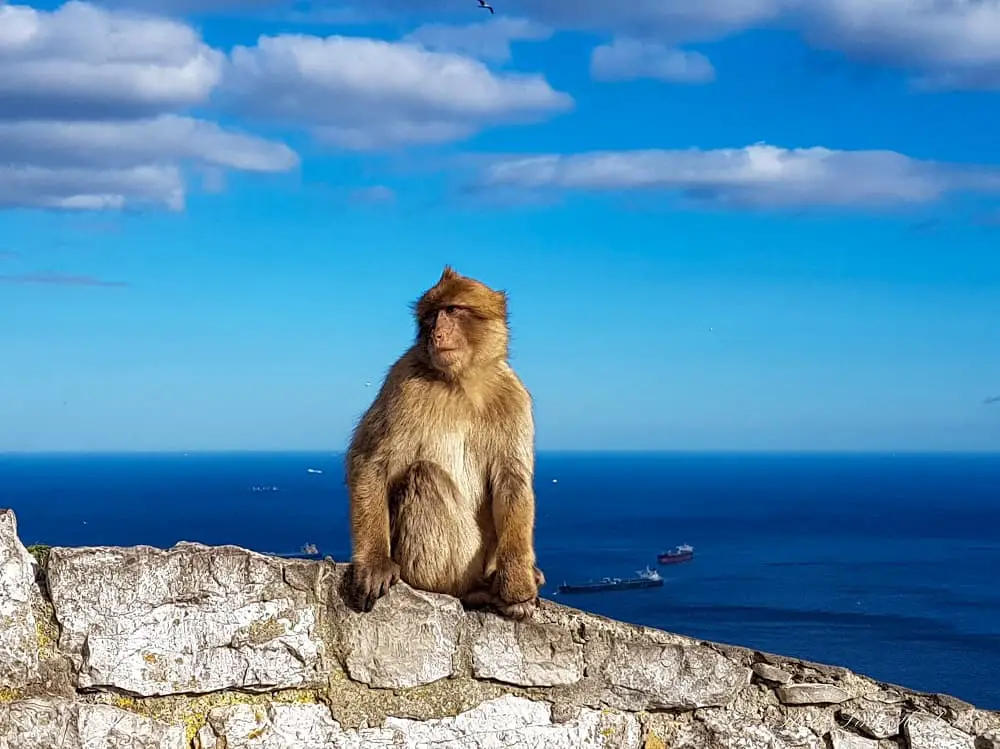 Visit the Museum of Spanish Contemporary Engravings
Among the best things to do in Marbella for art enthusiasts is to visit the Museum of Spanish Contemporary Engravings.
Housed in the charming old Bazán Hospital building, this art museum is a treasure trove of engravings and graphic art.
Meandering through the hushed halls of the museum, you'll come across an impressive array of artworks by eminent artists such as Picasso, Miró, and Dalí.
The museum serves as an insightful gateway into Spanish contemporary art, marking it as a truly intriguing Marbella sightseeing spot.
Irrespective of whether you're an art enthusiast or merely a casual tourist, your exploration of the museum is sure to leave an indelible mark, cultivating a more profound appreciation for this emotive form of creative expression.
Go snorkeling
Dive into an underwater adventure by snorkeling in the clear Mediterranean waters off Marbella's coast. This is one of the fun things to do in Marbella that takes you into a different world, teeming with a diverse marine ecosystem.
Watch colorful fish dart among the coral reefs, discover intriguing marine creatures, and marvel at the serene beauty beneath the water's surface.
Several companies offer guided snorkeling tours, ensuring a safe and enjoyable underwater exploration experience for the whole family. This activity in Marbella offers a unique perspective on the city's natural beauty.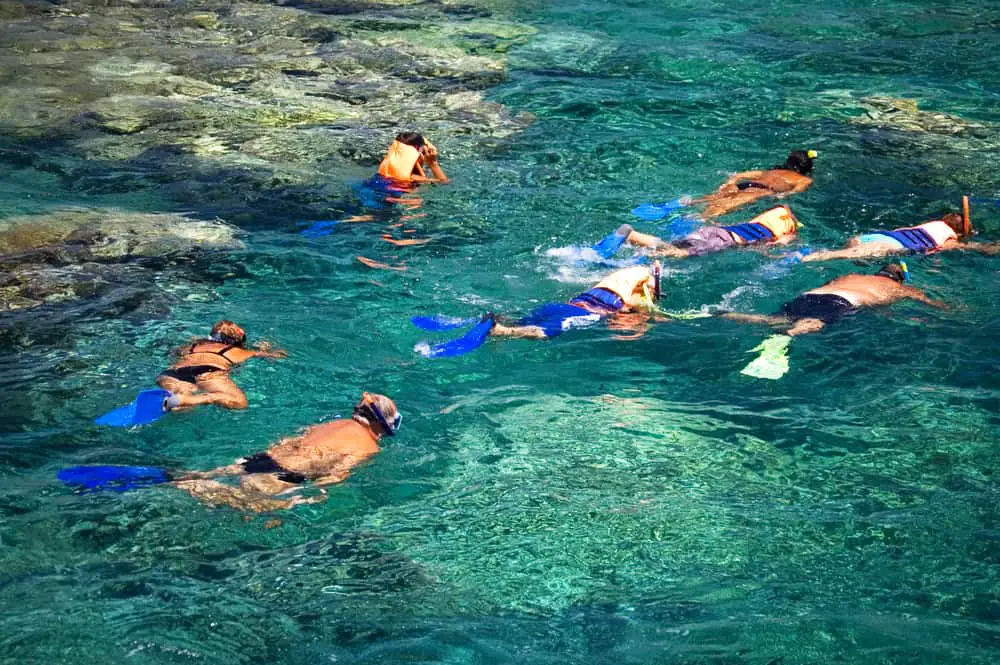 Stroll around Puerto Banus Marina
Wrapping up our list of the best things to do in Marbella is a stroll around the vibrant Puerto Banus Marina.
This place is synonymous with luxury, showcasing opulent yachts, high-end shops, and a glamorous nightlife that sparkles under the stars.
As you amble along the Marina, you'll be in the perfect spot for people-watching and admiring luxury cars parked casually along the dock.
Take delight in a meal at one of the waterside dining establishments, observing the world leisurely pass by with an unparalleled touch of sophistication.
This fashionable Marina encapsulates the true spirit of Marbella and is an unmissable spot that impeccably mirrors the city's dazzling allure and refined elegance. It is truly a fitting finale to your Marbella sightseeing adventure.
If you would like to explore Puerto Banu's nightlife with a local, there are fun pub crawls you can join.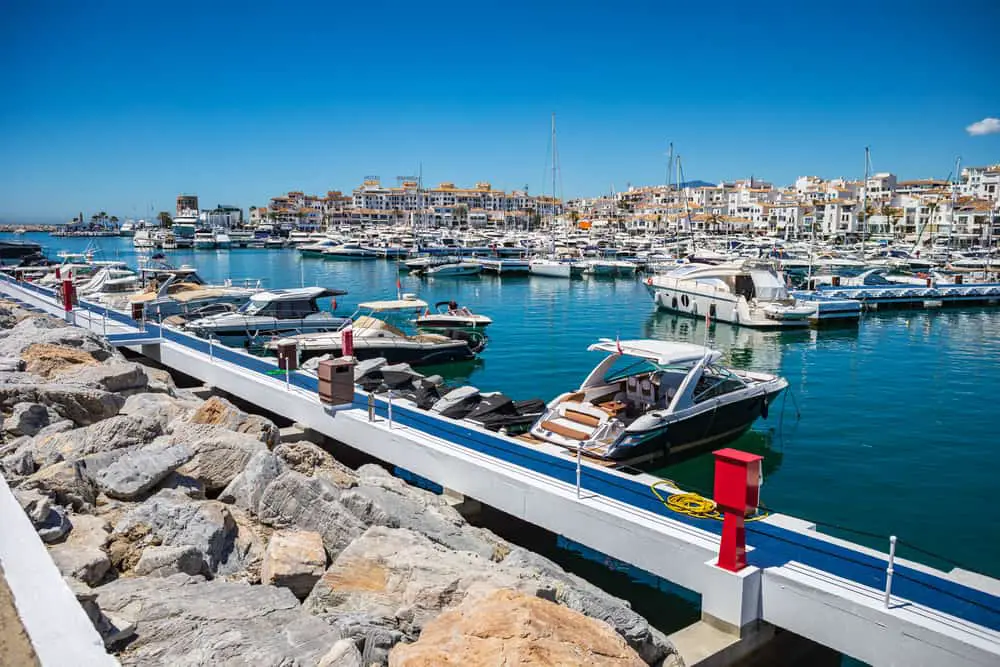 Reflections
As you can tell, there are plenty of Marbella attractions and things to do. Marbella Spain is a hot spot for the rich and famous traveling to Spain, but is also a fantastic destination for us normal people.
With this guide to the best places to visit in Marbella and top things to do, I am sure you will enjoy your vacation. There is something for everyone, so what are you waiting for?
Happy travels!