Infused with charm and beauty, impeccable beaches, and a luxurious vibe, Marbella spellbinds millions of tourists every year. There is plenty of fun to have and if you are up for a day trip to Marbella, you will get a good introduction to the city.
In this one-day Marbella itinerary, you will get the opportunity to soak in the best of the city and explore the different areas of central Marbella.
From the bustling Marbella Old Town to the upscale Puerto Banus where you can hang out among the rich and wealthy, there is something for everyone.
Read on to find out what to see in Marbella in one day to get a taste of everything during your short visit.
Disclosure: This post may contain affiliate links. That means that if you make a purchase through one of those links, I will get a small commission at no extra cost to you.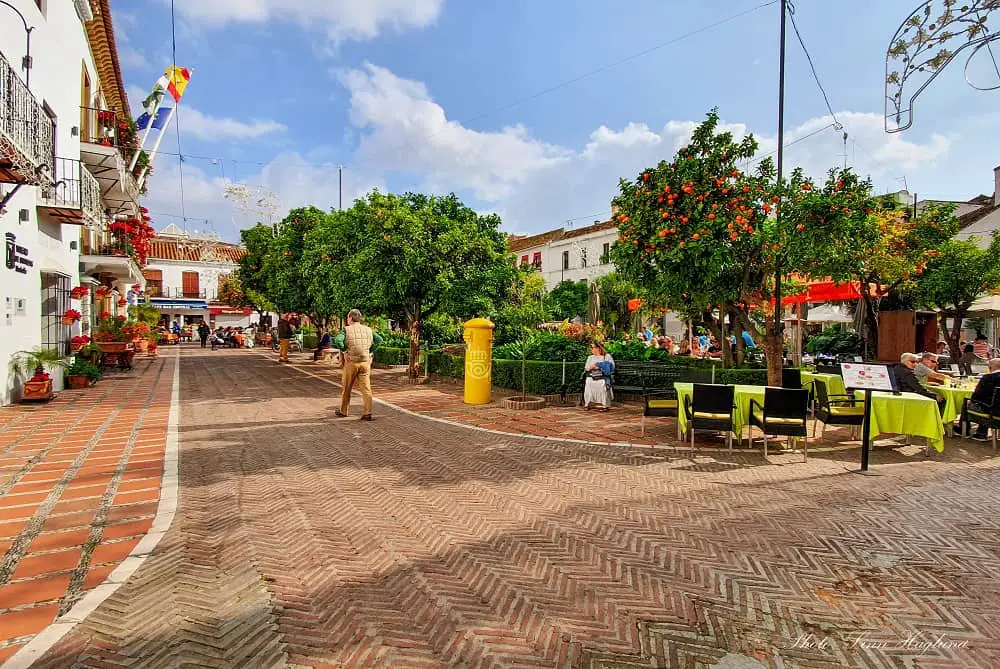 RELATED:
Where to stay in Marbella
Weekend break to Marbella
Malaga vs Marbella
Getting to Marbella
The closest airport to Marbella is Malaga Airport (AGP) which has connections to most of Europe and even destinations beyond.
Getting from Malaga Airport to Marbella is easy by bus, car, or private transfer. The train line stops in Fuengirola, so you would have to transfer to the M220-bus to Marbella and the journey takes between 1.5 and 2.5 hours depending on the connection (train 45 minutes and bus 40 minutes,) so I don't recommend taking the train.
There are direct buses from Malaga to Marbella that take about 1 hour and 10 minutes depending on traffic.
Check bus times and availability here
However, if you have a lot of luggage, you might prefer the commodity of a private transfer that will pick you up at the airport and drive you straight to your hotel in Marbella.
Finally, if your day trip to Marbella is part of an Andalucia road trip itinerary, you can easily drive to Marbella from anywhere in Andalucia.
There are plenty of underground parking lots centrally in Marbella, I like to leave my car at Parking PARKIA at Plaza de la Victoria as it is right at the edge of the old town.
Here are approximate driving times from the most popular cities and towns nearby:
Malaga: 45 minutes
Fuengirola: 30 minutes
Estepona: 30 minutes
Ronda: 1 hour and 10 minutes
Granada: 2 hours
Seville: 2 hours 35 minutes
Best Time to Visit Marbella
Planning your trip to Marbella also involves picking the right time to visit. In all honesty. Marbella is great all year round, but each season brings different advantages. So at the end of the day, it is up to you to choose the right one for you.
Summer, while busy, brings a lively, festive atmosphere. The city is bustling, and the air has a palpable energy.
However, if you prefer a more relaxed pace, spring and fall offer mild weather with fewer tourists. September, in particular, is my favorite time of the year, offering a beautiful balance between the vibrant summer and the tranquil winter – with fewer crowds.
Winter in Marbella brings its charm to the city. While the rest of Europe is shivering, Marbella enjoys relatively warm temperatures up to 20 degrees Celsius in the daytime. It is an excellent time for sightseeing, hiking in the nearby Sierra de las Nieves, or even a sunny day on the beach.
Each season presents a different facet of Marbella, ensuring a memorable experience, regardless of when you choose to visit.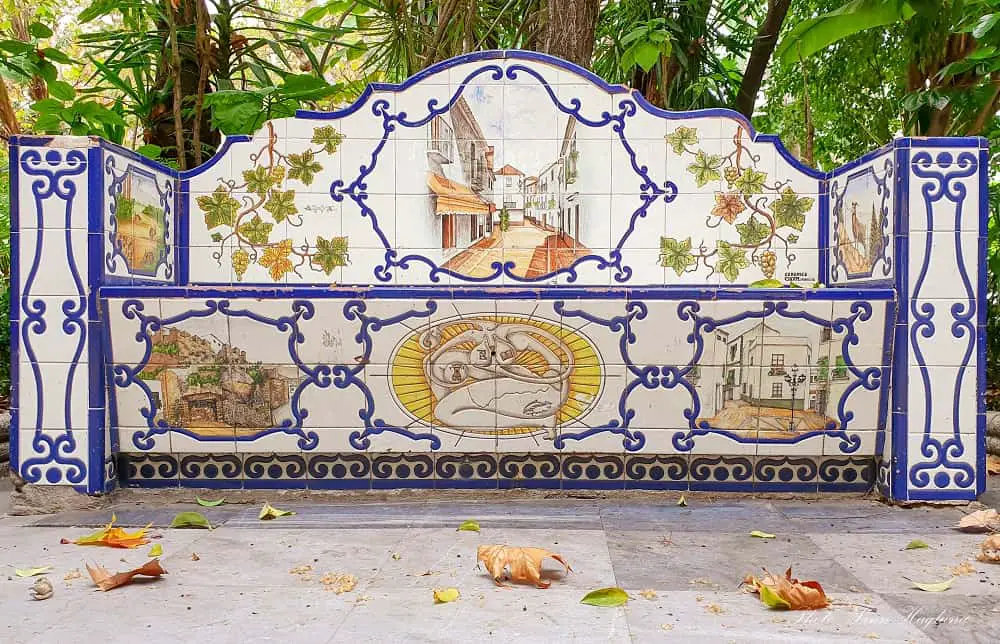 RECOMMENDED EXPERIENCES
Day trip to Marbella itinerary
Stroll through Marbella Old Town
On your day trip to Marbella, an early morning stroll through Marbella Old Town is an experience that will transport you back to the time of Moorish rule in Andalucia.
The Old Town, or "Casco Antiguo," is a maze of narrow streets, beautifully lined with whitewashed houses adorned with colorful pot plants, giving it a quintessential Andalusian charm.
Calle Carmen, a picturesque lane, is especially famous for its vibrant pot plants, providing a perfect photo spot that captures the essence of your day in Marbella.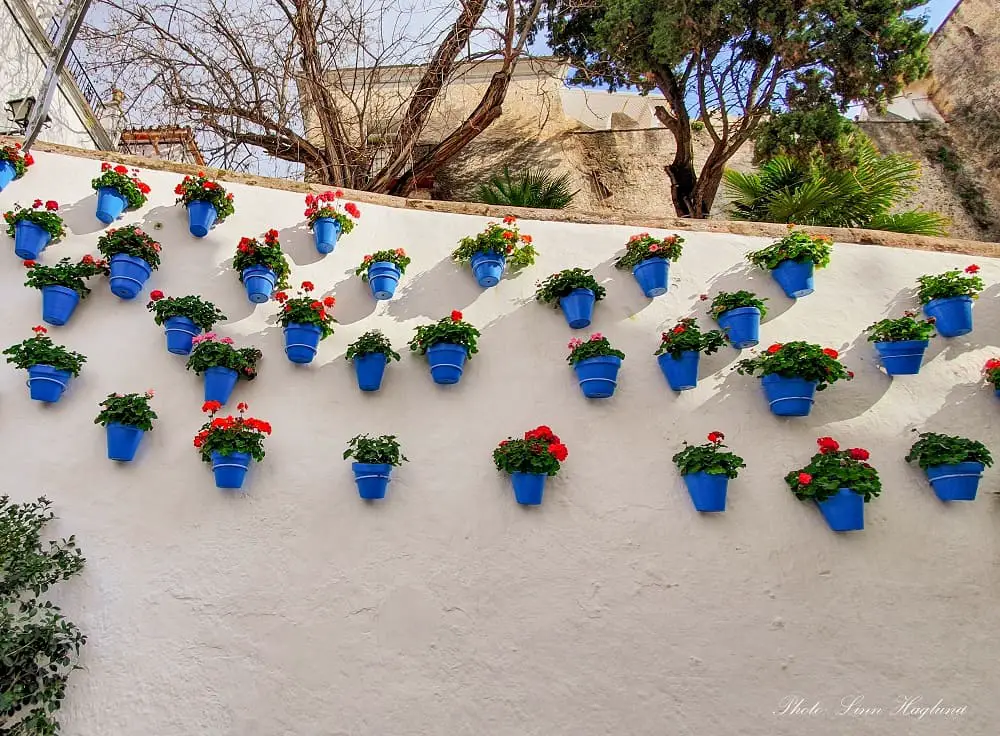 As you weave through these charming alleyways, you'll find yourself in the Plaza de Los Naranjos. This square, an oasis of orange trees, is steeped in history and surrounded by cafes, restaurants, and boutique shops.
The hustle and bustle set the perfect stage for a delightful morning, filling the air with an intoxicating blend of orange blossom, coffee, and local cuisine.
As you enjoy a leisurely breakfast, take in the views of the surrounding historic towers that form the backdrop of the square.
But the journey through the Old Town continues. As you delve deeper, you will find remnants of the old Moorish city walls, the silent guards of Marbella's history.
These walls have witnessed the city's transformation and narrate tales of the bygone era. Another monumental structure that commands your attention is the Iglesia Mayor De La Encarnación.
This largest church in the city is a splendid spectacle of Baroque and Rococo styles, showcasing ornate detailing and exquisite frescoes.
If you want to learn more about the history of Marbella Old Town, I highly recommend taking a private walking tour of the neighborhood.
Book a guided tour of the old town here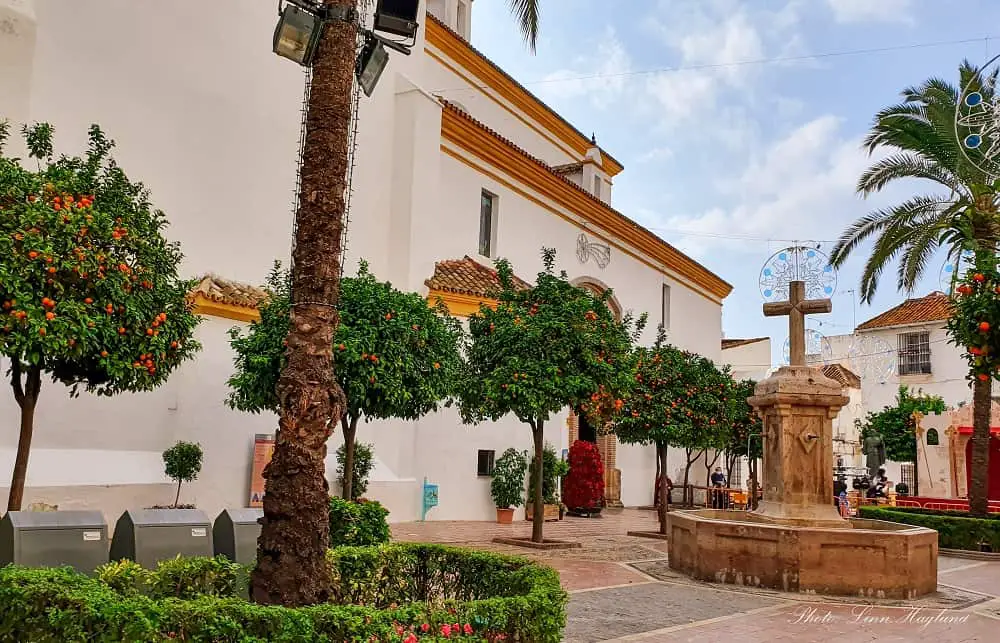 Alameda Park
Once you've soaked in the historical allure of Marbella Old Town, it's time to retreat to nature at Alameda Park.
This verdant refuge is a stone's throw away from the Old Town, making it a convenient spot for a mid-day break on your one day in Marbella.
The park, the city's green lung, is a botanical paradise, blooming with various native and exotic plants.
Ambling through the park, you'll see the central fountain, a mesmerizing display of traditional Andalusian tilework known as azulejos.
In Alameda Park, you have the opportunity to recline on the delightful benches decorated with Andalusian azulejos, taking in the serene atmosphere, a stark contrast to the city's usual pace. You might want to grab an ice cream before you sit down.
Furthermore, the park serves as a favored site for numerous local cultural events. Hence, you may encounter a riveting flamenco performance or an engaging local fair during your visit.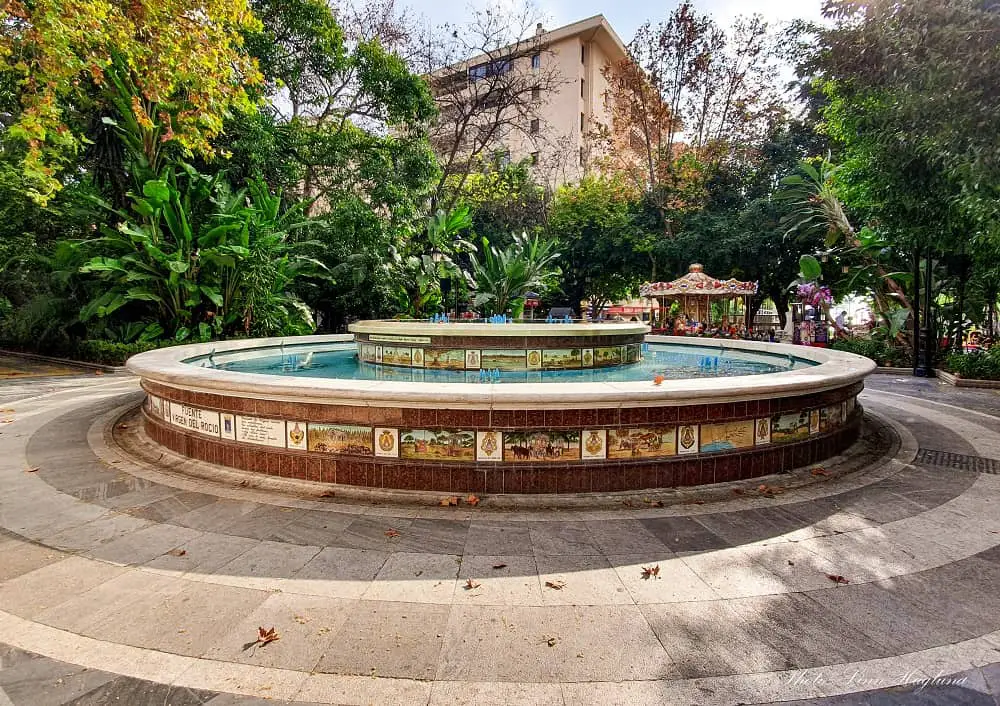 Walk down Avenida del Mar
As the afternoon sun shines brightly in the sky, a stroll down Avenida del Mar should be next on your Marbella itinerary.
This pedestrian avenue links Alameda Park with the Promenade and is a marvel in its own right.
Lined with palm trees, it provides a delightful shaded walk, a welcome respite from the mid-day Andalusian sun.
Its open-air exhibition of Salvador Dali sculptures sets Avenida del Mar apart. These ten bronze sculptures, strewn across the avenue, add an artistic dimension to your trip to Marbella.
I always feel like I'm walking through an open-air art exhibition when strolling down this iconic street and it never ceases to amaze me.
From "The Perseus" to "The Victory," each sculpture is a surreal masterpiece that captures Dali's fantastical vision. Remember to snap photos with these quirky creations as you walk down the avenue.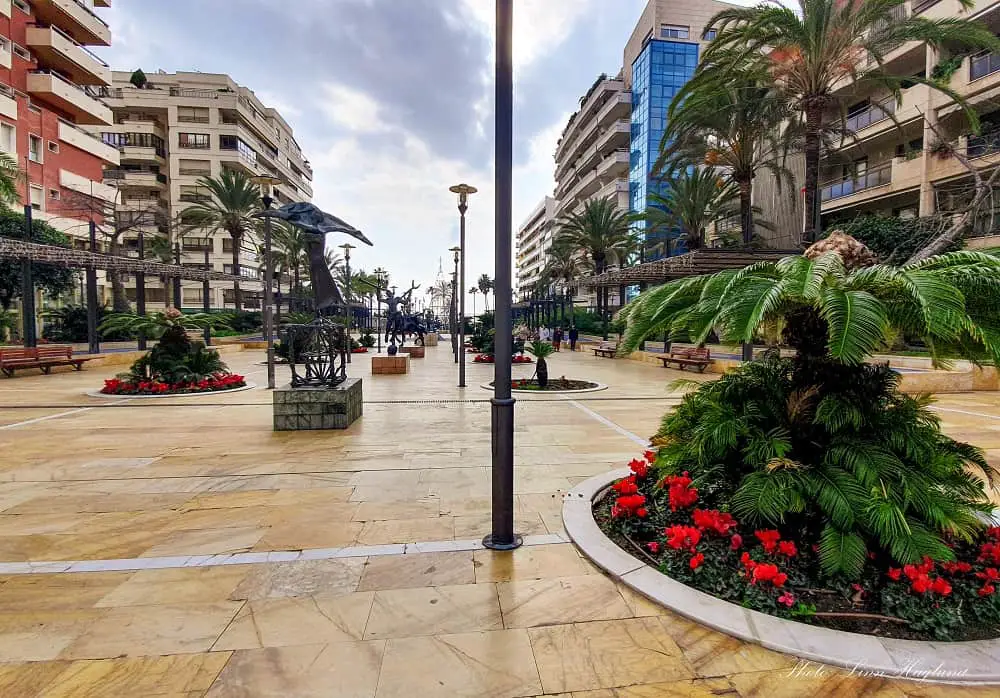 Walk along the Promenade
After feasting your senses on the splendid art and architecture, it's time for a change of scene. The 'Paseo Maritimo', or Marbella's Promenade, is a sprawling pathway that traces the coastline, bordered by an array of palm trees.
The soft sand beneath your feet, the rhythmic crash of the waves, and the salty sea breeze provide a sensory delight that is the essence of a day in Marbella.
Whether you're a fitness enthusiast looking for a scenic running path, a foodie keen on exploring the beachfront chiringuitos, or simply a lover of beautiful landscapes, the Promenade caters to all.
As you traverse the walkway, enjoy the captivating views of the Mediterranean Sea, yachts sailing in the distance, and the La Concha mountain looming over the city.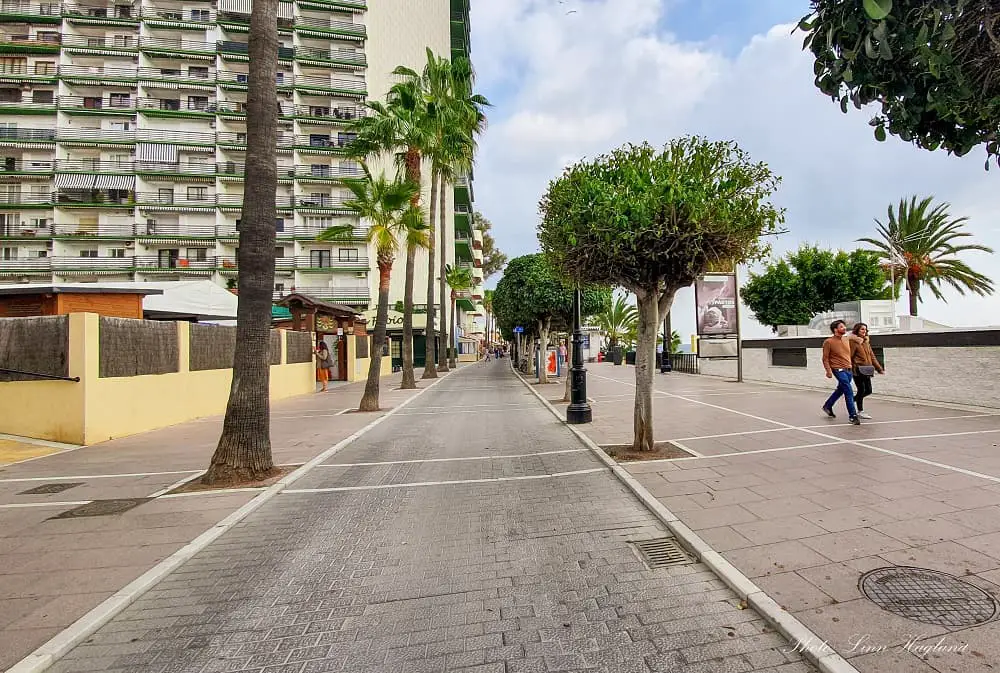 Spend the Afternoon in Puerto Banus
As the sun dips low, Puerto Banus, Marbella's luxury marina, is the place to be. Allow yourself to be mesmerized by Puerto Banus – luxurious beyond comprehension!
Revel amidst architectural marvels housing majestic yachts bobbing rhythmically upon still waters abutting silken shorelines.
As you peruse through streets peppered with exclusive stores owned by elite designers like Gucci, Dior & Louis Vuitton; Know that your desire for indulgence will be satiated with nothing but finesse when it comes to pampering yourself on this trip.
For instance: You could relish culinary wonders served at upscale restaurants like no other.
The Marina is also flanked by stunning beaches and offers a vibrant nightlife besides the luxurious attractions.
As the evening unfolds, the area comes alive with people heading to clubs, bars, and beach parties.
If you want a quieter experience, consider going on a boat trip in Marbella, I suggest taking a sunset boat tour. As you sail along the coastline, the sun setting over the azure waters makes for an unforgettable end to your day trip to Marbella.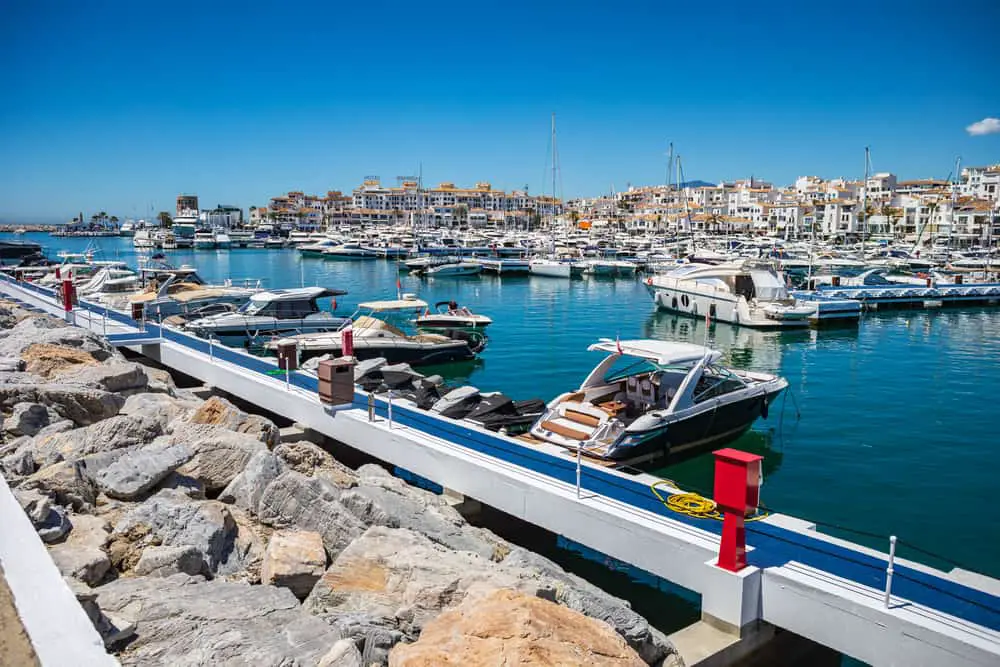 Reflections on one day in Marbella
As you can tell, there are plenty of fun things to do in Marbella and you will get a good insight in what this wonderful Andalusian city has to offer.
Make sure you pack your camera and take your time walking around and taking in the lovely atmosphere. You will certainly notice the difference between the old town and Puerto Banus.
Depending on your preferences, I am sure you will decide to return to either of the two areas – if not both!
Happy travels!