Calahonda Beach is one of the most beautiful beaches in Nerja, Spain. Located right below Balcón de Europa in the middle of the old town, it is an ideal beach to spend a few hours in between sightseeing, shopping, and eating.
But if you prefer a whole day soaking in the sun, Calahonda Beach, Nerja is perfect for that too with all the necessary amenities for a successful day at the beach.
Due to the crystal-clear water that Nerja is so famous for and the picturesque cliffs on each side of the beach, this is definitely a personal favorite.
If you are wondering why this is such a big favorite among travelers and locals alike, or you want to find out if it is the perfect beach for you or not, you are in the right place.
I will go through everything you need to know about Calahonda Beach in Nerja in this post, so keep reading!
Disclosure: This post may contain affiliate links. That means that if you make a purchase through one of those links, I will get a small commission at no extra cost to you.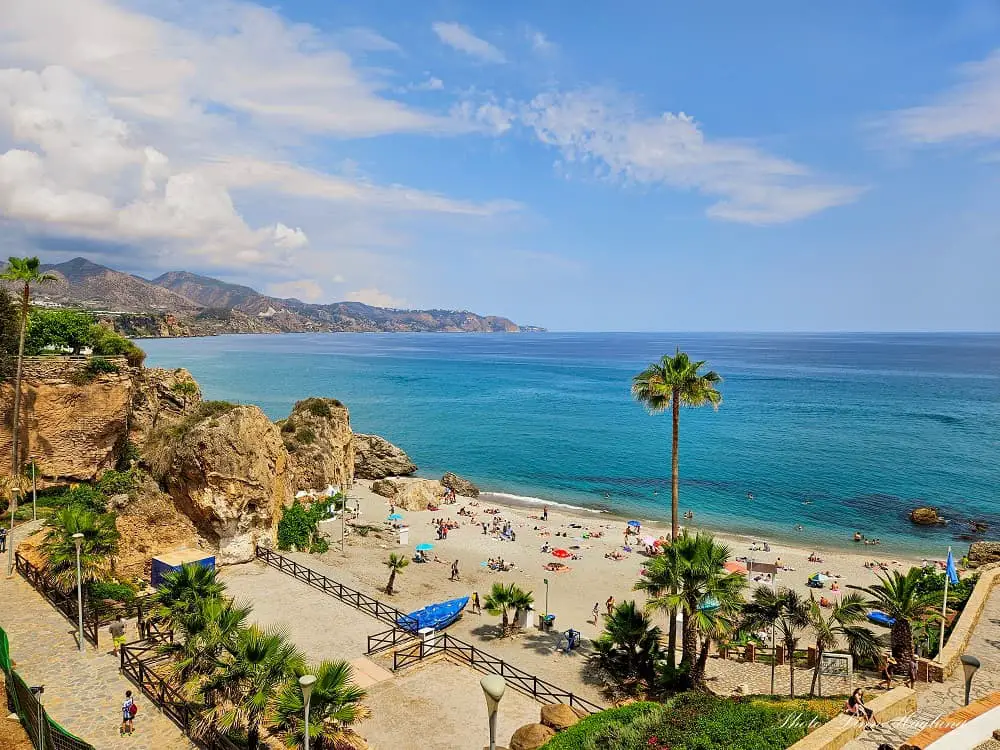 How to get to Calahonda Beach, Nerja
Calahonda Beach, Nerja, is located right below Balcón de Europa's east side and is reached by a set of stairs in front of the ice cream shops before walking onto Balcón de Europa.
There is no parking nearby, so you must park outside the old town and walk to the beach if you come by car. there is a large parking lot only about 5-10 minutes walk from Balcón de Europa, Aparcamiento Carabeo, which is ample with plenty of room. I have always found parking there.
I found it to be free the last few years that I've parked there, but it might be because I haven't been there in the high season.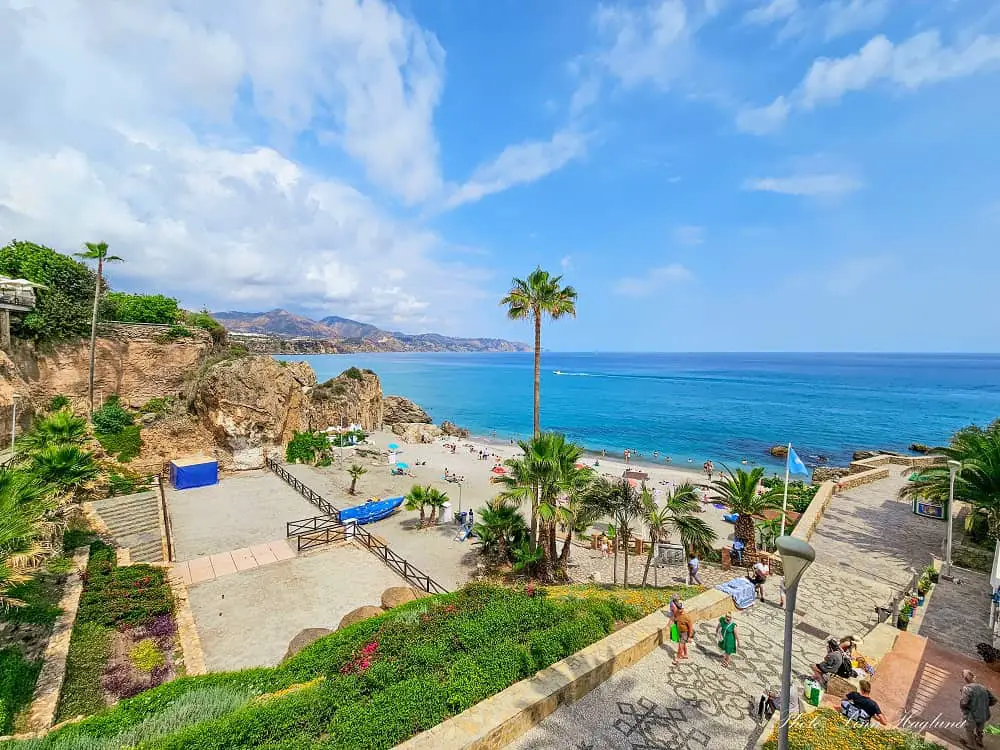 Best time to visit Calahonda Beach, Nerja
The best time to visit Nerja's Calahonda Beach is between May and September. In August, it gets very crowded on most of the beaches in Costa del Sol, and this is no exception.
Personally, I like going in May, June, September, and October whenever the summer temperatures stay that long. They are lesser crowded and you can sneak into the nearby cove without fighting for the space.
That said, even winter in Costa del Sol can be warm and it can be tempting to relax on the beach soaking in some long-needed Vitamin D. I'd say that there's nothing wrong about going to Calahonda Beach in the winter if the weather allows it.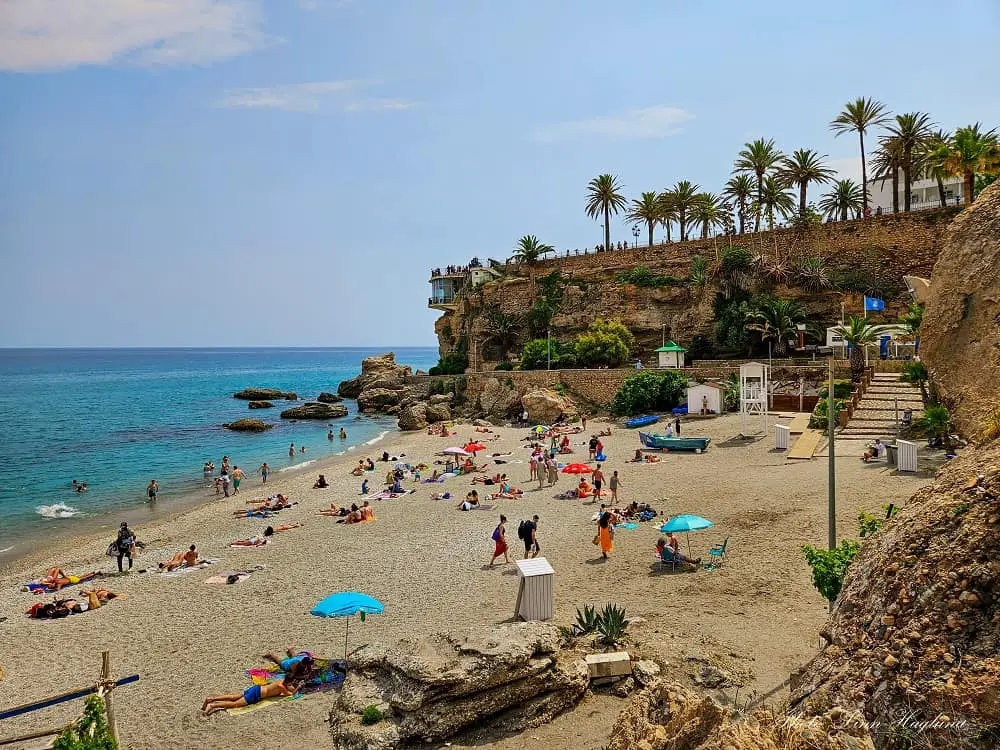 Where to stay near Calahonda Beach Nerja
Calahonda, Nerja, is located right off the old town, so the best place to stay is around Balcón de Europa. I will list a few places I recommend in Nerja Old Town here, for every budget.
For more information, read my complete guide to where to stay in Nerja.
LUXURY: Hotel Boutique Sibarys – fantastic hotel with a rooftop pool overlooking the coast.

MID-RANGE: La Puerta de Nerja Hostal Boutique – a lovely boutique hotel with hot tubs on the rooftop with splendid views.

BUDGET: Hostal Sol y Mar – basic accommodation in the Old Town with a rooftop terrace with views.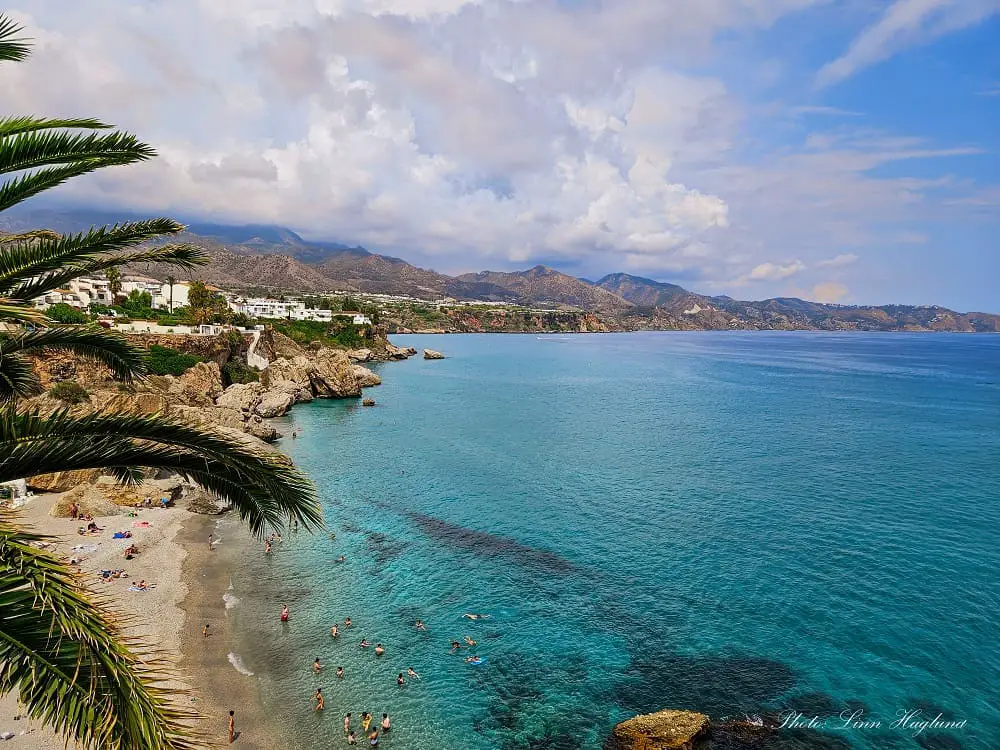 Facilities on Calahonda Beach Nerja
There are basic facilities in Playa Calahonda, Nerja, in the summer months. Note that lifeguards and sunbeds are only available in the high season. Besides the restaurant on the beach, there are plenty of restaurants and bars by Balcón de Europe on top of the steps.
Facilities on Calahonda Beach Nerja:
Lifeguard
Sunbeds and parasols for rent
Showers
Restaurant
Accessibility on Calahonda Beach
Unfortunately, Calahonda Beach in Nerja is not wheelchair friendly due to the steps and it is a bit of a walk down there. You can get a stroller down as the steps are long, but keep in mind that you must push it back up again too. I do not recommend it if you bring a lot of beach gear.
Calahonda Beach, Nerja
Playa de Calahonda, Nerja, is one of the most popular beaches in the quaint Andalusian beach town and possibly the most photographed considering its picturesque location below Balcón de Europa.
It is easy to get to for anyone that does not have issues walking in steps and many holiday goers grab their towels and walk straight down there from their hotels.
The beach has historically been one of the most frequented fisherman's beaches in Nerja and though it is starting to die off, there are still some using it. You can see the charming fisherman cottages built into the rock.
I particularly love Calahonda Beach in Nerja because it is located so centrally, yet it feels like you are a world away from the touristy town when you are there. Wrapped in steep cliff sides with crystal clear water, there are no signs of the hustle and bustle just a few meters above you.
Next to the beach, you can also sneak into some small coves for more privacy.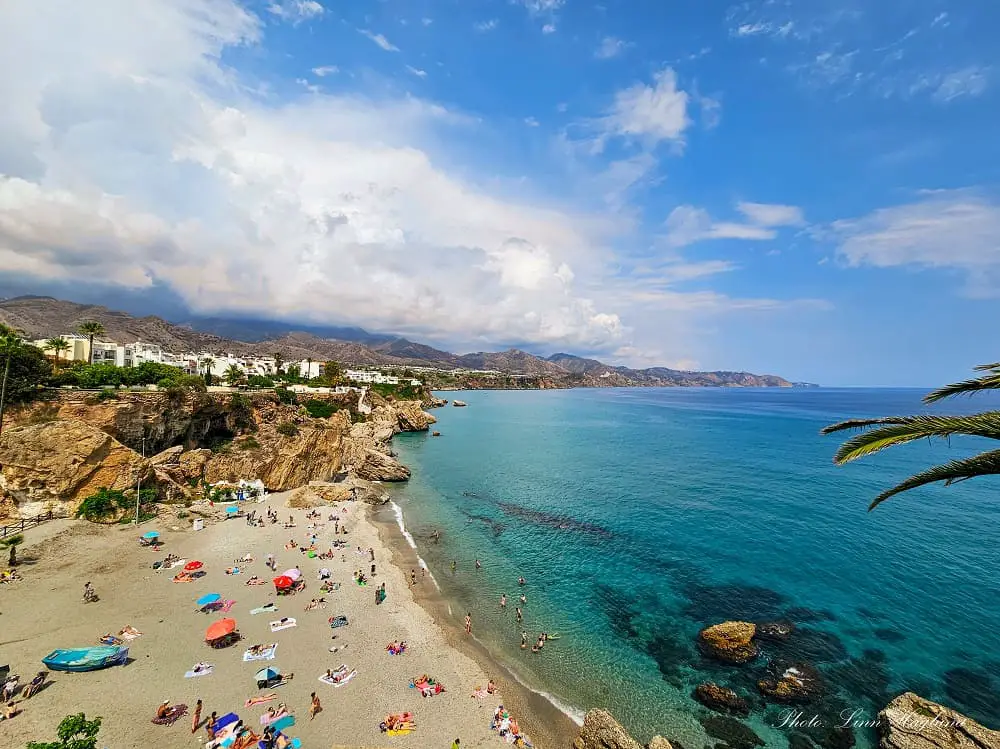 Things to do near Calahonda Beach
Being located so central in Nerja, there are plenty of things to do near Calahonda Beach too. Here are some of my favorites.
Explore the nearby beaches like Carabeo Beach and La Caletilla Beach
Take in the views from Balcón de Europa
Go shopping in Nerja's Old town
Grab an ice cream at Balcón de Europa
Eat and drink at one of the restaurants surrounding Balcón de Europa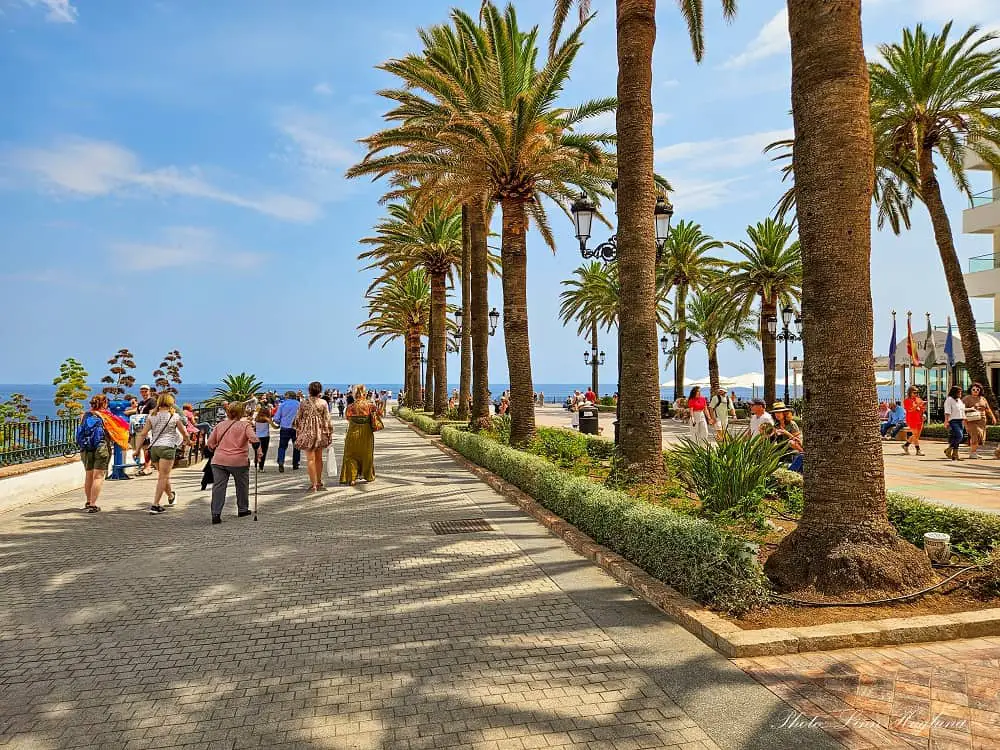 Reflections of Calahonda Beach in Nerja, Sosta del Sol
As you can tell, Nerja's Calahonda Beach is a great place to spend the day as it is so close to all the best things to do in Nerja. Yet, it gives you the feeling of a remote beach with all the necessary amenities of an urban beach.
Unfortunately, it is not easy to reach for anyone with mobility impairment as it is a long walk down the steps to get there.
There are no water sports available on this beach either, so if you want to go on Nerja boat trips or a kayak tour in Nerja's crystal clear waters, you must go to Burriana Beach.