Nerja is blessed with crystal clear water, some of the nicest in Costa del Sol. So there might be no surprise that you find a series of spectacular beaches in Nerja.
Being a popular holiday destination, you can expect all Nerja beaches to be packed during the summer months. But with epic activities like Nerja boat trips, paddleboarding, and kayaking along the picturesque coastline, it is still one of my favorite coastal towns in Andalucia.
Whether you prefer an urban beach with all the necessary facilities, restaurants, and bars, or if you want to get to more secluded sections of the coast, the beaches of Nerja will not disappoint.
In this post, I will show you the best beaches in Nerja Spain so that you don't miss out on any goodies on your beach vacation.
Disclosure: This post may contain affiliate links. That means that if you make a purchase through one of those links, I will get a small commission at no extra cost to you.
Best beaches in Nerja
Burriana Beach
Facilities:
Lifeguard
Sunbeds and umbrellas for rent
Showers
Toilets
Beach bars and restaurants
Kayak and paddleboard rental
Playground
Parking
Wheelchair access
Burriana Beach is the most popular beach in Nerja and one of the largest, stretching 800 meters long and 40 meters wide on Nerja's east side.
This beach is always bustling with life and the many beach bars, also known as "Chiringuitos", are always packed. It is not strange, considering that it is one of the few beaches in Nerja Spain with plenty of parking on the street along the beach.
This makes it an easy-to-access beach for anyone coming on a day trip from other towns near Malaga.
Burriana Beach serves everyone. Families love it due to the many playgrounds, the safety of a Blue Flag beach with lifeguards available, and easy access to food and ice cream.
It is also wheelchair friendly and you can take strollers to the beach. The beach has assisted bathing with the help of lifeguards between 12:00 and 20:00.
For active beachgoers, there are kayaks and paddleboards for rent or you can go on guided tours of the beautiful coastline along Maro where you can paddle under a waterfall that cascades right into the sea. Check out my complete guide to kayaking in Nerja before you go.
If you are considering where to stay in Nerja, Parador de Nerja is located perfectly between Burriana Beach and the Old Town.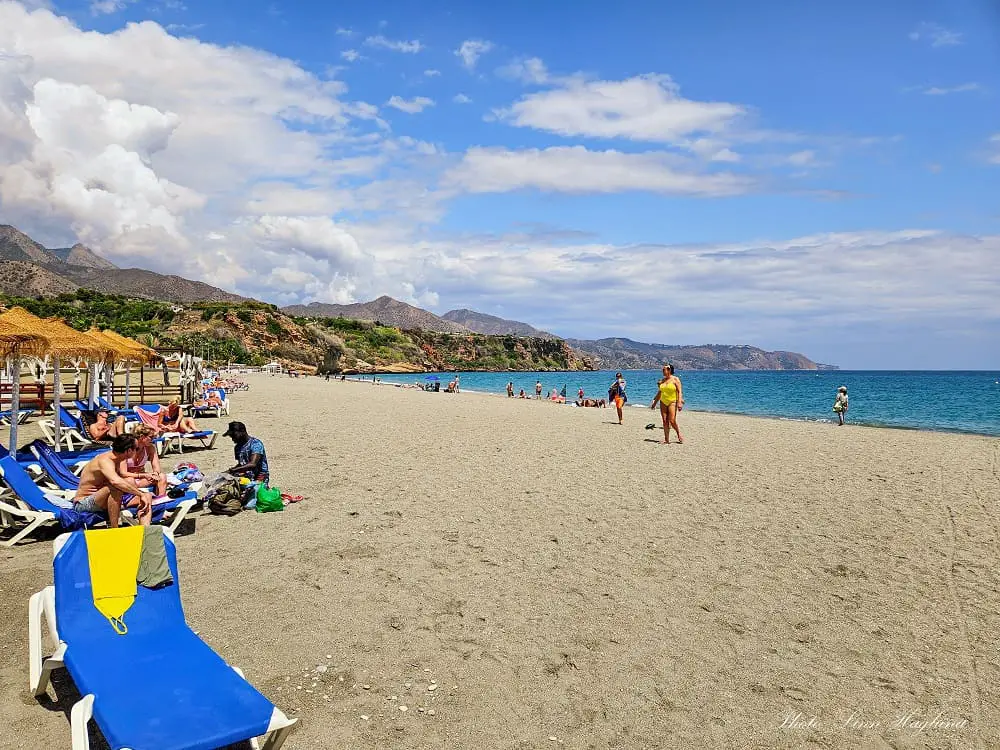 Calahonda Beach
Facilities:
Lifeguard
Sunbeds and parasols for rent
Showers
Toilets
Beach restaurant
Calahonda Beach is probably the best beach Nerja has to show for. It is by far the most pictured beach as it sits right below Balcón de Europe, one of the most popular places to see in Nerja.
It is a fairly small beach, but you can walk straight down a set of stairs from Balcón de Europa to the beach, making it one of the most accessible beaches from the town center.
Unfortunately, the beach is not reachable with a wheelchair as there are steps down the walkway.
Calahonda Beach is one of the places where you can still see old fisherman's shacks built into the rock, and most of these are still in use today by local fishermen.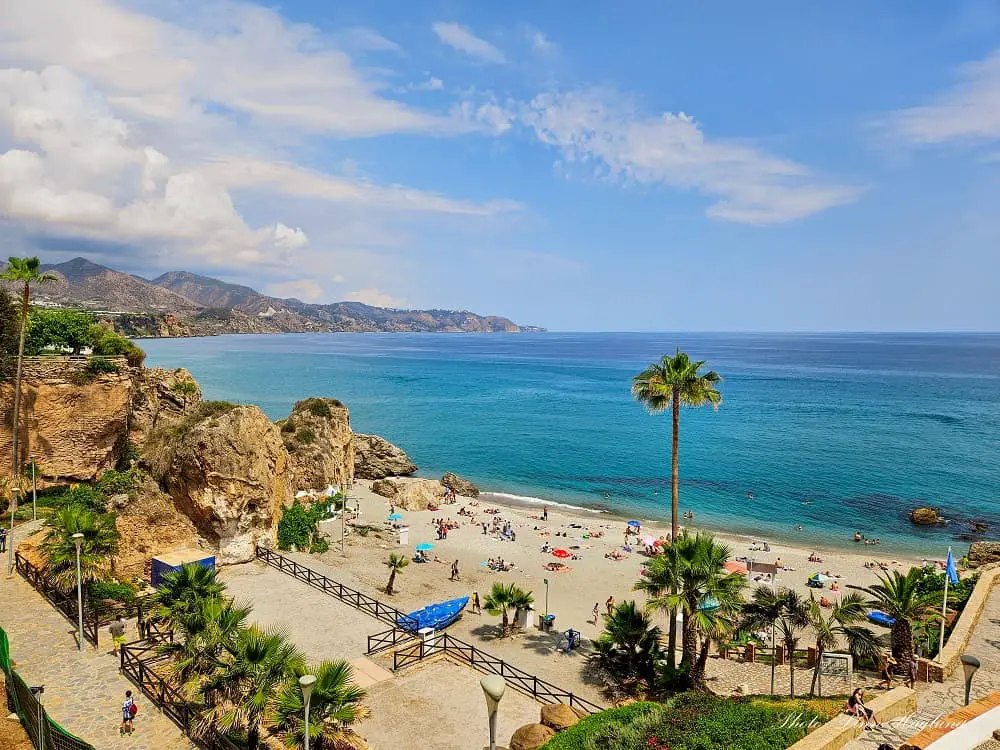 Carabeo Beach
Facilities:
If you continue on the boardwalk past Calahonda Beach, you will reach a set of rocky coves. These are very secluded and can fit a few people during low tide.
There are no facilities on the beach, but since you are so close to Calahonda, you head over there whenever you need anything. You also have to pass it to get back home, so you can take a shower before leaving.
This is an ideal beach for couples wanting some privacy or anyone looking to escape the tourist crowds.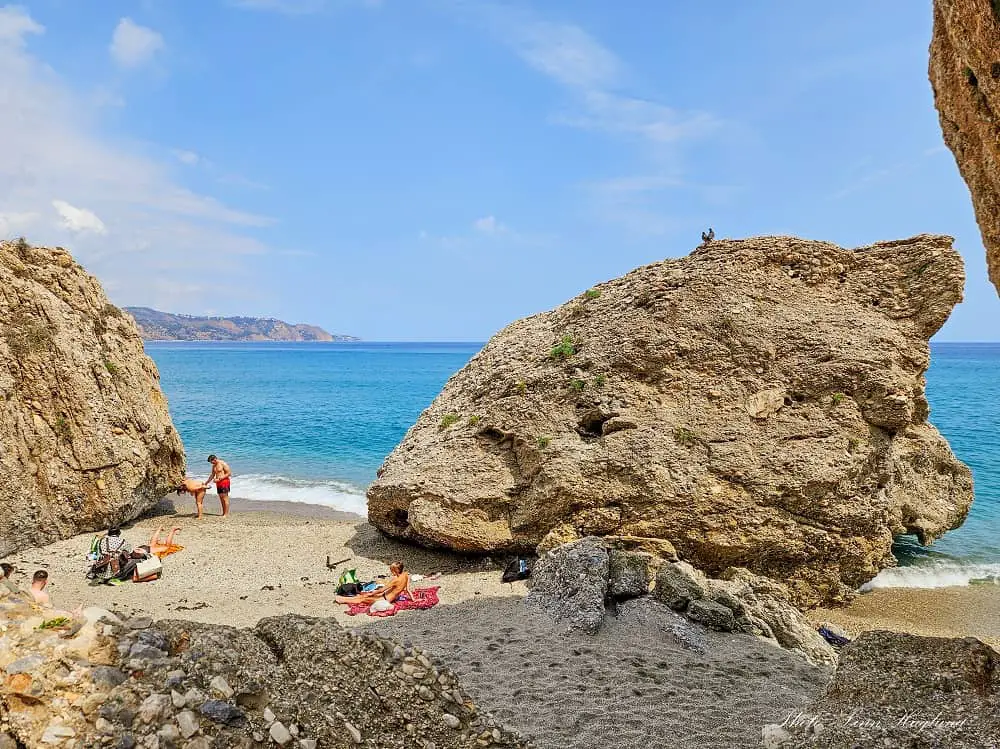 Carabeillo Beach
Facilities:
Located right below Mirador del Bendito, there are stairs taking you right down to Carabeillo Beach, which is basically an extension of Burriana Beach.
However, it is a completely different vibe, without the beach bars and restaurants, people come here to retreat from the busy Nerja Spain beaches.
Carabeillo Beach is 70 meters long and is connected to the old boardwalk that has been closed for the stretch to Calahonda Beach due to falling rocks.
There are no facilities but showers on the beach, but you can easily go for a walk to the Burriana side of the beach for food, drinks, and toilets.
There is parking close to the beach too, the large parking lot in Nerja is only a few minutes walk away and with some luck, you might find street parking right by the viewpoint.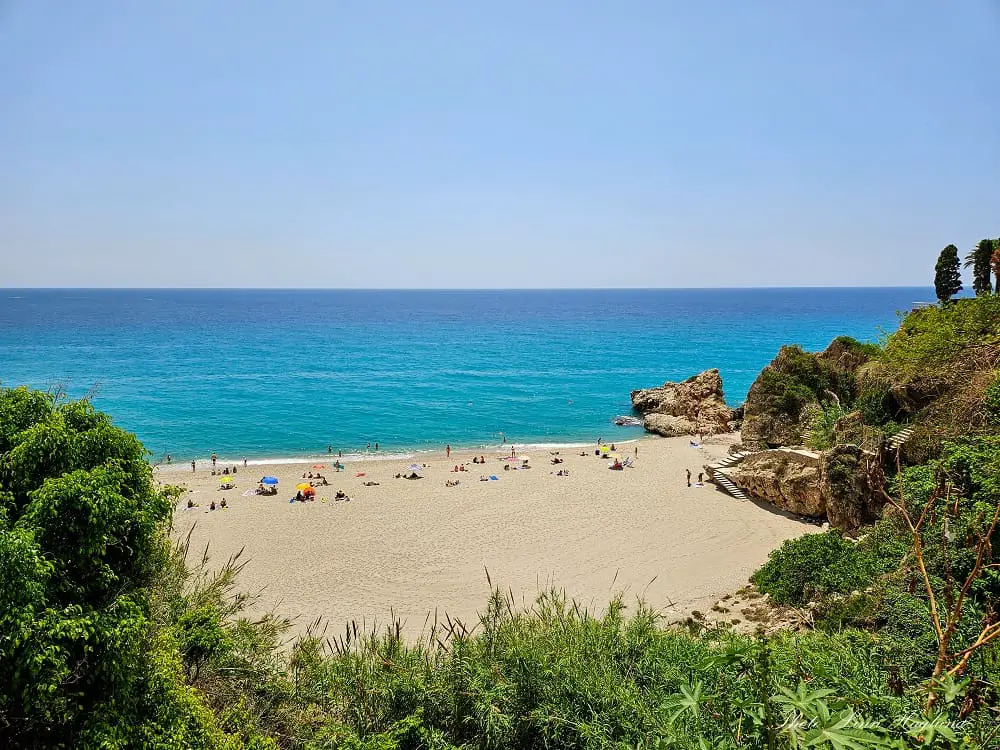 Playa La Caletilla
Facilities:
Showers
Restaurant
Sunbeds for rent
Right below Balcón de Europa on the right-hand side, you find La Caletilla Beach. This is a small beach of only 50 meters in picturesque surroundings that can easily come across as a private beach, as it is located right outside Hotel Balcón de Europa.
The beach is prone to tides and nearly disappears during high tide. The hotel's restaurant is the only place to eat on the beach and it offers outdoor seating with spectacular views.
If you are on a budget, I would recommend bringing lunch to the beach or going into town for more affordable options.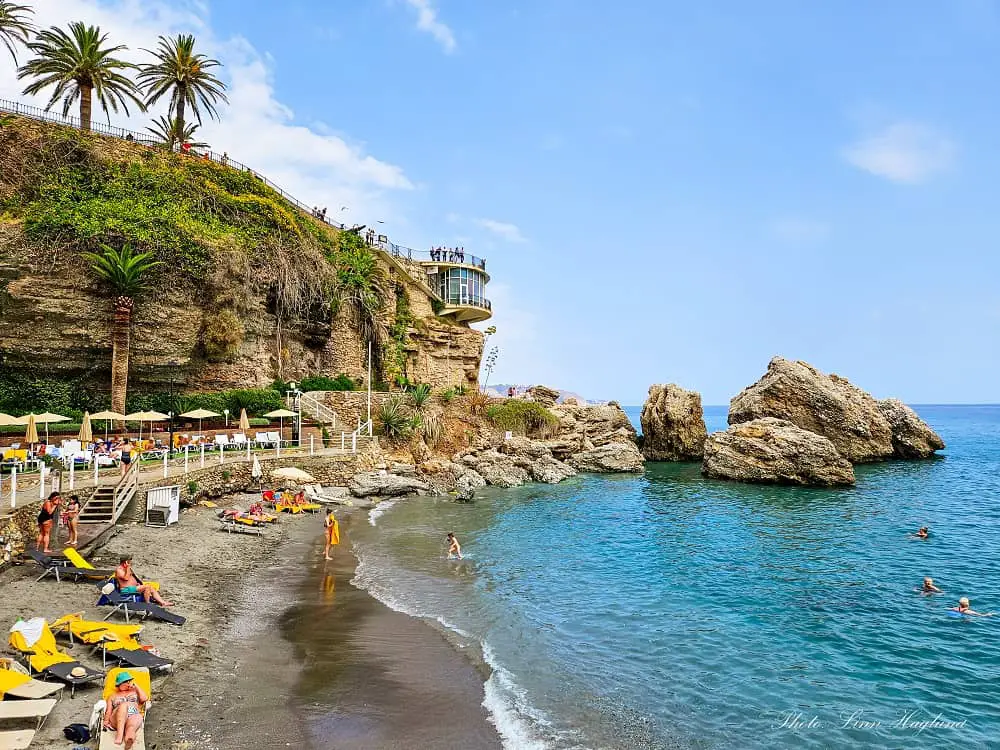 El Salón Beach
Facilities:
Lifeguard
Shower
Toilet
Sunbeds and umbrellas for rent
Kiosk
Passing La Caletilla Beach, you will reach El Salón Beach. It has its own pathway down from town or you can walk the walkway below Balcón de Europa.
It is a well-equipped beach, yet not as crowded as most of Nerja's best beaches since most tourists miss the path down there.
There is a small kiosk on the beach where you can get drinks, ice cream, and snacks, but no restaurants, so you can either head over to La Caletilla for lunch, bring your own, or take a beach break by going to the busy restaurant streets in the center of Nerja.
This is without a doubt a favorite Nerja, Malaga beach in the center since it is not as busy as Burriana and Torrecilla, yet it is incredibly beautiful.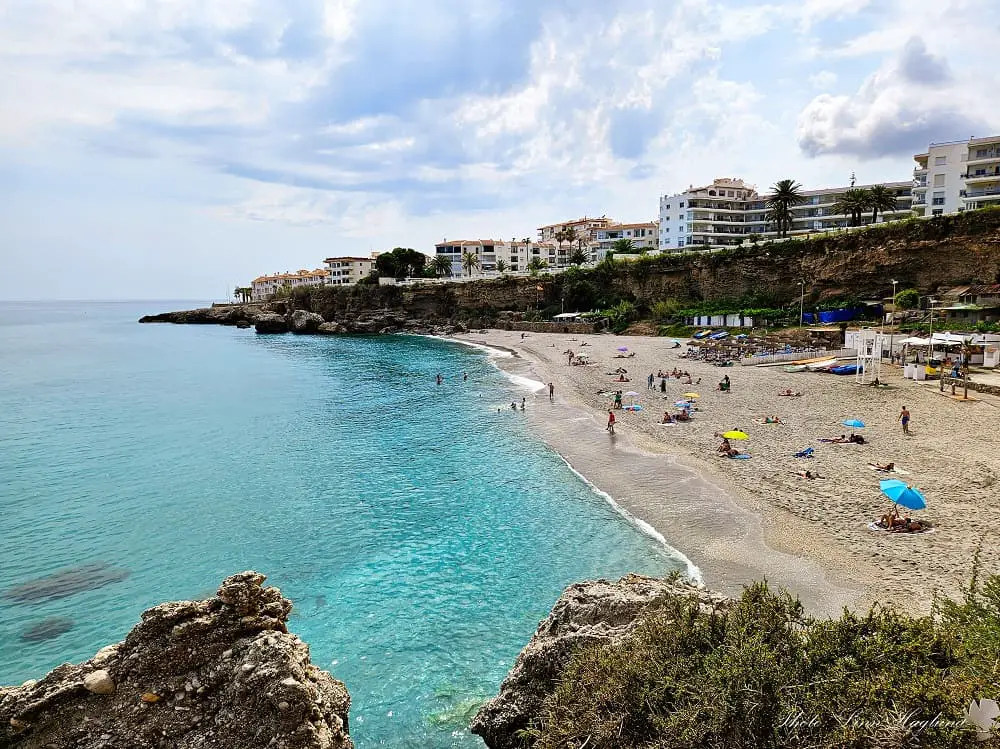 Maro Beach
Facilities:
Lifeguard
Sunbeds and umbrellas for rent
Toilets
Kiosk
Restaurant and bar
Parking
Maro Beach used to be one of the best-hidden gems in Andalucia, a remote beach surrounded by pristine wilderness. But the secret is spilled and it is now one of the most popular beaches in Nerja, especially for beach dwellers traveling from other parts of Malaga.
Being one of the best beaches near Nerja, you must come early to secure a parking spot in the high season. Marked parking is along the road and once it is full, the police block the road in Maro, which makes it a 20-minute walk or longer to reach the beach by walking along the road.
In this case, I recommend walking to Caleta de Maro (the next Nerja beach on this list) instead as it is halfway, though a lot more remote and without facilities!
Even though it has gone from being a remote and quiet beach to a crowded beach, it is still one of my favorite Nerja beaches and truly worth visiting. This is also one of the last beaches before reaching Granada's beaches in Costa Tropical.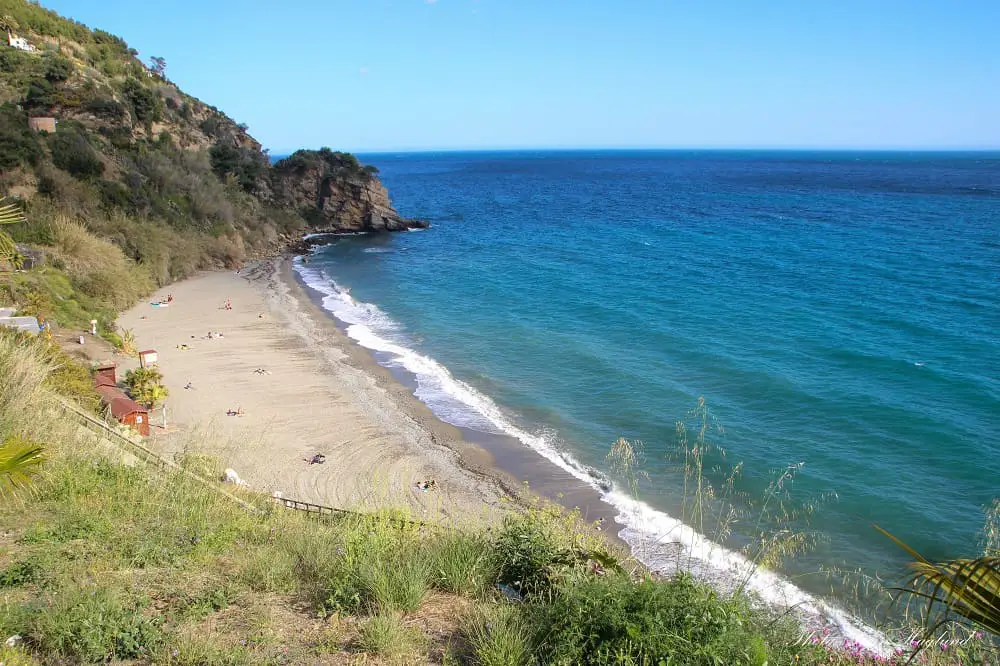 Caleta de Maro Beach
Facilities:
Halfway between Maro and Maro Beach, you can take a right turn through vegetable farms. There are signs, most of them handwritten, indicating the way down to the beach.
It is a bit of a walk (maybe 15 minutes) from the main road where you must park. But if you are looking for a remote beach wrapped in bamboo and lush vegetation hiding hippie dwellings, this is the place for you.
Just like Maro Beach, La Caleta Beach has gained a lot more popularity in the last few years. Yet, it is harder to reach than other beaches Nerja has on the shelf, so even though the beach fills up in summer, it can't compare to any of the other beaches.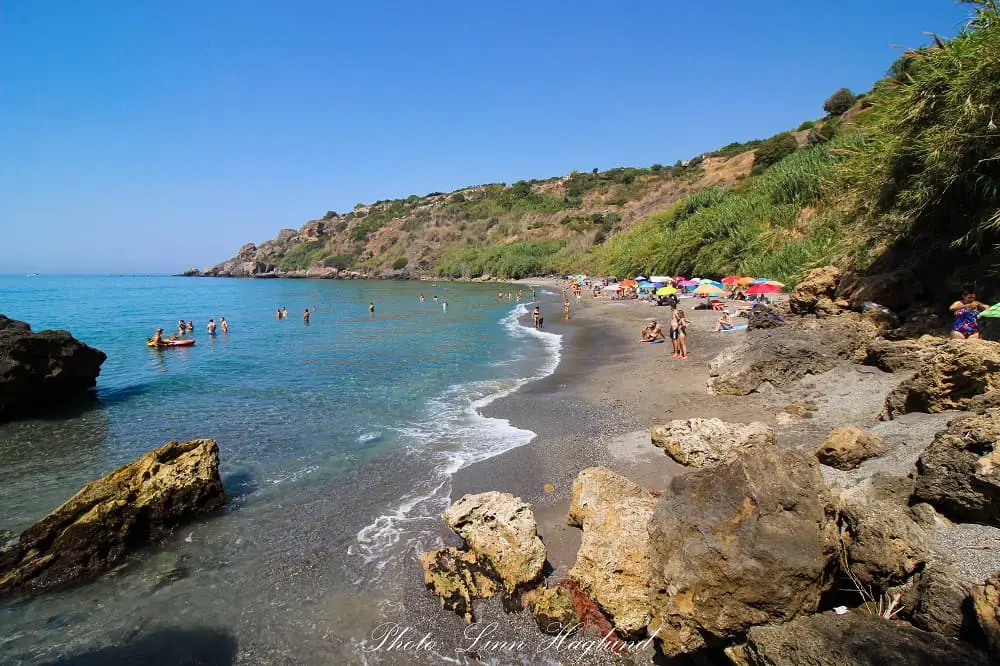 Torrecilla Beach
Facilities:
Lifeguard
Shower
Toilets
Sunbed and parasols for rent
Restaurants and bars
Wheelchair access
Torrecilla Beach is considered one of the best Nerja beaches by locals and tourists alike. Much like Burriana Beach, you find all the necessary amenities on the beach and with wheelchair access.
In my opinion, this is the best beach in Nerja on the west side of the town. Not only is it a great beach to spend the day, it is also connected by a boardwalk to nearby beaches and you have the Mirador de La Torrecilla with spectacular views of the coast in both directions.
Note that the underwater current can be strong on both sides near the rocks. Fishermen often use these areas of the beach, so for either reason, it is recommended not to swim there.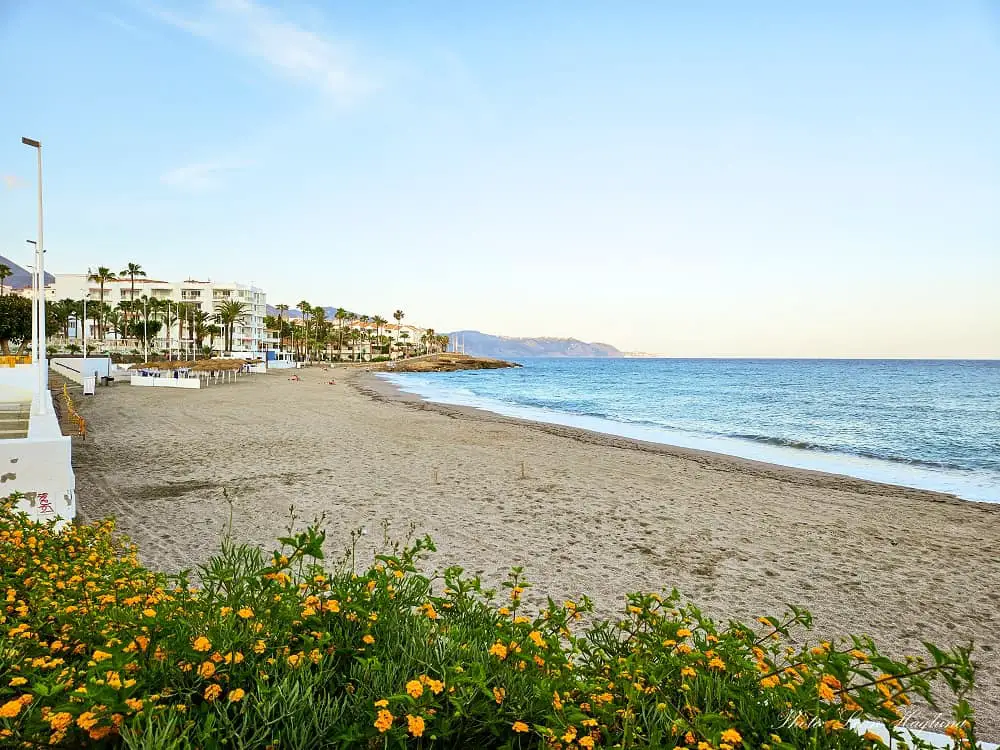 Playazo Beach
Facilities:
Lifeguard
Sunbeds and umbrellas for rent
Showers
Toilets
Bars and restaurants
Being the westernmost beach in Nerja and also the largest, Playazo Beach is not as developed as the eastern beaches. There are fewer foreign tourists there, which is one of the reasons I like this beach a lot – you actually feel like you are in Spain as the main crowds are Spanish.
Besides, the beach bars do not have tourist prices, so you can eat and drink at affordable prices.
There are signs that the beach will be developed more, but for now, it is still a great place to go for escaping the most suffocating tourist crowds that the summer in Nerja can bring.
However, if you prefer the touristy beaches, I would rather head to Burriana on the opposite side of town where you have it all.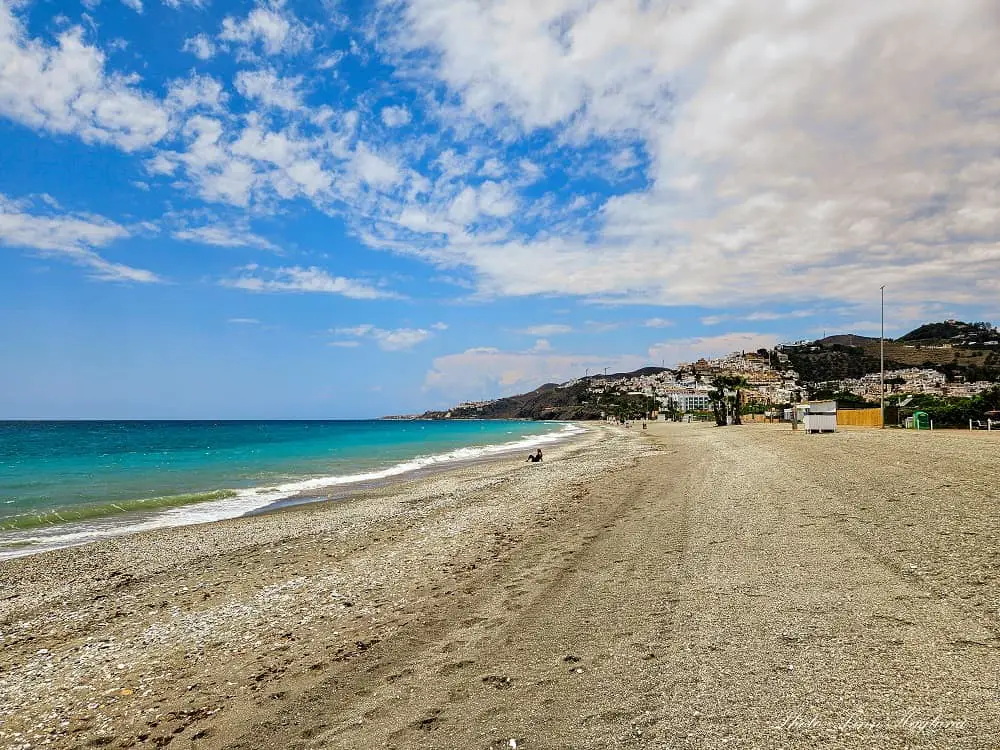 Reflections on Nerja beaches
As you can tell, there are plenty of breathtaking beaches in Nerja Spain to choose from. And I'm pretty sure you have found at least a couple that you want to go to among the above best beaches in Nerja.
The best of it all is the crystal clear, turquoise water you get in this part of the coast, bringing you some of the most astonishing beaches near Malaga.
Happy travels!