There is a wealth of picturesque lakes in Andalucia which makes for perfect getaways on hot summer days to cool down in fresh water.
As I usually have dogs in tow, a great way to beat the heat in summer is to hit the lakes as dogs aren't allowed on most beaches in Andalucia in the summer months.
So it's safe to say I have explored quite a few Andalucia lakes throughout the region and some of them have turned into long-time favorites.
While summer is a great time to explore the lakes in Andalucia, even the rest of the year makes for a wonderful escapade.
Many of the Andalucia lakes are manmade, created to give reliable water sources to villages and towns in the hottest corners of Spain. Places that we are now so blessed to be able to take joy in.
Read on as I uncover some of the best lakes in Andalucia!
Disclosure: This post may contain affiliate links. That means that if you make a purchase through one of those links, I will get a small commission at no extra cost to you.
Best lakes in Andalucia
Lake Iznájar (Córdoba)
Iznájar Reservoir is the biggest one in Spain and was built in 1960 by the command of Franco. A lot of people lost their homes in the process as he ordered it built on top of roads, bridges, and houses of the people of Iznajar village.
These are still at the bottom of the lake as a grim reminder of the dictator. When the water level is low, you can see the top of houses in the lake.
The Andalusian lake is enveloped by pine forests and hiking trails with exquisite viewpoints. But there is also a beach you can go swimming at near Iznajar, Playa Valdearenas.
There, you can rent kayaks and paddleboards to explore the lake on the water or just lounge under the shade of a parasol with a cold drink. There is no doubt this is the most historically significant lake Andalucia has to show for, though not in a positive way.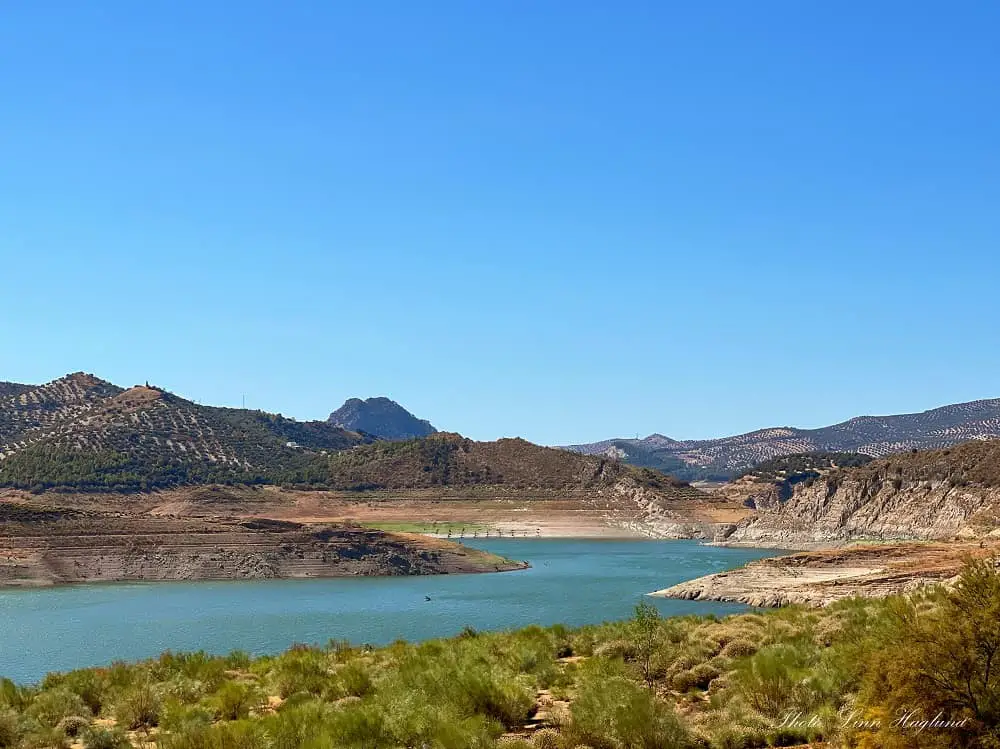 Zahara-El Gastor Reservoir (Cadiz)
Zahara-El Gastor Reservoir is one of my favorite lakes in southern Spain, situated at the foothills of the hilltop village Zahara de La Sierra, which is seriously one of the prettiest villages in Andalucia.
It was built in 1992 on the Guadalete River. Today it serves as one of the most picturesque sceneries in Andalucia with footpaths all around it where you can get to different viewpoints.
The lake has its own artificial beach, La Playita where you can rent kayaks and paddleboards. The water is perfect for swimming during hot summer days. The beach is located on the Arroyomolinos Recreation Area which sits on an expansion of Guadalete River.
Istán Lake (Malaga)
Istán Lake is one of the pristine lakes in Andalucia Spain that I always found hard to find. Even returning I somewhat miss the road and end up asking for directions in the village of Istán.
The road down to the lake is before you reach the village, and it is such a relaxing getaway from the Costa del Sol in the summer.
I have seen tour groups going there, but I have an impression that they are "off-the-beaten-path tours". The lake was built in 1972 on the Rio Verde of Istán as an additional water source collecting melded snow and ice water from Sierra Nevada.
One of my favorite things about Istán Lake is that motorized boats are not allowed, so there is an unmatched peace and quiet there compared to other Lakes in Andalucia.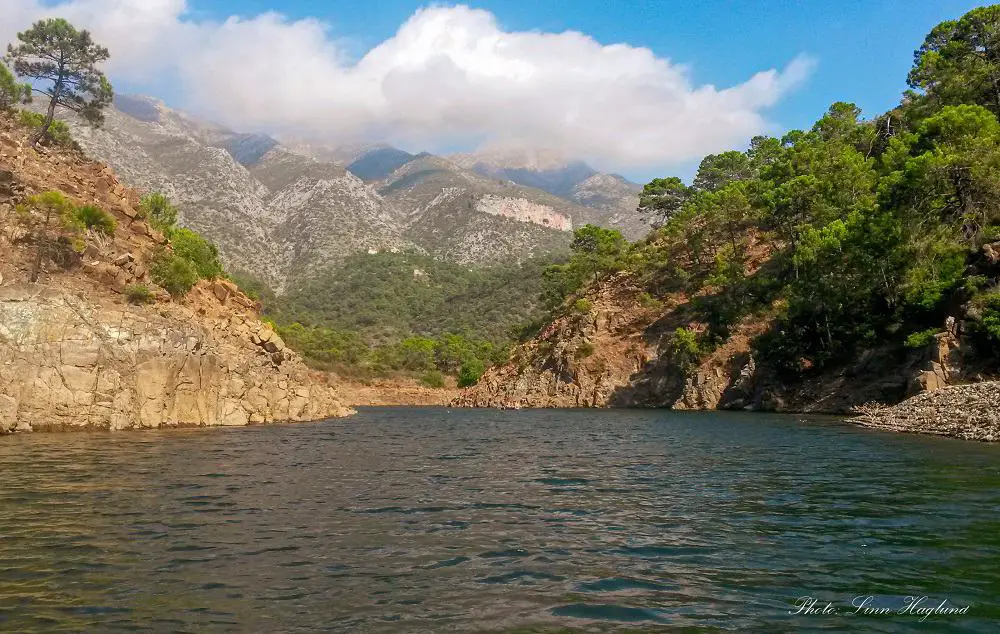 Embalse Aznalcollar (Seville)
Aznalcollar Lake is a fantastic place to go for a swim if you are in Seville on a hot day, situated at only 30 minutes drive from the city.
This is an Andalucia lake that I didn't discover until recently, and it was a God-sent gift as we needed to cool down during a few hot days in Seville. It is a lot closer than any beaches near Seville too, so I was super happy about it!
In 1998, there was a major leak of toxins in this area due to a fracture in the Aznalcollar mining walls. This was one of the worst ecological disasters in Europe. In the years after, the lake and the fish, animals, and plants in the lake and surrounding area have been closely monitored.
It is now safe to swim in the lake and recolonization of the harmed species is on its way to reach normal levels.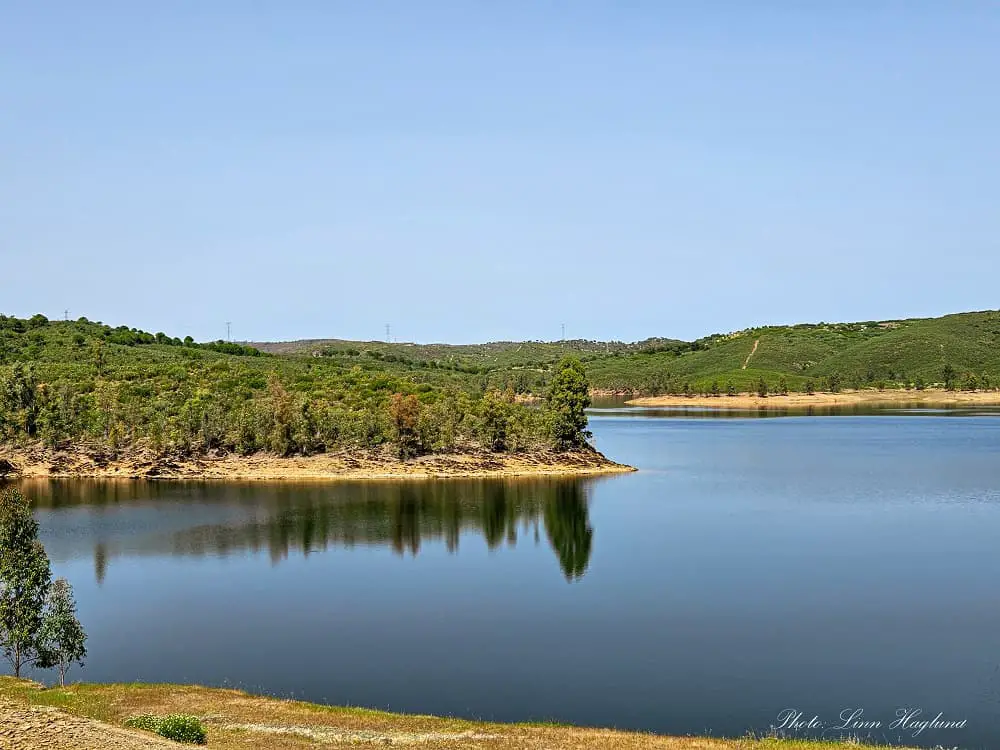 El Chorro Lakes (Malaga)
El Chorro Lakes are the most popular lakes near Malaga, located right next to the Gaitanes Gorge where the jaw-dropping Caminito del Rey crosses.
The turquoise water invites for refreshing swims in the summer months. At the recreational area of La Isla, you can rent kayaks, paddleboards, and pedaling boats.
There are picnic tables, barbeques, and sunbeds for rent, as well as a water park bobbing on the surface to keep the youngest entertained.
El Chorro Lakes consist of three artificial lakes created on the riverbed of the Guadalhorce River. The area is often referred to as Malaga Lake District and it is easy to see why.
When I first moved to Spain, these lakes used to be a great place to get away from the crowds, but with the years passing, more and more people have gotten to know about them. So what used to be a local getaway has turned into a touristic place where you now hear every language spoken.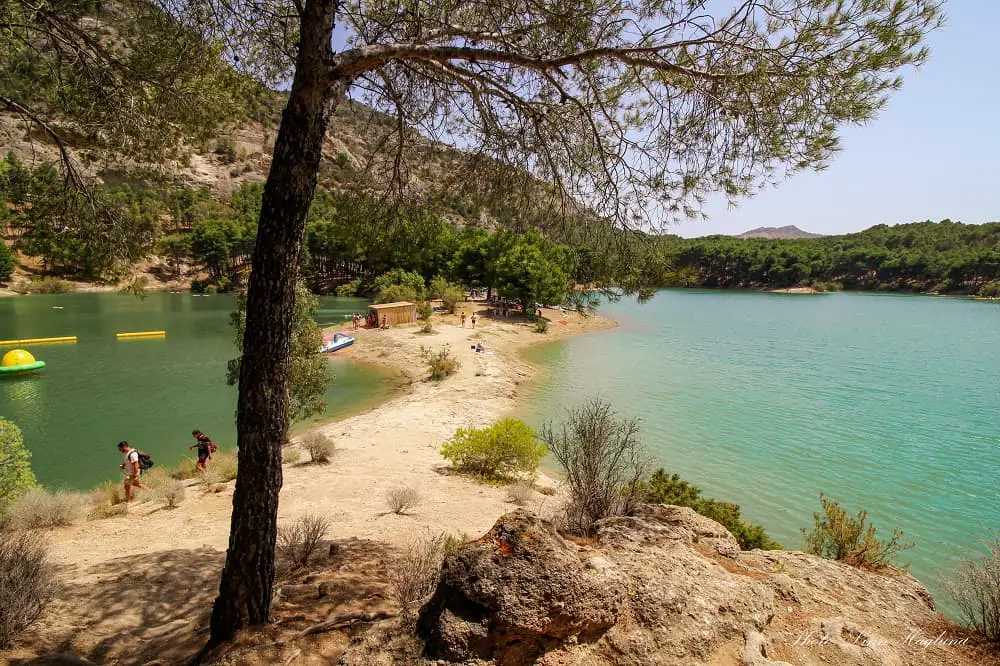 Embalse de Puente Nuevo (Cordoba)
Embalse de Puente Nuevo is located near Villaviciosa de Cordoba, a sleepy little village in the midst of Sierra Morena in the Cordoba province.
There is a vast network of hiking trails surrounding the lake and it is a wonderful place to soak in the sun in the warmer months.
The dam was finished in 1973 and is a source of recreation and electricity alike and the lake has a surface of 985 km2.
I went there in winter, so I have not gone swimming, but it was incredibly beautiful when hiking around the lake!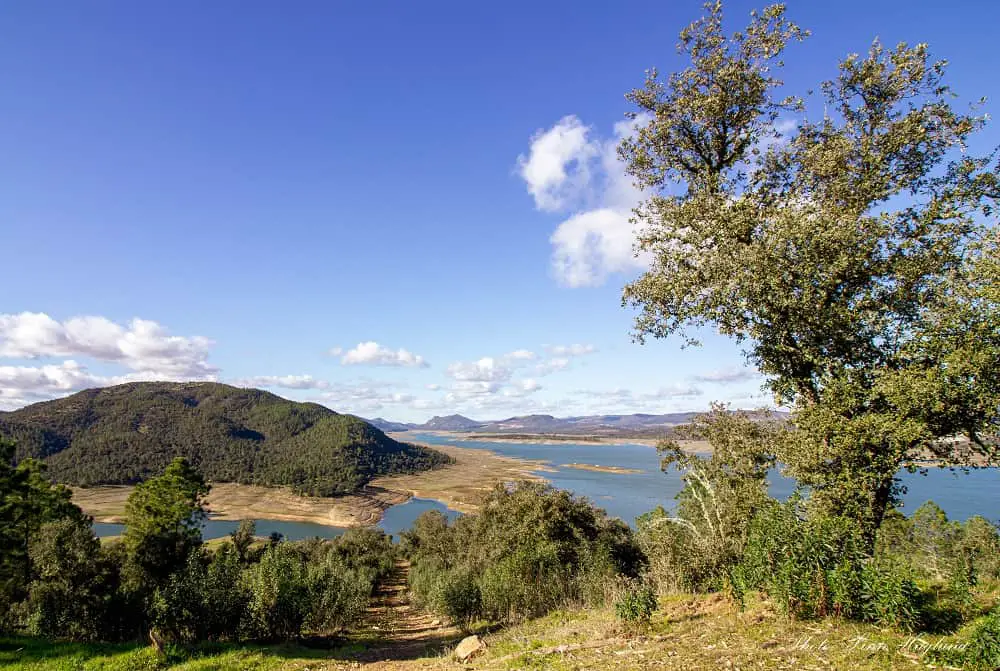 Embalse La Breña (Cordoba)
One of the most beautiful lakes in Andalucia is Embalse La Breña. We recently spent a week in Almodovar del Rio outside Cordoba in mid-May and trust me, the summer heat had already started to take over which made us look for a place with a lake.
Only a few minutes drive from the town, you find this blessed oasis of fresh water. La Breña II Dam was built in 2005 and the main water source is the Guadalquivir River. The dam is 119 meters tall and is built on the riverbed of Guadiato River.
Getting there is a good drive on dirt tracks but the road is fairly well maintained so you will easily get there without a 4WD.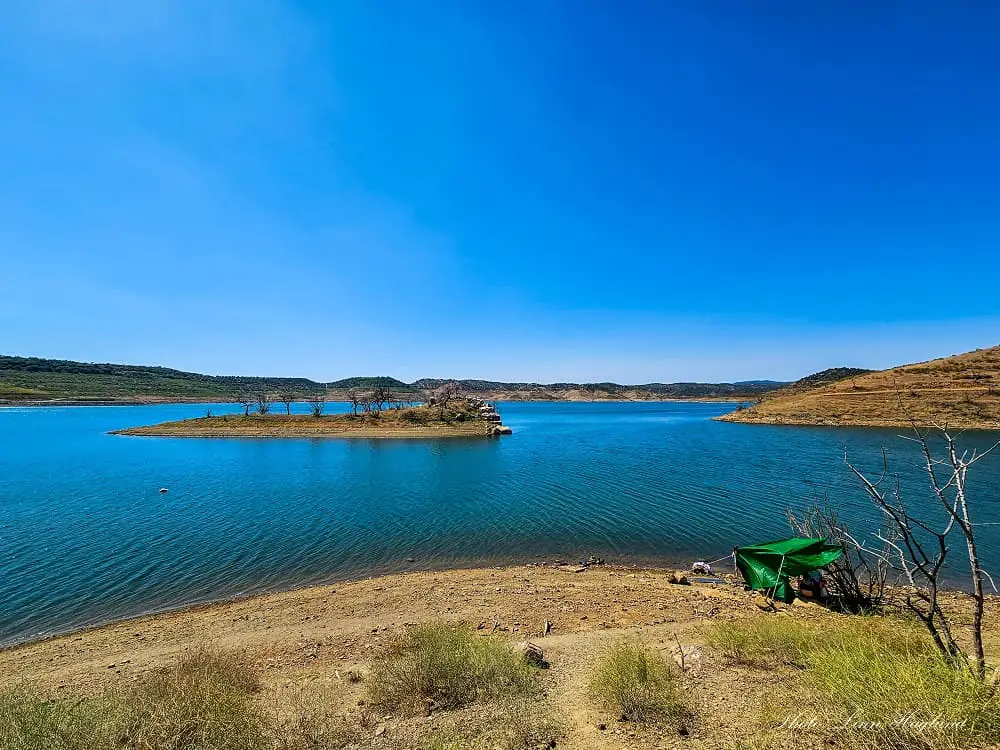 Reflections on Andalucia's lakes
There is no doubt that there is more to Andalucia than pristine beaches. When you discover the blissful lakes that the region hides between its hills and vast forests, you will get a completely new picture of southern Spain.
I love going to the lakes in the summer months but they also make for an incredible backdrop for hikes in Andalucia during the other seasons as they easily leave you spellbound.
Happy travels!