While a summer vacation in Malaga with long days at the beach can be all you dreamt of, sometimes dipping in and out of freshwater can be all you really need. Especially when it includes deep turquoise lakes infused with the scent of fresh pine trees.
We're talking about El Chorro lakes in Malaga's inland region, also referred to as Malaga's lake district. I first went there many years ago and while tourism has picked up significantly over the years, it's still a place I love to retreat to escape Malaga's busy beaches in the summer.
Its proximity to the world-famous El Caminito del Rey has surely had something to do with its rising popularity, however, word of mouth has been a major factor in the growing expat community that's flourishing all over the towns of Costa del Sol.
El Chorro lakes are among my absolute favorite lakes near Malaga, and no matter how popular, you will always find secluded areas if you only walk a bit away from the areas with facilities.
Read on to learn more about El Chorro lake district and how to go there and experience this gem yourself!
Disclosure: This post may contain affiliate links. That means that if you make a purchase through one of those links, I will get a small commission at no extra cost to you.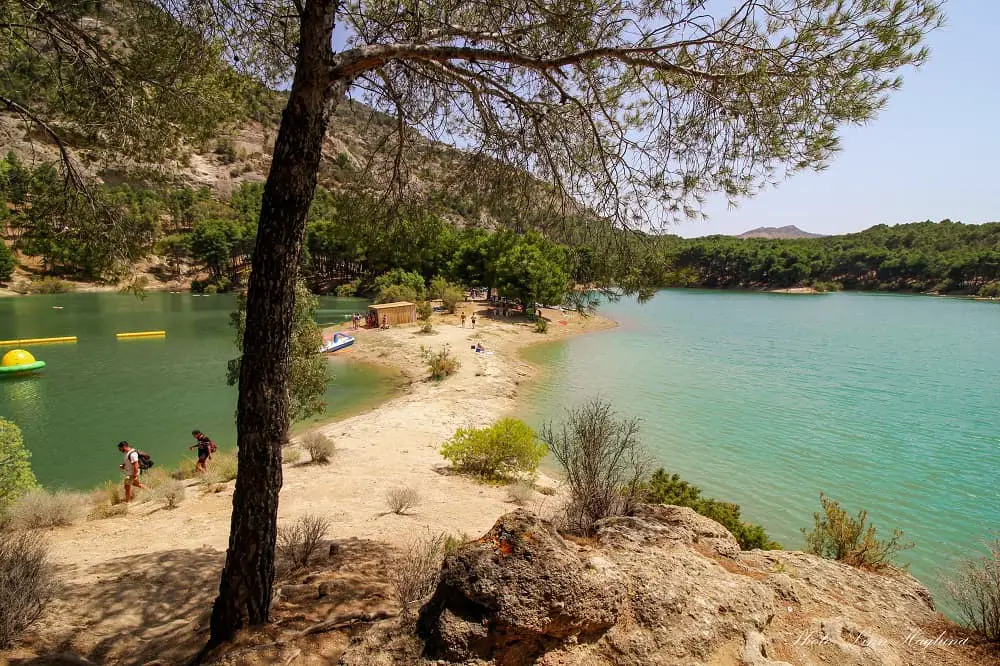 Where are El Chorro lakes
El Chorro Lakes are located near Ardales and El Chorro (Álora) besides the famous El Caminito del Rey hike. It is only about an hour inland from Malaga and a couple of hours from Granada, Cordoba, and Seville.
How to get to El Chorro lakes Malaga
The best way to reach the lakes is to drive there. It takes 1 hour to drive and there are a few parking areas where you pay 1 Euro (cash) per vehicle + per person (kids are half price) for the day during the summer months and in other more remote places you can park for free.
The most popular area to park and stay at the lake is La Isla, where you find all amenities.
By public transport, you can take the train from Malaga to El Chorro, which takes 38 minutes and up. From there, there is a shuttle bus for the El Caminito del Rey hike that takes you to El Kiosko Restaurant, and from there you can walk down to the lakes where ever you please.
Note that to get the bus back, you must be at El Kiosko before the last bus leaves. You can see the updated timetable for the bus here.
Getting to El Chorro, Andalucia, from any other city than Malaga is easiest by car as there is no direct connection with public transport.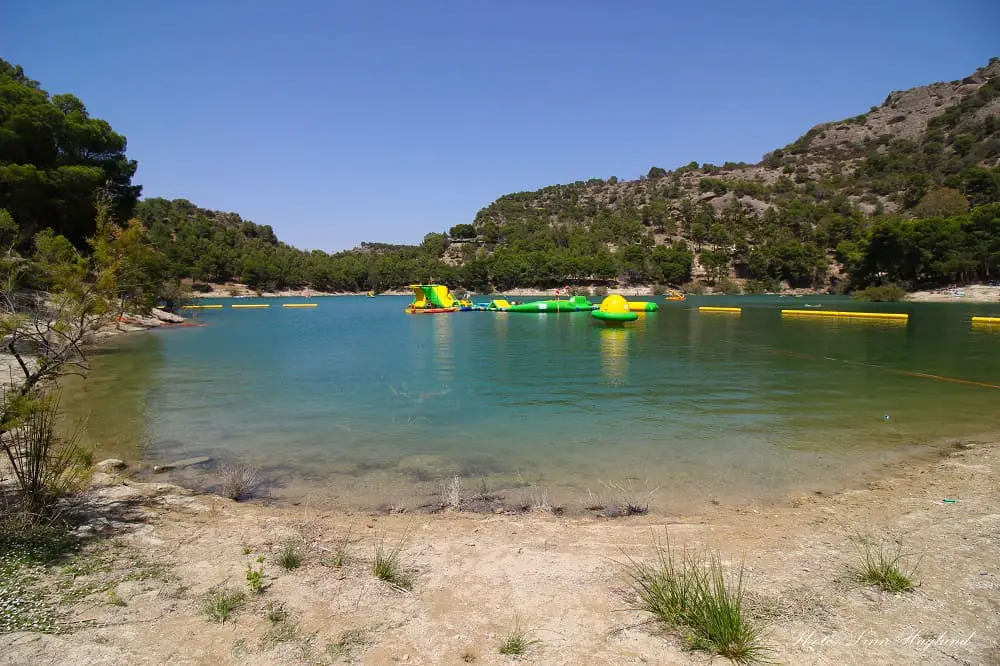 Where to stay by El Chorro lake district
The best location to stay near El Chorro lakes is the village of El Chorro. They have good options for accommodation for different budgets. Here are my top picks.
WHERE TO STAY IN AND NEAR EL CHORRO LAKES, MALAGA

HIGH-END: Complejo Turístico La Garganta – This high-end hotel is located right next to El Chorro train station which makes it perfect for those arriving by train. The building is a restored early 1800s flour factory and offers luxurious rooms, an onsite restaurant, and a bar.

MID-RANGE: El nido del Chorro – The hotel is located in El Chorro with an outdoor pool and an onsite restaurant. They offer bikes for free, which is great news for those wanting to get to El Chorro Lakes without a car.

BUDGET: Hostal Vista a la Sierra – Great value for money at a 30-minute drive from El Chorro Lakes and 20 minutes from El Chorro town. The hotel offers free parking and has a garden.

GLAMPING: Cortijo Dos Santos – Located in picturesque surroundings, you have the opportunity to stay in luxury tents with equipped kitchens and ensuite bathrooms. The establishment has an outdoor pool and free parking.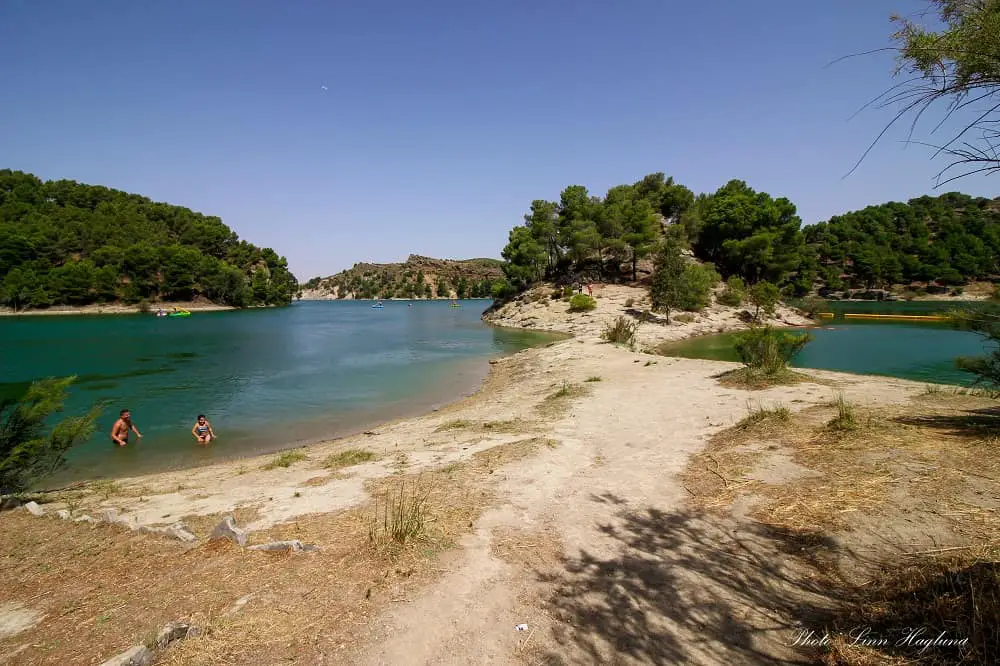 What to pack for a day out at El Chorro lakes Spain
El Chorro Lake, Malaga, offers heaps of shade thanks to the abundance of pine and oak trees all the way down to the shore. Yet, we all know that a day in the water is a day in the sun. So you gotta be prepared with reef-safe sunscreen, hats, and cover up as much as your skin asks for.
Due to the rough ground, very typical for the lakes in Andalucia, you might prefer to wear water shoes in the water (flip flops are great on land, but not for walking in the mud in the water.
Here are some things to bring:
Reef-safe sunscreen
Hat
Swimwear
Towel
Cooler
Food
Snacks
A lot of water
Cash for ice cream
Cash for parking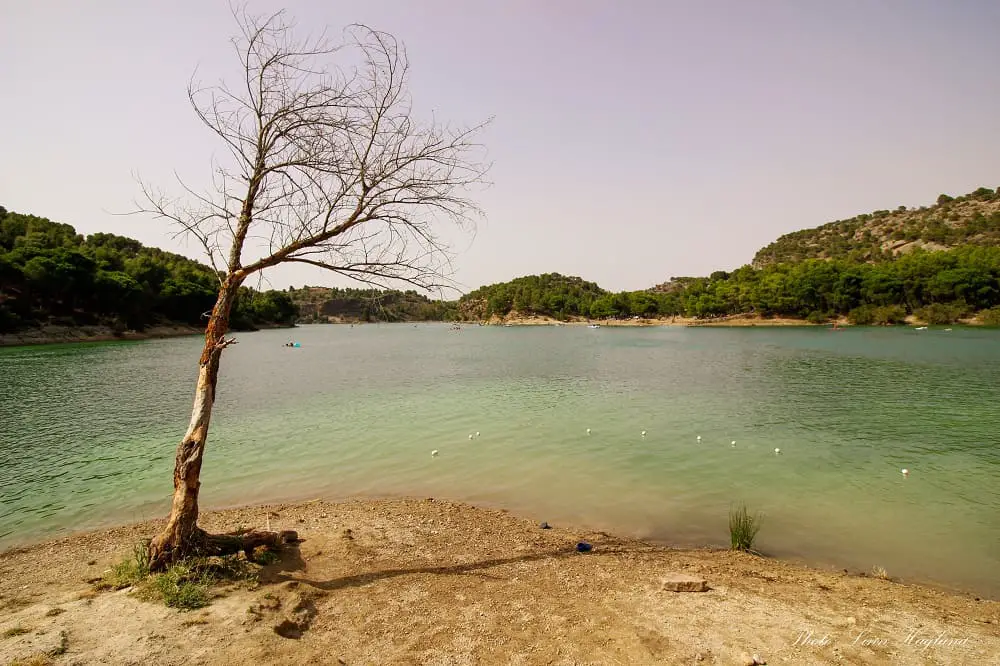 What to do at El Chorro lakes
Over the years more and more activities have popped up in El Chorro lake district and you can enjoy an adventurous few days or a lazy day trip depending on your preferences.
Here are the top activities to do in El Chorro lakes for adults and kids alike. If you travel with kids, especially the youngest ones, bring some water shoes for them. The rugged ground can easily harm their feet and even in the water, it's muddy with small bushes and branches sticking up.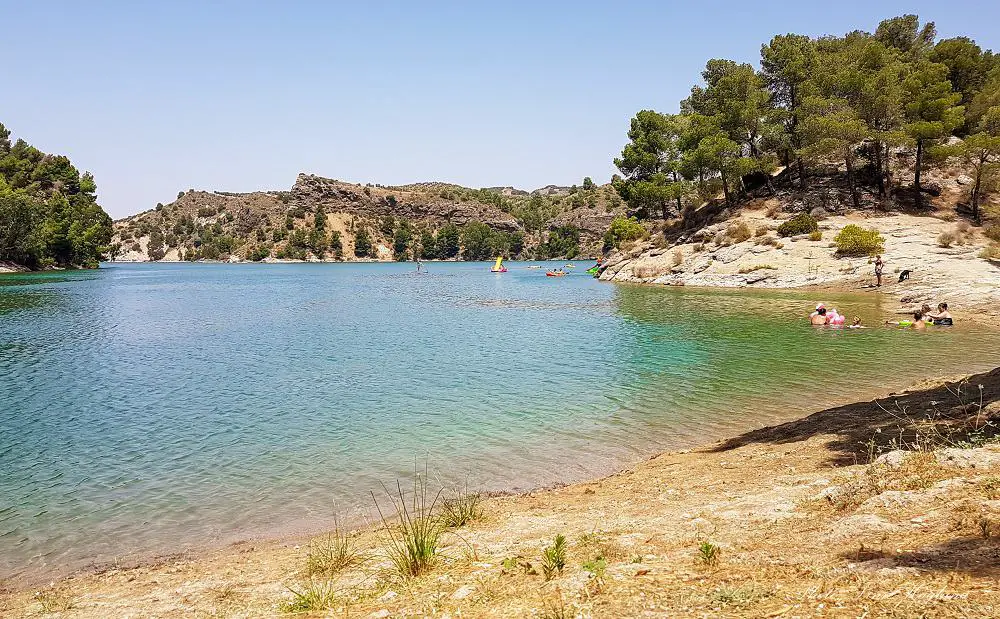 Cliff jump
Active people will be delighted to know that El Chorro lakes hide some epic spots for cliff jumping. There are several spots, but if you are unsure about the depth of the water, look out for where others are throwing themselves out in the water.
Sunbathe
There are sunbeds for rent at La Isla recreational area for comfortable sunbathing on the little beach. I usually just throw a towel or a blanket on the beach or on the rocks, but I can't say it's very comfortable, so if you're the kind of person that enjoys soaking in the sun, it is totally worth it.
Have a picnic
The picnic tables at La Isla recreational area make it perfect for bringing food and having a picnic in the shade. Note that the Spanish normally eat around 13:00-15:00 so the picnic tables get packed at that time.
If you prefer a more remote and romantic picnic, I suggest bringing your own blanket and heading onto the hiking trail taking you around El Chorro Lake and find a spot in the shade of the trees away from the crowds.
Let the kids play on the bouncy castle
Families with kids will be pleased to know that there is a bouncy castle in the water at La Isla recreational area where the little ones can burn some energy.
It is in a small bay right in front of the beach making it easy for parents to keep an eye on their kiddos.
Kayaking and paddleboarding
At La Isla recreational area you can rent paddleboards and kayaks. This is one of my favorite ways to explore the lake as you can get around to remote coves and beaches.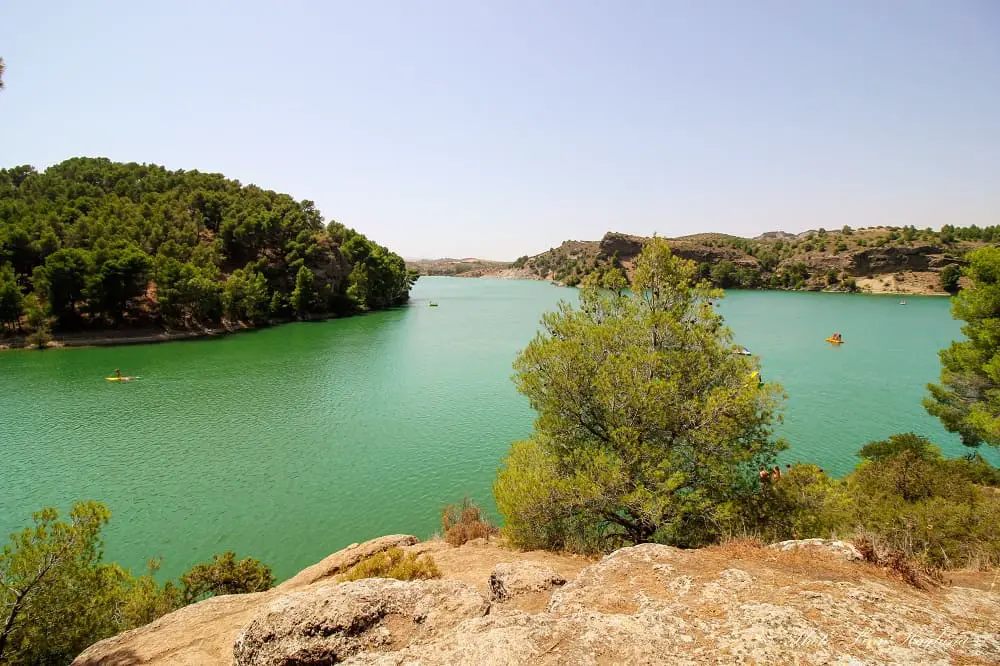 Rent a paddle boat
One of the most popular family activities in El Chorro Lakes is to rent a paddle boat and explore the lakes from the water. Some of them even have slides which makes it fun for the little ones too. They are perfect for getting in and out of the water while you stay fit paddling.
Hiking
El Chorro lake district is also famed for its many spectacular hiking trails. Not only will El Caminito del Rey blow your mind, but there are hiking trails around the lakes under the shade of the pine trees which you can combine with swimming breaks in summer.
Outside the winter months, some of the most breathtaking hikes you can take around El Chorro lakes are the Pico Convento and Mirador de las Buitreras featuring impeccable views of the pinned pathways of El Caminito del Rey and the historic hike of the Arabic Staircase taking you up ancient steps that no one really knows what was built for.
The adventurous can extend the hike to Pico Huma which offers 360 views of the surrounding mountains and countryside.
While these are the most popular hikes in the area, there are endless hiking trails for those who want to spend a week or so in this naturally stunning district in the winter months.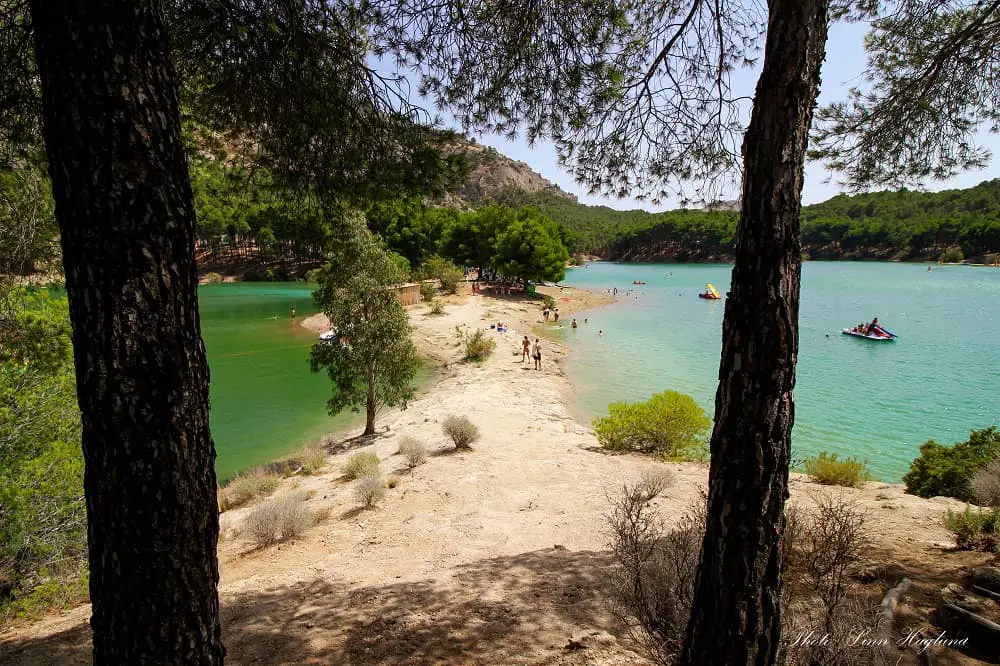 Camping
Camping is a popular activity by the lakes. El Chorro has several camping grounds (note that it's NOT allowed to wild camp in Spain!) and one of them is situated right at El Chorro lake which means you can walk straight from your tent to the water.
This is also a wonderful way to enjoy pastel sunsets over the lakes and take refreshing night swims. The late evenings are also great for going for short hikes along the many hiking trails around El Chorro lakes as the temperatures go down a little.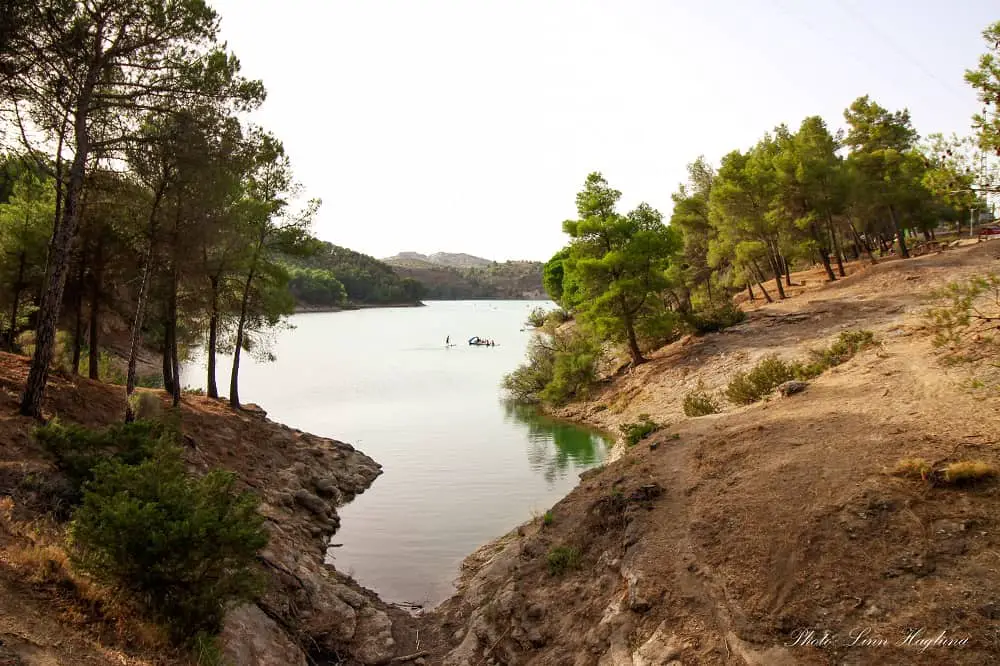 Reflections on El Chorro lakes Spain
Traveling in summer or winter to El Chorro offers a whole lot of adventure and though this is mainly a summer destination among tourists, the nature scene and spectacular hiking you can expect in the winter is well worth it!
This guide to El Chorro, Ardales lakes, Malaga, should give you all the information you need and I hope you'll enjoy the area as much as I do!
Happy travels!