If you are considering going on a Malaga to Seville day trip, first of all, take my first piece of advice – I don't recommend spending any less than 3 days in Seville. There are so many things to experience in Andalucia's capital city that you will just be able to scratch the surface with one day in Seville.
With that said, if one day is all you got, I will help you make sure you get the most out of it by going on a day trip from Malaga to Seville.
There are many options for traveling to Seville from Malaga and I will go through them all below including the best things to see during a day trip so that you can truly savor the rich cultural heritage of my favorite city.
Disclosure: This post may contain affiliate links. That means that if you make a purchase through one of those links, I will get a small commission at no extra cost to you.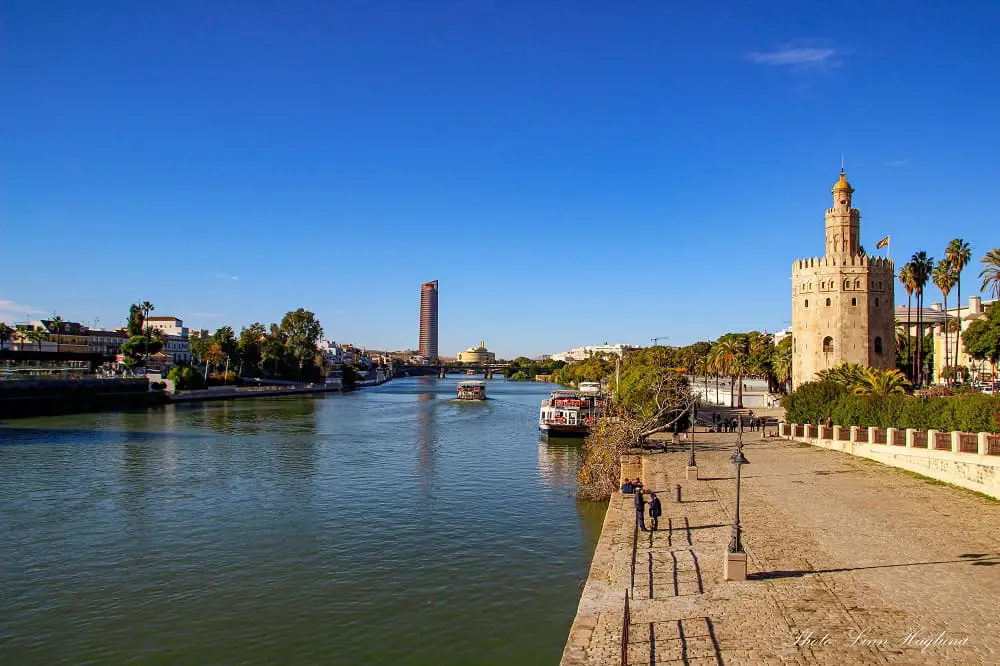 OTHER DAY TRIPS FROM MALAGA
Best way to go on a day trip from Malaga to Seville
By car
As a day trip, Malaga to Seville might seem far with 2 hours and 15 minutes driving, often dragging to 2.5 hours. But if you start early, it is a nice road trip.
If you decide to make it a 2-day trip instead, you can make a stop in one of the towns near Seville. I suggest stopping either in Osuna or in Carmona on the way to Seville or back. They are both lovely towns and you can spend a couple of hours there exploring the quaint streets or visiting some of the sights.
Finding parking in Seville can be a challenge if not driving in the city center is challenging enough. Luckily, there are a few underground parking houses where you can leave your car. I have also written up this guide to free parking in Seville if you do not mind walking a little bit.
By train
The train between Malaga-Maria Zambrano and Seville is a comfortable and fast way of traveling between the two cities on a day trip. The first fast train leaves at 6.45 AM and gets you to Seville in only 2 hours.
Be careful when you book your ticket, because some trains stop in Cordoba and you must change trains there. This adds a few hours to the journey which means that you will get no time in Seville.
Make sure you book the train as early as possible to get the best deals. Seville is one of the prettiest cities in Andalucia, thus a very popular travel destination.
Train prices vary greatly and the closed the departure you purchase the ticket, the more likely you are to pay a lot more than if you get them early.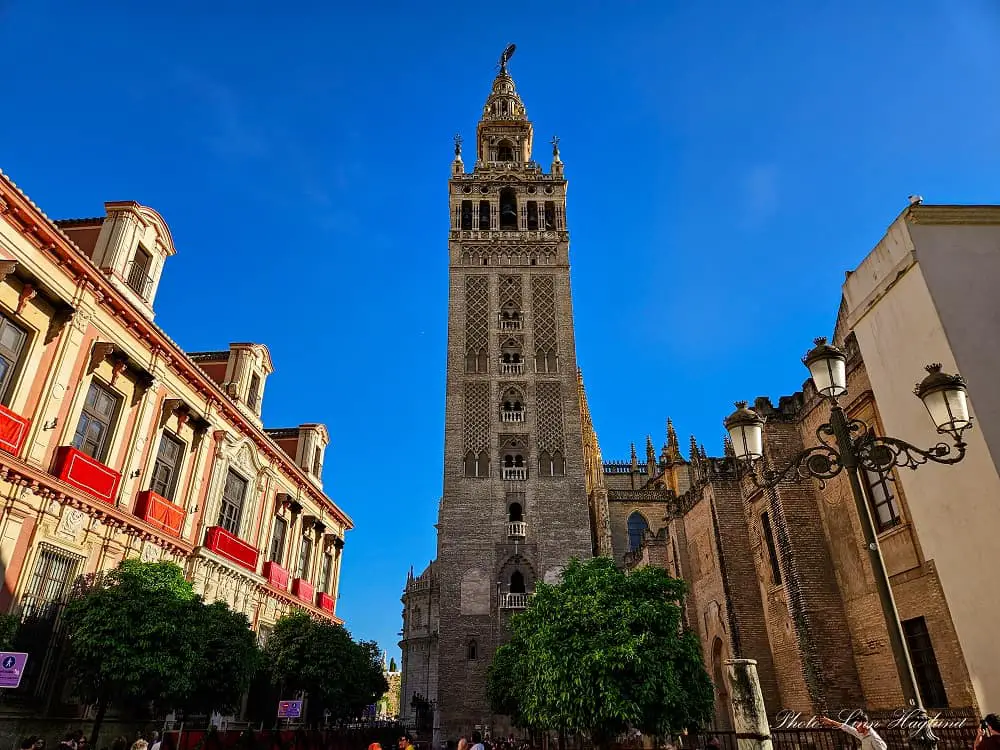 By bus
The bus from Malaga to Seville takes between 2.5 and 3 hours and is the slowest mode of transport to get there. For a day trip from Malaga to Seville it is the worst option in my opinion, because it often eats up a lot of the day and it is hard to find good travel times.
That said, it is usually a lot more affordable than the train unless you find a good deal a long time in advance of your travel dates.
By organized tour
If you prefer the comfort of an organized tour to avoid public transport and don't want to drive, there are several day tours from Malaga to Seville.
Going on a private Malaga to Seville tour gives you more freedom and you get a lot closer to the guide which means it is easy to ask questions, get more inside stories, and more flexibility.
I recommend this tour which includes hotel pickup in Malaga and tickets to the cathedral and the Real Alcazar in Seville. A local guide will meet you there and spend 4 hours with you.
Since this is a private tour, you can customize your tour with the guide, besides the Real Alcazar and the cathedral, which is great! I highly recommend going to Plaza de España. You also get 3 hours of free time in Seville before the return journey.
Check availability for private day tours from Malaga to Seville
If you are on a budget, travel solo, or prefer meeting other people on a group tour, this tour is a good alternative. This Malaga to Seville day tour includes an entry ticket and guide to the Real Alcazar and 3 hours of free time.
Best time to go on a day trip from Malaga to Seville
I would love to say that any time is a good time to visit Seville, but the truth is that the summer months are not nice in Seville.
Temperatures in July and August can easily reach 50 degrees Celsius as one of the hottest places in the country during summer (together with Cordoba.)
However, winter in Seville is wonderful, especially during December and the beginning of January when the Holiday lights are up and the Christmas spirit is full on.
Fall and spring are the most comfortable for sightseeing as the temperatures are not too cold and not too hot and the days are longer than in winter.
WHAT I RECOMMEND BOOKING IN ADVANCE
What to do on Malaga to Seville day trip
Real Alcazar
Visiting the Real Alcazar is one of the best things to do in Seville so it is only natural that you start your day with the impressive Moorish palace.
The Real Alcazar is among Seville's UNESCO sites and rightly so. Dating back to the 11th century, it has been remodeled over the years by both the Moors and the Christians after the reconquest.
For this reason, it is now a delightful fusion of different architectural styles; Islamic, Gothic, Renaissance, Baroque, and Romantic. The incredible details in the buildings together with the elegantly manicured gardens easily beckons you with its allure.
The best way to visit the Alcazar is by booking skip-the-line tickets in advance, but to get the most out of your visit, I suggest getting a guided tour. You can purchase joint tickets for the Alcazar and the Cathedral (next on the itinerary.)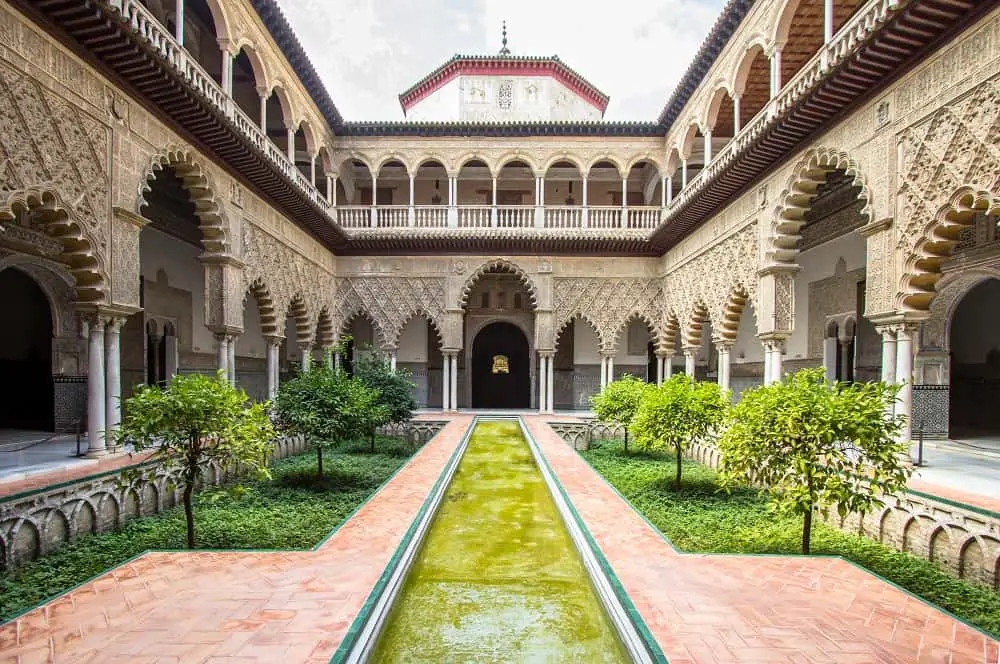 Seville Cathedral + Giralda
Seville Cathedral is also listed among the city's UNESCO sites and is a must-visit together with its iconic tower, La Giralda.
Dating back to 1528, the cathedral is said to be the final burial place of Christopher Colombus. Among the top attractions in the cathedral is the orange garden, so Andalusian!
You can climb the 35 ramps and 17 steps to the top of La Giralda for sweeping views of the city. Interestingly, the tower was the tallest in the world when it was built with its 97.5 meters of altitude.
As mentioned above, I recommend getting joint tickets for the cathedral and the Alcazar, so that you don't have to wait in unnecessary lines when visiting.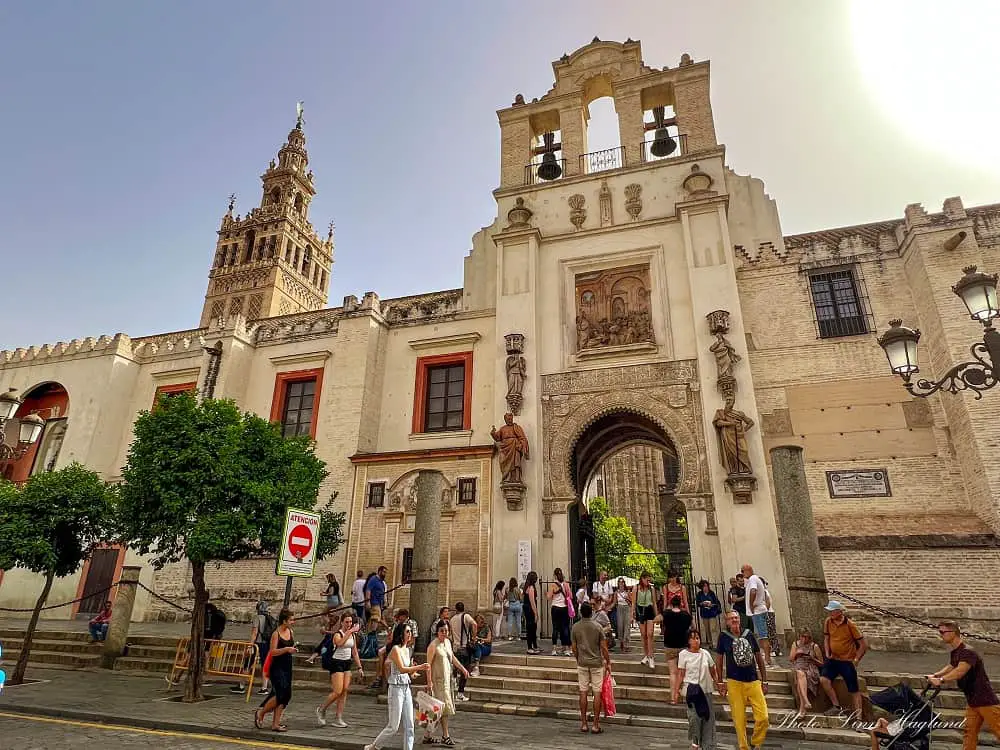 Lunch in Santa Cruz
The vibrant Santa Cruz neighborhood is the perfect place to find a place to eat. As you head deep into the warren of narrow streets, past Flamenco joints, shops, and restaurants, there is something for everyone.
Santa Cruz is the old Jewish Quarter and boasts enchanting pastel-colored houses and cobbled streets. While it has turned into one of the most touristy areas in Seville, it still has a charm you won't find anywhere else.
Finding a restaurant in Santa Cruz is easy, but remember the Spanish lunch times so you don't come to a closed kitchen. They are usually open for lunch between 12:30 and 15:30 or 16:00.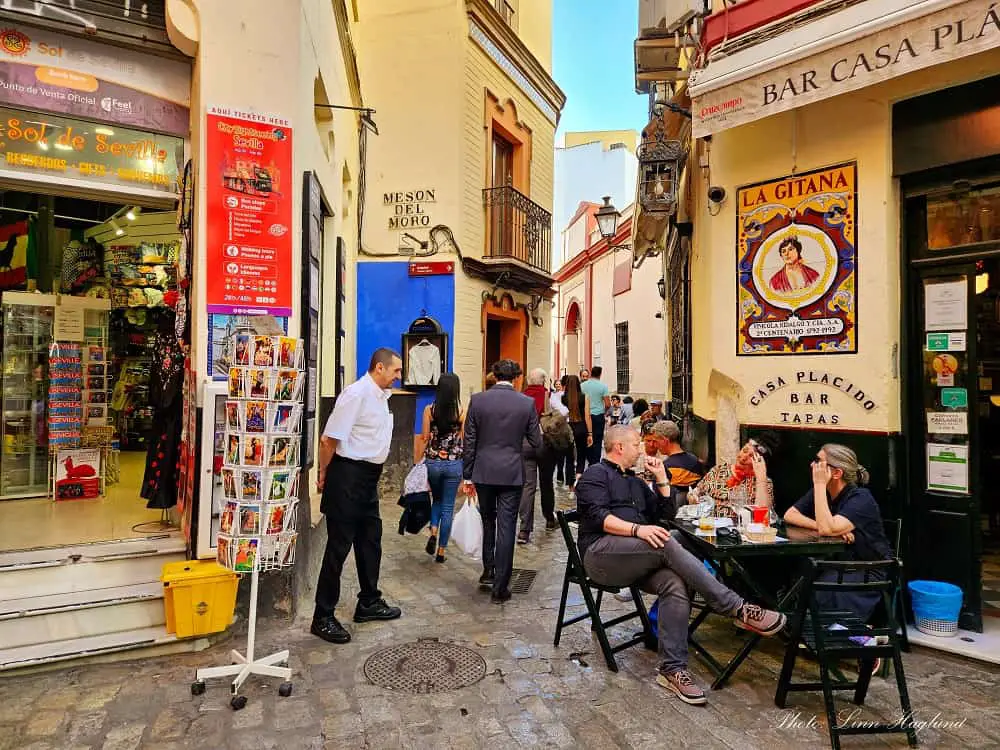 Plaza de España
Visiting Plaza de España is by far one of the best free things to do in Seville. The picturesque square is covered in Andalusian tiles from Triana. Tiled benches mark each of the 50 Spanish provinces and have become one of the most photographed things in the city.
The half-circle square has a glittering canal crossed by traditional tiled bridges and one of the popular things to do there is an idyllic row boat trip along the canal giving it the nick name of Seville's Venice.
Opposed to what you might think, Plaza de España is a fairly recent addition to the city compared to other top attractions, dating back to 1928. It was built to hold the country's technology and industry exhibits.
In my humble opinion, Plaza de España is the prettiest place in Seville and an absolute must-visit even though it is a bit of a walk from the center.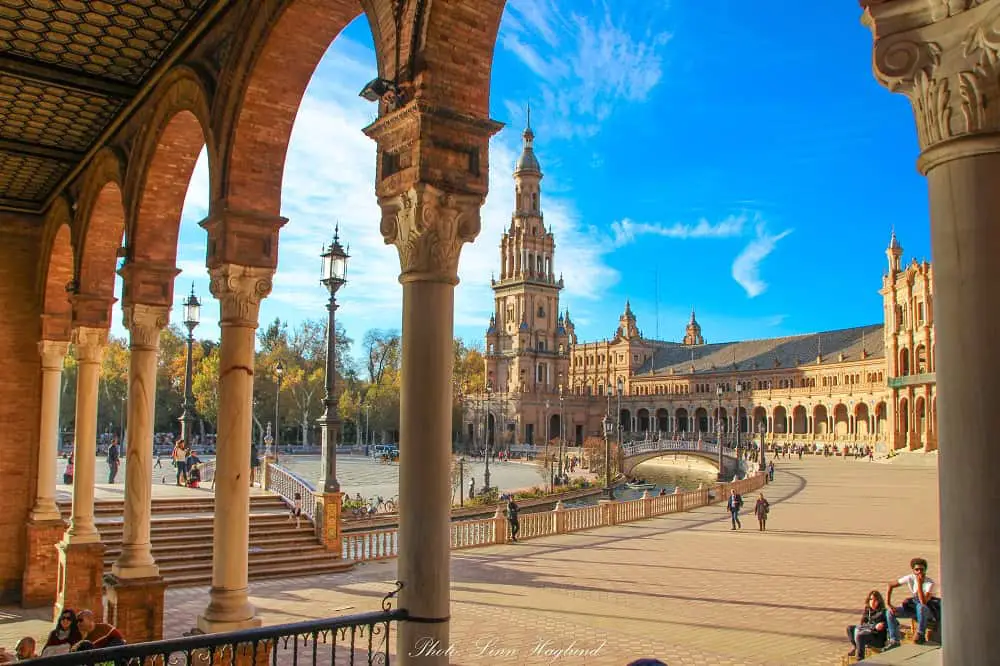 Stroll through Maria Luisa Park
Right next to Plaza de España, you find Seville's largest and most beloved park. The Luisa Maria Park was originally part of the private gardens of San Telmo Palace.
It was donated to the city in 1893 and is a wonderful green space to stroll under the shade of the trees past beautiful fountains and flowers.
Walking down the park, you will reach the Guadalquivir River, where you will be heading next.
Boat cruise on Guadalquivir
The Guadalquivir River has been an important part of the thriving city of Seville for centuries. The most iconic attraction along the river is the 13th-century Torre del Oro (Tower of Gold.)
It was built by the Moors and was originally part of the city walls and was used to control ships coming up and down the river. Now, there is a small naval museum inside.
In front of the tower, you find the ticket office of the basic boat tours of the Guadalquivir River. I do recommend, though, to book in advance as they only depart at certain times, so that you know your departure time in advance.
Once, I got there and had to wait for an hour, which is kind of wasting of time when you are on a short Malaga to Seville day tour.
There are also other boat cruises you can choose from. I have written a post about my top picks that you can read here.
Otherwise, you can reserve the basic one which lasts an hour and takes you along the river with an interesting audio guide to learn more about the river.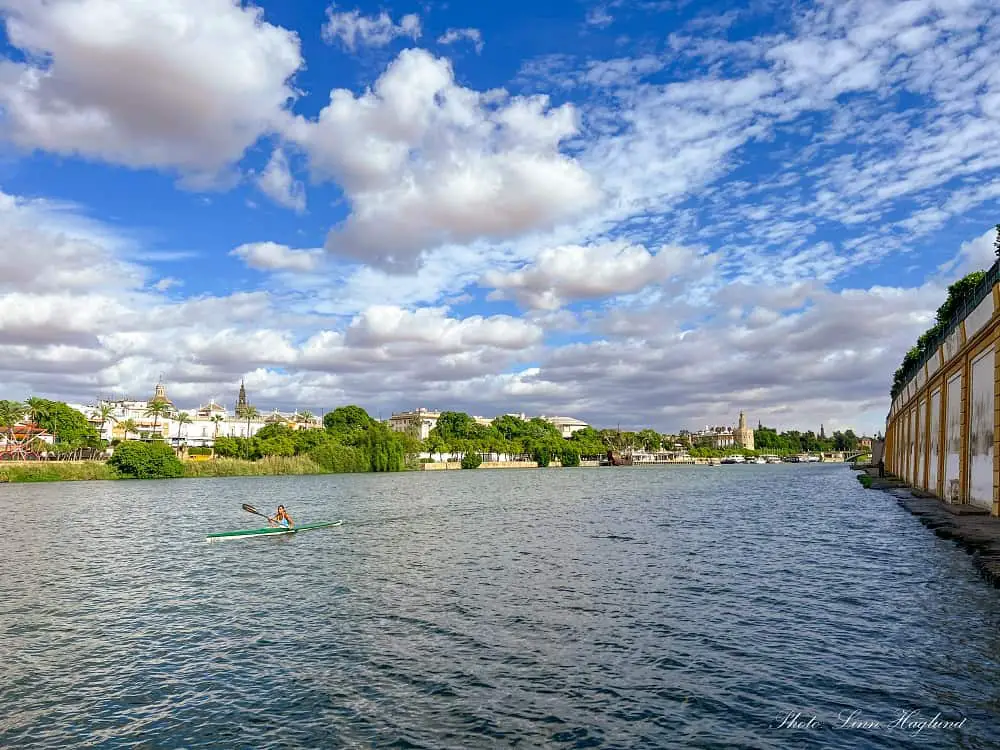 Flamenco show
End the day with dinner and a Flamenco show. There are multiple Flamenco joints in Seville and you will find many of them around the Santa Cruz and Triana neighborhoods.
Flamenco is such an important part of Andalusian culture, let alone Seville, that it would be a pity to leave without experiencing it.
Centrally, the shows at Casa de la Memoria are top quality and I highly recommend it for a day trip. If you stay longer, get a bit out of the center and experience one of Spain's best Flamenco houses at Tablao Flamenco El Arenal. It is a small and intimate venue with some of the best artists in the country.
However, coming from the river after the boat tour, you might find it easy to go straight across the Triana Bridge to experience a Flamenco show in the neighborhood where the art form is said to origin in Seville, Triana.
This is also an area with plenty of local restaurants and bars making it the perfect place to try traditional tapas outside the tourist center.
Check availability for Triana Flamenco shows here
Reflections on a day trip to Seville from Malaga
While it is not the shortest of day trips you can do from Malaga, it is definitely worth going on a Malaga to Seville day trip if you do not have more time to spare.
Just make sure you book early, my friend recently came to Malaga and we tried to book a trip for her for the next day, and it was all booked out. So she had to skip Seville on this visit. Don't let that be you!
With a day in Andalusia's capital city, you will get a good taste of what the city has to offer and I am sure you won't regret it.
Organize your trip well in advance and happy travels!