You're heading to Andalucia's capital city, and wondering what to do in Seville. With a cultural heritage formed by a dramatic history of multiple rulers – from the Romans to the Moors – the city is jam-packed with historical attractions.
From soaking in the sweet scent of orange blossoms while getting lost in the cobblestoned streets to partying like a local at one of the biggest Ferias (city fairs) in the country, there are endless things to do in Seville, Spain, that will blow your mind.
After living in Seville for a year and a half and a total of 10 years in Andalucia, I've explored the city in-depth – and truly know it like a local.
In this post, I'll show you the best things to do in Seville so that you can make the best of your stay, whether you have one or three days in Seville, or you're planning on a longer stay.
Disclosure: This post may contain affiliate links. That means that if you make a purchase through one of those links, I will get a small commission at no extra cost to you.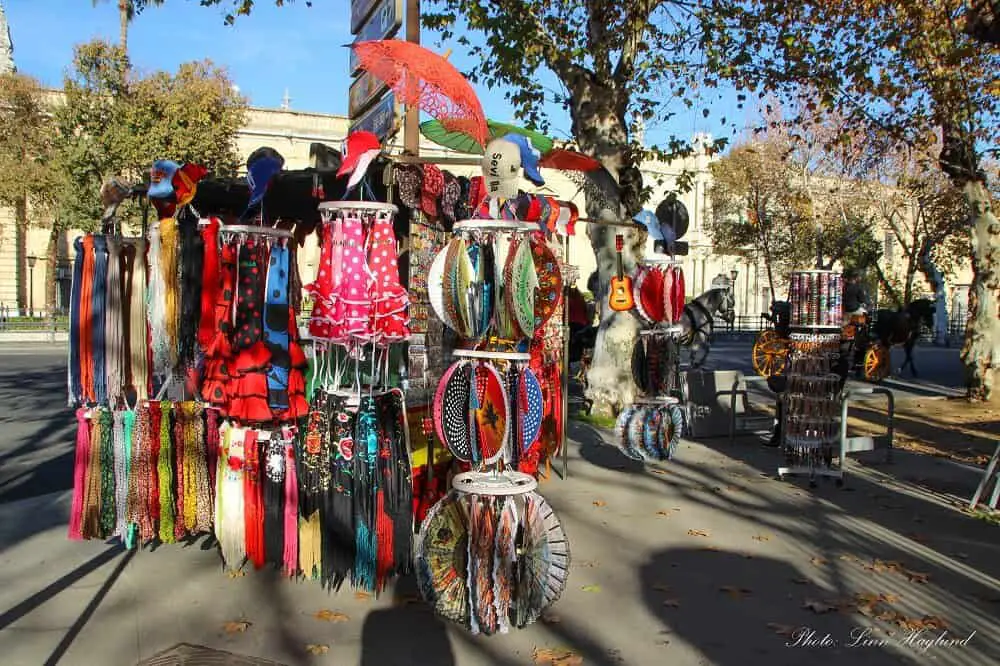 Best things to do in Seville, Spain
With so many amazing things to do in Seville, I've picked out the best, including the most important celebrations in Seville. Because if there's one thing they know how to do in Seville, it's to celebrate and party!
Visit Seville cathedral
Seville Cathedral is, together with the Alcazar, a UNESCO World Heritage site and one of the most astounding cathedrals in Spain and one of the largest in the world.
Visiting the cathedral is a must-do in Seville even if you're only on a day trip to Andalucia's capital city. Among the treasures inside, you must visit Christopher Columbus' tomb which is situated inside the church.
Historically, Christopher Columbus was buried in the New World, but when the Spanish lost power, they brought his remains back to Spain. Many cities claim to have his remains, but recent DNA tests prove that he rests in Seville Cathedral.
The splendor of the cathedral continues as you walk out to the orange garden and through the Puerta del Perdon (Gate of Forgiveness) – an exquisite example of a stucco-engraved horseshoe-shaped gate dating back from the Moors.
The best way to see the cathedral and skip the ticket queues is to get a combined ticket with a guided tour of the cathedral, Alcazar, and the Giralda.
Get your combined tickets here.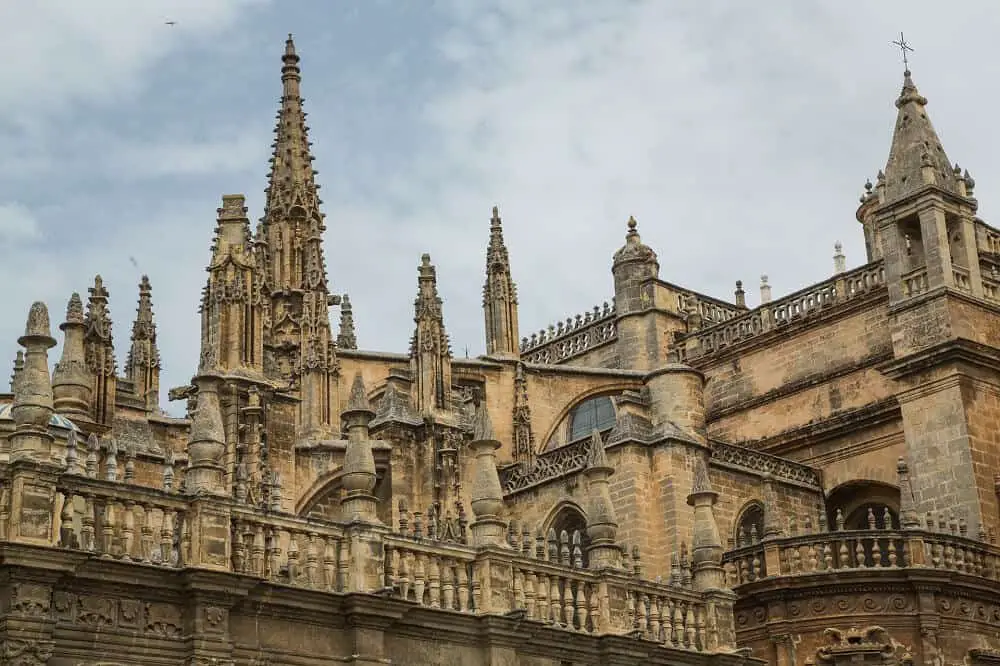 Be mesmerized by the Alcazar gardens
Exploring the Royal Palace of Alcazar is one of the best things to do in Seville, Spain. Together with the cathedral and its clock tower, the Giralda, the Alcazar is among Seville's World Heritage sites.
The Moors built the palace in the same spot where a Roman fortress had been in the year 913. During the next centuries, the palace was expanded several times. Seville's Alcazar was where all the Spanish trade with the New World was managed from.
The neatly decorated gardens with fountains and orange trees are absolutely mesmerizing and all the detailed work seen on the Arab arches and walls will take your breath away.
There is no arguing a walk through the gardens is one of the most impressive things to do. Seville, Spain has truly earned its status as one of the country's most beautiful cities with attractions like the Alcazar.
I highly recommend getting a combined ticket to see the Alcazar, cathedral, and the Giralda to skip the lines.
Get your combined tickets here.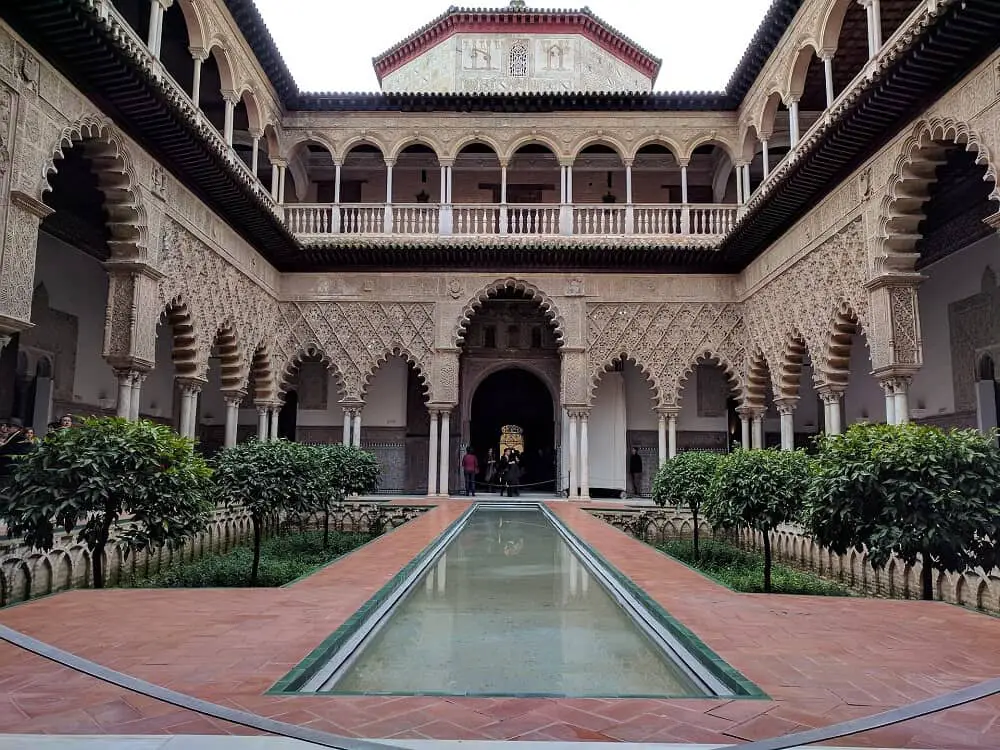 Climb the Giralda
One of the most prominent landmarks in Seville is without a doubt the Giralda tower. The cathedral's stunning clock tower was first built by the Moors as part of the mosque that once stood there.
When the Catholics took over Andalucia, they added the Renaissance-style bell tower.
In its time, the Giralda was the world's highest tower with its 97.5 meters. Inside, the Moors built ramps instead of stairs so that the sultan could ride his horse to the top to enjoy the sweeping views of Seville.
Today, one of the top things to do in Seville is to climb the 35 ramps followed by 17 steps to the top of the clock tower for the panoramic views of one of the most beautiful cities in Andalucia.
Climbing the Giralda is included in the tickets for the cathedral. I highly recommend getting a combined guided tour of the cathedral, Giralda, and Alcazar. This way you learn a lot about the history of these historic places while you don't have to worry about long ticket queues.
Get your combined tickets here.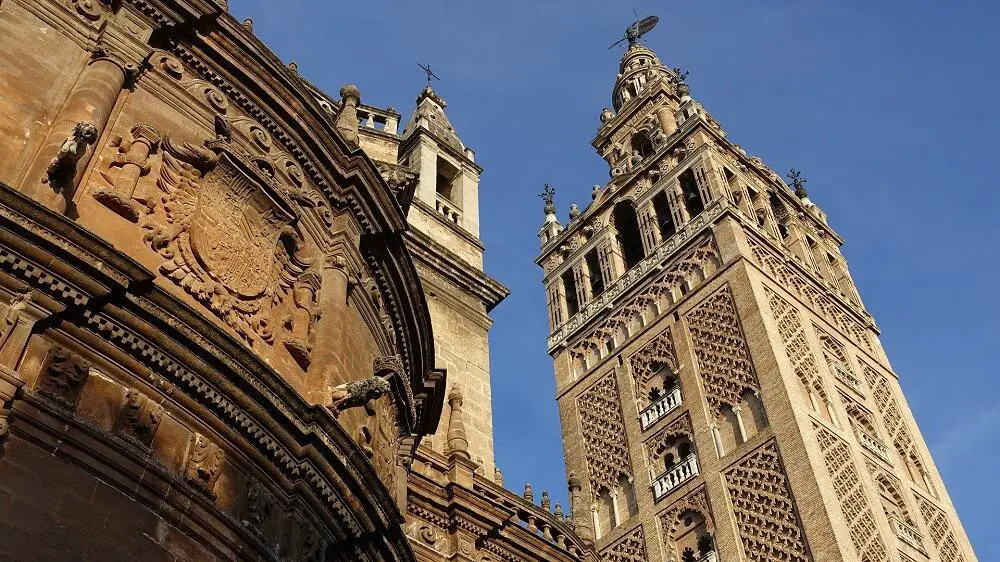 Traveling to Seville by car?
Take flamenco classes
If you're staying a while in the city, one of the really fun things to do in Seville is to take flamenco classes. There is a multitude of high-quality flamenco schools in the city, especially in the neighborhood of Triana.
But even if you don't have a lot of time in Seville, you can do a one-off dancing class. We once did that for a hen party in Seville and it was super fun!
Book your one-hour Flamenco dance lesson here.
Where are you heading next? Check out other things to do in Andalucia:
Go for a stroll in Seville's biggest park
Seville's green lung, the Maria Louisa Park, is one of the best places to go for a quiet stroll getting away from the hustle and bustle of the touristy city.
Here, you'll meet families walking their dogs while kids play in the grass, elderly people sitting on a bench soaking in the greenery, and couples cozying up on a blanket on the grass.
The Maria Louisa Park has several fountains and ancient Moorish remains dotted throughout the green space which makes it a truly wonderful place to walk around.
Why not get a cold bottle of the local Cruzcampo beer, lay a blanket on the grass, and spend an hour or two people-watching?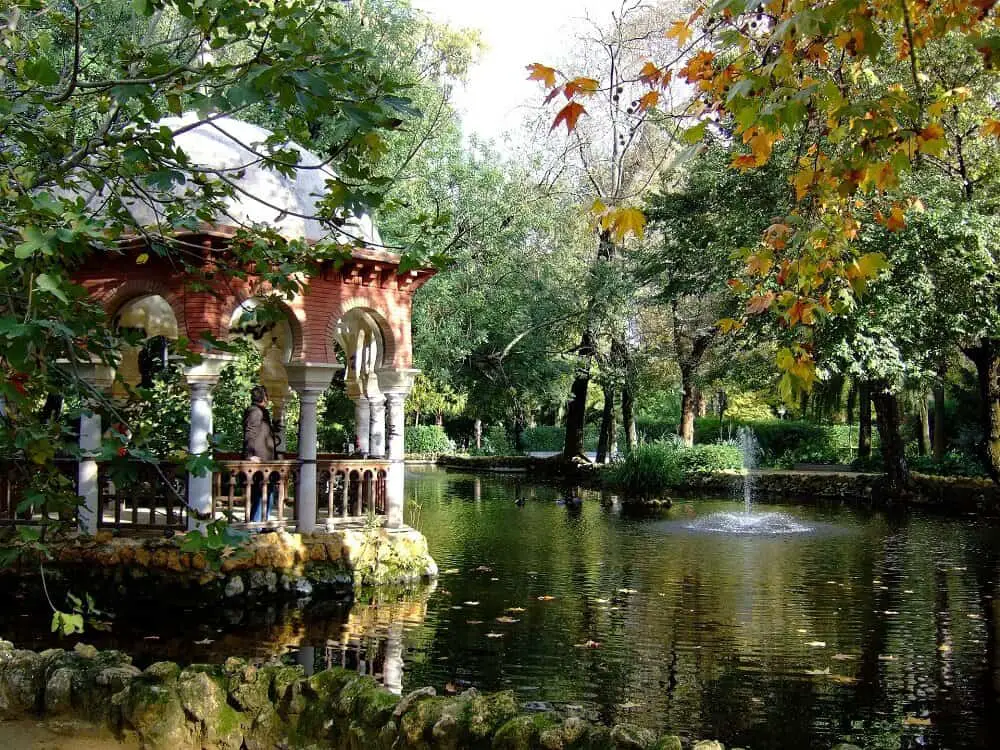 Climb the Torre del Oro
Torre del Oro is another one of Seville's Moorish remains. The 12-sided tower was once a watchtower of the fortified walls that surrounded the city during Moorish rule.
Torre del Oro means the Tower of Gold. It's said that the name derives from the tower being a storage place for gold transported from the New World – and not the fact that it was covered in golden tiles when it was built.
As one of the most prominent historical attractions, climbing Torre del Oro is one of the top things to do in Seville. You'll be rewarded with sweeping views of the Guadalquivir River and the city.
You can also visit the naval museum in the tower dating back to 1944. The museum showcases a vast collection of old maps, flags, diving equipment, and scale models of ships, among other things.
Experience a show at Lope de Vega Theater
Lope de Vega Theater is one of the most important in the country. Beautifully situated in Maria Louisa Park, the 1929 Neo-Baroque building will make you turn your head as you pass.
But also the inside is spectacular with more than 1000 seats and it's well worth going on a show. You can see anything from theater shows to flamenco, opera, and jazz in the Lope de Vega Theater, so pick out your favorite and check what's coming up during your visit.
If you're looking for things to do in Seville at night with a touch of culture, this is one of the least touristy things you can experience.
Note! It's closed for renovation in 2022 (last updated October 2022.)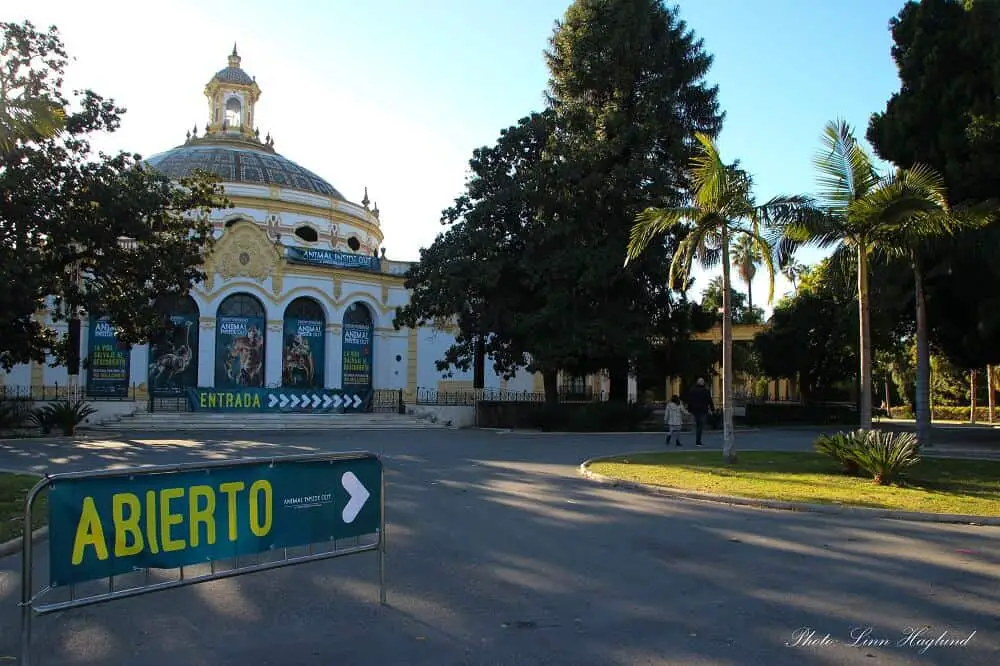 Go on a boat trip on Guadalquivir
If you prefer the comfort of a boat over the adventure of kayaking or paddleboarding, make sure you board one of the Seville river cruises taking you down the Guadalquivir river.
You can't be in a city with a river without exploring it from the water. The Guadalquivir has such a rich history and is an important part of Seville all the way back to when it was a walled Roman city.
Book your Guadalquivir boat cruise here.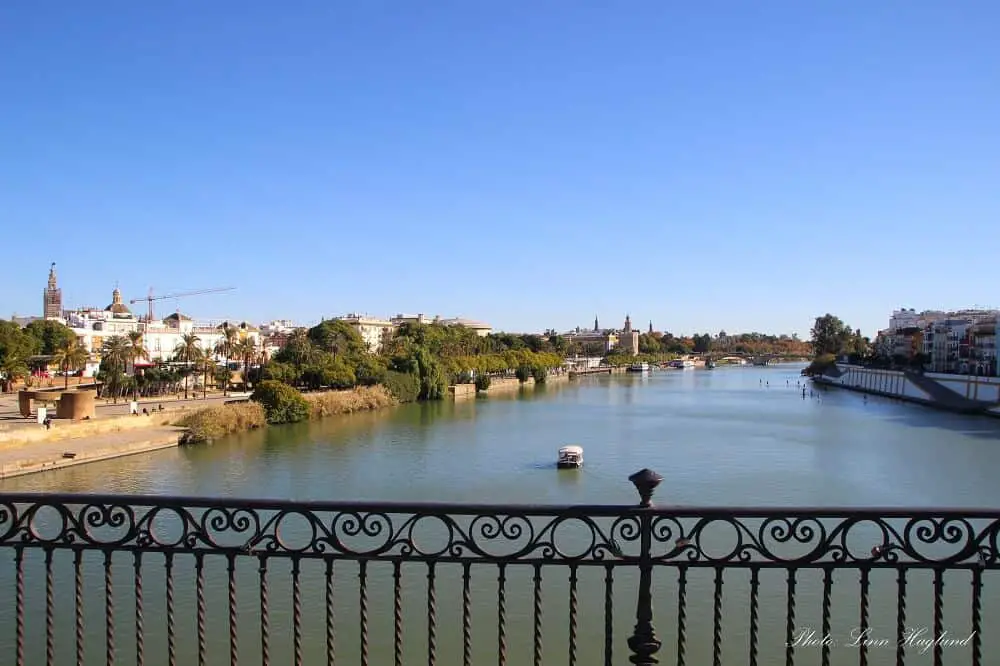 Let yourself get lost in Barrio de Santa Cruz
Once a local neighborhood in the center of Seville, right behind the cathedral, the old Jewish quarter, Barrio de Santa Cruz quickly gained popularity among tourists for its charming streets and enchanting bars and restaurants.
Today, it's one of the most popular tourist areas in Seville. So, is it really worth going? If you ask me, yes. The first time I wandered the streets of Santa Cruz, it was surely a different experience. Yet, I find it snug even though the coolest places I used to go to aren't there anymore.
Santa Cruz is always full of life and the narrow streets and historical buildings hide vibrant flamenco bars and tapas bars waiting for you to enter. This is also one of the best areas to stay in Seville, especially if it's your first time.
Book a guided walking tour of Barrio de Santa Cruz here.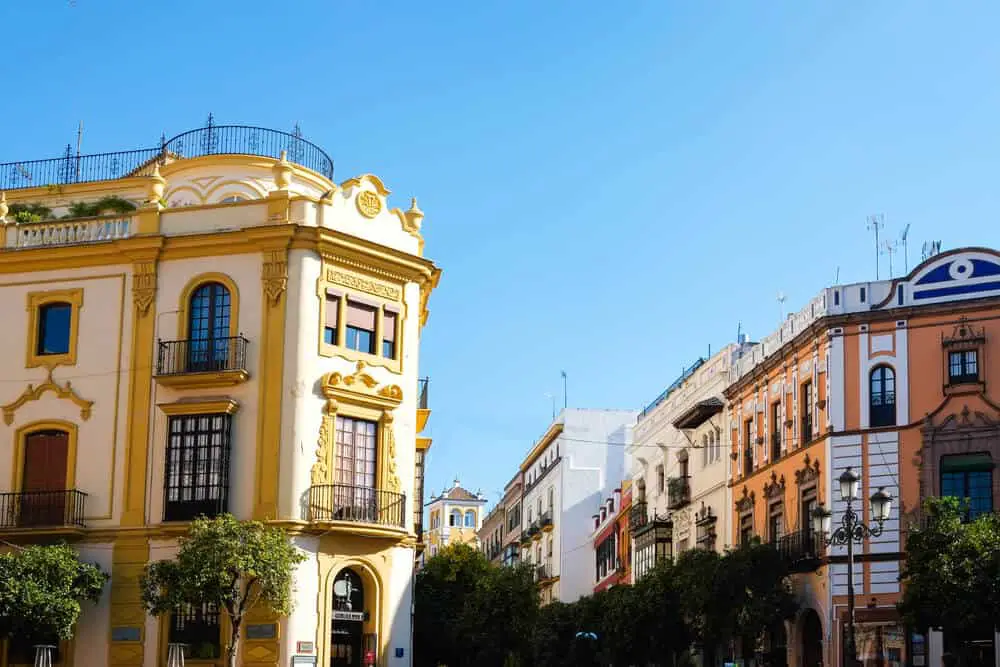 See a Flamenco show at Casa de la Memoria
When in Seville, Spain, things to do must include a flamenco show. There are several great places to see flamenco shows, but one of the most popular is Casa de la Memoria, in the Cultural Flamenco Center of Seville, in the middle of the historic center.
The Cultural Flamenco Center of Seville was established in 1999 and is now situated in a historical building from the 15th century.
The shows are popular among tourists and locals alike and you'll get an intimate experience close up with the artists as the venue is quite small. Those are truly the best places to experience flamenco, in my opinion.
Book a spot for a show at Casa de la Memoria here
Other relevant articles you might like…
Have fun at Isla Magica
If you're wondering what to do in Seville, Spain with the kids on a hot spring or autumn day, Isla Magica is the answer! I don't say summer, because in summer you shouldn't be in Seville at all.
It simply gets too hot!
You should rather be in a coastal city like Cadiz or Malaga, or enjoy a smaller town with a beach like Conil de la Frontera or Caños de Meca.
Isla Magica offers numerous rides that include water activities to keep you cool on hot days. On top of that, there are heaps of fun rides for all ages to enjoy. If you're up for a diverse action-filled day, this is the place to be!
Take photos at Plaza de España
Plaza de España is no doubt one of the most picturesque places in Seville, Spain. Things to do are plenty, like taking a boat ride in the lagoon which gives the site the nickname "The Venice of Seville".
However, the best thing to do is to walk around the half-circle-shaped structure and admire the tiled benches – each one marked with one of the 50 Spanish provinces.
They make for perfect photo backgrounds – but they are also divided by little bookshelves where travelers can swap books. No wonder why this is one of my favorite places to read a book. The plaza was also used as a filming location for Star Wars.
In comparison to other top attractions in Seville, Plaza de España is a fairly newish building, only dating back to 1928. It was built as a place to display Spain's technology and industry exhibits.
Believe me when I say that this is one of the absolute best free things to do in Seville!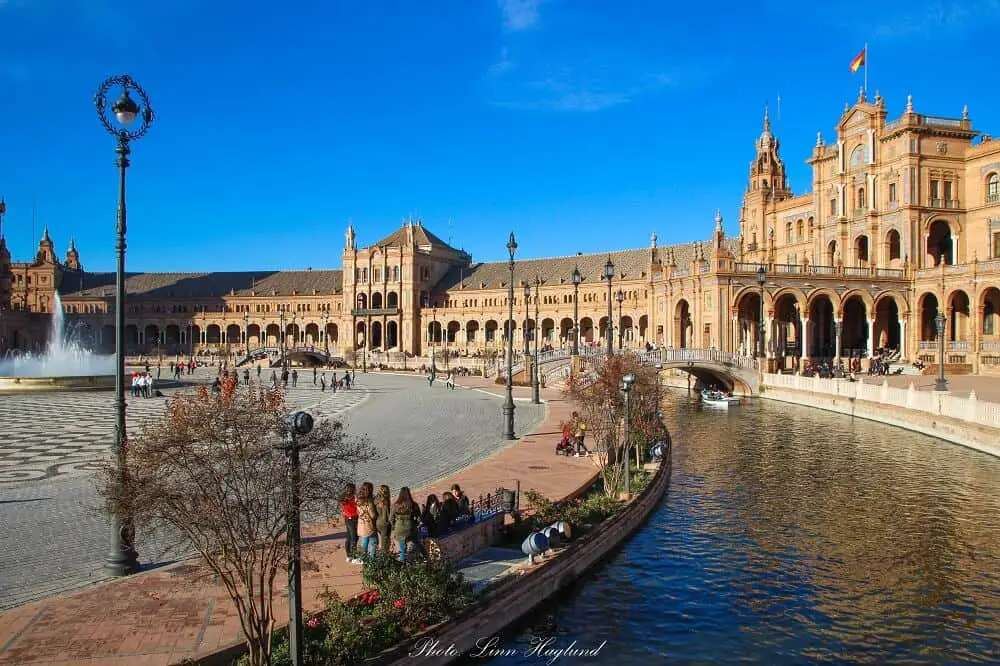 READ MY CURATED SEVILLE ITINERARIES
Discover the ruins of Italica
One of the best day trips from Seville is a trip to the well-preserved ruins of Italica. Built in the year 206 BC, the ancient city of Italica developed to become one of the most modern cities of the Roman empire.
Italica was the birthplace of a number of senators as well as the emperors Trajan and Adriano. It was first when the Moors took over Andalucia that the city was left.
A visit there gives you an amazing insight into the history of the ancient city and the remains are incredible. Especially the well-preserved mosaics are impressive.
For Game of Thrones fans, the site is a must. The 8th season of GOT was filmed in Italica!
The ruins of Italica are only 9 kilometers outside Seville and can easily be reached by bus from Santa Justa. It only takes 20 minutes. You can find the updated opening hours on the official web page.
The best way to explore Italica is on a guided tour. with a local guide, you'll learn everything about the ruined city and any questions will be answered.
If you need transportation from Seville to Italica, this tour is for you.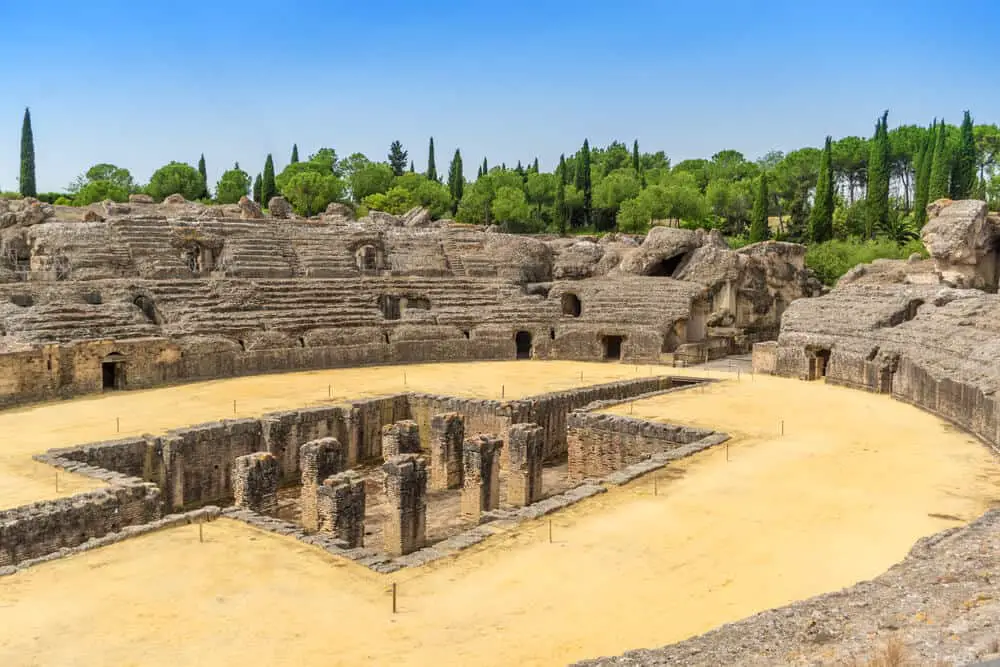 Eat at Triana Food Market
Triana Food Market is surprisingly enough one of the most popular in Seville, despite first being opened at its current location in 2001.
Situated at the Triana side of Puente de Triana, this is a stunningly beautiful food market decorated with traditional Andalusian tiles where you can find fresh, local food.
Foodie or not, a visit to the Triana Food Market is one of the best things to do in Seville. While the city isn't exactly the best for vegetarian and especially vegan food, there are a few options.
Book a Triana Market tour here.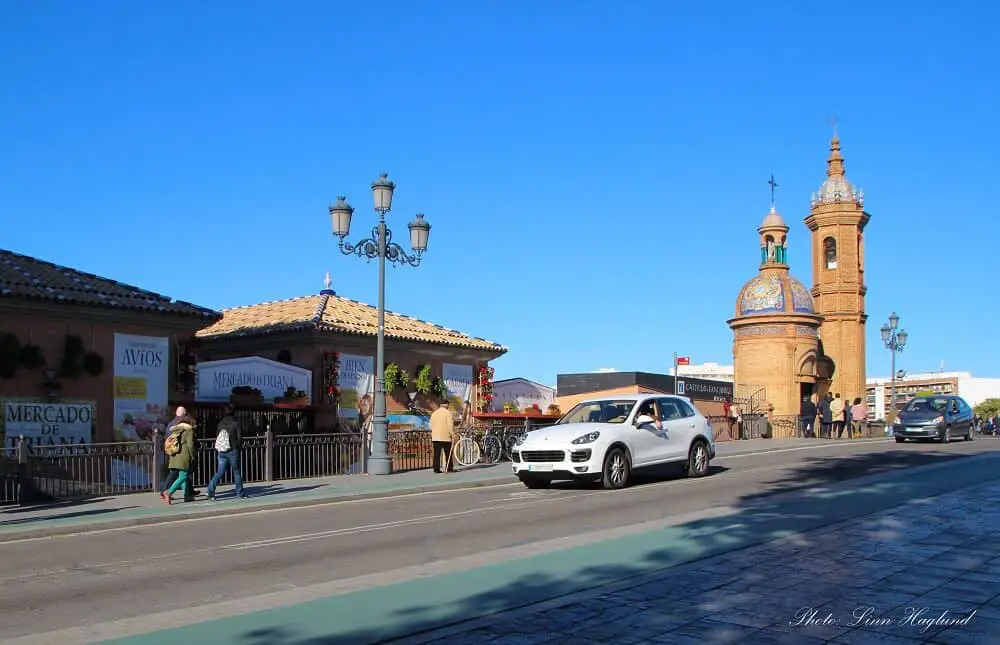 Go for drinks in Alfalfa or La Alameda
If you fancy some drinks after a long day of sightseeing, the best areas to go for drinks are either Alfalfa or La Alameda. Don't worry about taking your drinks out in the streets and joining the crowds on the Plazas.
The locals in Seville love to party and they're loud – as you'll notice is quite normal in Andalucia. Give in and enjoy!
Another typical way of having drinks in Seville, especially among the younger crowds, is the so-called Bottellón. In certain places, you'll see large gatherings of people drinking and chatting on the street.
Instead of buying drinks in the bars, youngsters go together and buy beer and spirits, plastic glasses, and ice cubes and mix their drinks on the street. If you happen to make friends in Seville, there's a big chance you'll get invited.
This is truly the core of Seville's younger crowd's drinking culture. Most likely because, as opposed to northern European countries where it's colder and people move out from their parents at a younger age, in Seville, it's warm enough to be outside and most people will live with their parents until they finish their studies or move in with a partner – often until their 30s.
Join Spain's most famous Easter celebrations
Holy Week is celebrated big throughout Spain and the most famous of them all takes place in Seville. I guess I don't have to convince you, this is one of the most unique and unusual things to do in Seville.
While we in other parts of the western world associate Easter with the Easter bunny and Easter eggs, in Spain, it's quite different.
Holy Week is a highly religious event with large processions, Cofradías. "Nazarenos", people dressed in long robes and pointy hats only showing their eyes (and ferociously similar to the Ku Klux Klan) march together with massive statues of sacred figures.
The people carrying them (you won't see them, they're hidden under the statues) train for a year in advance to do this task.
Depressive music fills the streets as the processions go by. There are multiple processions, even at night. The street gets crowded with spectators and especially the kids are excited as they've brought a ball of foil that the Nazarenos drip candle wax from their candles onto as they walk past.
It's all about getting the biggest ball of candle wax!
If you're planning on doing sightseeing in Seville, Holy Week is not the right time to go, but if you want to dive into a traditional experience, this is truly worth it!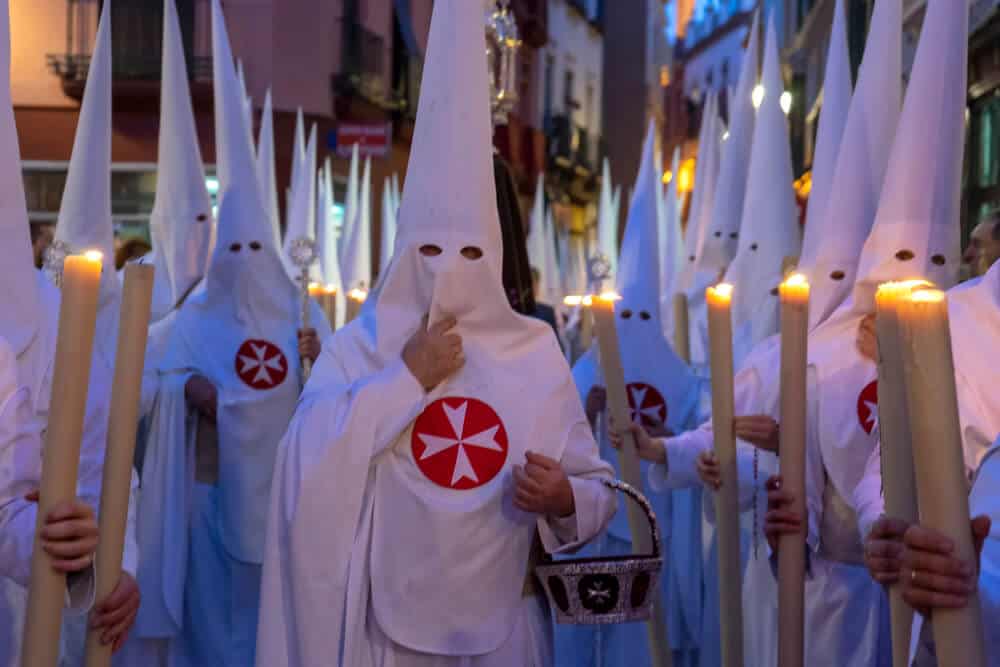 Party like a local at the Feria de Abril
The April Fair, Feria de Abril, is one of the most unique fairs in Spain and takes place every year exactly 2 weeks after Easter.
There is a dedicated area where more than 1000 party tents – mostly privately owned – offer live music, usually Sevillana, and serve food and drinks. The Rebujito, a sherry drink, is the most widely drunk liquid at the feria and has to be tasted.
On the opening day, the lighting of the fair entrance, a massive portal that is unique each year with thousands of lights take place. This is the kick start of a week-long party where flamenco dresses sway through the streets, horses are ridden throughout the days, and long nights of music and people dancing the Sevillanas fill the fair area.
Next to the party tents, in Calle del Infierno, there is a fairground with multiple rides, games, and food stalls that kids and adults alike enjoy.
However, there's one perk with the Sevilla April Fair. Most of the party tents (casetas) as invite-only. This means you need to know someone in Seville that has tickets that can get you in. Most locals either have a caseta, work in a company that has a caseta, or have friends that have a caseta.
If you don't know anyone that can get you into the privately-owned party tents, don't worry. There are a few public ones too and they offer a whole lot of fun, live bands, and high vibes. And most importantly, lots of Rebujito!
Tip! Try to catch the Ferris wheel at midnight on the last day of the fair to see the fireworks from the air.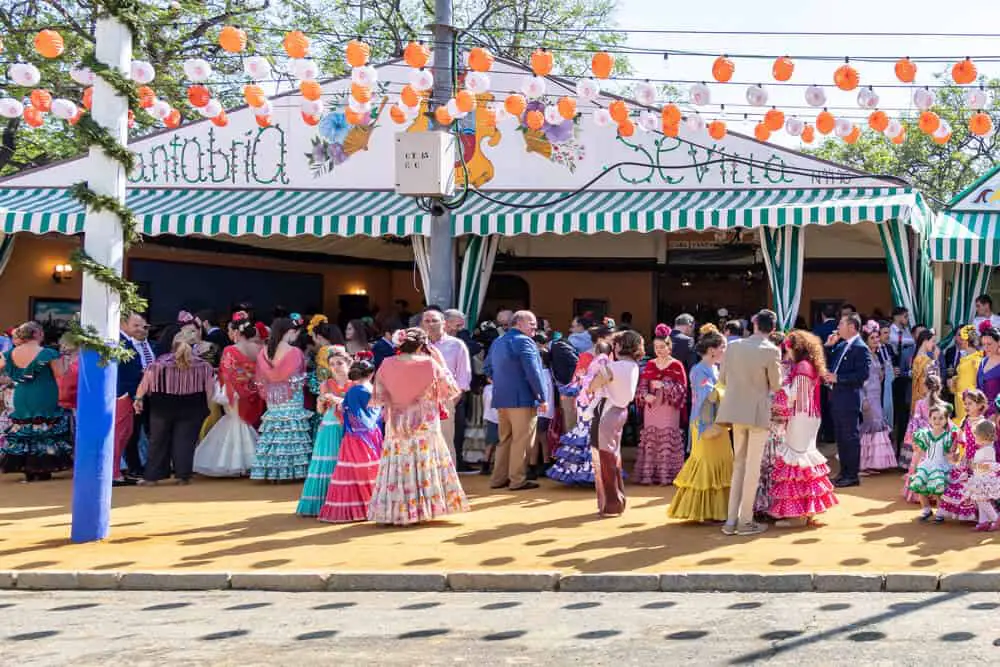 Get a bird's eye view of the city from the Metropol Parasol
The most hated building among locals has turned into one of the most popular tourist attractions in Seville. Things to do include visiting the archaeological site below the Metropol Parasol, locally called "Las Setas" (the mushrooms,) and climbing the top of the structure where you'll get a bird's eye view of the entire city.
The Metropol Parasol is one of the city's newest attractions and was first built in 2011. Most locals argue that the weird, modern architecture doesn't fit into the rest of Seville which is such a beautiful, historical city.
I actually agree.
Yet, it's one of the most popular things to do in Seville, so I couldn't leave it out of this list.
Book a Metropol Parasol Virtual Tour here.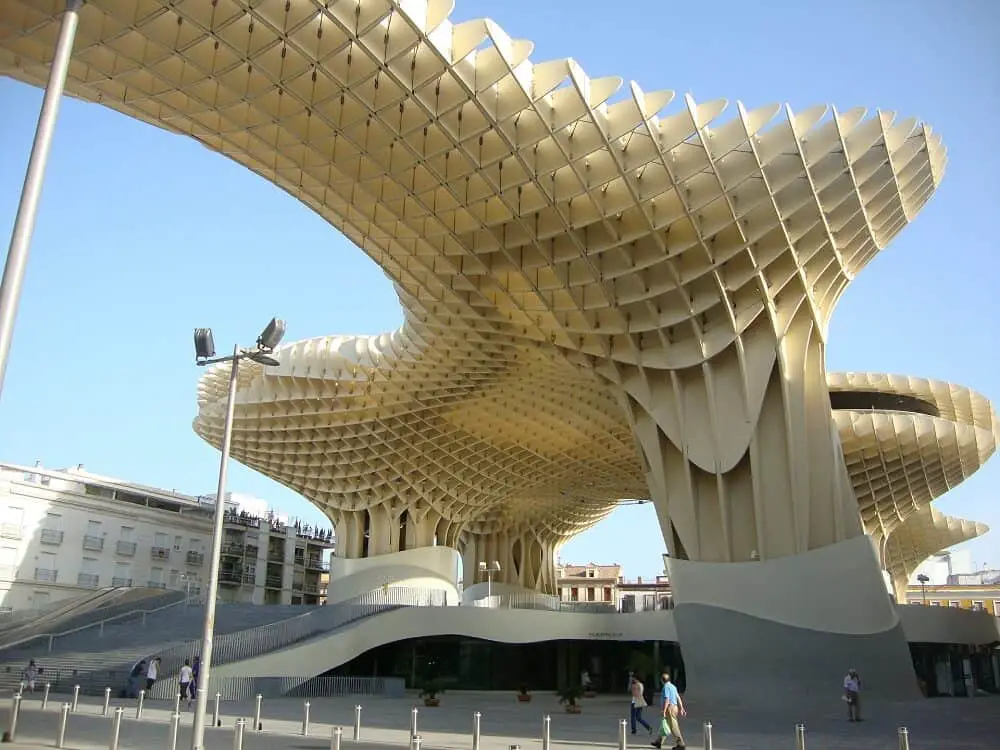 Go on a tapas tour
If any place in Spain is famous for its tapas, it's Seville. Thus, it shouldn't come as a surprise that going on a tapas tour is one of the best activities in Seville, especially for foodies.
There aren't that many options for vegetarians and vegans, unfortunately, yet I often get surprised when asking for veg options. The more remote you go, the fewer options you usually find.
However, some naturally vegan tapas are pisto (veggies in tomato sauce,) tomate aliñado (fresh tomato and garlic with olive oil and salt,) salmorejo (cold tomato soup,) gazpacho(cold tomato soup,) and espinaca con garbanzos (spinach and chickpeas.)
You can also get stir-fried mushrooms with garlic, fried asparagus, or other vegetables in some places – just make sure you tell them to not adorn the plate with ham etc.
You might also find a paella de verduras (vegetable paella) that's naturally vegan, though it's not a tapas portion, it's a great option if you're hungry.
Go to a football match
Seville has two football teams, Real Betis and Sevilla, and the rivalry is huge. No matter which team you choose to see (spoiler: I'm a hard-core Betis fan!) you'll be up for a treat watching a match at either stadium.
Football is important for most locals and the team they're devoted to has been bred into their lives from childhood. If you can't get tickets to a match at the stadium, there are dedicated bars for each team.
It's pretty cool to go there to watch a match too. These bars are called Peñas. Look for a Peña Betica or a Paña Sevillista and drink Cruzcampo like a local while watching the match!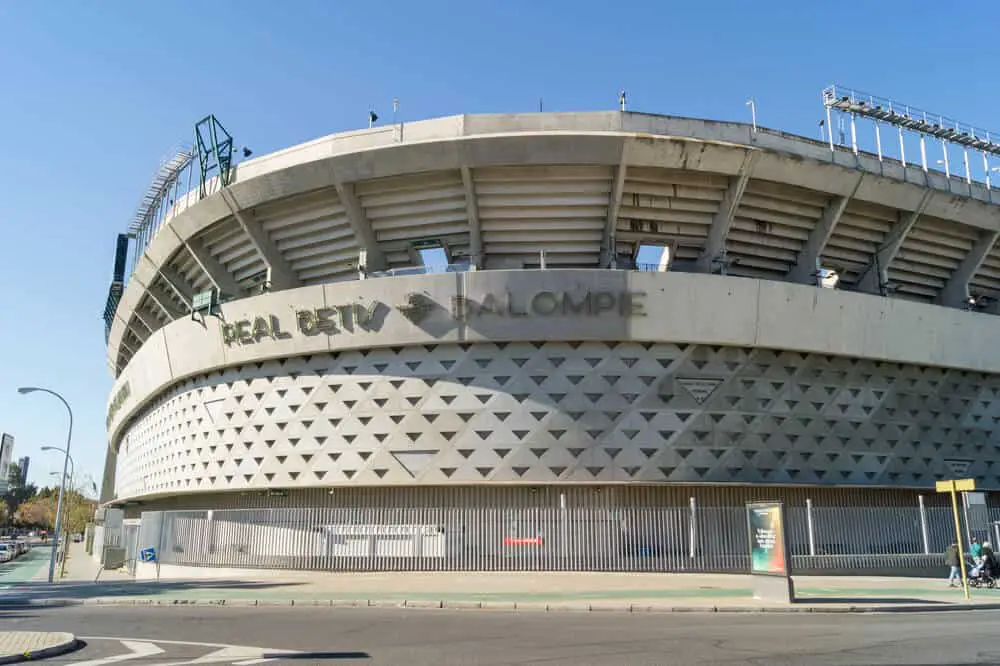 Eat 12 grapes for good luck at NYE
If you happen to spend New Years' Eve in Seville (I highly recommend it!) you have to get hold of 12 grapes for the countdown.
The city squares are jam-packed with people celebrating, but compared to other countries where people hold their glasses high during the countdown, the Spanish are busy chewing grapes.
For the 12 seconds to midnight, it's all about eating one grape a second for good luck in the new year. Once the grapes are swallowed, cheers, kisses, and hugs are exchanged.
Explore the Guadalquivir River by paddleboard
Active travelers will love taking a paddleboard down the Guadalquivir River. As an option to boat rides, this gives you a close-up meeting with what has been the most important transportation source for Seville for centuries.
Organized paddleboard tours will take you past the pastel-colored houses of Calle Betis and under the historical Puente de Triana bridge. This is a great way to get some exercise on your trip to Seville.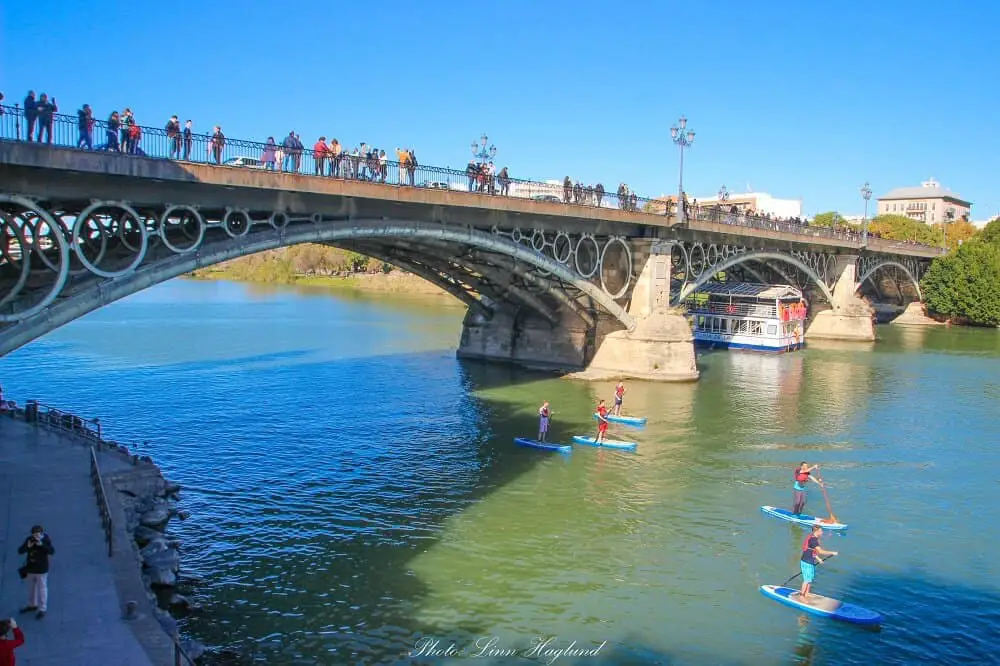 See the Three Wise Men for Reyes
Reyes is the most important Christmas celebration in Spain and happens on the 6th of January when the Three Wise Men came with gifts to the baby Jesus.
From the 5th of January, you can witness big parades going through the city. The Three Wise Men sit on massive floats throwing candy at the spectators. This is a major highlight in any kid's Christmas in Seville.
Presents are exchanged on the 6th of January. And although more and more families are taking to giving gifts, mostly to the kids, on Christmas Day too, this is the traditional day for giving gifts in Spain.
For a traditional treat, try a Roscón de Reyes with your coffee. This round-shaped cake is filled with cream and decorated with candied fruit in different colors. Inside, there's a tiny figure of a king. Who gets the king has good luck for the rest of the year.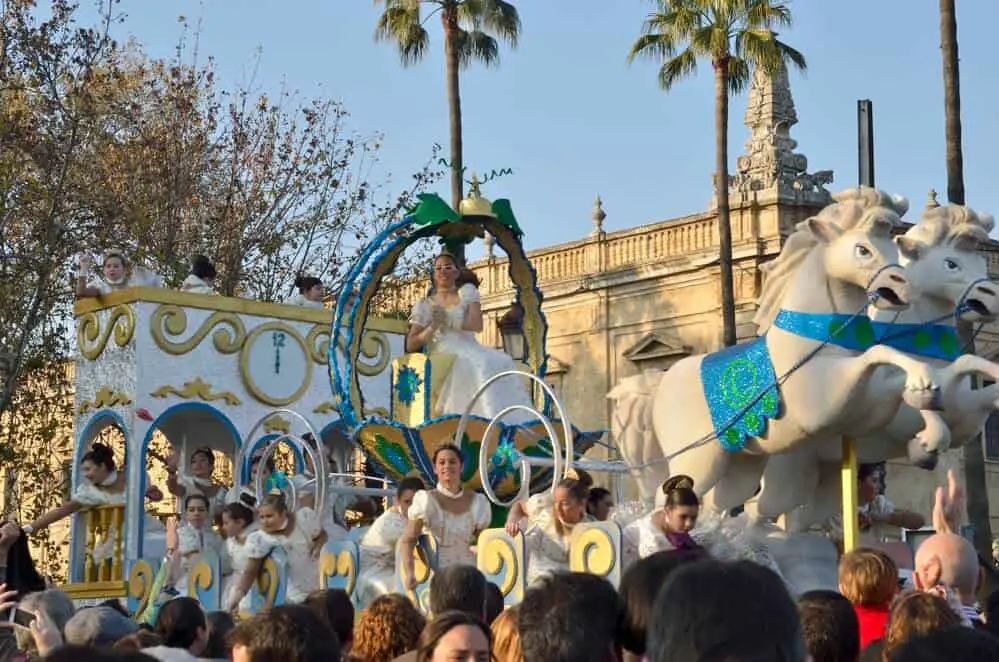 Stroll along the Guadalquivir river
The Guadalquivir River has been the livelihood of Seville all the way back to the 2nd century BC when the Romans turned it into an important riverport. The river starts all the way over in Cazorla Natural Park and is the only navigable river in Spain.
Even today, it's a rejuvenating part of Seville with beautiful paths along the waterfront where you can enjoy a relaxing stroll in the sun.
Start your walk by the Torre del Oro and walk down past the Roman bridge, Puente de Triana which takes you over to the Triana Food Market. The riverfront is popular for locals to go for a walk or a cycle.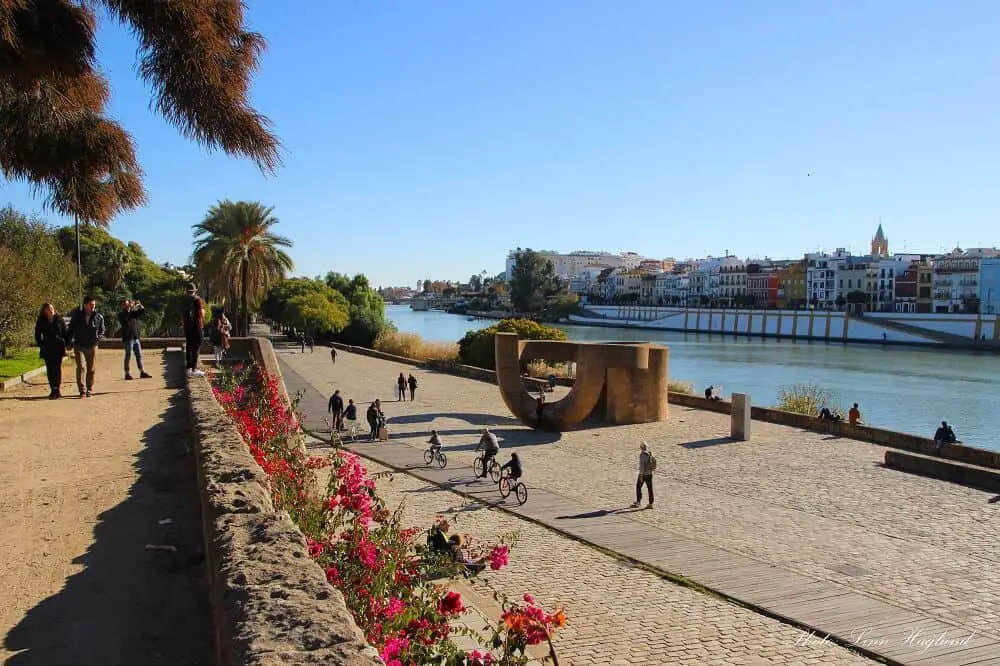 Have a drink at Calle Betis at sunset
One of the best places for a drink with sunset views is Calle Betis along the Guadalquivir River. There are multiple bars lined up where you can say with certainty you'll be treated to one of the best views for sunset in Seville.
Get a first-row seat in front of the river and watch the sun slide down behind the city coloring the Torre del Oro even more golden.
Enjoy the sky turning into a pastel color painting reflecting in the river as the surroundings get darker and the city lights up in a million lights.
The best day tours from Seville
If you base yourself in Seville and plan on exploring the surroundings, there is a multitude of unforgettable day trips from Seville you can take. Here are some of the most recommendable organized tours you can take while basing yourself in Seville.
Doñana National Park
One of two Andalusian National Parks is situated a short drive from Seville. Doñana National Park, a UNESCO World Heritage site and one of the largest wetland reserves in Europe, is unique for its wildlife and can only be visited on organized tours.
This tour takes you by 4WD through the natural parks marshlands, lagoons, and dunes while looking for wildlife, Making it one of the most unique things to do in Seville's surroundings.
This tour also takes you to the important pilgrimage town of el Rocio where one of Seville's most important pilgrimages takes place once a year and the only time the national park is open to walk and drive through.
Book your tour to Doñana National Park here.
The white villages in Andalucia
One of the best day tours from Seville is to explore the enchanting white villages of Andalucia. Unless you're on a road trip in Andalucia, it's hard to get to many of these villages, so a tour is the best way to discover this amazing part of southern Spain.
This full-day tour takes you through the must-visit town of Ronda, Zahara de la Sierra, which has the most breathtaking views of all the Pueblos Blancos, and the lesser-visited village of Grazalema which is snuggly situated in the heart of Grazalema Natural Park – at the foot of some of Andalucia's best hiking routes.
Book your white village tour here.
Gibraltar
Right at the southern tip of Spain, you find the tiny British Territory of Gibraltar. Widely famed for the Gibraltar Monkeys stealing straight from tourists' bags.
A day tour to Gibraltar is well worth your time and an unforgettable experience. Just watch your stuff when climbing the Rock of Gibraltar.
Book your day tour to Gibraltar here.
Caminito del Rey
For the adventurous, not the faint-hearted, the Caminito del Rey hike is one of the best adventures from Seville. The jaw-dropping gorge used to be the most dangerous hike in the world.
Now, it's renovated and safe for anyone to walk, security brief and helmet included. This is one of the most memorable walks in Andalucia, so unless you're heading to Malaga during your vacation and can go there from there, I highly recommend this tour to cross the Caminito del Rey off your bucket list!
Book your Caminito del Rey tour here.
Cordoba
Explore the city of UNESCO World Heritage sites on a private day tour from Seville. This is truly an experience and the underrated city of Cordoba should truly make it to your Spain bucket list.
Visit Cordoba's main attraction, the Mosque-Cathedral with the delightful orange garden, stroll around the enchanting Jewish quarter, and explore the Alcazar and Cordoba's Synagogue.
Book your Cordoba full-day tour here.
Alhambra, Granada
A day trip to the Alhambra is a must when in Andalucia. Unless you have the time to spend a few days in Granada, of course.
The UNESCO World Heritage site is one of the best-preserved Moorish castle remains in Andalucia. This tour takes you on a guided tour through the entire complex with castle, fortress, and gardens, as well as a stroll through the charming Albaicín neighborhood in Granada.
Book your Alhambra full-day tour here.
Riotinto and Aracena
Explore Spain off the beaten path on this unique day tour to Aracena and the unique red river of Rio Tinto. Aracena might just be one of my favorite towns in Andalucia with the impressive Gruta de la Maravilla caves and castle.
Rio Tinto is an old mine village with the most unique landscape in Spain, a Mars-like landscape, and a red river that NASA has been extremely interested in for decades.
Discover the rest of the province
Reflections on what to do in Seville
There are so many amazing things to do in Seville to both experience culture and history. This is truly one of those touristy cities where you don't feel much impact of tourism on the locals.
The people of Seville are very proud of their city and their customs and it will be hard to change that. Still, I highly encourage you to practice responsible tourism and respect the culture and people to do your part in keeping Seville such a confounding travel destination.
While bullfighting still is a popular activity in Seville, and unfortunately a big part of the city's bars are bullfighting bars with bullheads decorating the walls, I highly encourage you to avoid visiting the bullring. Even though you visit outside fights, the money will go to support this unethical activity.
FAQ – things to do in Seville
Is Seville safe?
Seville is a fairly safe city compared to other bigger cities in Spain like Barcelona. There are usually people in the streets at all times, but I would avoid dark alleys and empty parks at night. Pickpockets and bag snatching happen in busy areas so hold on to your belongings – something which you should do always.
What is Seville Spain most famous for?
Seville is most famous for its vibrant tapas scene, flamenco performances, and incredible Moorish architecture.
How many days in Seville is enough?
Seville has a whole lot of layers that can take weeks or months to uncover. However, anything between 3 days and 1 week will give you a good feel of the city and the chance to cover its main attractions.
Is Seville a walkable city?
Yes, Seville is a perfectly walkable city with beautiful buildings and lush parks.