Andalucia is packed with whitewashed villages nestled in the mountains, towering on top of cliffs, painting the coastlines, or overlooking valleys. Some say that if you've seen one, you've seen them all. I don't agree! Arcos de la Frontera is a great example of uniqueness, astounding architecture, and mesmerizing views.
The little white village sits on the top of a dramatic cliff looking down 150 meters vertically. There are enough things to do in Arcos de la Frontera to fill the day but if you want to connect a bit more with the friendly locals and really experience the village life you should definitely stay a couple of nights.
Arcos de la Frontera is definitely a lesser-visited Spanish village and deserves a lot more attention. This is a must-stop on any southern Spain road trip and one of the most amazing day trips from Cadiz or Seville. Read on to find out what to see and do.
Disclosure: This post may contain affiliate links. That means that if you make a purchase through one of those links, I will get a small commission at no extra cost to you.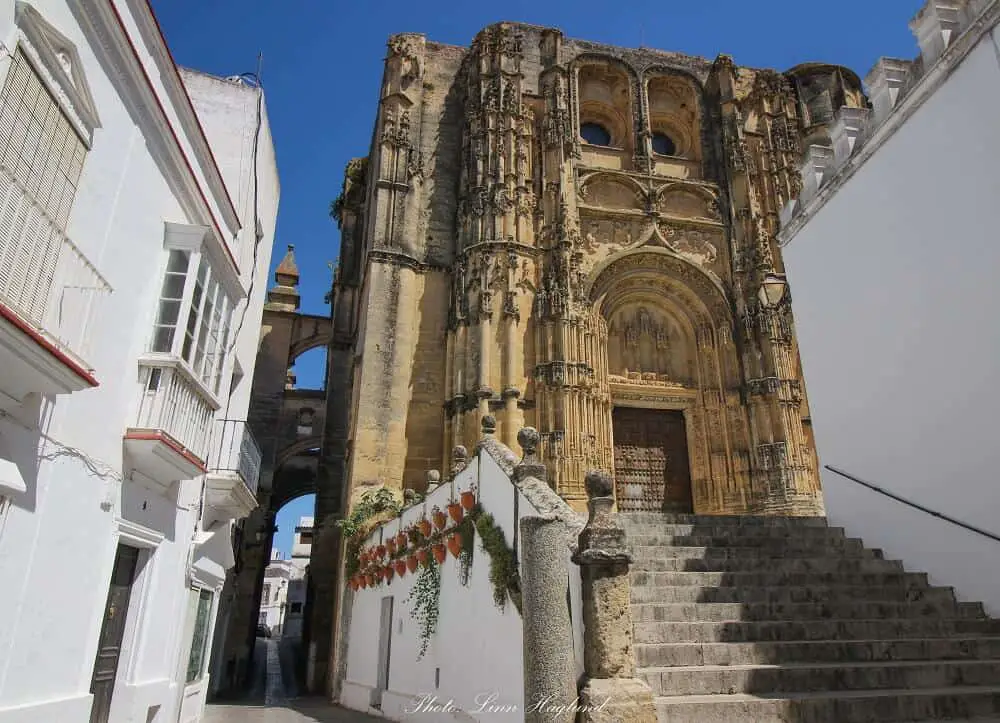 How to get to Arcos de la Frontera Spain
Arcos de la Frontera is situated between Seville and Cadiz, though public transport isn't necessarily the easiest way to get there. If you travel from Málaga, I recommend going by car. It's easy to park along the road on the outskirts of the historic part of the village.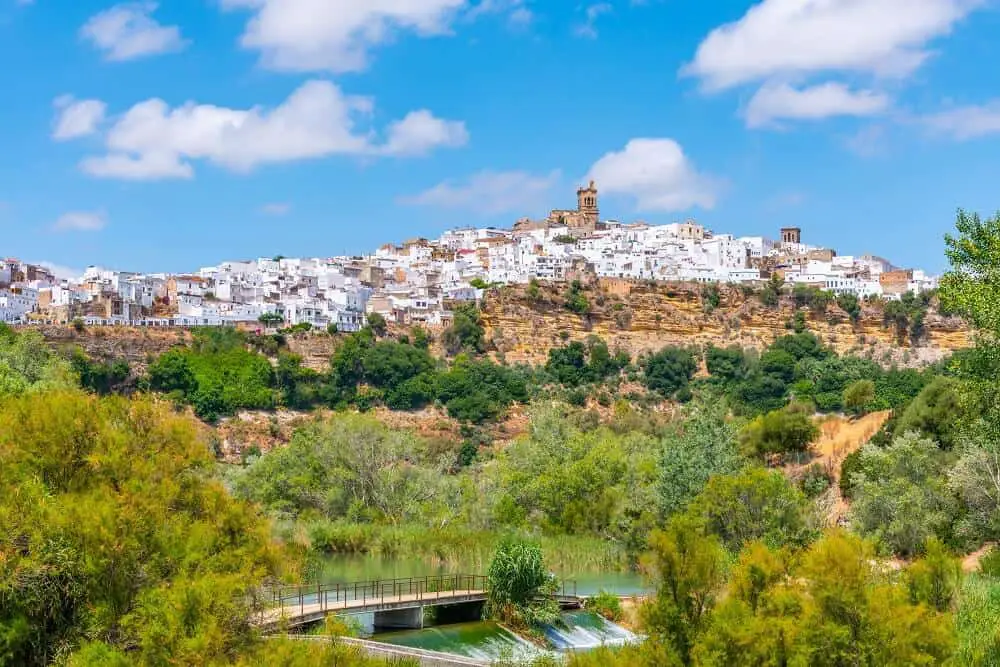 Seville to Arcos de la Frontera
Getting from Seville to Arcos de la Frontera is easiest by car. It is only a 1 hour and 10 minutes drive and the perfect day trip from Seville.
If you don't drive, there are buses to Jerez de la Frontera and you'll have to change there to continue to Arcos de la Frontera. The journey takes around 2 hours and 30 minutes.
Cadiz to Arcos de la Frontera
Arcos de la Frontera is close to Cadiz and it only takes about 40 minutes to drive. It's usually easy to find parking outside the old town and walk the rest.
Getting from Cadiz to Arcos de la Frontera by bus takes about an hour unless you have to change bus, then it can take longer.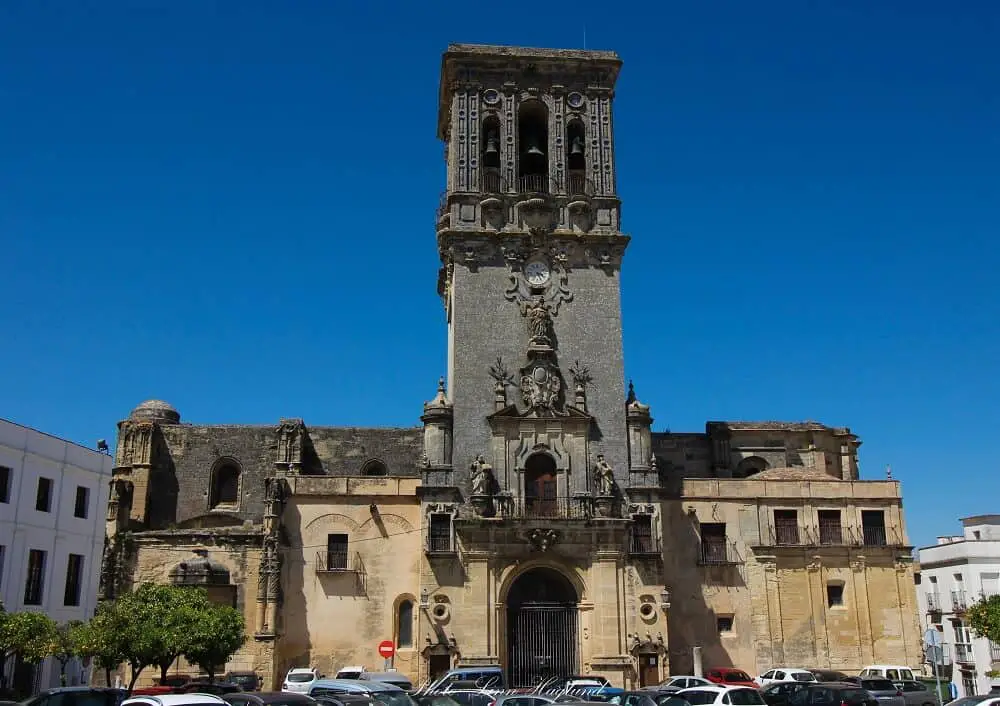 Things to do in Arcos de la Frontera
There are quite a few things to see and do in Arcos de la Frontera though the village is small. It's also good to be prepared for steep hills and there will be a fair bit of walking.
I love the hills and narrow winding roads between the whitewashed houses with the random view through hairline alleyways and arches. Arcos de la Frontera makes the perfect day trip from Seville or Cadiz.
Minor Basilica of Santa María de la Asunción
This astounding church was built on top of an Arab mosque between the 14th and 18th centuries with Gothic, Mudejar, Renaissance, Plateresque, and Baroque features. Especially the entrance is incredibly fascinating.
In 1931 the Minor Basilica of Santa María de la Asunción was declared a National Monument. Just by witnessing this impressive site, there is no doubt that Arcos is one of the most charming villages near Seville.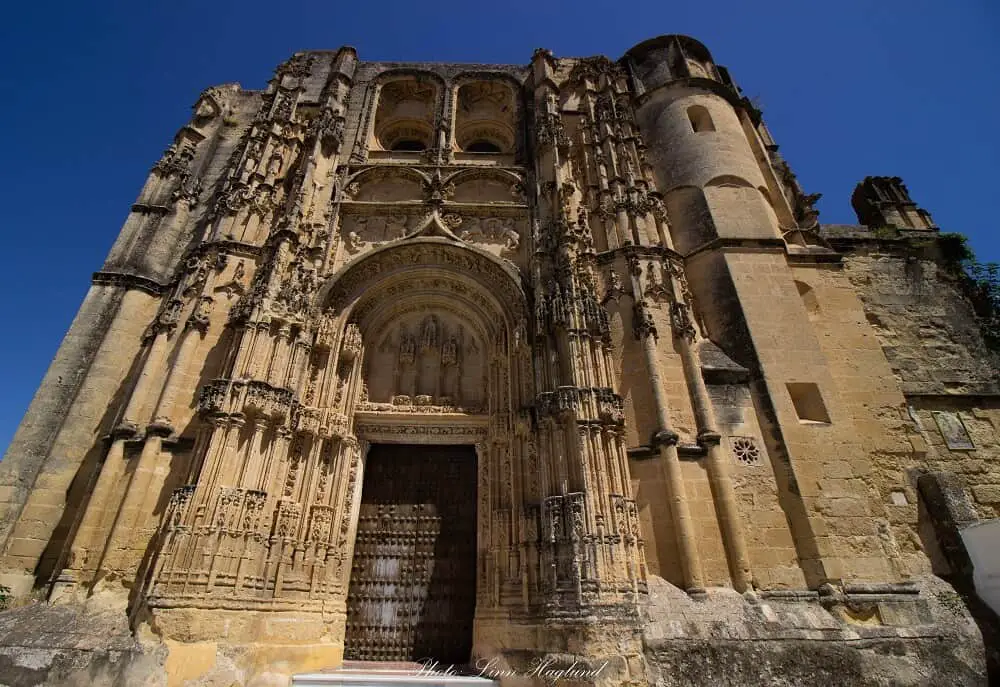 Town Hall
The Town Hall is situated on Plaza de Cabildo next to the viewpoint. The entrance is majestically crowned with the town's patron saint, Archangel San Miguel.
You find the tourist office here today where you can book tours of the astounding Town Hall which has been situated here since 1634.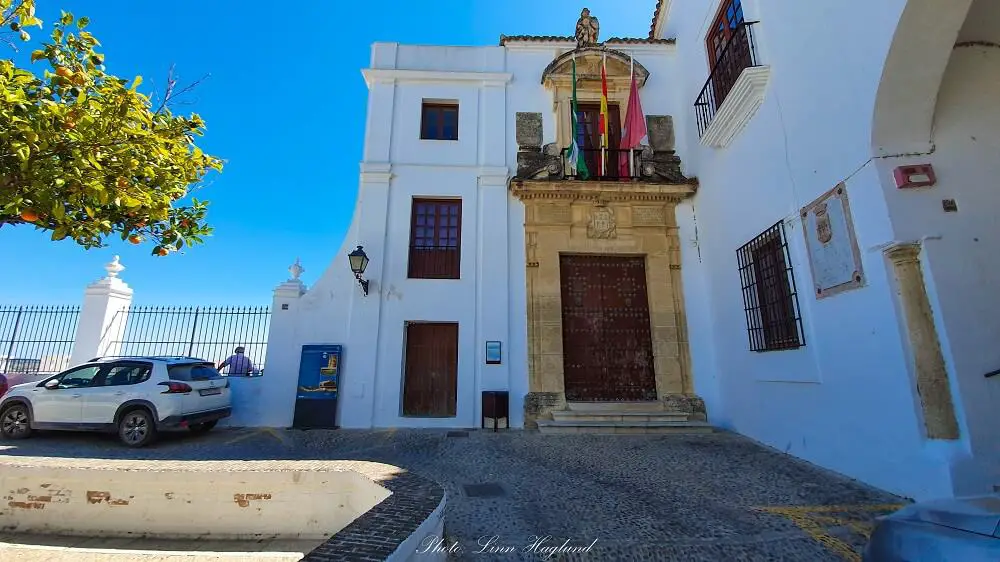 Ducal Castle
The Ducal Castle is situated on Plaza del Cabildo, next to the Town Hall. It dates back to before the 11th century and was used as a fortress by the Moors.
Later it became the residence of the Dukes of Arcos de la Frontera and is still in private ownership so it's not possible to visit for tourists.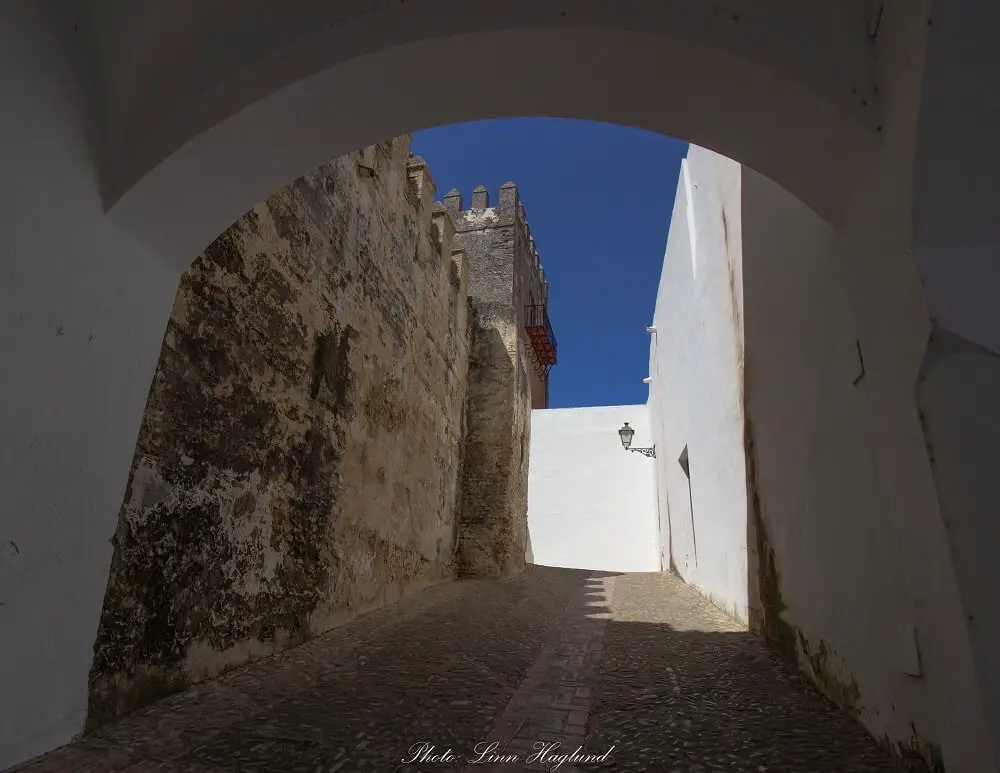 Plaza del Cabildo viewpoint
On the opposite side of the Minor Basilica of Santa María de la Asunción, you find the viewpoint of Plaza del Cabildo with astounding views of the surrounding countryside which is divided by the Guadalete river.
Beyond, you'll see Sierra de Dos Hermanas and Sierra de la Sal.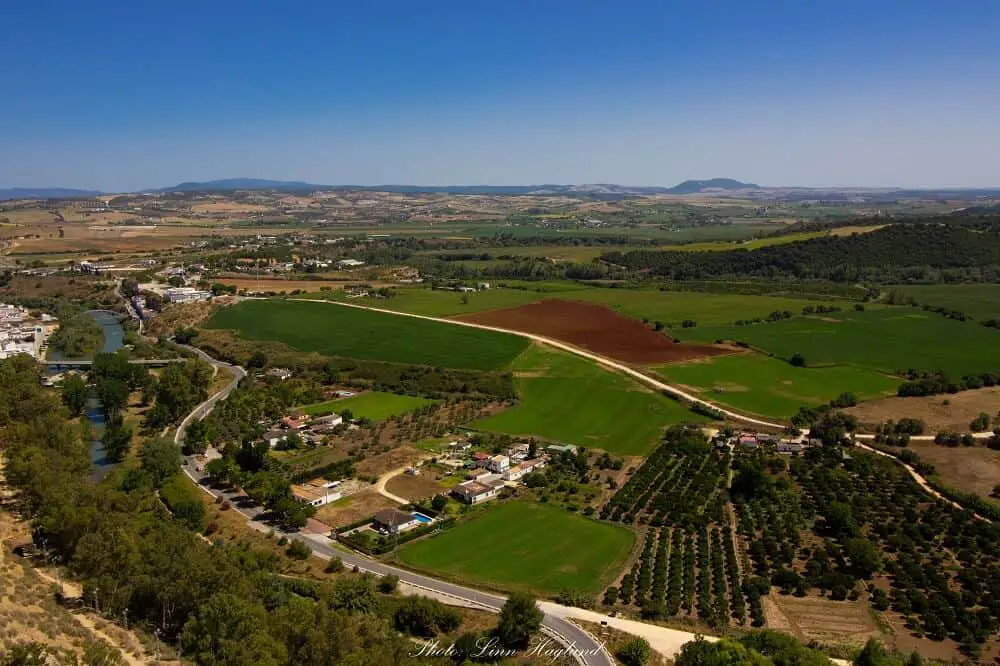 Convent of the Barefoot Mercedarian Order
The Convent of the Barefoot Mercedarian Order is situated on the Plazuela de la Botica. Founded in 1642, this is the only convent in Arcos de la Frontera which is still used as a cloister.
The interior is filled with beautiful artwork, a baroque altarpiece and also here you find an image of San Miguel, the patron saint of Arcos.
Outside the convent, you can enjoy tapas and a cold drink at the outside terrace of the bar across the street.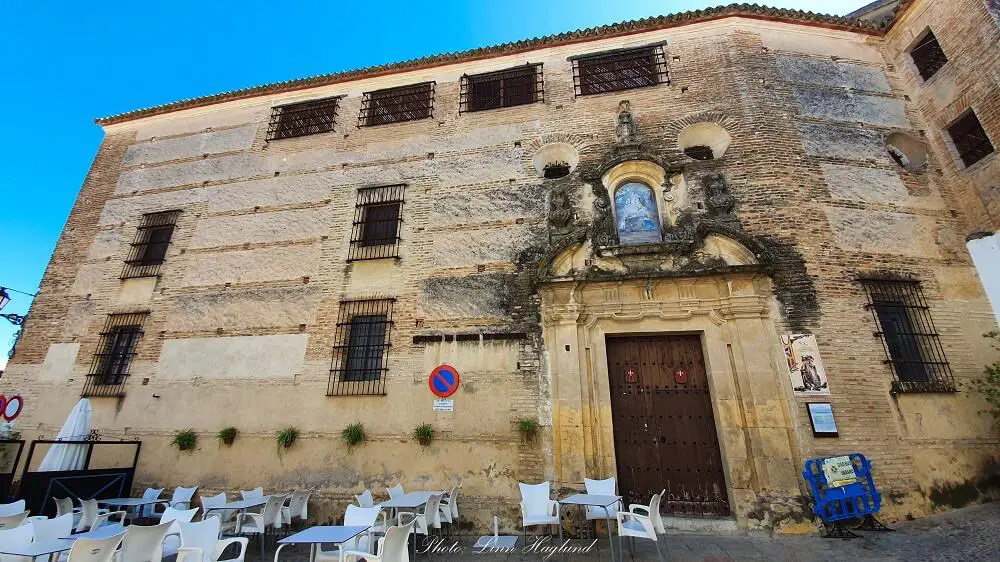 Mercado de Abasto del Centro
The market in Arcos is situated in a church from the 18th century that the Jesuits started building before they were forced to abandon it.
The religious house never got finished and now you can enjoy a vivid food marked every morning.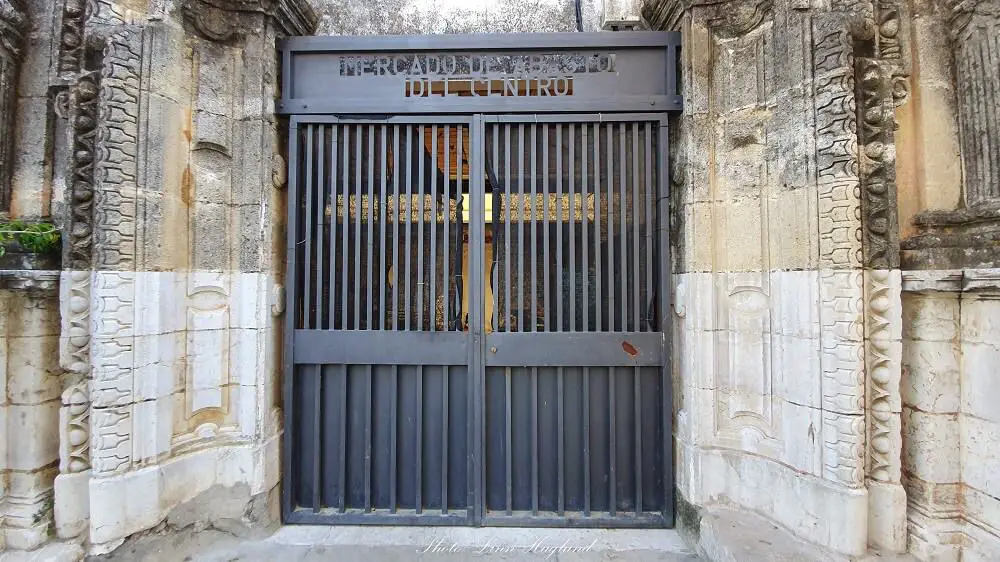 Olivares Veas Theater
Olivares Veas Theater was started built in 1910 and has undergone numerous renovations since then. The latest renovations found place at the beginning of the 1990s and were finished in 1994.
Now it's one of the top places in Arcos de la Frontera for cultural experiences.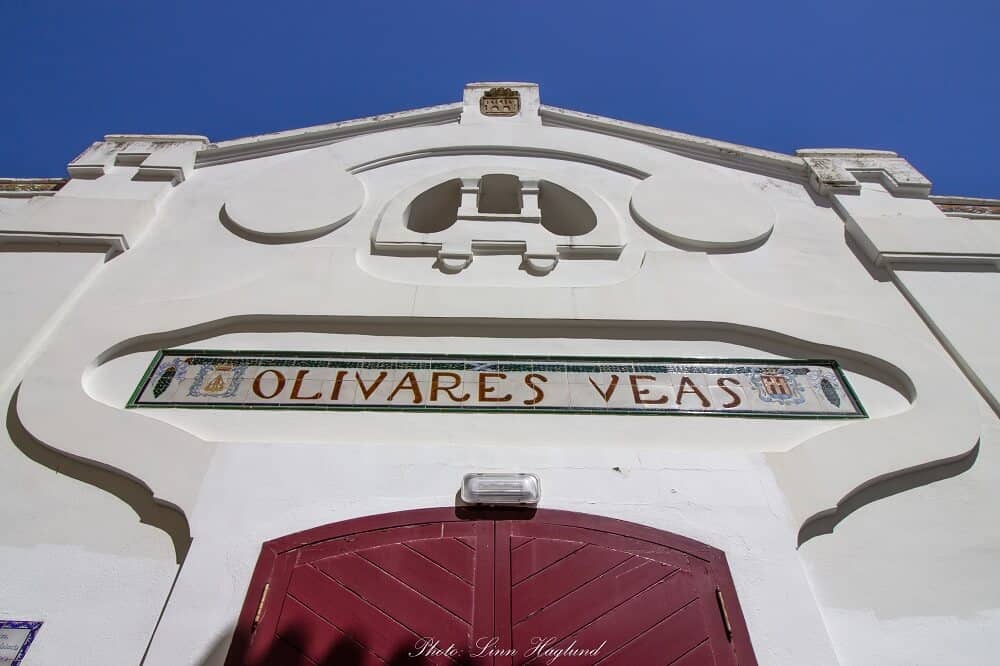 Abades Viewpoint
Yet another astounding viewpoint. Not only do you get the views of the surrounding countryside, but also the lower part of the village which is beyond beautiful.
You can also see the other way to a turquoise lake behind the tiles and rooftop terraces.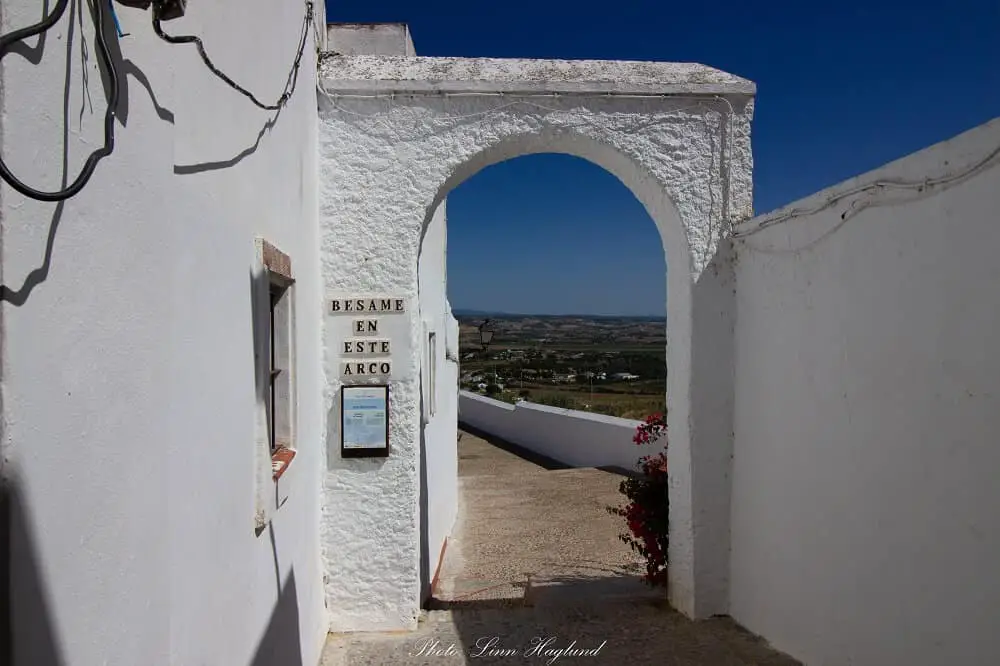 San Agustín Church
San Agustín Church was first a convent in the 16th century before it became a monastery. In the 19th century, it was abandoned, though the Jesus statue in the church is still taken on processions during Easter Week.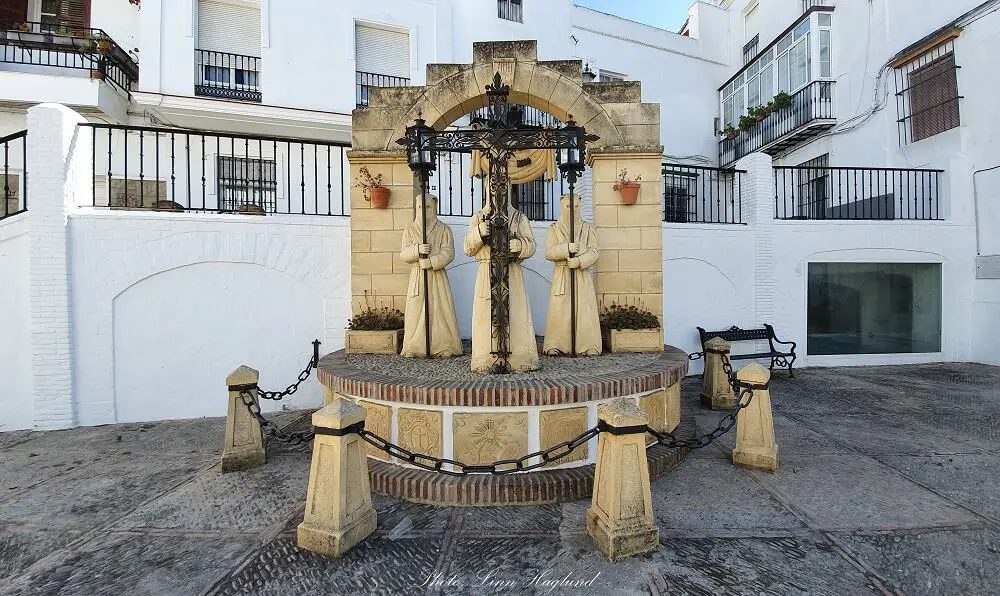 Where are you heading next?
Responsible tourism in Arcos de la Frontera
Animal tourism
I've seen a couple of elderly men keeping a number of birds by the Plaza del Cabildo viewpoint opposite of the Minor Basilica of Santa María de la Asunción. I haven't talked to them, but it seems like they let tourists hold the birds, which seem like they can be hunting birds from the mountains.
It is highly unethical to keep these animals in this way so please don't support their business.
Respect the locals
In such a small village as Arcos de la Frontera, it's important to be respectful and act as a visitor. You might be experiencing that bars aren't open or don't serve food all day as they do in more touristy places so inform yourself of when you should go and eat so you don't get Hangry (can't be only me that gets this diagnosis when I don't get fed regularly?)
That said, I find the locals extremely friendly and helpful. They share happily about the history of the village. I speak fluent Spanish, though, and I have a perception that not all the locals are just as good in English, so give a good portion of smiles and sign language if that's the case and I'm sure you'll have a great experience.
Also, make sure you buy from local businesses to leave your tourist dollars with the locals.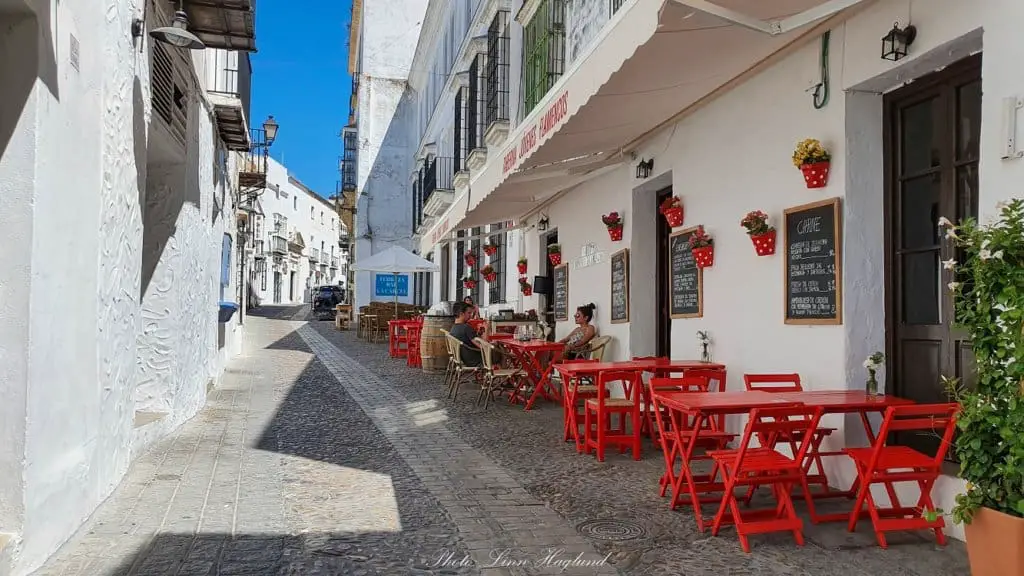 The environment
Needless to say, there are plenty of rubbish bins throughout the village. Use them. Bring a reusable water bottle, they can fill it up at any bar.
Then when you want to drink something other than water, sit down and chat with the bartenders if they got time. Avoid plastic straws and if possible drinks in plastic bottles.
Pin it for later!