If you are spending time in Seville and have explored the top things to do in Seville, you might want to explore more of the region.
The region has inherited so much from the Romans, the Visigoths, the Moors, and later the Christians. By exploring the towns and villages near Seville, you can deep dive into an ancient history that has been part of cultivating the melting pot of cultures that is Andalucia today.
There are endless day trips from Seville you can take so you might find it hard to choose where to go. There are lovely cities near Seville that are completely in the shade of Andalucia's capital city. Not to mention the charming whitewashed villages and towns near Seville.
After living in Seville, I have explored most of the surroundings and to help you have a splendid trip, I have handpicked what I think are the prettiest towns and cities near Seville with less than a 2-hour driving distance.
Disclosure: This post may contain affiliate links. That means that if you make a purchase through one of those links, I will get a small commission at no extra cost to you.
Prettiest villages and towns near Seville
Carmona
Carmona is one of the prettiest towns near Seville. With an intriguing history dating back to pre-historic times, there are many things to do in Carmona.
There are two remaining of the original four city gates to the town, Puerta de Cordoba and Puerta de Sevilla. The latter is the most popular tourist attraction as it is connected to the Alcazaba of Carmona, which is also considered to be one of the most notable castles in Andalucia.
Grab lunch at Plaza de San Fernando, a coffee at Parador de Carmona with splendid views of the surrounding countryside, and walk through the ancient Plaza de Abastos.
You might also find it interesting to explore the Roman amphitheater and necropolis outside the city gates.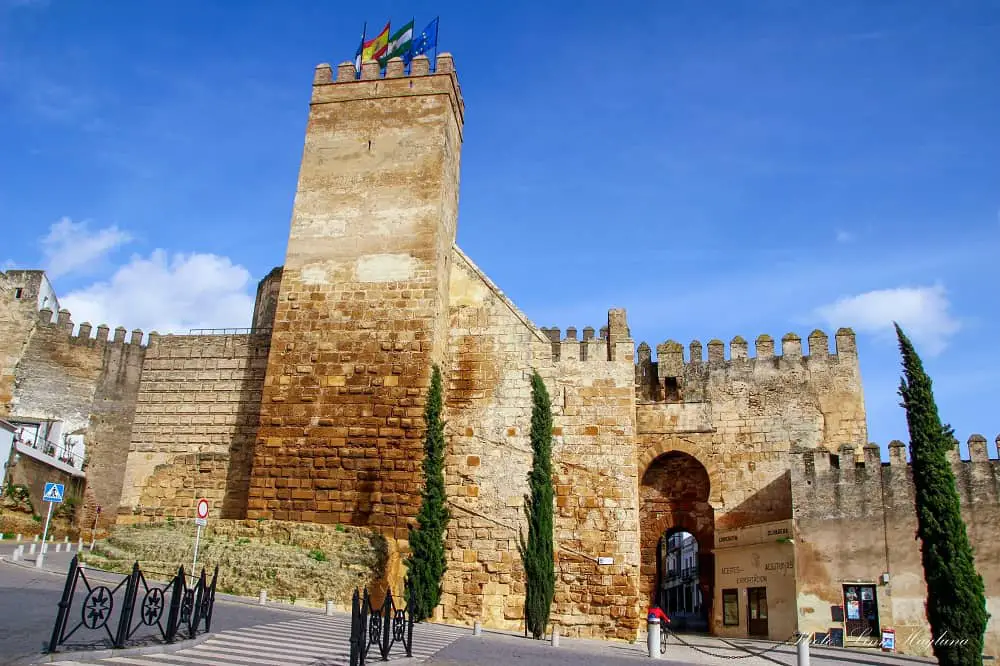 Arcos de la Frontera
One of the most charming villages near Seville is the whitewashed beauty of Arcos de la Frontera. Perched on the top of a vertical cliff, Arcos boasts impressive views of the surrounding countryside. The best viewpoints are the Plaza del Cabildo viewpoint and the Abades viewpoint.
Through the narrow streets of Arcos, you can step into impressive convents and churches, check out the food market, and discover charming alleyways.
But Arcos is also a fantastic foodie destination with lovely bars to stuff your face with local tapas, drink Tinto de Verano, and see Flamenco shows.
If you're looking for an Andalusian small-town vibe that is just enough prepared for tourism, this is a great choice among the white villages. Seville is only an hour and 15 minutes away by car.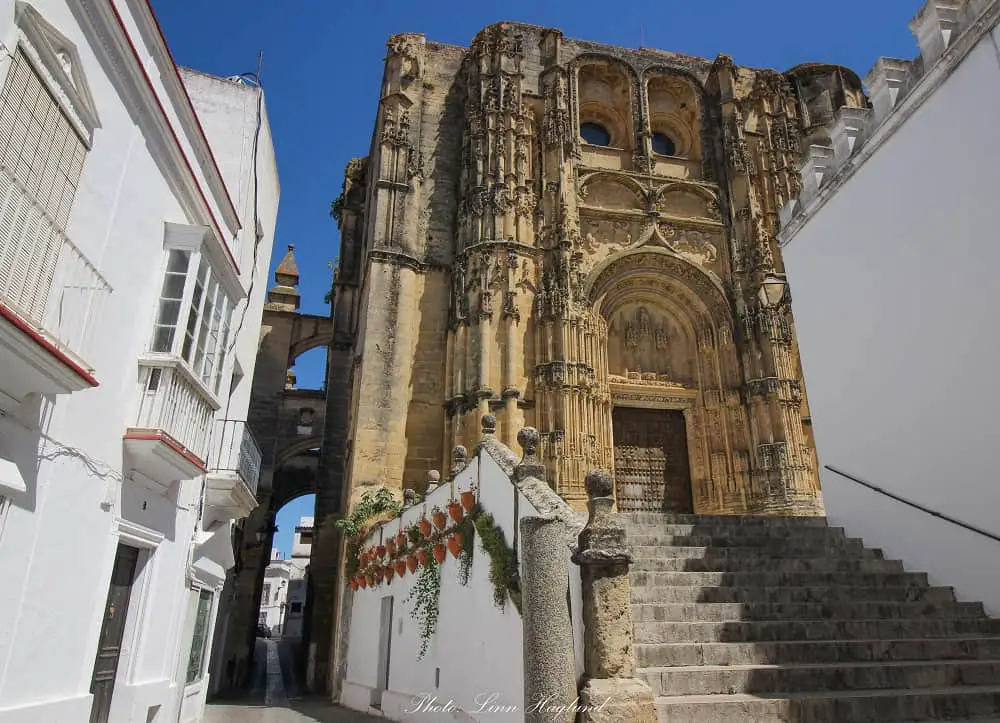 Conil de la Frontera
One of the most vibrant coastal towns near Seville to visit is Conil de la Frontera. Boasting some of the most stunning beaches near Seville, you can enjoy all kinds of water sports like surfing, paddle boarding, and diving.
There is also a beautiful coastal walk along the golden cliffs that tower above the western Conil beaches. There are other things to do in Conil de la Frontera if you travel outside the bathing season too.
Learn about the fishing town's history at Torre Guzman and the Raices Conileñas Museum, and walk through the whitewashed houses to discover charming squares and vibrant park areas.
Near Conil, you can uncover some of the most impressive beaches in Cadiz, Calas de Roche, and Fuente del Gallo beach.
There are a lot of bars and restaurants to have a drink and a bite to eat and in summer, the town is full of life!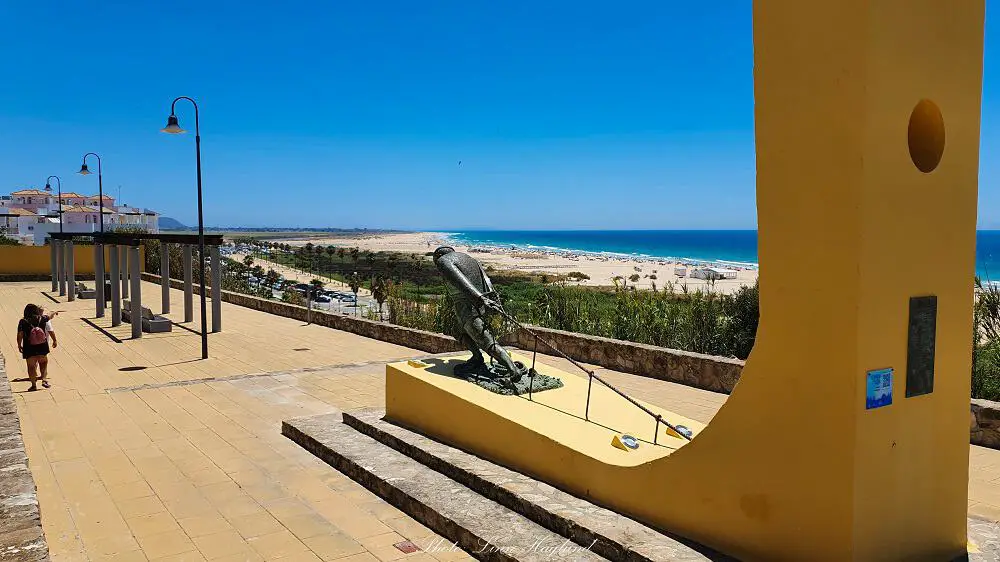 Osuna
Among the most underrated towns in Seville it the Game of Thrones town of Osuna. Situated right between Seville and Malaga, it is easy to reach, and there is so much to discover, that I actually recommend spending at least two days.
There is a wealth of convents and churches as well as the Old University that you should visit with incredible architecture and epic views.
Osuna also boasts one of Europe's most beautiful streets, according to UNESCO, Calle San Pedro, where you can take in a wealth of opulent palaces with stunning façades, like Palace of the Marquises of La Gomera, Palacio de Los Cepeda, and Cilla del Cabildo.
Among the best things to do in Osuna, is to visit the ruins outside the town. There, you will find the Coto de las Canteras, Roman Theater, and Necropolis.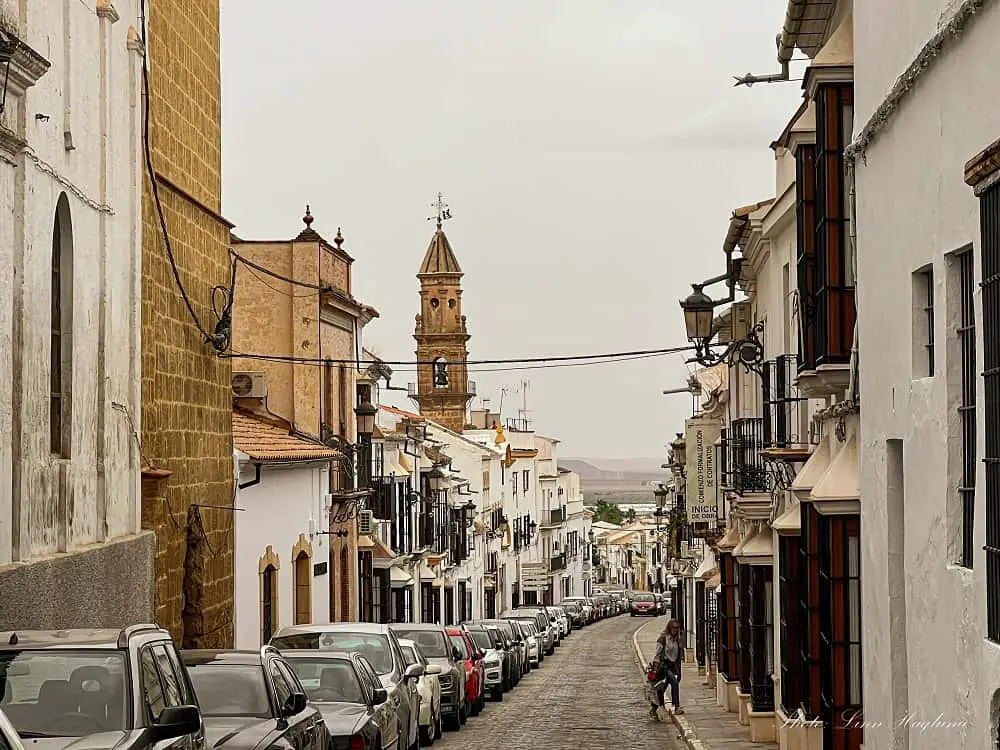 Aracena
One of my favorite towns near Seville is Aracena in Huelva province. The quaint town is always full of life and there are so many fun things to do in Aracena.
Overlooked by a hilltop castle, you can go for nature walks straight from the town, you can step into centuries-old convents, and get underground to discover what in my opinion are the most impressive caves in Andalucia, Gruta de las Maravillas.
There are a whole lot of bars and restaurants to choose from and for being such an offbeat destination, you will be surprised by the number of international tourists that find their way to Aracena.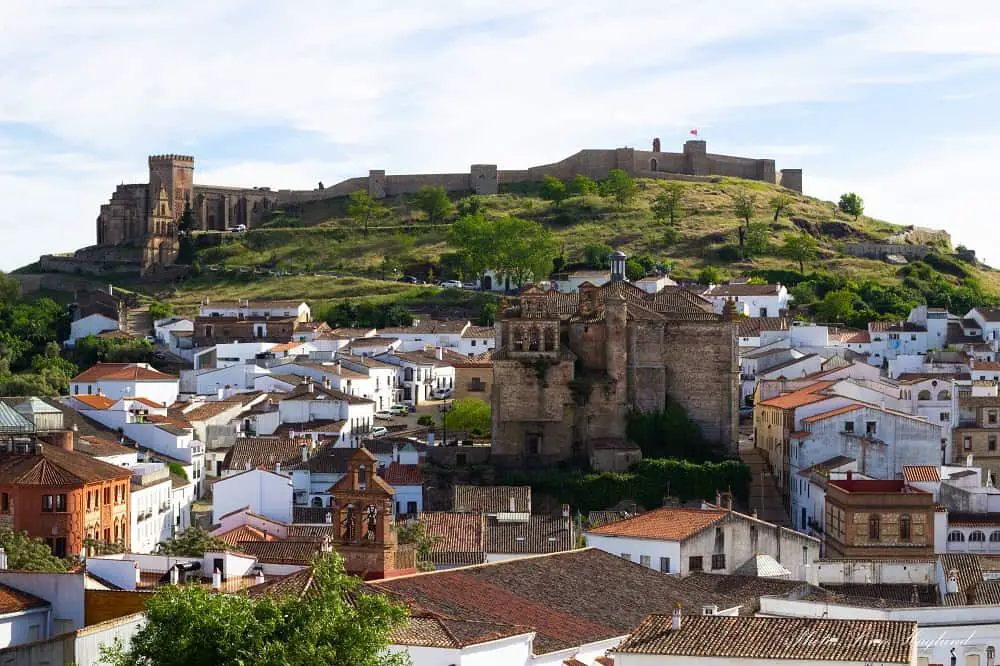 Niebla
Niebla is an intriguing walled town in the province of Huelva, situated along the Rio Tinto with over 3000 years of history. In fact, Niebla was of major importance until Roman times both politically and commercially.
The most prominent tourist attraction in Niebla is the castle and old city walls presenting Roman, Visigoth, and Moorish features. However, the castle was first damaged by the 1755 Lisbon earthquake and later destroyed by the French in 1812. So the current structure was rebuilt after that.
Niebla Castle is in fact one of the most well-preserved castles in Andalucia together with the city walls. The castle is well worth visiting.
Other things to do in Niebla include visiting the Plaza de Santa María and seeing the 13th-century Church of Santa María de la Granada. Not far from the castle, you can see the unique Iglesia de San Martín where both Muslims and Jews worshiped before the Christians.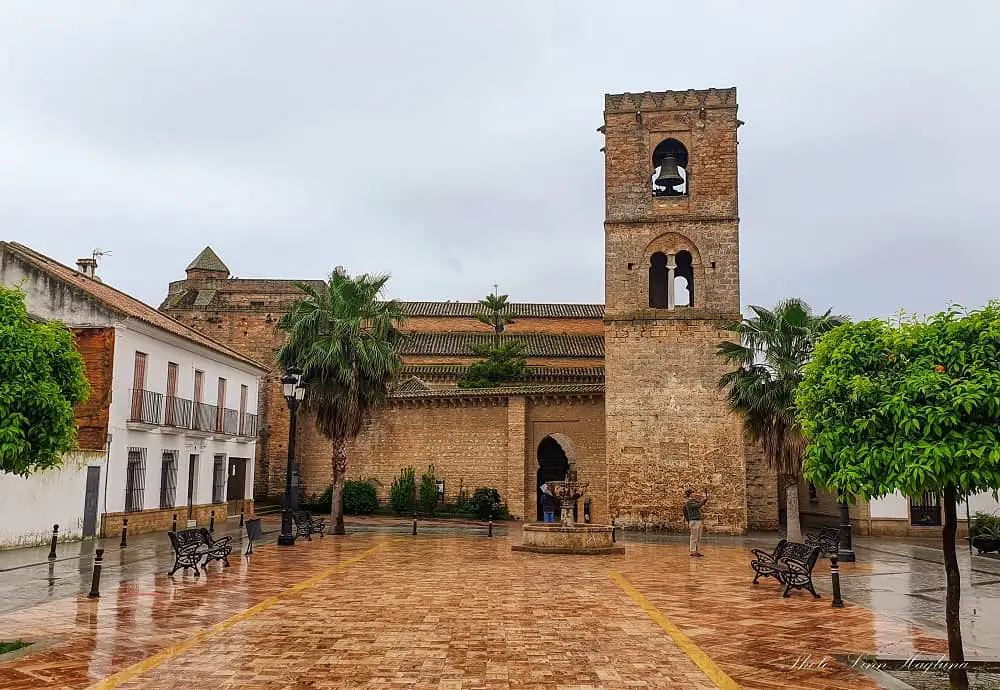 Ronda
Ronda is one of the oldest towns in Spain dating back to prehistoric times. The most prominent landmark is the New Bridge which majestically connects the new and the old part of town together across the 100-meter-deep ravine it sits on. Among the best things to do in Ronda is to walk down to the viewpoint of Puente Nuevo for the traditional photo.
But there is so much more to Ronda, the Roman Bridge, and the Moorish bridge, which are both older, sit further down the gorge and are far from that big.
The Arab Baths of Ronda are impressive and so are the Casa del Rey Moro and the walk underground to the bottom of the gorge.
Ronda also boasts some pretty cool city walls that you can climb up on to enjoy the sweeping views of the surrounding countryside with the mountains as a backdrop.
Most people go on a day trip to Ronda, but in my opinion, this place deserves so much more time. Here are the best places to stay in Ronda.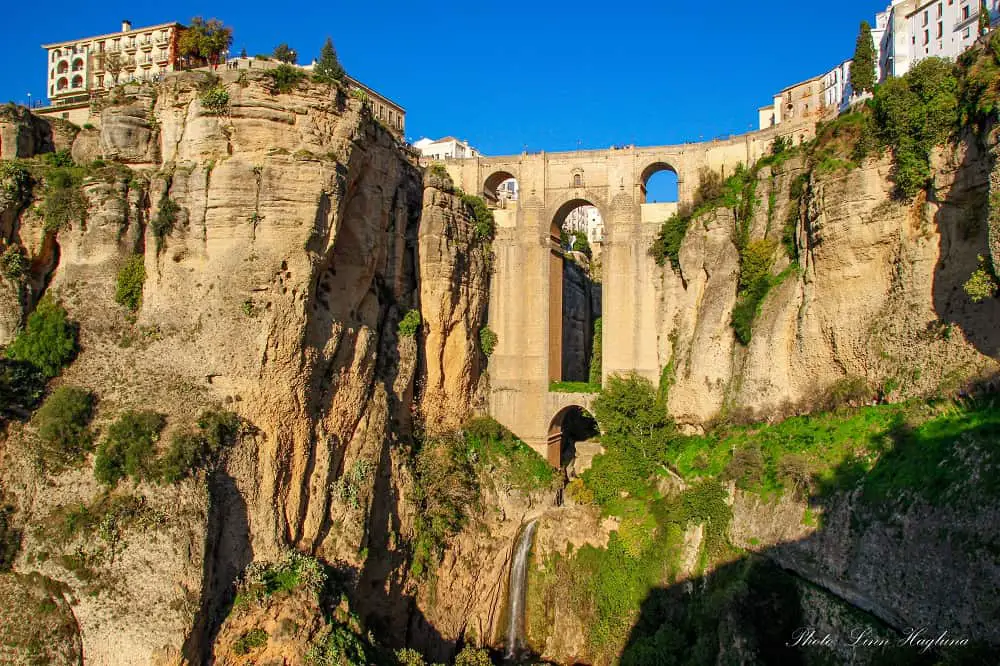 Punta Umbria
Punta Umbria is one of the most charming coastal towns in Andalucia, yet mostly sees local tourism. It is a laid-back and relaxed vibe as with most of the Huelva coast.
Yet, there are a lot of things to do in Punta Umbria, like eat your weight in tapas at local prices, relax at the most beautiful beaches in Huelva, and stroll the promenade along the river watching the colorful fishing boats.
You can also see the old English houses on wooden stilts, including the Town Hall, the Almenara Tower, and Our Lady of Lourdes Chapel.
Near Punta Umbria, you can visit other cute fishing towns like El Rompido and take in the breathtaking scenery of La Flecha sandbank protecting the coastline.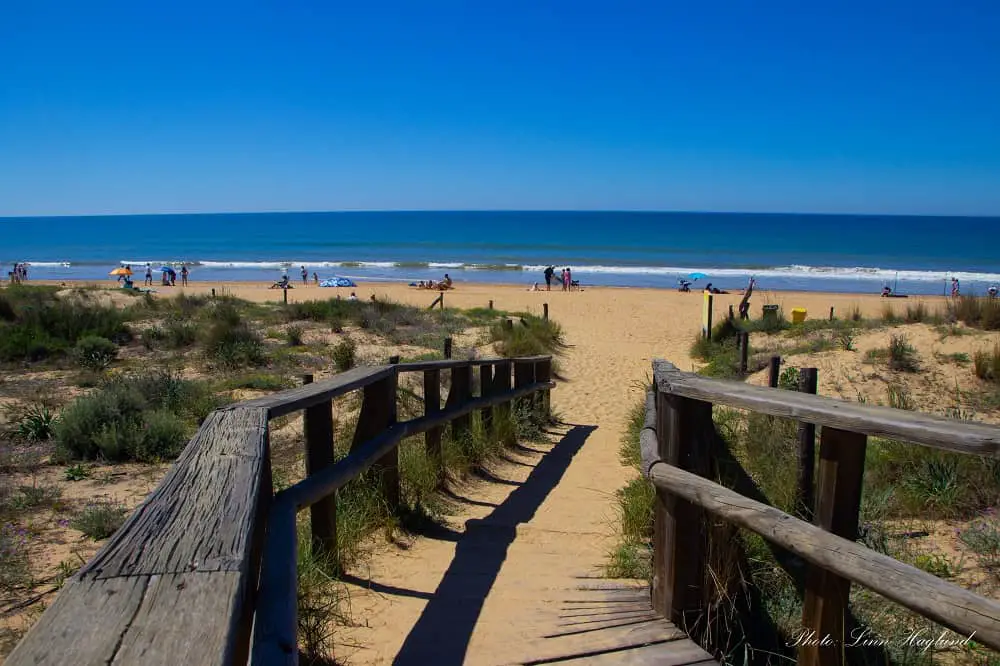 Vejer de la Frontera
Vejer de la Frontera is one of the most charming hilltop villages in Andalucia and is one of the most popular day trips from Cadiz.
There are a lot of things to do in Vejer de la Frontera and it has a wonderful "Love Route" through the village where you find romantic places like beautiful views, "kissing corners" etc. It passes some of the top tourist attractions like the castle.
You also find one of the most beautiful squares in Spain in Vejer, Plaza de España. This is where you will find locals hanging out and a stunning fountain of colorful tiles from Seville. Vejer is truly a lovely town near Seville that you should consider visiting.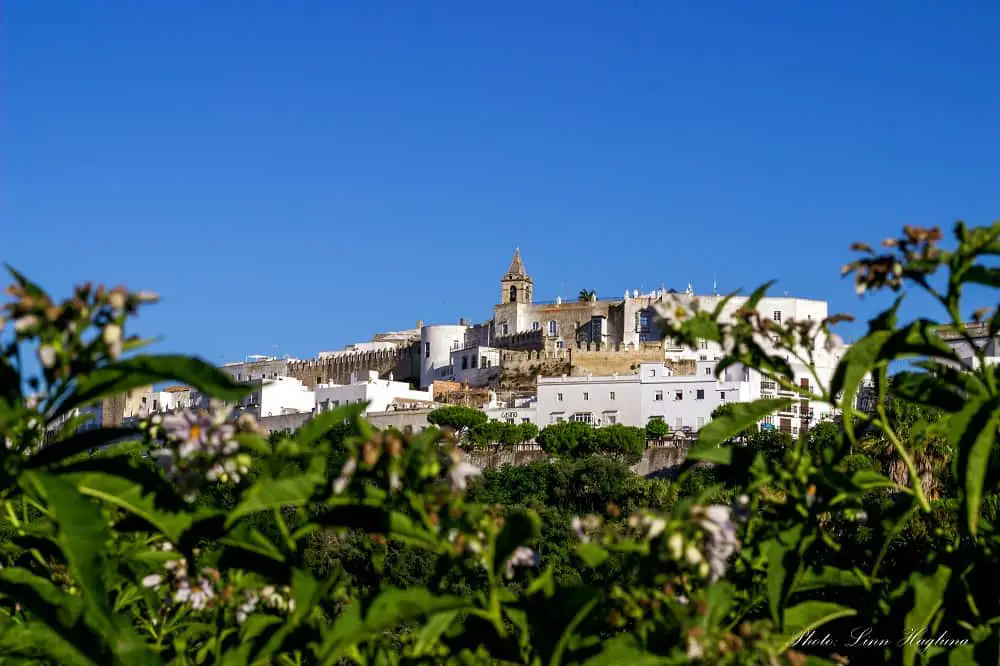 El Puerto de Santa Maria
El Puerto de Santa Maria is one of the most charming beach towns near Seville. Being part of the Sherry triangle, you can be sure to find amazing sherry, and visiting a sherry factory is a must when there.
There are also a few stunning beaches in El Puerto de Santa Maria, especially Playa de Valdelagrana, where you find sunbed and umbrella rentals, bars, and toilets, and the signature-white-powdered sand that Cadiz is so famous for.
Besides the beaches, there are a whole lot of things to do in El Puerto de Santa Maria. Start with visiting the 13th-century Castillo de San Marcos, continue to Plaza de España, and visit the imposing Iglesia Mayor Prioral.
Head to Puerto Sherry to grab dinner with a sea view or weave your way into the narrow streets of the town to find an animated bar to have a couple of drinks. El Puerto de Santa Maria is famed for its amazing nightlife, especially in the summer months.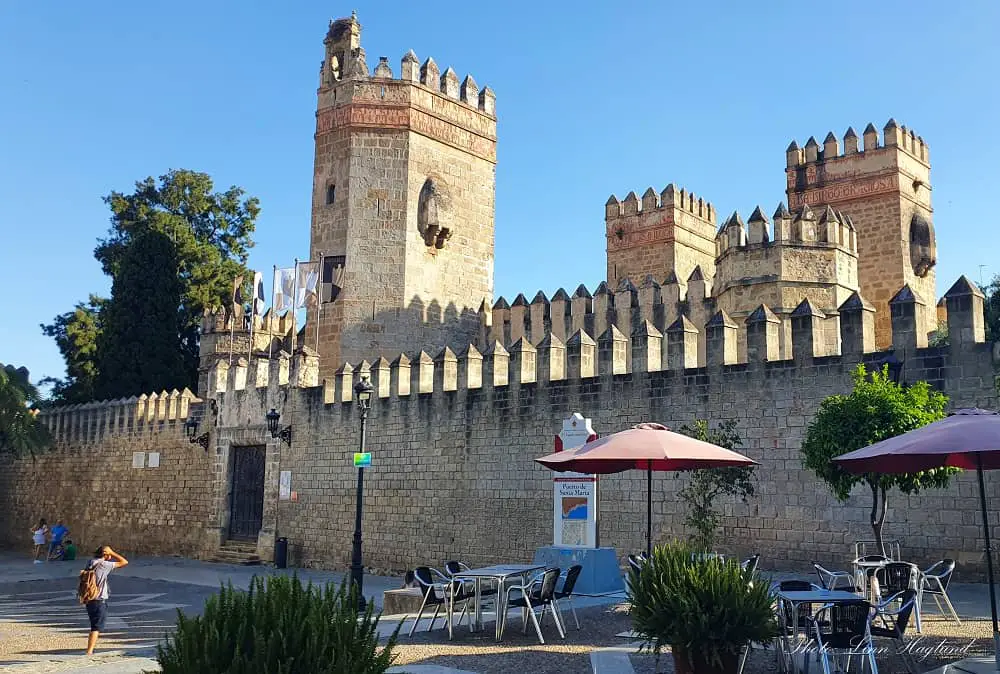 Pretty cities near Seville
Cadiz
One of my favorite cities near Seville Spain is Cadiz. Locally referred to as Cadifornia for its amazing surf and breathtaking beaches, there is no surprise that you are about to discover an incredible coastal destination.
Cadiz also happens to be the oldest city in western Europe that has been continuously inhabited. So it might not come as a surprise that there are a lot of great things to see and do in Cadiz.
Most people spend one day in Cadiz, but if you want to truly take in the local vibe and uncover the amazing hidden gems in Cadiz, you should stay for at least a few days.
No matter how much time you have to spare, you should at least visit Cadiz Cathedral, step into the Roman Theater, climb the Tavira Tower, and walk through the many parks in Cadiz, like the incredible Genovés Park.
Other sites you can not miss out on are the San Sebastian Castle and Santa Catalina Castle bound by the impressive La Caleta beach.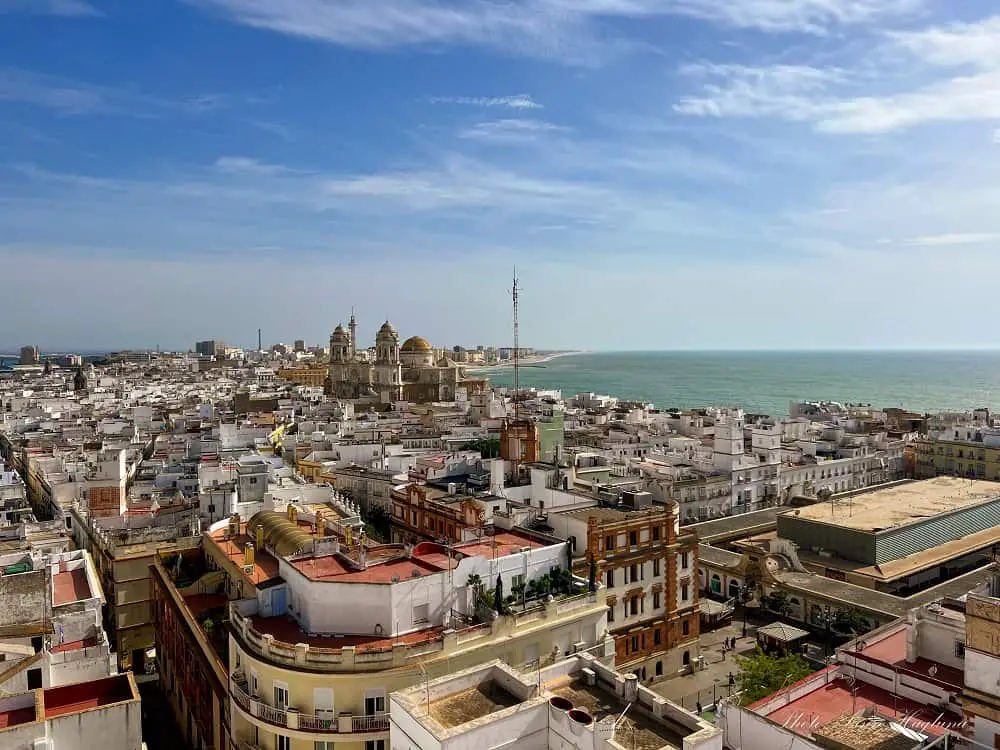 Jerez de la Frontera
Another stunning city near Seville worth visiting is Jerez de la Frontera. Way smaller than Cadiz, it boasts the same local vibe and there is a wealth of things to do in Jerez de la Frontera.
Being the sherry capital of Andalucia, a sherry tour is a must when visiting Jerez, but even if you do not fancy the sweet alcoholic drink, you will find enough to fill a day or two in this enchanting city.
Visit the imposing Jerez Cathedral, explore the Alcazar, and see the city from a different perspective from the Camera Obscura.
There is also a whole heap of churches and convents in Jerez and just walking around the streets, and taking a peek inside any of the ones you pass will mesmerize you.
In my opinion, Jerez de la Frontera is one of the most beautiful and underrated cities in Andalucia that you'd be on anyone's southern Spain itinerary.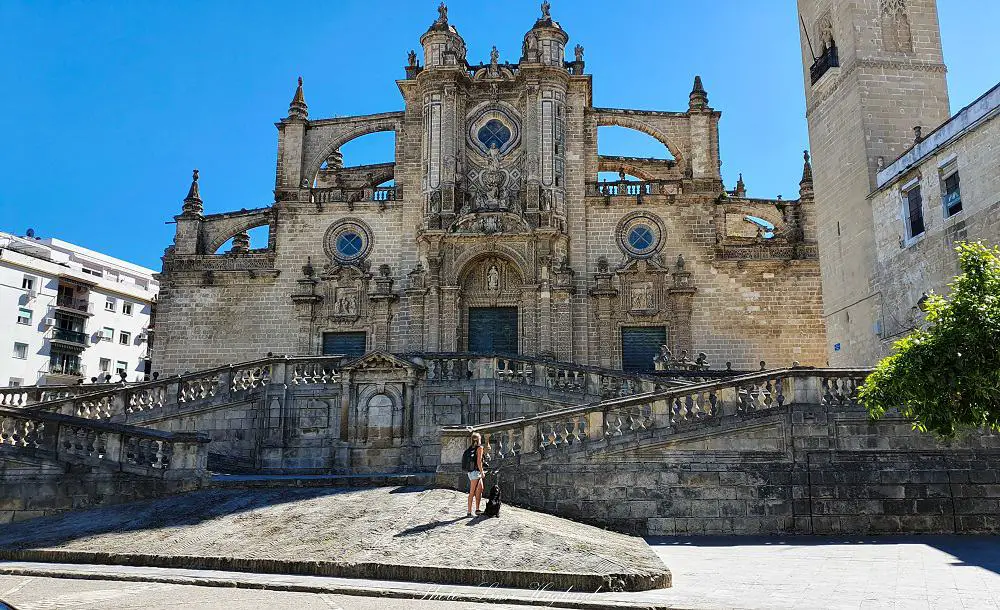 Huelva
I don't often hear Huelva mentioned among the best cities near Seville, but the coastal city is surprisingly charming. There is a lot to do in Huelva and there is an interesting and dominant presence of the English era in the 17th century.
Among these, you find Muelle del Tinto, which was used for trading materials from Rio Tinto, Casa colon, and the charming 1900s wooden houses of Barrio Reina Victoria.
There are also beautiful parks, street art, and churches worth seeing in Huelva, and do not miss out on the pink cathedral of Huelva.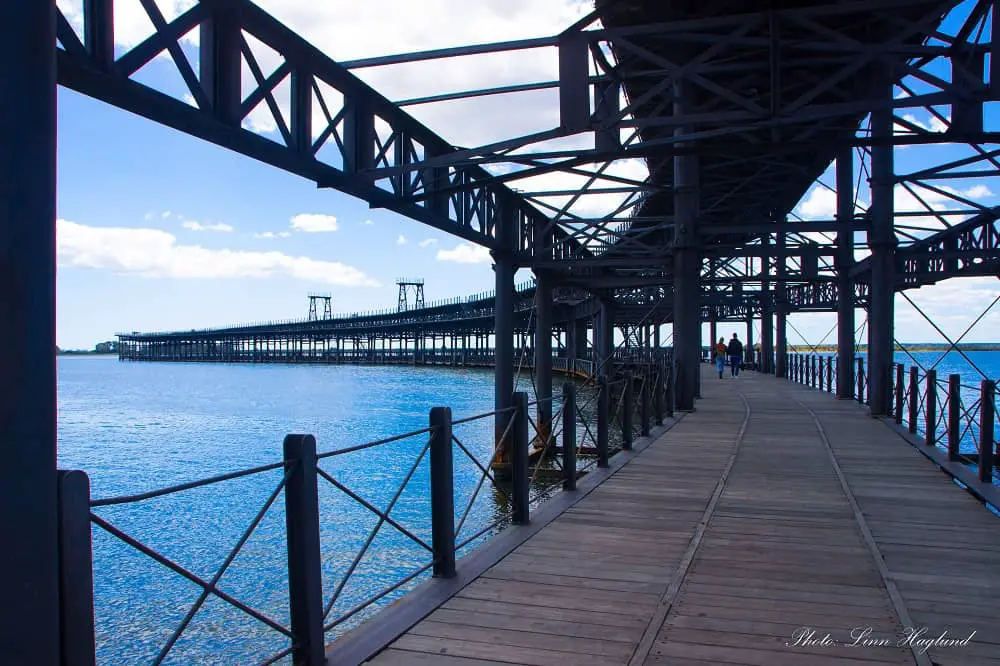 Antequera
Antequera is one of the cities near Seville that is worth visiting at an under 2 hours drive. Boasting a whole lot of things to do, Antequera is a great city to spend a few days.
Explore the Moorish Alcazaba for some of the most epic views of the city and the Lover's Rock, also known as the "Indio de Antequera" as the ain't rock formation looks exactly like the head of an Indian laying down.
Make your way through the cobblestoned streets to Royal Collegiate of Santa Maria and enjoy the endless views from around the city.
But Antequera is also surrounded by unique nature in El Torqual de Antequera and the 6500-year-old UNESCO sites Dolmens de Antequera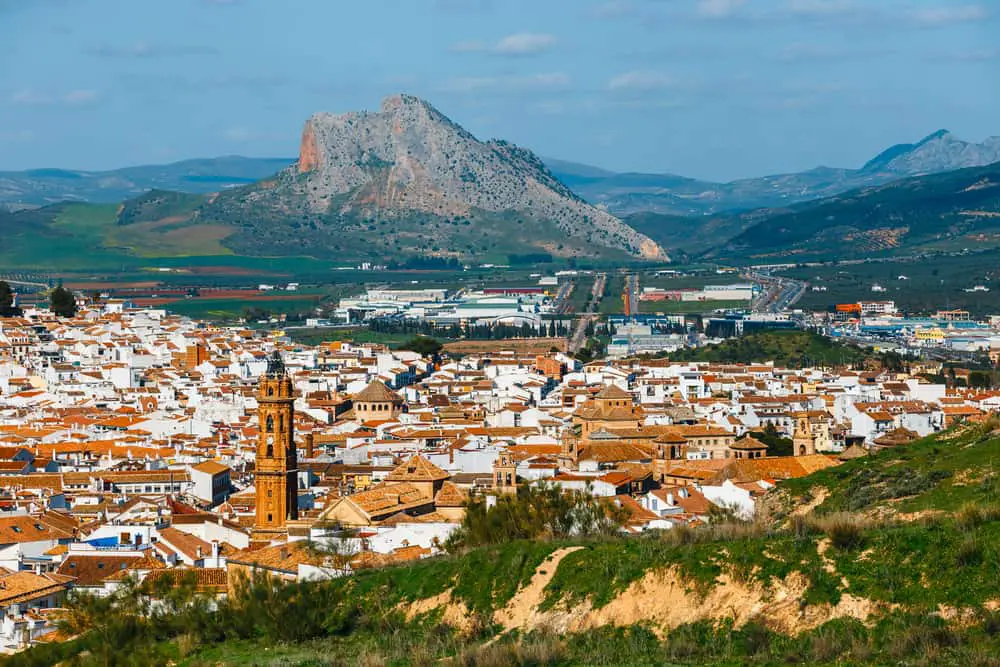 Lucena
Known as the City of Three Cultures, Lucena is one of the most underrated cities near Seville that you hardly hear about in the guidebooks.
However, it is well worth a visit. Back in Moorish times, Lucena was just as prominent a city as Granada and Cordoba so you can imagine there are a lot of lovely things to do in Lucena.
Climb the tower of Lucena's castle for epic city views, stroll the charming streets of the old town, or step inside one of the many churches, and you will quickly fall in love with this ancient city.
The vibe of Lucena is more of a small town than a city as it is completely walkable and the number of foreign tourists is low.
There are also interesting archaeological sites worth visiting, like the Jewish Necropolis and the Roman Pottery factory which are fairly newly discovered sites.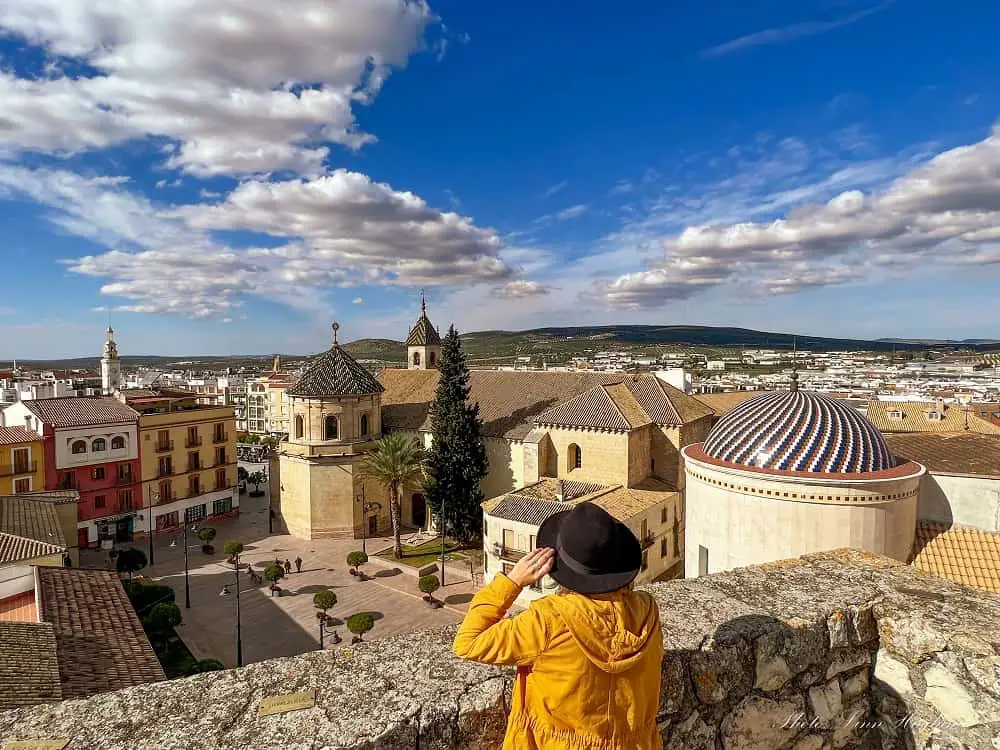 Cordoba
One of the prettiest cities near Seville is for sure Cordoba. With 4 UNESCO World Heritage sites and a wealth of historical remains from the Romans, the Visigoths, the Moors, the Jews, and the Christians, one day in Cordoba is not really enough. But you can still get a great insight into some of the main sights in the historic center.
Among the most important things to do in Cordoba is the Mosque-Cathedral, an exquisite fusion of Arabic and Christian architecture with a romantic orange garden.
A walk around the UNESCO-listed historical center, including the Jewish quarter is a must, and if you want to see the prestigious patios that Cordoba is so famous for, make sure you book a tour of the patios.
Other must-see places are the Alcazar of the Christian Monarchs, the Roman Bridge, Viana Palace, and outside the city, head to the Roman Temples and the Medina Azahara.
Make sure you read my complete guide on how to go on a day trip from Seville to Cordoba before you go.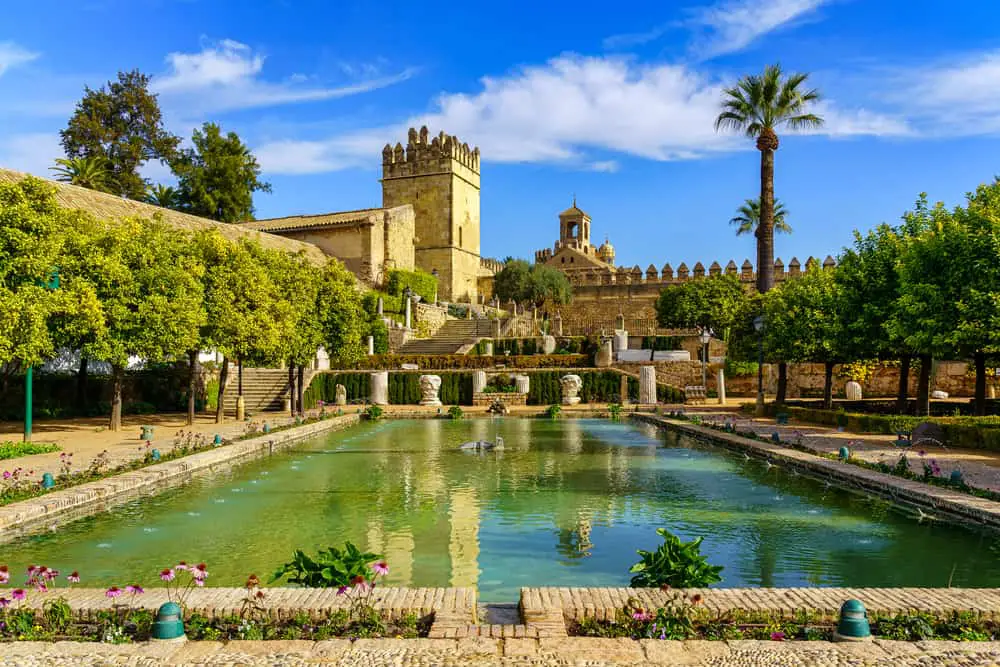 Reflections on cities and towns near Seville
There is no questioning a lot of great cities and towns near Seville Spain to explore. I love the mix between well-known places and lesser-visited destinations and really hope that you found somewhere interesting to add to your Andalucia bucket list.
With so much history, nature, and culture to be explored around the Andalusian capital city, you can easily spend a month there and still not see it all. But if you plan carefully and choose the destinations that appeal the most to you, you will manage to bite over quite a few towns and cities near Seville.
The best way to get the most out of Seville's surroundings, especially if you want to uncover Seville's villages, is to go on an Andalucia road trip for a few weeks.